Loyal Royal Caribbean cruiser, Nick Vitani, is back with another post. This time, he shares his take on the Mariner of the Seas dining from his "gastronomic gourmet weekend" onboard the ship.
Nick is not only an avid cruiser, but he's also a Royal Caribbean Travel Partner with All Travel and Cruise Center, Inc. For inquiries on booking your next Royal Caribbean cruise, you can contact him at his personal email at flexnick@yahoo.com or message him via Instagram or Twitter @nickvitani.
Mariner of the Seas Dining: My Gastronomic Gourmet Weekend
I have been on over 100 weekend (Friday through Monday) cruises to Coco Cay and Nassau on several Royal Caribbean ships. At least 20 or more of them were on Mariner of the Seas.
In the past, I have typically just dined at the standard venues and perhaps at one specialty restaurant such as Jamie's Italian or Chops Grill. The food was always good, but I usually didn't venture too far from the typical food venues since these were all just "weekend getaway" cruises for me.
However, my most recent cruise (October 1, 2021) on Mariner of the Seas turned out to be quite the gastronomic adventure. The entire weekend will go down as one of my most memorable weekend getaway cruises so far.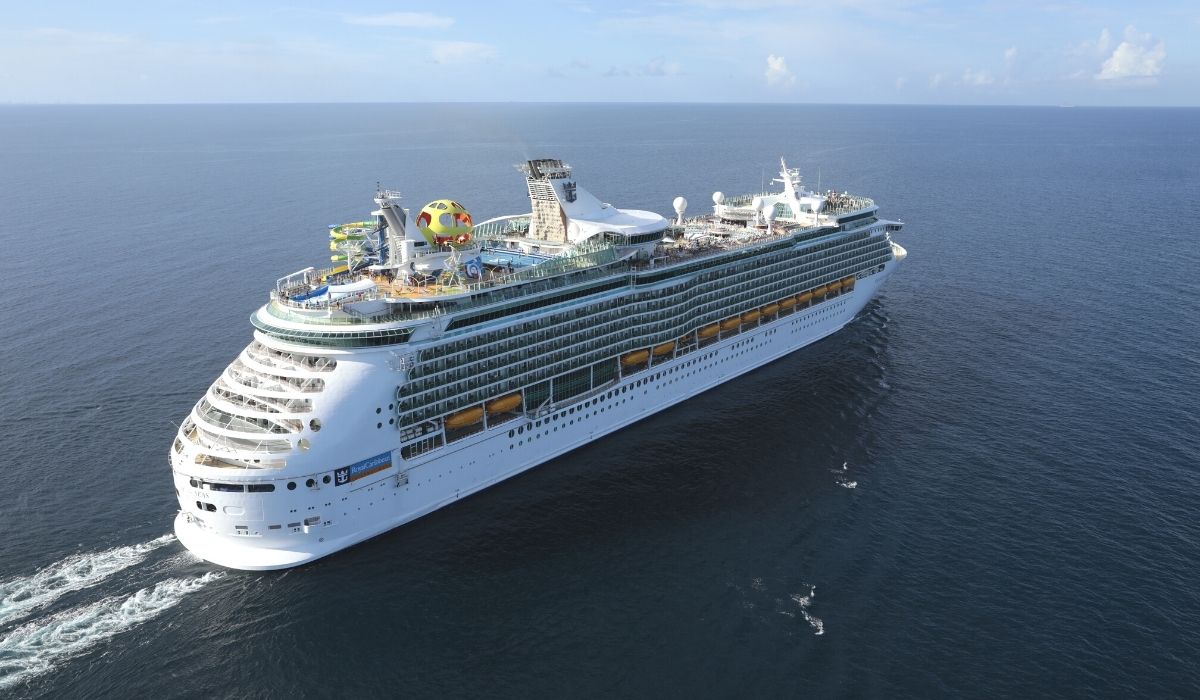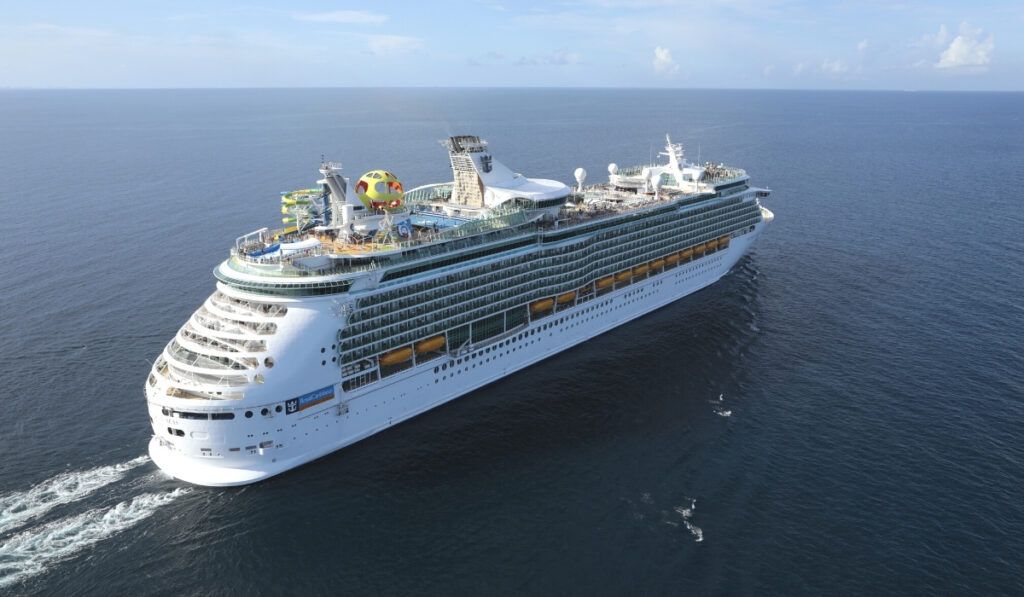 We were cruising with some good friends who were celebrating both a birthday and an anniversary. So, prior to the cruise, I tried to make reservations to treat them to the Chef's Table. Day 1 was my preference as we were planning a big lunch on Day 3 at Coco Beach Club (these meals need to be "strategic" so there is room to enjoy what is on the menu).
I was told the Chef's Table was sold out on Day 1; though, the Food and Beverage Manager, Costin, was trying to get us in for Day 2. Our Plan B was Izumi Hibachi on Day 1.
Upon boarding the ship, Costin told us we were still not able to get into the Chef's Table, so we went with Plan B. However, we had a nice turn of events during this weekend that made it so memorable.
Mariner of the Seas Dining: Day 1 at Izumi Hibachi
Izumi Hibachi was the first "first" for me. After all of my cruises, this was my first time eating here. This is essentially an Izumi Sushi with an added option of a hibachi restaurant. The chef prepares your meals right in front of you on a Hibachi grill with quite a show.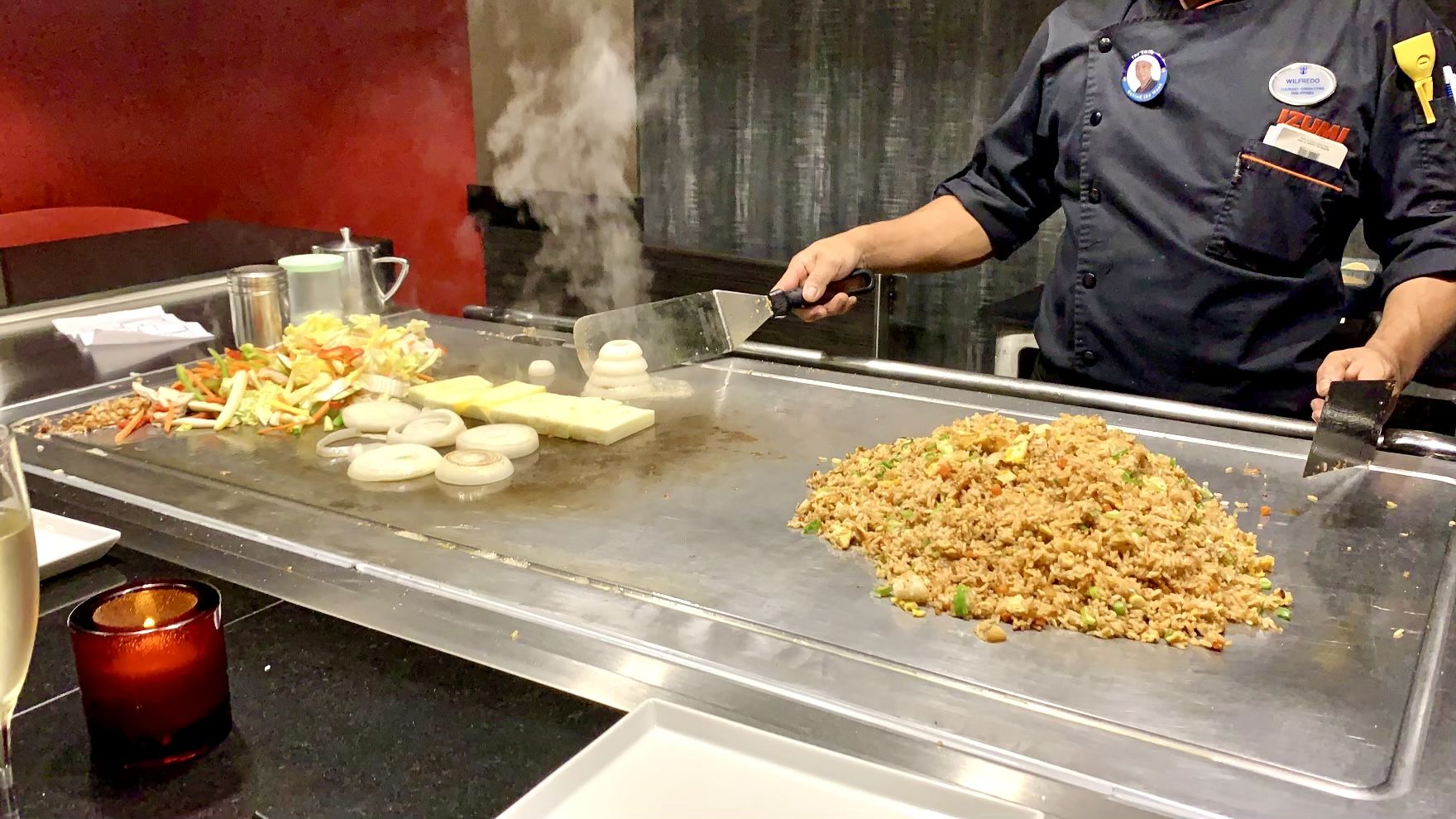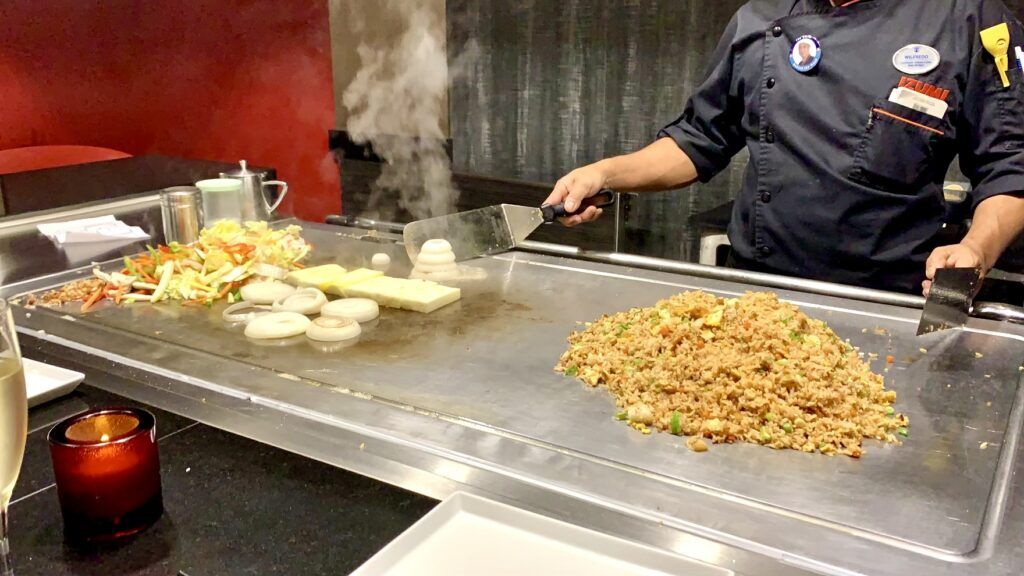 Half of the fun is the entertainment, while the food is cooked right before your eyes. If you are not familiar with this concept, they have similar restaurants on land such as Kobe.
At this restaurant, you can order off of the regular Izumi Sushi menu at a la carte pricing or you can order a Hibachi meal The current prices are $44.99 and $49.99 per person, depending on what you order. The combination meals are $49.99 per person.
Our chef was Wilfredo from the Philippines. He was hilarious and quite skilled. This was great entertainment; we laughed so hard at all of his jokes. He was very skilled, juggling and tossing the food while preparing it. This entertainment alone was worth the price of admission.
Basically, you choose a protein selection (tenderloin beef, chicken, scallops, lobster), and the rest of the food is the same for everyone. I ordered the beef tenderloin. My wife ordered the chicken and beef combination.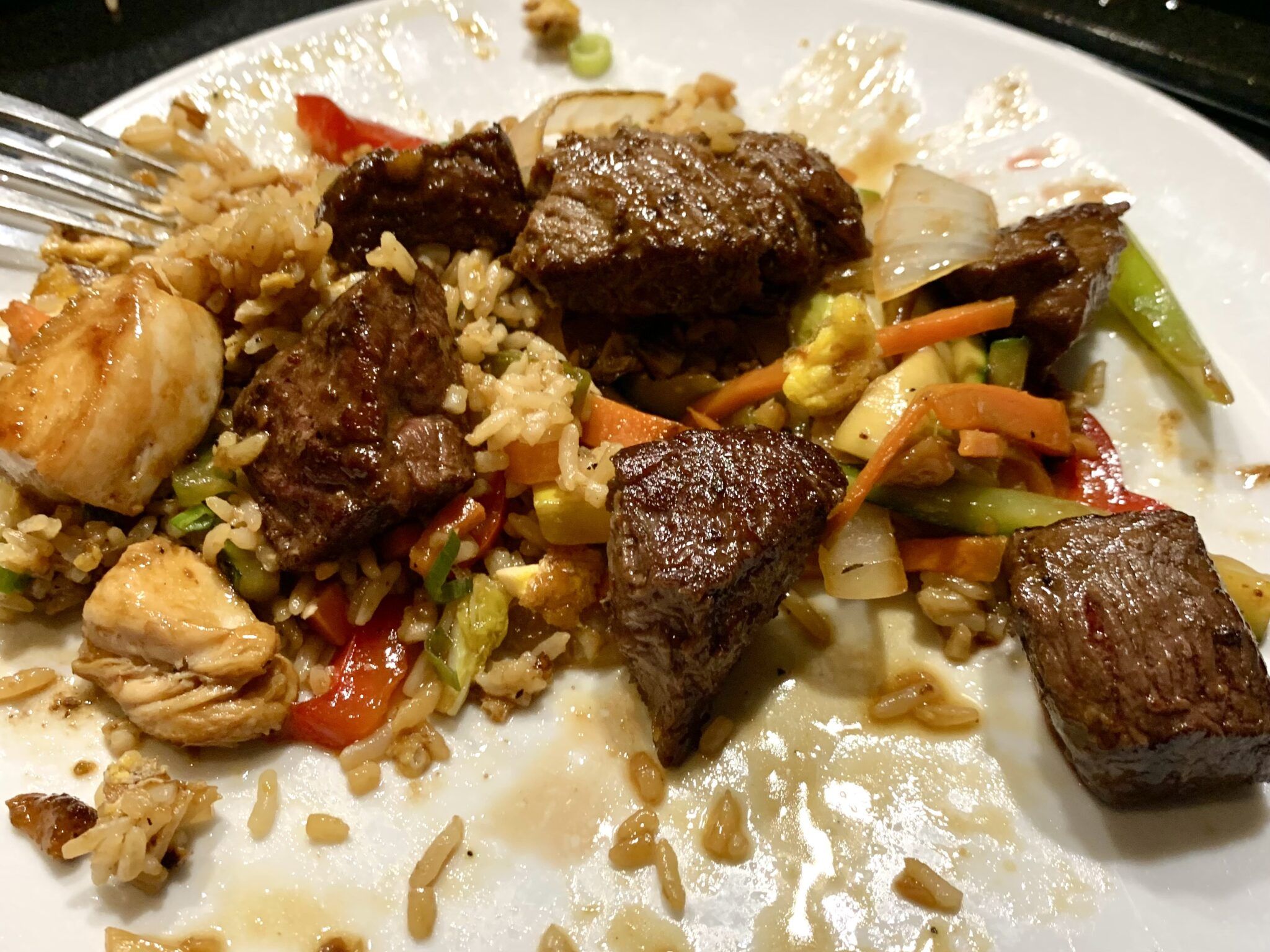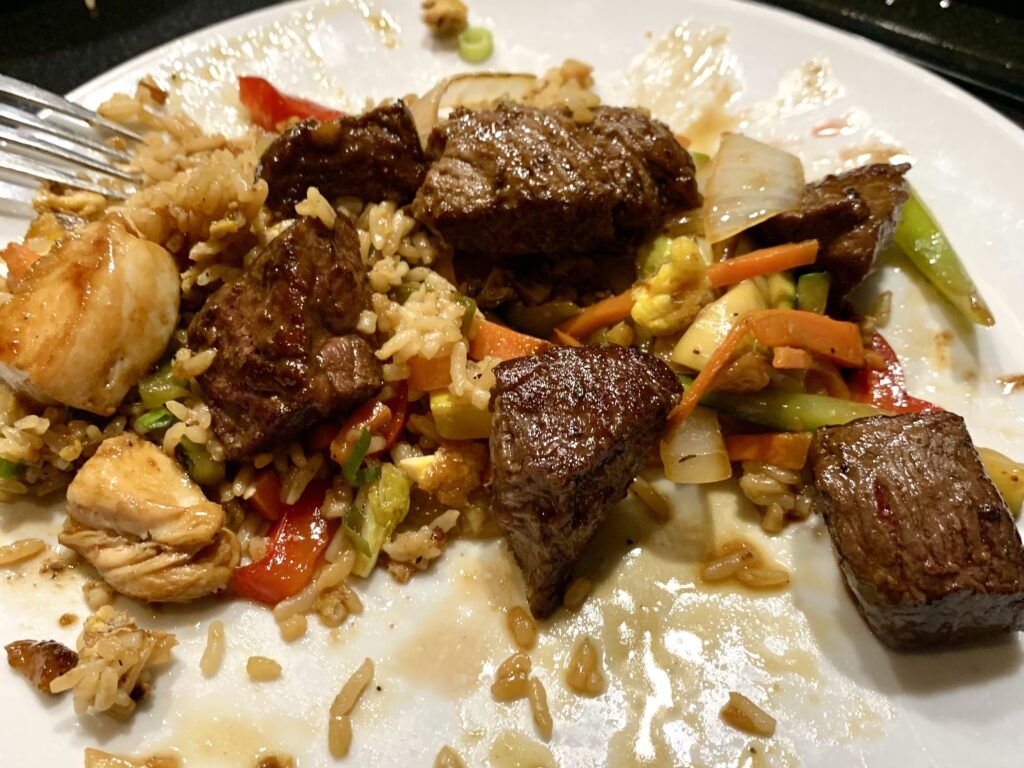 There is a nice salad to start, and while you are eating the salad, the chef begins the food preparation with the fried rice. I couldn't believe how many ingredients went into this fried rice. I don't know if it was because I was so hungry (I literally starved myself all day in anticipation of this meal), but the fried rice knocked it out of the park for me and everyone else in my group.
Then, the chef began preparing the vegetables. It took a lot of effort to avoid eating more than half the bowl of rice to ensure enough room for everything else.
Once the vegetables were finished, they were served to us as well. They were just amazing mixed with the fried rice. Again, I needed to use a lot of restraint to save room for the meat.
The beef tenderloin is a filet mignon (cut up into small pieces). Finally, it was time to feast on this entrée. There was so much food, but it was unbelievable.
The strange thing is that I knew what to expect as I had been to a Kobe restaurant on land a long time ago, but Izumi Hibachi still blew me away. It was better than I expected. Especially the fried rice.
Next was dessert. I ordered the Moshi Ice Cream. It comes in various flavors. I had Green Tea, Mango, and Chocolate. It comes in 3 scoops and has a fondant coat to hold it together. It was very good.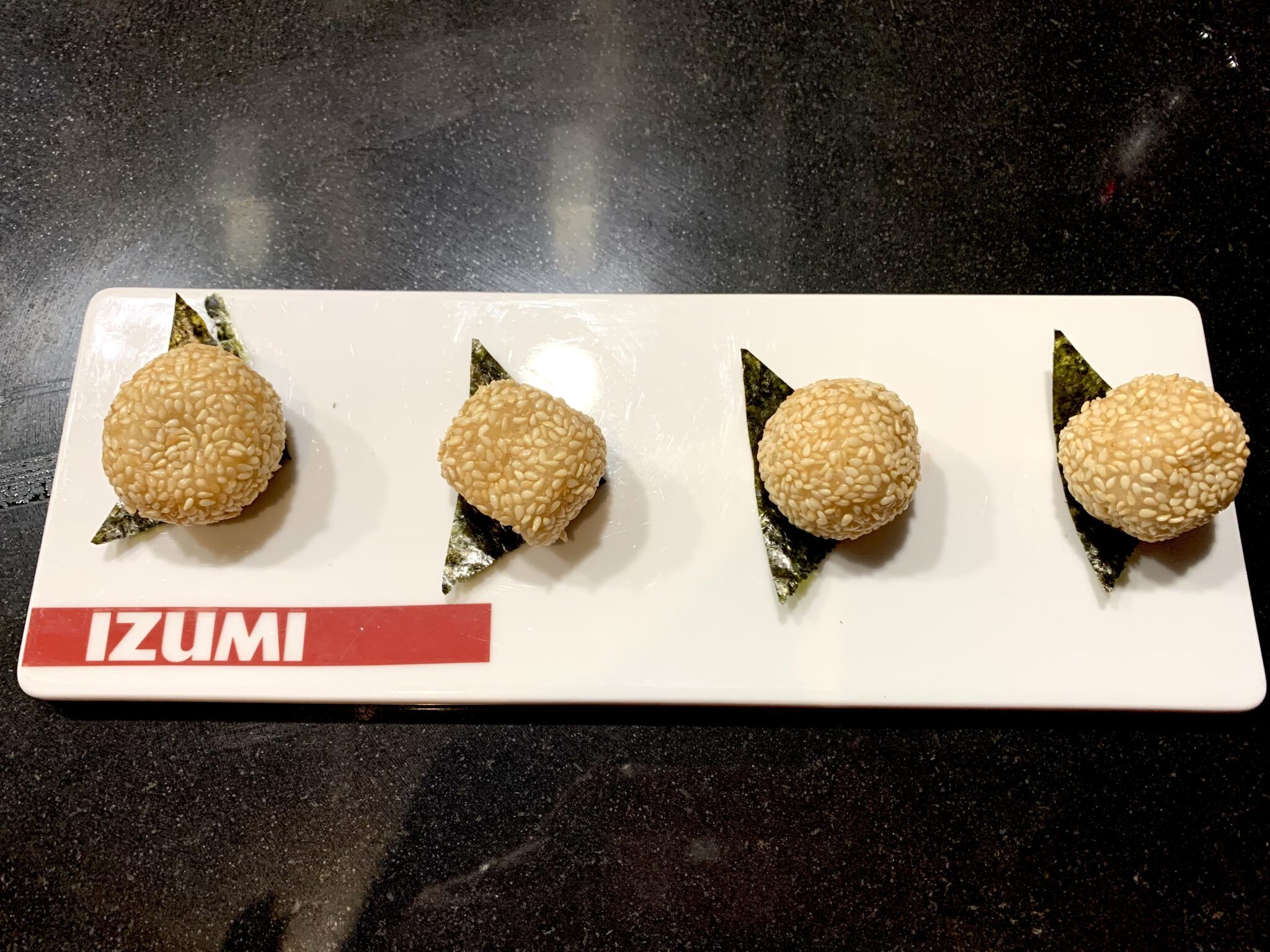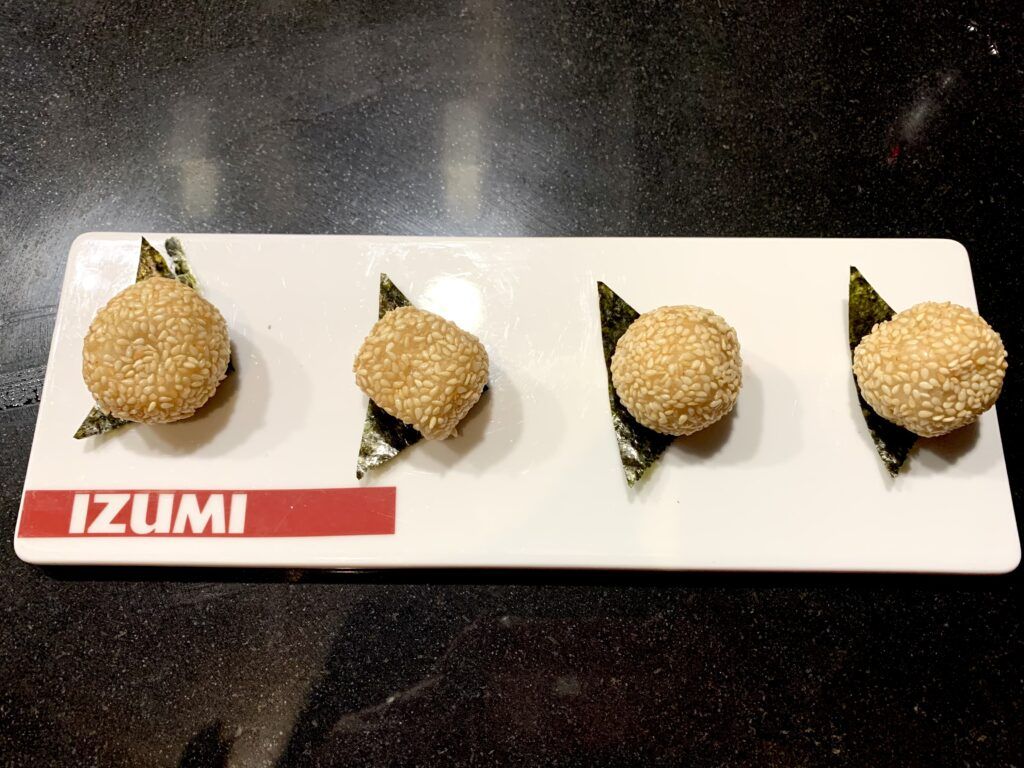 My wife ordered the Sesame Balls (actually, I wanted to try those too). They are hard to describe, but I loved them. They are soft, not too sweet, and not too filling. I would order those again over the ice cream.
We all agreed that we actually enjoyed this better than the Chef's Table since it was so different.
Mariner of the Seas Dining: Day 2 at Boardwalk Dog House
One of the many Mariner of the Seas dining options is a Boardwalk Dog House. This is a complimentary pool-side venue serving a few varieties of hot dogs. I'm not a big hot dog lover, but every so often, I will have one.
The best hot dogs that I've sampled during a cruise are the ones they served in the little carts at Coco Cay before the Perfect Day development.
This was the only food all weekend that I didn't care for. I have tried the hot dogs at this venue a few times before on other ships, and I had the same complaint- the bread. There was too much bread, and it was not very good either. I think a hot dog bun should be soft and not be too thick for the size of the hot dog. This hot dog missed the mark on both counts.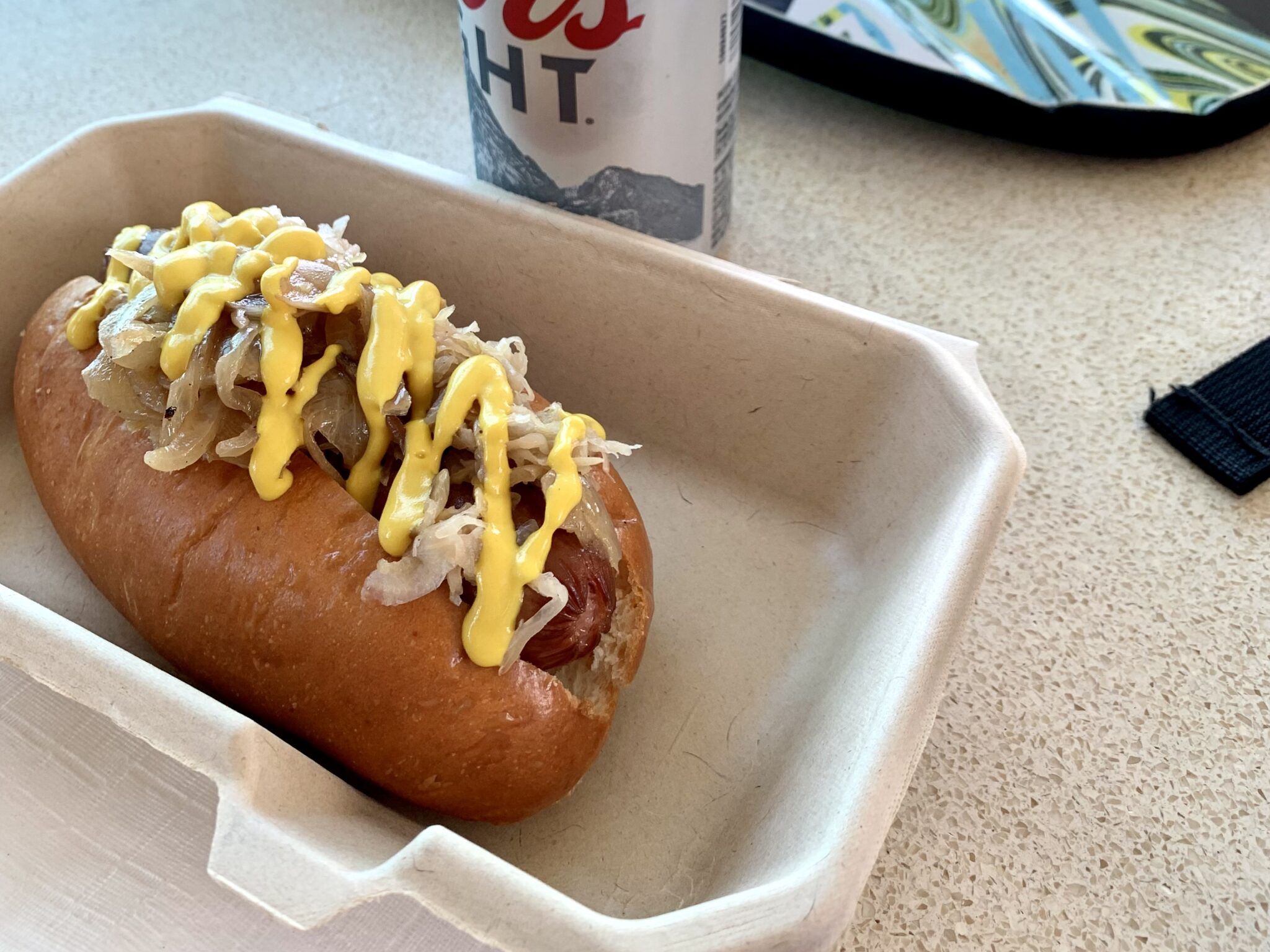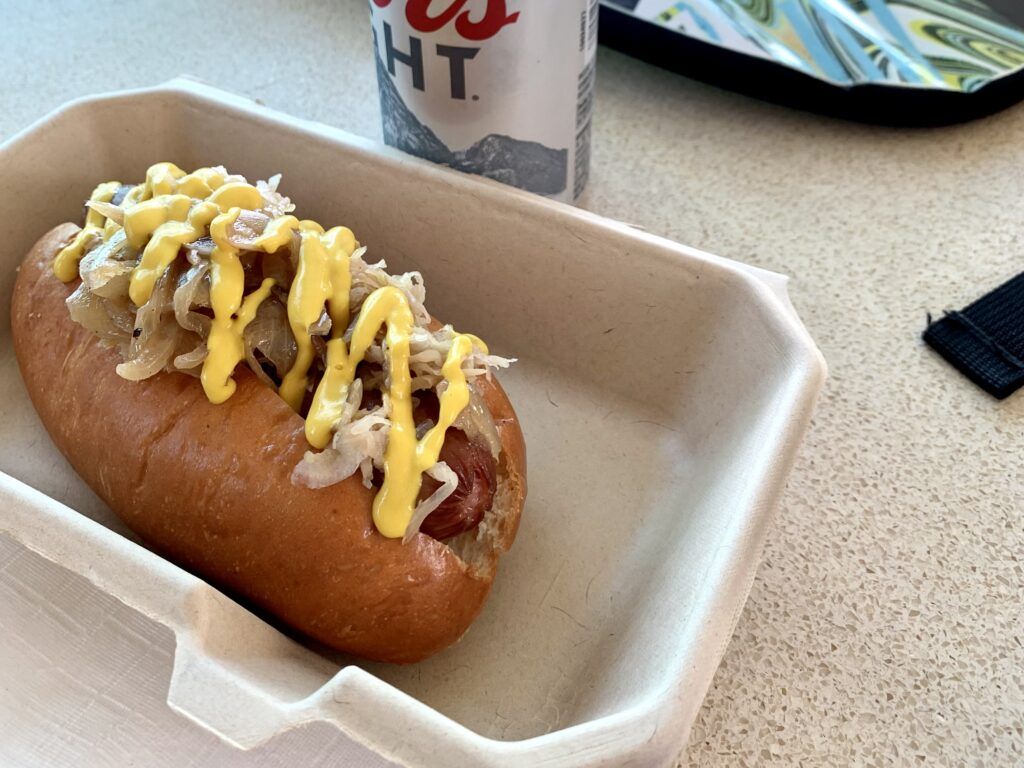 The toppings were great. I had sauerkraut, onions, and mustard. I ended up eating the hot dog and toppings and left half the bread on the plate.
Day 2 with Indian Food in the Main Dining Room
Since I skipped breakfast and had a very light lunch, I was hungry. Nothing on the menu in the Main Dining Room this night interested me. However, there is always an Indian selection available upon request. Indian food is my stand-by anytime the regular menu doesn't appeal to me.
There is always a vegetarian and a non-vegetarian Indian selection. Tonight, they had Lamb Curry, so that's what I ordered. It came with all the traditional accompaniments including Roti bread, Papadum, Dahl, Basmati rice, Raita, and Indian Pickle. This hit the spot.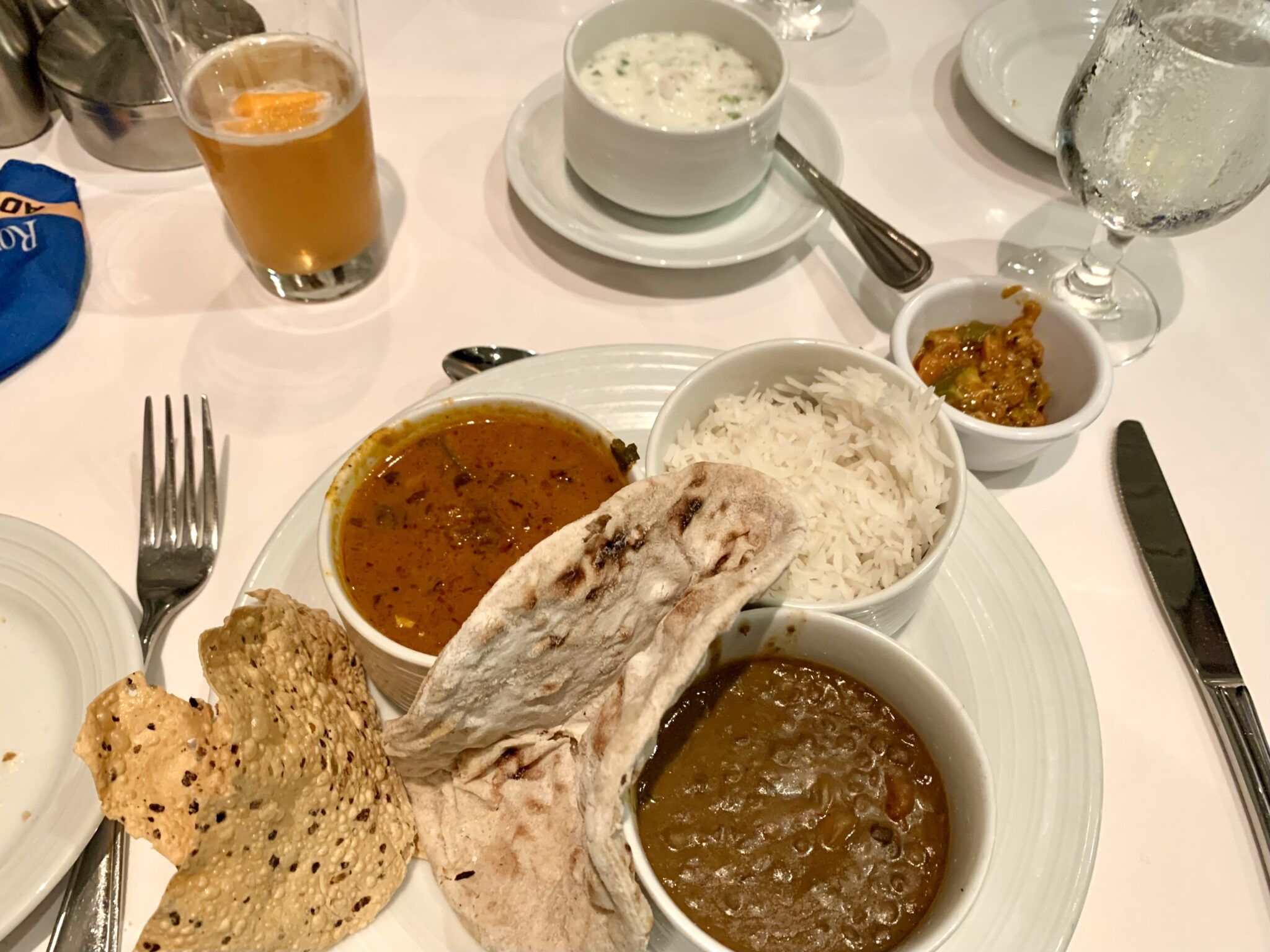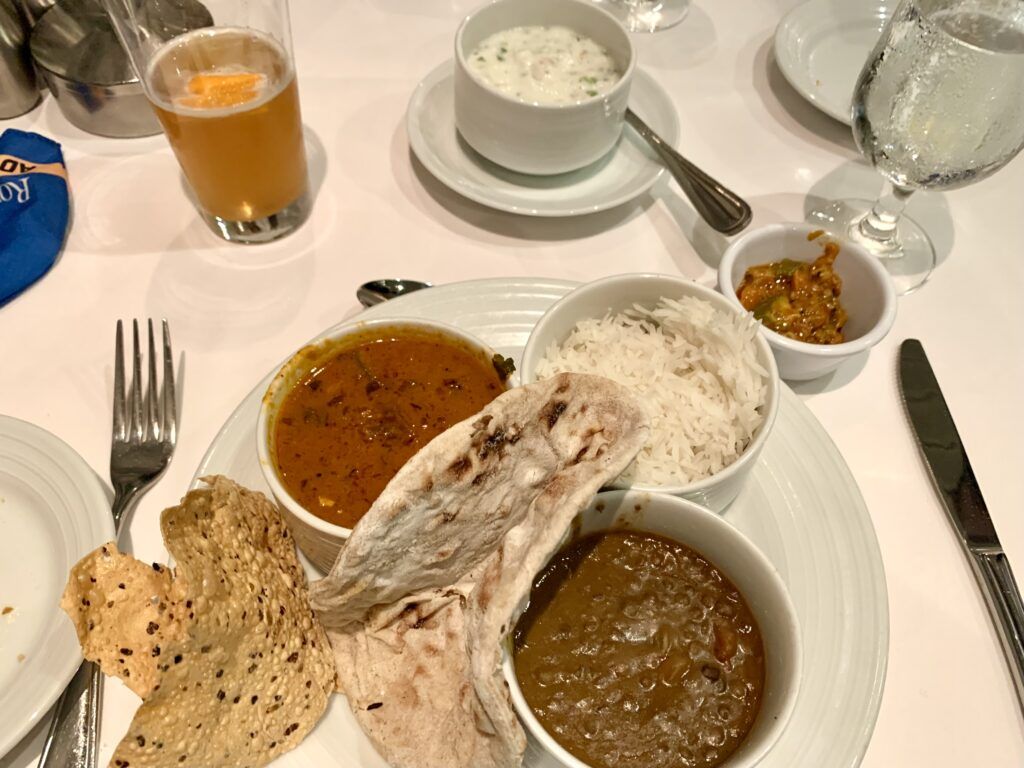 I always suggest that they need to open up an Indian specialty restaurant. I mentioned this to Chef Travis Kamiyama (the founder and head of Izumi) personally, and he even liked the idea.
Day 3: Coco Beach Club at Perfect Day at CocoCay
Another first for me was staying in the Coco Beach Club on Perfect Day at CocoCay. This is an up-charge area which includes a beautiful infinity pool overlooking the beach, beach beds poolside, plenty of loungers and umbrellas on the beach, and a wonderful lunch. You can get this lunch either served at your lounger or you can sit down at one of the many tables at the restaurant.
There are also Beach Cabanas and Over-The-Water Cabanas available to rent. The purchase of a cabana includes access to the Coco Beach Club.
We just purchased the day passes to the Club. We ended up paying about $80 per person for the day passes. For a while, the price was in the Cruise Planner as $170 per person. One day, it went on sale for $80, so that's when I booked it.
On this day, we docked alongside Freedom of the Seas. I found out that the capacity of the beach club is 240 guests, and 230 guests had booked. I am not sure, but I believe that this number includes the guests booked in cabanas as well.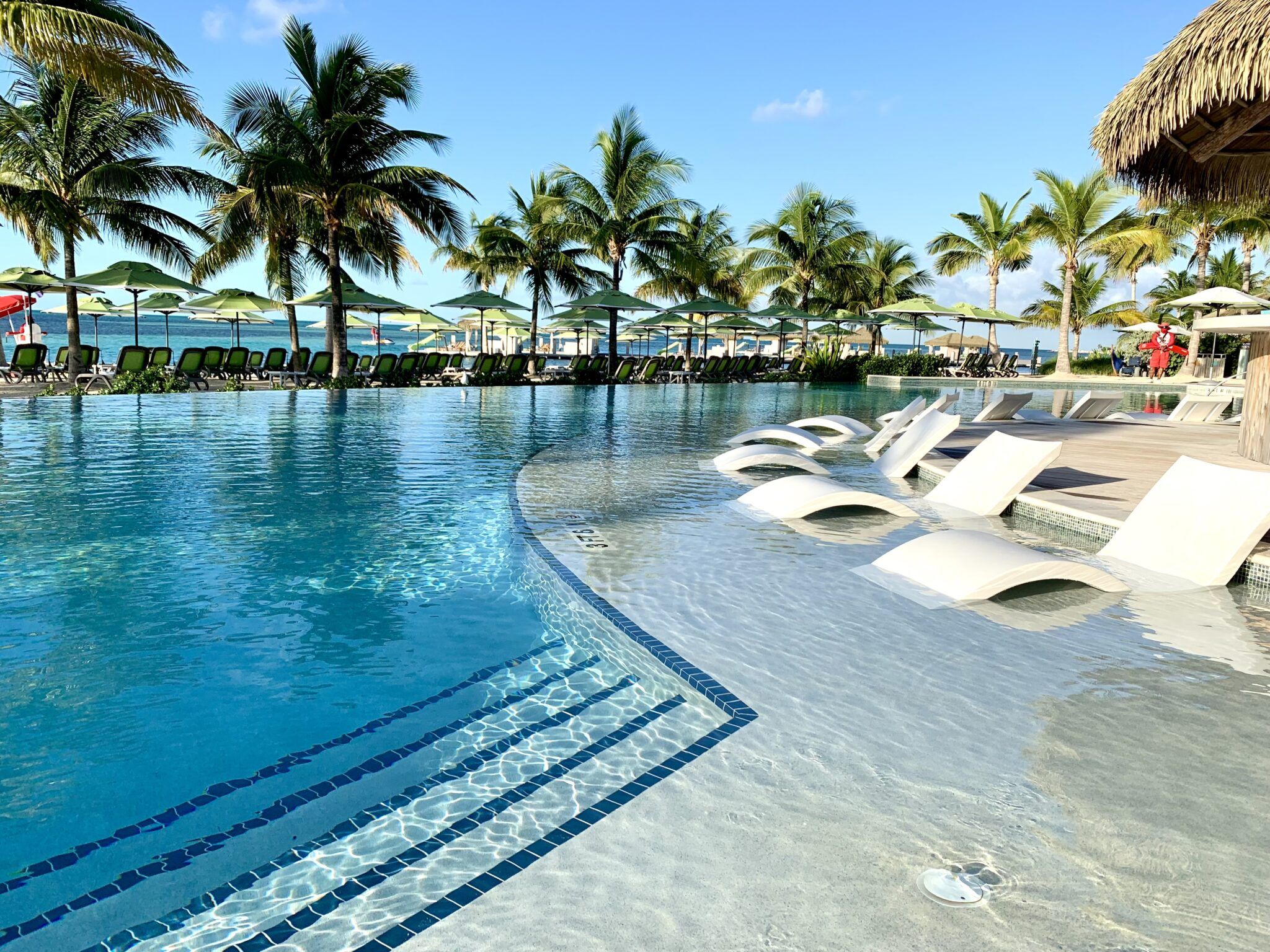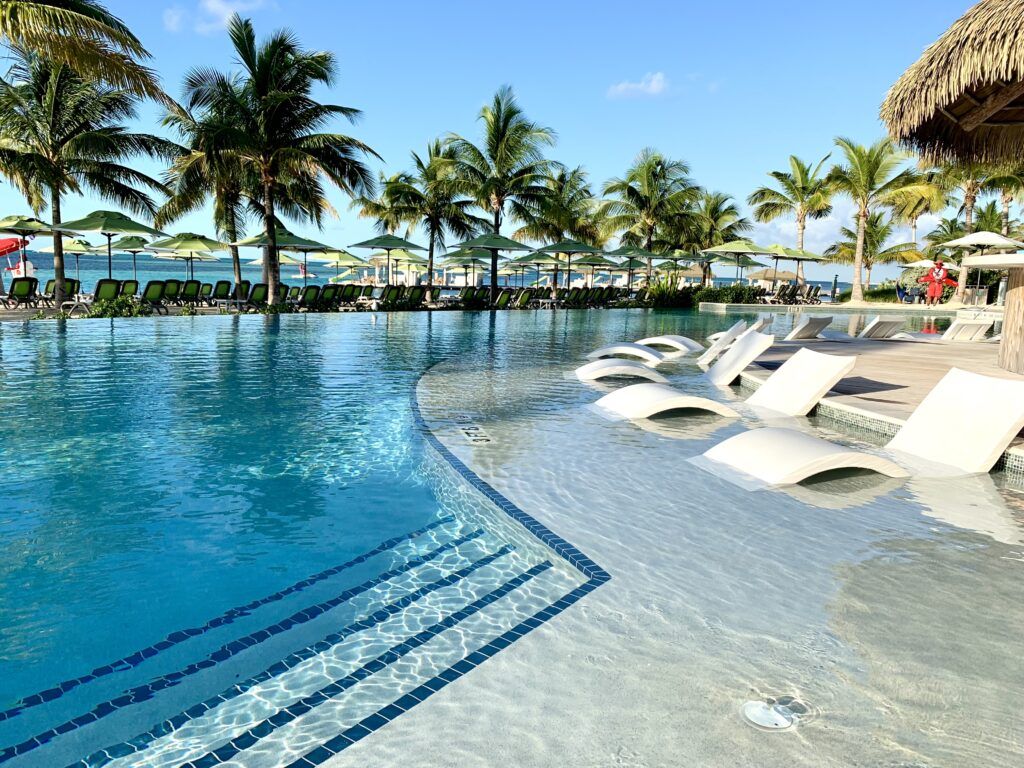 If you want a premium spot, I recommend getting off the ship as soon as they open the gangway. We picked a beach bed right in front of the pool. It was very comfortable, and it's really close to the bar. There are also plenty of waiters walking around taking drink orders.
As Pinnacle Club members of the Crown and Anchor Society, we get 6 free drinks per day on our Sea Pass Cards. These can be used at Coco Cay.
Mariner of the Seas Dining: Lunch at the Coco Beach Club
Upon arrival at the Coco Beach Club, I noticed they serve coffee and a few varieties of pastries. Nothing fancy. The same stuff as on the ship in the Café Promenade. They also have a water station serving lemon-infused water all day.
You are required (or at least strongly encouraged) to make reservations for lunch prior to arriving. We made reservations for noon. Though, they serve lunch all the way to 2:30 PM.
At noon, we were seated for lunch. The main seating is open-air, under a roof adjacent to the restaurant. I noticed several tables outside that area as well.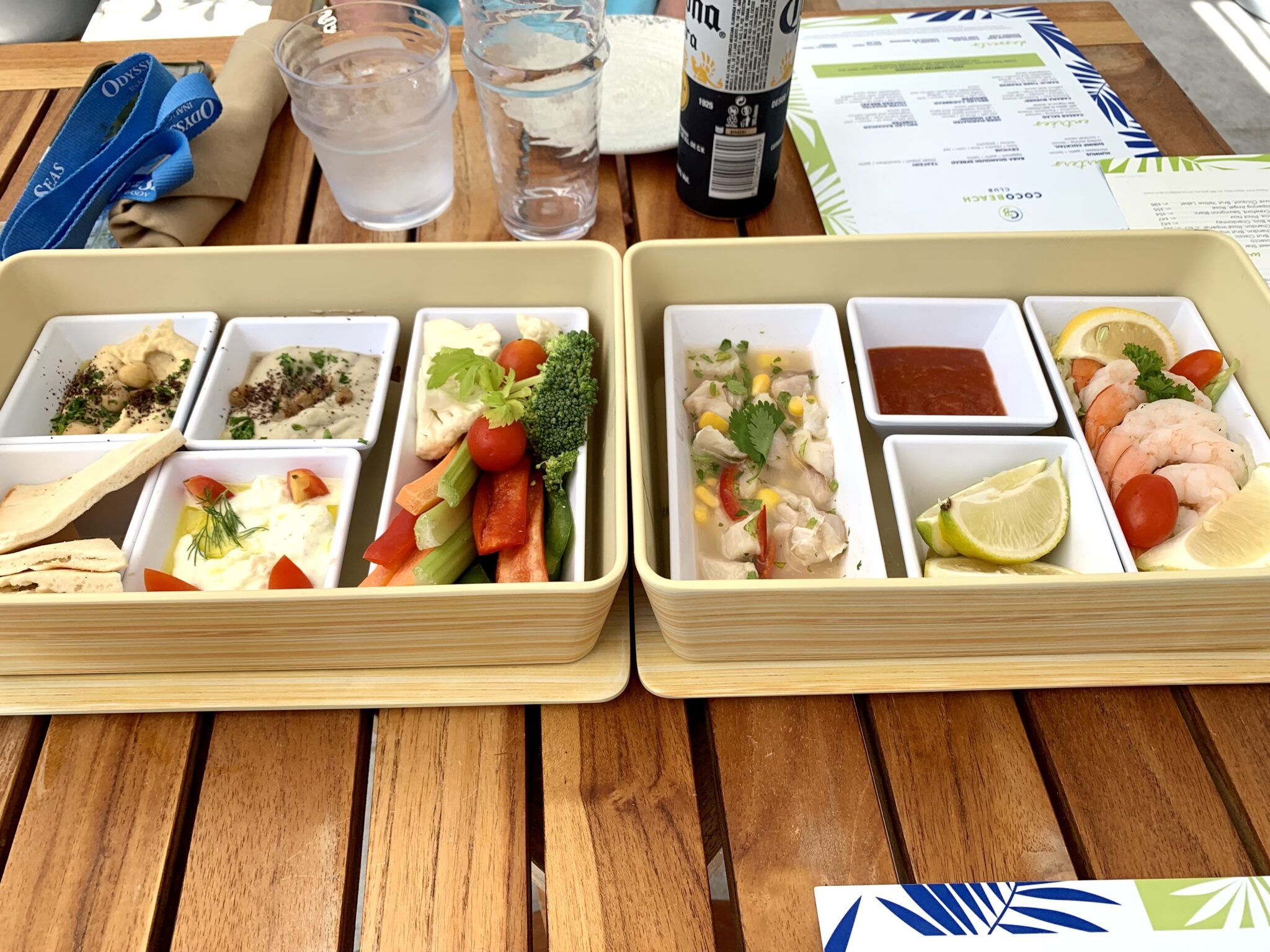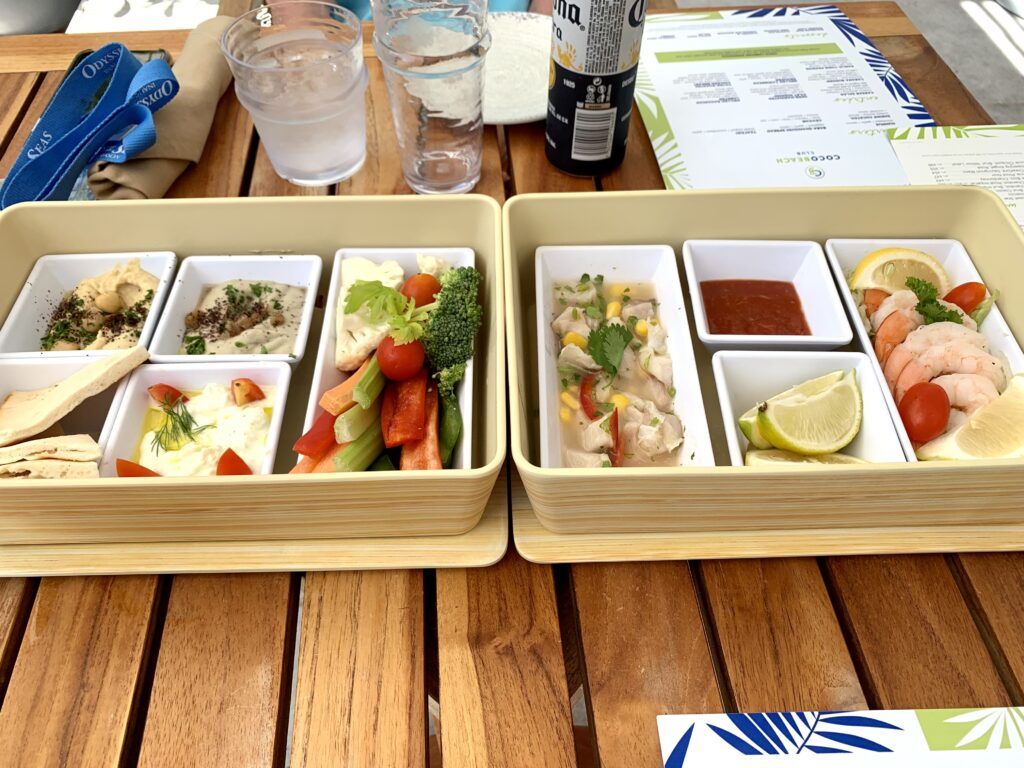 You can order whatever you want and as much as you want from the upscale menu. We had the appetizer sampler which includes ceviche (snapper), shrimp cocktail, veggie sticks, pita bread slices, hummus, babaganoush, and a yogurt/sour cream type of dip.
For the main course, I ordered the grilled grouper, and my wife ordered surf and turf. We planned to split the filet mignon. It was all outstanding. They served the grouper with fries which were excellent. The grouper was just ok. It was a little bland and was not as good as I was expecting. When I come back, I would not order this again. I'm glad I tried it though.
However, the filet mignon was the standout. It had a nice smoky, barbecue taste from the open grill (which are not allowed on cruise ships). We ordered this medium rare, and it was cooked as ordered.
Although it was excellent, it was not the best filet mignon I have ever had. I still rate the filet mignon at Coastal Kitchen and Chef's Table a little better, but the one I had here was close. The next time I am here, I will order the filet mignon again.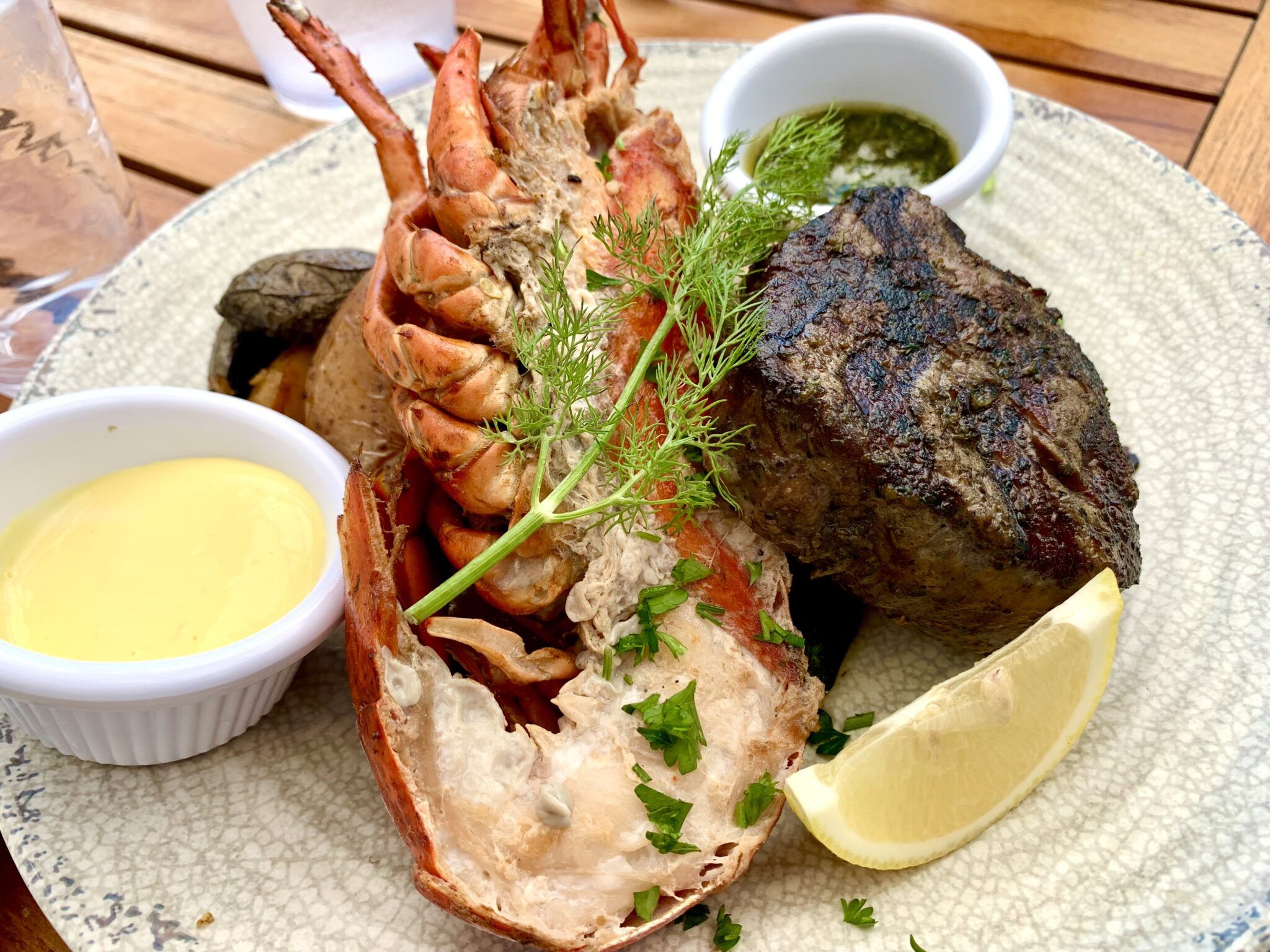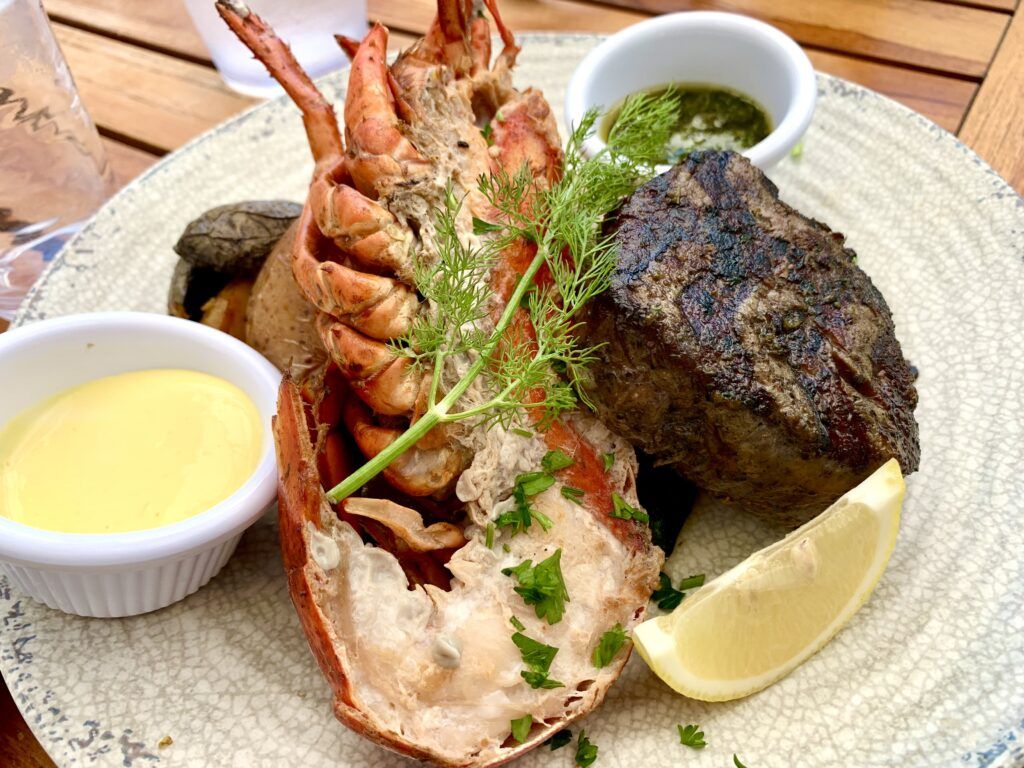 For dessert, I had the rum cake. It was good, but nothing to write home about though.
Overall, the lunch was excellent. I will definitely book the Coco Beach Club again, as long as the price is below $100 per person.
Mariner of the Seas Dining: Day 3 Dinner at Chef's Table
As mentioned above, we had tried and failed to get reservations for the Chef's Table for Days 1 or 2. However, little did I know that the Food and Beverage Director decided to set up a private Chef's Table for my little group. This really was a last-minute surprise.
The Chef's Table is a multi-course wine-pairing meal offered on most Royal Caribbean ships. It is usually limited to one table of anywhere from 4-12 people. The Chef's Table is usually in a room or section separate from main dining areas.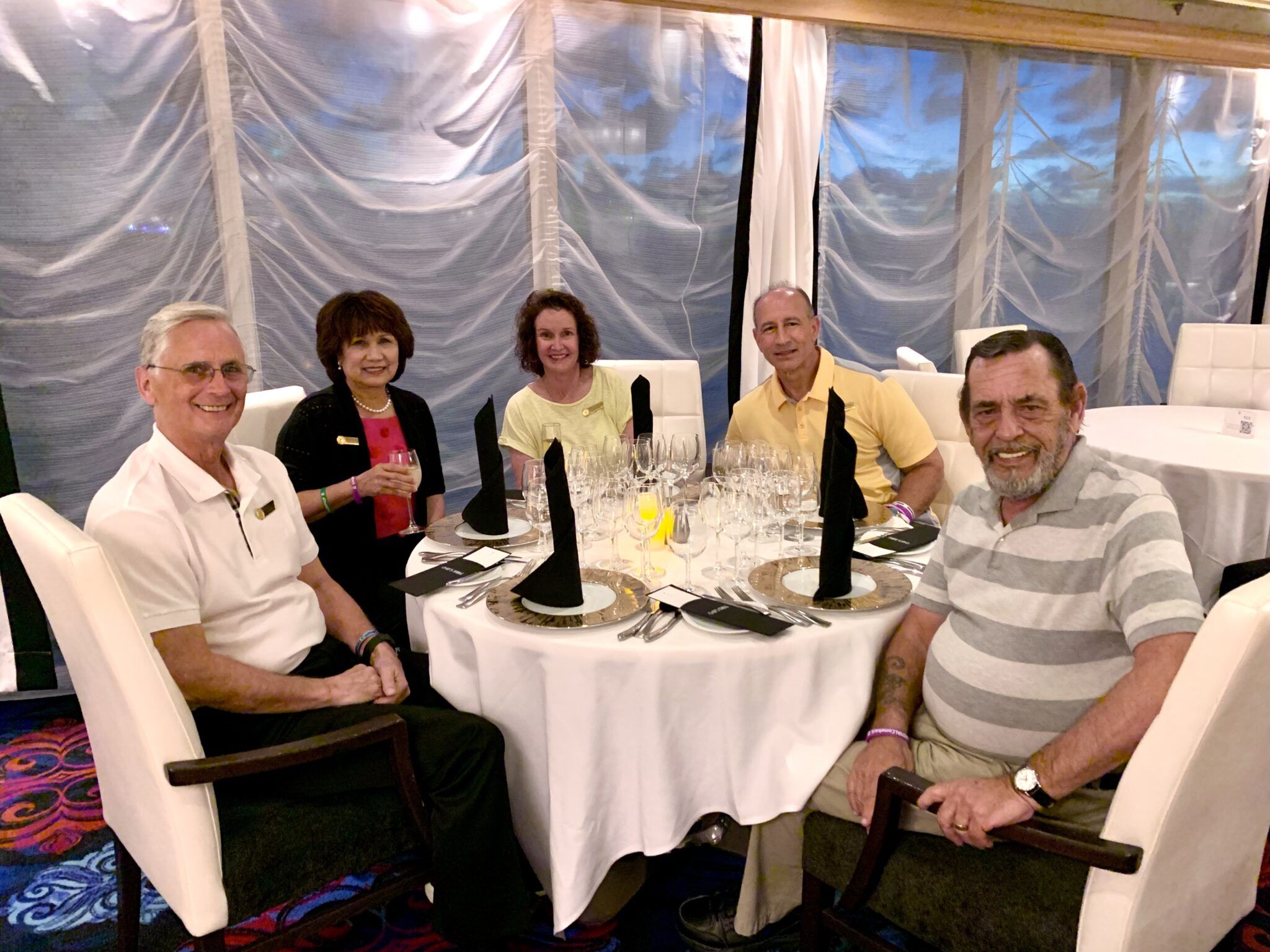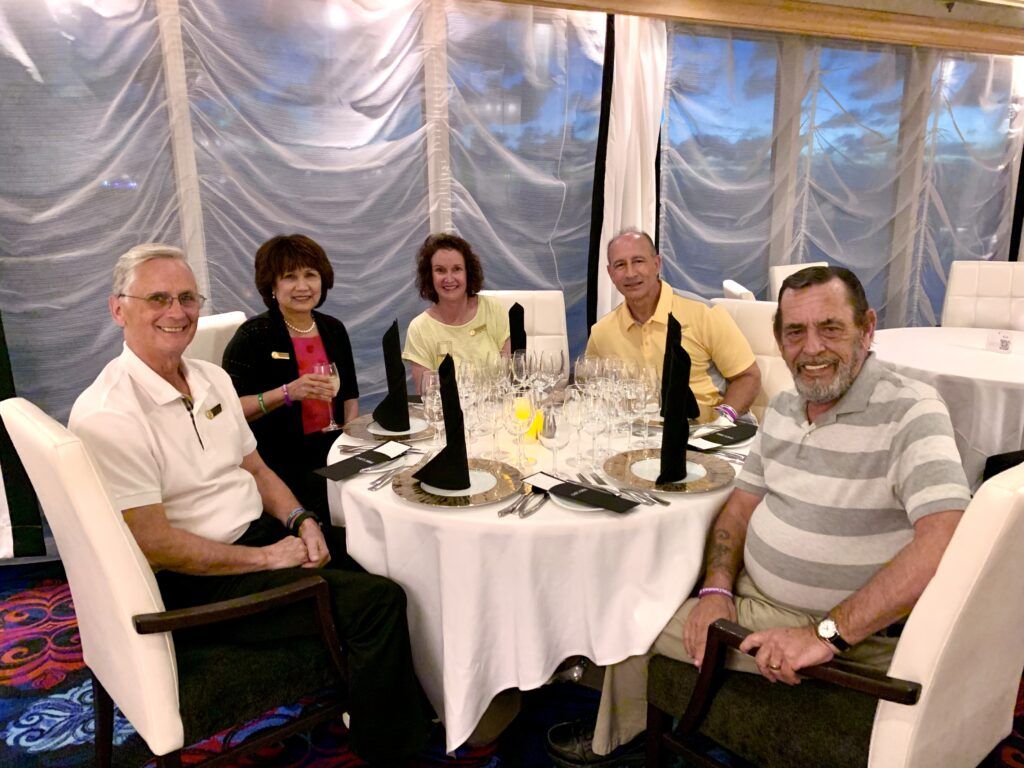 Because there were no reservations available at all this cruise, the Food and Beverage Manager set up a small table all to ourselves in Deck 5 of the Main Dining Room. We were the only guests on that entire deck. It was so quiet and private; it made us feel really special.
Our meal was 6-courses, each paired with a wine specially selected by our Sommelier. Prior to each course, the Sommelier presents the wine selection for that pairing and describes why it is being paired with that course.
As each course is served, the Executive Chef describes the food and how it is prepared. This ends up being quite an educational experience also.
Our six courses were:
Scallop Carpacio
Smoked Tomato Soup
Maine Lobster Salad
Roasted Branzino
Grilled Filet Mignon
The World (dessert), paired with an espresso Martini
Each course was amazing, but my favorites were the Filet Mignon and the Branzino. The filet was on par with the best steak I've ever tasted. With every bite, I just thought how amazing this whole experience was.
For dessert, they took a page from Wonderland's imaginative cuisine and served "The World" chocolate globe. The waiter poured hot chocolate syrup over it, causing it to melt and expose an amazing dessert inside consisting of peanut butter ganache, chocolate mousse, and salted caramel gelato. I thought I had died and gone to Heaven.
This was quite a way to end this short cruise. I have been to the Chef's Table a couple of times before and each time was excellent. Though, this one was the best by far with the combination of the very private setting and the service and food. It all just blew me away.
Overall Observations
After well over 100 weekend cruises, this one turned out to be one of the most memorable yet, with all the new foods and experiences I had.
Mariner of the Seas is an amazing ship. It is smaller than the Oasis Class ships but is every bit as good. There are other specialty dining options that I didn't get to enjoy this weekend, including Chops Grille and Jamie's Italian.
I have eaten at Jamie's many times and love it. Jamie's has such a great variety of food; it is easy to dine here more often to try all the different dishes. Truth be told, when Mariner of the Seas first came to Port Canaveral a few years ago with the addition of Jamie's Italian, I ate here 6 consecutive nights!
Now that I have finally tried Izumi Hibachi, this is one place I plan to eat at more often as well. It is a lot of food, so I think it might be a good choice for 2-3 times per year on special occasions.
Comments
What are some of your favorite Royal Caribbean restaurants? What Mariner of the Seas dining options to you enjoy most? Drop us an anchor below to share where you love to dine on Royal Caribbean cruise ships.