Roatan, the largest of the Bay Islands located off the northern coast of Honduras, has become a popular Western Caribbean cruise destination in recent years. There are actually two main ports on Roatan, the Port of Roatan located in the main town of Coxen Hole and Mahogany Bay located in Dixon Cove. If your next cruise is stopping at the island, we have you covered with our list of the Best Things to Do in Roatan, Honduras on a cruise.
Given its location near a barrier reef, Roatan offers a variety of water-based activities and marine life to explore, as well as beautiful beaches. There is also the jungle and the island's native flora and fauna, plus the lively downtown atmosphere.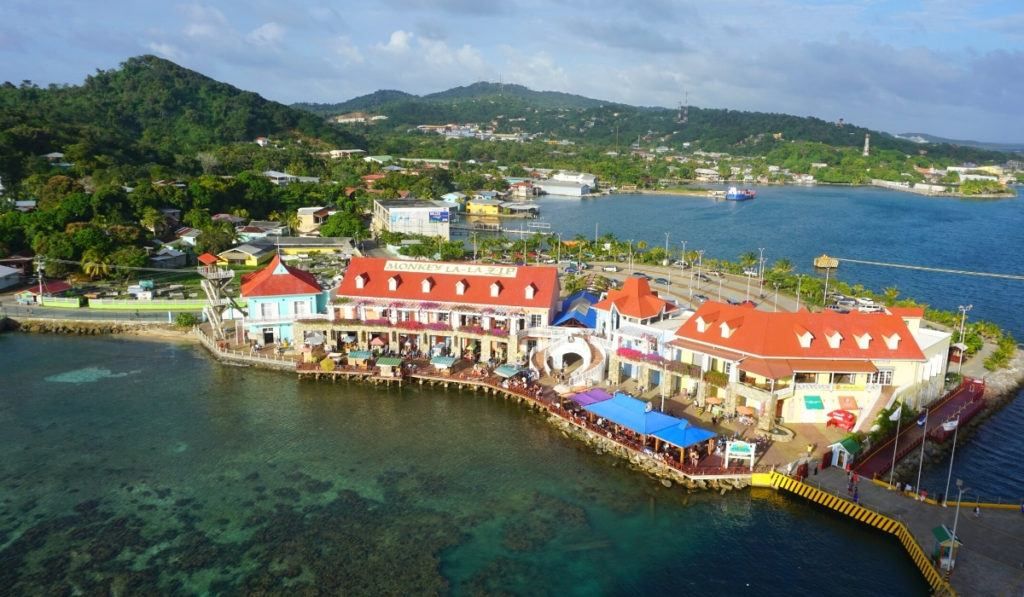 Best Things to Do in Roatan, Honduras on a Cruise (2021)
Go Wild at Gumbalimba
Gumbalimba Park, located in West Bay, is a unique beachfront attraction. Unlike other beaches though, you can get up close and personal with some pretty awesome creatures here.
While touring the grounds, you can cross a 238-foot-long bamboo suspension bridge, pose with a macaw, stroll the botanical gardens, and see the many iguanas roaming the property. Just don't eat them, as iguana consumption is illegal on the island!
Of course, the main attraction at Gumbalimba is the White Face Capuchin Monkeys. In the Monkey Refuge, you will be greeted by these social creatures who are more than ready to pose for a selfie with you.
If you are feeling adventurous, you can always add on a zipline tour to your visit at Gumbalimba Park.
Related Post: Top Caribbean Cruise Tips
Explore an Eco Nature Park
For a similar experience, many cruisers also enjoy the Manawakie Eco Nature Park. Located on the north side of Roatan, you can also interact with many exotic animals here. At Manawakie Eco Nature Park, you will get up close and personal with sloths, birds, monkeys, and more.
The Mayan Eden Eco Park is another option located a bit closer to the cruise port. Here, you will find a butterfly and hummingbird sanctuary, in addition to interactions with monkeys and sloths. You can also add on a zipline tour at this attraction.
Both options are great cruise excursions for nature lovers.
Hang Around With Some Sloths
If your priority is making sure you get great selfies with sloths and monkeys, you can visit one of the sanctuaries on the island. Daniel Johnson's Monkey and Sloth Hangout is highly rated among cruisers. At the Hangout, you will get a guided tour and learn all about the animals.
Victor Bodden's Monkey and Sloth Sanctuary is another popular option, complete with sloth hugs. A visit here can be combined with other activities offered by the company like the Fun-N-Sun or Zip-N-Dip tours.
If iguanas are your thing, you might want to visit Arch's Iguana & Marine Park.
Make It a Beach Day
West Bay Beach is ranked as one of the best beaches in the world. So, of course, it makes our list of the best things to do in Roatan on a cruise. Most cruise lines offer excursions to Tabyana Beach which is actually just a section of West Bay Beach with reserved loungers. Bananarama and Mayan Princess are resorts located on West Bay that also offer cruise line packages (all-inclusive options) with transportation.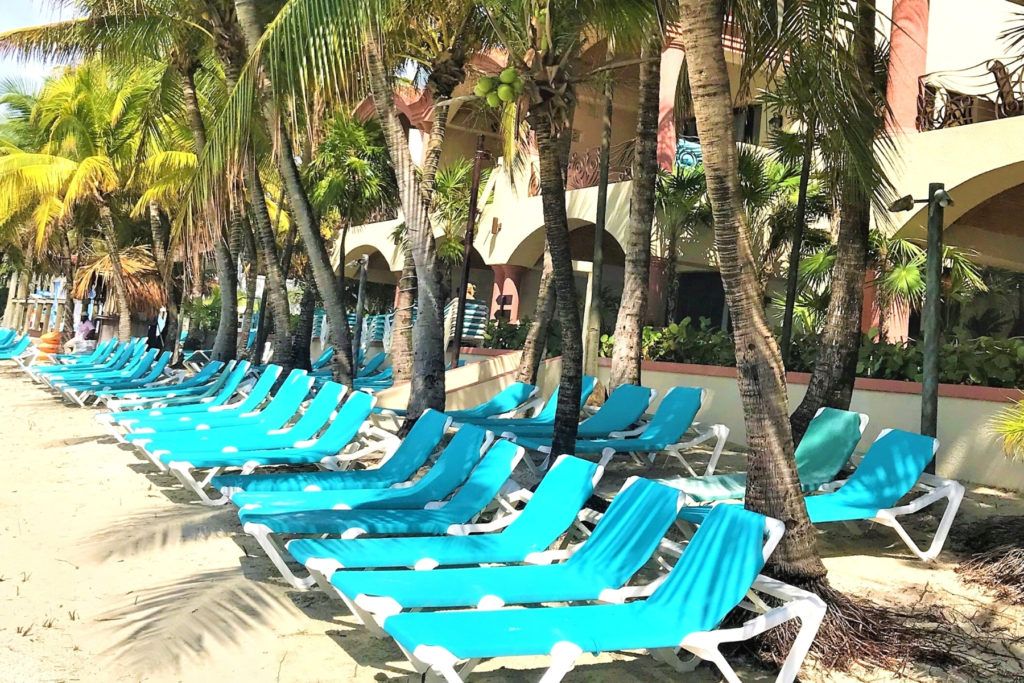 Turquoise Bay Resort, Pristine Bay Resort, Sol y Mar adults only resort, and Las Palmas Beach Resort are other options located across the island.
Further, West End (different from West Bay) is home to Half Moon Bay beach. This popular beach is great for snorkeling and tends to be less crowded than West Bay.
Escape to Little French Key
Little French Key is a private island resort that is highly rated among cruisers visiting Roatan. Different packages are available including use of the white sand beaches, food, and drinks. There are also a number of add-ons like horseback riding, massages, and more.
This private escape also offers combo tours which include access to the resort in addition to either a visit to AJ's Sloth Farm, a guided Mayatlantis tour, a guided snorkel tour, a zipline ride, or scuba diving.
Most cruise lines offer packages to the neighboring Big French Key instead. Big French Key offers a similar, yet more simplistic experience.
Related Post: Caribbean Cruise Packing List
Maya Key Private Island Retreat
If you are looking for a private resort that is suitable for the whole family, Maya Key might be the best option. This 11.5-acre sanctuary offers beaches, pools, restaurants, snorkeling, animal encounters, and more. There is certainly something for everyone in your travel party at Maya Key.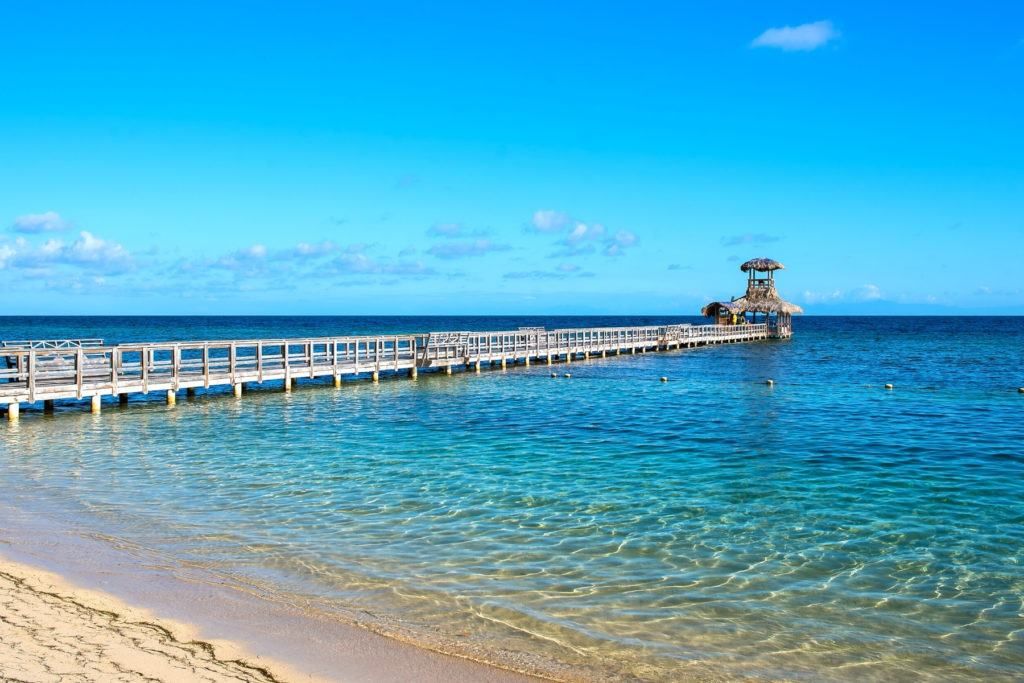 You can choose to relax on one of two beaches, lounge on the sun deck near the pool, or stroll the botanical gardens. There is also a Mayan Interpretation Center and Ethnic Honduran Art Exhibit Center on property. You can even tour the Animal Rescue center where you can see macaws, monkeys, and even jaguars.
Visit West End Village
The town of West End, also referred to as "The Strip", is known for more than just Half Moon Bay Beach. Located about 20 minutes from the cruise pier (35 minutes from Mahogany Bay), this tourist hotspot is hopping with hotels, restaurants, bars, artisan markets, and plenty of water-based activities. You can spend your day just strolling the strip and enjoying the lively atmosphere.
Or perhaps, you'd like to take advantage of one of the many dive shops located in the area for some scuba diving, SNUBA, or snorkeling. You can also take a glass-bottom boat tour, a fishing charter, or a kayak excursion if you'd prefer to stay above water.
If you like to shop, you will want to stop in at The Rusty Fish art store to purchase some souvenirs made from recycled goods or Waves of Art featuring crafts from local artists. A visit to the Roatan Chocolate factory for some sweet treats is also a must.
Related Post: How to Plan the Perfect Shore Excursions
Immerse Yourself in the Meso-American Reef
As previously mentioned, Roatan is known for diving and snorkeling, just like other nearby Western Caribbean ports of call like Costa Maya and Belize. Given its location on the Meso-American reef, the 2nd largest reef in the world, Roatan offers you the opportunity to view some spectacular coral formations and diverse sea life.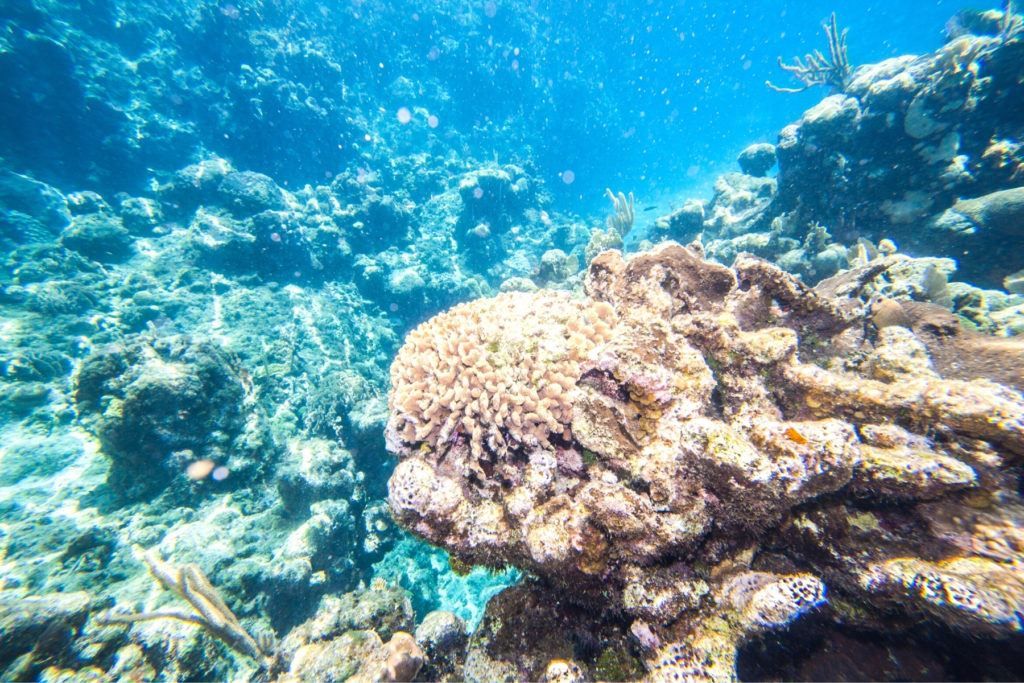 Even though a majority of the dive shops are located at West End, you can have an amazing time snorkeling just about anywhere on the island. That means you can combine one of the many other activities with snorkeling to make for a perfect day ashore.
There are several cruise line excursions offered that include snorkeling. So, grab your gear, hop into the crystal-clear waters, and get ready for one of the best snorkeling experiences you will ever have.
Soar to New Heights
If you'd prefer to trade the snorkeling, shopping, and ordinary beach days for something a bit more extreme, then why not soar to new heights during your visit to Roatan. Explore this beautiful Western Caribbean port of call from a completely new vantage point as you zip through the jungle on one of many thrilling zip line courses.
South Shore Zipline Adventures is the most popular of the companies. With over 2 miles of ziplines, the new Zuperman zipline, and a series of suspension bridges, this tour is definitely for all the thrill seekers among us.
Jungle Top Zipline, Mayan Jungle Canopy Zipline, and Pirates of the Caribbean Zipline & Canopy are just a few of the other zip courses available in Roatan. What's your favorite?
Related Post: Beginner's Guide to Cruise Planning
ATV Jungle Tour
For more jungle adventures, you can zoom off on an ATV through one of Roatan's adventure parks on some scenic nature trails. There will be plenty of sightseeing opportunities, flora and fauna to admire, as well as some muddy fun. Similar dune buggy experiences are also available.
These tours are usually combined with visits to other island attractions, like eco parks or beaches to round out a fun-filled day in Roatan.
Comments
Have you visited Roatan on a cruise? What is your favorite thing to do in this Western Caribbean port of call? Drop us an anchor below to let us know how you like to spend your time when visiting Roatan, Honduras on a cruise.