Independence of the Seas Cruise Review

01/18/2014 – 01/25/2014
Summary:
The Ship
The third and final Freedom Class ship (sisters: Freedom of the Seas and Liberty of the Seas), the Independence of the Seas (IOS) was the largest cruise ship when it debuted in 2008. In this Independence of the Seas Cruise Review we explore many of the Royal Caribbean features that have now come to define the brand including: a rock climbing wall, a Flowrider surf simulator, Studio B ice skating rink, and On-Air Karaoke bar.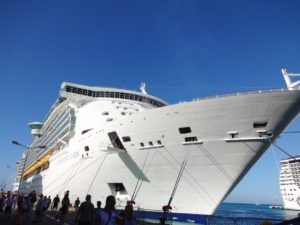 Itinerary
Our eight day itinerary was a nice departure from a typical seven day trip giving the Princess and I the opportunity to visit two new ports of call: San Juan, Puerto Rico and Basseterre, St Kitts. Other ports included the traditional Caribbean destinations of St. Marteen and RCI's Labadee, Haiti.

Highlight
The service in the dining room far surpassed the bar that had been set by our previous cruise experiences. Our waiter and assistant waiter (Ramir and Michael) provided the best service we have EVER received in the main dining room.
What's Missing
Even though IOS went through a recent refurbishment, the only major additions were the for-fee Cupcake Cupboard, the rebranding of the Italian specialty restaurant to Giovanni's Table, and the addition of an outdoor movie screen on the pool deck. The ship still lacked newer RCI favorites like the Park Café.
Main Takeaways
Overall, what IOS lacked in character was made up for by the service and ports of call.  The Cruise Director, Joff Eaton, was very entertaining with a dry sense of humor that kept me laughing though the Princess did not always find him to be that amusing.  The entertainment was basically on par with other ships on which we have traveled; although, this is the first time in our cruising history that we walked out of a show! The fellow passengers were typical for a January trip, and we were easily able to find seats in the theater, bars, and lounges. While the IOS does lack some of the more modern shopping, entertainment, and dining venues of her sister ships, our experience on IOS was not compromised. If you are considering Independence of the Seas for your next cruise, what are you waiting for? Book it.
Read our detailed Day by Day Independence of the Seas Cruise Review below…
Independence of the Seas Cruise Review
Day 1, Embarkation
During our Allure of the Sea cruise last year, we made the decision to fly down to FL the day before the cruise to ensure the winter weather of New England did not hinder our embarkation plans. For this cruise, we decided to play it safe and fly down the day before as well.
Based on our prior sailing from this port last year, we opted for a new hotel, the Embassy Suites. Our experience at the Hyatt Place the year before was less than spectacular, so we chose the Embassy Suites based on others' reviews in hopes that we would have a better pre-cruise hotel stay.
©Embassy Suites
Overall, the hotel was well appointed and met our needs with plenty of room for the FOUR bags of luggage that The Princess made me drag to Florida! The decor inside the hotel was adequate and the manager's cocktail reception for hotel patrons was a mixed blessing. It was great to have a free drink or two to unwind but the overfilled lobby limited our ability to grab a real dinner before going to bed as the hotel's food service is basically out of commission during this "reception". Of course, I was not that concerned as I knew I would be eating plenty the next several days onboard the IOS!
On Saturday of the cruise, we had booked a transfer to the Port through the hotel. We always advise to get to the pier as soon as possible so we were in the lobby, had breakfast, and were ready for a transfer by 10:00am. This transfer experience turned out to be a bit of a disaster. I had to go to the desk multiple times to make sure our transfer was recorded and attempt to inquire about the status of the shuttle, but no one seemed able to give us any information about pickup times or the transfer vehicle for which we should be looking.
We sat clueless outside of the hotel waiting for a transport to arrive for a good half-hour. By the time I was finally able to track down "the woman with the clipboard" who had our transfer information, she quickly radioed for a transfer van and we were able to hop on this next transfer with another family. The trip from Embassy Suites is a short ride so we were at the pier and waiting in line within no time.
When we arrived, we checked our luggage and proceeded to the C&A line to await boarding. This line was let into the cruise terminal prior to all other waiting passengers after only a short wait time. We made it through the check-in process without issue and were in the C&A Platinum waiting area by 11:15am. Of course, the wait seemed endless but in reality we were onboard in less than an hour.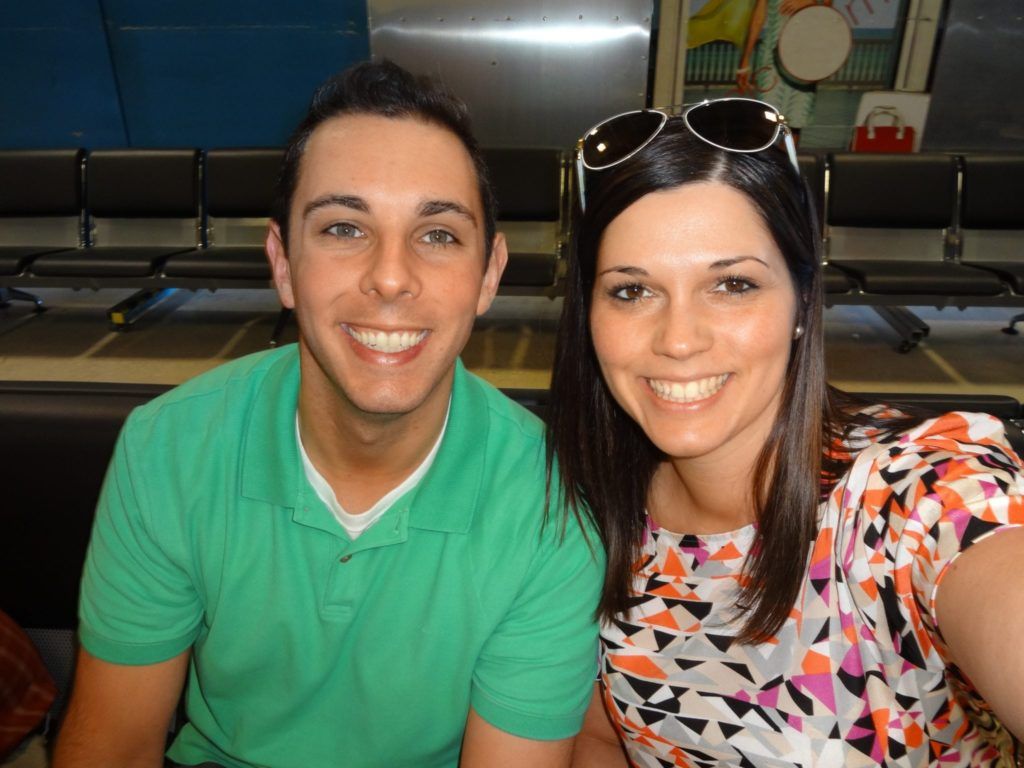 TIP:  Many ships start letting passengers onboard by 12:00pm, if not sooner. They want you onboard as soon as possible to sell you excursions, drink packages, etc.  Previous passengers and suite guests will be the first to board, but even first time cruisers who prepare appropriately can be among the first cruisers on the ship. This is the perfect opportunity to take pictures of venues and public spaces with no crowds, allowing you to capture the raw beauty of your ship.
By 1:30pm, we had already taken many pictures, purchased our drink package, and were seated in the Promenade having a quick sandwich and latte.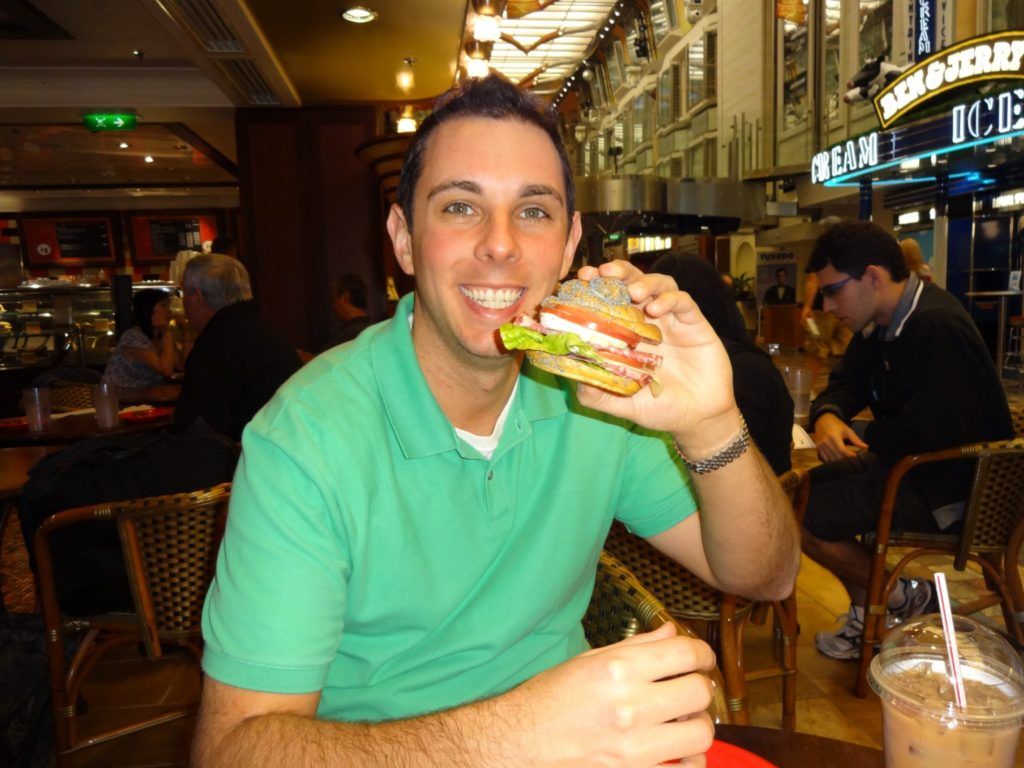 After a few more photo ops, we stopped in to see our cabin (around 3:30pm). We dropped off our carry-on bag and other non-essentials then made our way to the pool deck for the first of many drinks of the day (DOTD). We were seated at the pool bar, basking in the glow of the Florida sunshine awaiting the SAIL AWAY of the IOS.
After some relaxation, we had to finish up our cocktails and make our way to the mandatory muster drill that occurred at 4:45pm on deck 5. Following the muster drill, we headed back to our stateroom to find that our luggage had been delivered already so we unpacked, changed, and got ready for our traditional dining at 6:00pm in the MDR.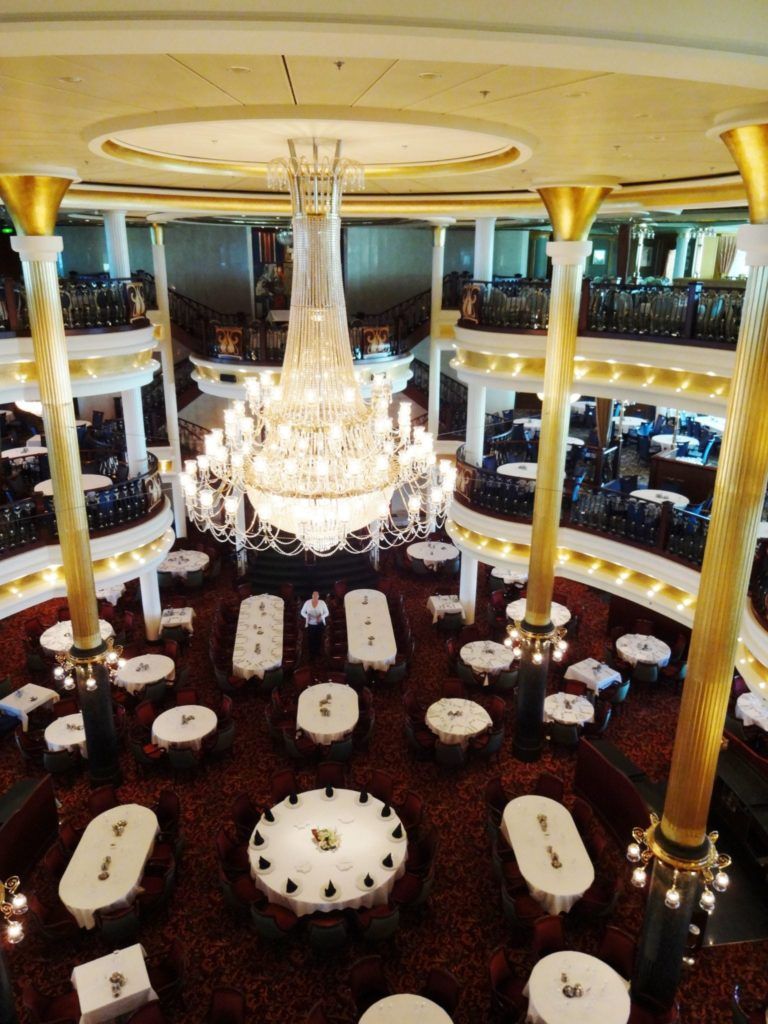 Granted it was the first night, but we did find dinner a bit slow, forcing us to hurry through the various courses. With barely any time for dessert, we rushed off to the Welcome Aboard show that started at 7:40pm. We were able to find a seat in the Alhambra theater moments before the start of the variety show. The Welcome Aboard show featured the comedy of Phil Tag. All in all, we found the night's entertainment to be on par with other cruise ship shows we have seen.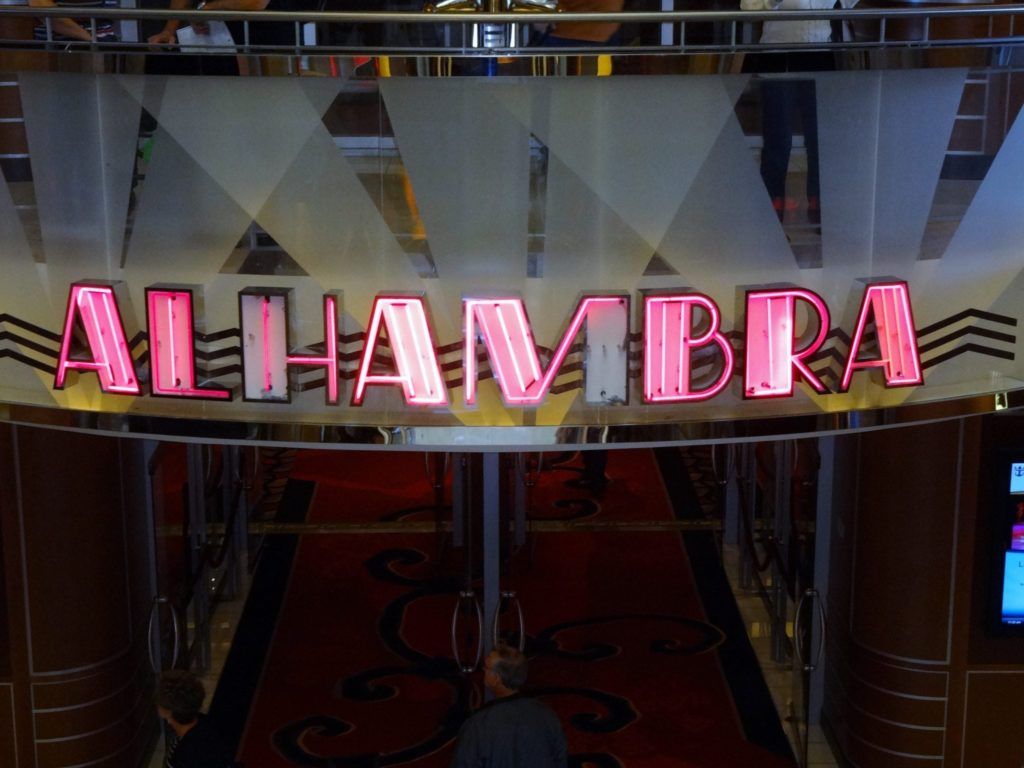 Following the welcome aboard show, we trekked up a flight of stairs to the Pyramid Lounge catching the end of the "Meet Your Rockband" live music set. We then participated in the "Watch It Gameshow" that started at 9:45pm. The show featured movie clips from popular films that were played then participants were asked to answer specific questions about each clip. The Princess and I enjoyed the game and cocktails, even though we did not come out victoriously.
Following the game show, we headed to the Royal Promenade to find a good viewing spot to watch the Olympus Rocks Parade which started at 10:45pm.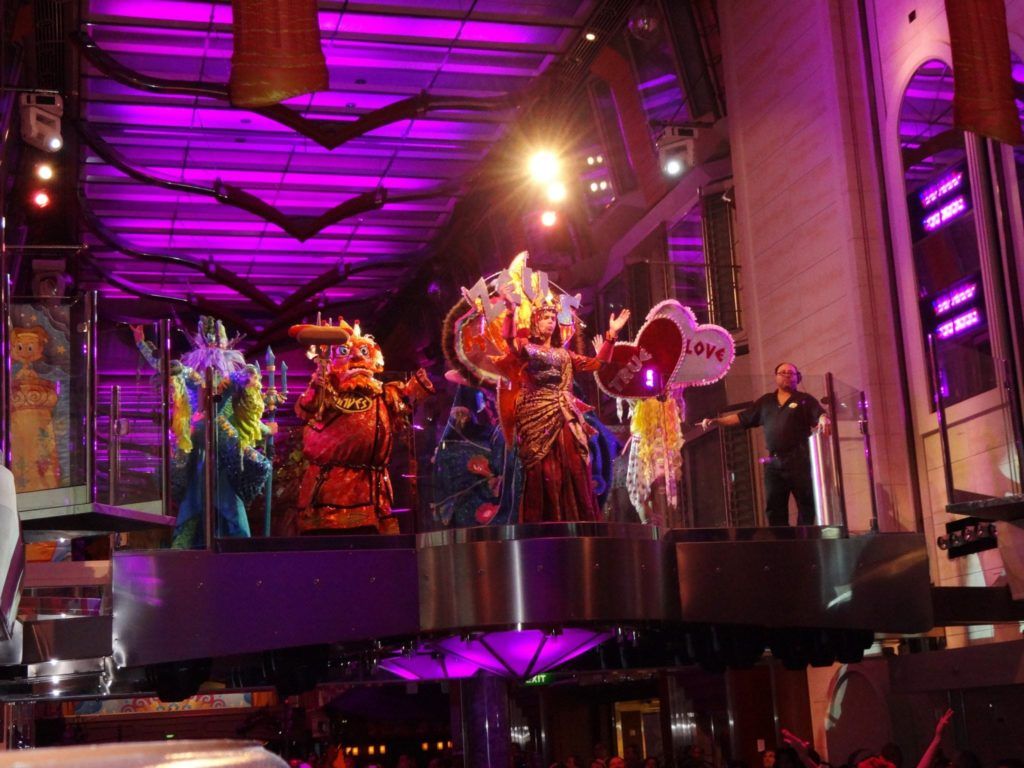 The parade was a good way to end the evening so after the 20 minute or so march down the promenade, the Princess and I retreated to our room to call it a night.
Independence of the Seas Cruise Review
Day 2, At Sea – Brrr! It's Cold Out here!
Drink of the Day – Bahama Mamma
The Princess and I woke up early to scope out chairs on the pool deck (Deck 11); however, it turned out to be cloudy and a bit cold. While the cruise compass indicated it was supposed to be 90 degrees, it hardly felt warmer than 70. We tried to wait it out, hoping the sun and warmth would make an appearance, but 3 hours later we decided to give up and go play our first round of mini-golf.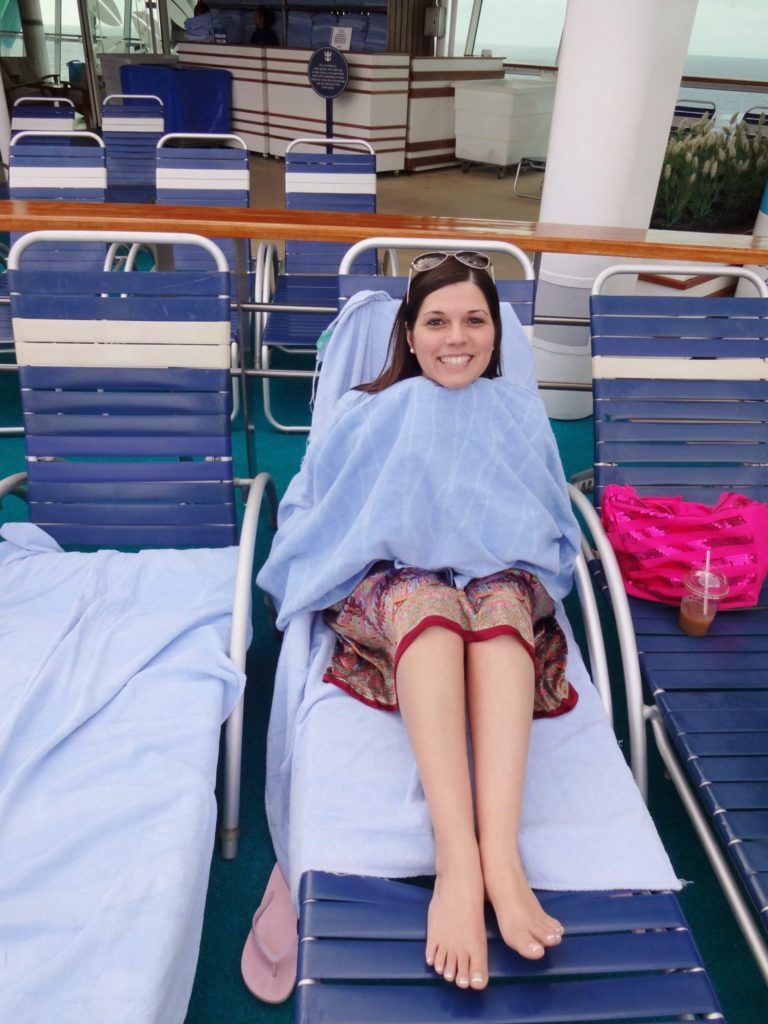 After our quick game of mini-golf, we wandered the ship a bit more making a pit stop at the casino where we tried our luck at blackjack (yours truly) and the slots (the Princess). Basically breaking even, we left the casino and decided to a grab some food and cocktails a deck above us at the Promenade.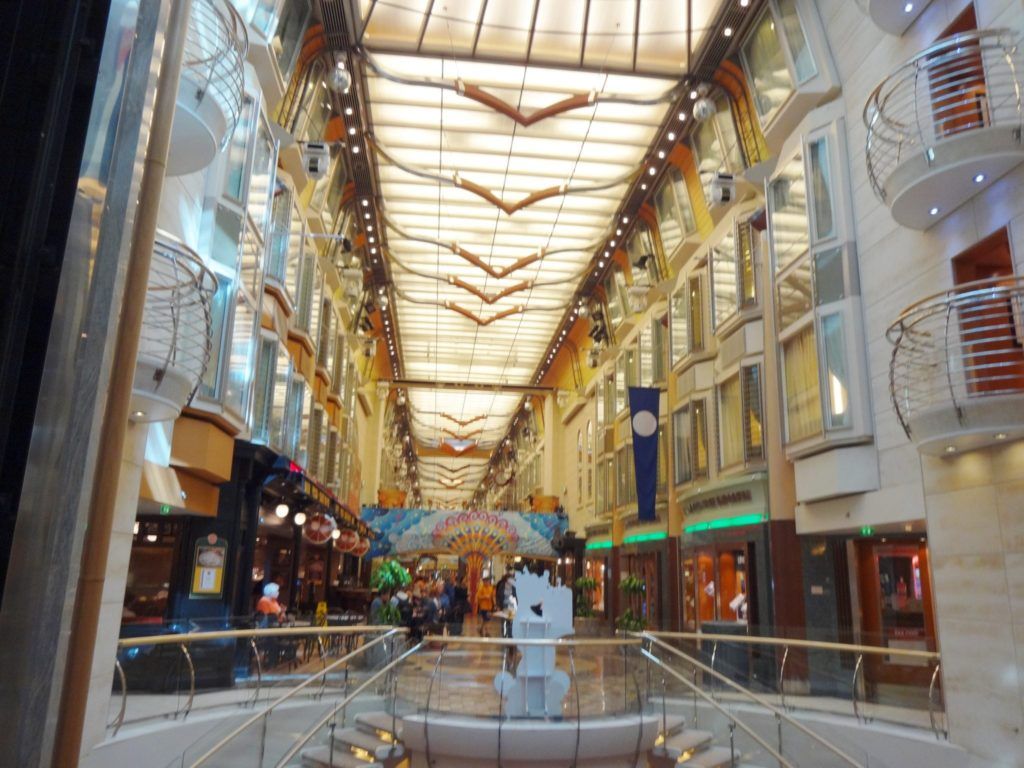 This afternoon snack hit the spot so now it was time to head back to our room so the Princess could get an early start at getting ready for formal night. Since I knew this would take a while, I decided to check into the Pyramid Lounge to watch the Patriots and Broncos AFC playoff game (and enjoy some snacks courtesy of RCI).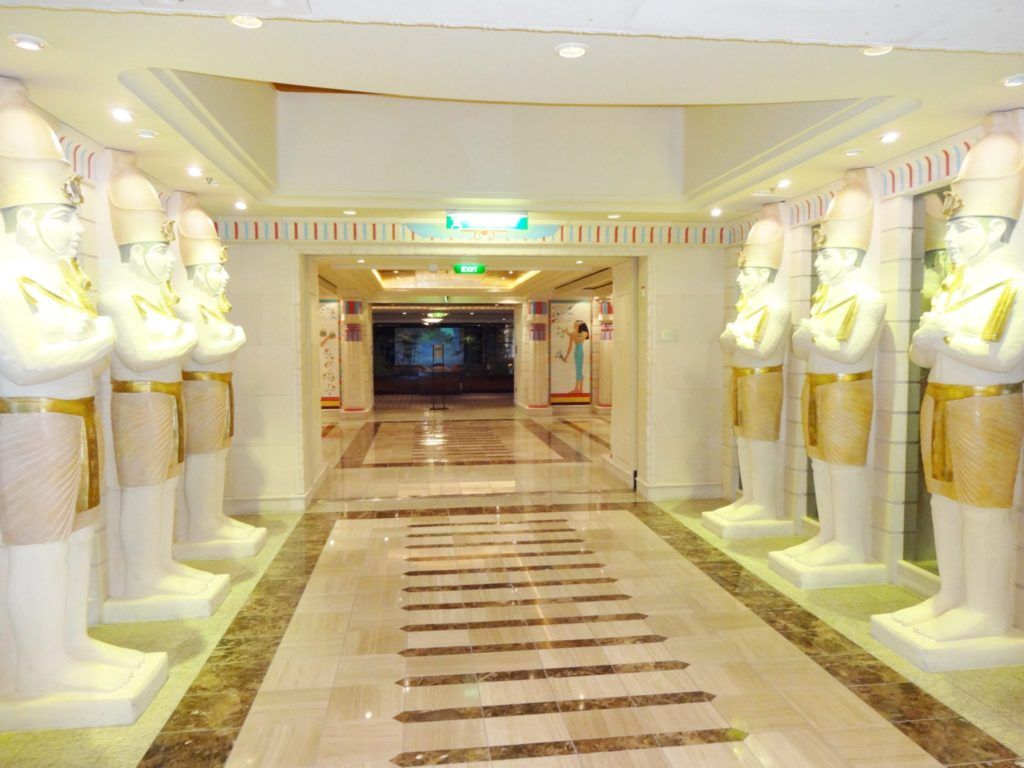 Unbeknownst to me, the Princess was dealing with a plumbing issue in the cabin that delayed her showering and getting ready for formal pictures. After several phone calls, the problem was resolved and the rush to get ready was on.
As a side note, we had also received a note card in our room explaining that our dining table had been changed. Though we were upset about this at first since we had a nice window view, it turned out to be a huge positive as our new waiter, Ramir and assistant waiter, Michael were the best service we have ever had!
As you may have already guessed, the Princess likes her pictures so after a rough start, we made sure we were downstairs by 5:15-ish so we could have as many formal photo-ops as possible. After all, I was somehow convinced again that we needed to buy the unlimited photo package. After hitting at least 9 different backgrounds, we headed to the MDR for dinner to meet our new wait staff-the fabulous Ramir and Michael.
Tips: You will often get a deal on your photo package if you purchase it prior to departure or within the first few days of sailing. Be sure to check costs before you leave so you are able to book early and save.
Following dinner, we jetted across the ship to grab a picture with Captain Teo and attend the Captain's Welcome Aboard Reception.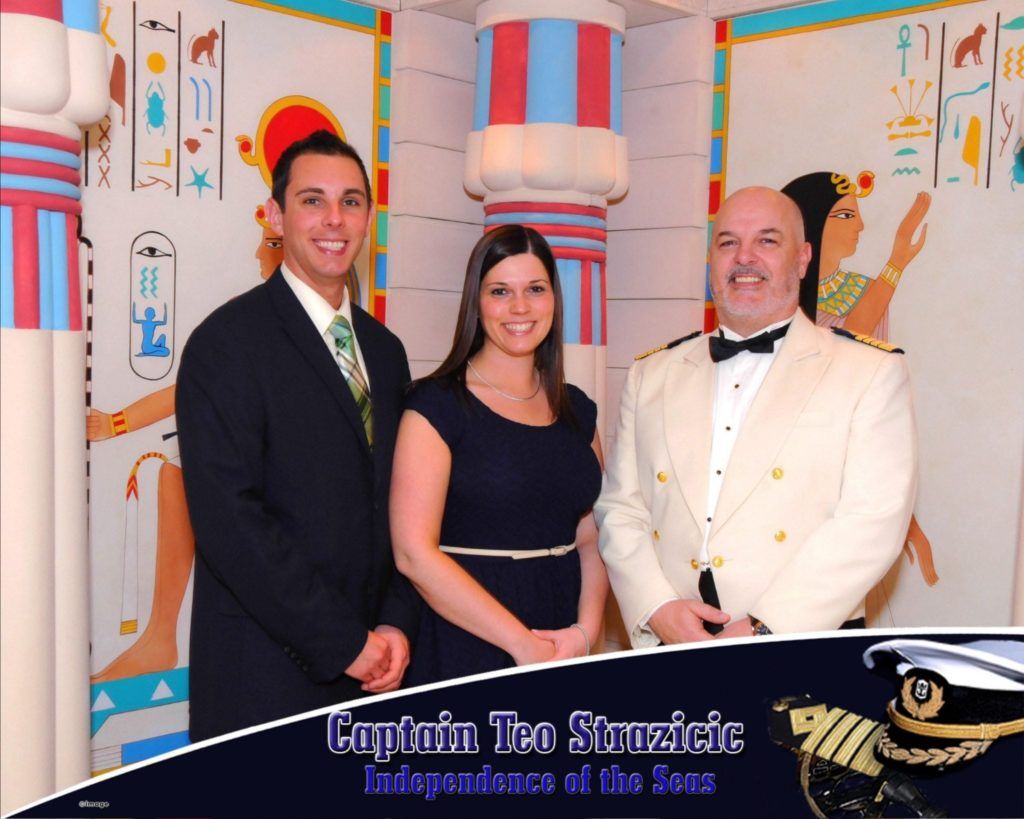 By the time the reception concluded, we made our way to the main theater for the production entitled Invitation to Dance starring the Royal Caribbean Singers and Dancers. Again, nothing spectacular—the show was on par with other cruise ship productions. After the show, we headed to Boleros to enjoy a drink before retiring for the evening.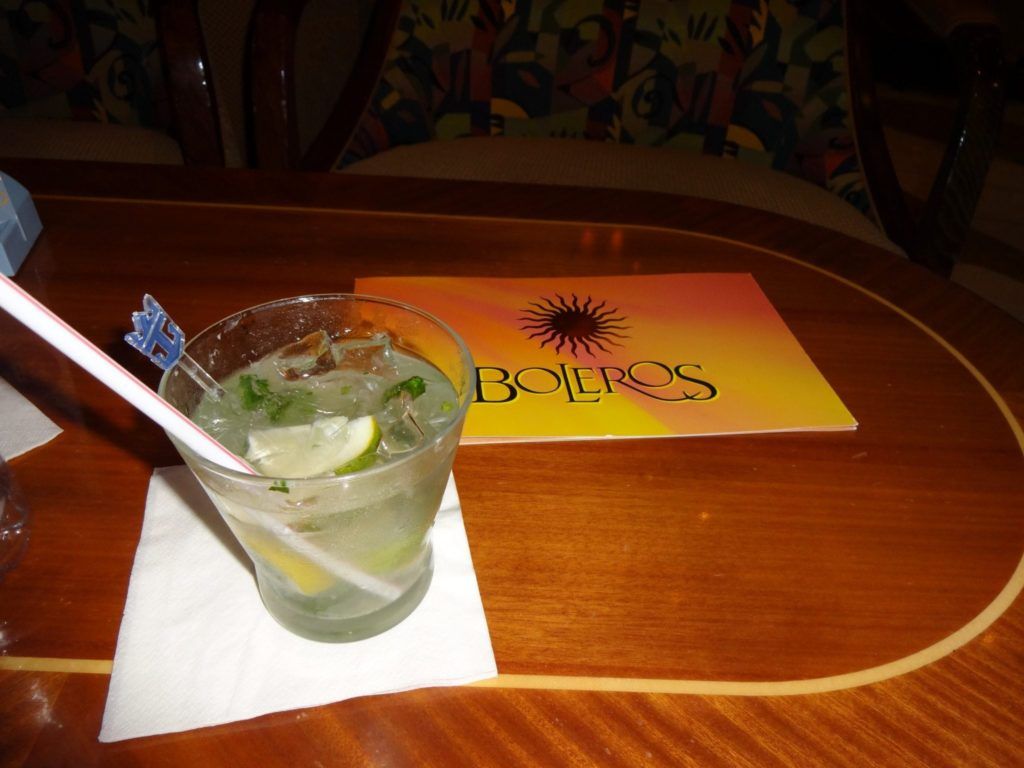 Independence of the Seas Cruise Review
Day 3, At Sea—Ahh, Finally some sun and warmth
Drink of the Day – Margarita Azul
As this was the second full sea day, we were in hopes of some better tanning weather and yes, the Caribbean delivered! We were graced with a mostly sunny and 84 degrees day. I decided to wake up early to give the gym a try while the Princess got ready in the room.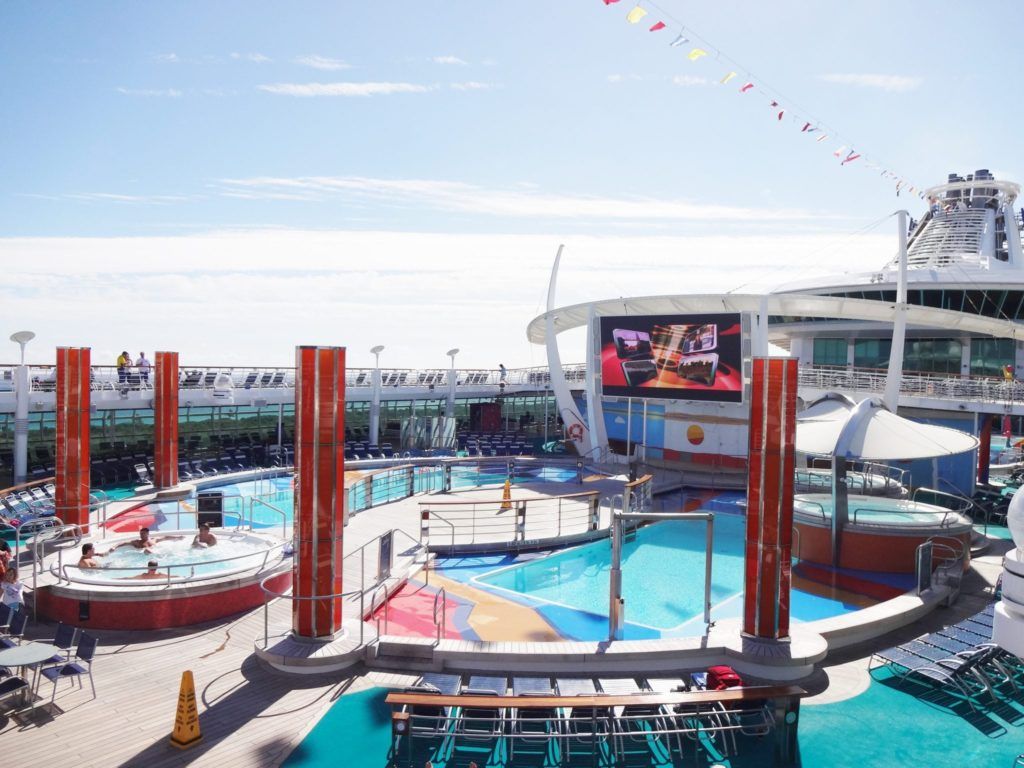 The night before, we had completed the room service card for breakfast and requested a time that would align to my return from the gym. Even though I returned 10 minutes earlier than planned, breakfast had already arrived and the Princess had already finished eating her meal! According to her, the breakfast came 45 minutes earlier than we requested, and she had just gotten out of the shower when the attendant knocked on the door. She was not too happy about this!
Scarfing down my cold breakfast, I walked down to deck five to wait in line for tickets to the Ice Show Strings. Ticket distribution started at 8:30am. When I arrived a few minutes prior to that time, I noticed the activities crew already handing out tickets to a line that extend from the Pyramid Lounge all the way down to the Café Promenade. The line moved quickly and within a few minutes I had our two tickets to see the show tomorrow night at 8:30pm.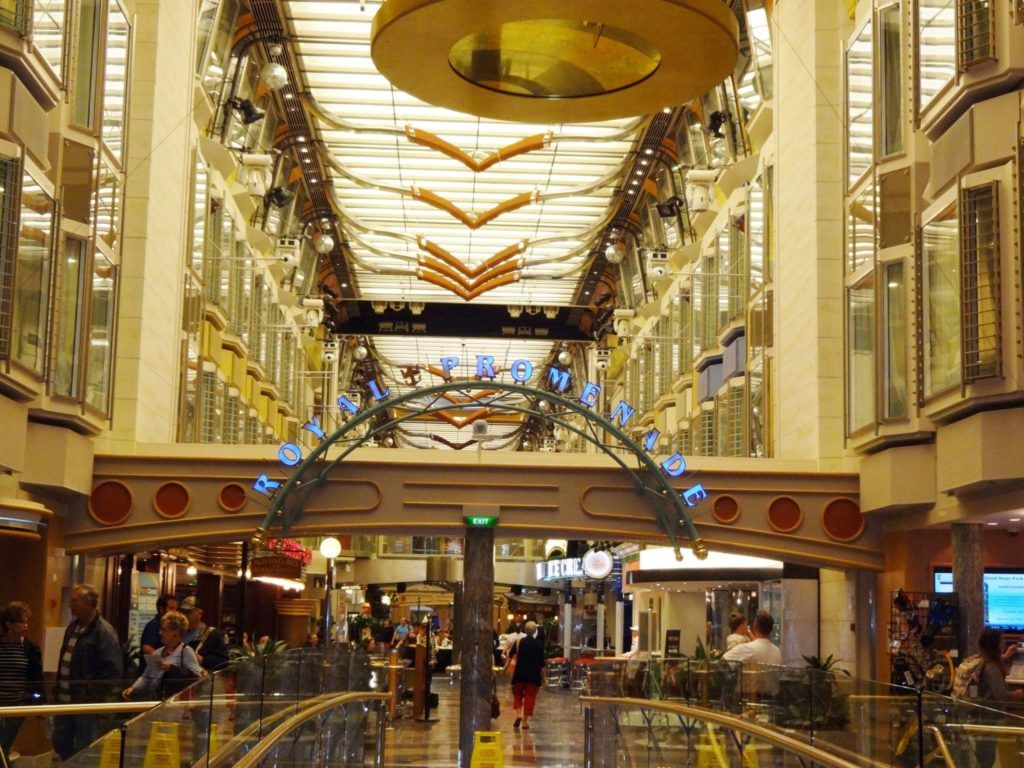 Ready by about 9am, we made our way to the lido deck to reattempt some tanning and relaxing. While we always bring our iPad and a book (or two) to read while tanning, we almost always end up either people watching or just laying in the sun. We ended up getting some great seats toward the back of the pool deck. We remained in the sun, on and off, for about 4 hours, enjoying some cocktails. The Princess really liked the drink of the day, and it became her drink for that evening.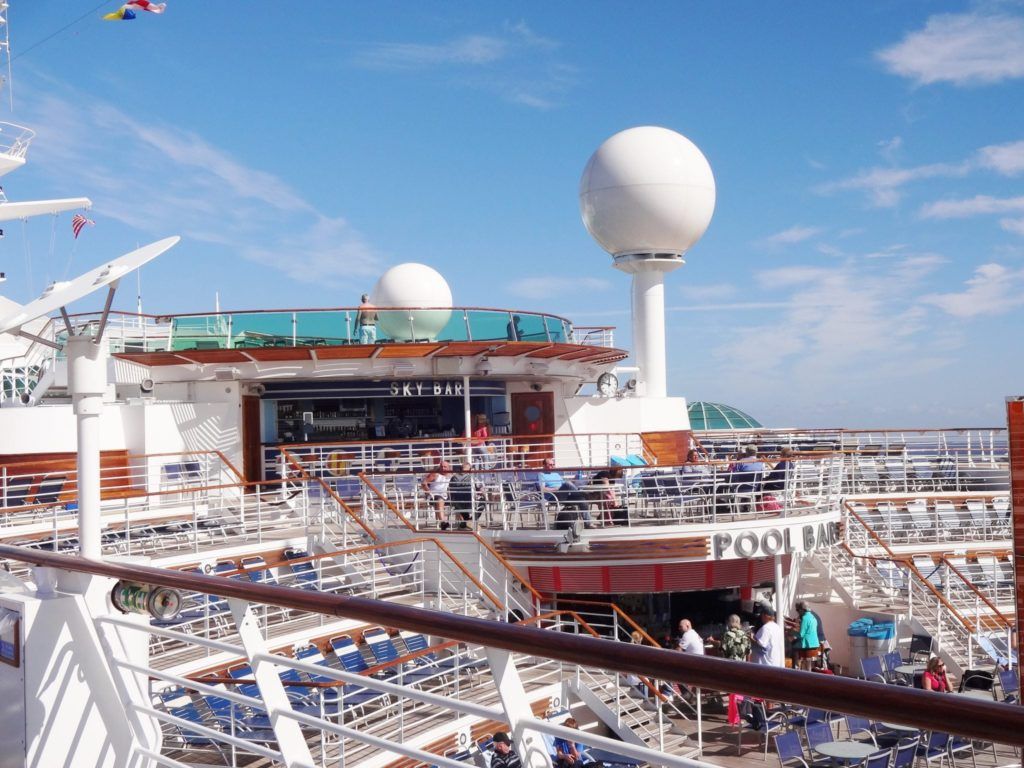 In the early afternoon, we decided to grab a snack and take a break from the sun, heading to the Promenade. While the Princess likes the pizza at Sorrento's, I am not a huge fan so I grabbed a couple of petite sandwiches from Café Promenade and made my own grinder (i.e., sub or hero sandwich for those non-New Englanders out there). We each washed down this lunch with iced caramel lattes and bottled waters, which of course were part of our Ultimate Drink Package.
Tip: While most bartenders will give you one alcoholic beverage and one non-alcoholic beverage like a bottled water, some are very stringent and stick to the "one drink" per sea pass card regulations. One thing I would do, when time allowed, was go on a "bottled water run" grabbing several bottled waters from the various bars so we could have a stock in our cabin as needed, allowing us to bring on an excursion or have during the day if we didn't feel like leaving the room.
After our lunch, we walked around the ship a bit more to see what was going on and watched a little Flowrider action. After a long day in the sun, we decided to make our way down to our room to relax a bit then get ready for dinner.
Luckily, our bar staff had come to remember our drinks so when we arrived at dinner a few minutes late, our drinks were already waiting at the table for us. (Yes, we had to stop at four or five casual portrait stations to make sure the Princess got her photo fix.) The consistency of staff that allow for that extra personal touch is definitely the aspect we are going to miss most with the new dynamic dining and "flexible" dining options that are now proliferating the cruise industry.
Following dinner, we had some time to kill before the nightly entertainment so we headed to Vintages Wine Bar. We make it a point to grab at least one drink in every venue during our cruise to check out the flare then end up frequenting our favorites.
The Princess was not in the mood for a drink and lucky her, as the service in Vintages was awful. We sat in one of the prime seats on the edge of bar, facing the promenade, for at least five minutes with no server coming over to us. The place was dead and the two bartenders seemed to have not a clue. I was getting a bit impatient so I got up and went to the bar to order my drink. Many of the wines in Vintages exceed the per glass allotment for wines in the drink package. It took three attempts before I could find a wine that was in stock and on the plan. Neither of the two servers seemed all that knowledgeable about wine or happy to serve me. Being less than pleased with the experience, we only stayed a few minutes longer before heading to the theater.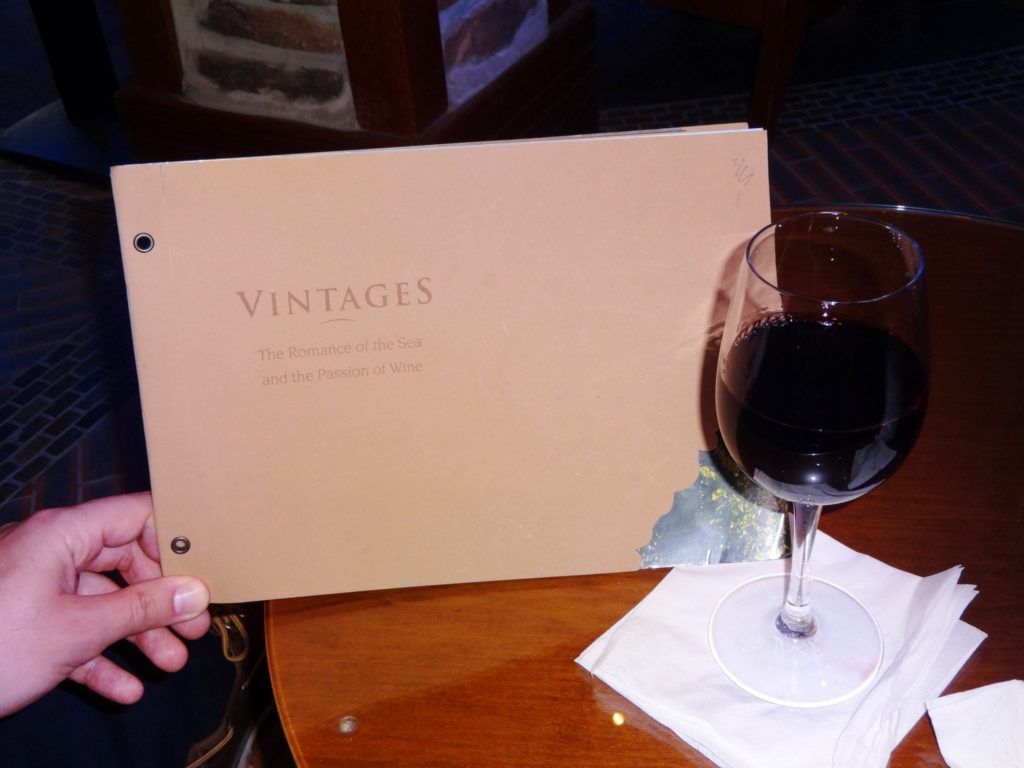 The entertainer of the evening was Michael Harrison, master ventriloquist. He was quite funny and put on a very lively and energetic show. Not sure if he was a good ventriloquist, but he certainly was the best performer we had seen so far on the ship.
Following the show, we had plans to go to the promenade for the 70s disco party at 10:30pm so we grabbed a few cocktails and staked out our spot for the party. Of course, this happens on almost every RCI cruise, but it is always a must. The party got kicked off with Joff and crew coming down from the ceiling. He started off with his typical humor to get the crowd ready and before long the Disco Inferno was in high gear. A dance party would not be complete without a conga line headed by the Village People. The ladies loved these guys, and it was just hilarious to watch. I almost feel bad for the guys as they have to do this every week, being groped and accosted by a throng of women. I said I ALMOST feel bad for them.
As the party came to an end, we turned around and went back to the theater for the late night comedy of Phil Tag, the performer who starred in the Welcome Aboard show. While he had somewhat more grown-up material during this performance than the first night, we did not find him to be too adult. I would say a strong PG-13 rating. Then again, I do have a bit of a potty mouth, so I may not be the best judge. We found his set funny and were glad we decided to stay up late—yes, this is late to us!
It was about 12:30am after the comedy show let out and while we did think about making our way to the casino, we opted for bed as our first port of call, St Maarten, would be calling soon.
Independence of the Seas Cruise Review
Day 4, St. Maarten
Drink of the Day – Paradise Punch
The IOS docked by about 8:00am this morning and we didn't have to meet our private tour guide until 9:30 so we placed another order for room service the prior night and slept in a bit. This time I was in the room so I was able to answer the door when the food came early, again!
After breakfast, we made our way off the ship, of course stopping to take our picture with RCI's pirate. As I've already mentioned, we purchased the unlimited photo package so I made sure to get as many cheesy photos as possible.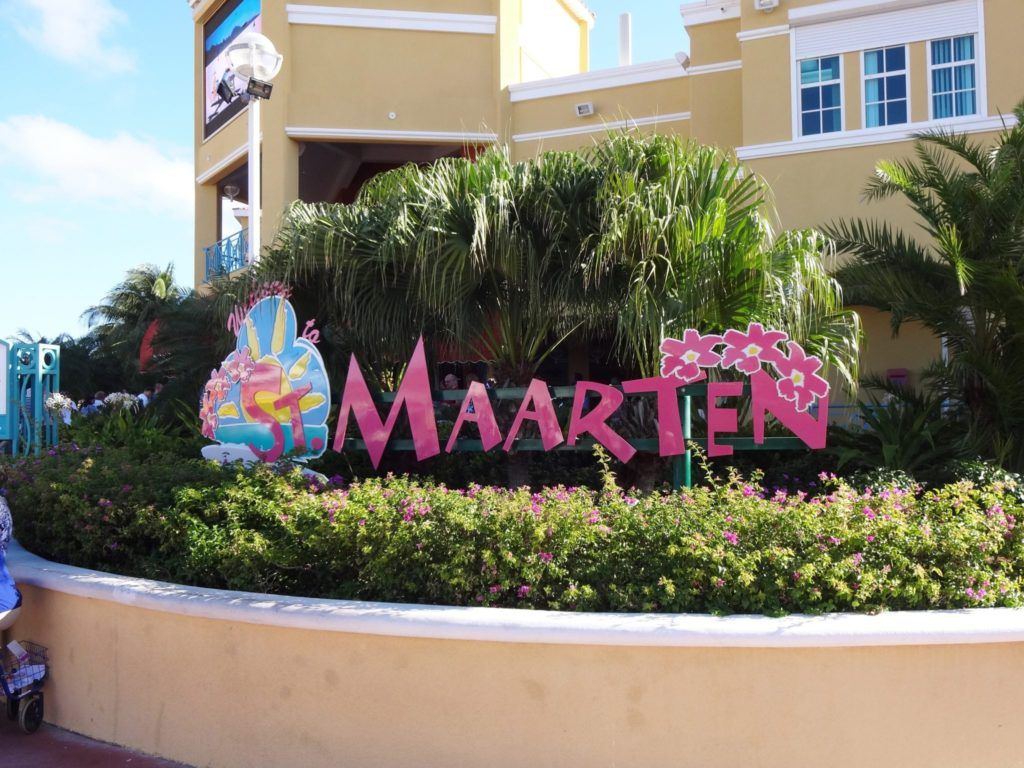 As we continued our way down the pier, we stopped to take a photo in front of the St. Maarten sign, something we were not able to do our last trip to St. Maarten as it was pouring rain outside. We continued our photo journey snapping a few quick pictures of NCL's Epic which was parked next to us and some private yachts, including our future cruise vessel complete with helicopter in tow…in our dreams!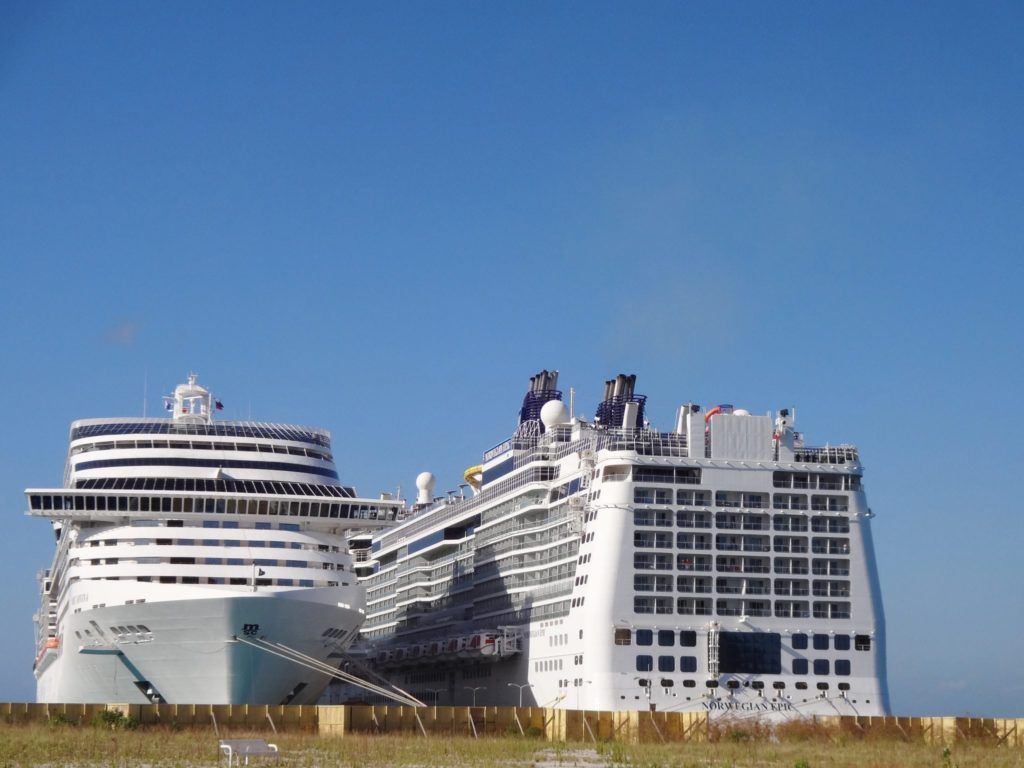 While waiting to meet our private tour guide, we did some browsing in the shops around the port and made sure to make note of the items to purchase upon returning from our excursion. By that time, we were able to find Bernard, owner and operator of Bernard's Tours to begin our private tour of the island on the way to Maho beach. For a more detailed review of Maho beach see our excursion review.
Back at the port by 1:30pm, we picked up the few souvenirs we had scoped out earlier in the morning and headed back on board.
We made our way to Cafe Promenade for some iced lattes and a few sweet snacks, the Princess' favorite! After that, we headed up to the pool deck to check out the view, grab a drink of the day, and play a game of mini-golf—the princess had demanded a rematch! We do not need to publish who won but let's just say the loser's excuse was "sun overexposure". After another victory, we headed back to the room to get ready for dinner.
Ready with enough time to spare, we squeezed in two sets of casual portraits and were at dinner in time to find our nightly cocktails waiting for us. After a long day in the St. Maarten sun, it was just what we needed. Once again, the food and the service did not disappoint.
After dinner, we headed down to deck 3 for Strings-A World Adventure on Ice with Special Guest Star Juliette Primrose. Doors did not open until 30 minutes prior to show time so by the time we got there, we were greeted with a long line of fellow passengers waiting to enter as well. It was a bit chaotic with people cutting each other in line and just being rude and inconsiderate. As soon as the doors opened, I spotted this couple walk by everyone else to get to the front of the line. You might think this was the line at the buffet!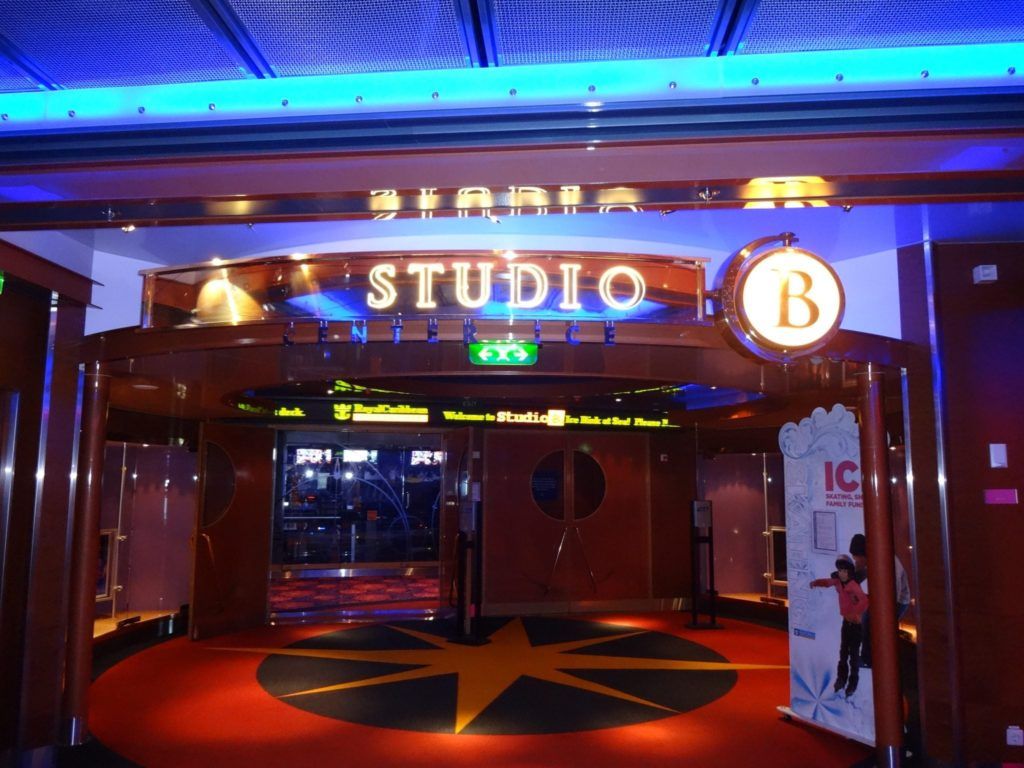 Anyway, we entered Studio B and headed to the left (starboard side) where were able to find good seats, center ice, about mid-way up the level. The production of Strings was a bit different than some of the other ice shows we have seen, but overall we found it entertaining. The story was simple to follow, unlike Allure of the Sea's Ice show. The addition of the musical guest playing the violin from different genres of music definitely made the show a hit. Given the small space, I think the skaters do an amazing job performing. We definitely suggest making time to see this show.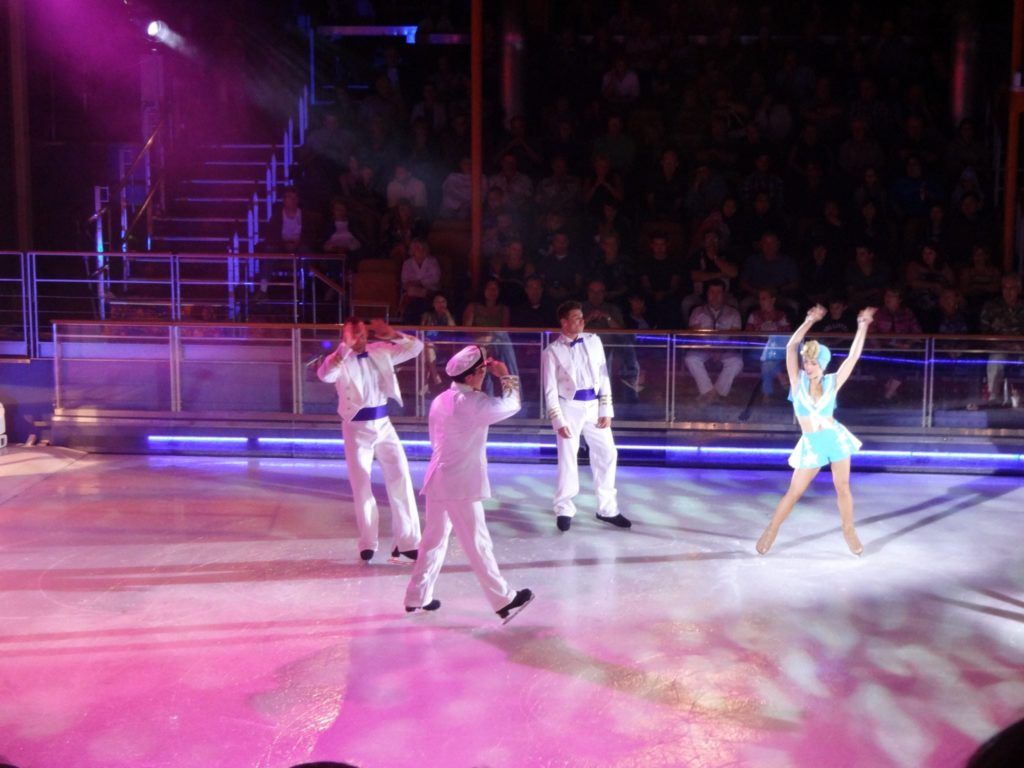 We knew it was going to be a tight schedule when we booked Strings, but we never miss the Love and Marriage show so we hustled up two flights of stairs at the completion of the production along with the rest of the crowd on their way to the main theater. Even though there was a preshow Bingo game, we were able to find pretty good seats. With an order for cocktails placed, we were now all set for one of the funniest moments of any cruise.
Like all the others, this Love and Marriage show did not disappoint. Joff did an excellent job hosting the show with his unique twist on questions, making it different than the typical Love and Marriage shows we have witnessed many times on RCI. The activities crew also solicited 4 couples, instead of three, making the show much more dynamic and unexpected. So even if you have seen the Love and Marriage show on other ships, you have to check it out on the IOS or any ship on which Joff is the cruise director.
Wiped out from a long day and what seemed an even longer night, we headed back to our room after the show to prepare for a new port of call, St. Kitts.
Independence of the Seas Cruise Review
Day 5, St. Kitts
Drink of the Day -Caribbean Sunshine
After an evening full of entertainment, we were ready for a new Port of Call, St. Kitts. The boat was set to dock at 8:00am again, and we had to meet our excursion by 9:30am. Due to our few hiccups with room service, we arranged our morning routine to include a stop at the Windjammer for breakfast instead. In all honesty, we try to avoid the buffet as we find it congested and the food to be subpar at best.
Getting to breakfast for about 8:30am, we arrived to an already busy scene but were able to find a table and proceeded to grab a custom made omelet–the one thing we missed during our Allure of the Seas trip last year. You really can't mess up breakfast food so the Windjammer was a satisfying and time efficient option.
Prior to the trip, we had gone back and forth about which excursion we were going to purchase for this port of call. After investigating our options and the feedback from various sites, we booked the Essential St. Kitts tour through RCI which covered the major attractions we were interested in visiting. Overall, the tour was very well organized and allowed us to get a glimpse of many of Basseterre's highlights. A more detailed run down of this excursion can be found here.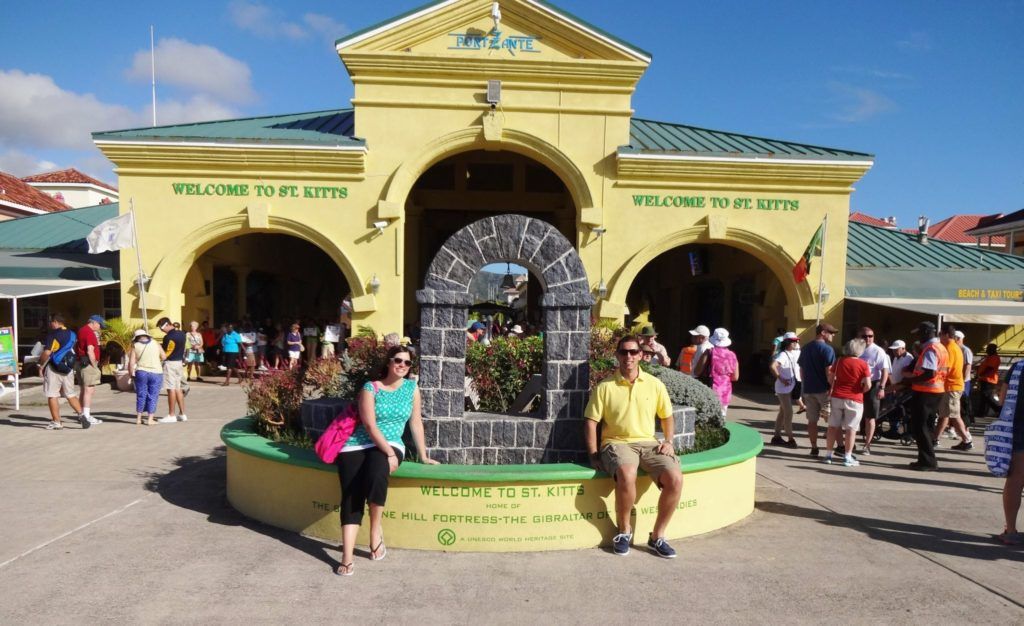 Prior to meeting our tour, we posed for another cheesy RCI photo, this time with a dolphin, then grabbed a quick photo in front of the main pier attraction, a Welcome to St. Kitts monument including a replica of the Brimstone Hill Fortress. Another Celebrity boat was in Port with us, but the port remained relatively quiet.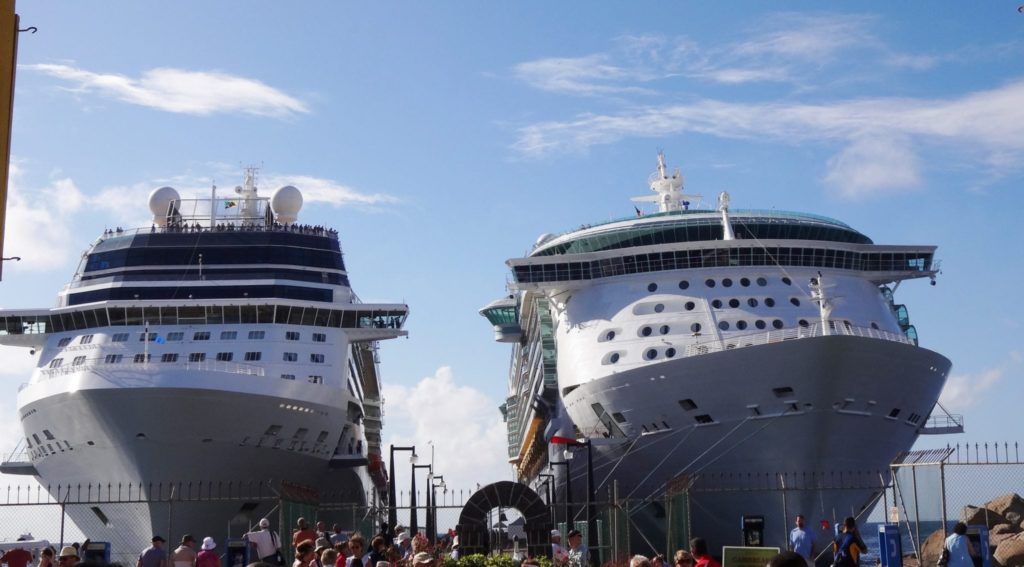 Our tour lasted about three and half hours concluding back at the port where we were able to do a bit of shopping. While there is an inside mall and other traditional stores, many vendors can be found selling unique and hand-made artifacts in the covered tents that line the back of the port. We purchased some handmade coasters and Christmas ornaments made out a local plant. We were also able to acquire a talking monkey for our two year old nephew that we thought would be sure to annoy his parents.
Speaking of monkeys—after reading several posts from previous visitors to the port, the Princess was a bit concerned about the Vervet Monkeys. We did come across one man holding a monkey trying to solicit money by having you take a picture with the animal, but of course the Princess was not having that. All in all, it was not as bad as our reading material had suggested.
So before heading back to the ship, I decided to try my first Carib Beer, a local beer brewed on the island. To be honest, it tasted just like a Budweiser. Now that my curiosity for the local flavor was met, I was ready to head back on board.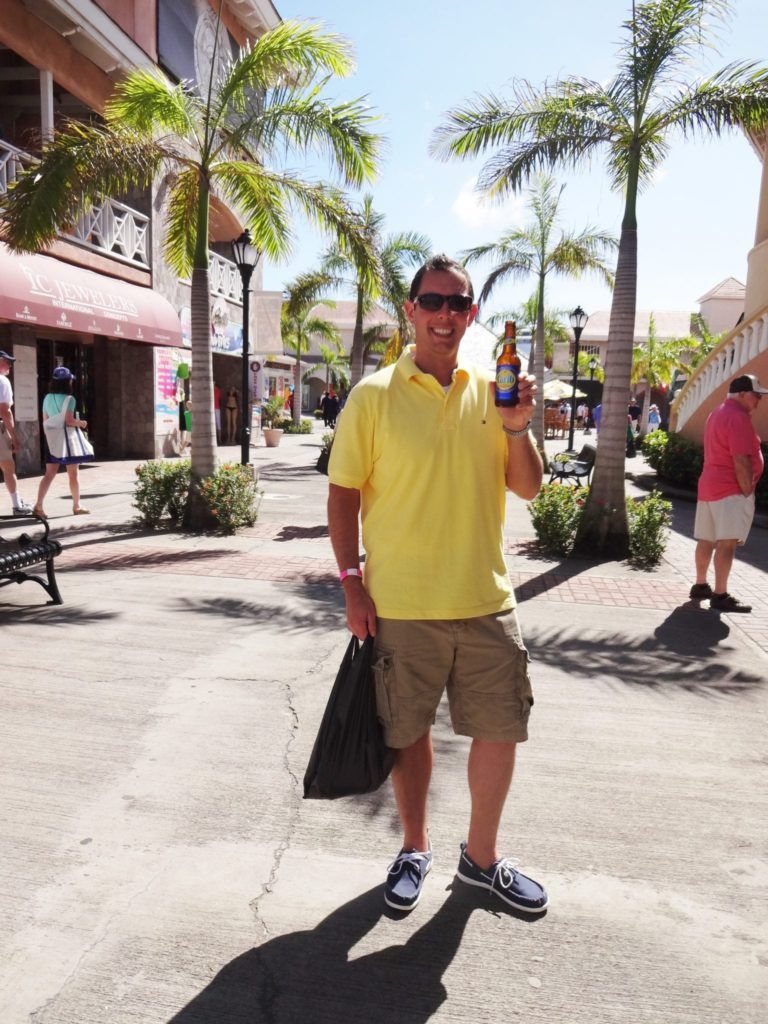 Back on the ship, we made a pit-stop at our room to drop off our souvenirs then trekked upstairs to take a few aerial photos of the port and partake in the DOTD. This drink was a bit sweet for my taste, but we enjoyed it as we sat in the sun on Deck 12.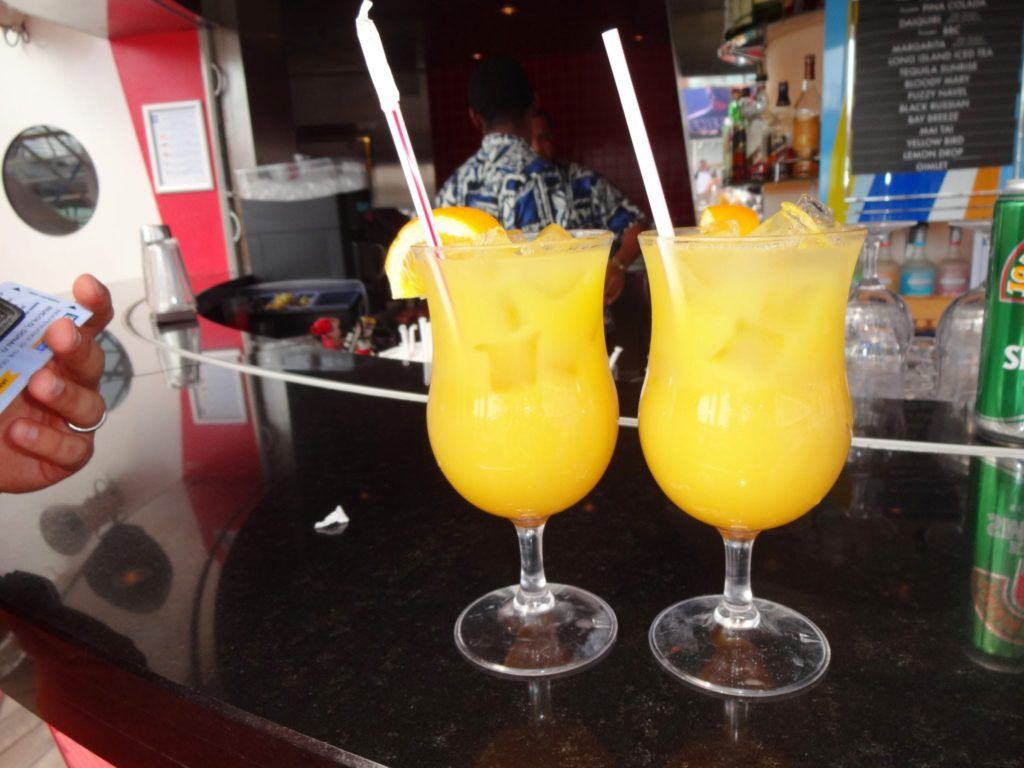 Not too much was happening on the ship so we were able to enjoy some quiet time. I donned a bathing suit and made my first entry into the main pool. After a quick swim, the Princess and I grabbed our daily latte then headed back to the stateroom to get cleaned up and changed for dinner.
No dinner would be complete without a few casual portraits first. This time, we got stuck with a rather adventurous, or shall we say bored, photographer on the White background. She had us pose in a variety of positions that included us lying awkwardly on the floor.
After dinner, it was showtime with the RCI staple, Once Upon a Time. This musical revue includes the Royal Caribbean singers and dancers' modern interpretations of classic fairy tales. This is at least the third time we have seen this production!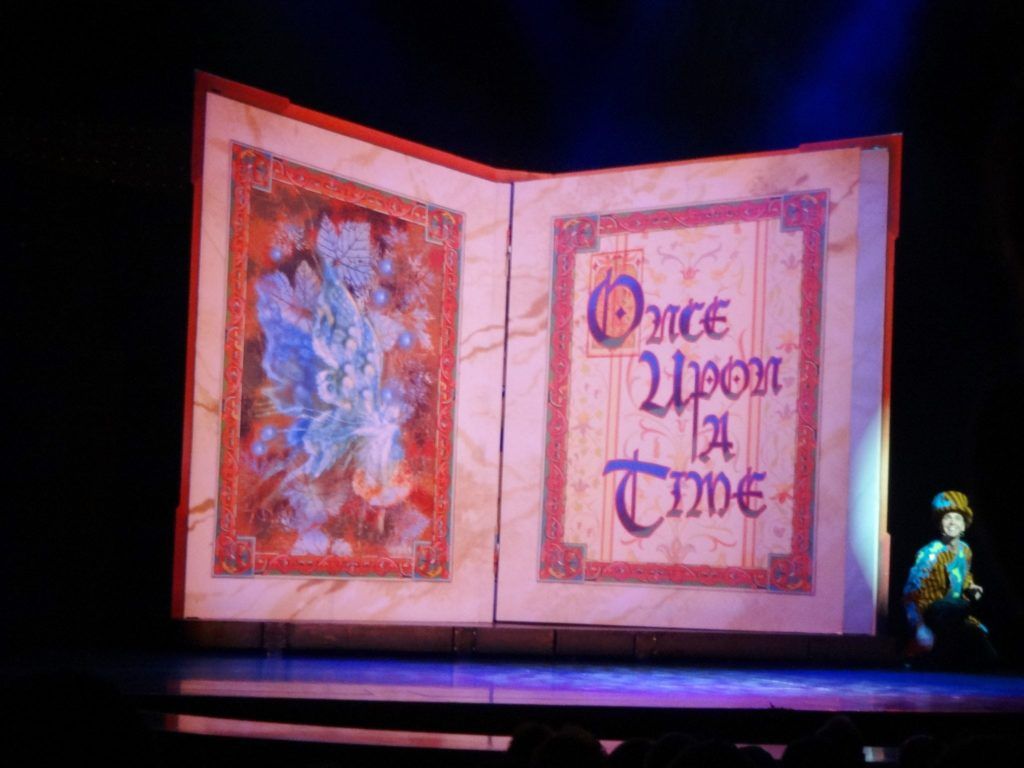 As we exited the theater, we entered the Schooner Bar which was bustling with passengers listening to the musical renditions of the piano man, Joe Hollywood. It was a lively time, so we were able to grab seats off to the side of the bar to sit back and enjoy.
After some easy listening, we decided to stroll through the casino and made a few small bets at the roulette table. Leaving the casino about thirty minutes later, and a bit poorer, we caught an elevator up to our room and retired for the evening.
Independence of the Seas Cruise Review
Day 6, San Juan
Drink of the Day -Joff's Jungle Juice
Rolling into San Juan, the second new port of call for us, we needed to be up early as the ship docked at 7:00am, and we had to meet our excursion for 7:30am. We opted to have room service delivered early for breakfast just to avoid the inevitable crowds and chaos in the Windjammer. Room service actually came within the window of time we had requested and the food was warm, especially the hash browns!
Where the IOS docked was literally just a pier, which is referred to as the Old San Juan dock. The area leaves much to be desired as there was nothing around expect crowds of people and roaming security. As you make your way toward land, there is a security gate that separates cruisers from everyone else, different from most other ports we have visited.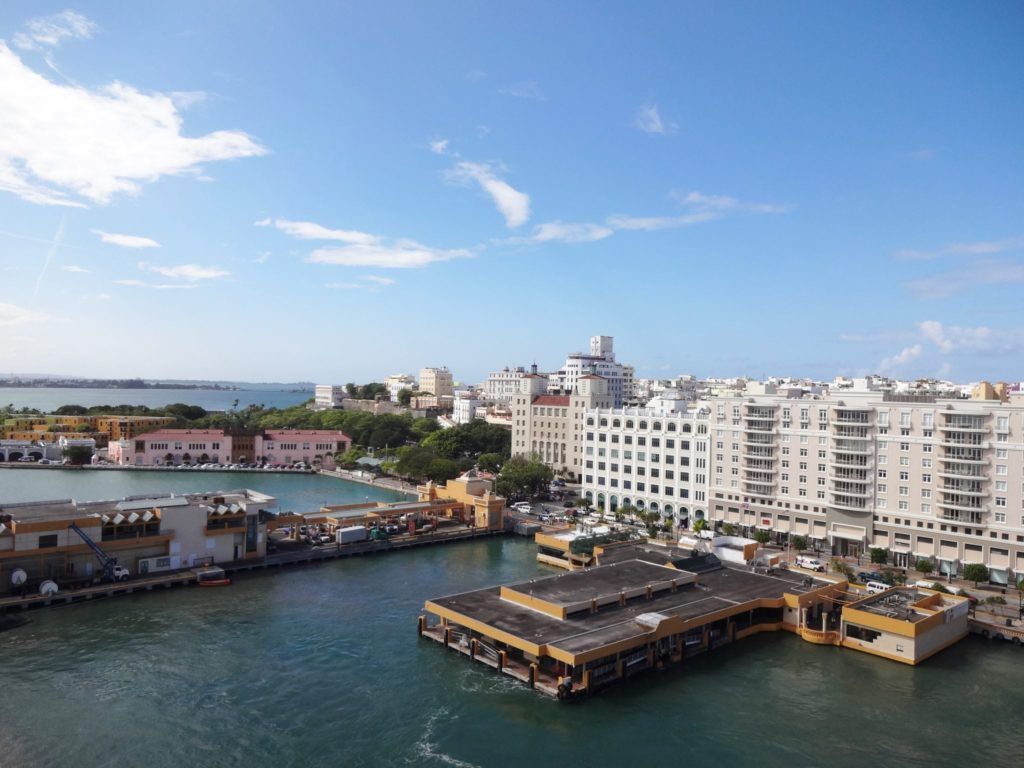 This lack of space made for a chaotic and difficult time finding our excursion tour guide. This happened to be the meeting point for multiple excursions, hailing taxis, and just general pedestrian traffic. Finally, we were able locate our shore excursion guide, Melba, and proceeded to wait for the transportation that would be taking us to our destination.
On this cruise, we were only in San Juan from 7:00am to 1:30pm, limiting excursion options. We actually will be back in San Juan in 2015 when we will have more time to explore, but for this trip we decided to book the Rain Forest Nature Walk to Waterfall Adventure. The Princess opted for the walk which is different from the Nature Hike and other more rigorous excursions offered.
We had a great time with the trip– Michael, owner and operator of Enchanted Island Eco Tours, was very knowledgeable and had a true passion for his job. Read our full review.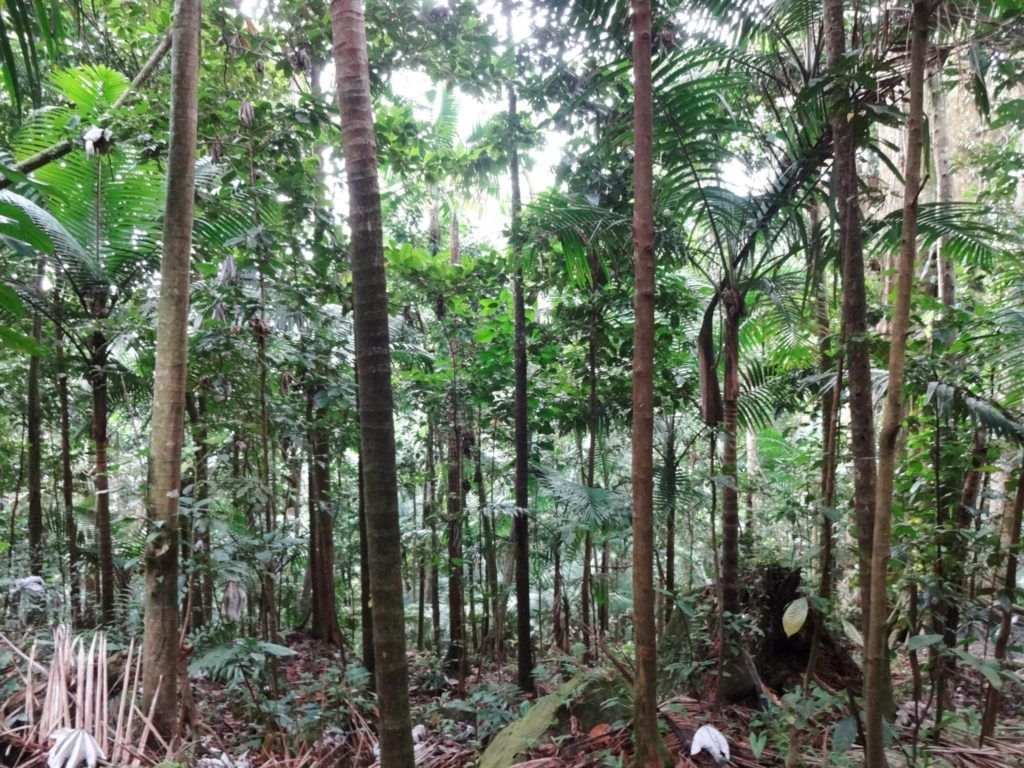 Our excursion ran late cutting our 1:30pm all aboard a bit close. I was not too worried as booking a Royal Caribbean approved excursion ensures the ship will not leave without you. Getting through security and back on board was just as crowded and crazy as departure. Cruisers lined the street sidewalk waiting to go through security.
Once back on the ship, we made our way up to deck 11 for the pool side lunch buffet. Even though it was slated to run from 12-2pm, the stations were mostly empty by the time we got there around 1:30pm with not many plates left and staff eagerly waiting to clean up. Hungry from our walk, and determined to frequent the Windjammer as little as possible, we were able to make a decent plate of chicken nachos. It's too bad I didn't notice this sooner, but while walking around after our lunch, we discovered there is a hot dog stand at Squeeze on select days.
Following lunch, we found a quiet spot in the solarium on one of the swing chairs to relax and indulge in a drink of the day. As the boat began to pull away from port, I went up a deck to grab some nice pictures of the fort and Old San Juan. My suggestion is if you want to take some pictures, head to the very front of the ship, starboard side, and you will have a perfect view to grab some departure shots.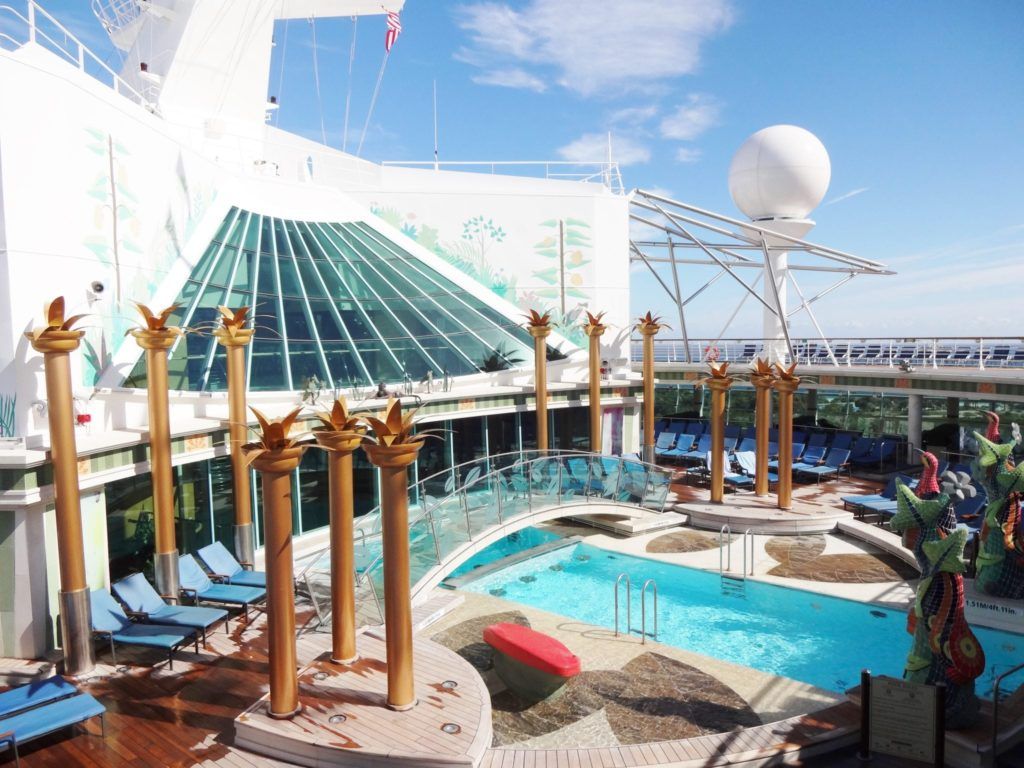 At 3pm, it was time for the staple of every RCI cruise—the belly flop contest! This belly flop contest took place in the Sports Pool—somehow, I find that fact to be a little ironic! The contest included 7 gentlemen, with various stages of belly, ready to give it their all in pursuit of glory. I got a decent standing position near the bottom of the pool along with the huge crowd of spectators on the pool deck and lido deck.
I must admit, after witnessing a BFC on the Allure of the Seas which takes place in the Aqua Theater, no other venue can do the contestants justice. The pool, seating arrangement, and video/audio capabilities of Allure's Aqua Theater make for a much better experience. Hint: The Outdoor movie screen displays the BFC live. If you do not feel like standing right in the middle of the action, you can grab a seat and watch via the screen.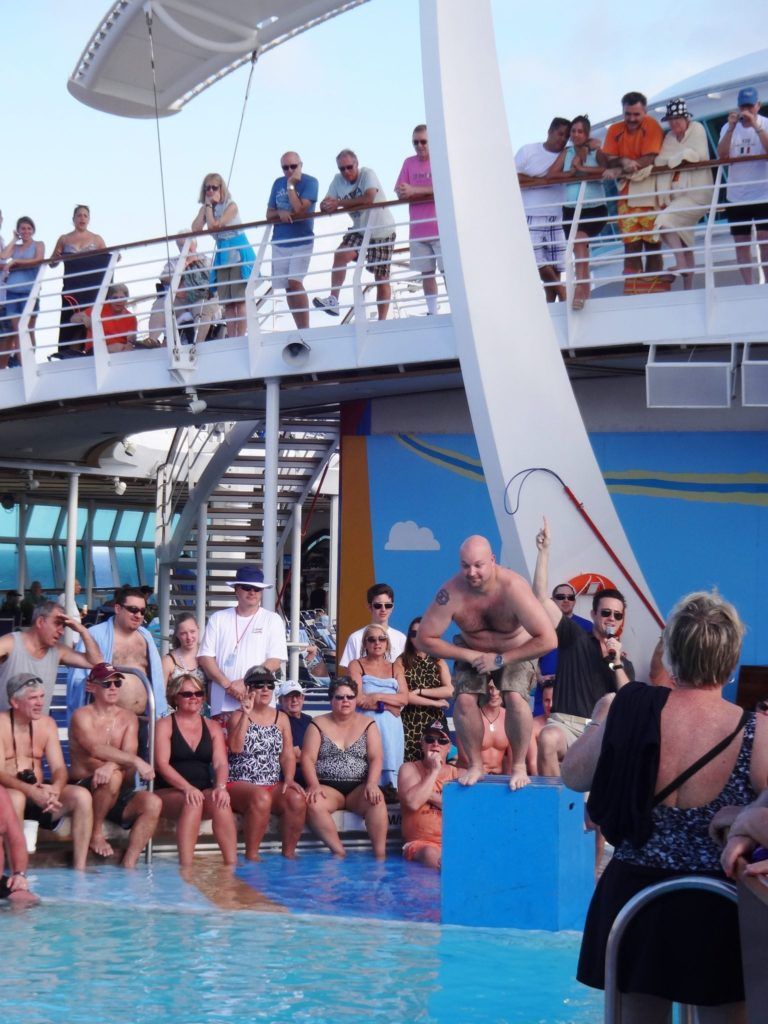 Tonight was our 2nd formal night, so we made sure to be back in the room with plenty of time to shower, get ready, and head downstairs for our photo shoot. SEVERAL backdrops later, we finally made our way into the dining room later than usual. In fact, we made it just before they closed the doors. Our waiter Ramir commented that he thought we got too much sun and weren't going to show up for dinner tonight. Really, me not make it to lobster night? He should have known better! An app or two and FOUR lobster tails later, I was ready to be rolled out of the dining room and needed a few moments to recover.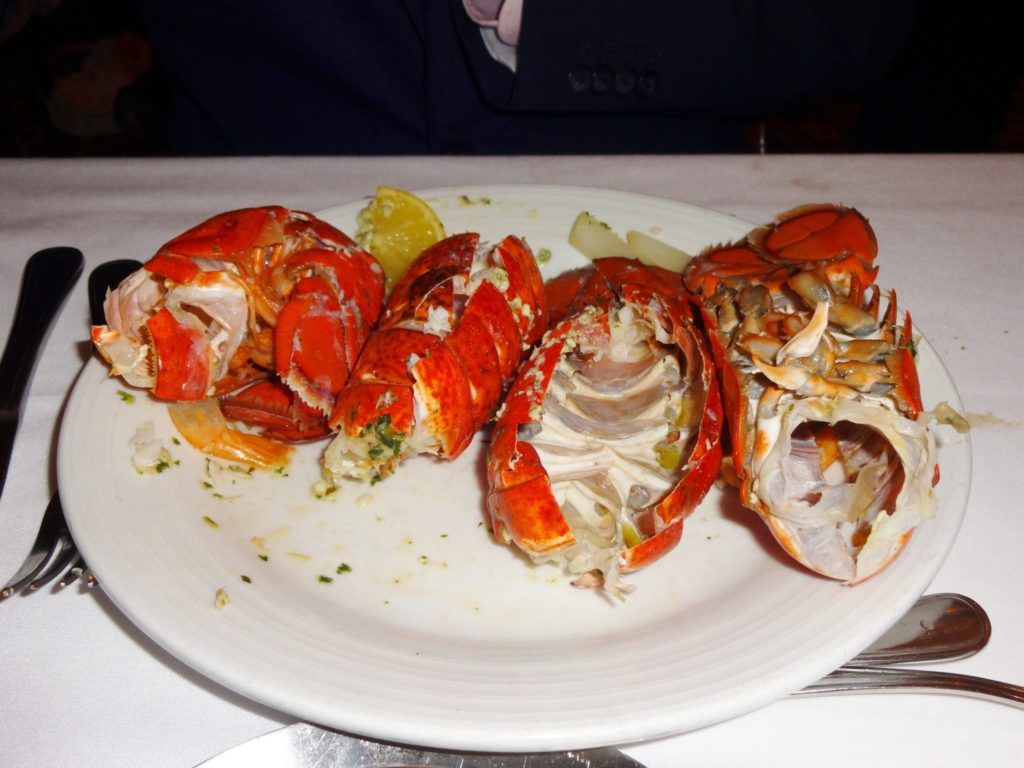 We made it to the theater for the show just as it was about to start. After walking around a bit, it was apparent we were not going to get seats so we ended up leaning against the back ledge, near the bar. The headliner tonight was Tribute A Salute to the Temptations, the music of Motown.
Now even though I am a thirty something, I do appreciate Motown music. I grew up with a father that would listen to the oldies station so I am familiar with many of the songs from the 60s and 70s. We saw the Beatles cover band on the Freedom and thought that show was excellent. That being said, this act was just awful! We tried to give it a chance but after the third song, we decided to leave—the first in our history of cruising!
This was a mixed blessing as we ended up spending the rest of the evening in the casino, which to my surprise was pretty quiet. I played a few hours at the $6 black jack table (Come on, I buy an inside cabin, what would you expect?) and the wife was able to play her preferred slot machine for a while as well. We then placed a few bets at roulette, which had a dollar minimum inside. By then, it was well past 1am and we had more than doubled our money so we called it a night.
Independence of the Seas Cruise Review
Day 7, Labadee
Drink of the Day –Timmy's Tropical Typhoon
Day 7 is usually a sad day, as it marks the last full day on the ship but not this itinerary! We still had one more day, after today, to enjoy the IOS. That being said, we decided to sleep in a bit today. While the Princess was getting ready, I made a quick run to the Café Promenade to get our much needed iced lattes and breakfast treats. I piled as much food as I could onto the plate— some donuts, a scone, and a few danishes–while balancing our drinks, all without casualty.
By about 10 am, we made our way to the gangway proceeding onto the island making sure to stop for all the photo-ops as this was the last day to make the most out of our photo package! Labadee is a private island owned by RCI, and in our opinion, is much nicer than their other private island, Coco Cay.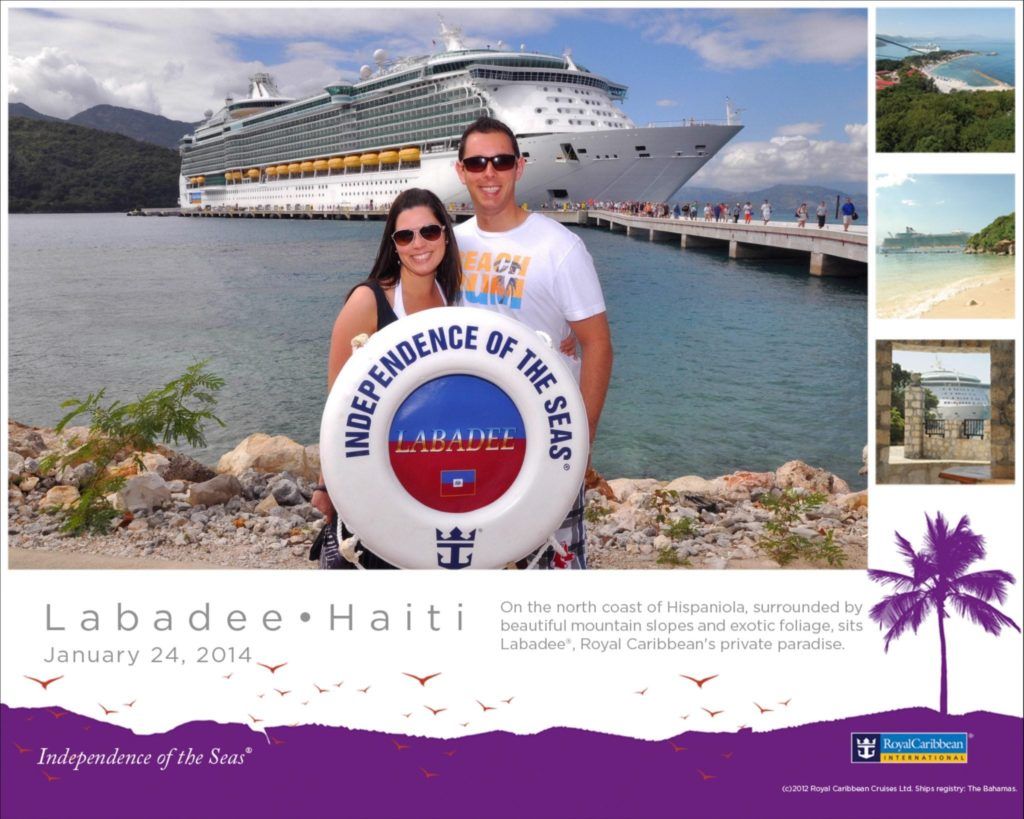 Since we were just in Labadee the year before—at which time we did the Dragon's Breath Zip Line -we decided this was going to be a nice, relaxing beach day. One problem, the sun did not really want to cooperate with our plans. We decided to take a stroll along the area, bypassing all the "hot spots" like the Aqua Park, Dragon's Tail Coaster, and Dragon's Splash Waterslide. We headed to the Artisan Marketplace where we purchased a few souvenirs: a t-shirt, a few home decorations, and some of the Haitian rum. There is an additional shopping area called the Artisan Village, but the Princess does not like the bartering and the aggressive marketing tactics of the locals so we stay clear of the Village and grab whatever we are looking for from the Marketplace.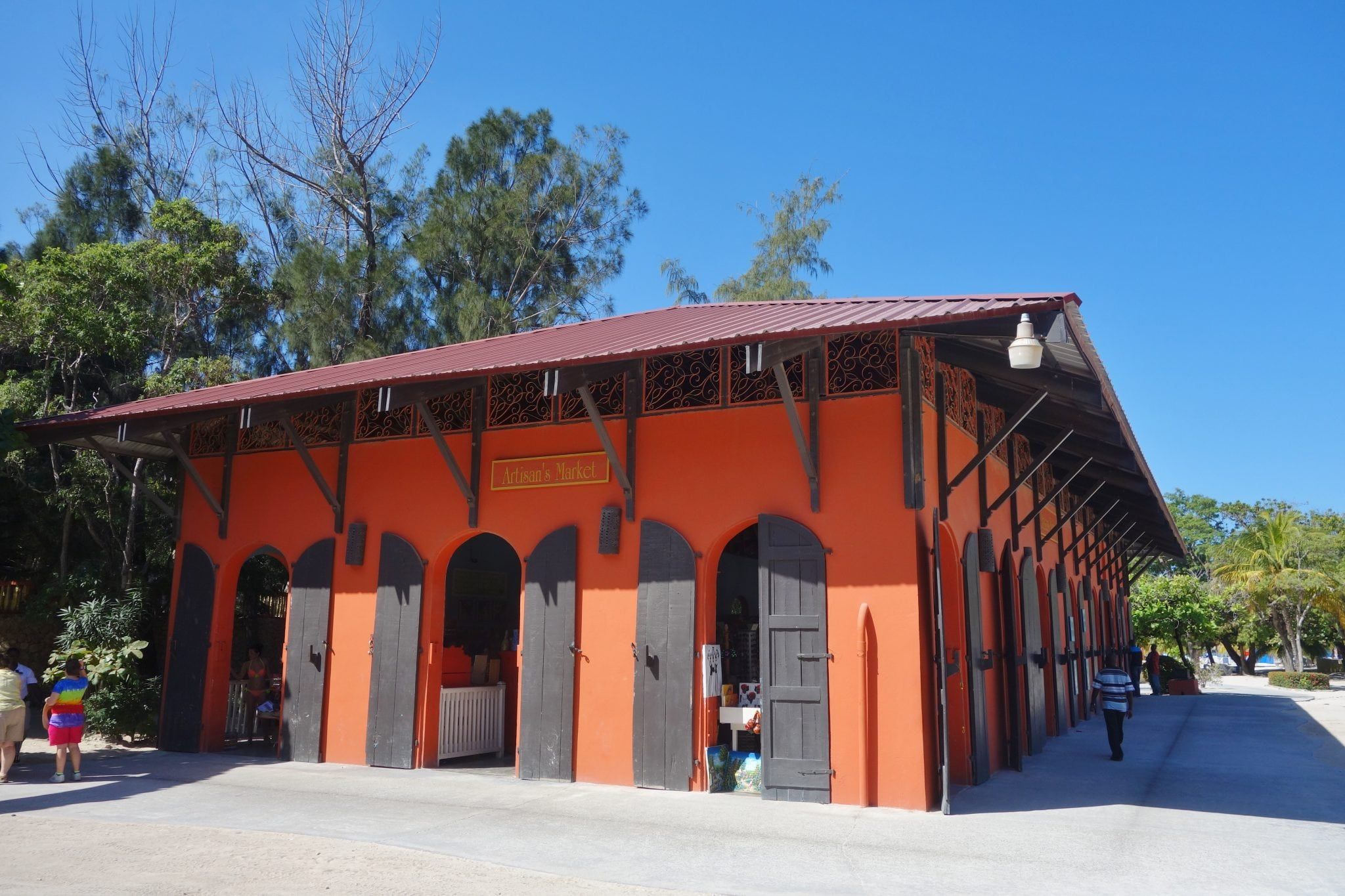 After some light shopping, we staked out some lounge chairs at Adrenaline beach . We like this area as it is close to the restrooms, a bar, and a lunch station. Also, it is at the very end of the "island" so usually not as crowded. At each beach location on the island, there are "assistants" who set up lounge chairs and pop-up tents for beachgoers as needed. A gentleman offered to setup a few chairs for us. After all of that hard work, we were getting thirsty so I headed up to the bar to get a labadoozie (check out the recipe for this delicious drink at the Royal Caribbean Blog) for the Princess and a Corona for myself.
By this time, they had already started serving lunch, so we went to check out the situation. All of this lying around on the beach can make anyone hungry! This is a buffet style barbeque which I find quite tasty, especially the spare ribs. Last year during our visit to Labadee, the buffet was a disaster zone with a lot of empty trays and hungry cruisers. With that knowledge, we headed over a bit earlier and surprisingly were able to get through the line rather quickly.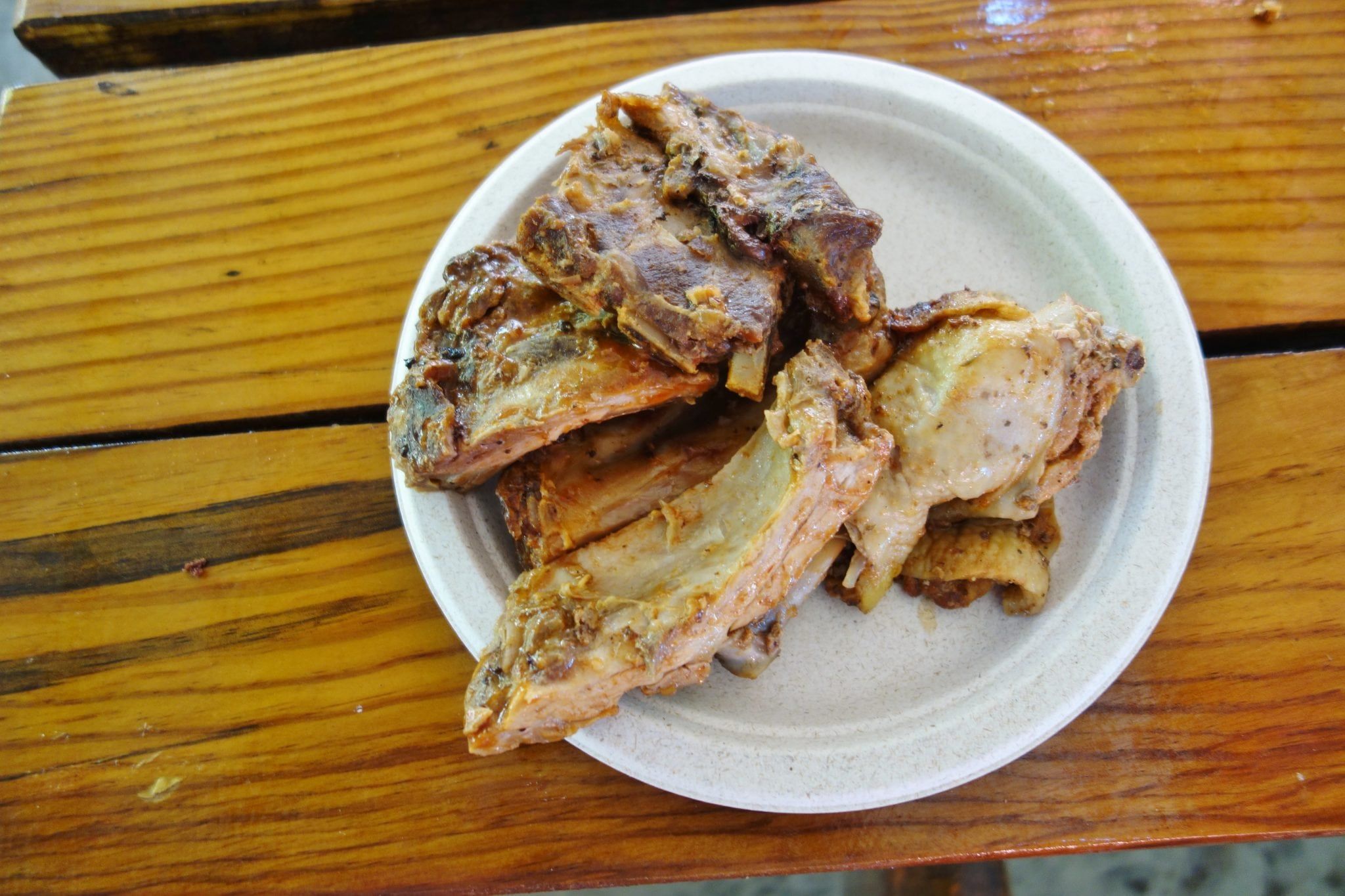 After all that eating, we decided to do what vacationers do best and lounge some more. When the Princess decided she had enough sun, we made our way back to the ship.
Back on board, we stopped in for another iced latte for the Princess, went back to the room to pack away our souvenirs, and then headed to the casino. Note: all alcohol purchases made in port are not allowed to be carried back on the ship and are SUPPOSED to be delivered to your stateroom the day before departure. (more on that later….)
At the casino, the tables had just opened up and it was rather quiet. In fact, I sat at the $6 blackjack table for over 30 minutes playing with just the dealer. Even after that, the table consisted of me and a few other fellow card players I had met the previous night. Deciding to walk away even, I went to go find the Princess at her favorite slot machine. She was not faring so well, so we called it quits and went back to the stateroom to get ready for dinner.
With only a couple of casual portraits tonight, we were to dinner earlier than usual. We were greeted by Ramir and Michael, as well as our customary cocktails. Dinner and service were exceptional as always.
Now, it was time to see if the entertainment could redeem itself! The production show tonight was Center Stage featuring the Royal Caribbean singers and dancers and was what we expected from a typical cruise revue show. The plan was to stay awake long enough to go see The Quest in Studio B—I have participated once, and the Princess is too introverted—so we get our entertainment from just watching the spectacle. *Yawn*. Change of plans, all that sun made us pretty tired so we just retreated to the room for the night. After all, tomorrow was our last sea day and we wanted to get as much in as possible!
Independence of the Seas Cruise Review
Day 8, At Sea
Drink of the Day -Dave Mac's Wild Punch
The last day at sea had arrived, and in typical fashion, it was overcast! Up at a reasonable hour, I went for a run on the outdoor track. The ship was relatively quiet so following my run and a quick shower, I suggested we try the main dining room for breakfast. The weather was not cooperating, and it was a nice change to our routine. The food was a bit better than room service and cooked to order.
Even though the skies were cloudy and overcast, we were determined to get as much outside time as possible as we knew we would soon be heading back to the snow. Apparently, everyone else had the same idea because finding seats proved to be more difficult than we thought. We ended up securing seats on Deck 12 mid ship, overlooking the sports pool–this would come in handy for the 1:30pm viewing of the Sexiest Man Contest.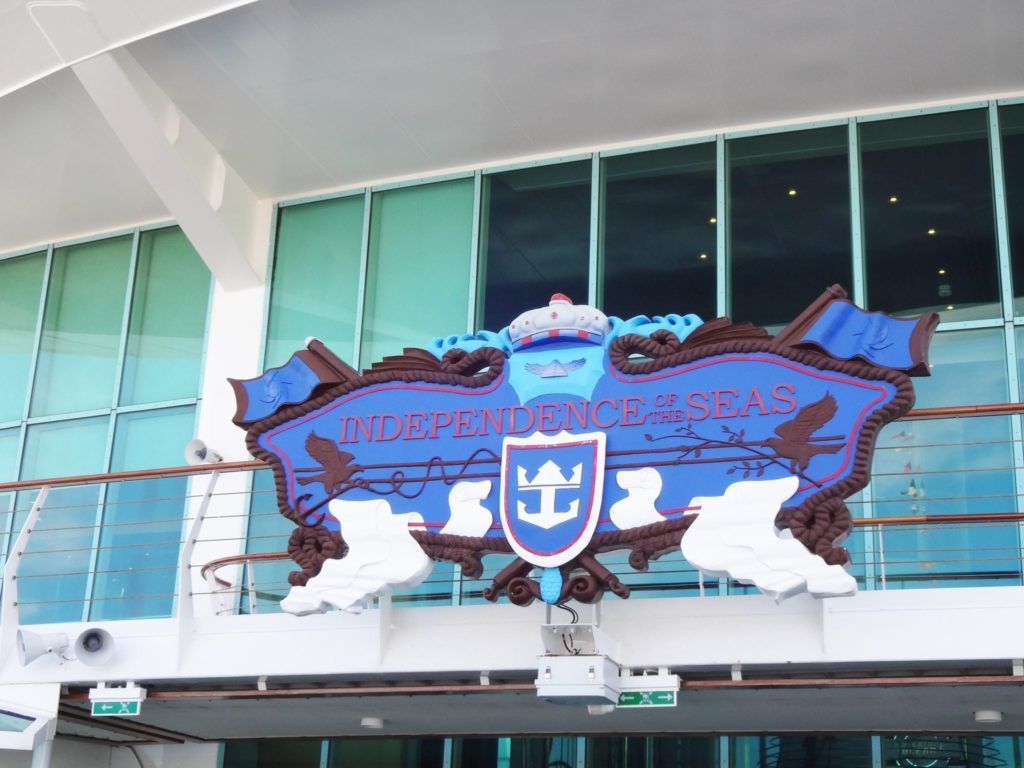 After a little relaxing and reminiscing about our vacation that was coming to an end, we decided it was time to sip a few cocktails, a pina colada for me and a miami vice for the Princess. Before long, 1:30pm had rolled upon us and The Sexiest Man Contest was about to begin. I decided to grab a quick snack before the show, so what better time than now to try one of those hot dogs at Squeeze that I had been eyeing all week?
A mother and her twenty-something year old daughter who were seated right next to us were chosen to be judges and they were perfect as they played right into the fun and silliness of this cruise classic. Not to compare everything to Allure, but again the space just seemed too small and crowded for the event. Despite the space constraints, the contestants put on a good show but if you've ever been on a cruise before you know the guy with the biggest muscles never wins. In keeping with tradition, the old guy took the crown!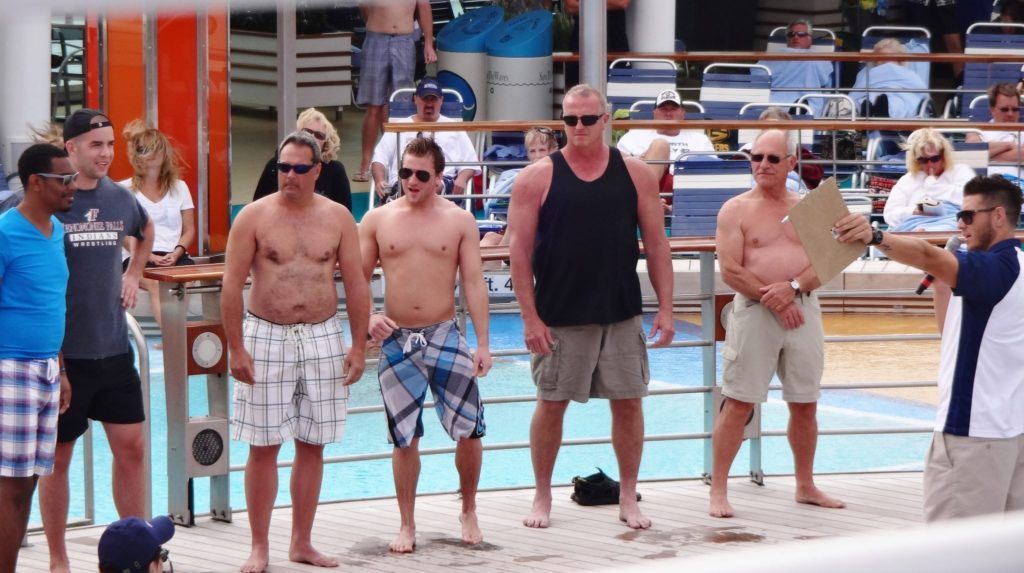 After the show, we headed inside for a bit to grab an iced latte and print out our boarding passes for our flight the next day. We also made a pit stop in to Adventures, the future sailings office, to put down a deposit for two cruise open bookings. For those of you not familiar with an opening booking, it gives you the option to put down $100 reduced deposit and receive a reservation number. This reservation number can be applied to any future cruise of your choice, and you will also receive onboard credit based on the length of cruise and room category booked. This IS combinable with other offers. It's a great option if you know you will sail again but aren't quite sure of the details: when, where, what ship, etc. As of April 2014, we have already applied one of those bookings to a 2016 Anthem of the Seas cruise.
Now it was time to head back to the room to finish packing and prepare for dinner. We always carry our bags off the ship to alleviate the need of placing them in the hallway the night before so it was just a matter of packing everything up and weighing the bags to ensure they were under 50lbs—the Princess does NOT pack lightly!
Since there were no portrait stations tonight, we were actually to dinner on time! Tonight, the service staff really hams it up during the ceremonial singing/marching around the dining room. We made sure to let our wait staff know how pleased we were with their exceptional service down to the little details like remembering our names, our nightly drinks, the kind of bread we had, and most importantly that fact that I liked to eat, A LOT! Even though we had prepaid gratuities, we provided them with additional gratuities for making our experience so special.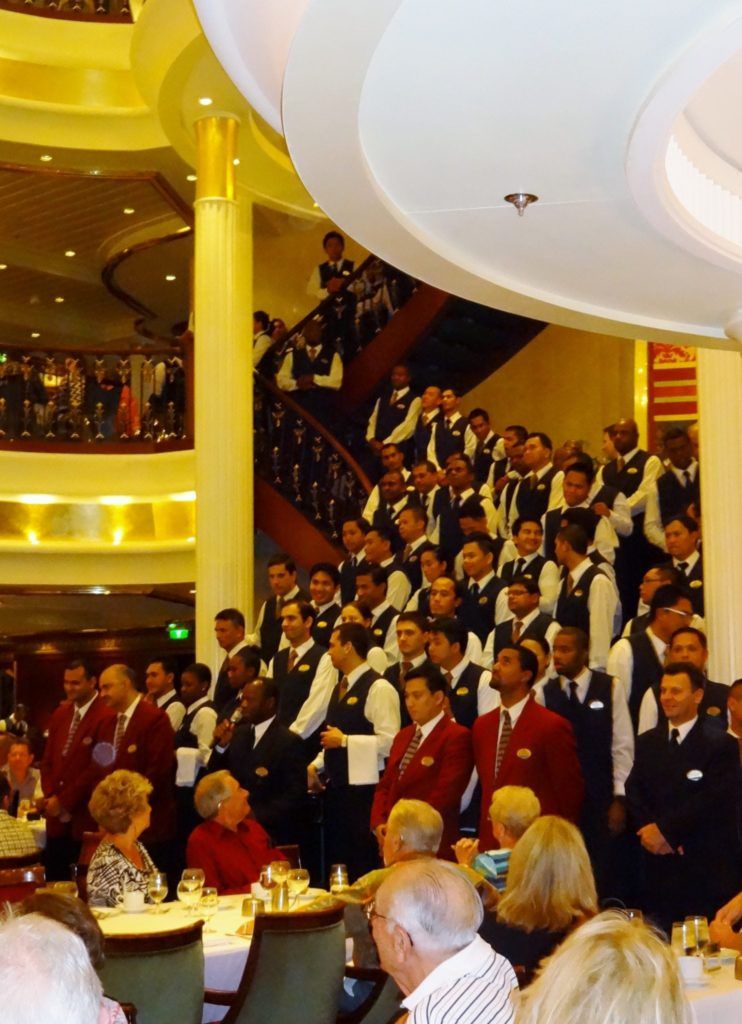 Following dinner, we made a pit stop back at our room, finding that our alcohol purchase from Labadee had been delivered. The rum we purchased came packaged in a straw tote. When I picked the tote up, I realized there was a hole at the bottom and only one of the two bottles of rum we had purchased was inside. We flagged down our stateroom attendant who informed us that all packages had already been delivered and that we should speak to someone at Guest Relations regarding the situation.
The line was crazy and the staff at the desk not very helpful, but eventually we were directed to a bar manager on the ship. He explained that there was nothing he could do except substitute a bottle of Bacardi from onboard. A bottle of Bacardi that is readily available in the states hardly seemed like a souvenir to us so we were not happy with that solution. After some discussion, he reluctantly credited our Sea Pass account for the bottle of missing rum. Though we were disappointed, this seemed like the fairest solution.
After that was settled, we jetted to the farewell show which was a mix of singing, dancing, Joff Eaton comedy, and the special guest Rick Novell, an "action comedian". He performed juggling acts and incorporated audience participation. His set was not very long but enjoyable to watch. Overall, it was a high energy show and a fitting finale to this voyage.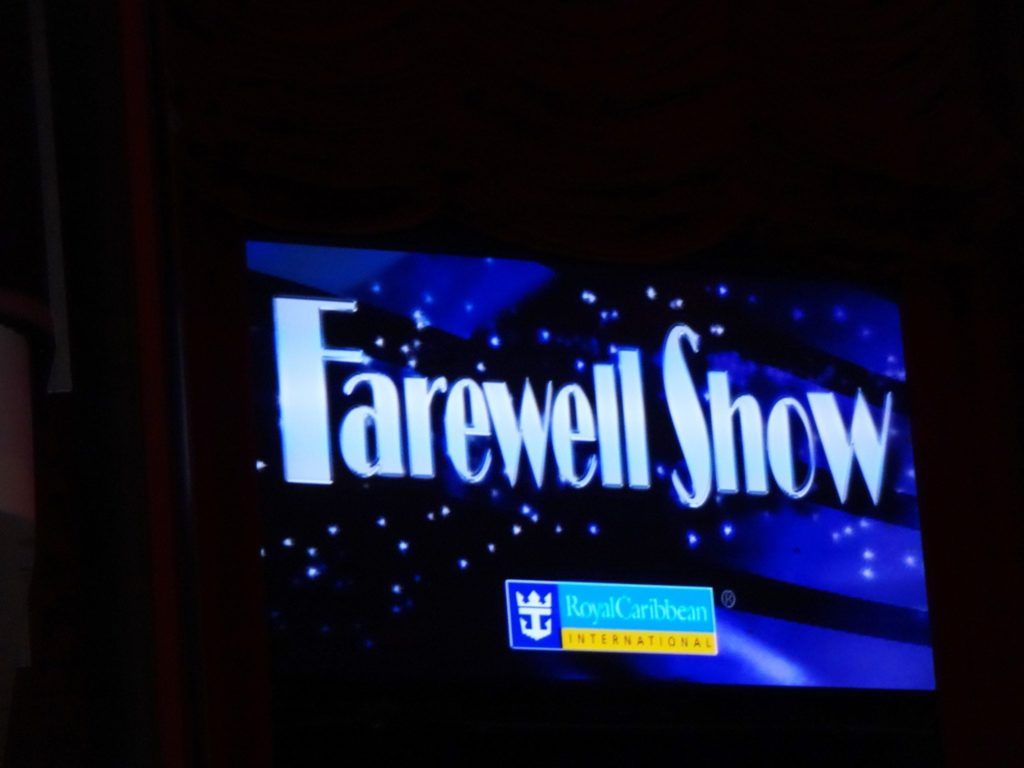 Now, the last order of business was to head over to the photo studio to grab our photo package DVD. Only 181 pictures—even with an extra day we actually had fewer pictures than last year's Allure of the Seas photo package. We need to step up our game!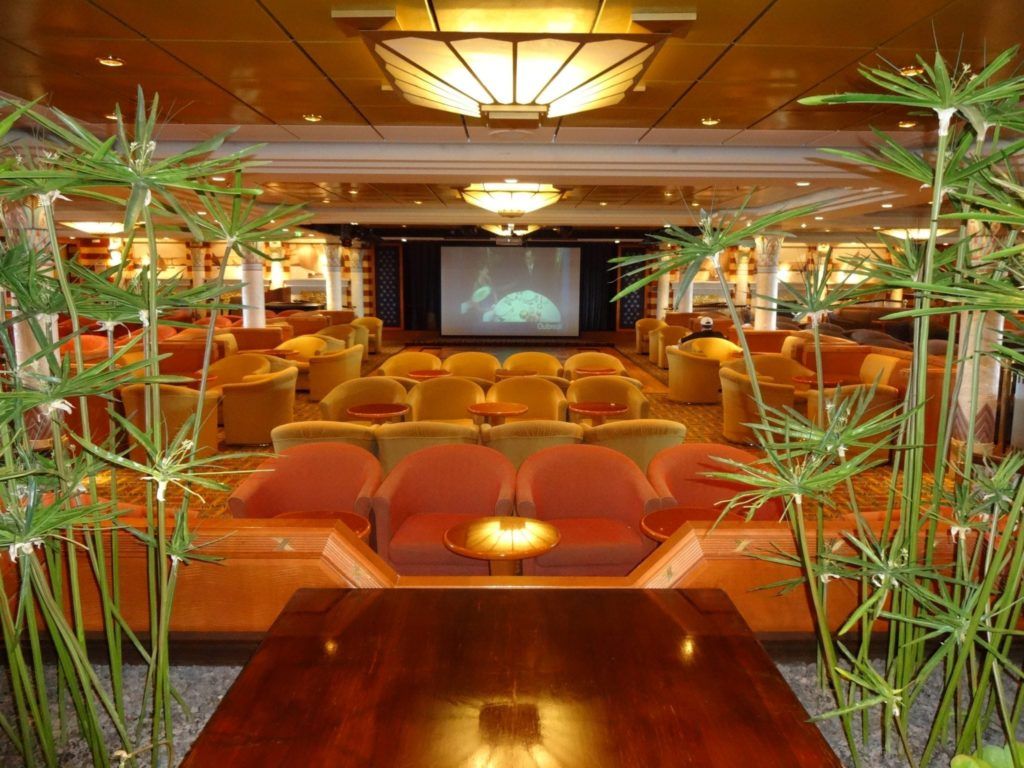 Off to the Pyramid lounge we headed to grab a seat for the karaoke finale. On most cruises, we try to catch a few nights of karaoke performances as they are always a good time but for some reason this ended up being our only karaoke viewing this whole sailing. The finalists all did a great job, the winner being a gentleman who sang a Luther Vandross song with a lot of heart and soul. Even though it was relatively early, we both were exhausted so we strolled down the promenade, grabbed one last drink, and it was off to bed for us.
Independence of the Seas Cruise Review
Day 9, Disembarkation—Boo!
The worst day of any cruise is the disembarkation day—back to reality and snow covered New England! I headed down to the Cafe Promenade to grab us some iced lattes and quick breakfast treats, being sure to tip the baristas for their service during our trip. Yes, the drink package still works even though this is actually Day 9. You can not carry any food or beverage off the ship but not to worry; we were both tired and needed the caffeine for the long day ahead of us.
We had a shore excursion planned with RCI today due to our late flight from Ft. Lauderdale to Providence, so we headed to our meeting place in the theater with bags in tow. After much confusion and disorganization, we departed as a group, sort of.
After going through customs and exiting the port which was relatively smooth sailing, again we were greeted with more confusion trying to locate our transportation among rows upon rows of buses. Finally we found the right bus, were boarded, and on our way to the Everglades. Find our review of the Everglades Holiday Park Excursion.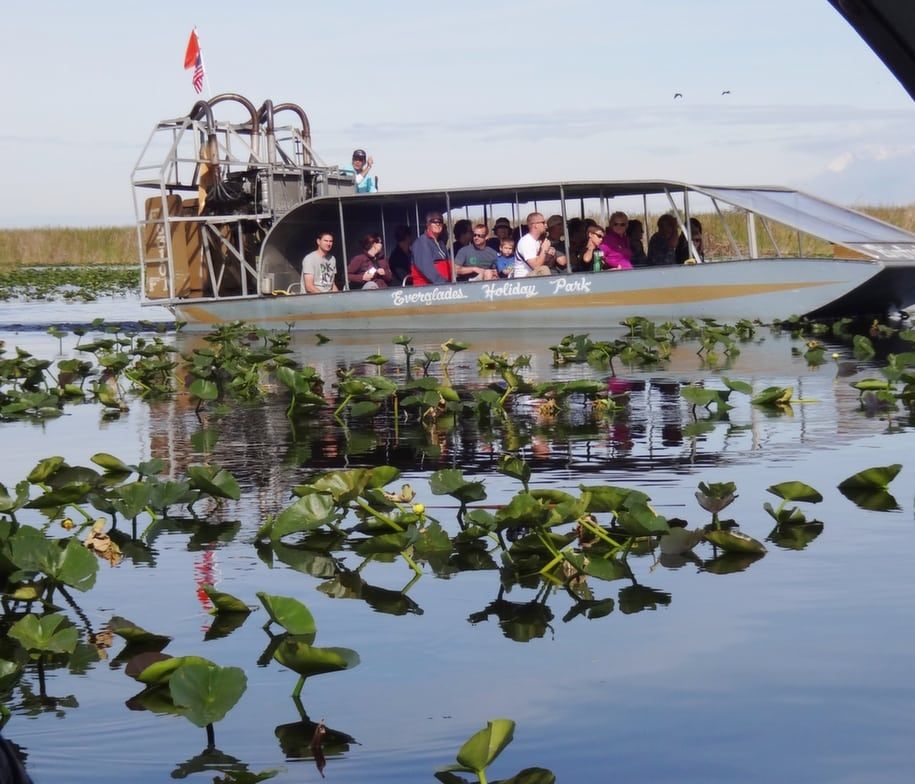 A fond farewell to the Independence of the Seas, a great vacation with plenty of Eat Sleep Cruise memories!
Comments
Have you sailed on Independence of the Seas? What did you love about the ship? What did you think was missing? Drop us an anchor below to share your thoughts on our Independence of the Seas Cruise Review. We would love to hear from you.