Holland America Line's Nieuw Statendam Ship Overview
Holland America Line's Nieuw Statendam is the second Pinnacle-Class ship. Like its sister ships, this 100K gross ton ship is home to several entertainment and dining venues.
The ship boasts several casual eats. Holland America's buffet, the Lido Marketplace, is among the best at sea. With several themed stations for lunch and dinner, the venue serves up always well-prepared options.
Further, burger lovers will want to dive into the burgers and fries at the Dive-In. There's also the New York Pizza and Deli, which dishes out hot sandwiches and specialty pies. Another popular venue is the Grand Dutch Cafe, serving Norwegian specialties throughout the day along with the brand's signature coffee blend.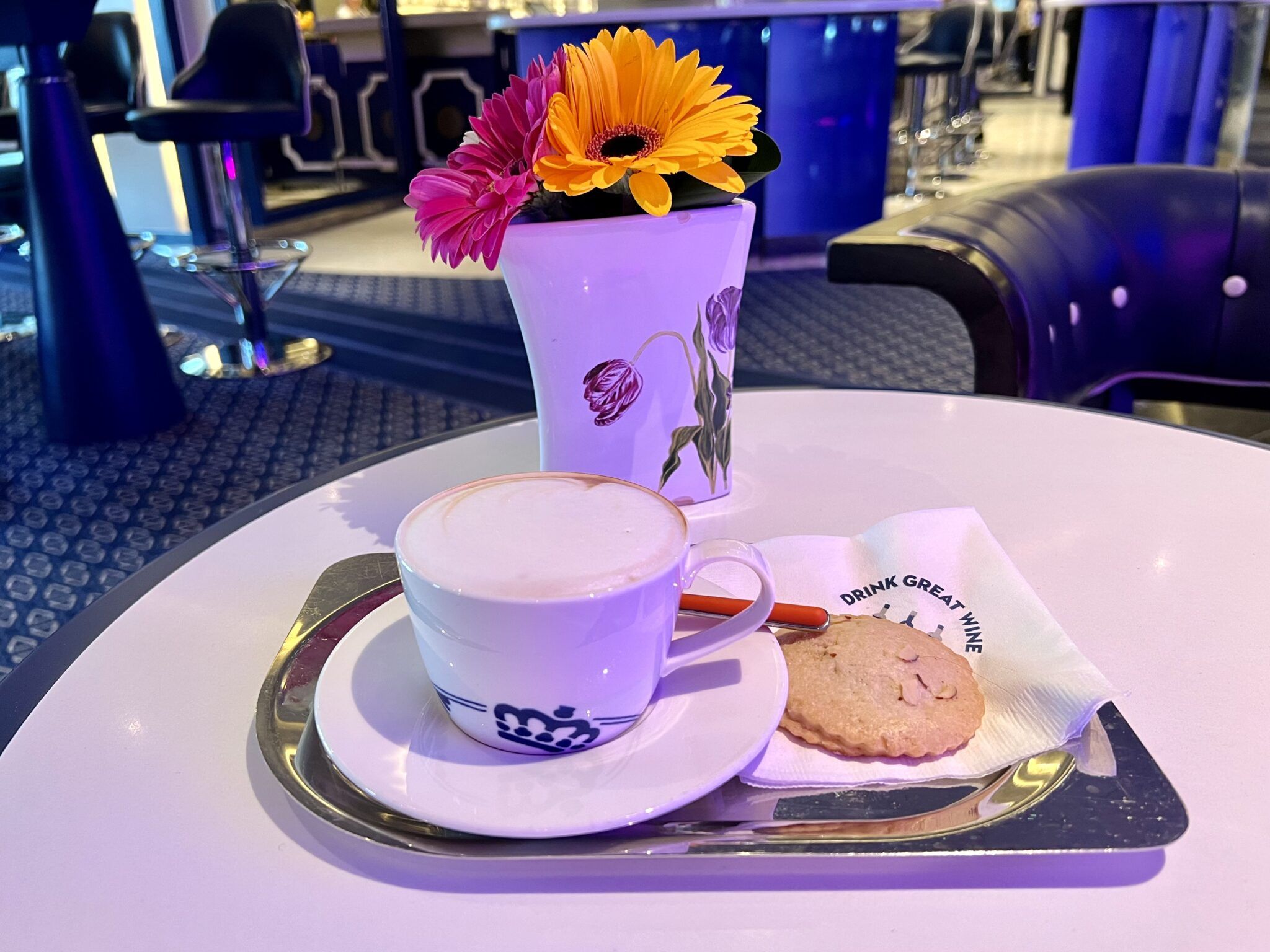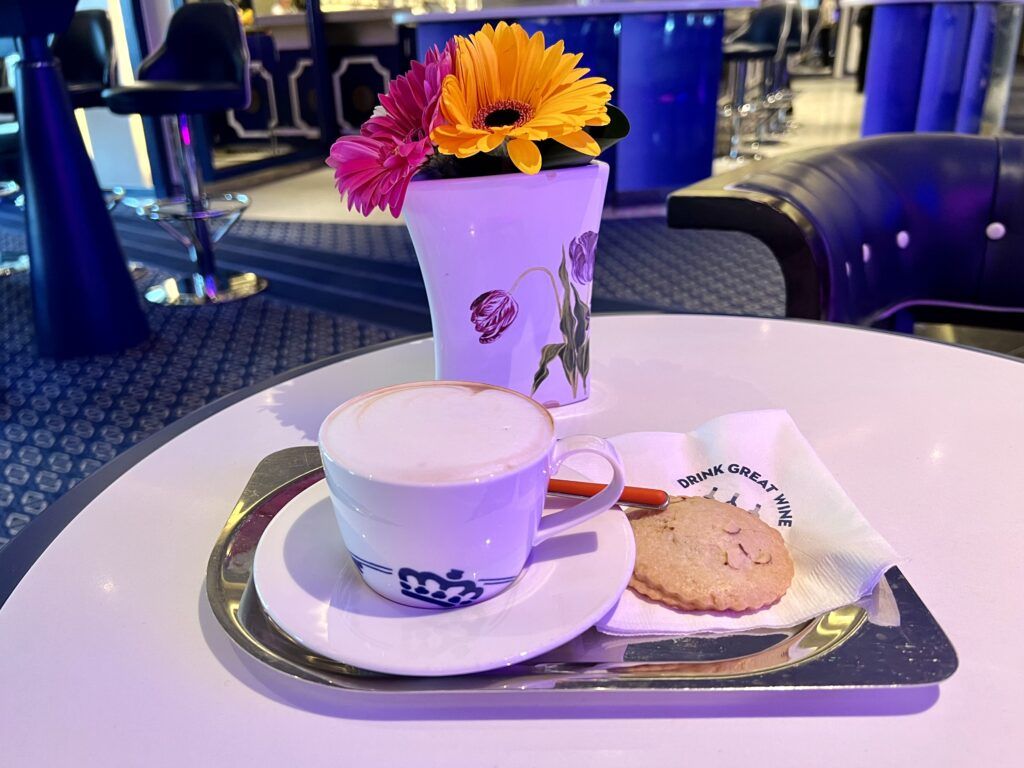 Holland America's specialty restaurants are also top notch. From the upscale Pinnacle Grill to the Pan Asian Tamarind and the seafood brasserie Rudi's Sel de Mer, you can't go wrong with dining at any of these venues.
Along with exquisite dining, the cruise line is also known for its live music. For us, the Music Walk is the place to be in the evenings.
The Rolling Stone Rock Room features an amazing rock band playing 3 sets most evenings. There is also a featured jazz band in B.B. King's and two piano players in Billboard Onboard offering something everyone will love. Not to mention, each music venue is home to a signature cocktail menu.
The World Stage is the ship's main theater. For this 7-night itinerary, there was a new show each evening. These nightly shows included several productions from the Step One Dance Company. In addition, the theater hosted a headliner comedian, the line's Origin Story EXC presentation, and a BBC Earth production featuring the Lincoln Center Stage orchestra.
If that's not enough, Nieuw Statendam features two pools, including the adults only Sea View pool all the way aft and the mid-ship Lido pool with a retractable roof. For those looking to relax away from the pool deck, there is also Explorations Cafe located at the top of the ship and offering great panoramic views.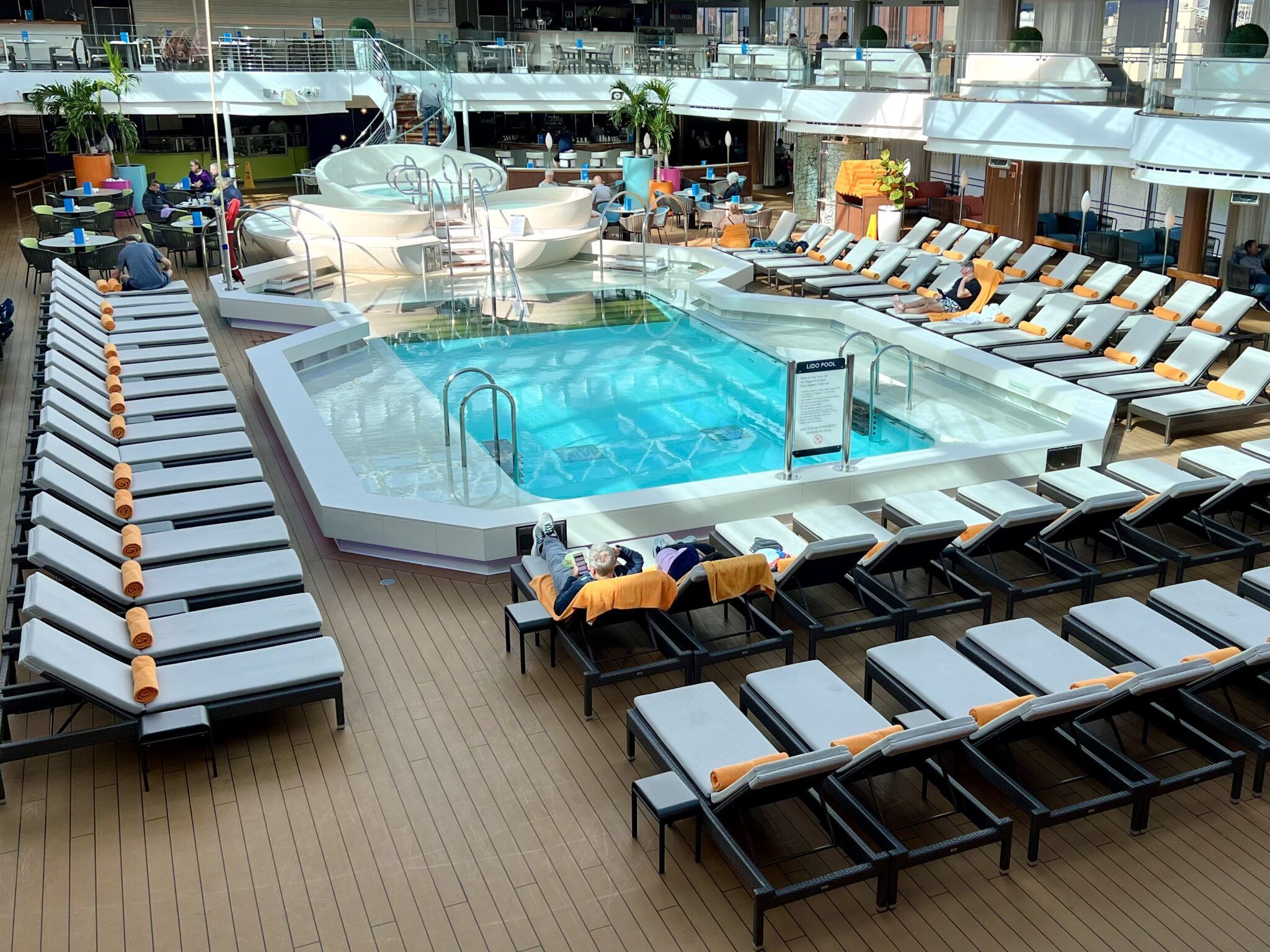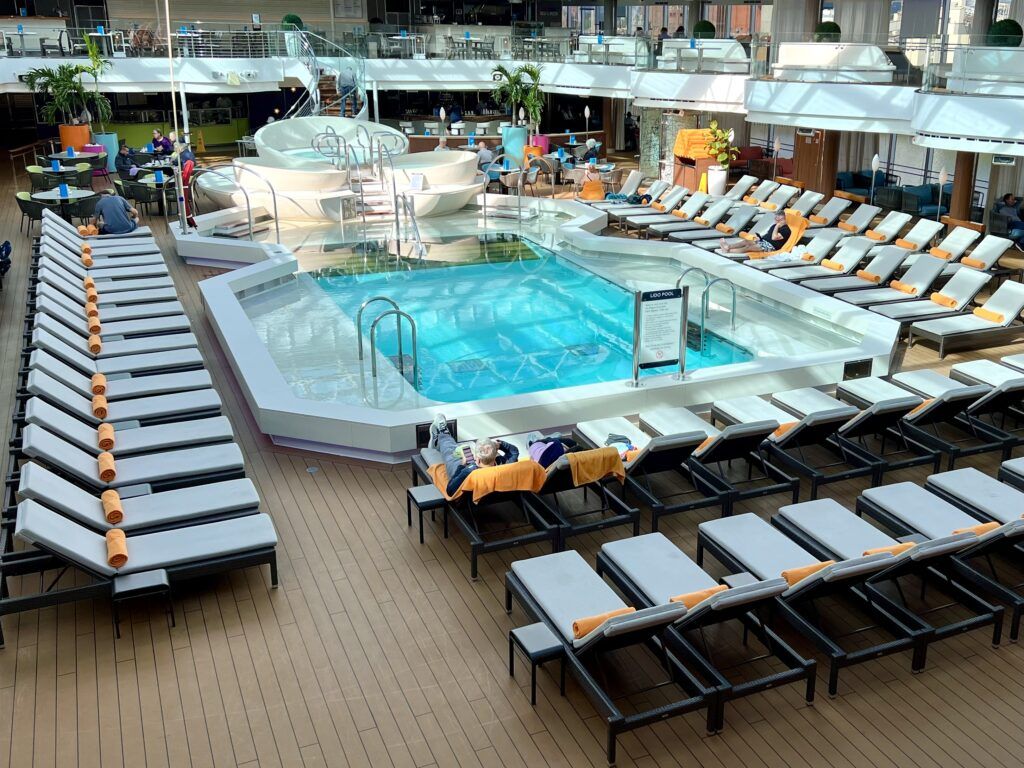 Of course, there are also plenty of bars, a casino, shopping, a gym, and a spa to keep everyone entertained day and night.
Though, with only 1 sea day during this Holland America Canada and New England cruise, you may find yourself spending a lot of time ashore exploring these historic and scenic ports of call.
As native New Englanders, we can't believe it took us this long to cruise in our own backyard. Luckily, Nieuw Statendam was the perfect vessel for this trip. We were able to explore new ports during the day and return to this elegantly appointed ship each evening knowing we had a superb dinner and live entertainment waiting for us.
EXCLUSIVE RATES: Book Your Nieuw Statendam Cruise Now!
Holland America Line Canada and New England Cruise – Day 1
A Homeport Cruise
As a couple, we have been on over 55 cruises. While we have sailed in regions like Alaska, Northern Europe, and the Caribbean, we have never cruised closer to home. So, when the opportunity arose to take a New England and Canada cruise from our hometown, we couldn't say no.
This 7-night, one-way cruise originated in Boston, MA and ended in Quebec City, Quebec. This meant that we didn't need to fly or travel far to board our cruise ship. All we did was leave our house at 10 am for the drive to the Black Falcon cruise terminal. With the omnipresent traffic, this took about 75 minutes.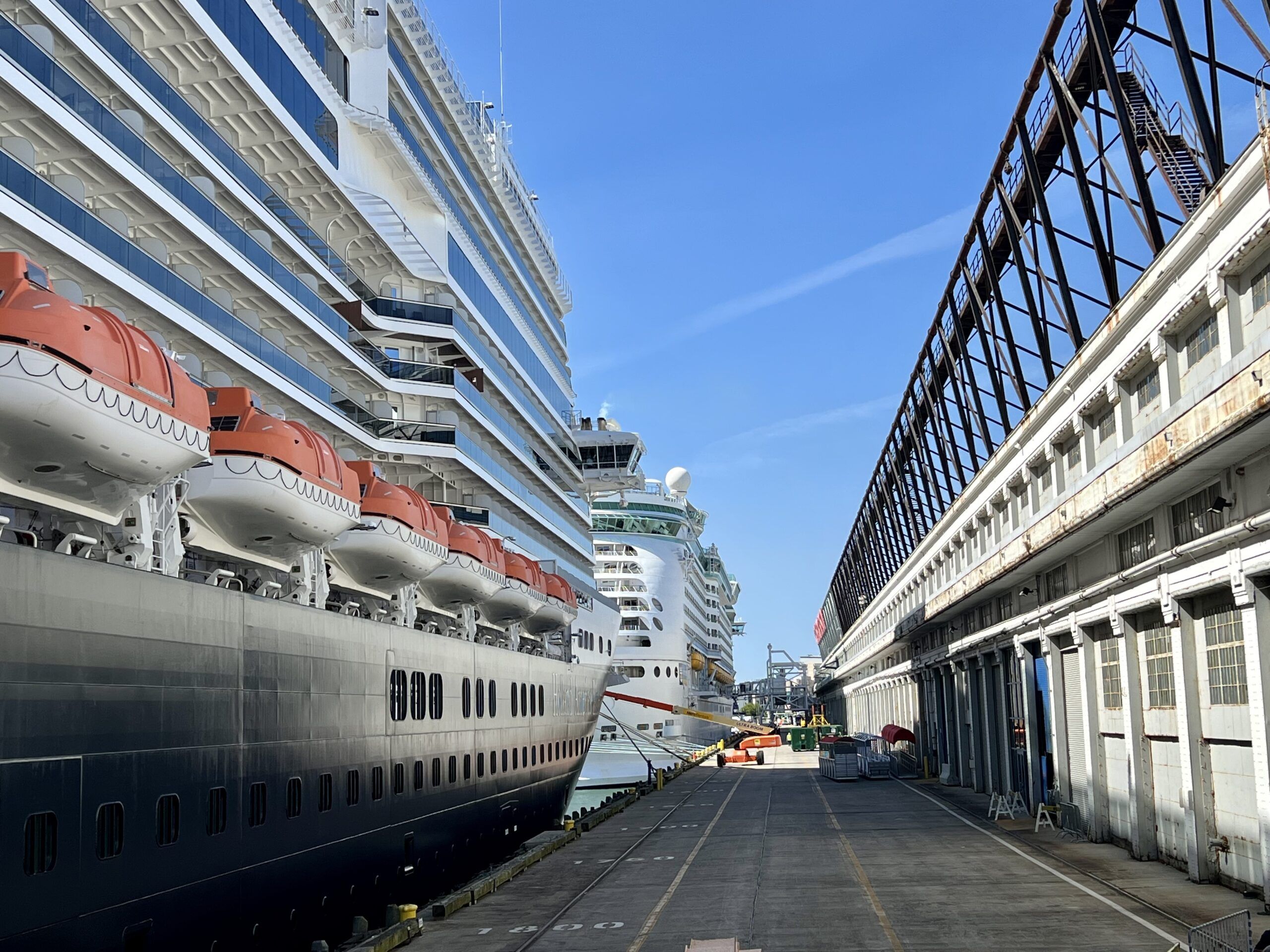 Unfortunately, Boston is not built to process larger ships. So, with Nieuw Statendam and Adventure of the Seas both embarking this Saturday, the port was rather crazy.
Still, we were able to drop off our bags with a porter and get through security rather quickly. A few days prior to the trip, we completed the optional VeriFLY process. This turned out to be a huge time saver, as our check-in process took only a few minutes.
While the shoreside team began boarding cruisers around 11:30 am, there was a long delay between boarding groups 3 and 4. So, we ended up waiting over 30 minutes in the terminal before our boarding group 4 was called.
We officially stepped onboard Holland America's Nieuw Statendam just after noon time.
A Beautiful Fall Day Onboard Nieuw Statendam
Luckily, the weather turned out to be perfect, around 70 degrees and sunny. These were the ideal conditions to explore the outdoor decks of the ship.
Once onboard, we began our typical self-guided tour. Having cruised on Rotterdam twice now, we were familiar with this class of ship. Still, we explored the outdoor areas and lido deck getting the requisite video and photos.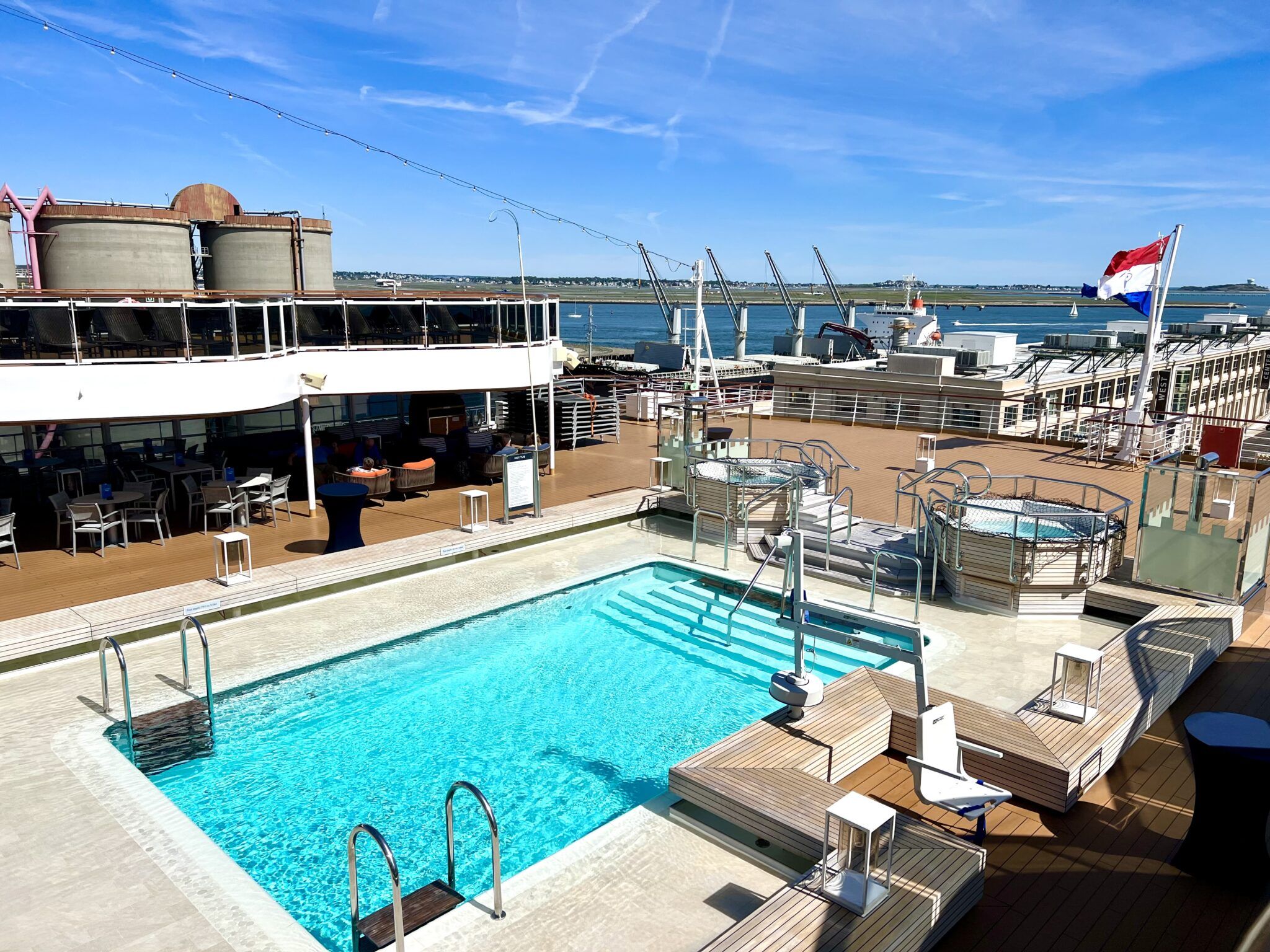 Given we attended a wedding the night before and had to drive to the cruise port this morning, we skipped breakfast. Thus, by 1 pm, we were both getting rather hungry.
Always avoiding the ship's buffet on embarkation day, we ordered some sandwiches and fries from the Dive-In on Deck 9. We didn't have to wait long for our custom-made burger and chicken sandwich. Hands down, these are among the best burgers at sea.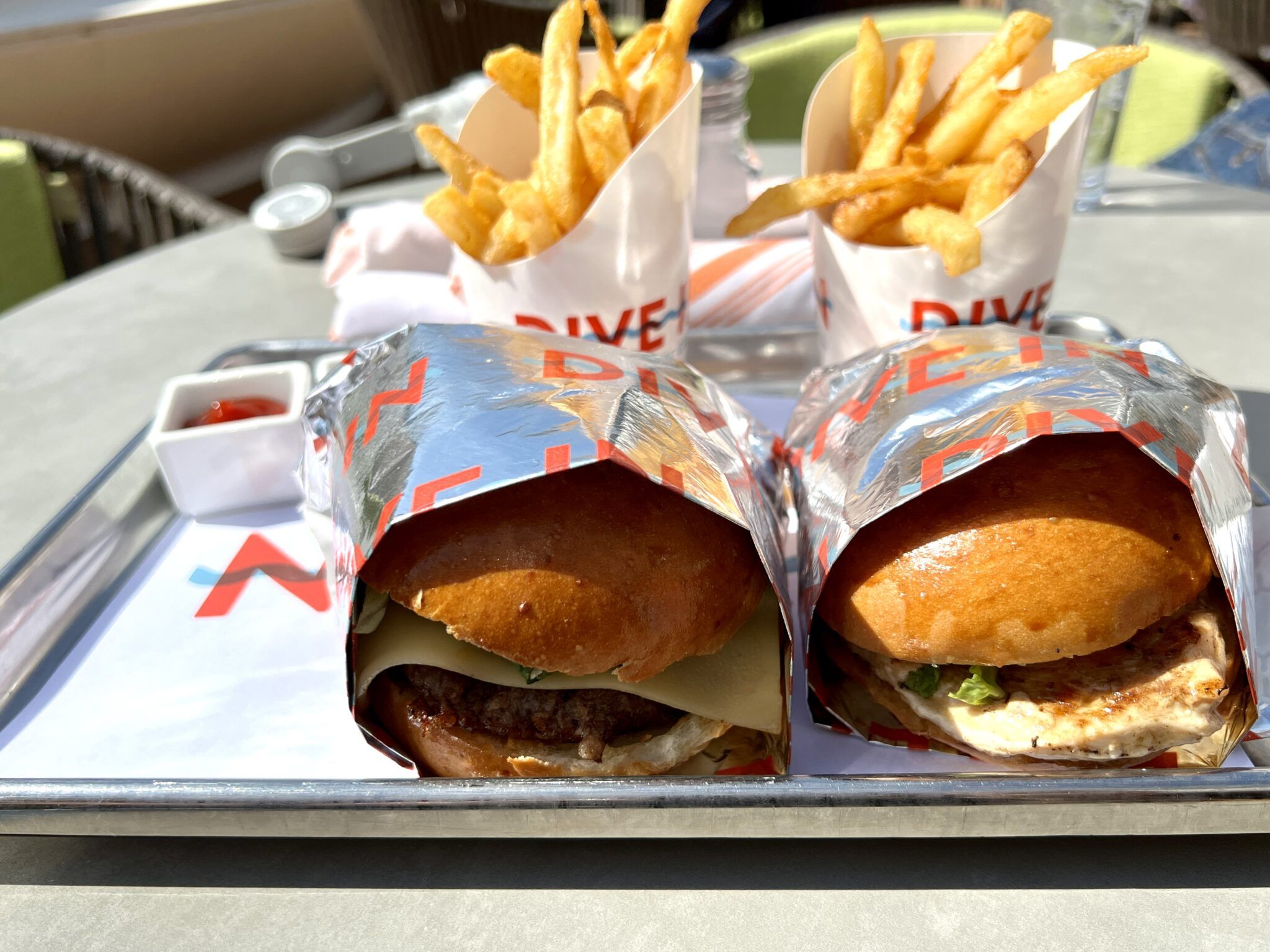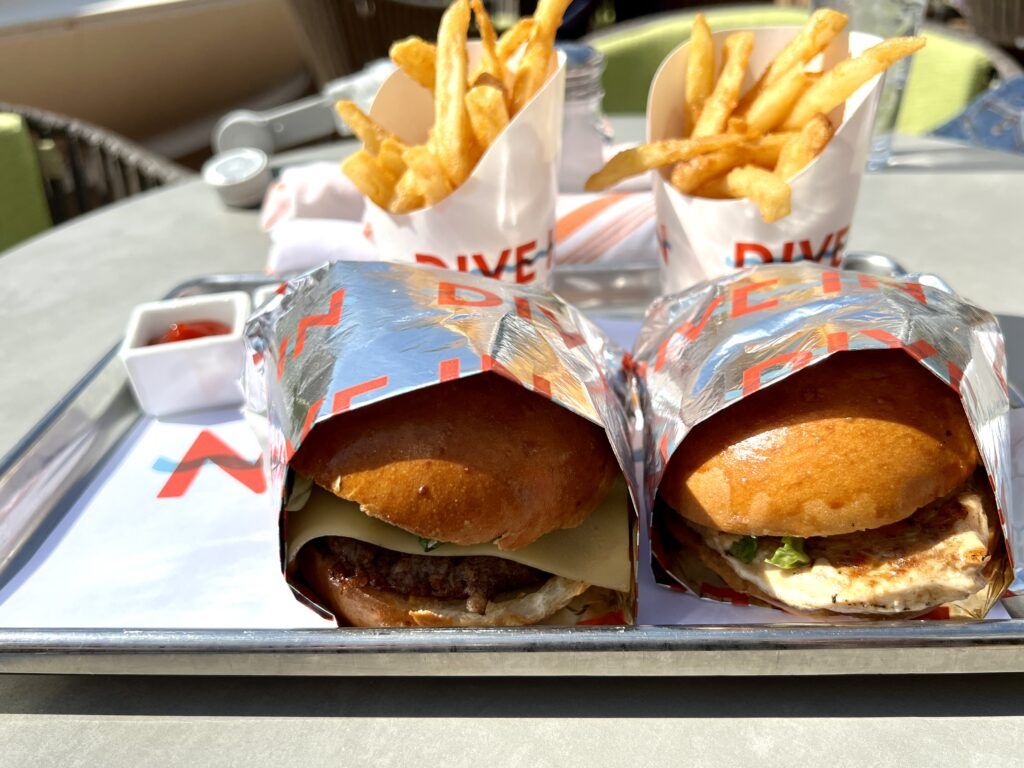 Fueled up now, we continued our ship tour down through the interior deck spaces. During these travels, we dropped off our bags in the cabin and checked-in at our muster station.
Once we finished this walk, it was time for some much-needed afternoon coffee. Along the way, we bumped into a friend and fellow creator also on the ship. So, we stopped to chat and catch up for a bit.
When the warning came for cruisers to complete their muster, she headed off to complete the mandatory drill while we returned to our cabin to begin unpacking.
Our media group was meeting at 4 pm for a sail away drink, so we were only able to partially unpack before heading back up to Deck 9 near the SeaView pool.
Saying Good Bye to Boston
Grabbing some chairs, we joined the group for some conversation and cocktails for the next hour or so.
Given the chaos of embarkation, it wasn't surprising to hear that sail away was delayed by an hour.
Finally, around 5:15 pm, the ship began slowly pulling out of the dock. With planes landing at the nearby Logan airport, this sail away was a fitting way to bid farewell to our hometown for the next 7 days.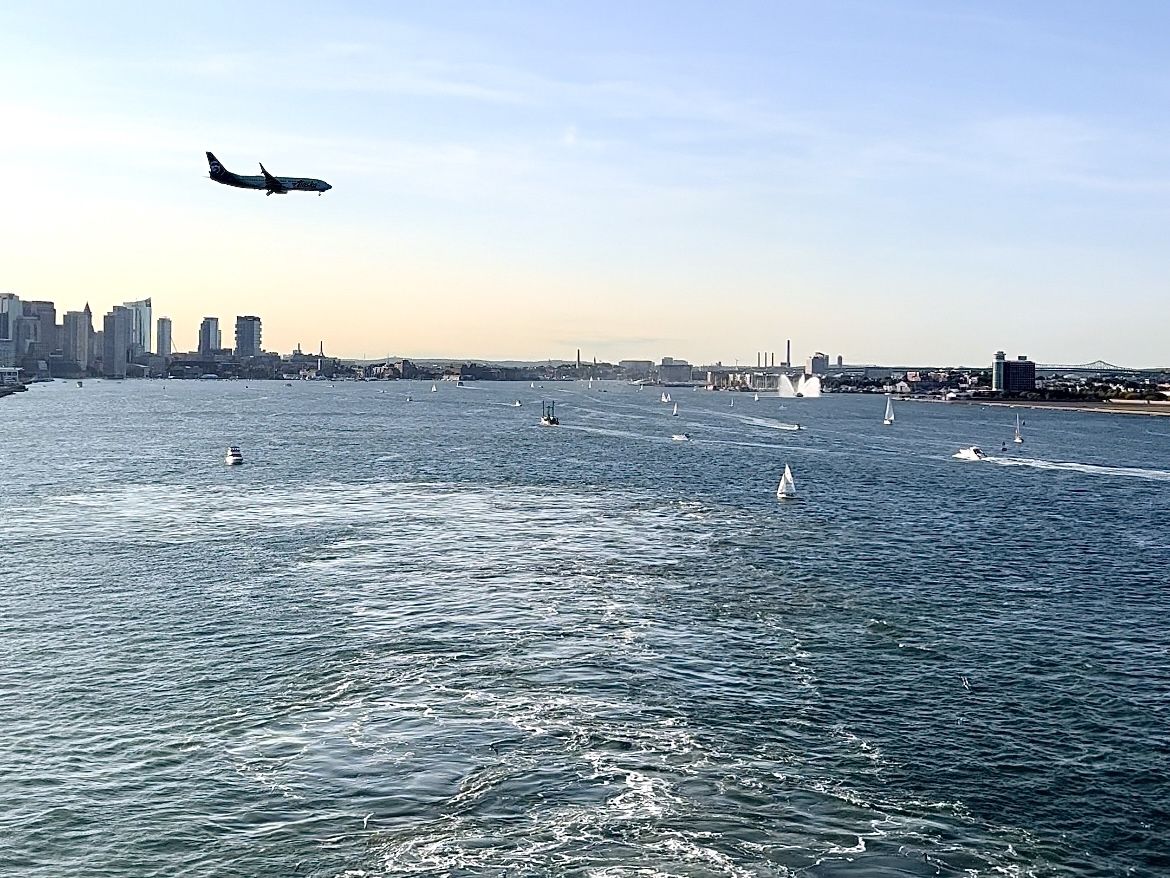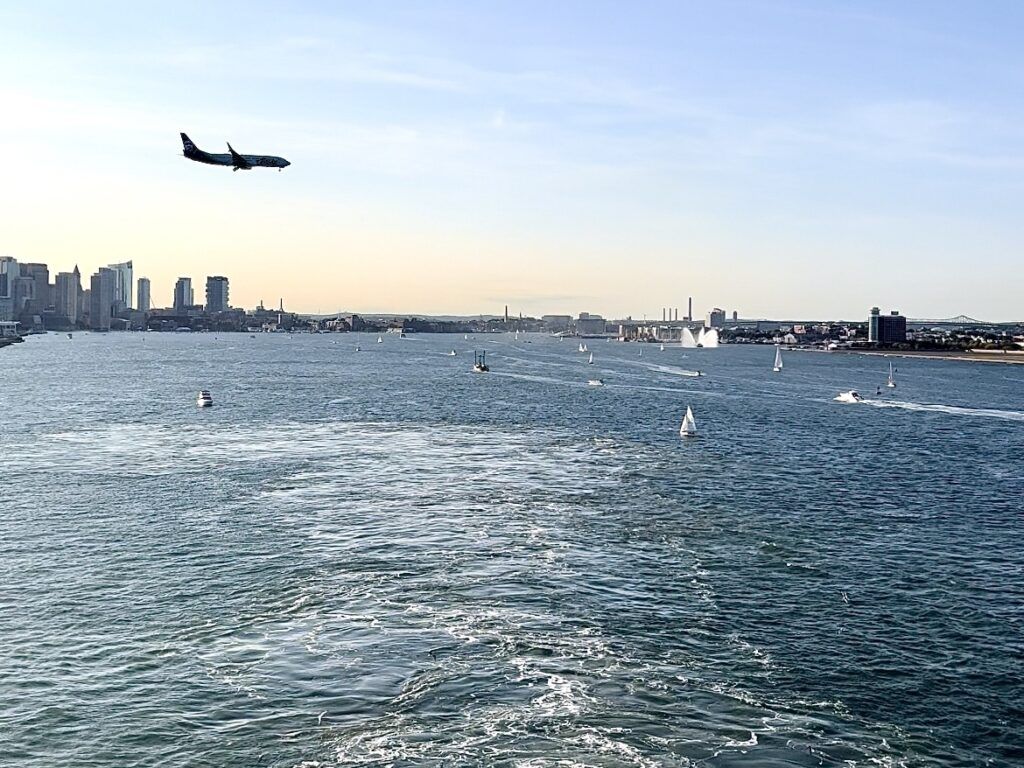 Our first ever Canada/New England cruise had officially begun!
Our group's dinner reservation was for 6:30 pm in the main dining room this evening. This gave us just enough time to finish unpacking and to change up for dinner.
Arriving to dinner a few minutes late, there was a long line. So, it was a good thing we saw another member of the media group speaking with the hostess. Subsequently, we bypassed the line and were escorted to our reserved table.
For this first night dinner, we both enjoyed the New England clam chowder starter. The Rudi's roasted chicken was also a tender quarter chicken with herb stuffing. The pan gravy gave this meal just the right amount of flavor.
Heidi enjoyed her pasta entrée as well. Further, when in Boston, how can you pass up Boston cream pie for dessert?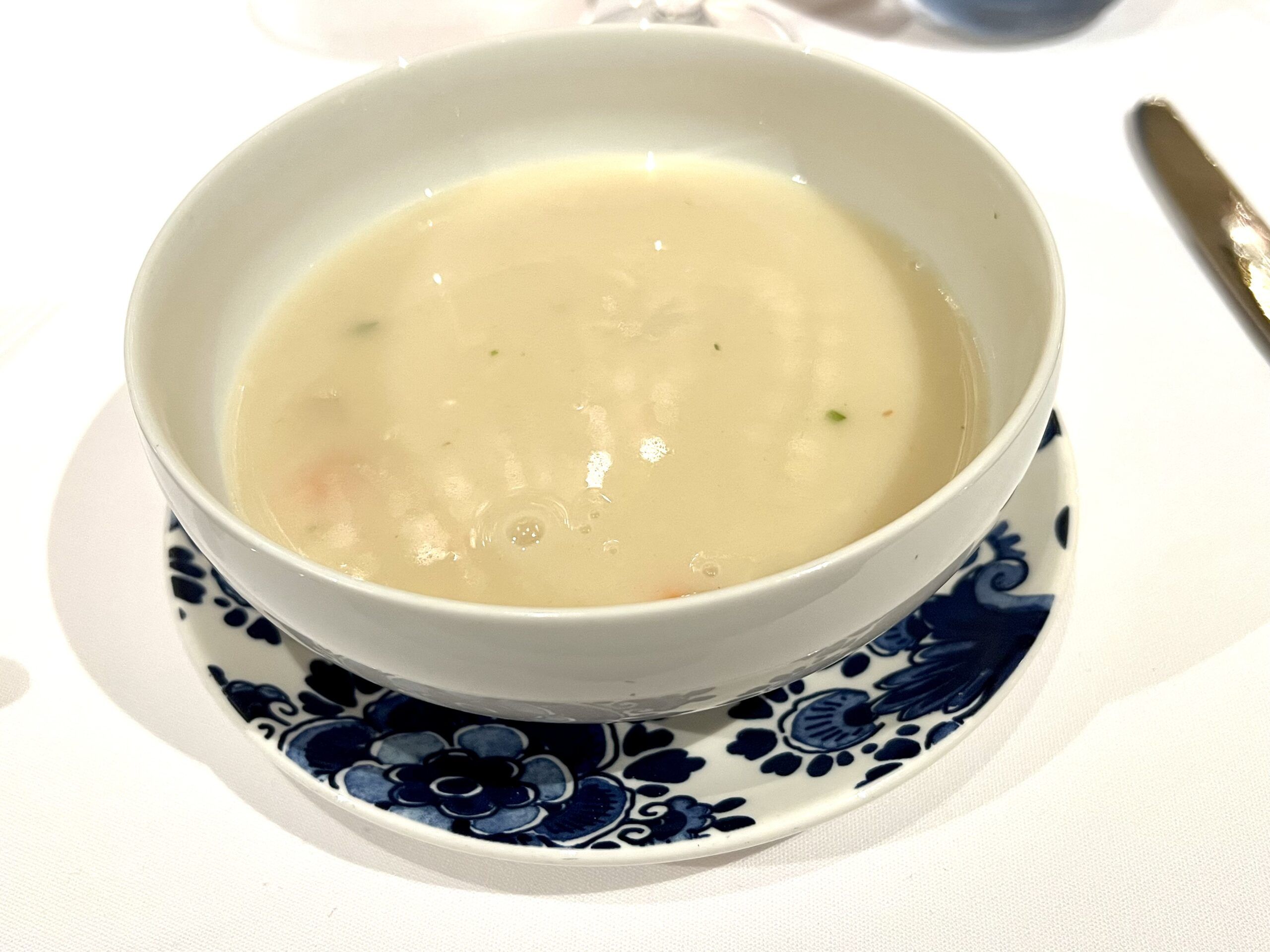 Given the size of our table, this three-course meal ran a solid two hours. So, the table began to break-up right around 8:30 pm, mainly because several of us were eager to catch the show in the World Stage.
A Routine Night Onboard Holland America Line
Tonight, there was one performance of the line's signature EXC talk, Origin Story. This 50-minute production traces the history of the company through the resumption of cruising following COVID-19.
While we have seen the show a few times already, we were more than happy to watch it again.
Following the show, we convinced one of our friends to join us for a drink.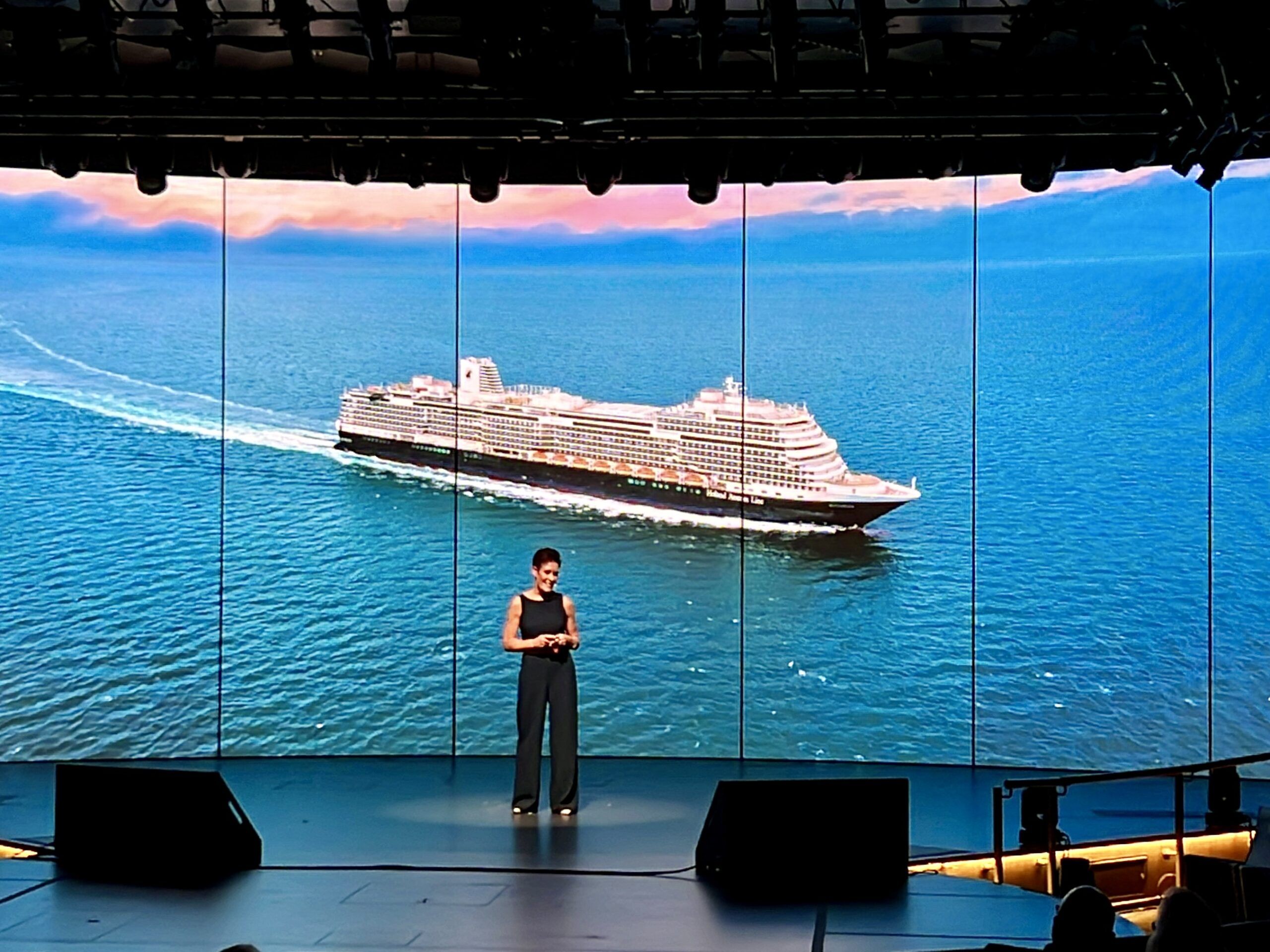 By the time we left the World Stage, the rock show was just ending in the Rolling Stones Rock Room. So, we made a b-line for the Billboard Onboard venue just next door. Here, we got ideal seats and cocktails while awaiting the second set of the evening.
The couple Megan and Gabriel were the resident performers in this venue for our cruise. Actually, they were the piano players on our previous cruise too and a fantastic combo. Their 45-minute British invasion set featured songs from the Animals, Ed Sheeran, Adele, and other iconic bands from across the pond.
Similarly, the band in the Rolling Stone Rock Room had been on our first Rotterdam sailing back in January. They are perhaps the best rock band we have seen on a cruise ship.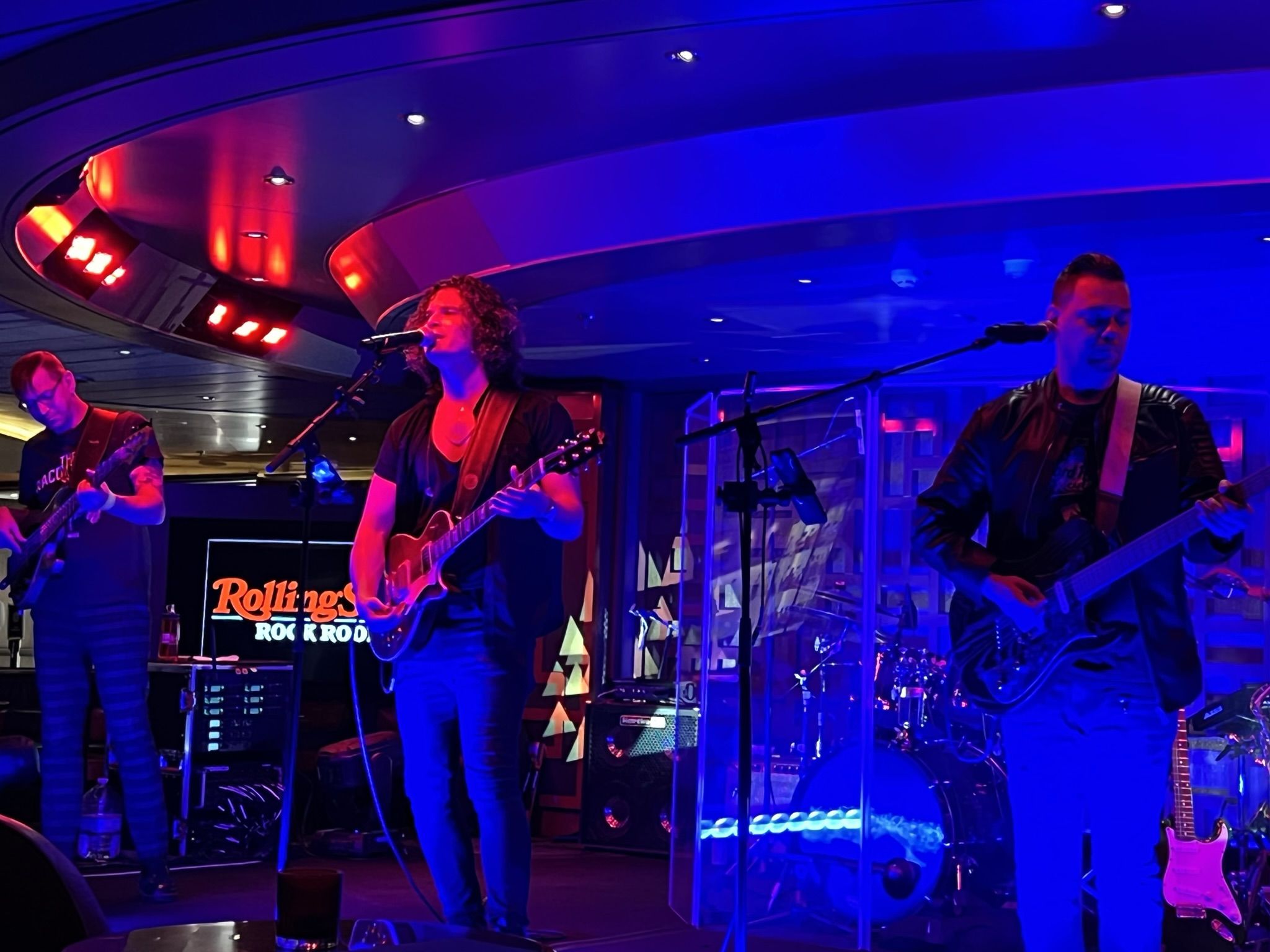 Knowing that the crowds dwindle later in the evening, we walked over to the Rolling Stone Rock Room after the piano duo's set. We might have also grabbed another round of drinks.
When this rock set ended around 11:15 pm, we both agreed it was time for bed.
Holland America Line Canada and New England Cruise – Day 2
Stuck on a Bus in Bar Harbor
The first stop on this Holland America Line Canada and New England cruise was Bar Harbor, ME. Even though we are New Englanders, we've never visited this city.
Given our crazy year of travels, we booked our tours for this cruise rather late. So, the only excursion we were able to reserve that included Acadia National Park was a 2.5 hour bus tour that didn't get the greatest ratings.
The ship was tendering in this port. So, our 10:30 am tour had a meeting time of 9:20 am in the theater. Once ashore, we boarded bus 13 where we met our tour guide Trevor.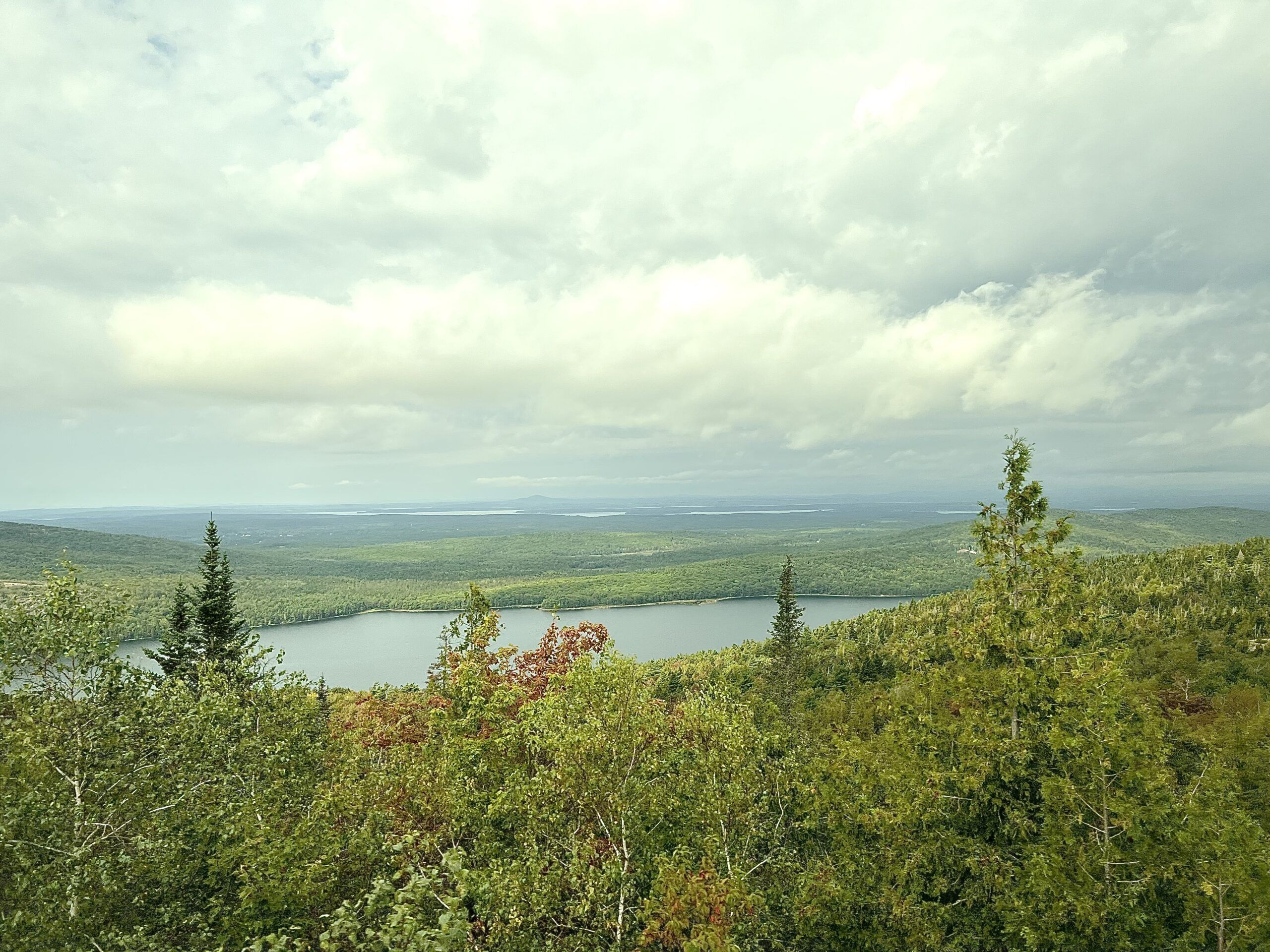 While I didn't like sitting in a bus all that time, our guide was great. He provided an informative and light-hearted narrative about the park's history, the state of Maine, and the island itself. From the million-dollar cottages of the industrial titans to the views from the Cadillac mountains, we did cover quite a bit of ground.
Though, it would have been nice to have additional stops at some of the lookout points while in the National Park. The tour could have easily been an hour or more longer. We only had one brief stop for about 15 minutes, where we raced to capture some photos of the area's natural beauty and our ship off in the distance.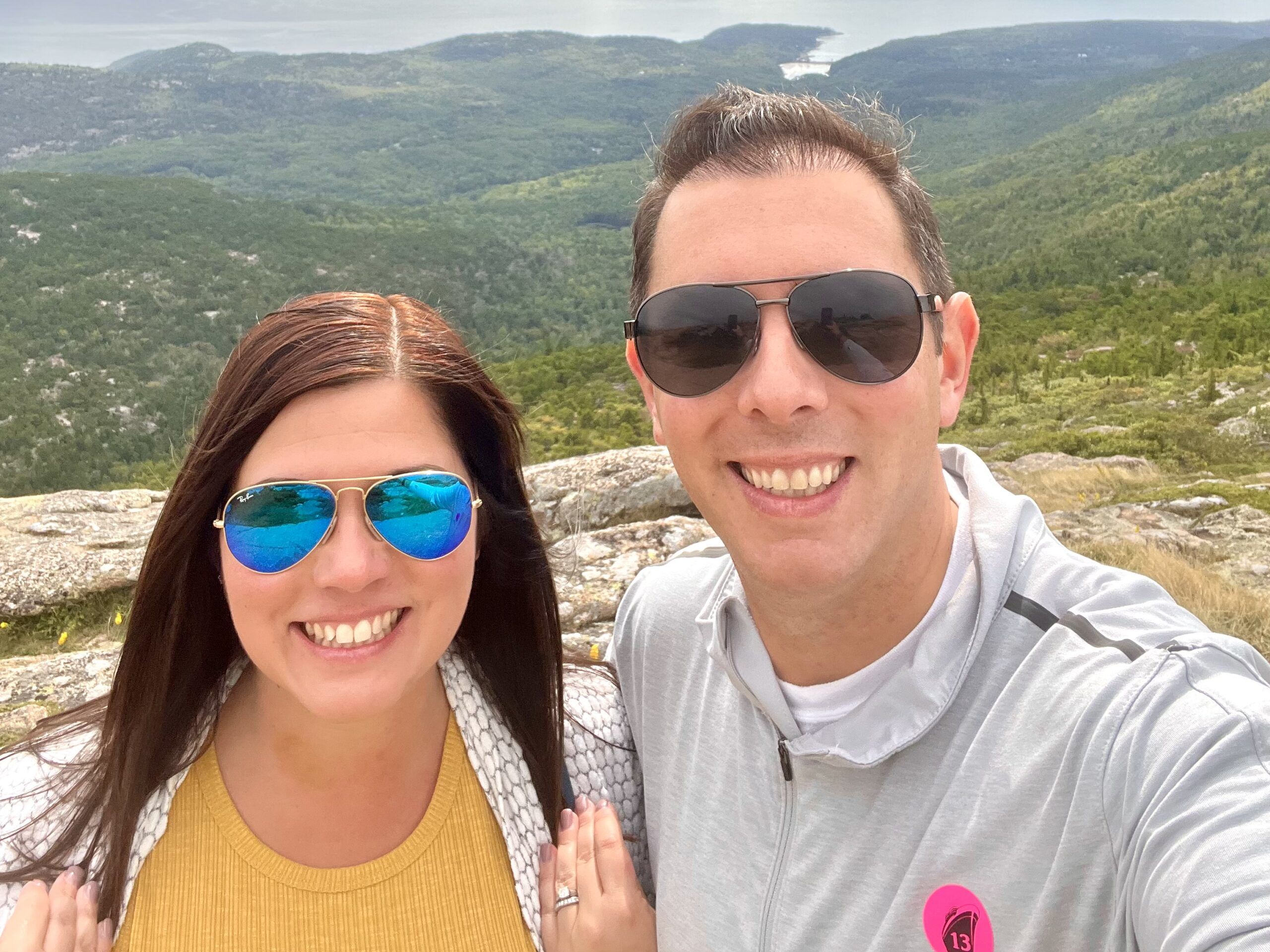 Looking for More Time Ashore
Back in town before 1 pm, we had time to stroll the charming streets and shop for a bit. Albeit a tourist area, it has all the staple stores, restaurants, and historic architecture you would expect to find in this region.
While others booked tours that included a lobster lunch, we went with the state's second staple, Whoopie Pies. Following our treat, we browsed a few shops, and I scored a very Maine long sleeve t-shirt.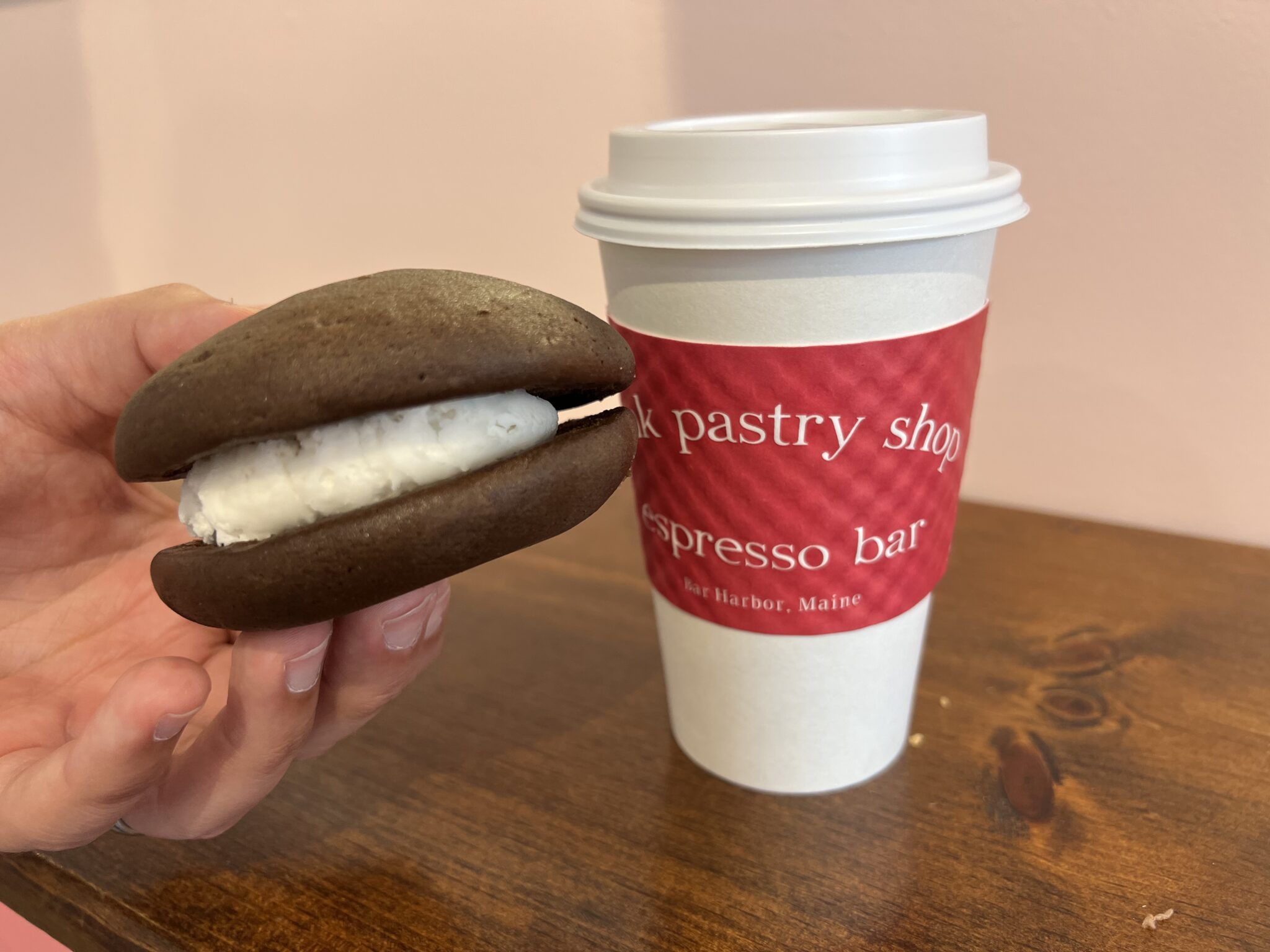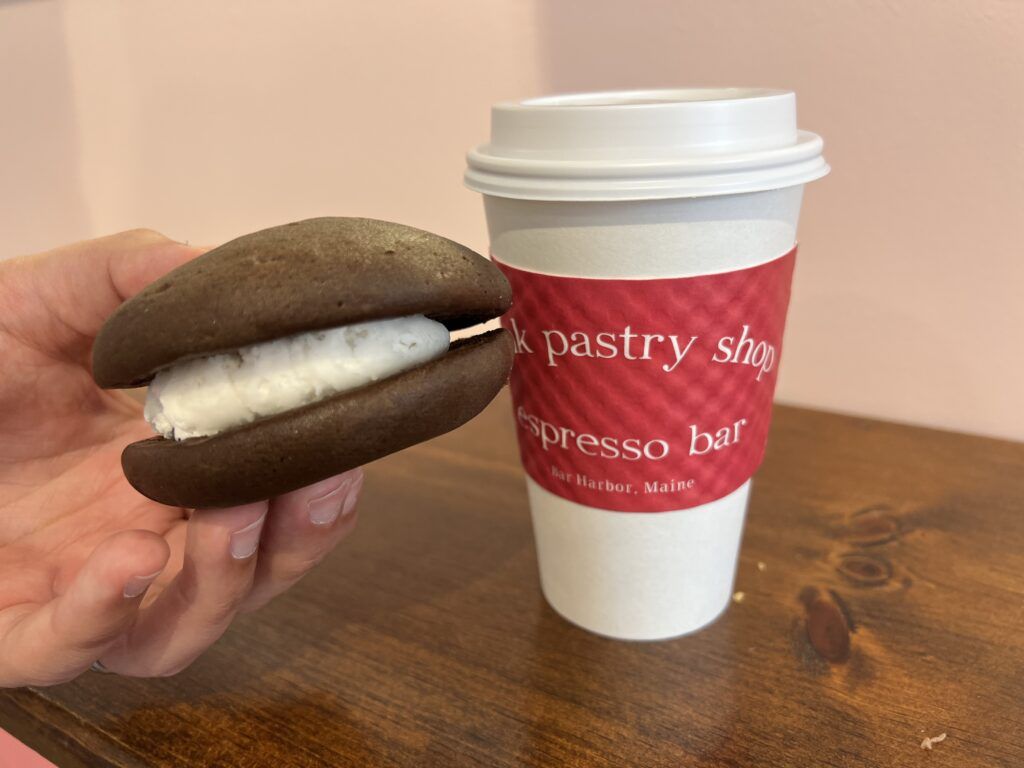 Unfortunately, the last tender back to the ship was 2:30 pm. It would have been great to have a full day here.
Arriving to the tender point around 2 pm, we were greeted with a line that rivaled a Disney attraction. Our total wait time was over a half-hour. There was no way the ship was leaving at 3 pm, as the line still stretched back for quite a while.
Back onboard, we grabbed a quick snack at the Lido Marketplace. While the full lunch closed at 2 pm, there were still several stations open for "snacks" until 4 pm. The Mexican selections were quite good too.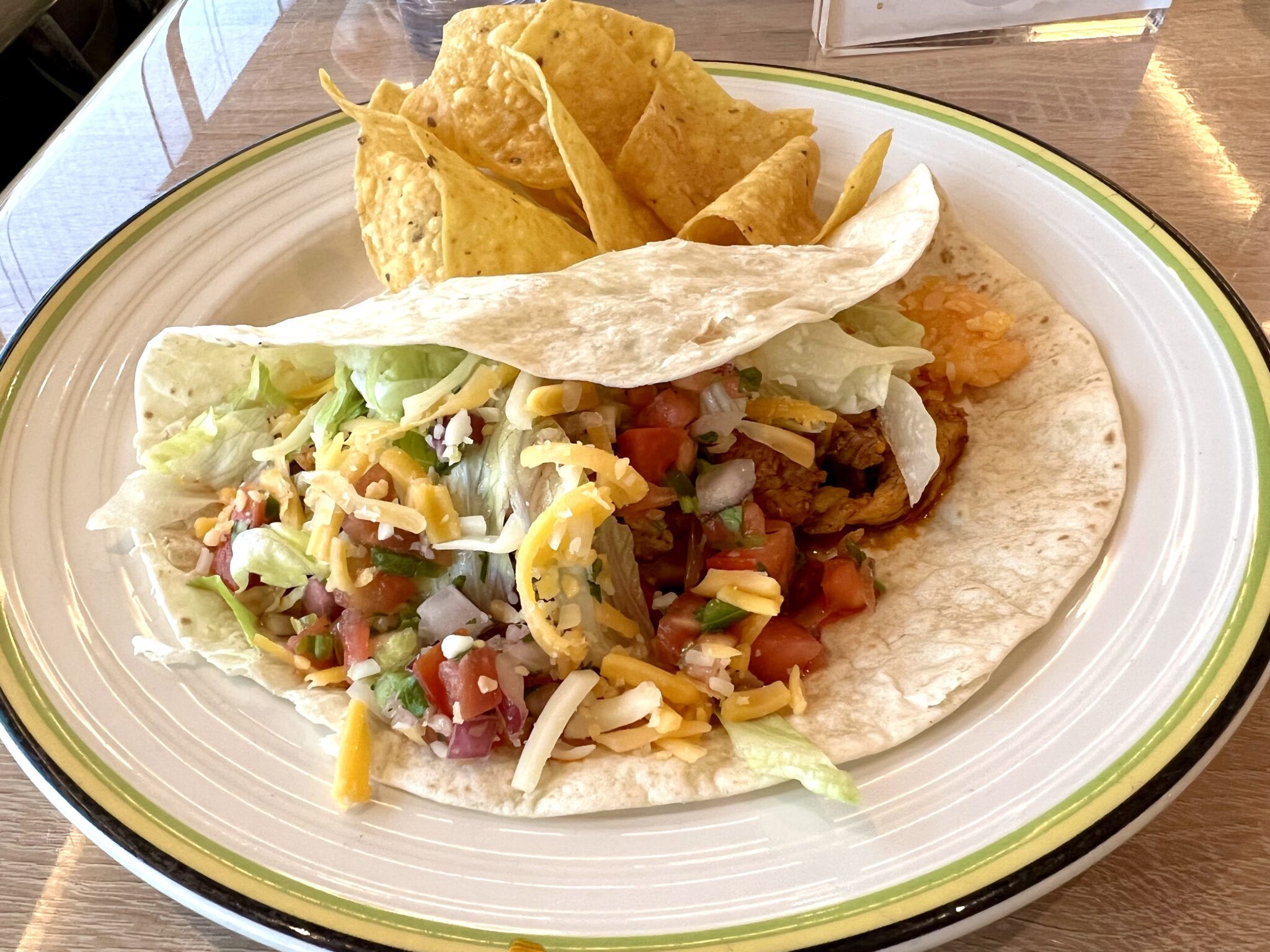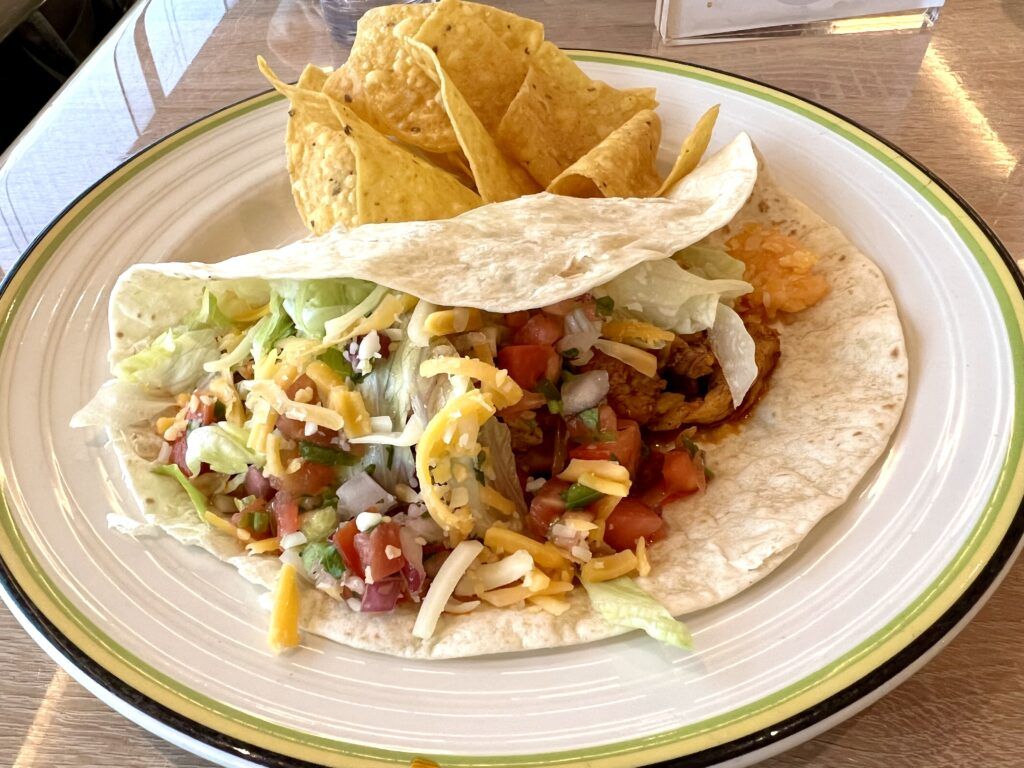 Following our quick bite, we returned to the room to do some work for the remainder of the afternoon and prepare for the first "formal night" of the cruise.
A Dressy Night
Holland America Line still has two "dressy" evenings during a 7-night cruise. In a traditional manner, it included a Captain's toast as well.
Our group had dinner reservations at 7 pm at the most upscale venue on the ship, the Pinnacle Grill. This American-style steakhouse is home to several stellar menu options.
Once again, dinner lasted well over 2 hours. Still, it did include multiple courses and wine pours. The signature clothesline candied bacon was a hit at the table. As was my surf and turf, with a rich and medium-rare filet and 5 oz. lobster tail. I also ordered some shrimp cocktail and key lime pie for good measure.
With the showtime for the first production, Humanity, set for 9:30 pm, we did rush through dessert a bit before making a dash forward to the World Stage.
This Step One Dance Company's performance is our favorite HAL show. Humanity is a well-choregraphed and produced show encompassing a mixture of dance styles and use of the theater's digital screens to enhance the storytelling.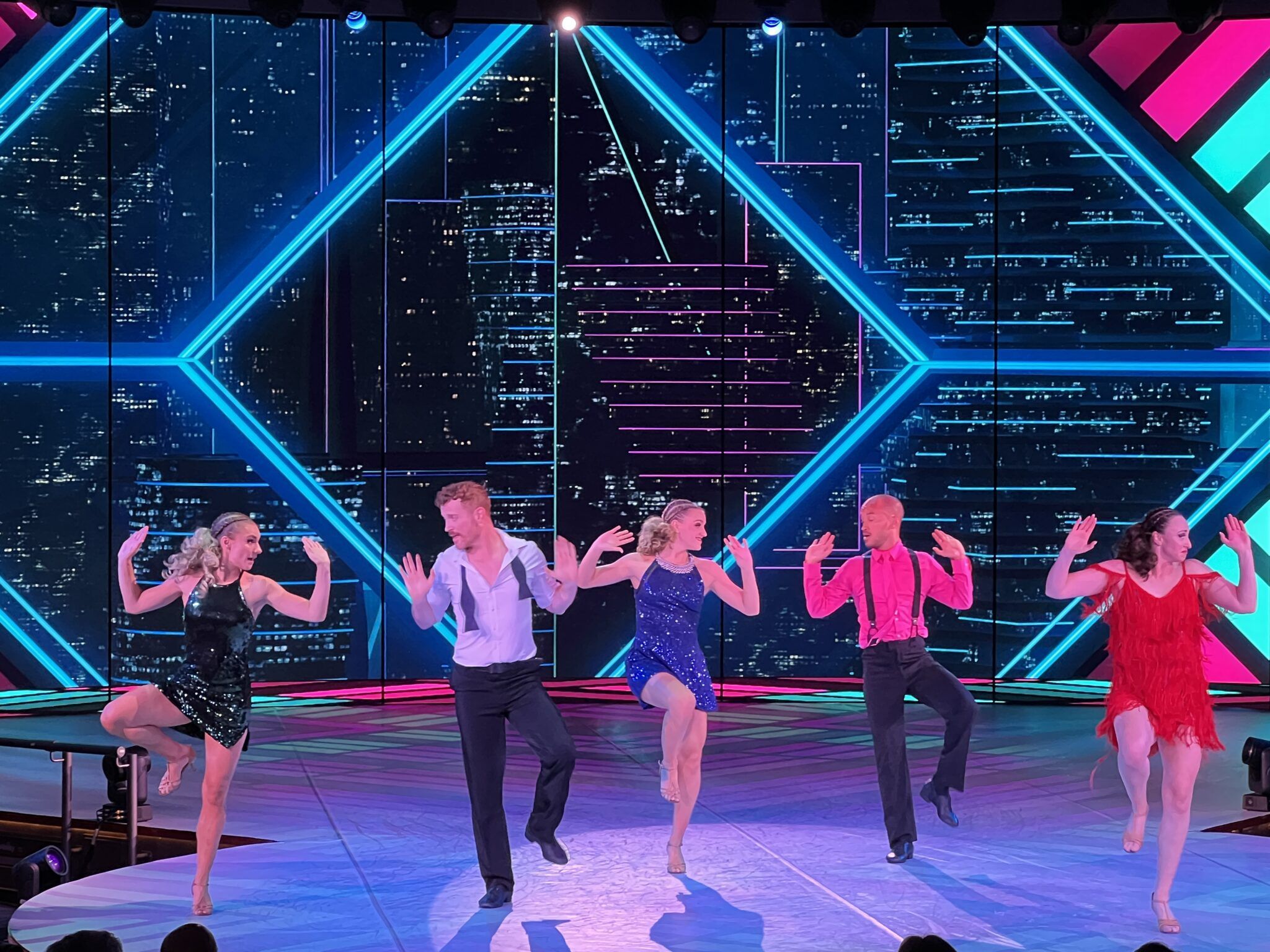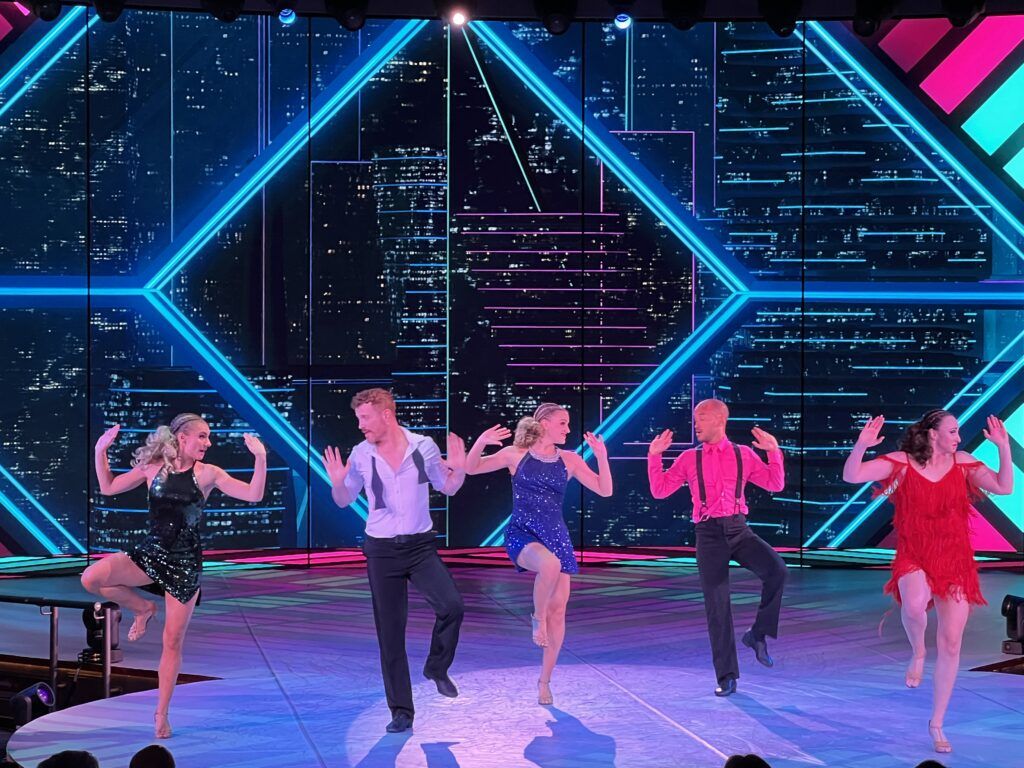 After Humanity, we decided to grab a drink and listen to the B.B. King's All Star Band. The female lead singer of this group had an amazing voice spanning various genres.
Following the band's set, we called it a night.
Our next port of call was Halifax, Novia Scotia. With the ship's clocks being set one hour ahead tonight, we needed our beauty rest.
Holland America Line Canada and New England Cruise – Day 3
Preparing for Canada
Day 3 of this Holland America Line Canada and New England cruise was calling in Halifax.
Yesterday, the Captain announced a slight change to our itinerary. Due to some government regulations on speed while cruising the St. Lawrence River, the times of our ports were being altered. Thus, our tour for this morning was delayed an hour.
Up around 7:15 am, I did my usual morning routine. Back with coffees and much needed water, I got ready for the day before heading to breakfast in the Lido Marketplace. It was busier than expected; yet, we found seats and were able to grab some of the pre-made selections.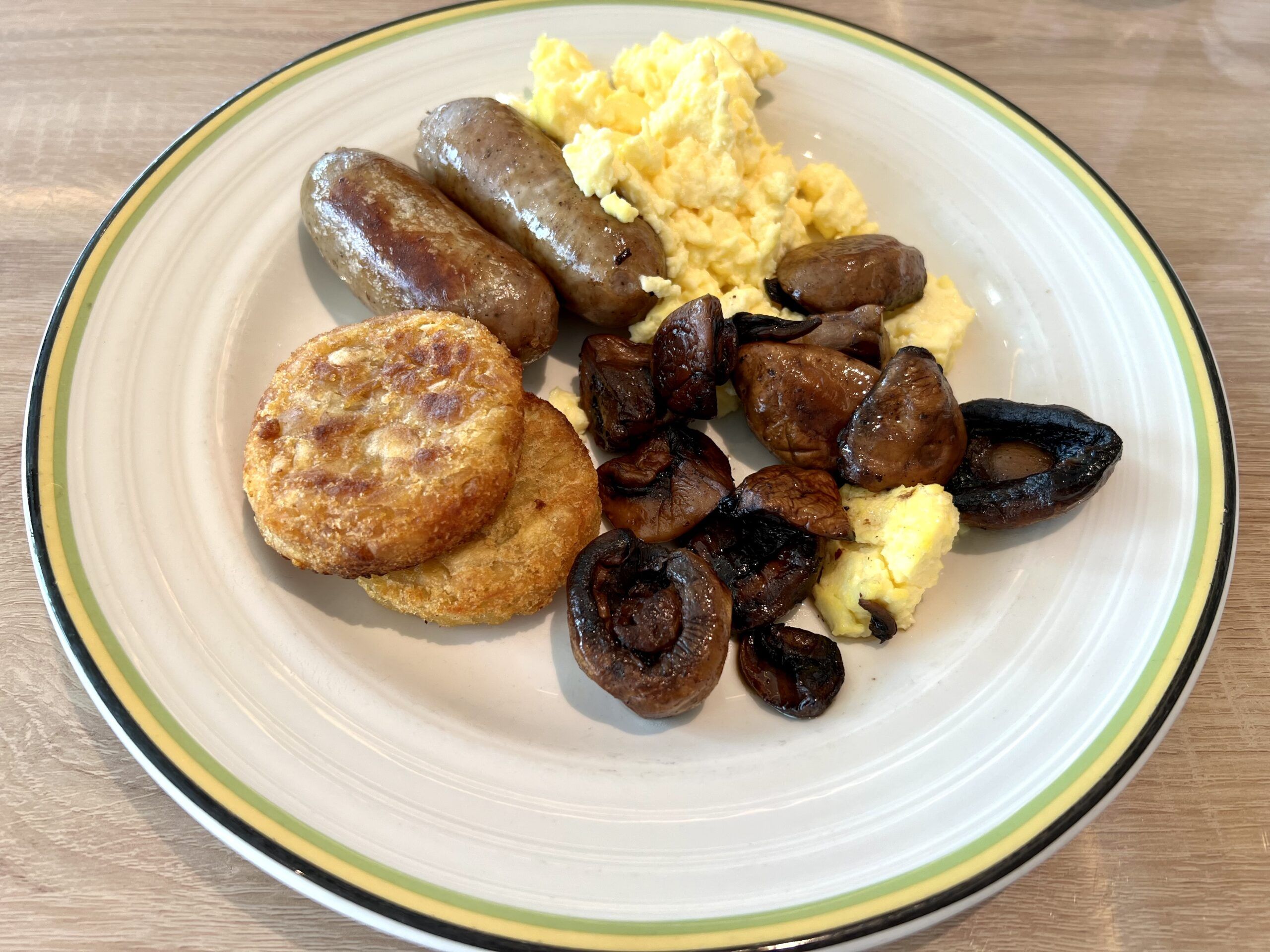 One of the main draws of Halifax is Peggy's Cove. So, we booked a tour that included a stop here coupled with a hop on hop off city tour.
For once, we arrived early to the meeting spot for this tour. At least that is what we thought. Though, as soon as we checked in, our tour was called for disembarkation.
Immediately outside terminal 22, we met our tour guide Annette. She would be our host for the next three hours as we made the roundtrip trek out to Peggy's Cove.
On the Road Again
Annette had a casual presentation style with a side of Canadian humor. During the drive, she made sure to check all the boxes. We heard history, politics, religion, climate, and other facts about the city and province.
While I am not a fan of hour-long bus rides, it is worth the scenic ride to the coast. With only 30 something full time residents, the seaside village of Peggy's Cove looks like something out of a movie.
Although, with another ship in port, the area was quite busy. We were able to get some decent photos, but we were not alone scaling the massive granite boulders near the famous lighthouse.
Our one-hour stop here gave us just enough time to get the requisite shots of the lighthouse, grab a quick souvenir, and venture a few blocks into the town for more photo ops.
Back on route, we headed back to the city. Again, to ensure we had our fill of history and folklore, our guide continued with her informative narration. Upon completion of this portion of the tour, we received our bus passes and instructions for the second half of the day.
A Sunny Afternoon in Halifax
Our second part of this excursion was a 75-minute loop through the city. It was a beautiful, sunny day, ideal for sightseeing. From the second level of the bus, we had the perfect vantage point.
The bus made 10 stops at notable locations, including a Victorian park, the Citadel, and the Titanic Cemetery. While this was a hop on hop off bus, we decided to stay on for the entire loop.
Our new guide provided some facts and figures about the various buildings and areas of the city. I found the nuggets of knowledge more interesting than Heidi.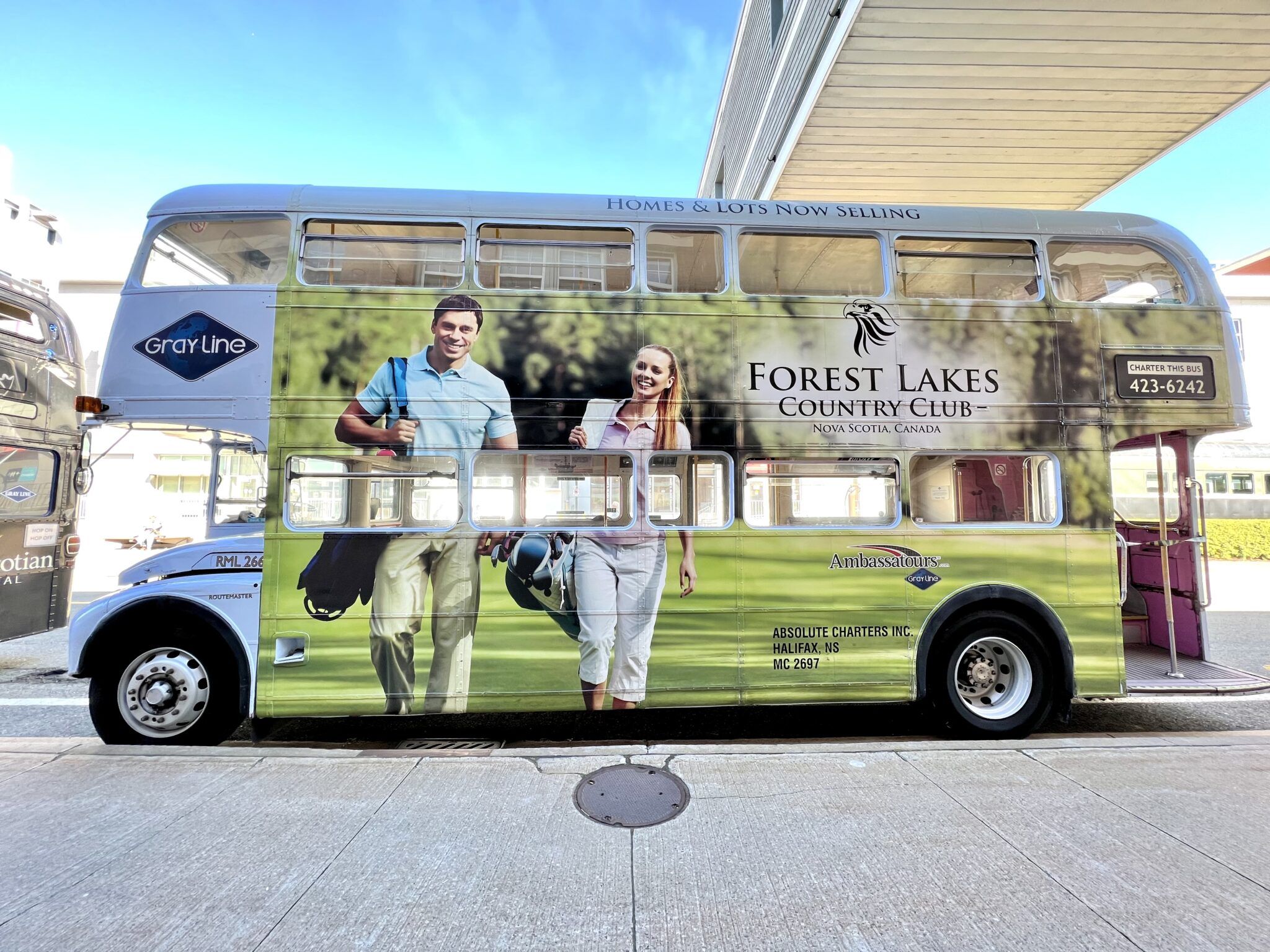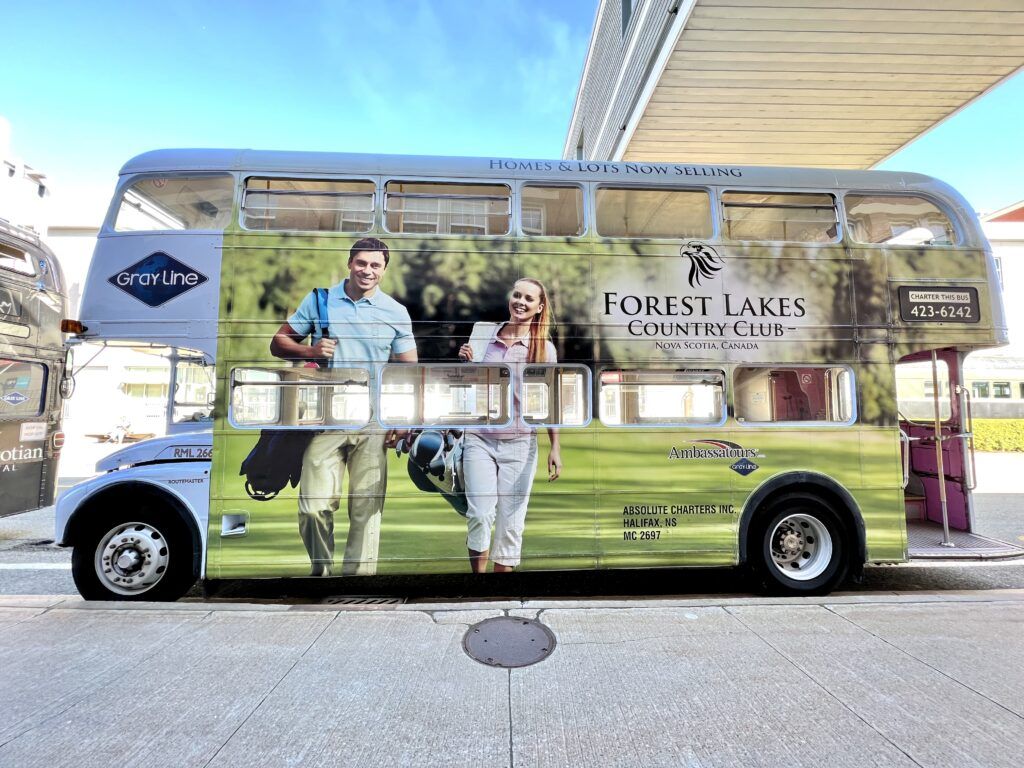 The final stop is only about 20 minutes from the ship. So, we got off and walked along the boardwalk back to the ship. It was a gorgeous day, and the various restaurants, bars, and shops were busy.
Oddly, we have another cruise returning to Halifax soon. During that stop, I plan on spending more time on this Boardwalk!
Eventually making our way back onboard Nieuw Statendam, we grabbed a late lunch. Heidi went with the pizza, which I still say is average at best. I made a custom sandwich with the pulled pork from the carving station at the Lido Marketplace.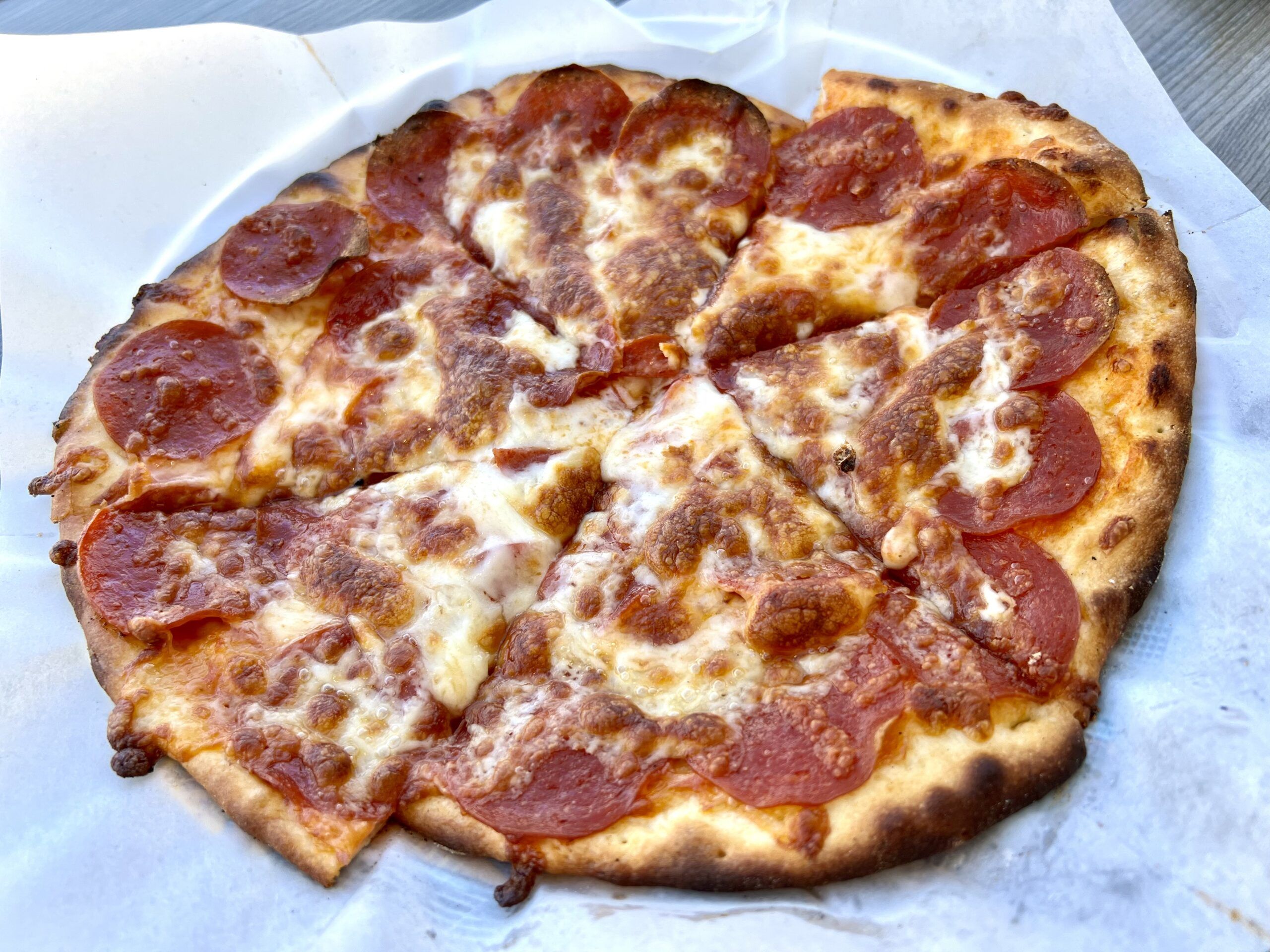 We then spent the remainder of the afternoon unwinding and doing some work in our cabin.
Tonight, we were on our own for dinner. We ended up connecting with a few other members of our group to meet up at the main dining room around 7 pm.
Unlike night 1, there was no line at the Deck 2 main dining room. So, we were immediately escorted to a table all the way at the aft of the restaurant.
A Traditional Night on Nieuw Statendam
The menu for this evening was an eclectic mix. Personally, I enjoyed my selections on night 1 more than this visit. The arancini appetizer was a crispy and cheesy starter. Though, the Rudi's pot roast was a bit overcooked.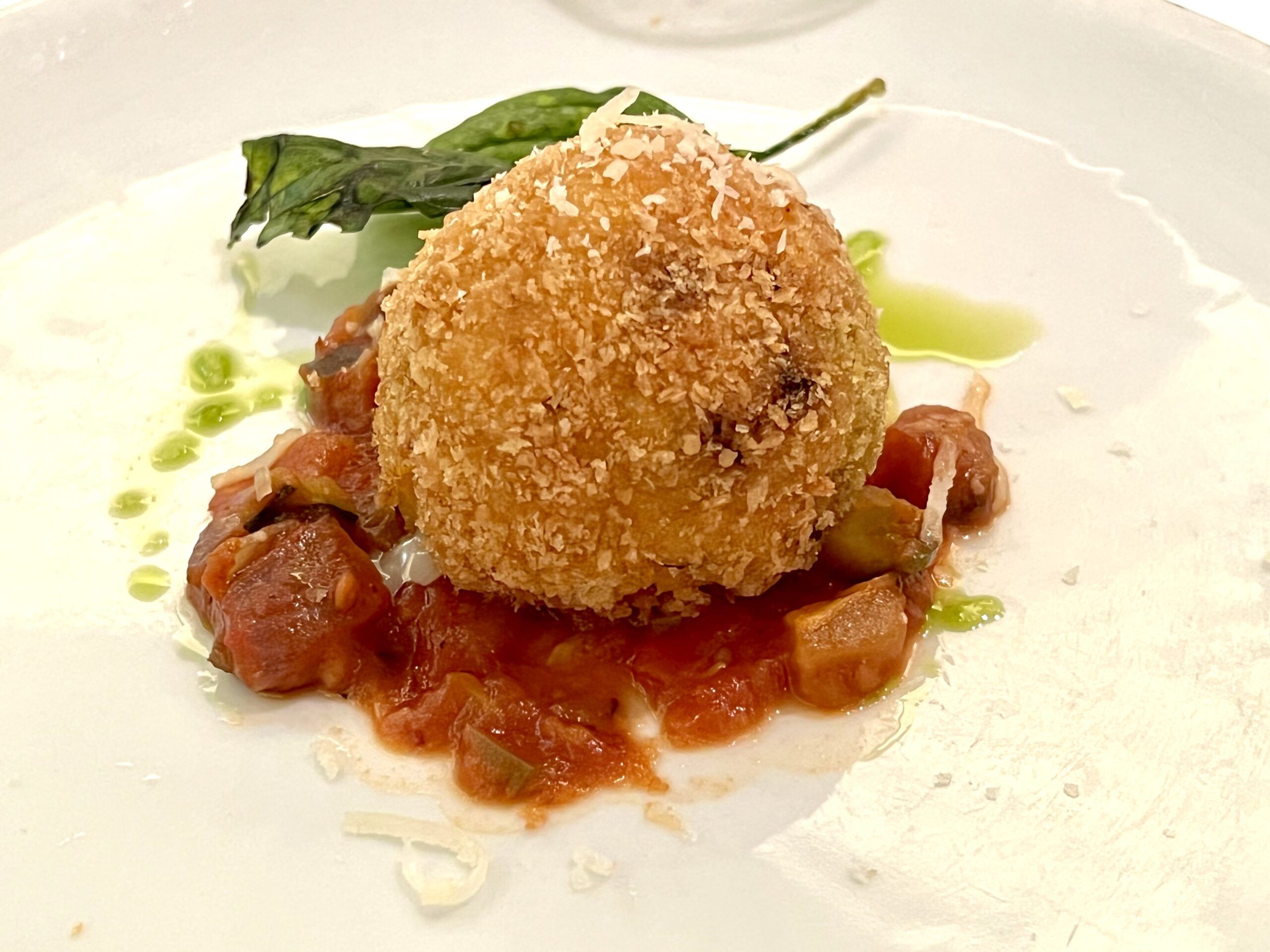 We were all looking to catch the show at 9:30 pm. So, we made sure to be finished by 9 pm or so.
Along the way, Heidi and I stopped in to hear a few songs from the piano duo at the Billboard Onboard before finding seats at the World Stage for the headliner act.
The Boston comedian Brad Mastrangelo was the main attraction in the theater this evening. Certainly, he wasn't the worst comedian, nor the best comedian, we have seen on a cruise ship. To be fair, his material probably resonated more with the crowd in attendance.
The Rolling Stone Rock Room band was off for the evening. So, when the comedy show was over, we had two choices for continuing the night. As you may have predicted, we returned to Billboard Onboard for the all-request show.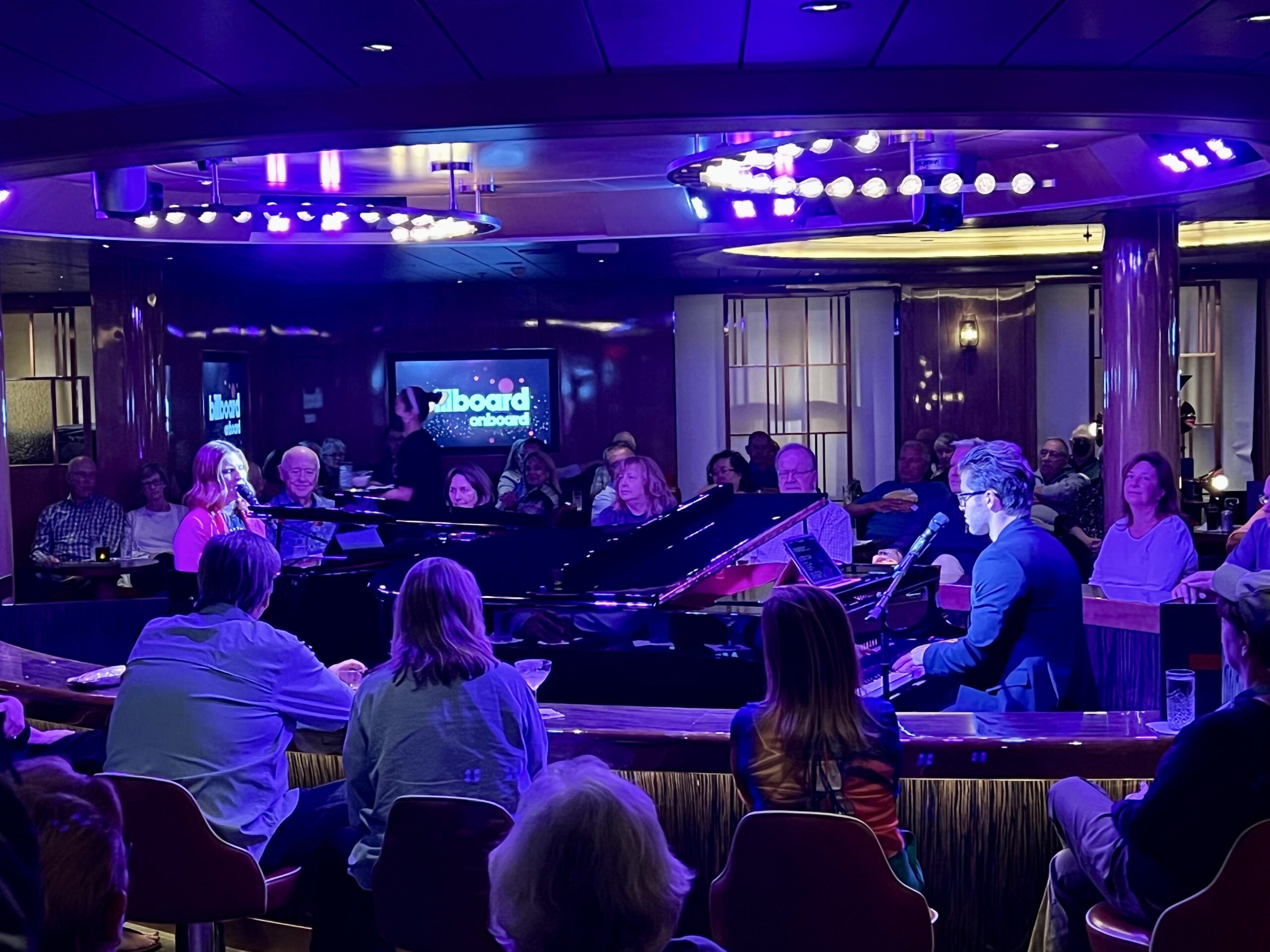 With a round of espresso martinis, we enjoyed our drinks and the live music.
Even though the next day's port of call wasn't until 11 am, most of the venues on the ship closed by 11 pm. So, without much else to do, we headed back to the room.
Holland America Line Canada and New England Cruise – Day 4
Sleeping in on a Cruise
Day 4 of this Holland America Line Canada and New England cruise had us calling in our second port in Nova Scotia.
With the new schedule, Nieuw Statendam wasn't docking in Sydney until 11 am. Further, we had an afternoon walking tour at 1:30 pm. So, we were able to sleep in this morning.
Up around 8 am, we did our usual morning routine and opted to try the sit-down breakfast at the main dining room.
Holland America Line offers some of the best breakfast options of any cruise line. The extensive menu goes beyond your typical selections. With several international options, as well as standards, it is perfect for those who love this first meal of the day.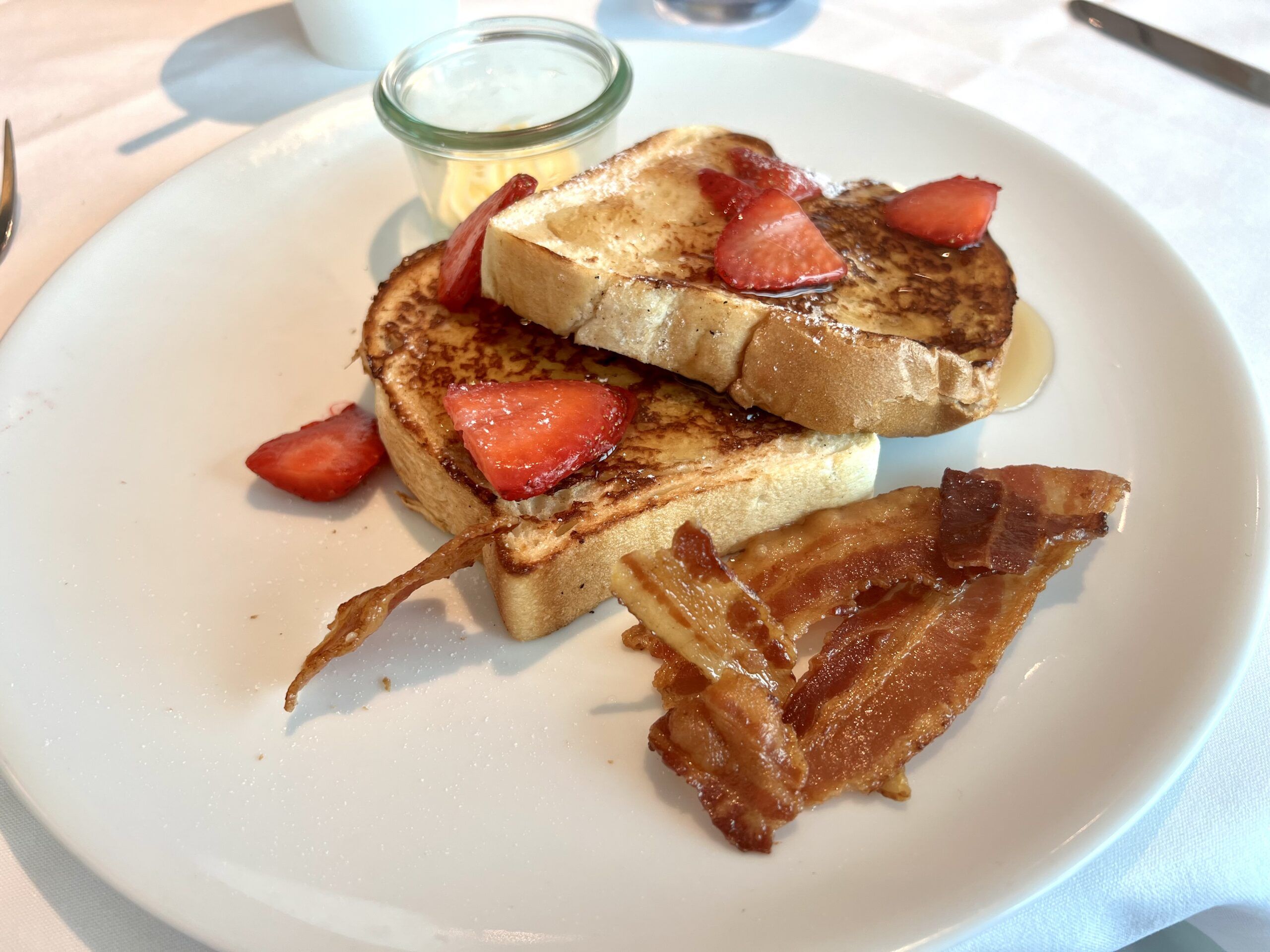 I tried the eggs benedict, and the wife did the Texas French toast. Even though the dining room was busy, we were still out by 10 am.
The next few hours were rather mundane, filled with work obligations. Of course, there could be worse places to be working than a cruise ship!
Unlike the previous days, the weather was gray and overcast today. Still, it was not raining, so we took that as a win!
A Wicked Walk Around Sydney
Given our later tour departure, we opted to get a second coffee from the Grand Dutch Café. With coffee in hand, we arrived to the meeting spot a few minutes early to find a rather large line. Apparently, there were several tours meeting at the same time, and HAL cruisers arrive early for everything.
Checked in, our white 18 sticker was called right around 1:30 pm. Then, immediately outside the ship, we meet our guide for this walking tour. Oddly, he was dressed in a graduation robe. Regardless, he would be our informative and mysterious host as we learned about the haunted history of Sydney.
This "wicked walking tour" was fun. Though, we would have appreciated a bit more walking to a few additional city spots.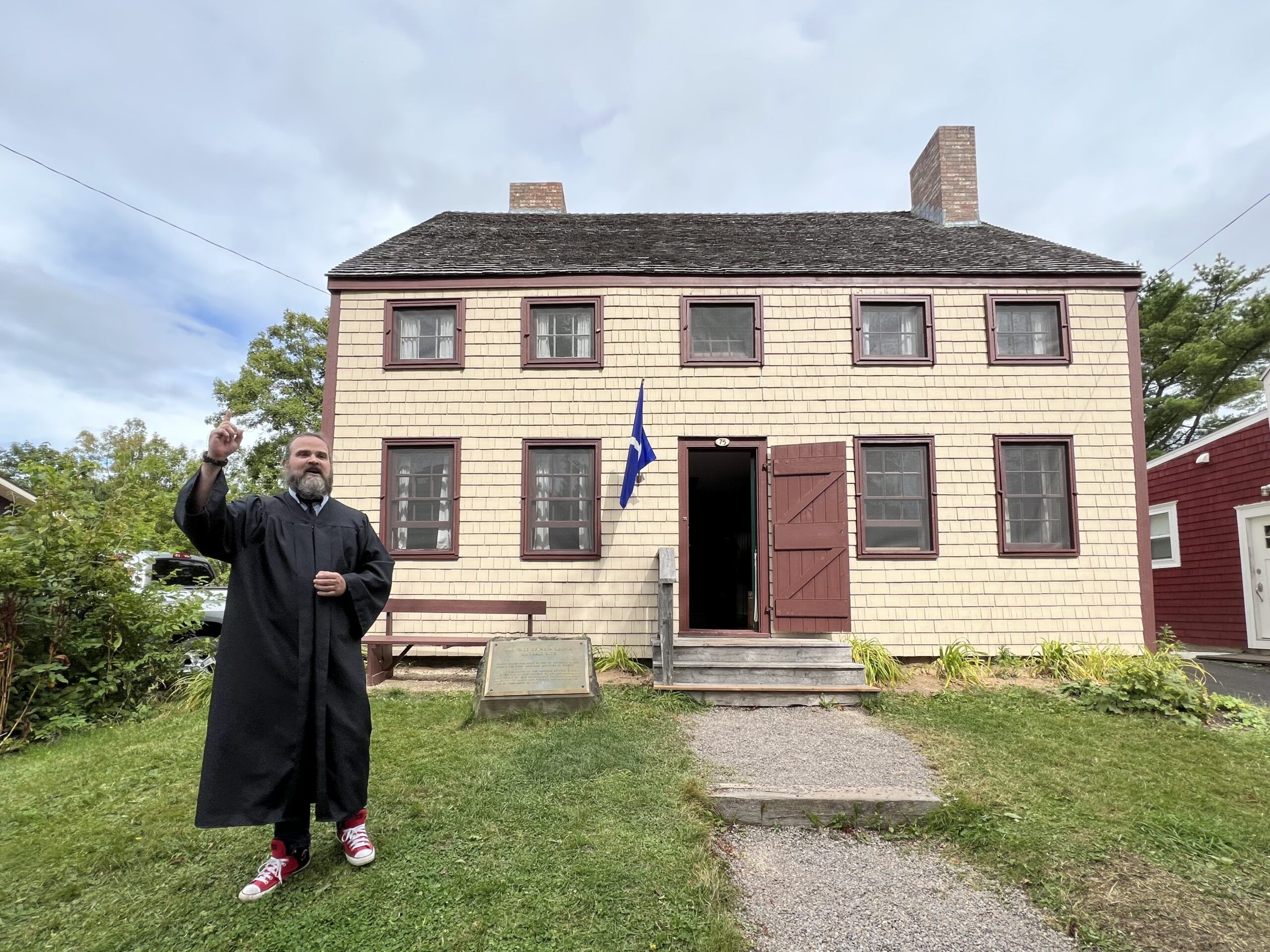 The tour went from the Jost and Cossit museums, to St. George's and St. Patrick's churches, making a small loop. While only 90 minutes, the trek was full of interesting folklore and ghost stories.
Good thing the weather remained dry, even if it was a bit chiller than the previous days.
Our tour was over promptly at 3 pm. This did offer additional time for us to walk the town on our own, but we decided just to head back to the ship. Somehow, we missed the giant fiddle photo op?!?
Back onboard, we once again grabbed some late day snacks to hold us over until our 7 pm dinner in Tamarind tonight.
We Will Just Share That With the Table
Tamarind can be tricky to find on the Pinnacle-Class ships. It is located all the way aft on Deck 10. Though, the only way to access it is to use the aft elevators. Knowing this trick, we were up to dinner a few minutes early. We grabbed seats at one of the two tables next to some writers we hadn't had a chance to talk with yet this trip.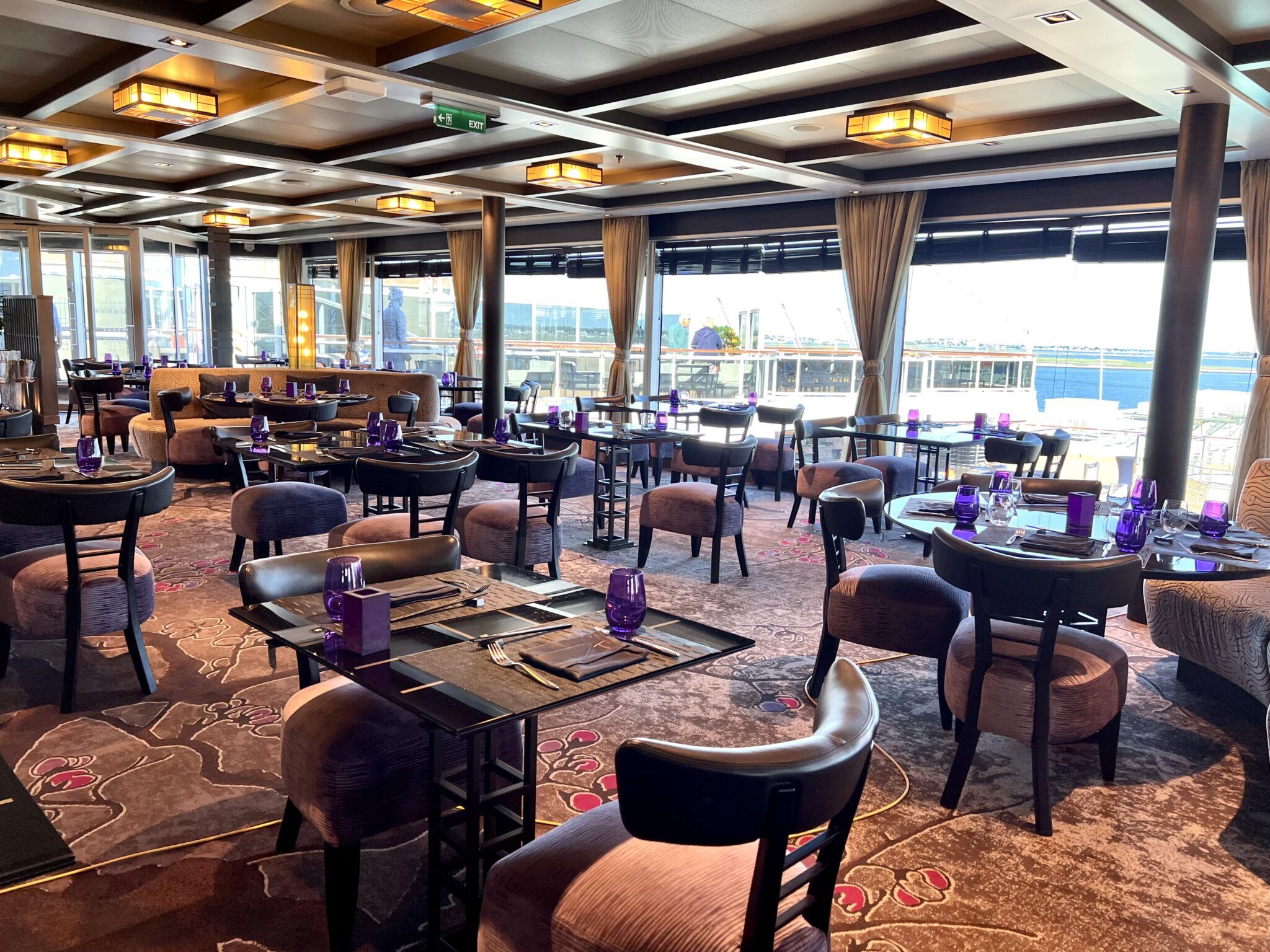 Then, we settled in for a multi-course feast. Getting to dine with multiple people means we can order several things. But first, the signature drinks at Tamarind are among the most popular on the ship. With our Wasabi and Far East Legacy cocktails in hand, it was time to dive into some food selections.
For starters, our table ordered several sushi plates. I was fond of the soft shell crab and the lobster tempura.
Then, I went with the lobster and shrimp post stickers and spareribs as my own appetizers. Both were prepared in a traditional manner and bursting with far east flavor. Expectedly, Heidi did the chicken satays.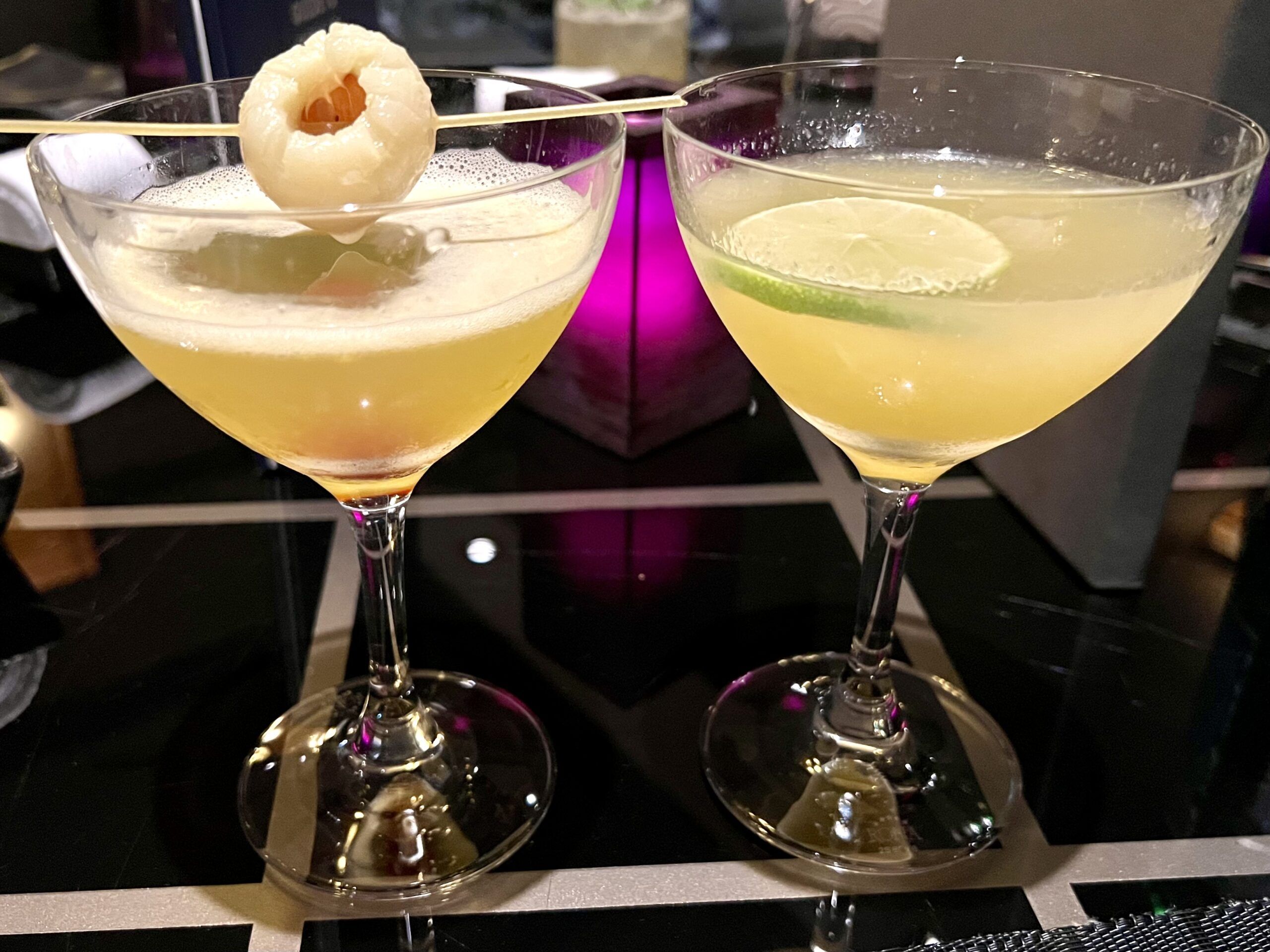 For dinner, I went with my go-to, the spicy Szechuan shrimp. With a light glaze, stir fried vegetables, and tempura fried shrimp, it was as delicious as always. Heidi also stuck with her usual dish, the red curry chicken which was just mild enough for her tastes.
Around the table, our server brought several side dishes. So, I got to sample some of the crab fried rice and dan dan noodles.
Somehow, we all still found room to order dessert. While completely stuffed, I managed a few mouthfuls of the yuzu cheesecake which was a light ending to this delicious meal.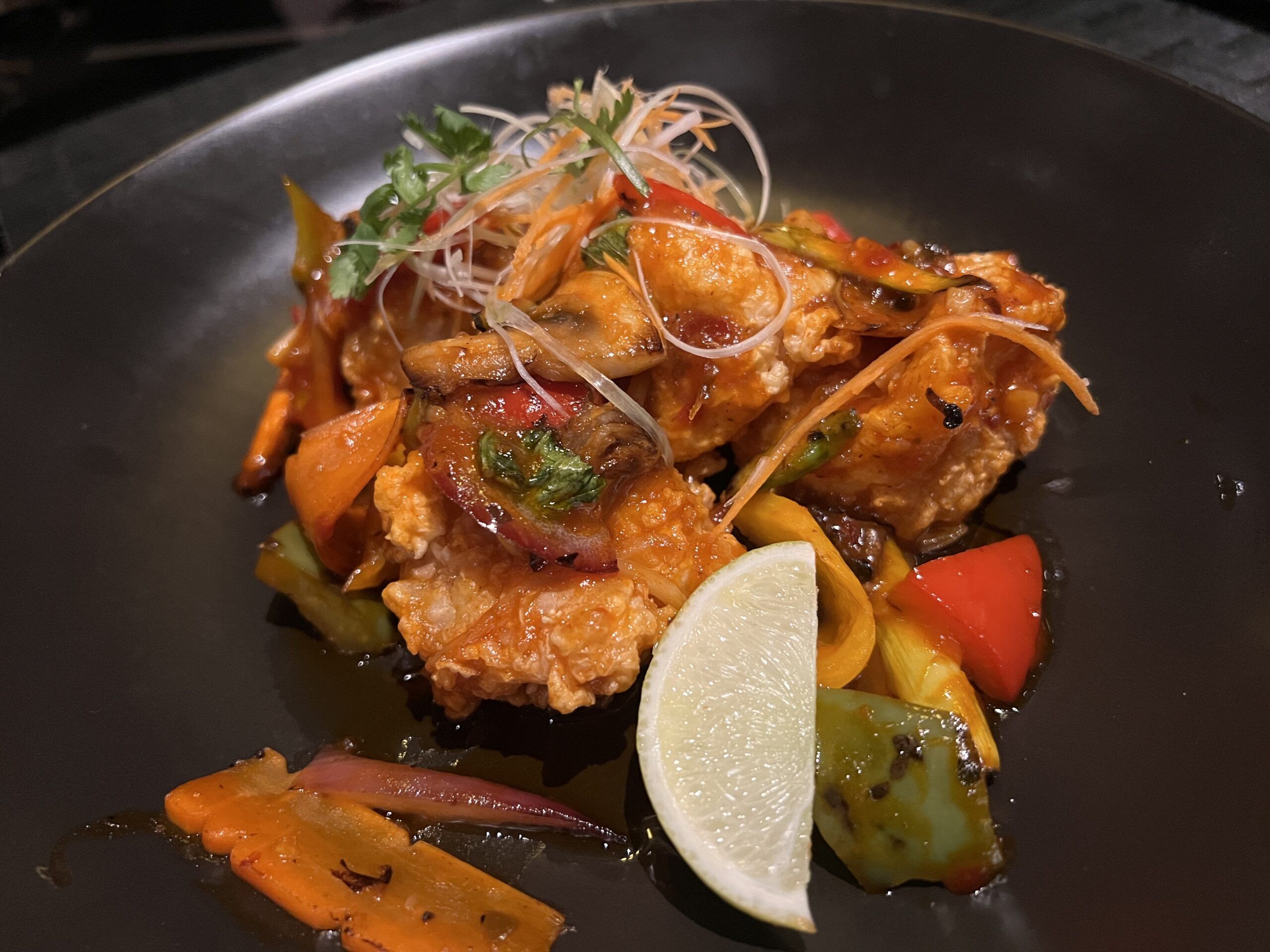 A Round of Drinks and Music
Like the previous nights, dinner was long and service was slow. In fact, this dinner went essentially until 9:30 pm.
Tonight's performance in the main theater was one of our least favorites, Musicology. This production is one of the four shows featuring the Step One Dance company. So, we decided to skip the show and grabbed seats at the Rolling Stone Rock Room instead.
While there were a number of people standing near the venue, Heidi was able to find some prime seats near the stage. Like many others, we promptly left during the last song to find seats in Billboard Onboard.
A round of drinks later, and some newfound friends from Vancouver, we remained here for a while even after the piano duo ended. By midnight, we decided to say good night.
SCORE BIG ON HOLLAND AMERICA CRUISES!
Holland America Line Canada and New England Cruise – Day 5
A Rainy Start to the Day
Day 5 of this Holland America Line Canada and New England cruise had us calling in Charlottetown, Prince Edward Island.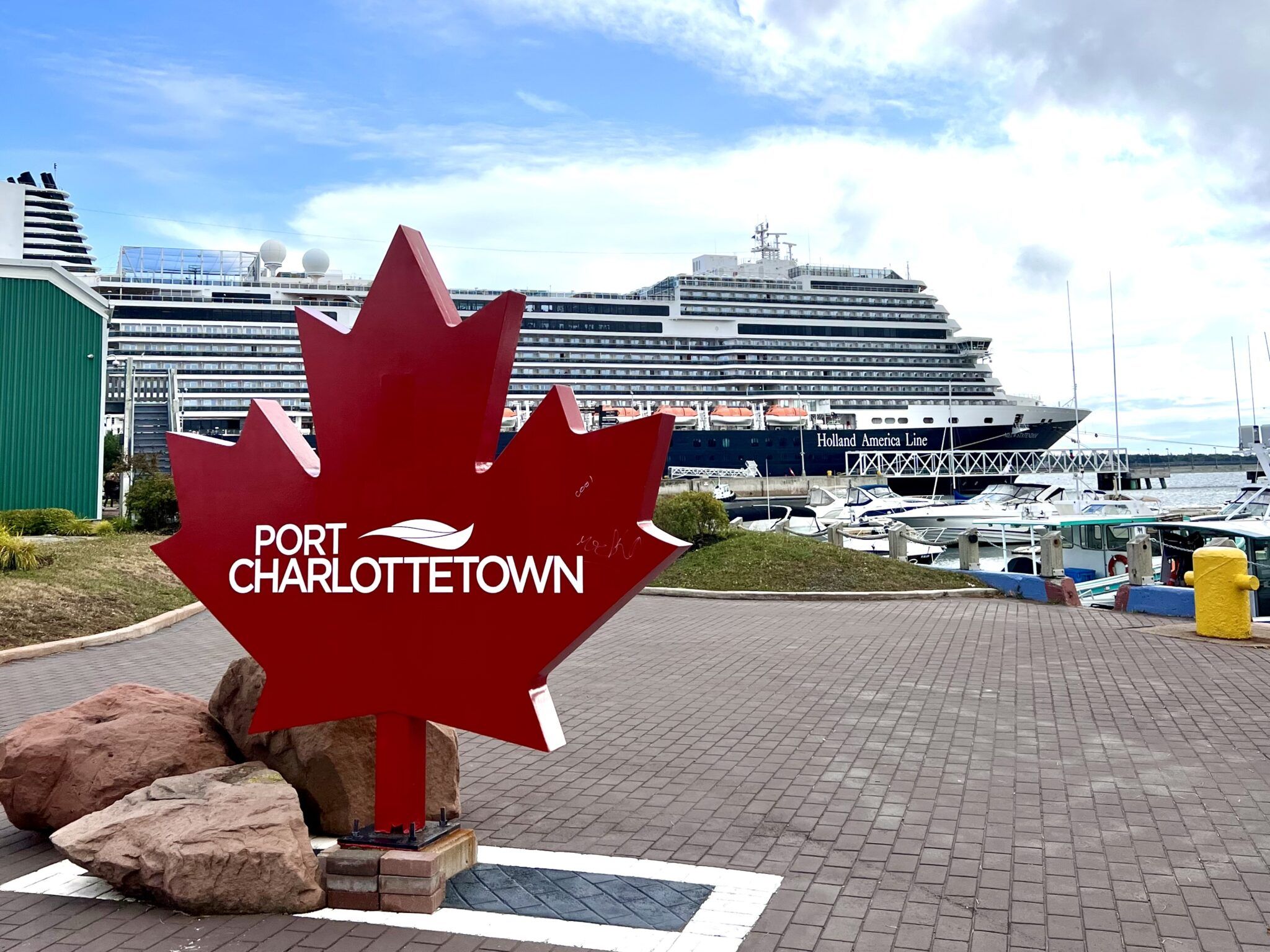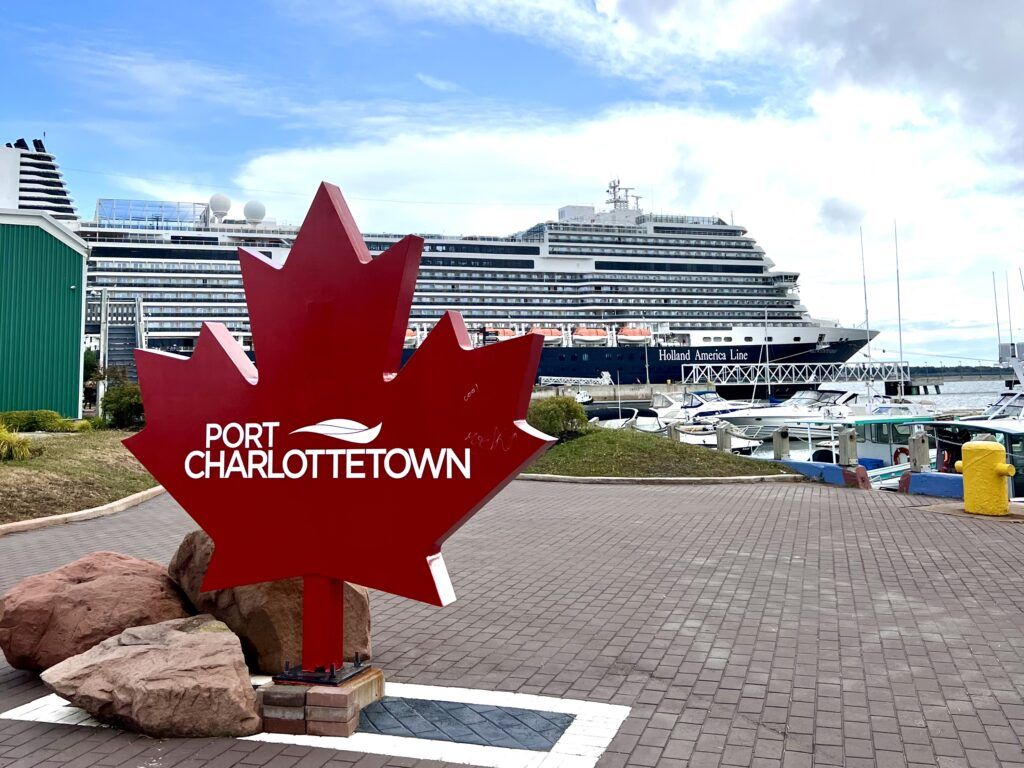 We didn't have any planned shore excursions for today, as the tour that we were waitlisted for never opened up. That was okay with me as I had some work meetings to occupy my morning anyway. Plus, the forecast for today was rain.
With no official plans, we slept in until 8 am once again then headed to the Lido Marketplace for breakfast right before it closed at 10 am. We were not alone. The restaurant was rather busy given its closing time.
Following breakfast, it was back to the room to do some work for the next 2.5 hours. The rainy, gloomy day was slowly improving. With the sun starting to break through the clouds, that was our cue to head off the ship.
When we exited the ship, we were able to get tickets for the 1 pm double-decker bus tour. This one-hour tour took us around the historic downtown and surrounding areas. Our tour guide provided an excellent introduction to the city.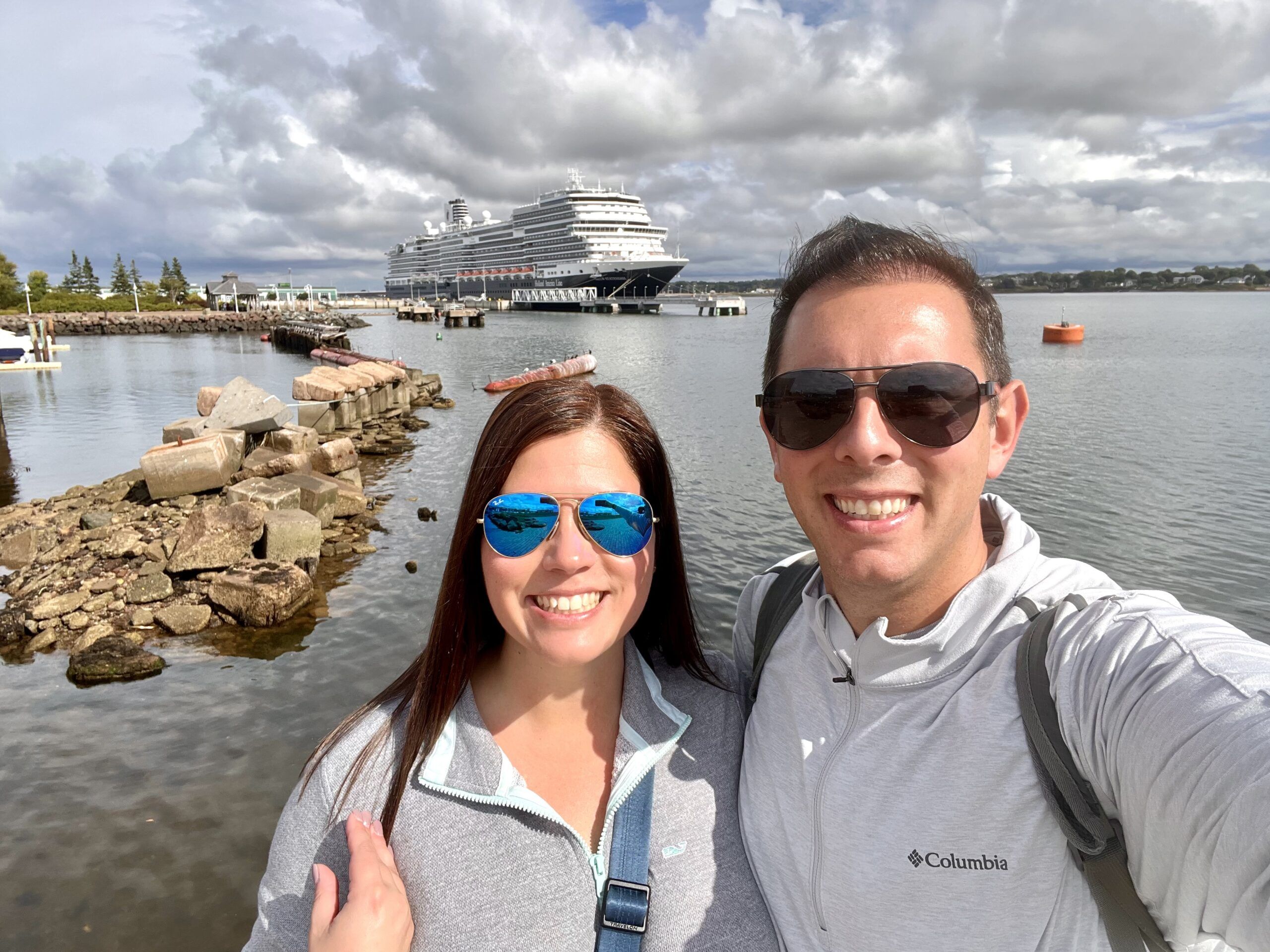 When the bus returned to the cruise terminal, we had time to wander on our own. We strolled the boardwalk immediately near the harbor. Here, we were able to get some great pictures of the ship. Not to mention, a trip to Canada wouldn't be complete without some Cow's ice cream.
The all aboard was 3:30 pm for this port of call. So, we headed back to the ship around 3 pm.
An Afternoon Onboard Nieuw Statendam
Back onboard, we grabbed some much-needed afternoon coffee. With our "snack" of ice cream, we passed on getting additional food.
Given the scenic harbor and better than predicted weather, we watched the sail away from our balcony. It turned out to be a fitting end to a lovely day on Prince Edward Island.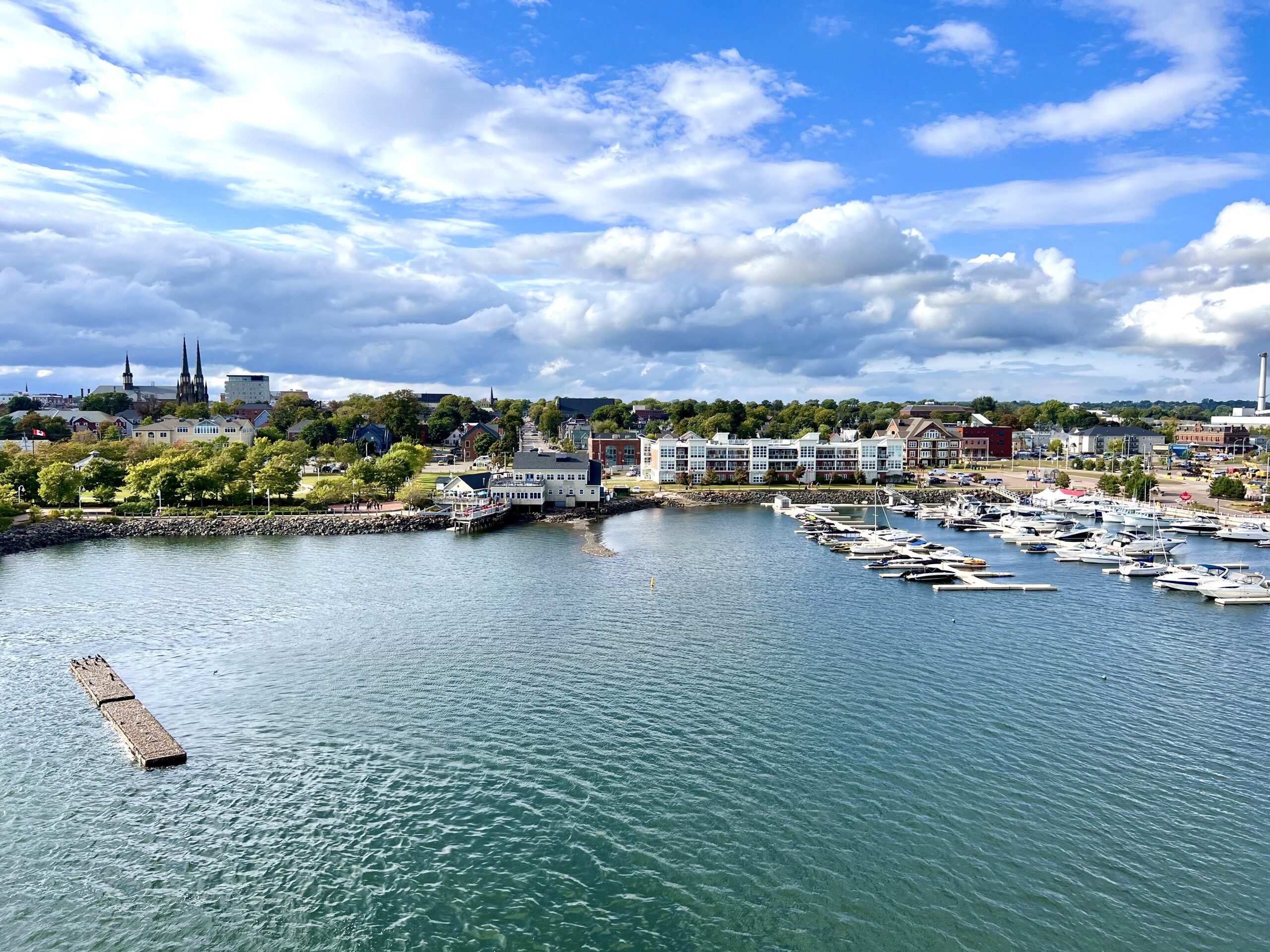 Following sail away, I was able to squeeze in a quick workout before dinner. I know, it is rare that I visit the gym on a cruise ship, except to take pictures!
This evening, our group was dining at the Italian specialty restaurant, Canaletto. Like other Holland America Line ship's, Canaletto is oddly located in the buffet.
The night before, we asked our host to request the chicken parmigiana for Heidi (Sunday's special). She said it wasn't a problem.
Tonight was also the ship's Orange Party at 8:30 PM.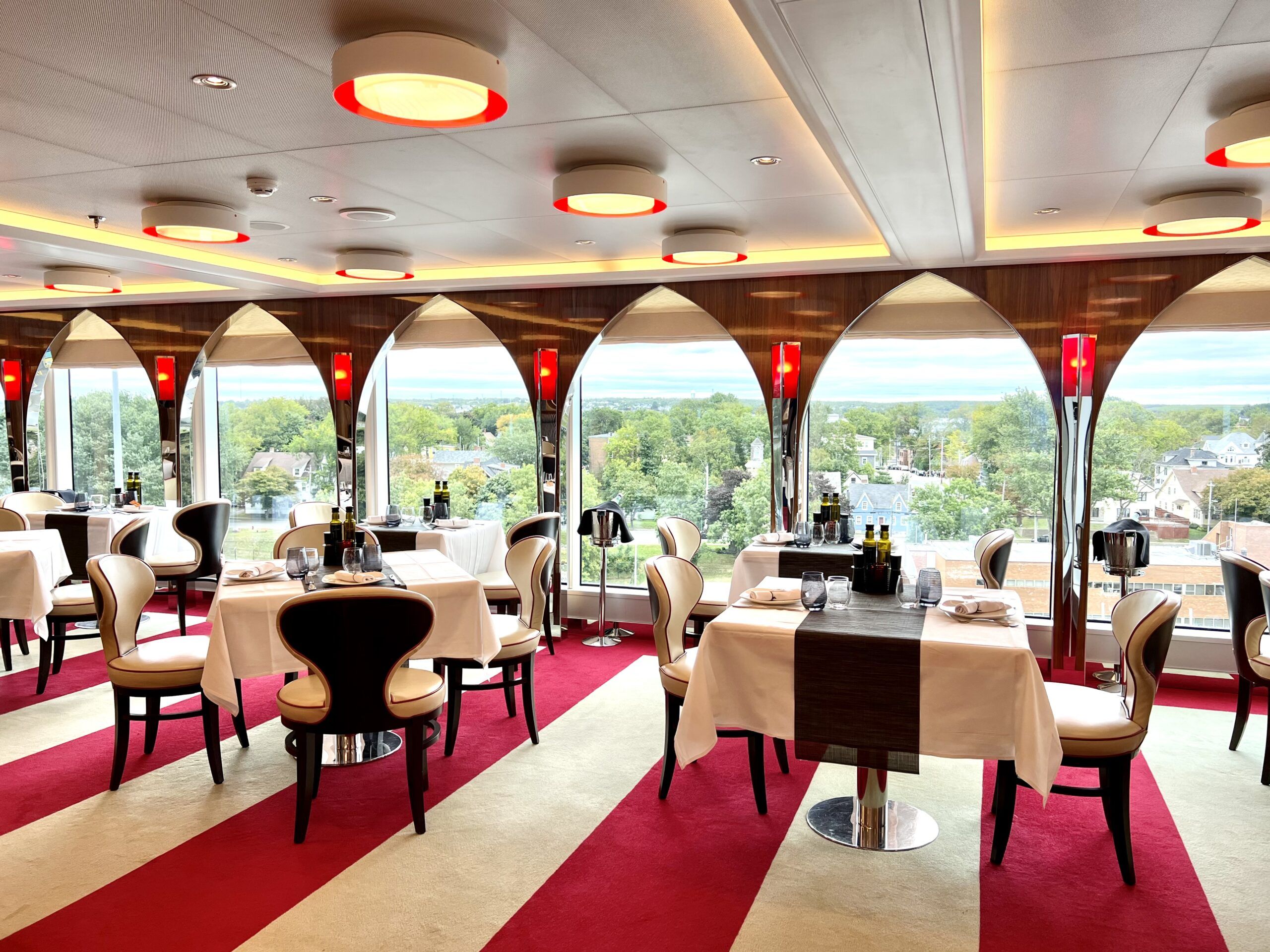 Unfortunately, this dining experience did not live up to our previous expectations.
The calamari appetizer was chewy and smothered in pesto sauce. The chicken parm and short rib entrees were average at best, and my ricotta cheese tart was hard. However, the meatball appetizer was the highlight of the evening.
It's a Party
Dinner wrapped up around 9 pm. So, when we finally made it to the Orange Party, it was in full swing (and ending soon).
Granted, this onboard party is not as energetic as deck parties you might find on other cruise ships. Still, plenty of guests were all dressed in orange, and the dance floor was the busiest we saw it all week. So, for HAL, this party was certainly popping.
While there were some specialty cocktails, we couldn't find a bartender at the pop-up bar. Instead, we headed to the theater around 9:30 pm for this evening's show.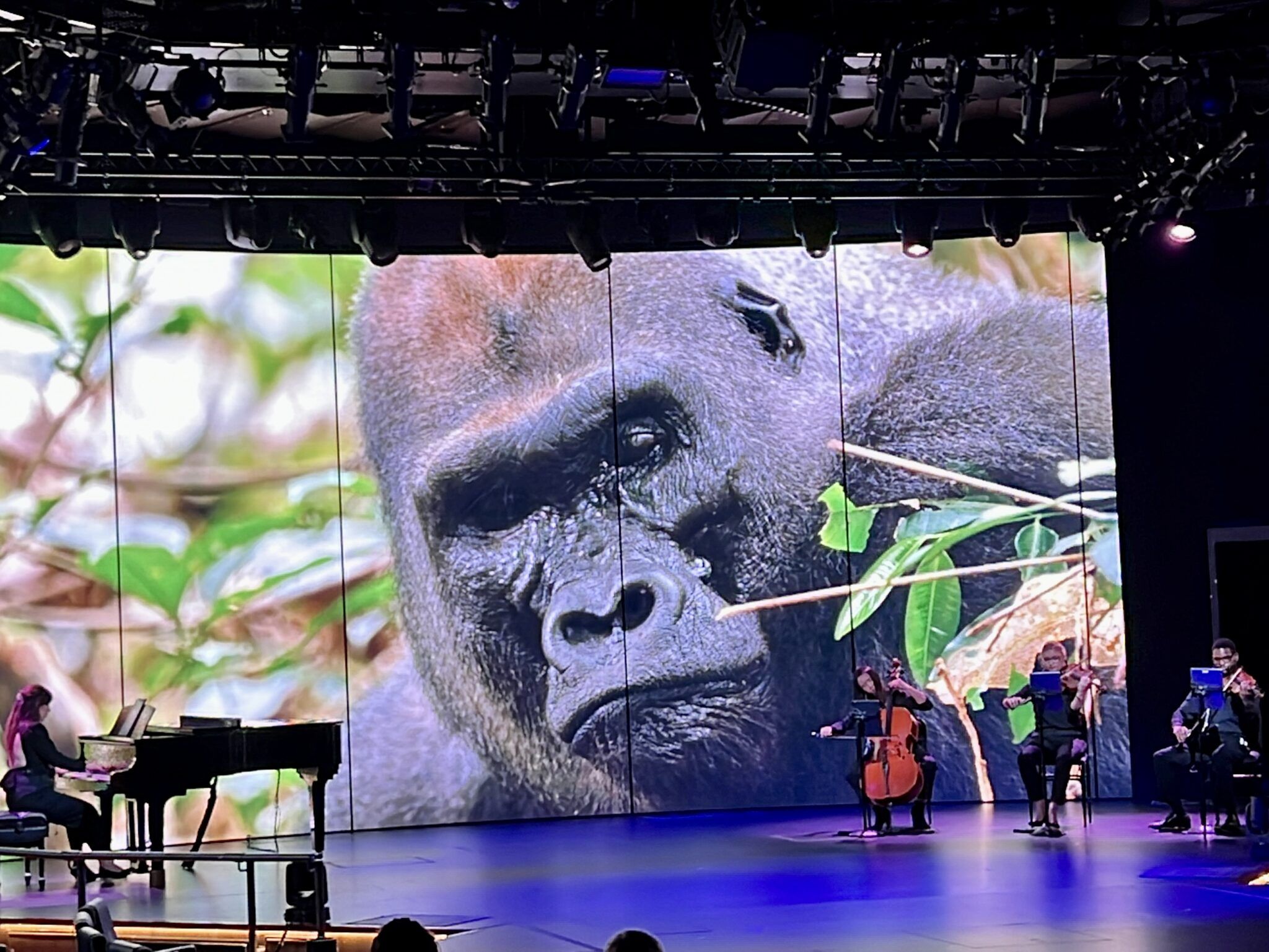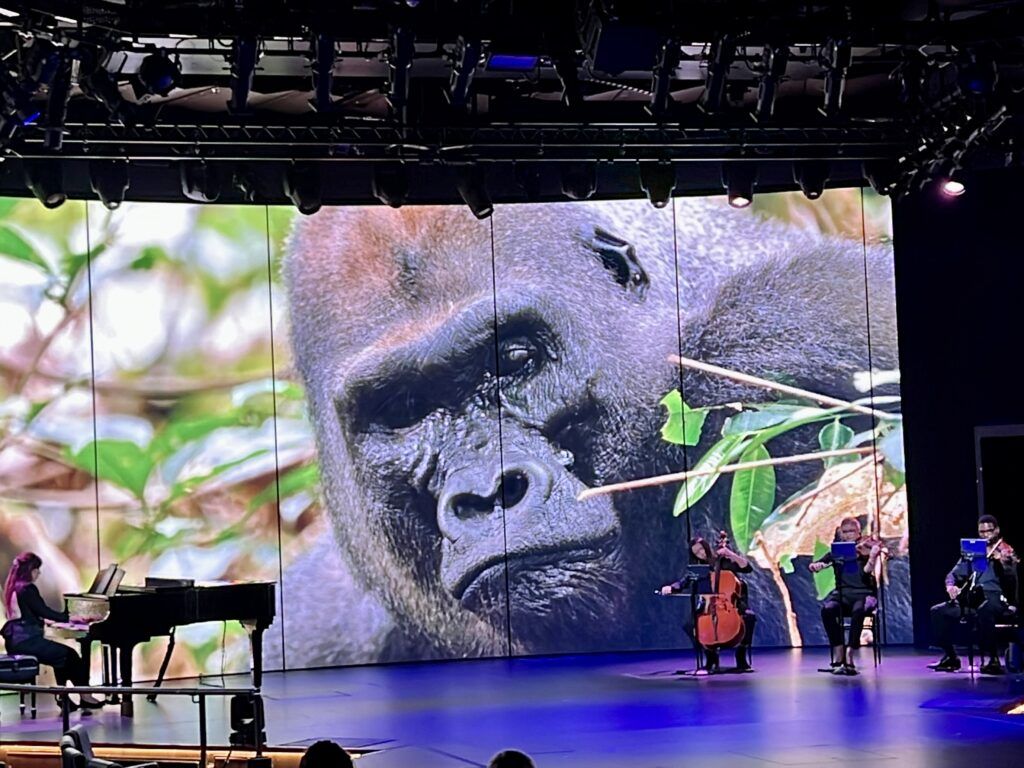 In the World Stage, there was the BBC Earth's Seven Worlds One Planet. This immersive show includes footage from the BBC Earth series, accompanied by the orchestra from the Lincoln Center Stage. The cruise line has several of these shows, and we quite enjoy them.
After the 45-minute show, we watched the last set of the Rolling Stone Rock Room band. I know, we sound like a broken record (pun intended).
Even though the band finished up around 11 pm, we stayed chatting until after midnight. When the house lights came on and the vacuums appeared, that was our cue to call it a night.
Holland America Line Canada and New England Cruise – Day 6
Scenic Cruising on the St. Lawrence River
Day 6 of this Holland America Line Canada and New England cruise review was a day of scenic cruising on the St. Lawrence River. So, this "river day" meant we could get a few things done around the ship.
Up at 7 am, the weather outside was rather gray and gloomy again. In fact, it would remain mostly overcast for the whole day. Unfortunately, we were not close enough to land for our mobile internet to work either. So, we were stuck with the sluggish ship WiFi.
For starters, we opted to get some room service breakfast, which arrived promptly at 8:30 am. It was a standard selection of scrambled eggs, breakfast meats, some fresh fruit, and coffee.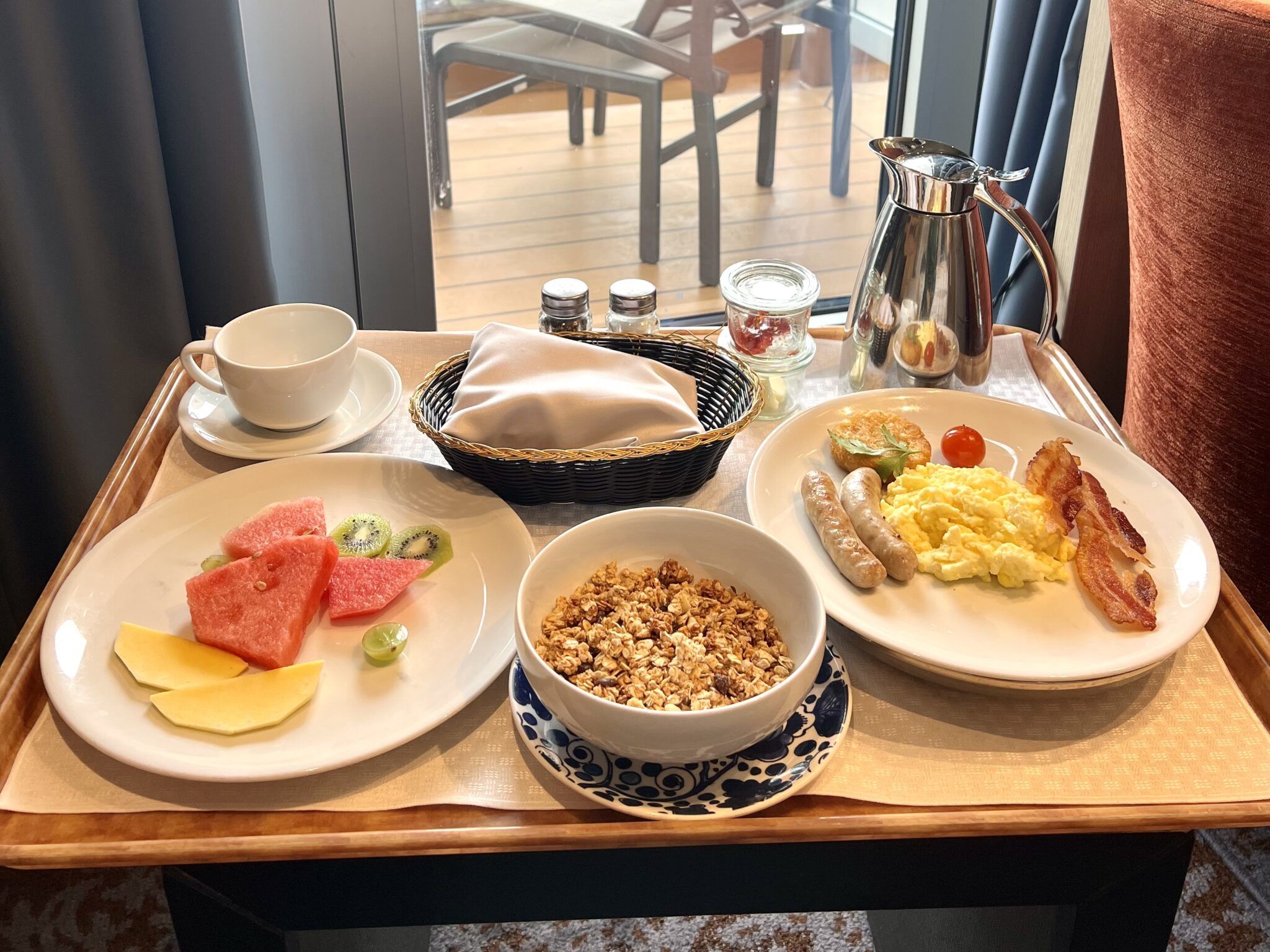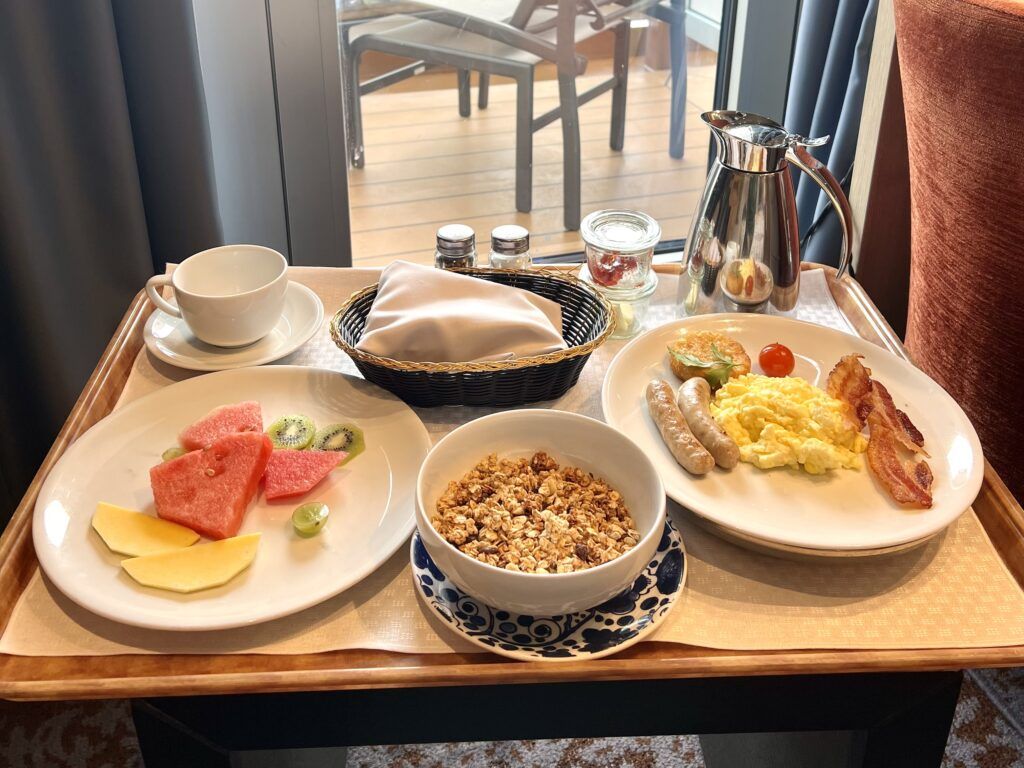 Another benefit of cruising with HAL is that this 24-hour room service is complimentary.
Fueled with breakfast, we had some work meetings and other blog related things to occupy our morning. In fact, these activities took us straight to lunch. With an afternoon of other planned activities, we headed to the Lido Marketplace around noon.
A nice touch for this lunch was a poutine bar. Along with a variety of toppings for fries, there was a large steamed mussels station. Given we were sailing towards Quebec City, these selections were very fitting.
Along with testing out some of these options, we also sampled from the Distant Lands station. This Asian-inspired noodle and rice bar is among my favorite options in any cruise line buffet. With fried rice, sushi, and stir-fried beef, I was in heaven.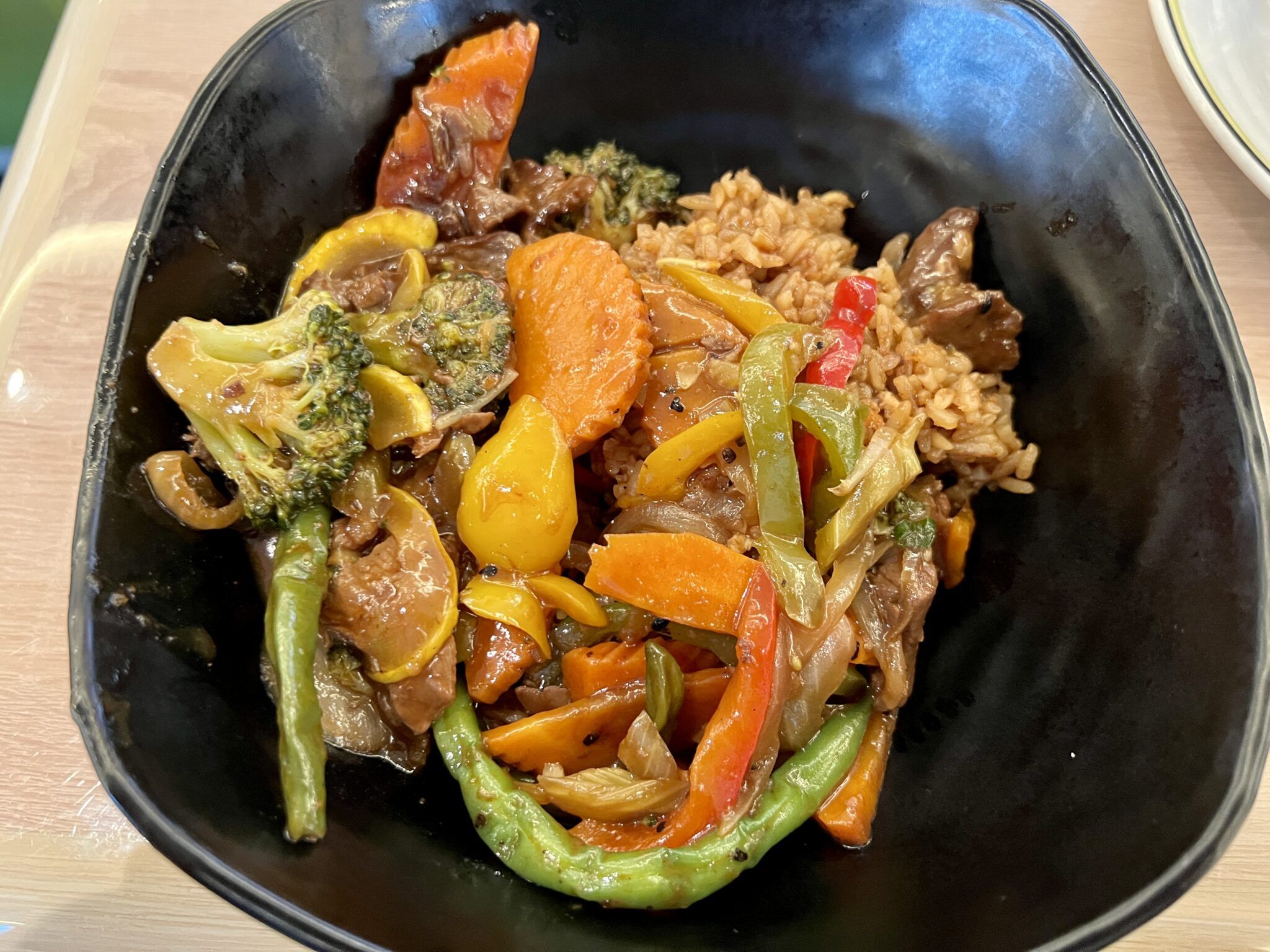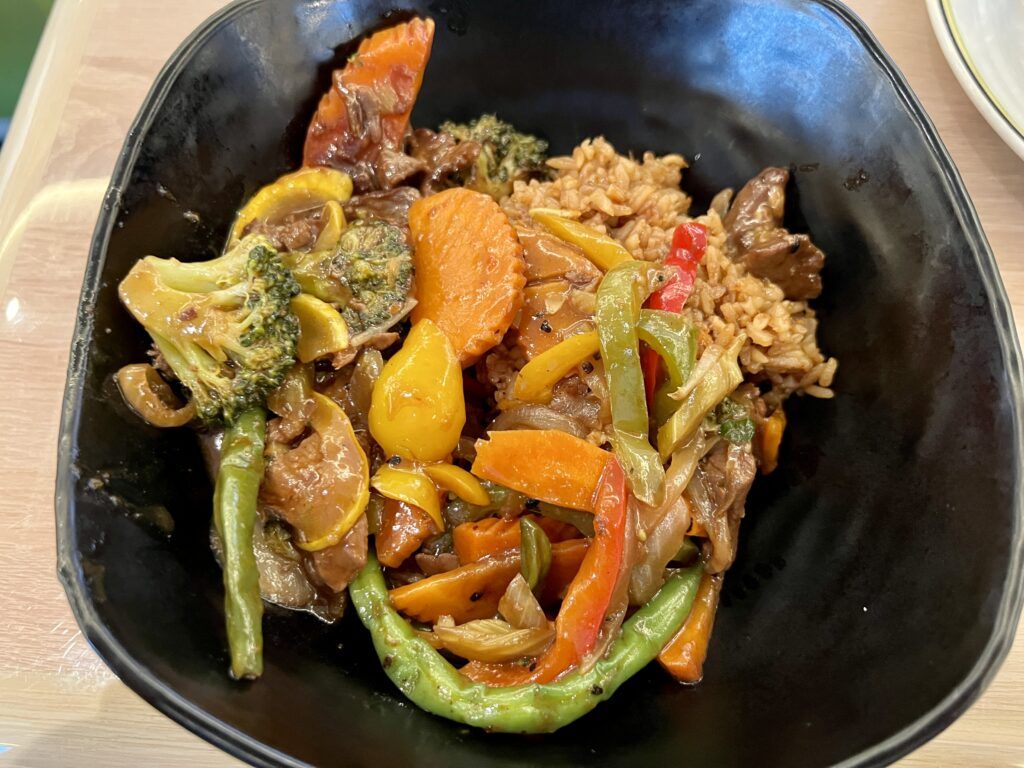 Final Explorations of the Ship
Following lunch, we met up with our group for a cabin tour. The event's coordinator took us around for about 90 minutes to showcase several different cabin categories, including a Neptune Suite. He was also able to get us access to Club HAL. It couldn't hurt to learn more about the family options on the ship.
Finishing up these explorations, we made a pit stop for some coffee and perhaps a drink too. Along with a colleague, we did some additional filming. The weather was still gray and wet but not actively raining.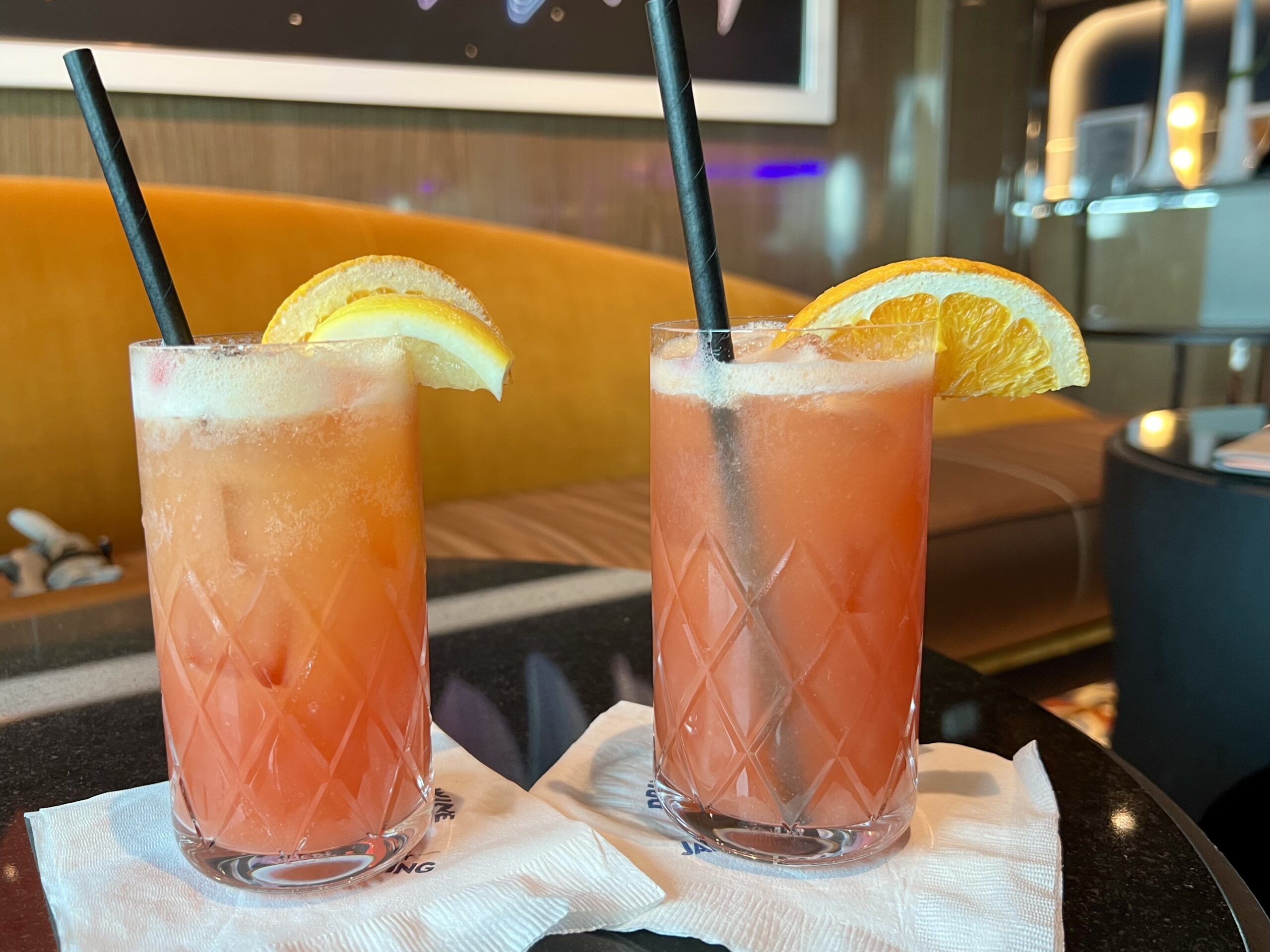 Tonight was the second dressy night of this cruise. Of course, this meant the Princess wanted to make sure she had time to prepare. Further, our group was having a farewell cocktail party at 6 PM. This was followed by the last group dinner at Rudi's Sel de Mer at 7 pm.
For the second day in a row, I was able to squeeze in another run at the gym. Two cruise workouts in one trip; I think that is a record!
Finished getting ready a bit early, our plan was to browse the logo shop and catch some of the Lincoln Center Stage's performance.
Surprisingly, there weren't any cruise ship ornaments available. Further, none of the ship swag appealed to either of us. So, it was a quick loop around the shop. Then, we listened to a few pieces by the orchestra.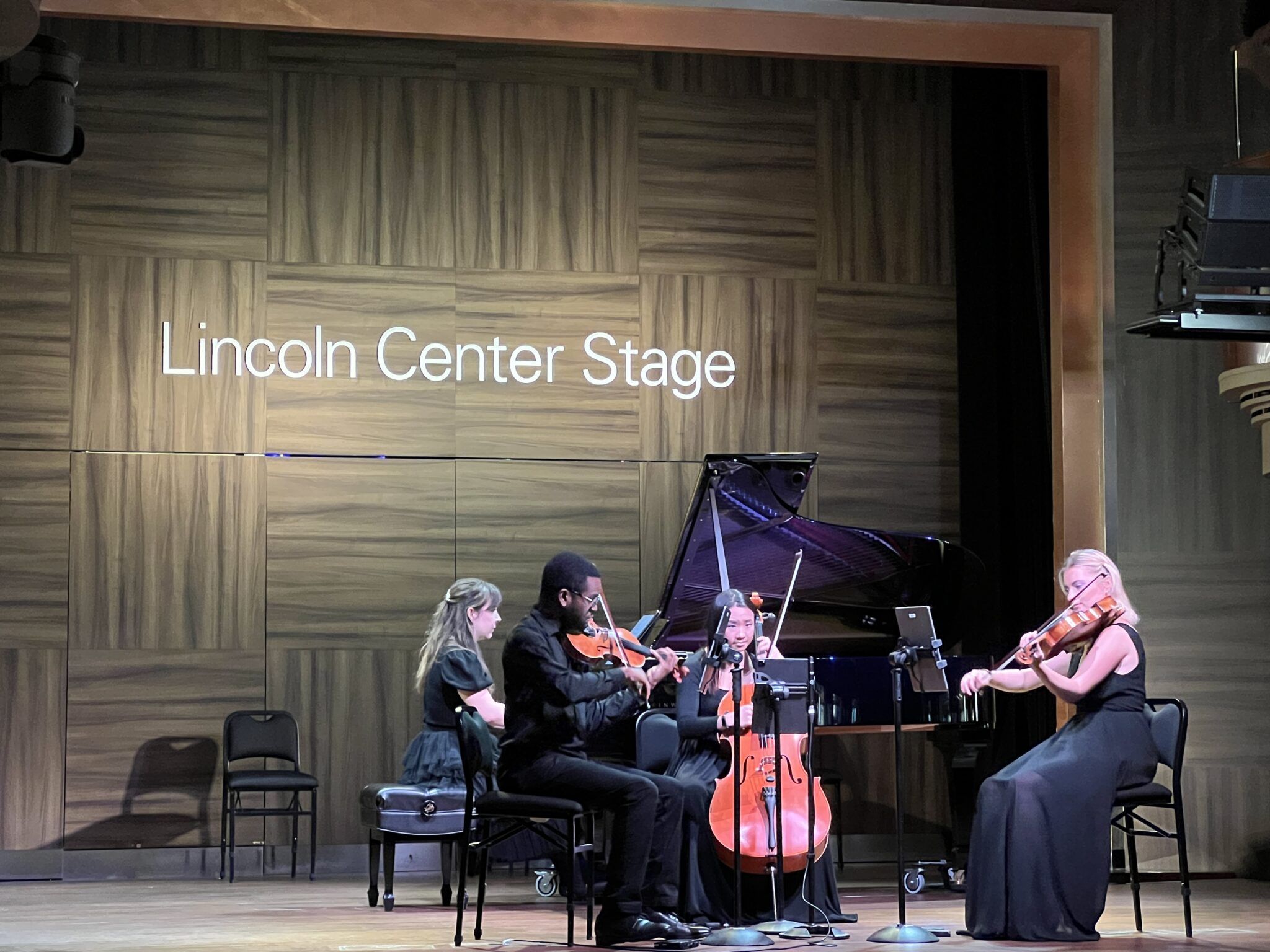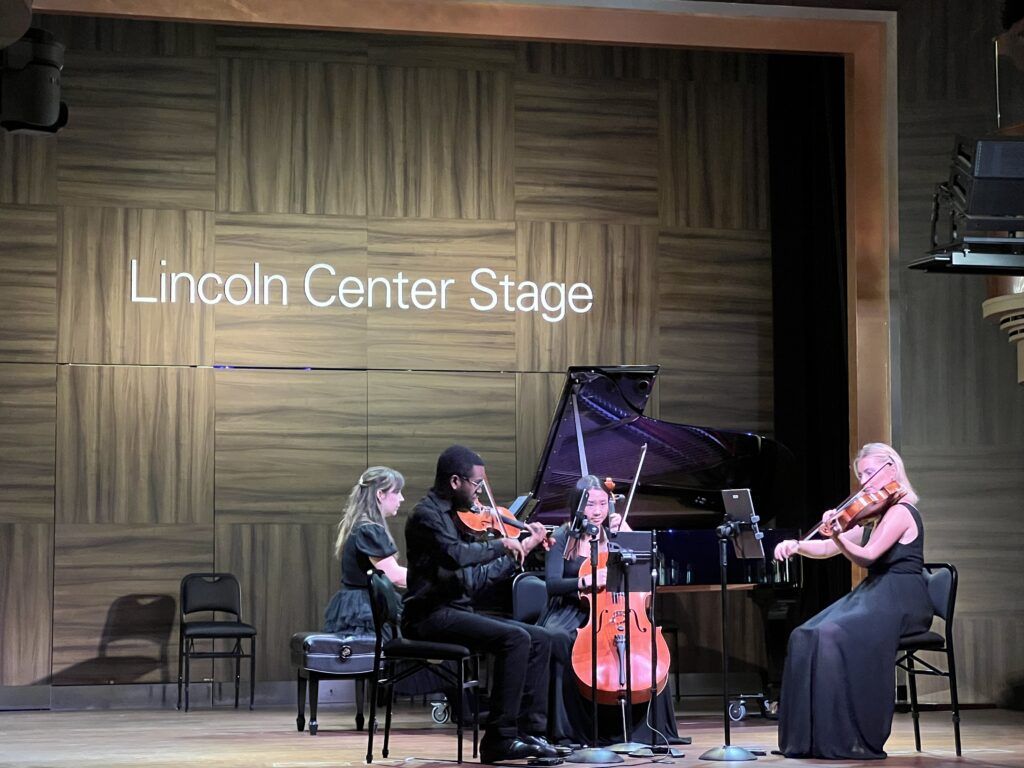 Saying Goodbye
Our meeting spot for the cocktail party was the deck 2 Ocean Bar. This lounge is right across from Rudi's. The only problem was that the bar was packed when we showed up.
I did some recon for the group and was able to get some tables in the back of Billboard Onboard. The bar was open, and lounge wasn't busy yet.
Most of the group found their way to our new spot as we sipped drinks and reminisced about the cruise. Although, around 6:30 pm, the entertainment team began that evening's trivia. So, we picked up our libations and headed across the way to the Rolling Stone Rock Room.
When you get a bunch of travel writers and creators together, you can spend all night sharing stories of previous travels. So, it took some cajoling to get the group to head to dinner.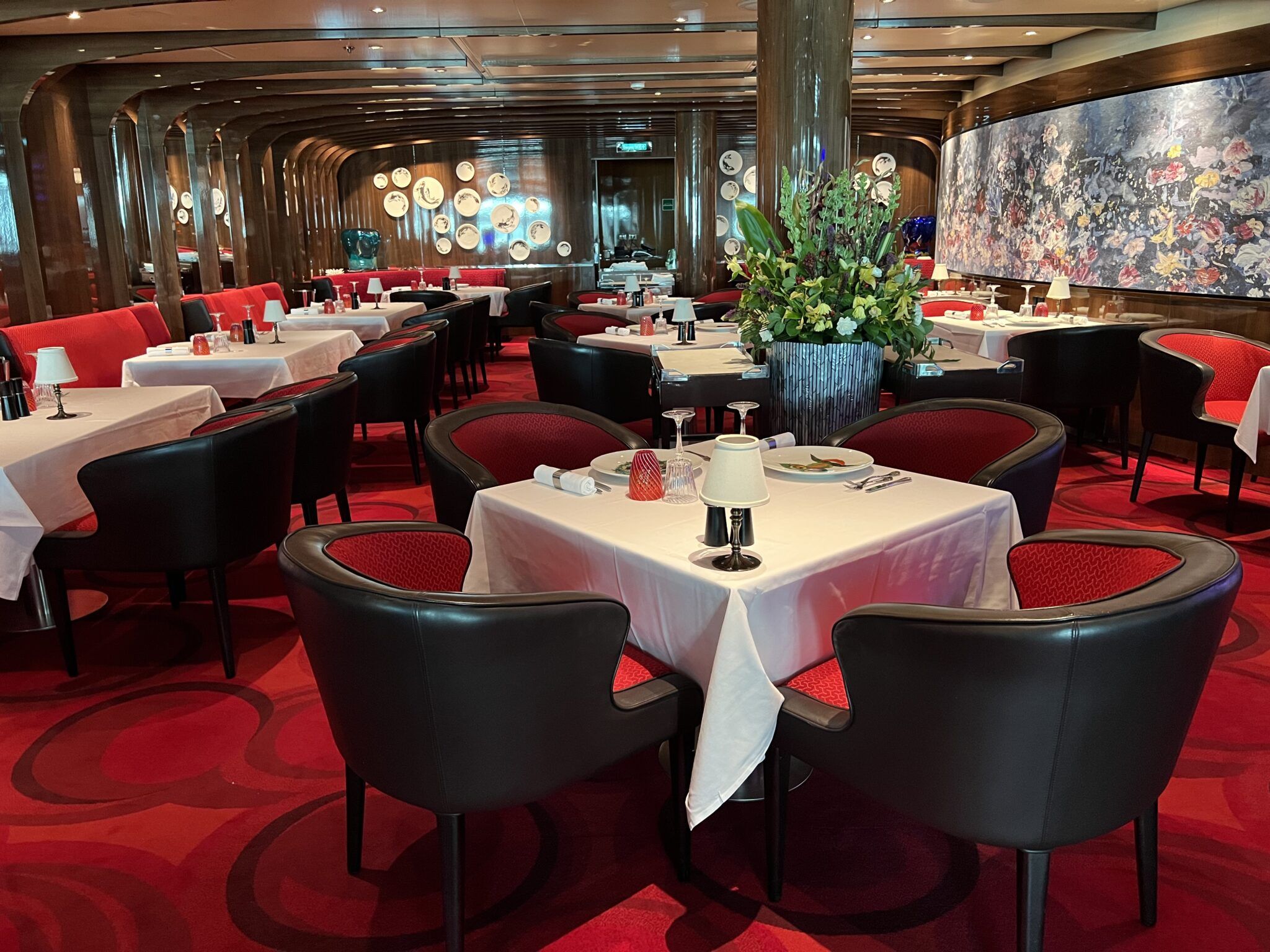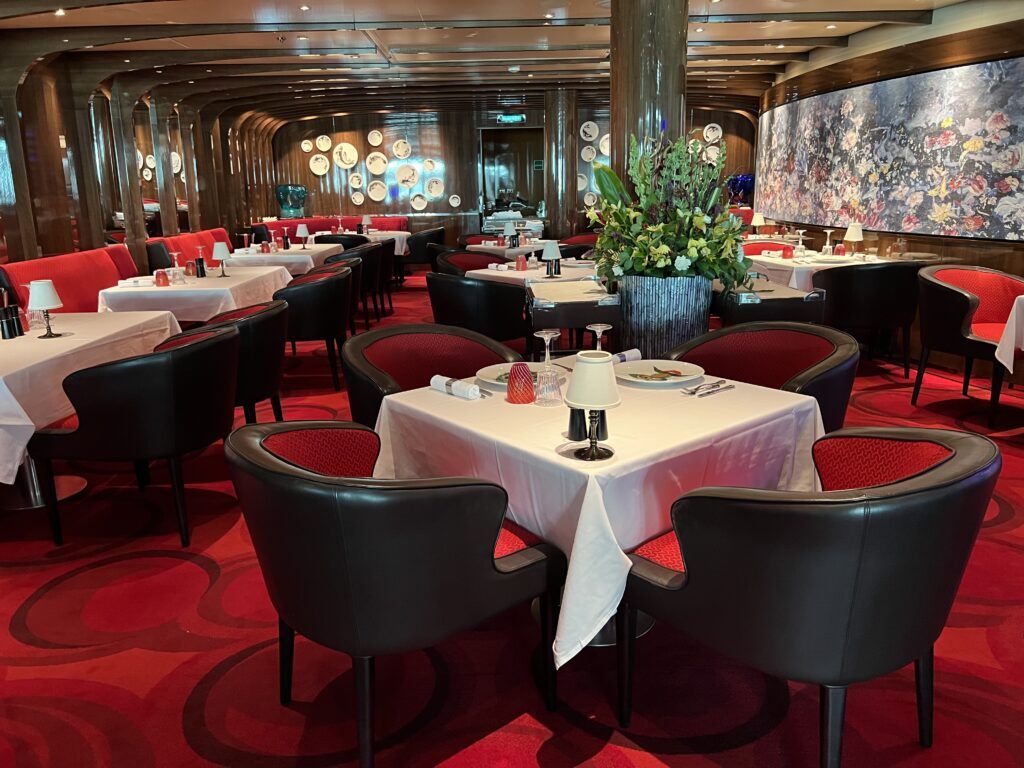 Finally, our group found its way to Rudi's a tad on the late side. This seafood brasserie features a number of French specialties. For the tables, the chef shared the seafood tower. This platter features crab legs, mussels, clams, and snow crab claws, among other delicacies. It was a great way to begin the meal.
For my starter, I did the calamari. This crispy classic was paired with a simple dipping sauce. Since Heidi doesn't eat any seafood, she opted for the cheese platter from the dessert section of the menu.
To change things up, I tried the filet with foie gras as my entrée. While the steak was okay, I was not a fan of the accompaniments and would probably stick to a seafood selection next time. Heidi opted for her go-to entrée, the coq au vin. This version was actually quite dry compared to previous renditions.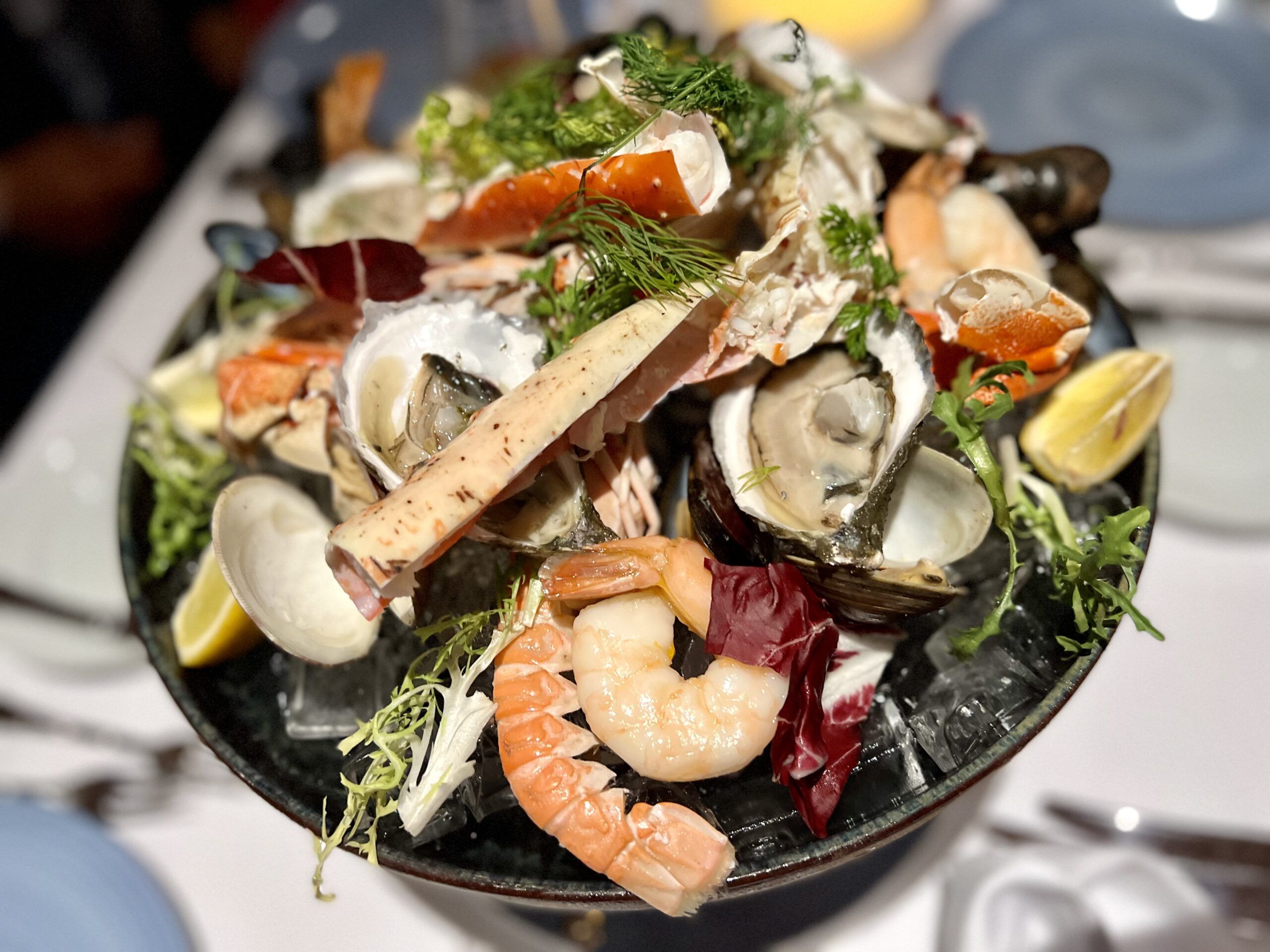 To end the meal, Heidi and I split the signature dessert, the salzburger nockerl. This light and airy dessert is not overly sweet and was a warm and satisfying final course.
An Early End to Dressy Night
Like most nights, dinner took over two hours. So, it was well past 9:30 pm when our table was ready to head out. Saying good-bye to everyone, we made our way to the World Stage for this evening's show. Tonight was another performance by the Step One Dance Company, In Tandem.
Arriving to the show about 20 minutes late, we found seats on the portside of the ship. We settled in to enjoy the show. There was only one problem though, this production is rather short. In fact, it is only about 35 minutes. So, we only caught a few minutes before the final act.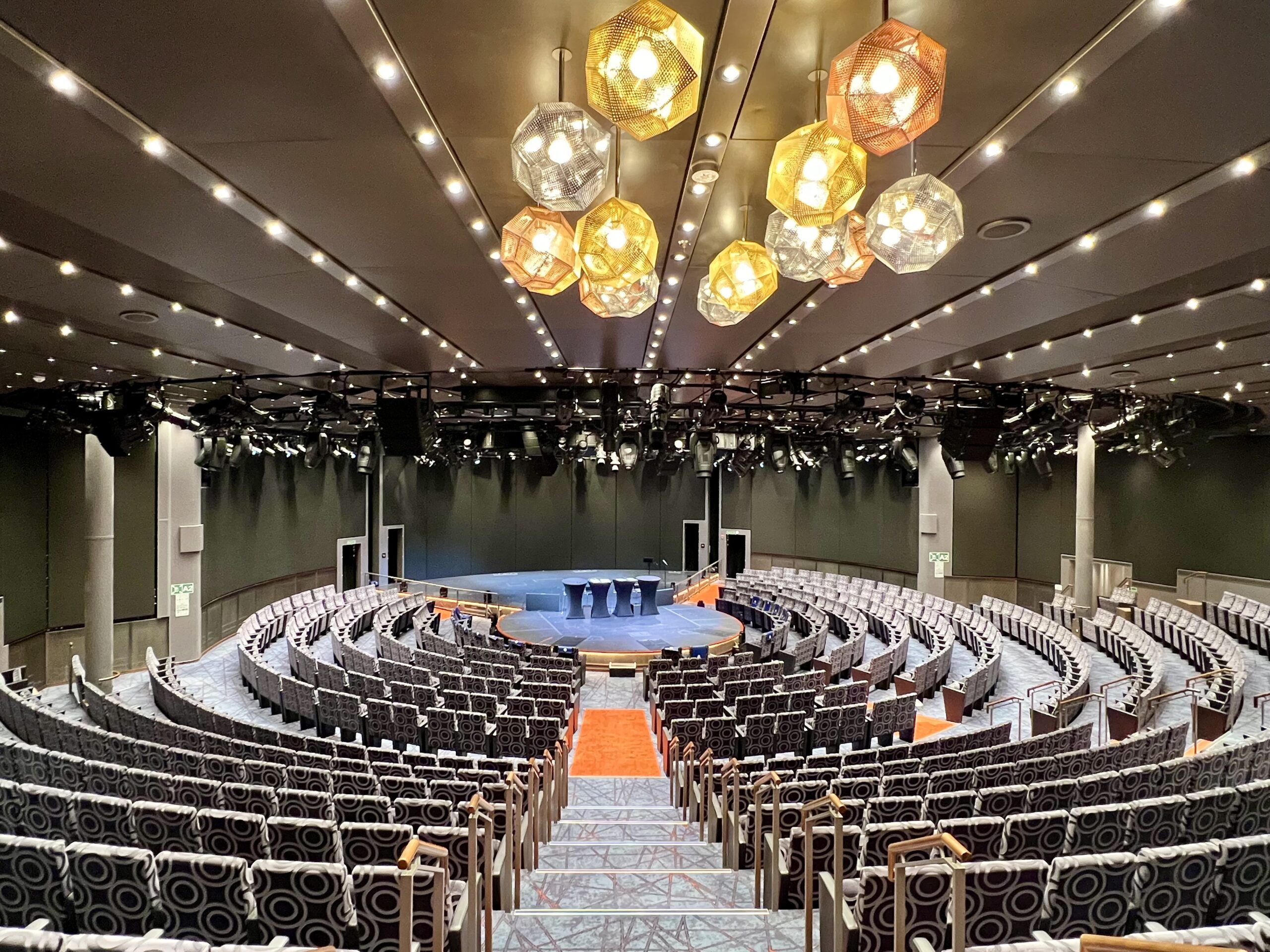 Like many of the nights before, we ended our evening in the Rolling Stone Rock Room. The band was just starting its last set. The eclectic mix of songs ranged from modern rock to classic rock. They even threw in some pop performances with an unique twist.
Even though it was Dressy Night, many of the bars and lounges were closing at 11 PM. So despite a rather uneventful day cruising the St. Lawrence River, we decided to call it a night after the rock show.
Tomorrow was already our last day of the cruise.
Holland America Line Canada and New England Cruise – Day 7
The Final Morning Onboard
Day 7 of this Holland America Canada and New England cruise had us calling in Quebec City.
The delay in our arrival time meant our tour was also delayed until 1 pm. While the tour was still visiting the main attractions, the included lunch portion was cancelled as a result.
So, we had the entire morning to ourselves. The weather was clear but much cooler today.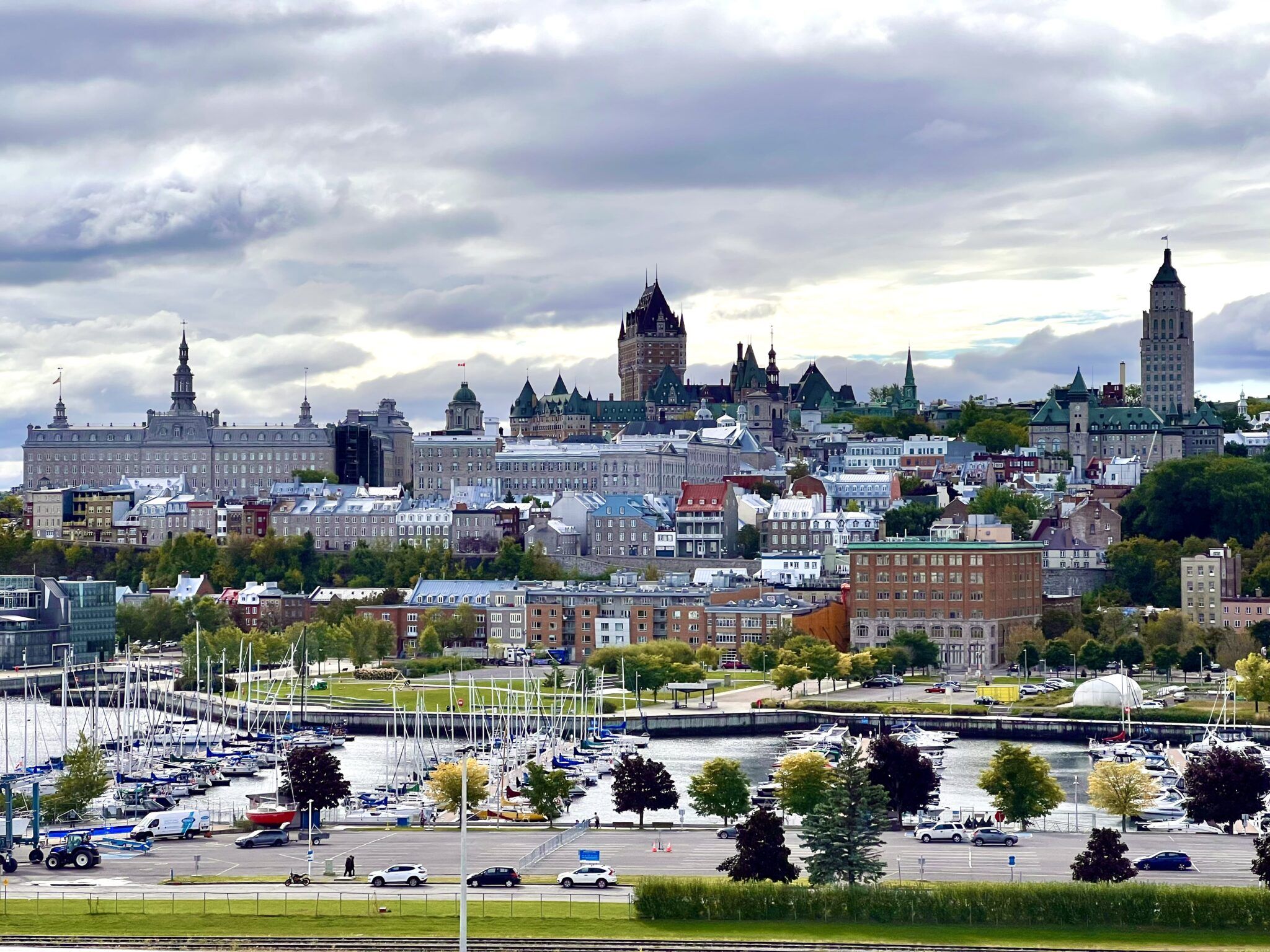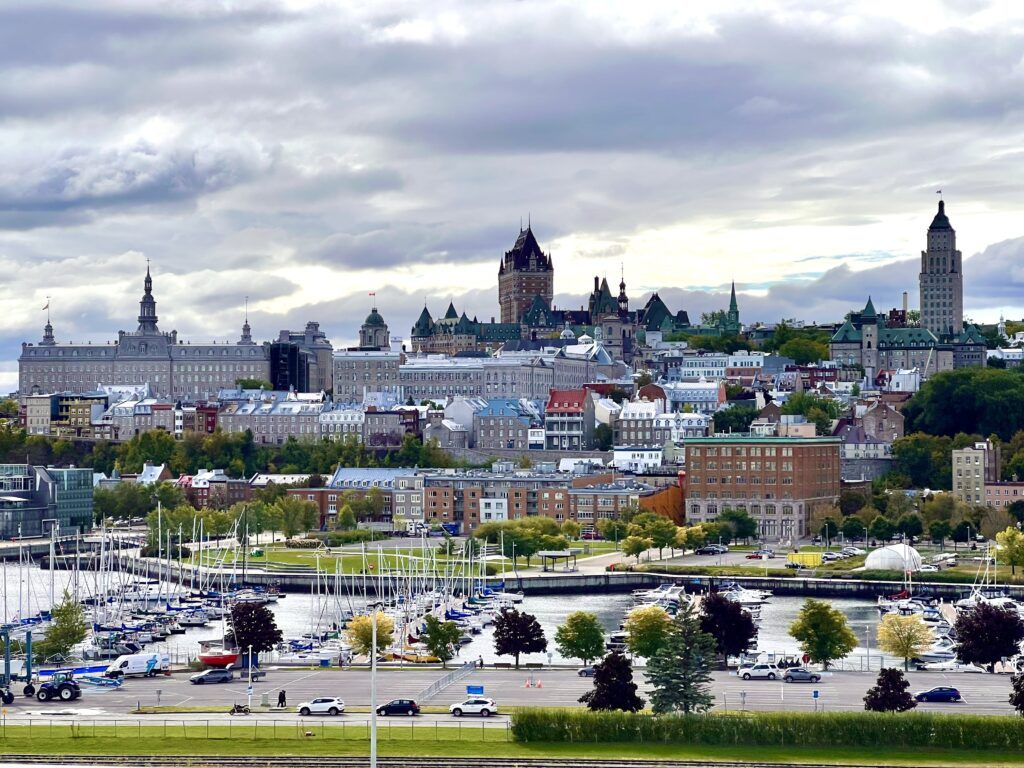 The ship was cleared before 10:30 am. So, I headed outside for some filming and final videos and photos of the ship. With Quebec City in the background, it felt like the ideal time for some outdoor shots.
We also spent some time packing prior to heading ashore.
A bit before our tour meeting time, we made our way down to the Grand Dutch café for an afternoon coffee. With caffeine in hand, we checked in at the World Stage for our Best of Quebec tour.
Our group was called a few minutes before 1 pm. Along with our fellow cruisers, we headed towards the gangway on deck 2, through the terminal, and to the meeting point. Now, it was time to learn more about our last port of call.
Out and About in Canada
Boarding a school bus, we set out to discover the area. The day began with a ride out to the lower part of the city, past some notable landmarks.
From here, we fought the traffic out to the island of Orleans. This agriculture isle featured apple orchards and pumpkin fields. Honestly, it reminded us of the western part of our home state. As a bonus, this was really the first time we saw any fall foliage during the trip.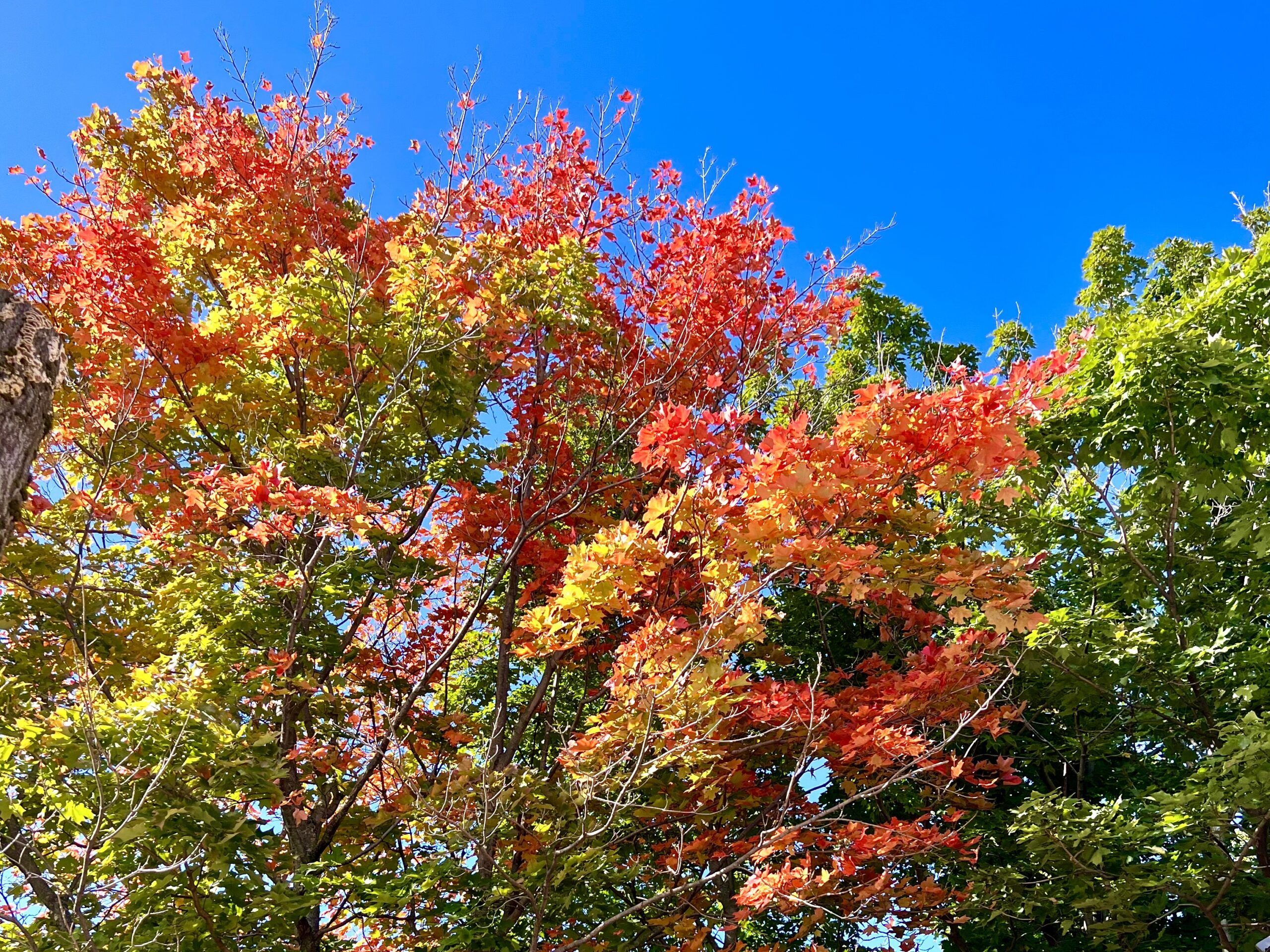 Our main stop here was a maple farm. After learning about the process of tapping maple water, we got to sample some items. From maple butter to maple syrup and maple taffy, it was a sweet stop. It was also a costly one, as we had to buy some souvenirs of course.
Next, we took the ride out to the St. Anne de Beaupre Basilica. The grounds are beautiful with three churches and some ornate artistry. We had about 30 minutes here with a partially guided tour and some free time.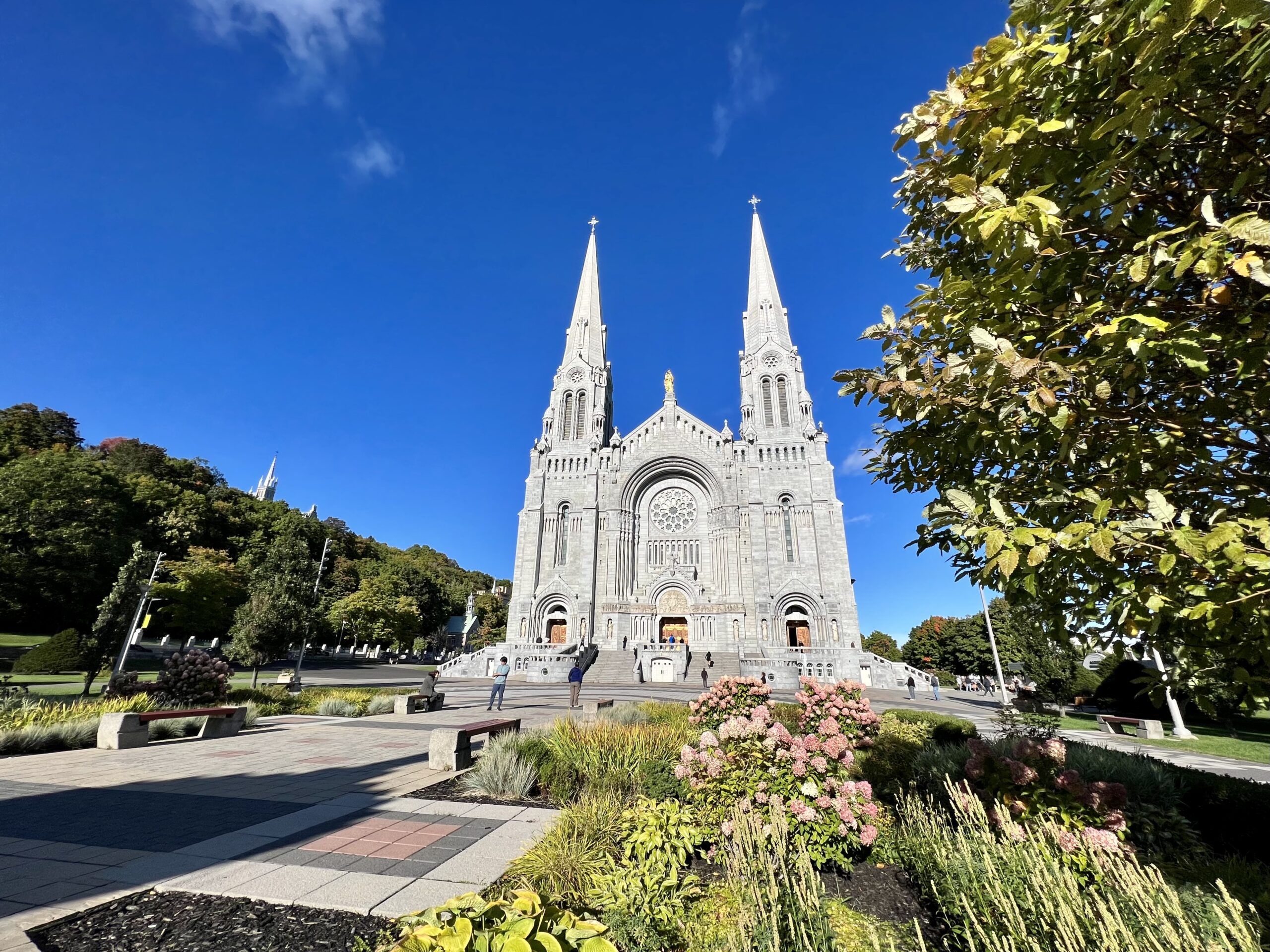 From here, our bus did a "slow" drive by the Montmorency Falls. Honestly, we thought the tour included a photo op at this picturesque landmark.
Reentering Quebec City, it was on to the upper part of this historic city.
Here, we drove through the citadel and large city park. At one point, it seemed like we were going to stop at a lookout point, but we just slowed down instead. Again, it would have been nice to stop at some of these locales to at least take photos.
Our final stop of the tour was near the Le Château Frontenac hotel where we had about 40 minutes of free time. Along the way, we secured an ornament from the Christmas store, along with another coffee and some macarons.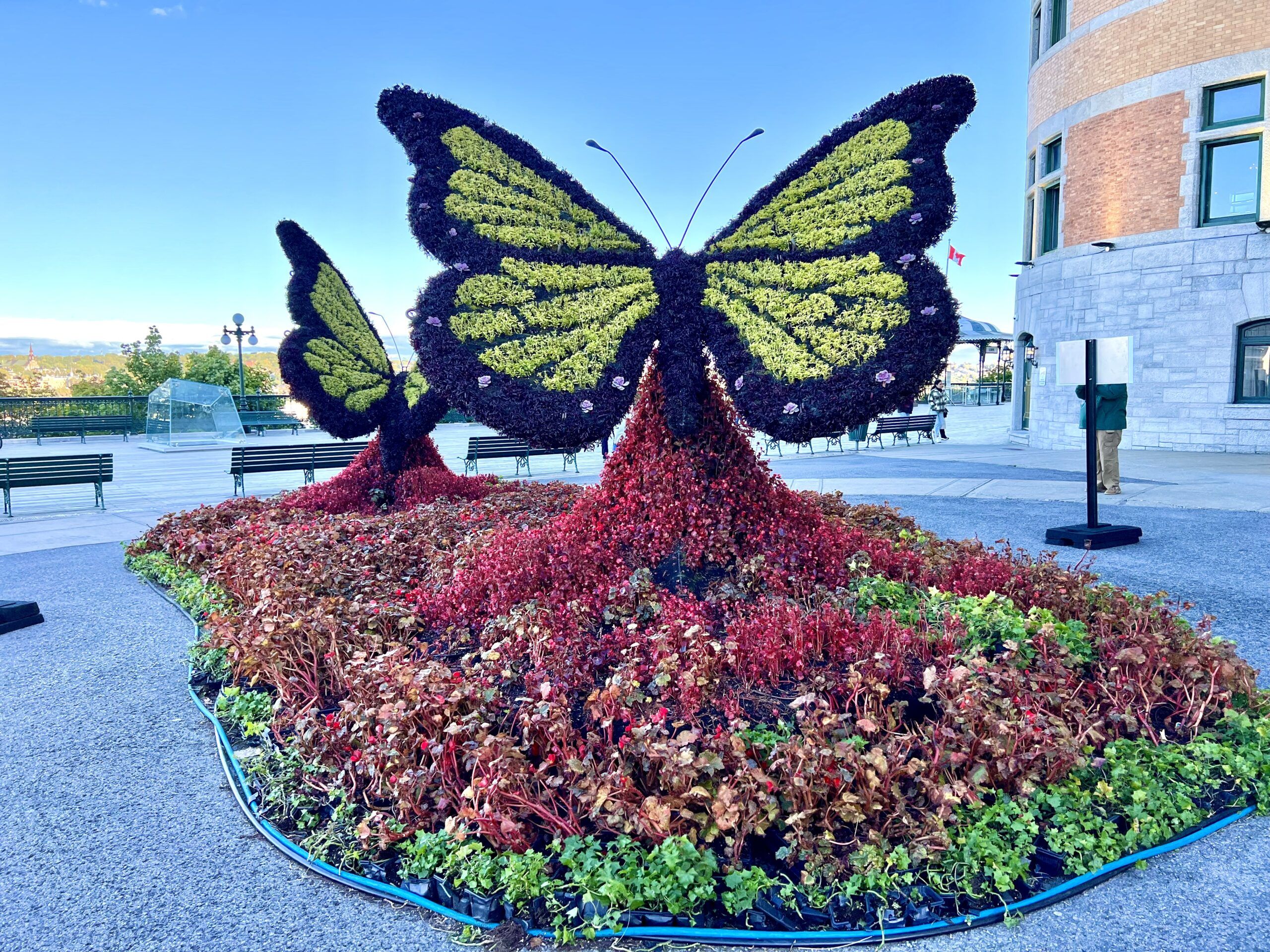 A Lowkey Final Night
Upon returning to the ship, we connected with our friend for one final dinner in the main dining room around 7 pm.
Even though the ship was doing an overnight in Quebec City, the main dining room was still quite busy. With just three of us dining though, we were able to get through all three courses in about 75 minutes.
For this final meal, I was a fan of the spring roll appetizer and the beef brisket entrée.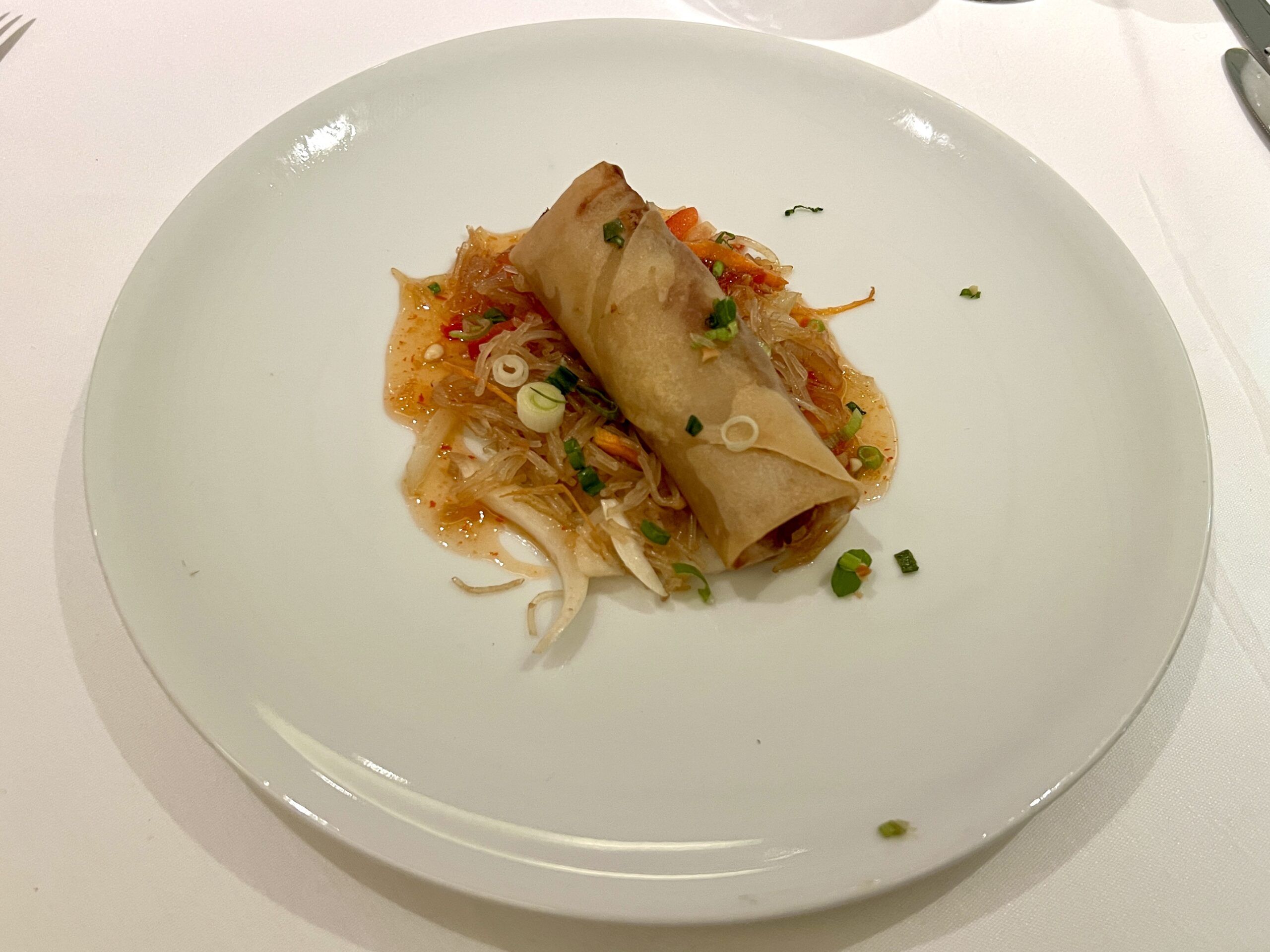 Overall though, our main dining room experiences were pretty typical for a contemporary cruise line. After this fourth cruise with the brand, we would agree that the specialty restaurants is where Holland America Line really shines.
Following dinner, we met up with our host for a final drink and music set at the Rolling Stone Rock Room. Given the ship was docked in Canada, several of the bars and lounges were closed. So, this was one of the only places you could get a drink tonight.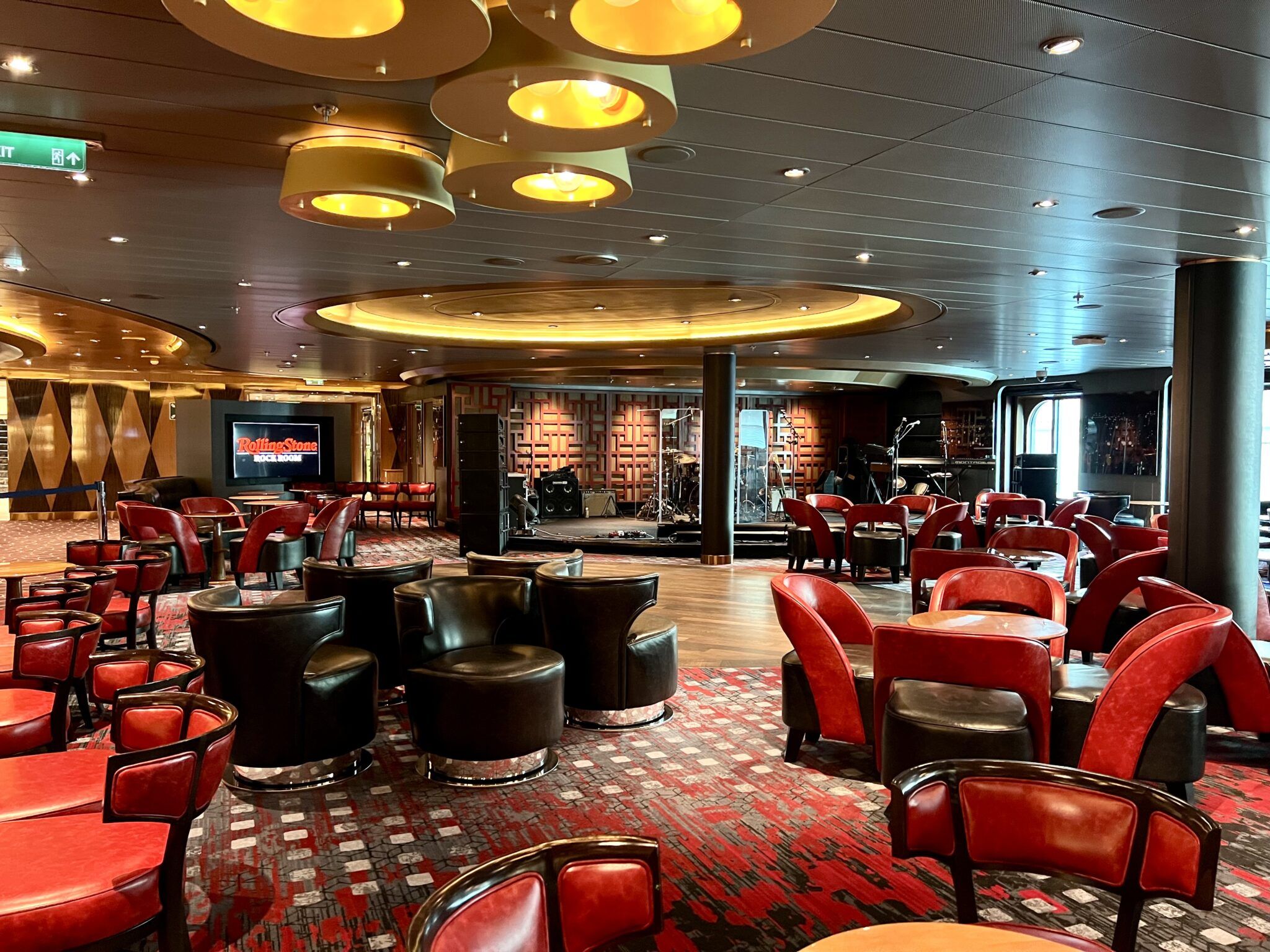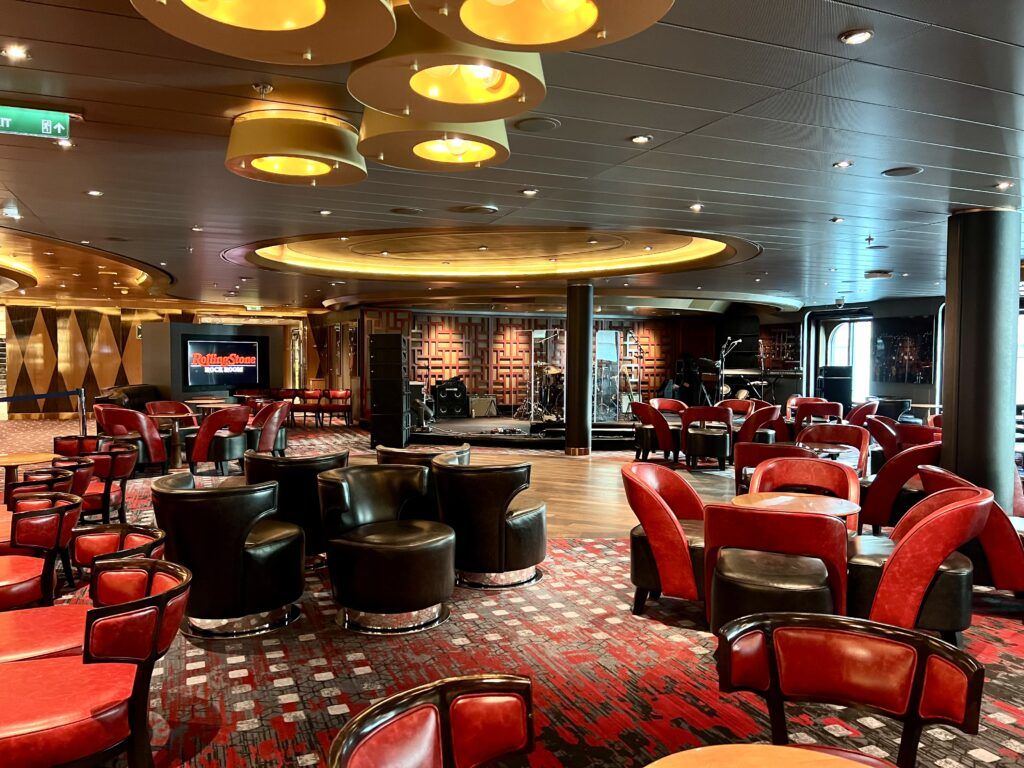 Our colleagues had an early 6 am flight. So, we said our goodbyes by 9:30 PM. This was just in time for us to catch the final show in the main theater. This evening, the Step One Dance Company partnered with the piano players from Billboard Onboard for Off the Charts.
The 45-minute production featured several Billboard #1 hits. From Elton John, to Queen, Lady Gaga, and the Beatles, it was an eclectic songbook. This is our third time watching the show, and while it is always the same, we find it enjoyable.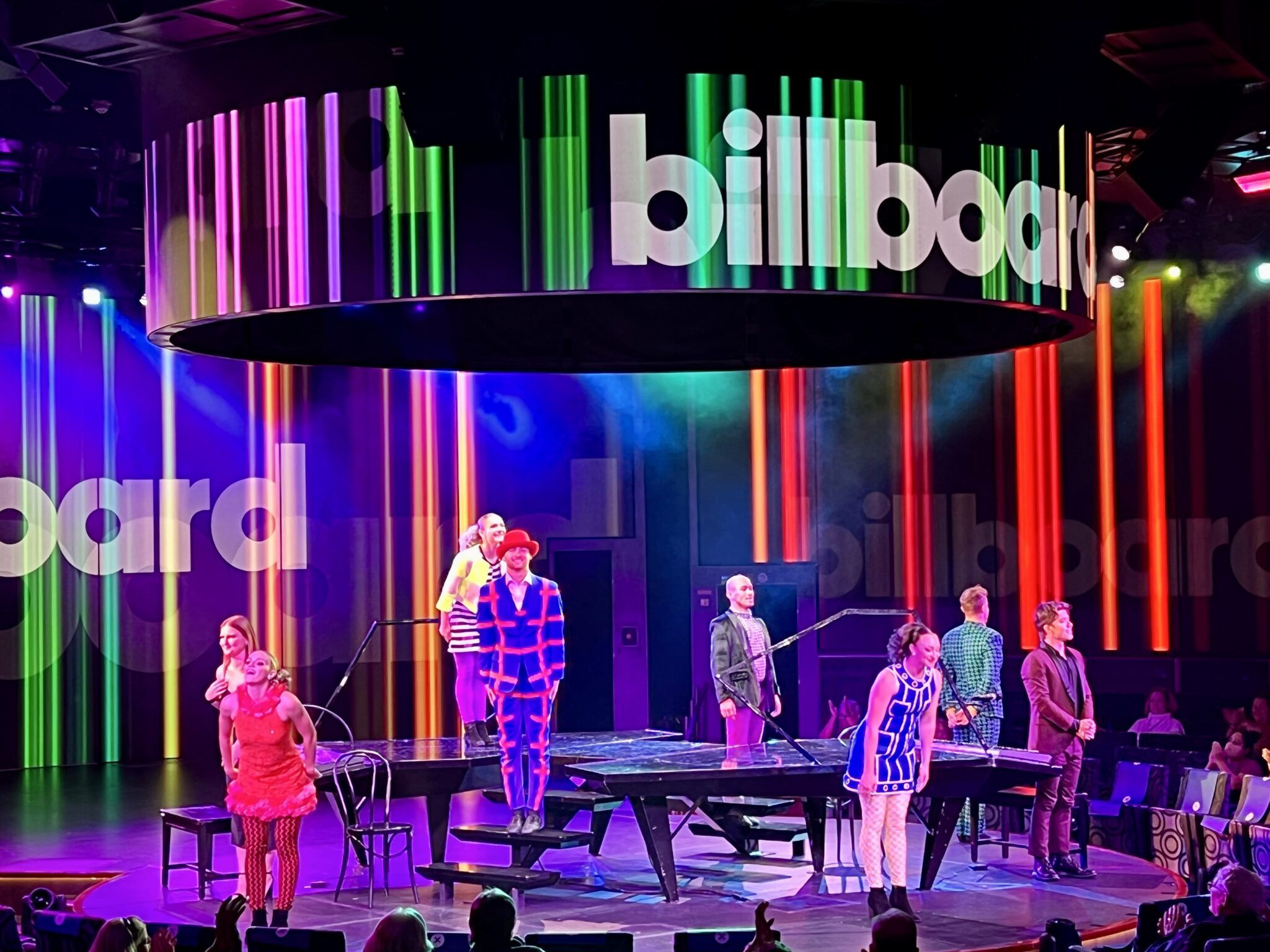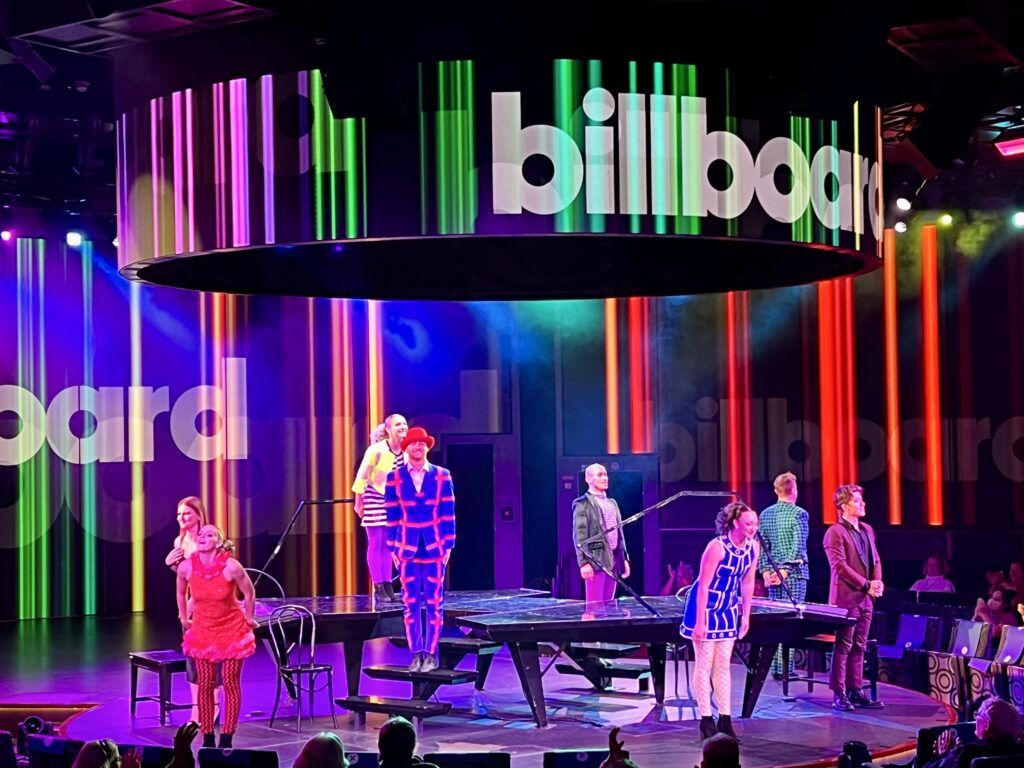 Following the show, we opted for one more drink…of bottled water. Taking these back to our room, we did some final packing and hit the sack. We had a 7 am transport to the airport scheduled.
BOOK NOW: Exclusive Rates on Holland America Line!
Holland America Line Canada and New England Cruise Review – Disembarkation
Up around 5 am, we showered and got ready for our long day of travel ahead. While Quebec is not all that far away from Boston, there were no direct flights home for us. This meant that we first had to fly to Toronto, where we had a 3-hour layover, before flying into Boston.
Once the coffee shop opened at 6 am, I grabbed us our morning drinks along with some breakfast pastries.
Finishing up last minute packing, we made our way to the elevator with our two suitcases around 6:45 am. Completing self-assist disembarkation, we had no issues getting right off the ship. We were quickly scanned off and made our way up the gangway to the terminal building.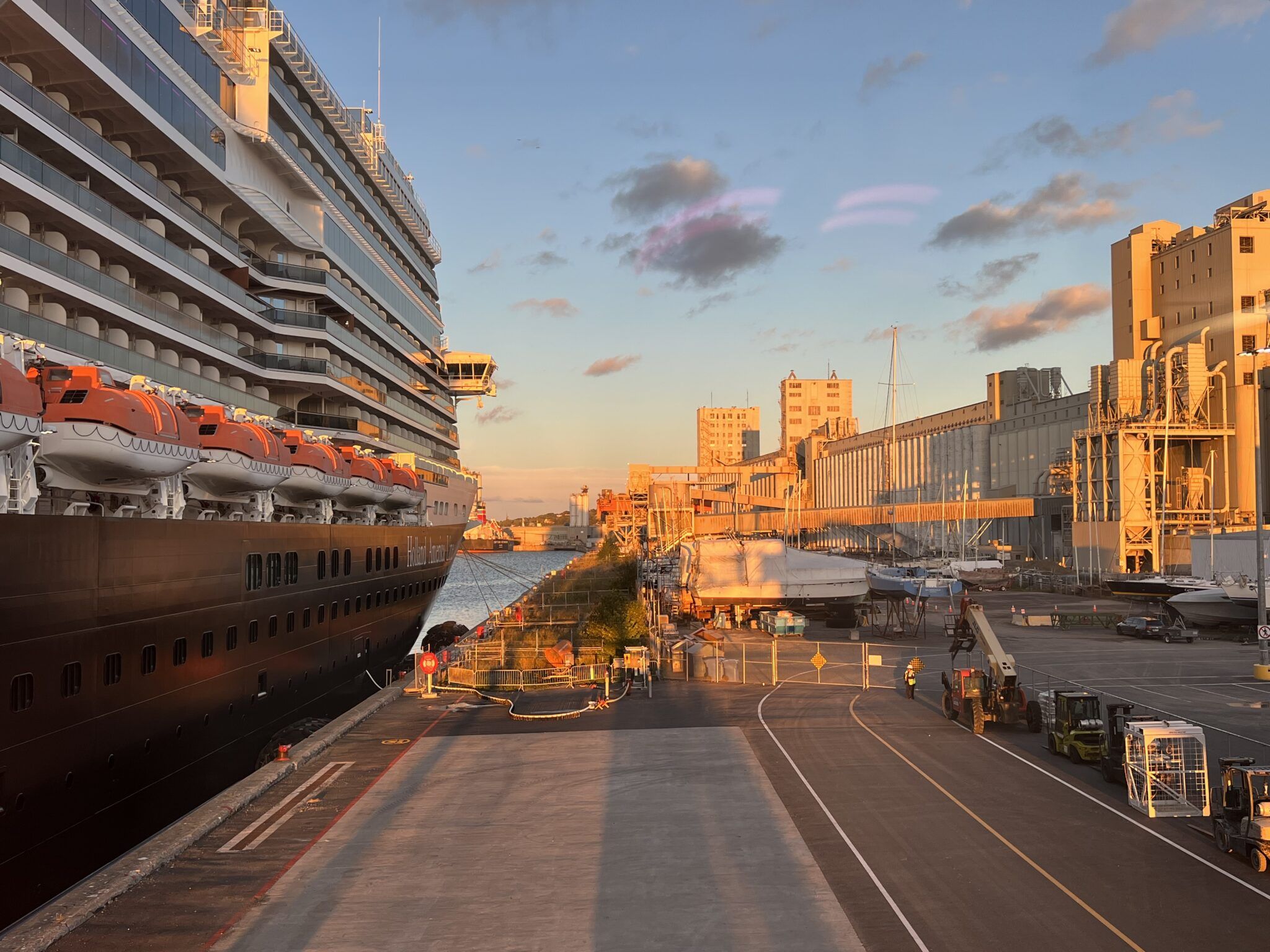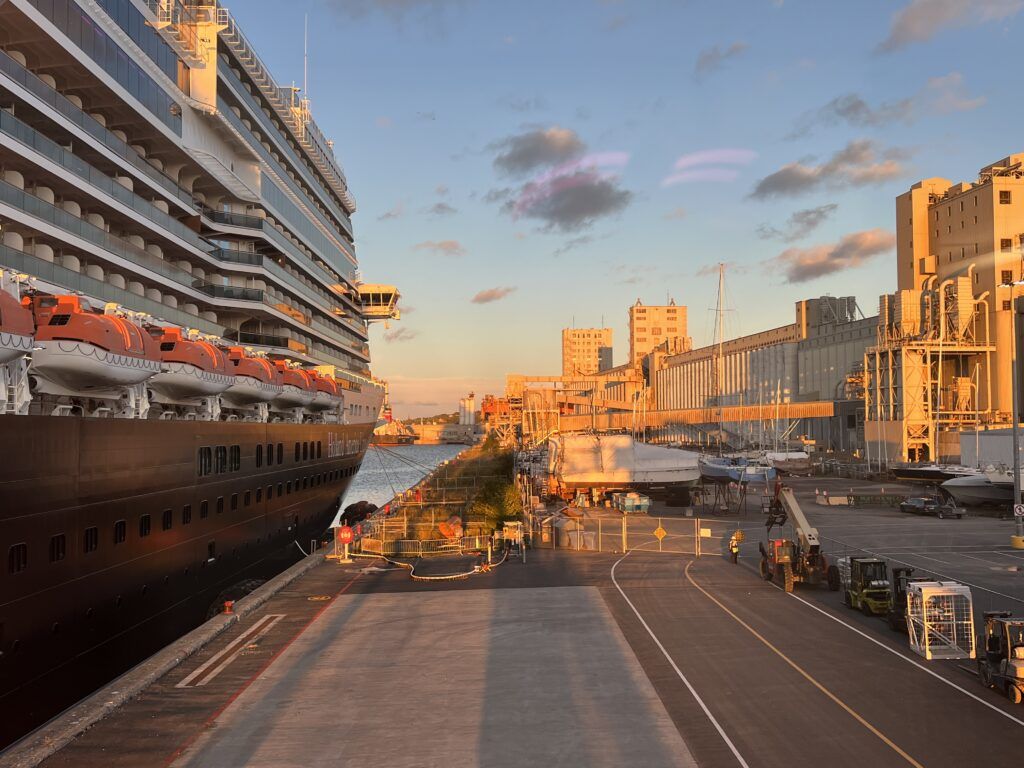 Given that our flight was 10 am this morning, and Holland America transfers did not start early enough, our host arranged for a private transport at 7 am. However, after waiting outside the terminal for about 15 minutes with no car to pick us up, we opted to grab a taxi ourselves.
The drive to the airport and the remainder of the day were pretty uneventful. With both flights departing on time, we were finally home around 6 pm. Now, we had just under 2 weeks at home before our next trip. Soon, we will be heading back out on Norwegian Prima for 4 more fun-filled days on this new Norwegian Cruise Line ship.
Comments
Did you enjoy our Holland America Line Canada and New England Cruise Review? Have you taken a Canada/New England cruise before? Drop us an anchor below to share your Holland America cruise reviews!