For our Navigator of the Seas cruise out of Miami, we flew down to Florida the evening before to avoid any travel delays. Over the years, we have learned to play it safe and add a pre-cruise travel day to our itinerary. We scored an amazing deal on a new, modern hotel in the Brickell District, East Miami. From the moment we entered the property, we were hooked. See why this sophisticated and stylish hotel might just win you over in our East Miami Hotel Review.
East Miami Hotel Review
Our First Impressions East Miami Hotel
For this cruise, we had a late afternoon flight down to Fort Lauderdale. The flight was uneventful, so we arrived in Fort Lauderdale by 7:30 pm. With a relatively inexpensive Uber ride (just under $40), we were to the hotel by 8:15 pm.
For a Thursday night, the lobby was already teeming with urbanites ready for a night out. While there is a bar located across the way from the reception desk, this is not the main gathering space at the hotel.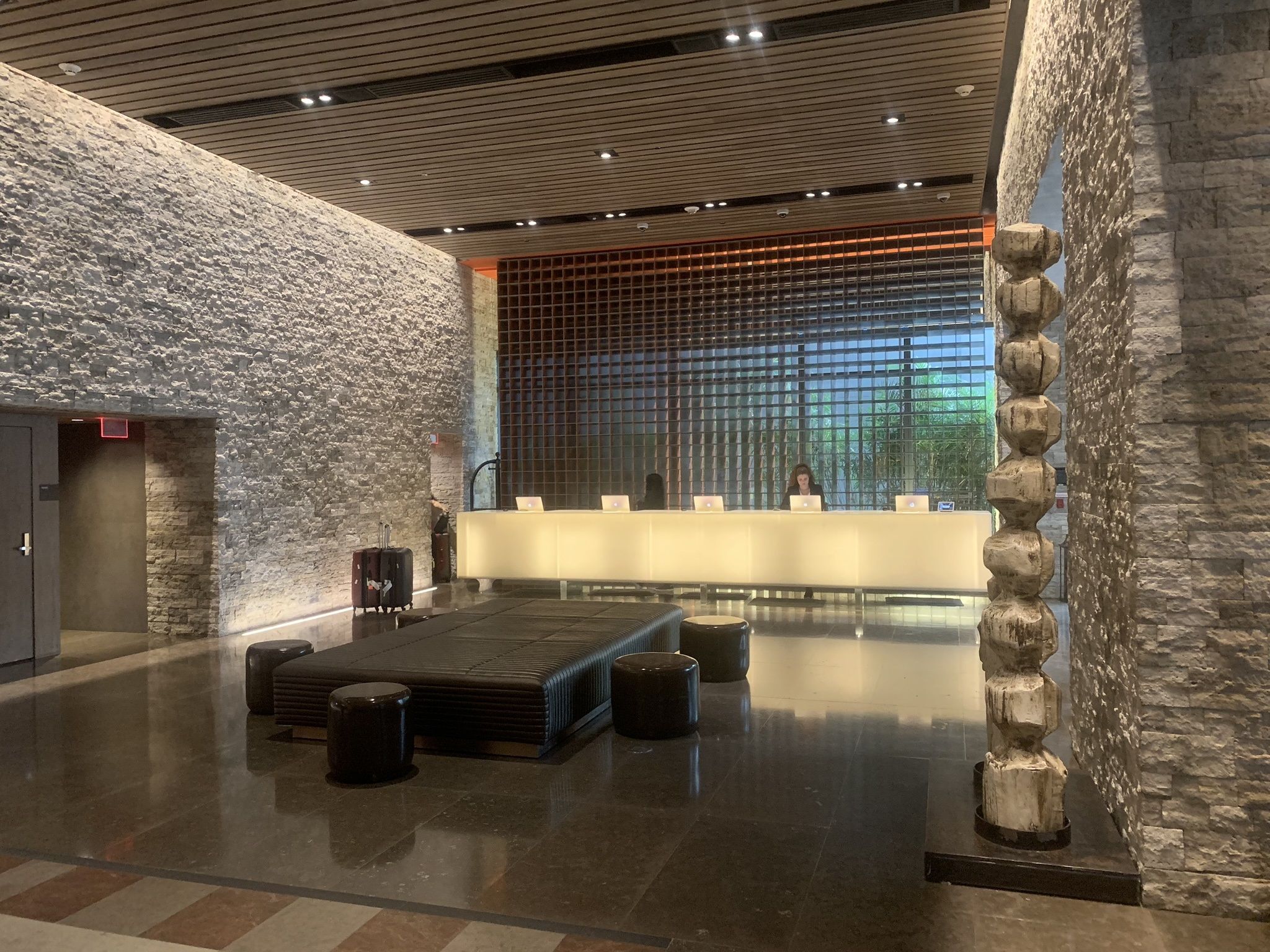 Our check-in process was quick and efficient. It included a brief tutorial as this hotel is one of the most high-tech lodgings we have seen in Florida.
To access your room or other public areas of the hotel, you need to swipe your key and use a touch screen to select your destination. You are then assigned an elevator that only stops at the chosen floor.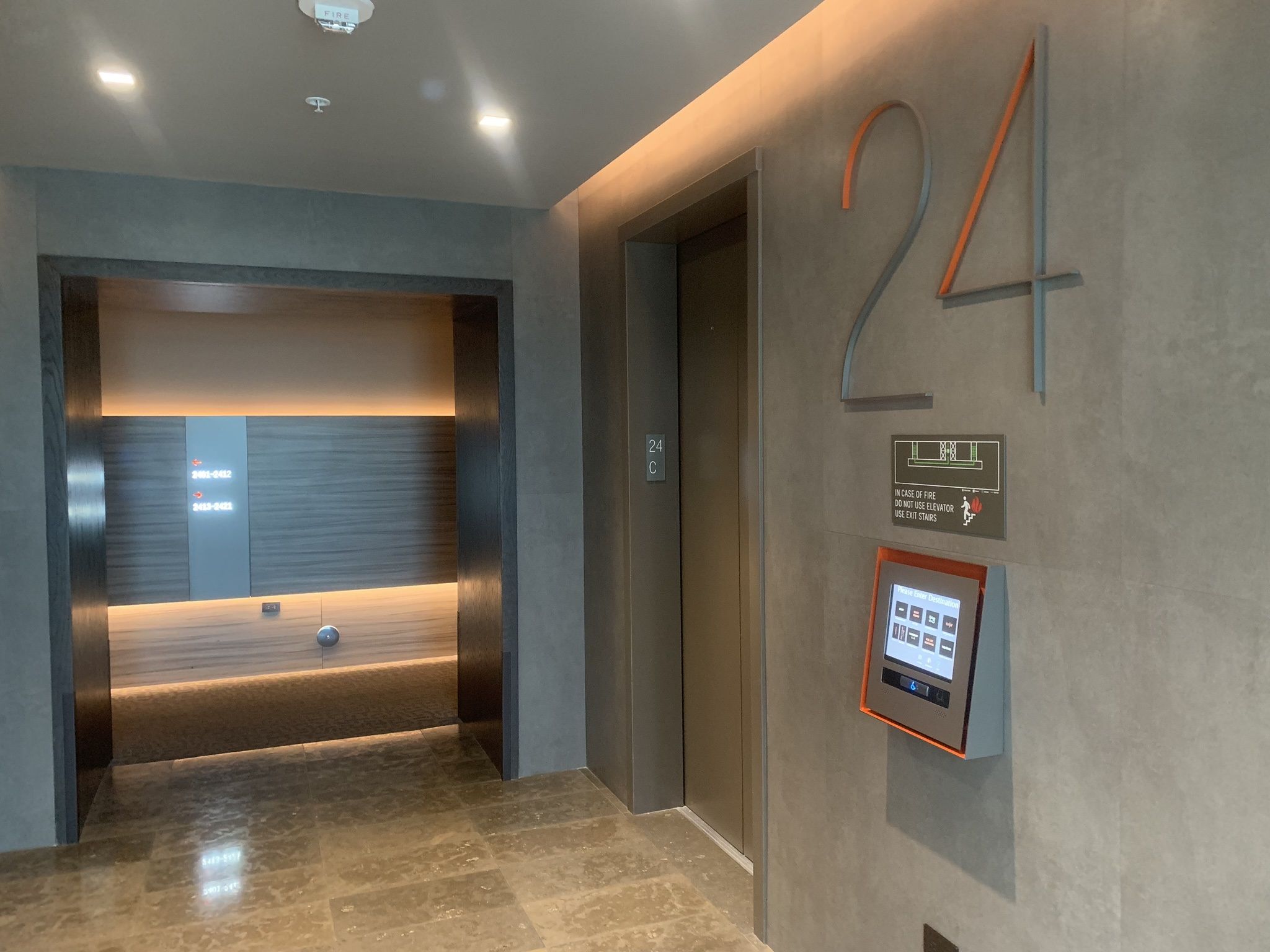 The decor throughout the hotel is simple, yet stylish. It has a minimalist feel, with open spaces and large fixtures. As the name implies, there is also an Asian motif to some of the public areas, especially the rooftop bar.
Related Posts: The Best Hotels Near the Miami Cruise Port
Rooms at East Miami
We scored an amazing deal on a Urban King room booking approximately one month prior to our check-in date. According to the hotel's website, this room category is 300 to 350 square feet and offers floor to ceiling windows.
We can confirm that the room certainly delivers on space and amazing views. We were actually upgraded to a slightly larger corner room, but all of the fixtures and setup would essentially be the same except for the larger balcony.
I could have stayed on our balcony all night admiring the bright lights of the downtown area. Unfortunately, the only downside is that there is no vantage point of the cruise port. We were happy to make that trade though!
The rooms have an open, simplistic design with basic furnishings and clean lines. Yet, they are functional and stylish. Don't worry, this is not IKEA.
Warm wood tones and intimate lighting sets a cozy scene right in the middle of the city. The in-room dashboards also allow you to control the room temperature and lighting.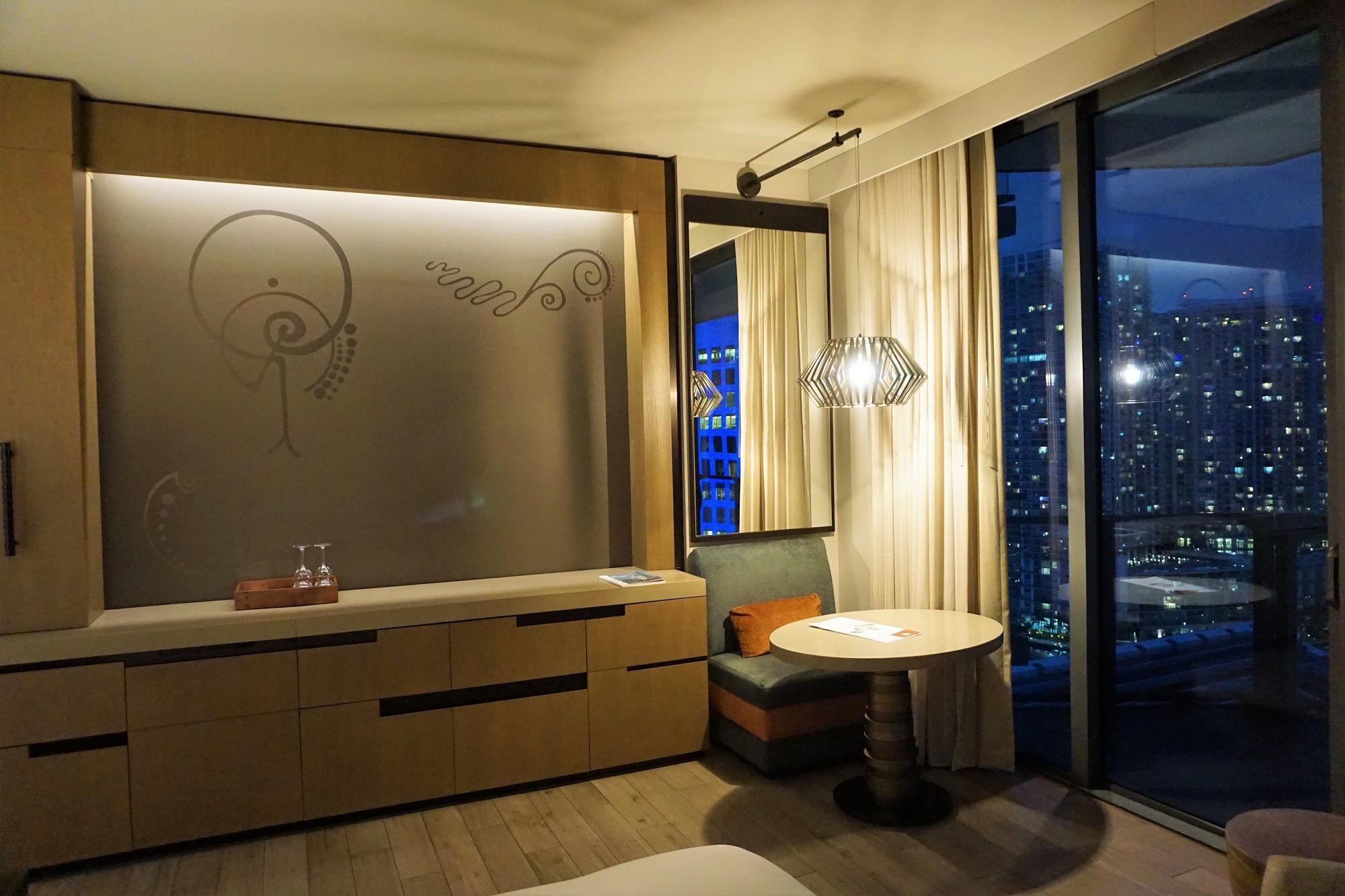 While modern, there are also classic elements that you would expect to find in any hotel. There is passable desk space and complimentary WiFi, as well as a mini-bar. Storage is certainly not an issue in this hotel either as there are numerous drawers and closet space.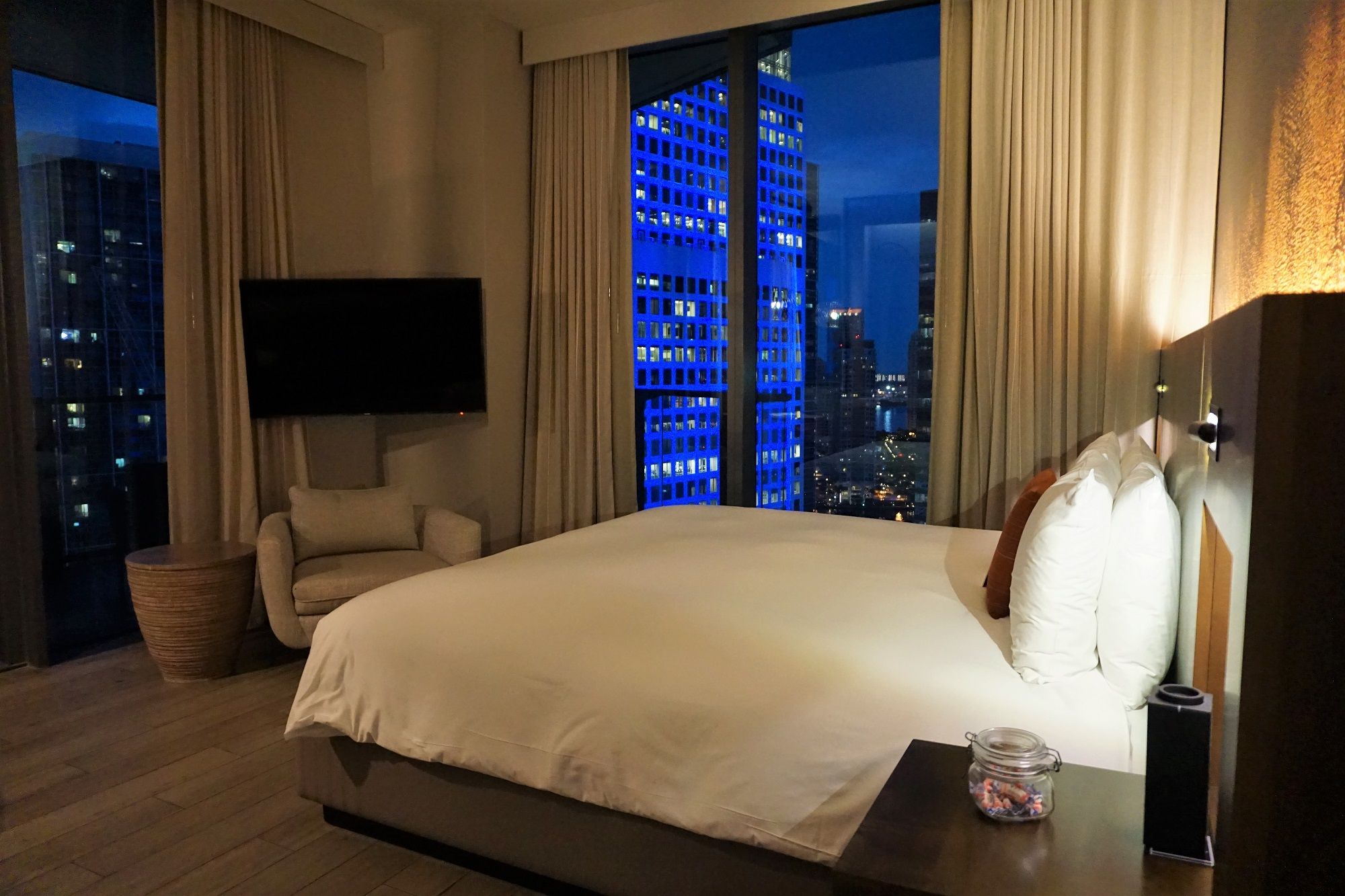 While we are usually not picky when it comes to bedding, we did find this setup very comfortable. After a day of traveling and a few cocktails, we were able to enjoy some restful shut eye.
Given that hotel bathrooms don't usually impress us much, the open and spacious area at the East Miami was a welcomed change. With a rainfall shower head, premium bath products, and a separate soaking tub, it was like a private spa in our room.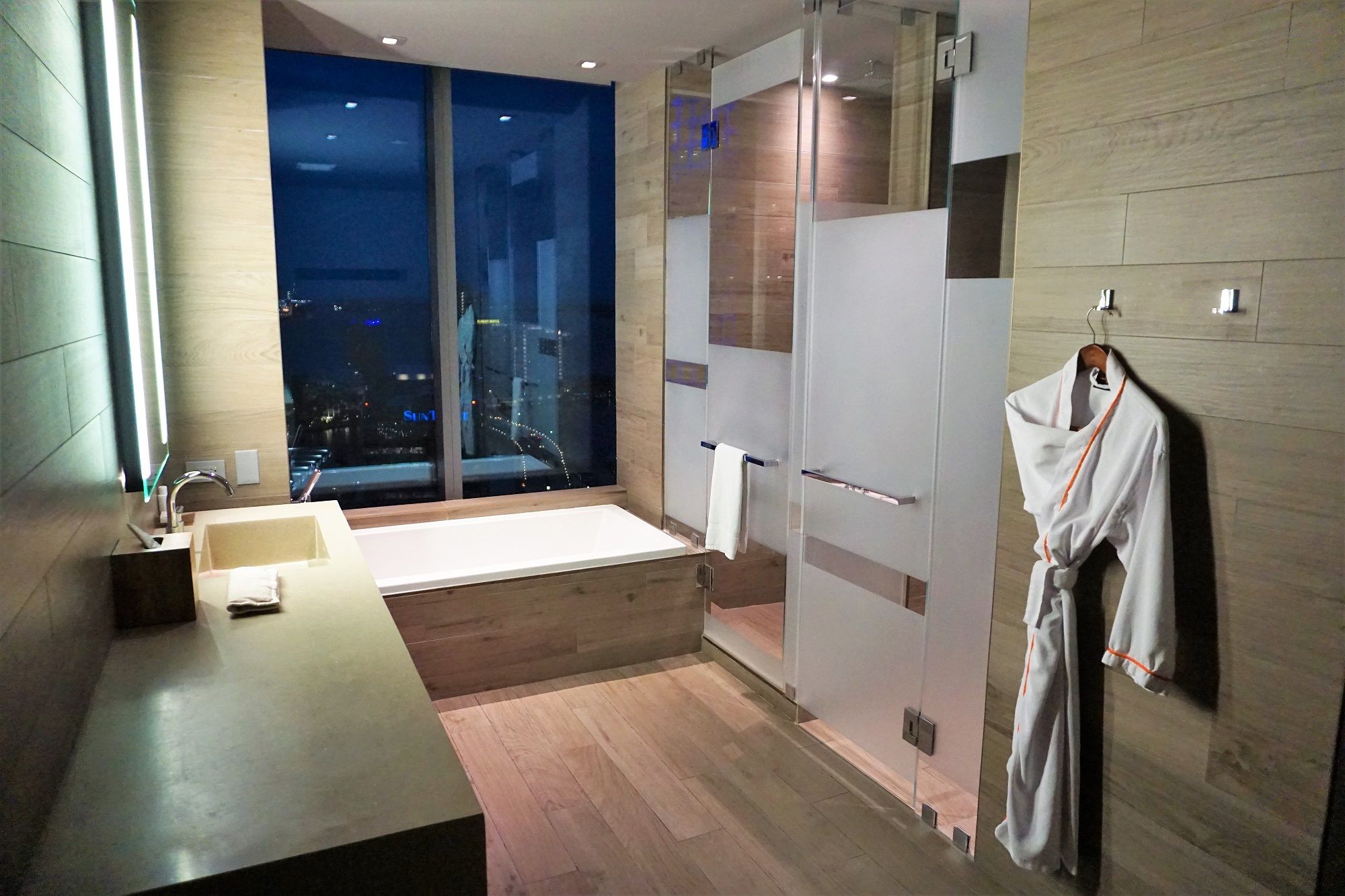 It is an open concept but was separated enough from the sleeping area to allow guests some privacy.
Related Post: Best Places to Stay Near Fort Lauderdale Cruise Port

Public Areas at East Miami
Like most contemporary hotels, East has your typical amenities. Sadly, we did not have time to indulge in any of these offerings. Rather, we were only able to grab some quick photos. For the fitness fiends out there, the BEAST (Body by East) is a full service gym that is available 24 hours a day via your key card.
Located nearby is the 20,000 square foot pool area. This reclusive spot is cleverly designed to make you feel less like you are in the city, and more like you are discovering a hidden island oasis.
A maze like entrance, flanked by tropical trees, opens up to a massive pool area complete with plenty of loungers. Among the options are a lap pool, hot tubs, and a cold plunge.
Perhaps our favorite spot was Sugar, the rooftop bar. Voted the best rooftop bar two years in a row, it provides tropical yet relaxing vibes. There are nooks and crannies with tables and chairs scattered throughout the area that let you escape from other patrons to enjoy your drinks and conversation. There is also a limited food menu available.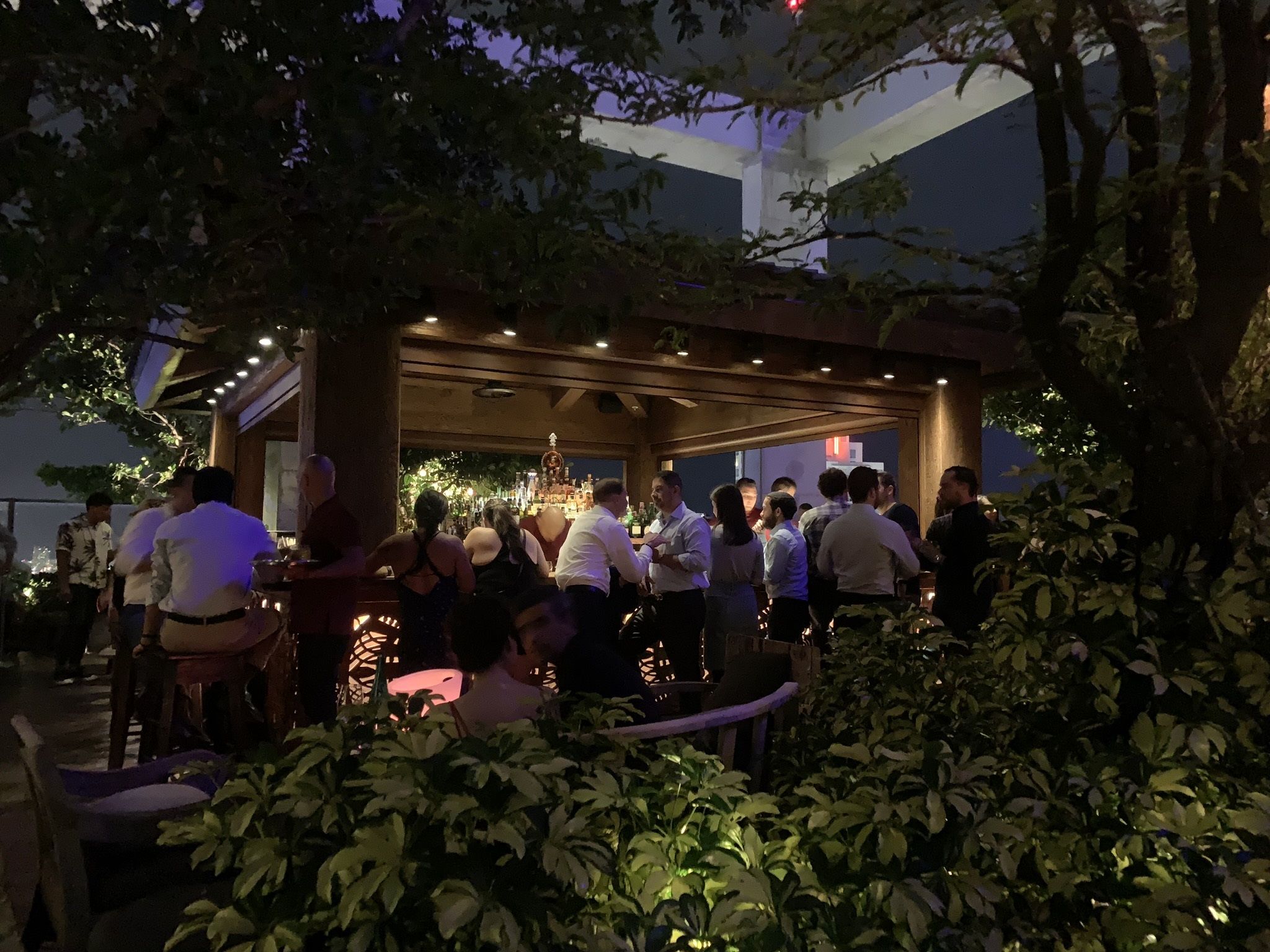 For cocktails, I sampled a cognac drink named "Oh You Fancy, Huh", while the wife tried a tequila based drink, aptly named "B Positive". However, the Florida weather did not want to cooperate, so we were forced to head inside.
Our waitress suggested that we check out the "hidden" bar on this floor, the Tea Room. Providing us with stamps, we stumbled upon the discrete entrance which revealed a loud and crowded bar scene. This was not exactly our style, so we made a quick exit.
We then found ourselves at the hotel's signature restaurant and bar Quinto La Huella on the fifth floor. While we did not dine here, we did grab another round of cocktails. The vibe in the restaurant was casual and lively, offering a menu of Latin-inspired drinks and small plates. There is both indoor and outdoor seating, with a large space that blends natural elements and rustic decor.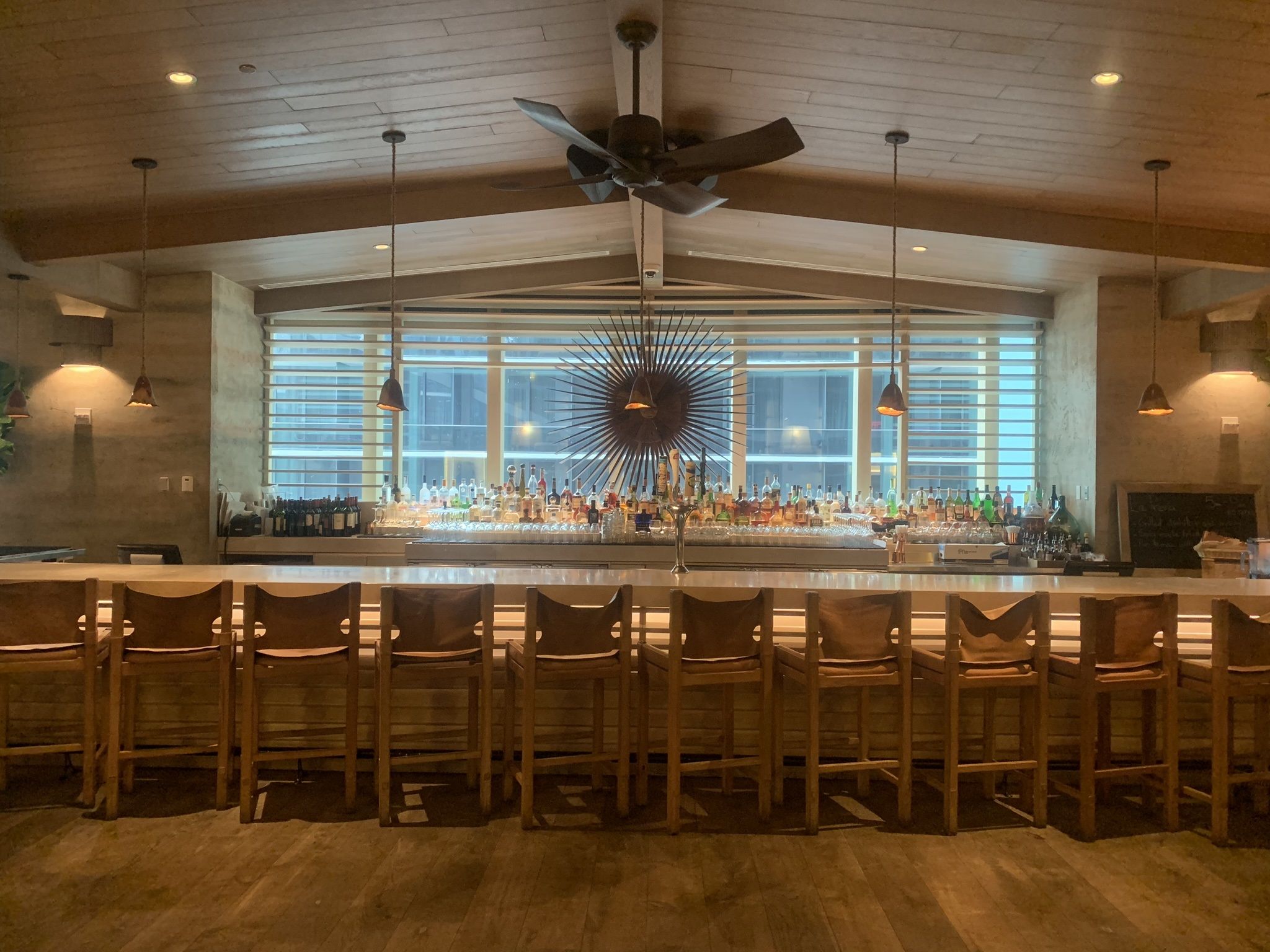 The next morning, we checked out of the hotel to head to the cruise port around 10 am. While we did hit a bit of traffic, the total travel time from the hotel to the cruise port was just slightly more than 20 minutes.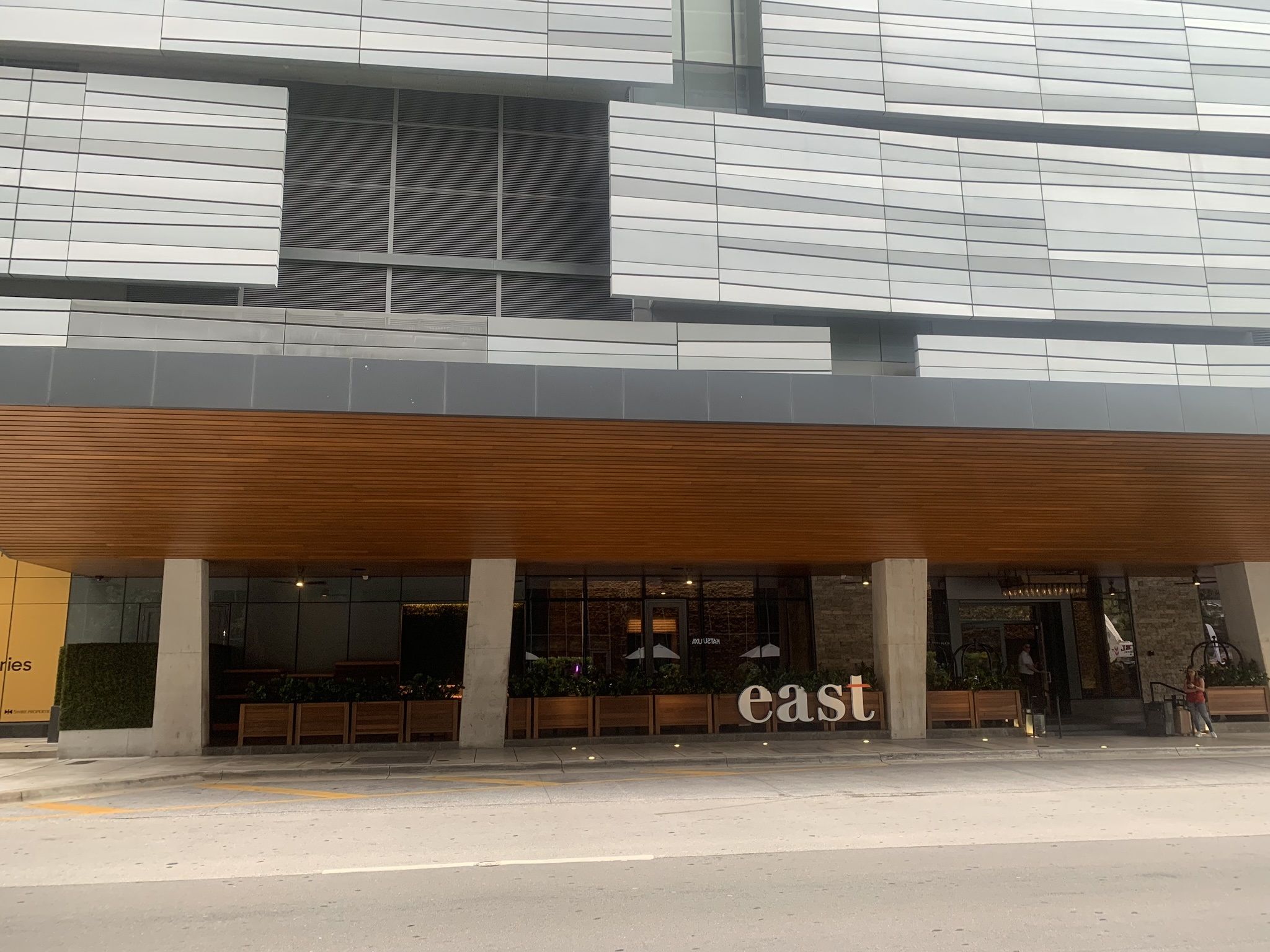 Although we were only at East Miami for a brief period of time, we would not hesitate to book another stay at this trendy hotel. Our only regret was that we were not able to fully utilize all of the hotel facilities. East Miami certainly delivers an upscale experience without breaking the bank! This hotel is perfect for those looking for a bit of pampering before or after their cruise vacation.
Comments
Have you stayed at East Miami? What is your favorite pre-cruise hotel in Miami, Florida? Drop us an anchor below with your reviews of this modern and luxurious hotel.