Ship Overview
Celebrity Beyond is the third ship in Celebrity Cruises' innovative Edge Class. This 140.6K gross ton ship is longer and taller than her sister ships, Edge and Apex. With a guest capacity of 3,260, Celebrity Beyond offers 179 more staterooms, more restaurants and bars, and a larger Resort Pool Deck.
While this vessel is pretty similar to the previous ships in the class, Celebrity Beyond does have a few unique features of her own as well as elevated design elements and décor.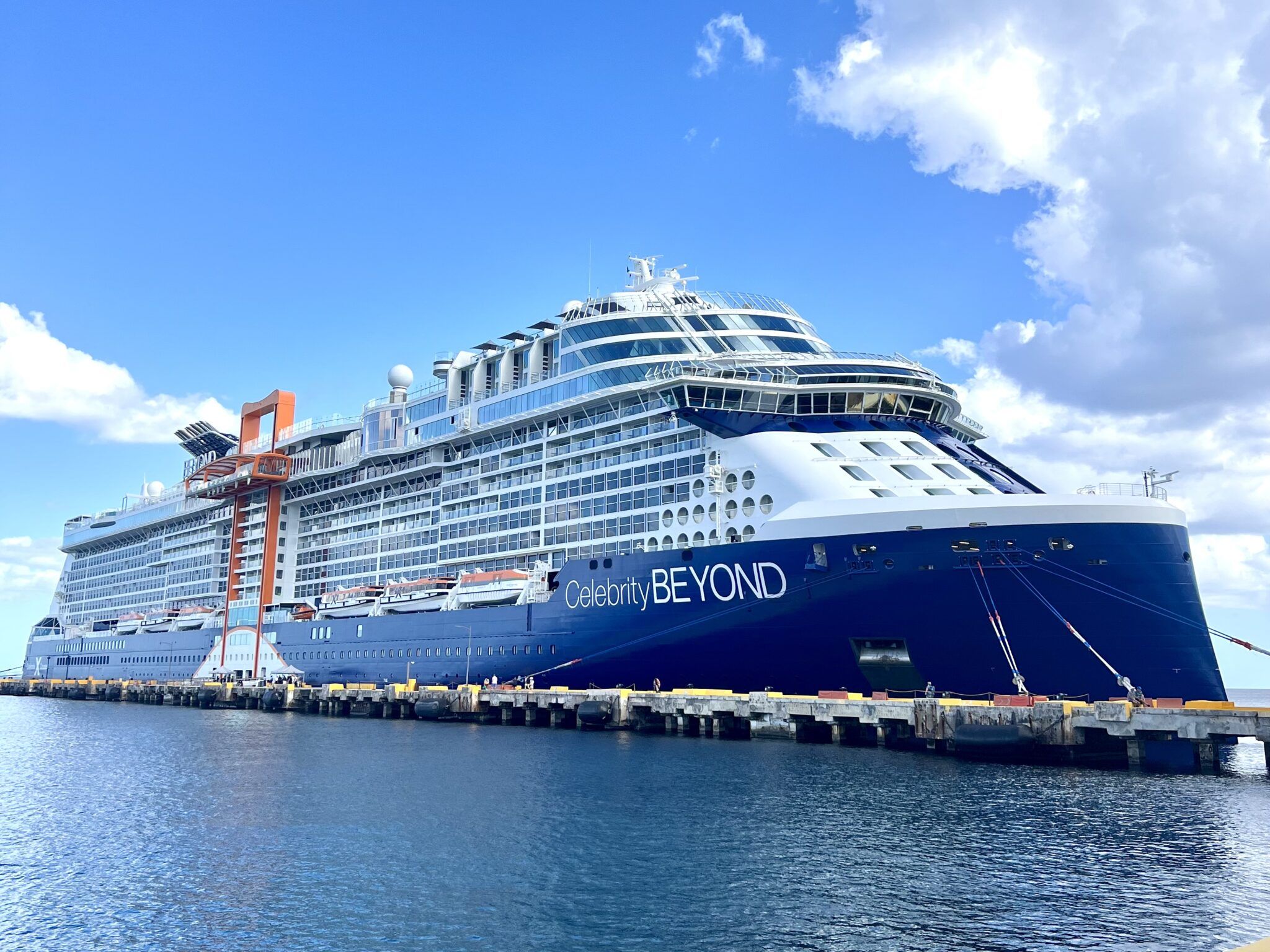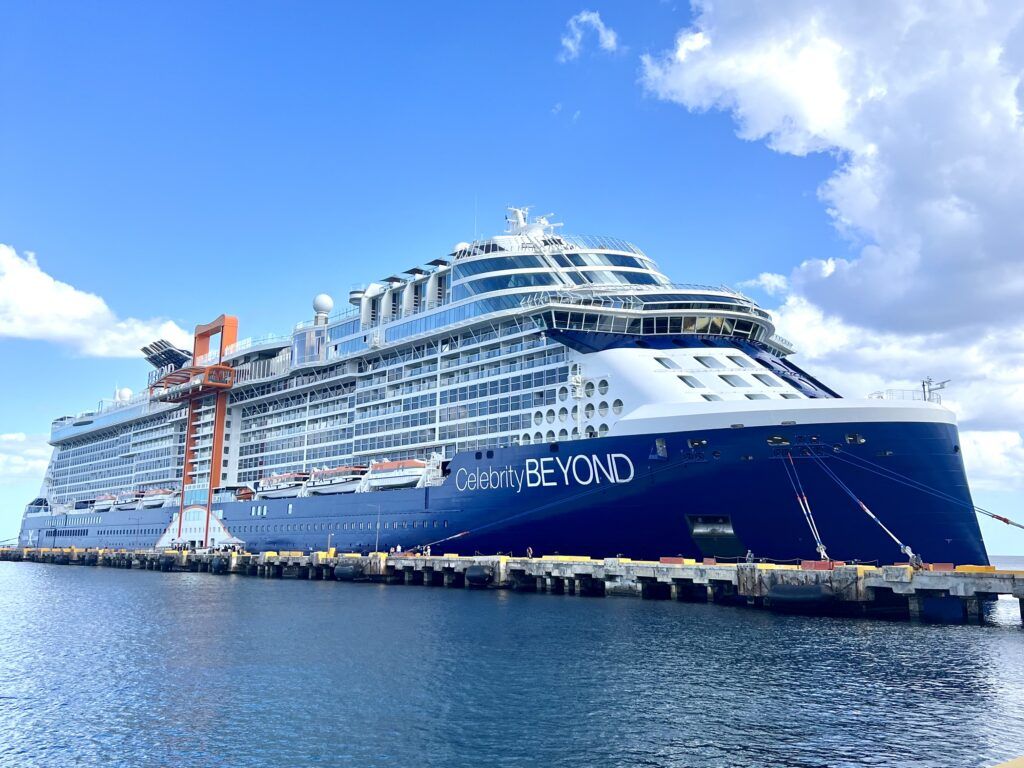 Perhaps the most stunning transformation is the Sunset Bar. Located aft on deck 15, this 2-story space has been completely reimagined. With a Moroccan-style vibe, comfy furniture, a new signature menu, and great views, this is the perfect place to chill day or night.
Also new to Celebrity Beyond is the specialty restaurant Le Voyage. This restaurant created by chef Daniel Boulud is inspired by travel and showcases global cuisine. With an intimate atmosphere and upscale menu selections, this venue is a great new addition to the Celebrity Cruises fleet.
In terms of other bars and restaurants, frequent Celebrity cruisers will be happy to know that they can still find the Martini Bar in the Grand Plaza, Cafe al Bacio, Fine Cut Steakhouse, Le Petit Chef, and more. The World Class Bar found on Solstice Class ships also makes a return on this vessel.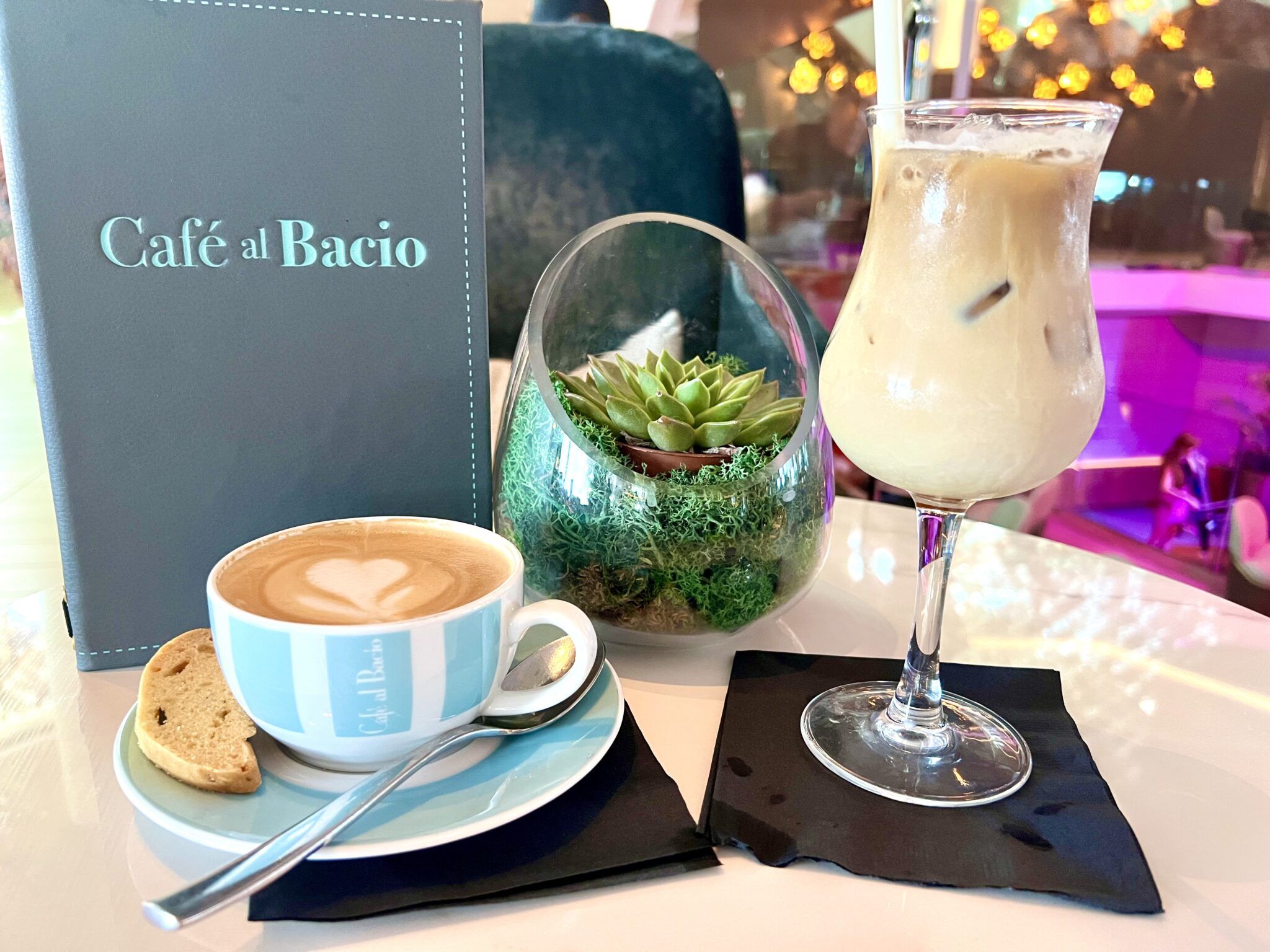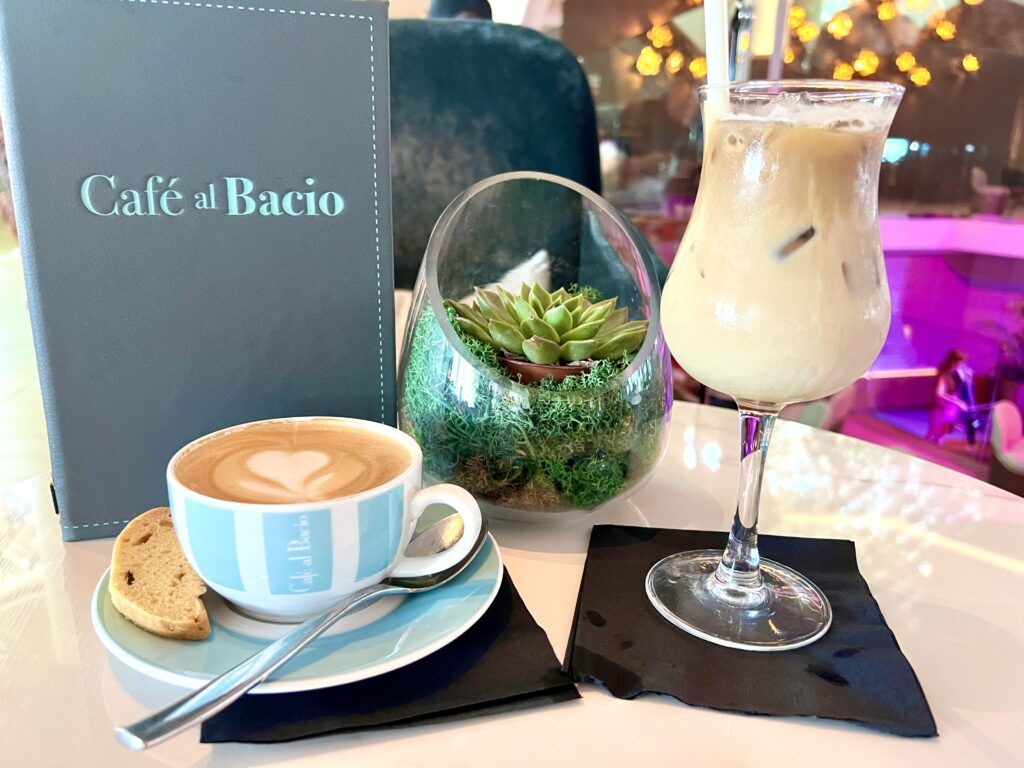 Like Celebrity Edge and Apex, Celebrity Beyond features four complimentary main dining rooms. These dining rooms offer a rotational menu as well as a few exclusive dishes at each venue, giving cruisers plenty of options.
When it comes to entertainment this ship goes beyond her sisters to offer several innovative shows and even features two full production casts. The main theater shows include Arte, Stage Door, and Elements. Each of these productions incorporates intricate use of the digital screens for one-of-a-kind performances. Not to mention, there are also shows in Eden and in The Club.
As huge fans of the Edge Class, we are happy to report that this newest iteration is even sleeker, tastier, and more entertaining! Celebrity Beyond is the perfect mega-ship for those looking for a luxury resort at sea experience.
If you opt for a suite, the Retreat offers an even more luxurious experience with an exclusive restaurant, a 40% larger sundeck with a pool, a bar, lounge, and posh accommodations.
Celebrity Beyond is now sailing the Caribbean and will return to Europe for Summer 2023.
EXCLUSIVE SAVINGS: Get Deals on Celebrity Beyond Cruises!
Watch Our Celebrity Beyond Cruise Ship Review Video!
Celebrity Beyond Caribbean Cruise Review – Pre-Cruise
Our First Look at Celebrity Beyond
Prior to our 5-day Celebrity Beyond Caribbean cruise review, we spent an additional two days onboard this ship for a short media preview sailing.
During this trip, we were able to explore the entire vessel, experience the Retreat, dine at some specialty restaurants, and attend a few informational sessions. It was a busy couple of days, but we are glad we had the extra time.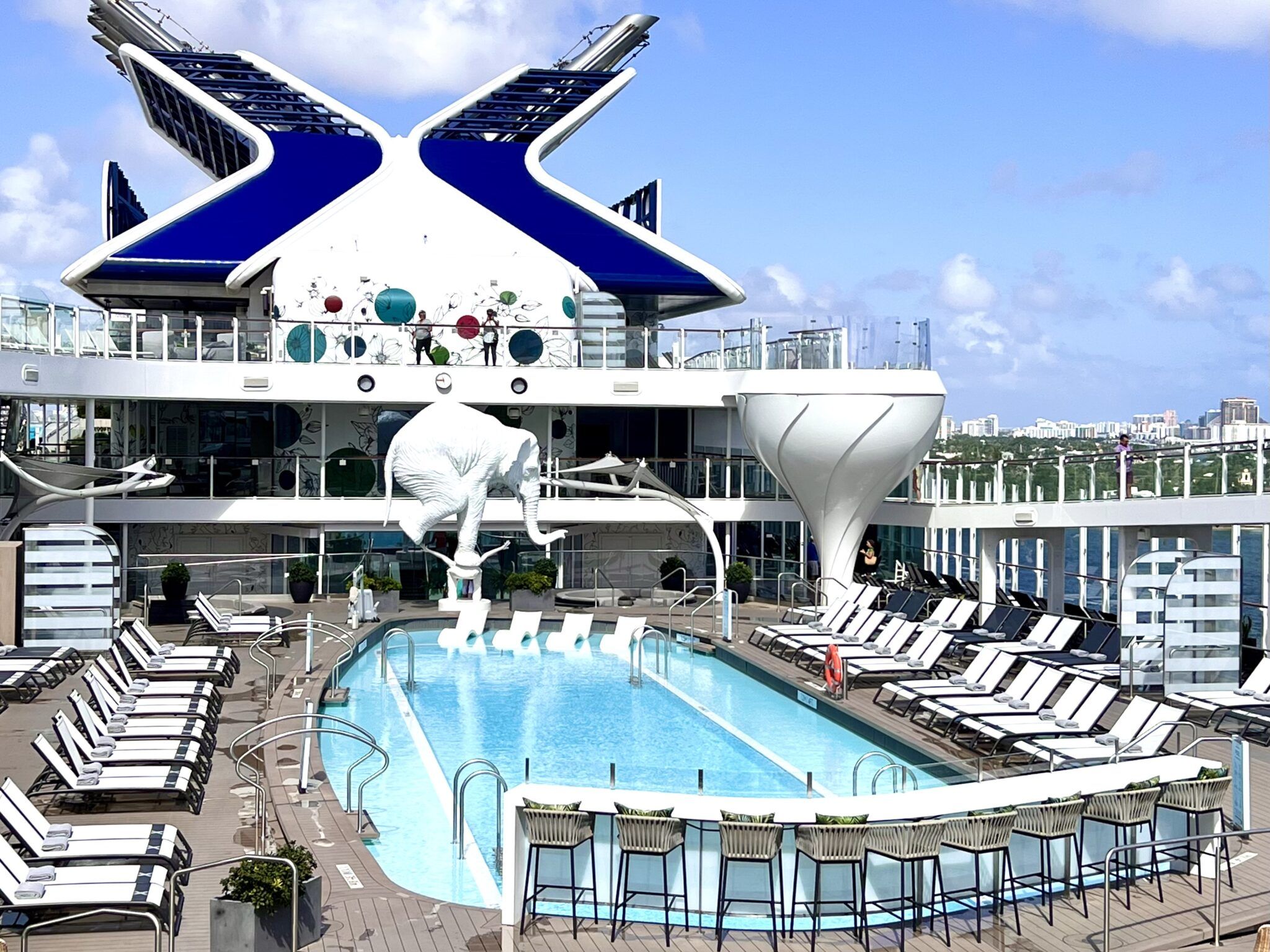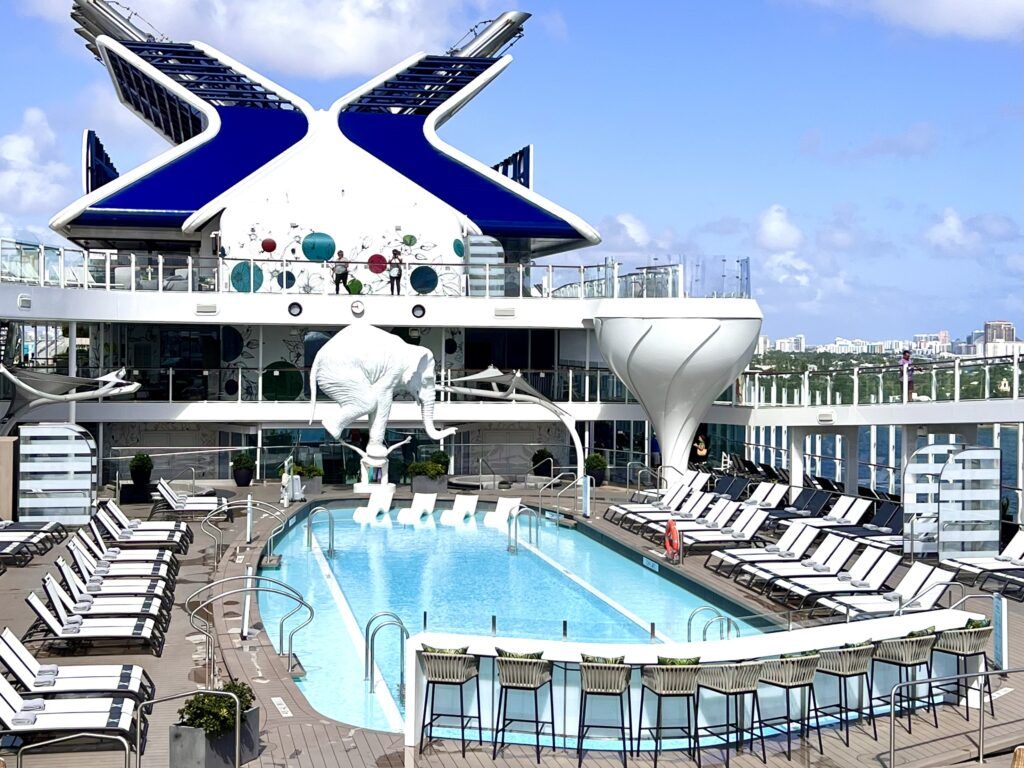 With a smooth embarkation process at Port Everglades, we proceeded through check-in, security, and onto the ship in about 20 minutes. Given this was a trade event, there were no porters available at the cruise terminal. This meant our first order of business was dropping off our bags in the cabin.
With our Valiant Lady MerMaiden sailing immediately prior to this event, we were carrying around close to 3 weeks worth of luggage. And we all know that I do not pack lightly!
For this sailing, we stayed in a Sky Suite on deck 9, cabin 9148. These rooms are spacious and well-appointed. One could certainly get spoiled with all the extra space. We also love that the Sky Suites feature a traditional balcony as opposed to the infinite verandas that come standard in most balcony staterooms on Edge Class ships.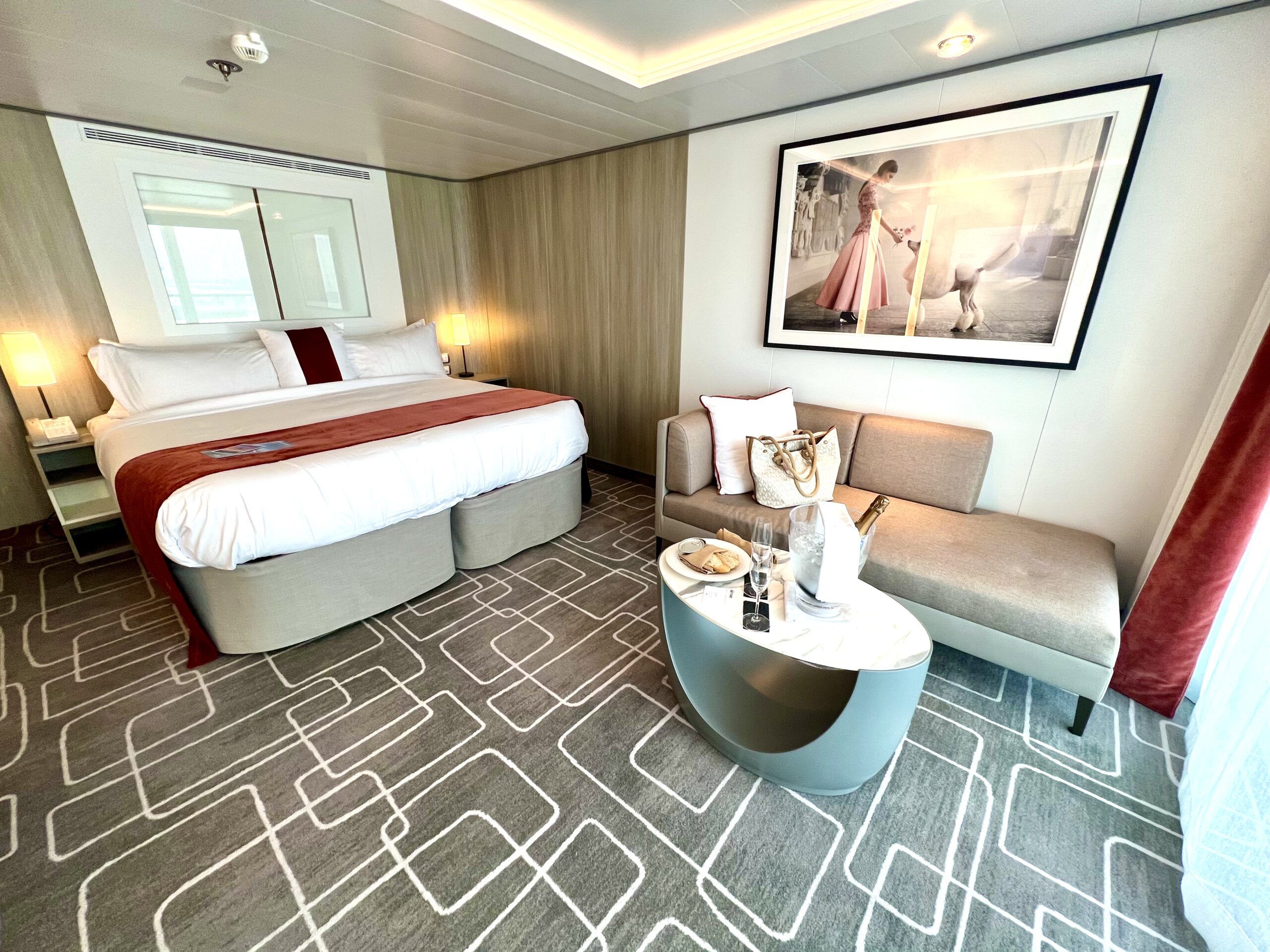 Sky Suites also have access to the Retreat. This exclusive area located forward on decks 15, 16, and 17 includes a lounge, restaurant, bar, and sun deck. Unfortunately, we did not have much time to enjoy the Retreat during this sailing.
Starting at the top of the ship and working our way down, we began our typical embarkation day explorations.
We made sure to visit the Sunset Bar and pool deck before these areas got too busy. When it comes to the Sunset Bar, all we can say is WOW! This Casablanca-inspired space is a chic and trendy spot that is definitely an upgrade from other ships in the Celebrity Cruises' fleet.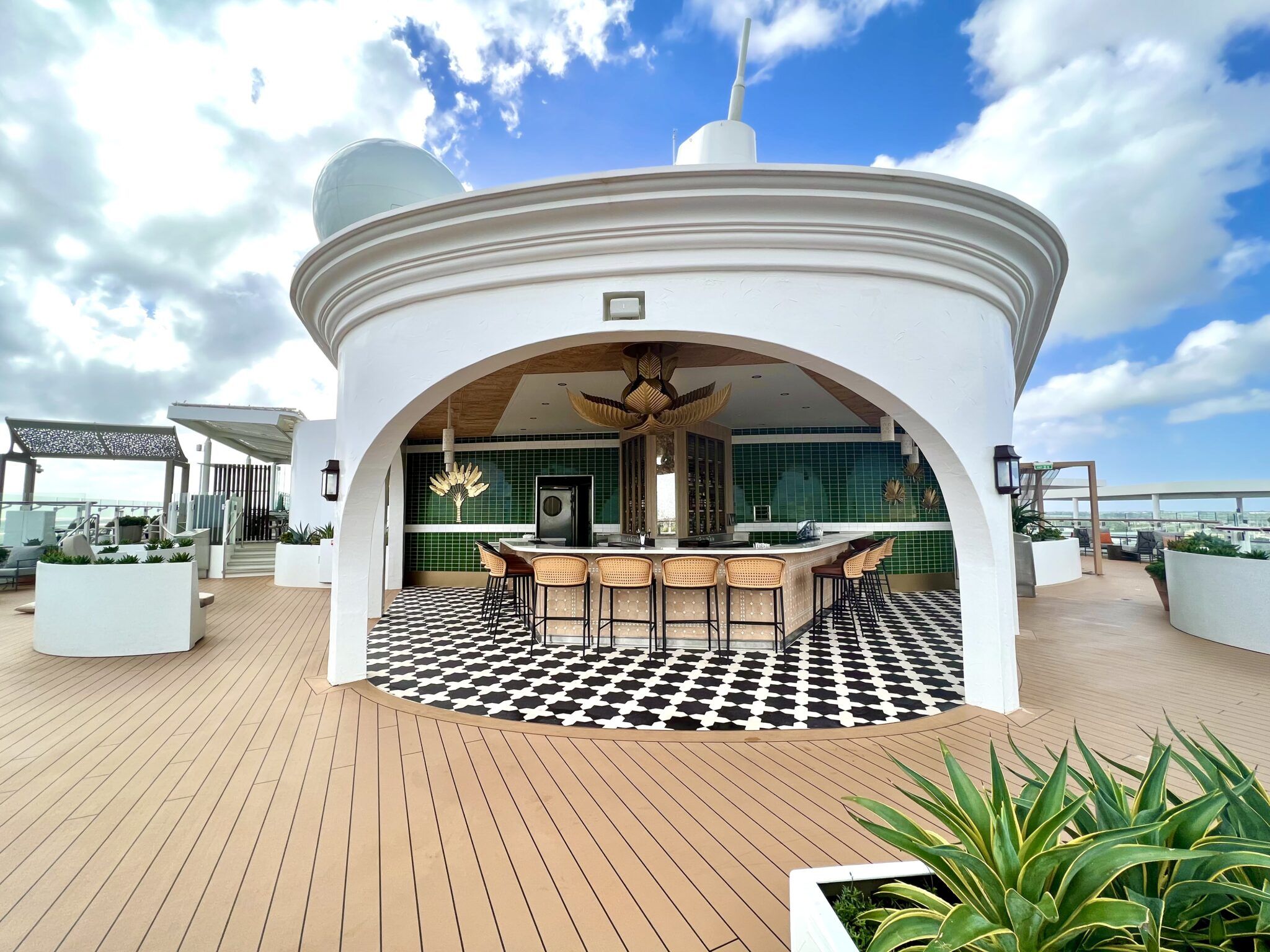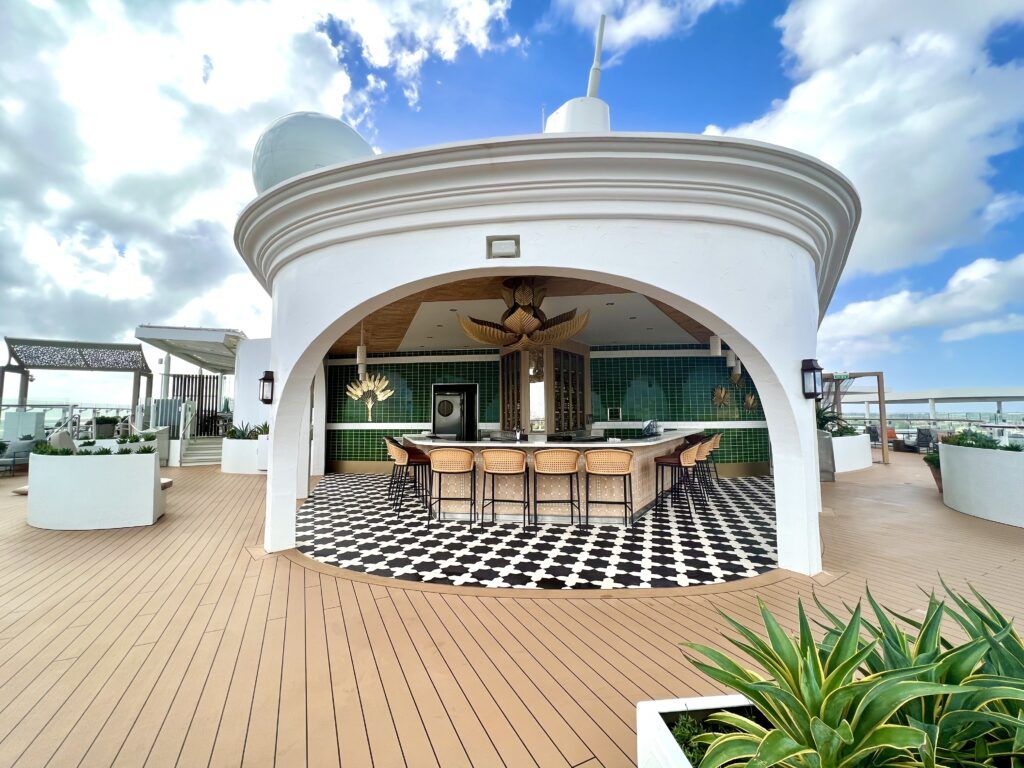 An Evening on Beyond
As part of this media event, we had a hosted cocktail party at 5 PM during sail away and dinner at Le Voyage this evening.
Unfortunately, the weather was not very good, so the cocktail hour was moved from the Sunset Bar to the Retreat. Nonetheless, we were able to meet and chat with fellow media onboard the ship for an hour or so. We did capture a few photos of sail away as well.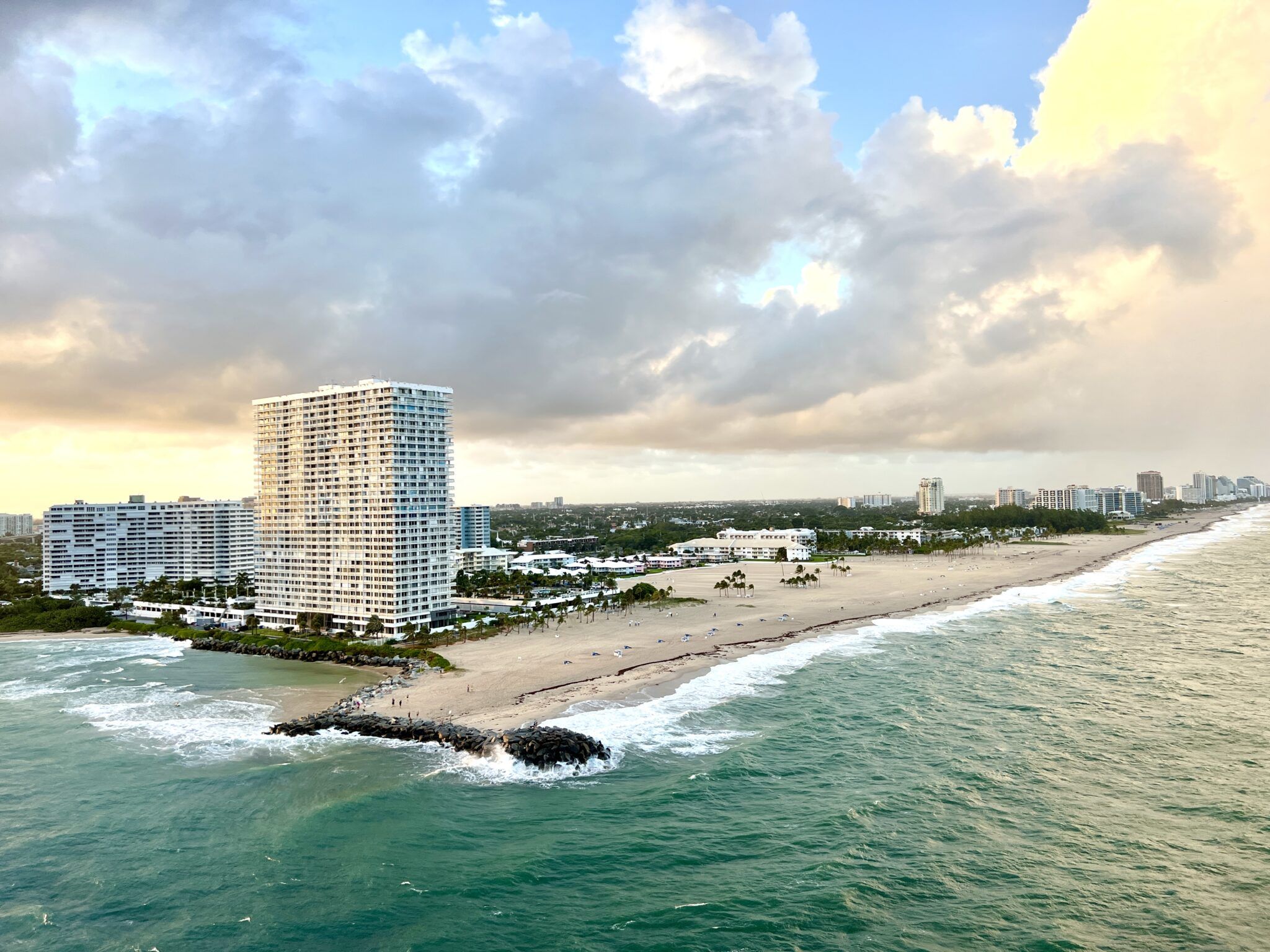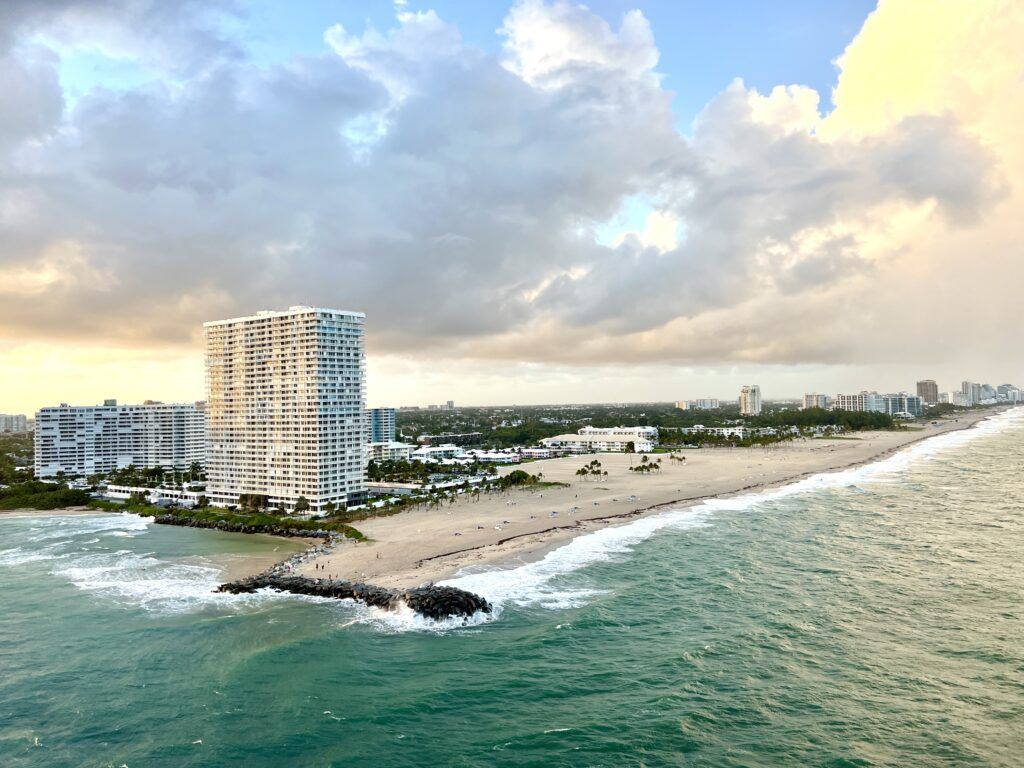 For this sailing, we were lucky enough to get a reservation in Le Voyage for 6:45 PM. This restaurant is in partnership with chef Daniel Boulud, the cruise line's Global Culinary Ambassador. Travel is the inspiration for the menu, featuring a variety of global flavors.
Don was a fan of the Tamarind and Peanut-Crusted Prawns and the Brazilian Moqueca. Of course, I went a bit more traditional with the Vidalia Onion Tart and the Poulet aux Morilles.
At Le Voyage, guests can opt for a set 5-course meal for $125 or choose their own selections for an appetizer, entrée, and dessert for $75. There is also an optional wine pairing for an additional $100.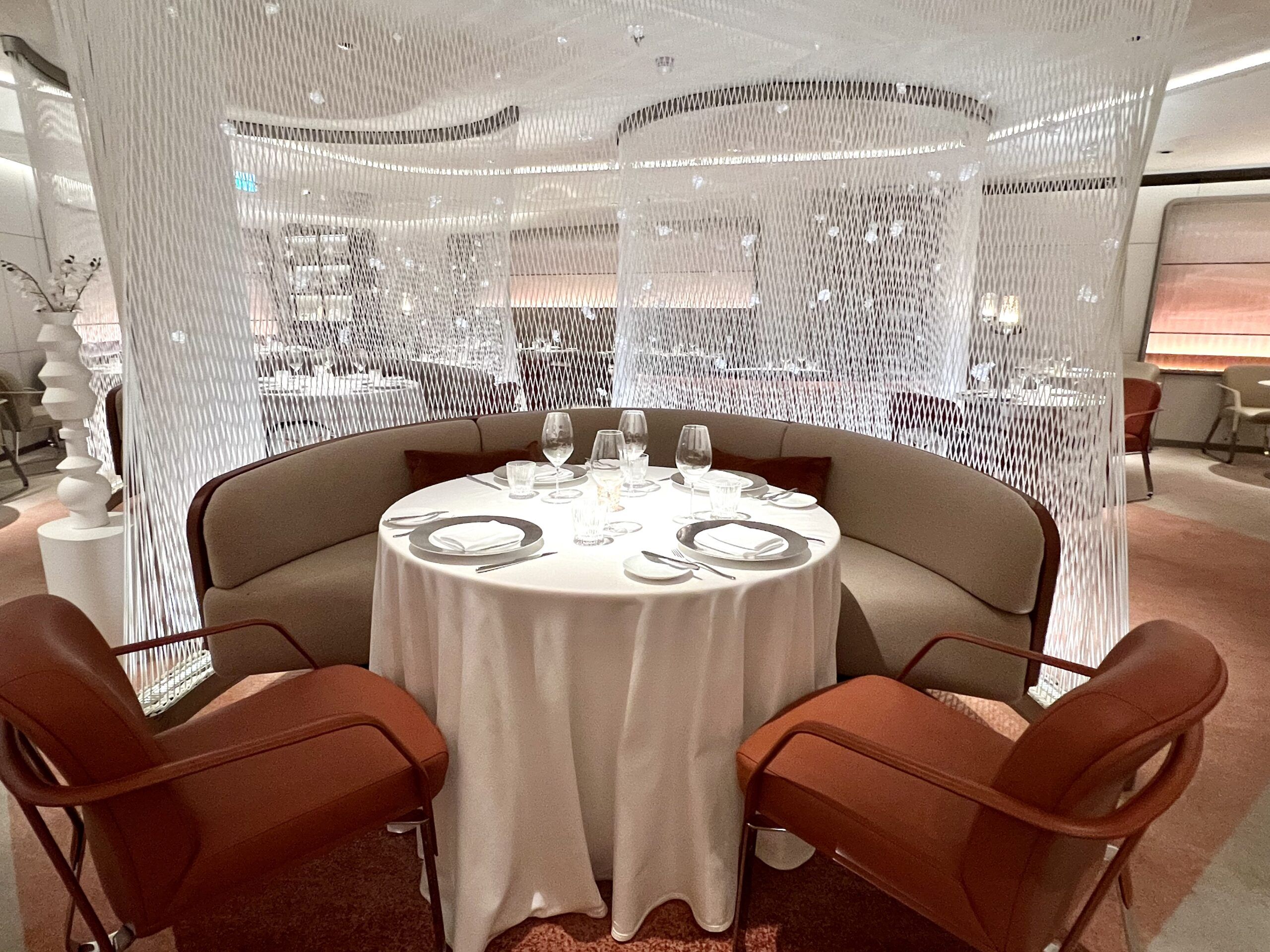 We really enjoyed our dining experience at this specialty restaurant and highly suggest you give it a try. The intimate setting and personalized service make Le Voyage a great option for a special night out during your cruise.
Following dinner, we made our way to the theater for our first of the three new production shows on Celebrity Beyond.
Stage Door features the talented production cast performing Broadway and West End favorites. With strong vocals, well-choreographed dance numbers, and impeccable integration of the digital screens, this show is certainly worth seeing.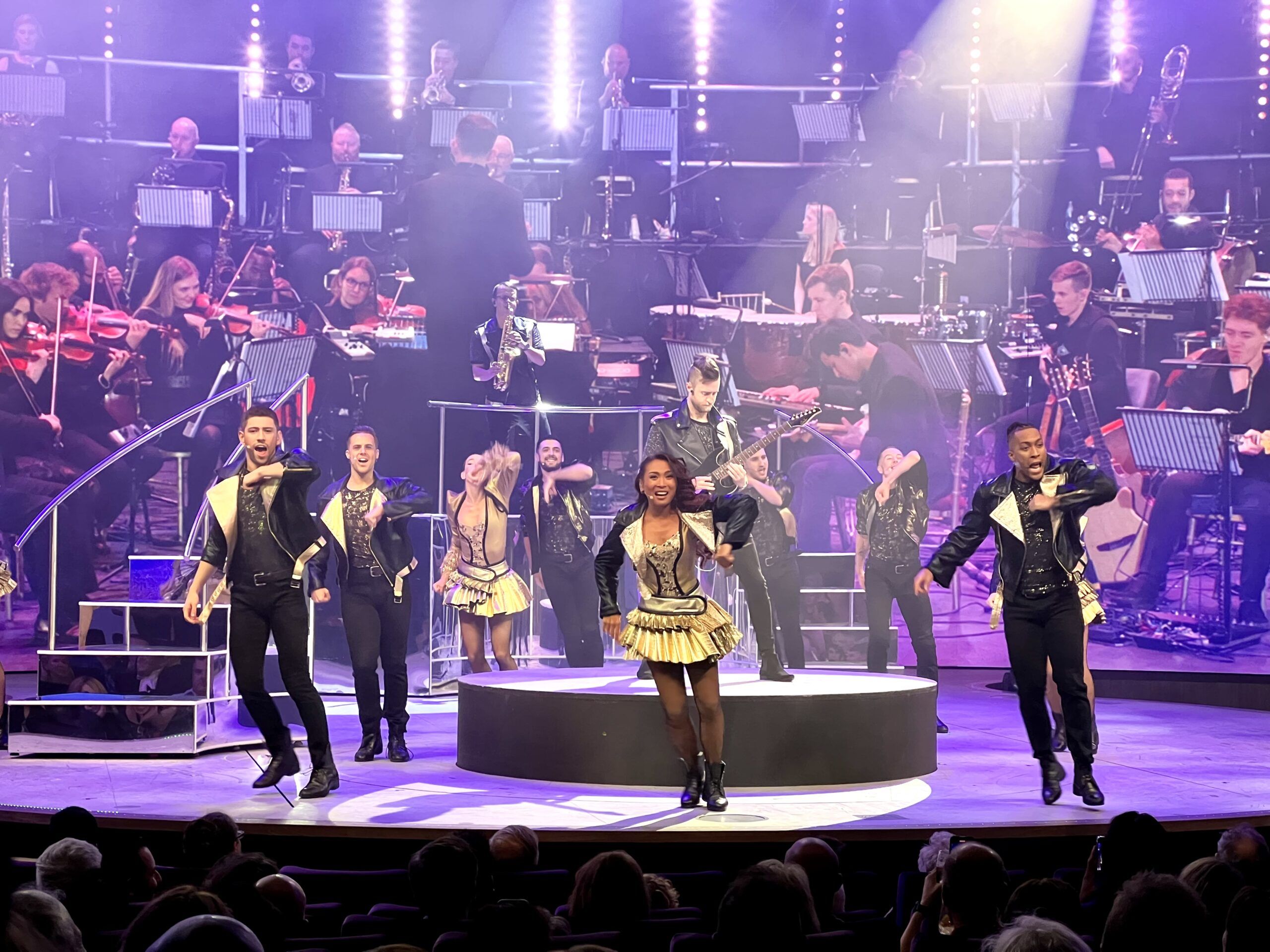 Our first evening onboard Celebrity Beyond culminated with some drinks at the World Class Bar and the Martini Bar. Yes, the World Class Bar found on Solstice Class ships has made a return on Celebrity Beyond featuring a new menu. The Martini Bar has been enhanced as well with more seating and a large chandelier focal point.
Conservations with Celebrity
Our second day of this preview cruise was a Monday, and Don had a few work meetings to attend today. There was also the Conservations with Celebrity talk in the theater this morning. Thus, we started our day with a quick breakfast at the Eden Cafe, then we went our separate ways.
The Conversations with Celebrity was basically a Q&A with Captain Kate and CEO Lisa Lutoff-Perlo. While it's always good to hear from leadership and see Captain Kate, there wasn't really anything in terms of new information or interesting facts during the talk.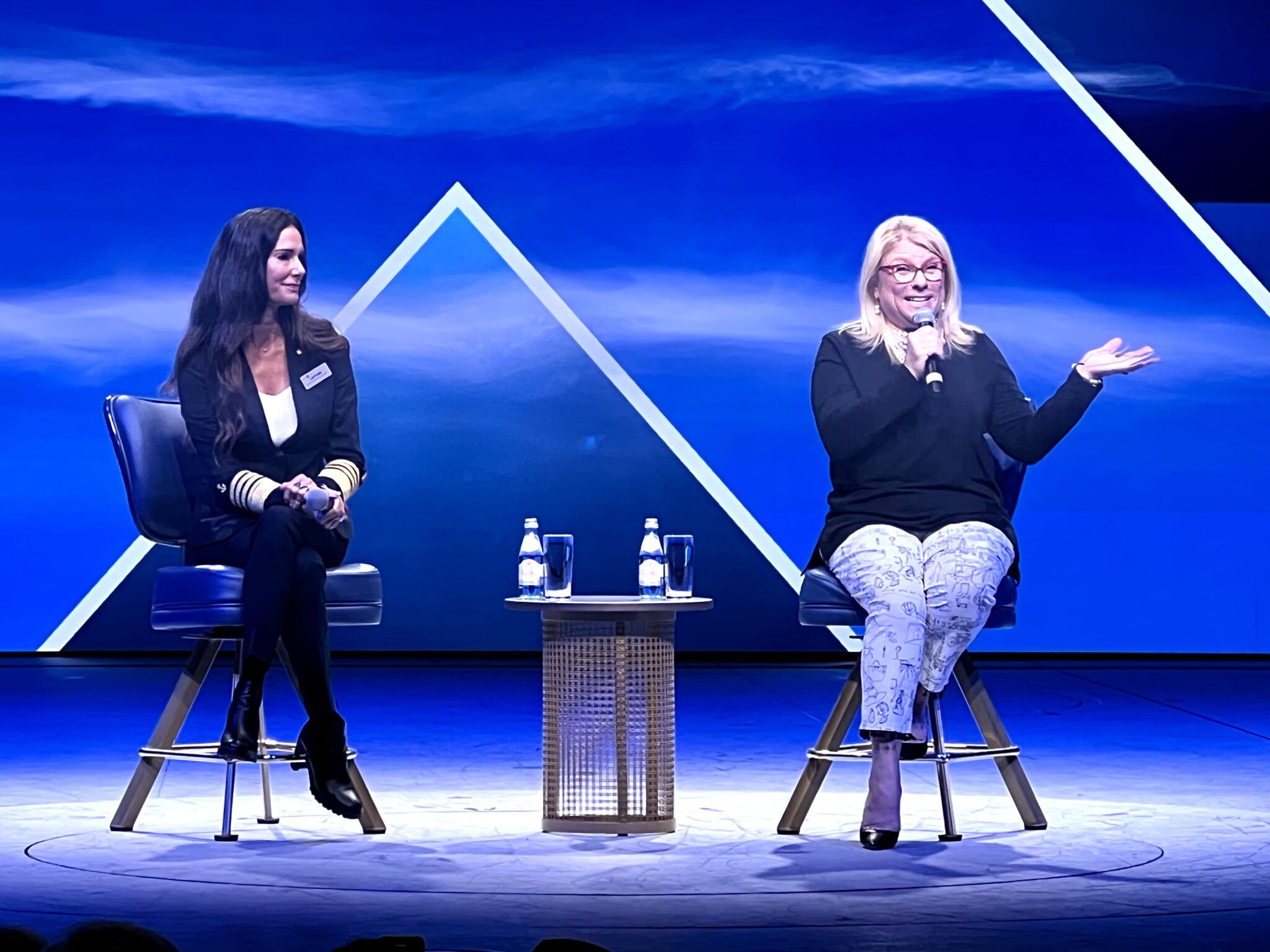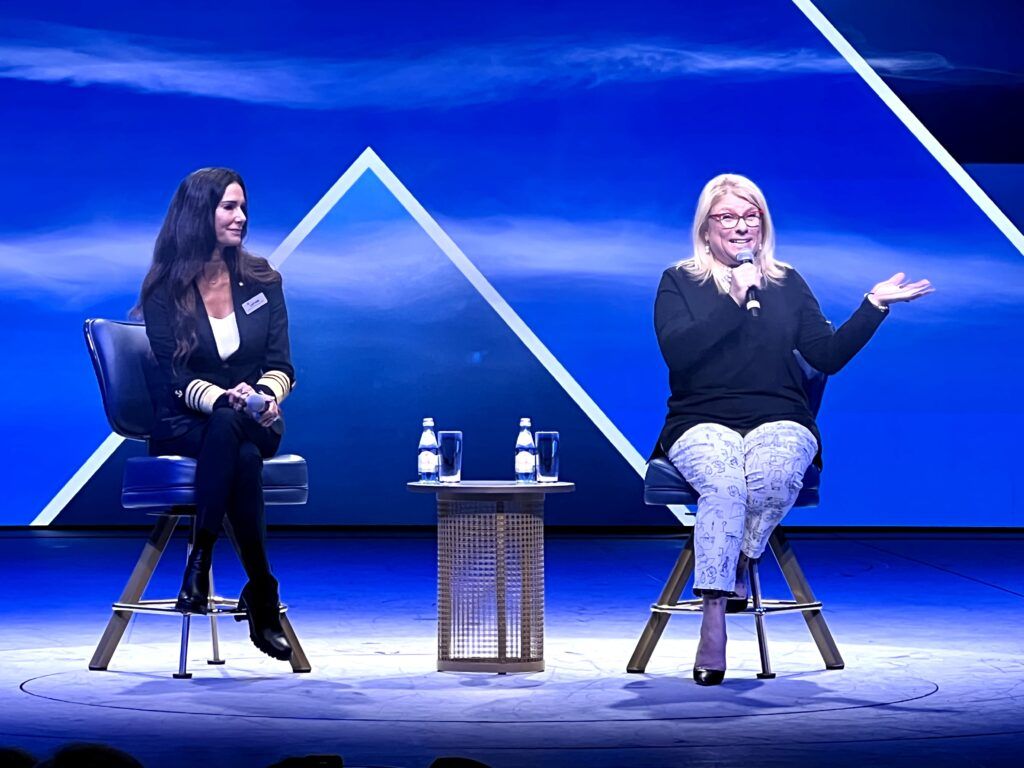 Since we were staying in the Retreat, we decided to try lunch at Luminae. Luminae is the restaurant reserved exclusively for suite guests. This restaurant is open on sea days for lunch and every day for breakfast and dinner. The lunch and dinner menus do rotate daily.
From today's lunch menu, I opted for the cobb salad, and hubby did the shrimp po'boy. We also tried the bread pudding dessert. These items did feel a bit more upscale than the offerings in the main dining room.
Following lunch, we set off to explore more of the ship, including some of the different staterooms open for viewing. We were able to check out an Iconic Suite, Edge Villa, Sunset Veranda, and several other stateroom categories.
Further, we had some time to pop into the kids' area, Camp at Sea, for some photos and videos sans children.
Dinner and a Show
The next events on our agenda were a culinary tour at 5 PM followed by dinner at Le Petit Chef at 6 PM.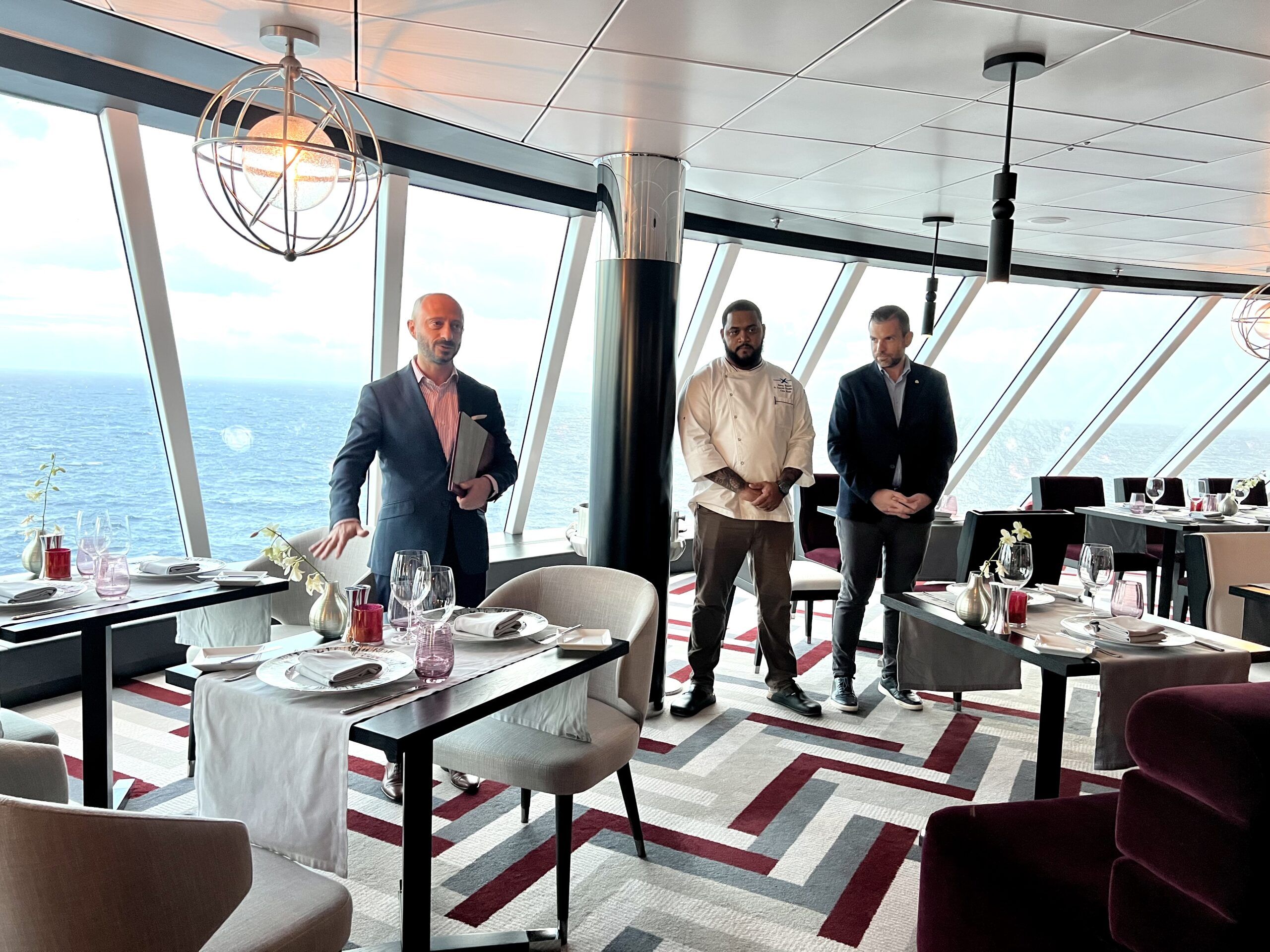 This culinary tour was led by executives from the Food and Beverage Team. The tour started in Luminae and made additional stops in the World Class Bar and Le Voyage to learn a bit more about these venues and maybe sample a few items. With great timing, we were also able to catch a chandelier show in the Grand Plaza.
By now, it was time to head off to our dinner reservation. Le Petit Chef on Celebrity Beyond does have a different show and menu than the other Edge Class ships. During this show, we learned "How to Become the World's Greatest Celebrity Chef".
While not our favorite Petit Chef show nor our favorite menu, this digitally-enhanced meal is always a fun time.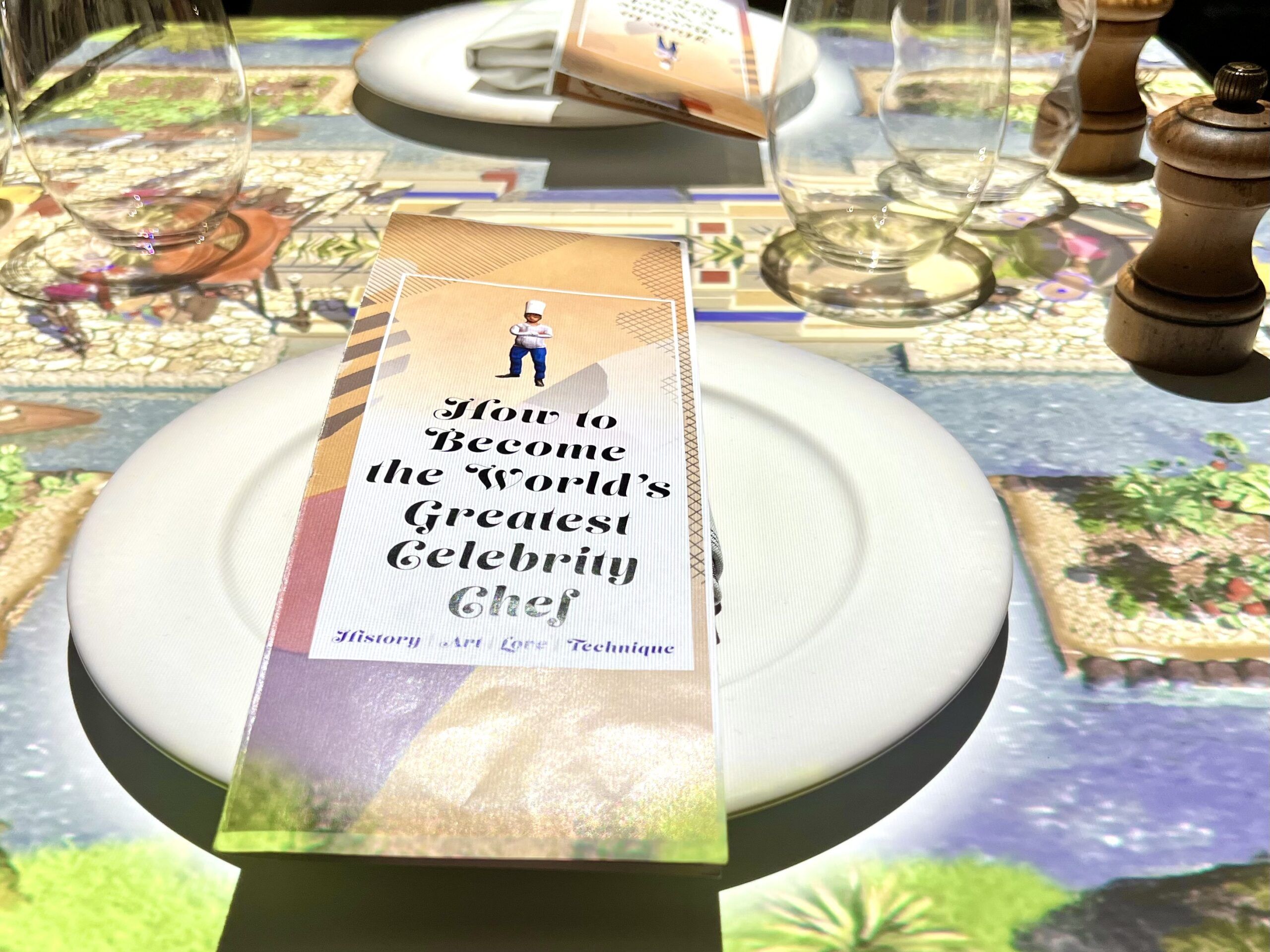 As luck would have it, we were out of dinner just in time to catch the mixology skills of Captain Kate at the Martini Bar before heading to the theater for show time.
Tonight's show was Arte. This production was perhaps our favorite of the three shows mainly because of the integration of the digital screens into the performance.
Arte brings works of art to life with song, dance, and acrobatics. Once again, the talented cast of performers put on a great show.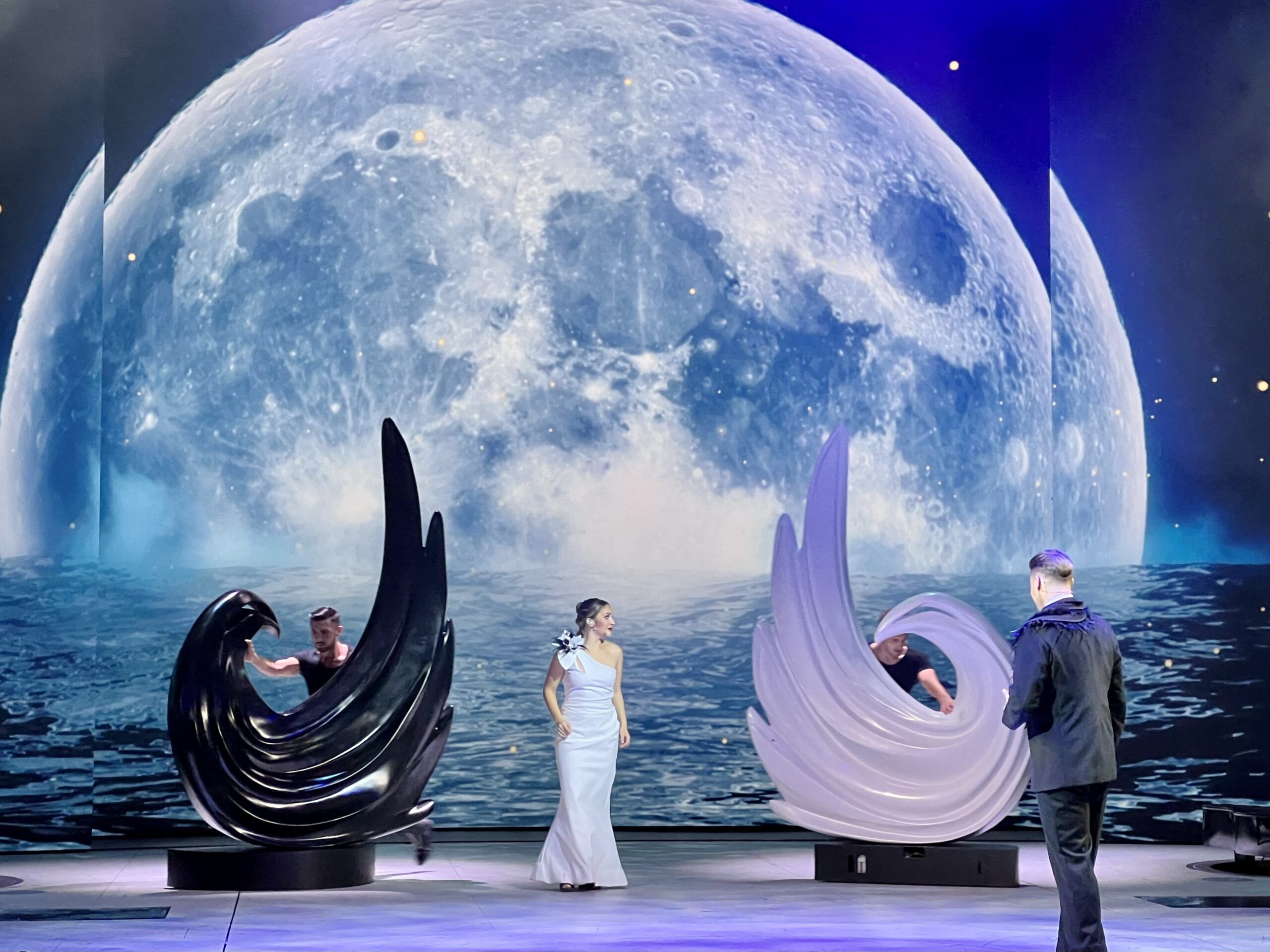 Following the show, we grabbed a round of drinks with some media folks then called it a night. While we were staying onboard for the next 5-day sailing, we were switching cabins. Thus, this meant that we still had to pack everything up in prep for our turnaround day.
Celebrity Beyond Caribbean Cruise Review – Day 1
Officially the First Guests on Celebrity Beyond
Day 1 of this Celebrity Beyond Western Caribbean Cruise Review was a rather atypical embarkation day. Since we were on the 2-day media sailing prior, we were being treated as back to back guests.
This morning we needed to exit our room by 8 AM and meet in the Tuscan restaurant by 8:30 AM. Unfortunately, we would be downgrading cabins for this portion of the trip. We did inquire at Guest Services about staying in our Sky Suite, but the entire Retreat was sold out for this sailing.
Getting ready and packing up our remaining items, we grabbed some coffee and continental items from Cafe al Bacio before meeting up with the 102 other consecutive cruisers.
Escorted off the ship, through customs, and back into the terminal, we were issued new key cards and allowed back onboard the ship by 9:45 AM. We were officially the first ones back onboard Celebrity Beyond!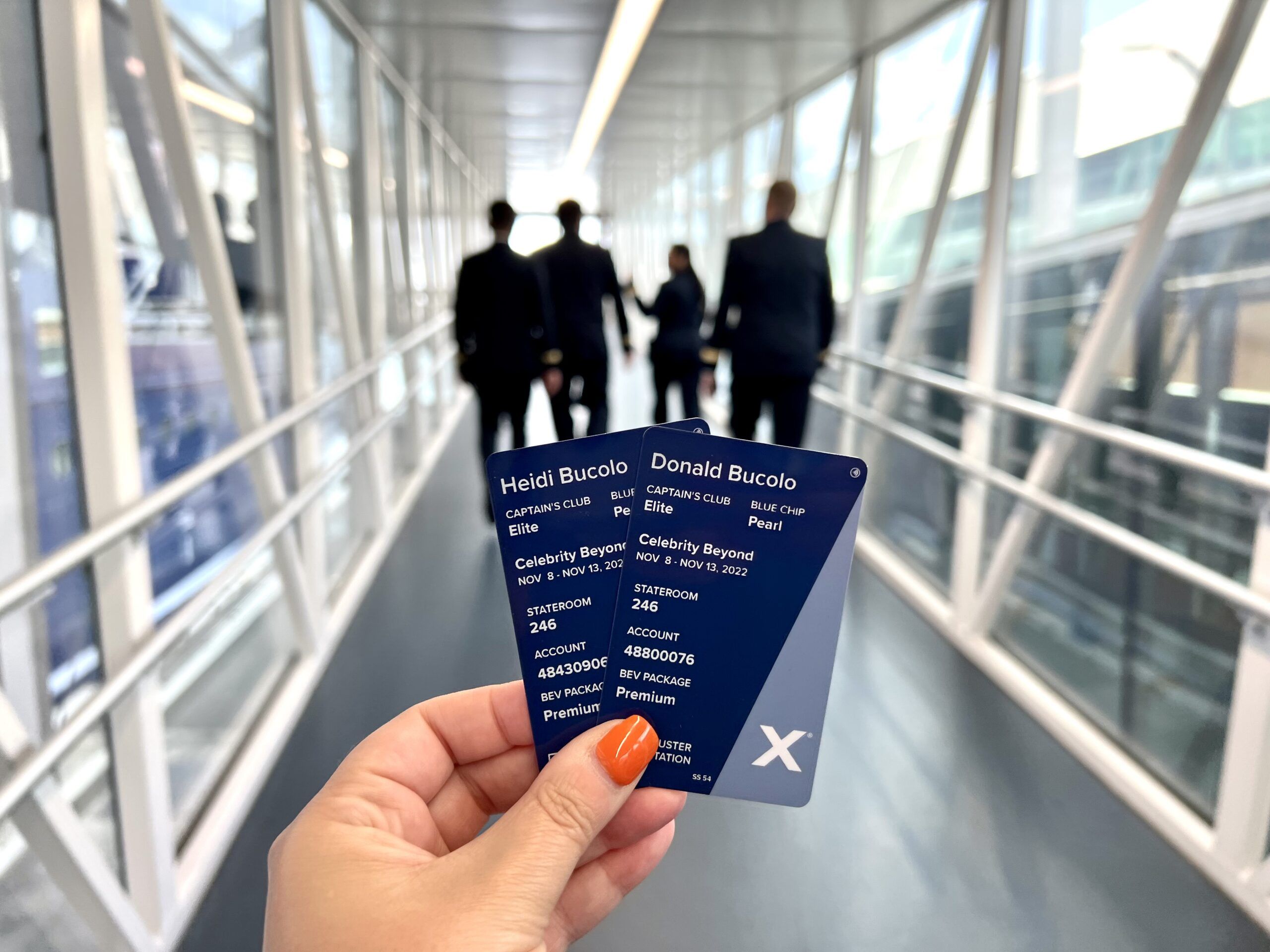 Our first order of business was securing photos and videos of the popular venues that we couldn't get the first day, mainly the Sunset Bar, pool and Pool Bar, and the Grand Plaza. Having the ship essentially to ourselves for over an hour was great.
During this time, we also took a tour of the spa and checked out the thermal suite. For this sailing, we won an upgrade bid for an Aqua Class cabin. This meant that we had access to the Sea Thermal Suite for the week.
Now, Time to Relax
By the time other cruisers starting boarding the ship, we had captured a majority of the remaining photos and videos we needed of the ship. Thus, we quickly dropped off our backpack in our new stateroom and checked into our muster station at the casino.
We had tried to get lunch at Le Grand Bistro our previous two days onboard, but the venue was always reserved. So, since we had onboard credit for this sailing, we decided to pay the a la carte prices to give it a try today.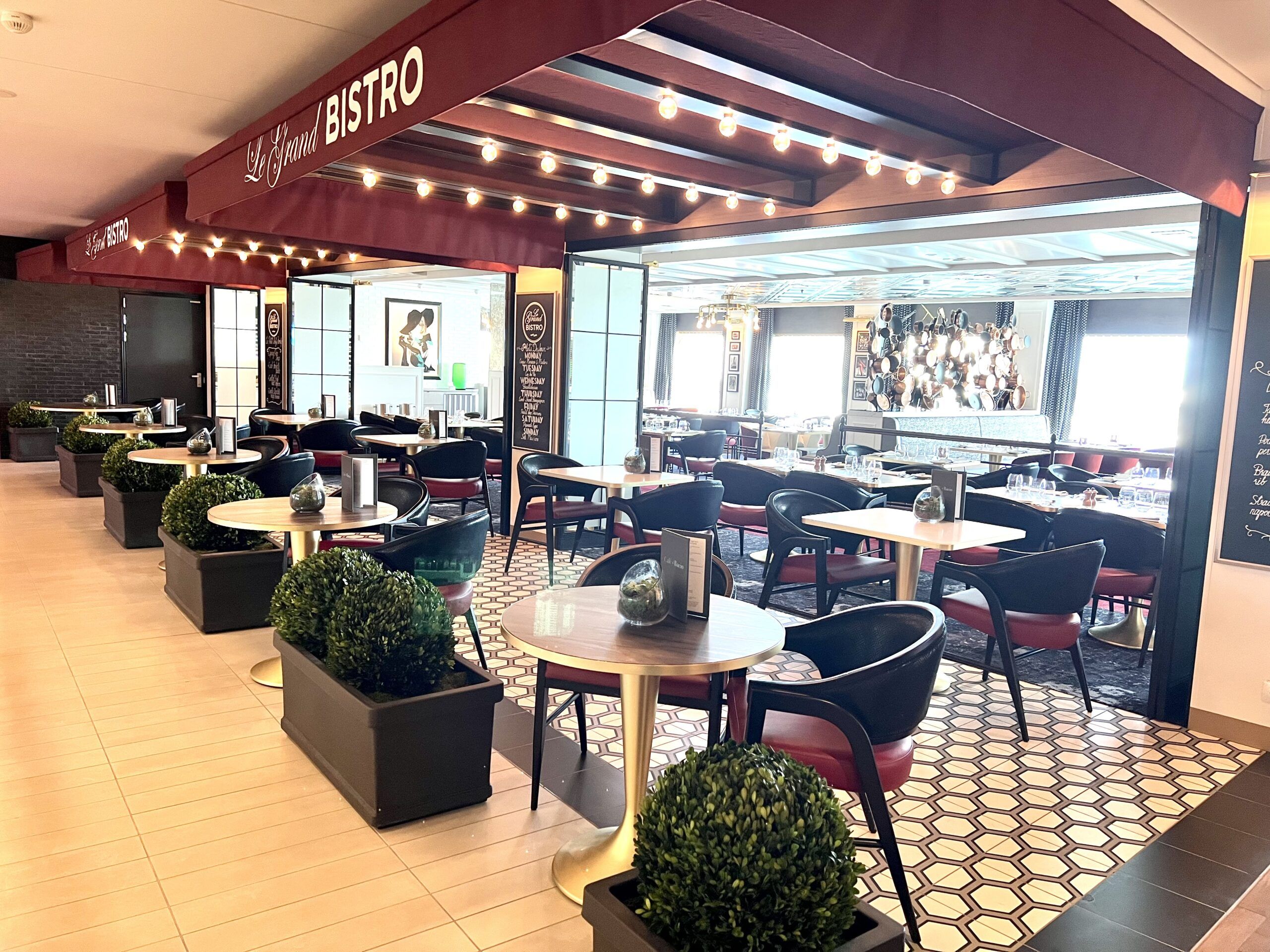 Unfortunately, the service was extremely slow, and they were out of several items on the menu. The charcuterie board, escargot, and baguette sandwiches that we ordered were good though probably not worth the $30 per person upcharge.
Finally done with our meal around 2 PM, we grabbed an afternoon latte and headed back to our cabin to get unpacked. While our last cabin was located on deck 9 near the forward bank of elevators, this cabin was also on deck 9 but near the aft bank of elevators.
Cabin 9246 is an Aqua Class stateroom. This cabin is a standard infinite veranda stateroom that comes with a few extra Aqua Class perks, like use of the thermal suite, fitness classes, and the exclusive restaurant Blu.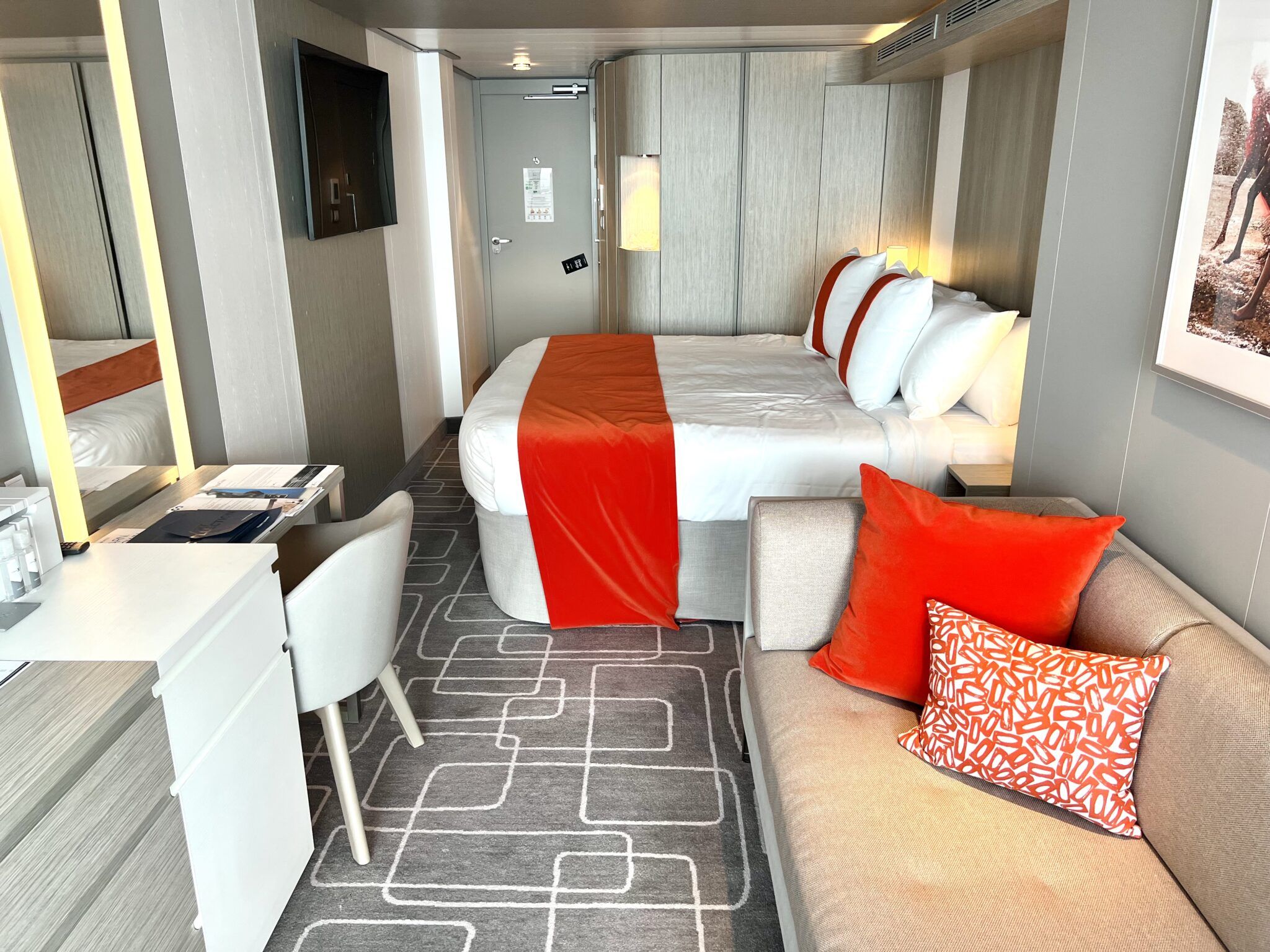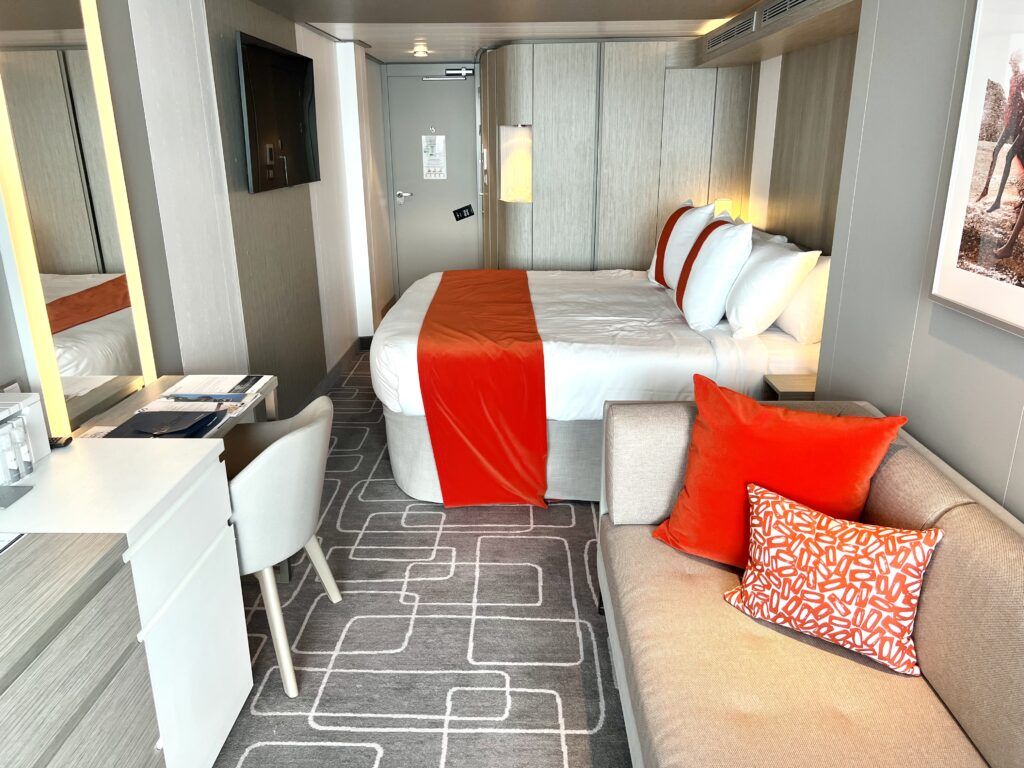 Don't get us wrong, this cabin is very modern and chic, but we were a little spoiled with our Sky Suite in terms of all the extra space.
While the infinite verandas are an innovative twist on a balcony, we are not big fans. To us, they are more like a glorified window. We definitely still prefer a traditional balcony setup. This is why we booked a Sunset Veranda stateroom for our anniversary trip on this ship next year.
Given the approaching tropical weather, Captain Kafetzis decided to push off a bit early to keep us ahead of the storm. Thus, we rushed up to the portside of the Rooftop Garden to watch this quick sail away.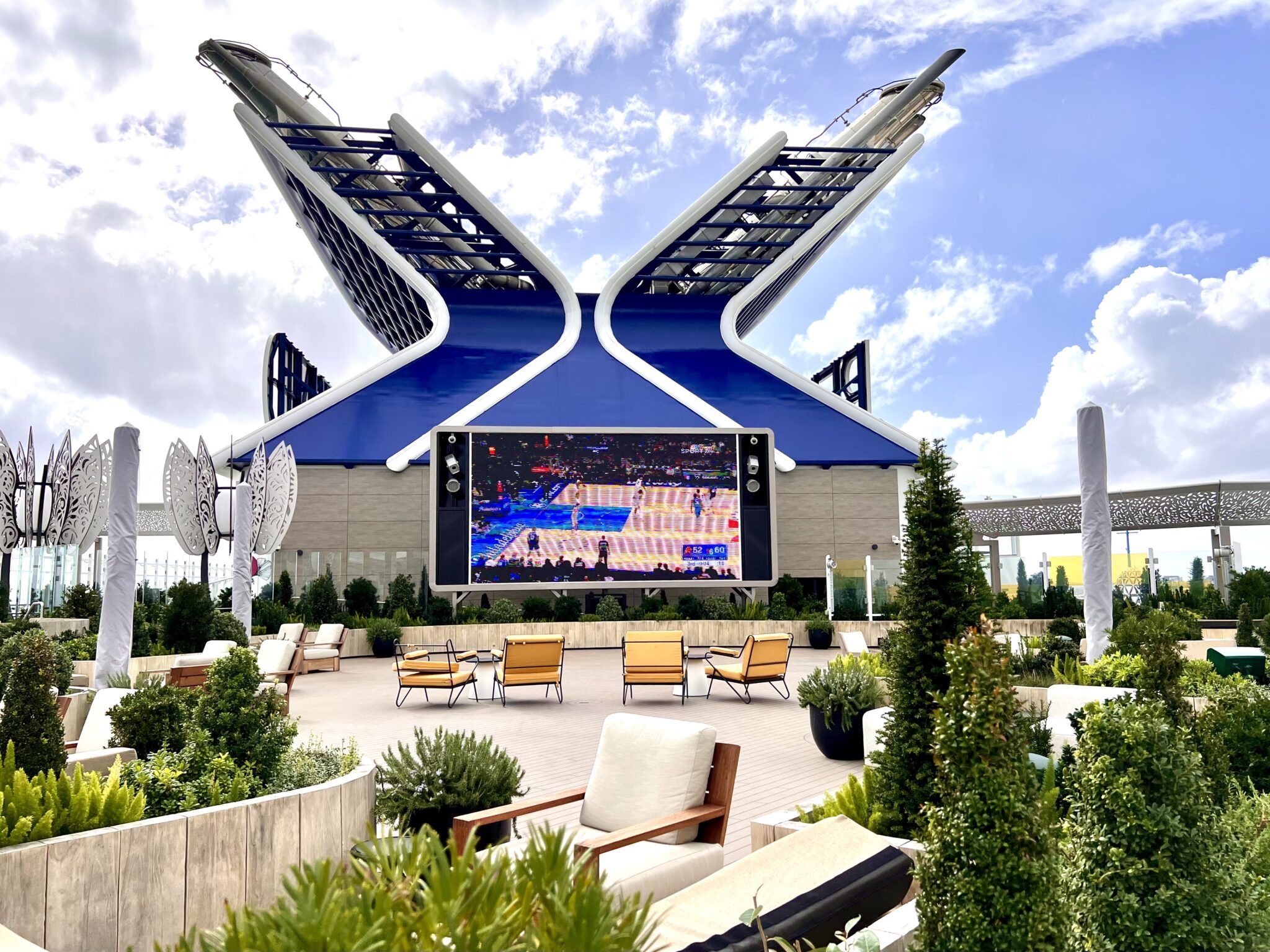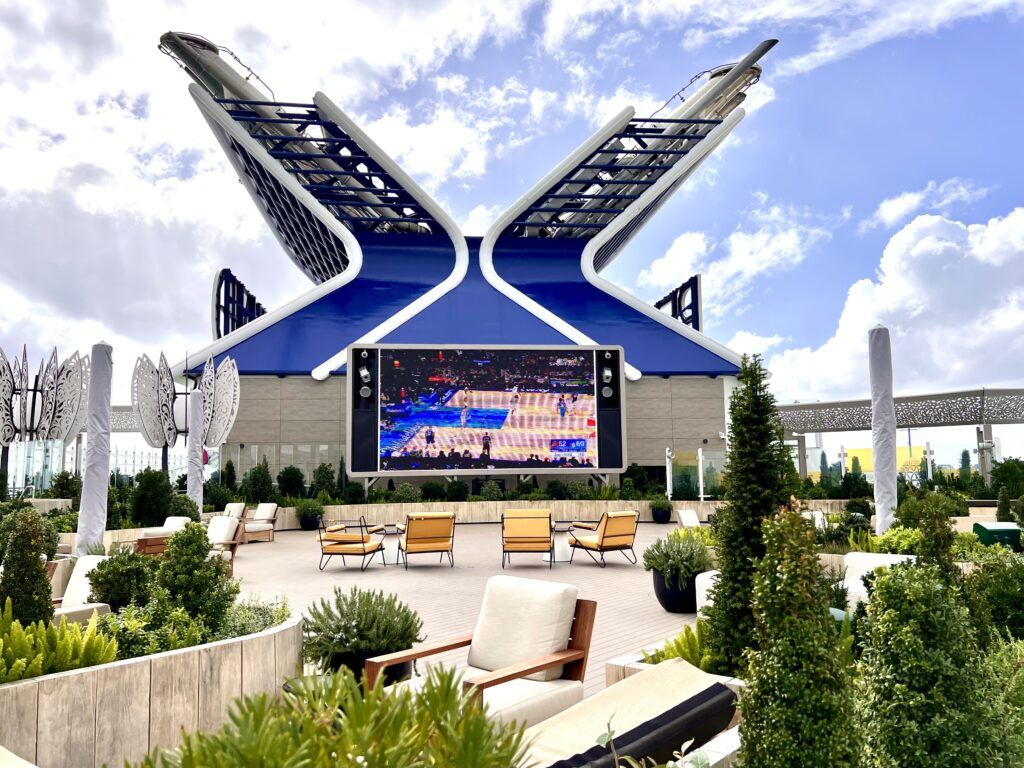 Since we did not have time to grab a sail away drink, we stopped in at the Sunset Bar afterwards. While we love this new location, the specialty cocktails on the menu are just okay.
We had just enough time here to finish our drinks before the rain made an appearance. Thus, it was back inside to change up for the evening.
Dinner and a Show with Friends
We had a couple fellow content creator friends onboard this sailing, so we made a plan to meet up for the 7 PM show and dinner afterwards.
The main theater on Celebrity Beyond features 3 brand new production shows, two of which we saw during the media event. Like most cruise lines, there are also headliner shows. Tonight's performer was a headliner comedian, Basile.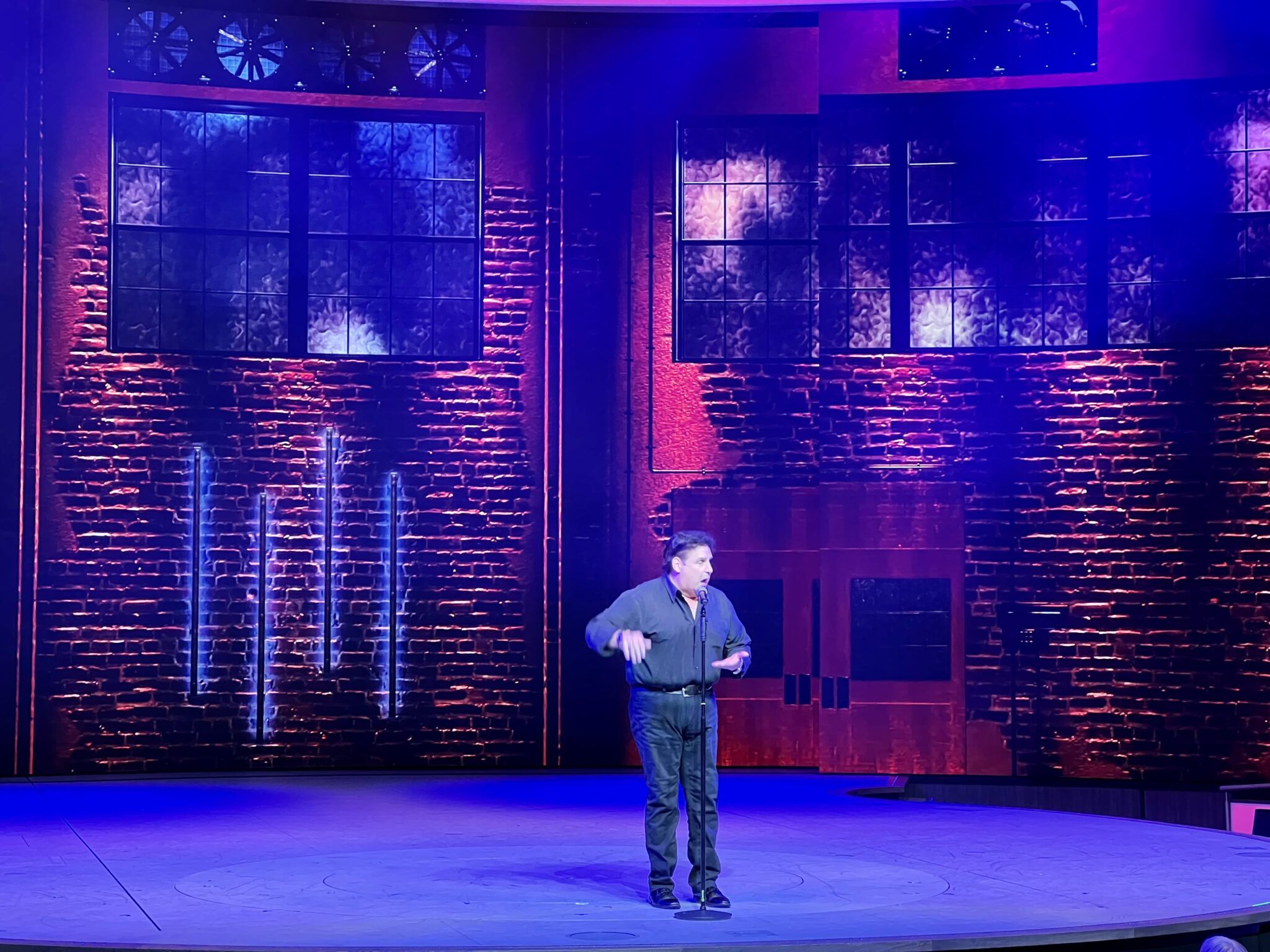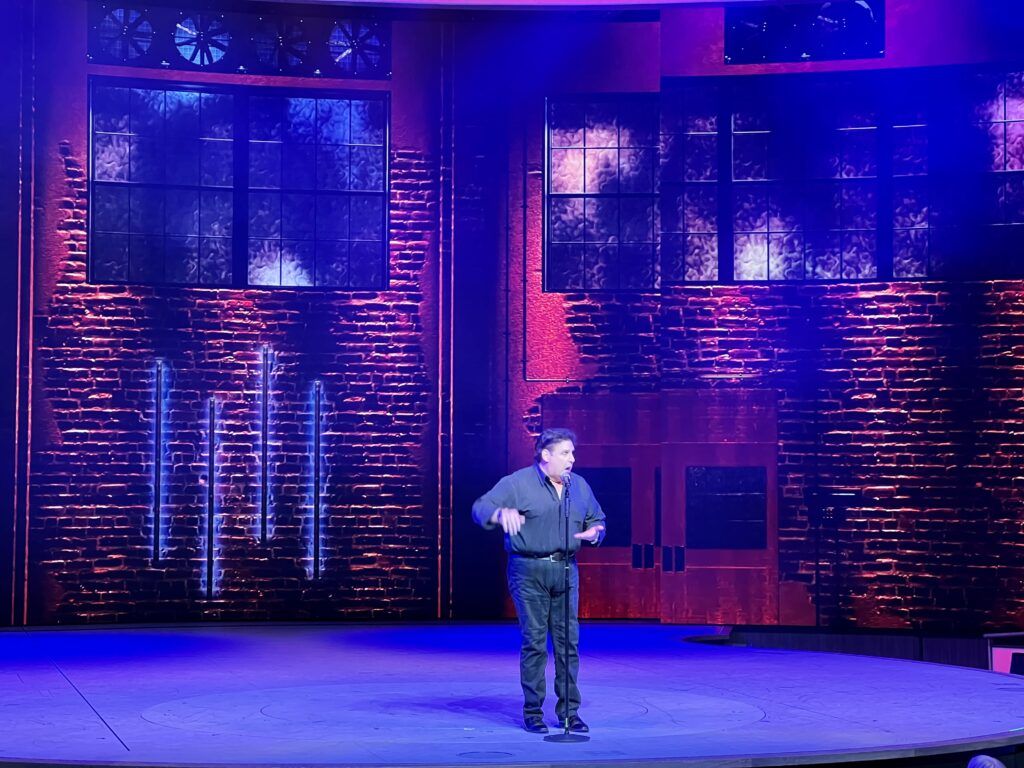 His comedy set was moderately funny but refreshingly different than your typical cruise ship comedian jokes. Although, we actually found this show funnier than his adult comedy show later in the week.
Arriving to Tuscan around 8 PM, we only waited a few minutes for our party of 4 to be seated.
On Celebrity Edge Class ships, there are four main dining rooms. The majority of the menu is the same in each of these venues with classic dishes that stay the same every night and signature dishes that rotate each evening. However, each venue has a few exclusive dishes which represent global flavors.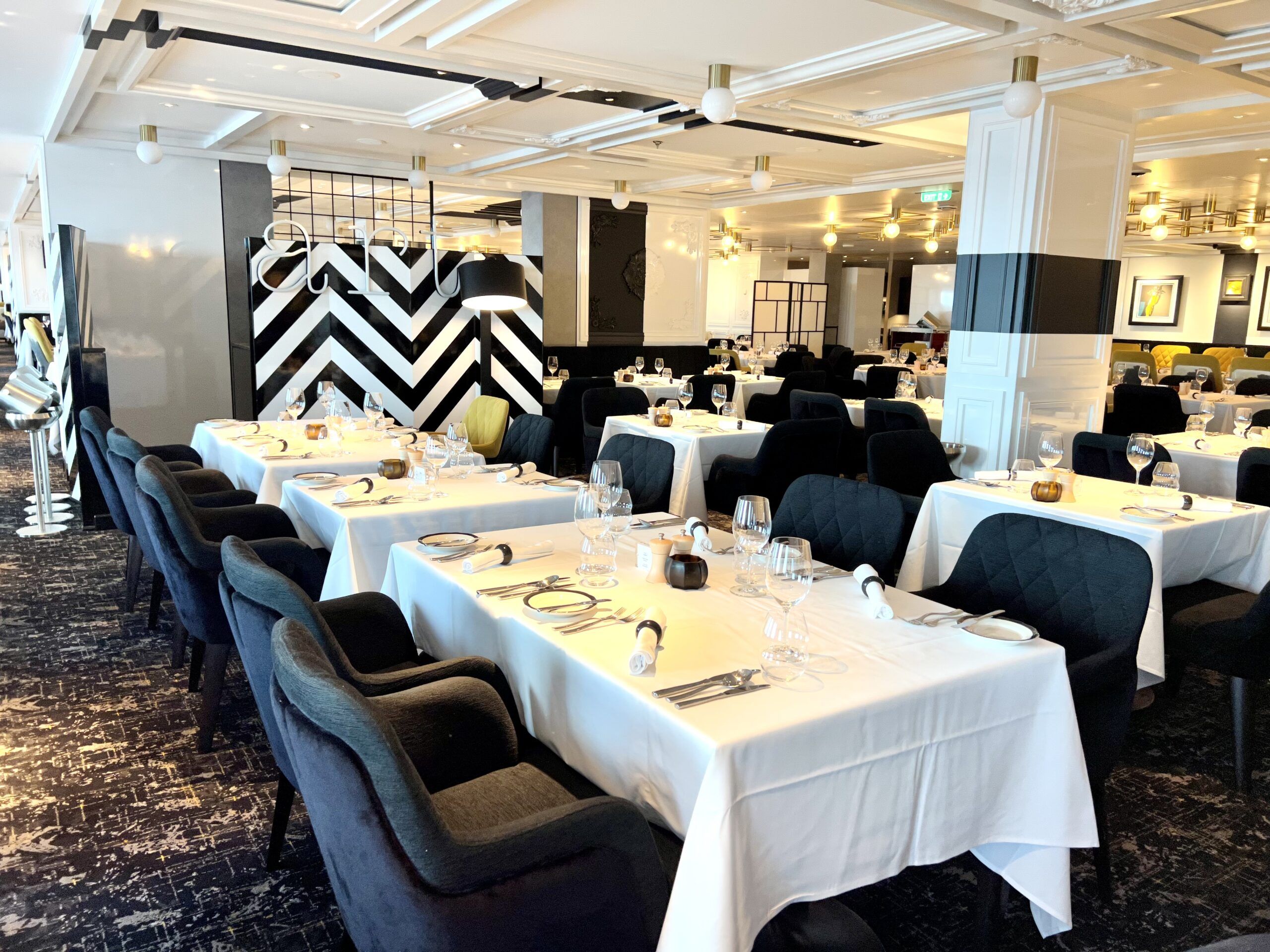 We did notice that these exclusive dishes had been updated since our last sailing on Celebrity Edge in 2021. Thus, we each sampled a new entrée. I went with the Pappardella alla Veneziana, and Don ordered the Tuscan pork chop. Of course, we also ordered an appetizer and dessert.
Overall, we would say the food and the service were on par with what you get on other contemporary cruise lines. Now, we typically rave about the MDR food on Celebrity Cruises; though, that was not the case this cruise as it was average at best.
Finished with dinner in about two hours, we made our way to The Club for Soultown featuring Jesse Hamilton Jr. While the performer himself was great, we weren't feeling the music. So, after about a half hour, we decided to grab one last drink at the Martini Bar.
Enjoying our cocktails and conversation with friends, we called it a night around midnight. Tomorrow was a sea day, but unfortunately, it was a busy work day for Don's full-time job.
Celebrity Beyond Caribbean Cruise Review – Day 2
Working at Sea
Day 2 of this Celebrity Beyond Caribbean Cruise Review was our first sea day.
Up around 7 AM, Don did his usual morning walk, returning with coffee, while I got ready.
Since we were staying in Aqua Class, we decided to give the exclusive restaurant, Blu, a try for breakfast this morning. Once again, the service was slow. It did seem to be the trend that many venues felt understaffed.
For dishes, we split the berry-pecan pancakes, while I ordered an omelet and Don did eggs benedict. These dishes were served fresh and hot. Sit-down breakfast is always a nice alternative to the buffet.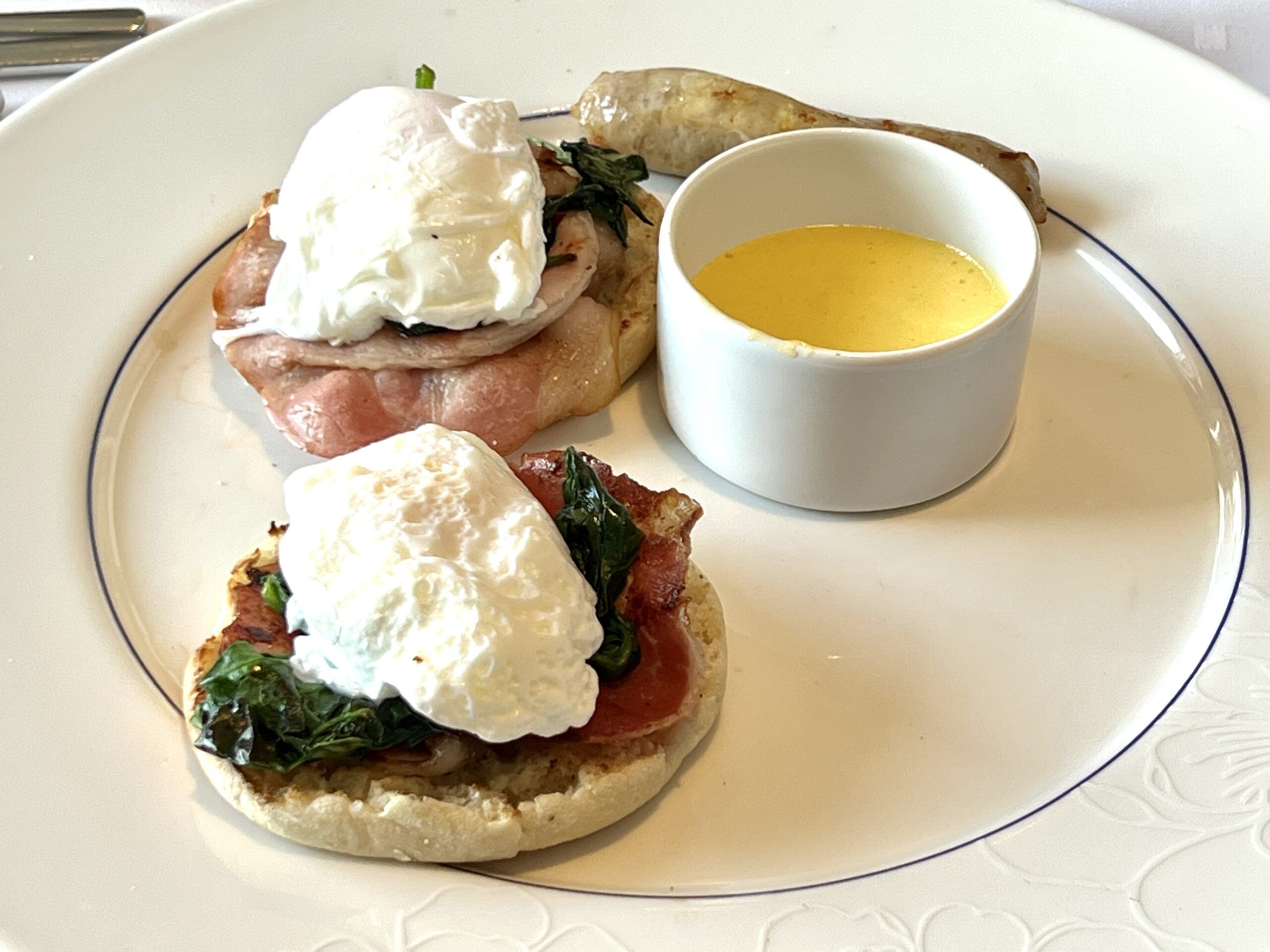 We spent the remainder of the day in our cabin working with some fresh air from the infinite veranda. While Don had several work meetings, I spent the day catching up on content for our blog and social media channels. Thankfully, the Starlink internet worked great most of the trip.
We took intermittent breaks during the day to go for a walk, grab some coffee, and a late lunch. While we are not big fans of buffet food, we like that the Oceanview Cafe has a pizza station located at the back of the venue that is open until late night. Not Princess or Virgin quality pizza, yet it is still much better than Sorrento's on Royal Caribbean.
Time to Get Fancy
Officially the end of Don's work day, we took some time to relax before getting ready for Evening Chic night. Dressed in our chic attire, we grabbed some pre-dinner cocktails at the World Class Bar around 5:30 PM.
Found on Solstice Class ships, Celebrity Beyond is the first in the Edge Class to have this bar. The menu has also been revamped with some new cocktails, like our favorites the Rose Water and American Pie Cocktail.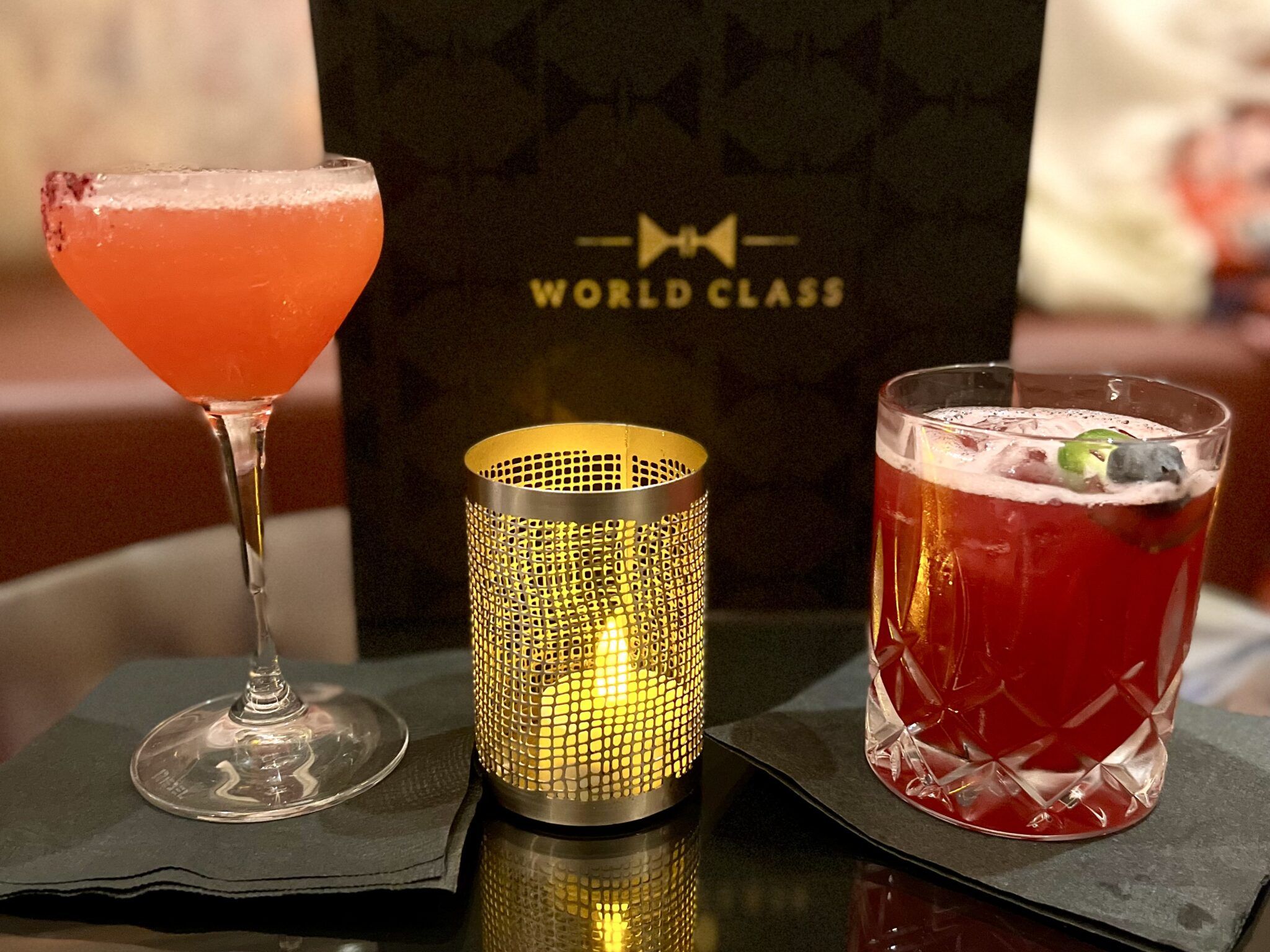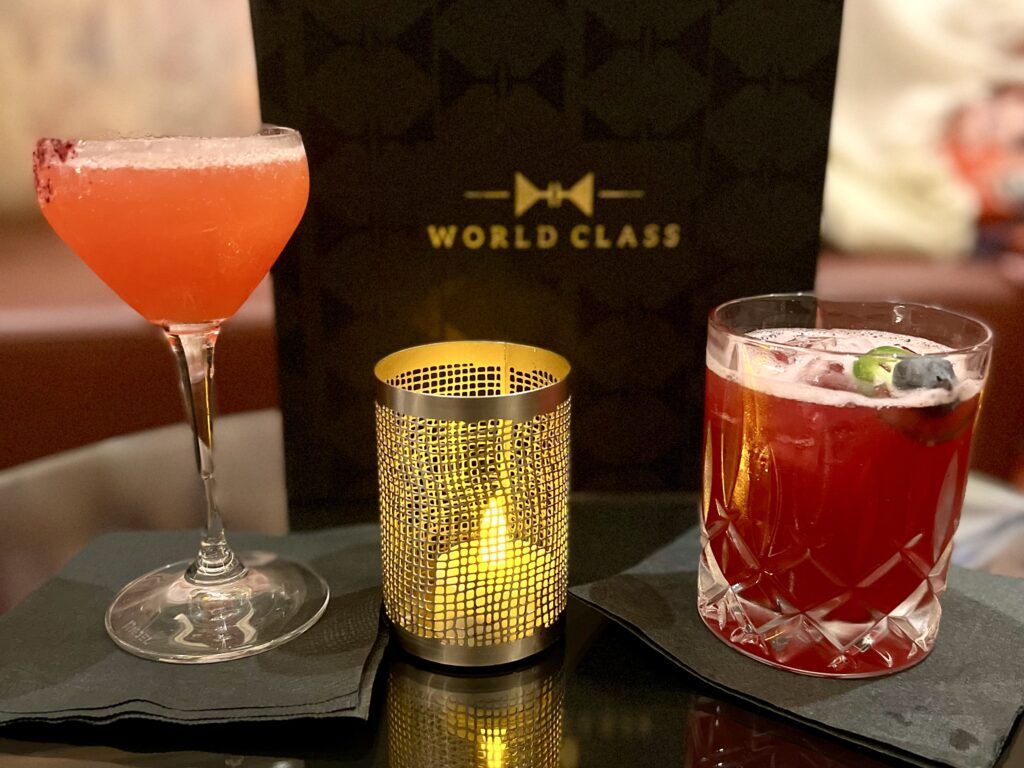 We had made a main dining room reservation for tonight pre-cruise, but the only time available was 9 PM. This was far too late for us, so we decided to dine at Blu for dinner this evening.
Arriving around 6:30 PM, we had to wait a few minutes to be seated as the restaurant was fairly busy.
On the menu, there were some typical formal night dishes. Hence, the hubby went with some of his favorites, the crab cake starter and lobster tails. I started with the goat cheese Napoleon, followed by the phyllo-crusted chicken paillard, and topped it off with baked Alaska.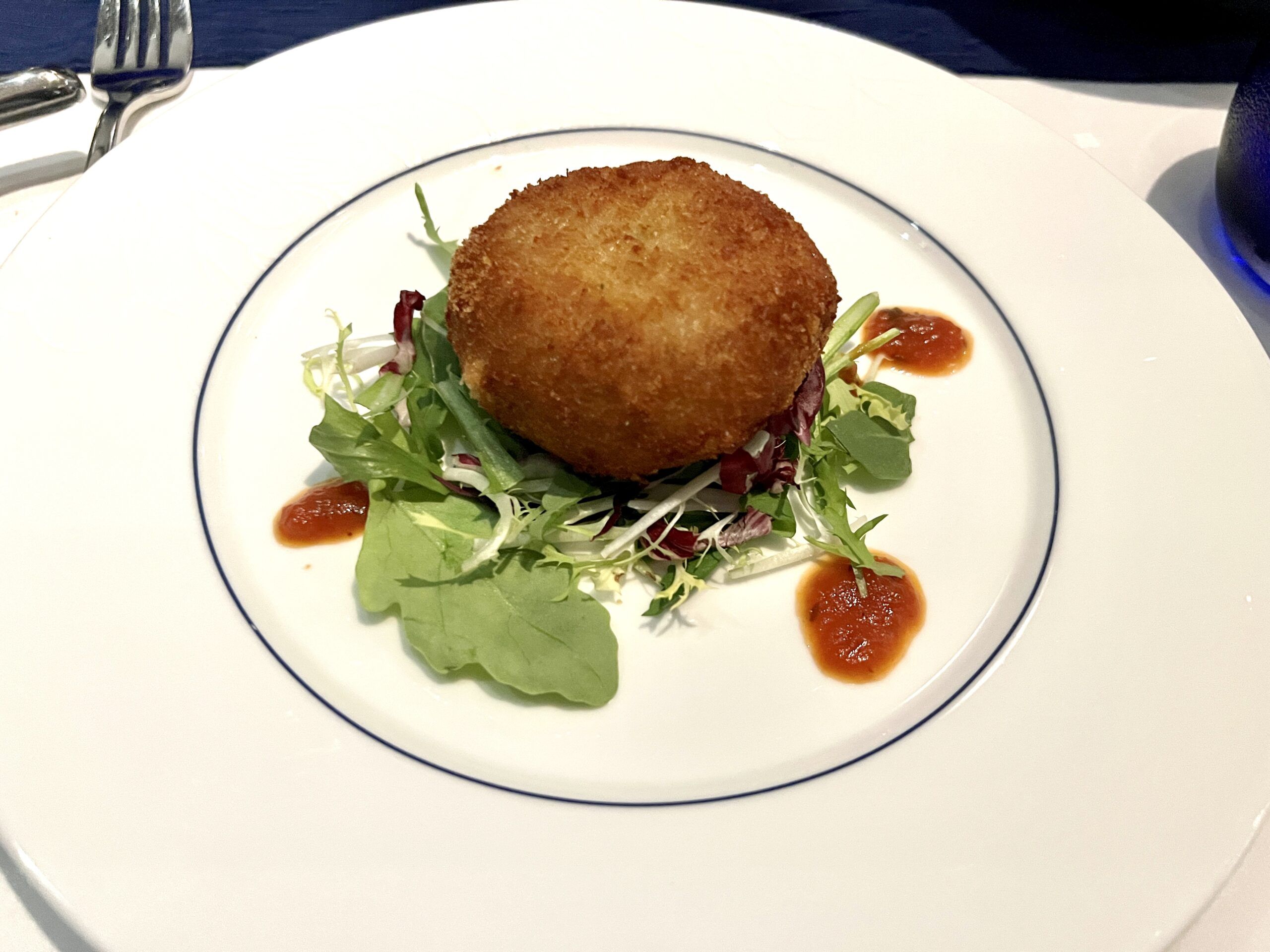 The food was good but not significantly better than what you typically get in the main dining room on formal night.
We were out of dinner just in time to catch the 9 PM show in the theater. Tonight was the production show Arte. Even though we saw this show on the 2-day sailing, we decided to watch it again as we really liked it.
Following this performance, we b-lined to Eden for the 10:30 PM Decadence show. Celebrity Beyond has two full production casts. This second cast is featured in shows at Eden and The Club.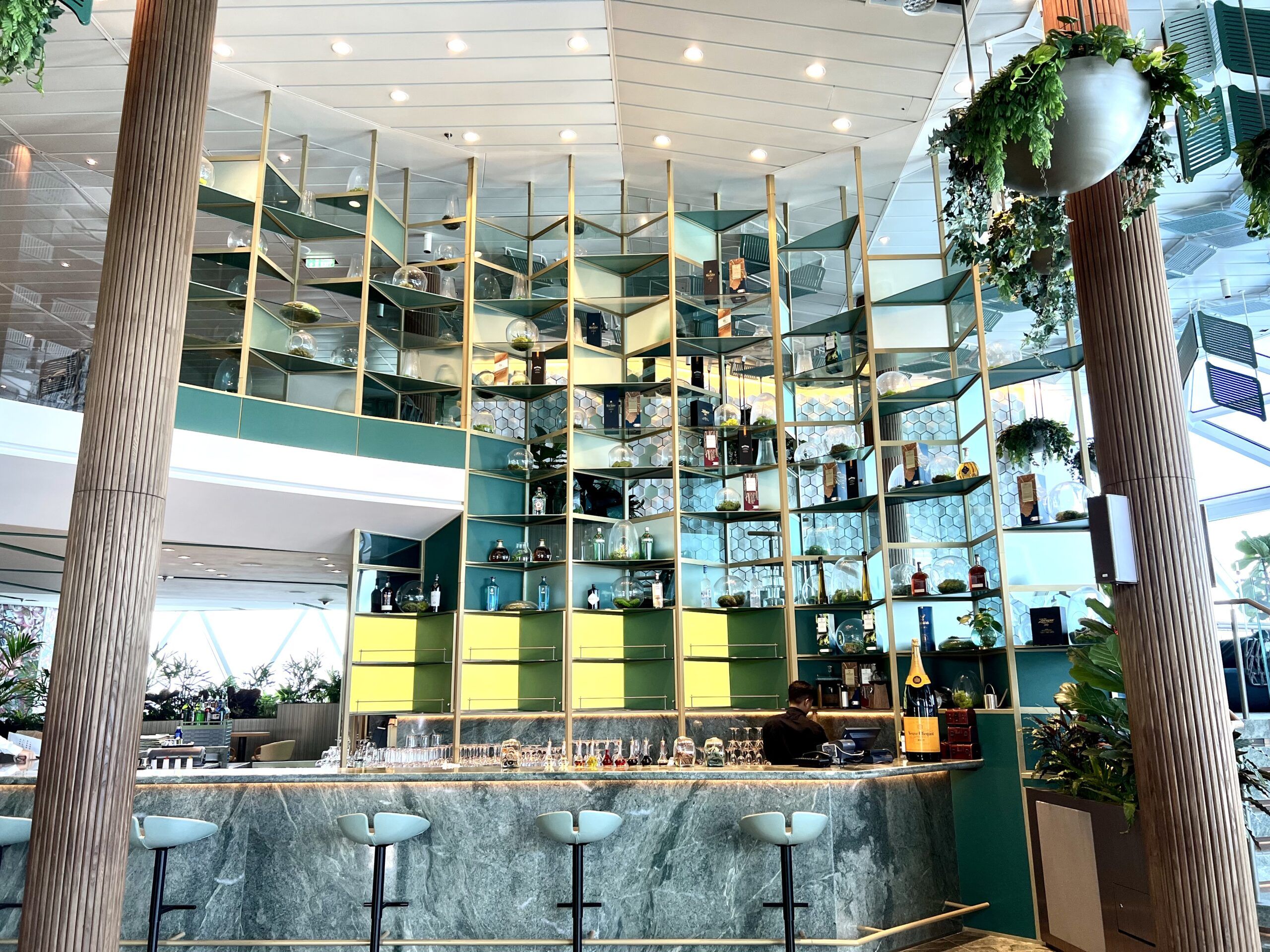 Unfortunately, the set-up of Eden does not allow for many prime viewing spots during these shows. We do like that the shows are more intimate and interactive, you just need to arrive early if you want good seats.
Decadence is a 30-minute high energy show with two singers, a small dance troupe, tap dancers, and strength acts. With sophisticated costumes and plenty of champagne, you better get ready to drink up.
After the show, we followed routine and ended the night with a drink in the Martini Bar. This bar is always lively and has some of the best drinks on the ship. You can never go wrong with an espresso or bananas foster martini. Are we right?
SCORE BIG ON CELEBRITY BEYOND CRUISES NOW!
Celebrity Beyond Caribbean Cruise Review – Day 3
Some Sun and Fun in Mexico
Day 3 of this Celebrity Beyond Caribbean Cruise Review was our first port of call in Costa Maya, Mexico.
Originally, we had no plans for the day other than to get off in port to take a few photos of the ship. However, our friends invited us along on their tour, so we decided to join.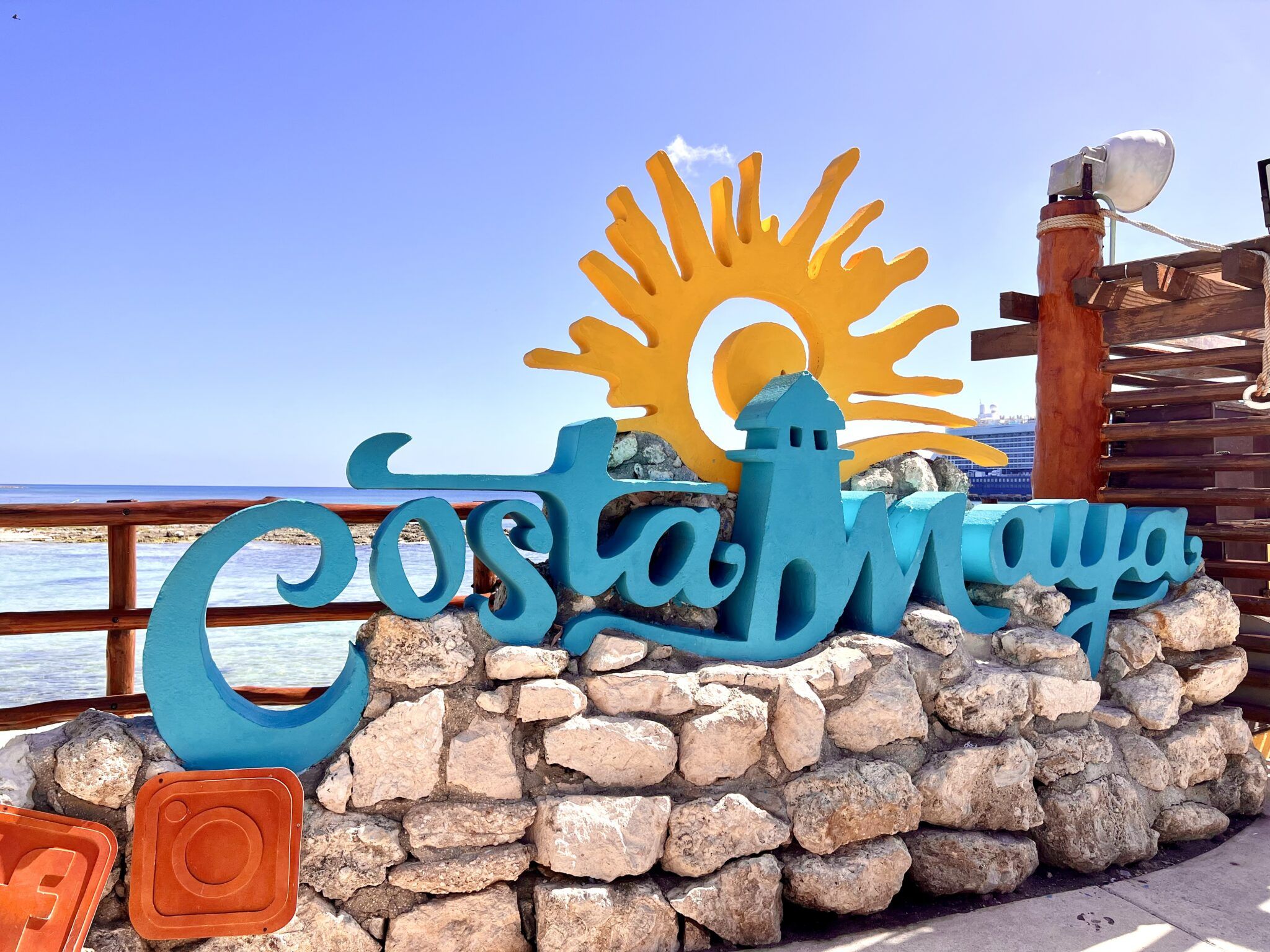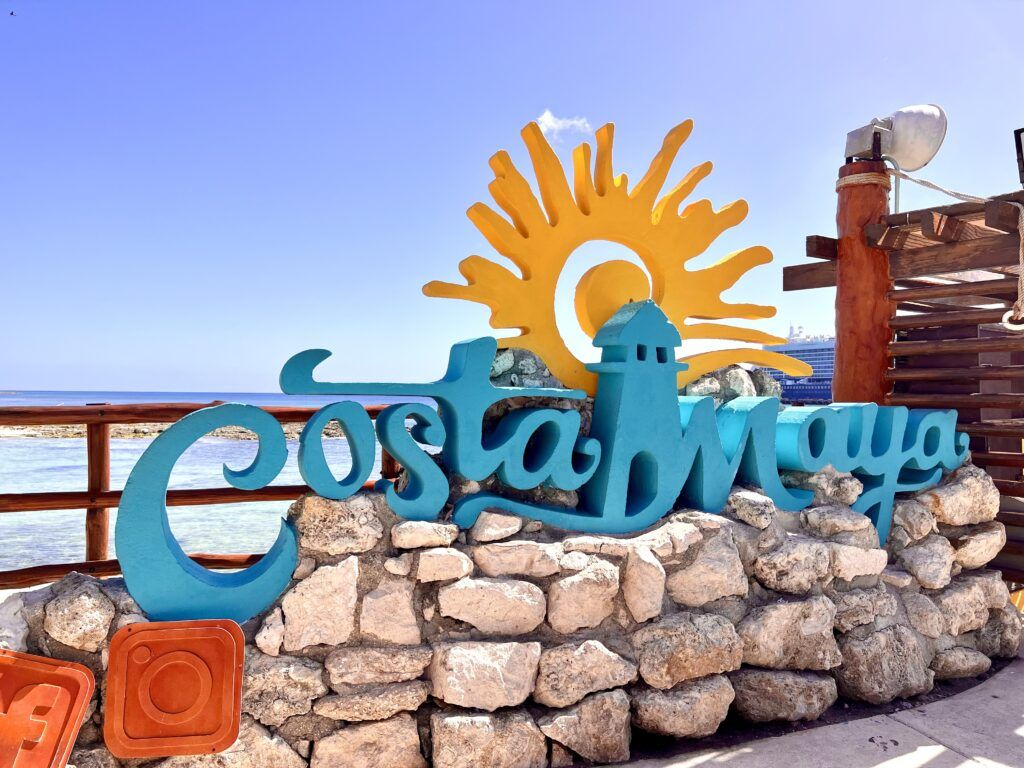 Up around 7:30 AM, we complete our usual morning routine before heading to the Oceanview Cafe for breakfast. Here, there are all your typical breakfast food selections, including a custom egg station and omelet station.
After breakfast, we did a little work in the cabin until making our way ashore around 10:30 AM. Joined by Serenade of the Seas in port today, we were able to get some great shots of Celebrity Beyond before meeting for our tour.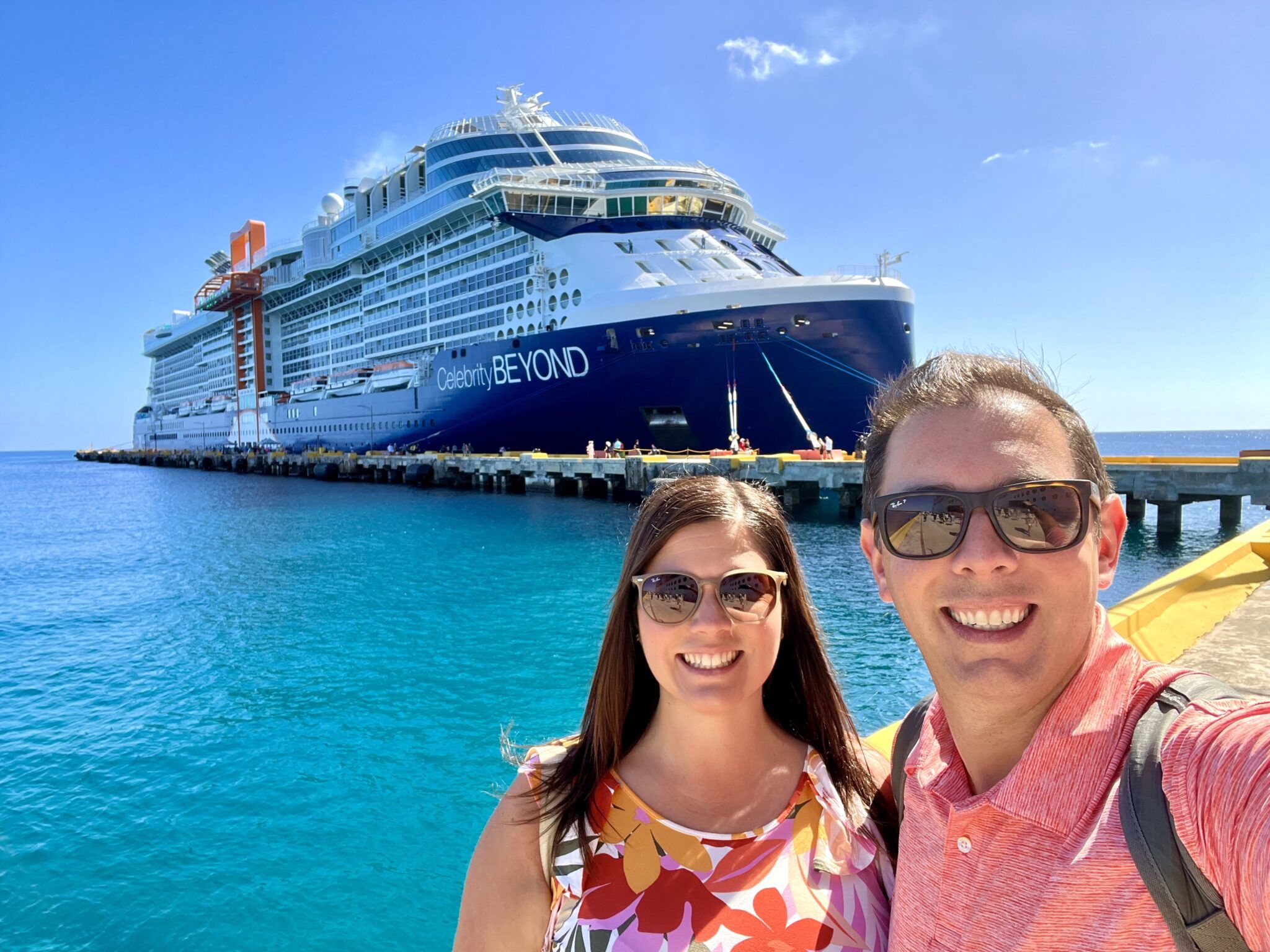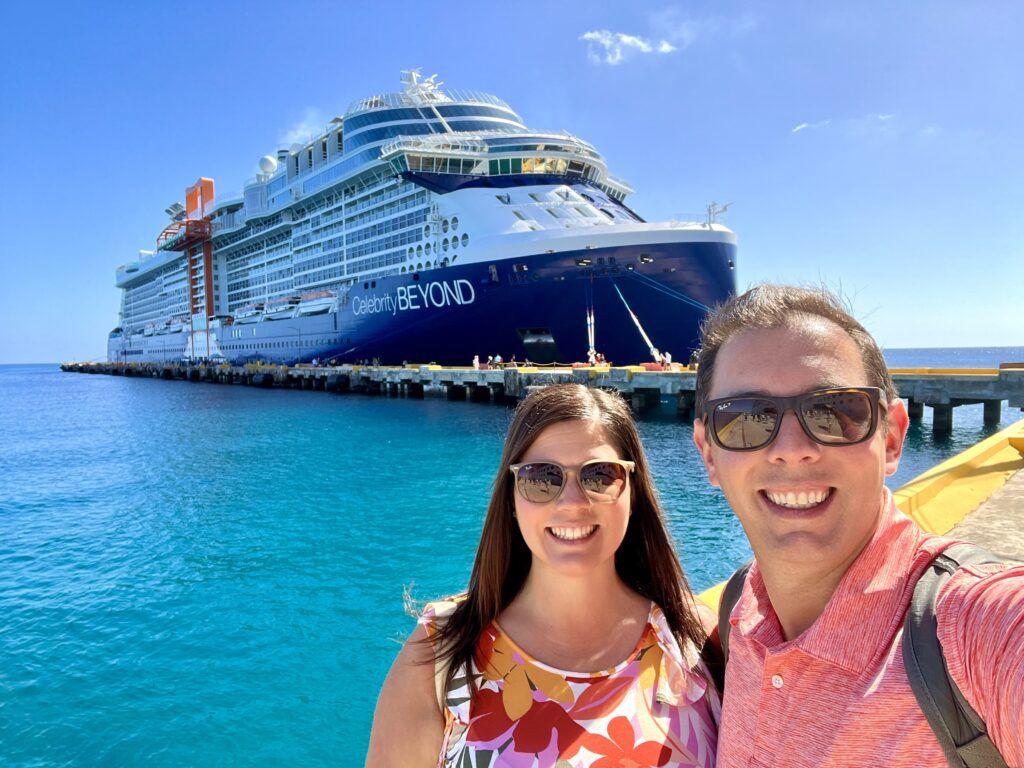 We had a private tour guide from the port of Costa Maya who wanted to showcase all that the port has to offer cruisers.
We started the day at Beach Escape Club, a beach resort on the boardwalk available to only cruise ship guests. This Club includes beachfront lounge chairs and umbrellas, a pool, and an open bar. Food is available at a la carte pricing.
Spending about 2 hours here, we made our way back to the port area for our next adventure at Aviarius. Priced at $12 pp for adults, this aviary includes bird encounters, suspension bridges, and a great bird's eye view of the port.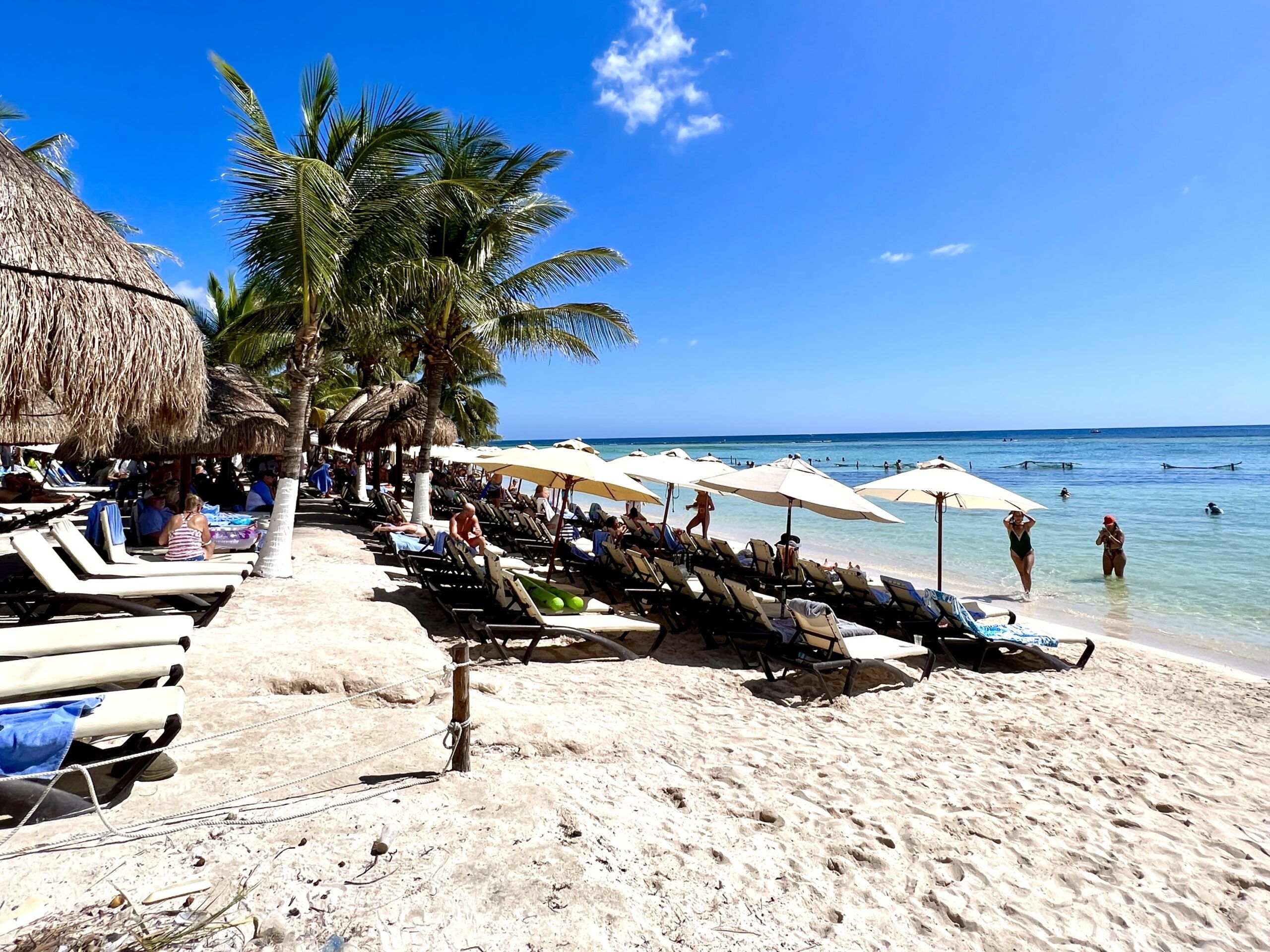 After about 30 minutes or so, we were escorted to our final stop of the day, Mayan Healing Rituals. Here, a Shaman showed us around and described the 5-step relaxing spiritual cleanse, which includes a coconut bath and a hammock massage.
Since we were running short on time, we opted to return to the ship. Our friends stuck around to enjoy a brief massage.
Back onboard the ship by 3:30 PM, we grabbed our afternoon coffee at Cafe al Bacio and cooled off in the air conditioning until it was time to get ready for dinner.
A Change of Plans
Pre-cruise, we had made a dinner reservation at Le Voyage. Since we got to eat here on the media sailing, we tried switching this reservation to Eden. However, we were put on a waiting list and never did get a reservation.
We thoroughly enjoyed Le Voyage, but we figured we should try something different. Hence, we decided to cancel this specialty restaurant reservation and give the MDR a second chance.
We did walk-up to Cyprus around 6:30 PM and were sat fairly quickly. Of the complimentary restaurants, the service was by far the best here. Our waiter was prompt and friendly.
While the service was superior, the food was still pretty average.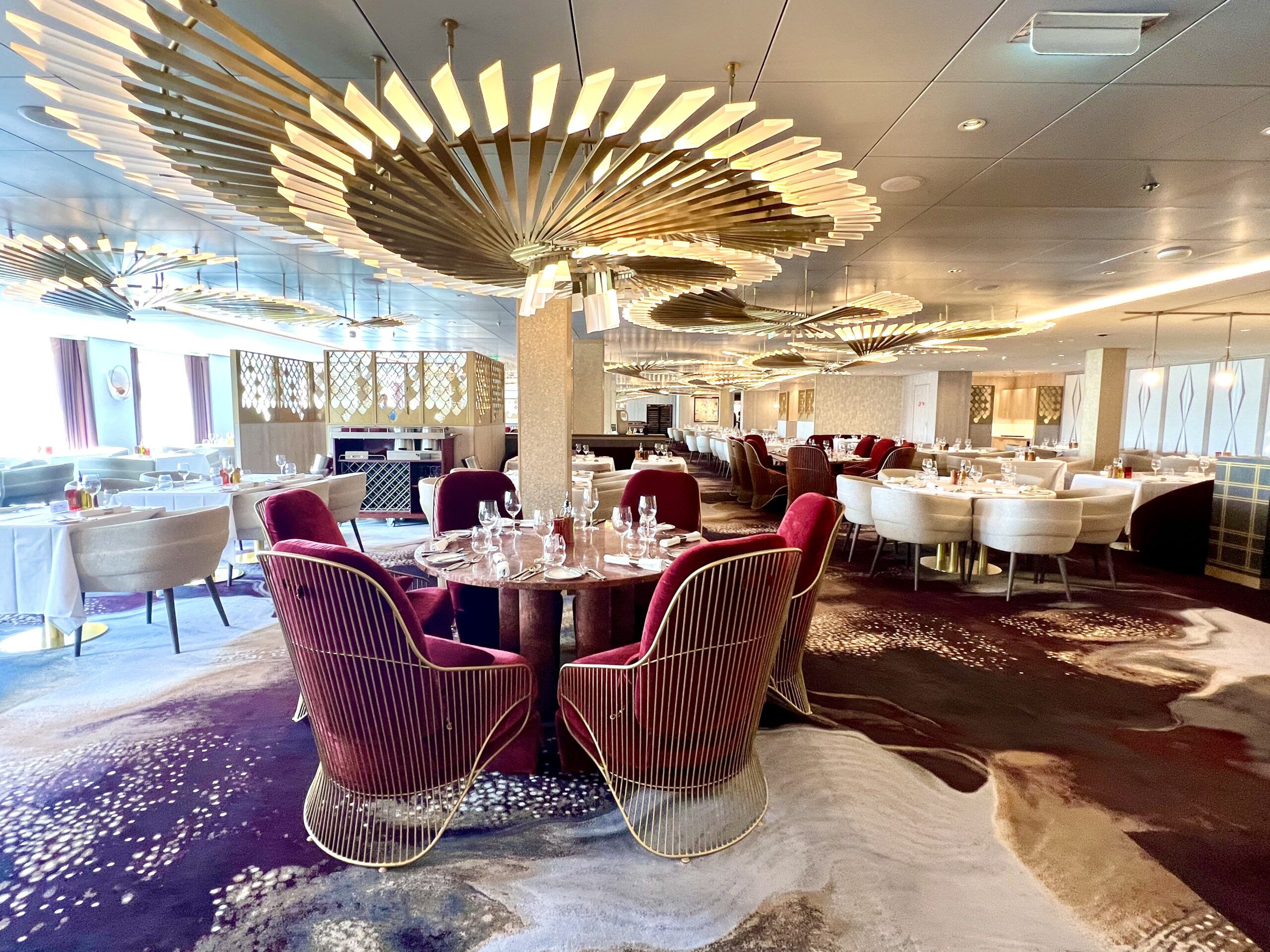 The hubby did enjoy his two entrees, the lamb shank and short rib, but everything else was just okay. The cheese saganaki is always a favorite of mine, but it was not very warm tonight, and Don was not impressed with the Greek mezze board either.
With service being much quicker tonight, we had time to kill before the 9 PM show. This meant that we stopped by the Craft Social for a drink and people watched in the Grand Plaza before heading to the main theater.
An Evening of Entertainment
Tonight was another headliner act, Asijah Pickett. While it wasn't clear in the Celebrity Today, the show ended up being a tribute to Aretha Franklin. She certainly had a powerful voice and stage presence, we just don't love this artist's music.
Immediately following this show, the crowd formed a queue outside the Club for The Jazz Joint starring the Eden production cast. When doors opened at 10 PM, we snagged some front row seats to this intimate prohibition themed show.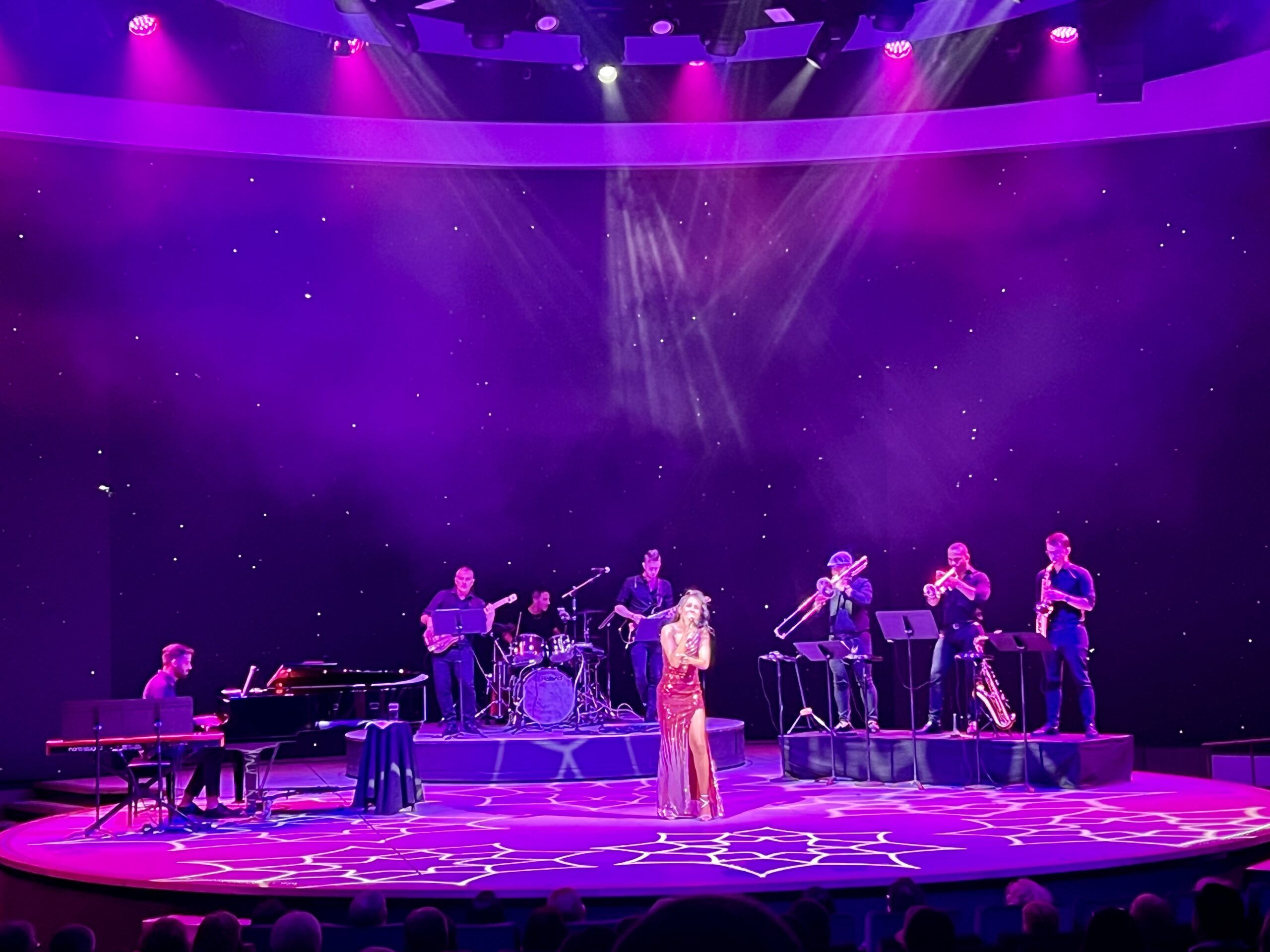 We enjoyed this show more than Decadence and think that the Club is a better venue than Eden for these types of performances. This speakeasy show featured jazz tunes, dancers, and strength acts. While the cast tried to rope me into going on stage, I politely declined the offer.
When this show ended around 11:15 PM, the night wasn't over yet. We headed up to the resort pool deck to check out the Cosmic Nights deck party. By the time we arrived, the Cruise Director, Luigi, and the other entertainment staff were just wrapping up.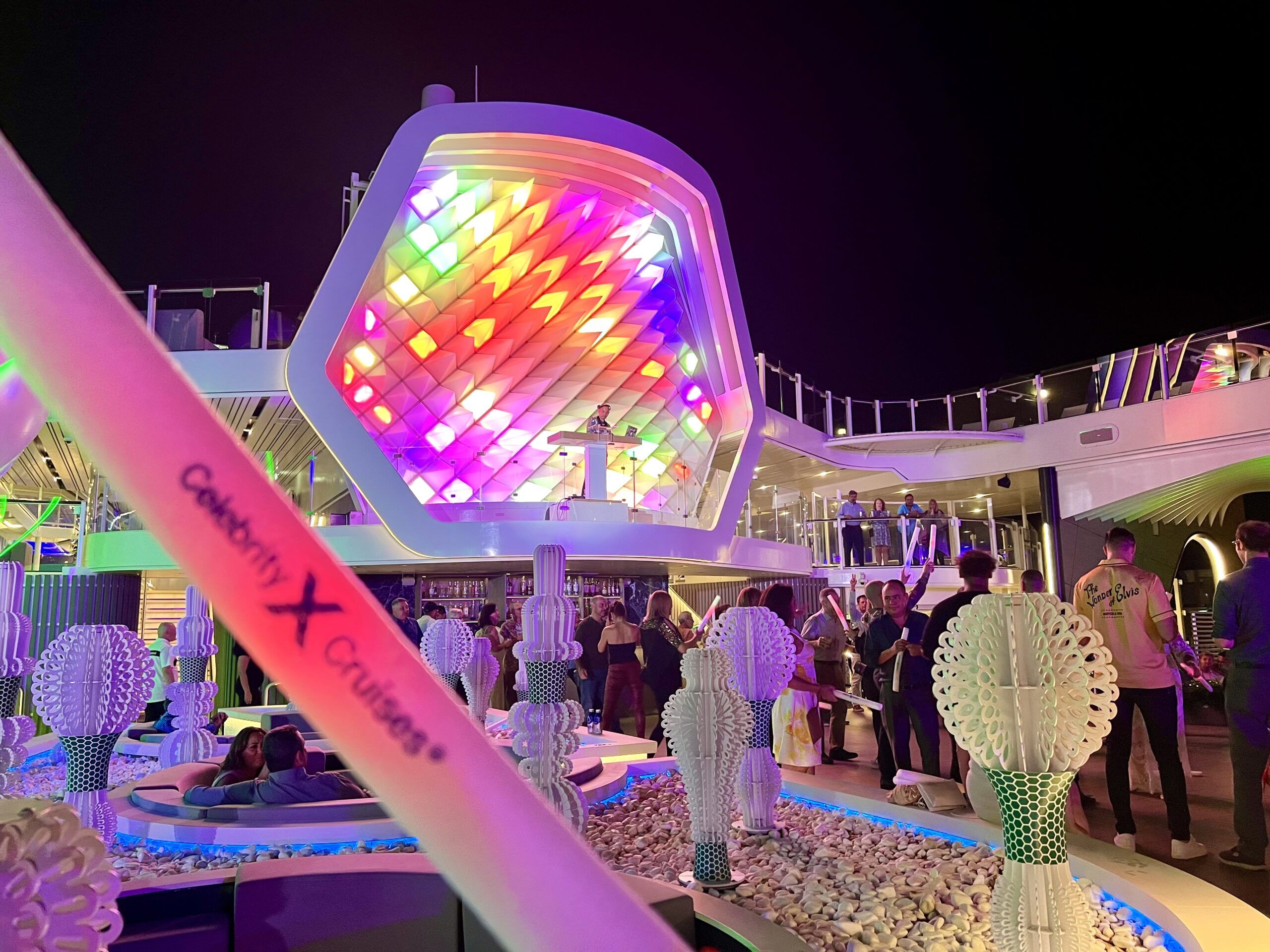 Though, the DJ was still playing, and the crowd was still dancing. So, we grabbed a drink, people watched, and took some nighttime photos of the pool deck before retiring around midnight.
Celebrity Beyond Caribbean Cruise Review – Day 4
An Unexpected Meet Up with Friends
Day 4 of this Celebrity Beyond Caribbean Cruise Review was our second port of call in Cozumel. Again, our original plan was to stay onboard the ship and enjoy the thermal suite. However, those plans changed once again when we realized some of our friends on Allure of the Seas were docking right beside us.
Today was Veteran's Day and officially a holiday for Don, so he didn't have to worry about any work today. This meant we slept in a bit and grabbed a later breakfast at the buffet.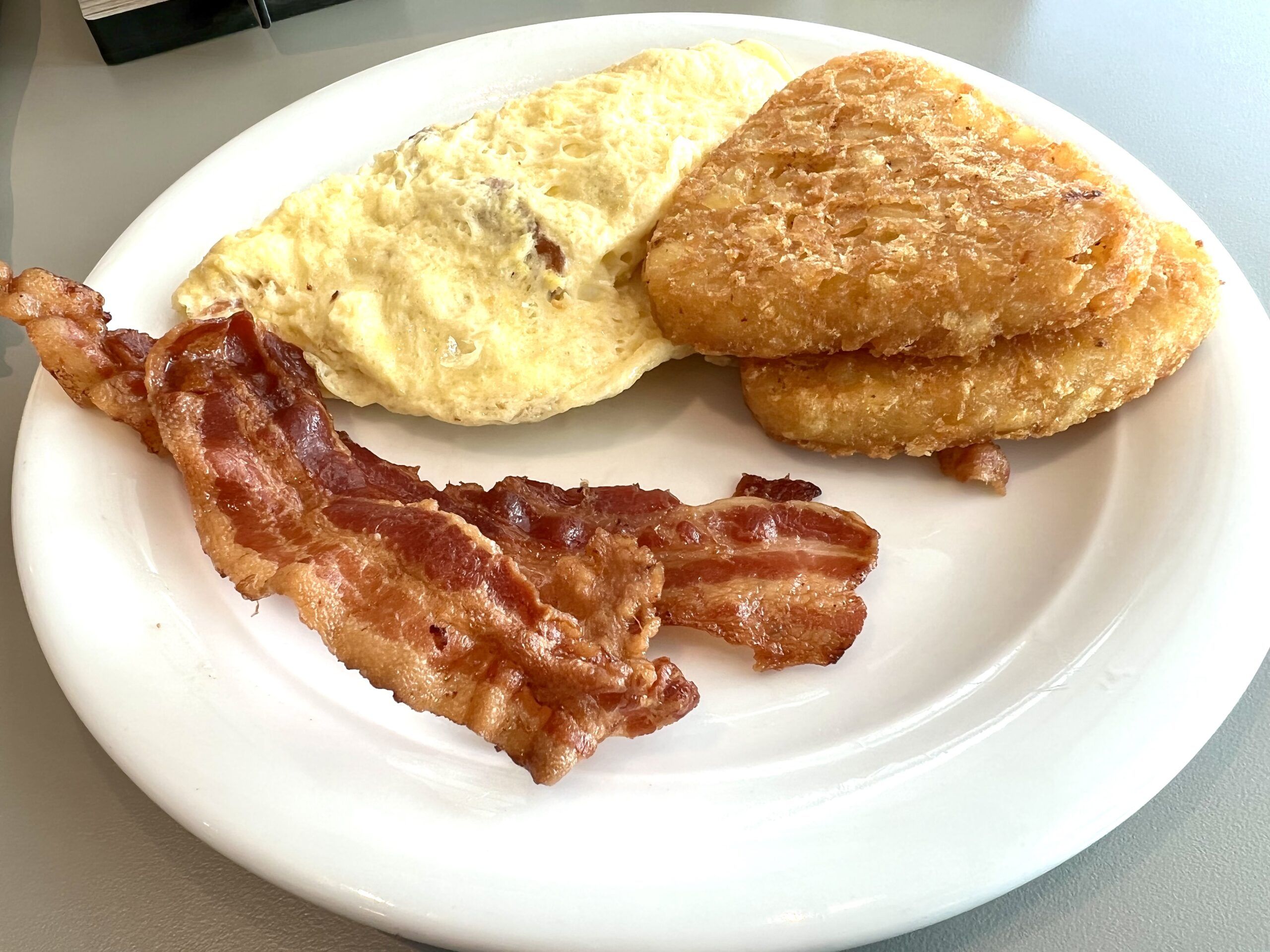 We headed ashore around 11 AM, where we took some photos of the ships in port. There were 6 ships in total docked in Cozumel today. We then browsed the shops in port waiting for our friend to get back from breakfast in town.
We met up at Tequila To Go nearby Senor Frogs for a drink. Looks like the hubby's no day-drinking rule was now broken two days in a row! While catching up, another fellow media friend from Allure also joined us. It's always fun to hang out with other writers and content creators, especially when Jello shots are involved.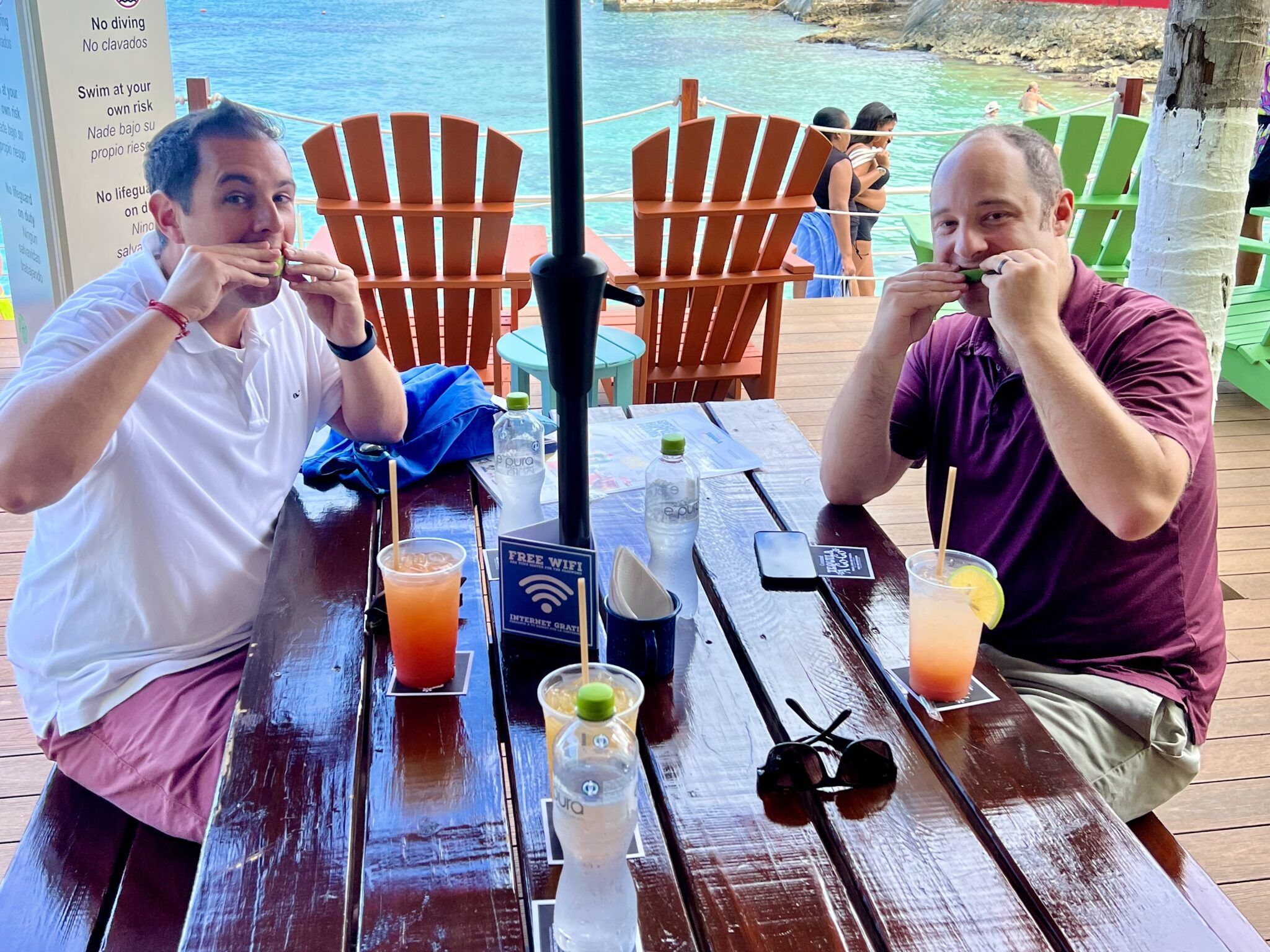 After about two hours of drinks and conversation, they needed to head back as their ship was leaving port soon. We followed suit, grabbing some coffee and snacks back onboard.
Enjoying Another Fine Specialty Restaurant
Tonight, we had dinner at Fine Cut Steakhouse at 6:30 PM. We were able to add our friends onboard to our reservation as well.
Like our previous experiences, our meal at Fine Cut did not disappoint. Since I don't eat steak, I'll take the hubby's word that it is one of the best steakhouses at sea. Le Voyage and Fine Cut definitely topped our dining experiences on Celebrity Beyond.
I started with the wedge salad which had a somewhat different presentation, and Don ordered the artichoke gnocchi and lobster cocktail appetizers. All were well-prepared and flavorful.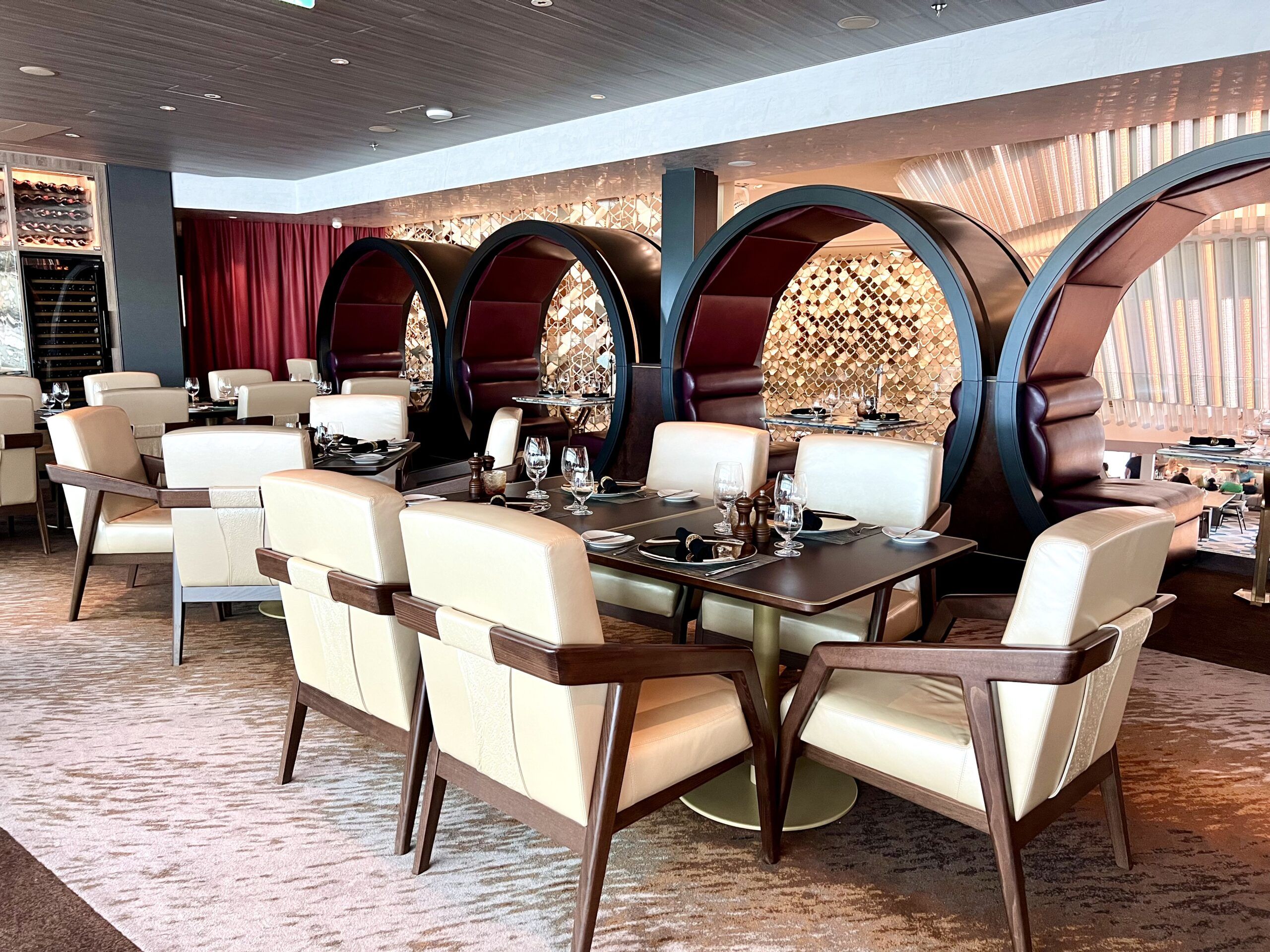 For entrees, you can probably guess by now that I ordered the only chicken dish on the menu, and hubby did the filet mignon. His steak was cooked medium rare as ordered with just a hint of salt and paired perfectly with the chimichurri sauce. Of course, the bacon mac and cheese and cheese tots completed these already tasty selections.
The apple walnut cobbler and sundae were satisfying endings to this delicious meal.
With dinner lasting over two hours, we arrived to an already full theater. Thus, we had to settle for seats all the way off to the portside for tonight's production show, Elements.
Journeying through five elements, this show features more specialty acts set to the stunning backdrops and vocal performances.
We were a bit mixed on which of the three shows were our favorite. Personally, I like Arte and Elements the best.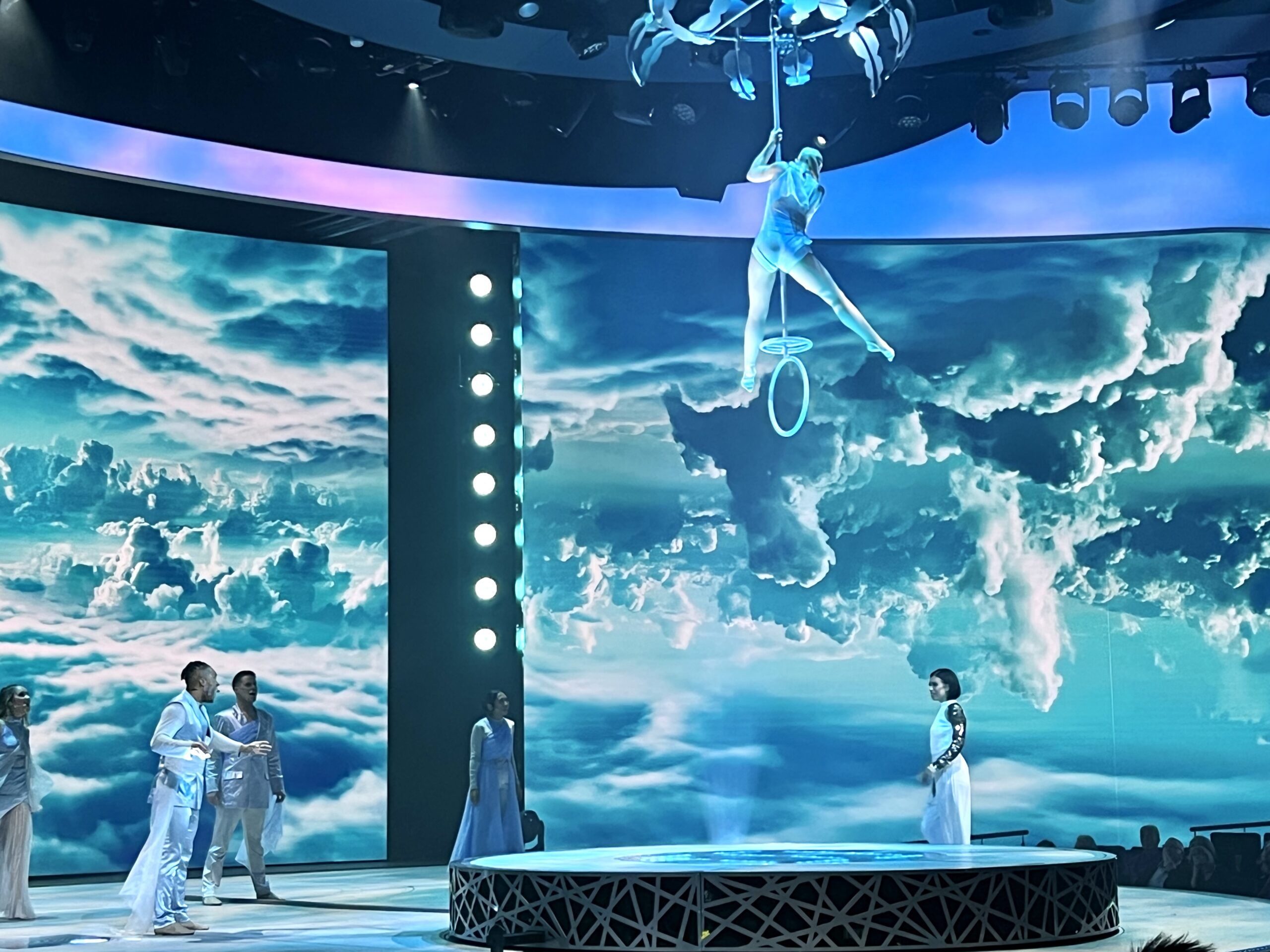 Immediately following this show, we stayed in the theater for late night comedy with Basile. We then rounded out the night at our favorite spot, the Martini Bar.
Tomorrow was already our last day onboard Celebrity Beyond!
Celebrity Beyond Caribbean Cruise Review – Day 5
A Morning of Relaxation
Day 5 of this Celebrity Beyond Caribbean Cruise Review was a sea day. It only took us all cruise, but we were finally going to relax in the thermal suite this morning.
We slept in a bit, making our way to the Spa around 8:30 AM. It was actually pretty quiet when we arrived. So, we secured two heated loungers before enjoying some of the experiences. We made our way from the Salt Room, to the Sauna, to the Crystalarium.
We then proceeded to spend the next 3 hours or so alternating between the heated loungers, the float room, and the spa experiences.
Around 11:30 AM, we wrapped up and set off around the ship to capture a few remaining photos and videos.
Along the way, we stopped for some lunch. Don grabbed a burger at the Mast Grill. The burger was fresh and hot off the grill, but he still prefers the Dive-In burgers on Holland America ships.
I grabbed some selections from the Oceanview Cafe, along with a delectable donut for dessert.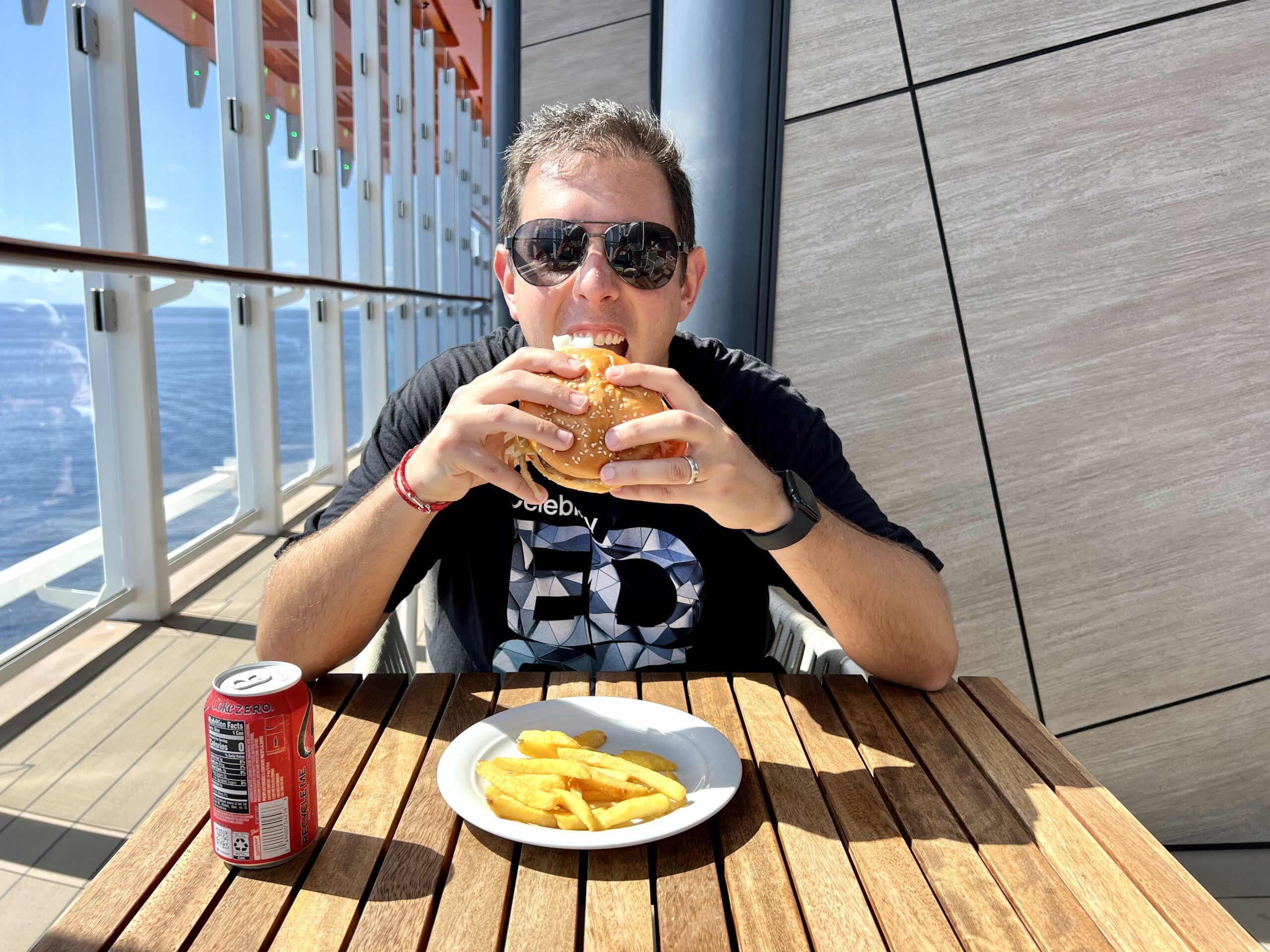 Spending some time outdoors, we enjoyed our last bit of warm weather before heading back home to New England. We also grabbed some afternoon coffee and caught part of Deal or No Deal occurring in the Club. I may have spent some money on my favorite slot machine in the casino as well.
Additionally, we still had some onboard credit left over. This meant it was one last visit to the shop where Don purchased a t-shirt and I used the rest of the credit on a Lily Pulitzer dress. It was a win-win, unlike the casino.
One Final Sunset
Since we hadn't really spent much time at the Sunset Bar, we decided to grab some pre-dinner cocktails here. We were dining at the nearby Rooftop Garden Grill tonight, so this would work out perfectly.
Doing a little packing and changing up for dinner, we made our way outside around 5:45 PM. We grabbed drinks at the Sunset Bar and enjoyed the live music. We also caught Celebrity Infinity sailing past us into the sunset, along with some other cruise ships off in the distance.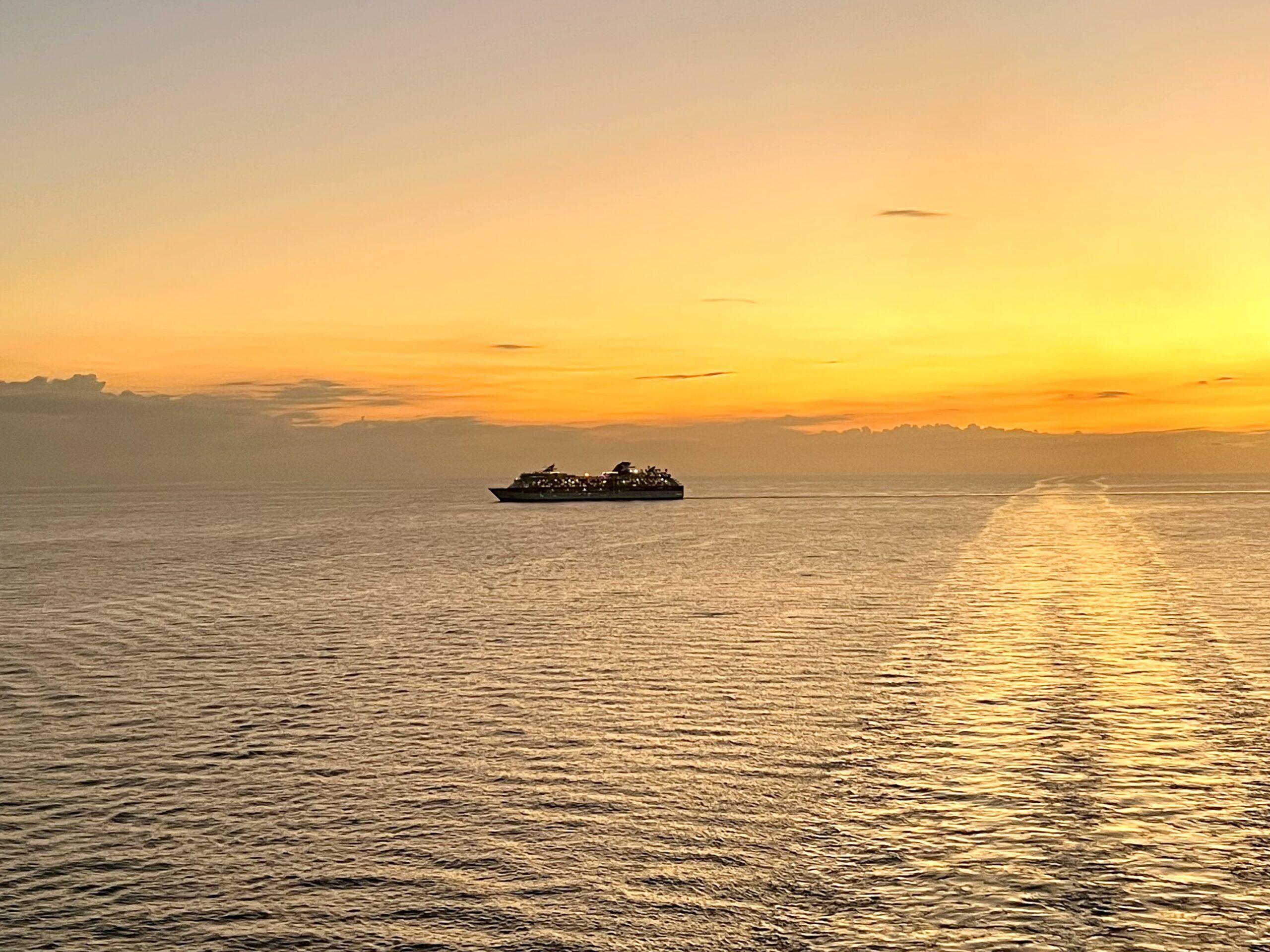 While the outdoor decks can be pretty windy when sailing, it was surprising calm conditions at this aft-located bar. The Rooftop Garden Grill has also added some wind protection, as this was a big issue on previous Edge Class ships.
While we do enjoy the food at this specialty restaurant, the service here was the worst of our trip. There were long delays between courses, and it was difficult to flag down anyone to refill our water glasses. We did stick out the three courses, but other tables around us left without dessert because of the slow service.
Like many of the other restaurants, the menu at the Rooftop Garden Grill has changed a bit since we last dined here on Edge. Still, everything we ordered was delicious.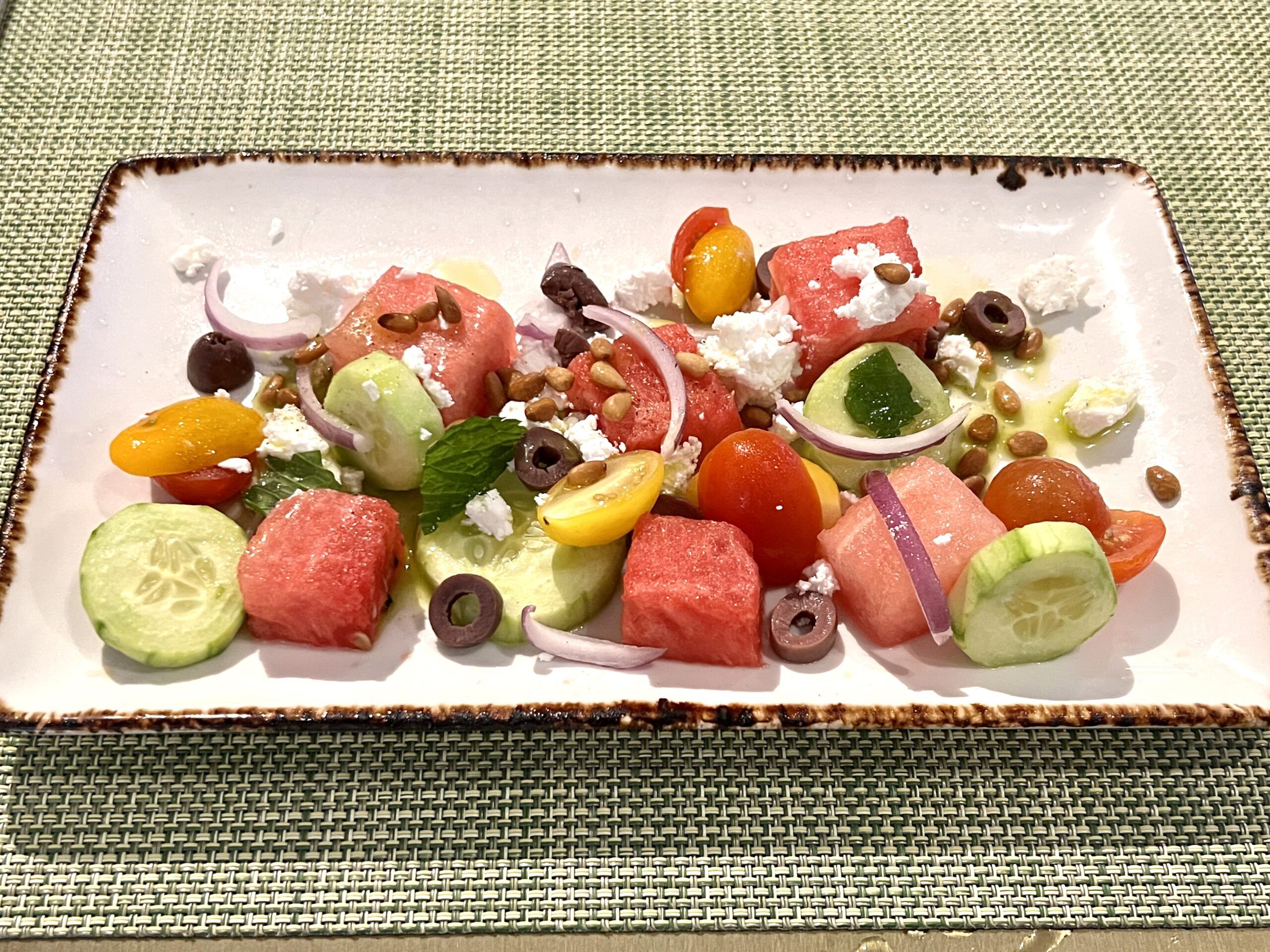 I started with the watermelon and feta salad, and Don ordered the chicken wings. For entrees, I did the BBQ chicken, and Don did the seafood kabob minus the scallops and the baby back ribs. These dishes were all very flavorful and served hot off the grill.
Of course, the warm and gooey cookie topped with vanilla ice cream was the perfect ending to this meal, even if it did take almost an half hour to arrive.
Two and a half hours later, we scurried to the theater just in time for the show. The final performance of this cruise was another headliner act. This time, it was a magician, Matt Johnson. While I swear we have seen him on a cruise before, hubby disagreed with me.
After watching him escape from a straight jacket in under 60 seconds, it was time for our final performance of the cruise. The second Wonder at Eden show is entitled Paradise. Between this show and Decadence, we liked this one more. It also just felt like it fit the venue better.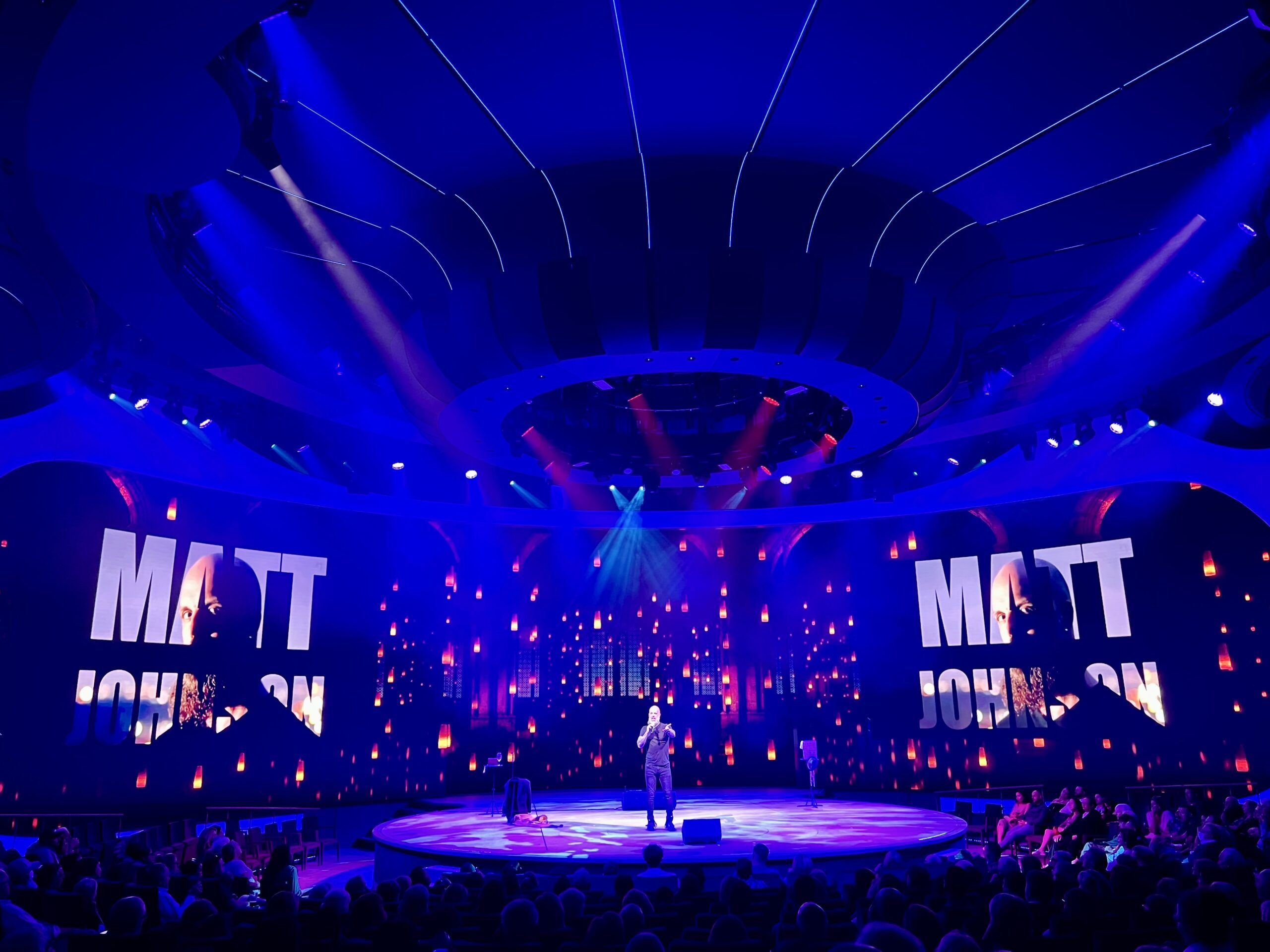 With a lush and earthy backdrop, the performers put on another solid show complete with vocals, dance numbers, and aerial feats.
It wouldn't be the last night of our Celebrity Beyond Caribbean Cruise Review if we didn't meet our friends for one final drink at the Martini Bar. So, that is what we did! A round of cocktails and some conversation later, our time on Celebrity Beyond had officially come to an end.
BOOK NOW: Exclusive Savings on Celebrity Beyond Cruises
Celebrity Beyond Caribbean Cruise Review – Disembarkation
The Dreaded Disembarkation Day
Today was the worst day of this Celebrity Beyond Caribbean Cruise Review, disembarkation day. Like most trips, we decided to complete self-assist check-out.
Needing to exit our room by 7:45 AM, we set our alarm early. While I got ready and finished some packing, hubby grabbed our usual coffee and some sunrise photos.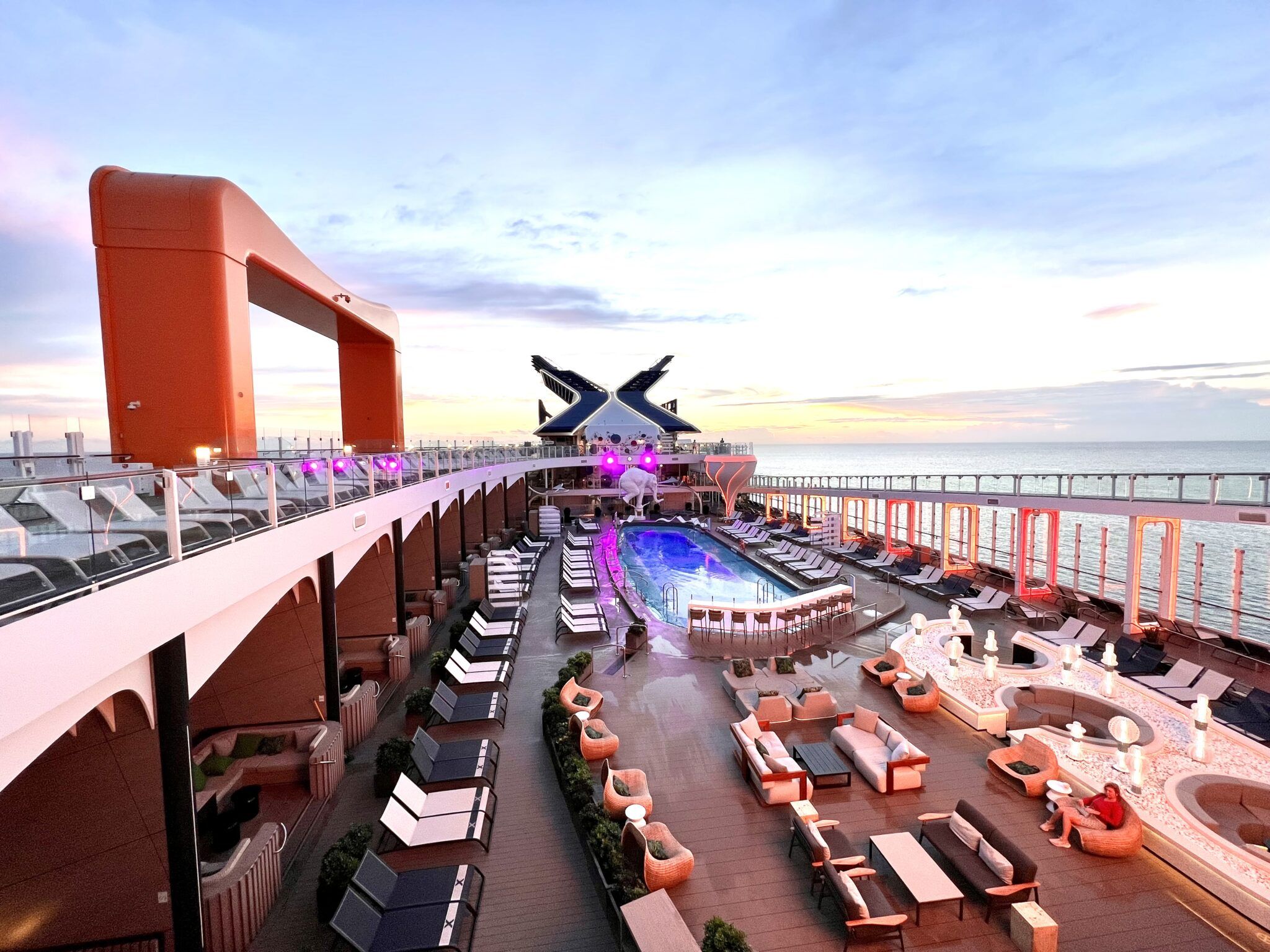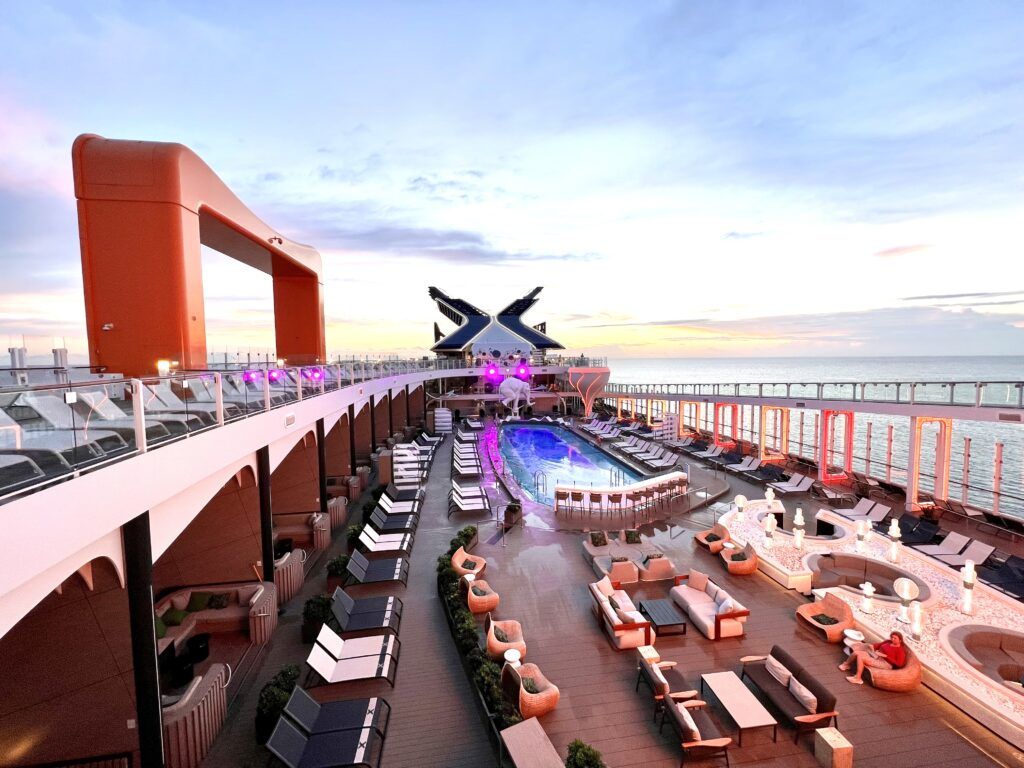 While the ship was slightly delayed arriving into port, the disembarkation process progressed quickly once we were cleared. This might be part of the reason that we had such difficulty securing an elevator.
Exiting our room just before 8 AM, with several full elevators passing by, we finally hopped into an elevator going up to secure a spot.
This was one of the busiest disembarkations that we've encountered recently. Still, it was efficient, taking about a half hour to scan off the ship, make our way through the terminal and CBP, and arrive pier-side for an Uber.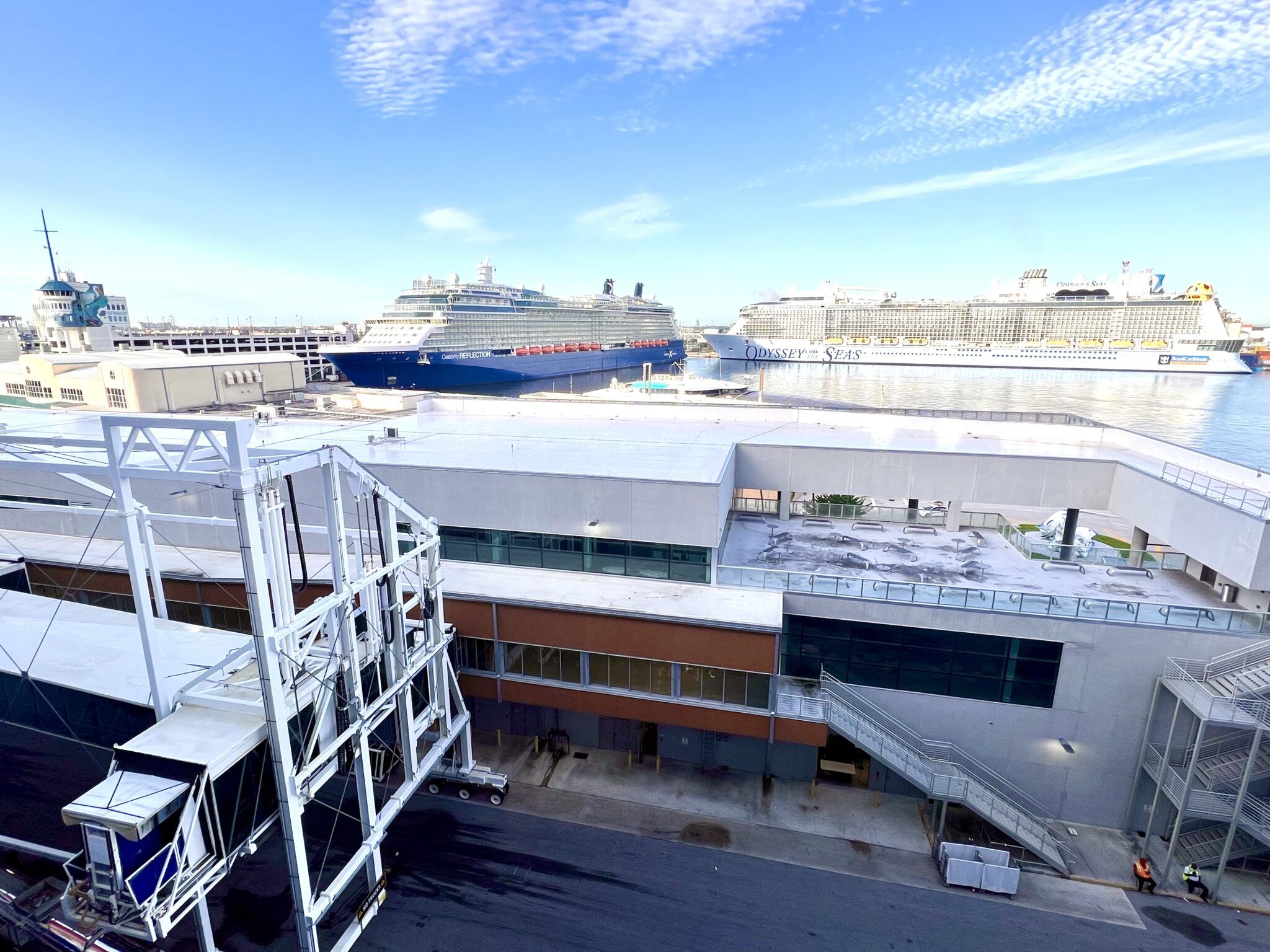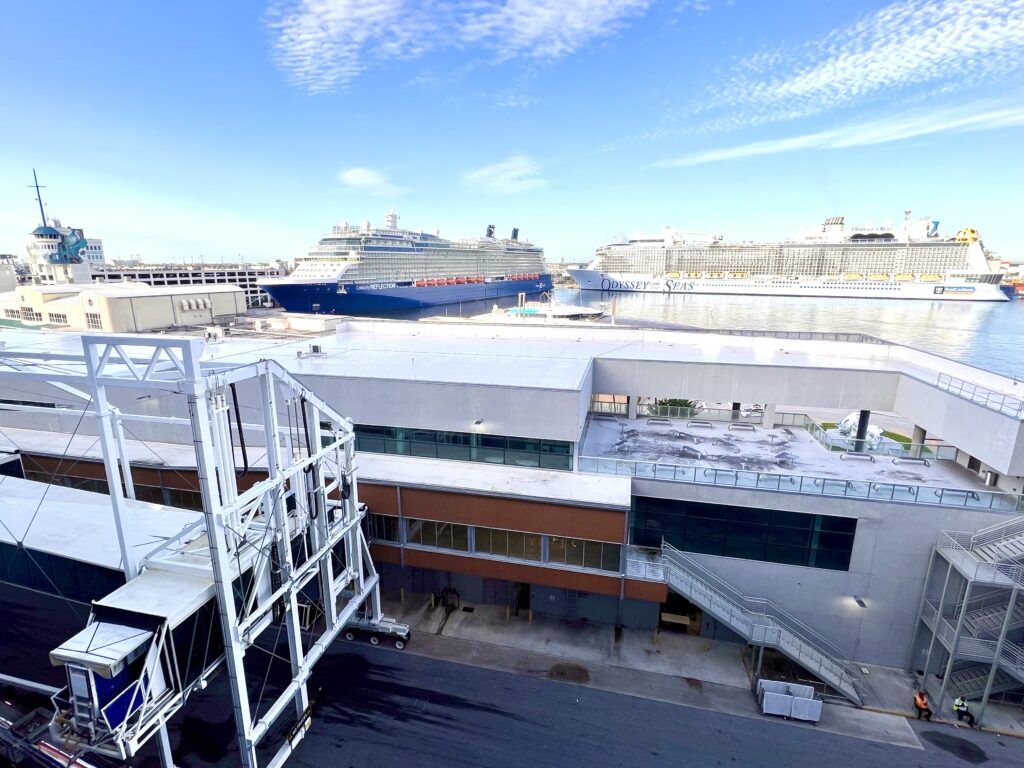 The terminal area was also pretty busy, but we only waited about 10 minutes for our share ride to arrive for the short trip to the Fort Lauderdale airport.
With our original 11:30 AM flight delayed by a half hour, the rest of the trip home was smooth sailing. Now, we are home for 6 short days before heading back to Florida for the naming ceremony of Carnival Celebration.
The rest of the year is going to be a whirlwind, but I will somehow find time to decorate our house for Christmas!
Comments
Did you enjoy our Celebrity Beyond Caribbean Cruise Review? Do you have plans to sail on this brand new Celebrity Cruises ship? Drop us an anchor below to share your recent cruise reviews!