Whether you're a seasoned runner, recreational jogger, or you just love to walk, there's a fun way to burn off some energy during your Disney cruise and earn a medal as proof – the Castaway Cay 5K!
This exclusive 5K race has become well-known among Disney cruisers. While it's been offered for many years, a lot has changed! So, whether this is your first or fiftieth time participating in the Castaway Cay 5K on Disney's private island, here's what you need to know before you lace up on your next trip!
Call to Book Your Next Cruise Now: 1-855-228-5584!
Castaway Cay 5K: Your Guide to the Race Around Disney's Private Island
What is the Castaway Cay 5K?
The Castaway Cay 5K is a free race that any guest on any Disney Cruise Line ship can participate in when they stop at Disney's private island, Castaway Cay. The 3.1 mile course is a great way to see the island. The flat paved course takes you past many of the island's landmarks, including the observation tower, the iconic Castaway Cay sign, and more.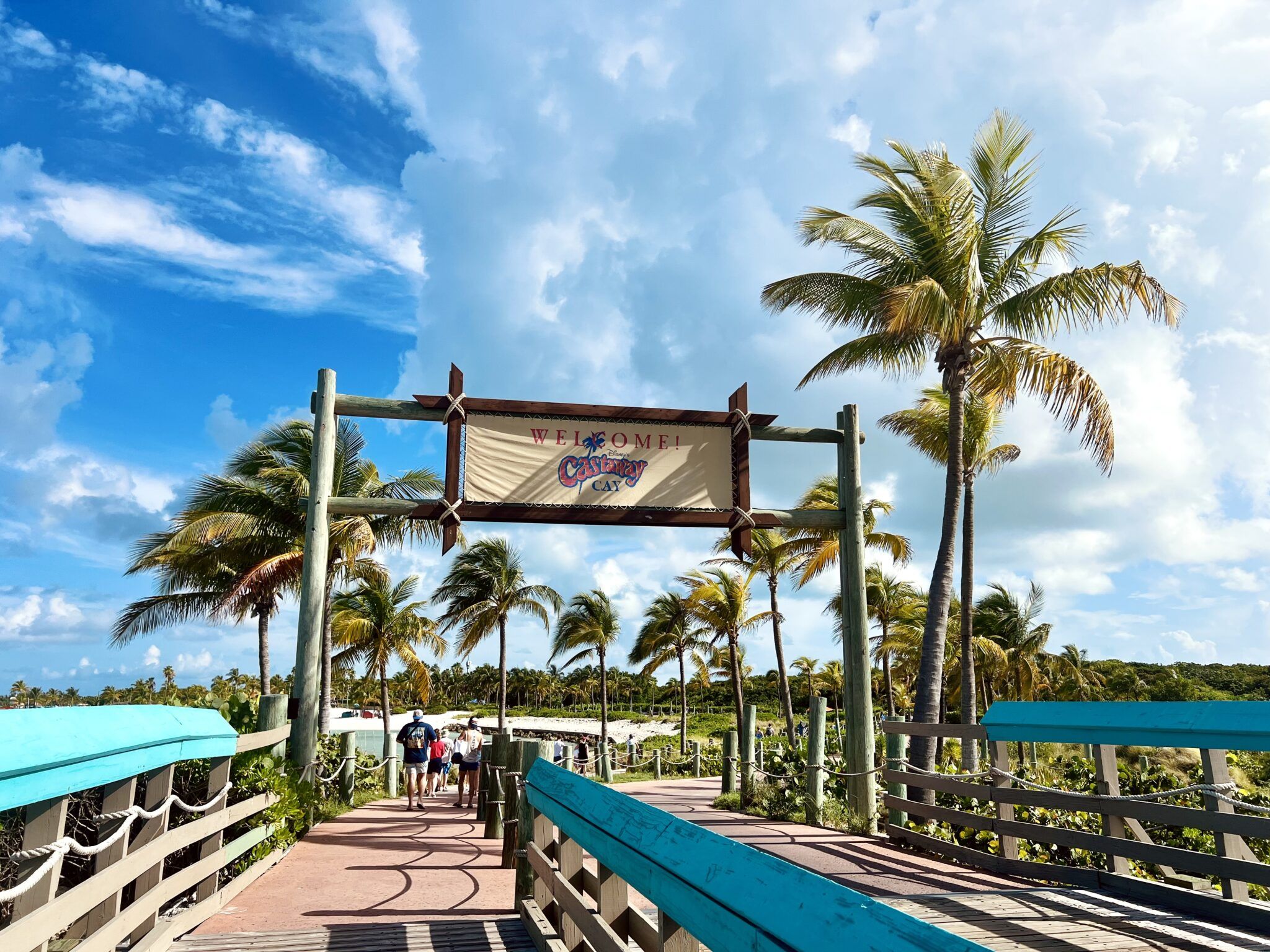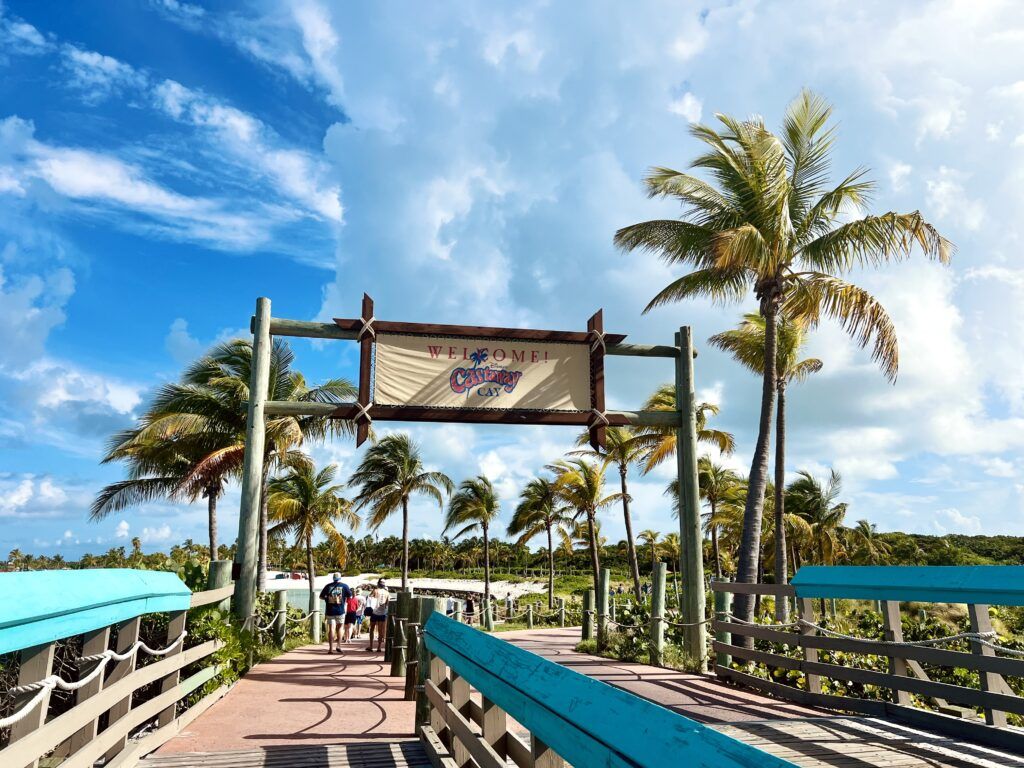 While the race used to take place in the morning with participants needing to start their day bright and early, the Castaway Cay 5K is now a fun run. This means that you can start your race any time of the day.
If you're not a runner, don't worry! The 5K is open to all fitness levels, and many participants choose to walk the course instead of running. Plus, there are water stations set up along the course for runners and bikers. So, you don't have to worry about the heat if you prefer a slower start to your day.
Do I need to register for the Castaway Cay 5K?
No! In the past, the Castaway Cay 5K was classified as a group activity, and guests had to sign up for the event in advance. However, this is no longer the case. The race is now considered a self-guided activity. This means that you don't need to register or sign up in advance. Just show up on the day of the event and make your way to the starting line.
It's worth noting that the 5K is a popular event. So, you might want to arrive early to avoid crowds and ensure that you have plenty of time to complete the course.
How much is the 5K at Castaway Cay?
The Castaway Cay 5K is free for all guests on a Disney Cruise Line ship that stops at Castaway Cay. That's right, there's no cost to participate in the 5K!
In the past, Disney has offered a Castaway Cay Challenge as part of the Walt Disney World Marathon Weekend (which usually takes place in January). This challenge was an additional cost; however, it did not return in 2023.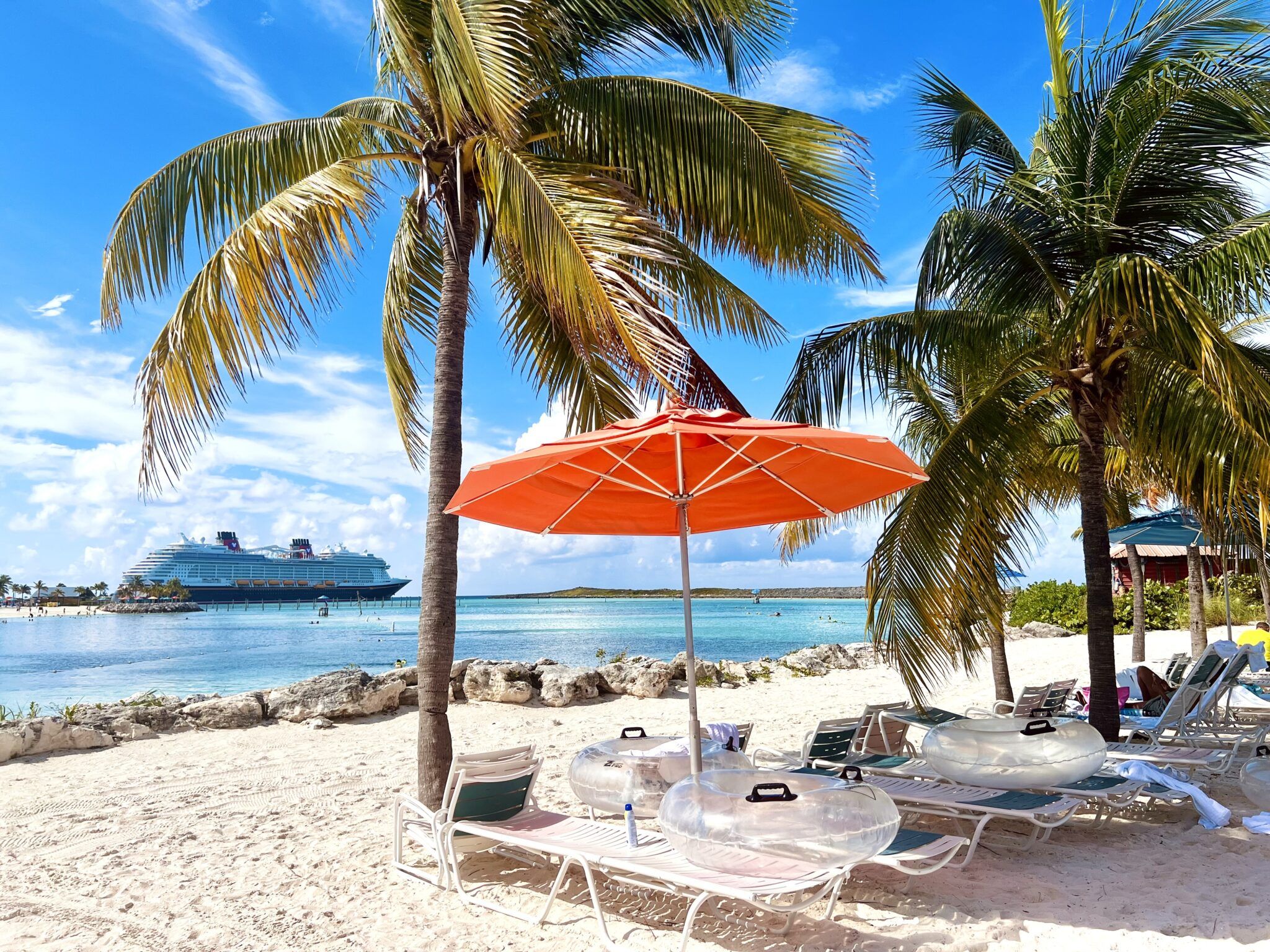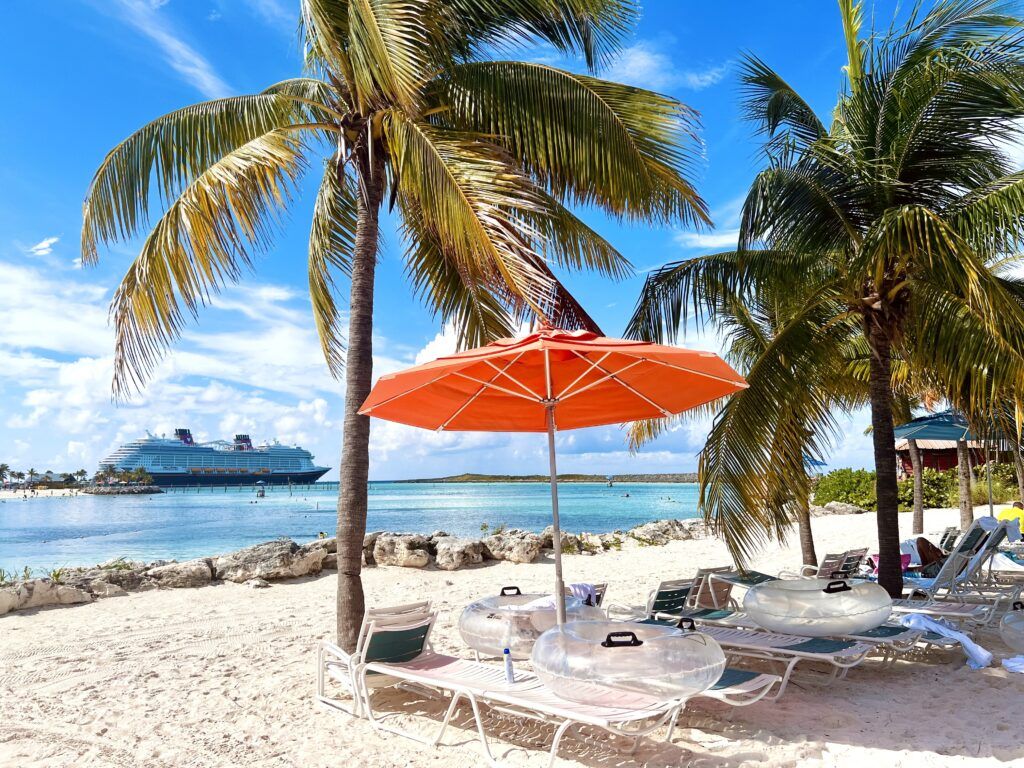 Can kids run the Castaway Cay 5K?
The Castaway Cay 5K is a family-friendly event open to anyone 10 years of age or older. However, Disney does permit younger children to participate if they are being pushed in a stroller by an adult. Just note that they may not receive a medal since they can't officially participate.
EXCLUSIVE SAVINGS: Get Deals on Your Next Disney Cruise!
Where is the starting line?
The starting line for the Castaway Cay 5K is located near the bike rental information booth. Since the race is a fun run and self-timed, you can make your way to the start area whenever you're ready. And, once you're off, be sure to keep an eye out for 5K signage to keep you on the right course.
What is the race course like?
The Castaway Cay 5K race course is a scenic route through some of the best areas of the island. The course is well-marked and easy to navigate, with signage stationed along the way to provide guidance and support.
The 5K course begins near the bike rental area and takes you along a paved, flat path that winds through the island. You'll pass by the post office, the observation tower, and the airstrip before reaching the halfway point at Serenity Bay. You'll then pass by the family beach and the dock before crossing the finish line near the bike rental area.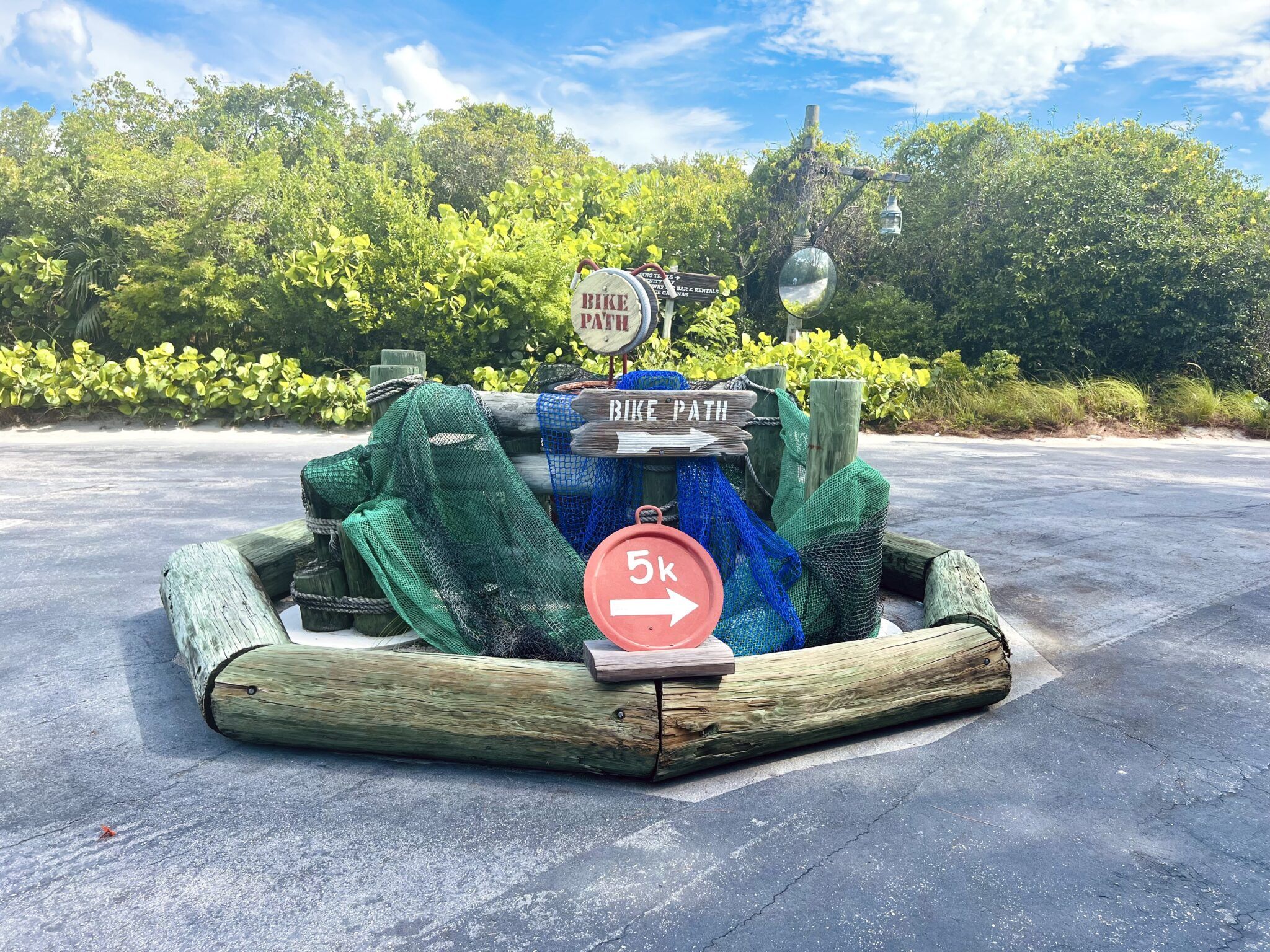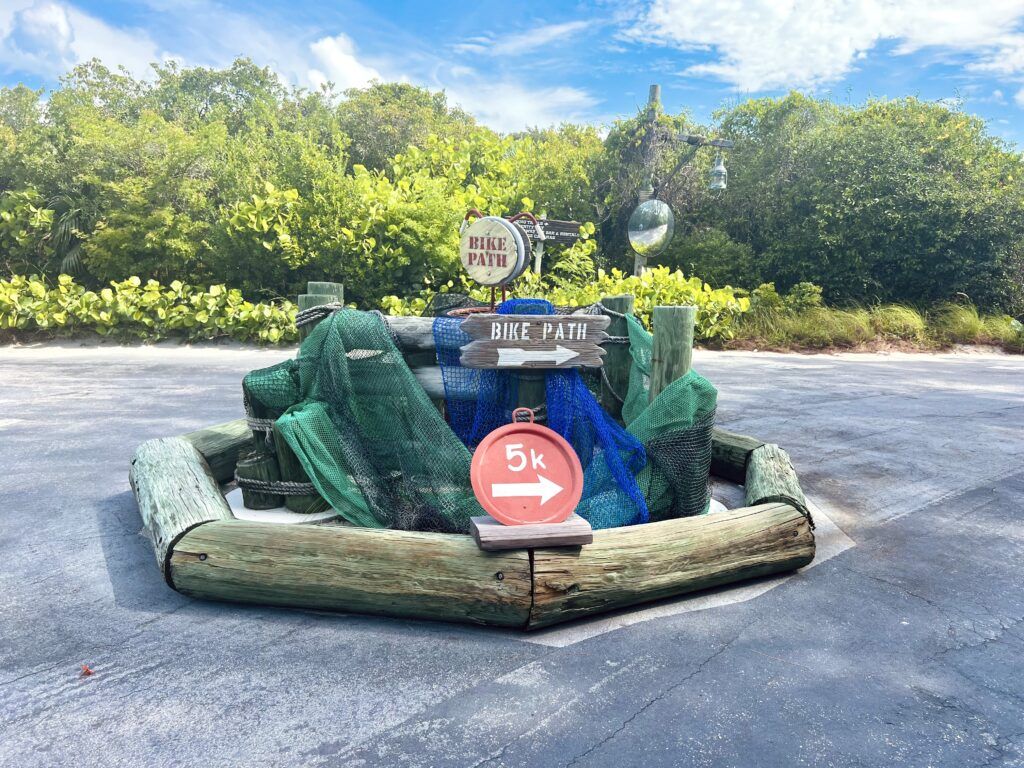 Are there water stations on the race course?
Yes, there are several water stations set up along the course for runners and bikers to stay hydrated during the race. We recommend bringing your own water bottle with you if you're traveling during a particularly warm season or planning to run later in the day. It can get very hot once the sun is up.
Is the Castaway Cay 5K timed?
No, the Castaway Cay 5K is a self-timed run. If you'd like to time your race, we recommend wearing a sports watch with GPS capabilities, using a stopwatch, or simply check the time when you start and finish. But, the Castaway Cay 5K isn't about how fast you complete it – everyone gets a medal whether it takes you 20 minutes or 2 hours!
What should I pack for the 5K?
Castaway Cay can be very hot and humid (especially if you plan to run later in the day). So, it's important that you pack the right things for your 5K race!
It's important to wear comfortable clothing that is appropriate for the weather conditions on the day of the race. We recommend bringing clothes that are made of lightweight and breathable fabrics. Many athletic brands make clothing that is moisture-wicking to help you feel cooler when the weather is particularly hot.
You'll also want to be sure that you have supportive running or walking shoes, socks that won't give you blisters, and sunscreen with a high SPF to protect your skin. While there is some shade along the course, we also recommend packing a hat and sunglasses and bringing along a water bottle to stay hydrated.
Remember that the Castaway Cay 5K is a fun run. So, there's no need to bring any high-tech running gear or gadgets. However, if you do plan on listening to music during the race, be sure to bring headphones that won't fall out while you run.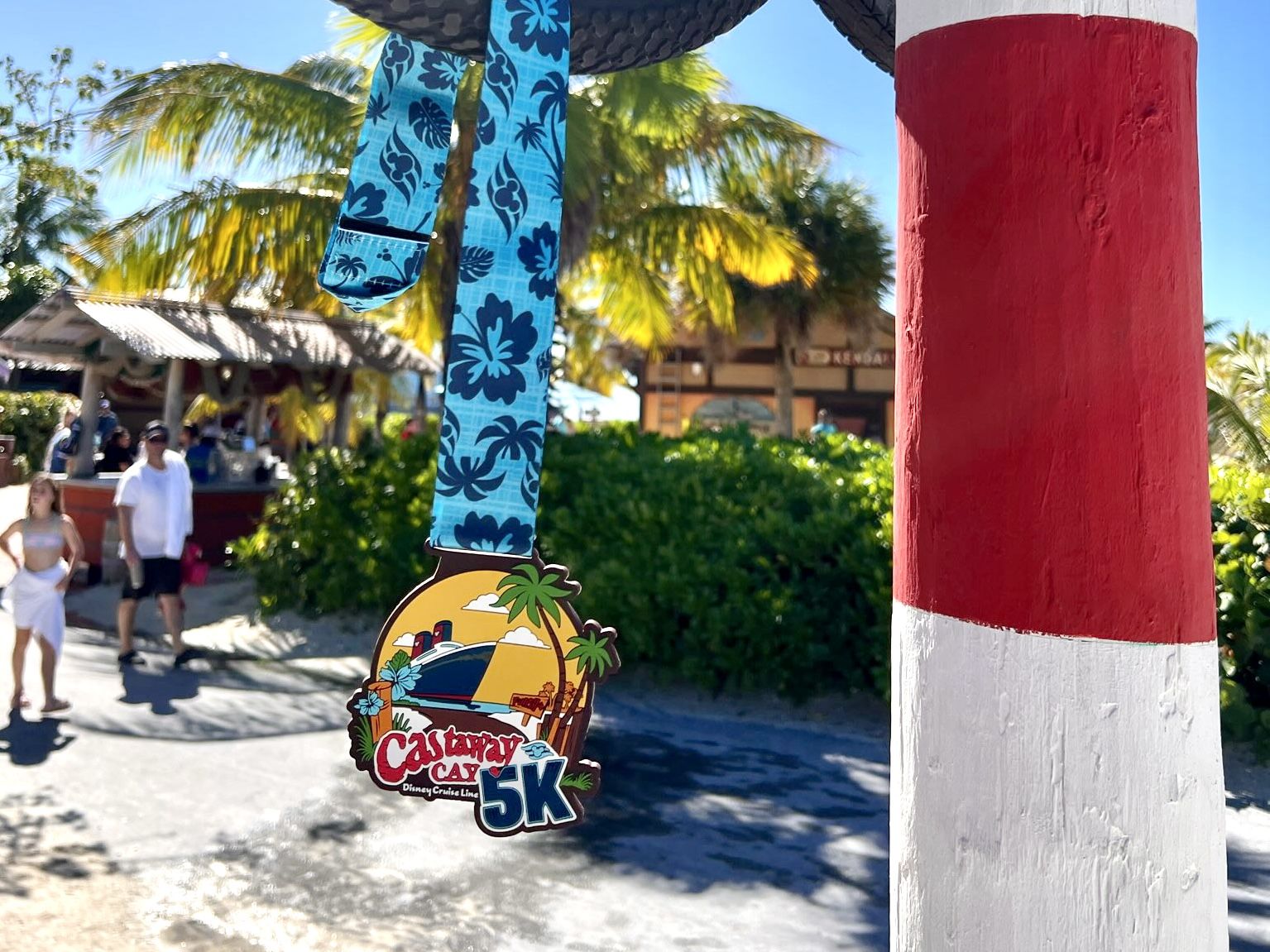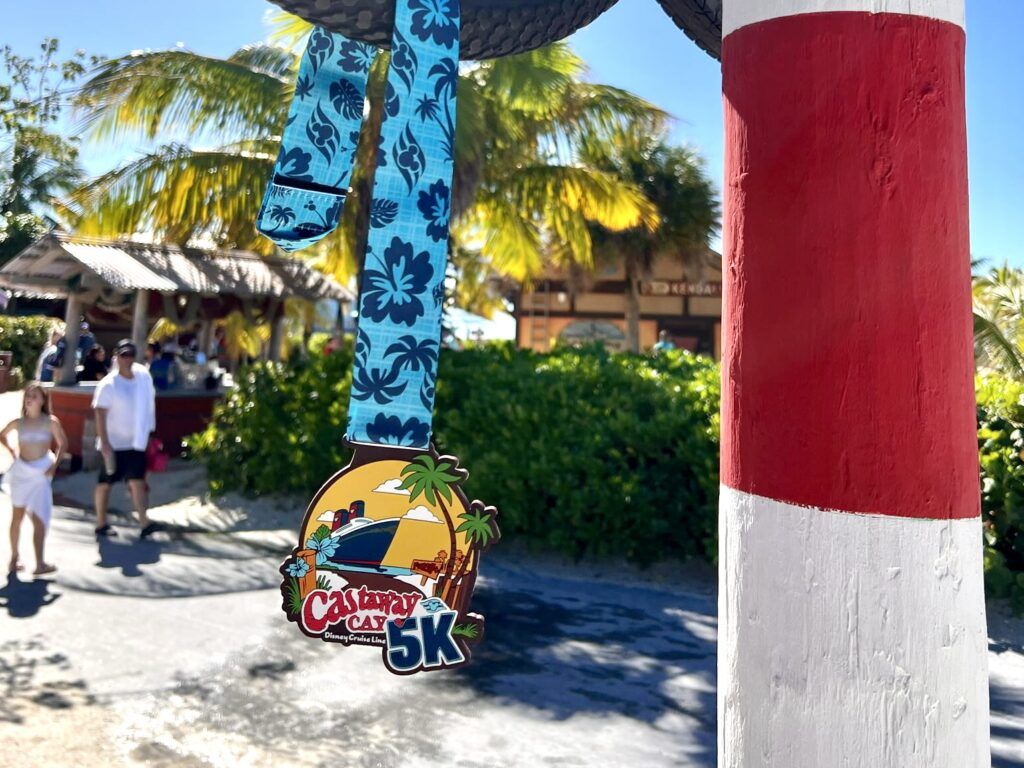 Do you receive a medal for running the 5K?
Yes! Anyone who runs the Castaway Cay 5K can receive a medal at the end regardless of whether you walk or run.
Once you complete the 3.1 mile course, you can collect your medal at the Bike Rental Station near the start (and finish) line. It's based on the honor system, so if you put in the miles, then you deserve that medal!
Unfortunately, biking does not officially count for the 5K.
Is the Castaway Cay 5K worth it?
If you're considering the Castaway Cay 5K during your Disney Cruise, you may be wondering if it's worth it. Here are some things to consider:
Pros
The Castaway Cay 5K is a fun activity to do during your day on the island. You'll get to explore the beautiful scenery and see most of the island while earning a unique medal!
The race is free to participate in and open to all fitness levels. Plus, you'll get to say that you exercised during your vacation which definitely calls for an extra ice cream cone!
You'll receive a commemorative medal upon completion of the race, which can be a nice souvenir to take home.
The Castaway Cay 5K can only be run at Castaway Cay on a Disney cruise! So, this is one of the only chances you'll ever have to earn the exclusive finisher medal.
Cons
The race is weather-permitting, so there's a chance it could be canceled if conditions are deemed unsafe.
Speaking of weather, temperatures and humidity levels can get very high on Castaway Cay as the day goes on.
The race is not timed, so if you're looking to set a personal record or compete against others, this may not be the event for you.
Overall, whether or not the Castaway Cay 5K is worth it really depends on your personal preferences and priorities. If you enjoy exercise and want to experience the island in a unique way, it could be a great choice. However, if you're not interested in running or walking, or if you just want to spend more time on the beach, you may want to skip it. There are still plenty of other fun activities on the island!
BOOK NOW: Get Exclusive Deals on Disney Cruises!
Comments
Have you visited Disney's private island in the Bahamas? If so, have you run the Castaway Cay 5K? Drop us an anchor below to share your favorite activities at Castaway Cay, Bahamas.