Anthem of the Seas Large Interior Stateroom Review
Reserving our Anthem of the Seas cruise close to a year in advance, we continued our usual trend of booking an interior stateroom. During our January 2015 sailing on Quantum of the Seas, we also booked a large interior stateroom (Category L) with a virtual balcony, so we knew exactly what to expect. We tend to be a bit frugal when it comes to cabins. We really don't spend all that much time in our room and prefer to afford our finances elsewhere. But, just coming off a great trip on Norwegian Escape with a balcony cabin, we were hoping we did not regret this decision.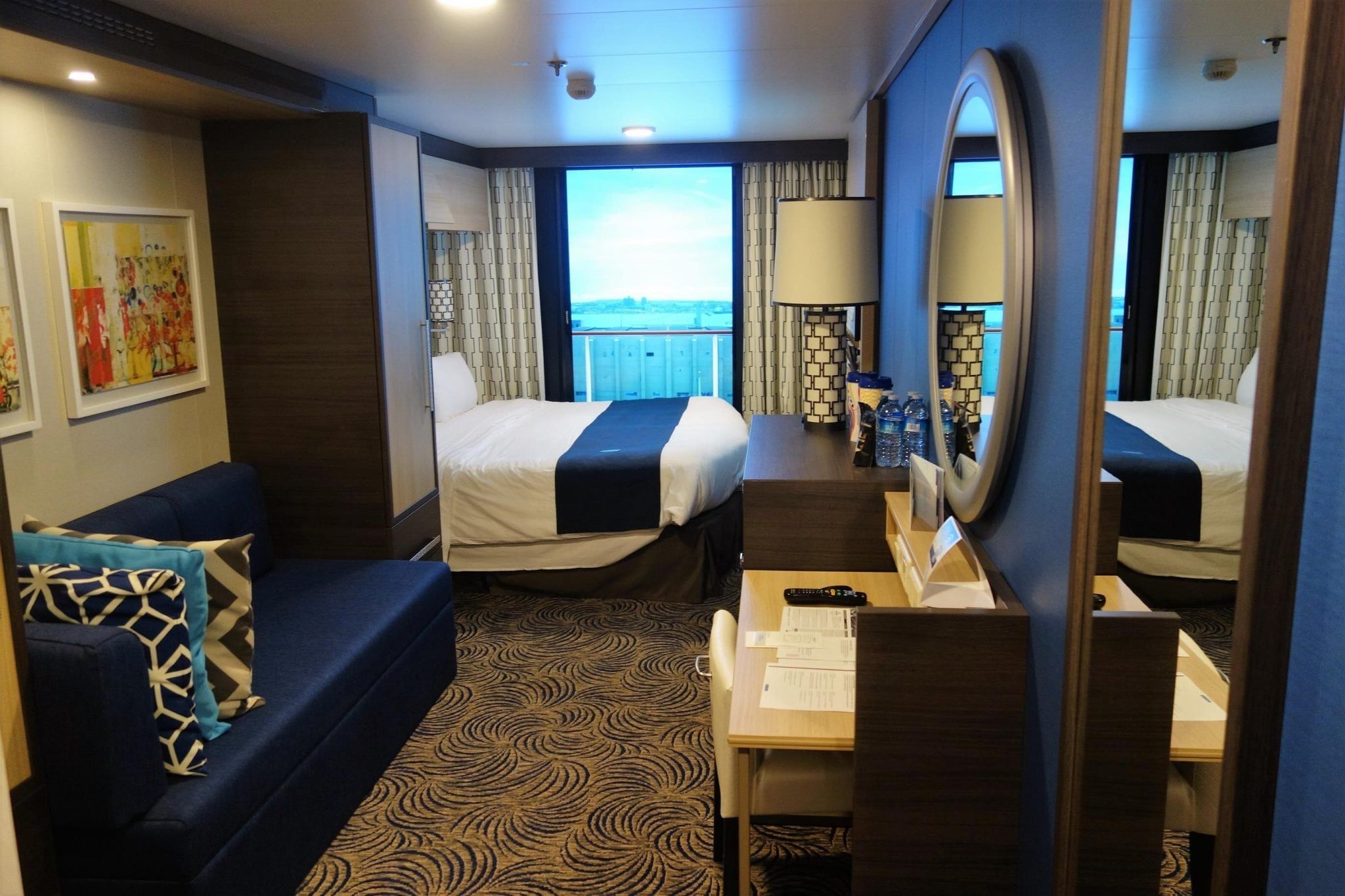 Upon entering the room, cabin 10177, it was exactly the way we remembered it. The room is laid out more like a traditional balcony stateroom with the bed off to the side, instead of positioned up against the inside wall.
What make the interior staterooms on Anthem of the Seas different than most interior staterooms are the 4K high-definition screens that span floor to ceiling, providing real-time views of the ocean and destinations. We were pleasantly surprised with these virtual balconies. See our full review of these virtual balconies from our Quantum of the Seas cruise. These virtual balconies are definitely an enhancement to a traditional inside cabin, affording you the opportunity to experience the sights and sounds of the outside world.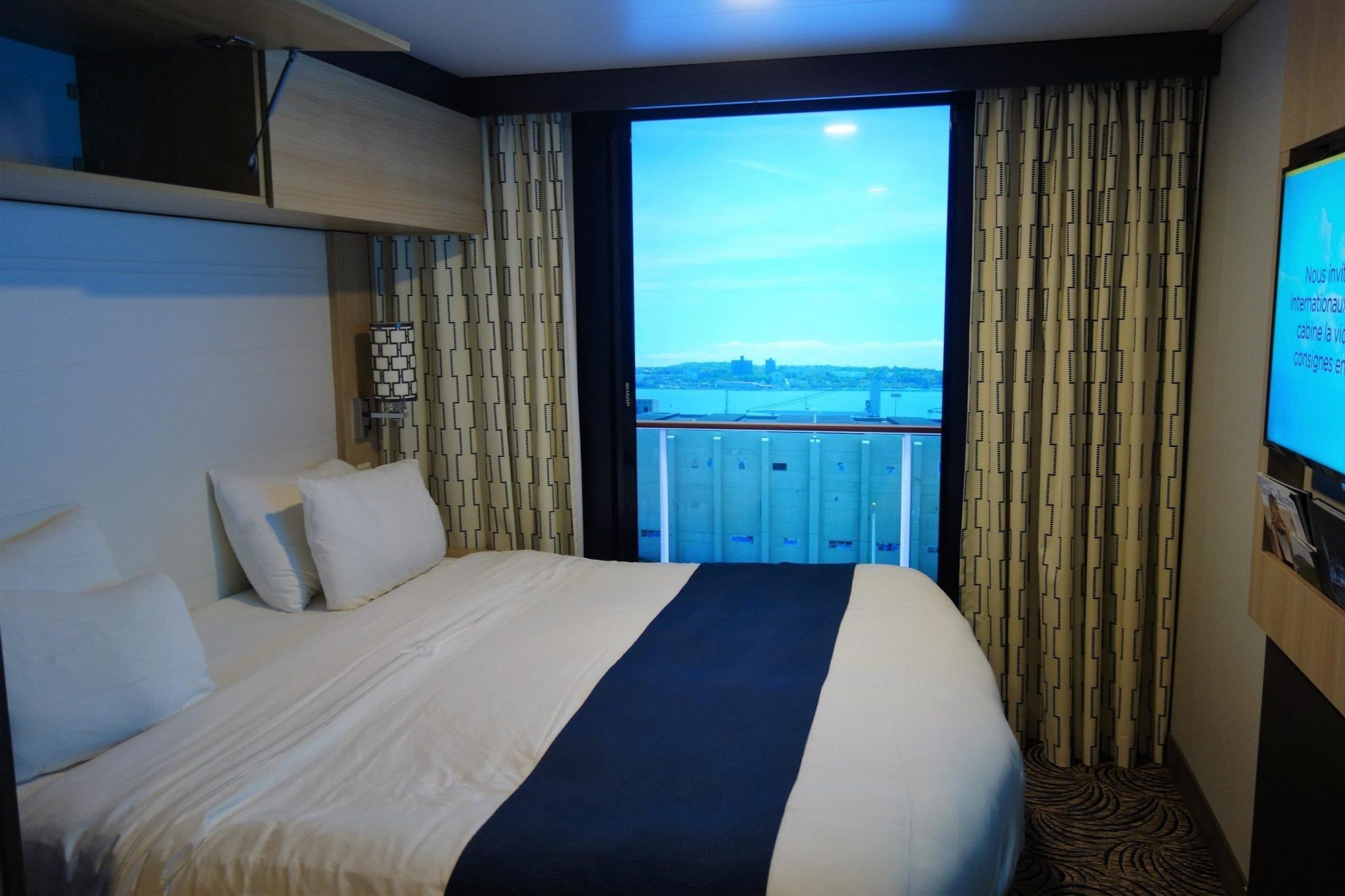 Our large interior stateroom on Anthem of the Seas was well appointed with a Royal King bed, sitting area with sofa, and full bathroom. The Anthem of the Seas staterooms, specifically the Large Interior category, measure a complete 178 sq ft.
The room lay-out seems to add a bit more space than some of the other ship lay-outs we have experienced in the past. Someone could easily be sitting on the sofa while the other sits at the desk, still allowing for walking room.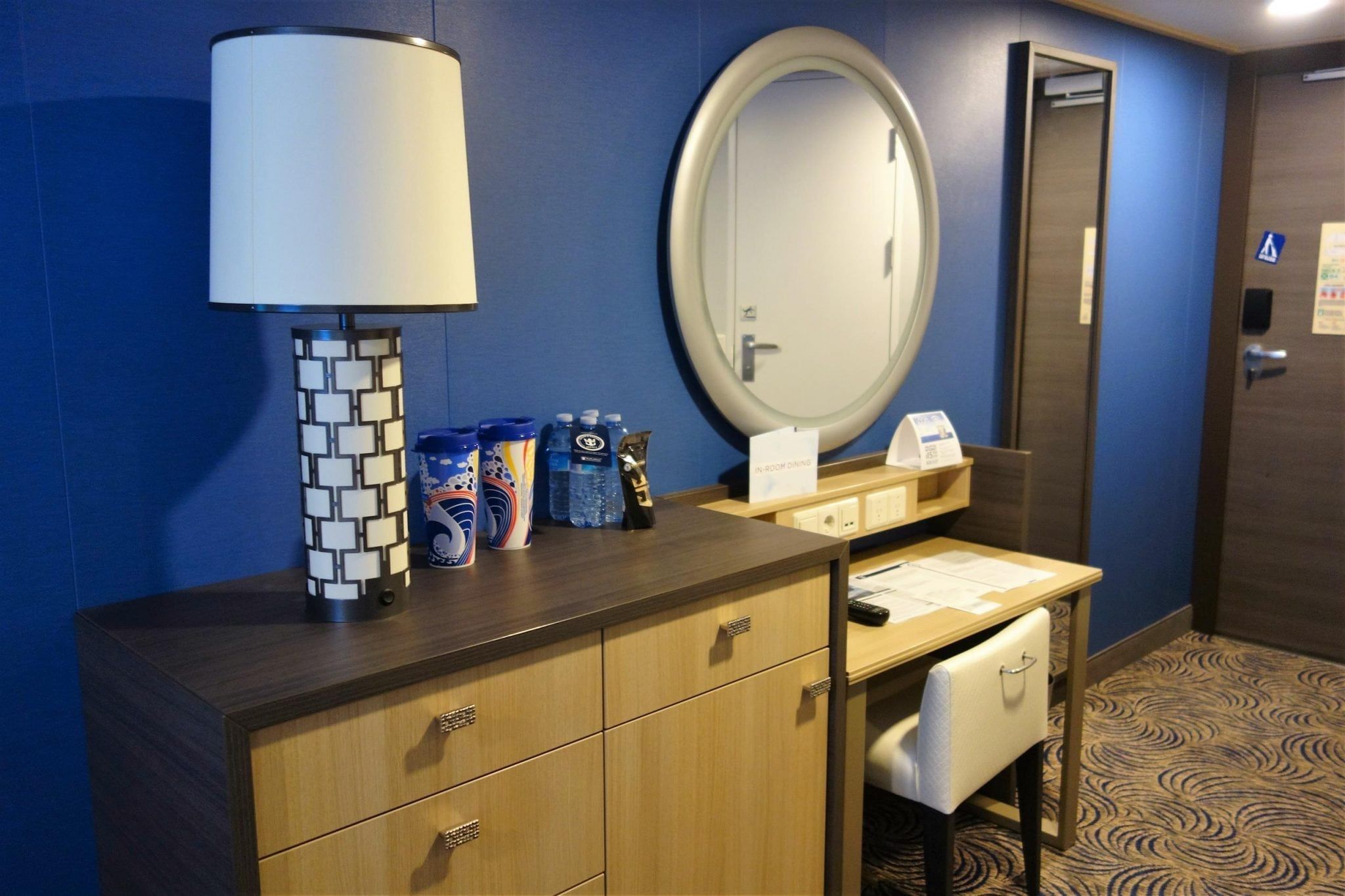 The bathroom also has a modern and somewhat more spacious feel as well. There was plenty of storage areas and a small foot bar in the shower to allow for increased ease of shaving.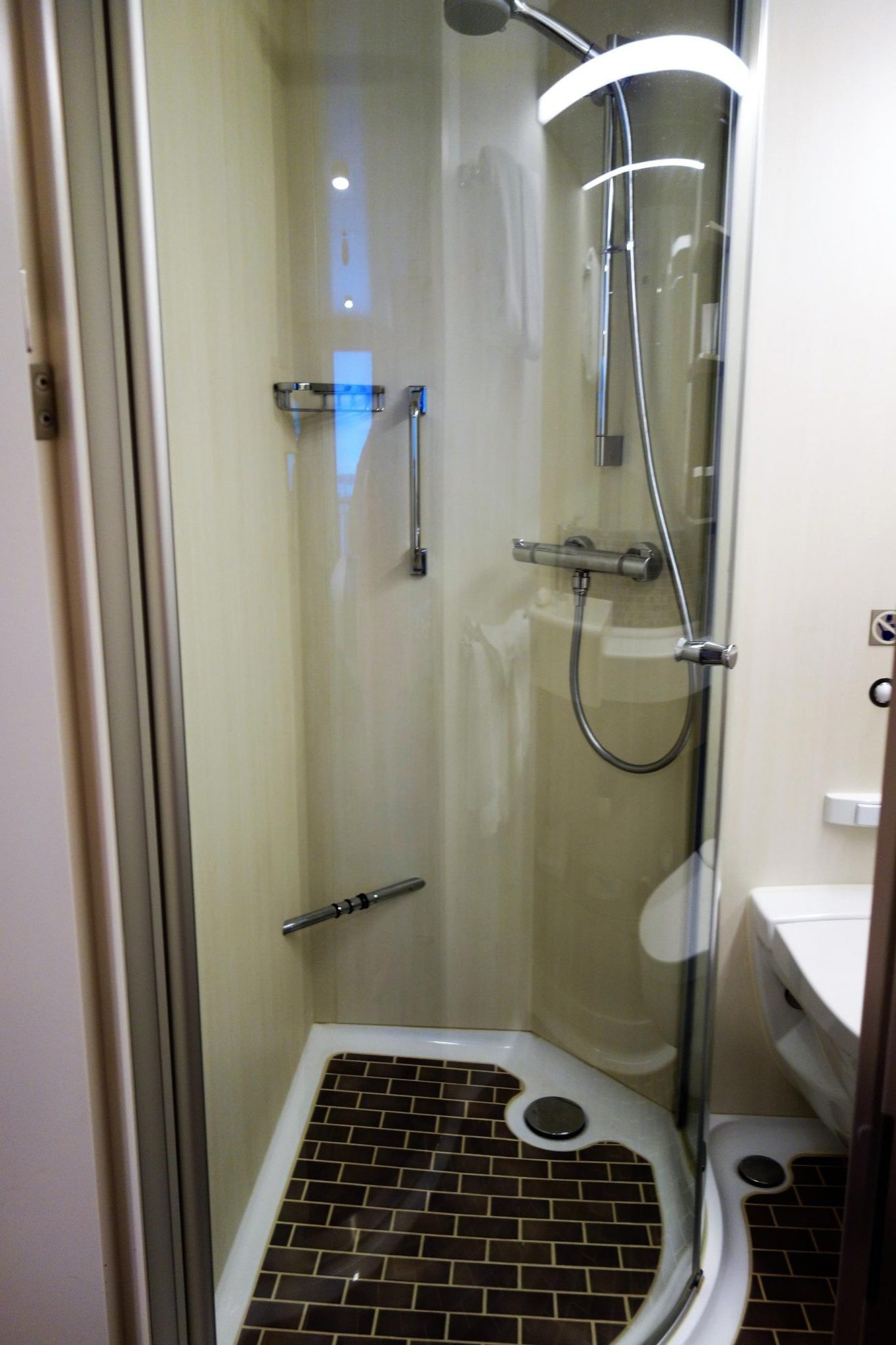 There are 2 small closets flanking the sofa and 2 over the bed storage bins which are a huge bonus feature. Five dresser drawers in the desk  allow for plenty of extra storage space as well.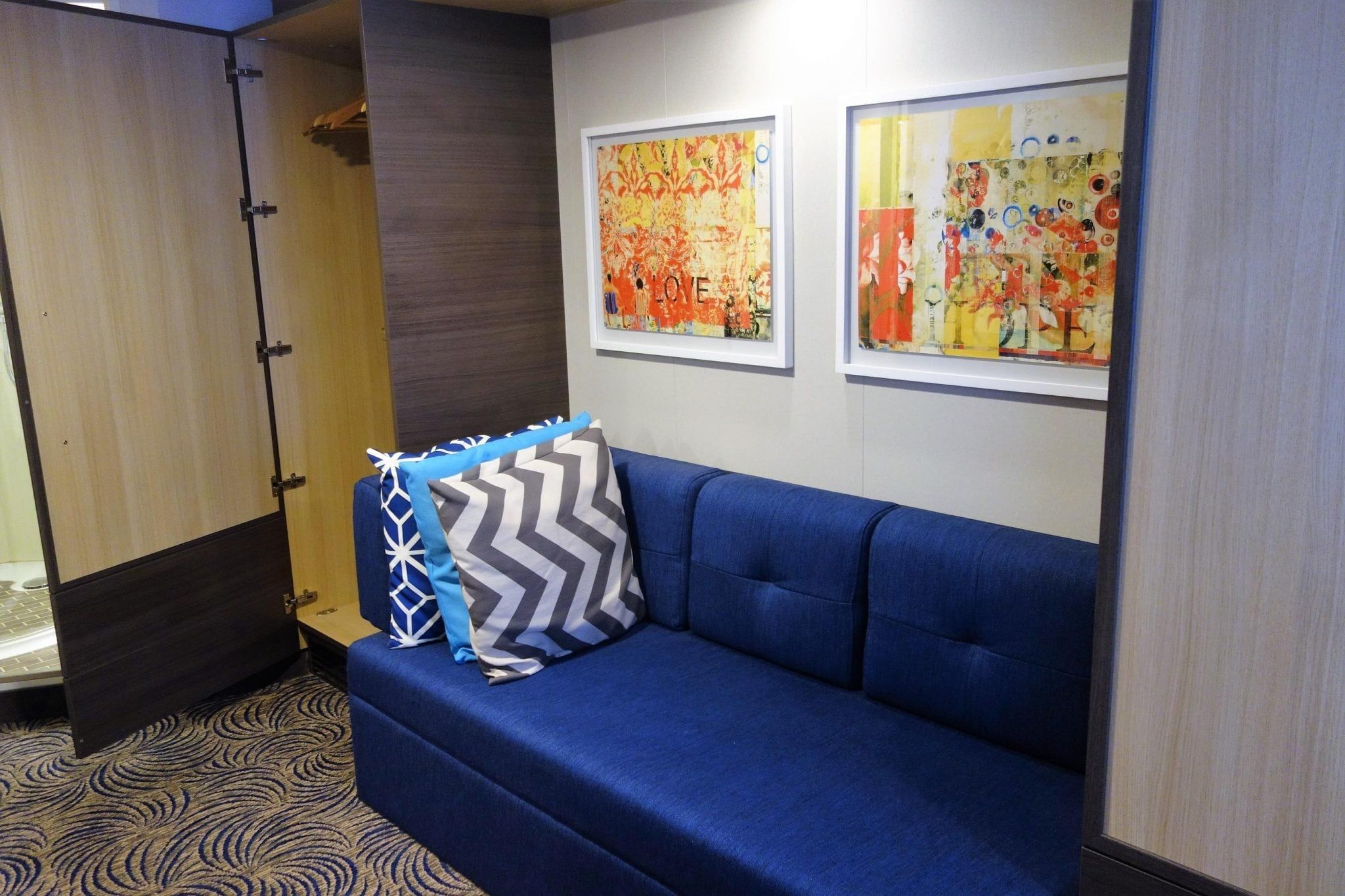 There is an outlet located near the bed convenient for charging a phone or an alarm clock. There are also 2 outlets and 2 USB outlets at the desk and a mini fridge to the left of the desk. We typically remove some of the bar items to allow for room to keep our bottles of water cold.
The room also features an energy saving design requiring a room key to be inserted before you can manage the lights and/or air conditioning. Admittedly, we try to work around this by inserting an alternate card so that the room will be cool upon our return. Sometimes it worked, and other times, our stateroom attendant removed it.
All said and done, the large interior stateroom is a great value with adequate space and storage, with the added perk of a virtual balcony! Are these large interior staterooms with virtual balconies better than a "real" balcony? Of course not, but they are a great alternative for the more economical cruisers.
Comments:
Have you sailed on Anthem of the Seas or Quantum of the Seas? Have you stayed in a Large Interior Stateroom on one of these ships or experienced a virtual balcony on another Royal Caribbean ship? Drop us an anchor below to share your thoughts and let us know what your cabin preferences are when sailing.