The world's largest cruise ship calls for one epic pub crawl! As always, the Princess and I were determined to complete our traditional "Drink Around the Ship" stopping at every bar on Symphony of the Seas. Along the way, we made it a point to grab photo proof and a copy of every bar menu. If you are looking to complete your own bar crawl, this Symphony of the Seas Bars review is perfect for you.

Guide to All of the Symphony of the Seas Bars
Deck 4
On Deck 4, you will find several bars as part of the ship's Entertainment Place. These include the Attic, Studio B, Jazz on 4, and even the Casino. All of these venues, like many of the other bars onboard, offer cocktails, beers, and wines that are part of the Standard Menu.
Download a PDF of the Standard Menu
RCI_Standard_Menu

The Attic
This multi-purpose venue hosts comedy shows throughout the cruise, offered at 2 different time slots on most nights. These shows in The Attic are available for pre-booking on your cruise planner prior to sailing. After hours, the Attic turns into a nightclub with the resident DJ spinning the latest hits until the wee hours of the morning.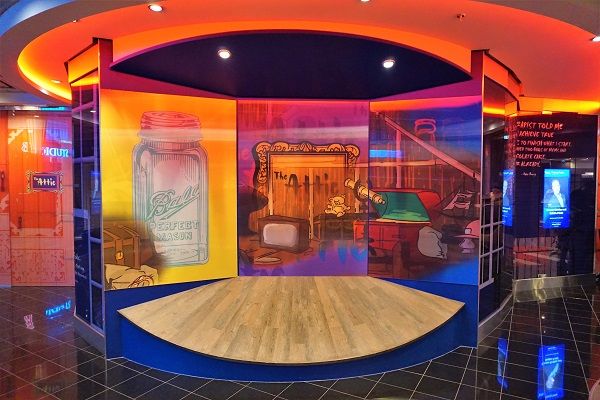 Jazz on 4
Any type of music fan will find this intimate venue worth a trip. While it is a rather small space, the vintage decor and pitch-perfect acoustics make it the ideal place to enjoy some smooth tunes. You can relax here after a long day of fun in the sun. While enjoying the live band, Jazz on 4 has waitstaff to grab your drinks of choice.
Casino Bar
Even if you don't like to gamble, getting a drink from the ship's Casino Bar is a safe bet. The lively bartenders and usually small crowd makes this the perfect bar to grab a quick drink on the go. This bar is also open all hours of the night to sip a cocktail or two while taking a chance at hitting it big. Maybe this time you will hit the jackpot?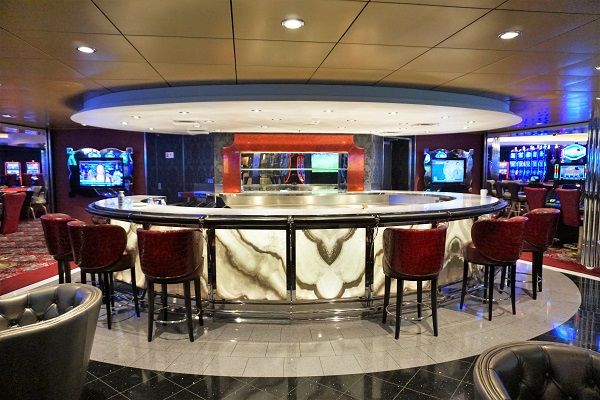 Deck 5
On Air Club
Get ready to sing your lungs out! This karaoke bar is a popular place almost any night of the cruise. When other cruisers are not doing their best renditions of Sweet Caroline, the venue also hosts trivia contests and other events. Regardless of the activity, you are sure to work up a thirst, and the complete bar here can mix up any drink to celebrate your performance or provide some liquid courage.
Boleros
This Latin-inspired venue is a Royal Caribbean staple and your home for some salsa dancing and custom margaritas. Along with a specialty menu featuring drinks with serious heat, the venue spices things up with live music and dancing most nights of the cruise. You can't go wrong with drinks like the Kiwi Caipirinha and Lime Daiquiri.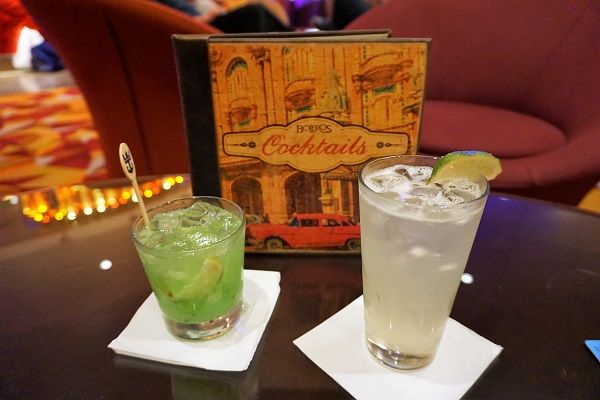 Download the Complete Boleros Menu
Copper and Kettle Pub
Does acoustic guitar music, a wide array of bottled and canned beers, and beer-cocktails sound like a good mix? If so, then the English pub, Cooper and Kettle, will be your stomping ground on Symphony of the Seas. As a fan of brews, I was happy with the selection. Stephen Burke, the featured performer, was also able to belt out classic pub tunes. With its location on the Royal Promenade, this pub is always in the center of all the action.
The Rising Tide Bar
You can raise a glass on this signature bar on Symphony of the Seas that also acts as an elevator of sorts. Get ready for your "flight" as you ascend from Deck 5 on the Royal Promenade to Deck 8 in Central Park. This venue's signature drink menu features champagne cocktails, so you can toast to a great time on this one-of-a-kind bar with go-to favorites like Lets Get Fizzical and the French Martini.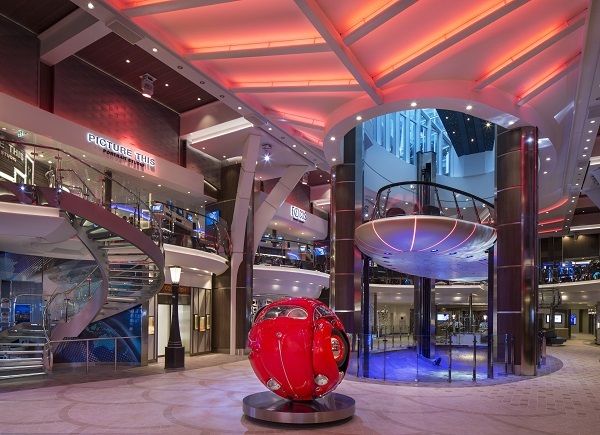 Bionic Bar
This "unmanned" bar features two bartenders that won't forget your drink. These robot bartenders serve over 50 different concoctions including a few signature drinks. You can also create your own drink then watch these futuristic mixologists whip it up right in front of you. While this bar is a bit of a gimmick, it is worth at least one visit for the experience.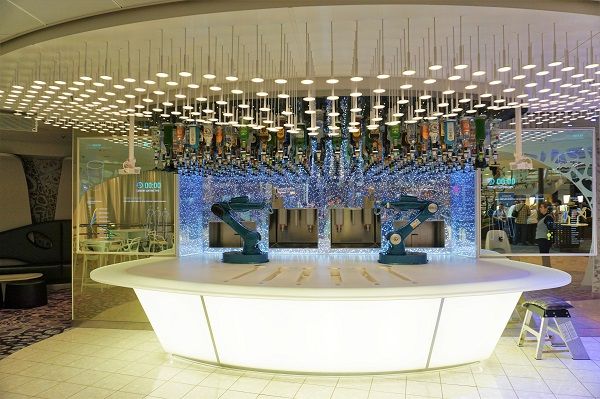 Deck 6
Schooner Bar
The cruise line's signature bar, the Schooner Bar is home to our favorite drinks. A properly made Sidecar and the Lavender Daiquiri are a regular for us on any cruise. When you check out this bar on Symphony of the Seas, you can sit back and enjoy the stylings of the ship's featured pianist. The very entertaining Billy Pando played here most nights of our cruise.
Download the Schooner Bar menu.
Playmakers Sports Bar and Arcade
Plenty of televisions, beers, and wings, what is there not to love about this new venue? Debuting on Symphony of the Seas, this bar has quickly become a favorite for cruisers. Whether you want to watch the big game on the wall-to-wall TVs, challenge some new acquaintances to a friendly game, or grab some drinks and pub grub, this locale is like your hometown favorite, just at sea.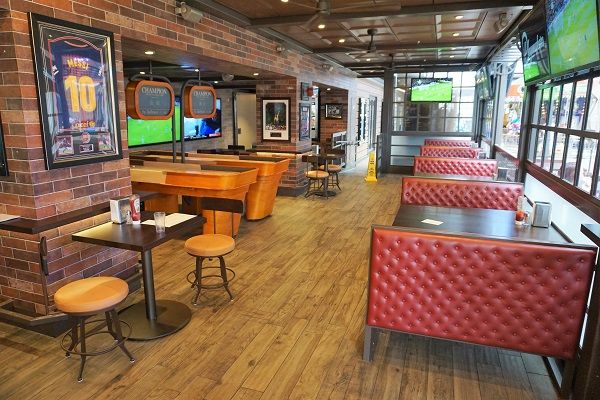 Deck 8
Vintages
Wine lovers have their own sophisticated hideaway too. Located in Central Park on Deck 8, this warm and cozy lounge never gets crowded. Featuring a soloist performing light sounds, you will melt into the chair as you enjoy a glass of wine from the most extensive list on the ship. During our recent trip, I tried the house-made sangria while the Princess sampled a glass of rose.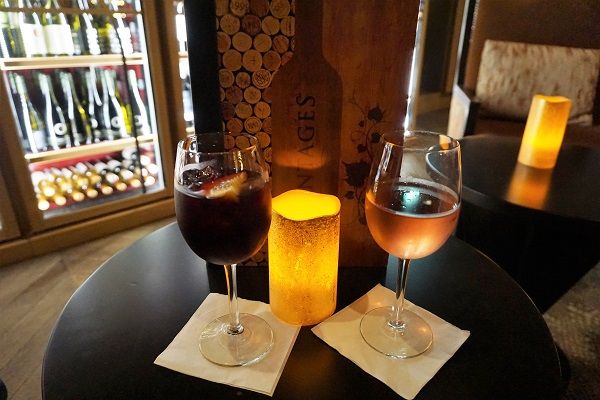 Trellis Bar
Also situated in Central Park, this outdoor bar is in the heart of this tranquil open-air space. Featuring the standard menu, you can enjoy a light breeze and good company as you marvel at the nighttime sky. While it is outdoors, you don't have to worry about the crowds, as this is another hidden gem that is in plain sight.
Dazzles
Family and friends are welcome at this multi-purpose venue that is home to several different entertainment offerings during the cruise. The ship's house band will play live dance music from all different genres and decades. The two-story venue also features family friendly themed nights and rock-a-rokie. You will want to stop in this venue at least one night, even if it is just for some people watching.
Deck 12
Wonderland Bar
Want to take a trip down the rabbit hole? Even if you don't have reservations at this fantastical restaurant, you can pull up a chair at the bar. Serving the restaurant's four signature drinks as well as a fully stocked bar, this venue is open most evenings from 5 pm to midnight. If you do not have the drink package, head there early for half-priced drinks during happy hour.
Deck 15
Pool Bar and Sand Bar
Need a drink while relaxing in the sun? You can head over to either one of these outdoor bars for your drink of choice. Or, one of the readily available bar staff roaming the pool deck will be happy to grab you a glass of wine, beer, or a fruity drink like the Princess' Miami Vice. Open most days from 9 am to 5 pm, these outdoor bars serve the Standard Menu and can get busy, especially when the weather outside is bright and sunny.
Solarium Bar
The two-story Solarium is exclusive for adults. Located on Deck 15, the Solarium Bar is situated in the middle of this relaxation hub, under an impressive art installation that is gorgeous to view during the day and night. You can sip a cocktail in style as you lounge in one of the day beds or over-sized chairs in this kid-free zone.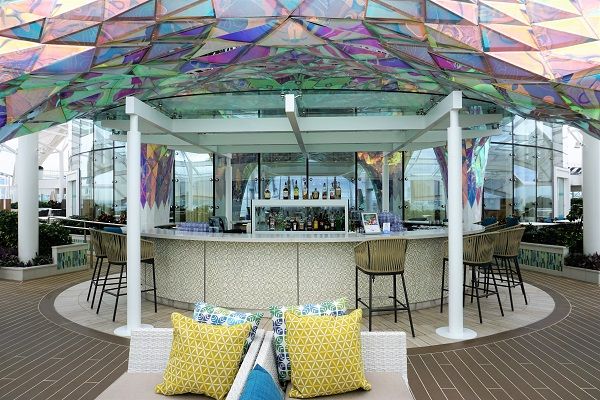 Deck 16
Mast Bar
This outdoor deck offers unhindered access to the sun with plenty of lounge chairs for you and all of your friends. While you are out in the sun, you can quench your thirst with a drink from the friendly staff at this bar. Located on the port side, the venue is essentially the same setup as the two outdoor bars below. A bit removed from the busy pool deck below, the Mast Bar is a great place to meet up for a sea day get together.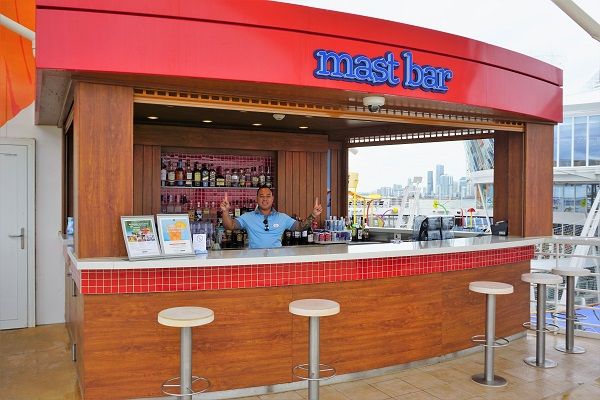 Deck 17
Wipeout Bar
If you are looking for a great view during sail away, head to the back of the ship. This aft venue serves up the Standard Menu and is perfectly situated next to the Ultimate Abyss and the Flowrider, and the mini-golf and zipline are also nearby. While you cheer on your fellow cruisers, you might as well be sipping a refreshing drink.
Comments
Have you sailed on this brand new vessel yet? What is your favorite bar or lounge on Symphony of the Seas? Drop us an anchor below with your regular watering hole when you cruise on a Royal Caribbean ship!