One of the most hotly debated cruise topics are drink packages. For one flat fee, these cruise ship drink packages offer cruisers the ability to make their cruise more inclusive. Still, whether or not you should purchase one of these beverage packages is an individual choice that depends on several factors. After our last cruise on Royal Caribbean's newly amplified Freedom of the Seas back in March 2020, we completed an analysis to answer the question, "Is a Royal Caribbean Drink Package Worth It?".
Is a Royal Caribbean Drink Package Worth It?
Basics of the Royal Caribbean Deluxe Drink Package
In recent years, Royal Caribbean revamped their beverage packages. Now, the cruise line offers only one alcoholic package, known as the Deluxe Drink Package. Many cruisers refer to this as the "unlimited" drink package, as it includes essentially all alcoholic and non-alcoholic drinks.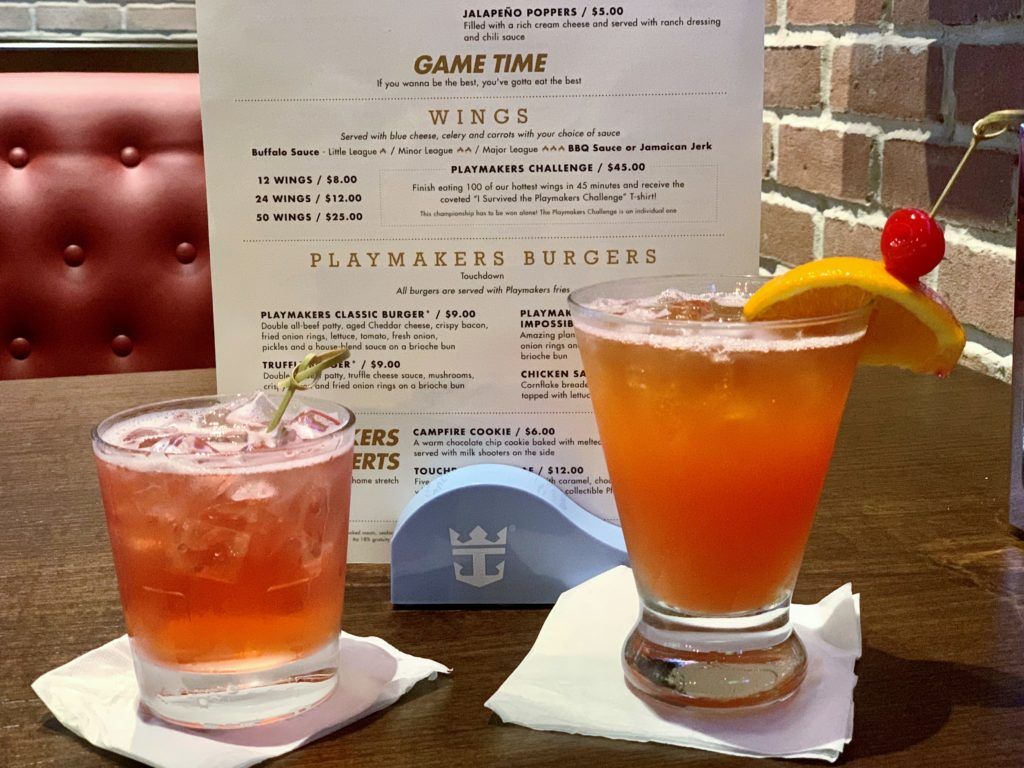 This Royal Caribbean drink package is priced per person, per day. Cruisers must purchase the package for the entire duration of the cruise. Further, all adults in the stateroom must purchase the package.
As you would expect, cruisers must be 21+ to purchase the alcoholic package.
Unlike Carnival Cruise Line which limits you to 15 alcoholic drinks per day, the Royal Caribbean Drink package is "unlimited" for the duration of the cruise. Although, you can only order one drink at a time per SeaPass card.
Related Post: What's Included on a Royal Caribbean Cruise
The onboard price of this package varies from $63 to $89 a day, plus an 18% gratuity. Pricing varies based on the ship, sail dates, and itinerary. You can purchase the drink package online pre-cruise or once onboard during the first day (or two) of your trip. However, you will usually save money by purchasing pre-cruise in your online cruise planner.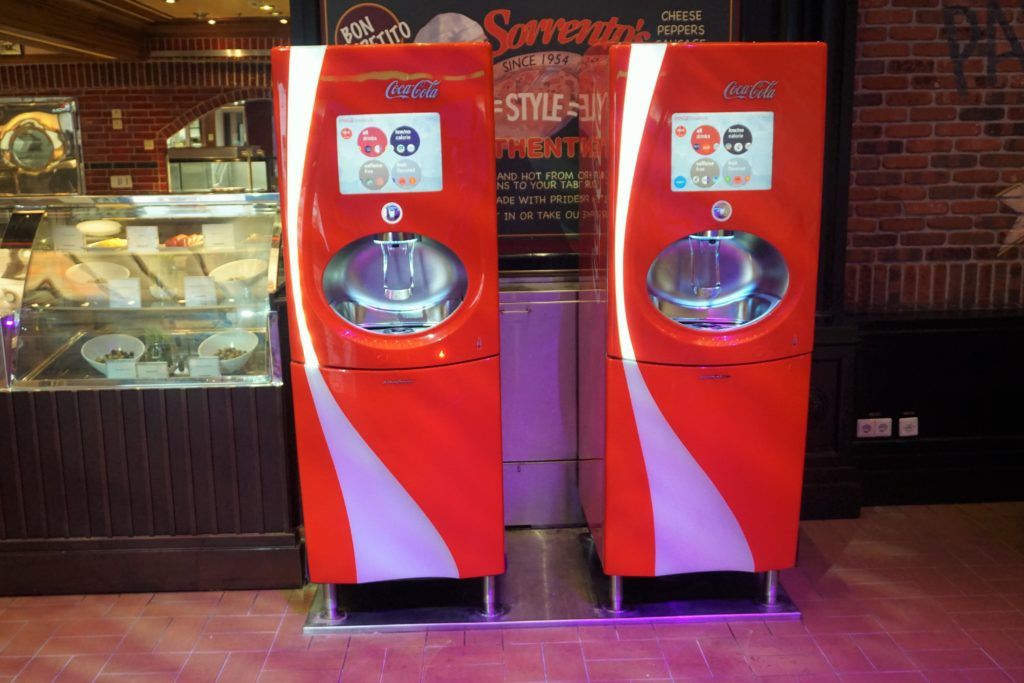 Of course, if you don't drink alcohol, Royal Caribbean does offer non-alcoholic beverage package options as well. These packages include the Royal Refreshment Drink Package and the Classic Soda Package.
Everything Included in the Royal Caribbean Deluxe Drink Package
To determine if the Royal Caribbean Deluxe Drink Package is a good value, you will need to know all of the beverages that you are entitled to consume during the cruise.
This plan covers all alcoholic beverages, including beer, wine by the glass, and cocktails up to $13. Further, cruisers can order unlimited non-alcoholic beverages during the trip. These options include soft drinks (including Coca-Cola freestyle machines), bottled water (still and sparkling), specialty coffee and tea, and other inclusions such as energy drinks.
This is an added perk when compared to Norwegian Cruise Line's Premium drink package. NCL's package does not include bottled water or specialty coffee.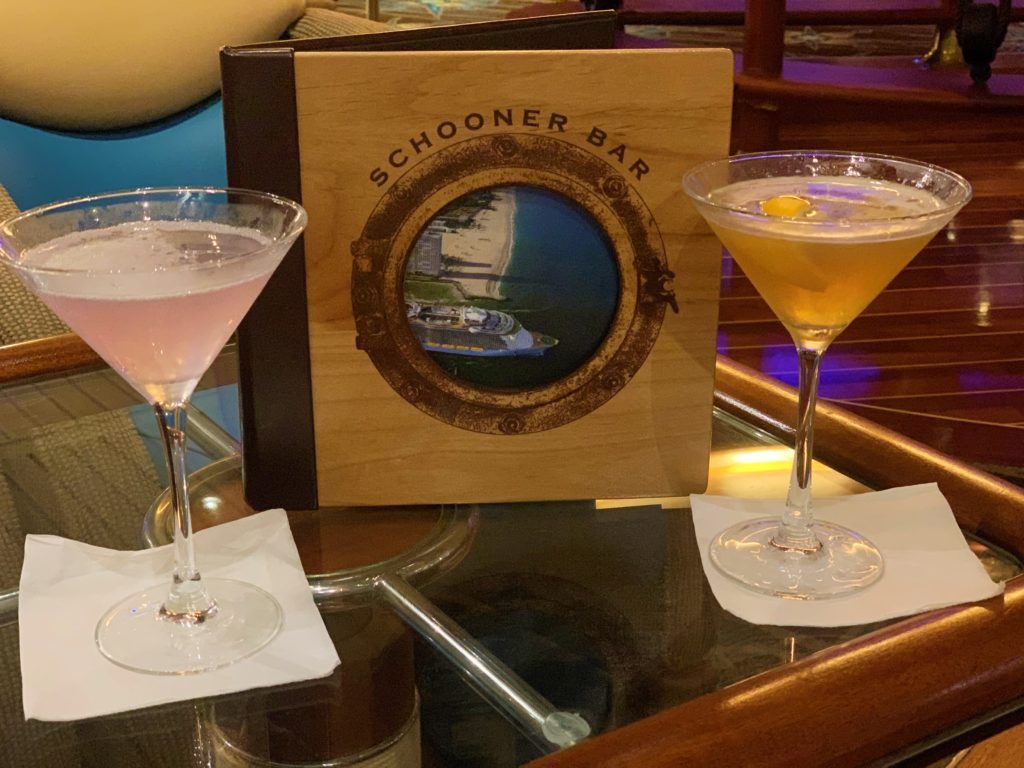 Royal Caribbean's Deluxe drink package includes most liquor and premium spirits. Thus, brands such as Grey Goose, Tito's Vodka, Patron, Johnny Walker Black Label, and Dewar's 12 scotch are all included. Plus, guests who purchase the Deluxe drink package will receive a 40% discount on bottled wines priced up to $100, and 20% discount on wine prices above $100.
If a drink is over the maximum dollar amount, guests will only be charged the difference (+18% gratuity on the difference).
However, some beverages are not covered in Royal Caribbean's drink package. These include beverages sold in souvenir glasses and bottles of liquor, as well as room service and minibar items. Further, all beverages served inside licensed Starbucks stores are not included.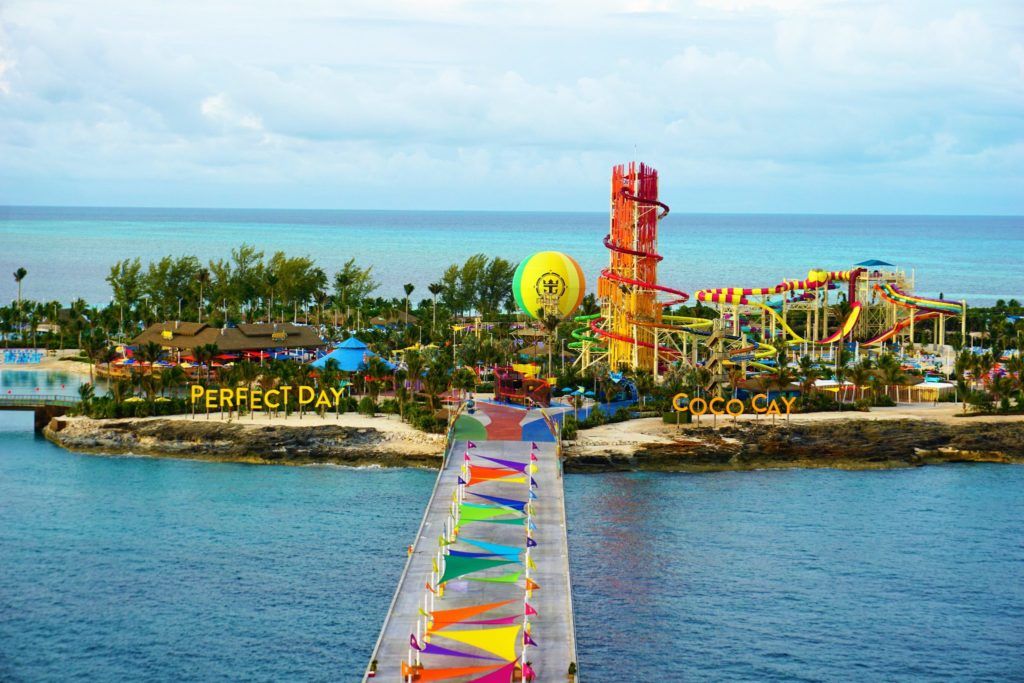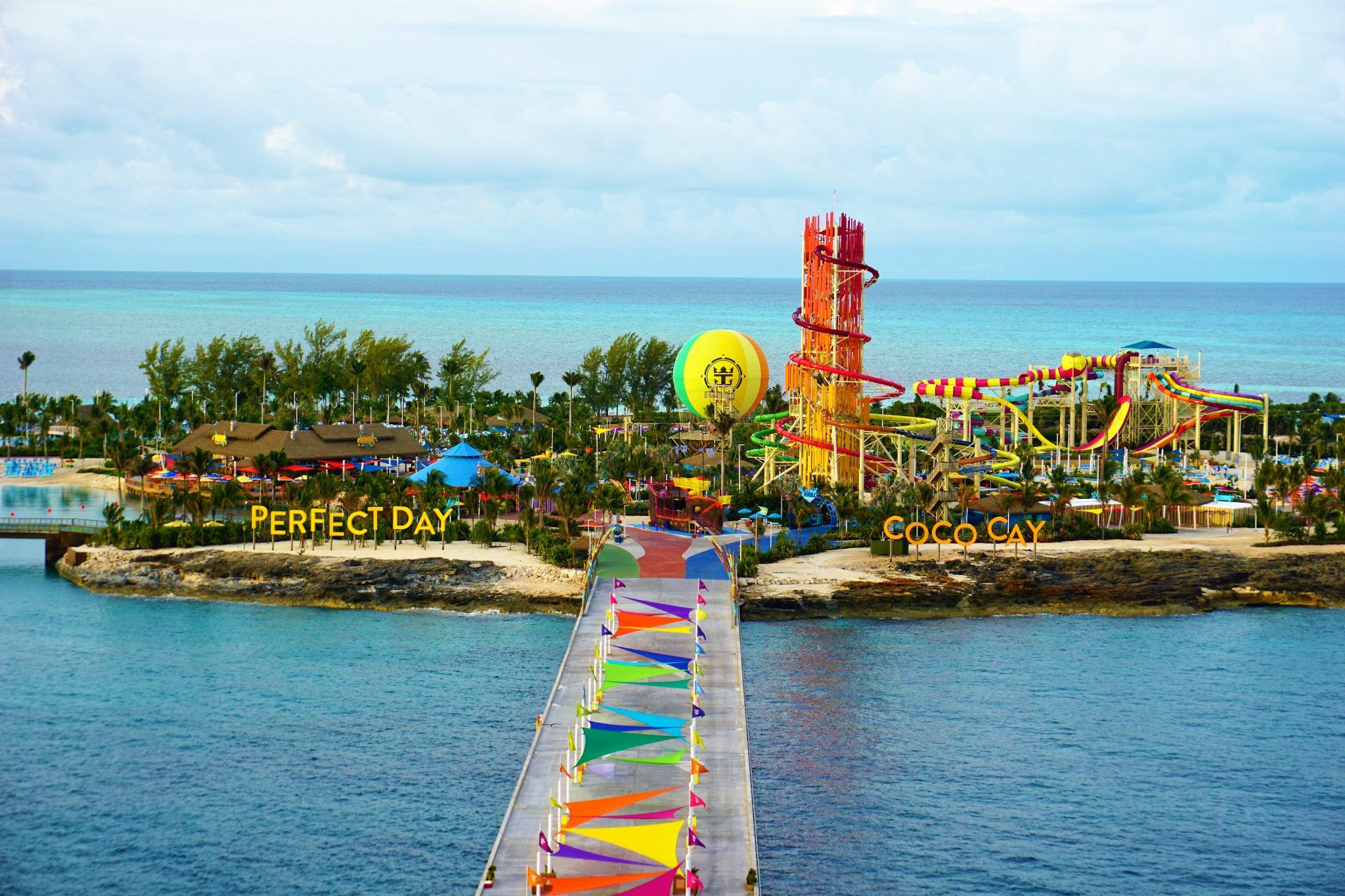 You can use the Royal Caribbean drink package at all bars and lounges, specialty restaurants, the main dining room, and casual dining venues that offer drinks onboard your ship. As an added benefit, they also work on the cruise line's two private islands. This means all your drinks on Perfect Day at CocoCay and Labadee, Haiti are included. This is not always the case with other cruise lines.
Related Post: Top Cruise Line Private Islands to Visit in 2021
Analysis of the Royal Caribbean Drink Package
To determine if the Royal Caribbean Drink Package was a good value for us on our Freedom of the Seas cruise, we tracked all of our beverages consumed over 7 days. This included all of the non-alcoholic and alcoholic drinks. Then, we took the average prices for each drink category to determine how much we would have spent on drinks if we paid a la carte for each item.
The complete analysis is below.
| | | | |
| --- | --- | --- | --- |
| Category | Price | Total | Costs |
| Bottled Water (500 ml) | $3.00 | 40 | $120.00 |
| Soda | $3.25 | 4 | $13.00 |
| Energy Drinks | $4.00 | 4 | $16.00 |
| Specialty Coffees | $4.25 | 16 | $68.00 |
| Beers | $7.50 | 8 | $60.00 |
| Wine | $10.00 | 15 | $150.00 |
| Mixed Drinks | $10.00 | 25 | $250.00 |
| Specialty Cocktails | $12.50 | 28 | $350.00 |
| Subtotal | | 140 | $1,027.00 |
| Gratuity | | | $184.86 |
| Total | | | $1,211.86 |
Overall, we consumed a combined total of 140 drinks over the 7 days. The total cost of these drinks if we had purchased them outright would have been $1,211.86 with the 18% service charges.
Among these drinks, 64 were non-alcoholic beverages (46%). This gave us an average of 5.5 alcoholic drinks per day, per person.
Based on the numbers, the Royal Caribbean drink package was worth it on our Freedom of the Seas cruise. It saved us $418.90, or roughly 34%.
Part of this cost-savings was recognized by purchasing the drink package pre-cruise for 25% off the onboard price. We actually only paid a total of $792.96 for our drink packages.
Related Post: Beginner's Guide to Planning a Cruise
Additionally, our consumption of bottled water and specialty coffee adds to the value, as we would never achieve this much savings with alcoholic drinks alone.
Recap: Is the Royal Caribbean Drink Package Worth It?
The above detailed breakdown of the Royal Caribbean drink package did find us a moderate cost savings during our trip. However, there are several factors you should keep in mind when determining if you should buy a beverage package on a cruise.
Depending on your ports of call and number of sea days, as well as your hours ashore, you may receive better savings (or less) on your voyage. On port intensive cruises, like the Mediterranean, you might find yourself spending long days ashore.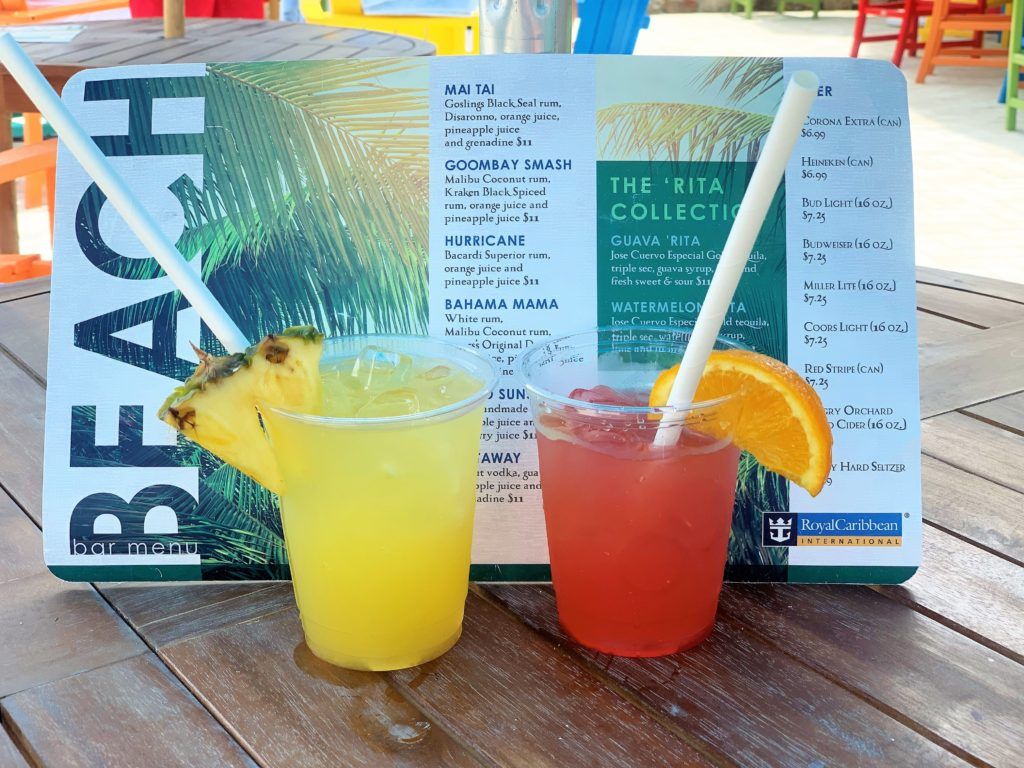 This means less time on the ship to take advantage of that drink package. On the flipside, if you are visiting one of Royal Caribbean's private islands on your cruise, this gives you more opportunity to use the package while enjoying some fun in the sun.
Ultimately, you need to know your own drinking habits (and your cabin mate's). It's easy to go overboard if you are just trying to get your money's worth from the drink package.
Essentially, the question you should ask yourself is whether you (and your cabin mate) will consume enough to routinely hit the daily "break even" point. If you can answer yes, then the Royal Caribbean drink package is probably worth it for you.
If only one of you can hit this number, then you should probably consider pay a la carte for drinks.
Overall, we do like the convenience of the Royal Caribbean drink package. Even though we don't always recognize huge cost savings, we like the ability to lock in the price of our beverages and not worry about the bar tab at the end of the trip. Do you agree?
Comments
Do you usually purchase beverage packages when you cruise? Is a Royal Caribbean Drink Package worth it for you? Drop us an anchor below with your analysis of this beverage program.