If you like to cruise, then you probably like to eat. Food is a big part of cruising, and we know our fellow cruisers are always eager to see what is available at the different restaurants onboard. So, we are just back from a great three day escape to the Bahamas on the newly revitalized Mariner of the Seas and have put together this Mariner of the Seas Restaurant Guide. We have pictures, menus, and all the details for each venue.
Mariner of the Seas Restaurant Guide 2018
Complimentary Venues
Windjammer Cafe
If you have cruised on Royal Caribbean before, then you are very familiar with the Windjammer restaurant. This casual, complimentary buffet is open most of the day. On both sea and port days, the Windjammer serves breakfast, lunch, and dinner.
For breakfast (approximately 6:30am-11am), you can find your typical selections including fruits, breakfast pastries, cereals, and a host of hot meals such as scrambled eggs, bacon, and sausage.
For lunch (approximately 11:30am-3pm), you will find a selection of salads, cold cuts and sandwiches, a grill with hamburgers and hot dogs, and other hot dishes which vary slightly during the cruise.
From 6-9pm, dinner is offered in the Windjammer with different themes including "Italian Dinner", "Mexican Dinner", and "Caribbean Dinner". Of course, you will also find your standard buffet selections in addition to the themed offerings.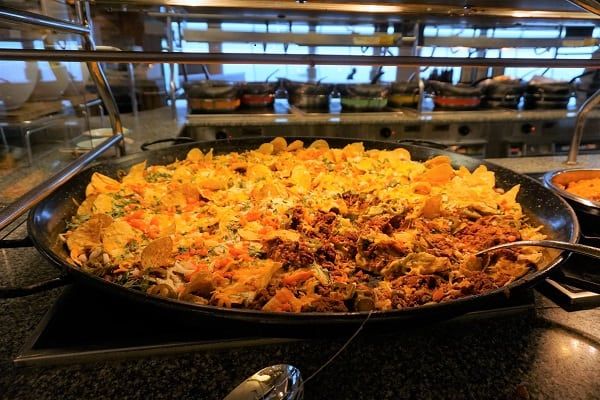 Cafe Promenade
Open 24 hours a day, the Cafe Promenade is your go-to spot for snacks any time of day. Serving up coffee, breakfast pastries, sandwiches and pizza, and small desserts, you will never go hungry on Mariner of the Seas. Cafe Promenade is a great place to grab a table and people watch as there is always something happening in the Royal Promenade.
Main Dining Room
If you are looking for a complete dining experience, then you will want to visit the main dining room. On a short cruise such as this, the dining room was only open for breakfast and dinner.
The MDR serves breakfast every morning of your cruise on deck 3. Here, you can have a made to order breakfast. Options are very similar to a breakfast menu on land. Main dining room breakfast can be crowded at times, so don't be surprised if there is a line of guests waiting to be seated.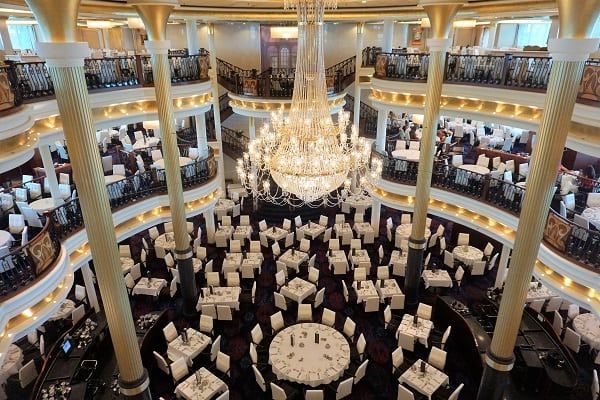 For dinner, the main dining rooms offer a different menu each night. Cruisers with traditional dining (decks 4 and 5) can choose either a 6:00pm or 8:30pm seating. My Time Dining can check in on deck 3 anytime between 5:30-9pm.
You can make reservations for set times or just walk up. Either way, the menu options are the same as the traditional dining. These options do rotate each evening, with a set list of Classics options.
Menus: Breakfast | Dinner Night 1 | Dinner Night 2 | Dinner Night 3 | Kids Menu

Dog House
If you love the Boardwalk Dog House on the Oasis-class ships, then you are in luck. Mariner of the Seas now has a Dog House on the pool deck.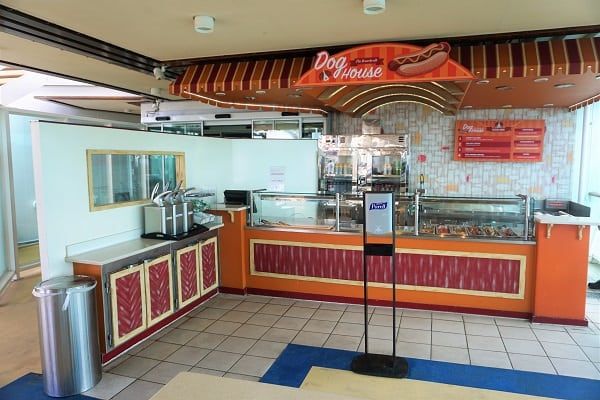 Serving up your favorite dogs like the Coney Island, the Big Apple, and the German, the Dog House is open daily at 11:30 am. This might just be the perfect midday snack while lounging by the pool or after returning to the ship from a long day ashore in the Bahamas.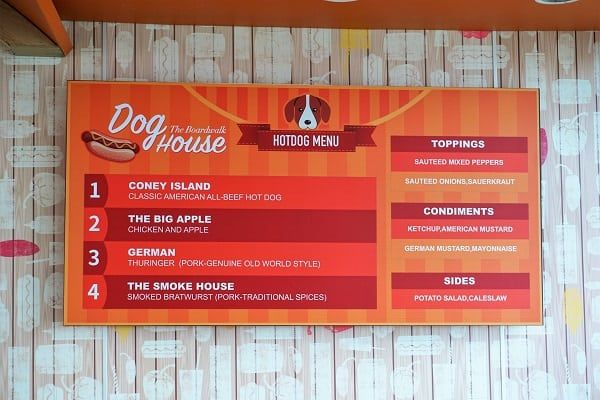 Specialty Restaurants
Chops Grille
Chops Grille is the Royal Caribbean signature steakhouse. This specialty restaurant currently has an up-charge of $39 on Mariner of the Seas. You can make reservations at this restaurant prior to your cruise using the Cruise Planner on Royal Caribbean's website.
You can also make reservations once onboard the ship, but prime dinner times do fill up quickly. Chops Grille was open every night of the cruise from 5:30 pm to 9:30 pm.
Drink Menu | Dinner Menu | Dessert Menu
Jamie's Italian
Jamie's Italian, by celebrity chef Jamie Oliver, is an Italian specialty restaurant found on newer Royal Caribbean ships. Jamie's Italian on Mariner of the Seas is open nightly for dinner from 5:30pm to 9:30pm and on select days for lunch.
This specialty restaurant up-charge for dinner is $35 per person and $19.95 for lunch. You can also make reservations for this restaurant pre-cruise using the online cruise planner.
Drink Menu | Dinner Menu | Dessert Menu | Lunch Menu
Izumi
This popular sushi restaurant on Royal Caribbean now features a hibachi restaurant on Mariner of the Seas. Openly nightly for dinner from 5-9pm, this specialty restaurant offers dinner and a show for an up-charge of $45 per person.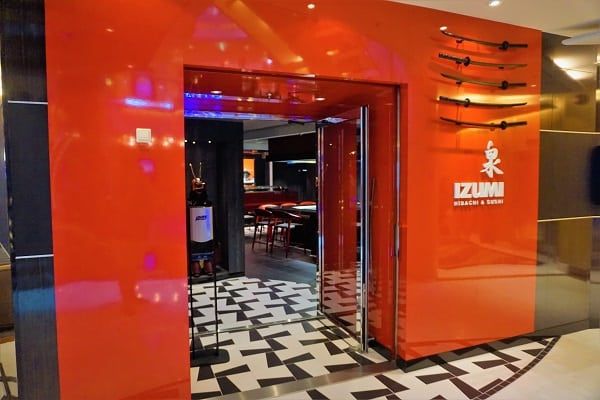 This teppanyaki experience includes edamame beans, a green mix, vegetable fried rice, your choice of entree, and a dessert. Additional starters and sushi are available for an added cost. Izumi Hibachi also offers pre-cruise reservations via the online cruise planner.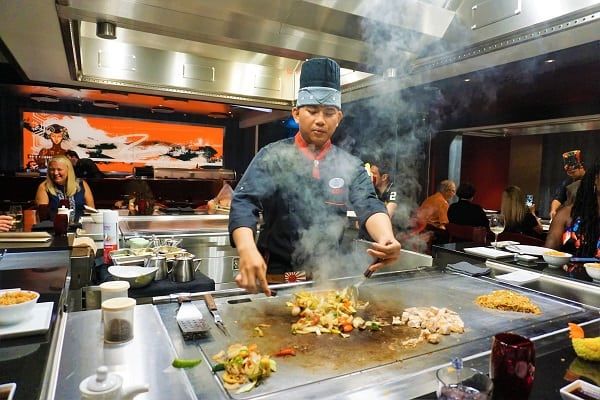 Johnny Rockets
Another staple found on many Royal Caribbean ships is Johnny Rockets. Those back on land will recognize this 1950's inspired hamburger shop. Yes, this restaurant on Mariner of the Seas is exactly the same, complete with the singing and dancing.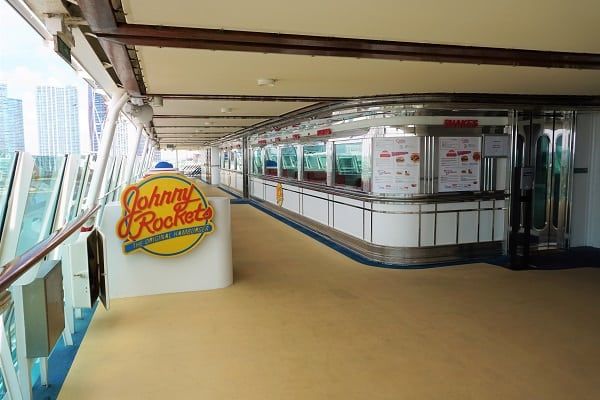 Priced at $9.95 for all you can eat, this venue is an up-charge. This does NOT include milkshakes, which are about $6 in addition. However, milkshakes are now included in the Deluxe Beverage Package. The venue is open most days for lunch and dinner but opens at varying times between 11:30am and 1pm.
Starbucks
Like your coffee house on land, Starbucks on Mariner of the Seas offers all your drink favorites. From lattes to iced teas and frappucinos, your handcrafted beverage awaits you. Starbucks is located on Deck 4 and has a la carte pricing.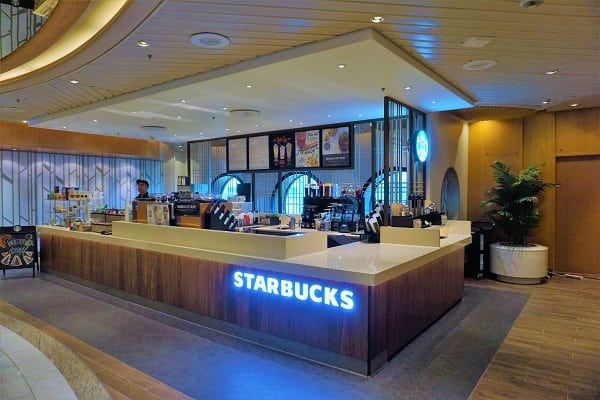 Small pastries and espresso-based drinks will all cost you extra money even if you have a beverage package. If you want to stick with the espresso drinks covered in the beverage package, you will have to head to Cafe Promenade.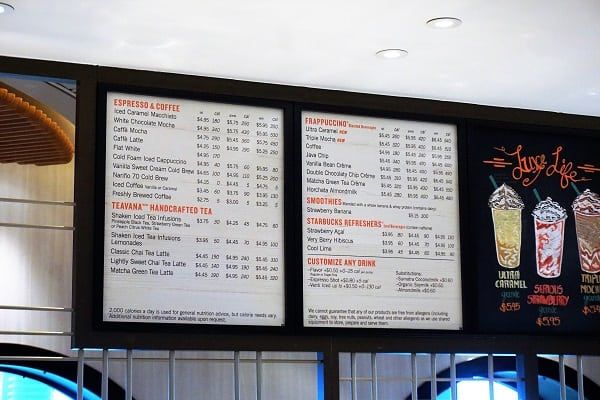 Ben & Jerry's Ice cream
Serving up your favorite Ben & Jerry's flavors at sea, Mariner of the Seas has an ice cream shop located on the Royal Promenade. Ben & Jerry's is open daily from 11am-1am so you can score a frosty treat day or night. Purchases made at Ben & Jerry's are a la carte. Complimentary soft serve ice cream is available on the pool deck if you'd prefer not to spend the extra money.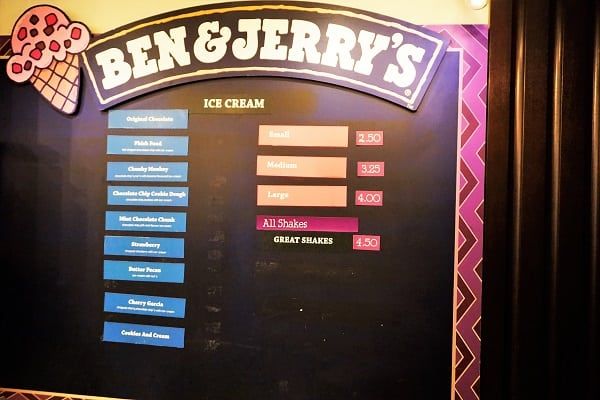 Playmakers Sports Bar
This new sports bar located on the Royal Promenade on Mariner of the Seas is the perfect place to grab a handcrafted brew and watch a game on the more than 25 TV screens.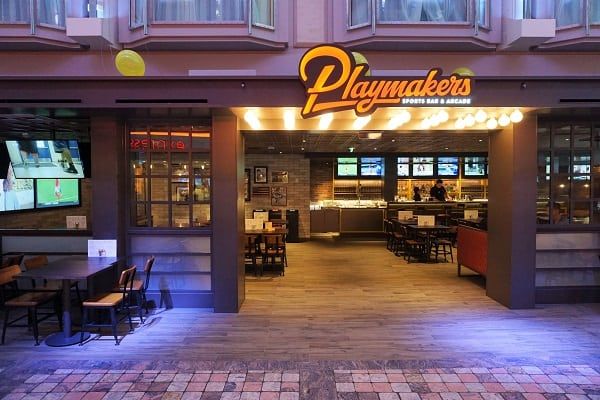 Lucky for you, there is also pub food available if you get hungry while you are there. Unfortunately, these pub favorites like chicken wings, nachos, and sliders are an additional cost ranging from starters for $3 to sandwiches for $9.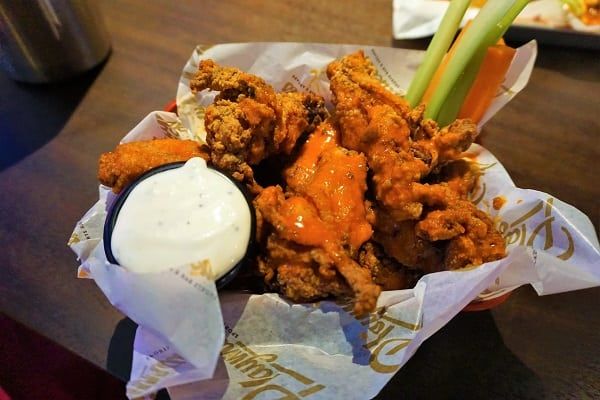 Comments
Do you have a cruise planned on the newly revitalized Mariner of the Seas? Which dining venues do you enjoy on Royal Caribbean ships? Drop us an anchor below to share your dining experiences.