Cruises and ducks both float atop the water, but those aren't the cruise ducks we're talking about. Believe it or not, thousands of little toy ducks have been hiding all over cruise ships — some in plain sight. This hide-and-seek game has historically been one for those in the know. But we're pulling back the curtain on the mystery of cruising ducks, including how to find one, how to hide one, and how it all started.
What Are Cruise Ducks?
The history of cruise ducks
There are several theories online about how the practice of hiding mini rubber ducks onboard cruise ships began. Some sites claim the practice of hiding ducks on ships dates back to at least 2015.
However, most sources seem to agree that in 2018 a 10-year-old girl named Abby hid around 50 toy ducks on her Carnival Breeze sailing for fellow passengers and crew to find. The fun-loving game of a little girl caught on from there with the cruising community and became an at-sea phenomenon.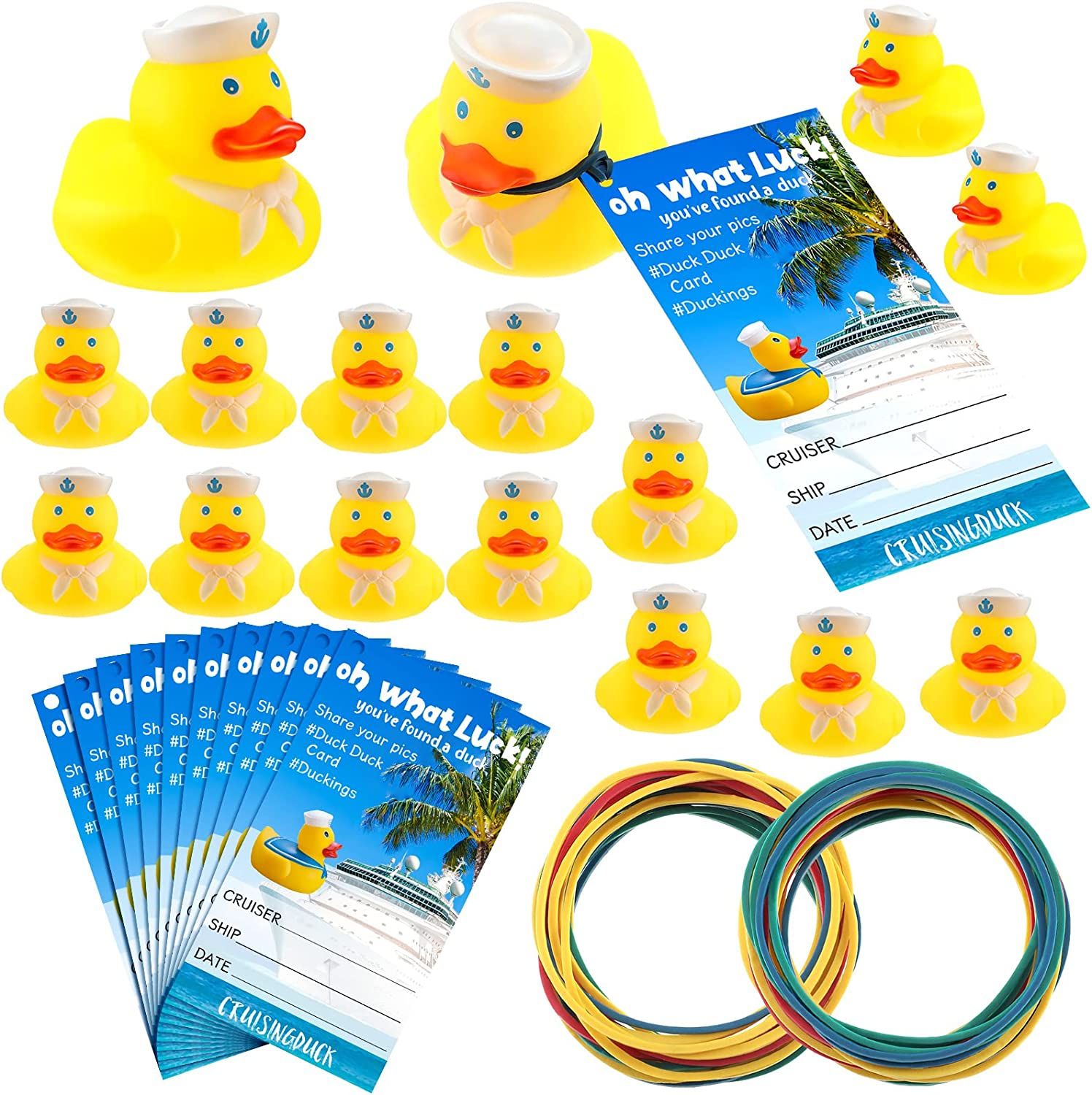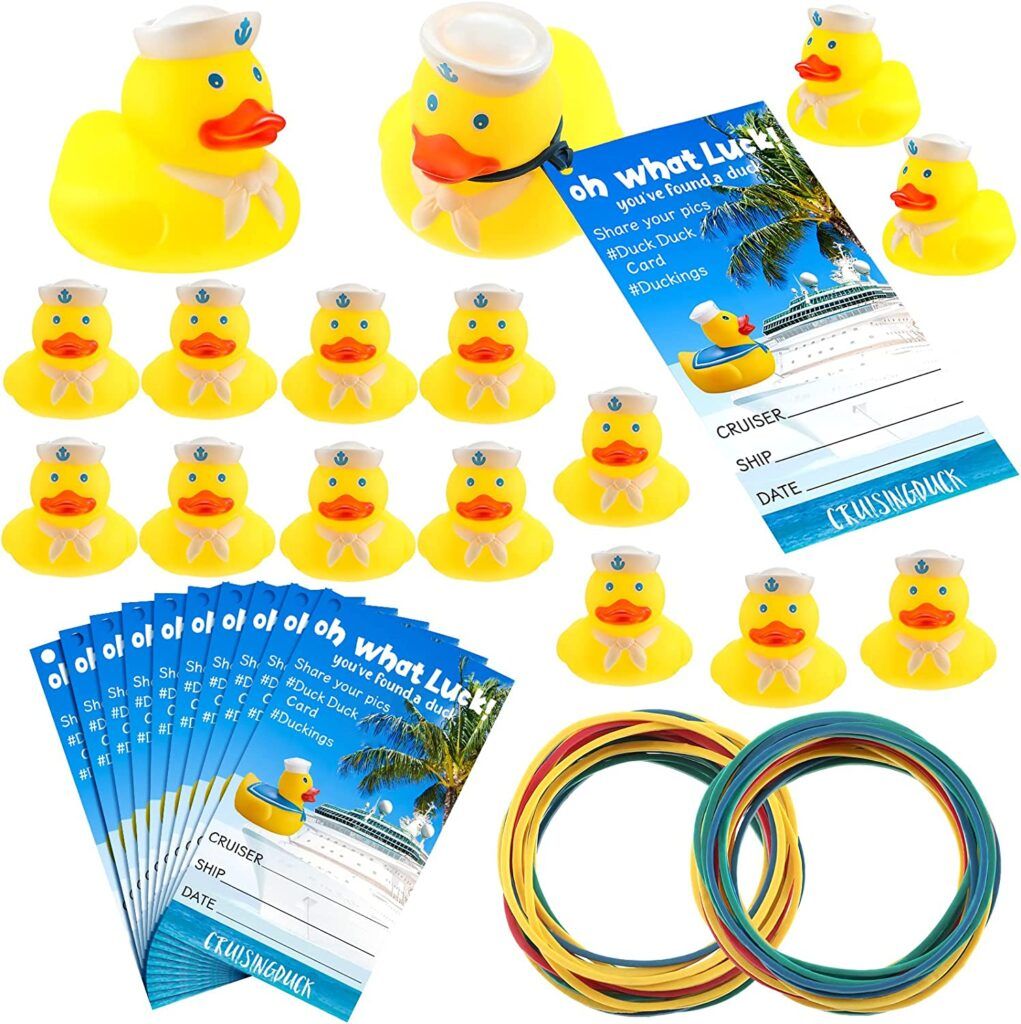 Years later, the trend to hide and find little ducks on ships is as prevalent as ever. In addition to traditional rubber duckies, cruising ducks can have themes representing a holiday or sports team and can be made of various materials including homemade crocheted ducks. Further, cruise ducks often come with a personalized note attached.
Want to get in on the action? Join "Cruising Ducks — Original Group" on Facebook. The private social media page has more than 148,000 members who share everything from photos of ducks found to crafting tips and ideas for how to create or decorate your own ducks.
Where to find a cruise duck
While the cruising duck trend has spread across multiple cruise lines, there are a few where cruise ducks are more common. Ducks are frequently found onboard Carnival Cruise Line and Royal Caribbean. But don't be surprised to find happy little bills poking out from aboard Norwegian Cruise Line, Holland America, Princess, or Disney ships.
This isn't necessarily a scavenger hunt, so there aren't normally any clues for where find the ducks. The more you explore, the more you are likely to comes across a hidden cruise duck. However, if you are a member of the Cruising Ducks Facebook group, you can scout where members are hiding them to see if you will be onboard any of the same sailings.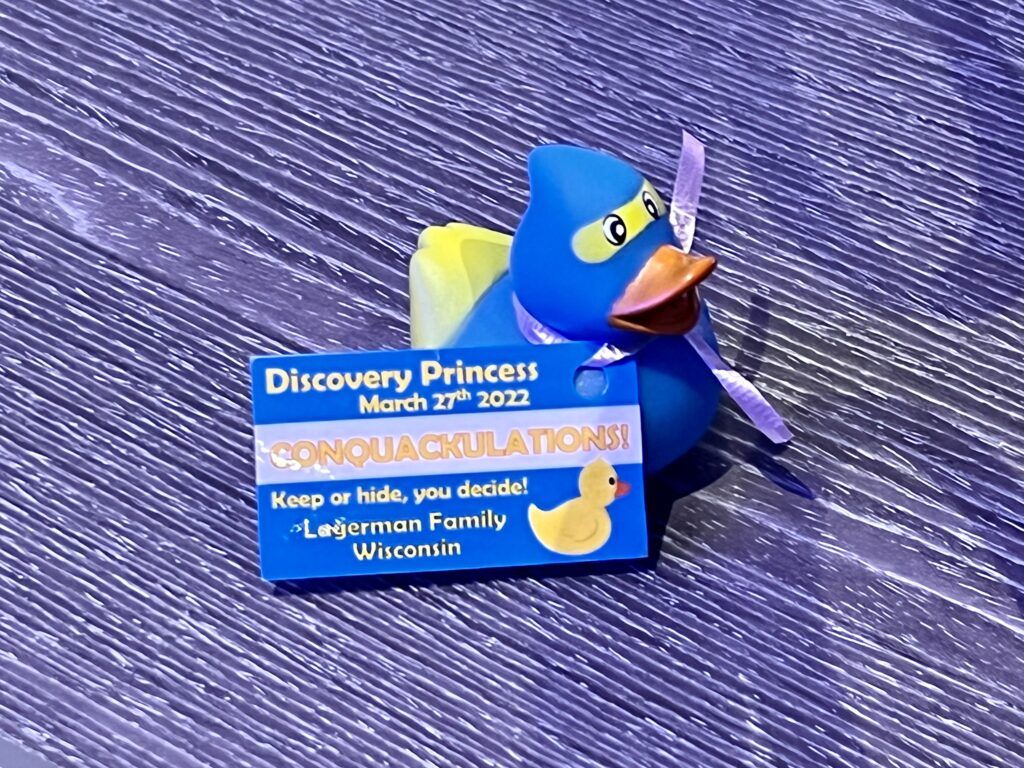 Even if you are cruising on the same ship on an itinerary immediately after someone who has hidden ducks, there is a chance there will be some stragglers around to seek out.
Cruise ducks are normally left in public spaces, meaning hallways, lounges, and any nook or cranny that cruise guests have access to. They are commonly in planters, behind sculptures, or on bookshelves in the library.
On Royal Caribbean's Oasis-Class ships, Central Park is a very popular place to find and hide cruise ducks. With a garden of plants, trees, and shaded places, it's easy to tuck away these adorable stowaways.
EXCLUSIVE SAVINGS: Score Deals on Cruises Now!
What to do when you find a duck
The general principal behind cruising ducks is that you have two choices when you find one. You can either hang onto it as a souvenir or hide it again for someone else to find. In essence, keep the game going or claim a cruise duck keepsake. It's also encouraged to snap a photo of your finds to share on the Facebook group or other social media outlets.
Luckily, most cruise ducks come with their own instructions. This might look like a tag or card attached to the duck that normally includes a bit of information about the cruiser or family who has hidden them. Additionally, the card sometimes explains the gist of the game and suggests where to tag or post a duck photo to spread the good word. Some even have a QR code to scan, which fits a ton more information on such a tiny note.
Another fun twist to finding a cruise duck might be to post photos of your duck with you on all future cruises to share with fellow cruise duckers, or with friends and family at home.
How to hide your own cruise duck
First, you either need to find a duck or buy your own. The going price for a bundle of 50 rubber ducks is an estimated $30. Cruising ducks are a bit of a niche market online. You might be surprised to find more varieties than you ever could have imagined. Buy standard ducks to paint or accessorize to make them your own or look to sites like Etsy for custom premade designs.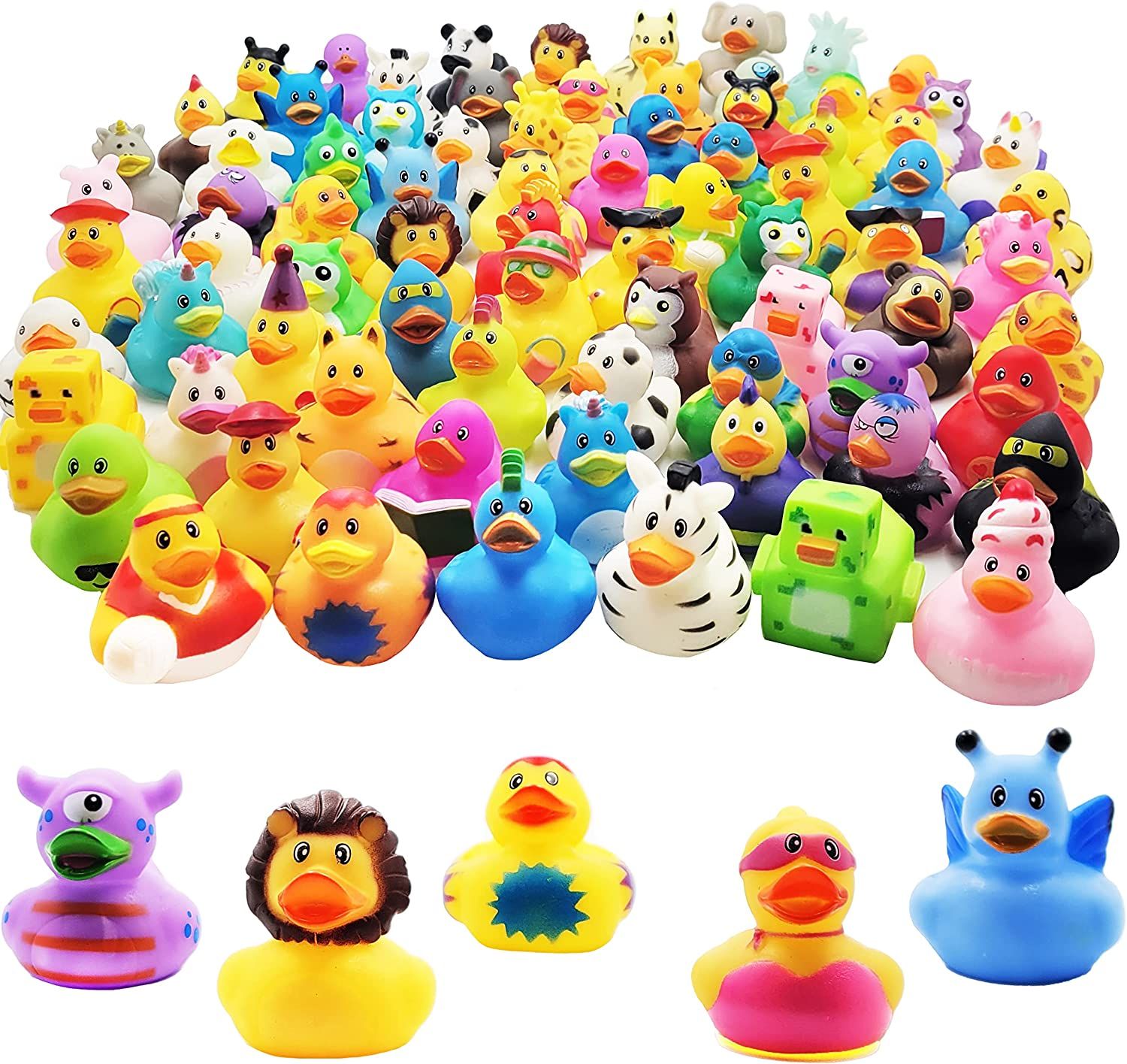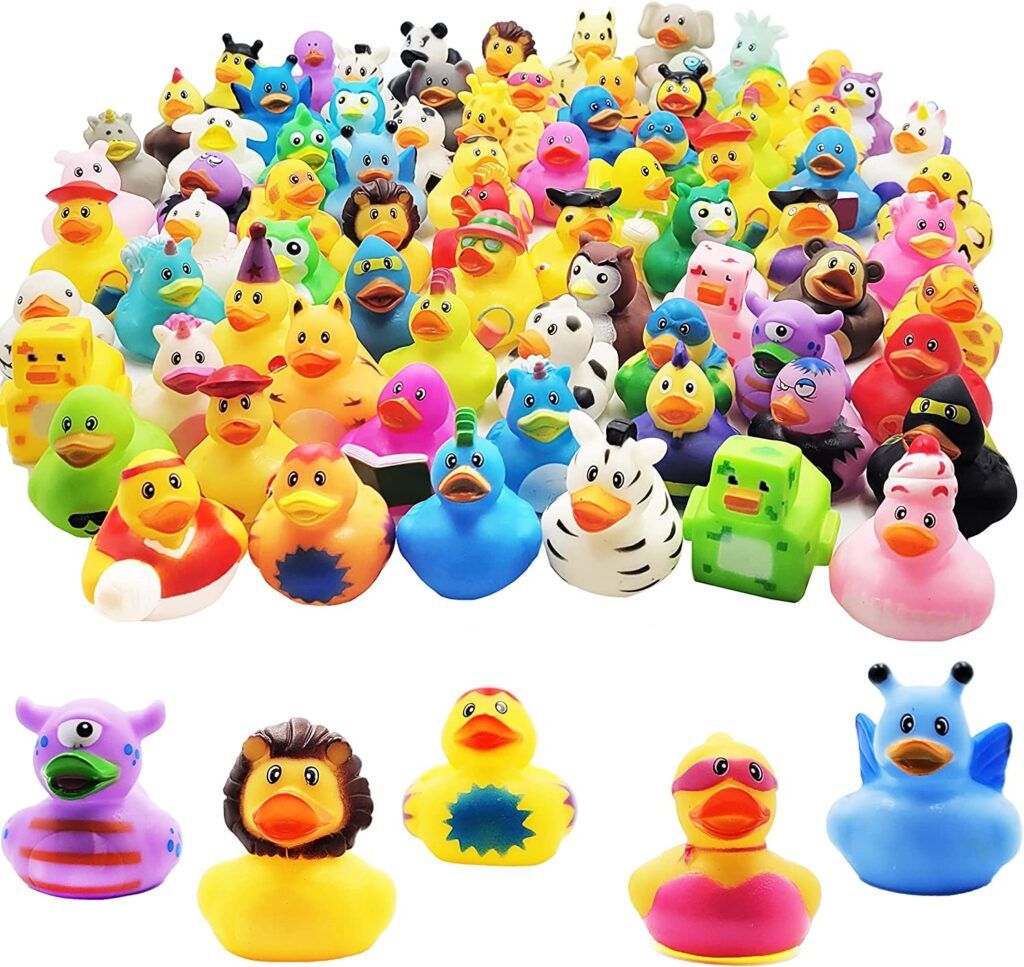 Once a duck has been acquired, let your imagination run wild. A few general rules help keep the ducks intact, including not hiding them in outdoor spaces where they can be knocked overboard or into a pool or hot tub. Other helpful tips include not hiding them in the store to avoid confusion.
The overall message behind cruise ducks is one of spreading joy. So, remember to be gracious with finding and hiding your duckies. Crew members often get in on the action, as well as other passengers. Not everyone will post a photo of your hidden duck, and that's ok.
Don't leave any ducks behind on a cruise ship that you wouldn't be happy with someone taking — and keeping. The concept of cruise ducks is a gift that keeps on giving, so give freely.
Comments
What do you think of the cruise duck phenomenon? Do you hide these little toys when you cruise? Drop us an anchor below to share the most creative cruise duck you've ever found.