Navigator of the Seas is Royal Caribbean's latest ship to undergo the Royal Amplification process receiving a multi-million dollar facelift and several new amenities and venues. This ship is now sailing 3 and 4-day Bahamas cruises from Miami, Florida so you can "weekend like you mean it". If you are looking to plan the perfect quick getaway, our Top Things to Do on Navigator of the Seas will show you why you need to book this ship.


Top Things to Do on Navigator of the Seas
Chill at the Caribbean-Inspired Pool
As part of the recent amplification, Navigator of the Seas' pool deck was completely transformed. Now, this new Resort Pool makes you feel like you have already arrived in the Bahamas. With island theming, pops of color, and a variety of seating options, this pool deck is a welcomed update to the typical cruise ship pool. The best part of the Resort Pool is that Royal Caribbean was able to double the pool's surface area, also adding more deck space, a new splash pad for kids, hammocks, and shaded casitas. With a pool deck of this caliber, you may never want to leave.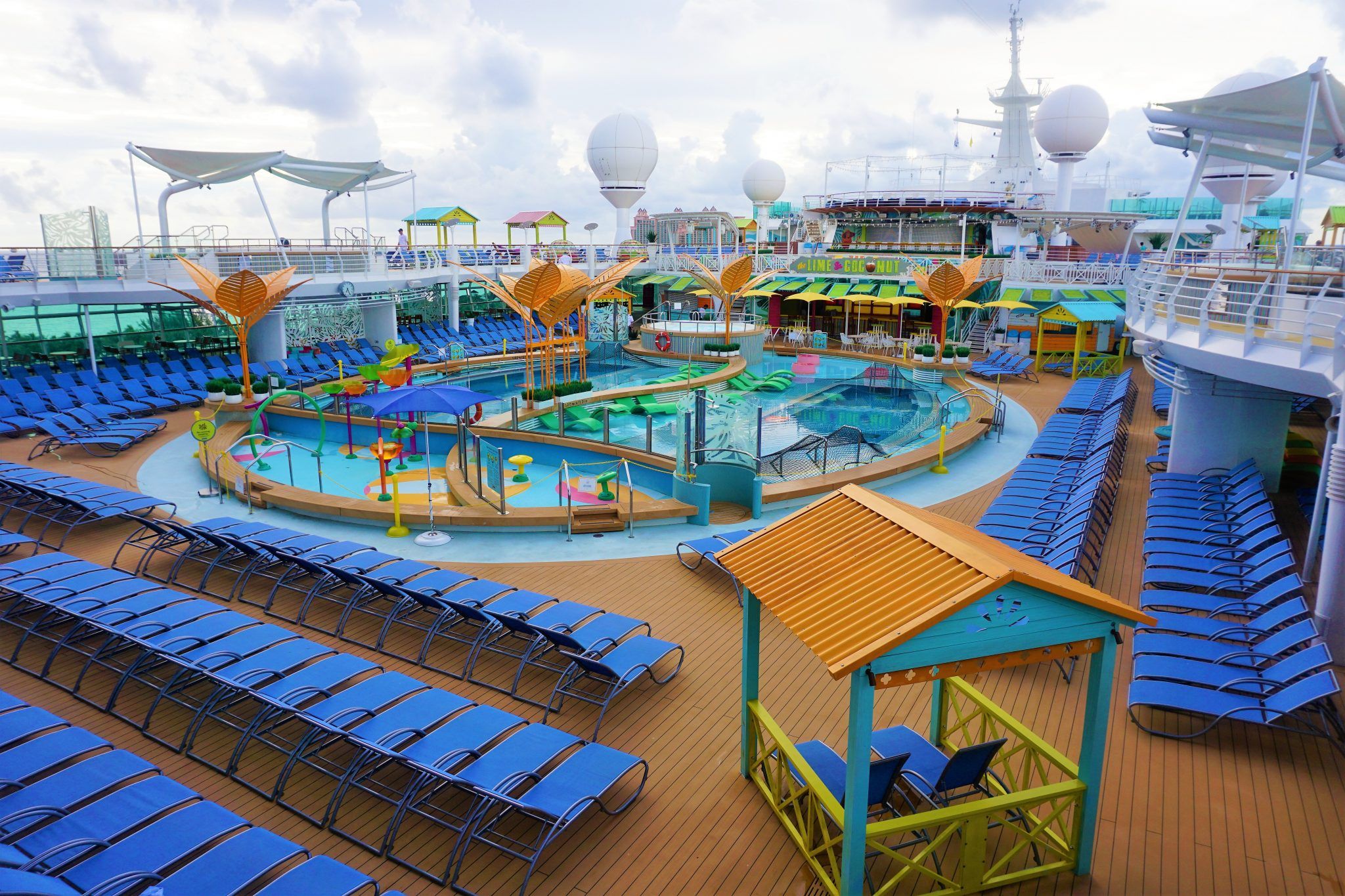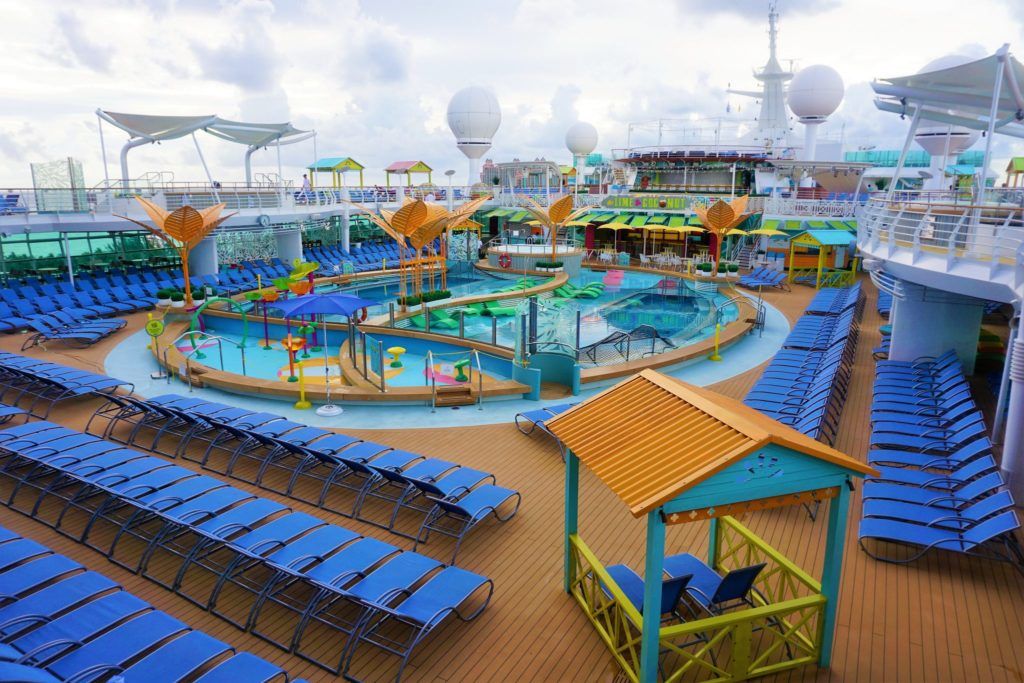 Enjoy the Poolside Munchies
And, with the added poolside dining options, you won't have to leave! Luckily, Royal Caribbean has decided to add new casual restaurants to the ship including express versions of Johnny Rockets and El Loco Fresh on the pool deck. The Mexican-inspired El Loco fresh is the perfect spot to grab some tacos, burritos, or nachos with a custom salsa bar. At Johnny Rockets Express, you can enjoy burgers, fries, and even spiked milkshakes. While El Loco Fresh is complimentary, Johnny Rockets has reasonable a la carte prices. There is also a soft-serve ice cream station to satisfy your sweet tooth.
Blast Off on the Waterslides
Perhaps one of the most anticipated additions to the newly amplified Navigator of the Seas is the new Perfect Storm duo of waterslides. The Blaster is now officially the largest waterslide at sea. This aqua coaster utilizes five water jets to propel you through the longest stretch of slide ever suspended over water. Not to be outdone, Navigator of the Seas is also home to the only headfirst mat racer waterslide at sea, Riptide. Now, you will have an uninhibited view of the ocean, as the current swooshes you down the slide with an exhilarating curve right off the side of the ship.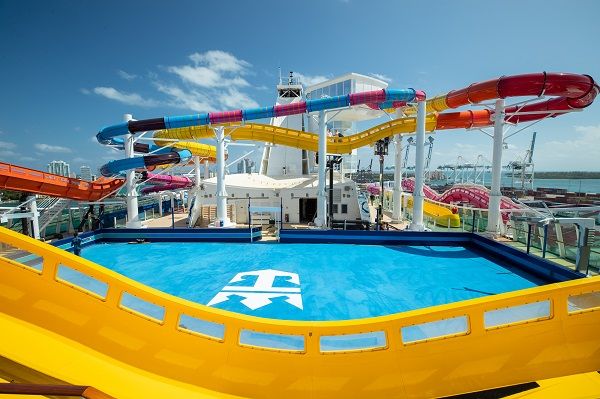 Flowrider
Loyal to Royal fans will also find the cruiser favorite, Flowrider surf simulator, on the sports deck of Navigator of the Seas. So, you will definitely want to grab a board and perfect your hang ten. Even if you do not know how to surf, you can try out some "boogie boarding". Private lessons are available, or you can just brave it on your own. What's the worst that can happen? Even if you aren't up for the challenge yourself, the Flowrider makes for a great spectator sport as well.
Related Post: Navigator of the Seas Bahamas Cruise Review
Get on Island Time at the Lime and Coconut
If you are going to update the pool deck, then you need to upgrade the typical pool bar, right? The new Lime and Coconut bar might easily become the new standard for cruise ship outdoor lounges. It's easy to get on island time at this three story bar and lounge that serves up signature Caribbean cocktails morning, noon, and night. The first two decks of this bar offer your favorite vacation-mode libations with a bird's eye view of the pool and stylish seating. The third deck offers a rooftop sun space or moonlit lounge spot. It's always 5 o'clock at the Lime and Coconut.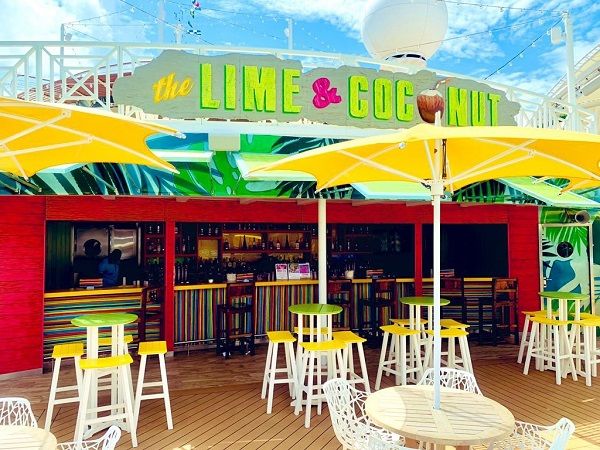 Get Your Tiki On
Speaking of bars, the new Bamboo Room has also been added to the Royal Promenade on Navigator of the Seas. This "Polynesian watering hole" offers a laid back tiki vibe with plenty of craft cocktails. Most drinks on the menu are included in the Deluxe Beverage Package (some are an additional $1). So, grab your Hawaiian attire and some friends, then head to the Bamboo Room for what is sure to be a great evening. If you prefer to mix things up a bit, you can complete your very own "drink around the ship" after you finish your Royal Zombie.
Dine at a Specialty Restaurant
Navigator of the Seas has two new specialty restaurants. The new Hooked Seafood is a New England-style eatery that offers classic dishes such as clam chowder, steamed mussels, and of course a Captain's Platter with a broiled lobster tail. There is also Jamie's Italian. A newer venue onboard many Royal Caribbean ships, the Tuscan-inspired fare is served in a trendy, yet casual atmosphere. Navigator of the Seas is also home to the Royal Caribbean staples, Chops Grille and Izumi. These restaurants do all have up-charges. We made use of the Unlimited Dining Package during our recent cruise and found it to be a great value.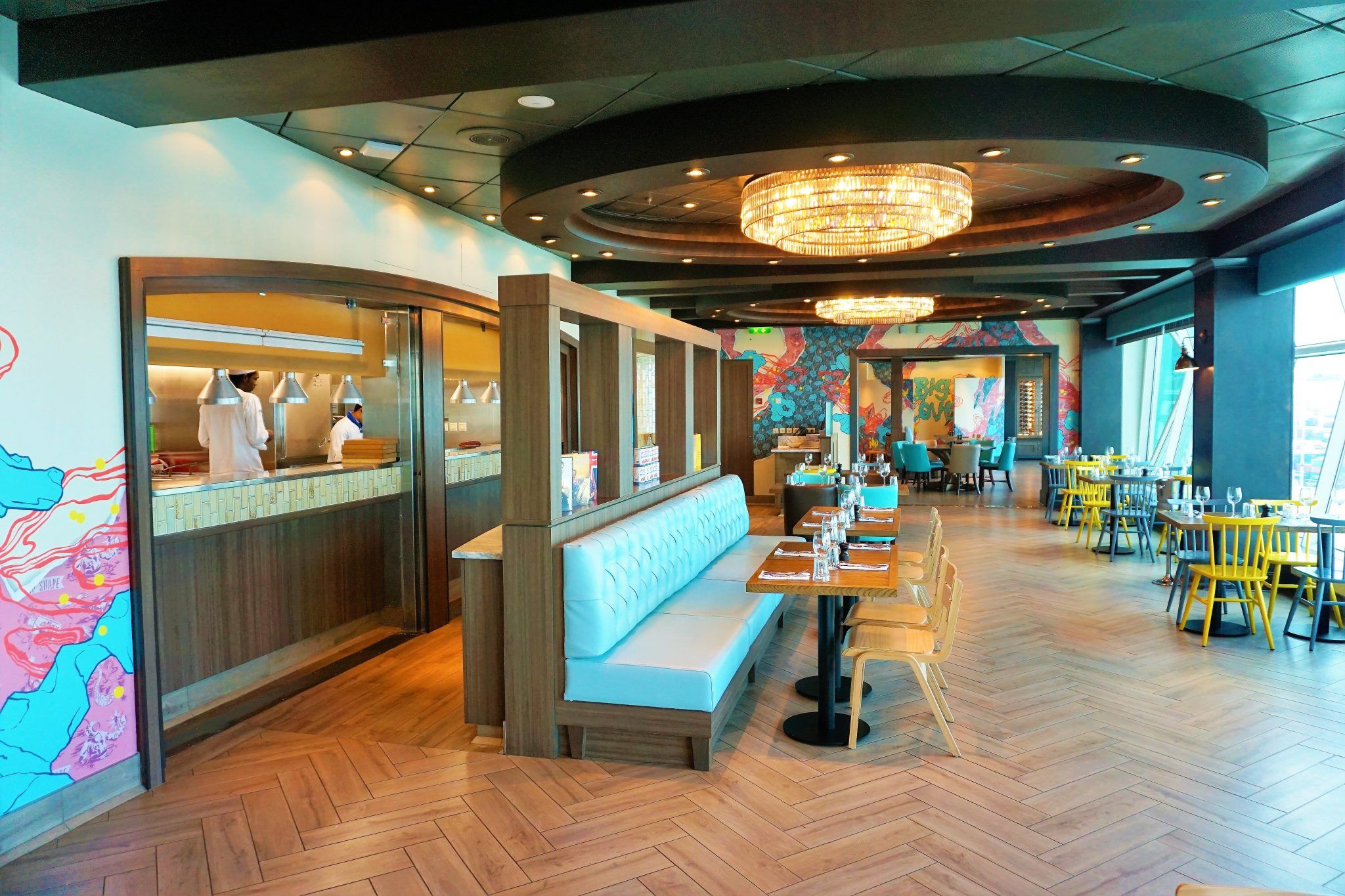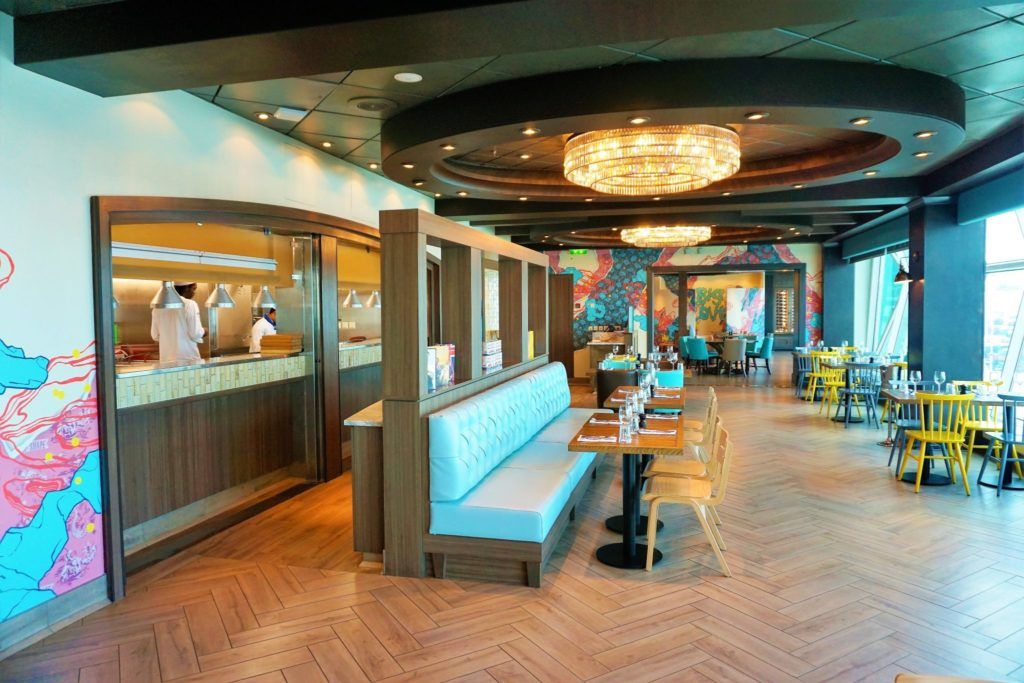 Prepare to Battle
Another new addition to Navigator of the Seas is laser tag. A growing trend in the cruise industry recently, Royal Caribbean has been adding laser tag to its amplified ships. This game is an out of this world, glow in the dark version held in Studio B on select days and times. Gear up with your laser blaster and get ready for a family friendly competition as you go head to head in the Battle for Planet Z. Laser tag is a complimentary activity included in your cruise fare so give it a try during your weekend getaway. Just be sure to pack some closed-toe shoes.
Putt a Round of Mini Golf
If you are still looking for more family-friendly activities, you will want to putt a round on Navigator of the Seas' new mini golf course located on deck 13 forward. The Navigator Dunes is a colorful and creative 9-hole course that is tucked away from all the other hustle and bustle of the sports deck. It is also a complimentary activity, so feel free to play as much as you like.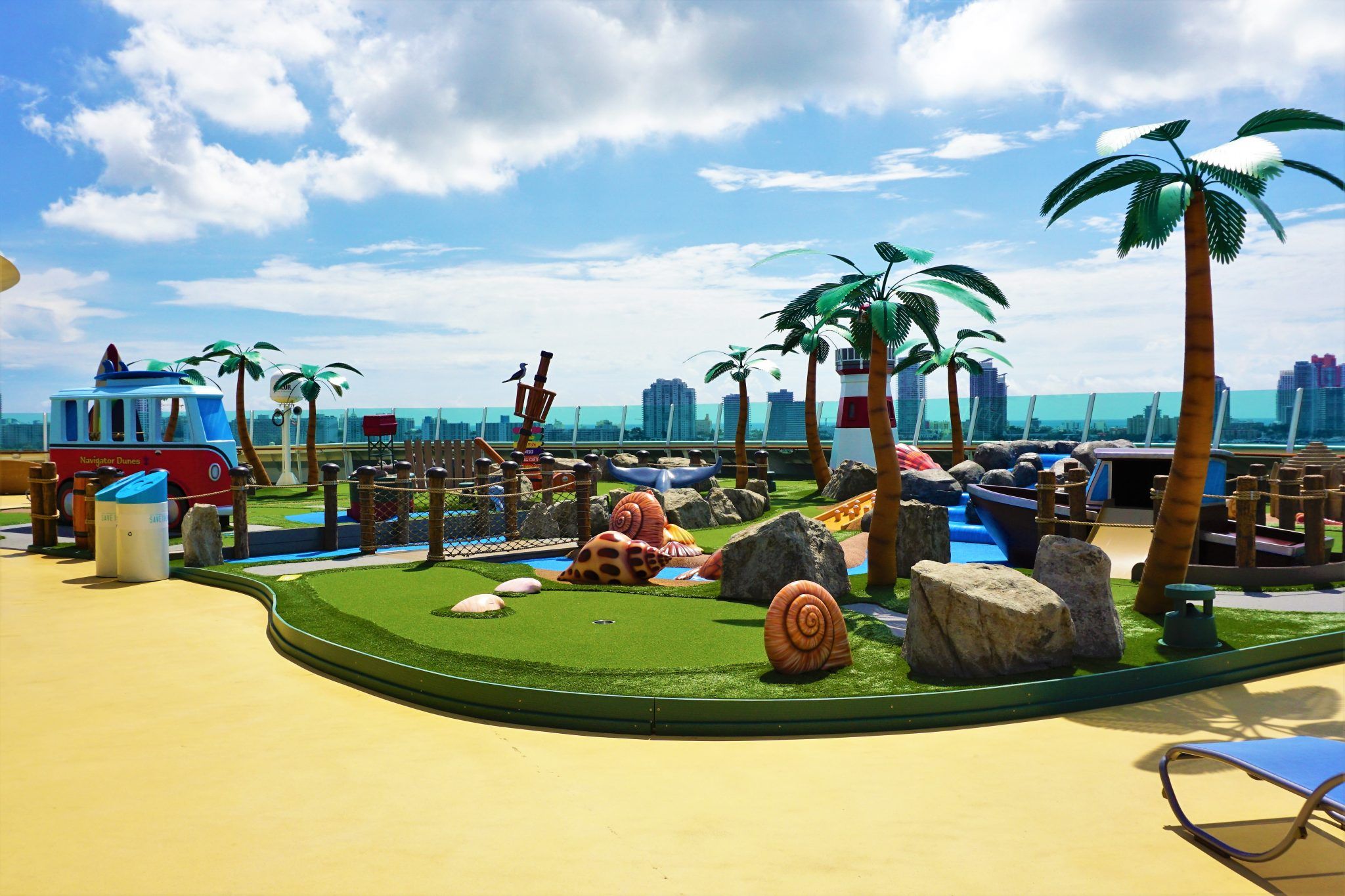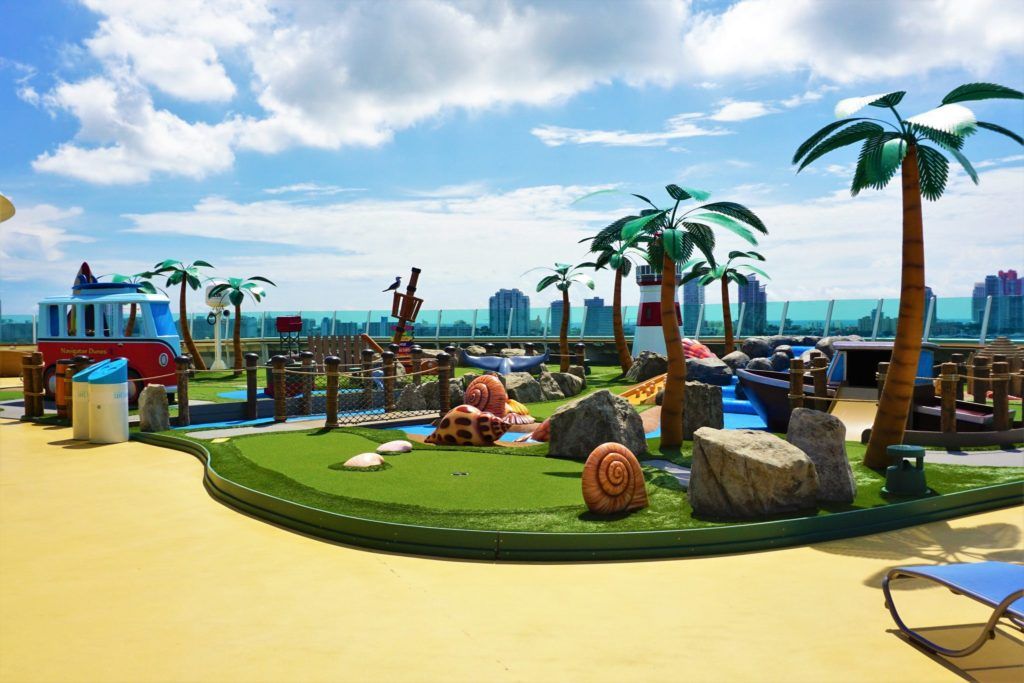 Watch a Game at Playmakers
If you are a sports fanatic then you won't want to miss Playmakers Sports Bar and Arcade. This new Royal Caribbean venue that debuted on Symphony of the Seas has made its way to Navigator of the Seas as well. Playmakers is located in the heart of all the action on the Royal Promenade and boasts multiple high-definition TV screens. At Playmakers, you can cheer on your home team, partake is a tabletop game of Jenga, grab your favorite brew, and even snack on some pub favorites. While everyone can enjoy this sports pub, the food will cost you extra money.
Party it Up
During your weekend getaway on Navigator of the Seas, be sure to party it up. Royal Caribbean has plenty of parties to keep you entertained all cruise long. On the first night of the cruise, be sure to stay up late for the Midnight Balloon Drop. There are also other parties occurring on the Promenade during the cruise like the popular 70's and 80's Party complete with music and attire from the era. Taking place in Studio B, there is the cruiser favorite Crazy Quest scavenger hunt and the RED ultimate nightclub experience. Not to mention, there is also plenty of live music throughout the ship to suit all tastes, whether its guitar, piano, or Latin dance.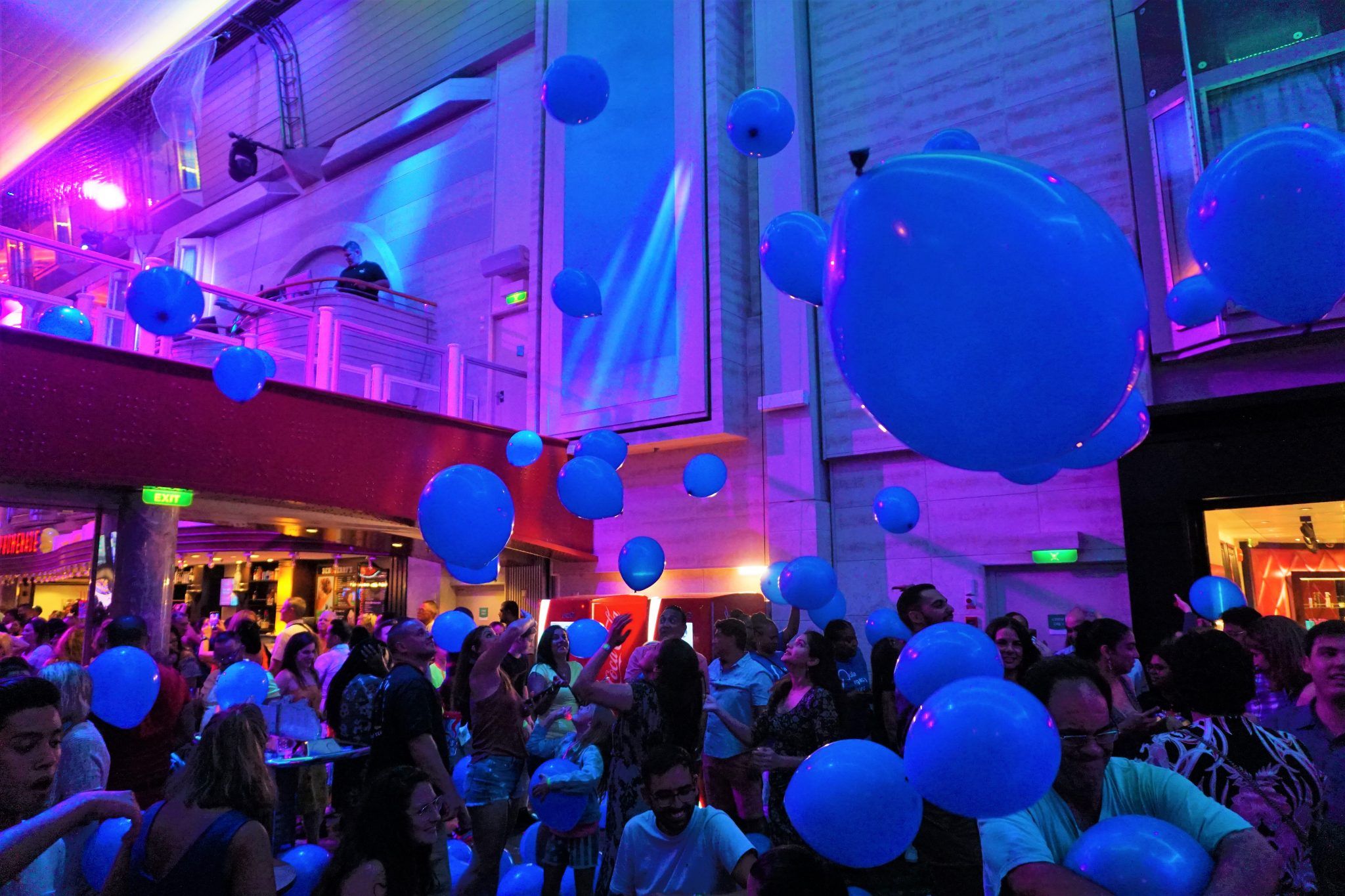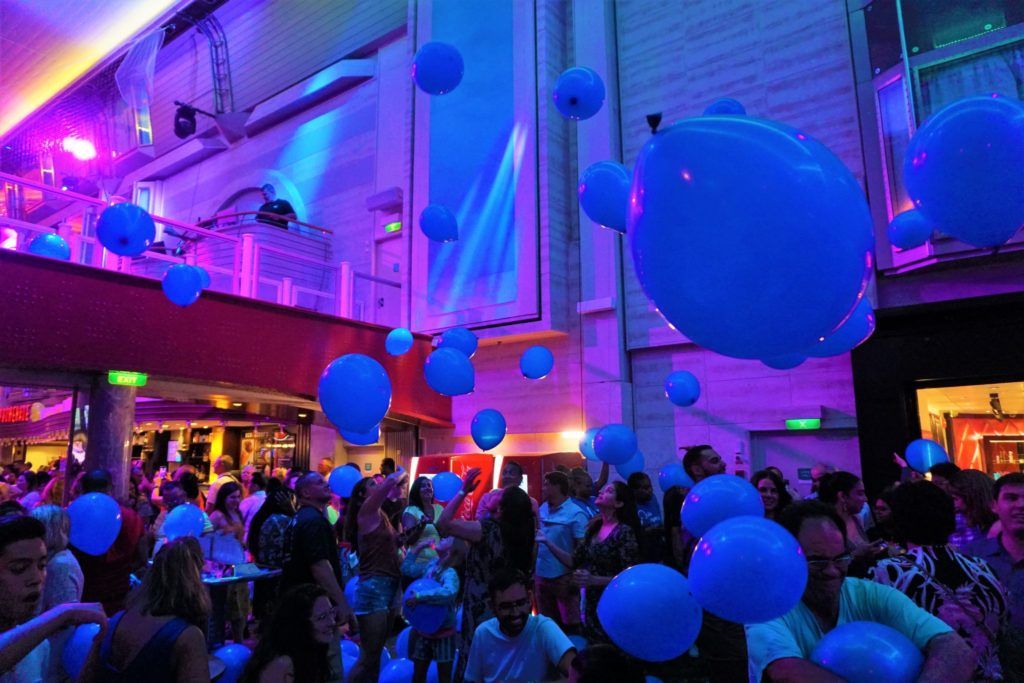 Enjoy a Perfect Day at Coco Cay
To extend your fun beyond the ship, Navigator of the Seas makes stops in Nassau, Bahamas and Royal Caribbean's private island of CocoCay during these short 3 and 4-day cruises. The new and improved private island oasis, Perfect Day at CocoCay, now features several new attractions like the Thrill Waterpark with the tallest waterslide in North America, a hot air balloon ride, ziplines, a wave pool, and the largest freshwater lagoon pool in the Caribbean. Whether you want to enjoy all the new thrills, live it up at the Oasis Lagoon pool party, or relax on the beach, CocoCay is sure to deliver your slice of paradise.

Comments
Have you sailed on Royal Caribbean's latest amplified vessel yet? What are some of your top things to do on Navigator of the Seas? Drop us an anchor below with your thoughts on all the new additions to the ship.