With several ships sailing in Alaska each year, we were thrilled to be invited onboard one of the first Holland America Line cruises since the restart. We just returned from a cruise on Nieuw Amsterdam and want to share our picks for the Top Things to Do on Holland America Line in Alaska.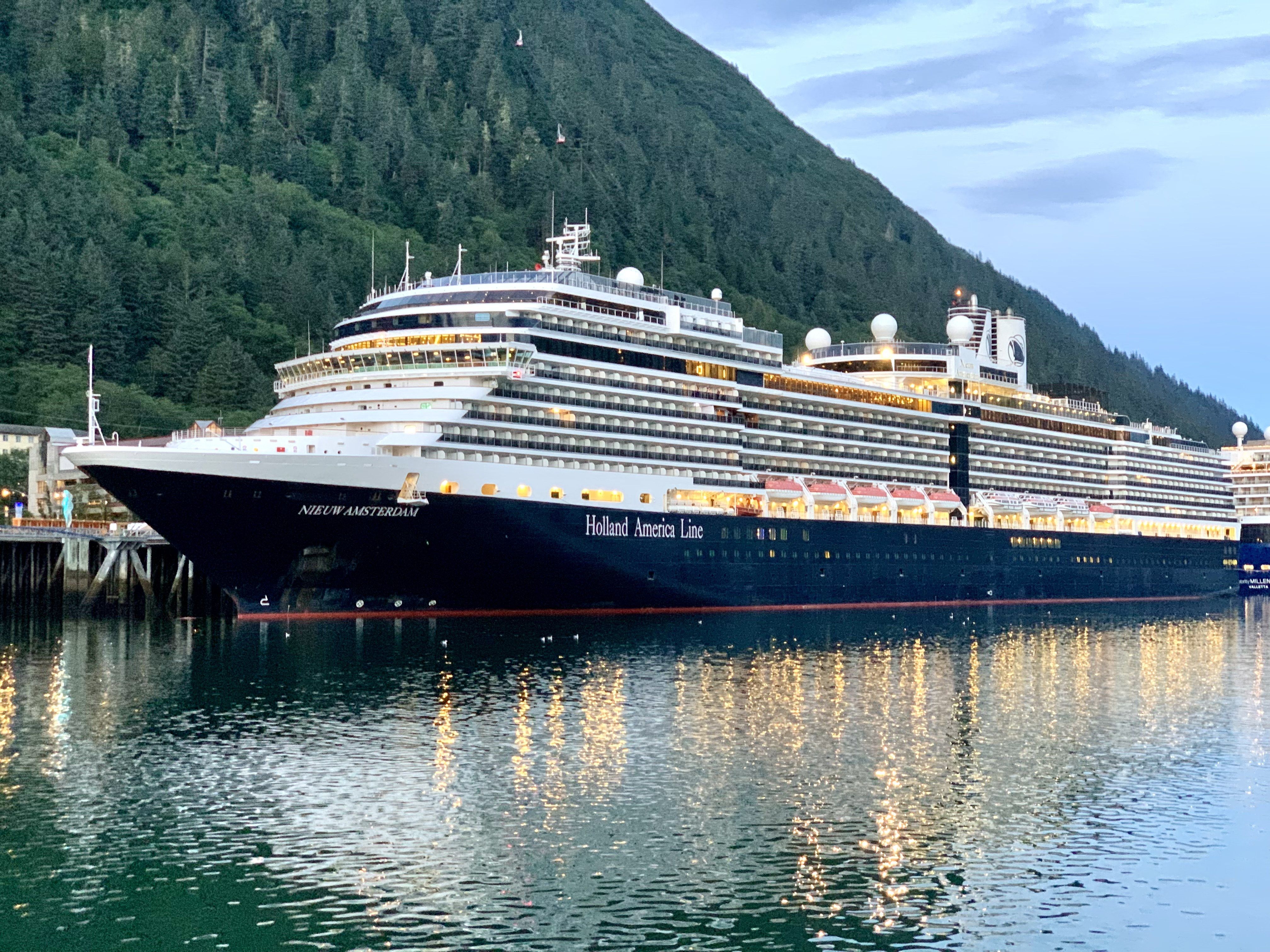 Top Things to Do on Holland America Line in Alaska
Attend the EXC Talks
Holland America Line offers many themed Alaska presentations as part of its exclusive destination programming. These EXC Talks provide expert insight and local perspectives on your exciting ports of call. These enrichment opportunities are engaging and informative, and we highly recommend you attend at least a few of these talks.
The programming on our recent Alaska cruise included everything from Iconic Whales of the Northwest and the Iditarod Race to the Origin Story of Holland America Line. All of these talks were well-produced and emotion felt.
In addition to these EXC Talks, there are other enrichment opportunities as well. The onboard naturalist conducts wildlife talks and viewing sessions throughout the cruise. During the scenic cruise in Glacier Bay National Park, rangers come aboard to provide informative narration and presentations. We were even treated to a native Tlingit speaker who discussed local history, culture, and traditions.
Related Post: Our Holland America Alaska Cruise Review
Admire the Glaciers
During our scenic cruising through Glacier Bay, the Captain was able to maneuver our ship to get up close and personal with some of the glaciers in the area. Despite less than optimal weather, we were able to view the Lamplugh Glacier. We also spent a prolonged period of time admiring the Marjorie Glacier from all angles. We would definitely recommend booking an Alaskan cruise that visits Glacier Bay National Park.
Beyond this sightseeing, Holland America Line offers several excursions to get you up close and personal with glaciers. During previous trips to Alaska, we discovered the Mendenhall Glacier in Juneau from various perspectives including a helicopter ride, a stop at the Visitor Center, and a hike along the Nugget Falls trail.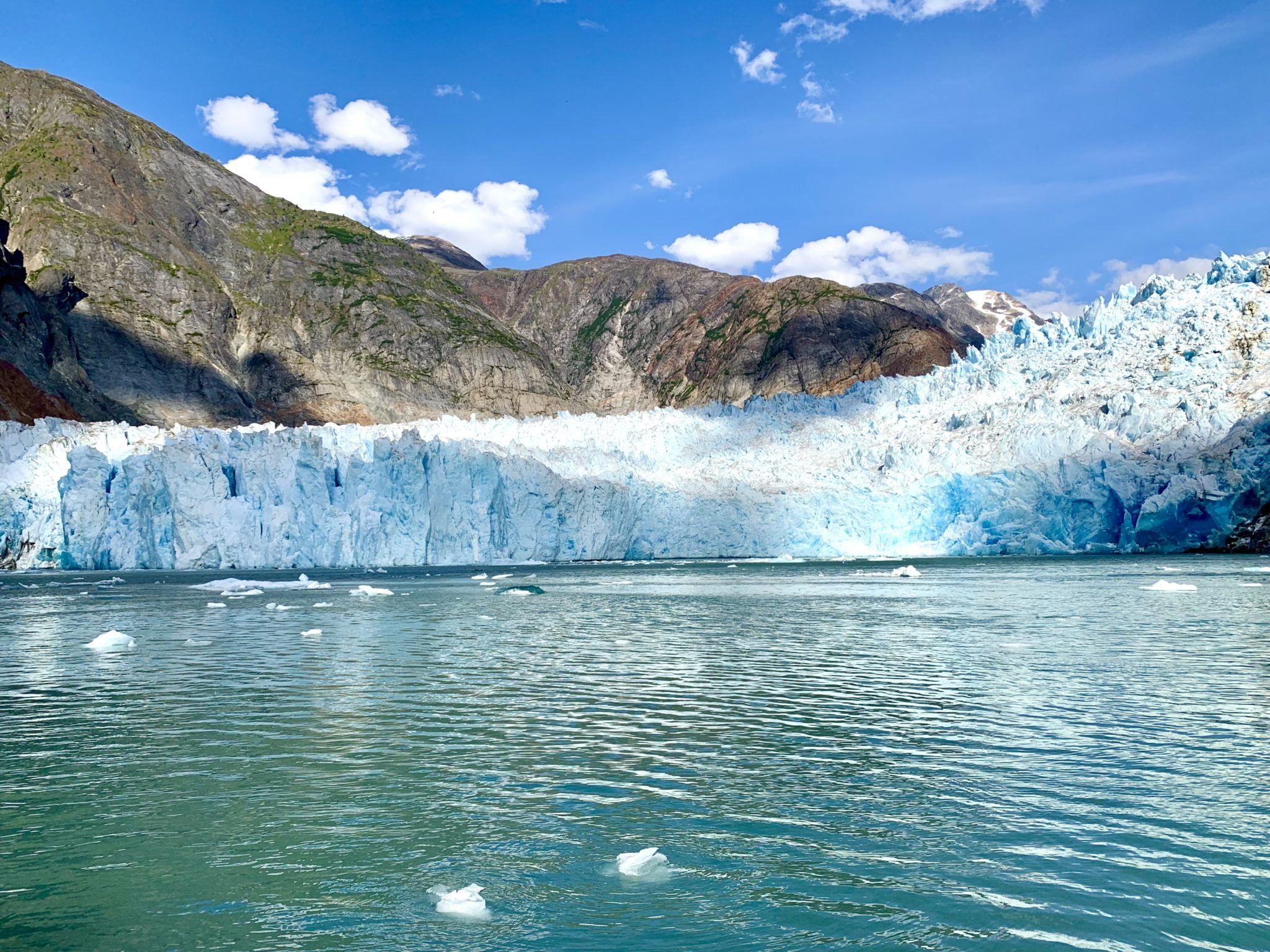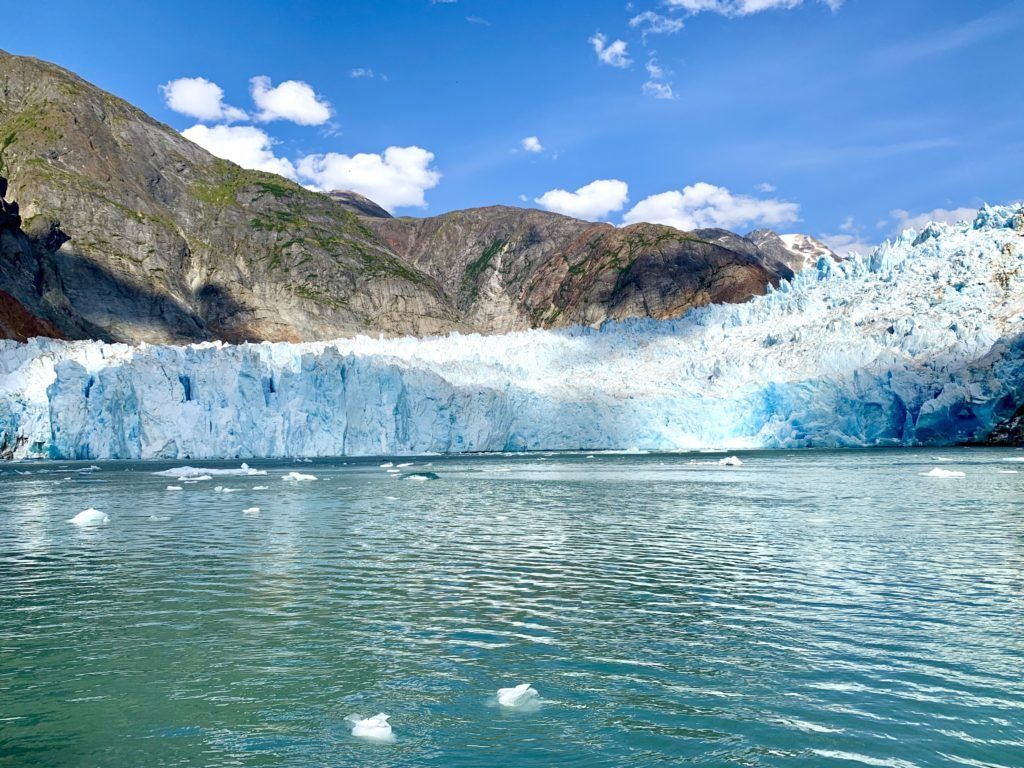 This time around, we opted for the Tracy Arm Fjord Glacier Explorer excursion offered by the cruise line. The optimal weather and small boat experience provided the perfect opportunity to admire the Sawyer Glacier. While it is quite a long day, we highly recommend this tour if you are seeking amazing glacial views during your cruise to Alaska.
Dine at a Specialty Restaurant
While the main dining room offer plenty of satisfying and complimentary menu options, we suggest sampling some of the specialty dining during your cruise with Holland America Line in Alaska.
With a culinary focus and renowned chef partnerships, the brand delivers exceptional specialty dining. Nieuw Amsterdam features the Pinnacle Grill, a one night only Rudi's Sel de Mer experience, Taramind, and Canaletto.
The Pinnacle Grill is Holland America Line's specialty steakhouse. The menu features signature cuts of beef and innovative recipes from popular chefs James Beard and David Burke like the exclusive clothesline candied bacon. There is also a Pacific Northwest seafood selection on the menu.
Taking place in the same restaurant is Rudi's Sel de Mer. This experience features classic French and seafood dishes created by Master Chef Rudi Sodamin in an intimate setting with artful presentation.
Tamarind is Holland America Line's Asian-inspired restaurant with a large menu that features classic Asian dishes with an upscale twist. Guests can also sample a large selection of sushi at Nami Sushi. This specialty restaurant is a favorite among frequent HAL cruisers.
Finally, there is Canaletto, the brand's specialty Italian restaurant. This venue serves all the Italian classics in a rustic atmosphere. There are even daily specials like chicken parm and osso bucco. While the setting is rather casual, the food does not disappoint.
Related Post: Holland America Line Restaurant Guide
Sample the Other Culinary Options
While the specialty dining on Holland America is outstanding, the complimentary options should not be overlooked. Our Holland America Line cruise in Alaska also featured a satisfying MDR, buffet, and a few casual snack options including New York Pizza and the Dive-In grill.
While we only dined in the Main Dining room once for dinner, we were pleasantly surprised by the breakfast and lunch served here. The menus were quite large and offered selections not typically found on other cruise lines. The food was also fresh, hot, and delivered with a smile.
The Dive-In poolside grill also stood its ground compared to other cruise lines. This quick service venue, located right next to the Lido Pool and Bar, is an obvious go-to for sea day snacks. Serving up made-to-order burgers, Nathan's hot dogs, and chicken sandwiches with fries, we give this snack shack two thumbs up.
We would also rank the Lido Market among our best buffets at sea. Offering selections from baked goods, salads, warm entrees, and other international cuisine, we particularly enjoyed the custom salad station and the distant lands Asian station.
Sing Along at Billboard Onboard
Billboard Onboard is a popular entertainment space featuring live piano music and drinks on Holland America Line. As one of the nighttime hubs of activity, cruisers can sing along with the piano duo at Billboard Onboard most evenings of the cruise.
With great music, a lively atmosphere, and equally delightful cocktails, you might find yourself spending quite a bit of time here.
Billboard Onboard features 45-minute sets covering several music genres from Icons, to 60's and 70's hits, British Invasion, and All Request hour. Do be sure to get here early, as the venue is often standing room only.
This venue does host other activities during the daytime as well, like Bingo and trivia.
BOOK NOW: Score Exclusive Deals on Holland America Line in Alaska
Enjoy Some Pool Time
Even though you are traveling with Holland America Line in Alaska, it doesn't mean that you can't take a dip in the pool. Yes, the weather in the region can be a bit unpredictable, but we recommend that you still pack a bathing suit.
We definitely had an afternoon or two that were warm enough to make use of the outdoor Sea View pool located at the aft of the ship. However, there is also an indoor pool that is covered from the elements and both indoor and outdoor hot tubs. The Lido Pool is the midship pool with a retractable roof that lets you take a dip without worrying about the weather outside. It is certainly less stuffy than typical cruise ship solariums.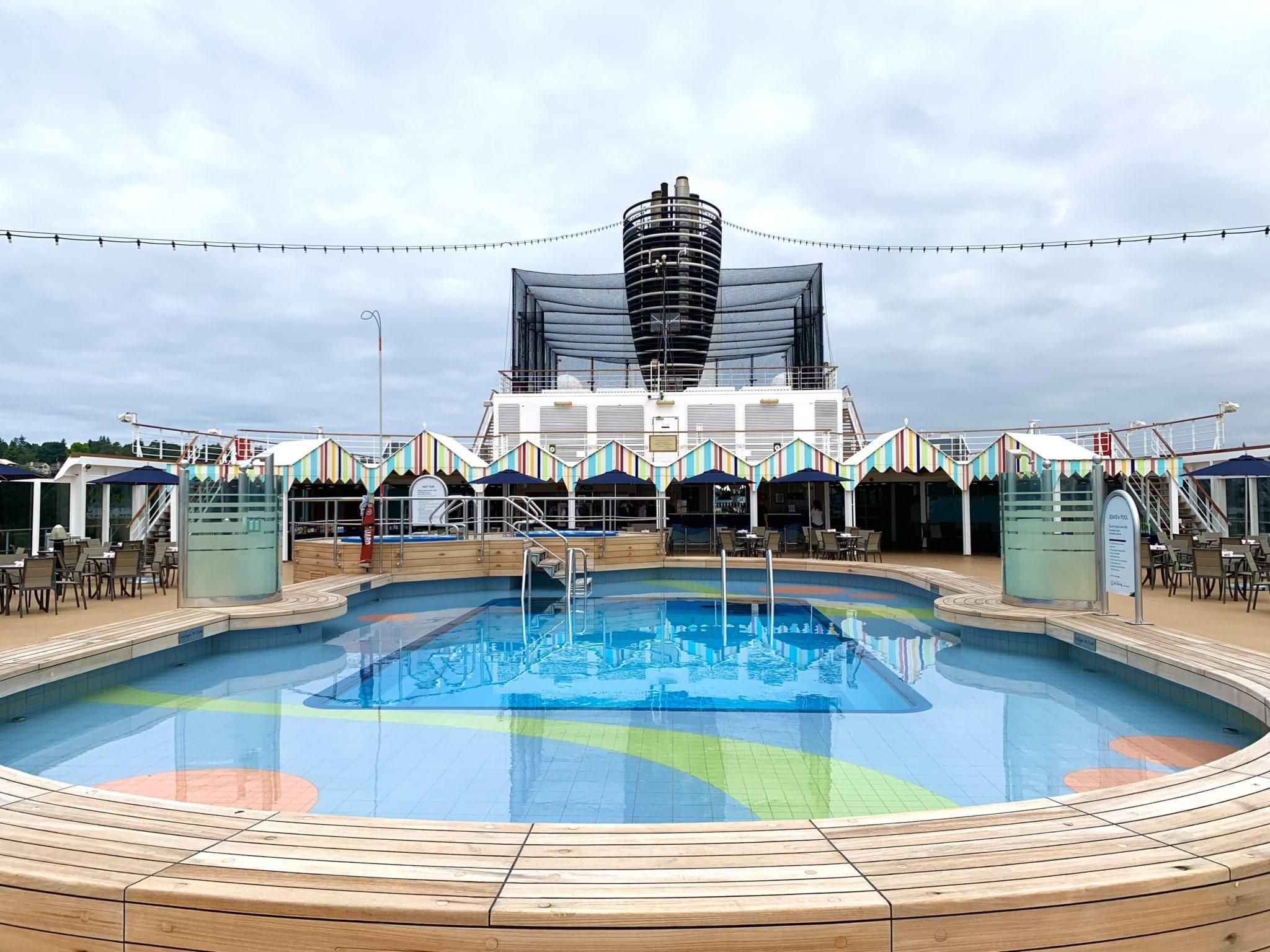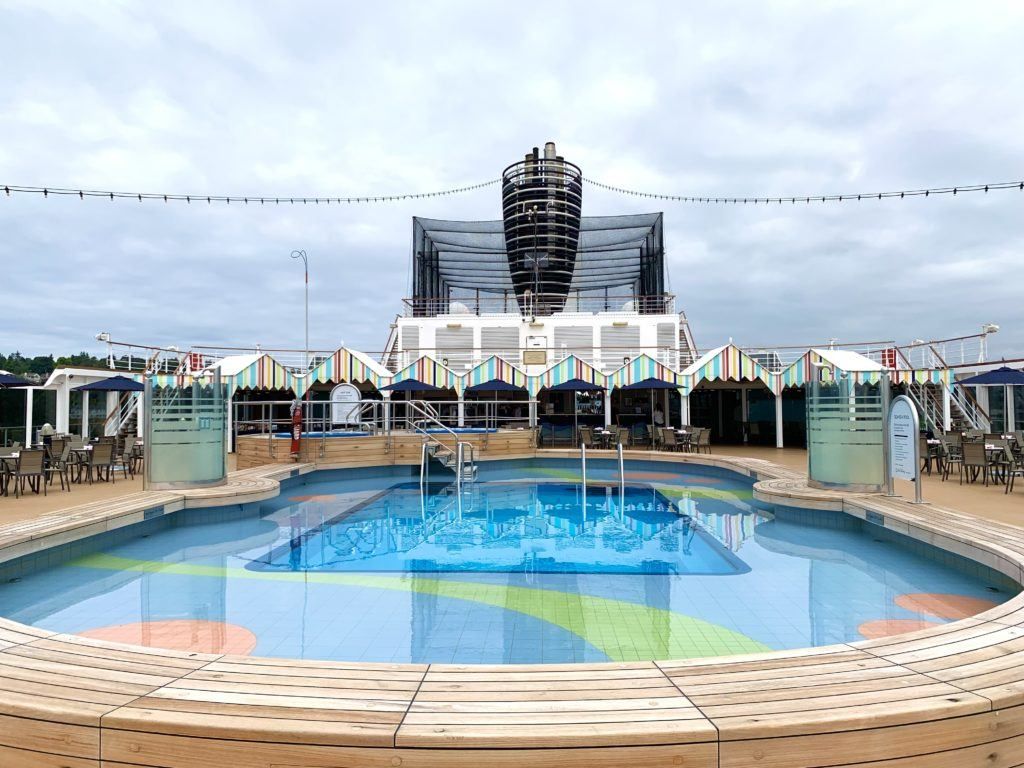 Imagine sitting in a hot tub while admiring the Alaskan scenery. Sounds great, doesn't it?
If you want to splurge on your vacation, you can also purchase a pass to Holland America Line's version of a thermal suite, which offers a therapy pool, heated loungers, and more.
Spend the Evening in B.B. King's
The B.B. King's Blues Club brings the best of blues to the high seas. This intimate entertainment venue features soulful live music paired with great signature cocktails. With a menu that includes musically inspired drinks like the Rhythm and Blues, you will definitely want to sample these signature cocktails while enjoying the nightly performances.
Featuring a band and two stellar vocalists performing several 45-minute sets throughout the cruise, this was one of the most popular venues during our cruise on Holland America Line in Alaska.
Some of the shows on our cruise included Memphis Nights, B.B. King's All-Stars, Funky 70's Fever, Motown Memories, and more. The fantastic vocals and upbeat music is known to get the crowd up on their feet, so bring your dancing shoes!
During the day, this venue is used for variety of other events. At night, this venue also doubles as the comedy club and the late night dance club.
Take in a Show
It wouldn't be a cruise if there wasn't nightly entertainment in the main theater. Besides the popular Billboard Onboard and B.B. King's Blues Club, guests can also watch production shows on the Mainstage.
The Step One Dance Company performs three shows during the course of the week including Humanity, Musicology, and In Tandem. Humanity was by far our favorite. The combination of dance and choreographed lighting effects make this a must-see performance.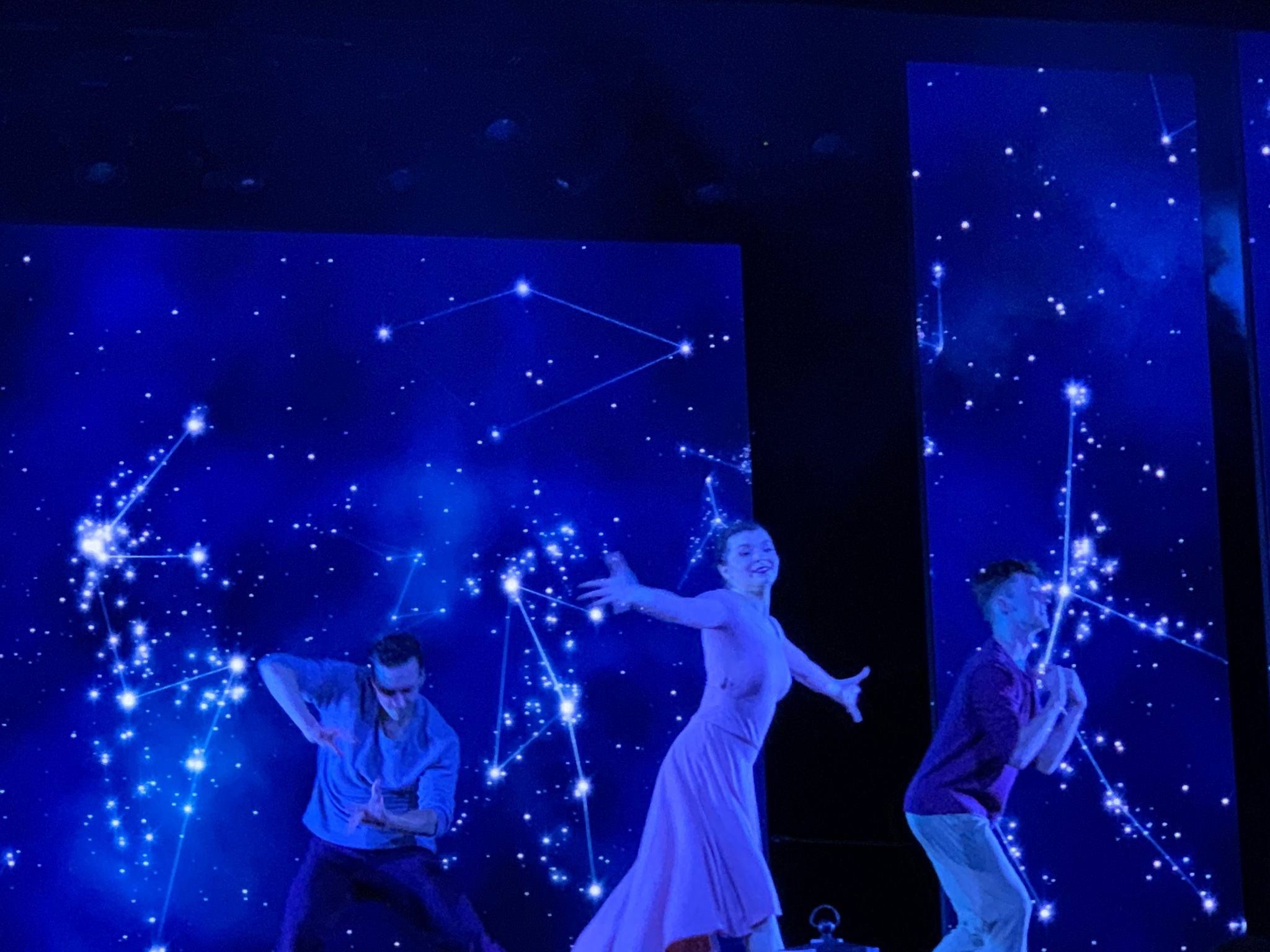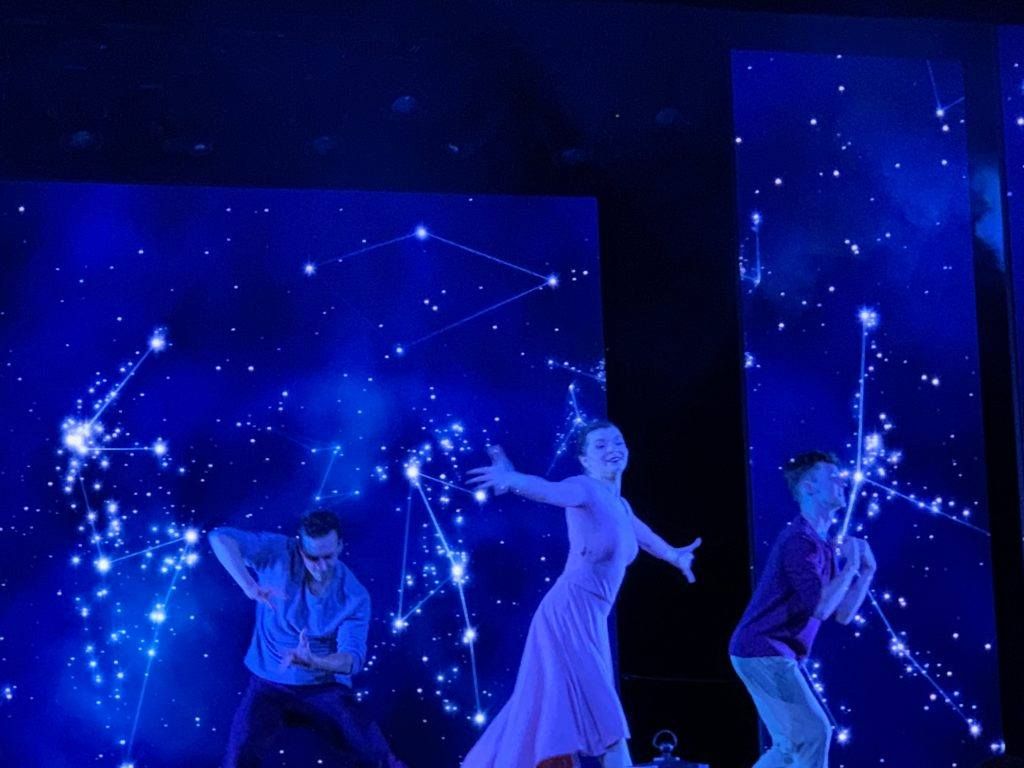 The Mainstage also featured a headliner magician and a BBC Earth Experience: Alaska in Concert. Unfortunately, the Alaska in Concert occurred during our late night port of call in Juneau, so we missed it.
Besides the Mainstage, there is also the Lincoln Center Stage. This intimate venue features live orchestra performances by a very talented quartet. There are a variety of shows offered here throughout the cruise.
Related Post: Alaska Cruise Planning Guide
Make Your Own Bar Crawl
When it comes to enjoying a drink, Holland America Line offers cruisers a variety of bars and lounges. In addition to the aforementioned Billboard Onboard and B.B. King's Blues Club, several of the other bars on the ship also offer specialty cocktail menus.
With so many signature drinks at bars throughout the ship, why not plan a bar crawl for your next Holland America Line cruise?
Each venue has its own unique design and décor, so you will need to check out them all to find your favorite. From the art-inspired Gallery Bar, to the upscale Pinnacle Bar, to the outdoor Sea View Bar, and the Asian-inspired Tamarind Bar, each menu offers handcrafted cocktails that you are sure to love.
Our new bar guide has all the menus to help you decide which drinks you will order first.
Go Wild For Wildlife
It wouldn't be an Alaskan cruise without some wildlife sightings. While cruising between your ports of call, be on the lookout for whales, porpoises, and dolphins swimming near the ship. The onboard naturalist hosts several wildlife spotting opportunities as well.
Holland America Line also offers a vast array of shore excursions to fulfill your desire to "go wild". From dog sledding and whale watching to bald eagles and bears, there is the perfect tour for everyone.
These animal sightings can also be coupled with other highlights in your port of call. For instance, you can couple a visit to the famous Mendenhall Glacier with whale watching in Juneau. In Sitka, you can take a Best of Sitka tour which includes a boat ride for whale and sea otter sightings, coupled with a visit to the Alaska Raptor Center, and the Fortress of the Bear.
Perhaps our favorite wildlife excursion on our recent Holland America Line cruise in Alaska was in Ketchikan. We saw so many black bears on the Bear, Wildlife, and Nature Walk tour. A leisurely walk through the Alaska Rainforest Sanctuary provides the perfect elevated viewing area over Eagle Creek.
Comments
Have you taken a Holland America Line cruise in Alaska? What are some of your top things to do on this cruise line? Drop us an anchor below to share what you love about HAL.