Oceania Cruises Elevates Small Ship Luxury Offering in Alaska, with Riviera Debuting in "The Last Frontier" in Summer 2025
The Most Elegant Way to Explore America's Largest State, with Destination-Rich Itineraries, Unique Culinary Experiences, and Immersive Shore Excursions
The recently re-inspired 1,250-guest Oceania Riviera will debut in Alaska in Summer 2025. Riviera will offer travelers an inspiring way to explore some of the world's most breathtaking locales across America's largest state. Immersion in local communities and culinary excellence will be at the heart of this travel experience. 
Riviera will venture into iconic Alaska ports of call including Ketchikan, Sitka, Kodiak, and the Hubbard Glacier. The ship will sail itineraries ranging from seven to 12 days. Travelers will have even more opportunities to discover Alaska's natural wonders and local culture with nearly 300 excursion choices.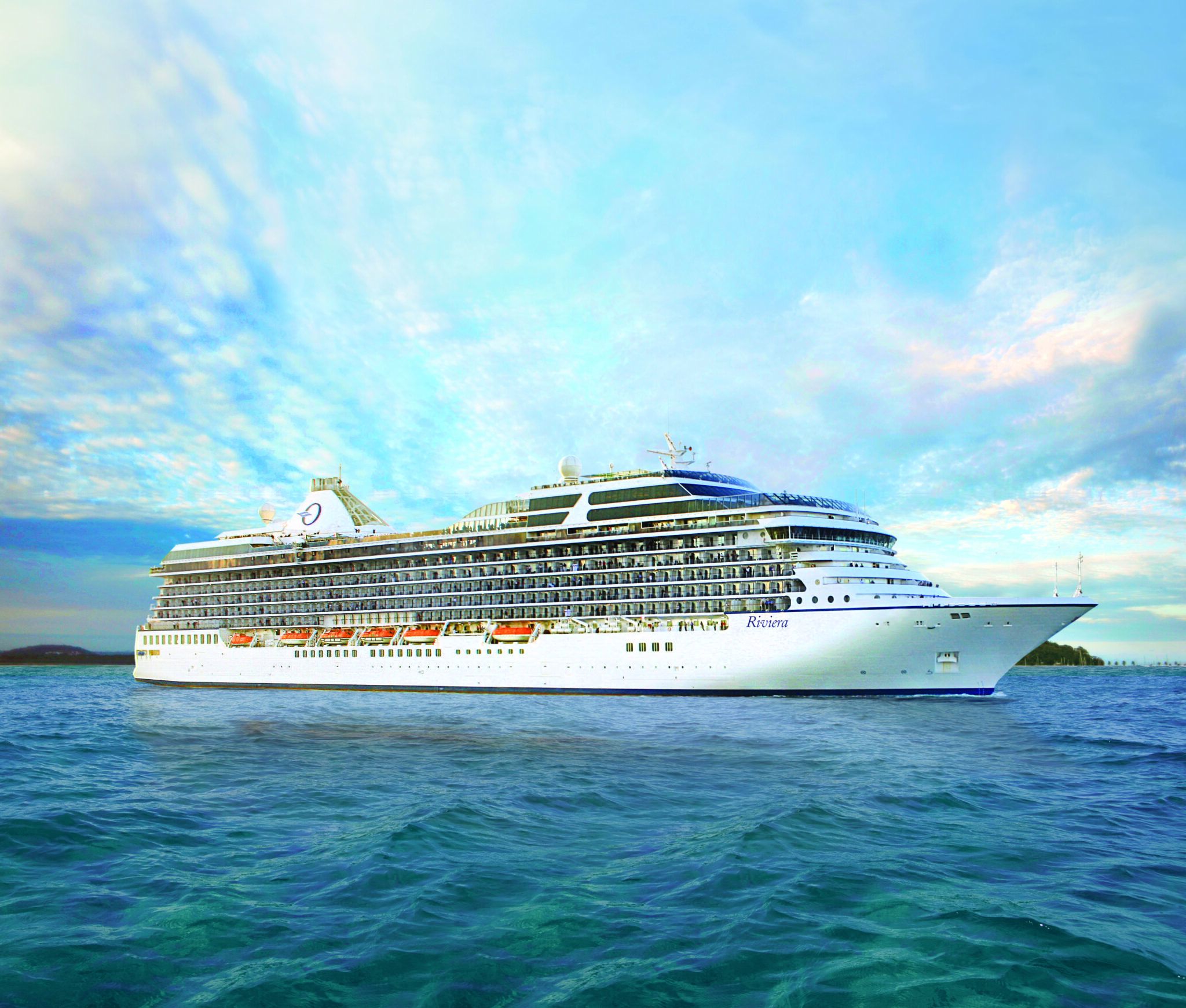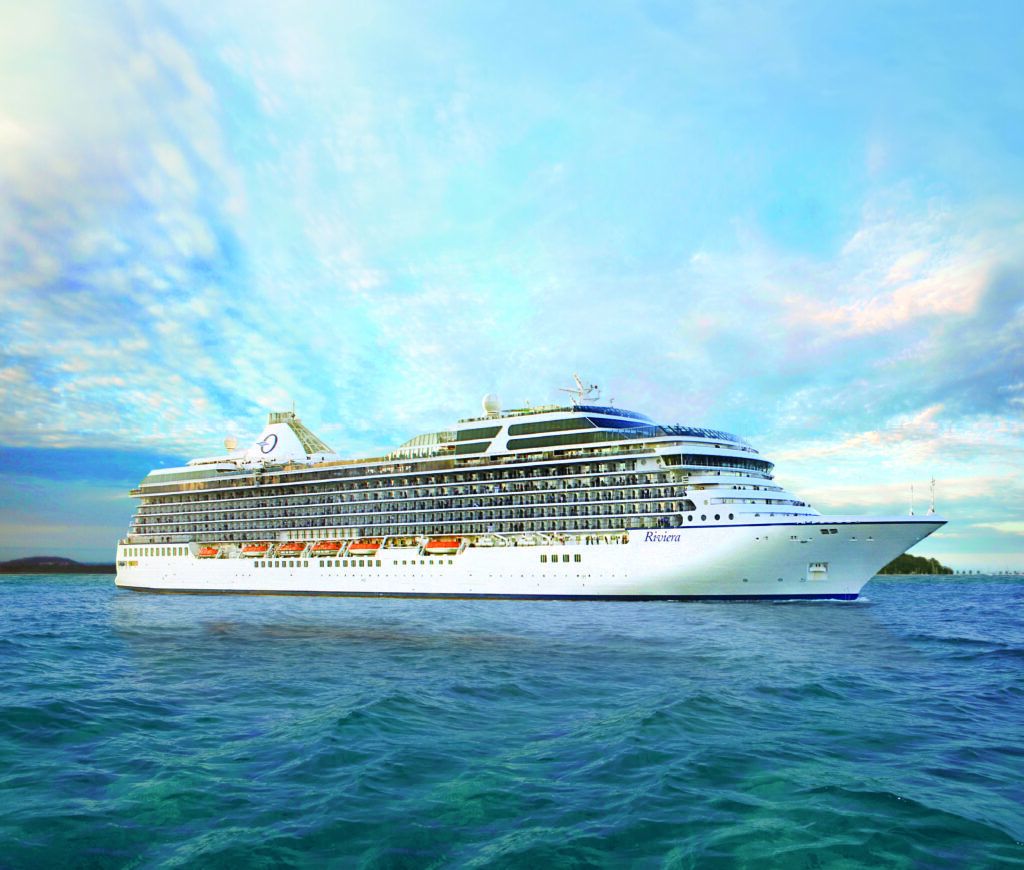 "The decision to elevate our presence in the Alaska region was easy," commented Frank A. Del Rio, President of Oceania Cruises. "This fascinating destination has always been a firm favorite with our well-traveled guests, who are constantly wanting to explore remote, wondrous and truly off-the-beaten-track destinations. Sailing on board Riviera is the ultimate way to explore this rugged state, while enjoying her distinctive residential luxury, The Finest Cuisine at Sea® and expertly curated travel experiences." 
With 800 officers and crew for 1,250 guests, service levels are second to none and guests notice the welcoming ambiance at every turn. 
Boasting one chef for every 10 guests, travelers can savor dishes at seven open-seating restaurants as they marvel at Alaska's incredible scenery. Whether you choose from an array of international dishes at The Grand Dining Room, the ultimate steakhouse experience at Polo Grill, Pan-Asian fare at Red Ginger, Italian dishes at Toscana, French cuisine at Jacques, Chef's Market Dinners and ever-changing menus at Terrace Café, or hand-tossed pizzas at the new alfresco pizzeria at Waves Grill, every meal aboard Riviera becomes a memorable culinary experience. 
Ultimate Alaska: Experiences Ashore
Riviera's Alaska cruises afford breathtaking wildlife encounters, stunning views, and so much more. From Hubbard Glacier – one of about 100,000 glaciers in Alaska – to Dutch Harbour, the town that technically doesn't exist, America's largest state always has a surprise around the corner. 
In fact, many may not think of Alaska as a top culinary destination, but Oceania Cruises' brand new series of Culinary Discovery Tours™ spotlight Alaska's unique and thriving food scenes. Offered in Juneau, Ketchikan, and Sitka, the immersive chef-led tours take travelers on epicurean adventures ranging from craft beer flight tastings to visiting a sustainable oyster farm followed by a hands-on seafood-centric cooking class. 
Additional explorations might find guests accompanying a Native Tlingit guide for an enlightening discovery of Ketchikan, observing local artisans and learning about tribal history at the only remaining village of the Chilkat people while in Haines, or venturing into Skagway's free-wheeling gold-rush past to explore local saloons, gravesites, and a microbrewery. 
Travelers can also discover the natural wonders of the Tongass National Forest, the largest temperate rainforest in the world, or experience the untouched, wildlife-rich surroundings of Klawock, a town of less than 1,000 residents.
Guests can further enhance their Alaska journey with a multi-day Denali National Park experience on one of Oceania Cruises' pre- and post-cruise Alaska Land Programs.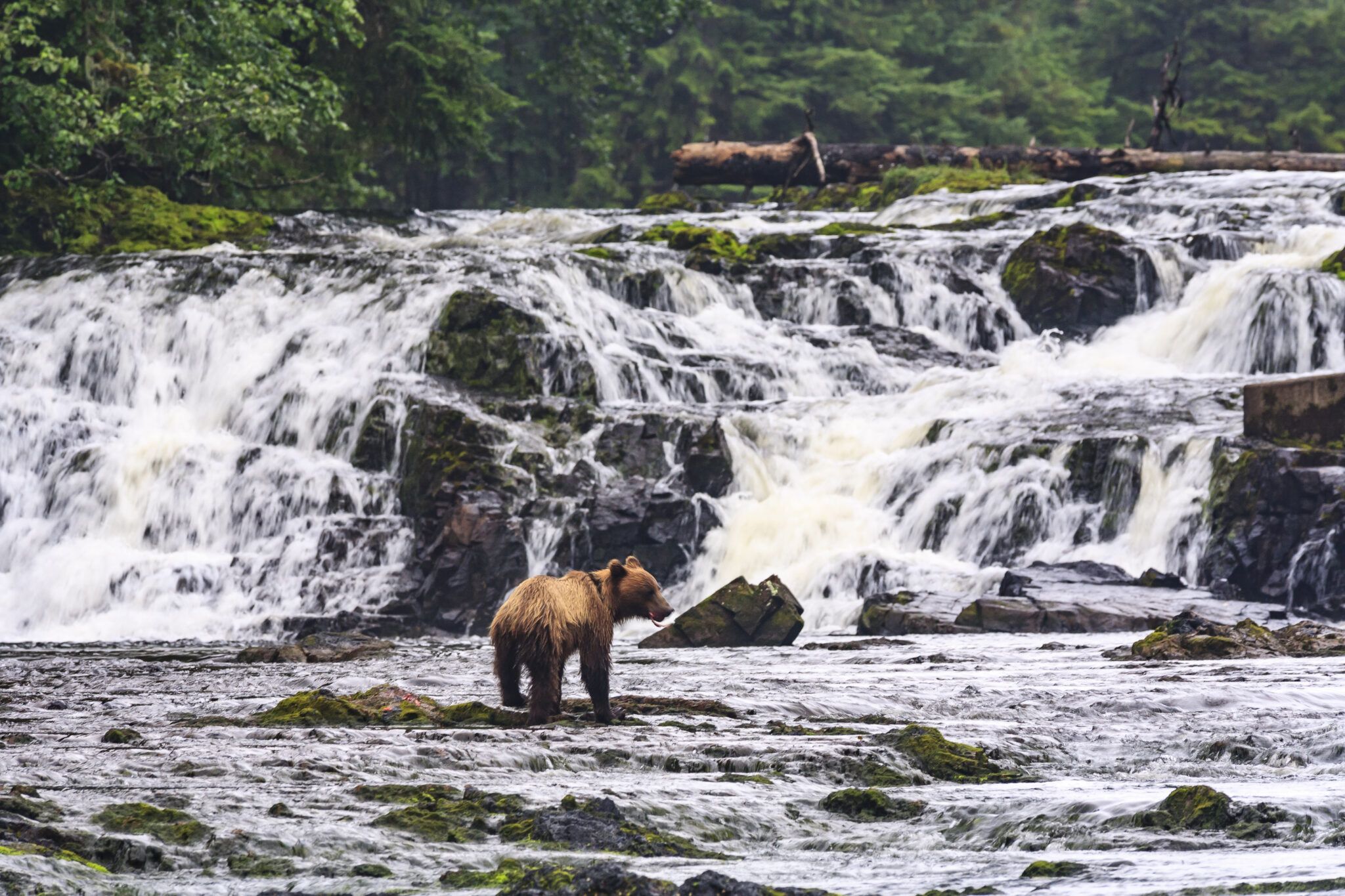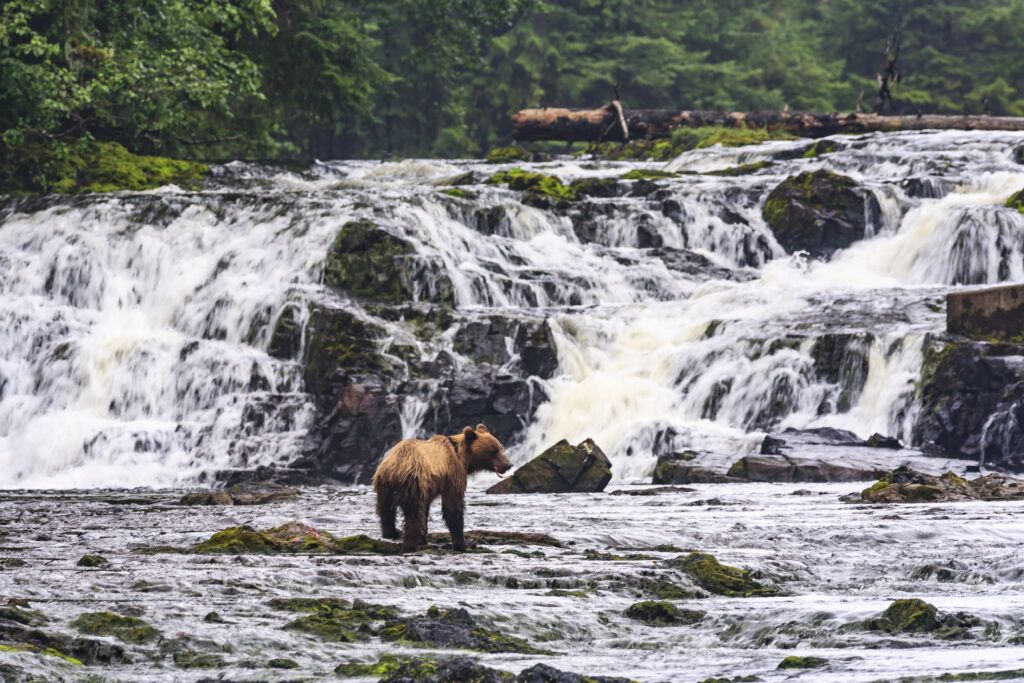 49th State Wonders: Onboard Enrichment
The immersion into the wonders of Alaska continues on board. Each sailing features a naturalist who offers insightful bridge commentary in addition to a series of guest speaker-style talks that delves into Alaska's incredible biodiversity. These talks cover everything from the unique whales, bears, and seals guests may see to the local culture.
For guests who travel with children, the Alaska Explorer Youth Program offers the opportunity for everyone to experience the excitement of exploring Alaska in an enriching way. Designed for children between 5 and 12 years of age, the program is supervised by experienced and enthusiastic youth counselors and includes engaging games, activities, and Alaska-inspired special events.
Guests will also have the opportunity to learn the secrets behind much-loved Alaska and Pacific Northwest regional specialties if they wish. Multiple hands-on cooking classes at Riviera's state-of-the-art Culinary Center will be offered during each sailing.
Incredible Itineraries
Riviera, Re-inspired
Riviera has had a sweeping rejuvenation. All suites and staterooms are debuting reimagined, lavish residential comfort with custom furnishings, wood finishes, and designer accents radiating Oceania Cruises' signature essence of elegance.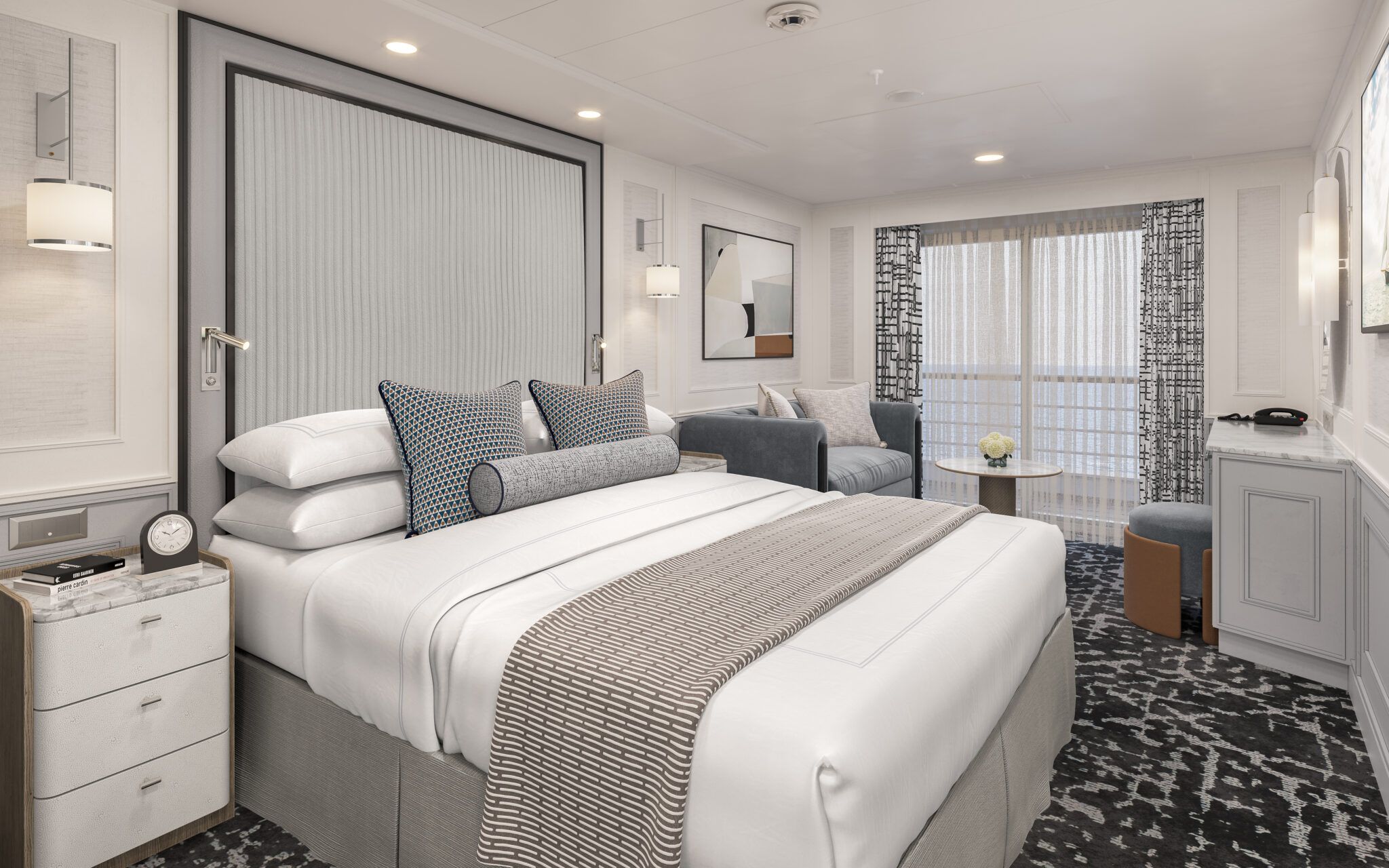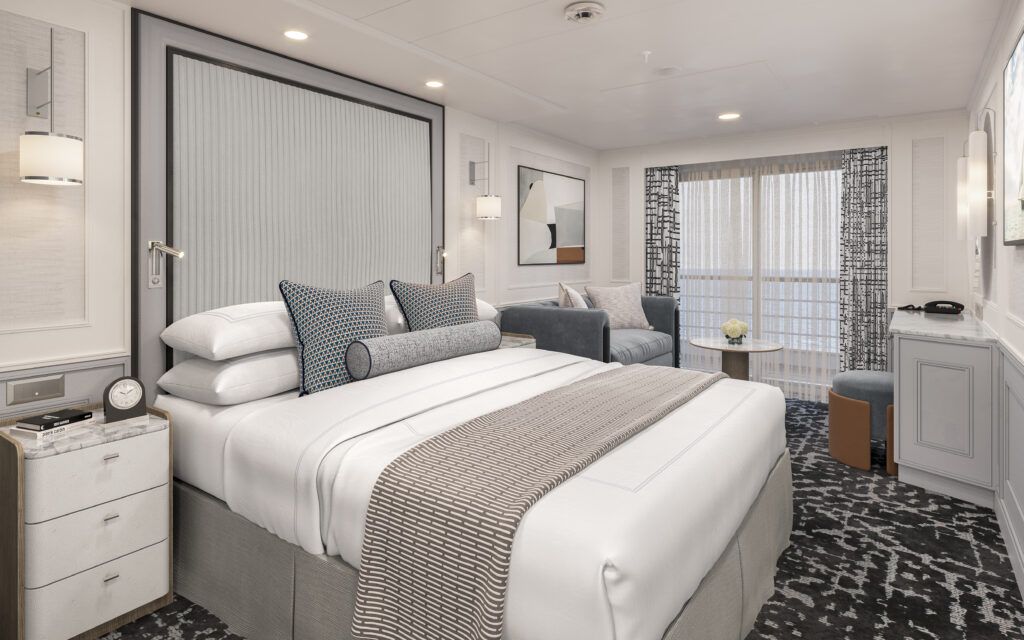 Some notable highlights of the reimagined vessel include: 
Concierge Level Veranda Staterooms and Veranda Staterooms are the largest standard staterooms afloat at 291 square feet. 
All Penthouse Suites and staterooms are beautifully redesigned, bringing a chic, warm and comforting sense of home. 
All stateroom bathrooms feature Italian marble, and bespoke fabrics in suites and staterooms evoke the harmonious tones of painted deserts and tranquil skies.
Riviera's public spaces have all been elevated with plush new carpets and leather-covered armchairs. 
All the lounges and bars, and decadent dining venues have been elegantly restyled, elevating social and epicurean experiences while maintaining the home-away-from-home ambiance. 
The Grand Dining Room reflects a renewed sense of grandeur that radiates from the glistening chandelier, plush carpets, and leather armchairs. 
Dining alfresco has been completely revamped with a delightful new pizzeria and trattoria, featuring an array of hand-tossed pizzas, succulently grilled Italian specialties, spicy chicken wings, tantalizing salads, and indulgent desserts every evening. 
simply MORE
Oceania Cruises offers travelers simply MORE, with virtually everything included in the voyage fare. This includes free roundtrip airfare; free airport transfers; and a generous shore excursion credit of up to $1,600 per stateroom. simply MORE also features a comprehensive beverage package available during lunch and dinner at onboard restaurants. Created to elevate the guest experience, simply MORE means travelers receive the greatest value in luxury cruising.
SOURCE Oceania Cruises
Comments
Are you happy to hear that Oceania Riviera debuts in Alaska in Summer 2025? Have you cruised to Alaska yet? Drop us an anchor below to share your experiences sailing with Oceania Cruises.
Stay up to date with the latest cruise news and travel updates!