The second ship in Holland America Line's Pinnacle Class, the 100K gross ton Nieuw Statendam can hold 2650 guests. This elegant vessel offers cruises in the Caribbean, Mediterranean, and Atlantic Coast. We just returned from a 7-night Canada/New England cruise and want to share all the details with you. See how this ship compares to the competition with our Nieuw Statendam cruise ship scorecard review.
Nieuw Statendam Cruise Ship Scorecard Review
Pool Deck
On Nieuw Statendam, cruisers will find two moderately sized pools on the deck 9 Lido Deck.
The aft Sea View Pool area offers plenty of loungers, and two adjacent whirlpools, on a completely open sun deck. Further, it is conveniently located right next to the Sea View Bar. On warmer days, it is a great place to relax after a long day ashore.
Midship, there is the main pool area which is covered by a retractable roof. This area of the Lido deck is home to a pool and 3 whirlpools. Further, it is nearby the Lido Bar and several of the casual restaurants. Regardless of the weather outside, it's always a pool day on Nieuw Statendam.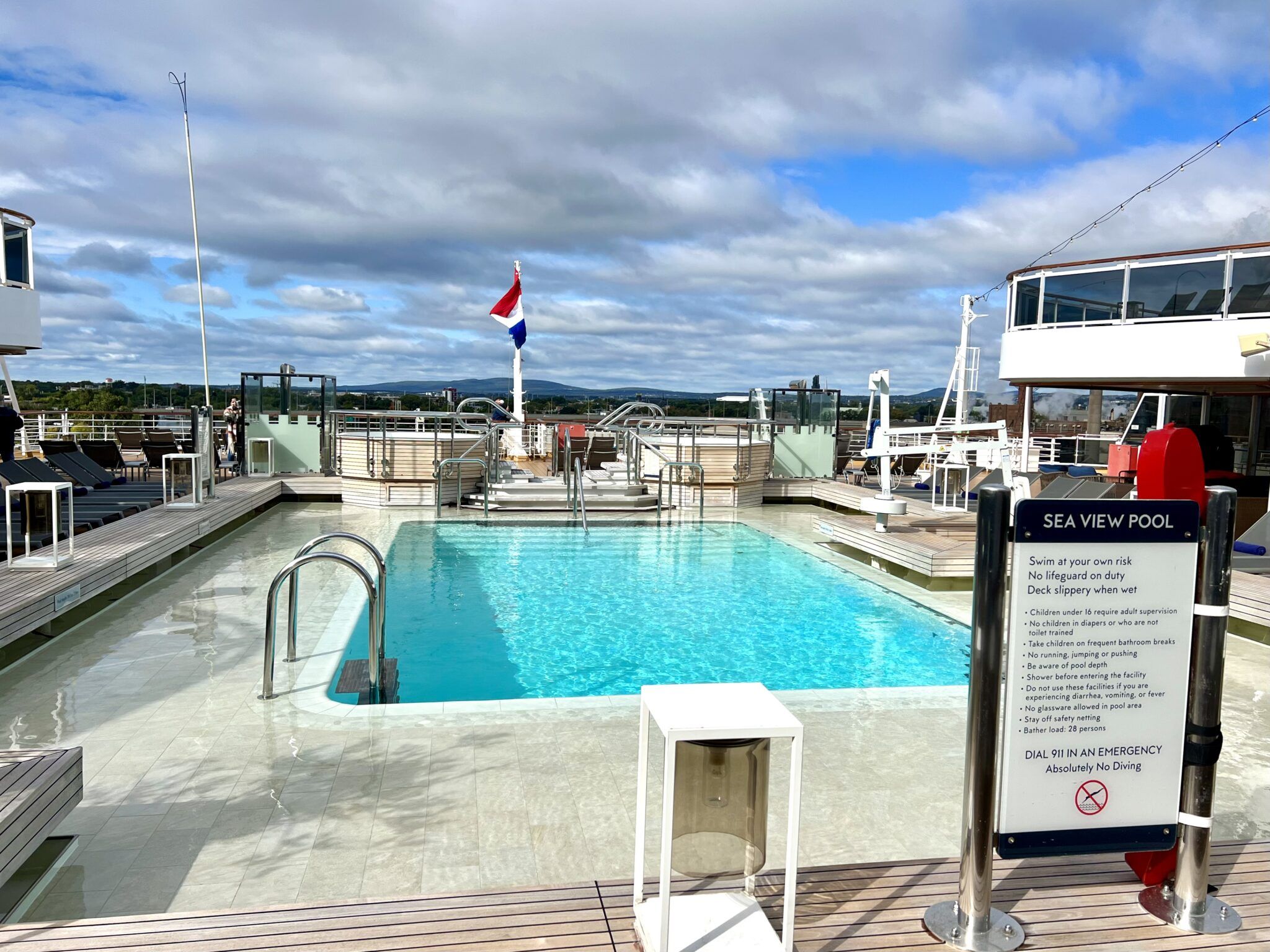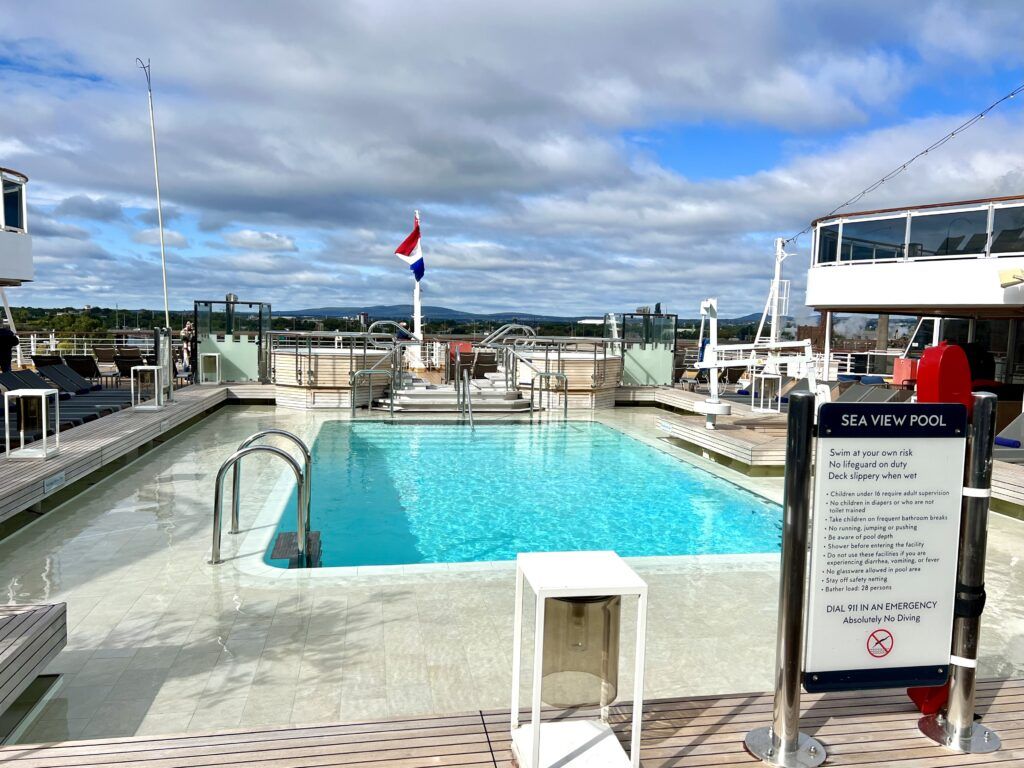 For cruisers that want a bit more privacy, you can opt for the Retreat. This up-charge private area on deck 12 features cabanas, loungers, and a hot tub.
While closed during our sailing, there are additional sun decks available aft on deck 11 and all the way forward on deck 14. So, on warmer itineraries, there shouldn't be any issue finding a seat to soak up the sun.
Sports Deck
Nieuw Statendam offers plenty of outdoor space, even if it doesn't have flashy amusements like zip lines or a rock climbing wall.
On Deck 11, there is a full sports court. Along with basketball, the court can also handle two pickleball games at the same time. There is additional exercise equipment surrounding the court as well.
Further, this deck is home to the dedicated walking/jogging track. It takes 12 laps to equal one mile.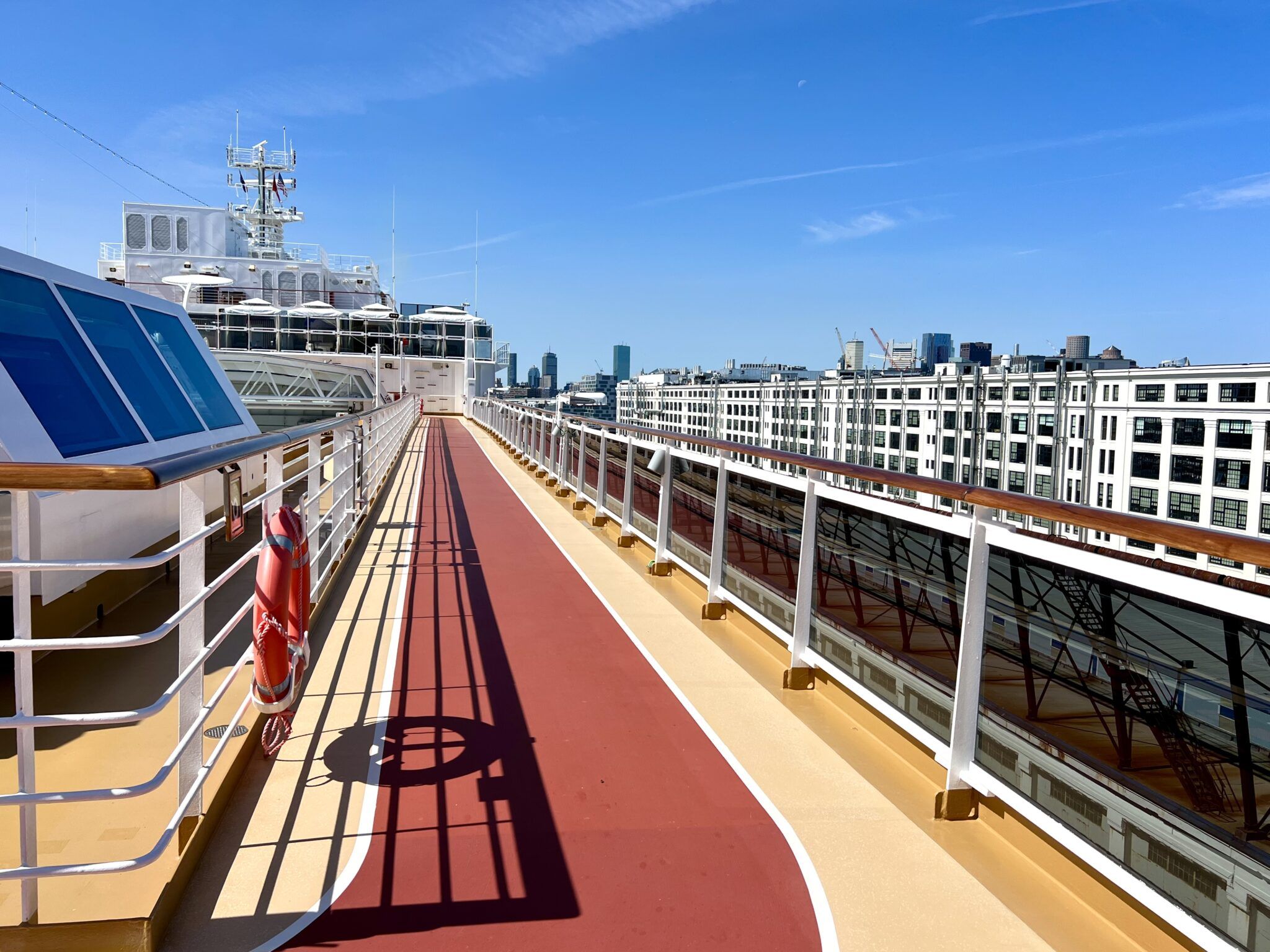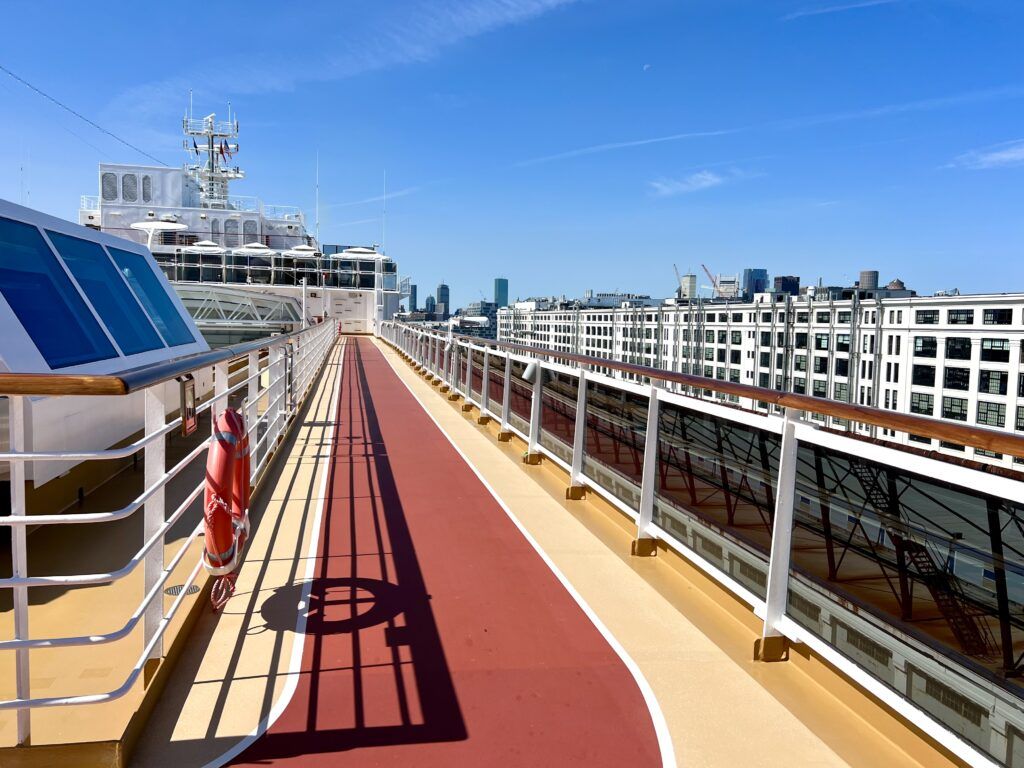 This deck 11 sports area also boasts a shuffleboard court and cornhole. One deck below, there are a couple of ping pong tables as well.
Not to mention, there is a fitness center on Deck 9 forward. This complimentary workout area includes plenty of cardio equipment and weight machines. For an up-charge, there are fitness classes and spin classes each day.
So, while not as elaborate as other cruise lines, there are still plenty of ways to stay active on Nieuw Statendam.
Service
Our Nieuw Statendam Canada and New England cruise was sailing at just over 75% capacity.
In venues like the Lido Market or the Dive-In burger bar, the lines were modest. Crew were abundant to clear tables or to assist guest with food selections. One thing we like about HAL's buffet is that most items are served to guests.
In contrast, dinner service in the main dining room was a tad slow. Granted, we dined with a rather large group most nights, but our three courses took around 2 to 2.5 hours. When we dined with a smaller group, dinners were better paced around 90 minutes.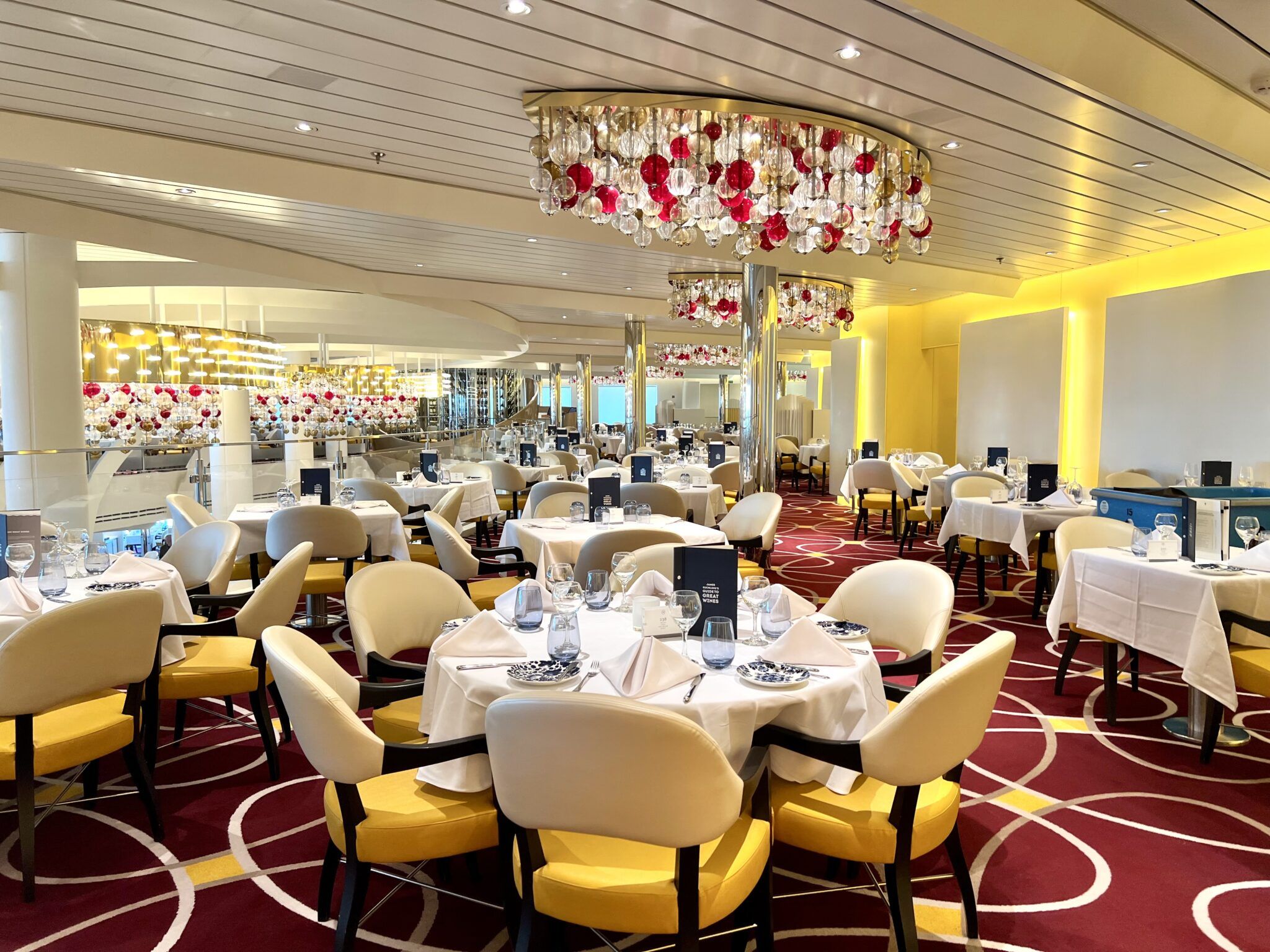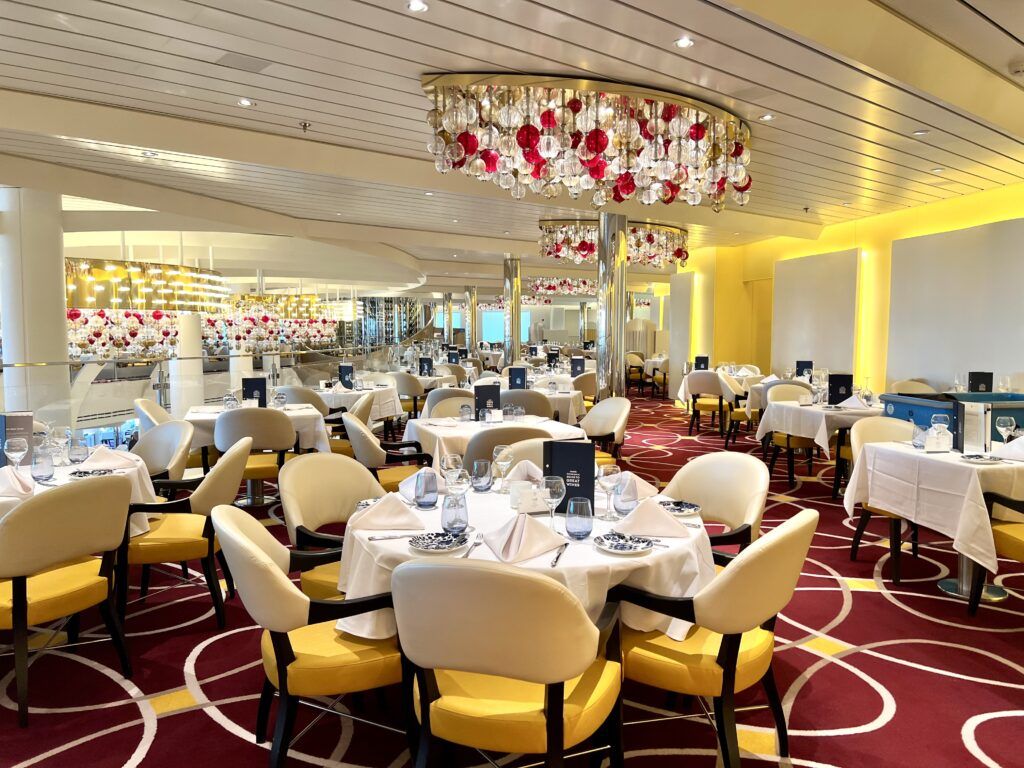 At the bars and lounges, there was never an issue getting a beverage. There were plenty of staff making the rounds to take orders. In the mornings, both the Grand Dutch Cafe and Explorations Cafe had small lines, but the baristas were quick to take orders and brew up everyone's beverage of choice.
Further, our stateroom attendant, Radi, was friendly and attentive. He somehow always found time to make up our room even though our schedule for the week was very inconsistent.
Overall, service on the ship was timely, professional, and very welcoming.
Daily Activities
This 7-day cruise had five ports of call. Thus, there was only one "sea day". Still, the cruise line offered a predictable set of daytime activities.
These started with morning chat with the cruise and travel director each morning. From there, cruisers could opt for party bridge or mahjong. There were also several board games and puzzles available in Explorations Cafe.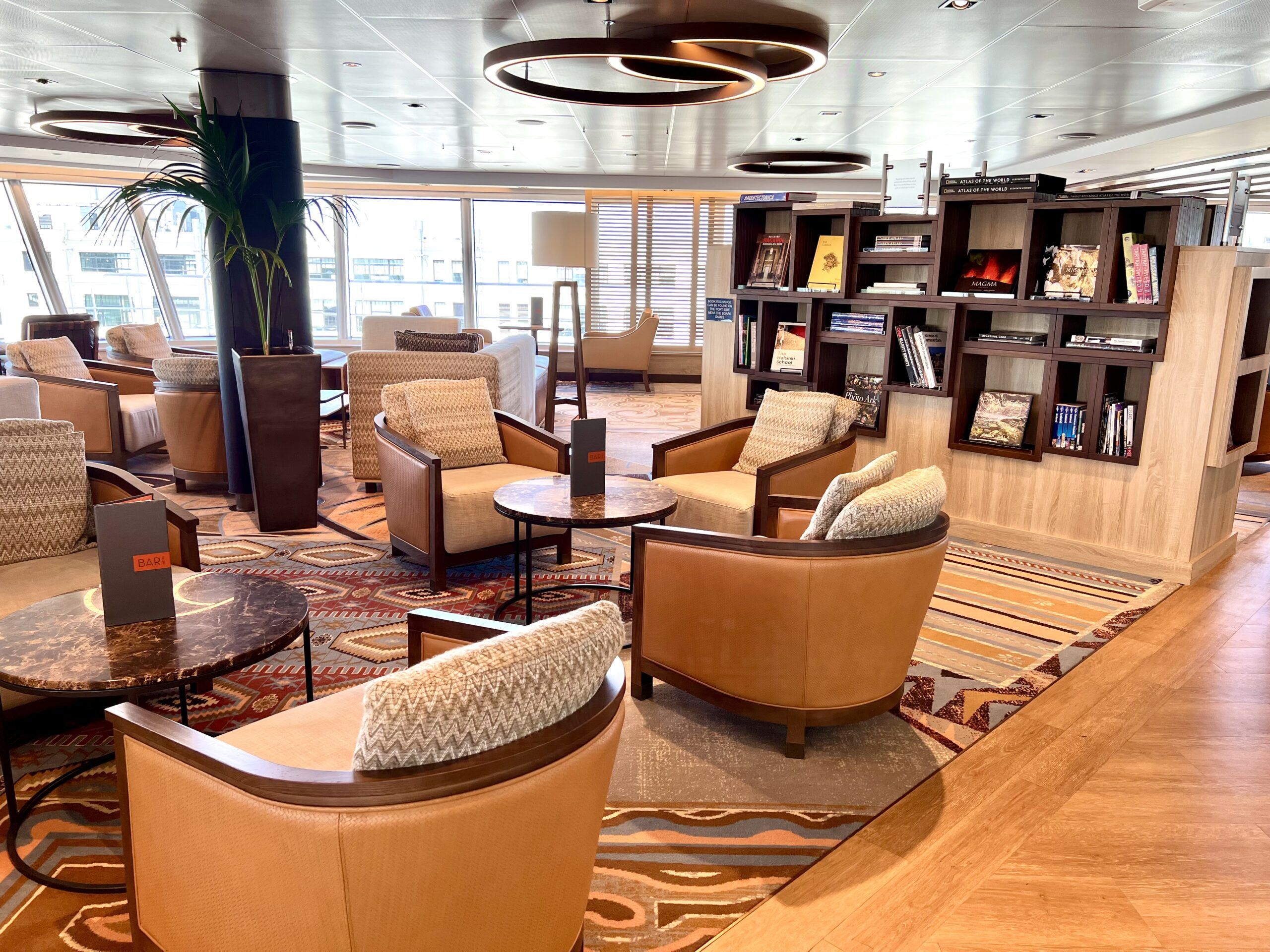 Another cruise staple is trivia. Nieuw Statendam offered several sessions each day. From team trivia, to lighting trivia and general evening trivia, there were plenty of ways to test your wits. Other organized activities included adult coloring and demonstrations like towel animal folding.
On our one sea day, there were more options to occupy cruisers' time. These included a rather popular bingo session, as well as up-charge tasting demonstrations. Cruisers could learn how to blend wine (for a fee) or attend other "seminars" sponsored by the spa and fitness center.
Although, we did expect more EXC talks. During our Alaska cruise on Nieuw Amsterdam, there were several daytime talks in the theater regarding the culture, history, and wildlife of the region. For this cruise, there was only one EXC talk on the sea day.
While there could have been more unique or diverse activities, we weren't really on the ship much during the day anyway.
Casual Eats
When it comes to casual eats, one of the best options is the cruise line's buffet. Now, I am usually not a big fan of buffets. Yet, the Lido Market on deck 9 is among my favorites.
Serving breakfast, lunch, and dinner, the venue features predictable offerings. Breakfast serves diverse options including international selections, a custom omelet station, crepes and waffles, and a variety of breakfast pastries.
For lunch, cruisers can grab a sandwich from the Bread Board. Or, Wild Harvest offers signature made to order salads. Cruisers can get custom pasta or Asian specialties at the Distant Lands stations as well.
Dinner is similar with several stations offering a variety of options. The Homestead serves up entrees and sides like mac and cheese, filet mignon, sea bass, mashed potatoes, and other specialties. The Roasting Pan carving station sliced up options like leg of lamb, rotisserie chicken, prime rib, and pork belly.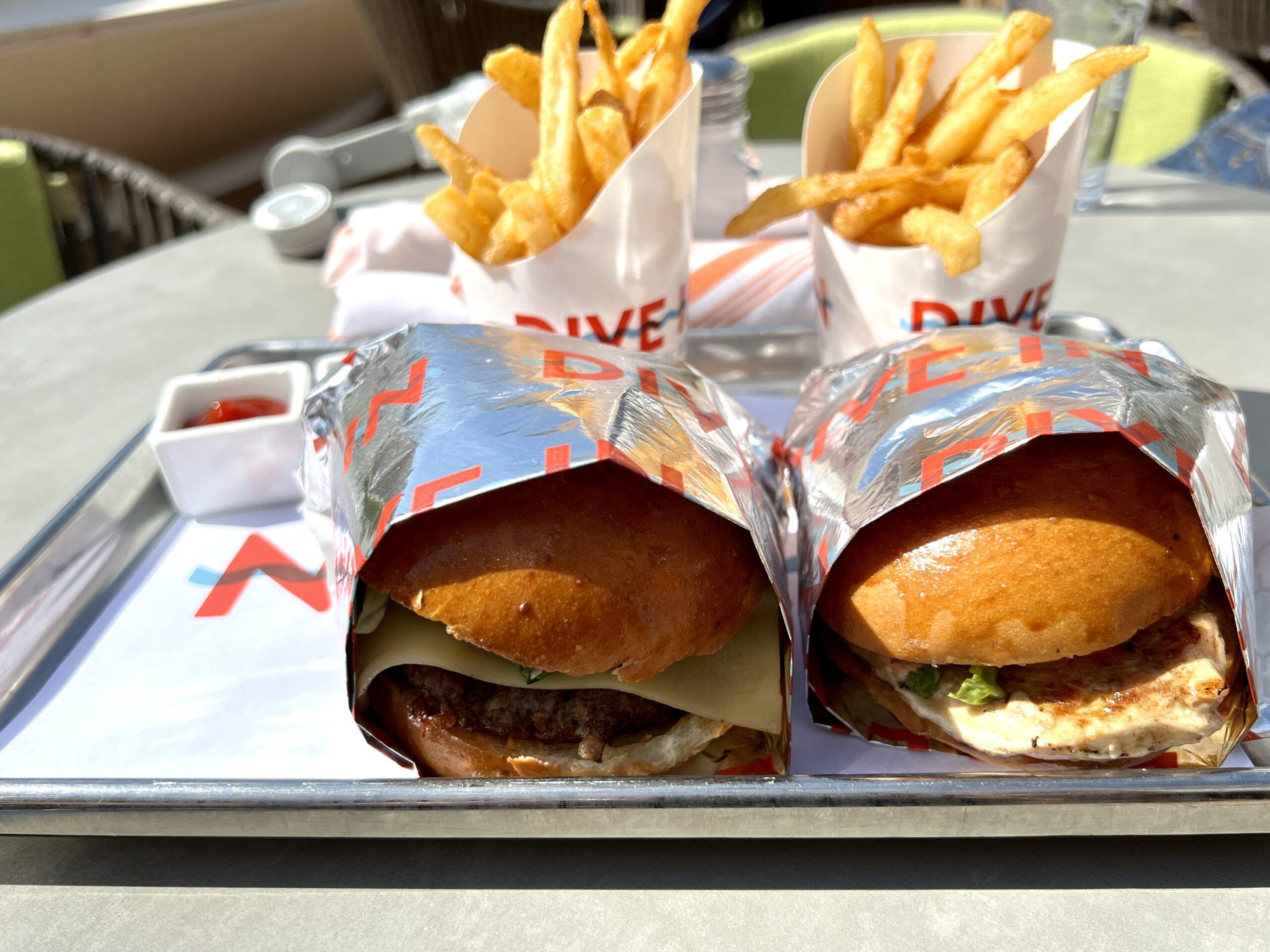 Additional casual options on Nieuw Statendam include the Dive In and New York Pizza & Deli. Serving up some of the best burgers and hot dogs at sea, Dive In is located right next to the main pool. New York Pizza & Deli is one deck above. While I am not a huge fan of the pizza, the sandwiches are good. Further, the venue reopens at night for snacks, including chicken wings and hot pretzels.
Not to mention, Dutch specialties are available at the Grand Dutch Café. From the line's famous pea soup to Dutch pancakes and apple pie, this is one popular venue.
Main Dining Room
In our opinion, the main dining room on Holland America Line is rather average.
We do enjoy the sit-down breakfast. Served every day of the cruise, this five-page menu is more diverse than most cruise lines. I was a fan of the eggs benedict, and the Princess enjoyed her Texas French Toast. On other HAL ships, we have enjoyed the omelets, English Breakfast, and the pancakes as well.
Similarly, the lunch menu offers an array of selections. Given there was only one sea day, the main dining room only opened once for lunch during our sailing.
On previous trips, some of our favorites included the Mexican street tacos, BBQ chicken spring rolls, calamari, and chicken and waffles.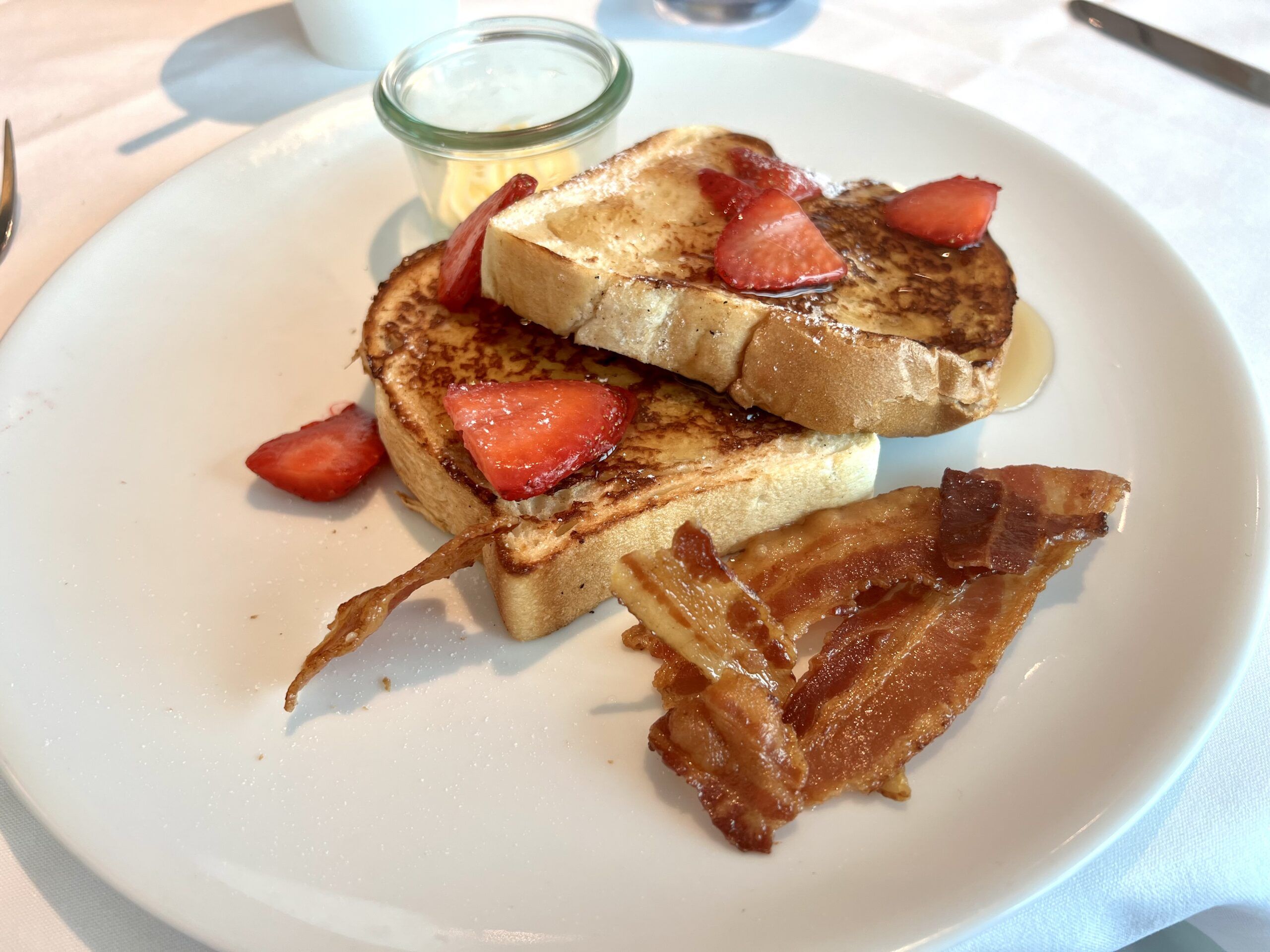 Similar to luxury cruise lines, Nieuw Statendam features regional specialties several evenings for dinner. For our Canada and New England cruise, we enjoyed New England clam chowder and Boston cream pie when docked in Boston.
On this sailing, we dined in the main dining room on three occasions for dinner. Among the standouts were the beef brisket and spice roasted chicken. Although, everything else was pretty typical of a cruise main dining room.
Specialty Dining
On the other hand, the specialty restaurants on Holland America Line are outstanding. On this trip, we were able to dine at all four specialty restaurants. It is tough to pick a favorite, but if forced, I think we would agree on Tamarind.
Located aft on deck 10, this pan-Asian restaurant serves up far east flavors in an inviting and intimate venue. Among the savory options are shrimp and lobster potstickers, spicy Szechuan shrimp, and red curry chicken. Sushi lovers will want to try the lobster tempura rolls as well as the sweet crab rolls from Nami.
The Pinnacle Grill on deck 2 is the ship's American-style steakhouse. Classics like shrimp cocktail and crab cakes are admirable starters. And, do make sure to get at least one order of the candied clothesline bacon. This starter is something you won't find on any other cruise line. For entrees, you can't go wrong with the surf and turf. My filet was cooked medium rare and paired with a slightly seasoned lobster tail.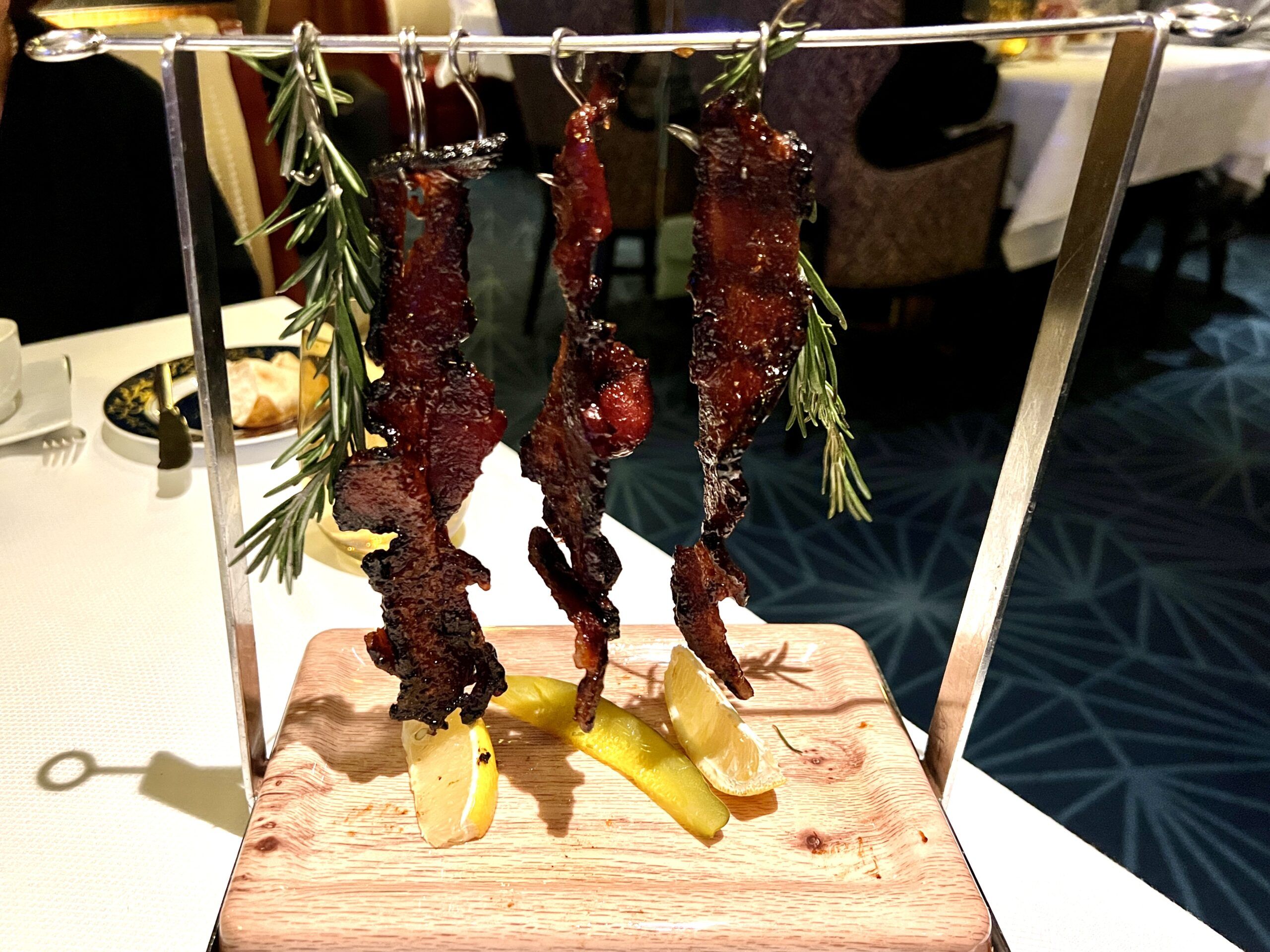 If you crave seafood, then you must visit Rudi's Sel de Mer. This upscale French brasserie serves a variety of starters, including fried calamari, escargot, and the fruit de mer ($25 supplement). For entrees, you can't go wrong with the bouillabaisse or lobster. The cheese soufflé and coq au vin are great alternatives to seafood dishes as well. This time around, I tried one of the steaks, and it was a bit of a let down.
Lastly, don't forget to save room for the signature dessert, the salzburger nockerl, a delicious soufflé for two.
Perhaps our least favorite specialty restaurant is Canaletto. Oddly located in the front of the Lido Market, this restaurant lacks atmosphere and ambiance.
The food preparation was not on point during our visit either. The calamari appetizer was rubbery and smothered in pesto sauce. My entrée was overly salty and my dessert was served cold. This was even more disheartening as the ricotta tart is usually my favorite dessert on a HAL ship.
Night Life
For this Nieuw Statendam Canada/New England cruise, the nightlife was lively and entertaining, especially the Music Walk. There are four distinct music venues offering a wide variety of musical acts.
The deck 2 midship lounge doubles as the Lincoln Center Stage and B.B. King's Blues Club. During the day and early evening, a 4-piece chamber ensemble offers 45-minute sets of classical music from around the world.
Most nights, the B.B. King's All Star Band gets the party started. From classic pop, blues, and jazz, the talented musicians offer an eclectic set list throughout the cruise.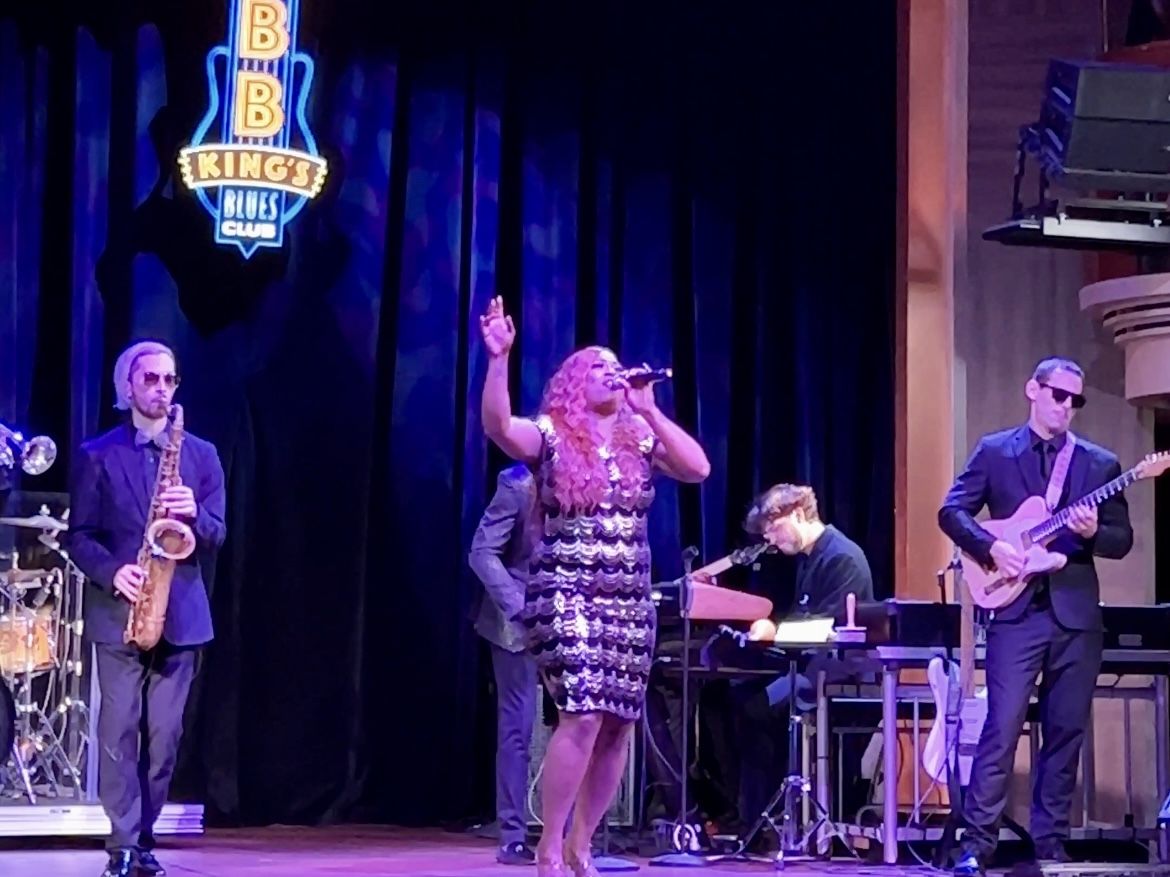 Forward on deck 2, there are two additional music venues. Given both lounges are open to the promenade, the musical acts rotate 45-minute sets.
Billboard Onboard on the portside is home to two piano players. Now, these are not dueling pianos like Howl at the Moon. Rather, these performers offer a more classical piano lounge experience. The couple, Megan and Gabe, played everything from standards to today's hits. They are both amazing pianists with great voices.
On the starboard side is our favorite venue, the Rolling Stone Rock Room. Luckily, the band on this cruise was the same fivesome we saw on our Rotterdam cruise back in January.
Led by Mr. McMillan, this talented rock band is high energy and a lot of fun. These performers most resemble a rock show on land, with solos, unique arrangements, and a dynamic setup. They are certainly much better than your typical cover band found on other cruise lines.
Additionally, the cruise line's Orange Night occurred on Day 5 of our cruise. B.B. King's became the hot spot for this bright and colorful party. We only wish HAL did more with the party in terms of theming or other creative elements.
Most nights, the live music ended between 11 PM and midnight. By then, most bars were closed too. For us, that is fine. But, night owls might find themselves at the Casino Bar.
Signature Entertainment
The World Stage on decks 2 and 3 is Nieuw Statendam's main theater. This theater's unique design means you can have fantastic views of the circular stage from almost anywhere. Each night, there was a new show, usually with an early and late showtime.
The only deviation from this schedule was night 1. The cruise line's Origin Story featured the cruise and travel director, Kimberly, telling the moving history of the company. This show is certainly worth a watch.
The remaining nights consisted of several performances by the Step One Dance Company. Our favorite of the four performances is Humanity. With a soulful mix of modern and classic music, this is a well-choregraphed production with great integration of the digital screens.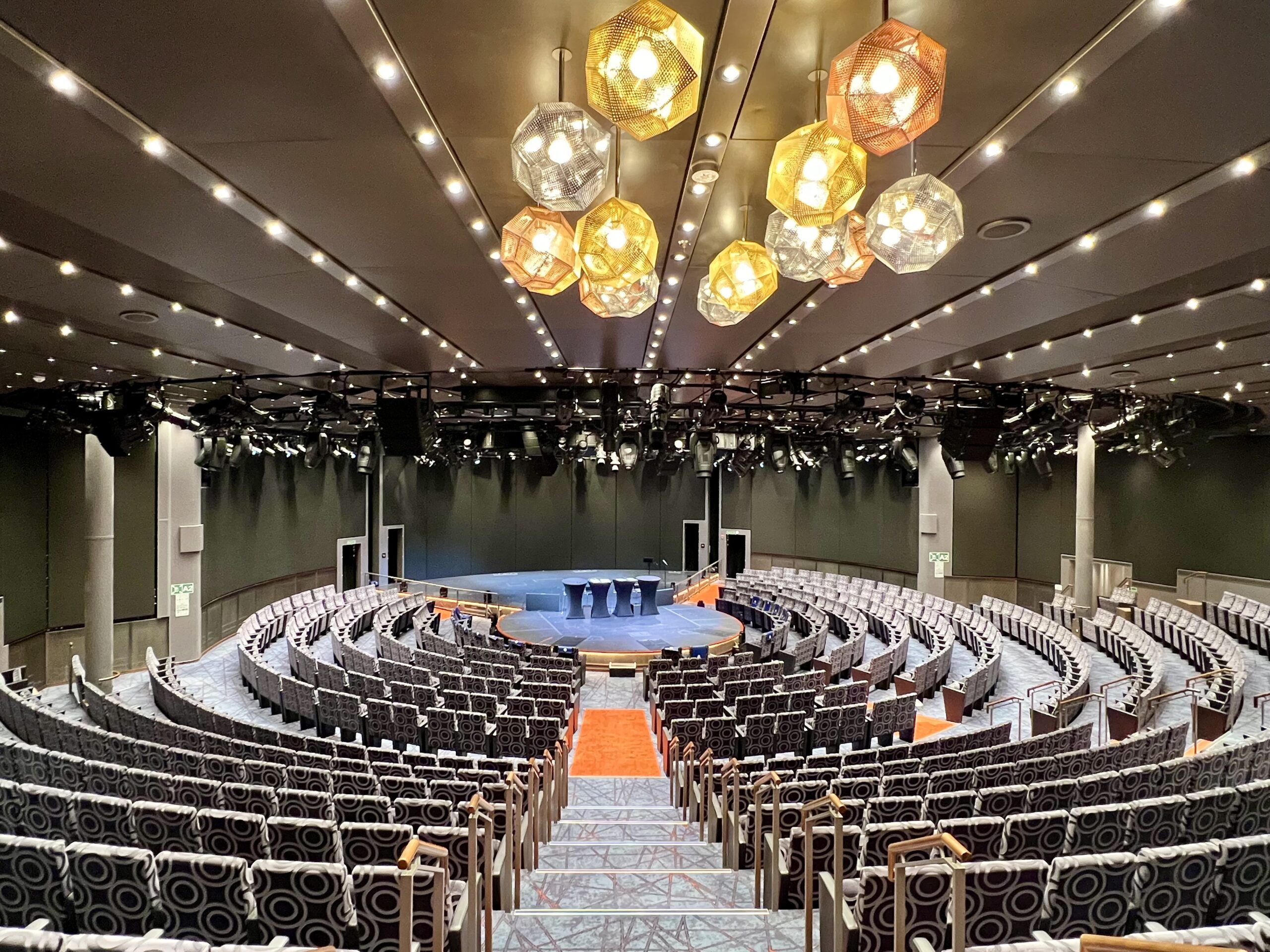 Perhaps our second favorite is the combo show Off the Charts. For this production, the piano players from Billboard Onboard join the dance troupe on stage. This fun 45-minute show features Billboard #1 songs from artists like Elton John, Queen, Lady Gaga, and of course, the Beatles.
Other performances in the theater included a headliner comedian, Brad Mastrangelo, a Boston native. Most of his material was rather dated and seemed to appeal to the more senior cruisers in the audience.
Lastly, the BBC Earth production, Seven Worlds One Planet occurred on night 5 of the cruise. We are fans of this semi-live concert that blends mesmerizing wildlife footage with classical music from Lincoln Center Stage.
Bars and Lounges
Along with a variety of music, most of the bars and lounges on Holland America's Nieuw Statendam also boast signature drink menus.
At the Rolling Stone Rock Room, our usual order consisted of a Hemingway Special and Ultimate Cosmo. At the nearby Billboard Onboard, our favorites included the Whiskey Smash and the Raspberry Lemonade. Or, later in the evenings, we opted for some espresso martinis.
At B.B. King's, the musically themed drinks offer unique takes on classic cocktails. The bourbon-based Rhythm and Blues was among my top choices. The sweet and sour vodka-based Roadhouse Drop was the wife's beverage of choice.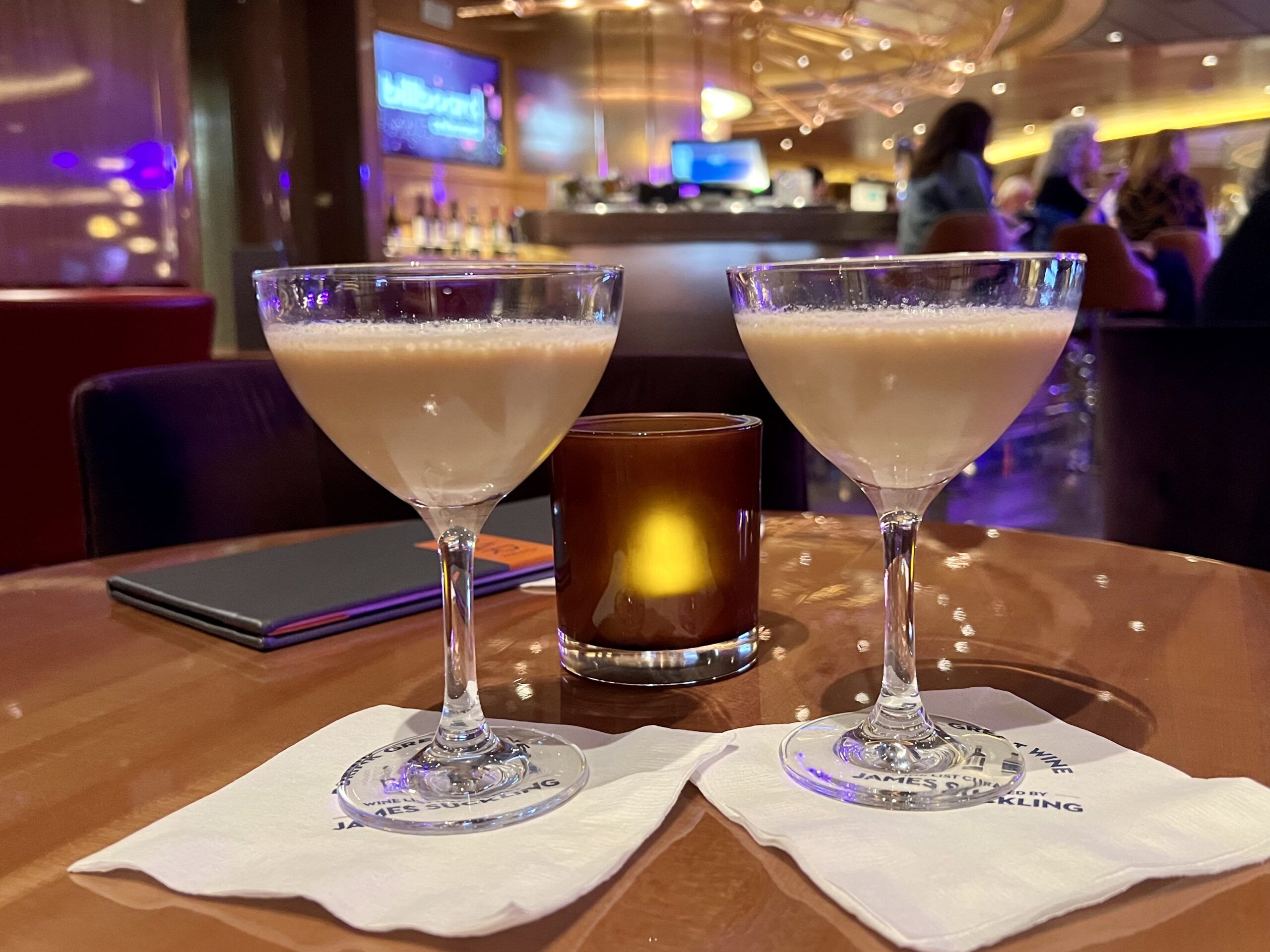 Many of the other indoor bars serve the cruise line's standard menu. The deck 2 Ocean Bar is your go-to bar for a pre-dinner cocktail. On the upper decks, the Lido, Sea View, and Panorama bars offer cruisers options for a cocktail while poolside.
One of the more exotic bars is the Tamarind Bar. With options like the Wasabi Cocktail and the Far East Legacy, the drinks are worth the up-charges.
Another benefit of cruising with Holland America Line is that most drinks are covered in the cruise line's drink packages. Even if you don't opt for a beverage package, drinks are reasonably priced, with most cocktails around $10-11.
Stateroom
We stayed in a verandah stateroom, cabin 6015, on Nieuw Statendam. This category VD balcony stateroom was on the starboard side and rather forward. Immediately upon entering the room, the closet was to the right and the bathroom to the left.
According to the Holland America Line deck plans, this stateroom measures 228 square feet. Though, it did feel a bit more cramped than our cabin on Rotterdam. There was just enough room to squeeze between the queen-sized bed and the aft facing wall.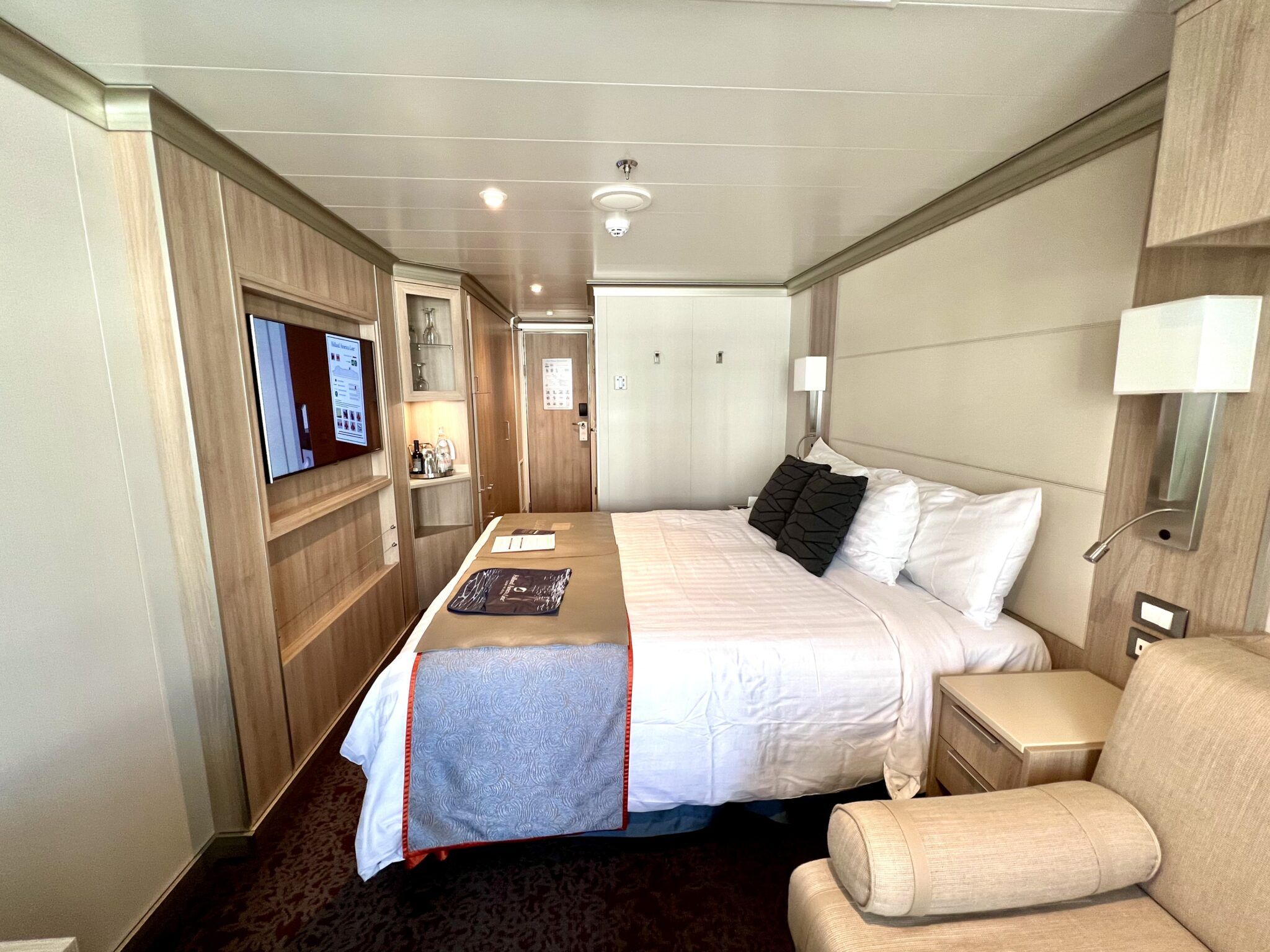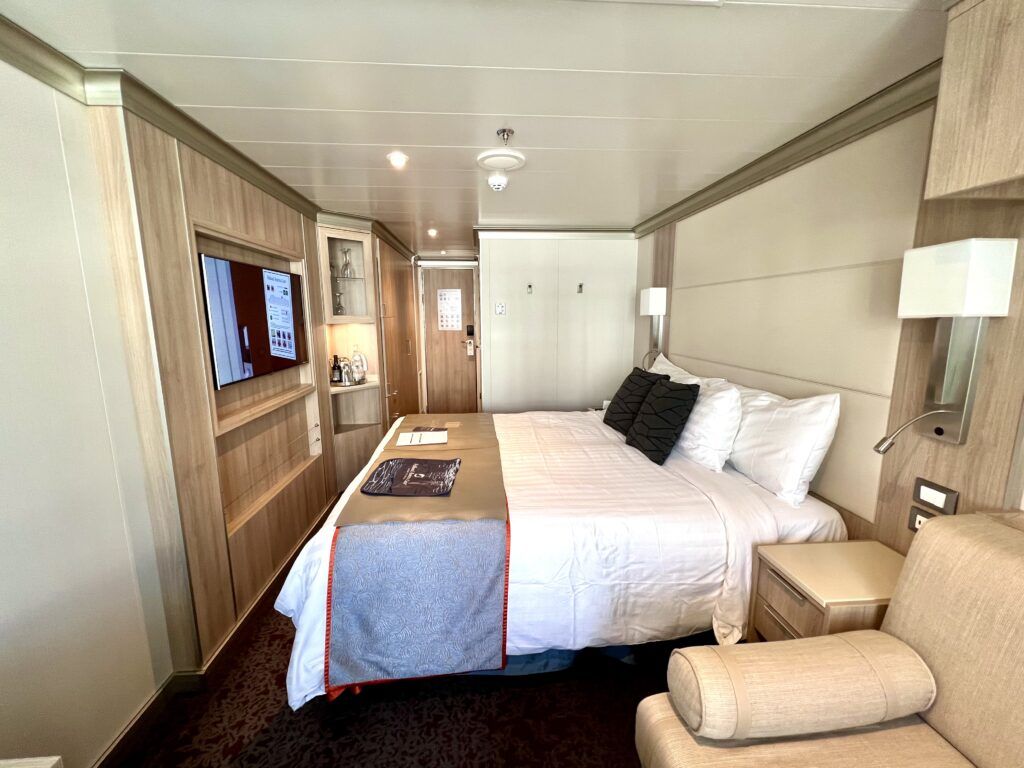 Our room had the bed positioned closer to the entrance. The bed was on the forward wall facing aft, with the sofa and desk closer to the balcony.
The closet offered ample storage space for this week-long cruise. With two separate closet areas, and an additional set of shelves, we were able to store all our belongings.
The bathroom in our verandah cabin on Nieuw Statendam was generously sized. It included a full-sized vanity and additional shelves for storage. The full-sized shower, with premium bath products and a glass door, made it feel more like a hotel than a cruise ship.
Out on the balcony, there were two chairs with ottomans and a small table. The balcony offered just enough space for us to enjoy sail-ins and sail outs of ports of call. On some of the warmer afternoons, it also doubled as my office.
Embarkation/Disembarkation
This one-way cruise departed from our home port of Boston, MA. Embarkation was a mess for many cruisers. Luckily, we arrived early and missed much of the delay. Further, before the trip, we completed the pre-cruise health checks using VeriFLY. This enabled us to skip much of the check-in line.
Still, the boarding procedures were a bit slow and disjointed. After calling the first few boarding groups, there was a half hour delay before embarkation resumed and we were able to board the ship.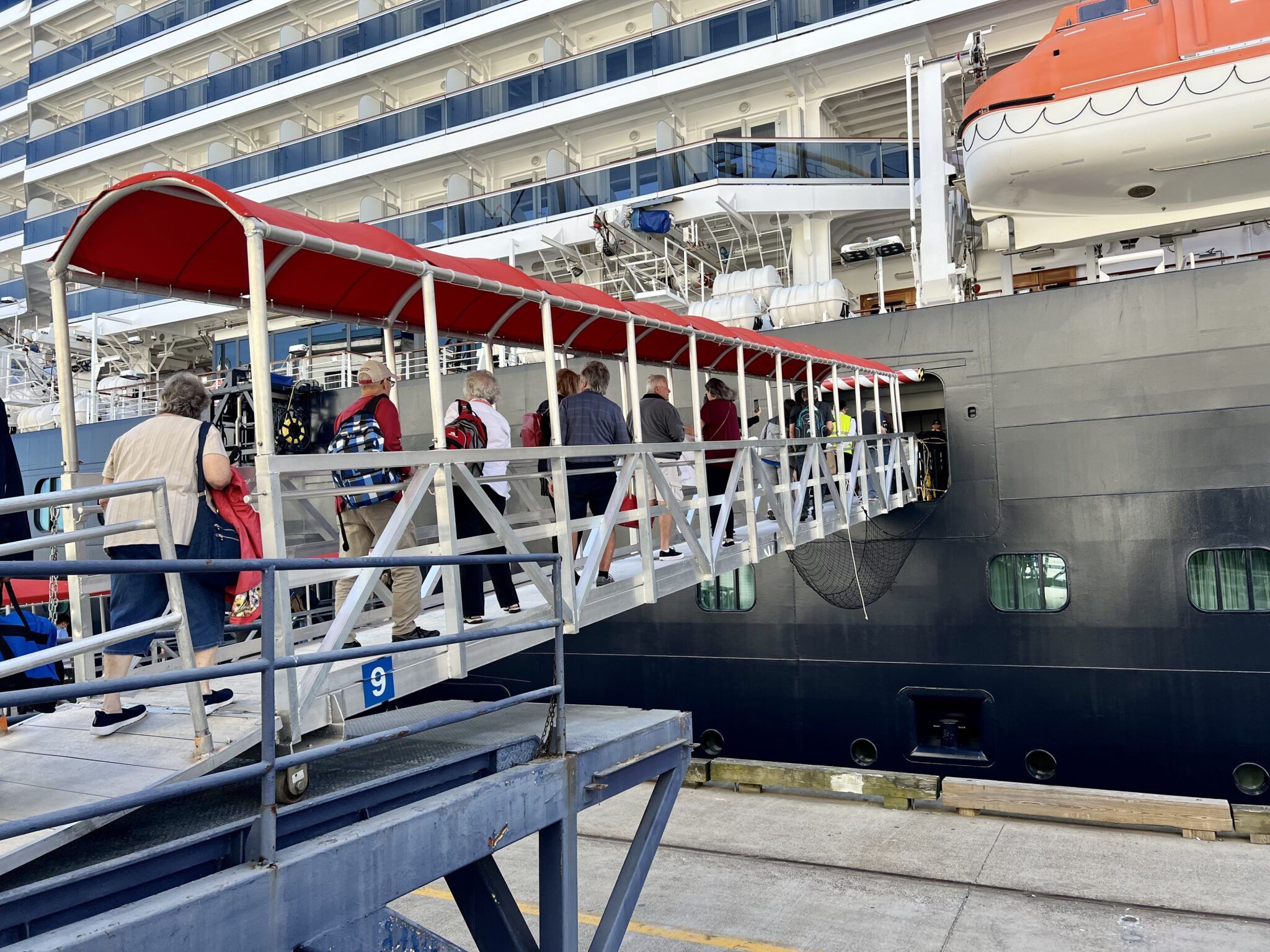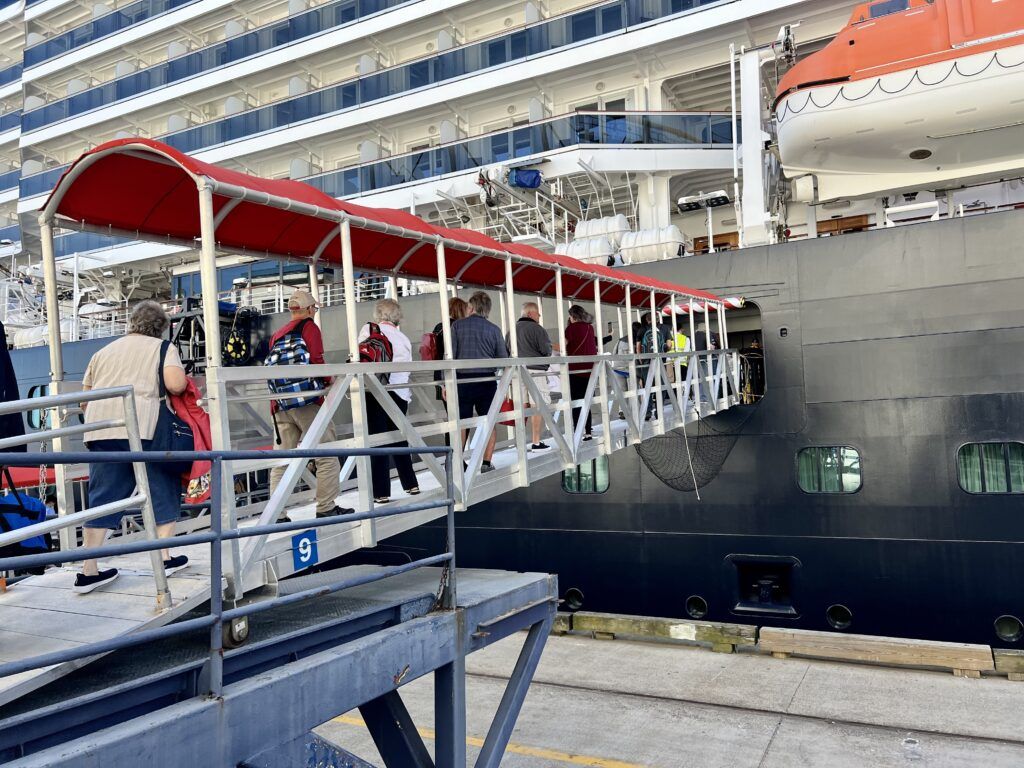 Disembarkation was much simpler. With a rather early flight, we used self-assist to exit the ship in Quebec City just before 7 am. It was easy getting an elevator down to deck 2 to debark the ship. There was no line, so we simply scanned off and headed up the gangway to the terminal building. From there, it was smooth sailing to the Quebec City International Airport, which is about a 25 minute drive away.
Nieuw Statendam Cruise Ship Scorecard Review Recap
With excellent dining, engaging nightly shows, and a lively music program, Nieuw Statendam was an ideal cruise ship for our first Canada/New England itinerary.
The vessel does not distract cruisers with flashy venues or gimmicky attractions. Instead, Nieuw Statendam focuses on delivering good food, live music, and nightly entertainment. This is one of the reasons we keep coming back to HAL.
The ship itself features simple, yet modern décor. Instead, the destinations and the ports of call are the focus.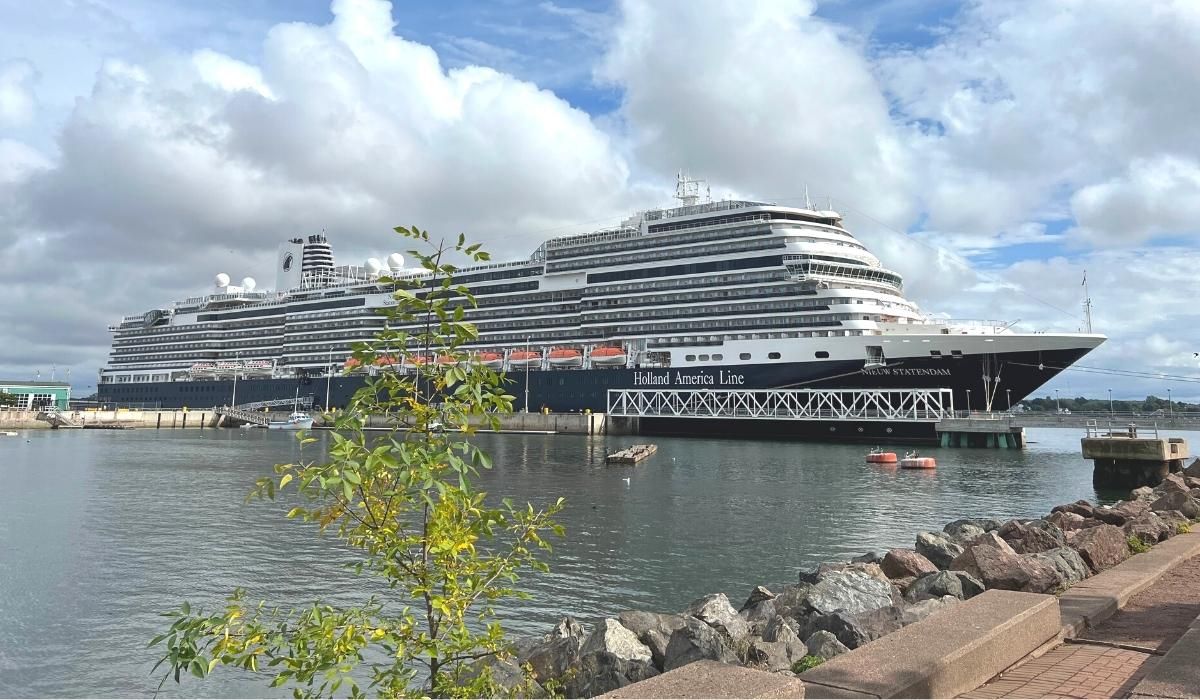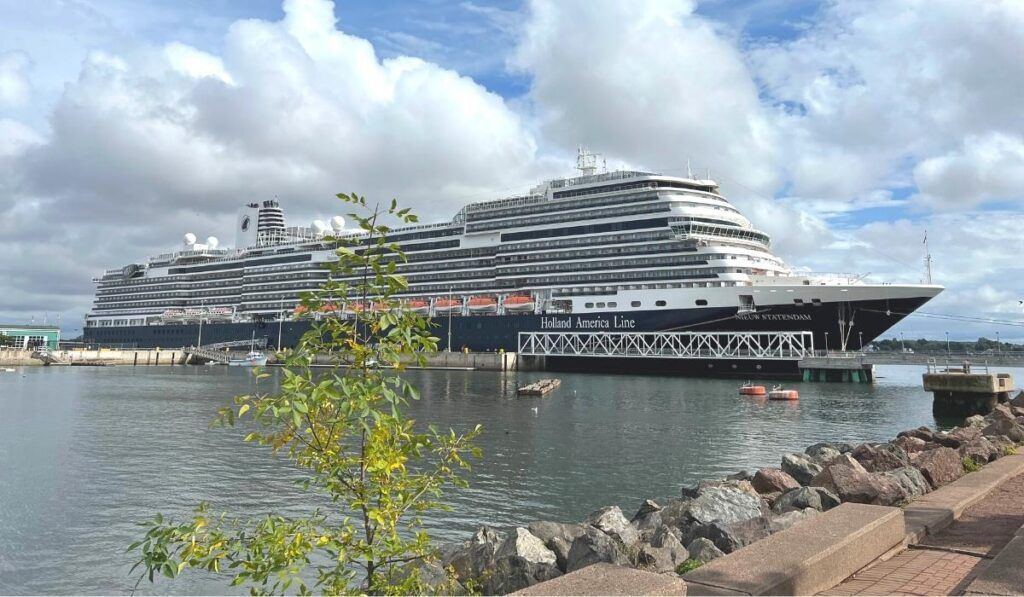 As two adults in their 40's who consider themselves traditional cruisers, the predictable routine each evening is ideal. Most nights, it was dinner, followed by the late main theater show, and then a few drinks and live music.
Further, Holland America Line doesn't complicate things with reservations for shows or a plethora of up-charges. Yes, there are photo galleries, shops, and a few upcharge activities, but the crew do not overly promote or push these events.
Overall, we would certainly cruise on Nieuw Statendam again, or one of its sisters, to savor the journey in many regions across the globe.
Comments
Have you sailed on Holland America's Pinnacle Class ships? Did you enjoy our Nieuw Statendam Cruise Ship Scorecard Review? Drop us an anchor below with your reviews from Holland America Line.