Nieuw Amsterdam features several classic cruise ship amenities and venues throughout its 11 decks. Our Holland America Line Alaska cruise was the first with this brand. So, we wanted to test out all of this 87K gross ton ship's activities, entertainment, and dining. Find out how the ship fared with our signature Holland America Line Nieuw Amsterdam cruise ship scorecard review.
Watch our Complete Nieuw Amsterdam Cruise Review Video!
Nieuw Amsterdam Cruise Ship Scorecard Review
Embarkation and Disembarkation
Similar to all our cruises so far this year, HAL has several COVID-19 protocols and procedures in place. Prior to even boarding the ship, all eligible cruisers need to be vaccinated and need to arrive with a negative COVID test.
Further, there are now assigned boarding times. Luckily, we were assigned Group A boarding. This meant that we would be among the first cruisers to board the ship once it was cleared around 11:30 am.
So, when we arrived at the terminal around 10:45 am, we were allowed to enter and complete the check-in process. It was quick and efficient, taking no more than 15 minutes despite the added verification steps.
Once our group was called, we walked right onto the ship with no line!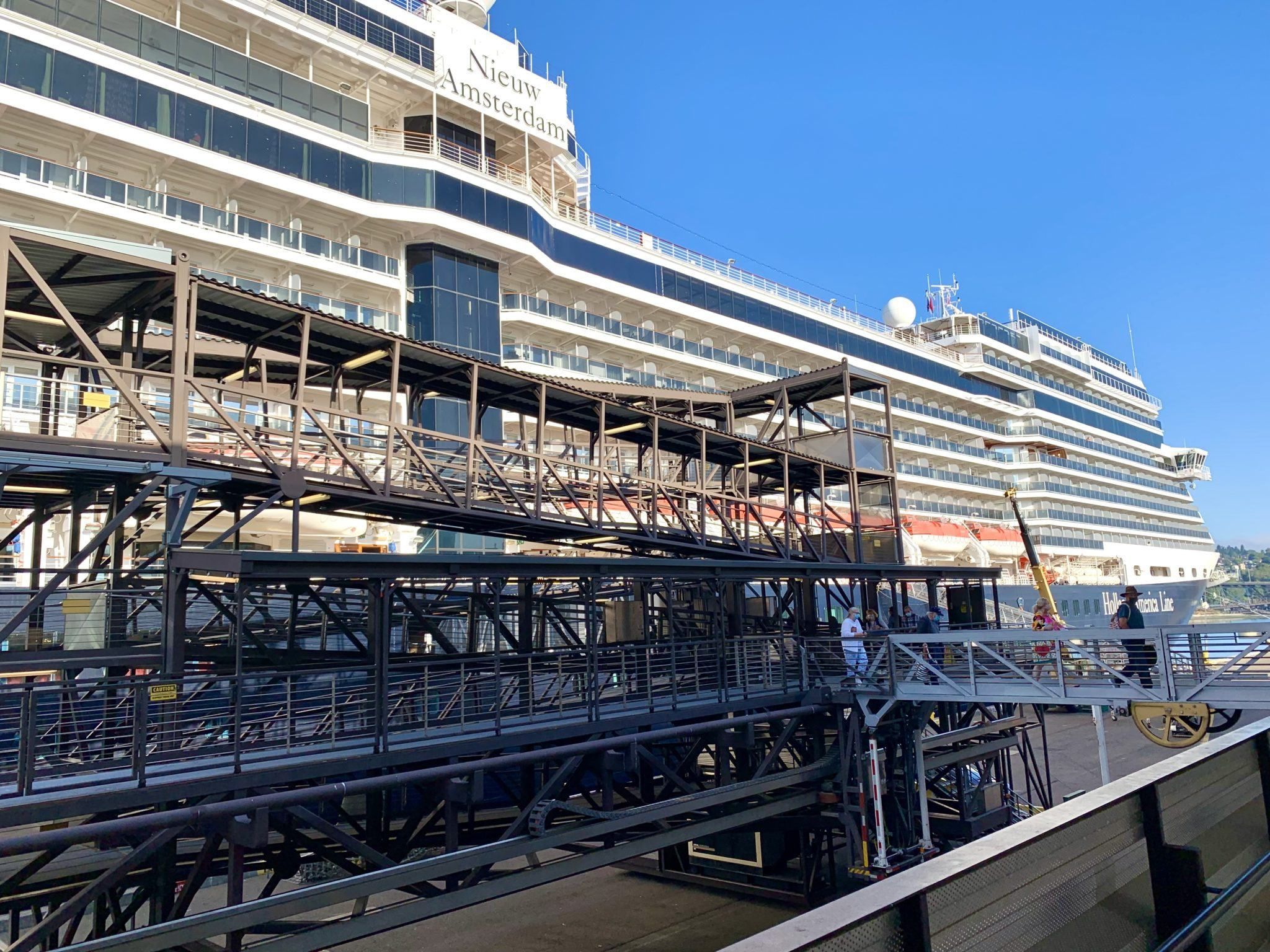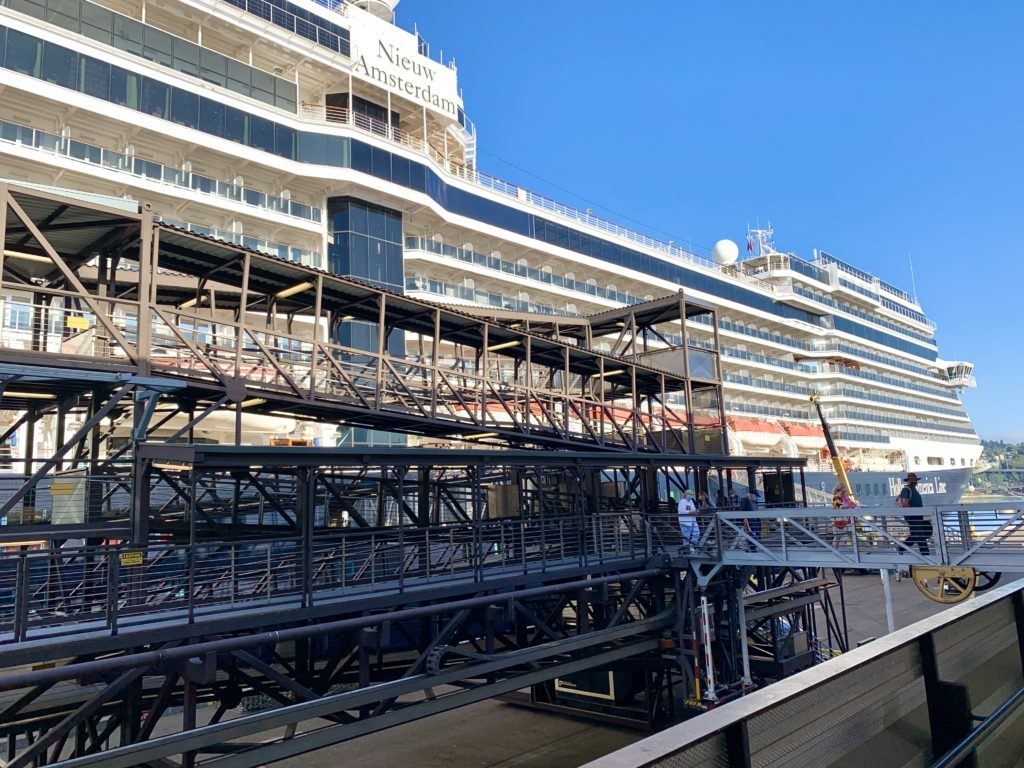 A week later, disembarkation was similarly efficient and well organized.
Even with the ship sailing at 70% capacity, there were no issues. We did Port Valet, which meant we walked off with just our carry-on bags. As part of the "independent" group, we were able to leave our room around 8 am. From leaving the cabin, to scanning off, and getting through customs, it was less than 15 minutes.
Disembarkation at the ports of call was simple too. While there were short lines at some destinations, it never took more than a few minutes to scan off or on the ship at any of our Alaskan stops.
EXCLUSIVE SAVINGS: Score a Great Deal on Your Next Holland America Line Cruise!
Pool Deck
There are two pool areas on Holland America's Nieuw Amsterdam. Both of these areas are rather plain, with little distinguishing theme or décor.
Only one of these pools, the aft-located Sea View pool, is an outdoor pool. During our trip, there were no loungers setup near this pool though. While this was a "cold water cruise", there were at least two days that the temperatures were sunny and warm enough to be outside.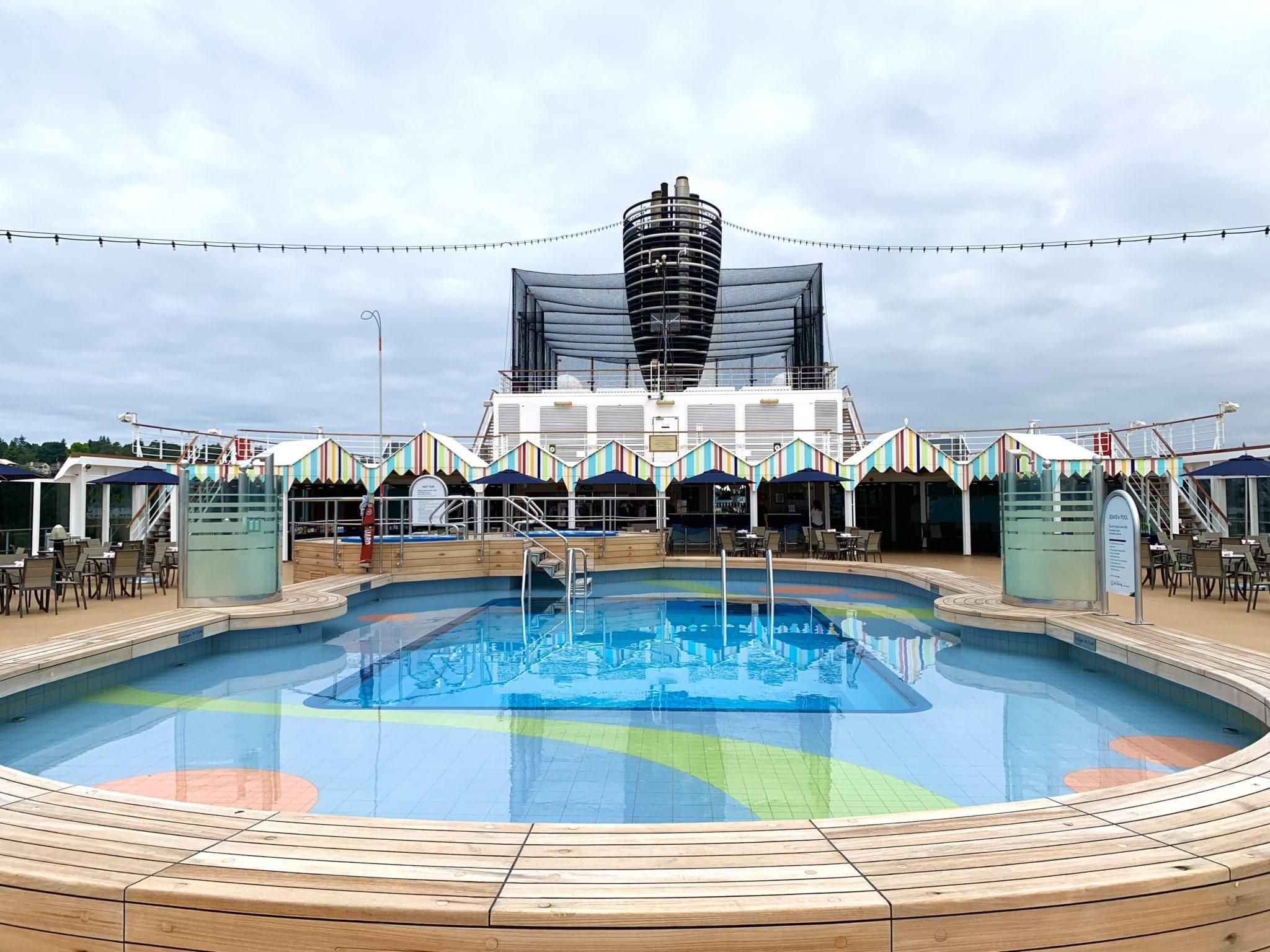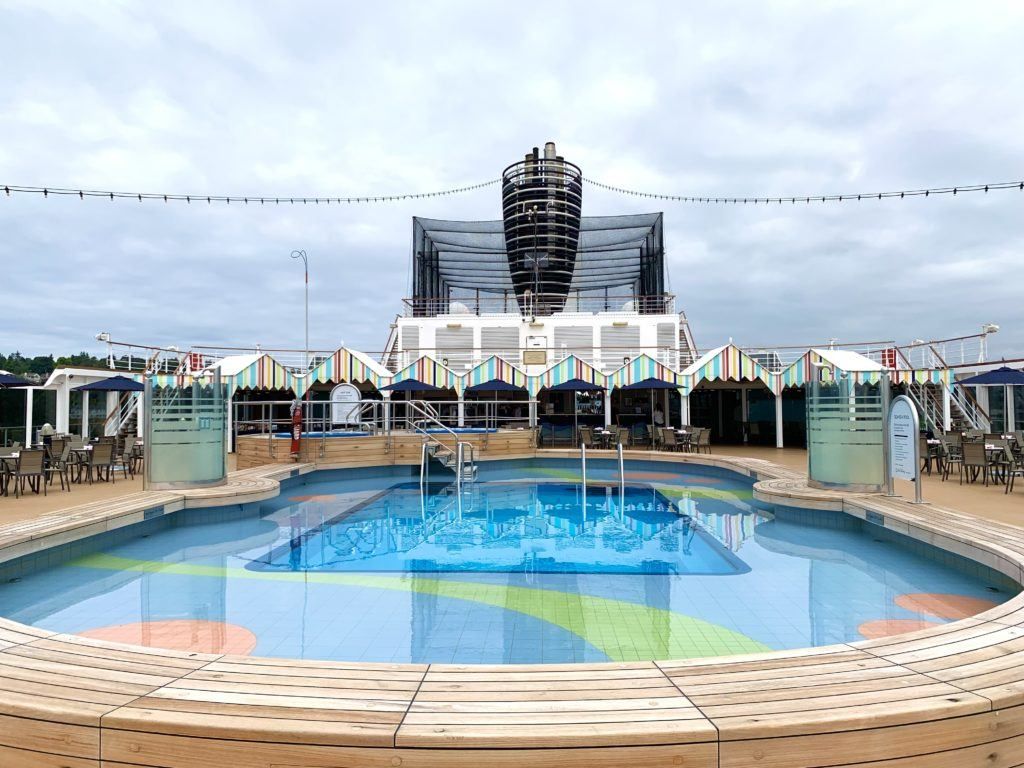 A few people did use the hot tubs near this pool, but we rarely saw anyone actually in the pool. However, many people congregated at the outdoor tables to enjoy the good weather.
The midship covered pool, the Lido pool, felt more like a typical cruise ship solarium. Though, this pool does have a retractable roof, so it was not as stuffy as some other indoor pool areas.
This pool was enjoyed by cruisers for swimming or lounging in the hot tubs. So, this made the adjacent seating and dining areas near this pool a bit crowded especially on sea days.
Overall, we felt the Nieuw Amsterdam cruise ship could have used more outdoor space. While the setup is fine in Alaska, we can imagine the aft deck would get very crowded in warmer regions like the Caribbean.
Sports Deck
Over 83% of guests on our sailing were aged 50+. So, it is not surprising that the cruise ship doesn't feature amenities like a rock climbing wall, ropes course, or surf simulator.
Still, there was a sports court on deck 11. The activities team did sponsor some games like pickle ball or cornhole tournaments in this space. On deck 9, there are also two makeshift ping pong tables near the Lido Pool and shuffleboard on deck 10.
Again, when you factor in the itinerary, lack of outdoor sports and activities is not too surprising.
Of course, there is a fitness center on the ship as well, which is well-equipped for a ship of this size.
In addition, there is a walking/running track on deck 3. This track circles the entire ship and was a frequent spot for morning or afternoon walks.
Casual Dining
The main causal dining venue is the Lido Market. Serving breakfast, lunch, and dinner, this venue offered predictable food selections. We did like that there was a menu available in the app, so you could see what was being offered each meal.
Related Post: Holland America Restaurant Menus and Dining Guide
Breakfast was the same each day, including a custom omelet bar. These omelets were well-prepared and a much better option over the eggs in the buffet itself.
We did enjoy the lunch and dinner options in the Lido Market as well. For lunch, my go-to was either a deli sandwich or Asian selections from one of the Distant Land areas. Everything I tried, from fried rice, to lo mein, to sweet and sour pork, was delicious. Other options for both dinner and lunch include a custom pasta station and made to order salads.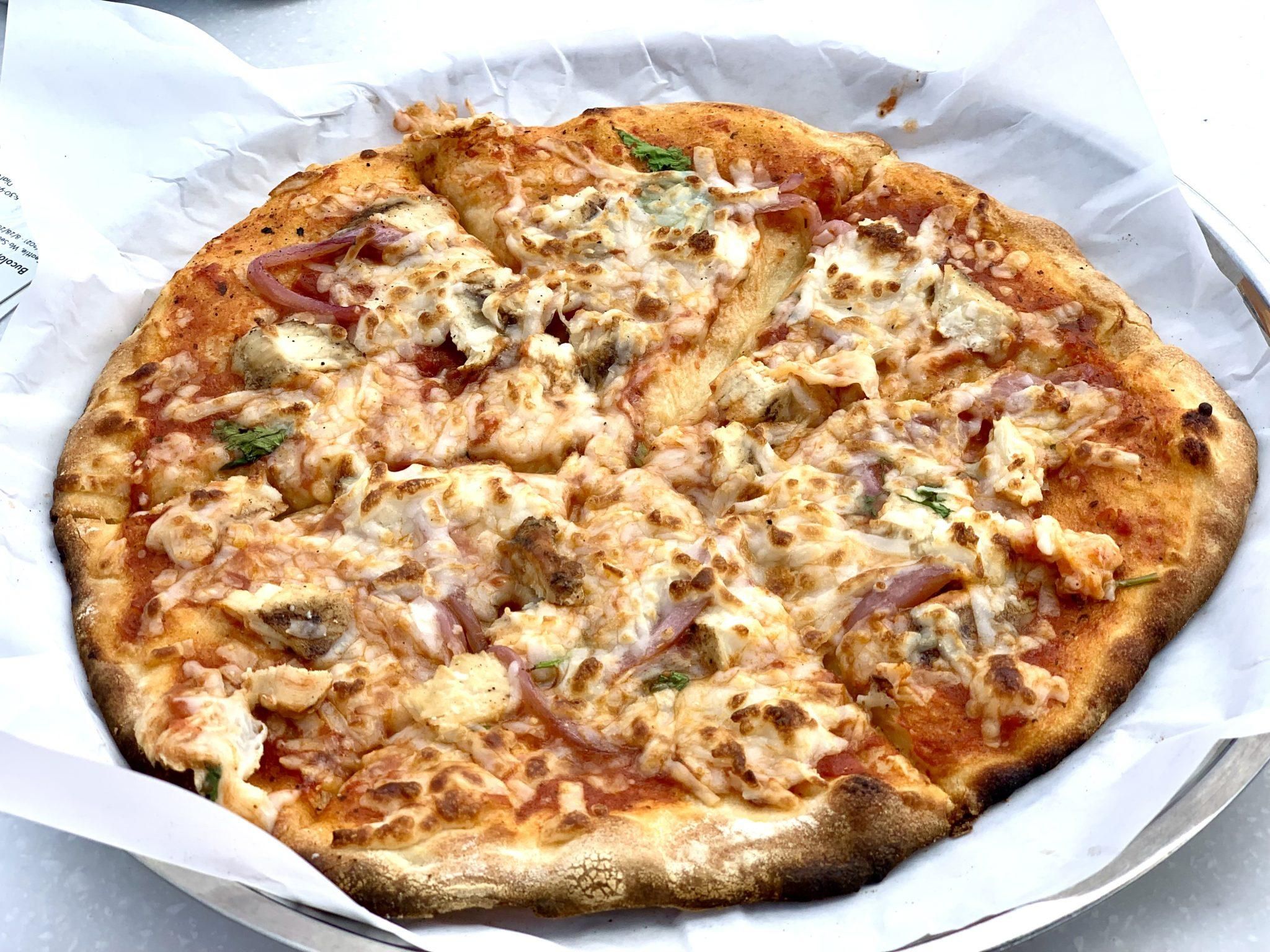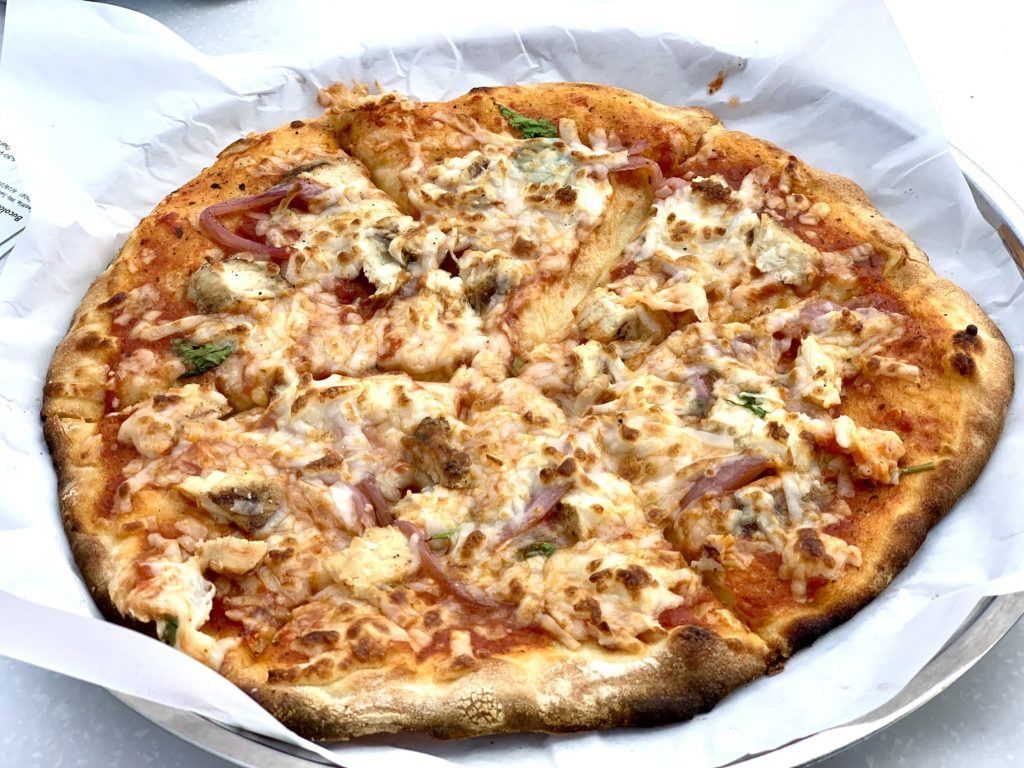 While the main entrée selections were a bit less than buffets on other contemporary cruise ships, food quality was certainly better than the competition. We also liked the easy to navigate layout.
Other casual spot are New York Pizza near the aft pool and the Dive-In grill with burgers, dogs, and chicken sandwiches near the lido pool.
Dive-In was one of the better burger joints on a cruise ship. Though, New York Pizza was a bit of a let-down, especially after enjoying Alfredo's on our Princess cruise a few weeks prior.
Main Dining Room
The main dining room was open every day for breakfast. It was also open 5 out of 7 days for lunch with mostly the same menu.
We dined here once for lunch and twice for breakfast. The menu for breakfast is quite impressive. With unique offerings from omelets, to banana bread french toast and hearty skillets, you will enjoy starting your day off here.
Equally vast is the lunch menu. It offers more options than any MDR lunch we have had on a cruise ship.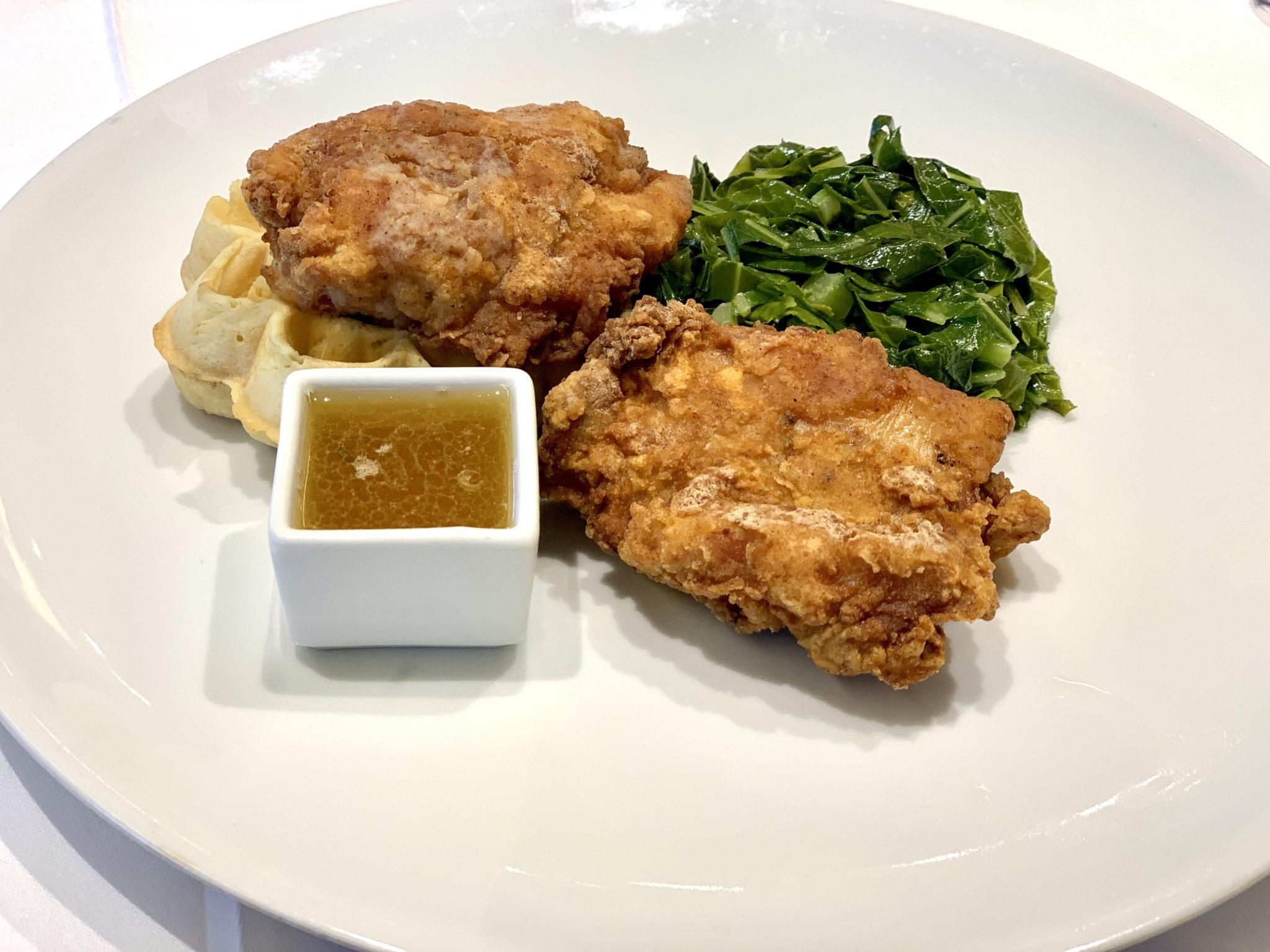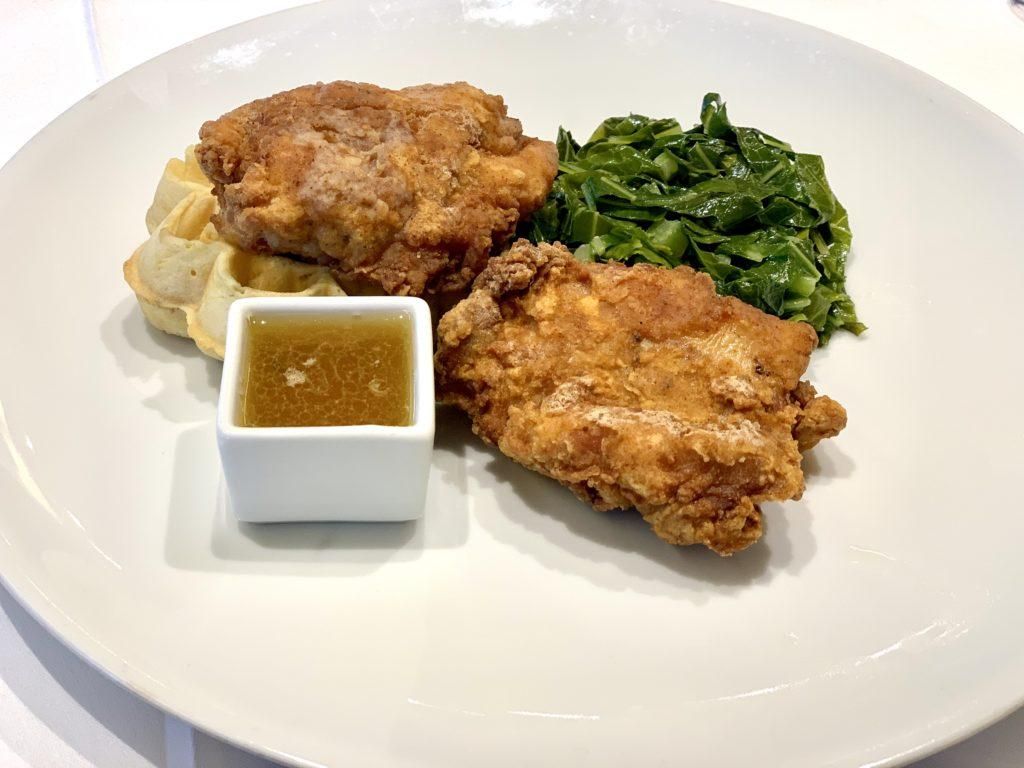 With a few brunch items, a selection of salads, sandwiches, and entrees, it was difficult to make a decision. My chicken and waffles was a sweet and savory entrée. The Princess did two of the starters, the chicken tacos and barbecue spring rolls, both of which she enjoyed.
In all honesty, we only dined in the main dining room once for dinner, and this one visit did not impress us. The dinner menu also seemed really small in comparison to the breakfast and lunch menus. Unfortunately, this was our least favorite dinner of the cruise.
Of course, dining here a few more times would have given us a better assessment of the MDR experience, as the first night of the cruise is always a bit off anyway. Looks like we will need to book another HAL cruise!
Specialty Dining
As guests of Holland America Line on this trip, we were treated to all three specialty restaurants. In addition, we also sampled the Rudi's Sel de Mer menu one evening at the Pinnacle Grill.
So, while we didn't get a good representation of the main dining room, we got a complete experience of the specialty dining on Holland America Line.
We are happy to report that the specialty restaurants onboard were all excellent. In fact, the specialty dining experience on this ship might be some of the best specialty dining we've had at sea!
The Nieuw Amsterdam cruise ship's steakhouse is the Pinnacle Grill. The venue is at a similar price point to other cruise line steakhouses. However, it surpassed many when it came to food quality. The signature candied bacon starter was great, and my filet was one of the best steaks I have ever had.
The Pan-Asian Taramind is a venue we could visit multiple times. From the lobster and shrimp pot stickers, to the tempura, the chicken satays, and crab fried rice, I was in heaven.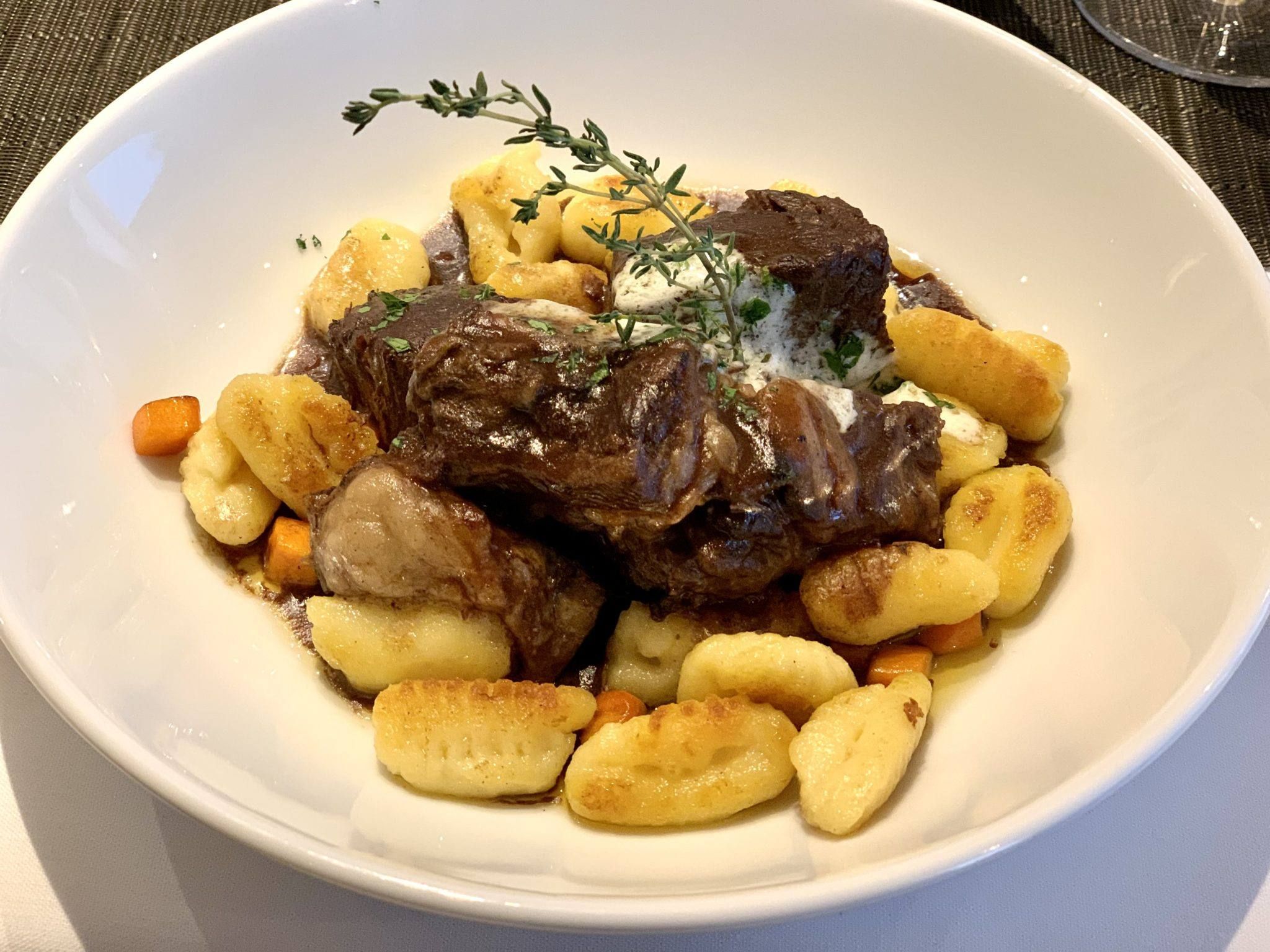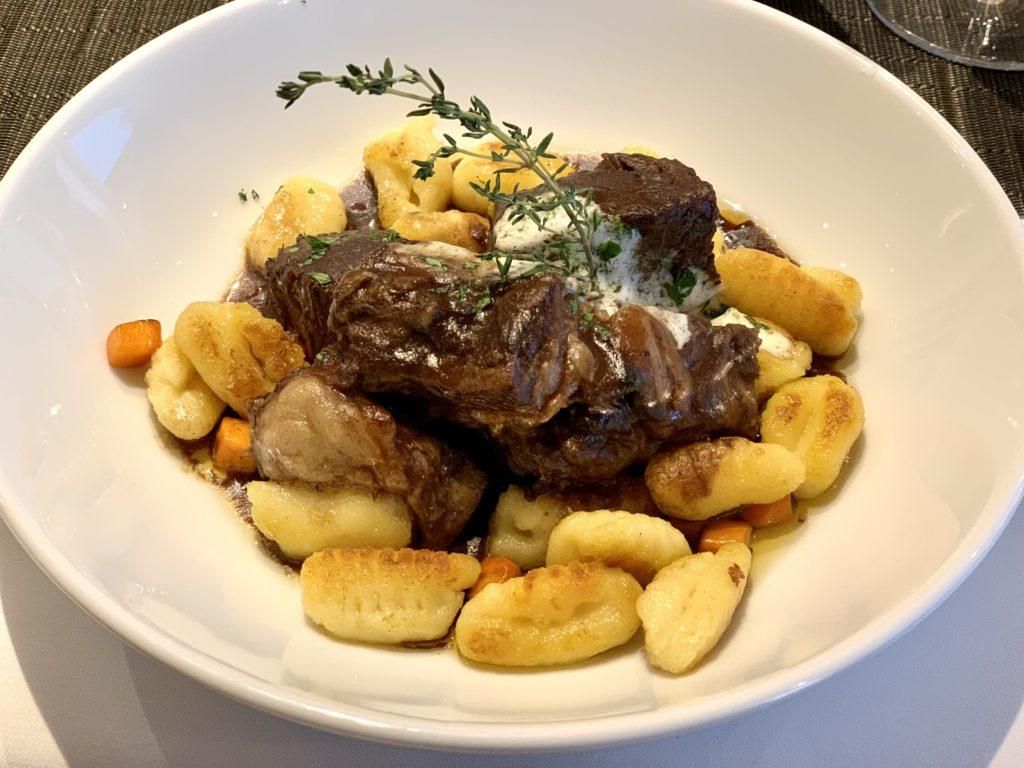 Perhaps the best specialty dining deal is the Italian restaurant Canaletto's. This specialty restaurant delivered an upscale meal well worth the cover charge.
While the location in the buffet lacks a bit of ambiance, the venue more than delivers with its menu.
With grilled calamari and rich, creamy buffalo mozzarella as apps, you won't be disappointed. Then, there is the braised short rib gnocchi and homemade pasta Genovese which were both equally delicious. The tiramisu dessert too was a well-made version of this classic dish.
Finally, Rudi's delivered succulent and fresh seafood with an artful presentation. While a bit pricey, it is a must for seafood lovers. With sweet crab as an appetizer, and a perfectly seasoned lobster tail, I was more than impressed. That says a lot coming from a New Englander who gets some of the best seafood back home. Topping off this dinner with profiteroles, it was a three course masterpiece!
Service
As the 5th cruise back for Holland America Line this year, we anticipated that the crew would be back into their regular routines. For the most part, we were correct.
Throughout the ship, the service was timely. The staff seemed to have adjusted to any changes in procedures and protocols by now. There were plenty of waiters and food servers in the buffet and lounges. Most of the crew were friendly, delivering service with a smile.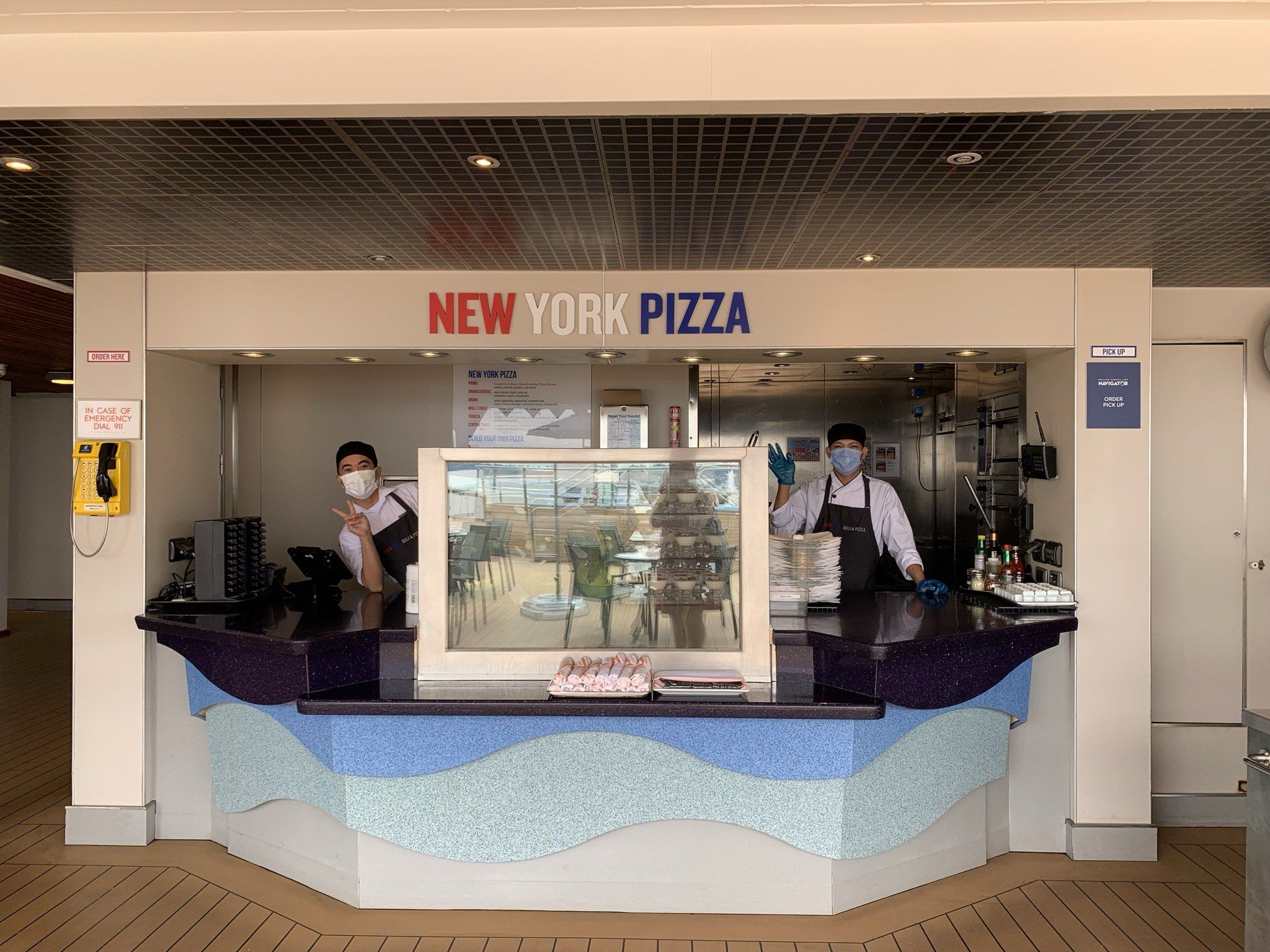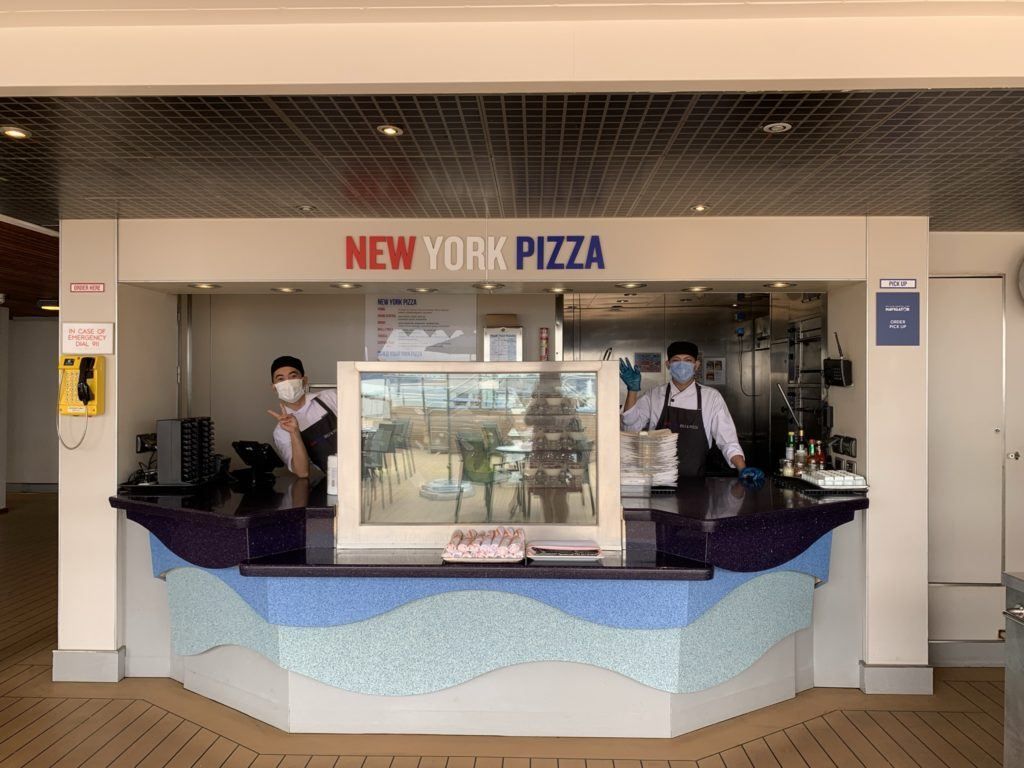 Service in the main dining room and specialty restaurants was also on par with other brands. While we often dined as a large group, our servers were friendly and very accommodating. They were able to meet many dietary needs and delivered an exquisite dining experience in about two hours for our group of 14.
Our stateroom attendant, Gusti, made up our room once a day per the new protocols. We never really saw him, but we never had any issues either.
Guest Services seemed well staffed, even though a majority of the issues had to do with internet connectivity.
As coffee lovers, we visited the Explorations Café multiple times a day. Here, they could have used some additional help. The staff seemed a bit overwhelmed, and there were often issues with our orders. A second coffee venue more centrally located on the ship would have been nice.
Overall, service met our expectations for a contemporary cruise line.
Booking Bonus: Get Additional Perks When You Book Your Next Cruise Now!
Bars and Lounges
There are nine bars on the ship, many with a signature drink menu.
The Gallery Bar on deck 2 was a hidden gem. The oversized seats and large couches gave this lounge an upscale, parlor feeling. Not to mention, the signature cocktails like the Hemingway daiquiri and the Manhattan were among my favorites.
The Billboard Lounge served up some great specialty cocktails as well alongside live piano music. With metallic accents and bright colors, this venue had an inviting atmosphere.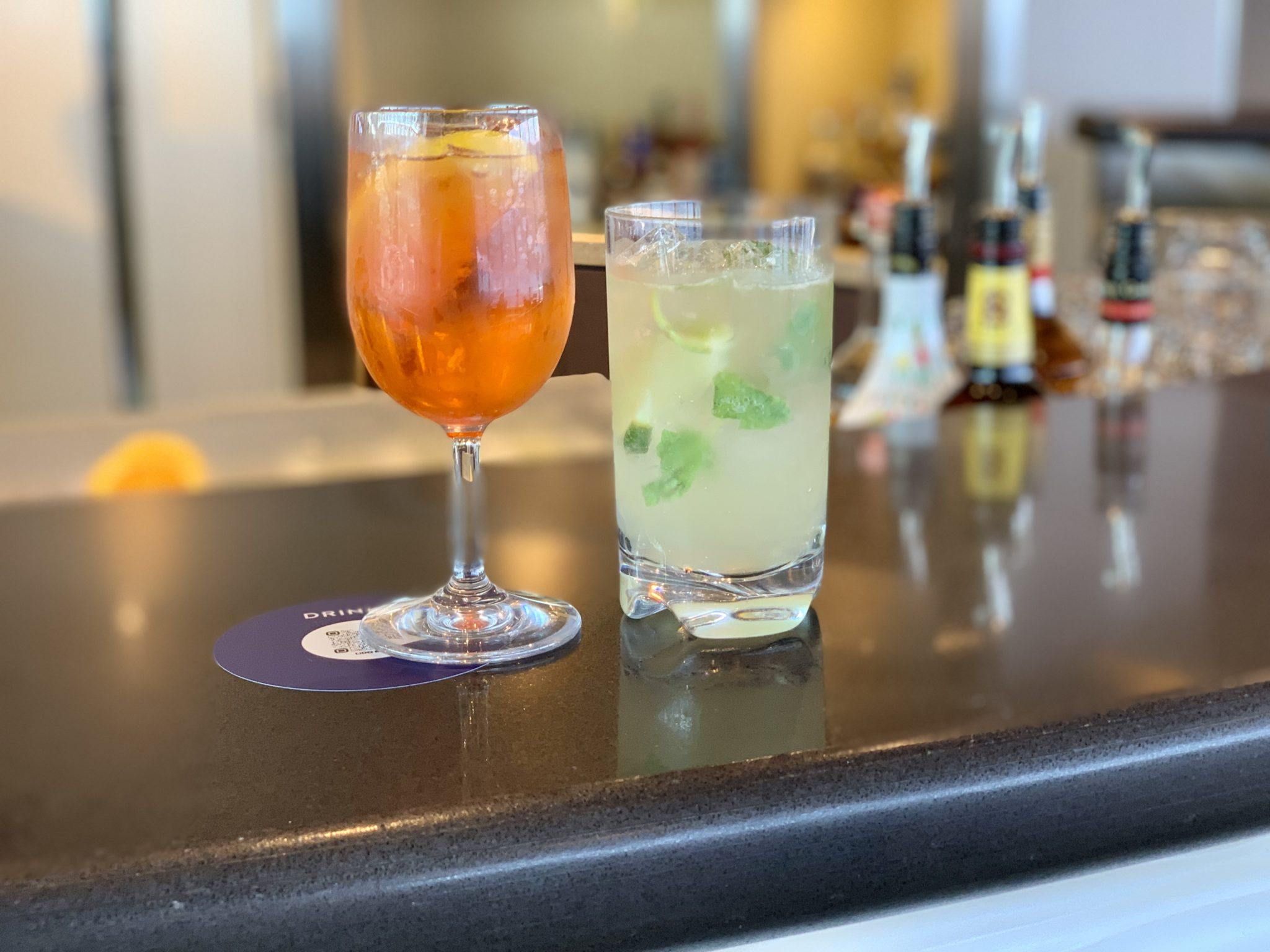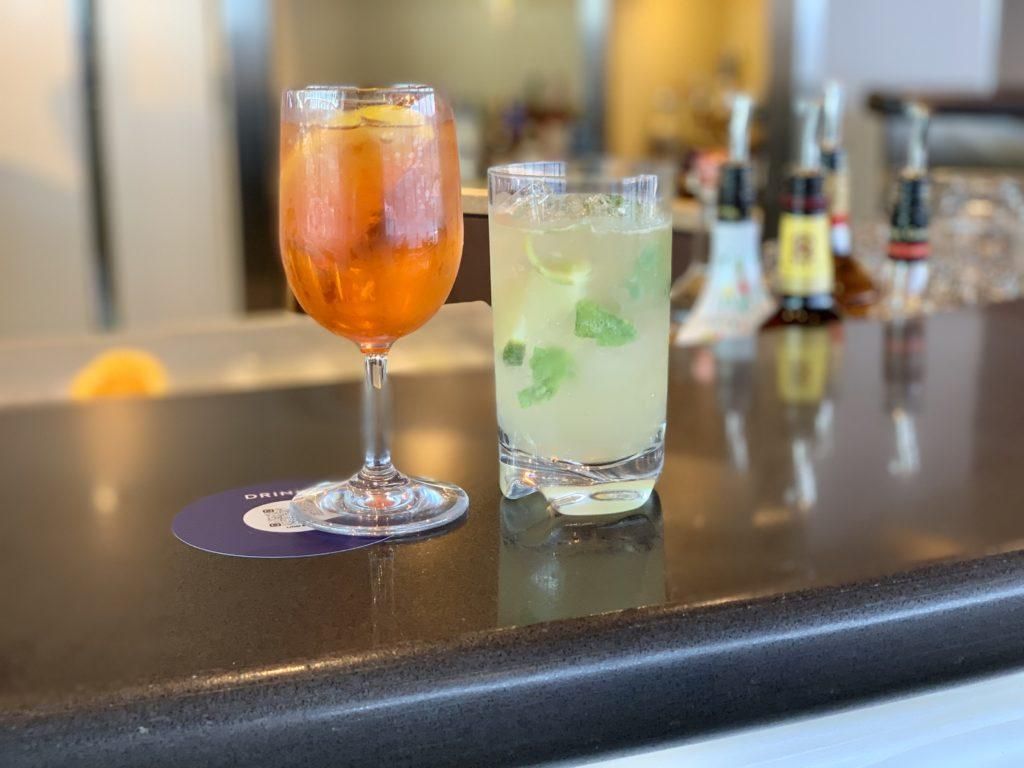 Similarly, B.B. King's Blue's Club offered musically-inspired drinks to sip while enjoying the live music; while the Tamarind Bar on Deck 11 offered a quiet retreat with amazing views and specialty cocktails.
While none of the bars or lounges were overly themed, they all offered well-prepared drinks and attentive service.
Entertainment and Nightlife
In the evenings, there was a variety of entertainment occurring in different venues throughout the ship.
The Mainstage is the ship's main theater. It hosted a show most evenings at 7 pm and 9 pm to accommodate the different dining times.
The Step One Dance company offered three production shows. Our favorite was Humanity, which occurred on the first Gala Night (Night 2). The well-choreographed dance numbers, engaging special effects, and modern music made this show a real standout.
The Mainstage also featured a magician one night and a BBC Earth Experience: Alaska in Concert. The magician was pretty average for a cruise ship. Unfortunately, we did not get to attend the Alaska in Concert but would have loved to check it out.
Additionally, the Lincoln Center Stage featured classical music by a quartet in the late afternoons and early evenings. This venue was smaller than we expected, meaning it was often difficult to get a seat with a decent view.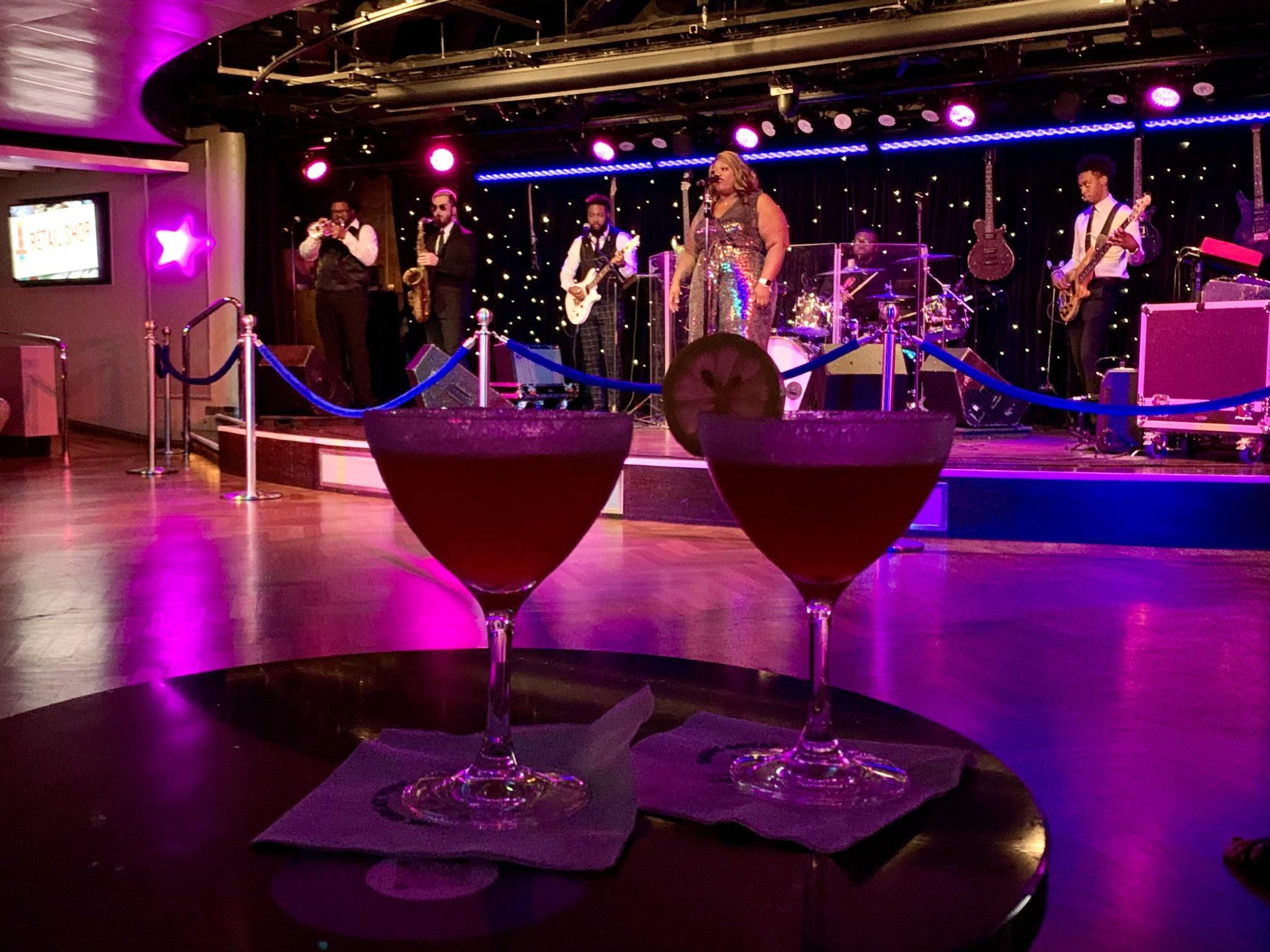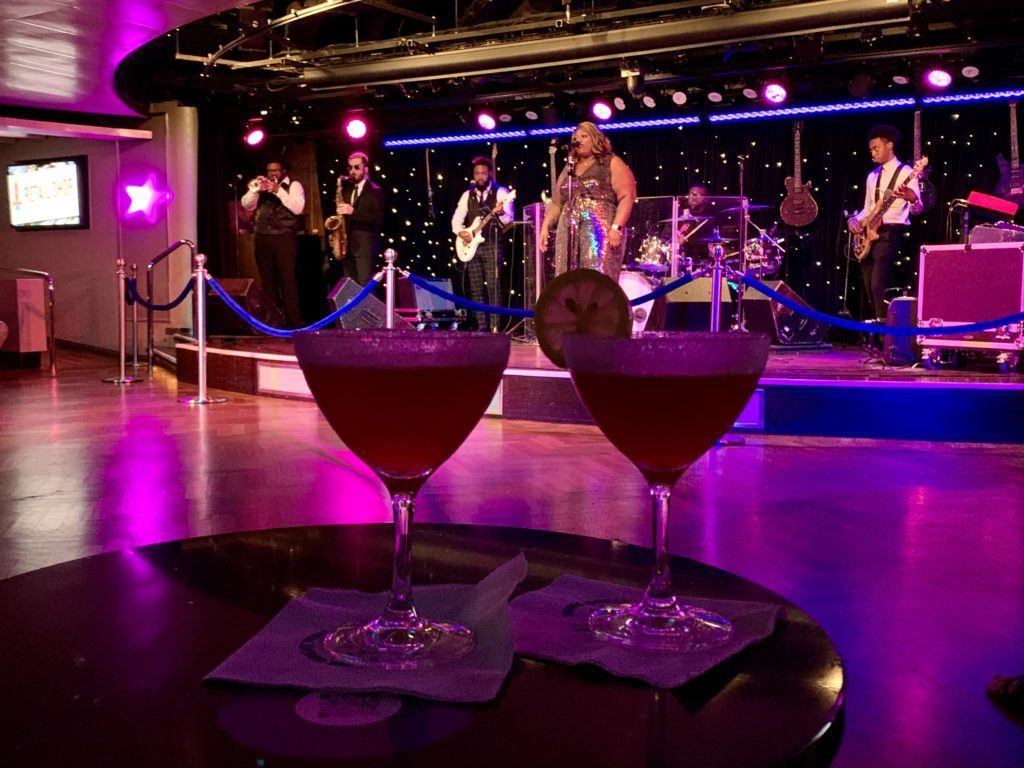 B.B. King's Blues Club was one of our favorite venues. Each night, you could sing and dance along to musical sets by the talented All Star Band. These included Soul Music, Funky 70's, Memphis Nights, and more.
This venue also hosted comedy shows. While we liked the small, intimate setup of this location, it was often standing room only.
Billboard Onboard was another happening venue. This piano bar featured two performers who played everything from Chart Toppers to the British Invasion. Later in the evenings, there was even "All Request" sessions. Here too, it was often standing room only.
Stateroom
We stayed in cabin 4137. This starboard side aft cabin is categorized as a VB balcony stateroom. According to Holland America Line's website, the size of verandah cabins can range from 213–379 square feet including the verandah.
Our cabin certainly felt larger than comparable cabins on Norwegian Cruise Line or our recent trip on Princess Cruises.
When entering the room, our bathroom was to the left (forward facing) with a wall of closets to the right. We did like the ability to customize the setup of the shelves in the closet.
The bathroom was lager, with a full tub offering more space than your average cruise ship shower.
Inside the cabin, the bed was immediately following the bathroom on the forward wall. There were two night stands, each with drawers and USB outlets, for additional storage. It also meant that we could each easily charge our phones at night.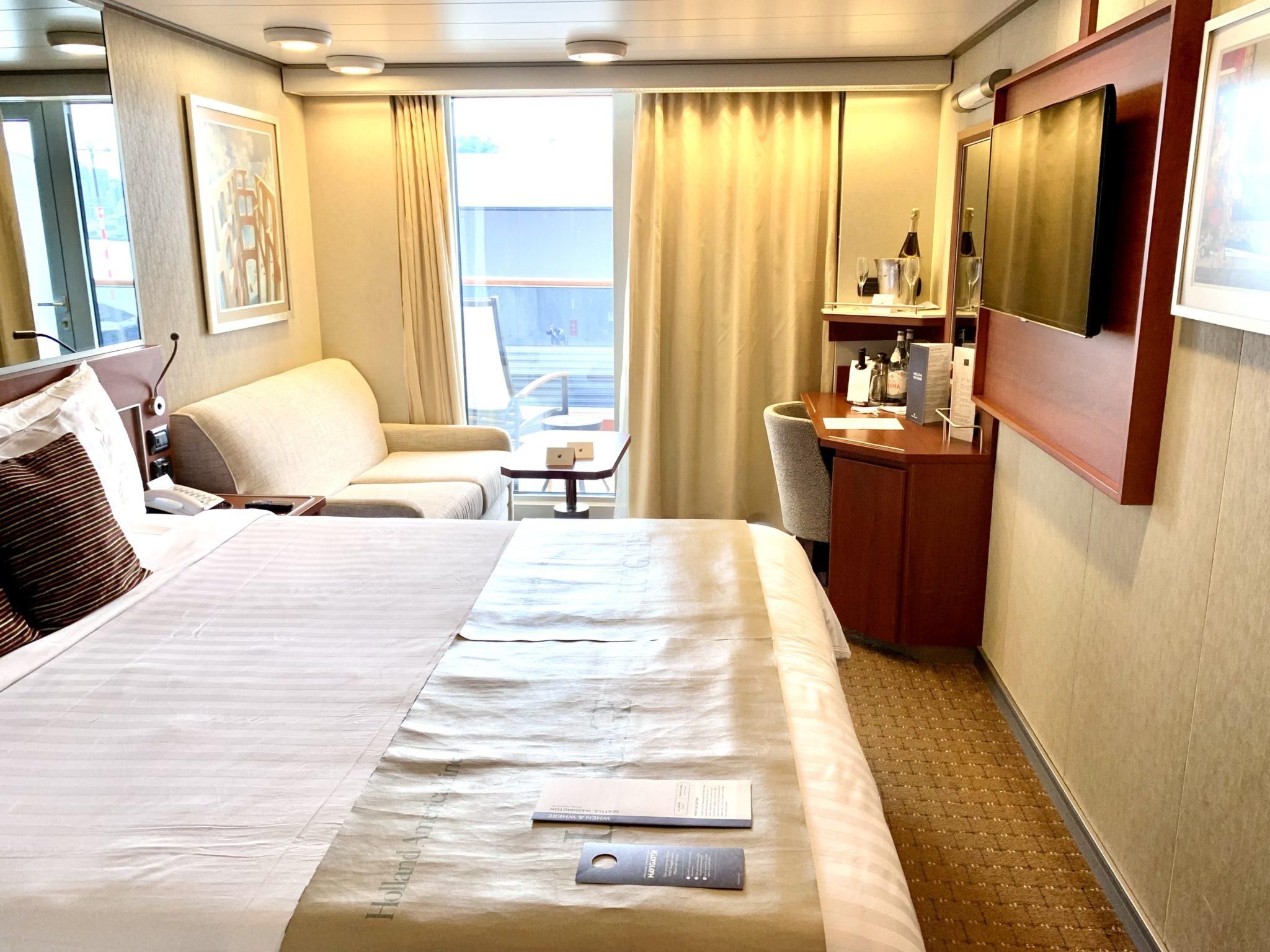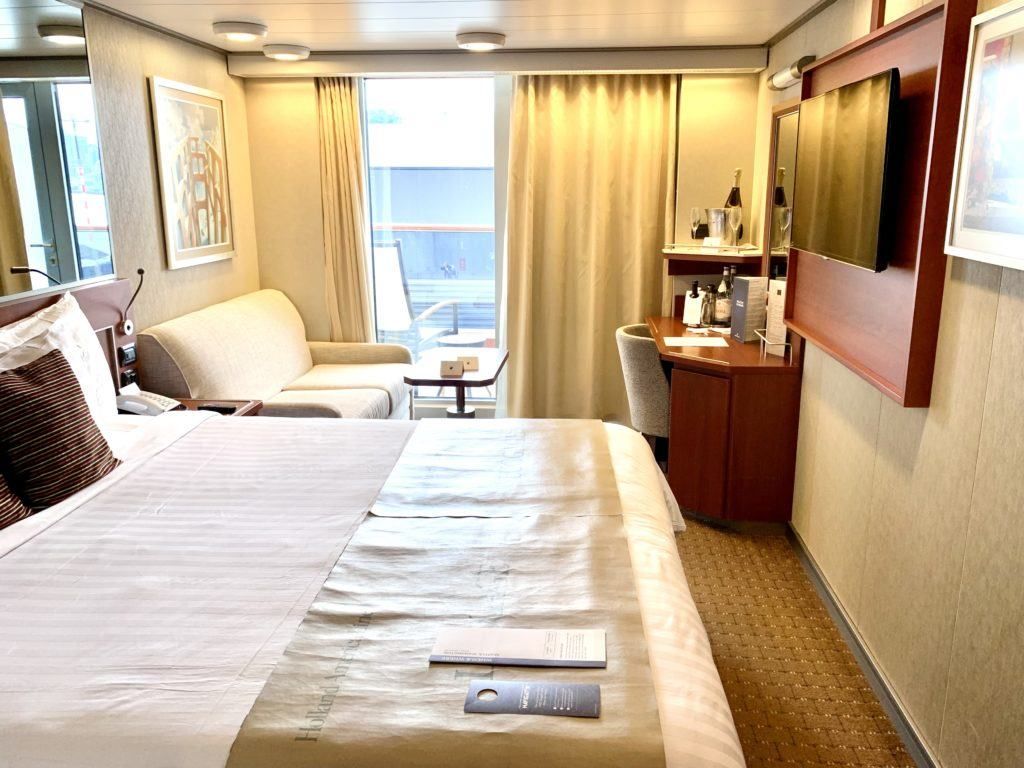 There was a small desk and a seating area beyond the bed. I was able to use the corner shelf as my charging station, while the wife used the desk to get ready. The love seat and table were good-sized as well.
When it comes to the balcony, ours was just right. It offered an open layout, slightly bigger than typical balconies. It had two loungers, a small table, and two ottomans. We thought this was a nice touch.
We made good use of this balcony space to admire the amazing Alaskan scenery.
Overall Nieuw Amsterdam Cruise Ship Scorecard Review
Not knowing what to expect from our first cruise with the brand, Holland America Line's Nieuw Amsterdam impressed us on several fronts.
With tasteful dining options, a variety of talented live music and nightly entertainment, and just the right amount of onboard enrichment, it was an ideal cruise ship to sail to Alaska. The line's EXC talks offer interesting alternatives to typical cruise programming, with both region specific and more general topics.
The ship was comfortable with several intimate venues. While the activities during the sea days felt a bit lacking, we always found something to do onboard the ship.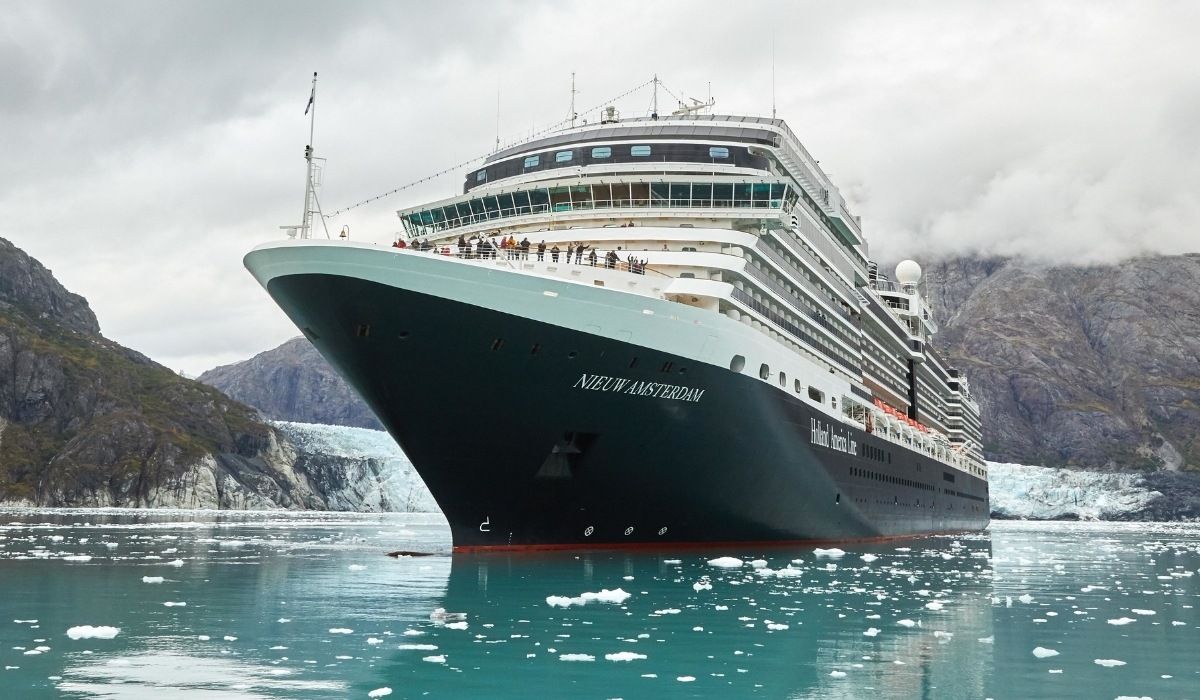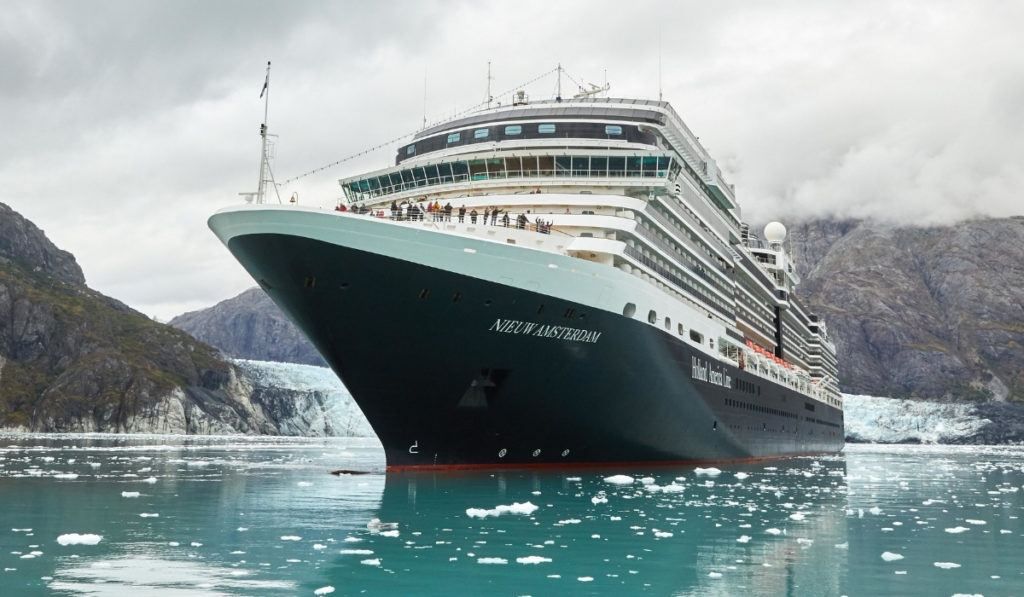 With several bars and lounges offering signature drinks, you could always find a seat for a pre-dinner drink.
Our cabin offered more space than a typical stateroom. So, we over-packers enjoyed the extra room. This was particularly evident with the bathroom and the balcony.
For globe trotters seeking superb dining, coupled with unique and destination-focused itineraries, Holland America Line is an excellent choice. With the line's new "Have It All" pricing, you are able to see more of the world at an even greater value!
While the demographic of the cruise line is skewed older than us, we could certainly see ourselves booking another cruise with HAL in the future.
Disclaimer: While we were guests of Holland America Line on this cruise, all opinions in this post are 100% are own.
Comments
Have you sailed on the Nieuw Amsterdam cruise ship? Are you a fan of Holland America Line cruises? Drop us an anchor below to share what you love about the cruise line.