Ship Overview
Royal Caribbean's Navigator of the Seas underwent an extensive renovation back in 2019. This 140K gross ton Voyager-Class ship received a number of updates including new amenities, venues, eateries, and some much needed cosmetic enhancements.
These include new specialty restaurants, such as Playmakers Sports Bar and Arcade, and two new waterslides. The pool deck also received a face-lift with a new Caribbean vibe including the multi-story Lime and Coconut Bar.
When Navigator of the Seas debuted after her amplification, the ship sailed the Bahamas on short 3- and 4-day cruises to Perfect Day at CocoCay. Of course, we cruised on the ship twice in 2019, and we really enjoyed all the updates.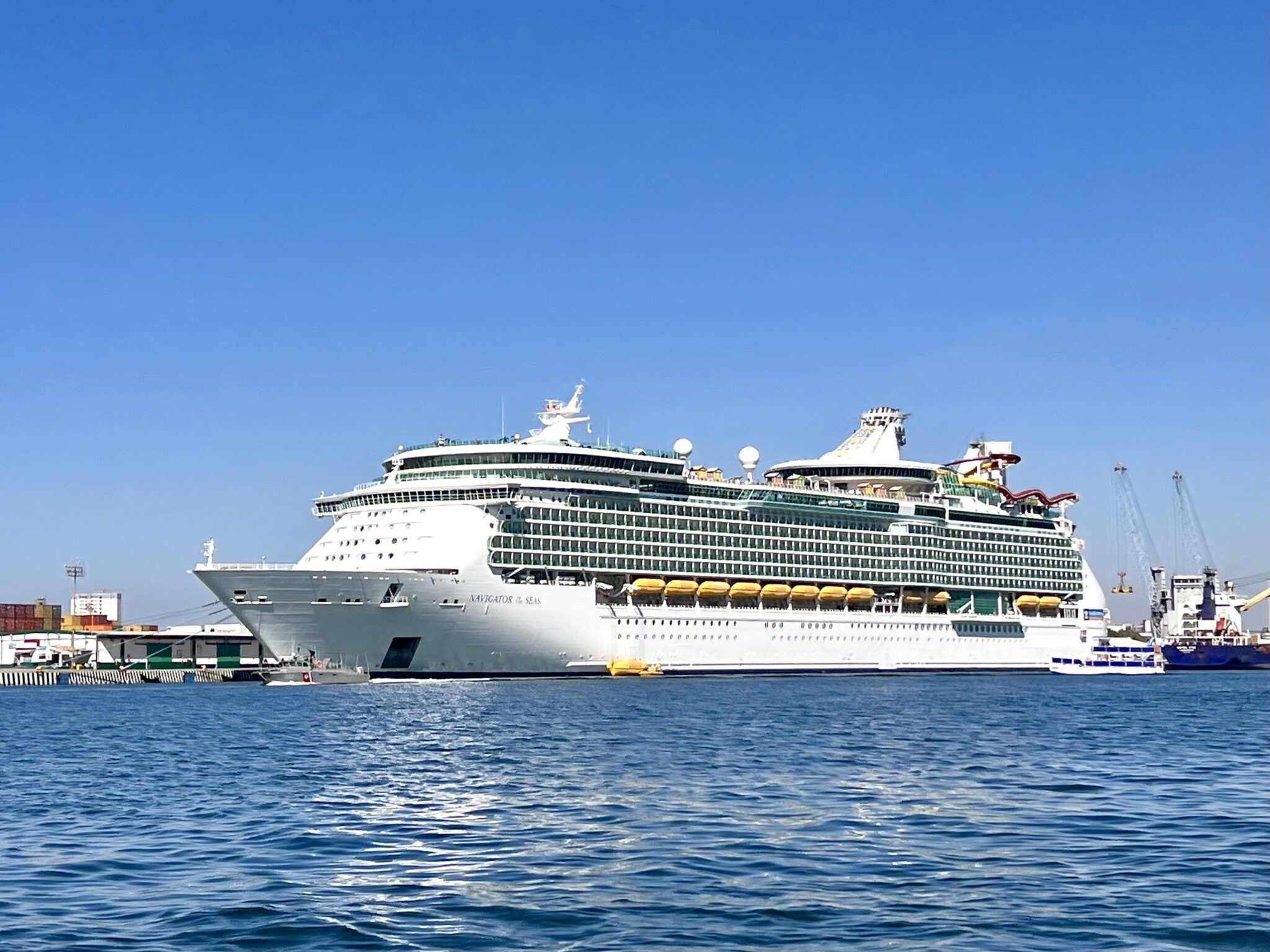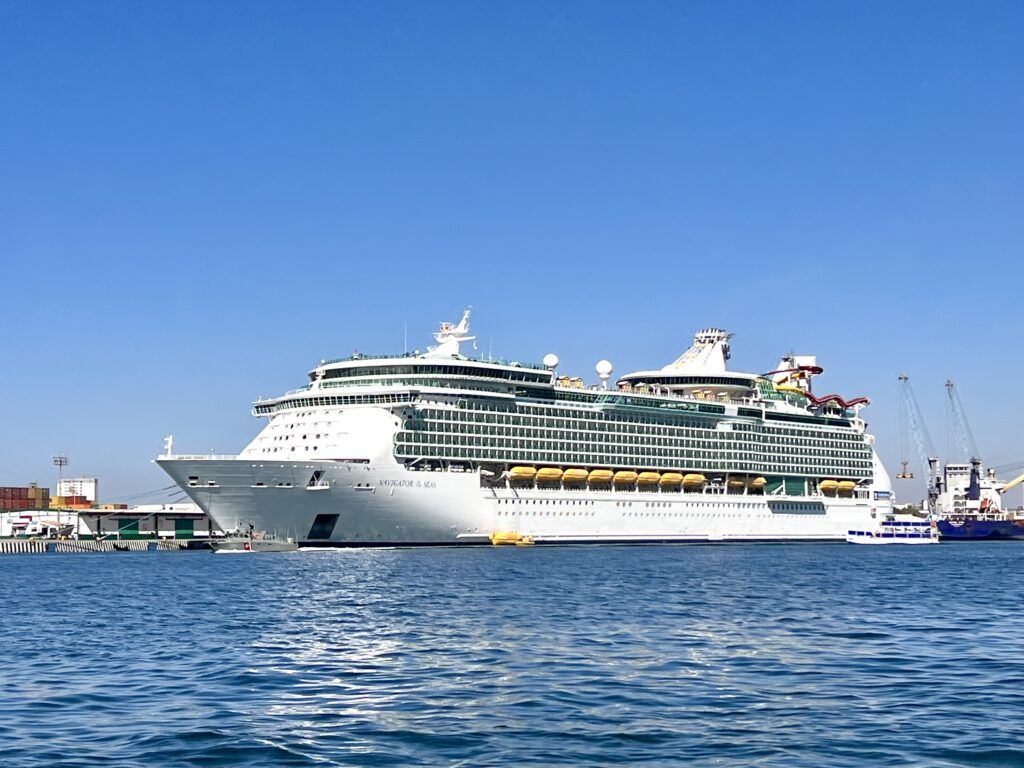 Navigator of the Seas now sails out of Los Angeles alternating between short cruises to Catalina and Ensenada and Mexican Riviera itineraries.
Thus, when planning a Christmas cruise with family, Navigator of the Seas' amenities, itinerary, and price point made this sailing an easy choice.
Now, we are back on dry land and want to share all the details of this holiday sailing with you in our signature day-by-day Navigator of the Seas Mexican Riviera Cruise Review.
EXCLUSIVE SAVINGS: Get Deals on Navigator of the Seas Cruises Now!
Navigator of the Seas Mexican Riviera Cruise Review – Day 1
Let's Get This Family Vacation Started
Home for just three days following our MSC Seascape cruise to the Caribbean, it was a quick turnaround for this Navigator of the Seas Mexican Riviera cruise review.
Nonetheless, we hopped on a cross-country flight from Boston to Los Angeles a day in advance of this Christmas cruise. Arriving in California on Thursday, we spent the evening with family in Long Beach. We would be cruising with my mom, my sister and her husband, and our 10 year old nephew.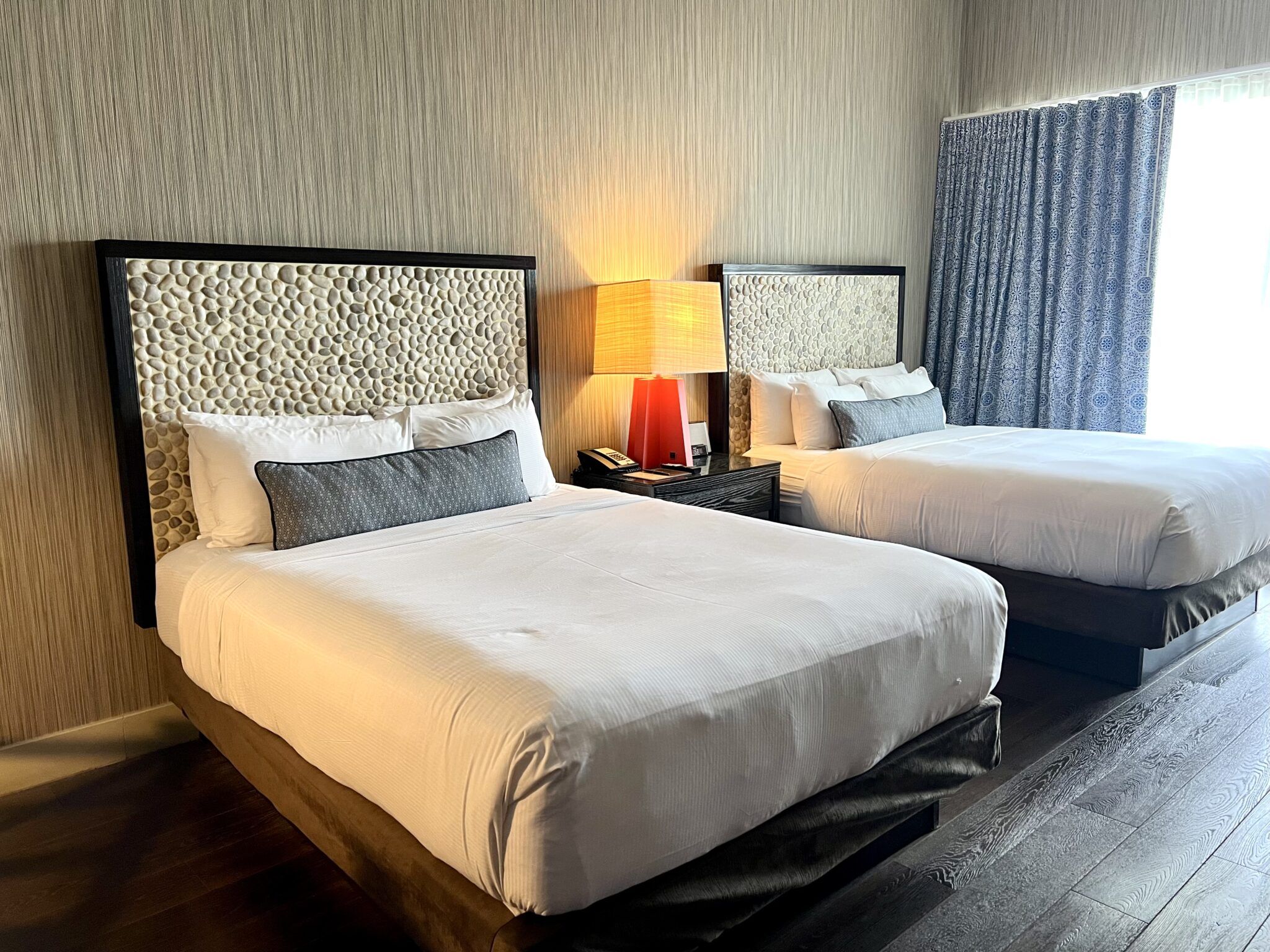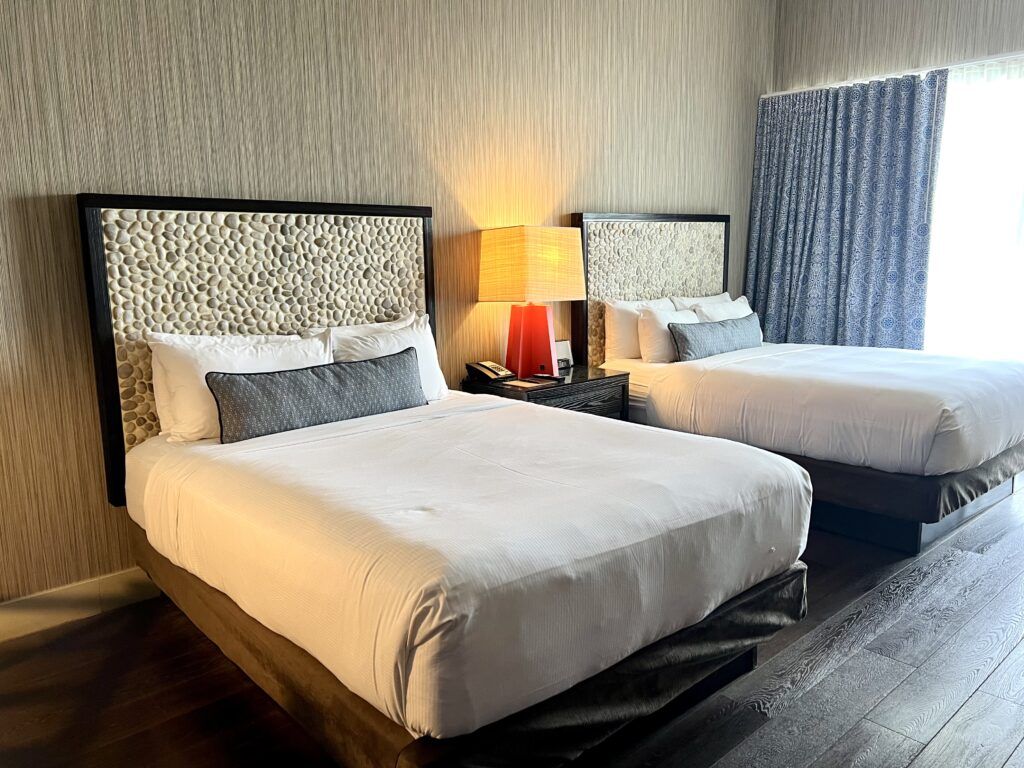 With an 11:30 AM embarkation time at the Port of Los Angeles, we checked out of our hotel, Hotel Maya, around 10:30 AM on Friday morning. Securing an Uber took a little longer than expected, but we still arrived to the port by 11:15 AM.
Despite being more make-shift than usual, we processed through the security tent, check-in, and directly onto the ship in under 30 minutes.
Of course, the cabins were not ready yet. So, we used this time to give our family an abbreviated ship tour, highlighting the pool deck, sports deck, and dining options.
We also completed some obligatory tasks like our muster drill and securing a reservation for our specialty dining credit from our travel agent. Additionally, Sis signed our nephew up for Adventure Ocean, which he would ultimately only visit once during the cruise.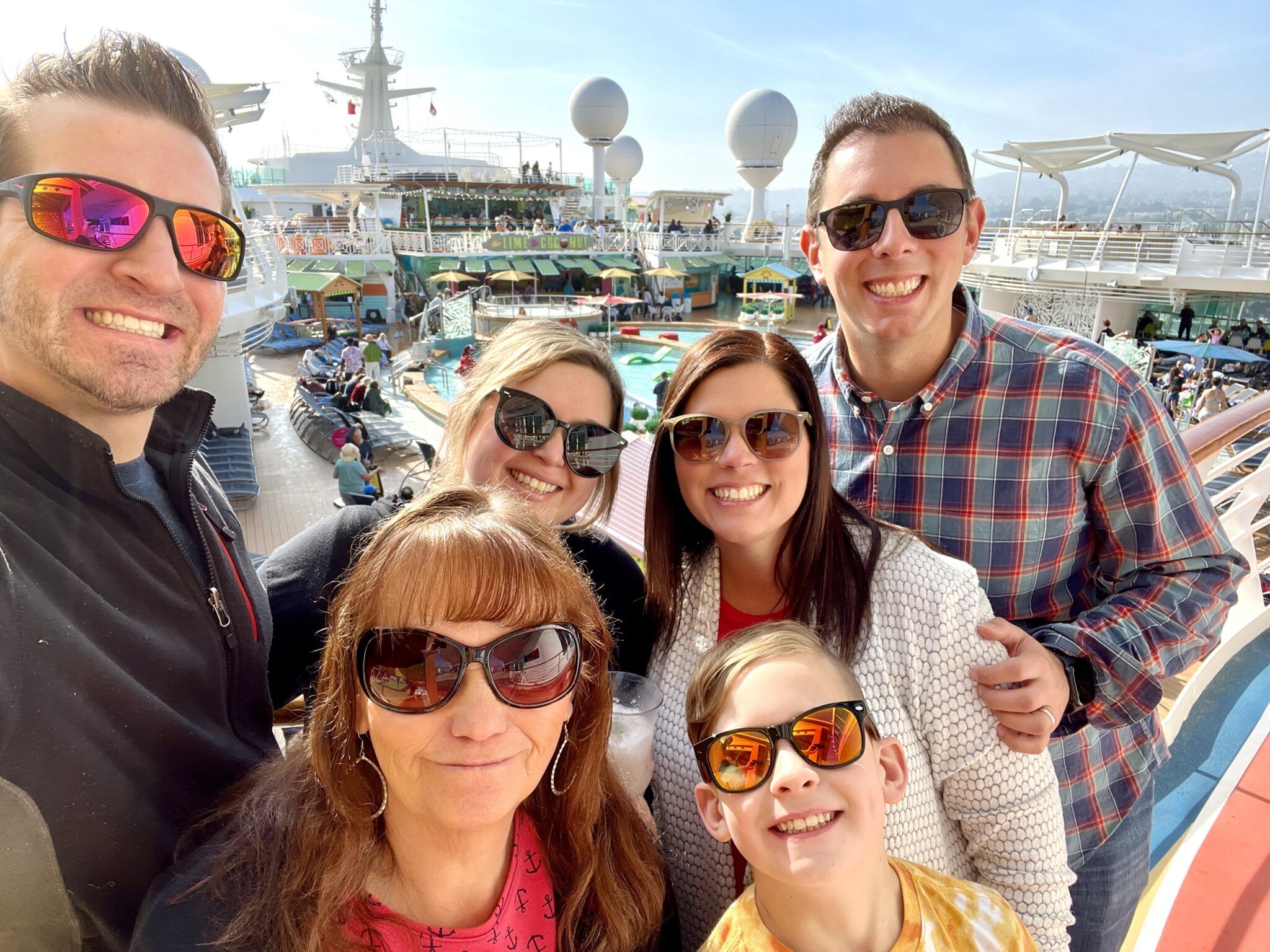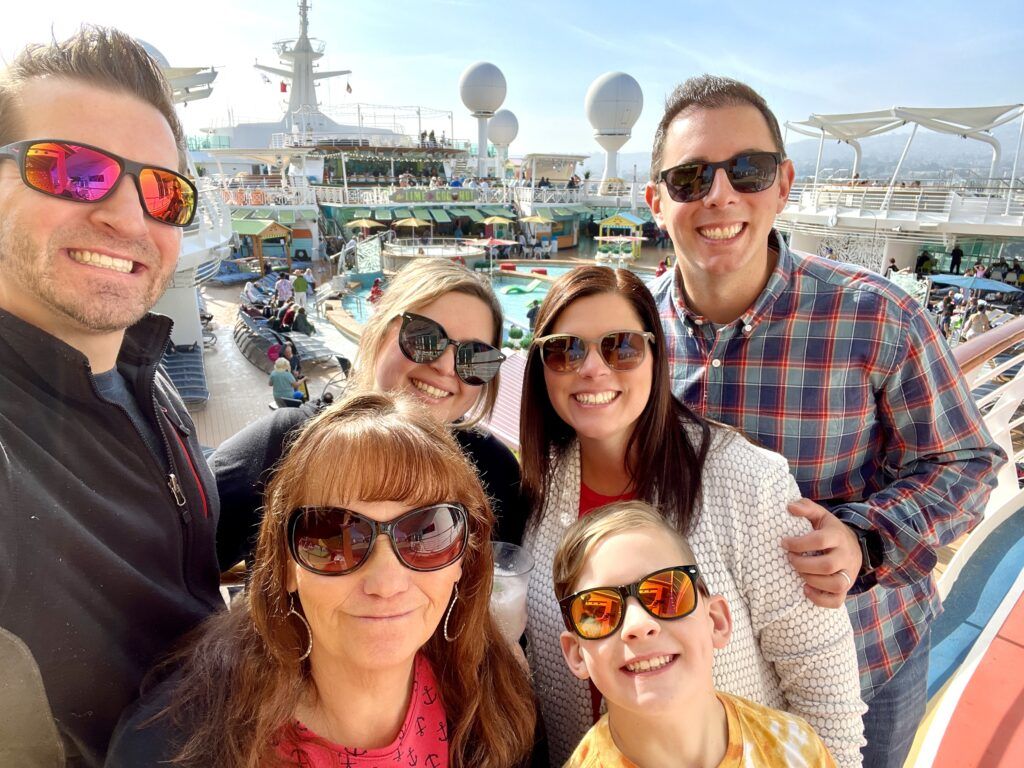 Our lunch was a bit all over the place today. Some of the fam grabbed lunch in the Windjammer shortly after boarding, while we opted for snacks a bit later in the day.
Once the rooms were ready, we dropped off our carry-on items and headed back out to the pool deck. While it was a bit chillier than we expected, how can you pass up a Lime and Coconut drink?
With sail away scheduled for 4:30 PM, we decided to head back to our cabin around 3 PM in the hopes of unpacking before then. Luckily, our suitcases had just arrived!
For this Navigator of the Seas Mexican Riviera cruise review, we were all staying on Deck 6. Our balcony cabin, cabin 6614, was a portside stateroom located fairly near the midship elevators. Our family were staying in two adjacent cabins just down the hall from us.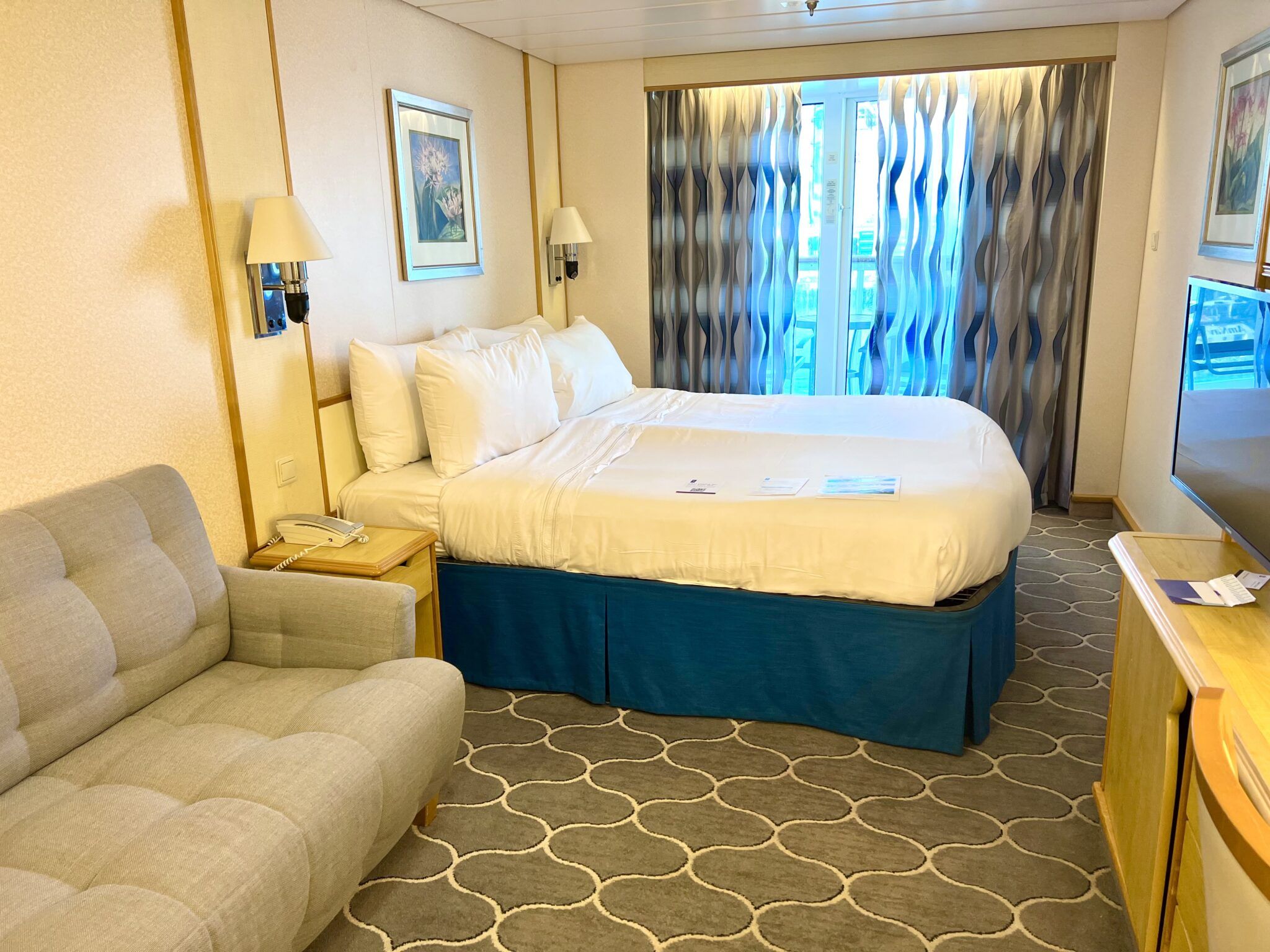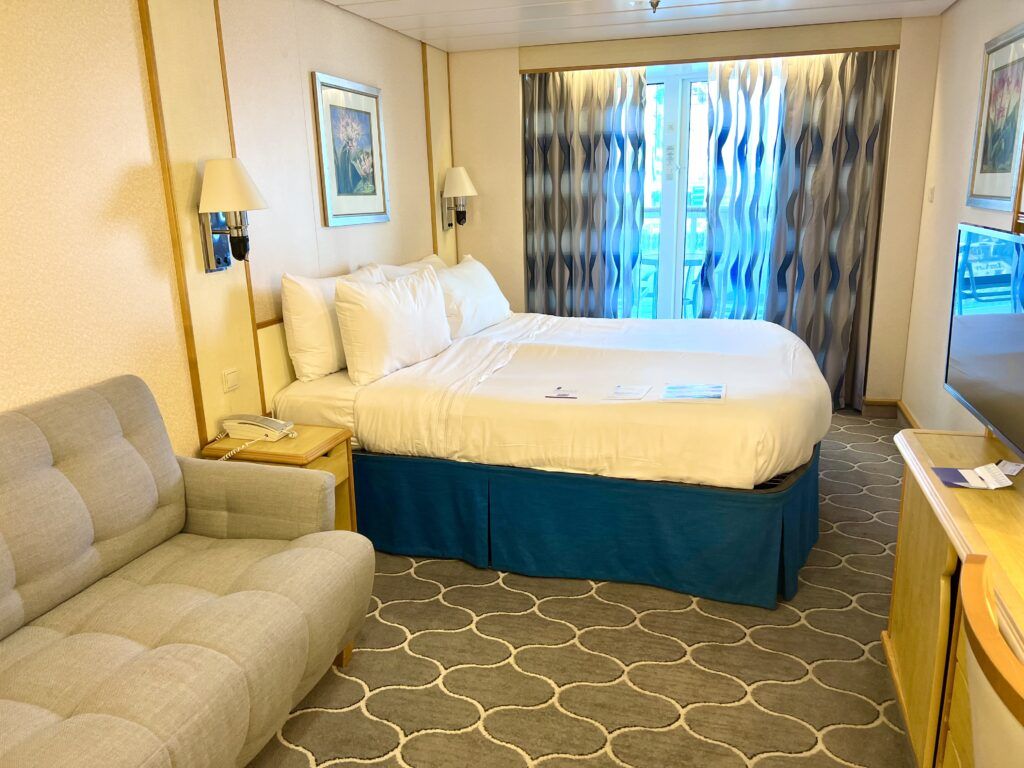 These cabins on Navigator of the Seas were partially updated with newer furnishings and décor. However, the bathroom and balcony did show their age. Still, there was plenty of storage space making it easy to unpack and get settled in for the week ahead.
Let's Set Sail to Mexico
Making our way back outside around 4 PM, we secured seats on Deck 13 at the Lime and Coconut rooftop overlooking the pool deck.
Given the port area is rather industrial, our sail away wasn't very scenic. Plus, it got cold and windy very quickly. We lasted just long enough to grab a sunset photo before shivering our way back inside.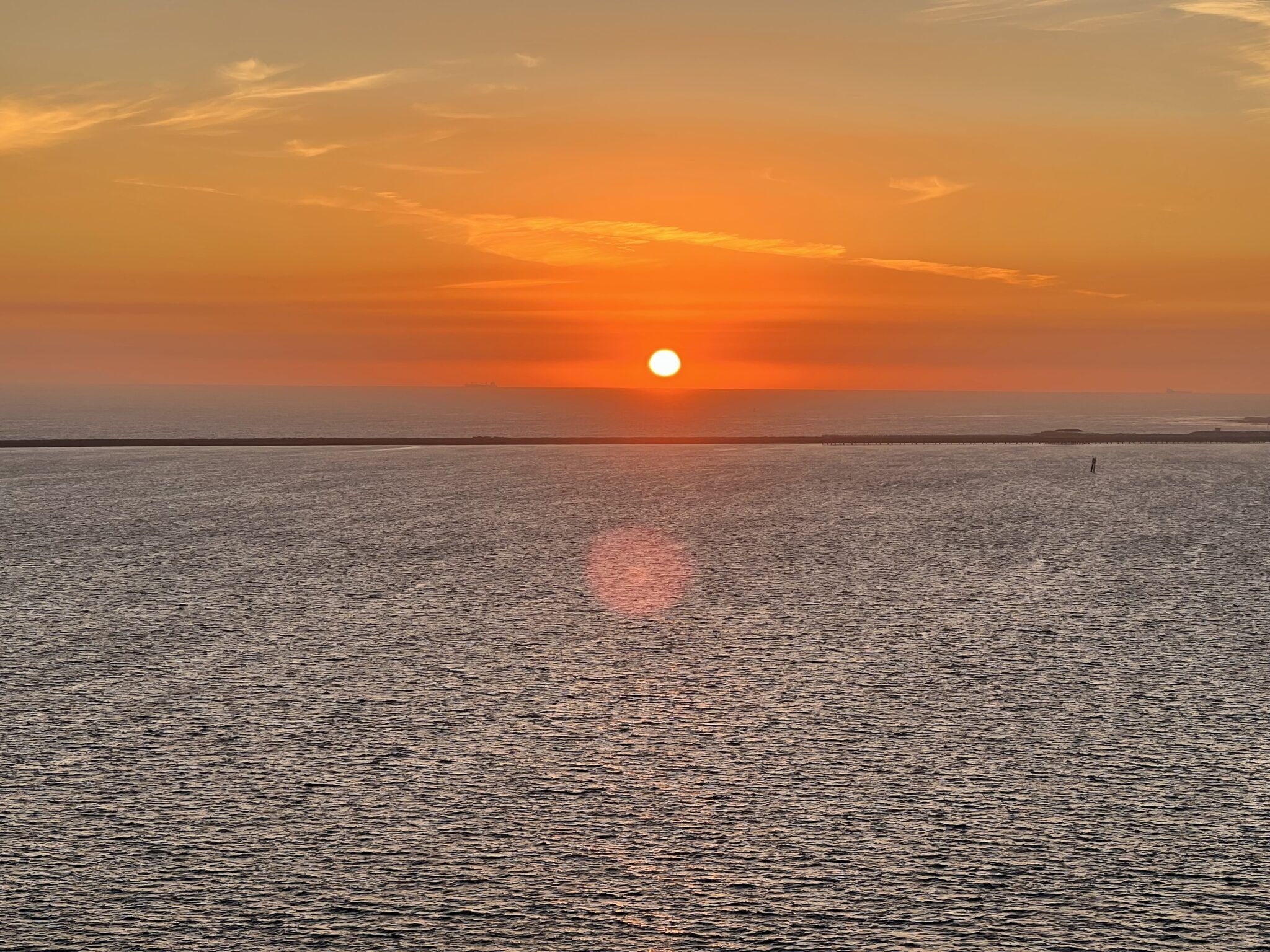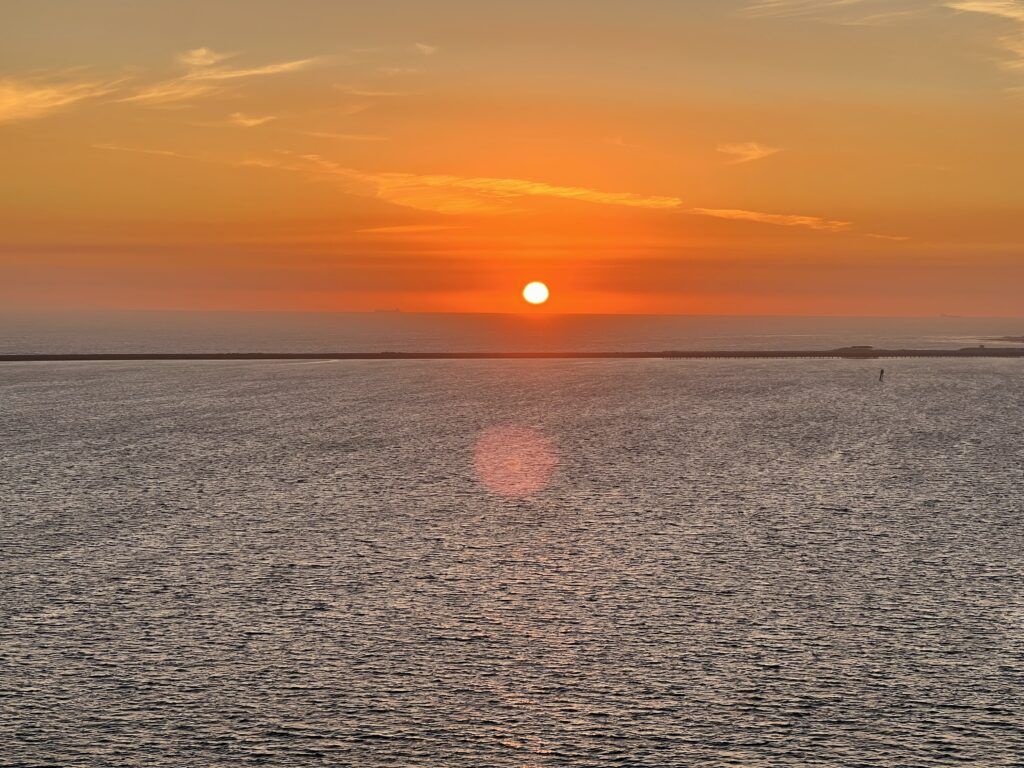 Given we were dining as a group of six, we thought it made more sense to do traditional dining. The options were either early seating at 5:30 PM or late seating at 8 PM. Thus, we opted for early seating, despite being early even for us.
This meant it was a quick costume change before arriving to our assigned table, table 804, in the Deck 5 main dining room.
Here, we met our waitstaff, Pramod and Yi. Pramod was friendly and attentive during the course of the week. While Yi was nice, there was a bit of a language barrier, resulting in getting incorrect drinks at times, etc.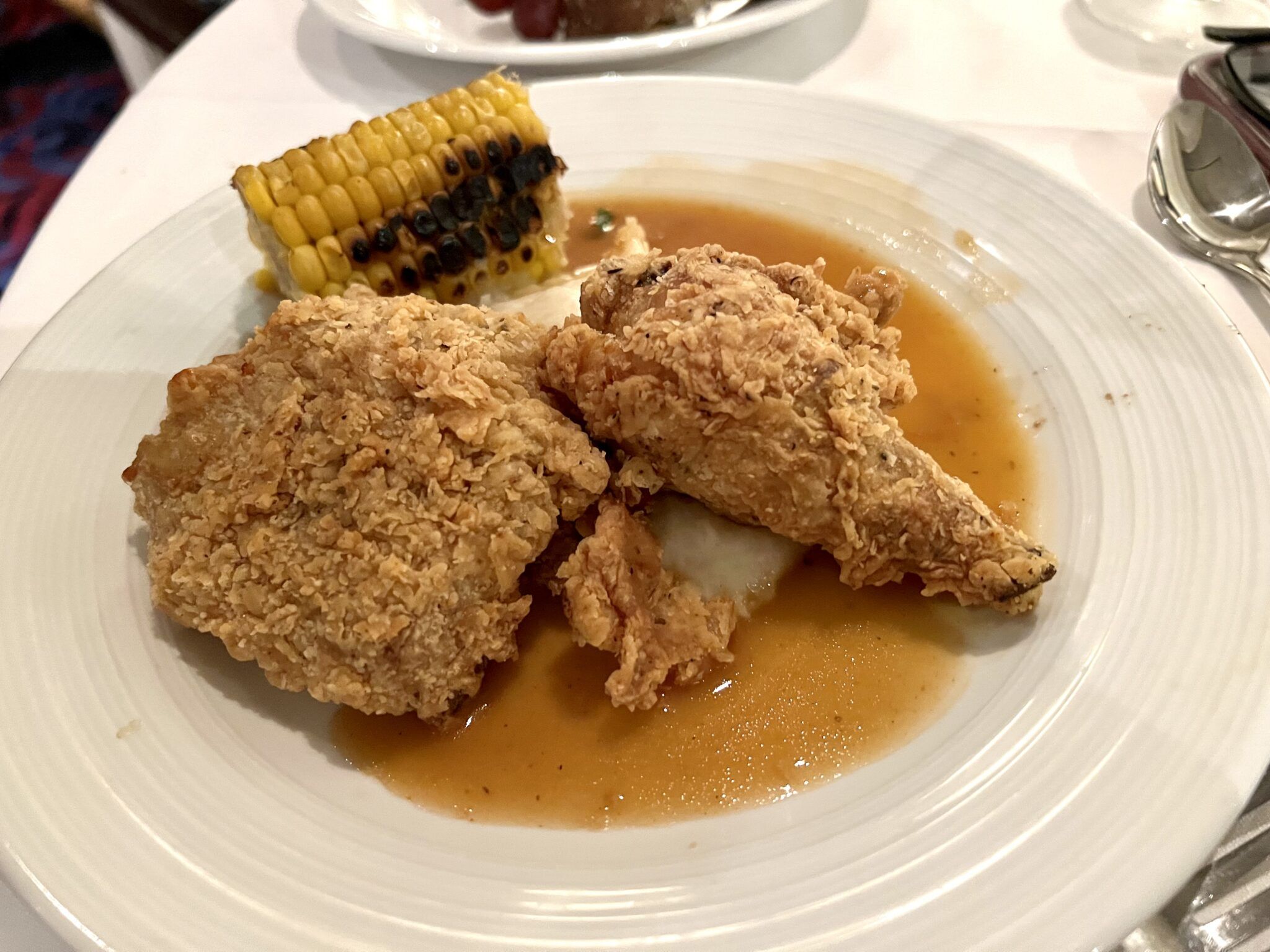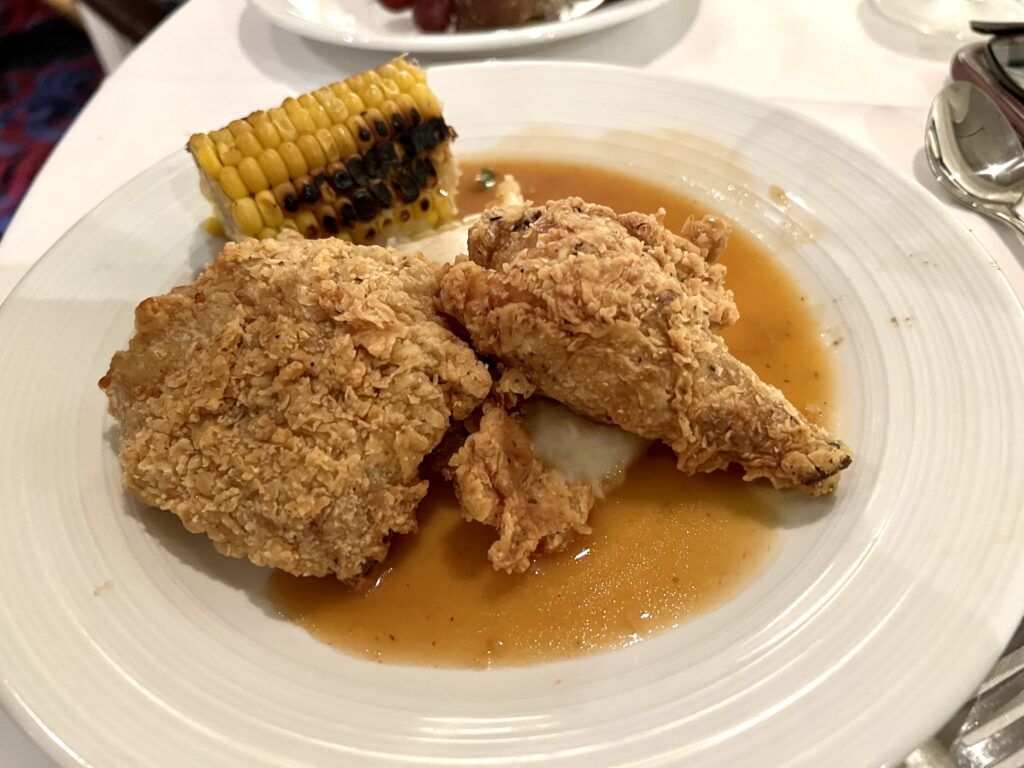 Overall, our first night dining experience was on par with what we have come to expect from Royal Caribbean, with favorites like prime rib and fried chicken on the menu tonight. The service too was timely, with our party finishing dinner in under 90 minutes.
It's Christmas Time on Navigator of the Seas
From here, it was off to our first Christmas event of the cruise. Tonight, there was Christmas caroling and a tree lighting in the Royal Promenade at 7:30 PM.
Securing seats outside the pub, we sang along to classics like Deck the Halls, Silent Night, and Feliz Navidad. While some of our family was being a bit Scrooge-like, we thought this was a fun way to get into the holiday spirit.
After the official tree lighting, we made our way forward to the Star Lounge for the 60 Seconds or Less game show at 8:30 PM. While we didn't participate, it was fun to watch these challenges.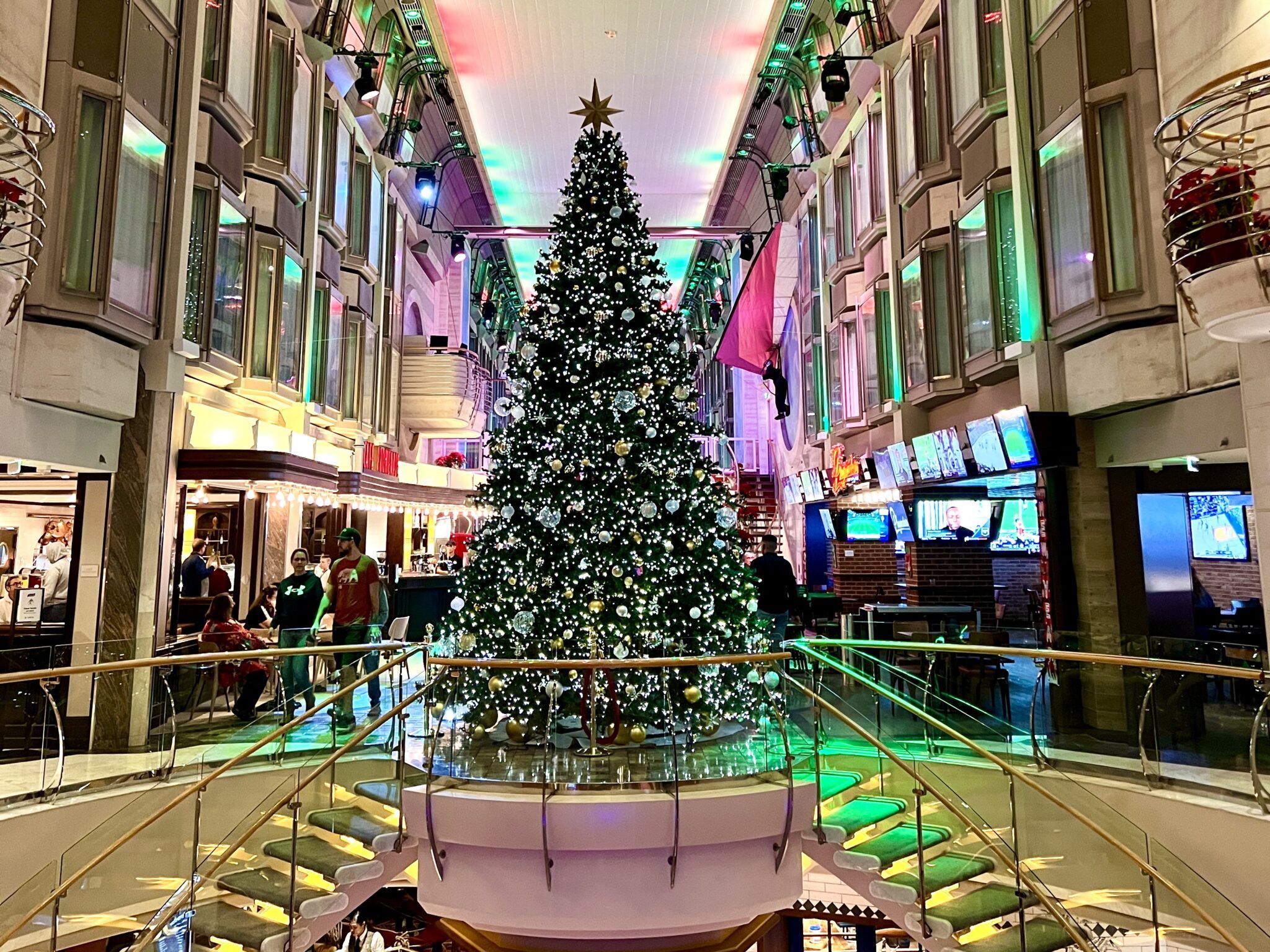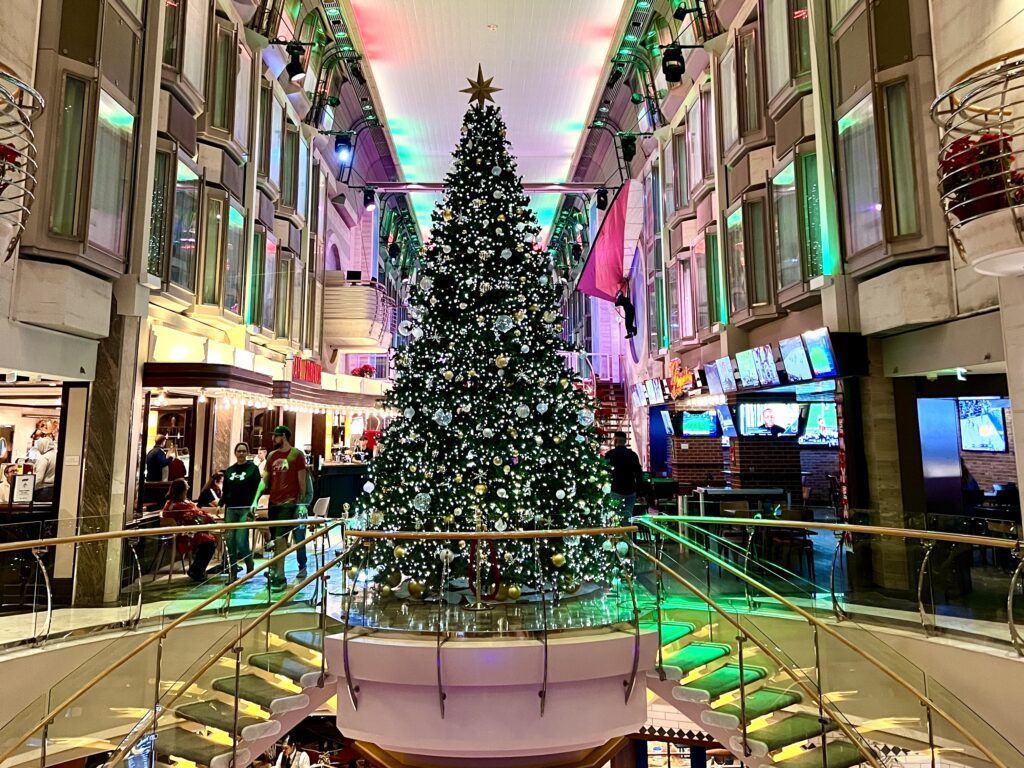 One show down, another one to go. This time, we made our way to the theater for the welcome aboard show starring the comedian, Etta May. Here, we met the Cruise Director, Thiago, along with some of the other production cast.
Etta May closed out the show with a short 20-minute set. We appreciated that she was different than your typical cruise ship comedian; though, I found her funnier than Don did.
Since this cruise was officially "vacation" for us, it was time for a round of our favorite cocktails following the show. A lavender daiquiri and sidecar at the Schooner Bar are always a go-to for us. Here, we briefly listened to some piano tunes by Scott Orchard before his set ended.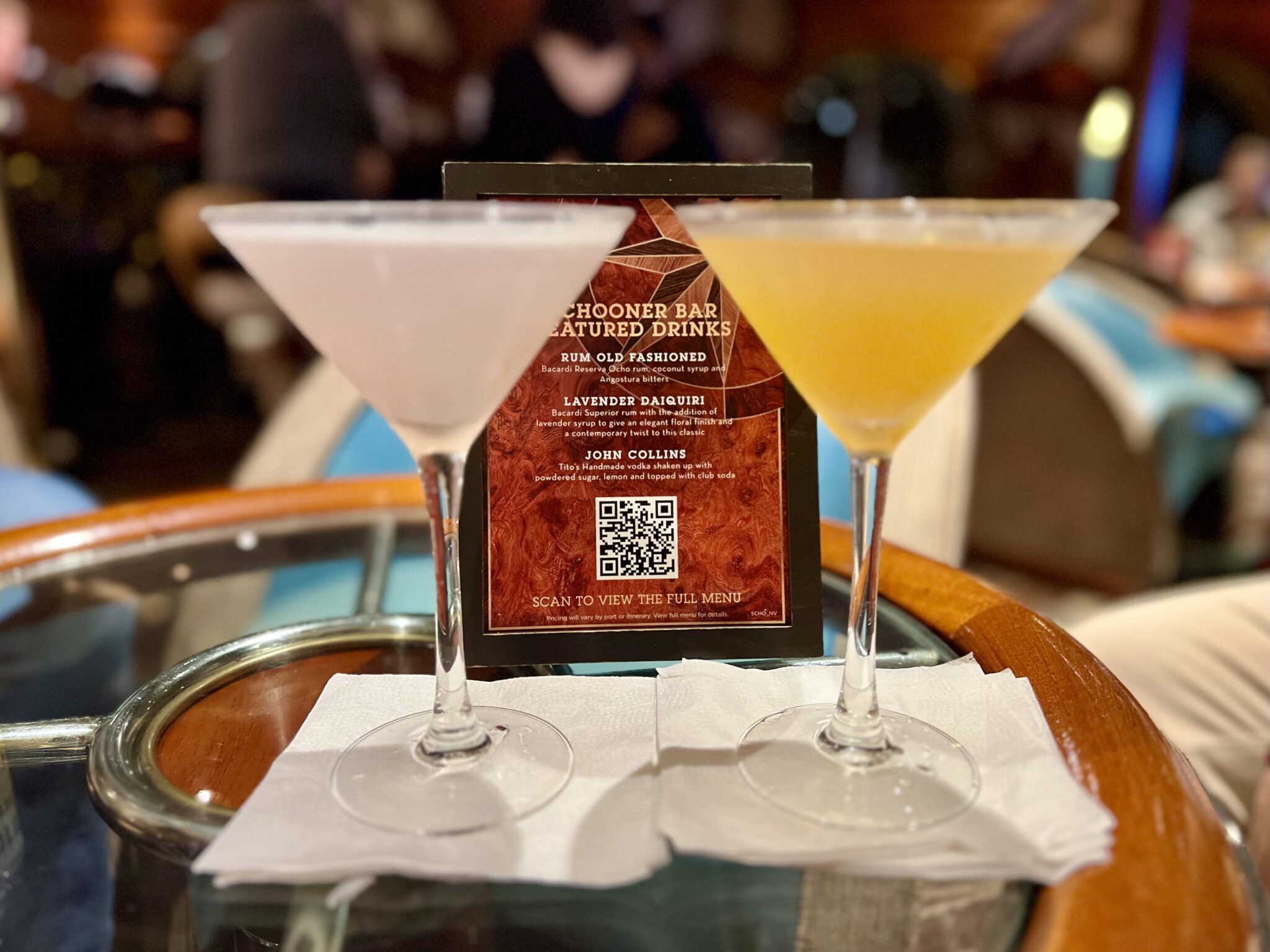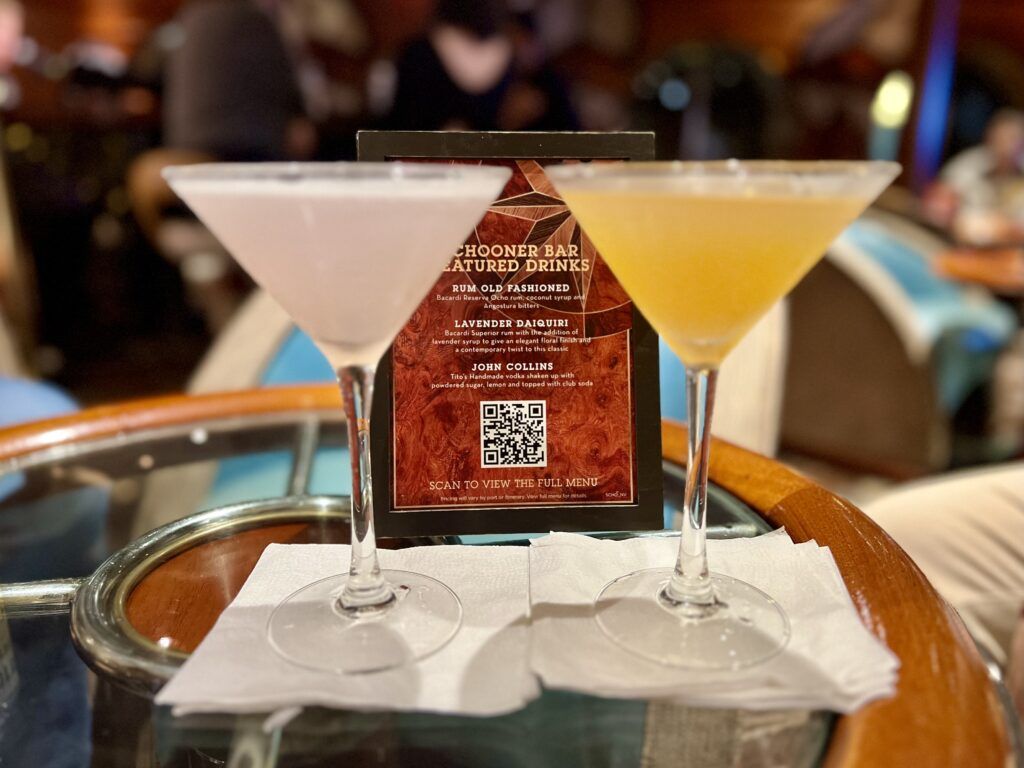 Chatting with family a bit longer, we soon realized that we were the only people left in the bar. So, we decided to move on to the pub.
Darla Fox, one of our favorite pub musicians, was onboard Navigator of the Seas this week. We enjoyed her performances earlier this year on Mariner of the Seas, and we thought the fam would also.
Unfortunately, she wasn't playing this evening. Oh well. After another round of drinks, we called it a night around 11:30 PM. Tomorrow was already Christmas Eve! Where did 2022 go?
Navigator of the Seas Mexican Riviera Cruise Review – Day 2
A Relaxing Sea Day
Day 2 of this Navigator of the Seas Mexican Riviera Cruise Review was a sea day. We also lost an hour of sleep to ready ourselves for our first port of call tomorrow.
Up around 7:30 AM, we met family for breakfast in the Windjammer just after 9 AM. We then secured our seats on the pool deck. The weather was beautiful today, so we relaxed in the sun for a few hours.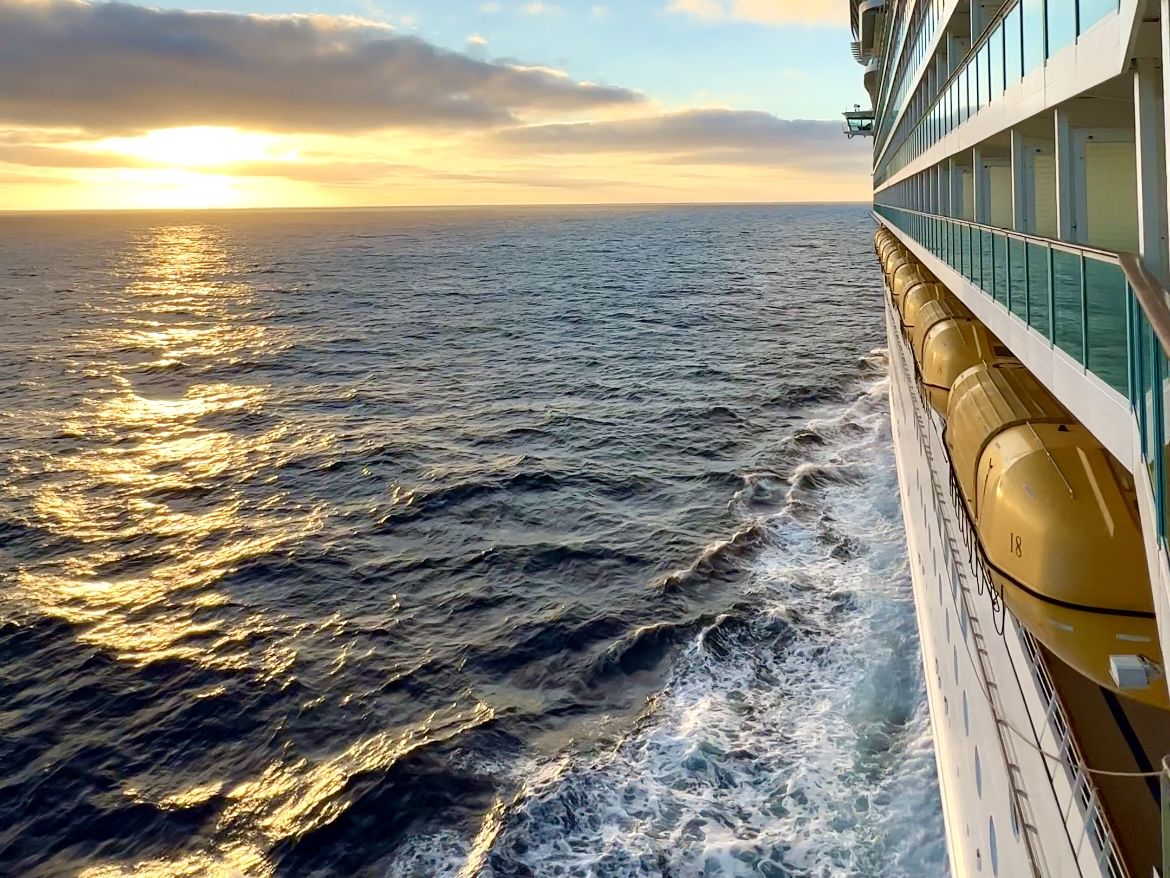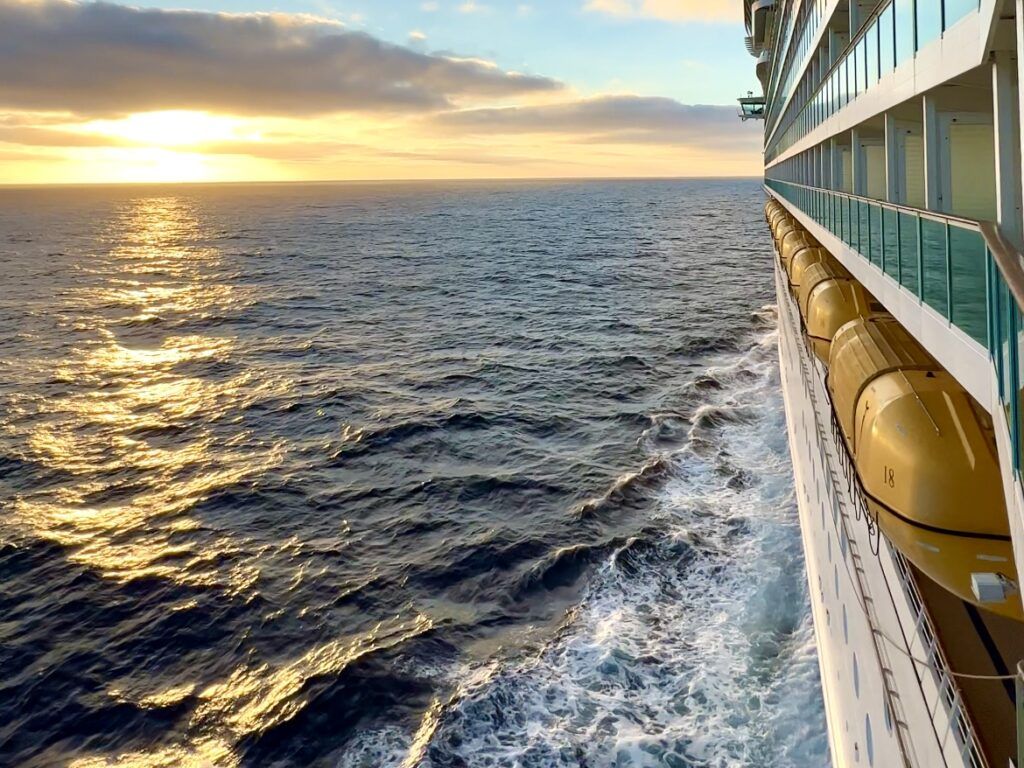 This meant that we also had a decent view for the 12:30 PM Sexiest Man Competition that occurred poolside.
After all this laying around, it was obviously time for lunch. Unfortunately though, Navigator of the Seas does not have many casual dining options. So, we reluctantly returned to the Windjammer.
With a post-lunch stroll, we returned to the cabin around 2 PM to get a little work done before the evening's festivities.
A Change of Plans
Throughout the day, we received several announcements regarding our time in Cabo tomorrow. Essentially, Royal Caribbean was encouraging guests to NOT go ashore. While Cabo is always a tender port, we would be the last ship arriving and subsequently would be anchored the furthest away.
Given the limited operations due to the holiday and the number of ships in port, we were informed to expect up to 2 hours in transfer time to and/or from shore. This certainly threw a wrench in our Christmas plans.
We had booked a private sailboat excursion with a local vendor. This 5-hour tour included a coastal cruise, time for snorkeling, open bar, and a Mexican lunch exclusively for us. It sounded like the perfect way to spend the holiday with family.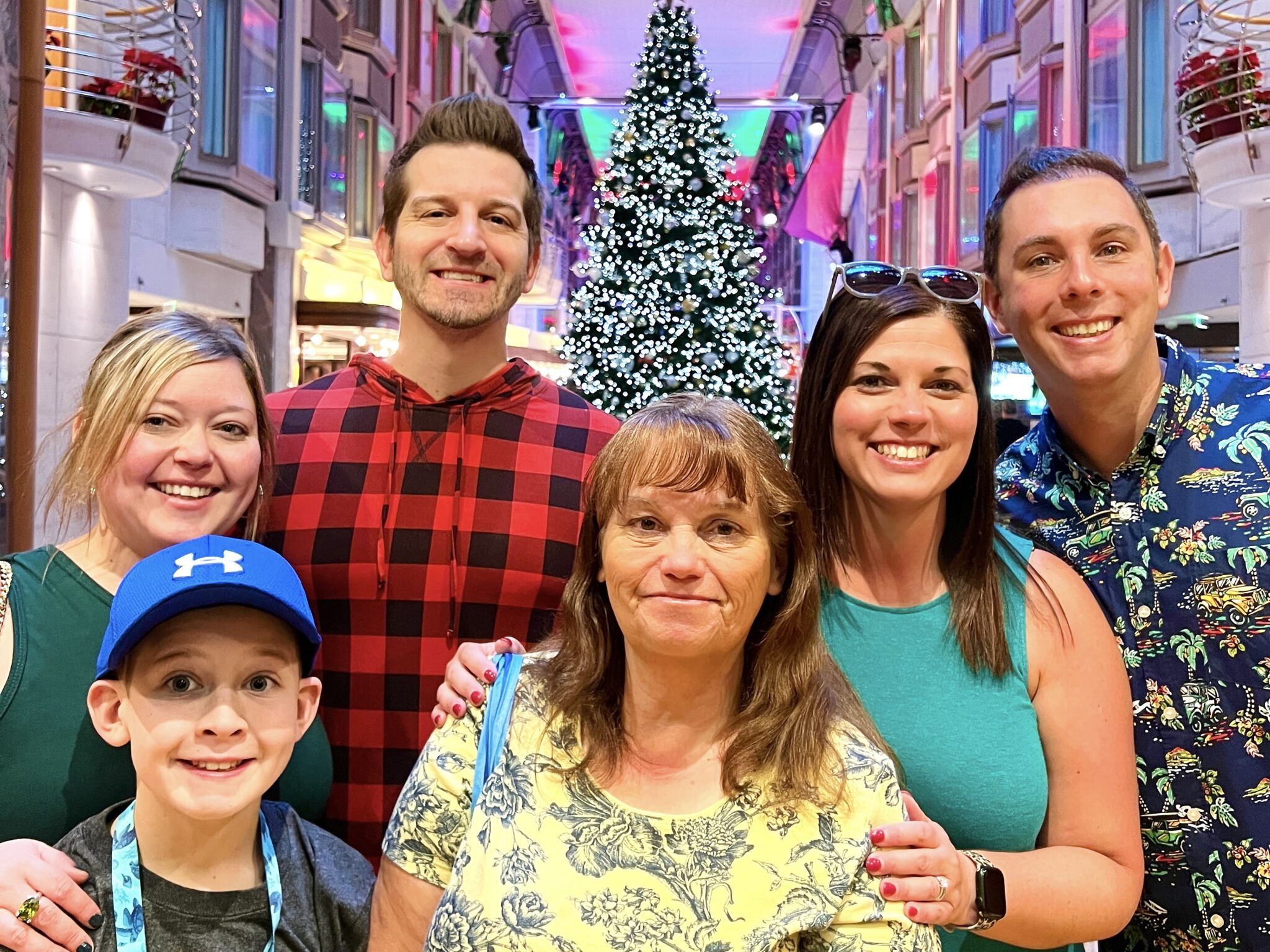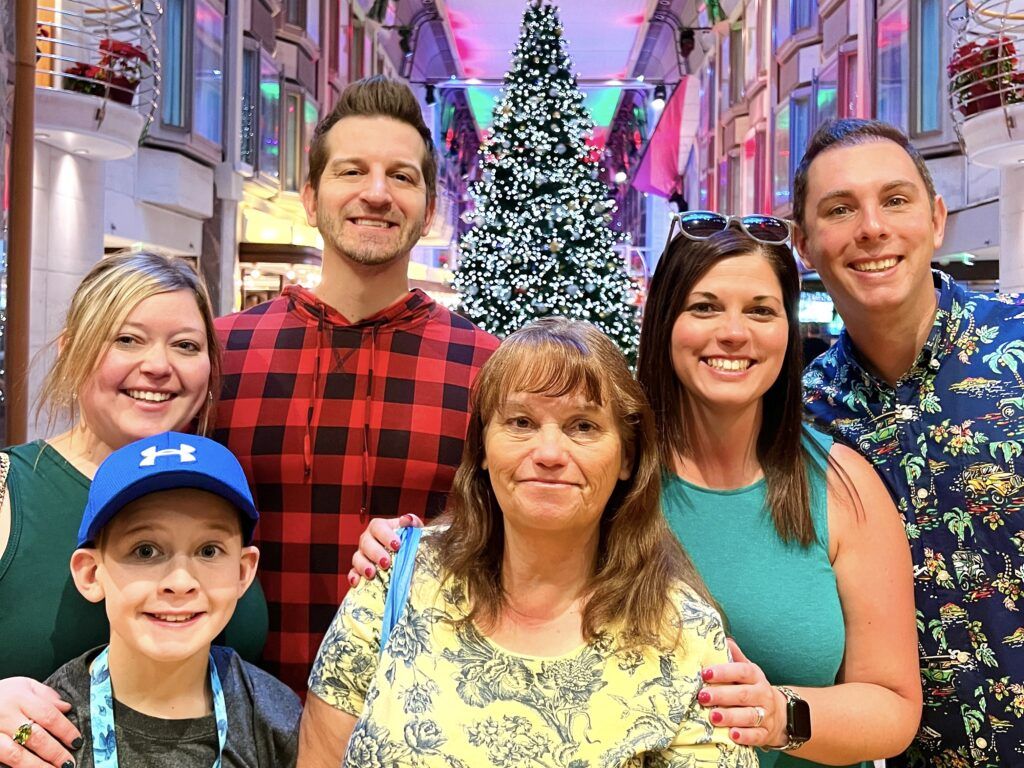 However, with the tour start time scheduled shortly after our 12:30 PM arrival, we made the difficult decision to cancel and lose our deposit. We figured our only hope of getting ashore would be to book a Royal Caribbean excursion, giving us priority tender access.
While we would have been fine staying on the ship, we knew the rest of the fam wanted to see Cabo. So, we booked a 2-hour coastal cruise excursion with the cruise line. At least we would get ashore, and we could contend with the line to get back later.
The Best Way to Spread Christmas Cheer is Singing Loud For All to Hear
With that crisis somewhat resolved, it was time to enjoy the Christmas Eve festivities onboard Navigator of the Seas.
Since tonight was also formal night, we made sure to be ready early to take some family photos before dinner. Posing at three different backdrops was about all our nephew could handle.
Dinner in the MDR tonight had a special holiday menu as opposed to the typical first formal night menu. There were holiday classics like almond-crusted brie, turkey dinner, honey glazed ham, and more.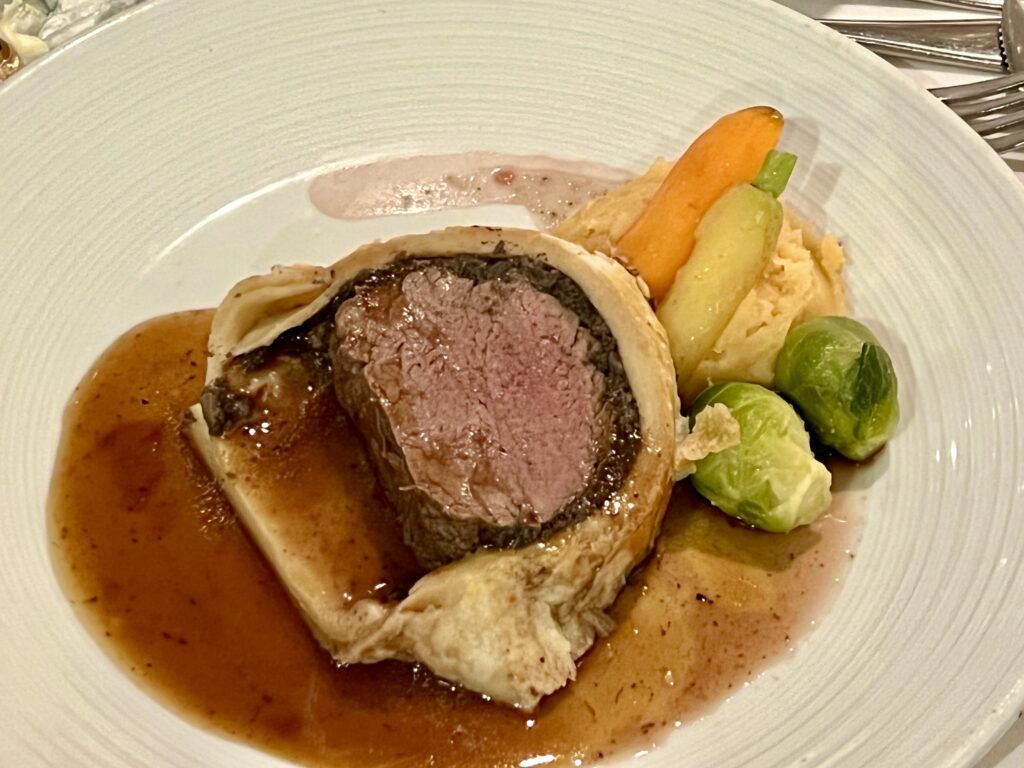 I enjoyed the brie, turkey, and buche de noel. Hubby sampled the beef wellington as well.
Following dinner, we had some free time until the 9:15 PM Christmas show in the theater. First, we grabbed some drinks from one of our favorite Royal Caribbean bars, the Bamboo Room. Then, we made our way across the Royal Promenade to the pub to listen to some live music with Darla.
The production show this evening was a special treat from the Royal Caribbean singers and dancers. This festive revue show featured a collection of the cast members' favorite holiday songs.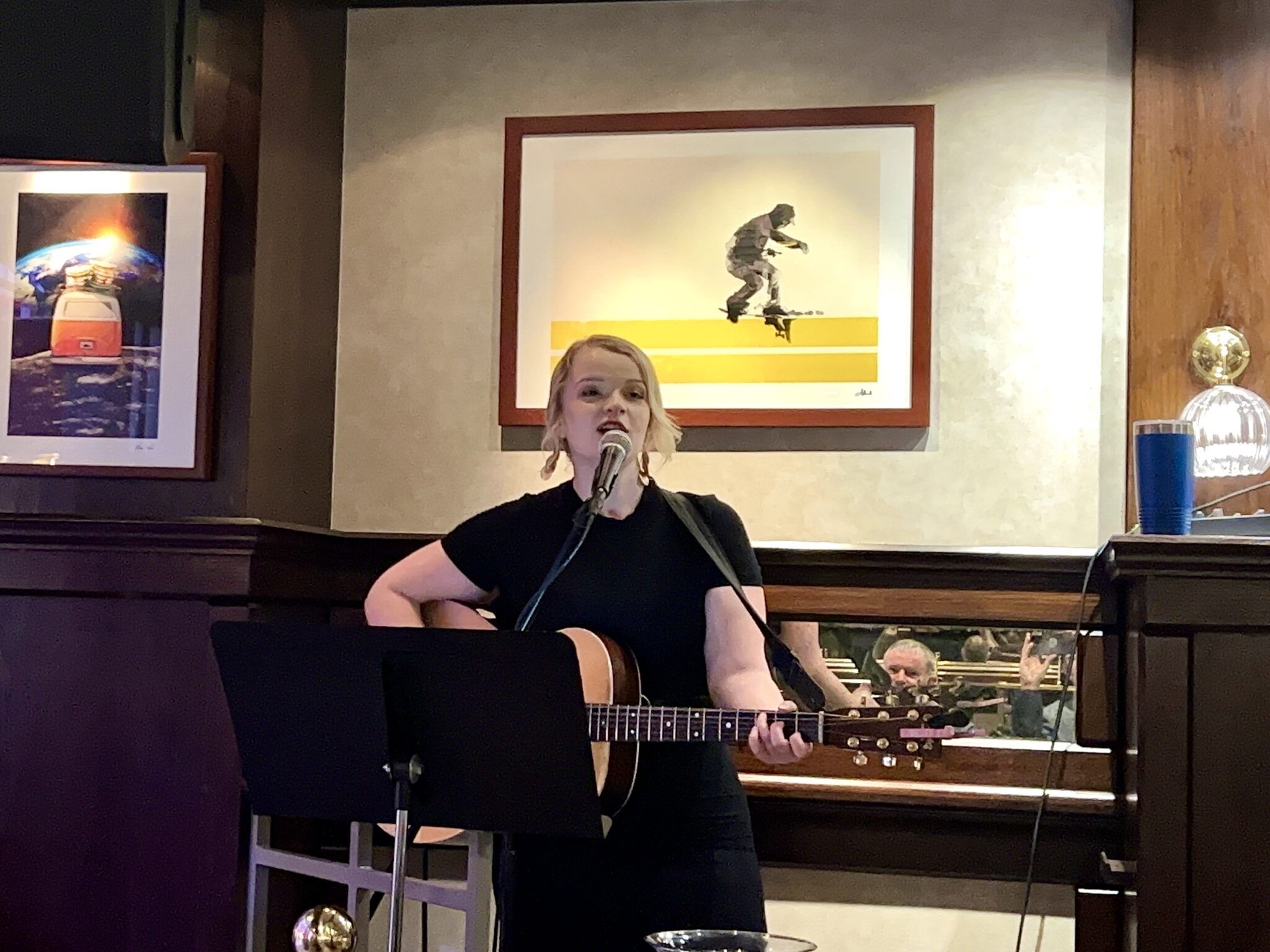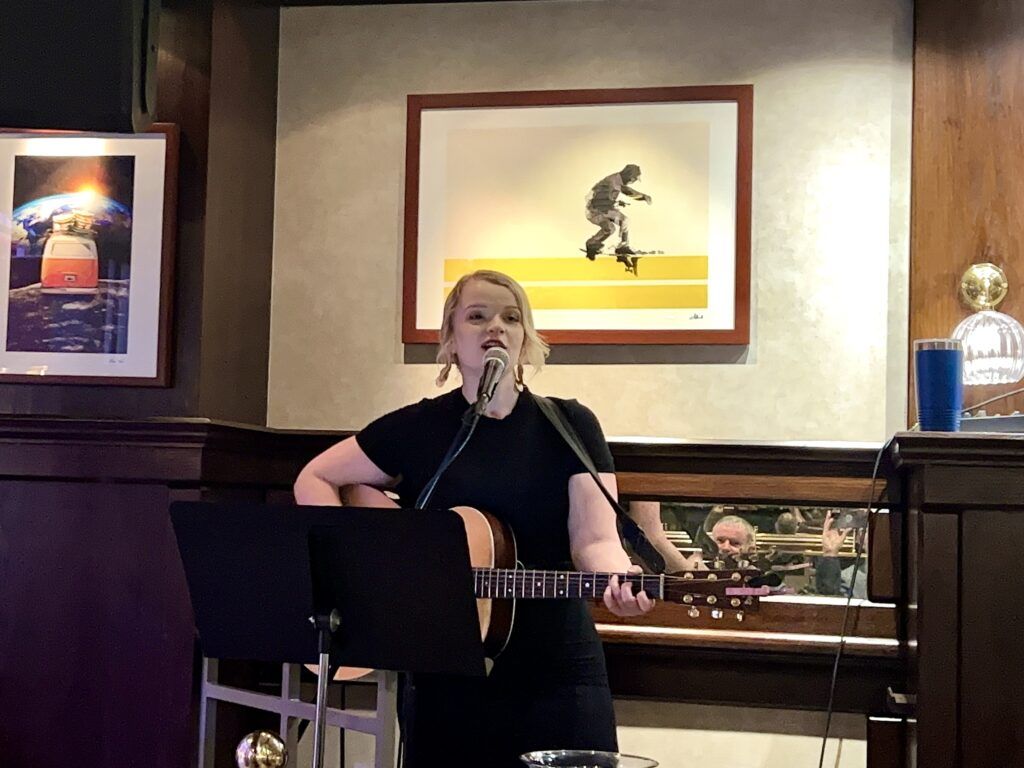 While our nephew headed off to bed, the rest of us rounded out the night with the Liar's Club in the Star Lounge. Even if this rendition was a bit different, it was still fun to watch.
Navigator of the Seas Mexican Riviera Cruise Review – Day 3
Merry Christmas
Day 3 of this Navigator of the Seas Mexican Riviera Cruise Review was Christmas! It was also our first port of call in Cabo San Lucas with an afternoon call of 12:30 PM. Our new tour was scheduled for 2:30 PM with a meeting time of 1 PM in the theater.
I was really hoping for some kind of "fancy breakfast" for Christmas morning, but alas, that was not the case. So, we met up with family around 9 AM for our nephew to open a few presents from us and Grammy, and headed off to the Windjammer.
After breakfast, we tagged along to the main theater where there was a Santa meet and greet happening. Basically, it was a photo-op, and Santa gave each child a small present. Who doesn't love a Royal Caribbean water bottle?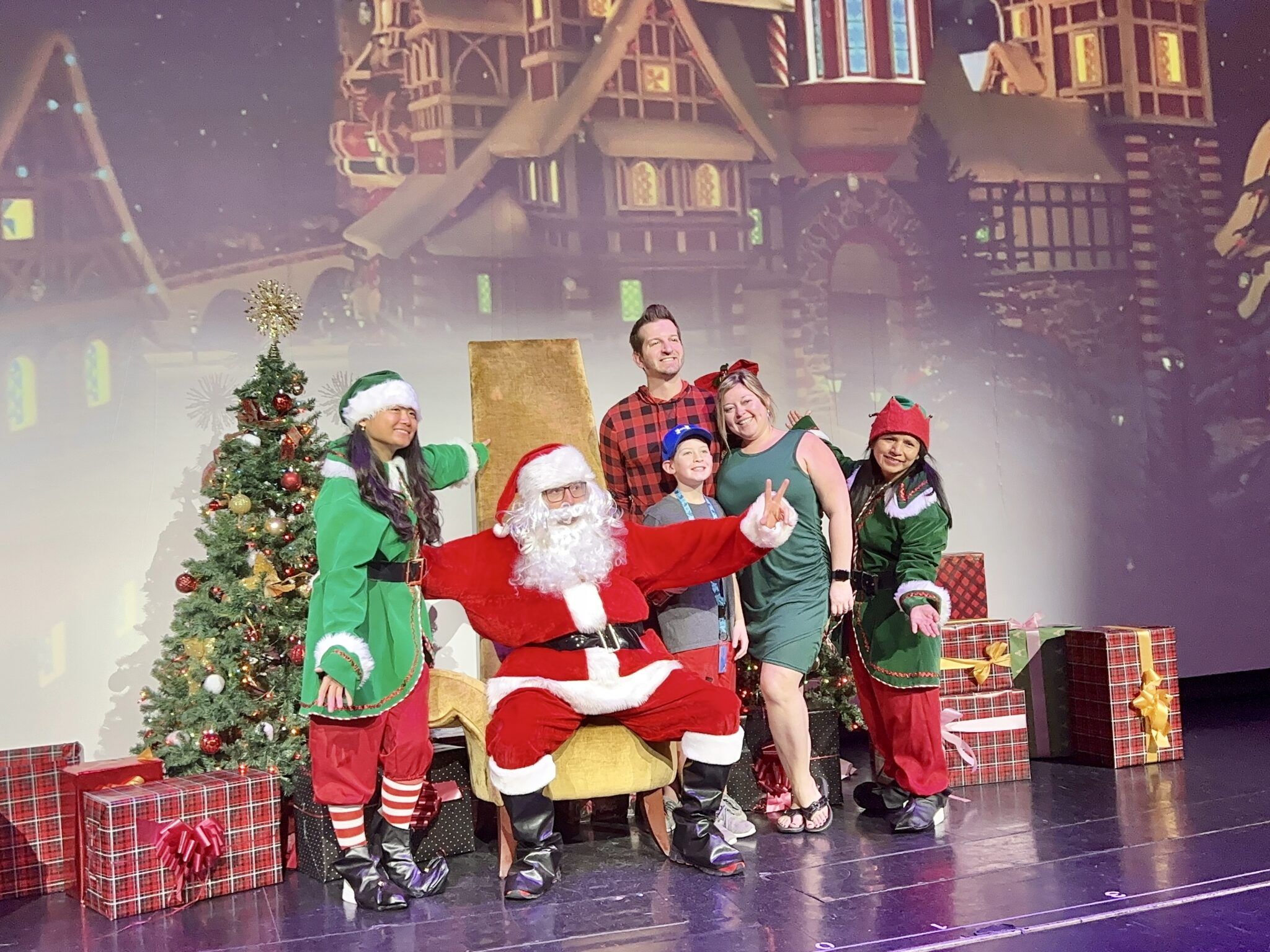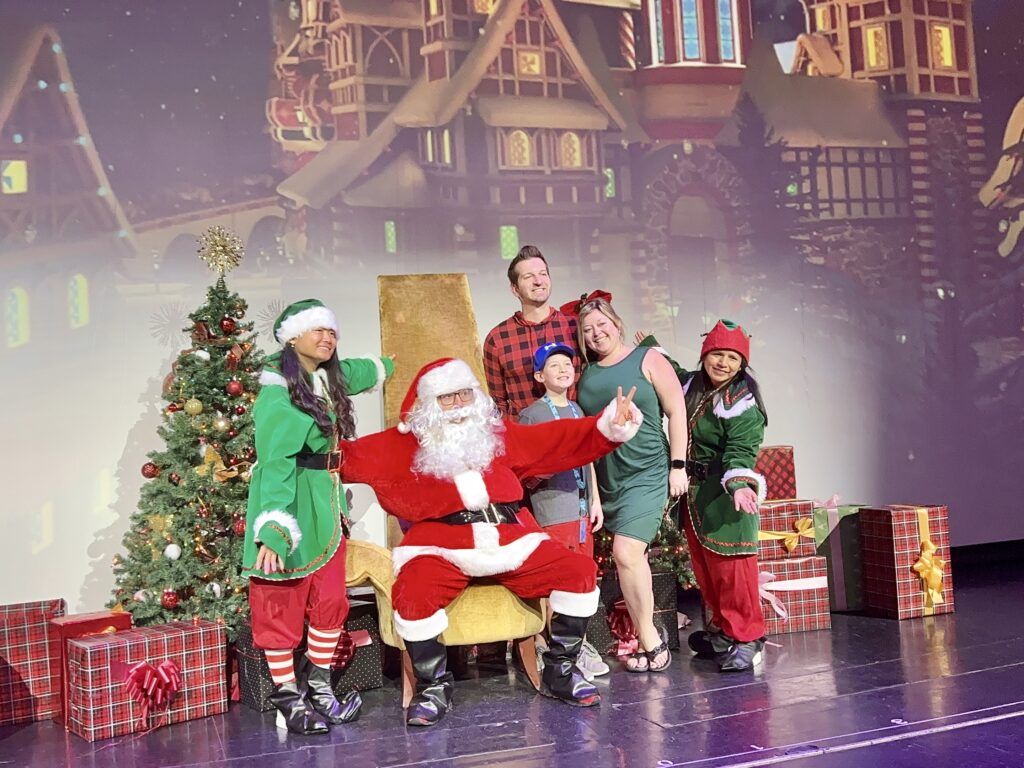 By now, it was around 11 AM, so we dispersed until tour time. We took a quick walk around the upper decks capturing some photos and videos of our approach to Cabo along the way. Norwegian Joy and a Carnival ship were joining us here today.
An Afternoon of Waiting
Meeting in the theater for 1 PM as indicated, it was over 30 minutes later when we were finally called to disembark the ship. The tender process itself was actually quick and efficient, taking only about 20 minutes to get to shore.
Arriving onshore, we checked in with our tour guide and continued to wait. It was actually after 3 PM when our tour finally started.
The excursion was honestly a bit lackluster for all the waiting. It essentially turned into a whale-watching tour. Nonetheless, we got some fresh air, an open bar, and views of the coastline and El Arco, along with some whale sightings.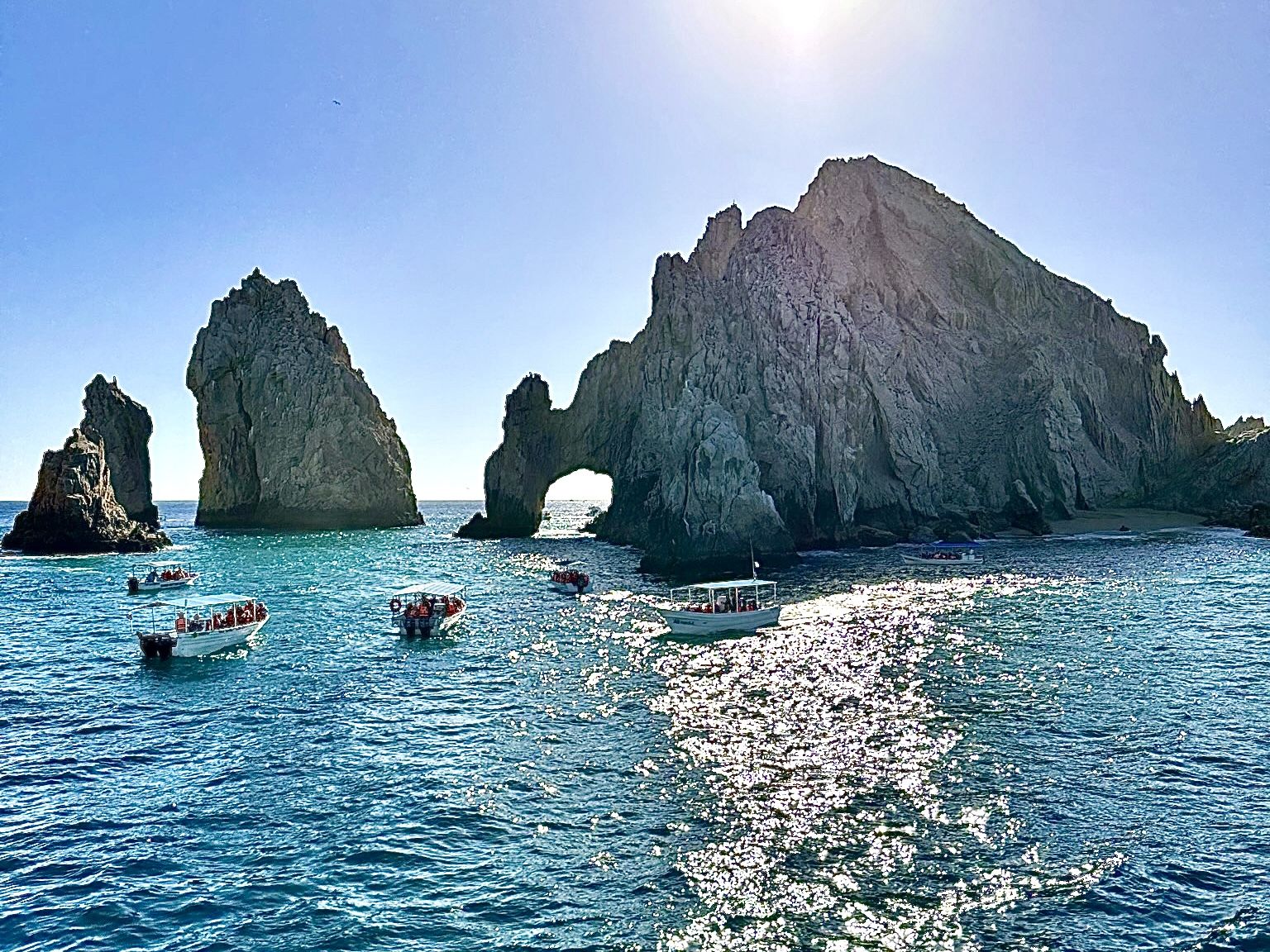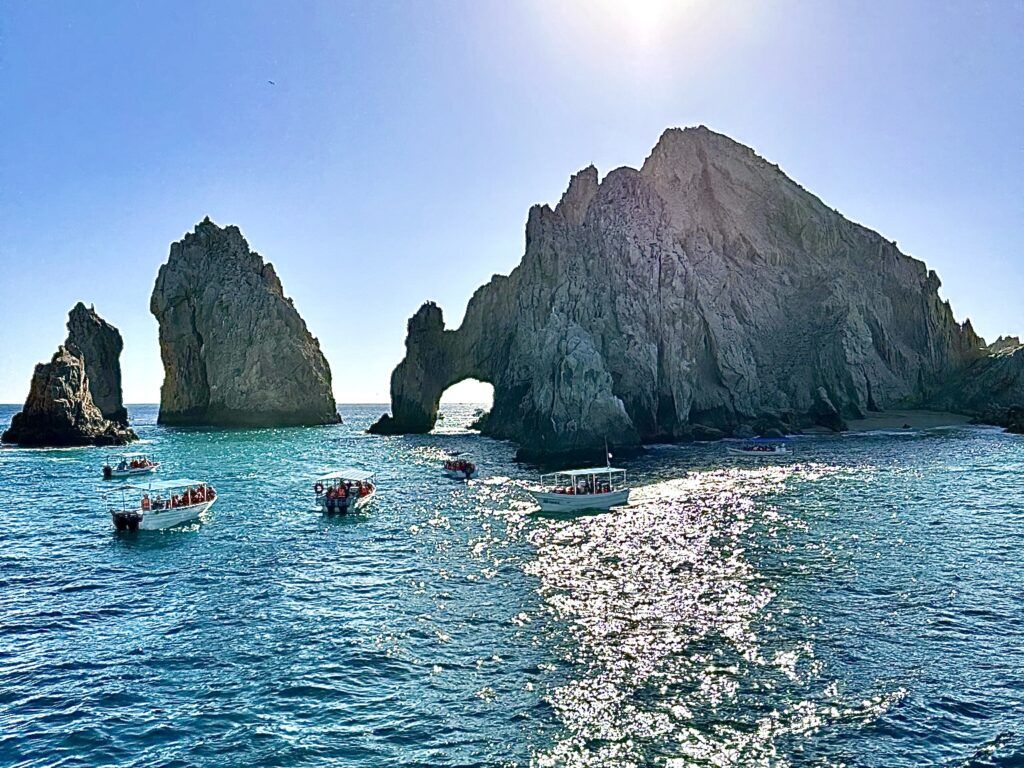 For what it's worth, the water was a bit rough, which didn't settle well with some family members. So, they might've felt even worse on a small sailboat.
When our tour returned to the pier shortly after 5 PM, myself, hubby, and mom got lucky to score a tender back to the ship with little waiting. Sis and her fam wandered the pier a bit more in search of a few souvenirs. Unfortunately, it ended up taking them over an hour to return to the ship.
A Christmas Feast
Knowing that our excursion would have us missing our 5:30 PM dinner, we booked a special Christmas dinner at Jamie's Italian pre-cruise. The only time available was 8:30 PM. When we inquired about moving the reservation earlier, we were told to just show up and they should be able to seat us.
So, we made a plan to meet for 7:30 PM in hopes of getting sat earlier.
Christmas Eve and Christmas Day dinner prices at Jamie's Italian and Chops Grille were a tad on the expensive side for this cruise. In retrospect, it shouldn't have been too much of a surprise when we arrived to a nearly empty restaurant.
This was fine by us though. The quiet restaurant meant we had great service during our Christmas feast. With the hefty price tag did come a special menu with champagne and a few exclusive items.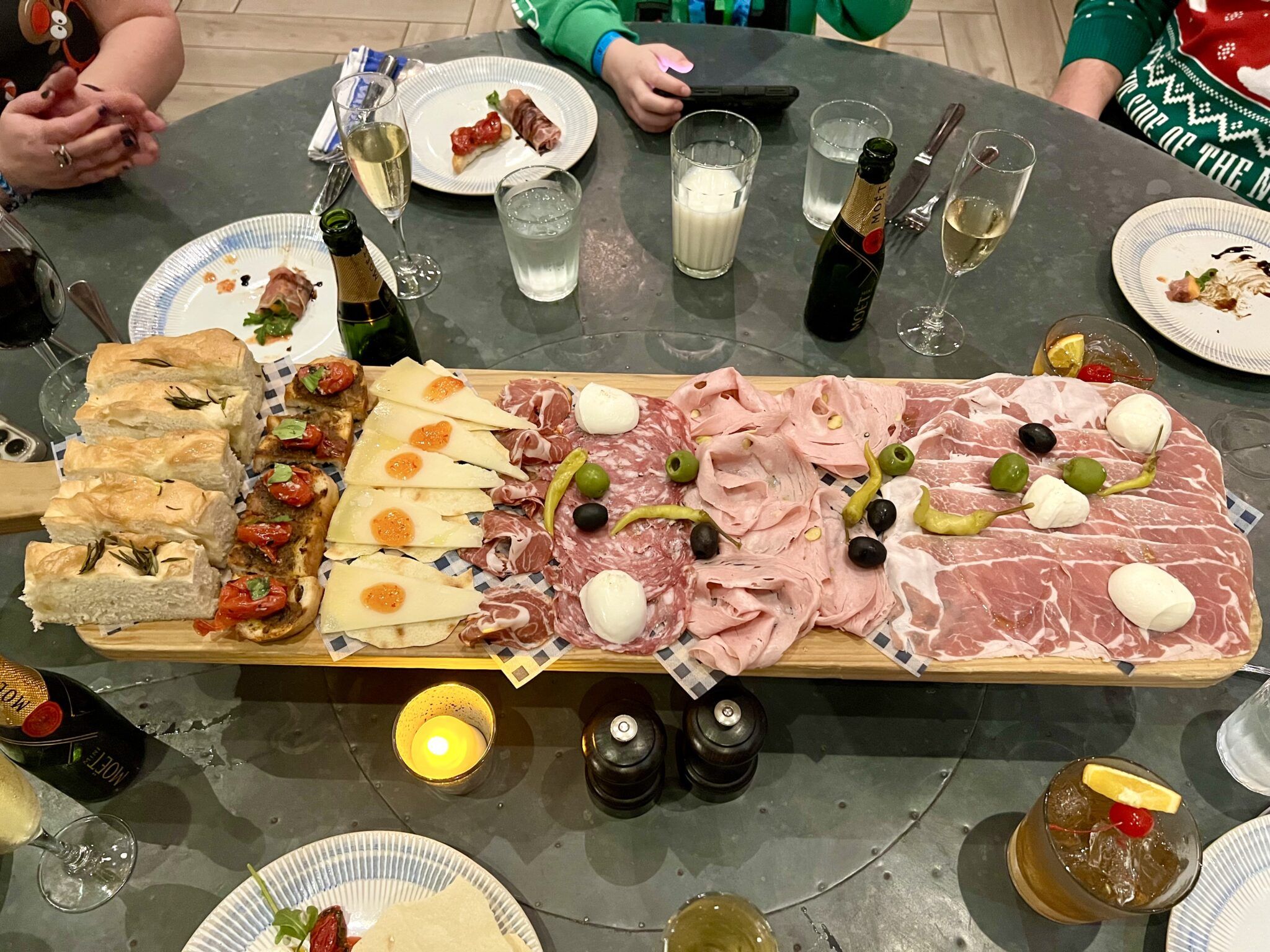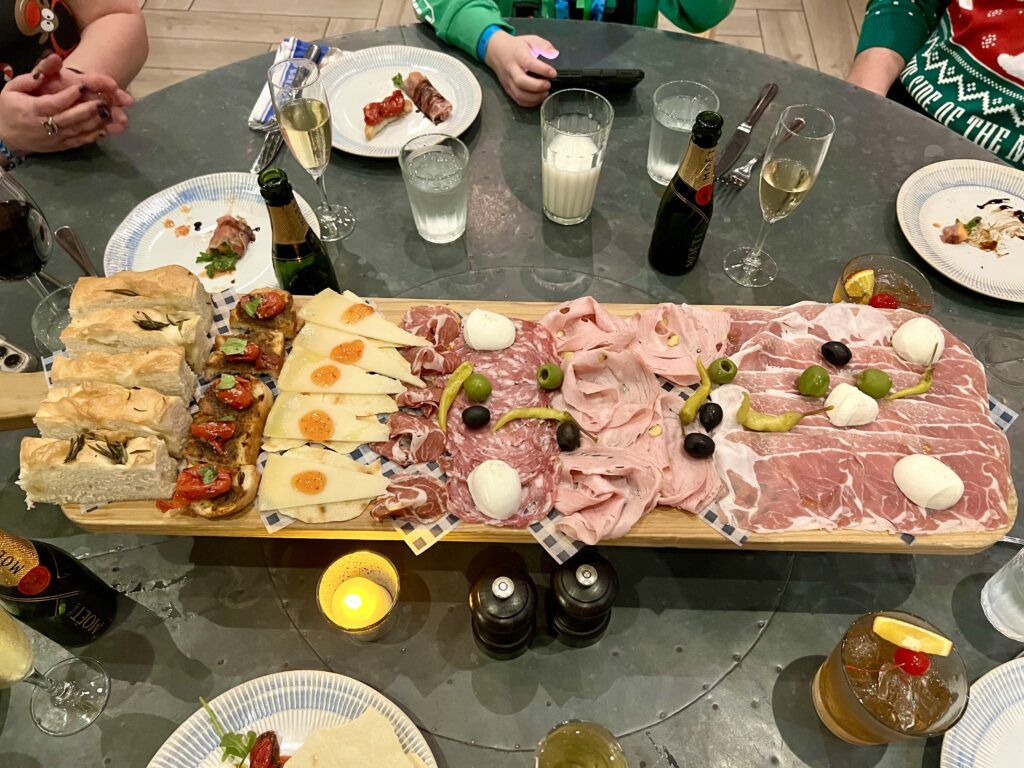 Our waiter decided that we should each choose an entrée, and he would then bring a sample of all the appetizers and all the pasta dishes for our table to share.
From the famous meat plank, to creamy burrata, calamari, arancini, and bruschetta, it was all delicious. So much so that we didn't know how we were going to fit in our clothes by the end of the week.
We continued the feast with various pasta selections, like the bolognese, creamy carbonara, truffle tagliatelle, and lobster linguine. This was in addition to our entrees- herby charred chicken and sticky chianti beef.
By now, we were all so stuffed that most of us couldn't even think about dessert. I had the ambitious plan of taking the Amalfi cheesecake to-go for later, but I never ended up eating it.
This Christmas dinner got two thumbs up from all of us, even our picky 10 year old nephew. Though, slipping into a food coma at this point, we all decided to call it a night after dinner.
Tomorrow was our second port of call in Mazatlan.
SCORE BIG ON NAVIGATOR OF THE SEAS SAILINGS TO MEXICO!
Navigator of the Seas Mexican Riviera Cruise Review – Day 4
Exploring More of Mexico
Day 4 of this Navigator of the Seas Mexican Riviera Cruise Review was our stop in Mazatlan. For today, our family decided on a combo tour that included part island tour and part Stone Island beach break. Arriving at 8 AM, our tour had a meeting time of 9:30 AM.
Heading ashore around 9 AM, we briefly strolled the nearby shops before being escorted off on our tour. For this 6-hour excursion booked through Shore Excursions Group, our party of 6 ended up getting our own small van and personal tour guide, Alfonso.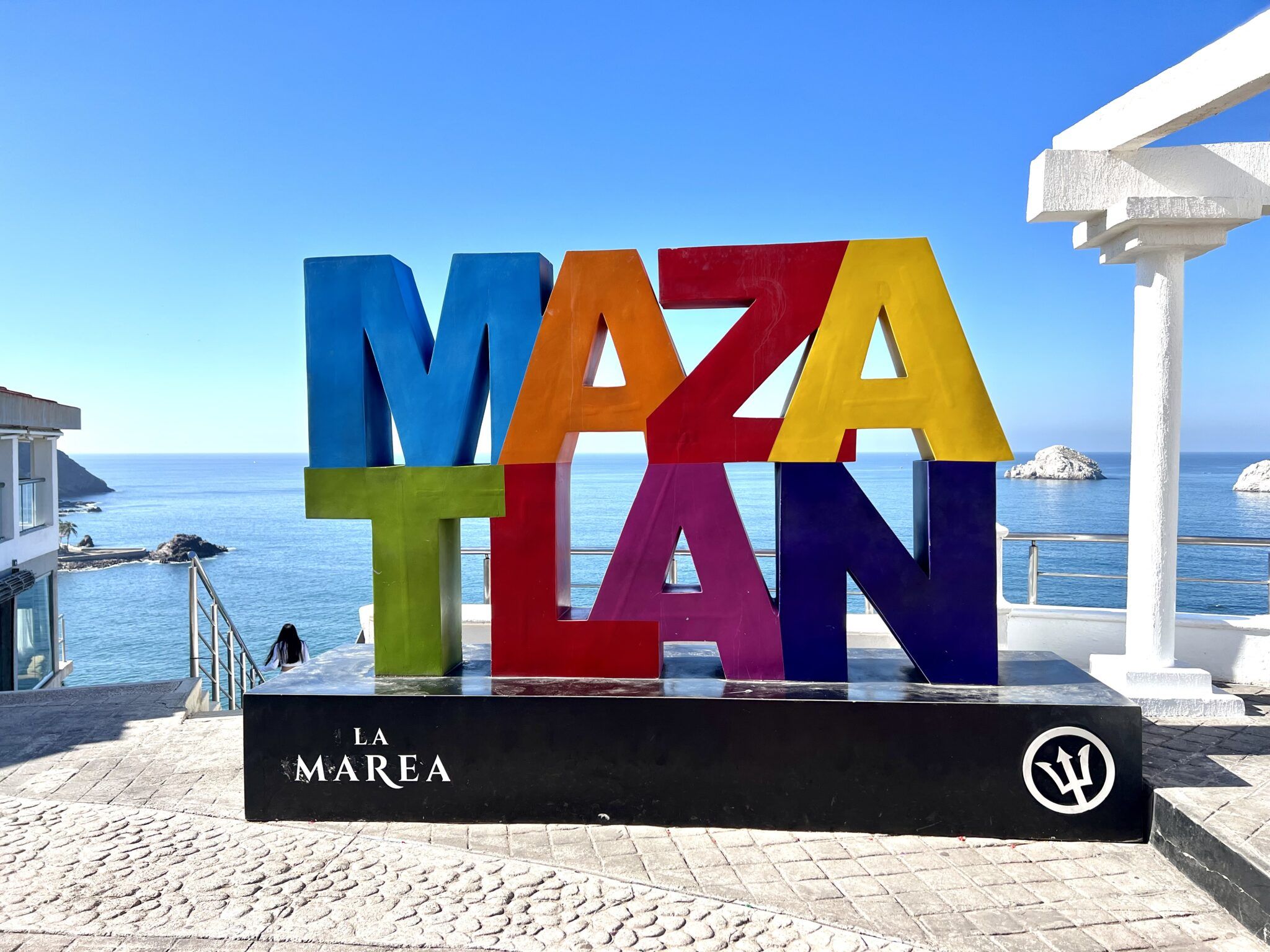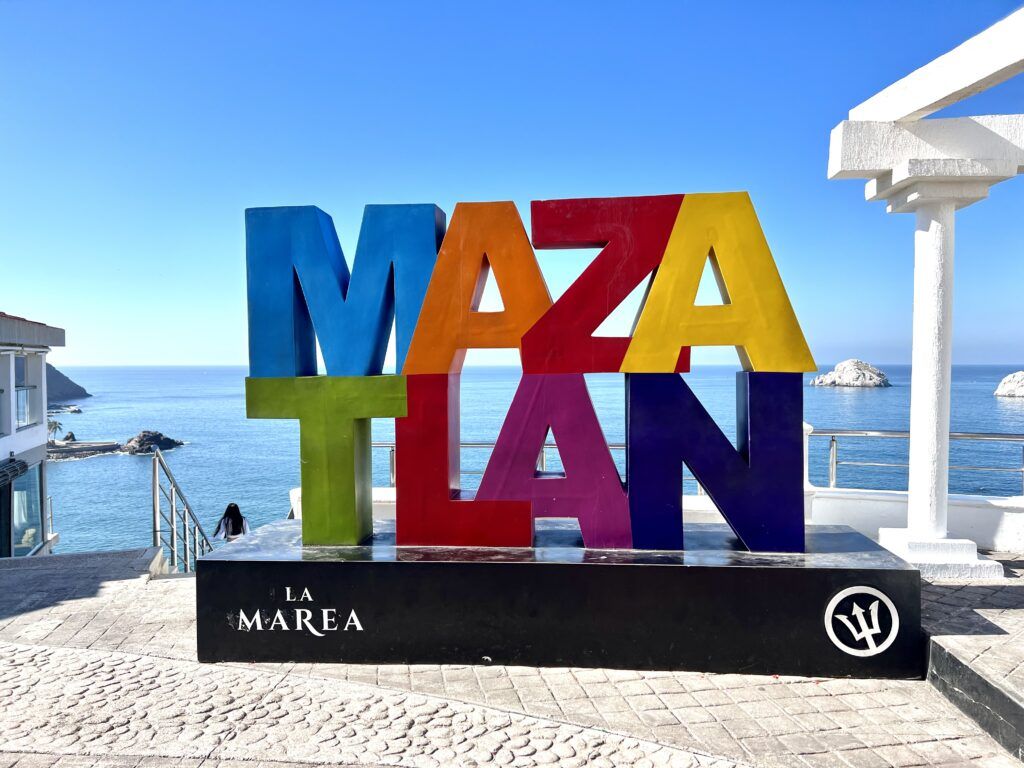 Our first stop on this approximately 90-minute tour of Old Mazatlan was the Old Spanish Fort. Here, we got some beautiful panoramic vistas of the area including the lighthouse.
Next up was a stop to watch the famed cliff divers. These daredevils plunge 45 feet into water less than 8 feet deep.
Our third stop was near Machado Square at the Cathedral built in the late 1800's. Securing a couple photos of this structure, our tour continued through the seafood market back to the pier to board a boat over to Stone Island.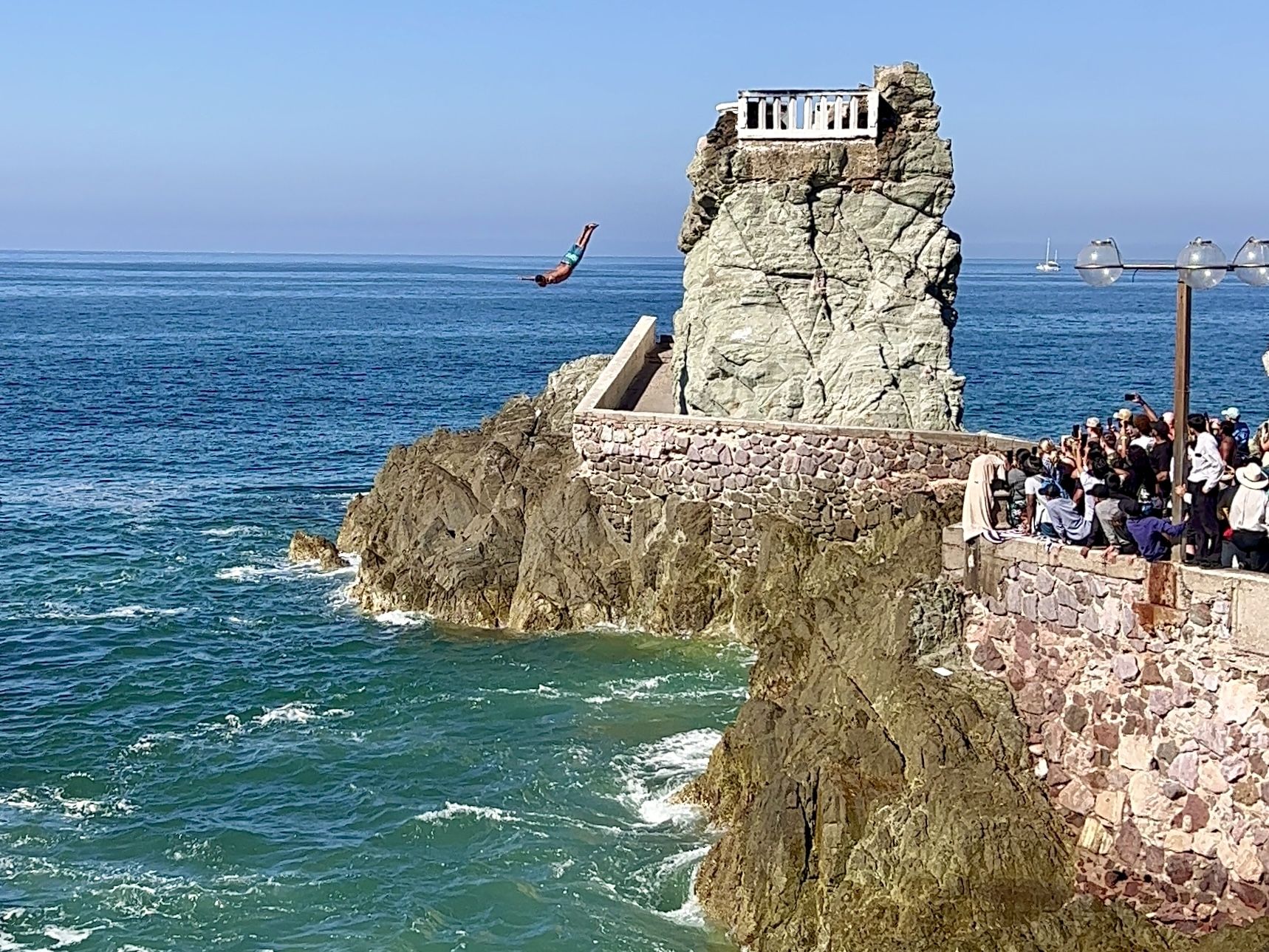 Since we missed the larger transport vessel, we were loaded into a small motorized fishing boat that jetted off to the island.
During our 3.5 hours here, we could enjoy a limited open bar, lunch, and select activities.
Since none of us were up for a banana boat ride or a horseback ride, we traded in our activity tickets for a coconut drink. This was more our style!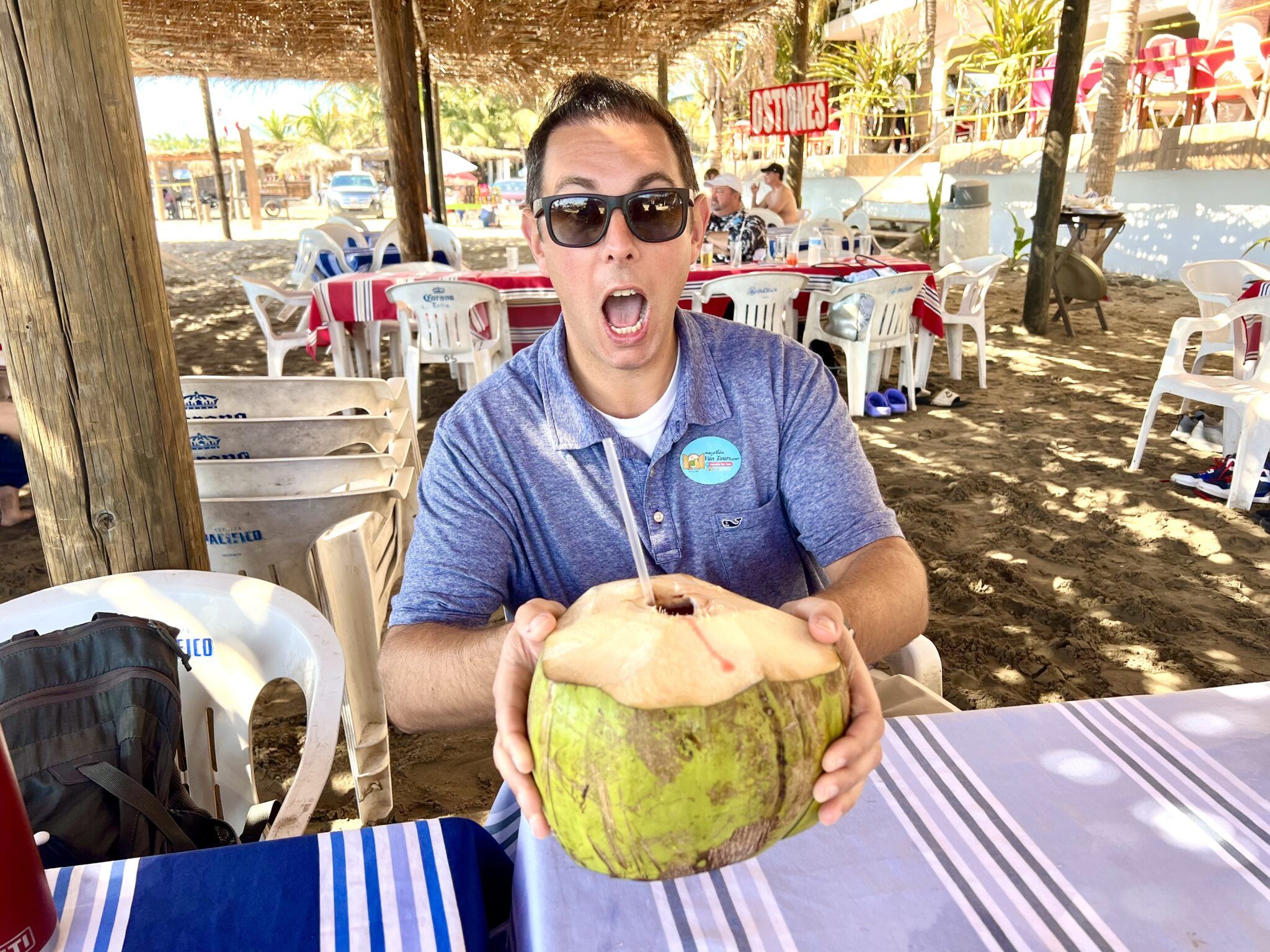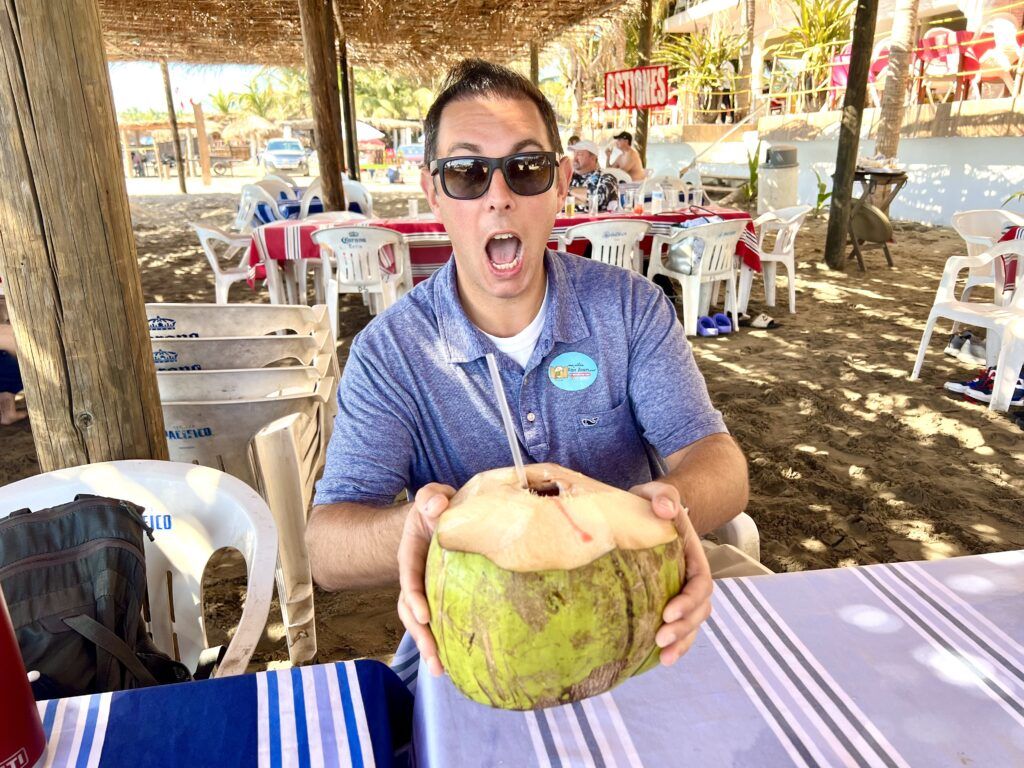 The downside was that this particular beach club did not have any lounge chairs. Thus, we set up shop at a table with chairs. Enjoying the weather, the chilly water, and some lunch, we relaxed until our 3 PM departure time.
Back to Our Scheduled Programming
With a quick ride back to the ship, we were onboard by 3:30 PM. This gave us enough time to grab an afternoon coffee then shower up for dinner.
Tonight, we were back in the main dining room. The menu consisted of options like chicken cordon bleu, Asian pork tacos, and lamb chops. Each of the items we sampled were on par with typical MDR experiences.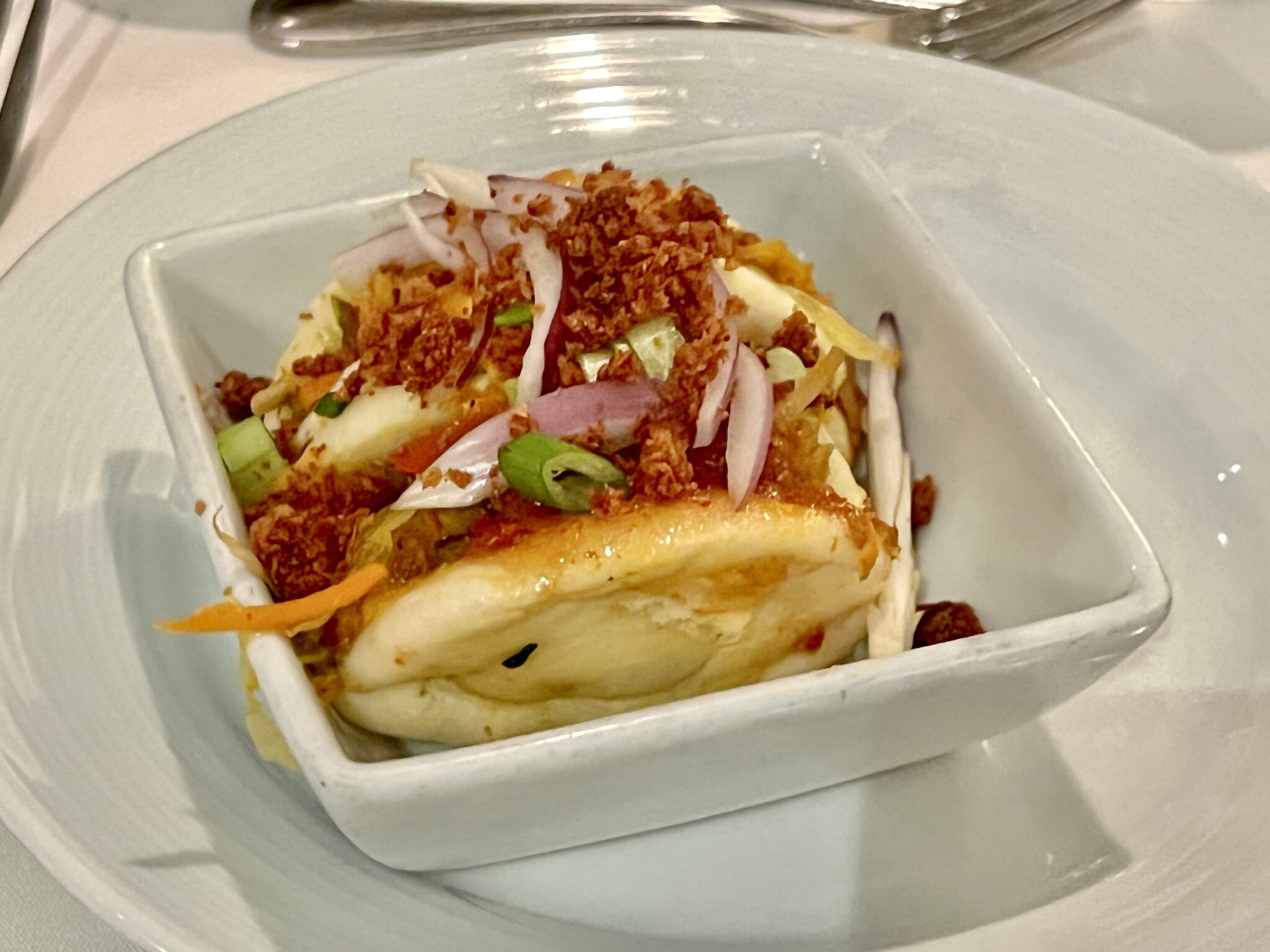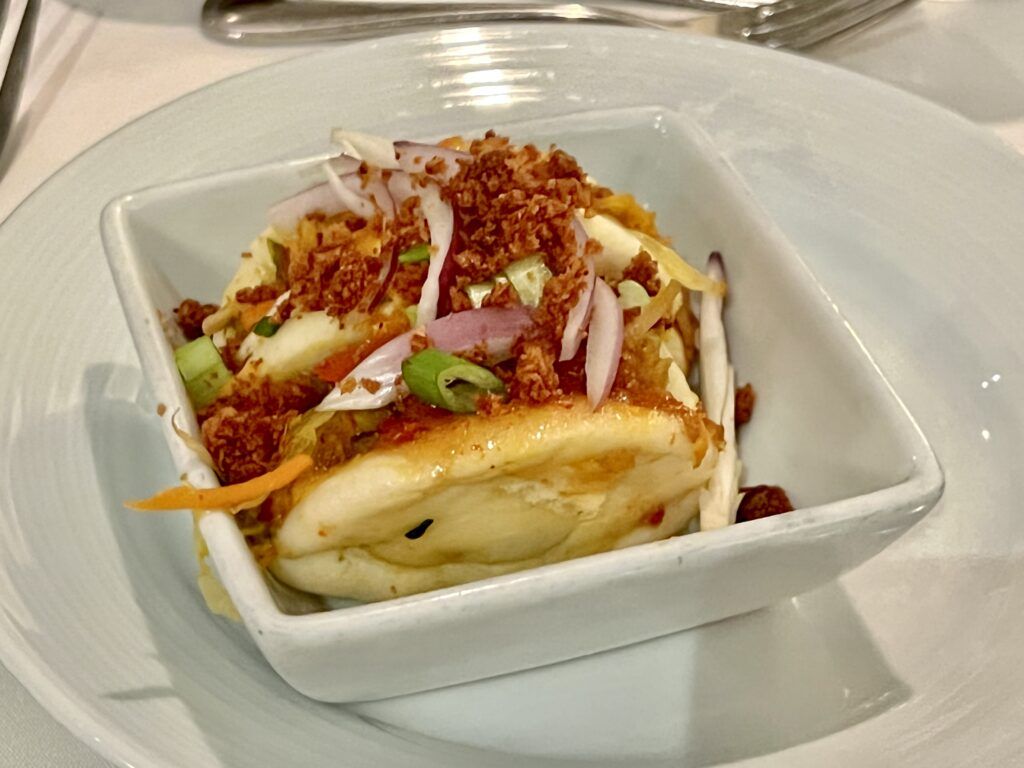 With about an hour to kill before the game show in the Star Lounge, we decided to go check out our professional photos at the Photo Gallery on Deck 3. We also popped into Playmaker's to catch a bit of the Monday night football games.
The Rock the Room game show was essentially an interactive version of music trivia. While we didn't formally participate, we played along on the sidelines.
Following this event, we all went our separate ways. For us, this meant we headed to the theater for Ballroom Fever.
Ballroom Fever was tonight's revue show featuring the Royal Caribbean singers and dancers. After sailing on some of the newest cruise ships in the fleet with wonderful production shows, this did fall a bit short.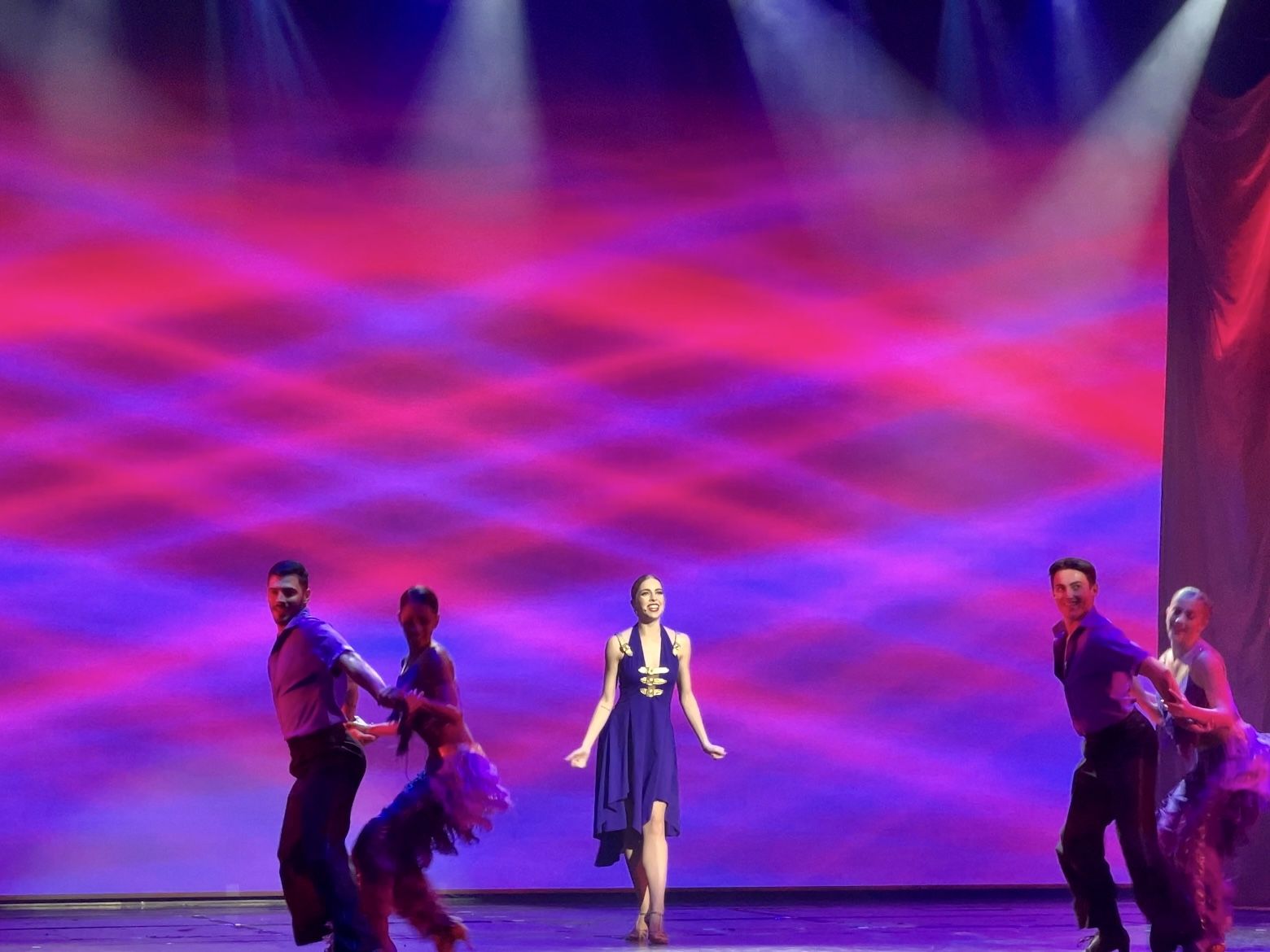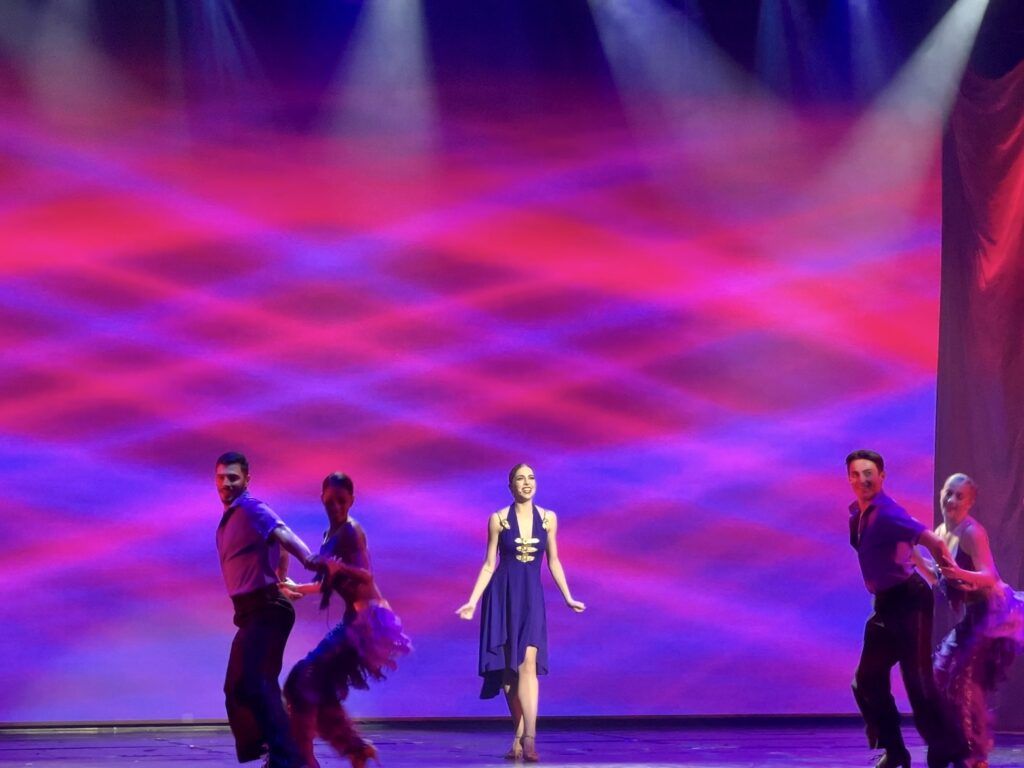 While we debated meeting back up with family for the 70's party in the promenade after the show, all our recent travels had caught up with us. We were exhausted and wanted to rest up for our final excursion in Puerto Vallarta tomorrow as we were really looking forward to this one.
Further, we were losing ANOTHER hour of sleep tonight.
Navigator of the Seas Mexican Riviera Cruise Review – Day 5
Who's Ready For Some Fun?
Day 5 of this Navigator of the Seas Mexican Riviera Cruise Review was our final port of call in Puerto Vallarta. Today, we had an off-roading Razr adventure booked.
With the clocks turned an extra hour forward, we made a plan to disembark the ship by 8:45 AM. Our tour was booked with a local vendor, so we had a bit of a walk to find the meeting spot.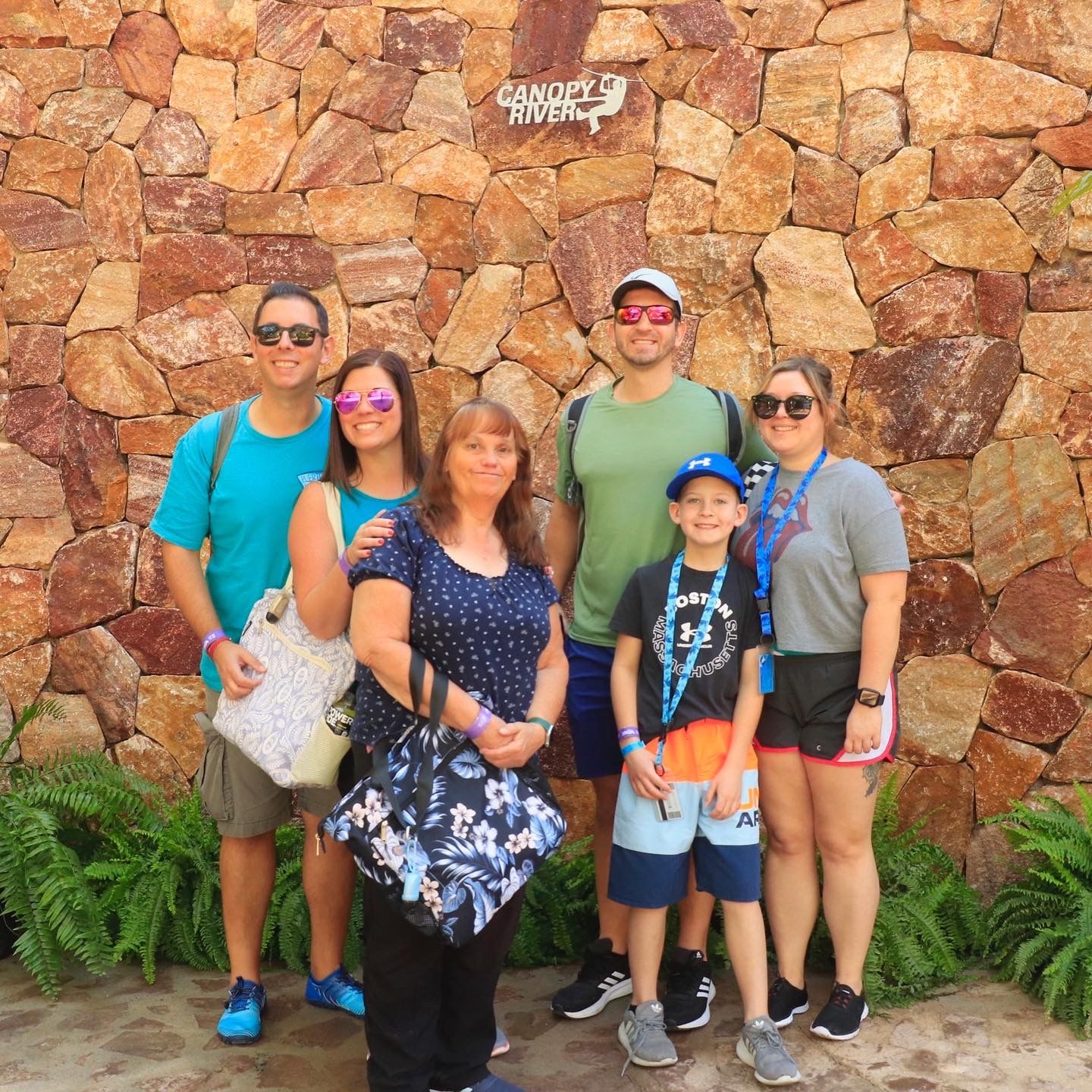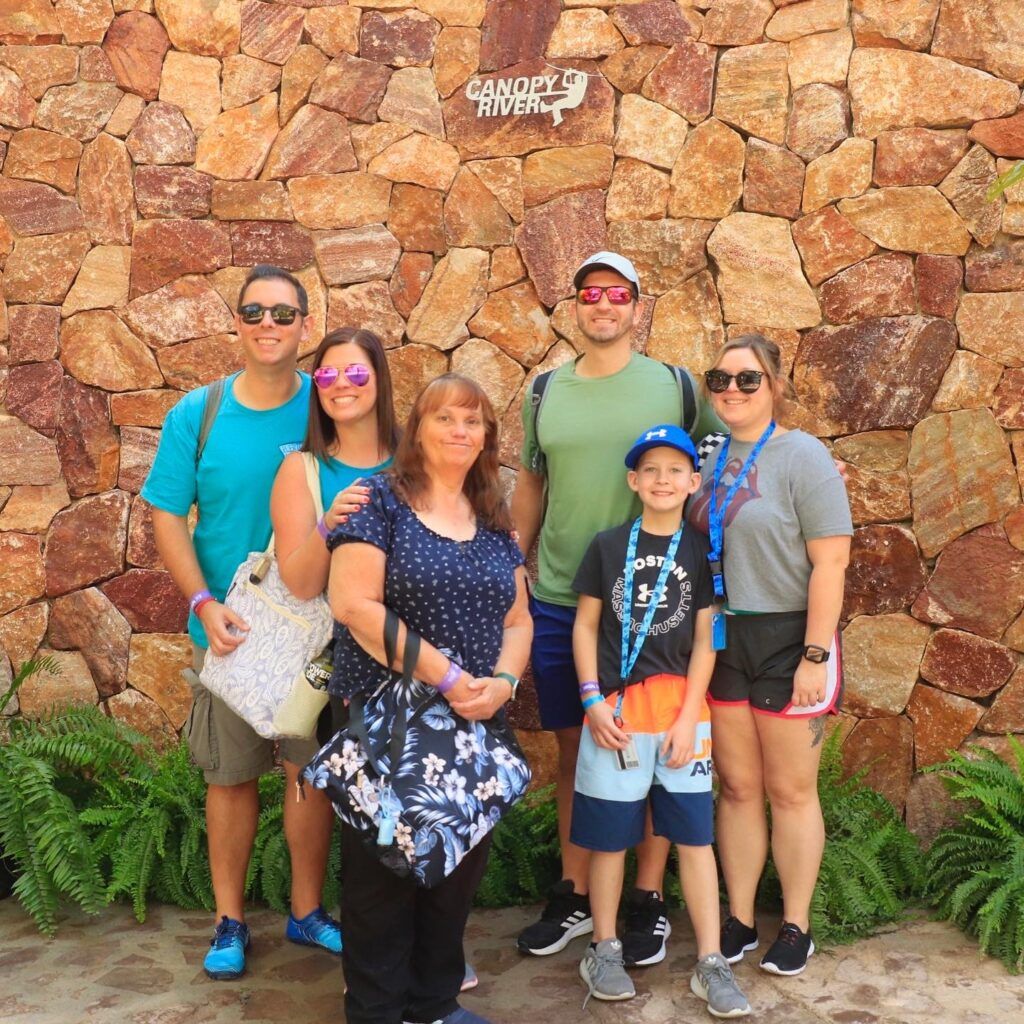 While the directions were a little more confusing than they should have been, we arrived at the small Canopy River office by 9:30 AM. With a long line of fellow tour-goers also waiting to check-in, we boarded an open-air bus for the drive to the Sierra Madre Mountains around 10:15 AM.
About 45 minutes later, we arrived at the base camp. Soon after, we broke off into groups and prepped for our adventure. The Razr vehicles were either 2-person or 4-person. So, we took our own car, while the rest of the fam went in another one.
During this approximately 1.5 hour drive, we got down and dirty traversing the desert-like terrain. It was actually more thrilling than we expected, full of dust, windy paths, lots of bumps, and even a drive over a suspension bridge.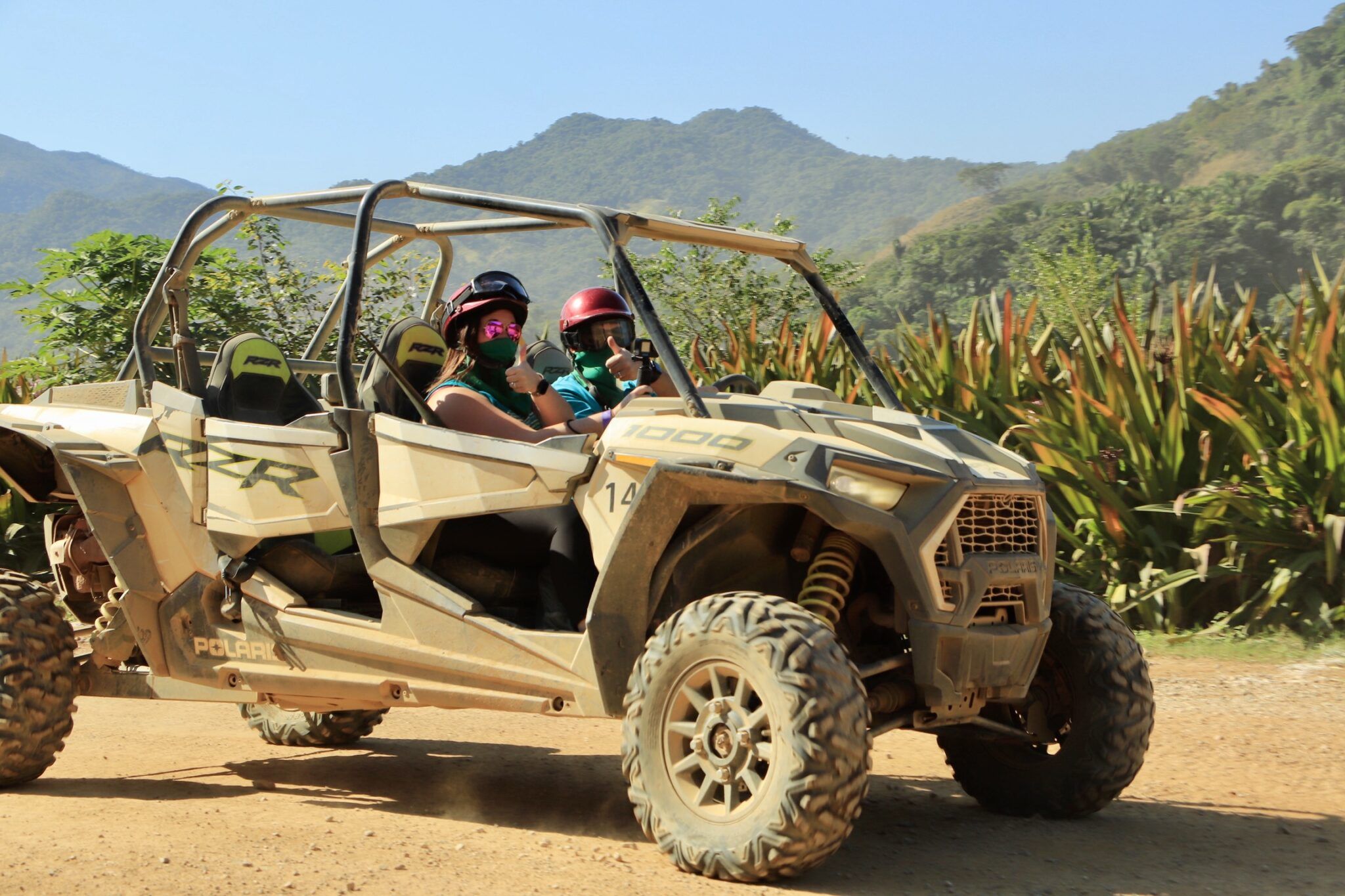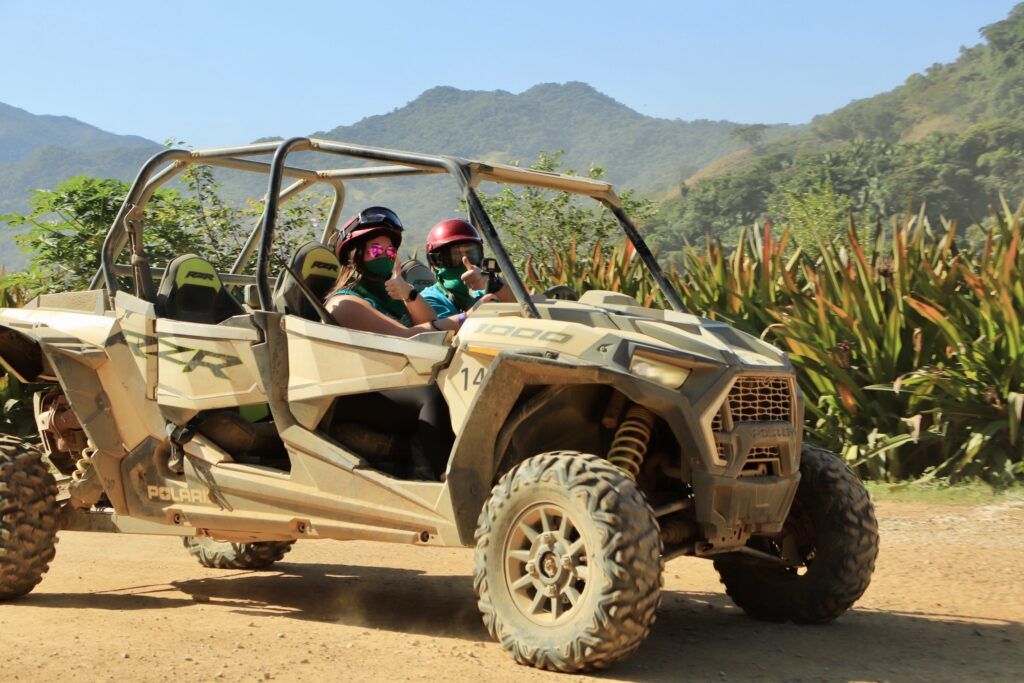 Our caravan made one stop along the way, about 40 minutes into the tour, at the El Salto waterfall. There was a pretty steep hike down to the waterfall, which was a bit anti-climatic. We had about 20 minutes here to take a dip or jump from the waterfall before making our trek back.
Back at the ranch, we had about an hour for lunch, drinks, and to view our professional photos of the tour. Of course, we had to purchase them, along with a Mexican lunch.
After a fun-filled day, our bus back to the port finally departed around 2:30 PM. If you are visiting Puerto Vallarta, we would highly recommend this tour!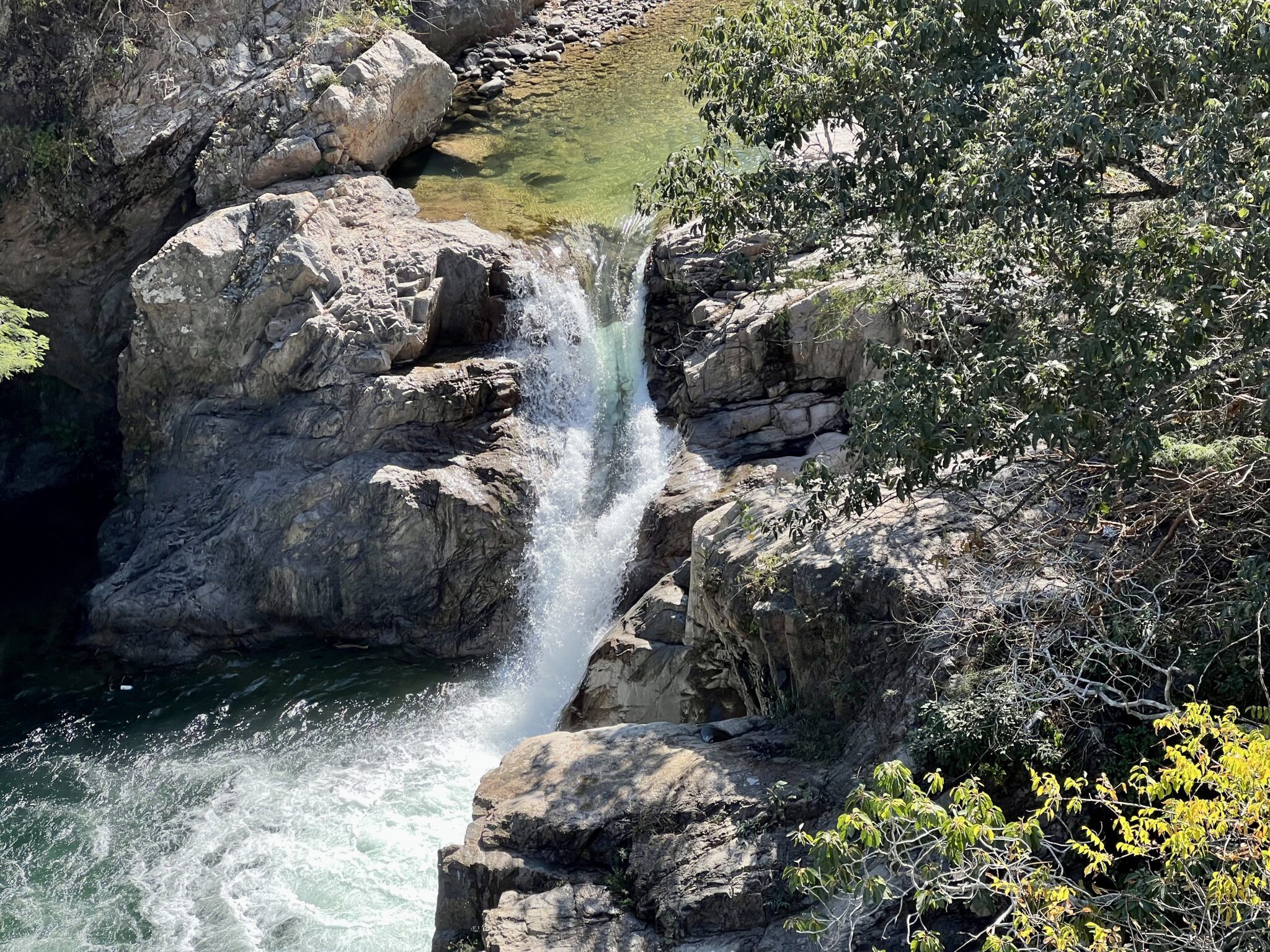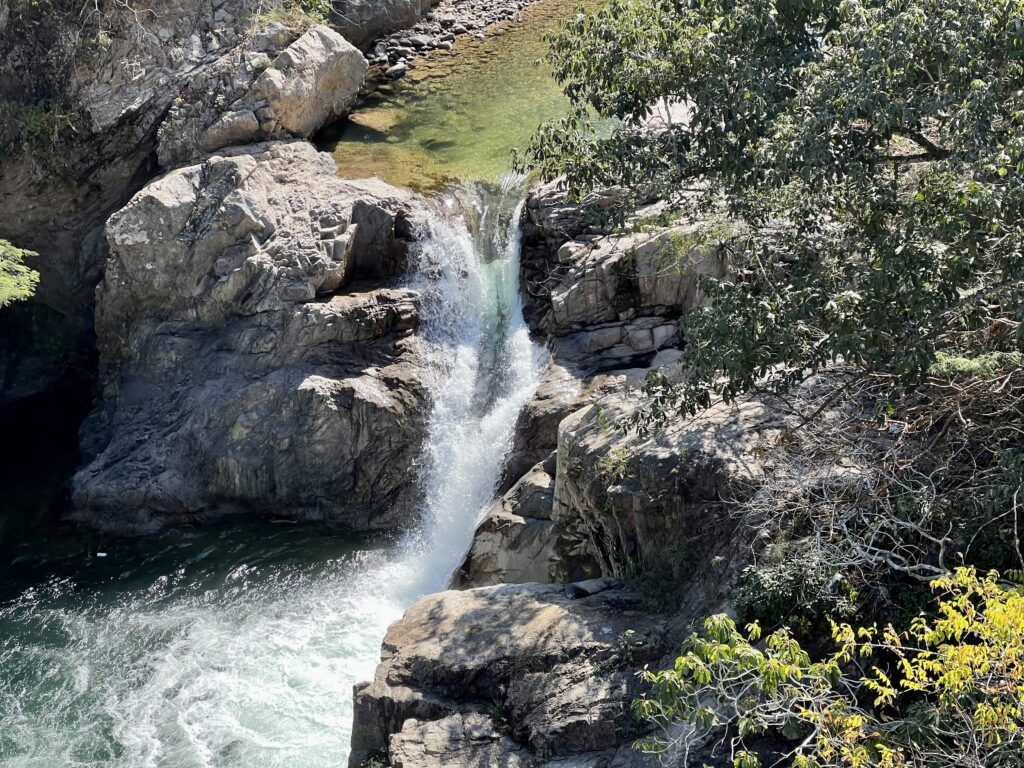 With the additional time it took to walk back to the ship, we were back onboard around 4 PM for our much needed afternoon coffee. This gave us little time to relax before showering up for dinner. But, it was a much needed shower after riding around in the dirt all day.
Our Usual Evening Routine
On the menu tonight in the MDR was baked potato soup, Moroccan spiced ahi tuna, and bananas foster among other items.
Given our early dinner, we always ended up with about an hour of free time before heading to the game show in the Star Lounge, followed by the evening's production show at 9:15 PM. Thus, we opted for some after-dinner espresso martinis at the R Bar before attending Finish That Lyric.
While our nephew called it a night after the game show, the rest of us continued on to Studio B for iSkate. This performance had less of a storyline and focused more on the performers themselves.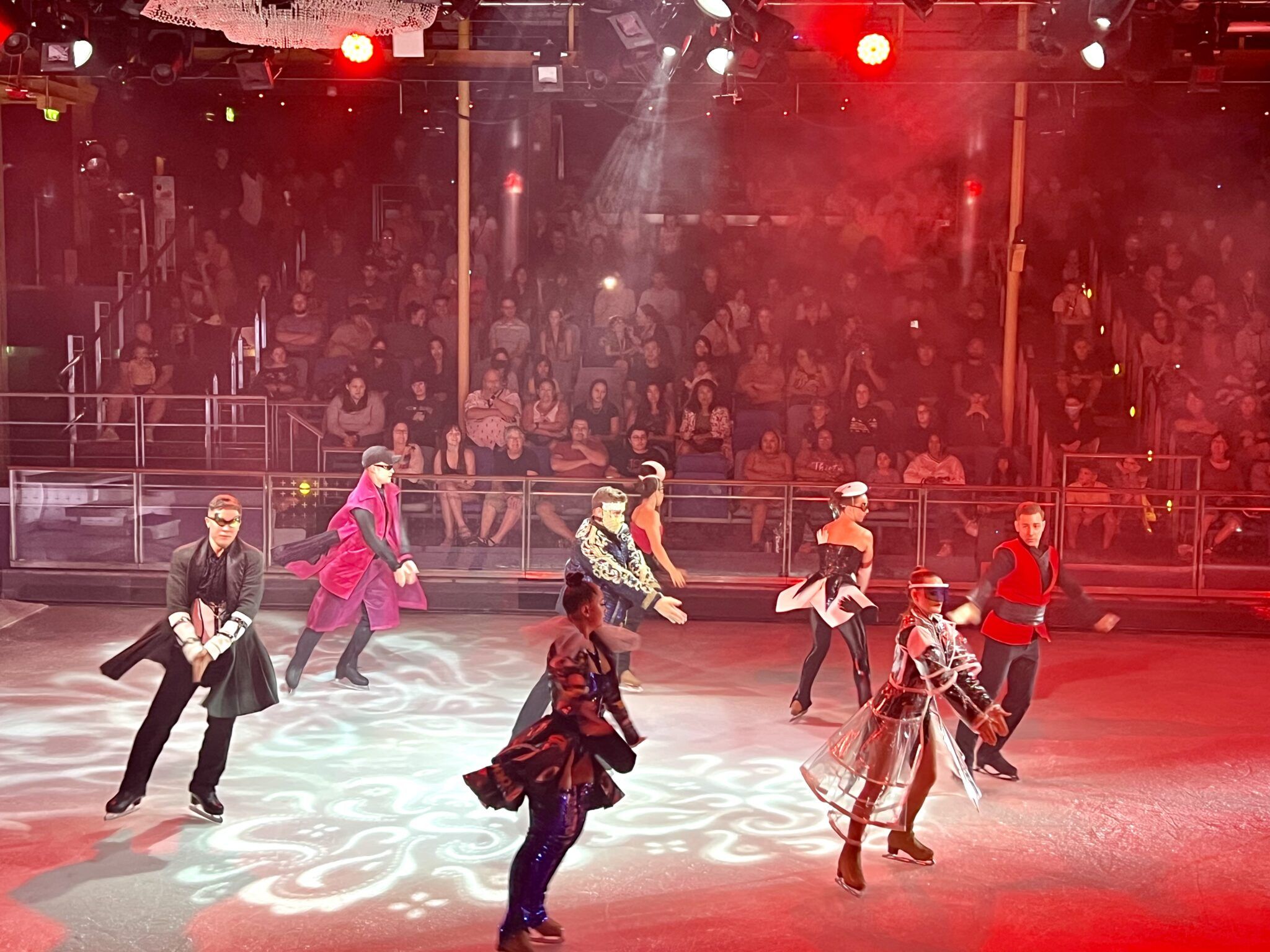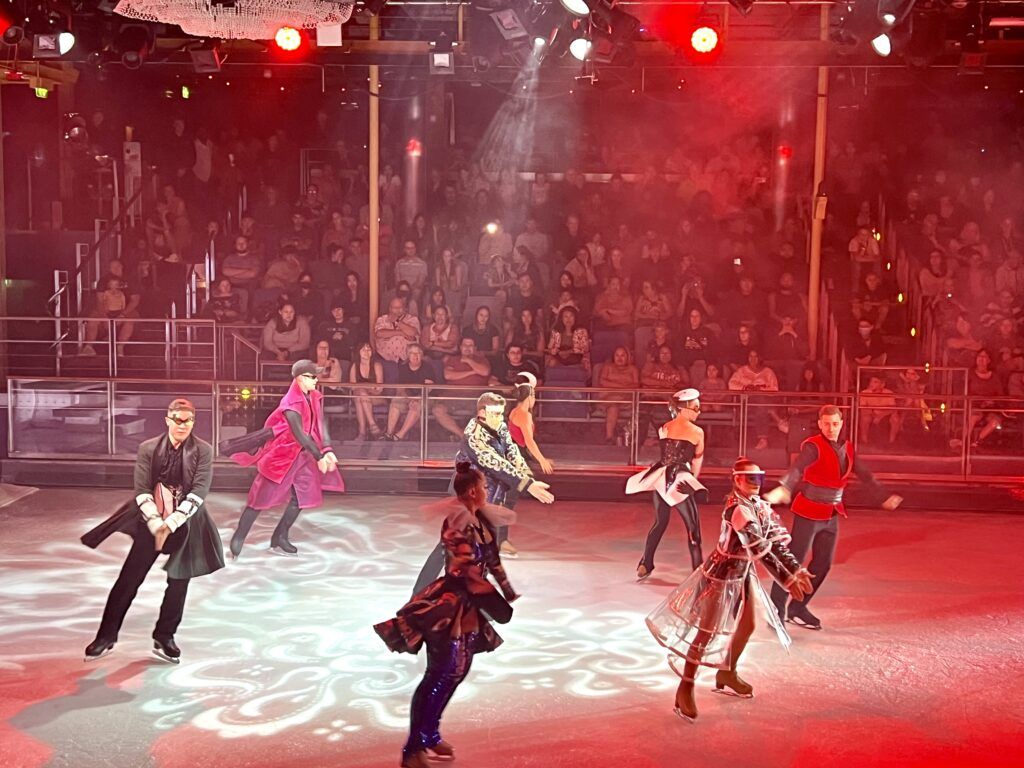 We always enjoy the ice skating shows, but sis and her hubby weren't as fond of it as we were. The Love and Marriage show in the theater that immediately followed was more their style.
This rendition was actually one of the funnier Love and Marriage shows that we have seen in a while. From the auditions, to the hilarious answers from the couples, to the gentle nudging from the Cruise Director Thiago, this show lasted much longer than usual.
Putting us close to midnight, we all decided to call it a night.
The next two days were sea days and we were gaining back an hour of sleep each night to get us back on West Coast time by our arrival Friday morning.
Navigator of the Seas Mexican Riviera Cruise Review – Day 6
We're Not in Mexico Anymore
Day 6 of this Navigator of the Seas Mexican Riviera Cruise Review was our second sea day of the cruise. Gaining an extra hour, we still slept in until about 8 AM.
Today, there was brunch in the main dining room, so we made a plan to meet for 10 AM. I think everyone else had the same idea! The Deck 3 MDR was busy, and service was slow as a result. Brunch took about 2 hours, but I still say it was worth it.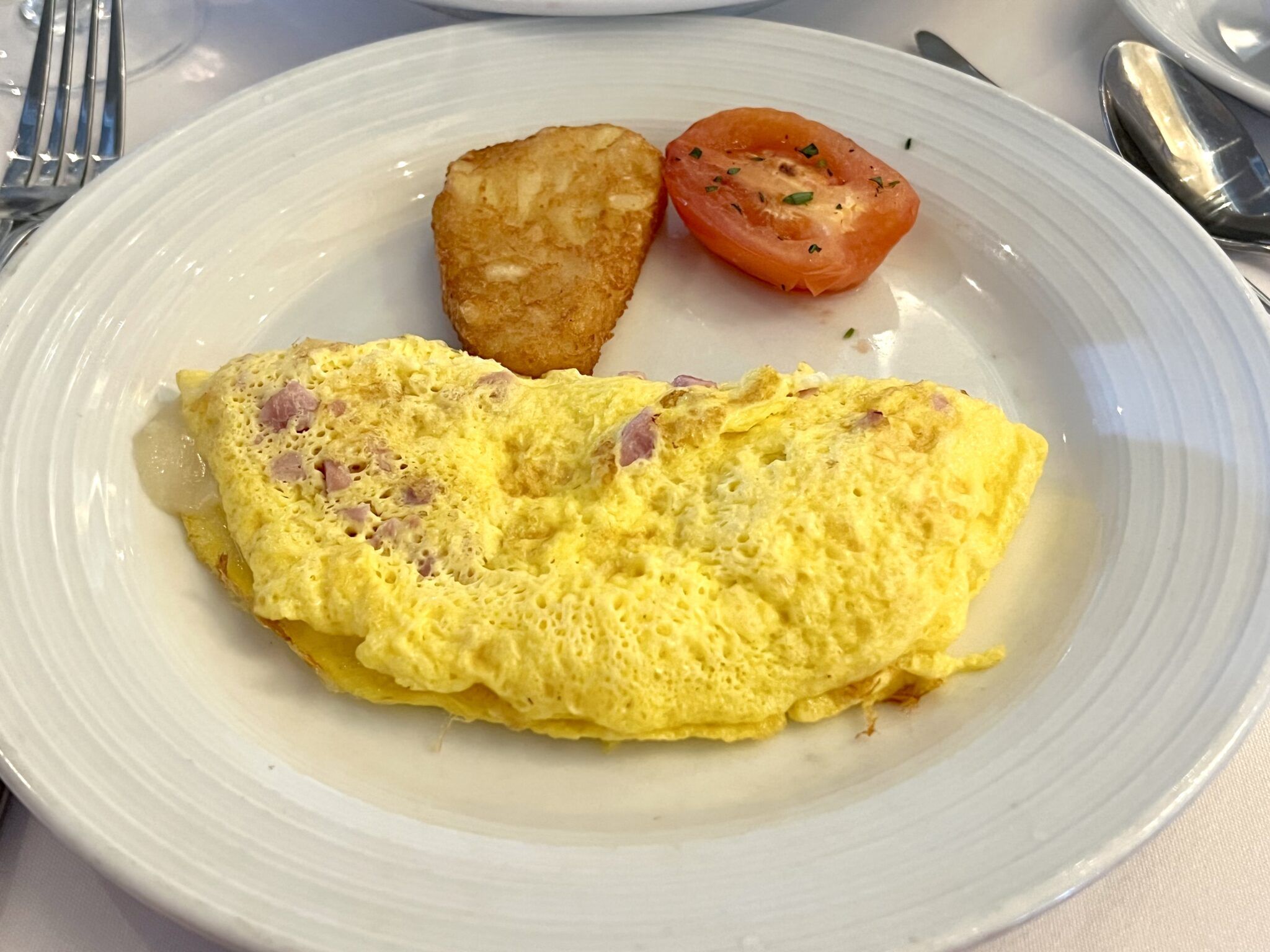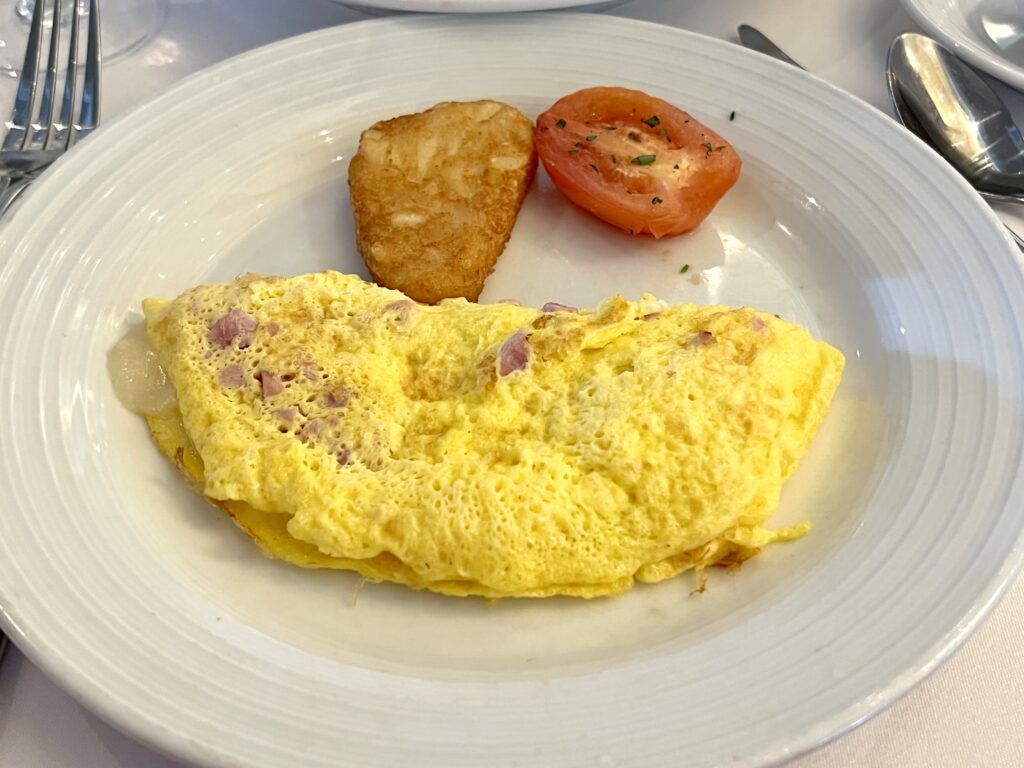 The food quality was definitely better than what we had eaten previous mornings in the Windjammer. Most of us opted for omelets or eggs your way alongside some French toast. Our nephew also really enjoyed the chocolate chip pancakes.
With not much else on the agenda for the day, we decided to head outside. Even though it was windy, the pool deck was still quite crowded. After a few laps around the walking track, we settled on some loungers up on Deck 13 near the Navigator Dunes.
Despite our hopes of spending time outdoors, playing some mini-golf, and riding the waterslides these last two sea days, the weather had other plans for us. Ultimately, the wind made it too cold, so we had to head back indoors.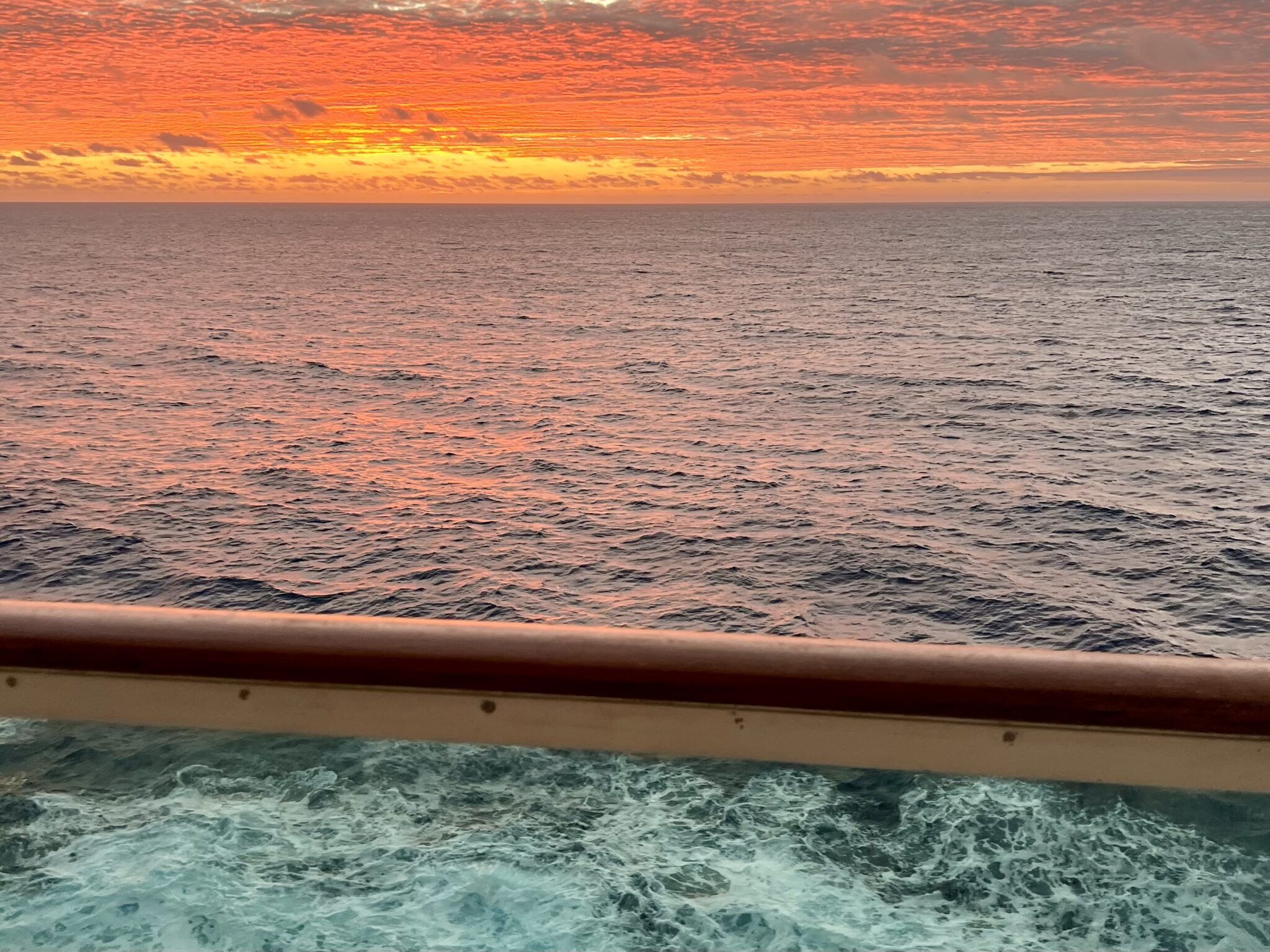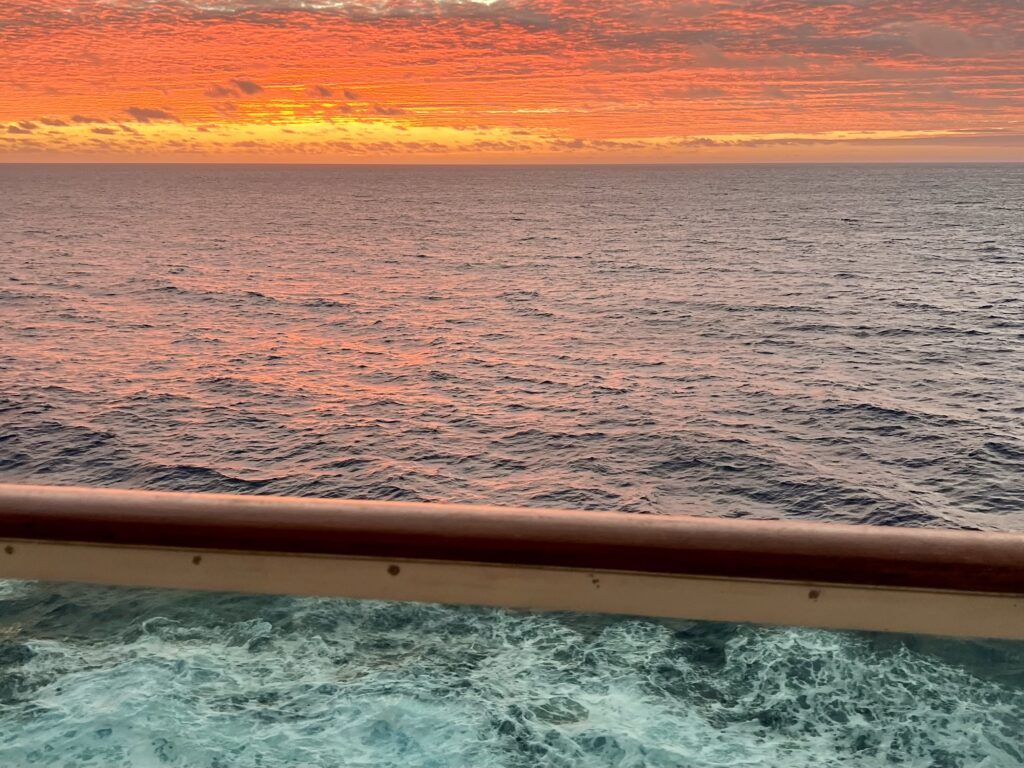 Instead, we grabbed an afternoon coffee and went back to the cabin. It was less windy and much warmer on the balcony. So, we essentially spent the rest of the afternoon here until it was time to change up for the second formal night of the cruise.
It's Formal Night
Ready for 5 PM, it was time for our family to redeem themselves with some better formal night portraits. Posing at three different stations again tonight, we arrived to the MDR a few minutes late.
It was lobster night! Of course, I don't eat lobster, nor does my mom or sister. Still, our table consisted of various selections from the vidalia onion tart, minestrone soup, beef tenderloin, lobster, baked Alaska, and molten chocolate cake.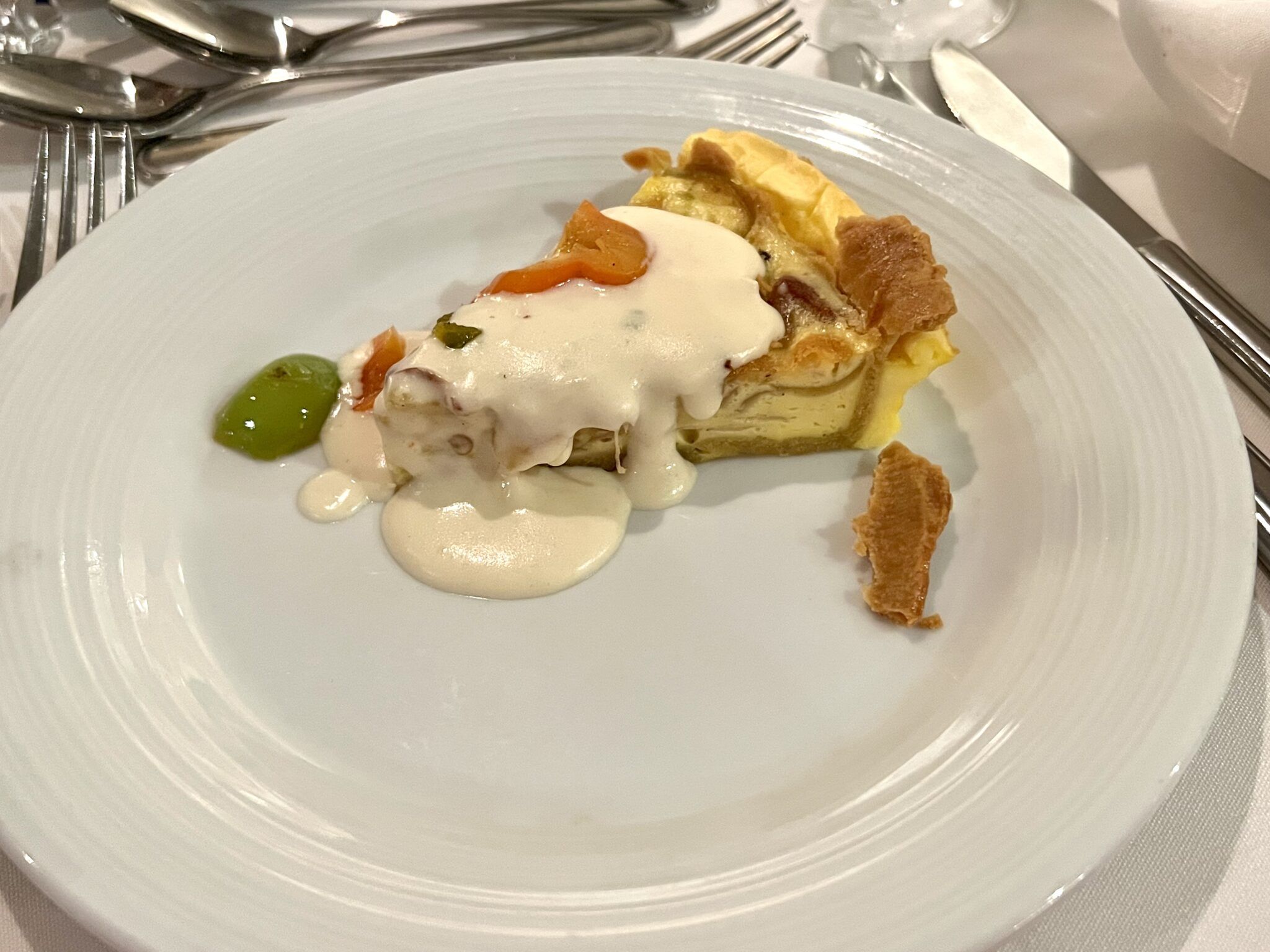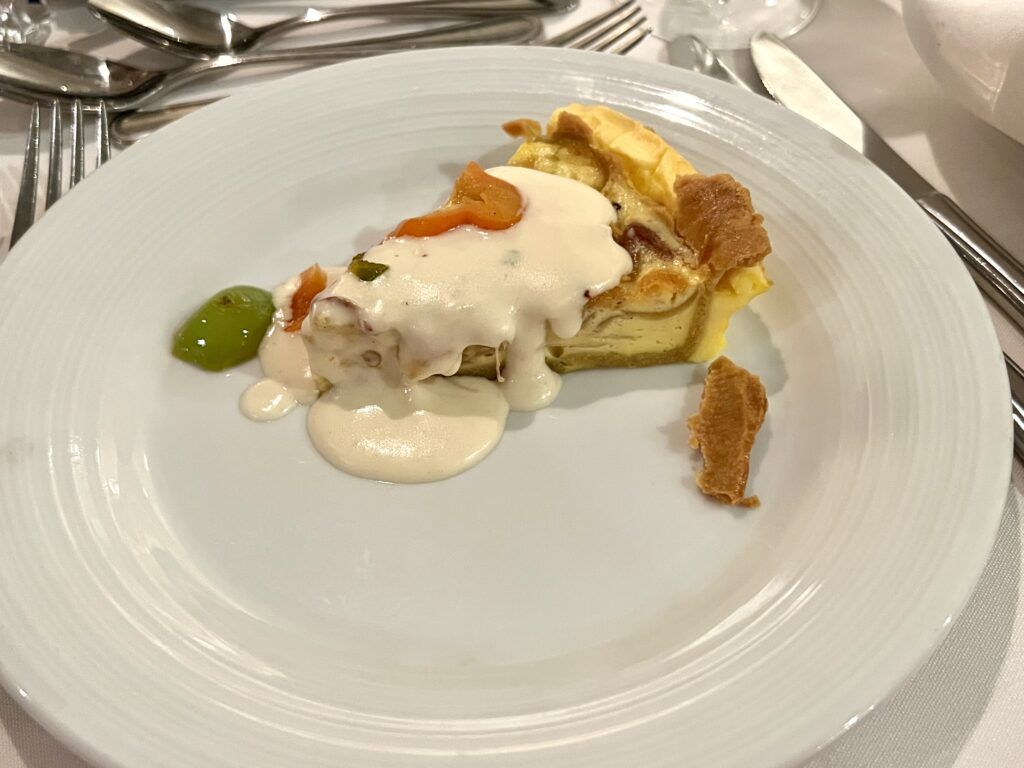 Since we would not be dining in the MDR tomorrow, we made sure to tip our waitstaff and thank them before we left.
Eventually making our way over the the Star Lounge, tonight was the Lip Sync Battle at 8:15 PM. Opting to skip out on the main theater production show, Showgirl! Past, Present, Future, we stuck around the Star Lounge for Rock-A-Rokie.
After a few songs, we decided to head to the pub to listen to Darla perform instead.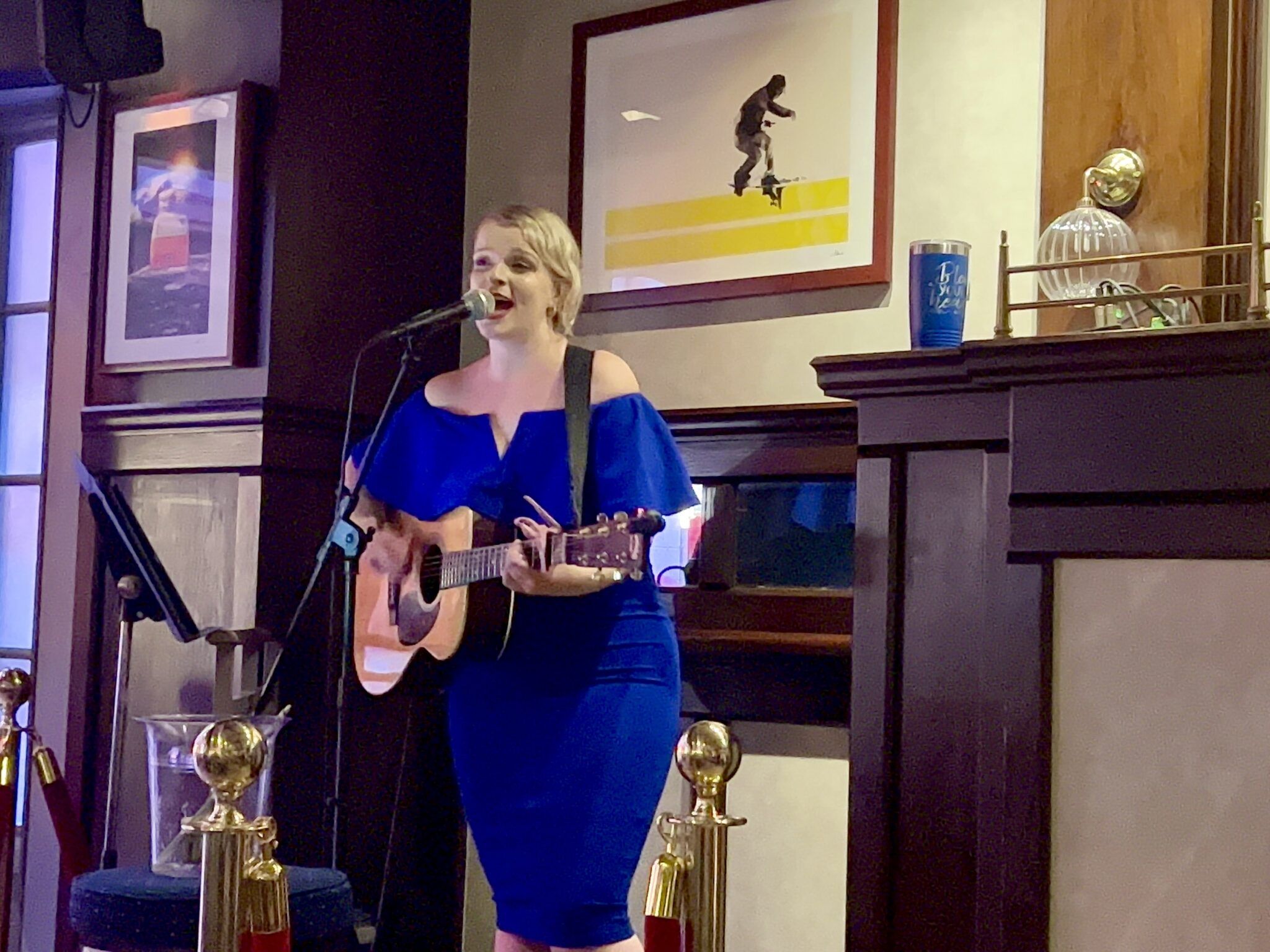 When her set ended, we called it a night, returning to the most unique towel creation we've ever had show up in our room. Sis and her hubby continued the party at Studio B with the Crazy Quest.
Navigator of the Seas Mexican Riviera Cruise Review – Day 7
Preparing Us to Go Back Home
Day 7 of this Navigator of the Seas Mexican Riviera Cruise Review was our final sea day. And, the weather was certainly preparing us to head back home, as it was cold and gray!
Gaining an extra hour overnight, we were back on LA time now. Up around 8 AM, Don grabbed some morning coffee while I got ready for some laser tag.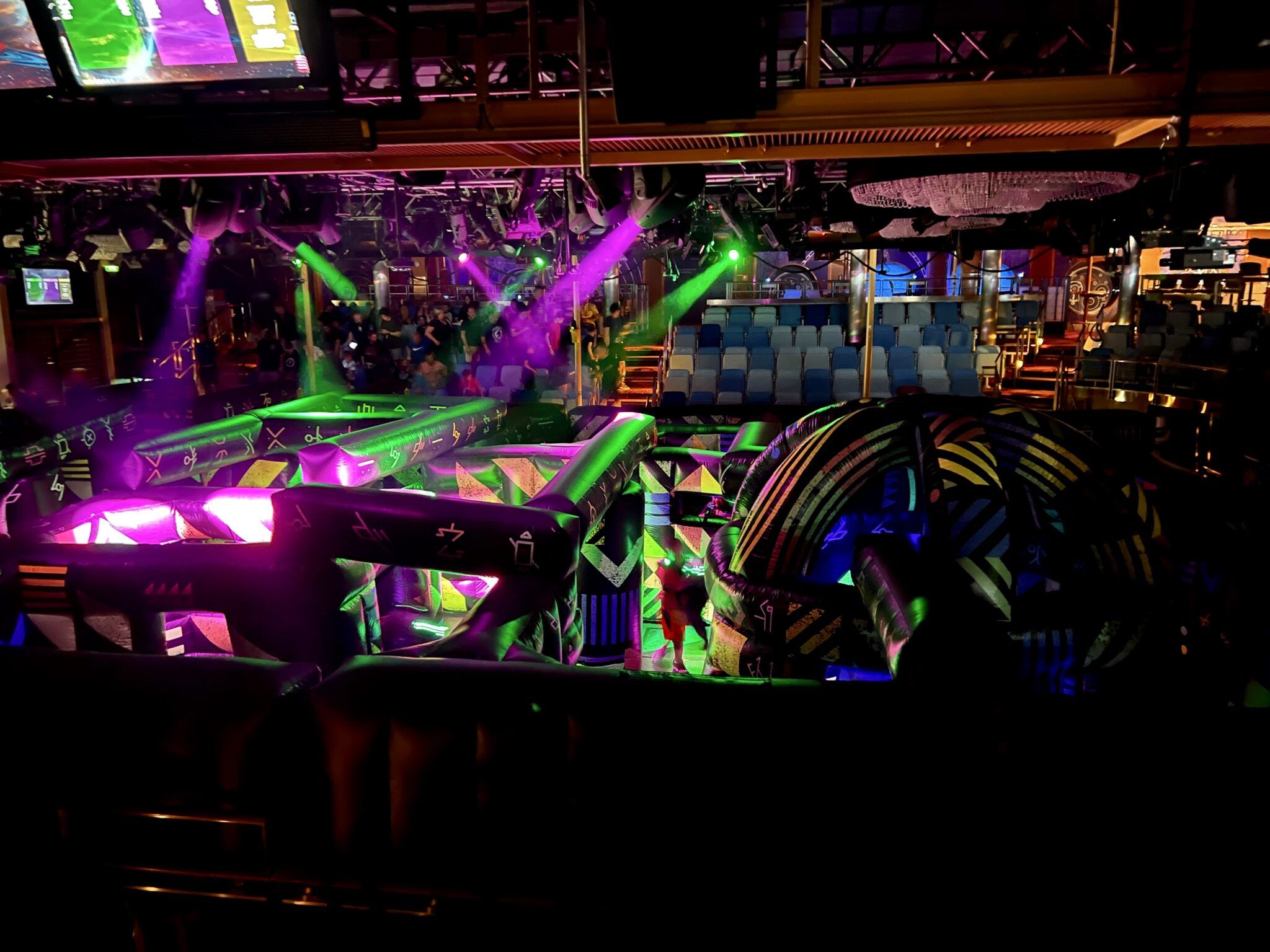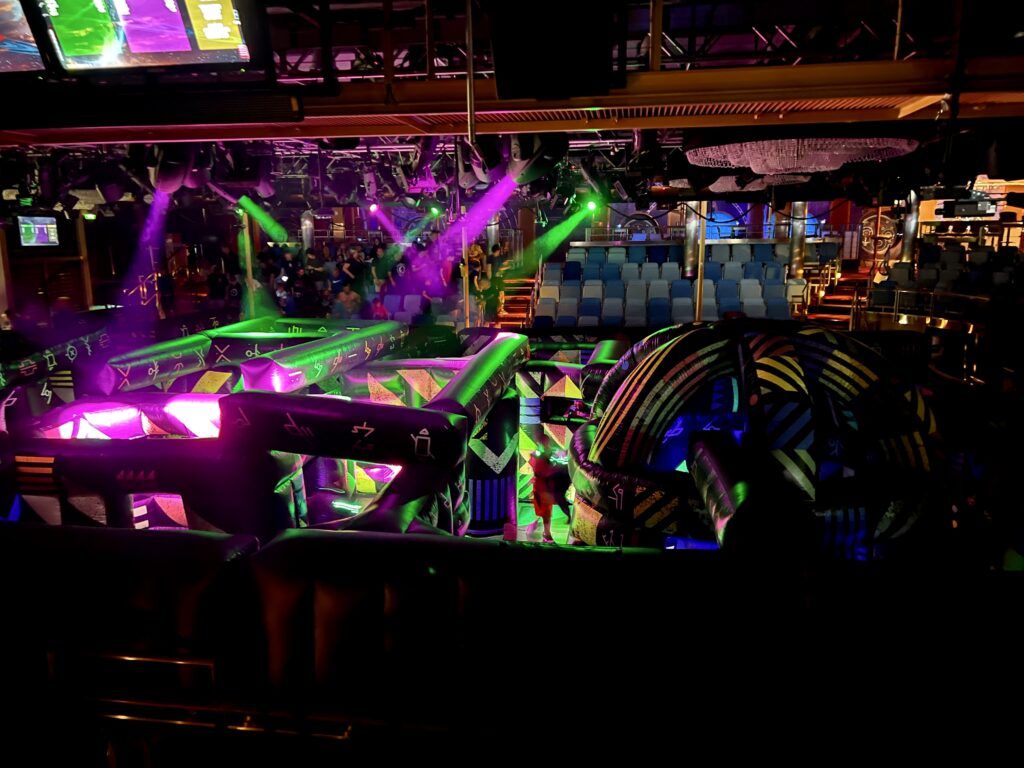 The rough seas took our family down one by one today. This meant that mom and sis were not up to playing laser tag this morning. When the rest of us arrived down to Studio B, we were greeted by a rather long line. With not much else to do on this cold day, we decided to wait anyway.
Well over an hour later, we were finally approaching the entrance to Studio B when the activities staff indicated they were looking for a party of 3. Don quickly decided to bow out in hopes that we could play sooner.
All said and done, it was about a two hour wait. Nonetheless, the robots came out victoriously. Even if I was the lowest scoring member on our team.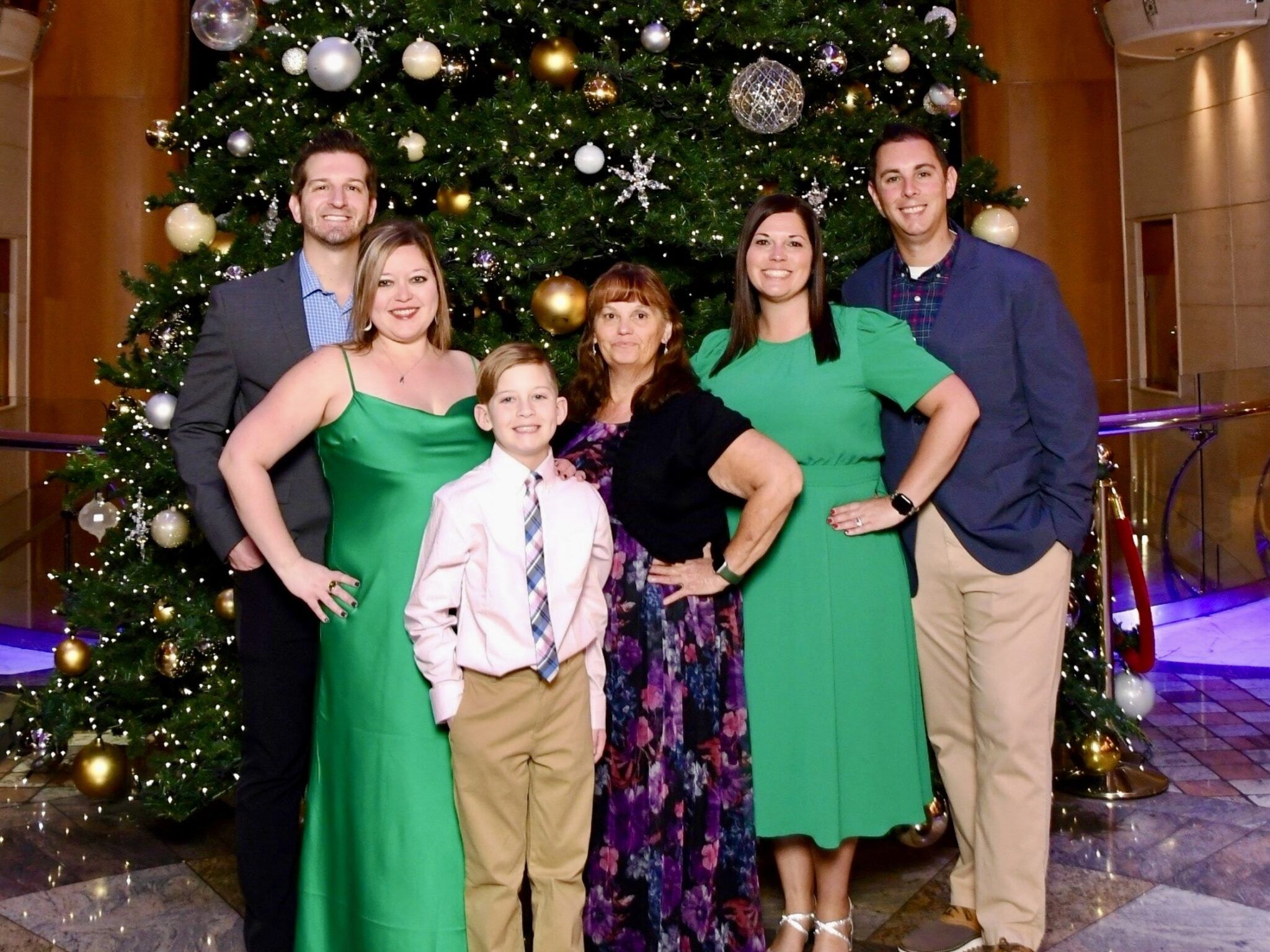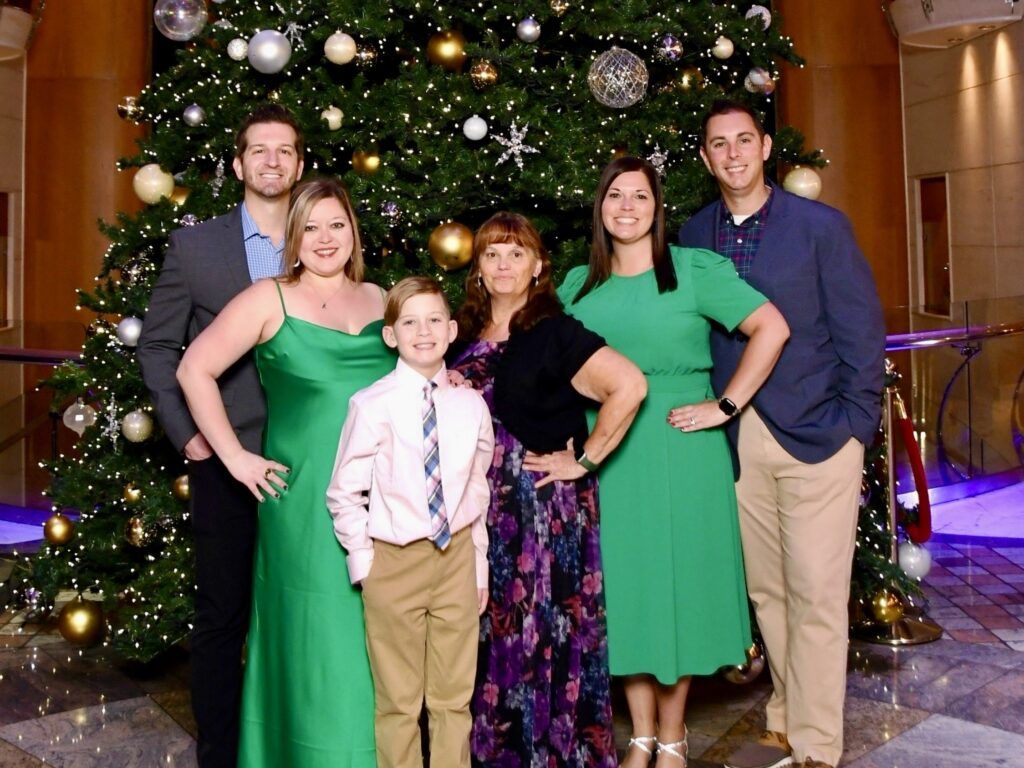 By now the rest of the fam had regrouped, and we decided to purchase our formal photos while we were in the area. While none of them came out great, we decided on a couple of the better ones.
By now, we were all hungry. Not wanting the Windjammer again, we suggested Playmakers. This turned into another waiting game.
When the venue opened at noon, there were several others with the same idea. Thus, it turned into a 90+ minute lunch, complete with nachos, an onion ring tower, burgers, wings, and chicken tenders.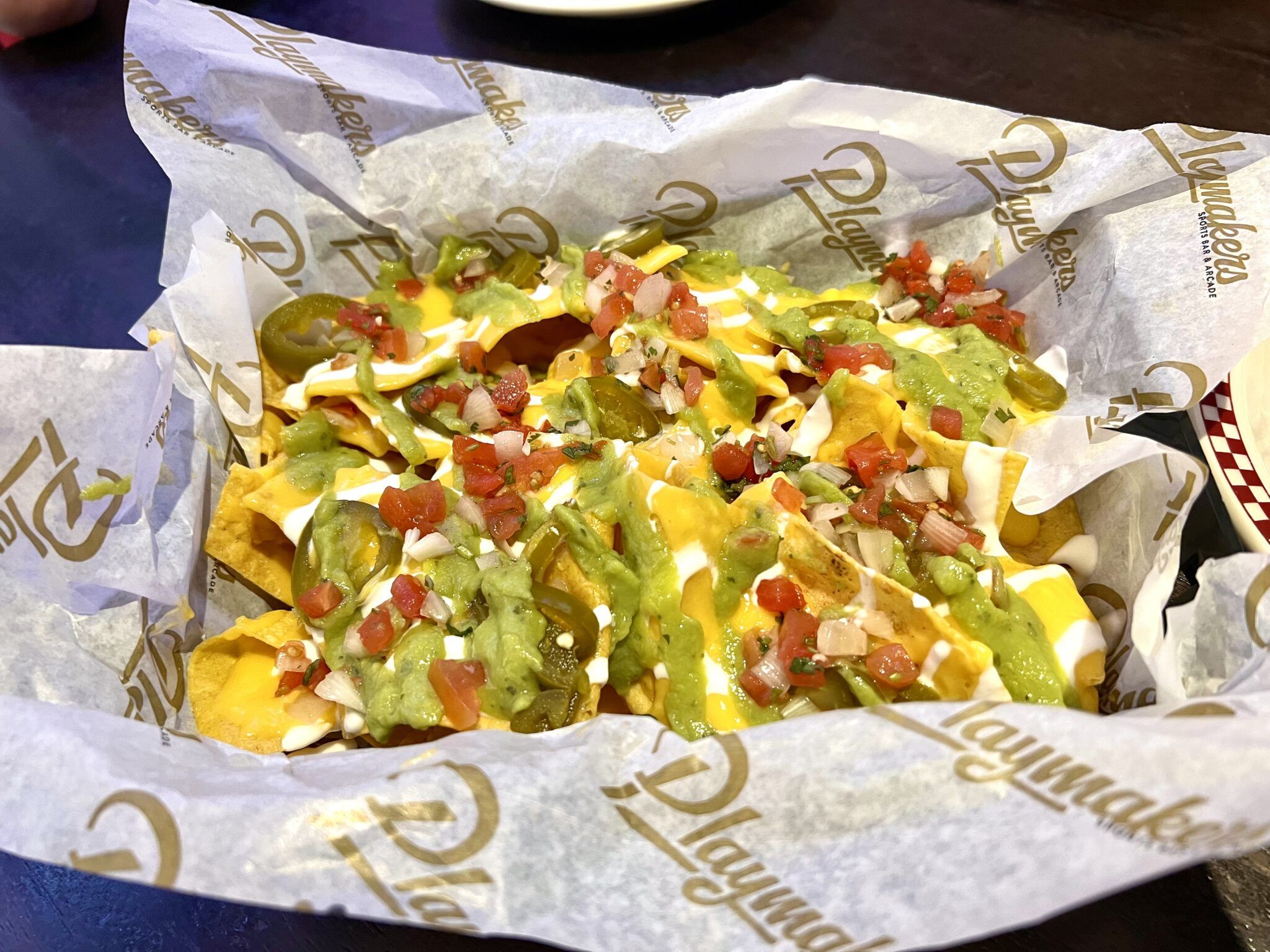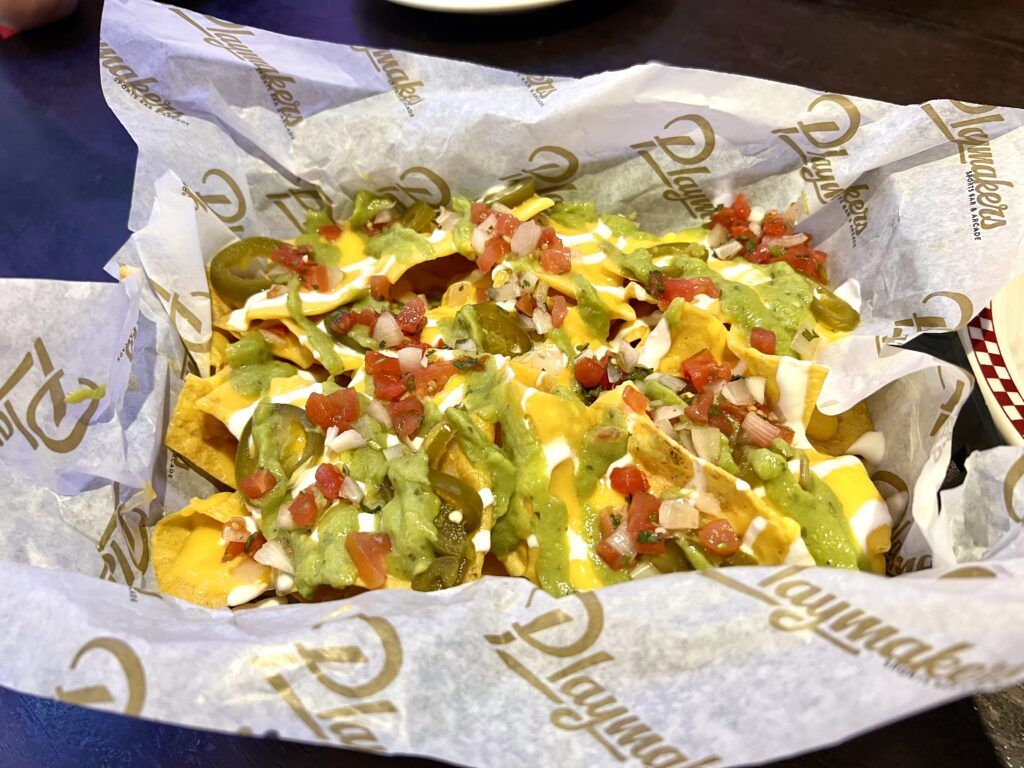 In the meantime, we also watched part of the Egg Drop Competition occurring in the promenade.
Our Final Day Onboard Navigator of the Seas
With some trivia sessions occurring this afternoon, we decided to head back to the cabin to get some packing done in the meantime. Our nephew also took this opportunity to visit the arcade for a little while.
Missing the Harry Potter trivia at 3 PM, we attended the Superheroes and Villains session at 4 PM instead. We thought we did a pretty good job getting only three out of 24 wrong, but it still wasn't good enough to win the coveted Royal Caribbean keychains and highlighters.
Our final dinner of this family cruise was at Chops Grille. The only reservation we could secure was at 5:30 PM though.
Now, it was our brother-in-law's turn to feel a bit under the weather due to the sea conditions. Thus, he skipped out on dinner tonight.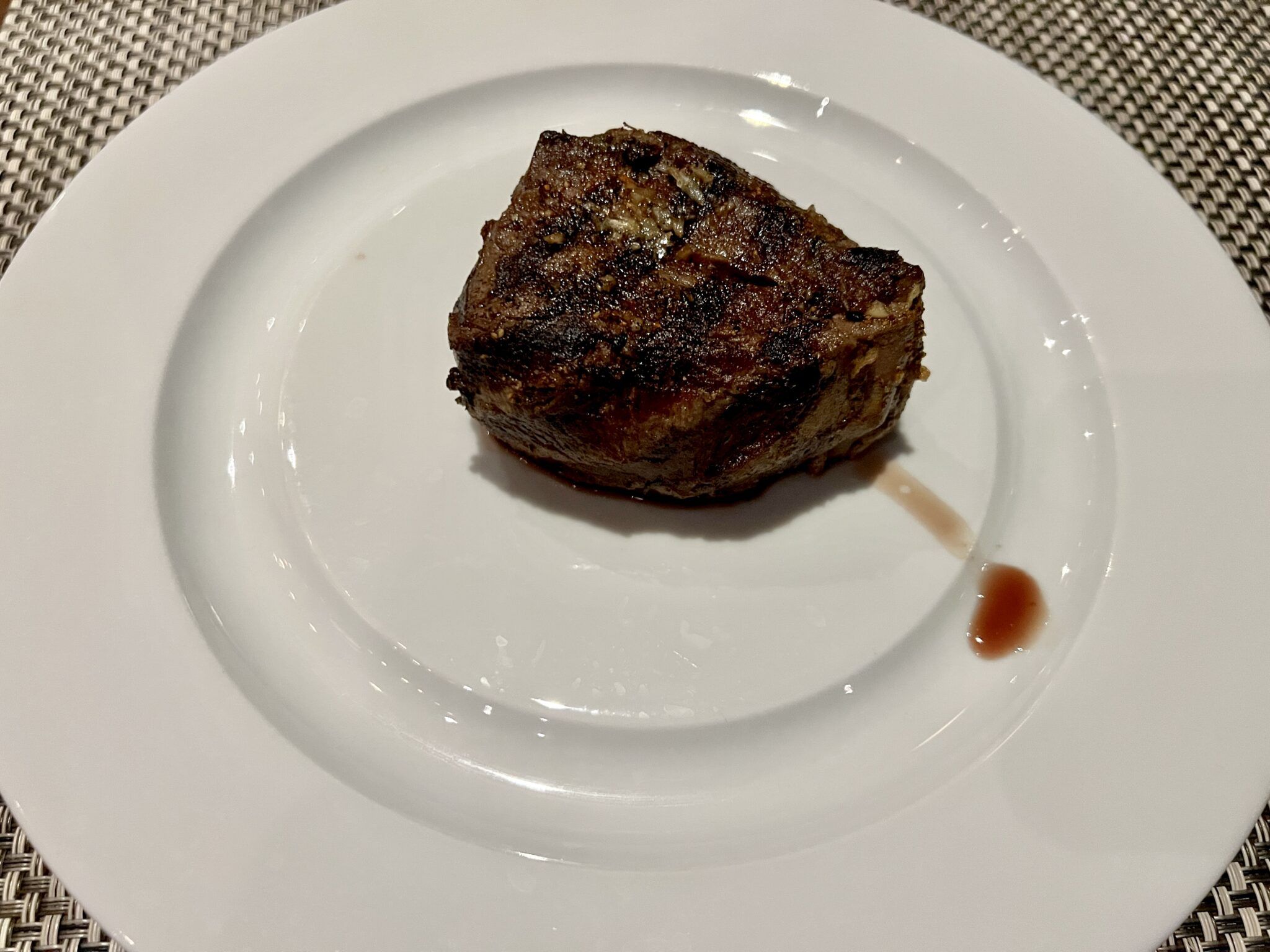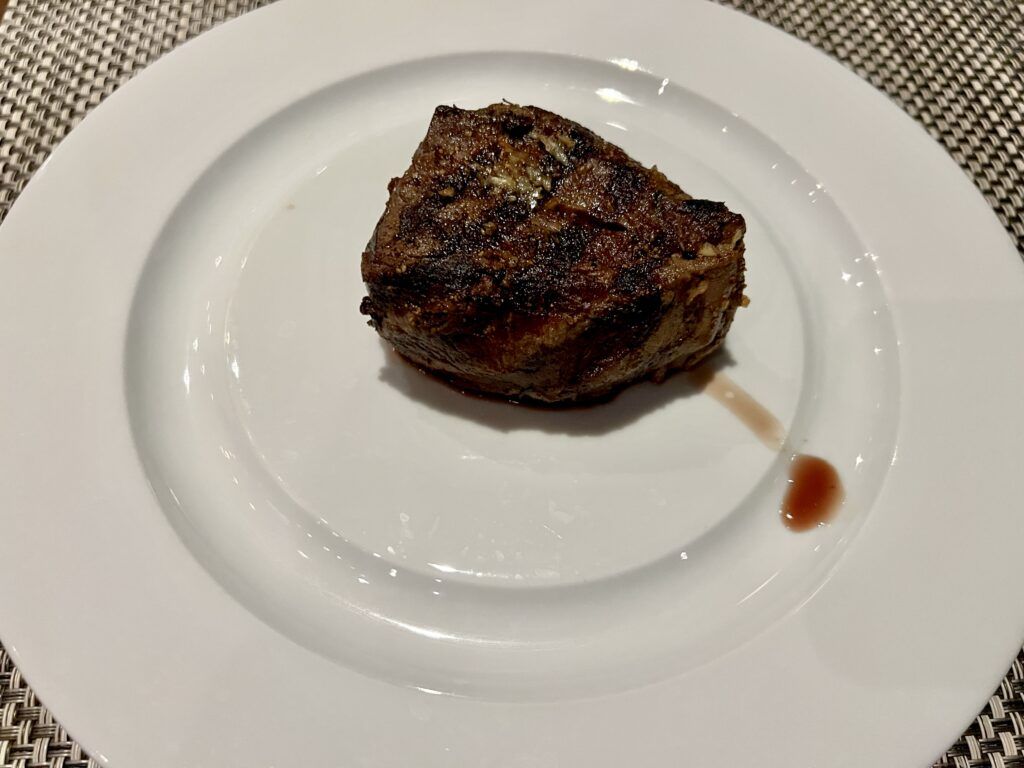 Some wedge salad, shrimp cocktail, steak, and red velvet cake later, we were officially stuffed. This was the perfect meal to close out this cruise. The red velvet cake even got two thumbs up from our nephew!
Rounding out the week with our typical routine, we headed to the Star Lounge a bit early for the Friendly Feud game show at 8 PM. We secured seats while listening to the end of the band's set.
Much like the television show, families were randomly chosen to participate in this game show with categories that included "things people steal from the office", "name a famous wizard", and "reasons why your parents ground you".
Finally, the last main theater show of the cruise was a comedy show with Etta May at 9:15 PM. While this was not your typical late night adult comedy show, it was still good for a few laughs. On that note, it was time to call it a night.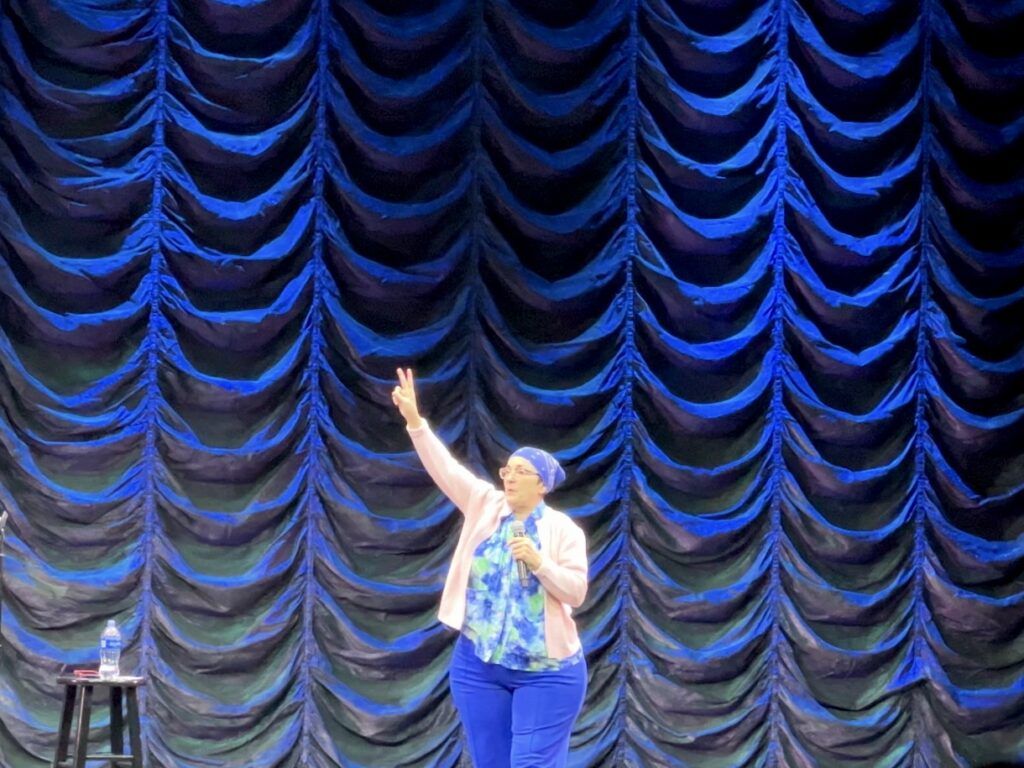 While we would typically get one final drink of the cruise, we did need to be up extra early tomorrow.
Our original 1 PM flight was canceled about a month prior to our cruise, and we were automatically re-booked on an 11:20 AM flight. Given this was a holiday week, and we were flying out of LAX, we knew this could be an issue but we chanced it anyway. The only other option would've been a late evening flight.
BOOK NOW: Exclusive Rates on Navigator of the Seas Mexican Riviera Cruises!
Navigator of the Seas Mexican Riviera Cruise Review – Disembarkation
Time to Head Home
Given our time crunch, we chose to complete self assist disembarkation for this Navigator of the Seas Mexican Riviera Cruise Review.
With a 5:30 AM alarm set, we were thankfully pulling into port right as scheduled. Showering and packing up some last minute items, we were ready to go by 7 AM. Saying some final goodbyes, Mom and I were able to secure an elevator with our luggage while Don carried his down the stairs to Deck 4.
With self-assist disembarkation starting right on time, we joined the small queue looping through the dining room. It only took about 30 minutes to get curbside and an additional 30 minutes to get to the airport.
While we have TSA pre-check, Mom does not. So, it took an additional 30-ish minutes at airport security. Though, all said and done, we were sitting at our gate by 8:45 AM. Potential disaster averted!
The rest of the trip home was uneventful. This time, we were returning home with nothing on our 2023 agenda….yet! Where should we go next?
Comments
Did you enjoy our Navigator of the Seas Mexican Riviera Cruise Review? Have you cruised the Mexican Riviera yet? Drop us an anchor below to share your recent Royal Caribbean cruise reviews!