Ship Overview
MSC Seascape is MSC Cruises newest cruise ship, and she has just debuted in the Caribbean!
MSC Seascape is the fourth ship in the popular Seaside Class of ships and the second in the EVO sub-class. This evolution means that MSC Seascape is larger offering more cabins, an expanded Yacht Club, more outdoor spaces, and a variety of dining and entertainment options. In fact, 65% of the public areas have been reimagined.
This new ship accommodates 5,632 guests at double occupancy with 2,270 cabins.
Delivering on "bringing guests closer to the sea", MSC Seascape offers a waterfront promenade and the beautiful Infinity Pool on Deck 8. This adults-only space at the aft of the ship offers great wake views, along with plenty of seating and a nearby bar and gelato shop.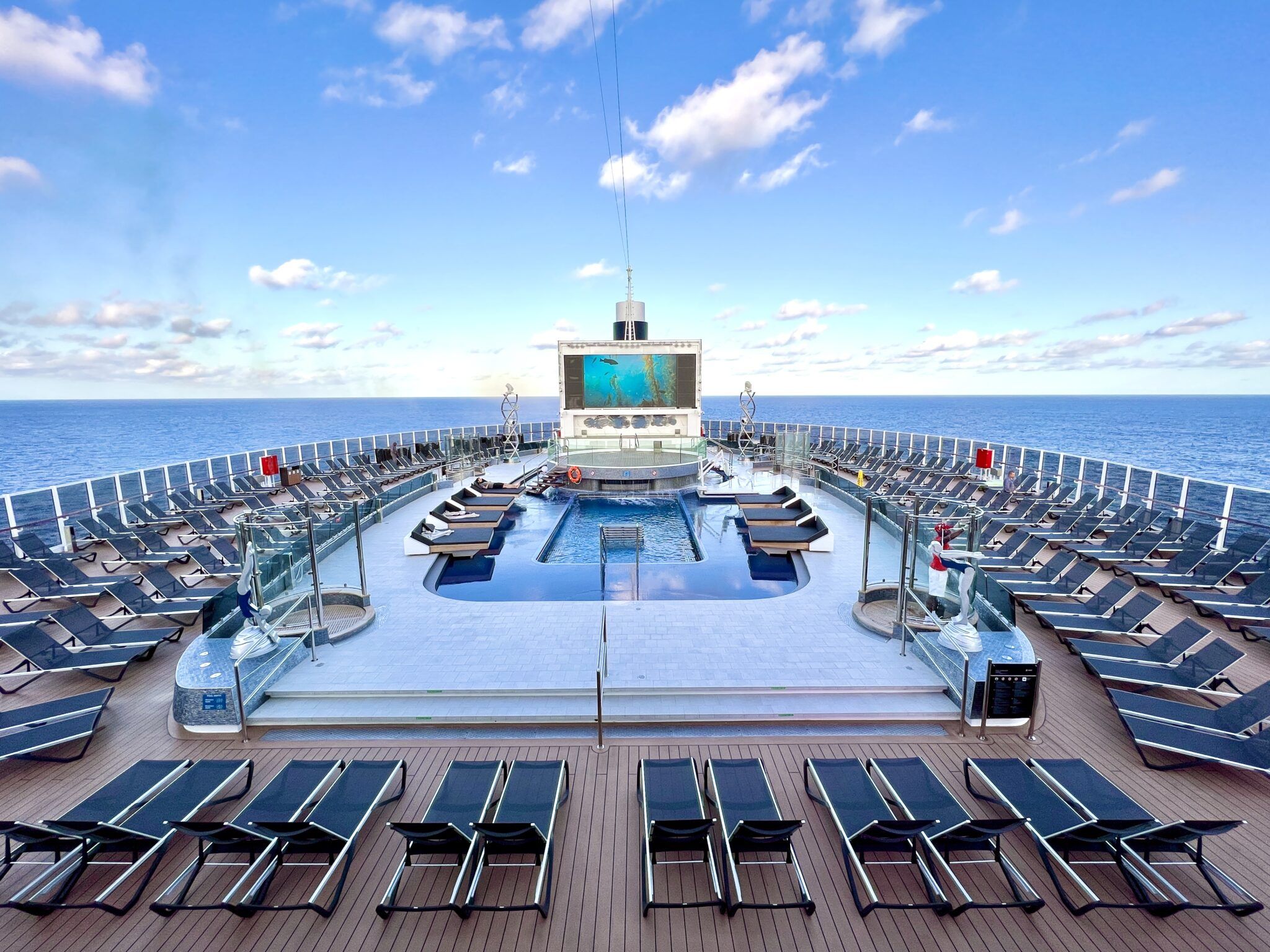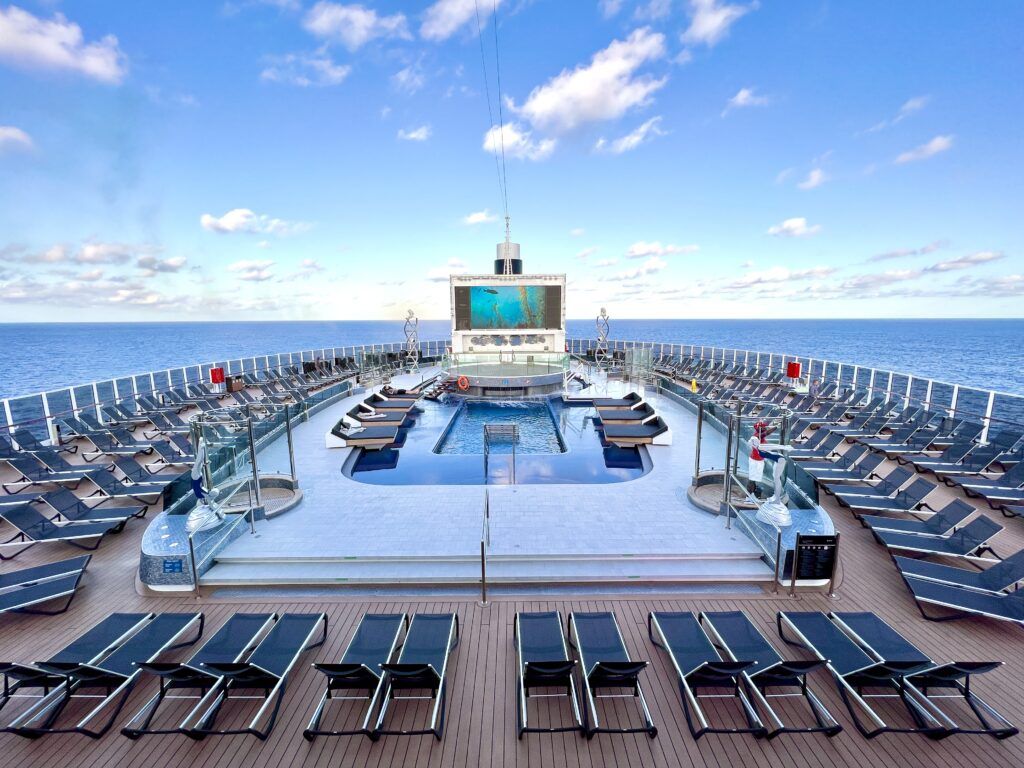 If you are traveling with the family, the kids are sure to love the exquisitely themed Jungle Pool. This pool has a retractable roof meaning it's a pool day no matter the weather outside. Of course, there is also the Marina Pool which has a more traditional lido deck feel.
If you are a thrill-seeker, you will love the VR attractions in the Hall of Games and the signature Robotron. This robotic arm, 170 feet above sea level, delivers the thrills of a rollercoaster at sea set to your favorite music.
There are also expanded offerings for kids and teens including interactive game shows and partnerships with brands like Lego, making MSC Seascape a worthy choice for all ages.
Of course, you will find plenty of other entertainment too. From live music around the ship and nightly parties on the pool deck, to production shows in the Chora Theater, there is never a dull moment. There's also Le Cabaret Rouge, a French-inspired venue hosting nightly variety show acts. While not the same caliber of shows on some other cruise lines, it's still a good time.
MSC Seascape offers delicious specialty dining options too. From the Butcher's Cut steakhouse to the casual Hola Tacos, to Kaito Teppanyaki, and the Ocean Cay seafood restaurant, there is cuisine to suit all palattes. Not to mention, there is even a sushi conveyor belt at Kaito Sushi!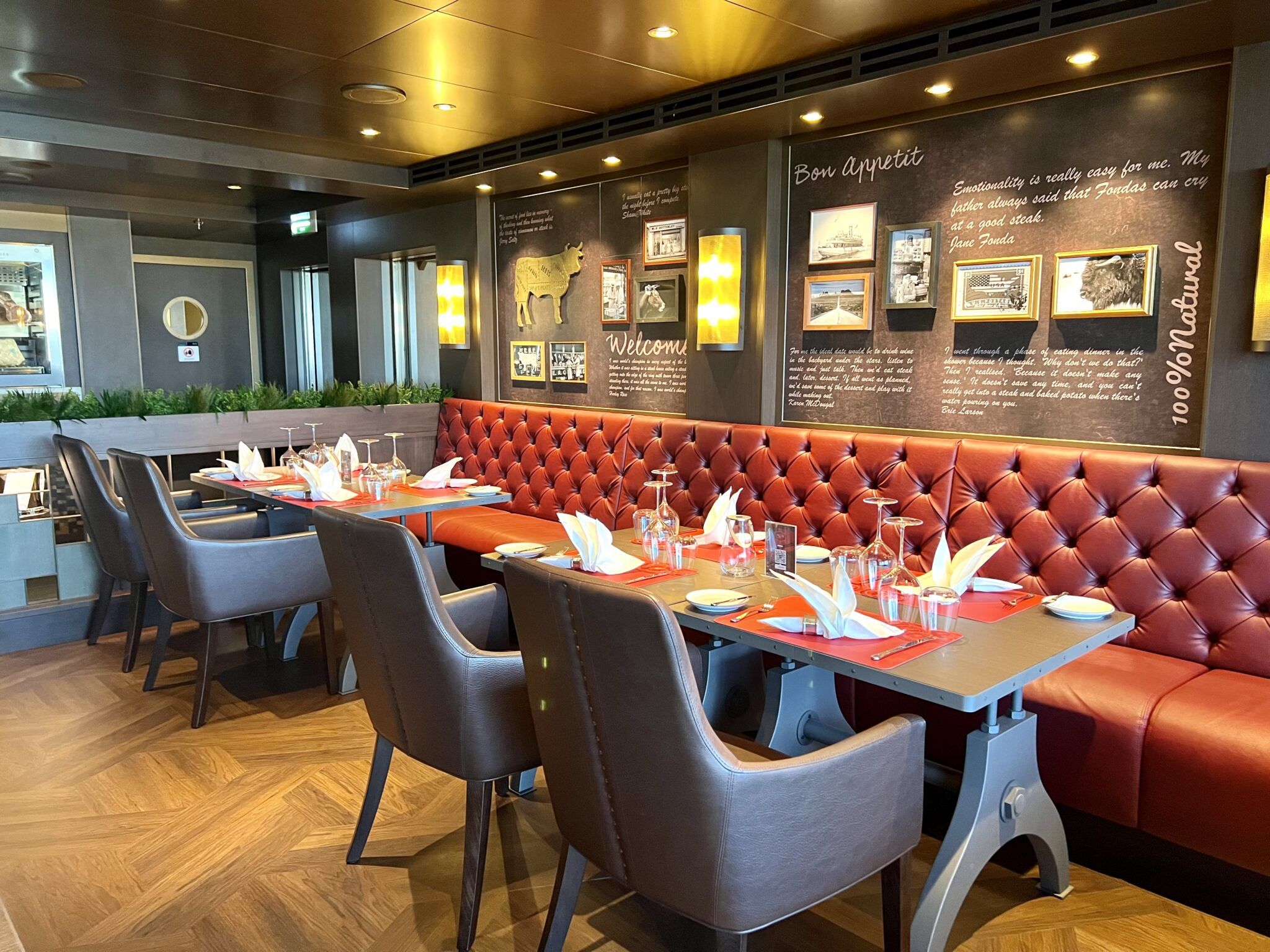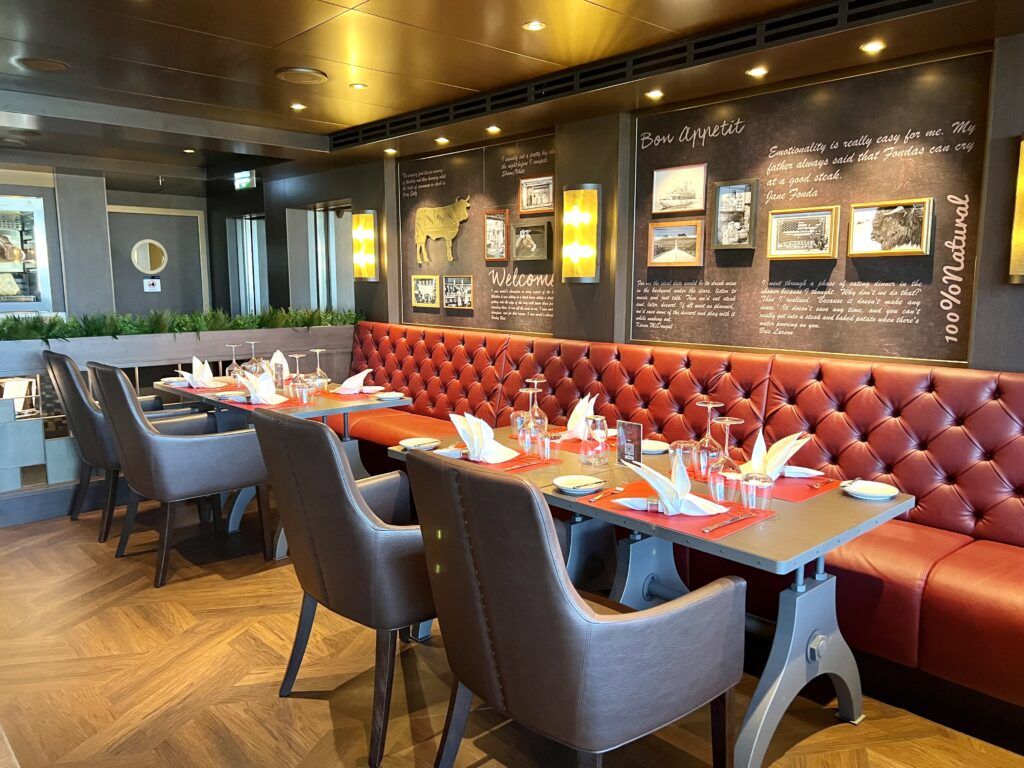 In terms of casual dining, this new ship is still a bit lacking. The only real option here is the Marketplace buffet which can get a bit chaotic at prime meal times.
The main dining room menus were a bit all over the place too, with items being hit or miss. There were some really great dishes like the lamb shank, prime rib, and osso buco, but there were also some not so great dishes.
If you are looking for a cocktail, you will never have far to go. From themed venues like the Sports Bar and the Loft Cafe to the upscale Cocktail Bar and Champagne Bar, there are plenty of bars with specialty drink menus. Not to mention, there is the Venchi Chocolate Bar serving up amazing alcoholic and non-alcoholic chocolate-infused coffee and cocktails. The only problem is that it's not included in any of the MSC drink packages.
In keeping with MSC design, there's plenty of glitz and glamour on Seascape. The ship is still adorned with metallic finishes and Swarovski crystal stairs. There's also the stunning Bridge of Sighs, a glass-floored bridge over 70 feet above the Infinity Pool, which makes for a great photo op.
Further, you'll find signature Italian touches throughout the ship, like 3 gelato shops and espresso served at every bar.
Admittedly, MSC is still trying to work out some kinks to best deliver an exceptional cruise vacation to the American market. Though, we are excited to see what the future holds. With more MSC ships scheduled to sail from the U.S., including World America debuting in 2025, we are looking forward to discovering "new horizons at sea" with this cruise line.
EXCLUSIVE SAVINGS: Get Deals on MSC Seascape Cruises!
MSC Seascape Inaugural Caribbean Cruise Review – Day 1
But First, a Gala Event in NYC
Prior to this MSC Seascape Inaugural Caribbean Cruise Review from Miami, Florida, we attended the naming ceremony of this brand new ship in NYC.
During this 2-day event, we got a first look at the beautiful ship and some free time to explore the vessel. Since this was only our second cruise ever with MSC Cruises, we were glad we had this extra time to familiarize ourselves with the ship's layout and amenities.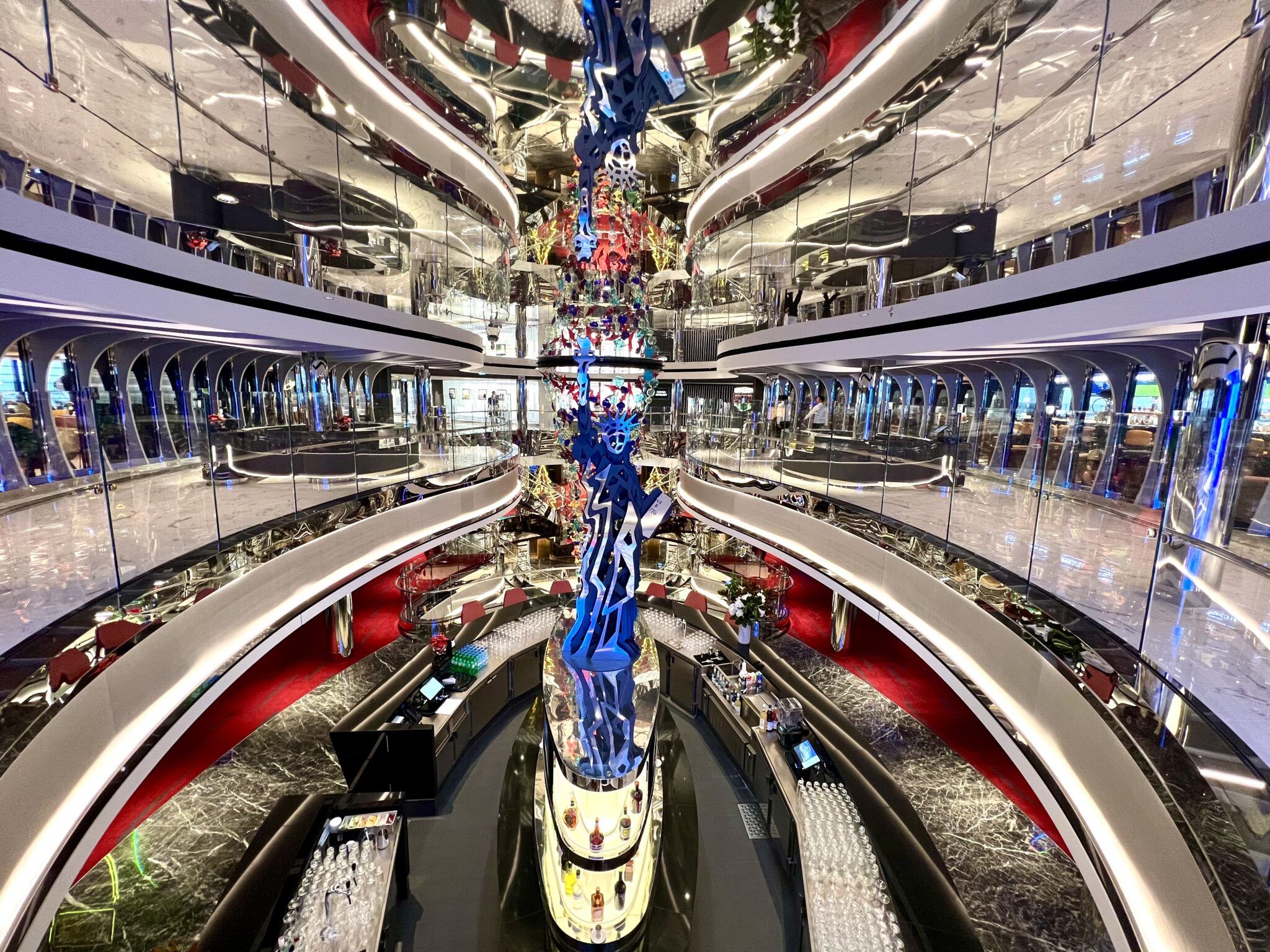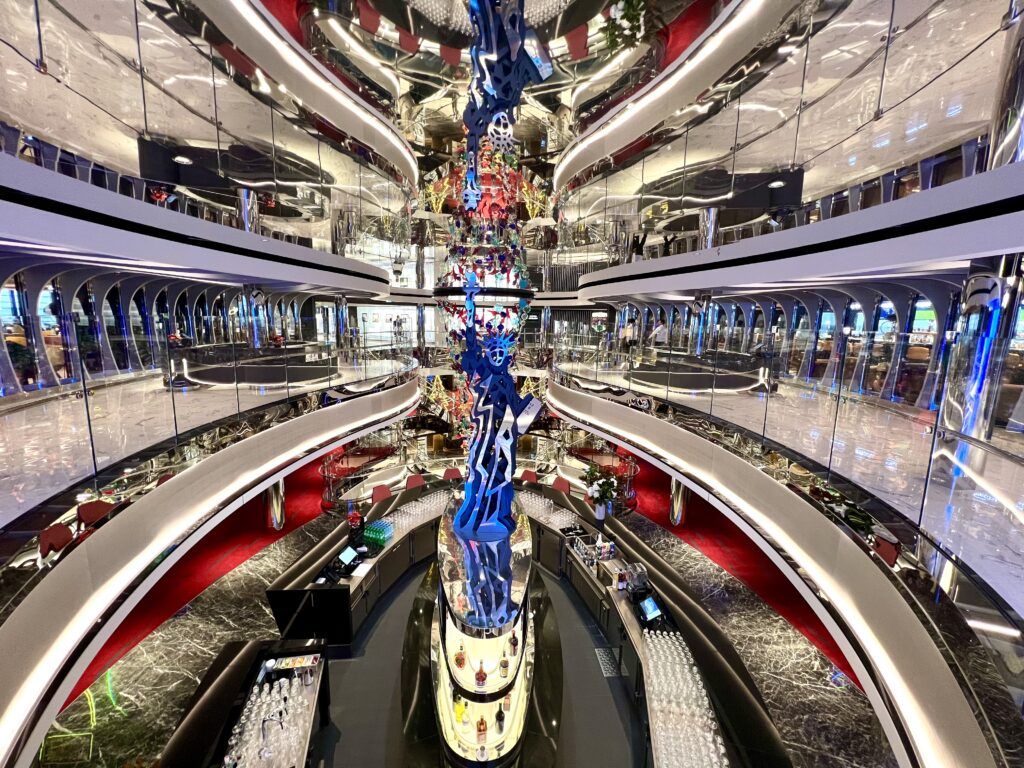 While onboard MSC Seascape, we toured the kids and teens areas, the Aurea Spa, and sampled some bites from the five specialty restaurants. Not to mention, we played in the Hall of Games and treated ourselves to some Venchi gelato and espresso drinks.
This event culminated with the official naming ceremony of MSC Seascape. Here, key leadership spoke about the ship and the brand. Then, the Godmother of the MSC Cruises fleet, Sophia Loren, blessed the ship virtually while Alexa Aponte-Vago performed the traditional cutting of the ribbon.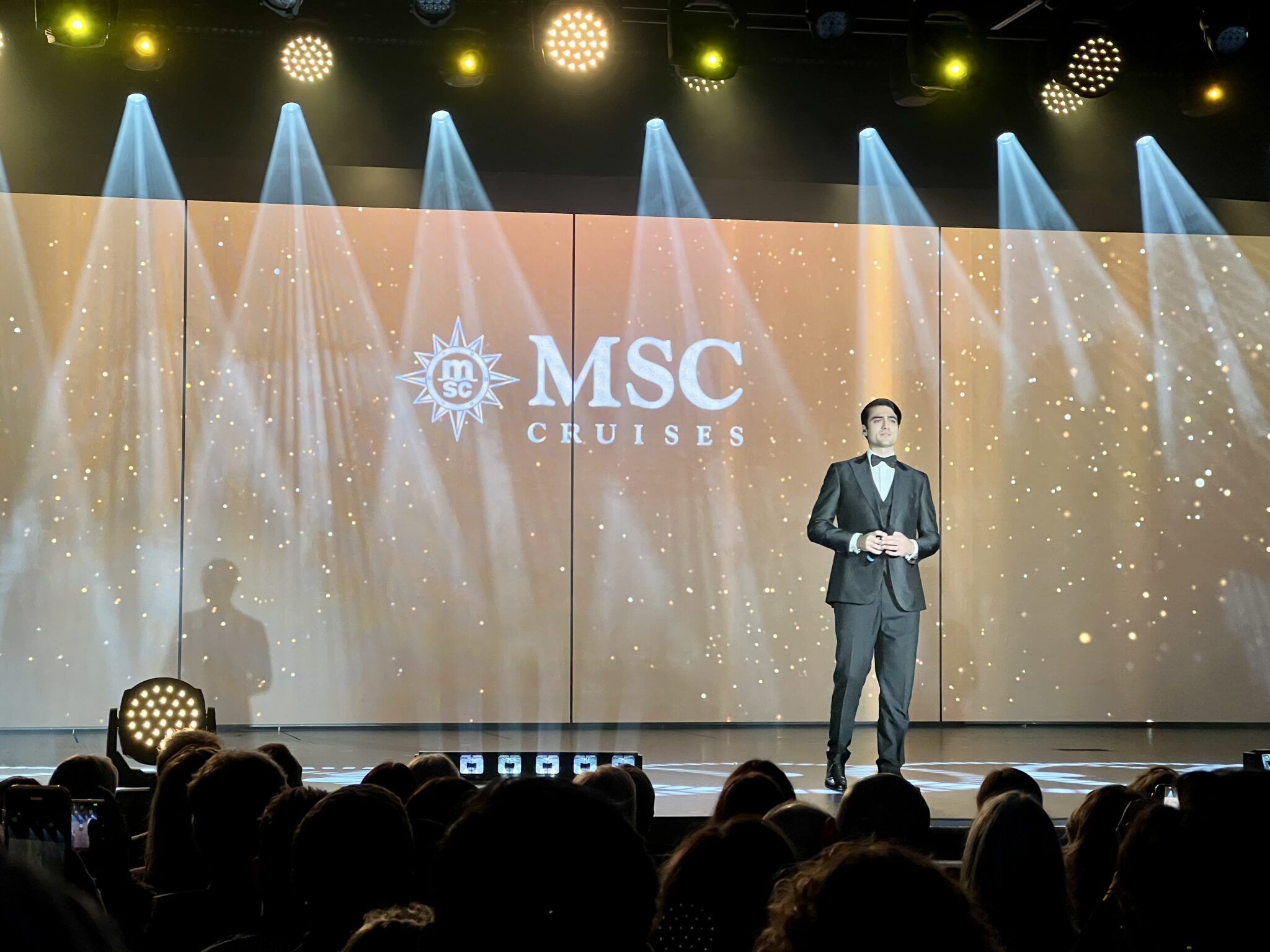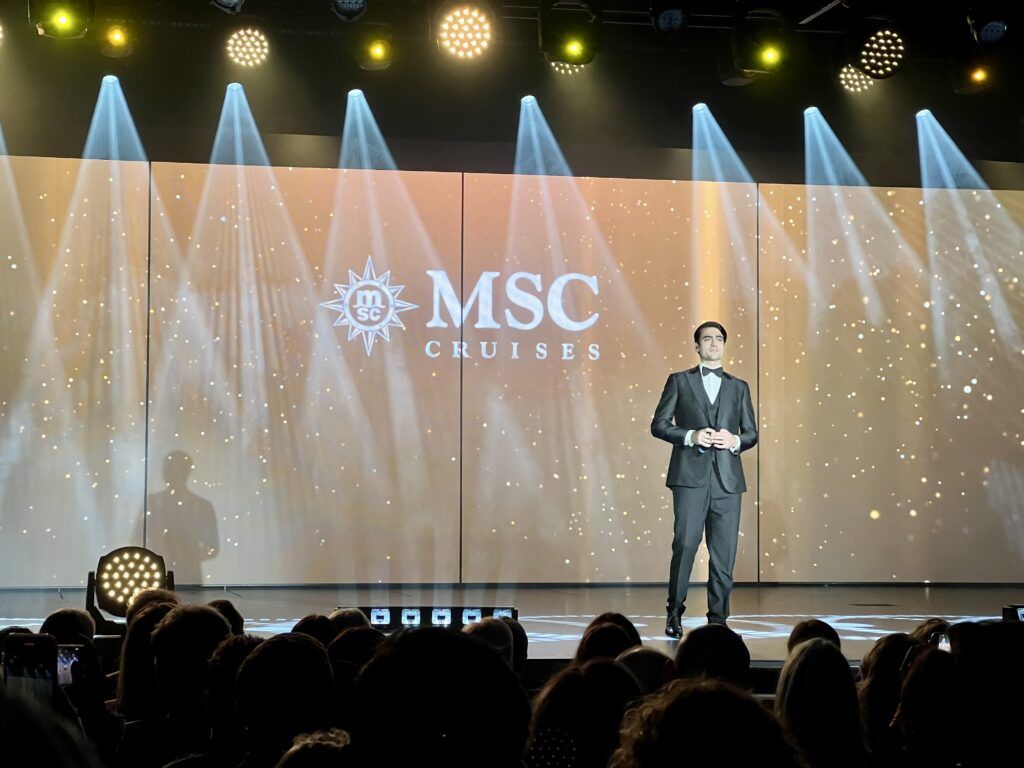 Further, we were treated to special performances by Matteo Bocelli and Ne-Yo along with a gala dinner.
It was a memorable two days to say the least!
Back Onboard Just Two Days Later
Given our hectic November cruise schedule, we actually attended another cruise ship's naming ceremony in the two days between our MSC cruises. This meant we needed to get right off that ship in Port Canaveral and immediately head to Miami for this MSC Seascape Inaugural Caribbean Cruise Review.
Some friends who also attended the event in Port Canaveral graciously offered to drive us to Miami since they were heading that way too. We arrived to Terminal C in Miami right on time around 1 PM.
While it was a little hectic outside the terminal building, we had our appropriate documentation in hand and processed through security and the check-in process efficiently. Within about 30 minutes, we were officially back onboard MSC Seascape.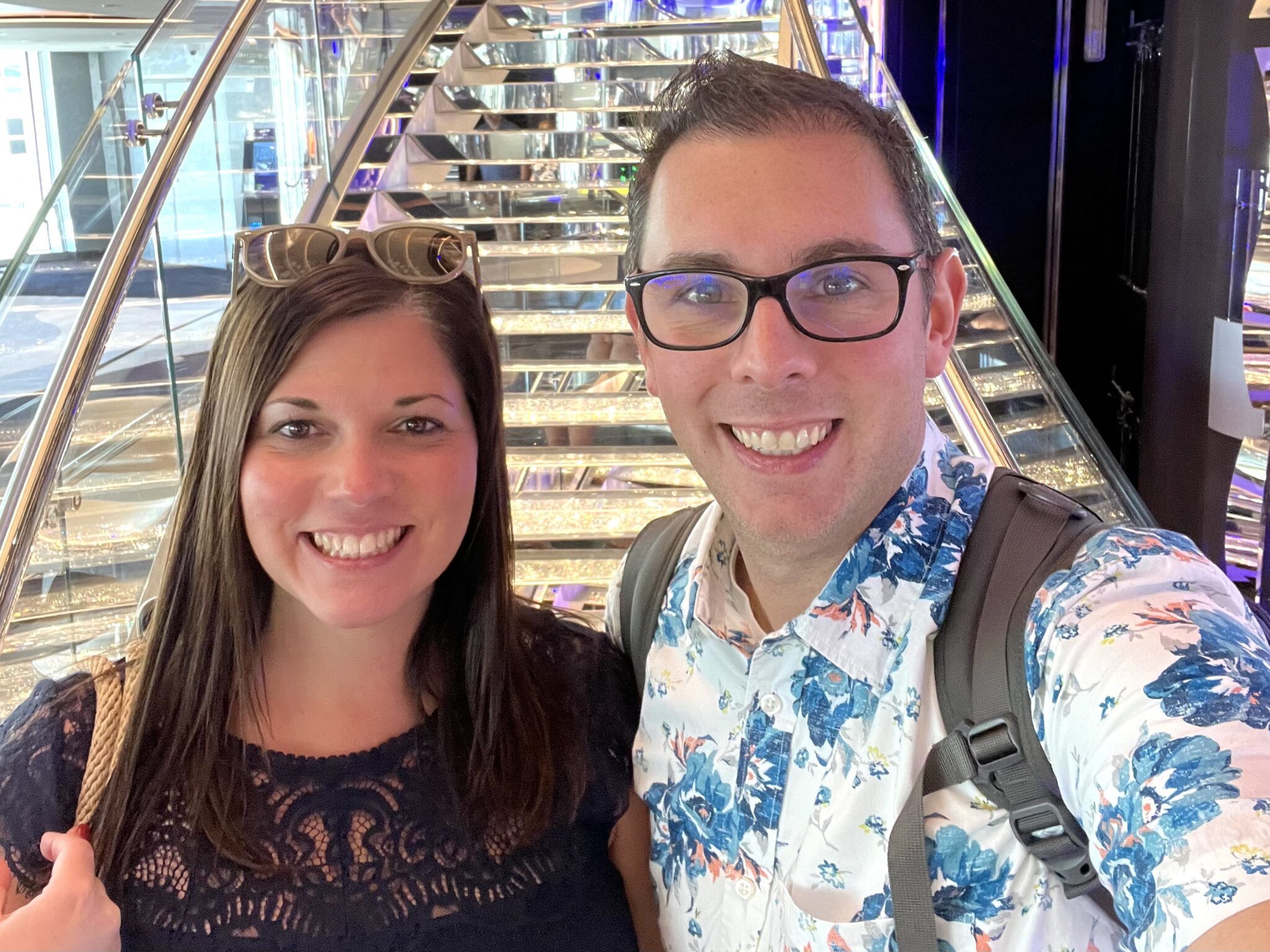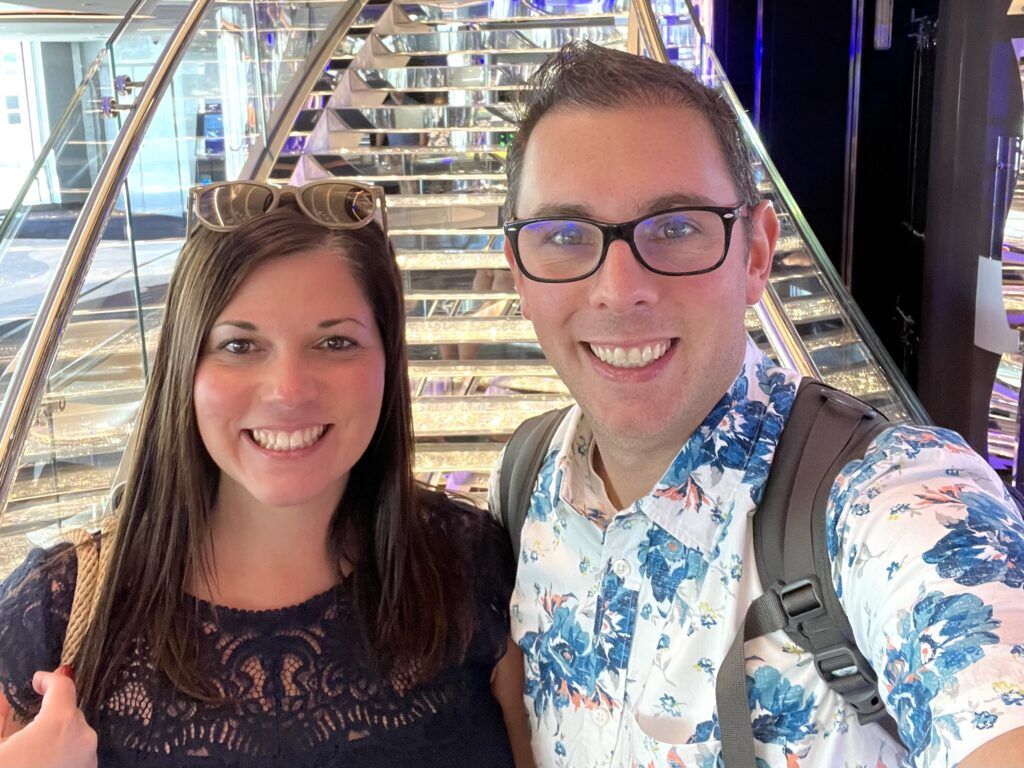 Our first order of business was to make reservations at the specialty restaurants. Thus, we headed straight to the dining reservation desk on Deck 8. We already had a hosted media dinner at the Butcher's Cut, so we made additional reservations at Hola Tacos and Cantina and Kaito Teppanyaki. We had no issues securing our preferred dining days and times.
Given the time of day, we then made our way up to Deck 13 to drop off our carry-on items in our cabin. Our stateroom, 13265, was a deluxe balcony cabin located fairly midship on the portside of the ship. This cabin was on par with other contemporary cruise lines in terms of size.
Checking Out Our Cabin
Entering the room, the bathroom was to the left. The bathroom was your pretty typical cruise ship bathroom featuring a stand-up shower with a glass door.
Proceeding into the room, it was a tight squeeze between the closet on the left and the sofa on the right. In fact, the sofa was fairly large, almost too big for the room. The closet had enough storage for the week with a combination of shelves, drawers, and a clothes bar.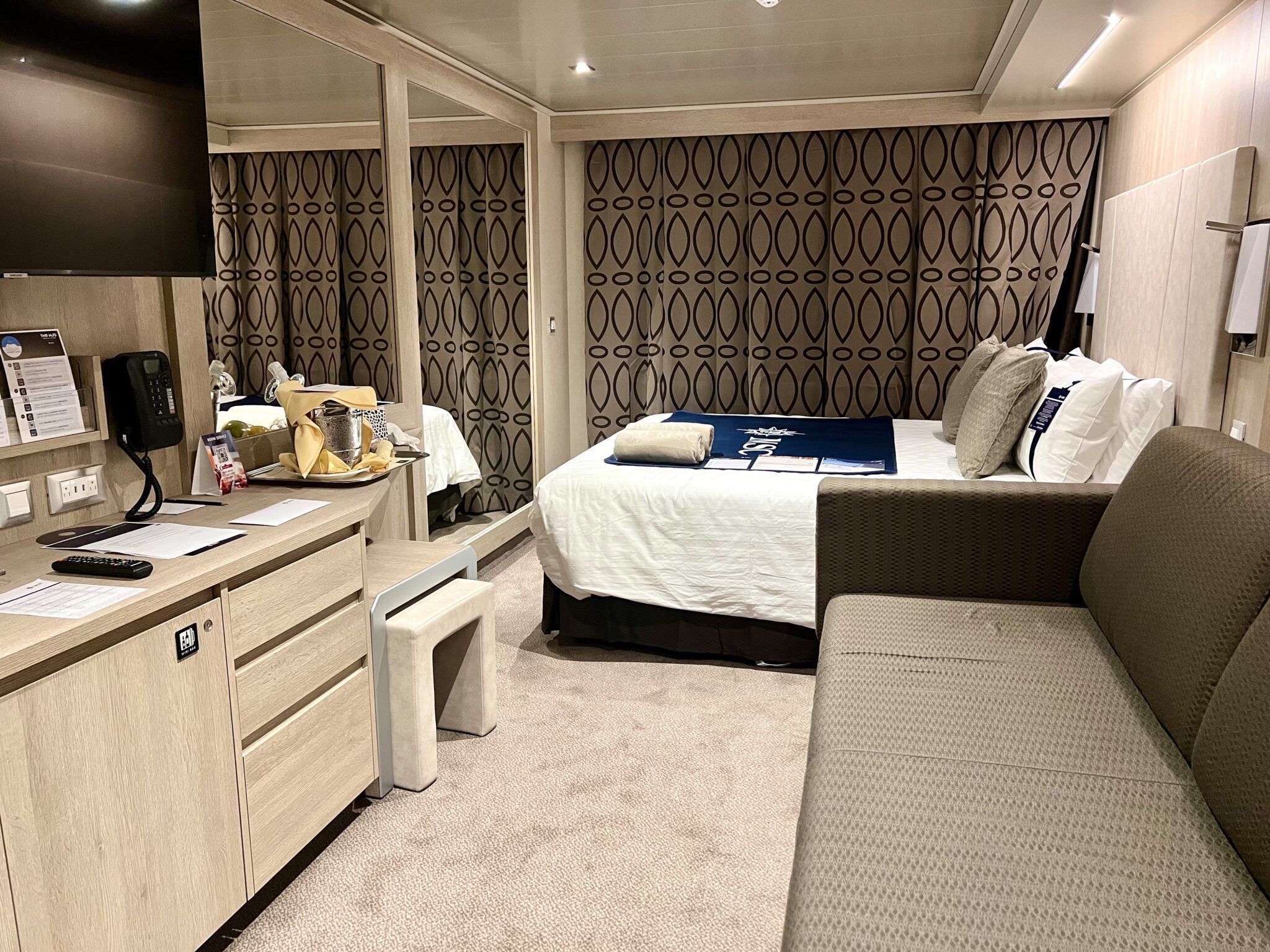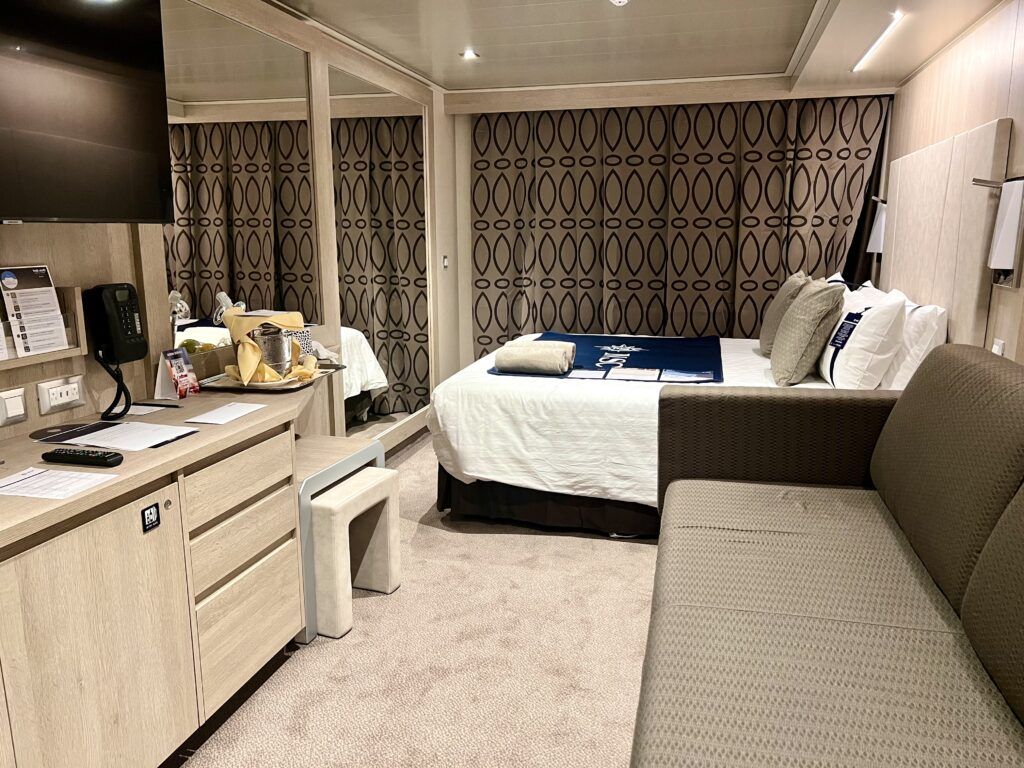 Across from the sofa was the desk area. This too was fairly good-sized with enough room to store our electronics and serve as my area to get ready. Though, it would have been nice to have an additional shelf for storage here. This was also the ONLY place with outlets in the cabin.
The bed in this MSC Seascape cabin was closer to the balcony with small nightstands on each side. However, only one side of the bed had a USB outlet, making it difficult to charge phones at night.
Lastly, the balcony was average-sized and included two upright chairs and a table allowing enough room for the two of us to enjoy the ocean breezes.
Exploring More of the Ship
Assuming the muster drill on MSC Cruises was like other cruise lines, we proceeded to our assigned assembly station to check-in. Unfortunately, this was not the case, and we were told we needed to come back at 4 PM. Did MSC really still do muster drill the old fashion way?
Instead, we used this time to capture some photos and videos of the less crowded public spaces and grab some lunch.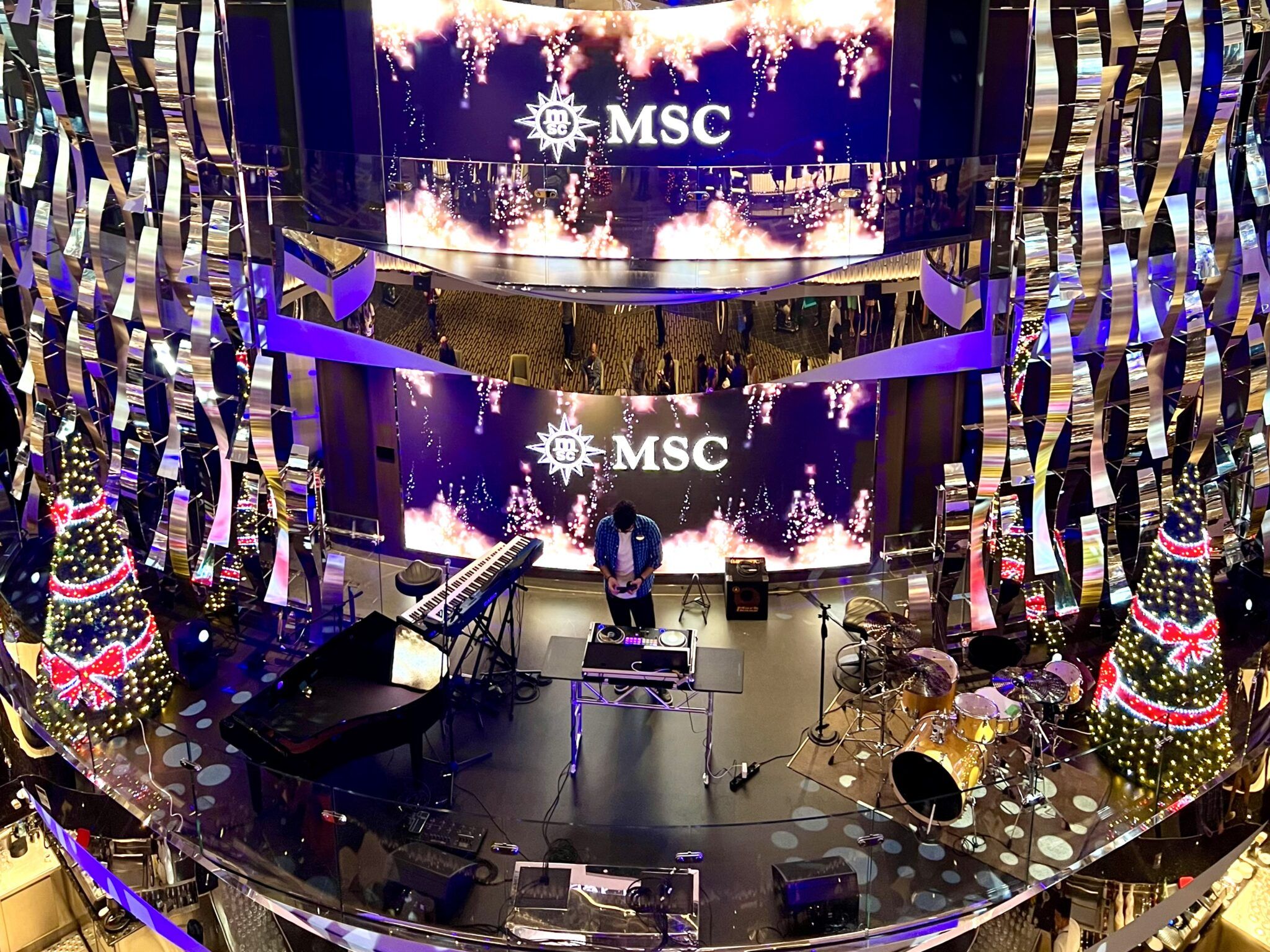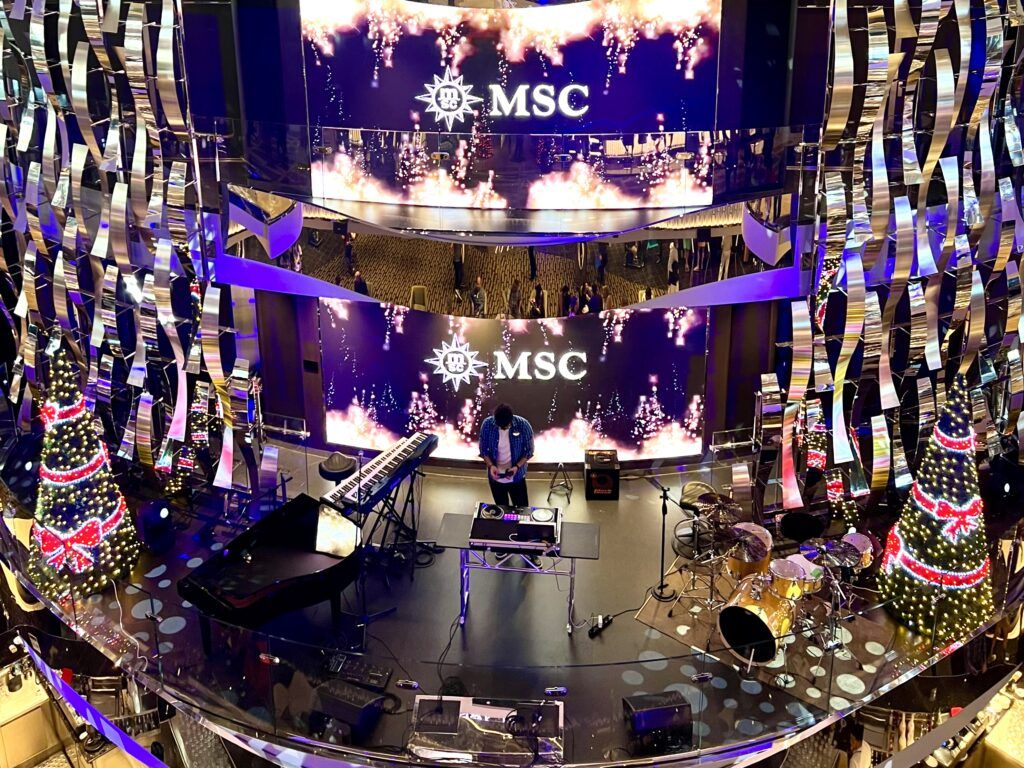 One downside of this new ship is the lack of casual dining options. Essentially, the buffet is the only complimentary dining option. There is no burger bar on the pool deck, no sandwiches or snacks from a cafe or coffee shop, or no pizza parlor.
Thus, to our dismay, we joined the masses in the Marketplace Buffet. The general trend here all week was that it was a bit chaotic. Passengers seemed to queue needlessly, and the food stations were scattered and inconsistent. We usually get annoyed with passengers who wander aimlessly around the buffet, but we found ourselves doing the same thing this cruise. Finally, we settled on a salad and slice of pizza.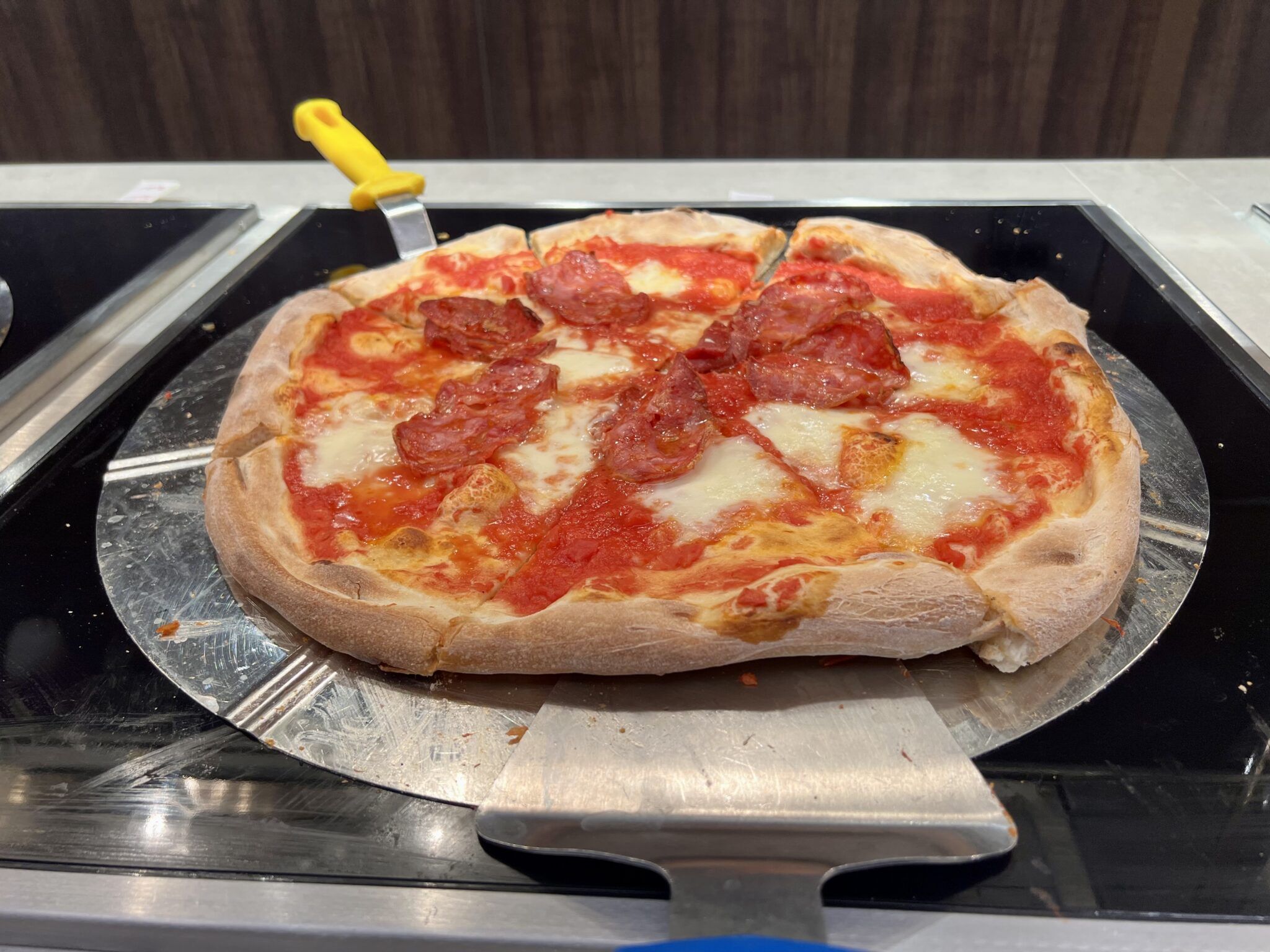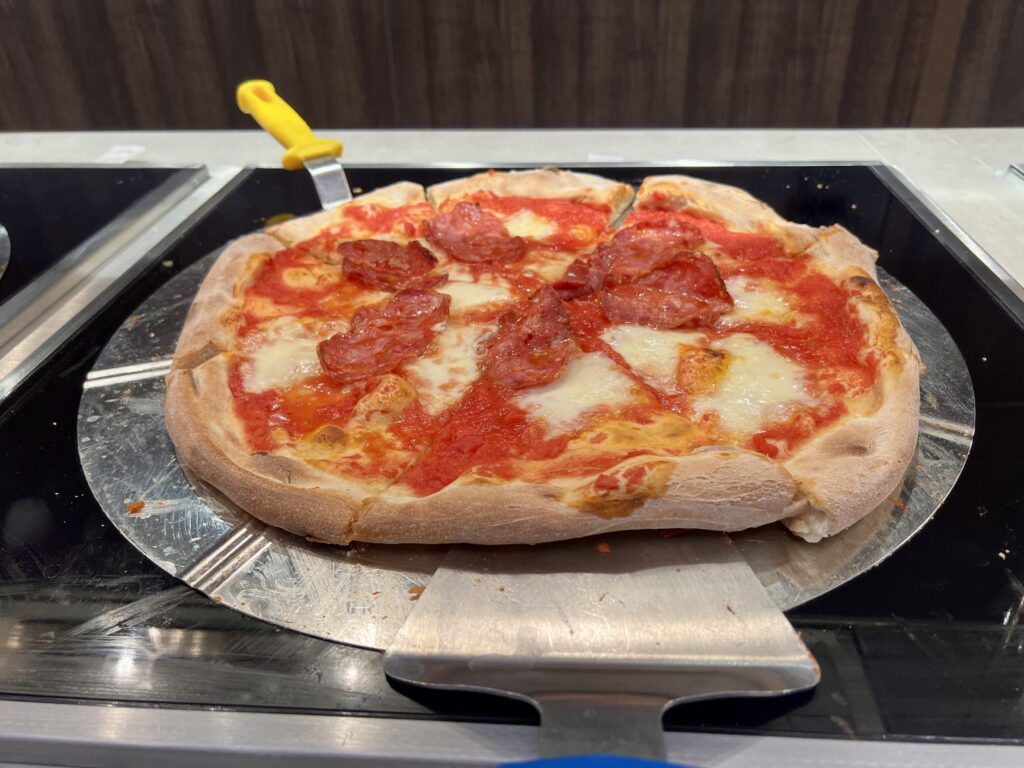 Now, it was time to figure out this MSC muster drill. It turns out that we needed to watch a video on our TV, call a number on our cabin phone to confirm we watched, then check-in at our actual muster station. While it would certainly be more convenient if organized on the app like other cruise lines, at least we didn't have to crowd with others in our actual muster station for the drill.
Following this, we made our way up to Deck 16 aft near the Bridge of Sighs for sail away. Here, we watched Carnival Spirit and Carnival Celebration depart before we pushed off along with Grandeur of the Seas. It was a great evening for sail away with perfect weather and a beautiful sunset.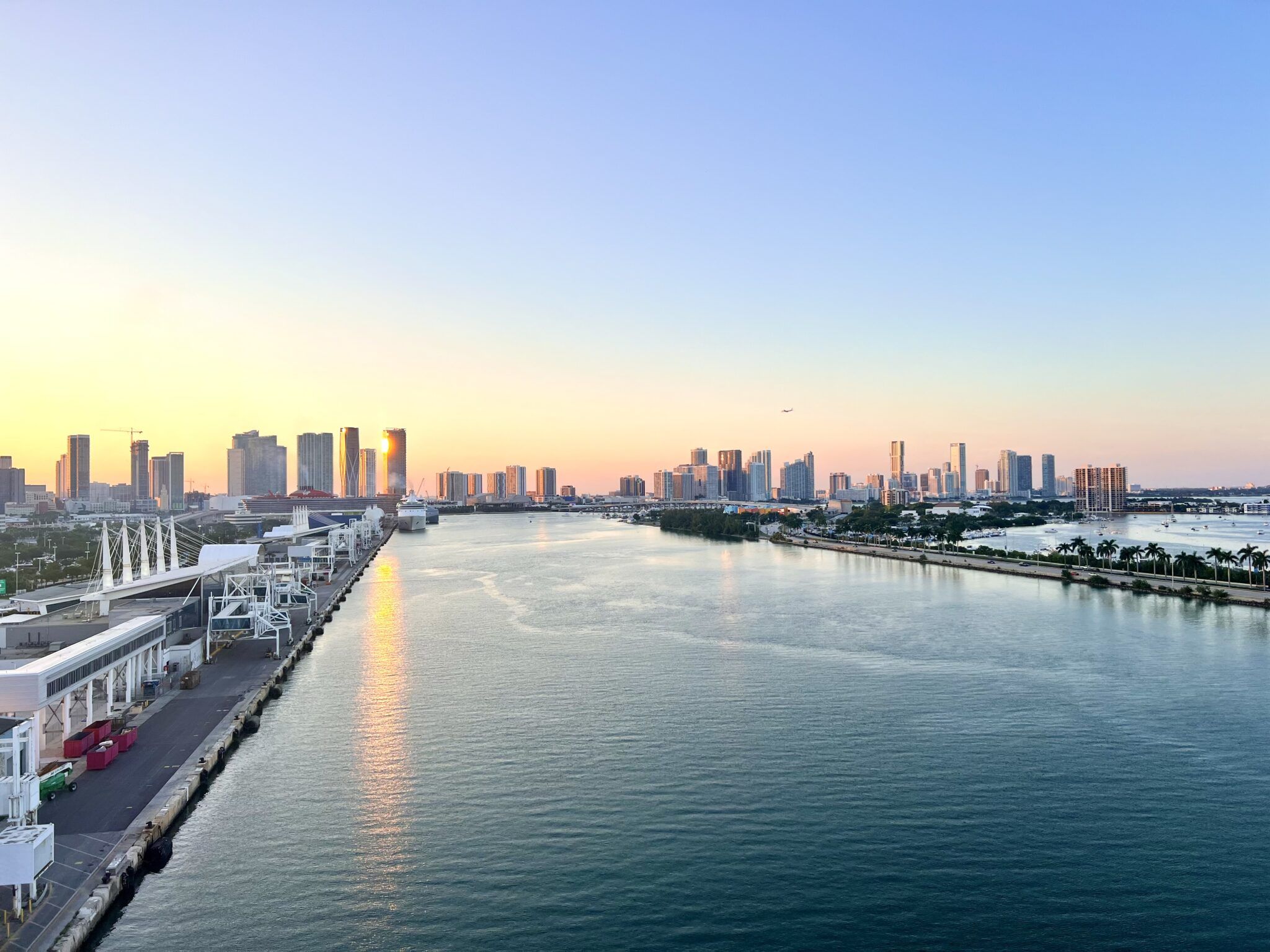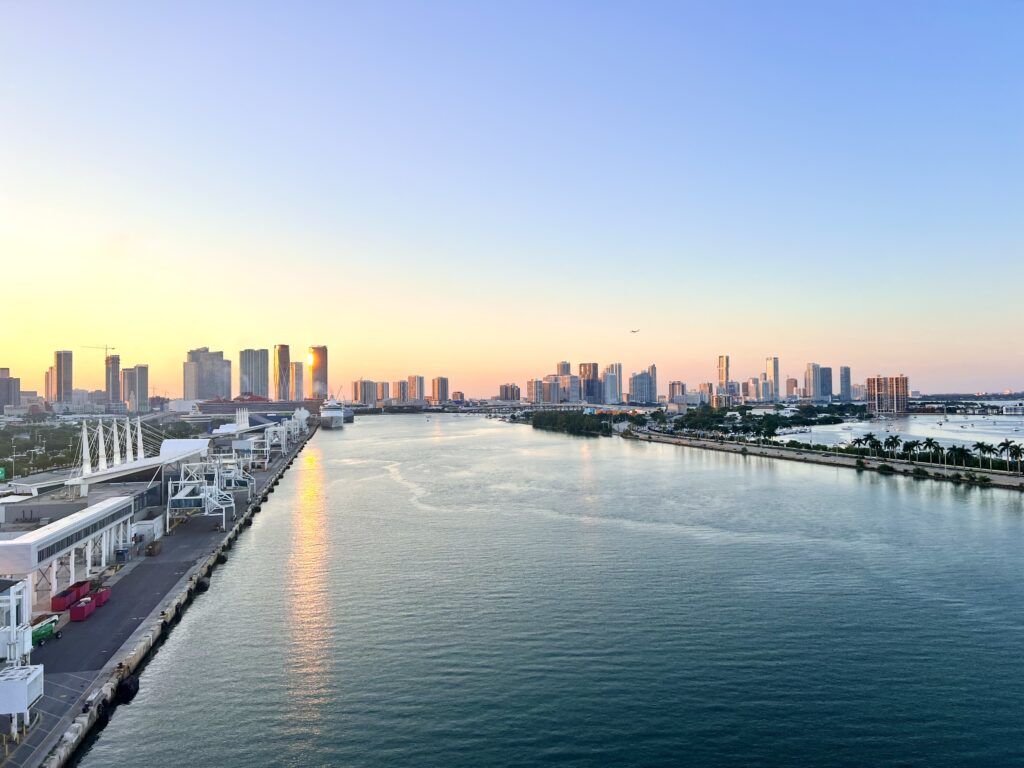 Our First Evening Onboard
Back to our room before 5:30 PM, we started to unpack before quickly changing up for our scheduled cocktail party at 6 PM. Occurring in the Sports Bar, we met up with the other content creators that were part of our group. It was great to meet and/or reconnect while chatting about our travels.
For this sailing, we were assigned the late seating of traditional dining. While 8:30 PM is much later than we usually eat dinner, we tried to make the best of it. So, after the cocktail hour, we checked out the MSC logo store and grabbed a drink at the Champagne Bar.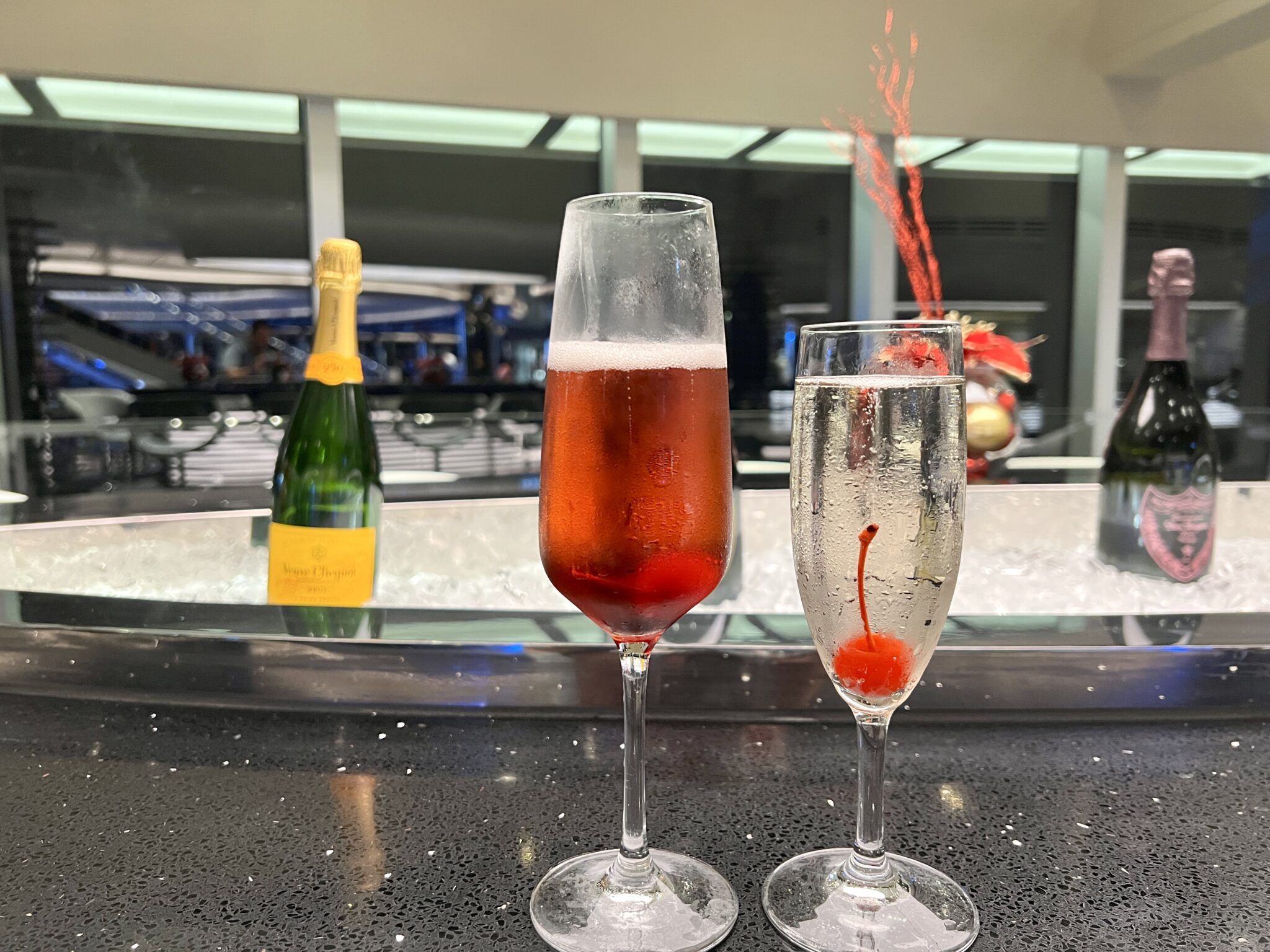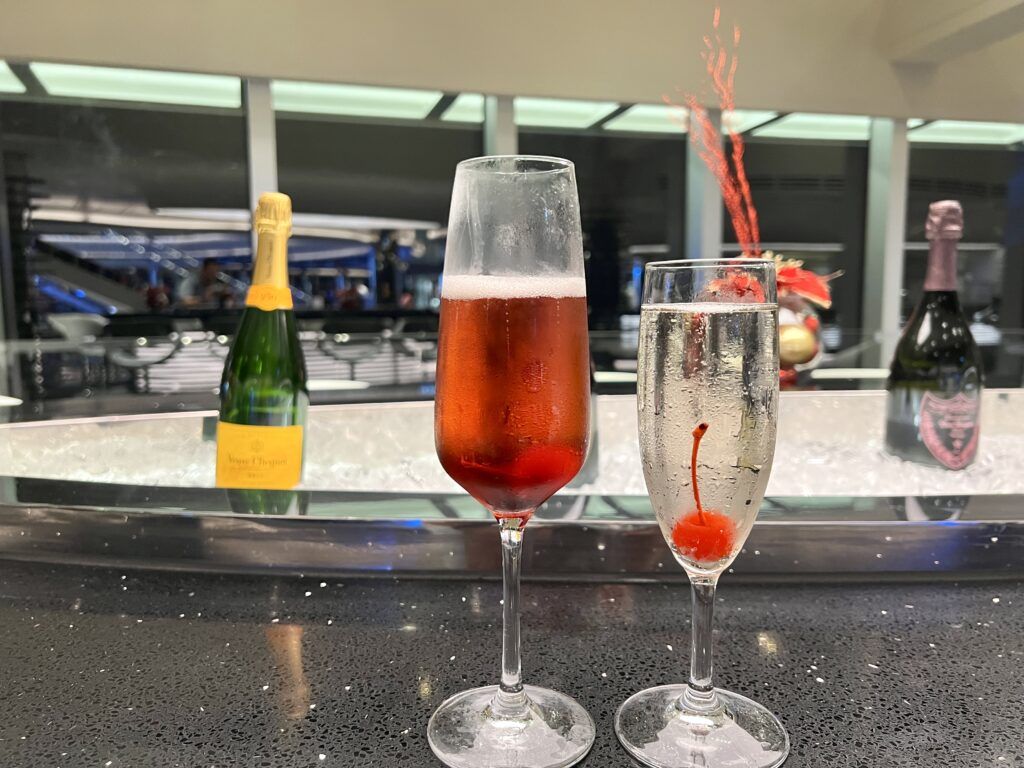 The logo shop did not have ship ornaments or inaugural season t-shirts. Thus, we purchased a mini ship model in the hopes that I could Martha Stewart a Christmas tree ornament with it.
Our assigned dining room was the Aegean Restaurant on Deck 7. We were seated at a table for 6, but we had the whole table to ourselves most nights. The service and the food were pretty inconsistent in the main dining room throughout the week.
While our assistant waiter, Veronica, was friendly and attentive, our waiter did not have much personality. Further, Don enjoyed more of the menu selections than I did.
Tonight, hubby tried the grilled calamari salad and the prime rib. I ordered a Caesar salad and the chicken and waffles. Of these dishes, the prime rib was the highlight as the rest of the dishes were rather uninspiring.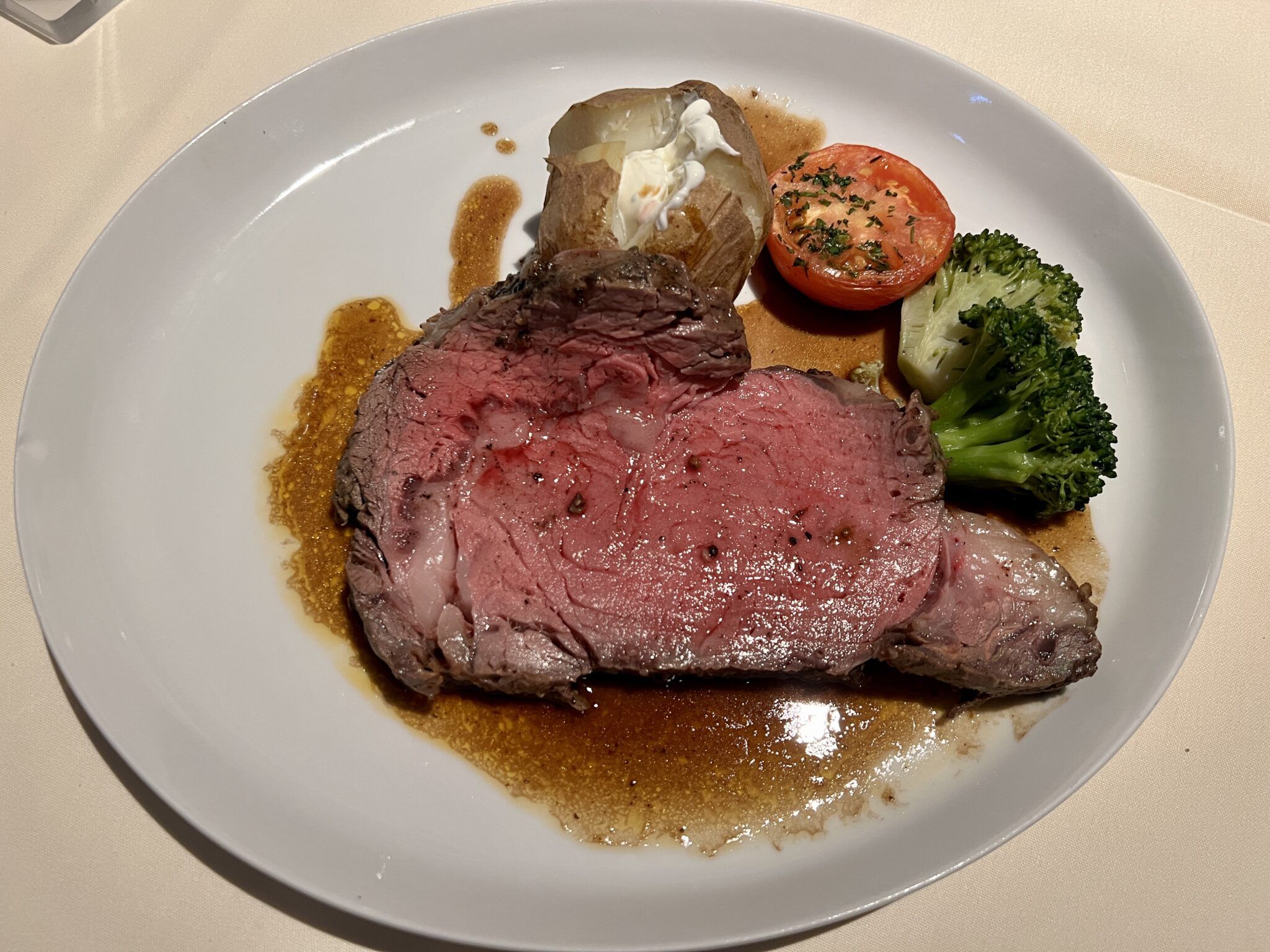 Tonight's show in the Chora Theater was Dreamscape. This is just one of the six shows debuting on MSC Seascape in the main theater. We saw this production show during our days onboard in New York. While it was okay, we didn't feel the need to see it again. That seemed to be the trend all week, as the entertainment certainly did not live up to Royal Caribbean or Norwegian Cruise Line productions.
Around 10:30 PM by the time we finished dinner, we decided to call it a night. We went back to the room to finish unpacking and settle in for the rest of the week. Tomorrow was our first port of call in Ocean Cay.
MSC Seascape Inaugural Caribbean Cruise Review – Day 2
A Visit to Ocean Cay
Day 2 of this MSC Seascape Inaugural Caribbean Cruise Review was our first port of call. Today, we were visiting MSC's private island in the Bahamas, Ocean Cay Marine Reserve. This would be our first time on the island, so we were excited to explore and see how it compared to other cruise lines' private islands.
Our alarm was set for 6:30 AM when the hubby ventured out on his usual morning routine capturing photos and videos. Returning with our caffeine fix, we headed ashore shortly after the ship was cleared around 8:30 AM.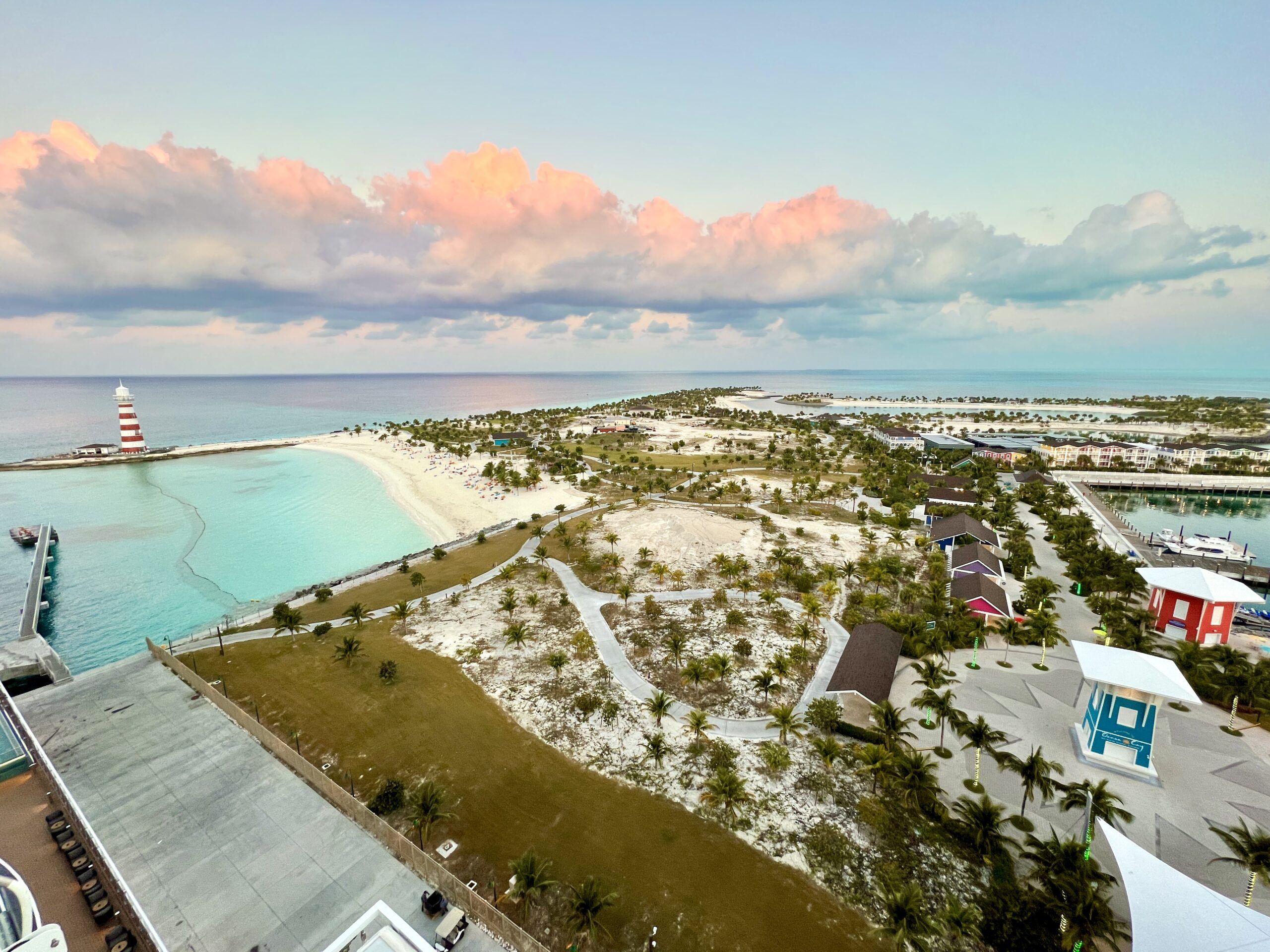 We spent the next 4 hours or so roaming the island. Starting at the Welcome Pavilion, we made our way through the Ocean Cay village with shops, the Springers Bar, and the Smiling Fish ice cream and coffee bar. We continued over the bridge to North island which is home to additional beaches and the Ocean House for Yacht Club guests.
Capturing photos and videos along the way, we walked back along South Beach, out to the Spa and Sunset Beach. Then, we slowly made our way towards the Lighthouse and Lighthouse Bar, essentially making a full loop around the island.
We paused at the Lighthouse Bar for a drink and some photos of the ship. This bar is the largest and most themed on the island with plenty of comfy seating. We debated climbing to the top of the Lighthouse, but we decided not to wait around for the next tour at 1 PM.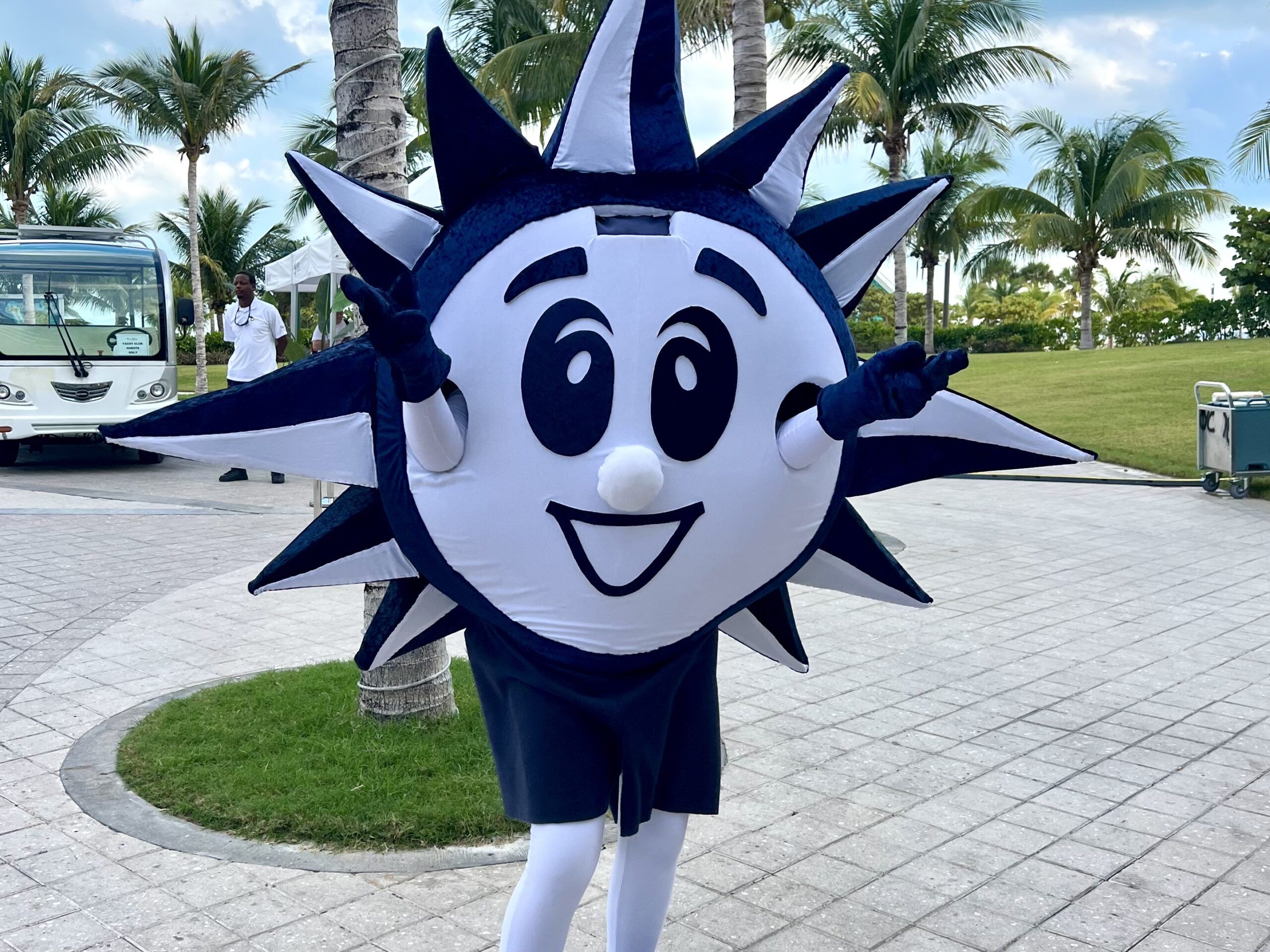 So, we strolled back along Lighthouse Bay eventually making our way to the Seakers Food Court for lunch around 12:30 PM. Much like the buffet on the ship, this buffet was a bit chaotic. We waited in line for 20 minutes for mediocre food.
The buffet consisted of small dishes of various salads, though not a typical garden salad. There were also pre-made hot items like hamburgers, jerk chicken, rice and beans, fries, and fruit. Unfortunately, there was no soft serve ice cream here.
While the island did have a few food trucks, there weren't any different items aside from up-charge seafood selections. The complimentary items were basically hamburgers and hot dogs. So, don't expect chicken sandwiches like on CocoCay or tacos like on Great Stirrup Cay.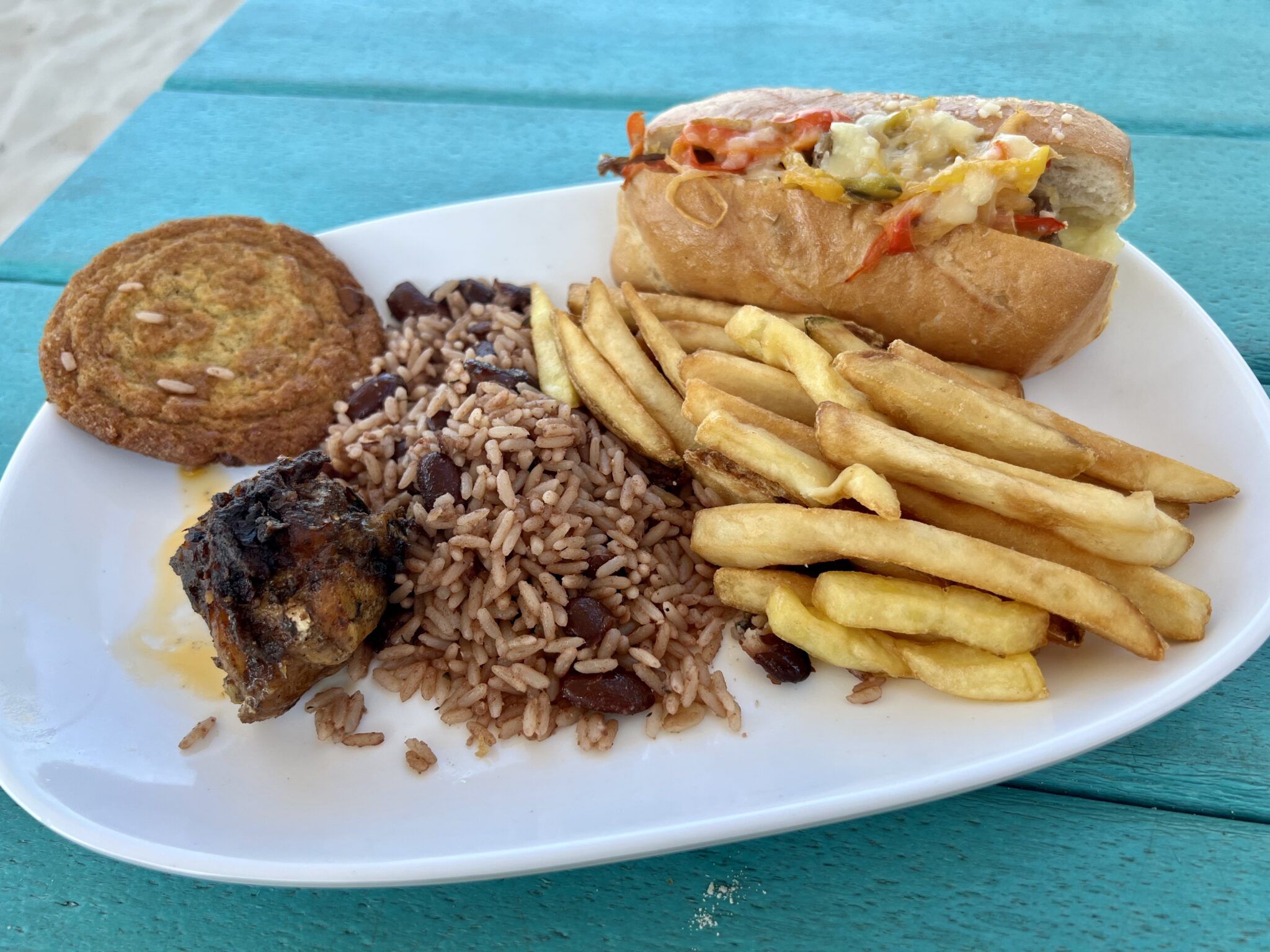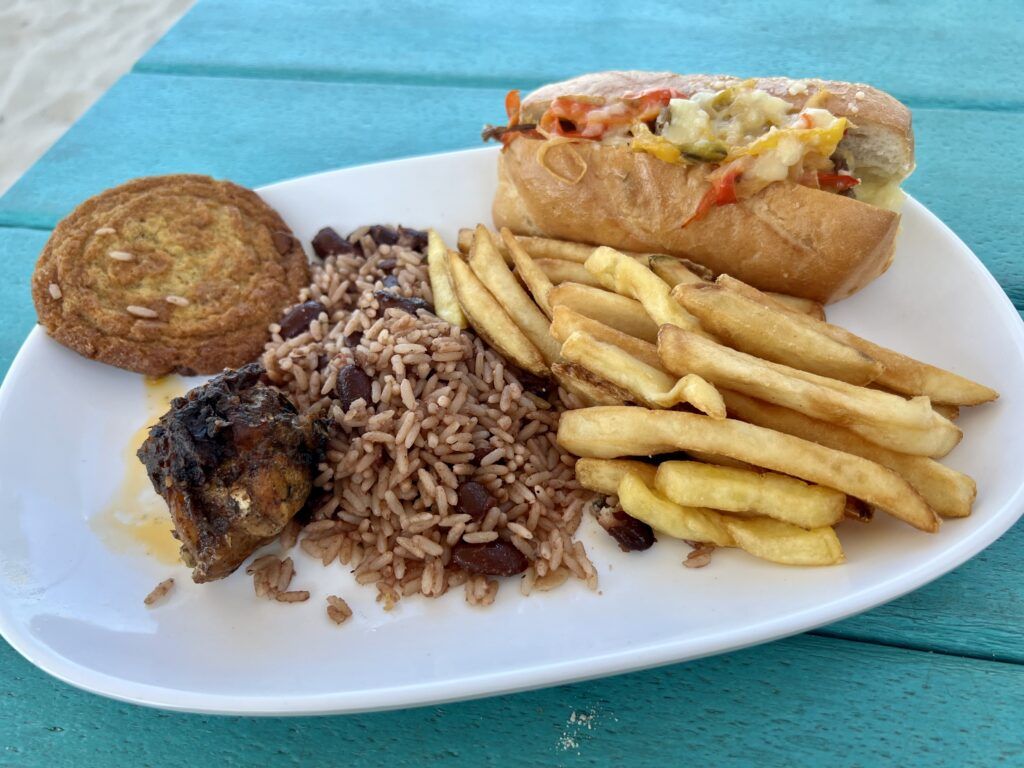 After lunch, we enjoyed the island a bit more before heading back to the ship around 2:30 PM. Unfortunately, the shops did not have much in terms of logo merchandise or any Ocean Cay ornaments to add to our collection.
Mexican Favorites in the Bahamas
Once back onboard MSC Seascape, we grabbed our afternoon iced espresso drinks and relaxed in our room until dinner time. Unfortunately, the coffee shop on Ocean Cay is NOT included in any of the MSC drink packages.
Tonight, we had dinner at one of the specialty restaurants, Hola Tacos and Cantina, for 6:30 PM. This restaurant is priced a la carte, and there is also an all you can eat option. The menu items included everything from fresh-made guacamole and salsa to queso fundido, a variety of tacos, burritos, quesadillas, and enchiladas.
We started with the queso fundido and chips, along with some margaritas of course. I chose the chicken enchiladas for my entrée, while Don ordered three different tacos. He tried beef, pork, and steak and liked the carne asada selection the best. We closed out the meal with tres leches and dulce de leche desserts.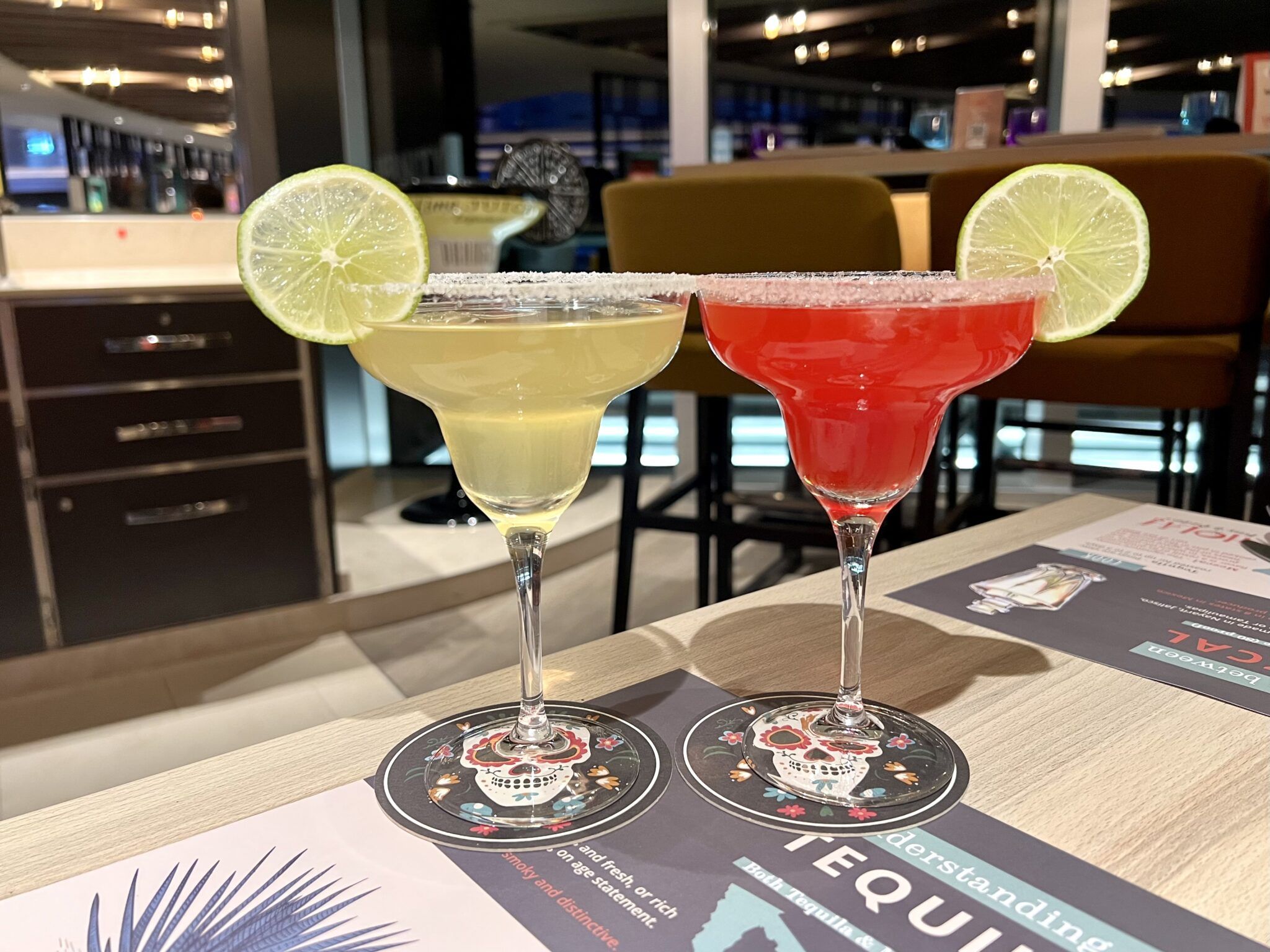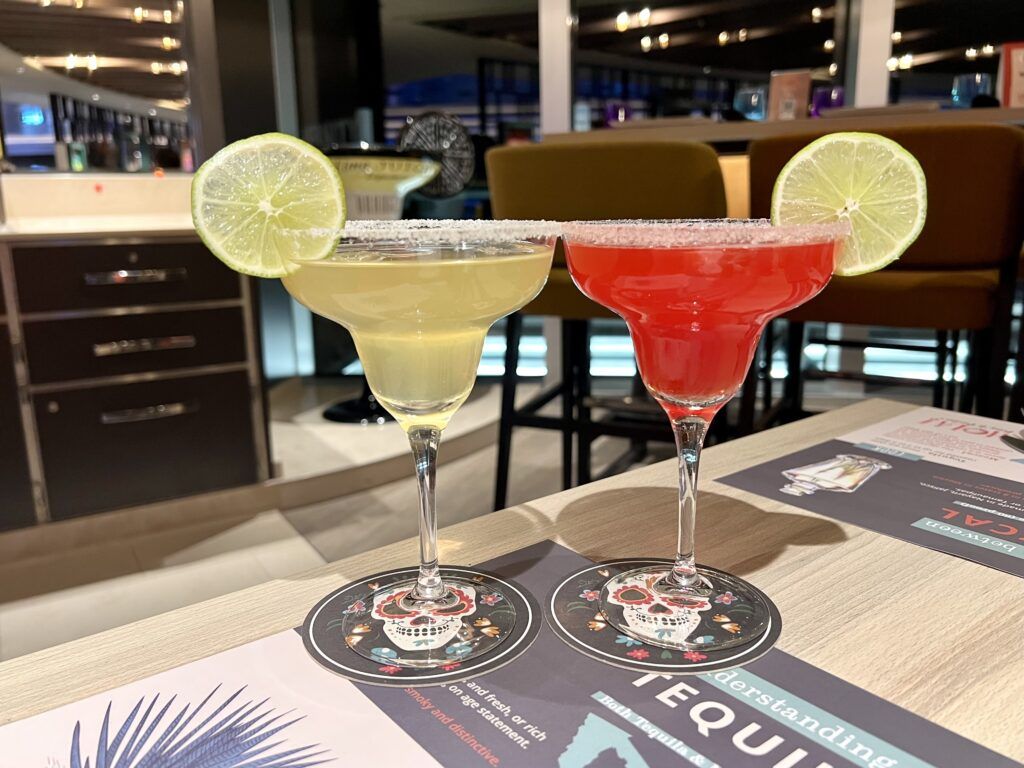 Overall, we enjoyed the food as this casual specialty restaurant. The selections were served warm and were flavorful. While we had a dining package, the menu items were all reasonably priced if paying a la carte.
Following dinner, we headed to the Chora Theater for the 8:30 PM headliner act. Tonight, there was a performance from the comedian Matt Bergman. Possibly due to the international makeup of the guests, but the crowd did not find him funny at all.
Wanting to experience all the entertainment available on MSC Seascape, we checked out the show in Le Cabaret Rouge. This large space hosts a variety of different acts each night of the cruise. Essentially, from 8 PM until close, you never know what you might see when you walk into this lounge. Tonight, we caught two different singers and a comedic keyboardist.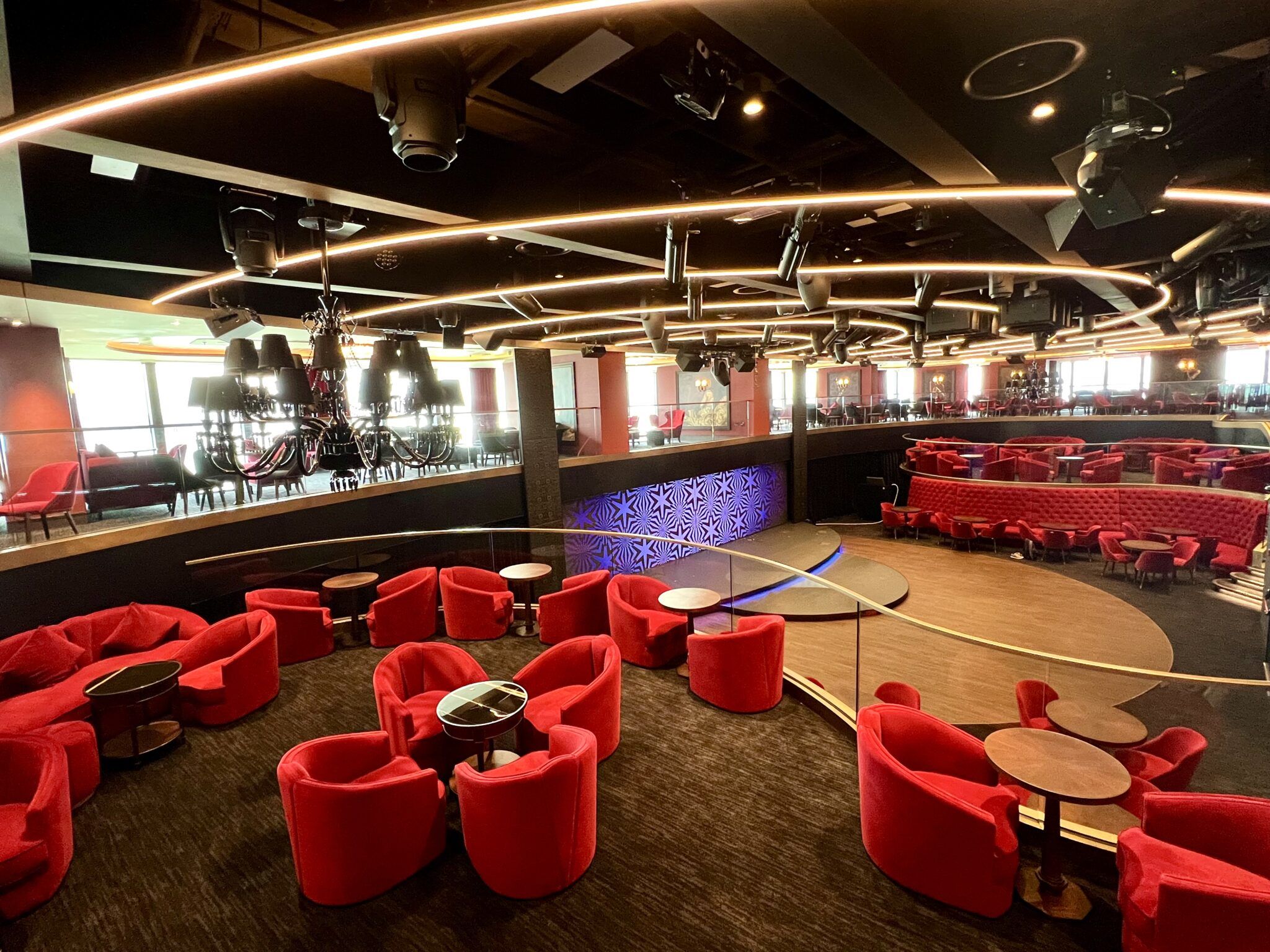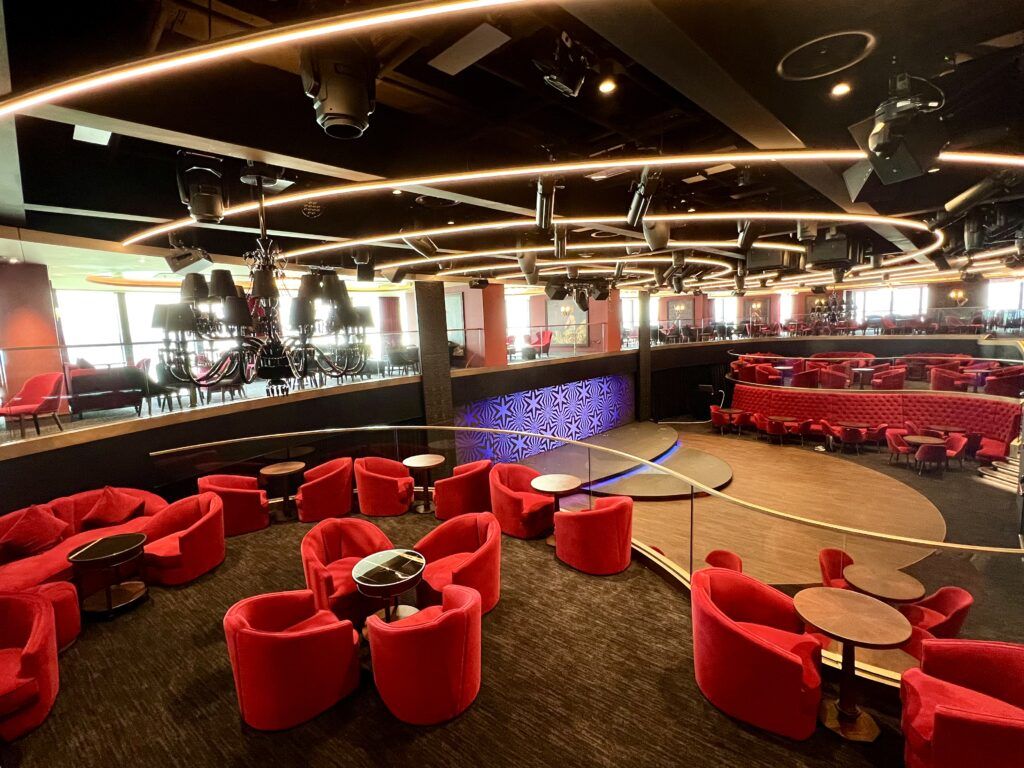 While this sounds good in theory, we wish they had a general schedule so we could come and go based on the acts we wanted to see. It seemed like every time we walked in to this venue, we ended up seeing the same acts.
After a short stint here, we wandered over to the Loft Cafe to check out the entertainment there. We grabbed some espresso martinis and enjoyed the rest of the jazz band's set.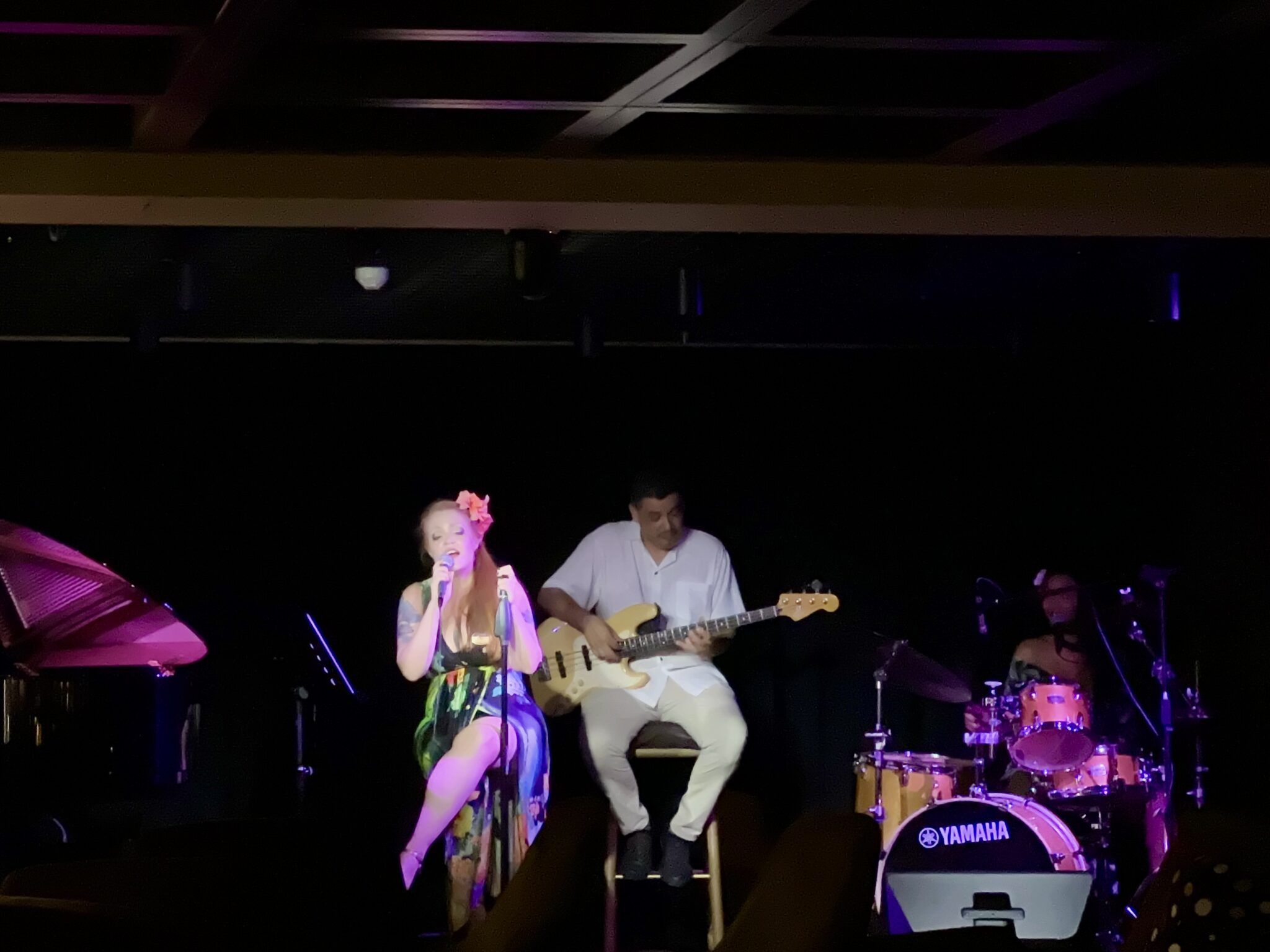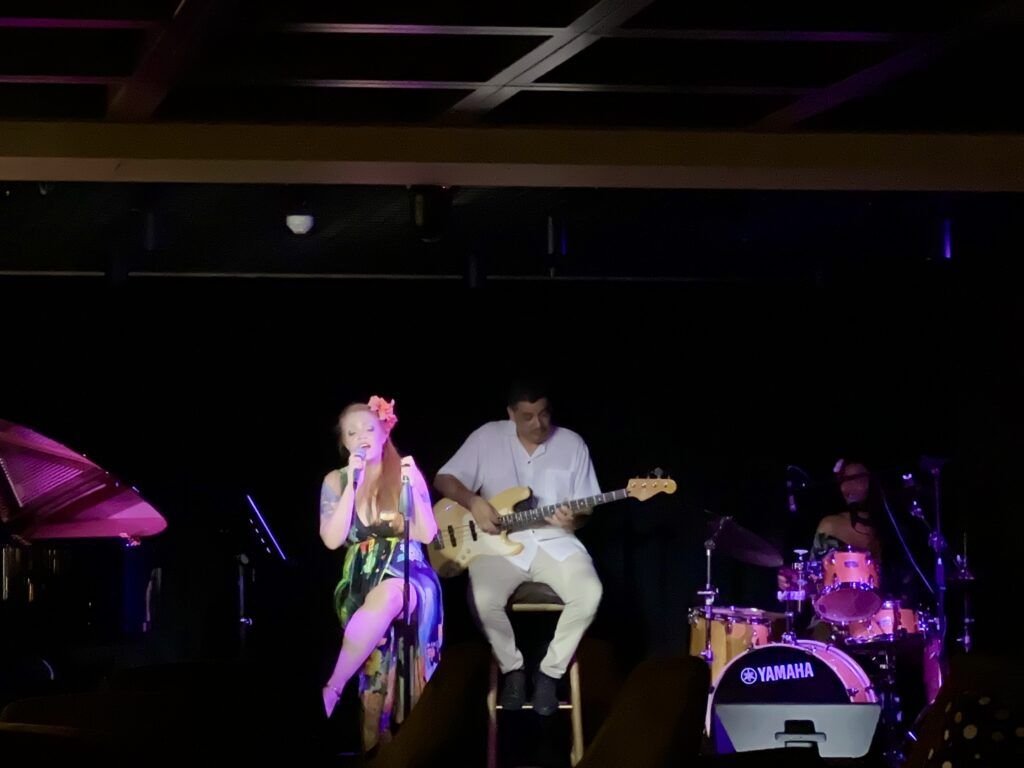 When the band finished, we headed up to the pool deck for the Tropical Party. It seemed like almost every night there was a party taking place on the pool deck. The MSC guests know how to party until the wee hours of the morning.
On the other hand, we called it a night around 11:30 PM.
MSC Seascape Inaugural Caribbean Cruise Review – Day 3
A Work Day in the Bahamas
Day 3 of this MSC Seascape Inaugural Caribbean Cruise Review was a call into Nassau, Bahamas. Our group had a scheduled shore excursion to Blue Lagoon today. However, like most visits to Nassau, we decided to stay on the ship. There was still a lot to capture on this new vessel.
We slept in until about 7 AM and spent most of the morning in our cabin catching up on some work. Don was also working his full-time job this week, so he had some meetings that he needed to attend.
Around 11 AM, we ventured out to collect more footage of the ship and enjoy the weather. We also grabbed an early lunch since we skipped breakfast. Without much choice, we returned to the Marketplace buffet for a hodge-podge of selections. For dessert, we decided to splurge on some gelato.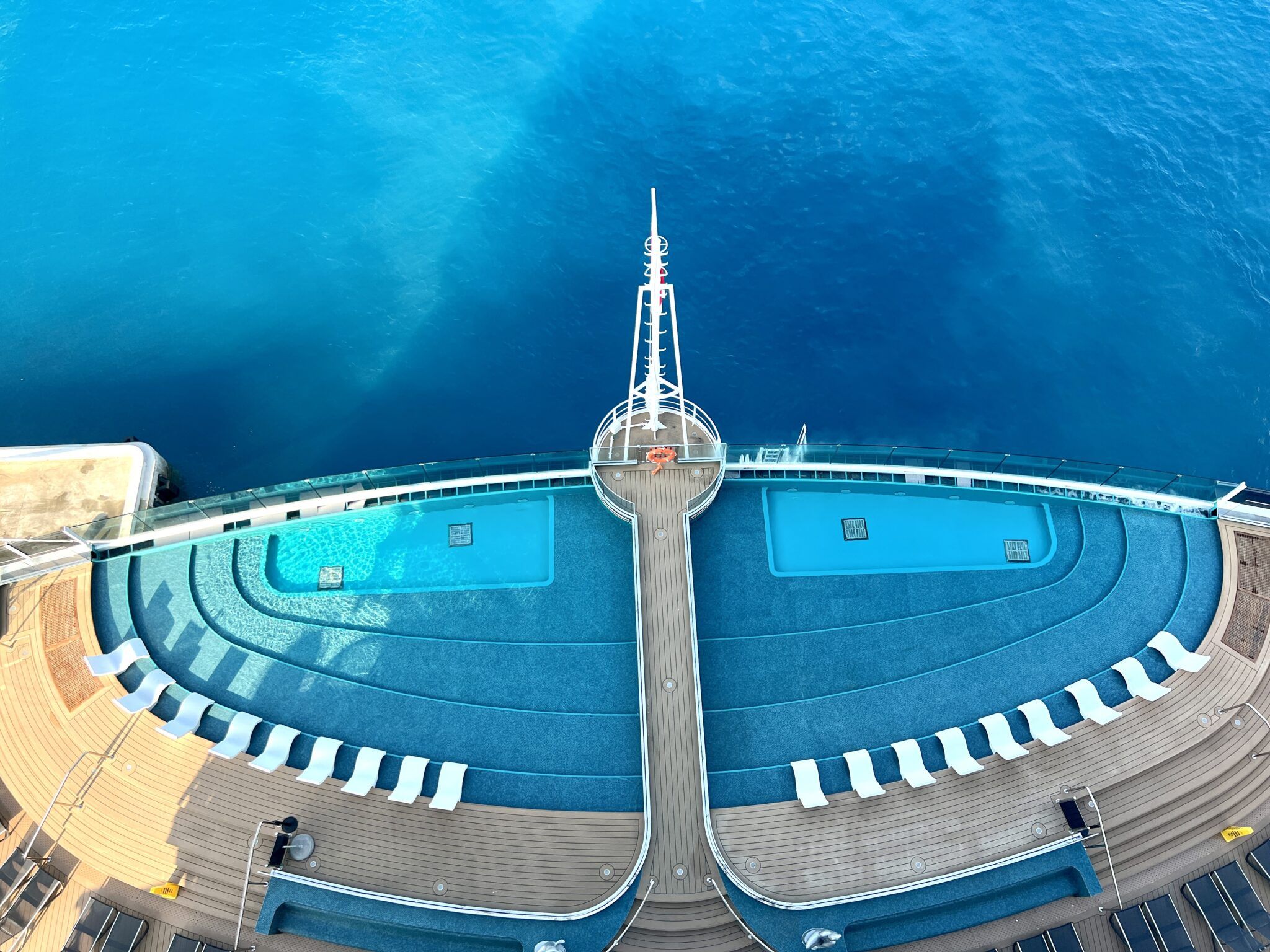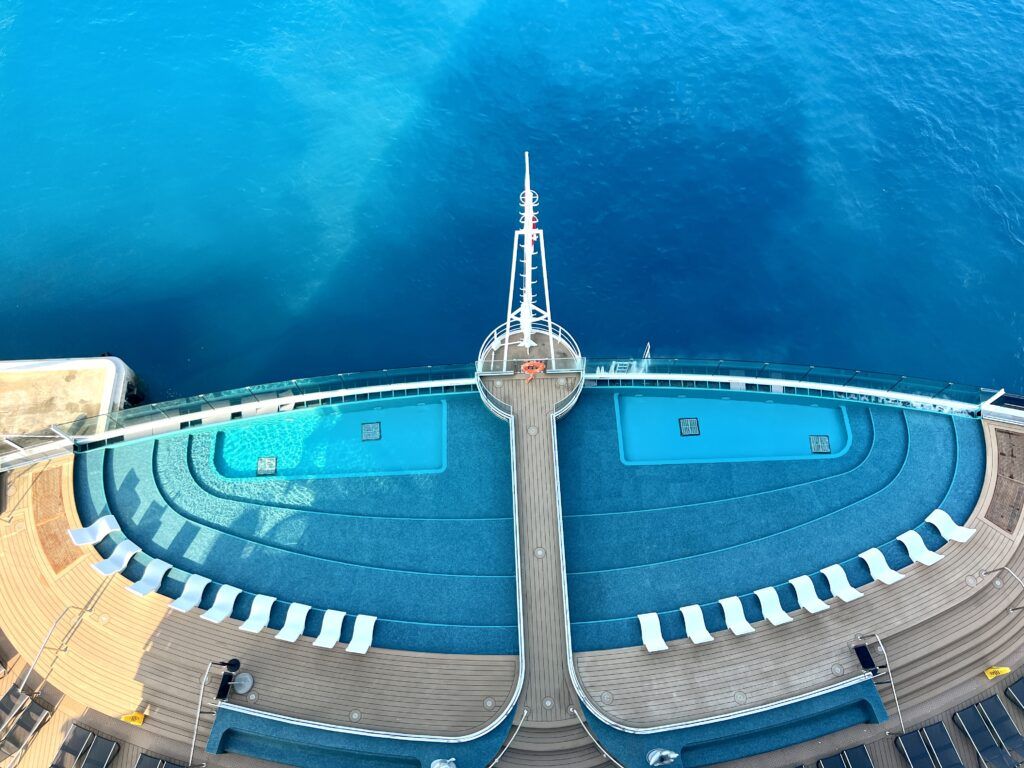 Given the brand's Italian heritage, there are three gelato shops onboard MSC Seascape. Unfortunately though, the gelato is an up-charge. Actually, so is the soft-serve ice cream. While the Venchi gelato was delicious, there should still be some kind of complimentary ice cream on the ship in our opinion.
With lunch done, we made a quick pitstop at the spa to schedule a massage and thermal suite reservation for later in the week. We then returned to work in our cabin until our next scheduled activity at 5 PM.
An Evening of Fun on MSC Seascape
At 5 PM, our group had an hour reserved exclusively for us in the Hall of Games. The Hall of Games is a high-tech and thrilling arcade. While it does feature some traditional arcade games, the real draw are the VR attractions and the F1 racing simulator.
We got to experience the XD cinema, the formula racer, the VR motobikes, and the 360 flight simulator. All were fun, but the flight simulator was way more thrilling than expected. The good news is that cruisers can purchase Fun Passes for a discount on these rides.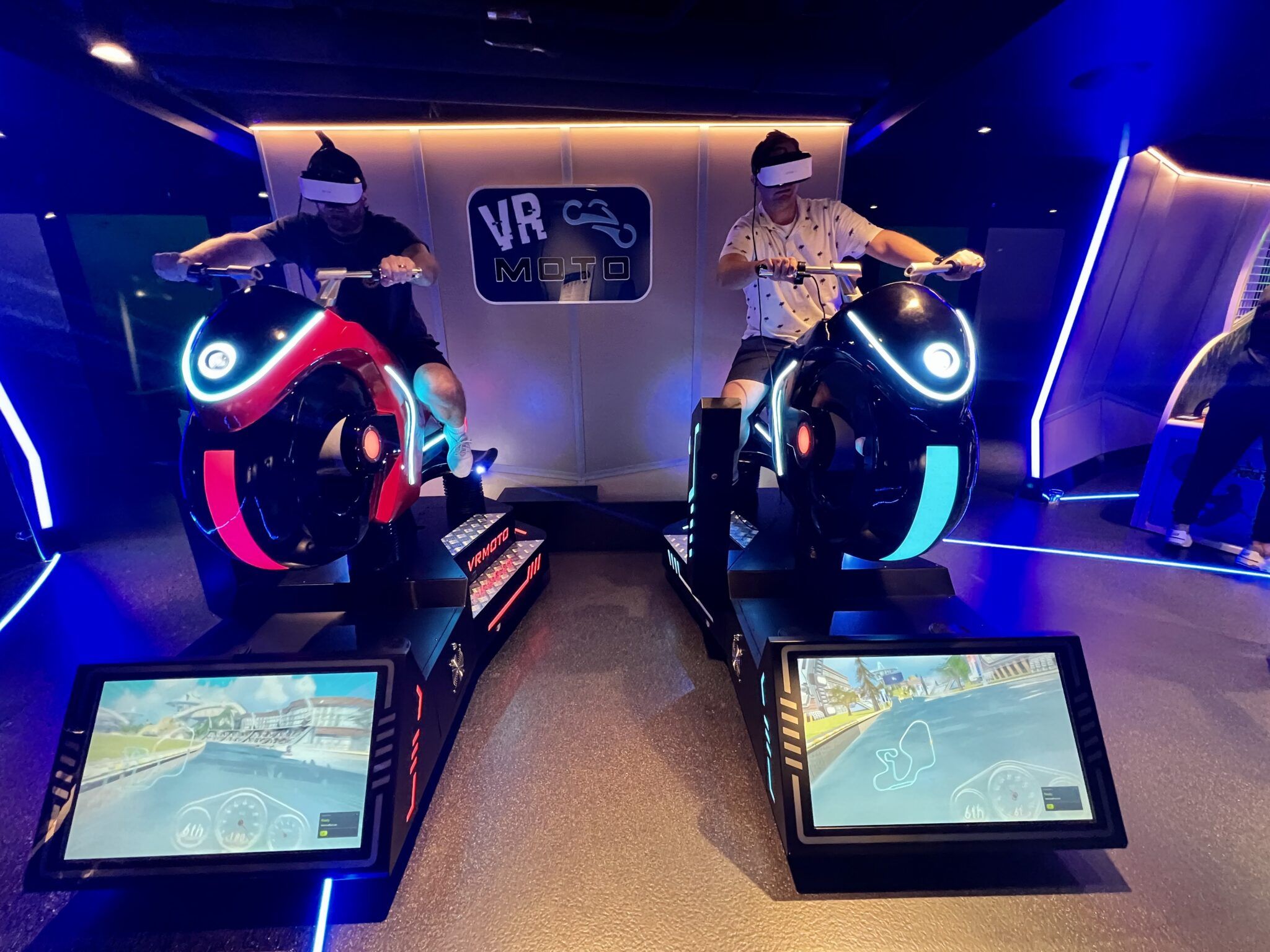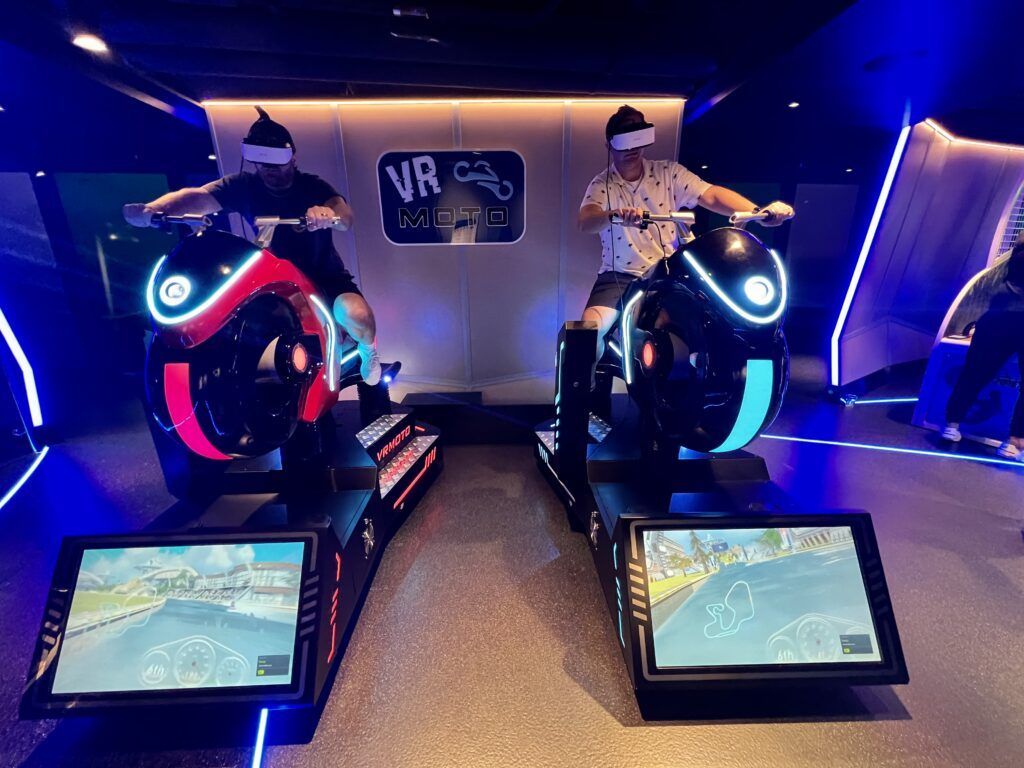 After all this excitement, we changed up for Gala Night and our hosted dinner at Butcher's Cut. Since our dinner reservation wasn't until 8 PM, we watched the 7 PM main theater show, Love Blooms.
Of the five theater productions, this was one of our favorites as it had a decent set list and elaborate costumes. Still though, we were expecting more in terms of choreography and digital imagery on a brand-new ship competing with the other mega-ships out there.
Dinner in the Butcher's Cut was the highlight of our dining on MSC Seascape. While we enjoyed all the specialty restaurants, this one was our favorite. Hubby really enjoyed his Oysters Rockefeller, Filet Mignon, and mac and cheese side dish. My baked goat cheese and chicken entrée were also really good.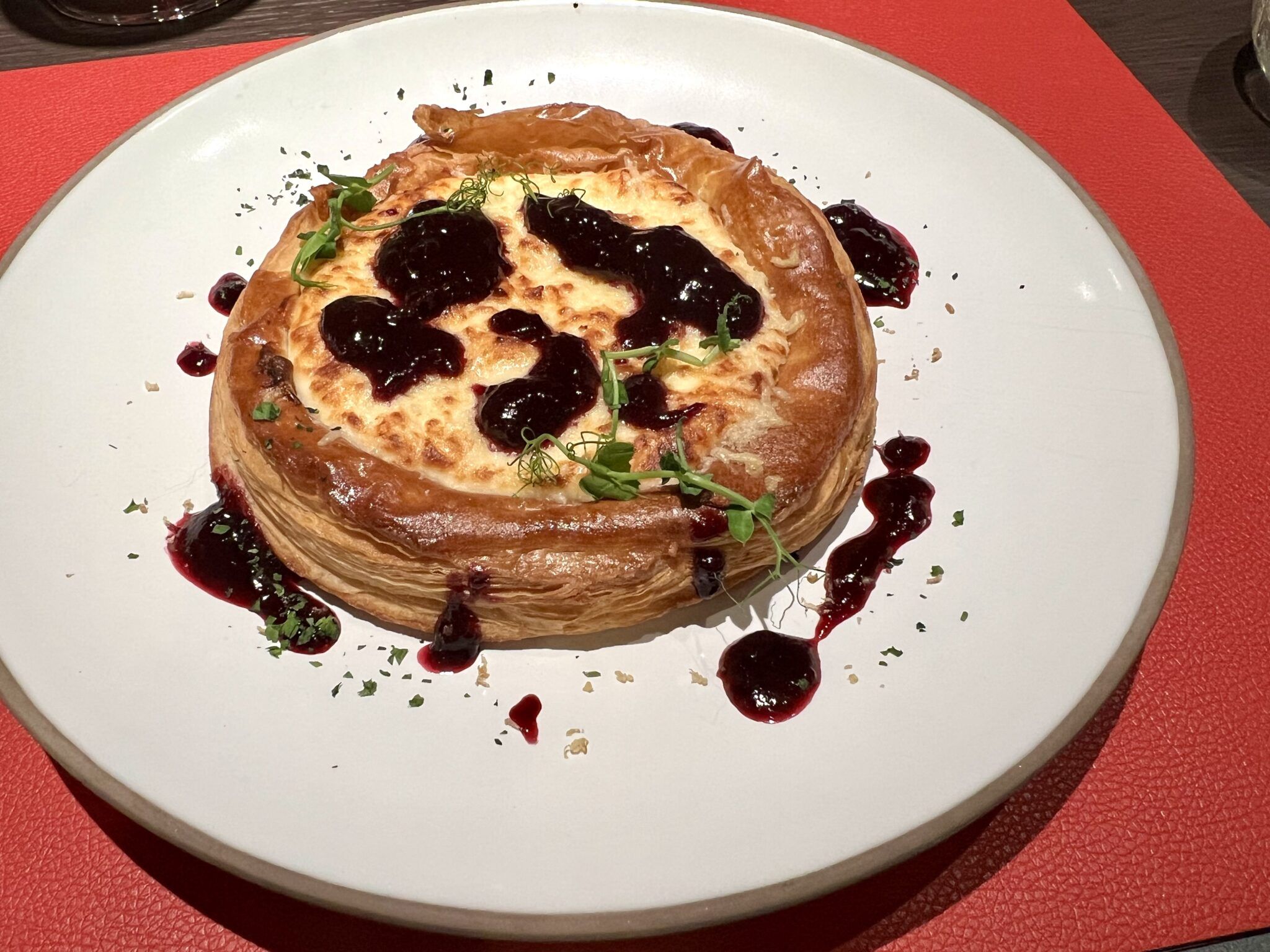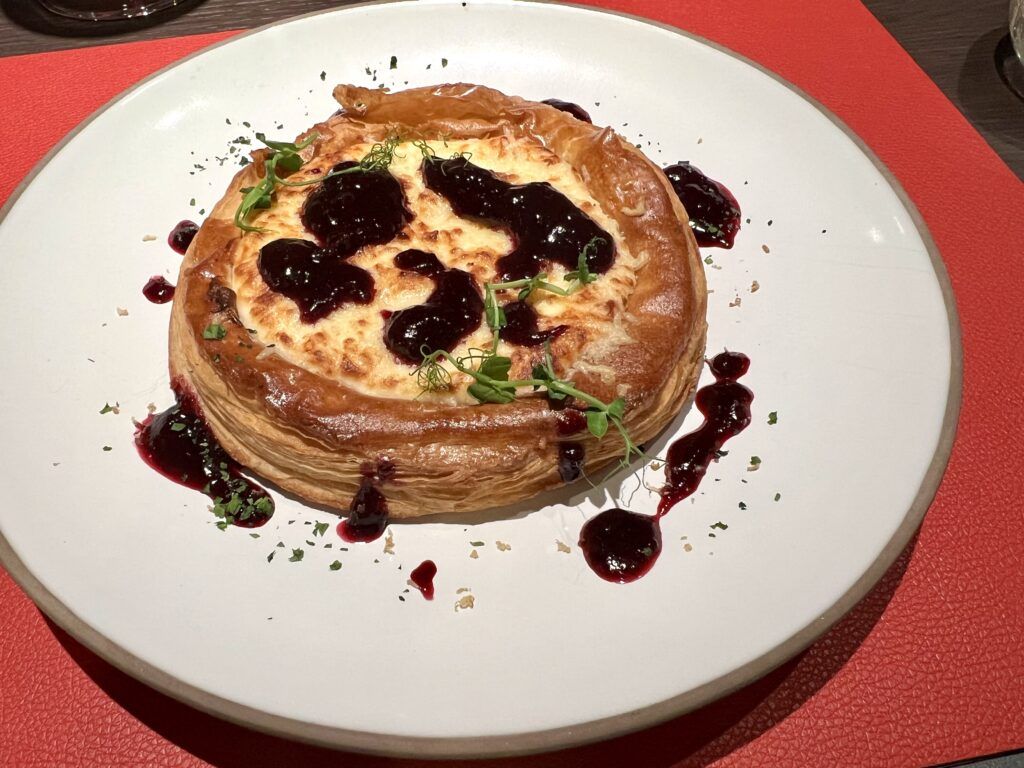 Not to mention, the lava cake and peanut butter and milk chocolate cookie were delicious endings to this satisfying meal.
The only downside is that if you have a dining package, you are limited to what you can choose from the menu. For instance, we had to pay full price to order the oysters as they were not included in the dining experience menu.
In general, the dining packages on MSC are definitely more restrictive than most other contemporary cruise lines.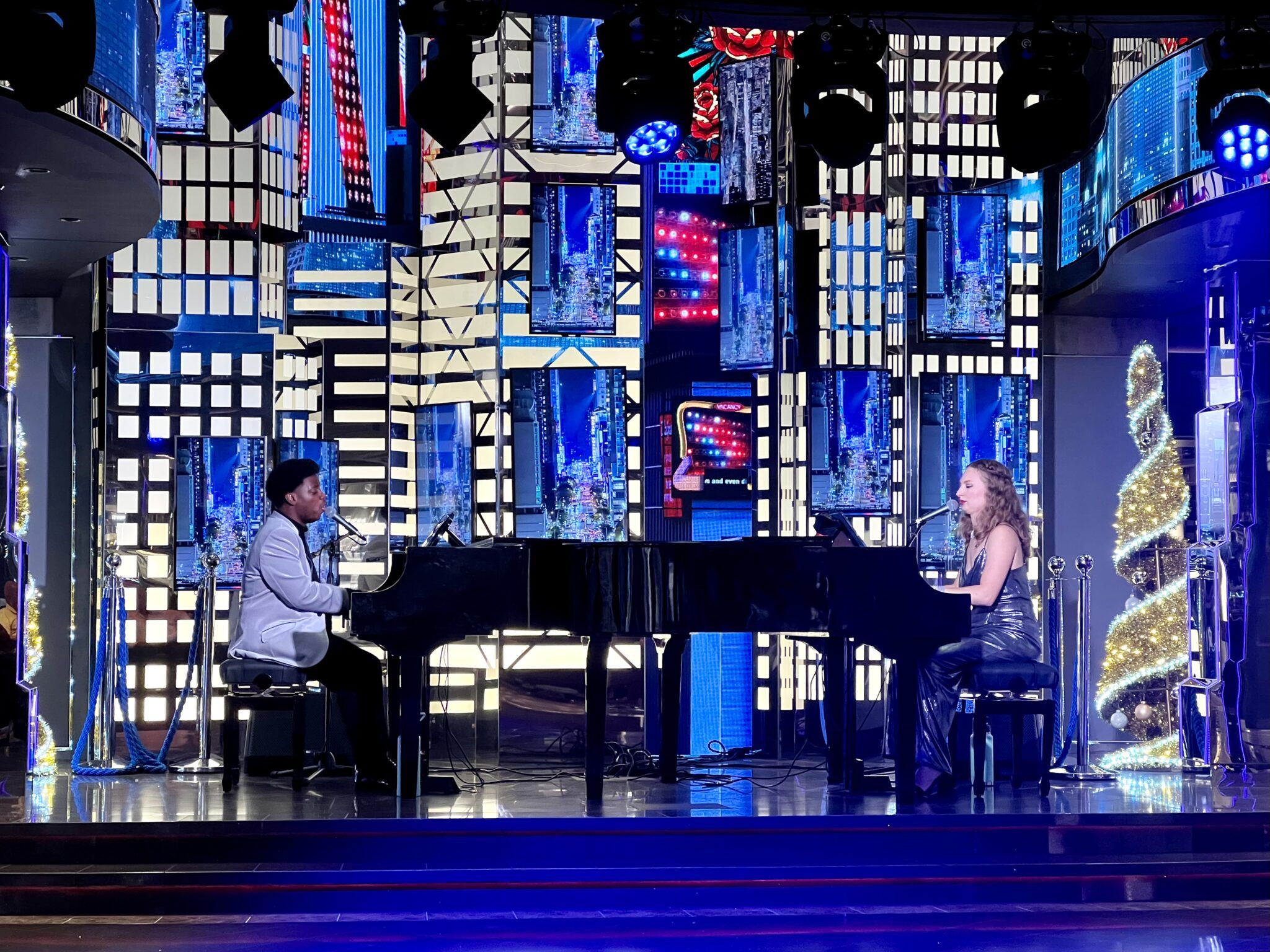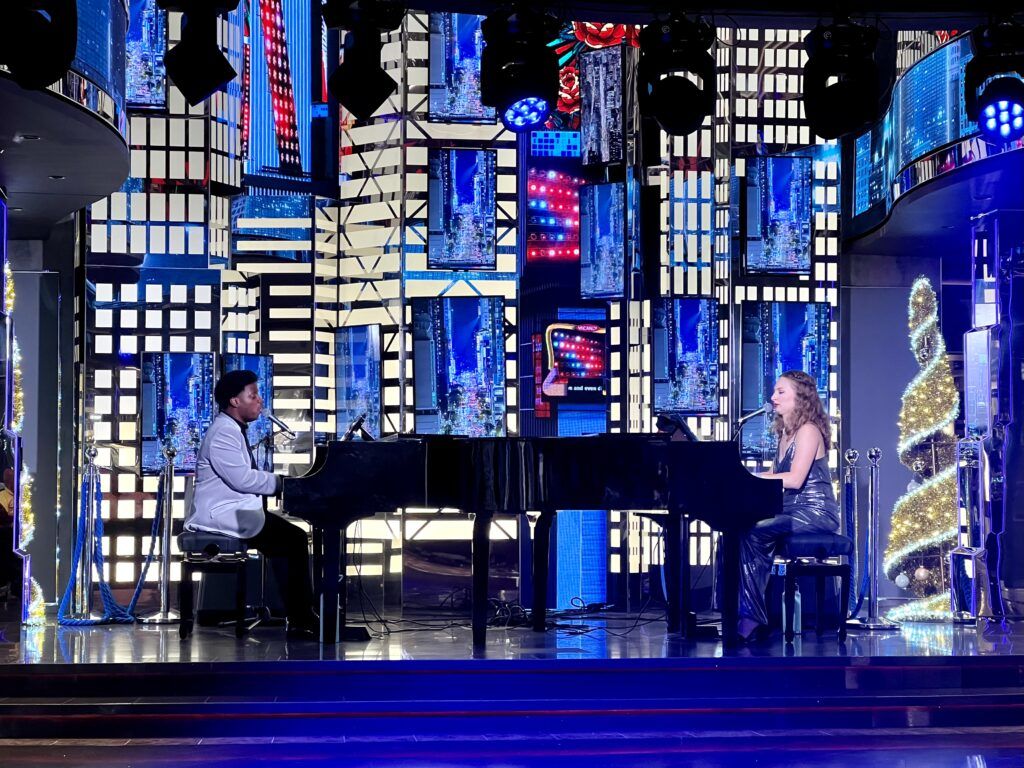 Dining with a large group, dinner did take about 2.5 hours, but that's to be expected. Already pretty tired, we decided to listen to the dueling pianos in Times Square for a bit before calling it a night around 11:30 PM.
Tonight, we had to turn our clocks ahead. Thus, we definitely needed some sleep if we were losing an hour.
SCORE BIG ON MSC SEASCAPE CRUISES FOR 2023!
MSC Seascape Inaugural Caribbean Cruise Review – Day 4
Starting the Day Off Right
Thankfully, Day 4 of this MSC Seascape Inaugural Caribbean Cruise Review was a sea day!
Losing an hour of sleep, we still set our alarm for 7 AM. We had a scheduled event for 9 AM and wanted to capture more photos and videos around the ship sans people.
This morning, our group was getting to sample some of the delicious selections at the Venchi Chocolate and Coffee bar on MSC Seascape. We ordered the coffee nougatine which is basically espresso with chocolate and hazelnut, and it was quite tasty.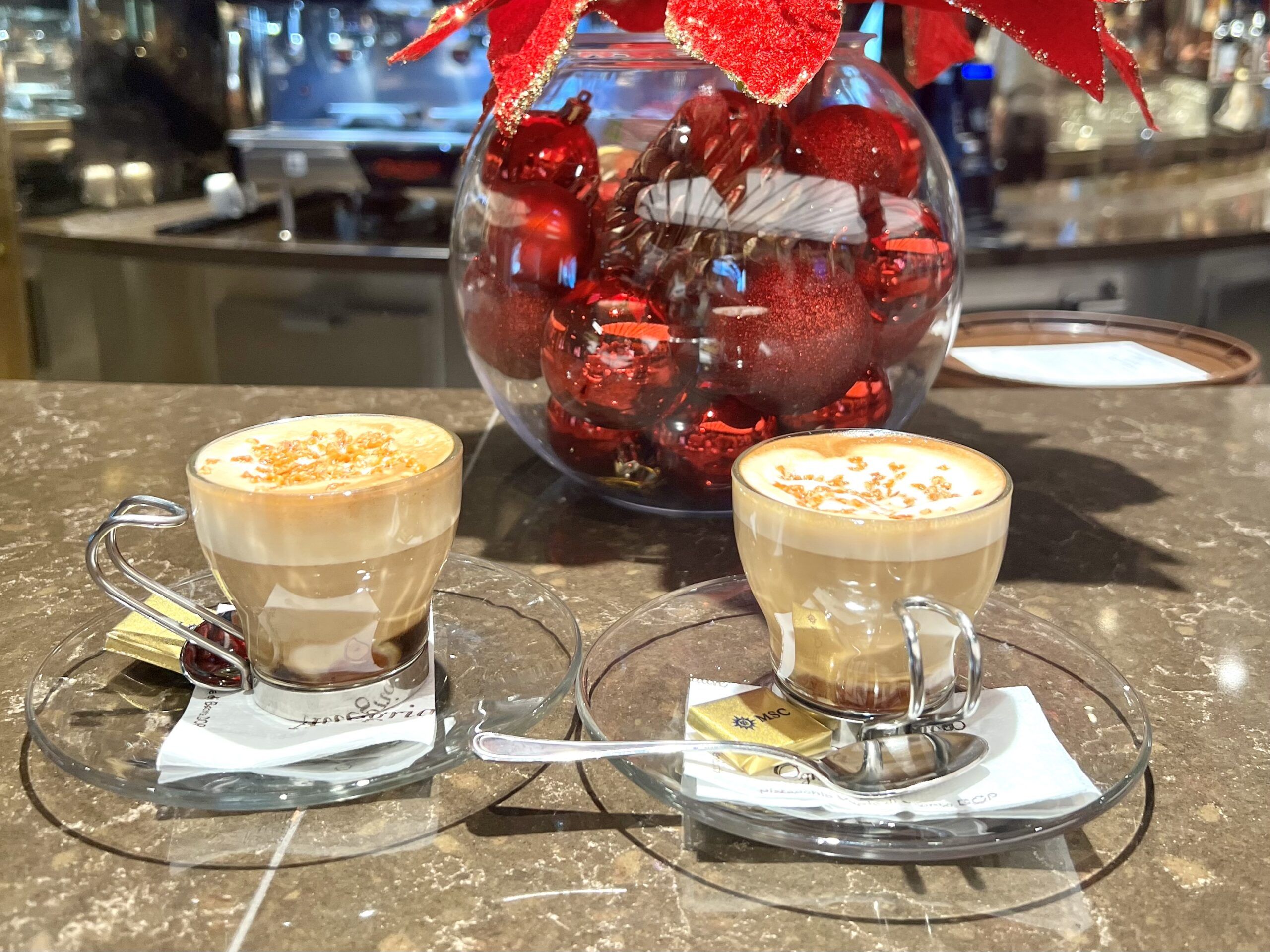 Unfortunately though, none of these chocolate-infused coffee drinks or cocktails are included in the beverage packages. So, this was the only time we had coffee from this venue during our cruise.
After our morning pick-me-up, it was back to the room to get some more work done until lunch time. For lunch, we decided to test out the main dining room. The service was quick, but the food wasn't very memorable.
Given it was rather windy today, our Robotron event this afternoon was cancelled. It ended up being rescheduled for 5 PM, but we couldn't make that time work. Don had a work meeting at 5 PM and we had an early dinner at Teppanyaki shortly after. Oh well, we would just pay to ride this attraction ourselves another day.
It's Showtime
With set dinner times at Kaito Teppanyaki, we were only able to reserve a 5:45 PM dining slot. This was okay as we prefer to eat earlier anyway. Like most hibachi-style steakhouses, this dinner and a show was a fun night out.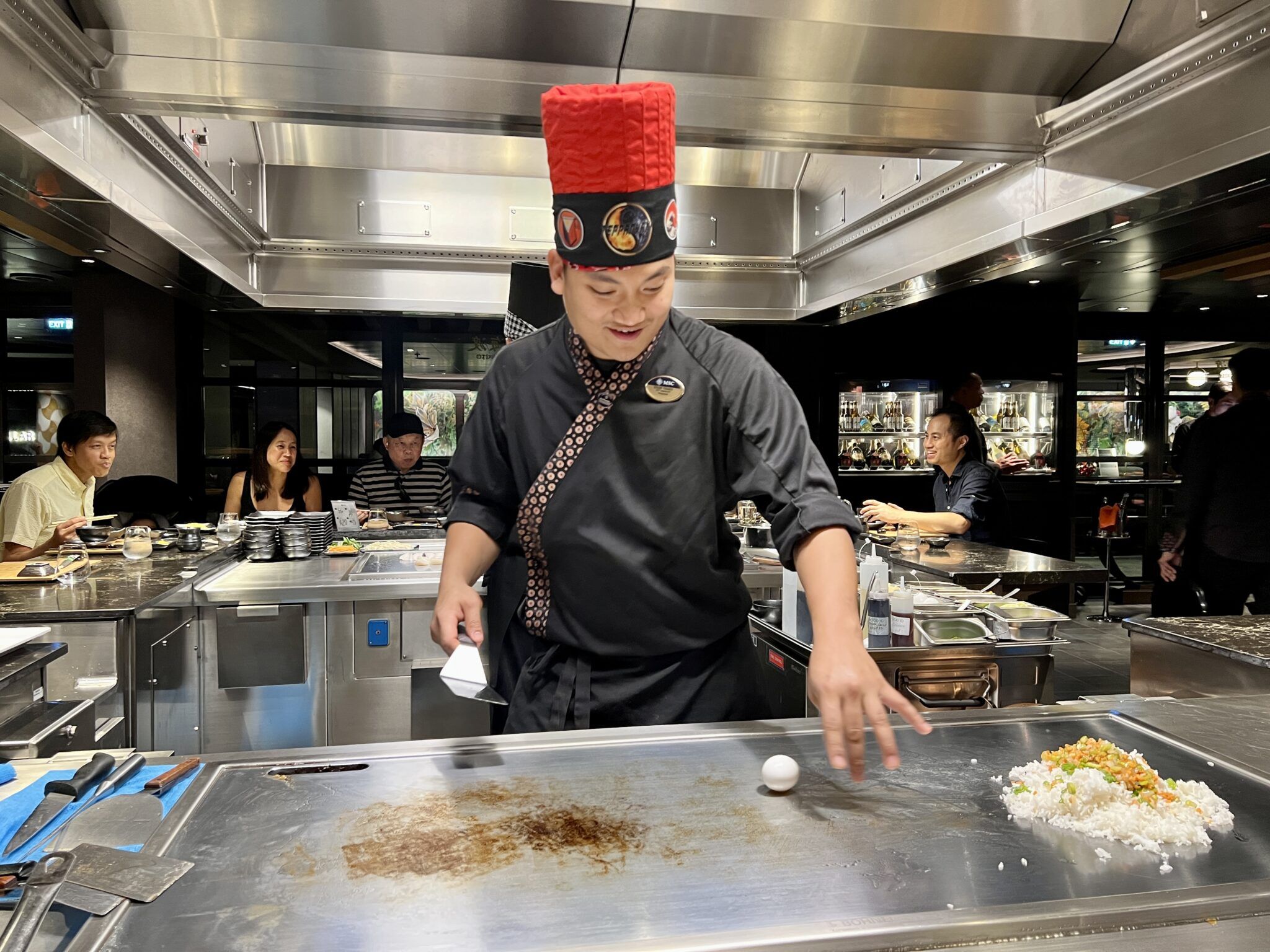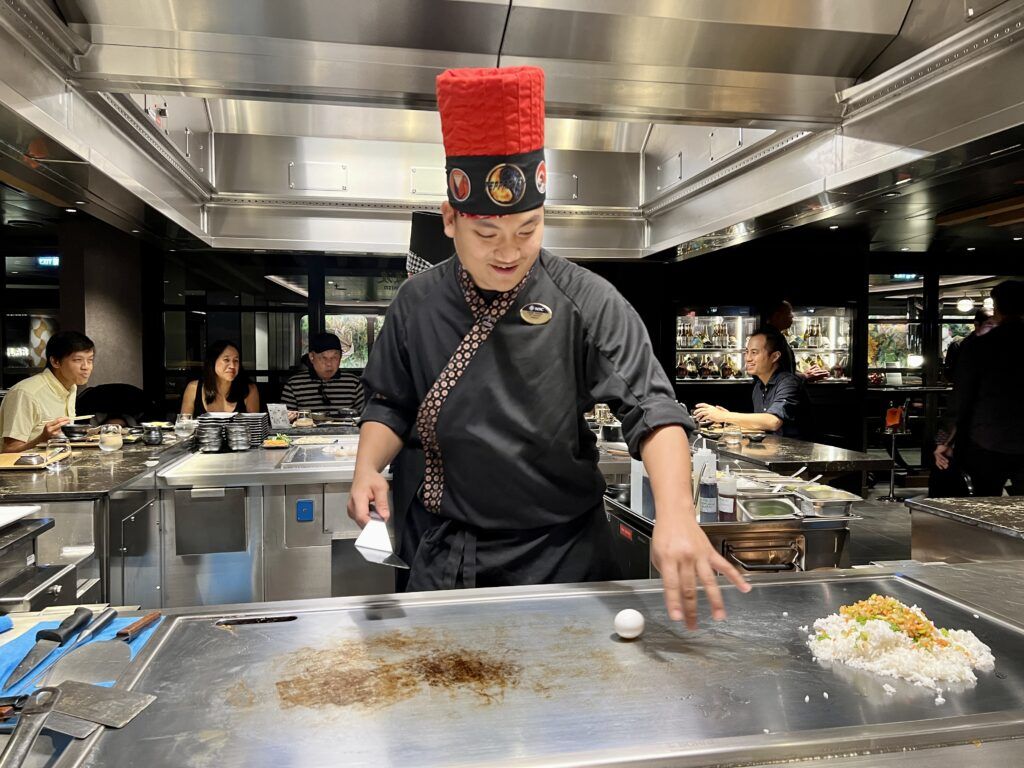 However, unlike other cruise lines, the menu at Kaito Teppanyaki includes several courses. It starts with a small salad and miso soup. Then, there is a sushi appetizer, followed by a grilled starter. There are three different Kaito experiences, but the starter with our dining package included shrimp and salmon.
These starters were followed by traditional fried rice and an entrée. The entrée was sirloin, but I was able to swap it out for chicken which was the entrée in the cheaper experience. Lastly, the meal finished with matcha ice cream and pineapple.
Overall, the food was on par with other cruise line teppanyaki experiences.
Following dinner, we continued our "drink around the ship" with some cocktails at the nearby Cocktail Bar. The service and the drinks at this bar were some of the best on the ship.
With drinks in hand, we strolled into the Uptown Lounge to catch a few songs from the Latin duo performing here. Eventually, we made our way to the main theater for the 8:30 PM showing of ImaginOcean.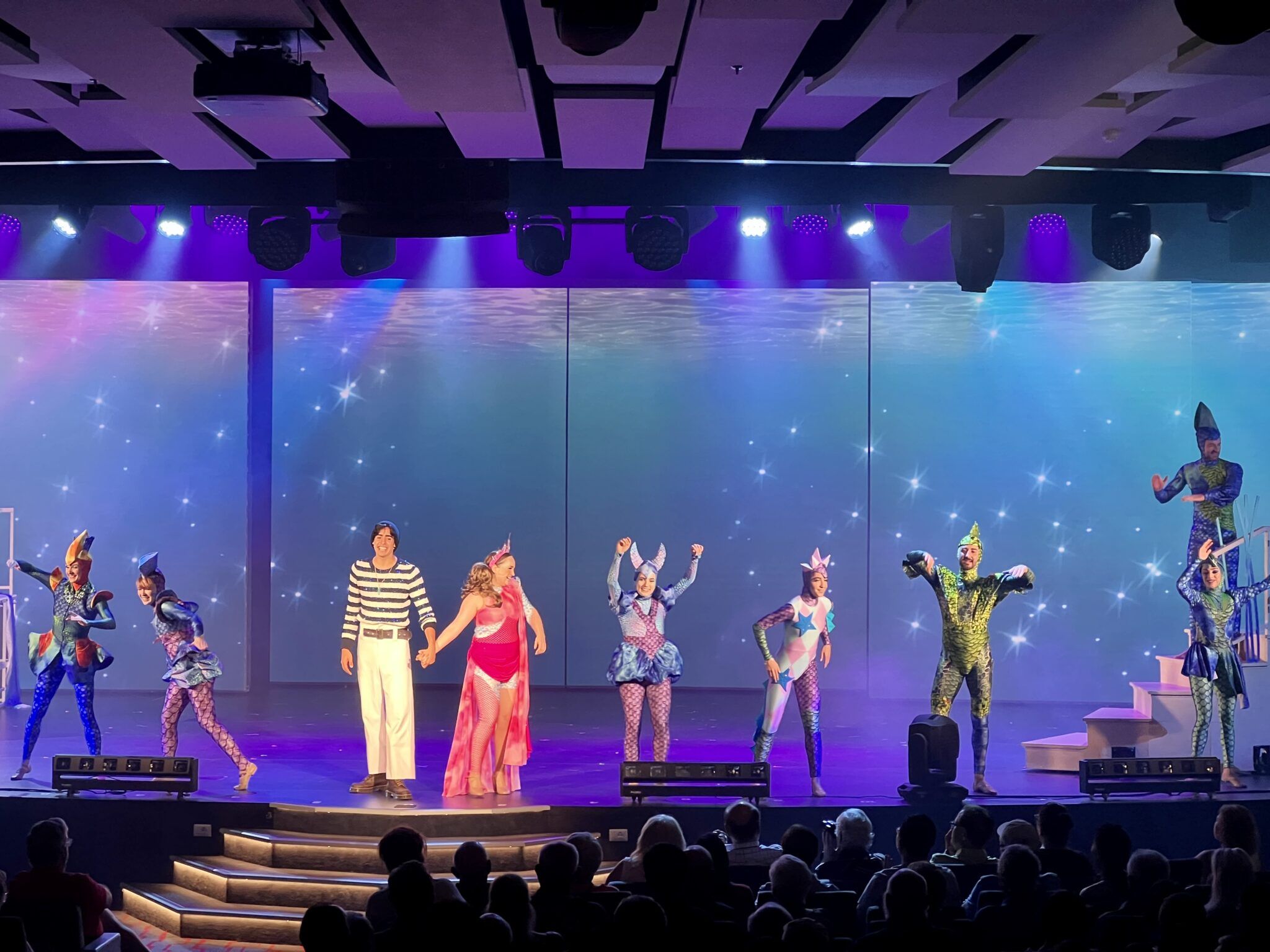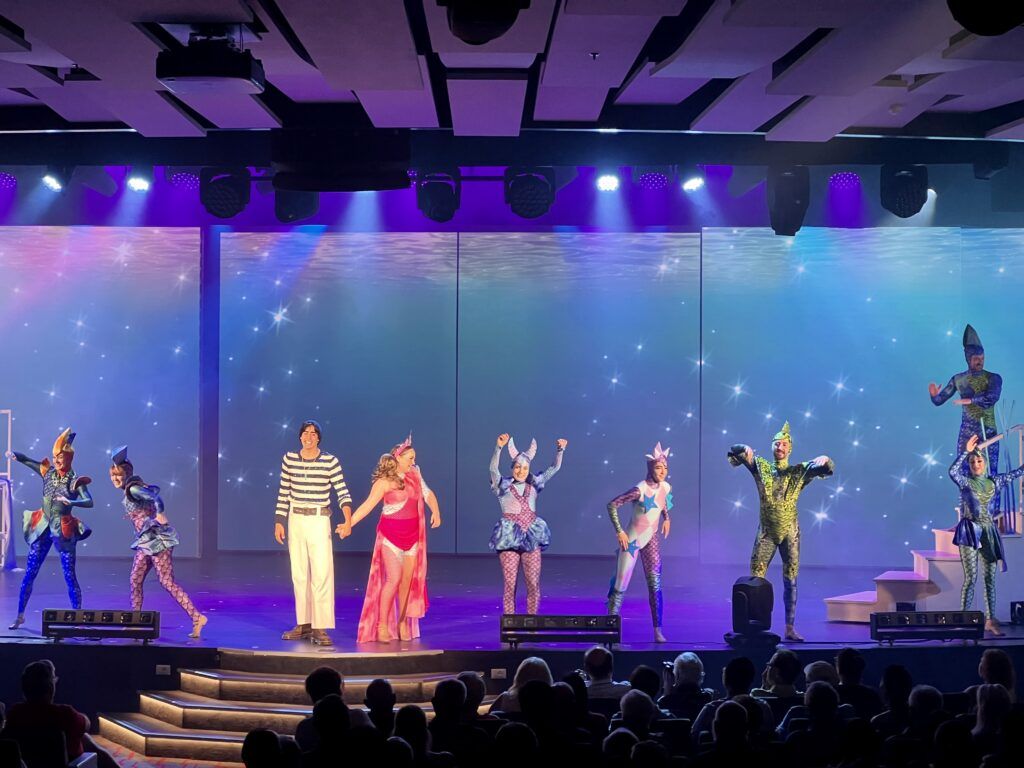 ImaginOcean is another one of the signature productions on MSC Seascape. To us, it felt like a show that you would see at a Disney amusement park with a Little Mermaid-like story line.
Being less than impressed with any of the theater productions so far, we returned to Le Cabaret Rouge to round out our evening. Tonight, we caught the same male singer and a hula-hoop artist.
MSC Seascape Inaugural Caribbean Cruise Review – Day 5
A Relaxing Morning
Day 5 of this MSC Seascape Inaugural Caribbean Cruise Review was our next port of call in San Juan. We did want to get off the ship today as we really like Old San Juan, but Don's intermittent work meeting schedule didn't really allow for it.
Instead, we started our day with an hour in the thermal suite. The thermal suite on MSC Seascape features a jetted-pool, saunas, steam rooms, a salt room, a snow room, and several different shower experiences.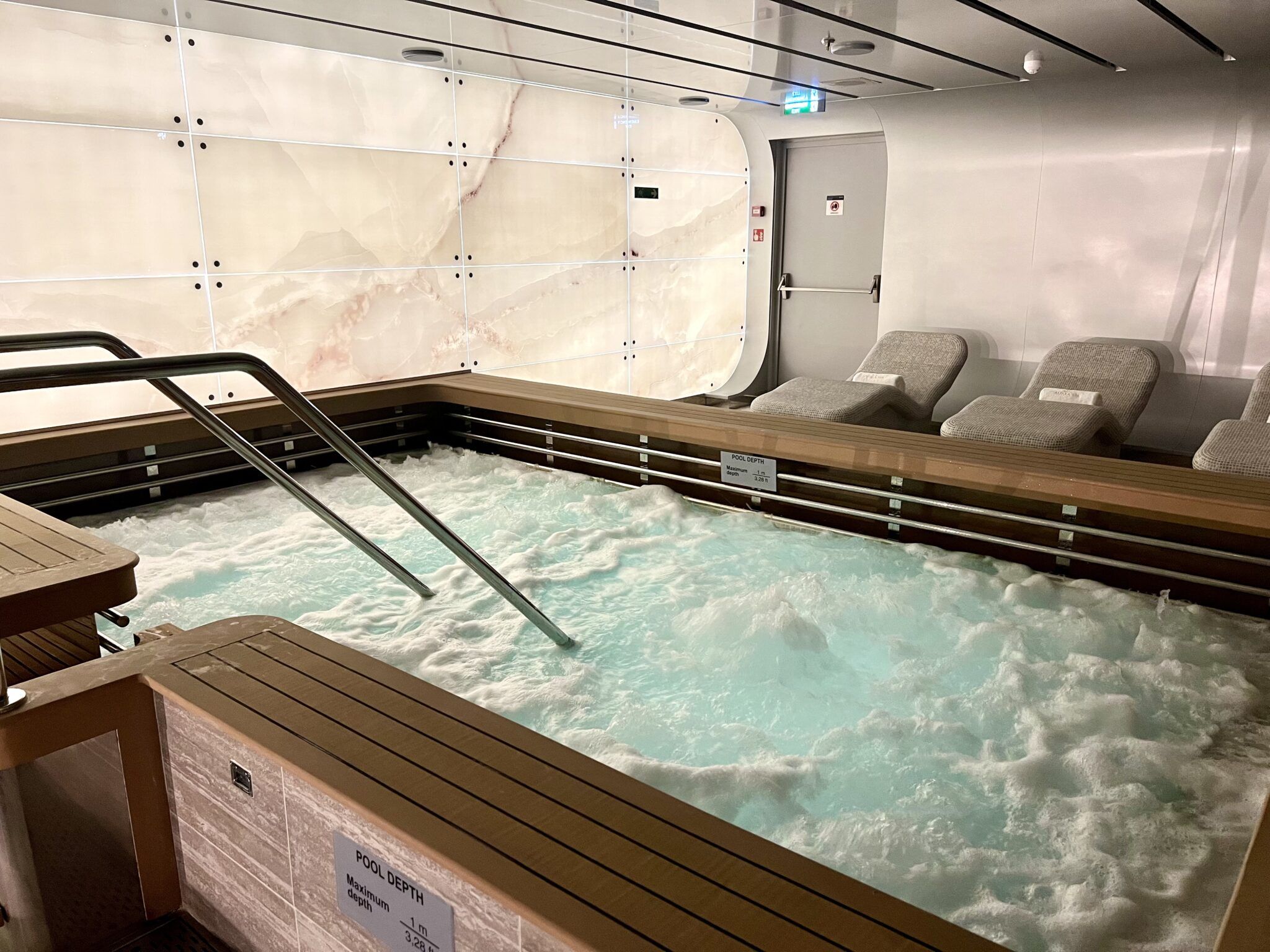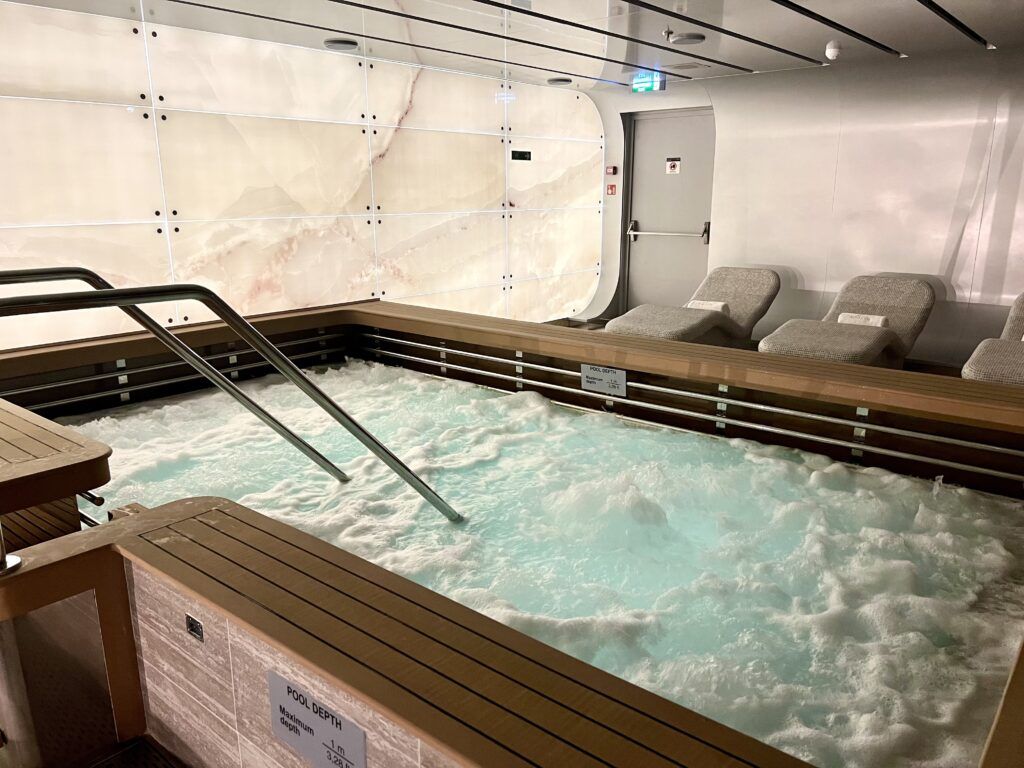 It was pretty quiet this morning, so we got to test out everything with just a few other guests present. It was a nice relaxing way to start the day.
With some coffee in hand, it was back to the room for some work until lunchtime.
Later in the afternoon, we ventured out to finally ride the Robotron.
This Is the Moment We've Been Waiting For
The Robotron is a high-tech thrill ride perched atop MSC Seascape. This attraction is a first of its kind at sea and definitely wins bragging rights for the best signature attraction on a cruise ship. While we enjoy the Speedway on NCL, Bolt on Carnival, and iFLY on Royal Caribbean, the Robotron takes it to the next level.
For $11 a ride, guests experience approximately 3 minutes of adrenaline-filled fun. There are different challenge levels for those who are not as adventurous. The easy and medium levels move in beat to 3 pre-selected songs. The hard level doesn't have any music but features the most twisting and upside-down time.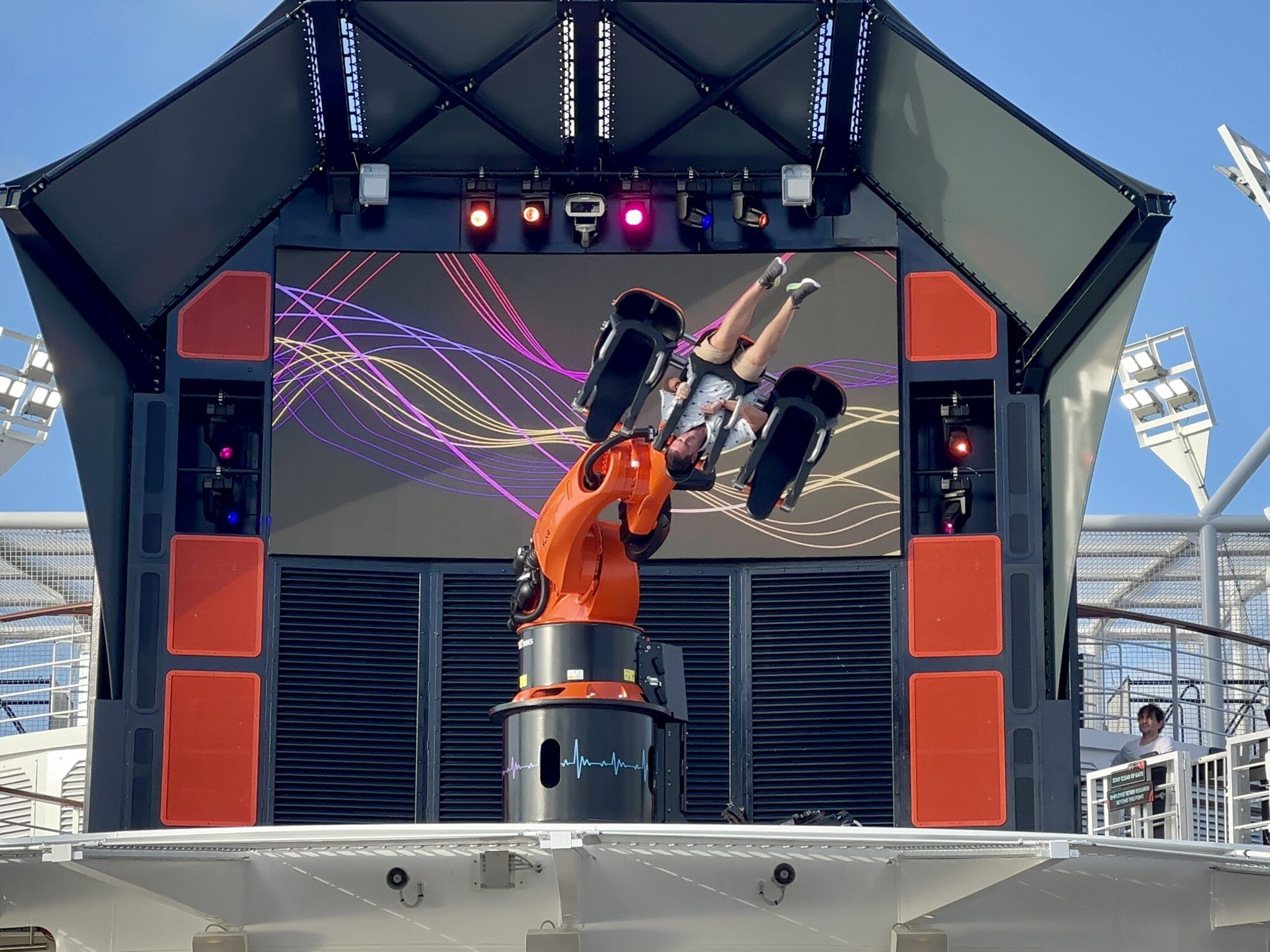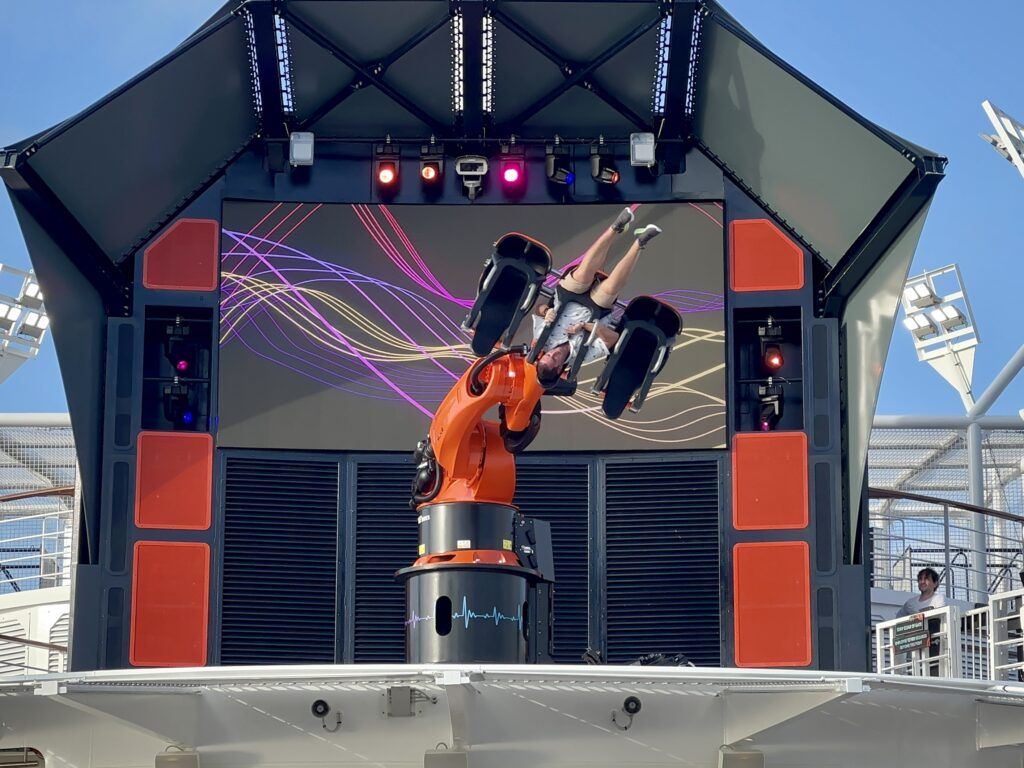 We rode the medium setting together which was a lot of fun. Don then re-rode the "crazy octopus" hard setting so I could get some additional video of the ride. As rollercoaster enthusiasts, we give the Robotron two thumbs up!
Following this ride, it was just about time to change up for the evening.
Our Typical Evening Routine
We attended the 7 PM main theater show, Premiere. This production was another one of our favorites. Even if it was a bit cheesy, it included hit songs from several movies ranging from Dirty Dancing to Indiana Jones to The Greatest Showman and even Ghostbusters.
Then, we grabbed a pre-dinner drink at the Shine Bar while listening to some of the live music in the atrium.
Dinner in the MDR was slightly better tonight than our previous experience. Don enjoyed his lamb shank and Grandma's chocolate cake. The timing was on-point too, completing 3 courses in about 75 minutes.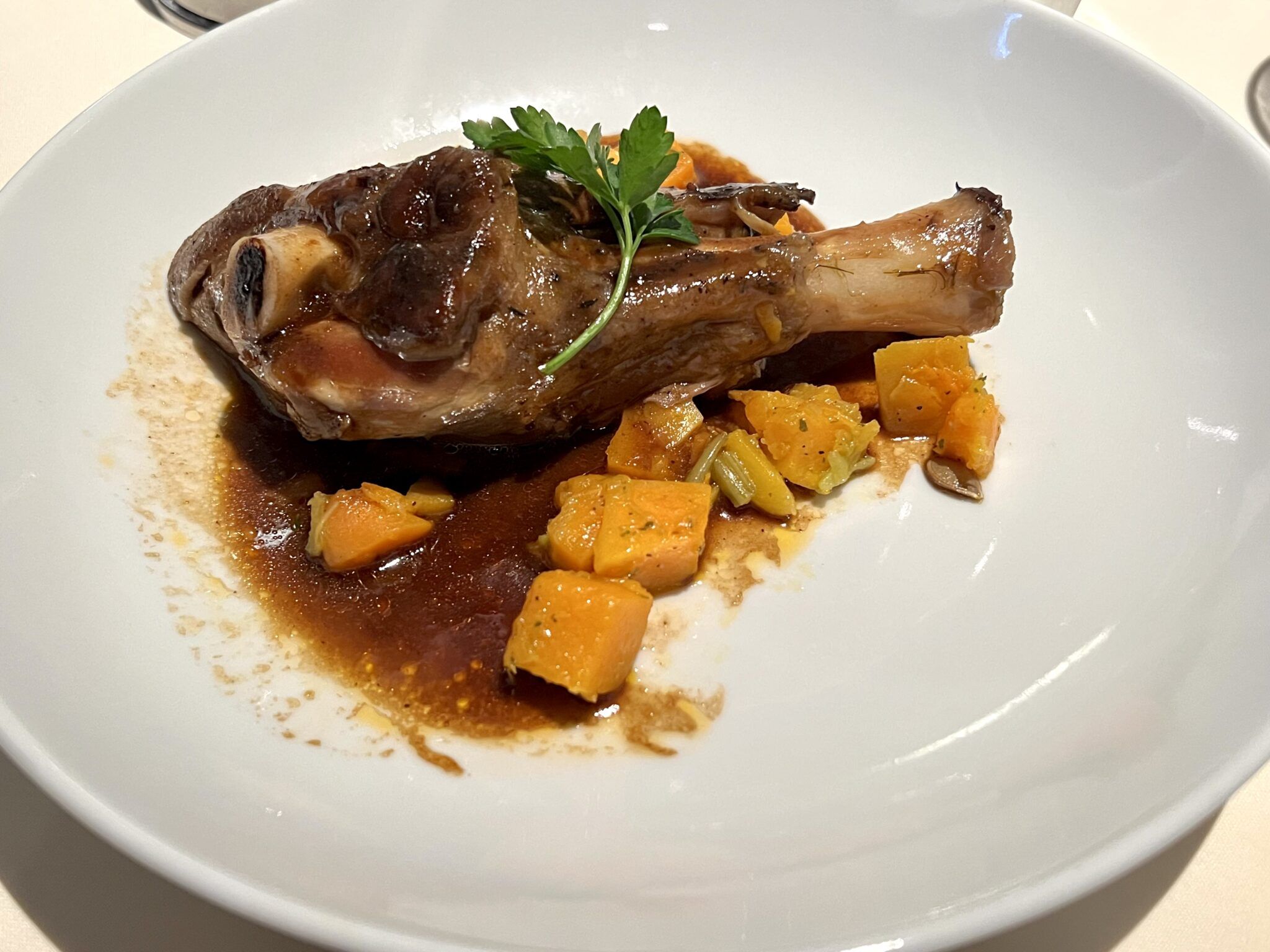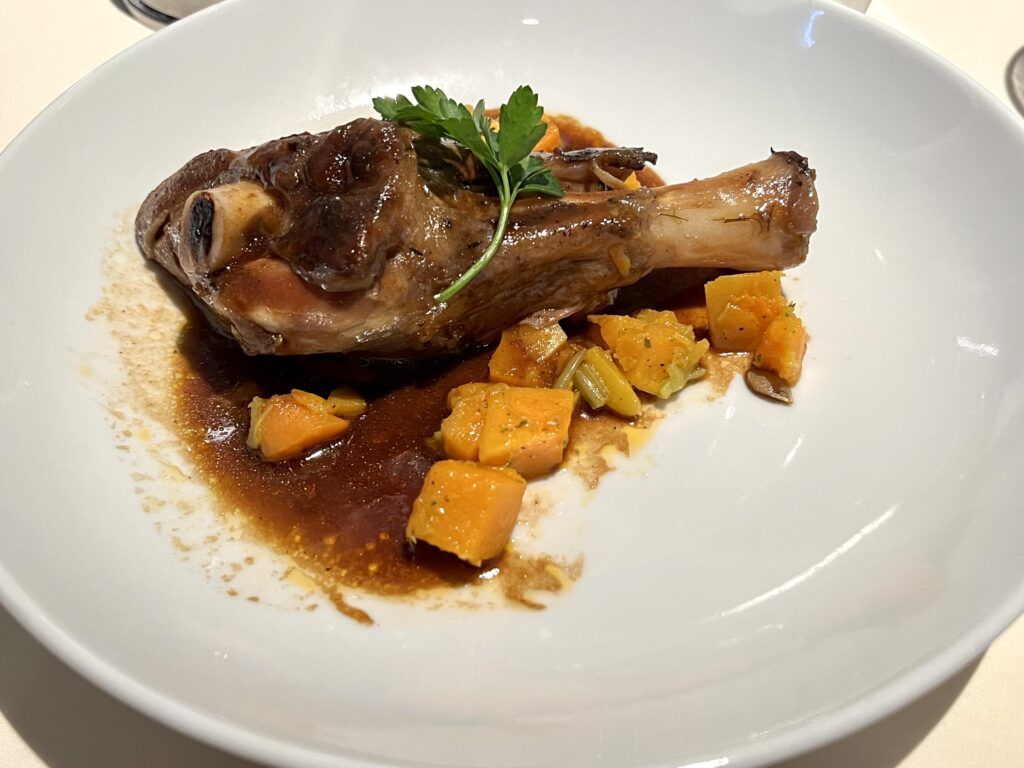 With not much else to do until the silent party at 10:30 PM, we found ourselves back in Le Cabaret Rouge. Our timing in this venue always happened upon the same acts, so it was starting to get a bit redundant.
We ended the evening at the Silent Party occurring on the pool deck. While there were headphones and 3 different channels, there was also a live DJ. This seemingly took the silent out of silent party. Nonetheless, we ran into a friend and fellow creator, so we ended up chatting about the trip until we decided to call it a night around midnight.
MSC Seascape Inaugural Caribbean Cruise Review – Day 6
We Could Get Used to This
Day 6 of this MSC Seascape Inaugural Caribbean Cruise Review was a visit to Puerto Plata, Dominican Republic. While we have visited Amber Cove a few times now, we've never actually ventured beyond the terminal area.
So, we were going to partake in our group's shore excursion today. The shore excursion was a beach break at Coconut Cove; however, it did not meet until 12 PM. Thus, we had the morning to ourselves.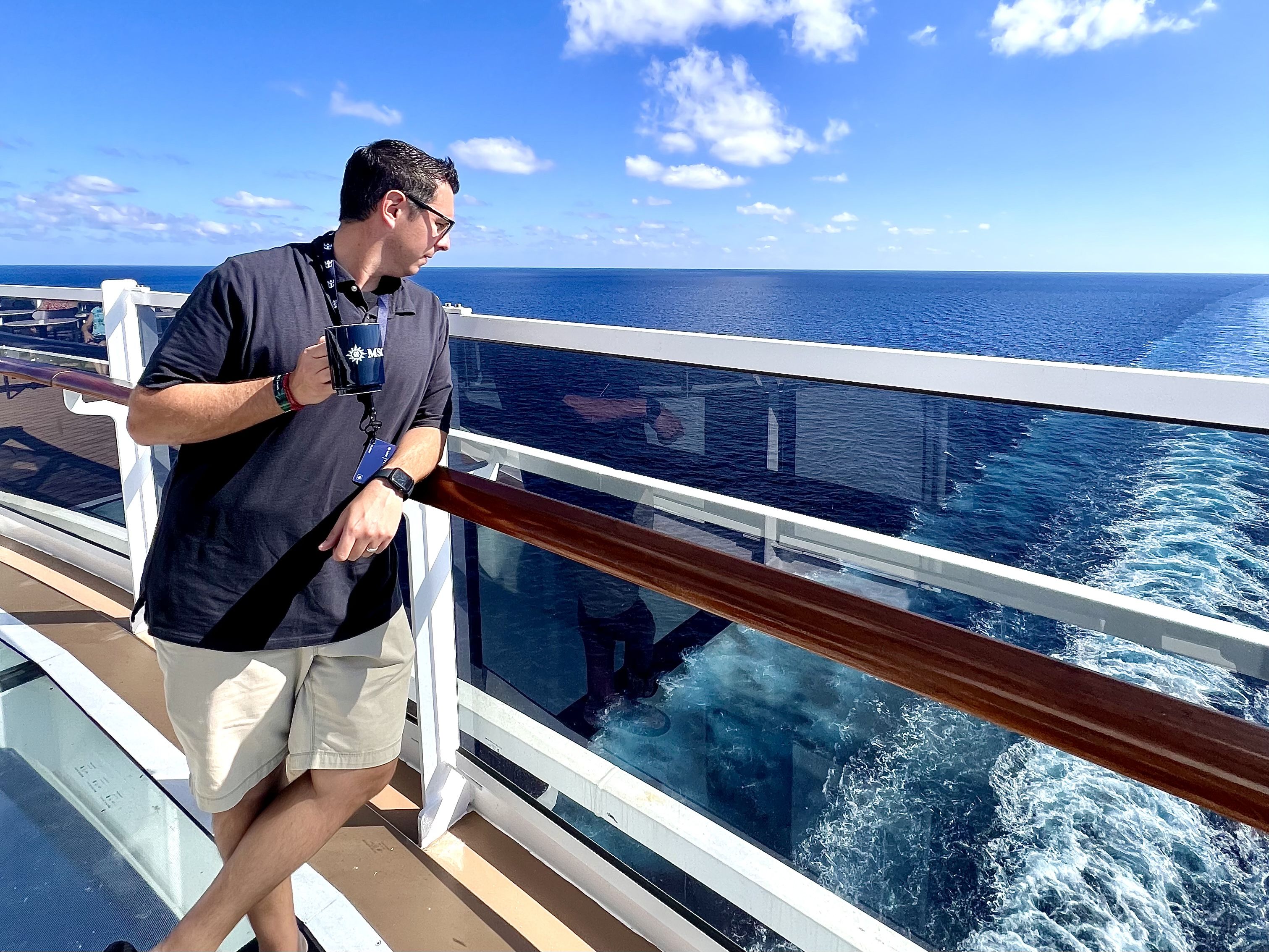 We started the day with a massage. Earlier in the week, we made an 8:30 AM appointment for a couple's massage. This 55-minute experience was the prefect beginning to our Friday on MSC Seascape.
After our massage, we grabbed some breakfast in the buffet before heading back to our room to shower and get ready for the day.
A Glimpse at Puerto Plata
Making our way ashore around 11:30 AM, we walked around the port area briefly before departing on our excursion.
Unbeknownst to us, it was nearly an hour drive to and from our beach escape. This meant we only had about 2 hours at the beach before needing to make the trek back to the ship.
Further, there was no food or drink included in the price, only use of chairs and umbrellas. There was food for purchase available as well as ziplines and ATVs for an additional cost. However, we spent the two hours relaxing on some beach chairs and conversing with some fellow creators.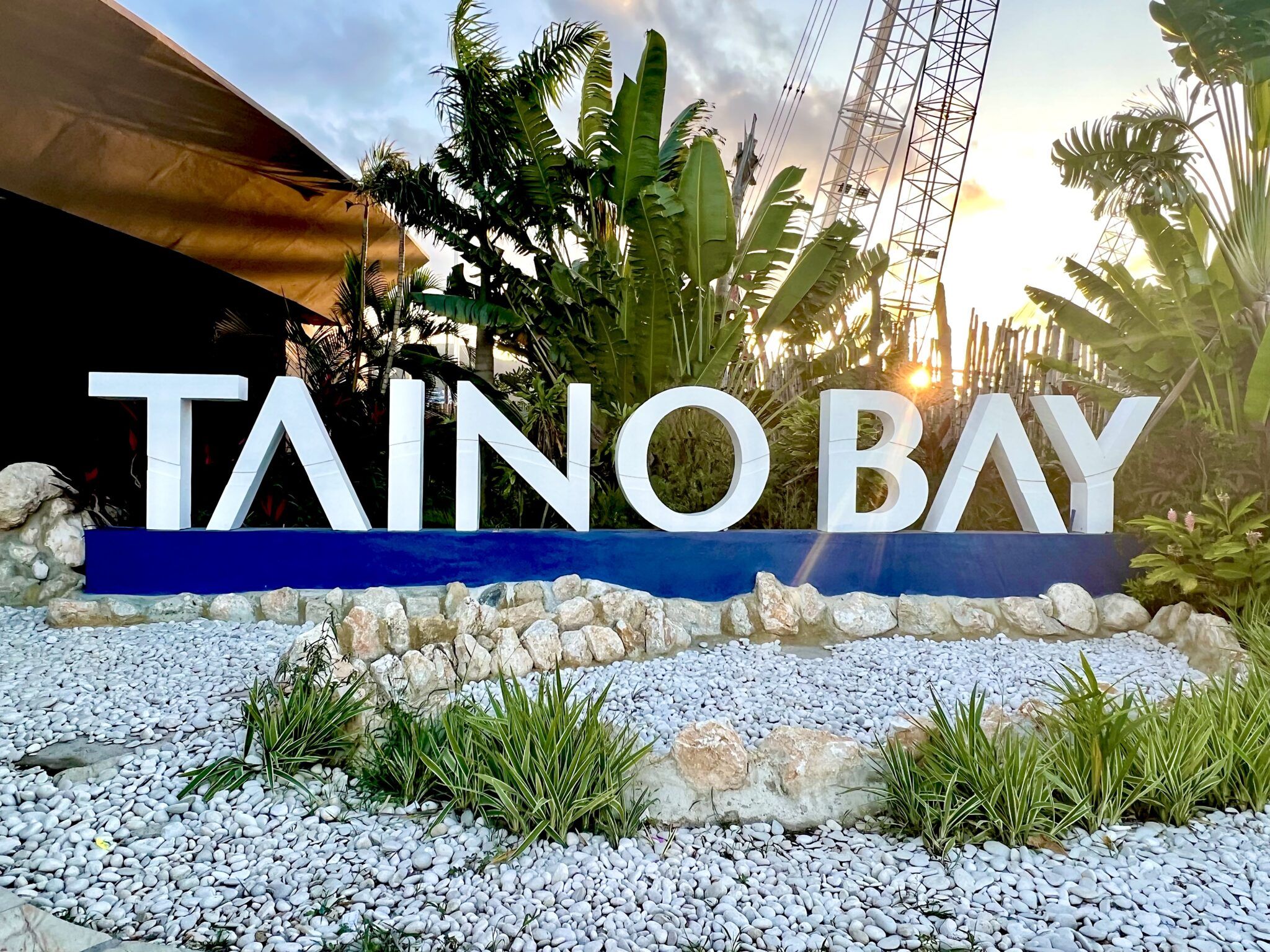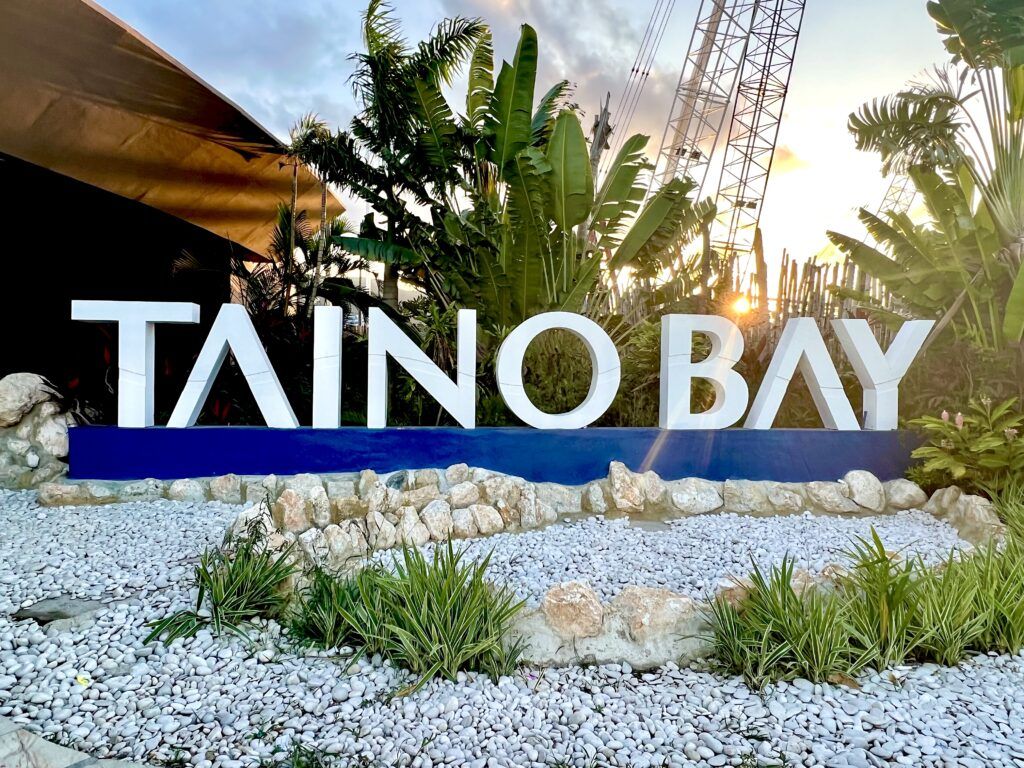 Hitting some traffic on the bus ride back, our group was amongst the last back on the ship for the 5:30 PM all aboard time.
We quickly showered and changed up for the evening just in time for the 7 PM show in the Chora Theater. Tonight was the headliner Nina Skyy. She showcased her amazing vocals in a tribute to Whitney Houston.
Following the show, we grabbed a pre-dinner cocktail in the Champagne Bar.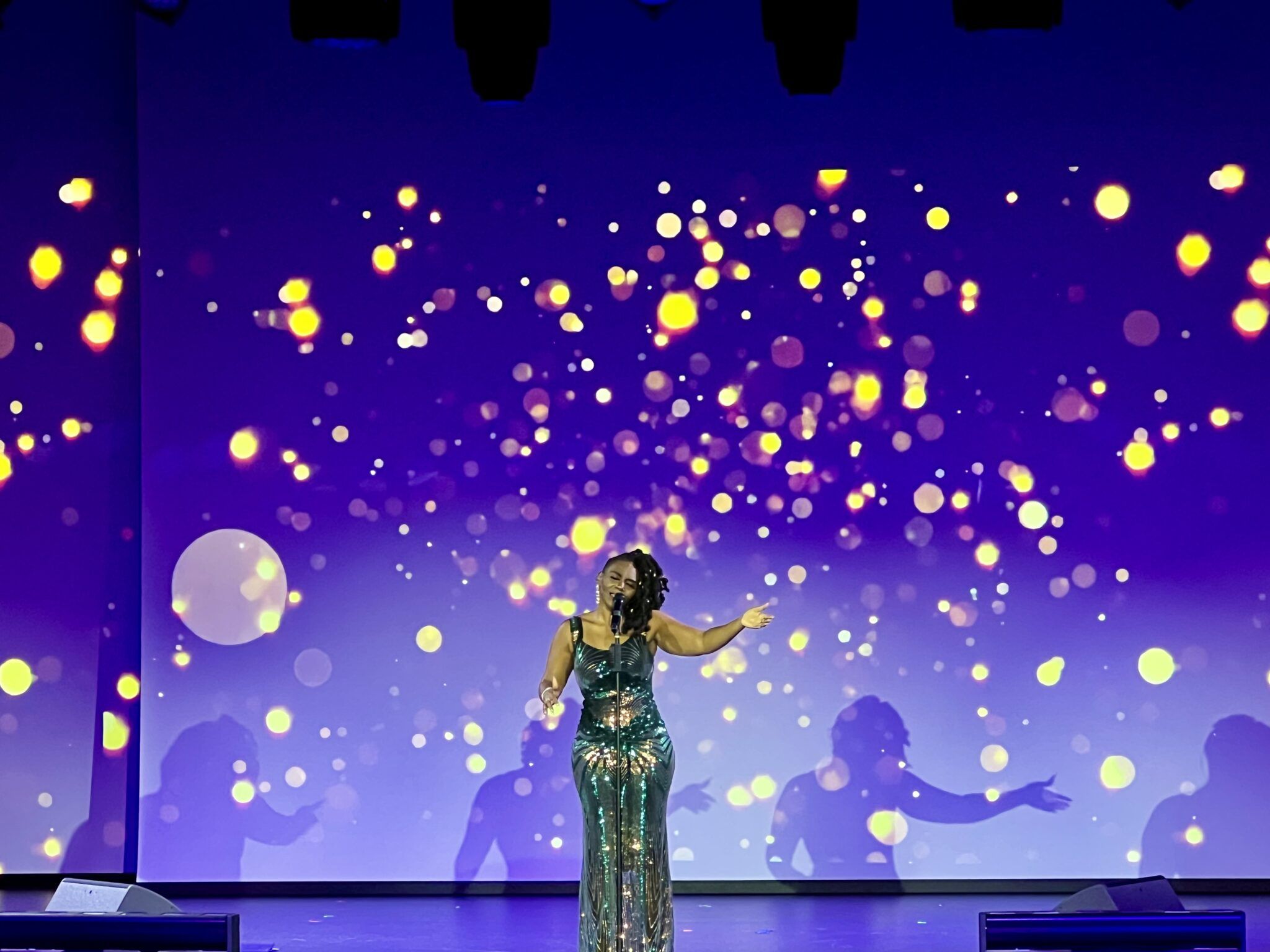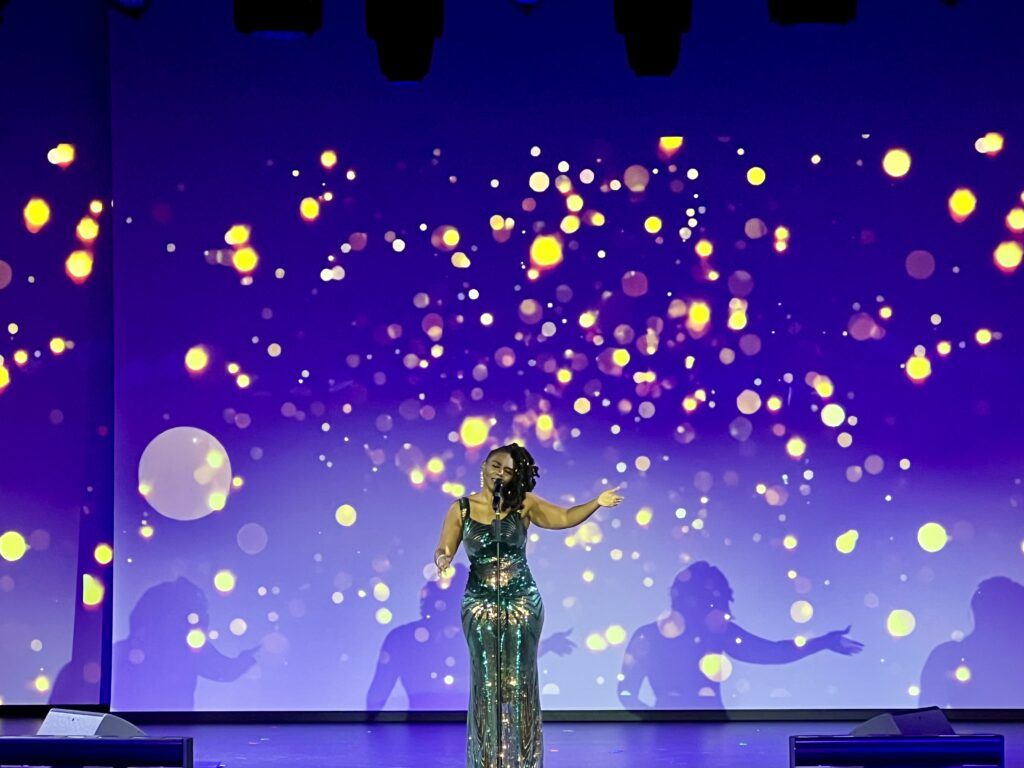 Dinner tonight was pretty average. Don sampled the crab cake, Bolognese pasta, and Steak Diane. I ordered a Caesar salad and the spaghetti with garlic and olive oil.
This was the first and only night that we actually had other guests show up at our table for dinner.
Following dinner, we grabbed some espresso martinis in the Loft Cafe while waiting for the White Party on the pool deck to begin. The cruisers on this trip really went all out with their white outfits! Too bad we weren't as prepared.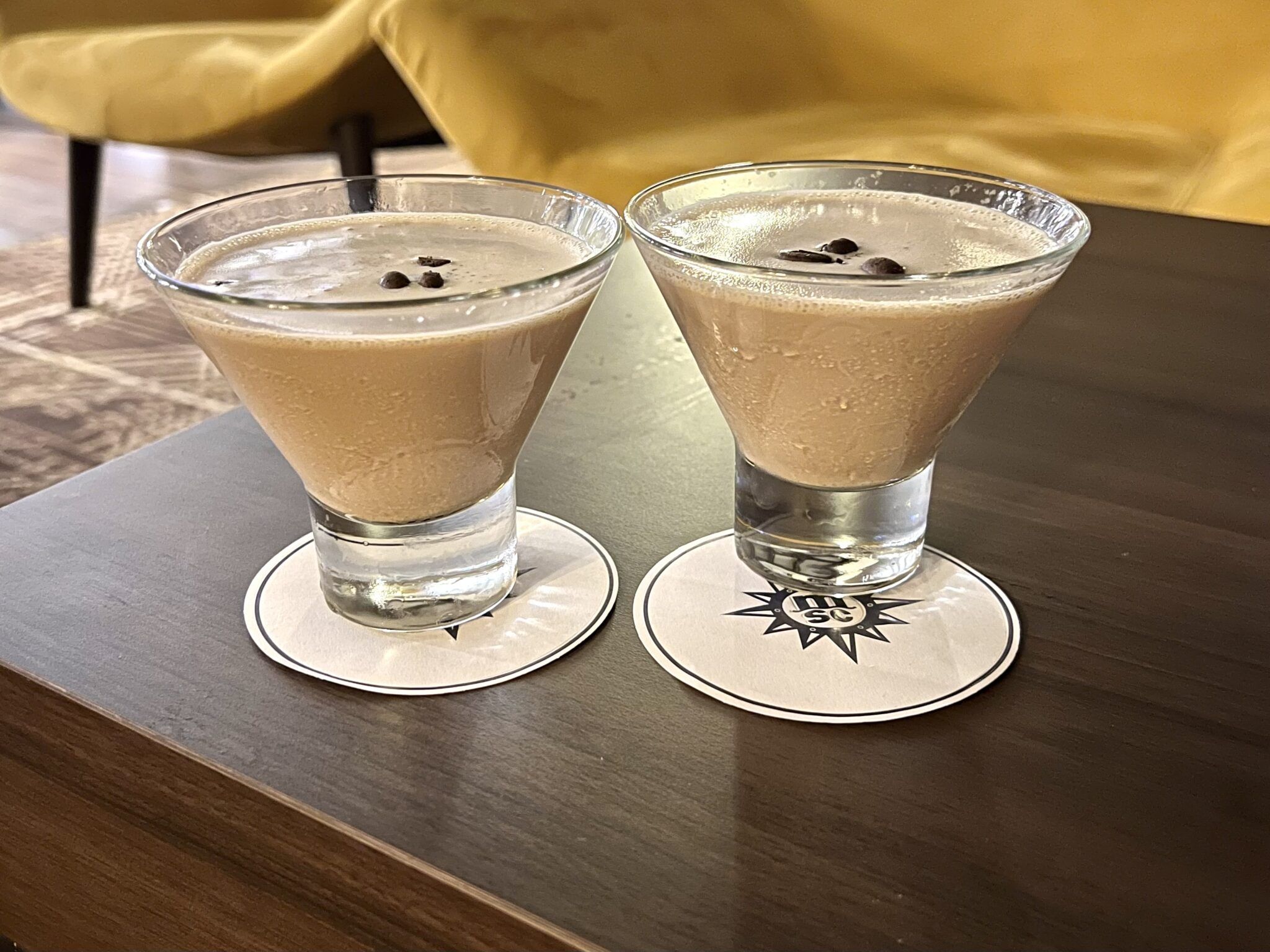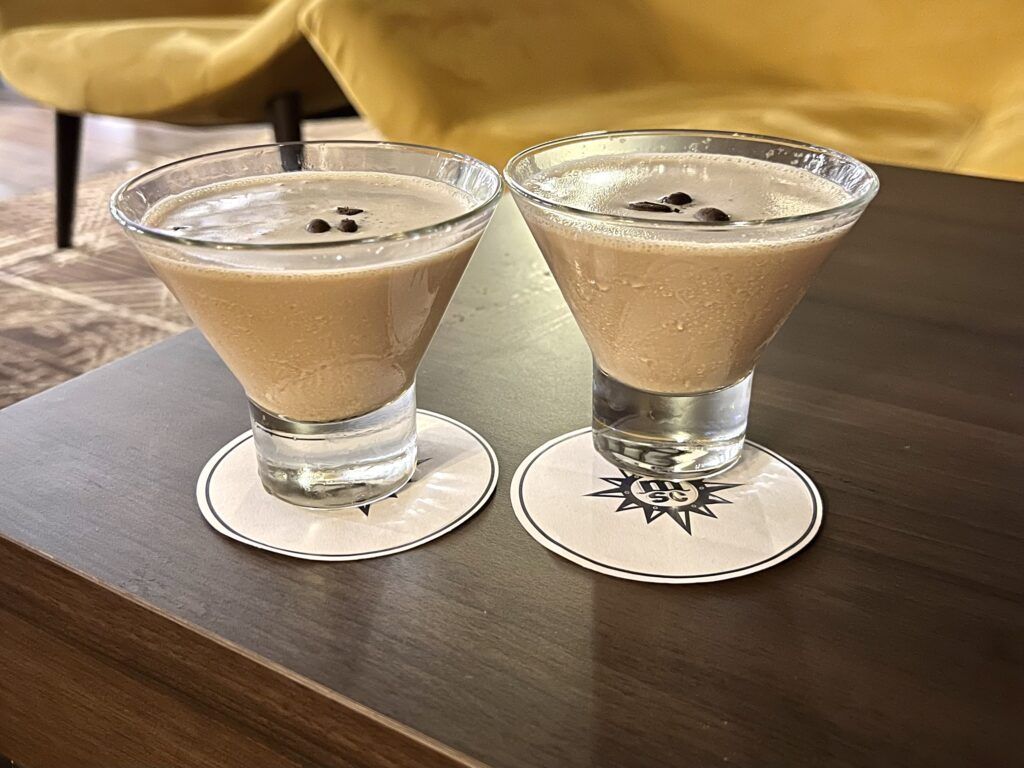 While many fellow party-goers danced the night away, we retired for the evening around midnight. Tonight, we were gaining an extra hour of sleep by turning the clocks back.
MSC Seascape Inaugural Caribbean Cruise Review – Day 7
Our Final Day Onboard
Day 7 of this MSC Seascape Inaugural Caribbean Cruise Review was our final sea day. I slept in this morning while Don attended the 8 AM waterslides event. Basically, our group had the slides reserved all to ourselves for an hour.
There is one raft slide and two duel racer body slides. He liked the raft slide better; though, they were not as thrilling as the drop slides on NCL.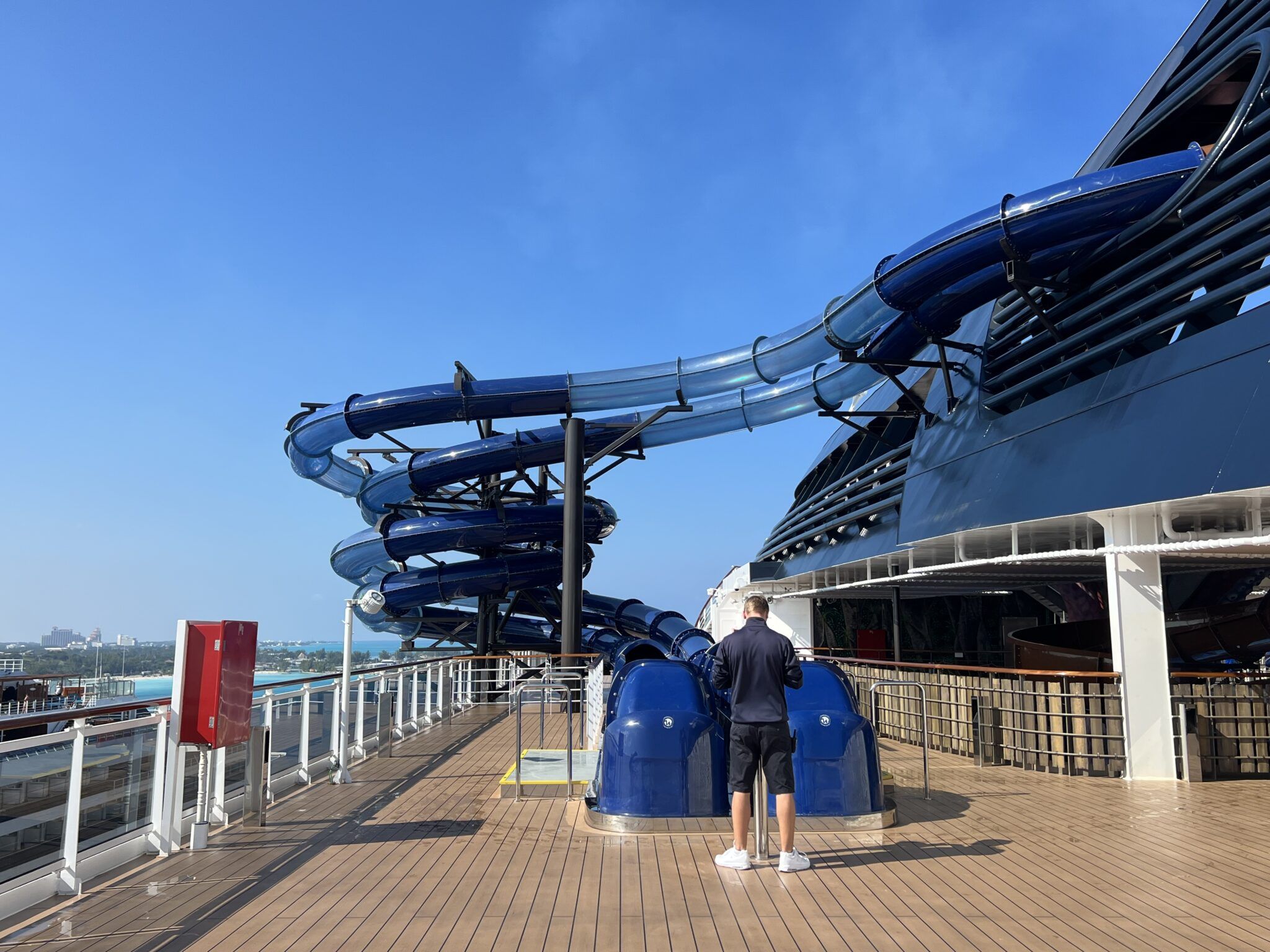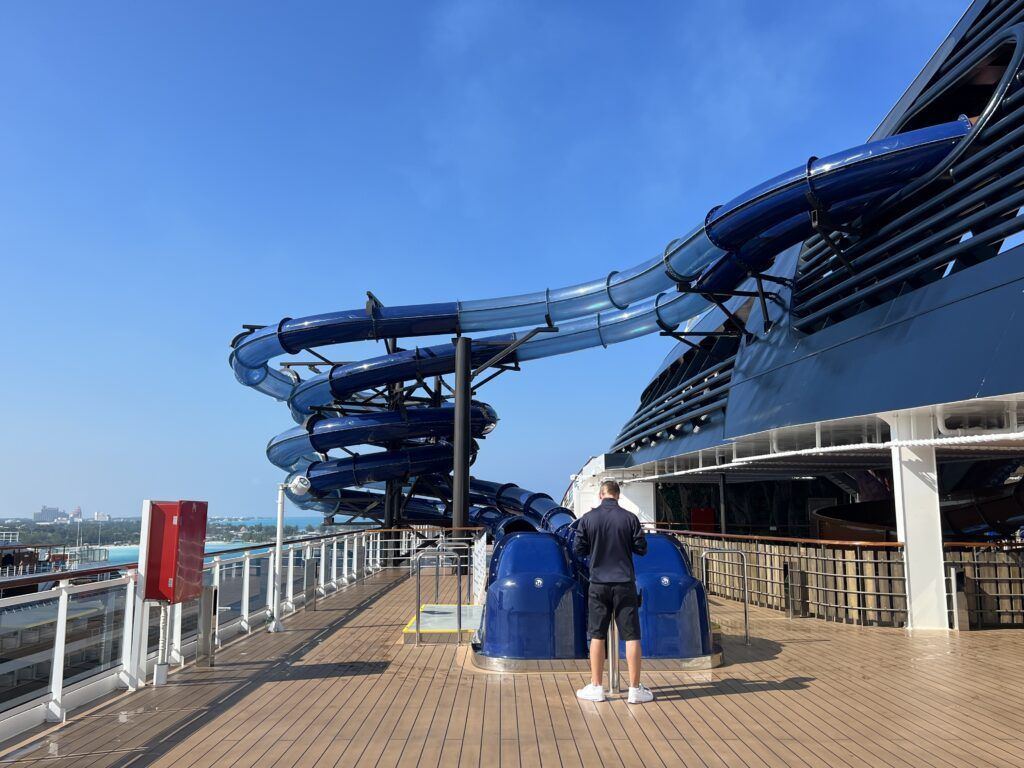 Returning to the cabin around 9 AM, he showered and got ready for the day. Since today was Saturday, we planned to relax. It was a beautiful day, so we walked around the outdoor areas a bit and eventually grabbed some seats on the deck 8 outdoor promenade.
After ordering our one and only frozen cocktail of the cruise, we retreated back to the cabin around 3:30 PM to begin packing. We then changed up for the evening before attending the Guinness World's Record game show at 5 PM.
This interactive show has guests compete to break world records by participating in crazy challenges. While no records were broken, it was fun to watch.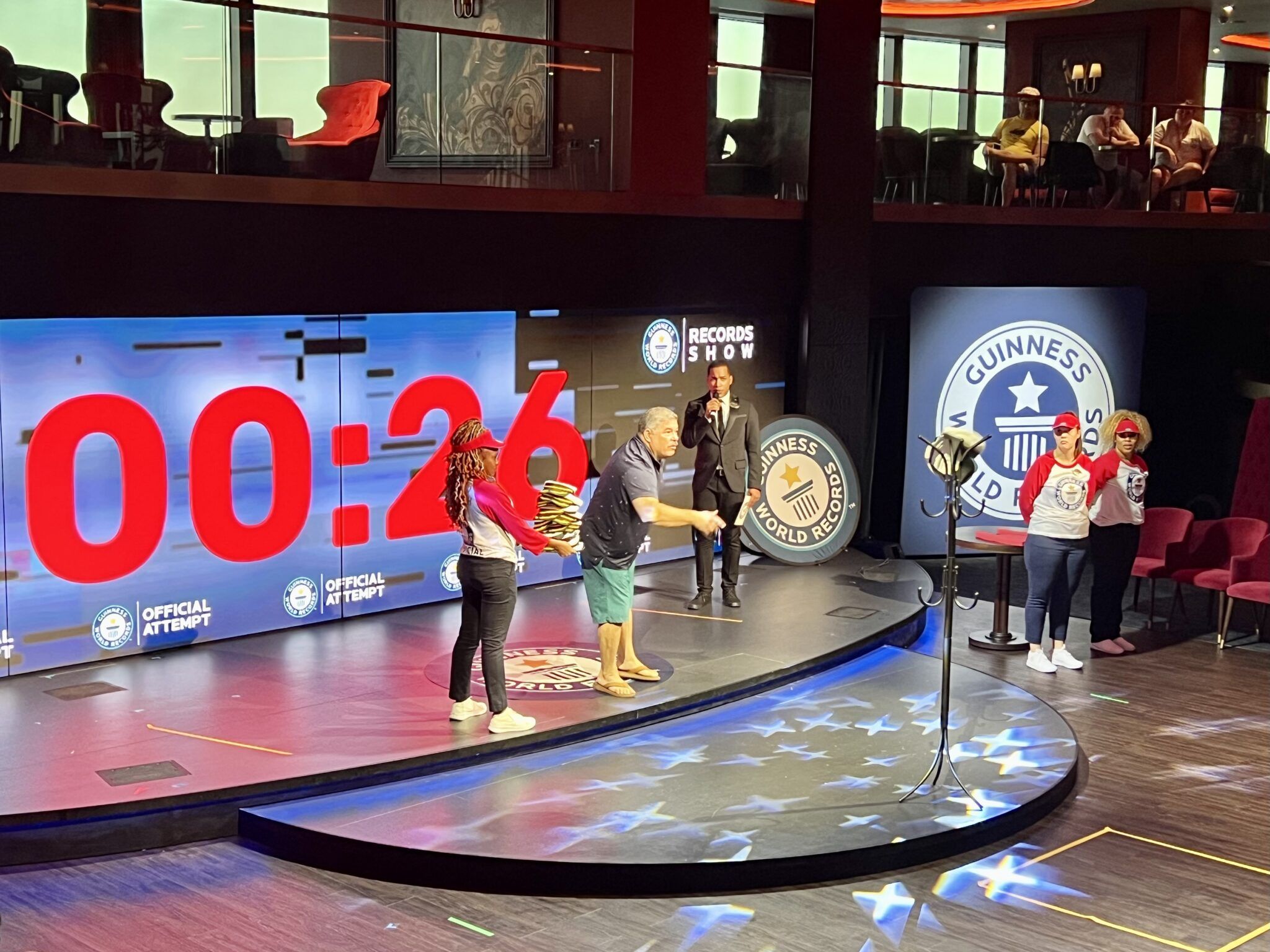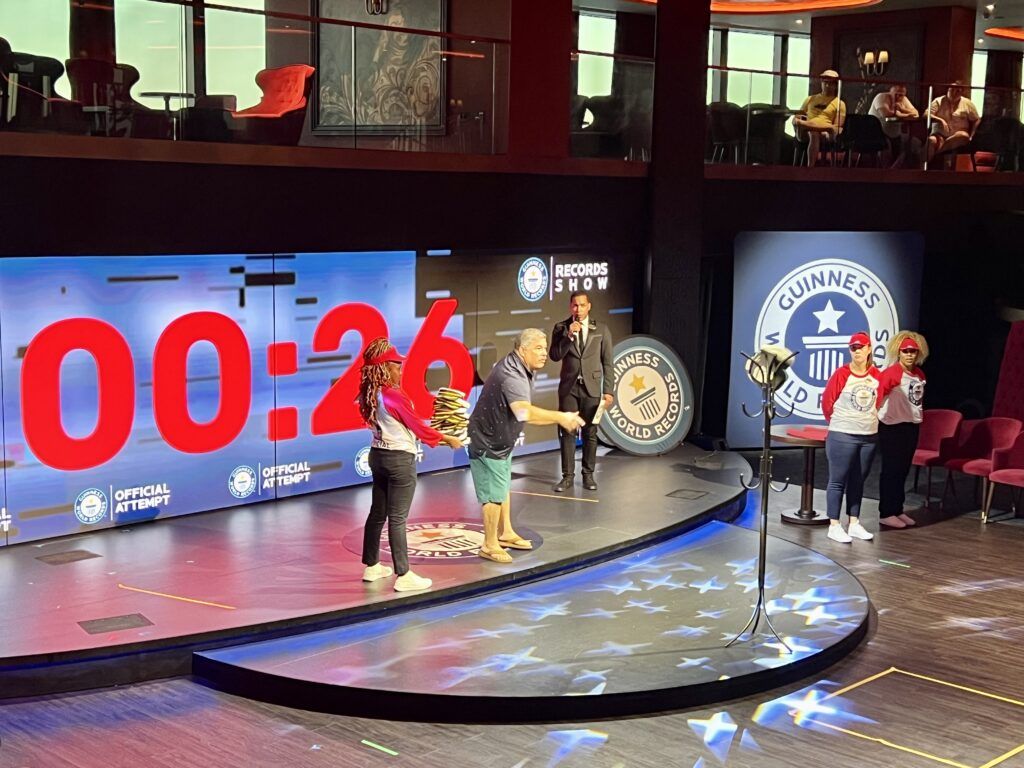 Our final event of the cruise was a farewell cocktail party at 6 PM in the Uptown Lounge. We spent about 45 minutes chatting and bidding farewell before exiting to attend the final theater show of the cruise.
Tonight's show was In Concert. This production focused on the vocalists with little dancing or backdrop. This was probably our least favorite show as none of the singers were all that good.
In between the show and dinner, we returned to our room to finish packing. While we were completing self-assist check out in the morning, we did want to get as much packing out of the way as we could tonight.
It's Italian Night
Dinner in the main dining room tonight was Italian Night. Given the company's heritage, we were excited for this meal. Unfortunately, the items were hit or miss once again. Don really enjoyed his calamari and osso bucco. He commented that both dishes were specialty restaurant quality. However, my arancini and chicken parm were dry and bland.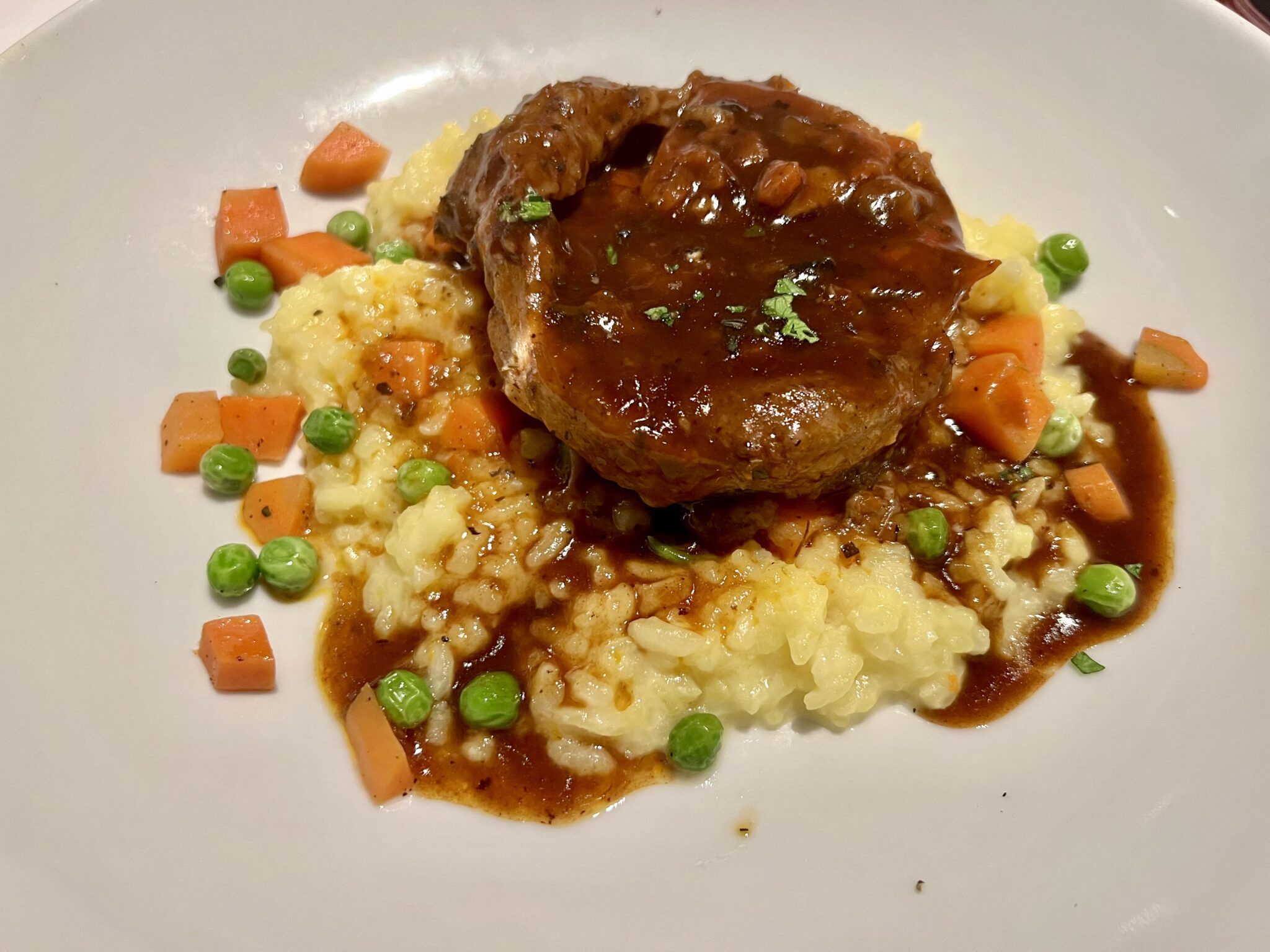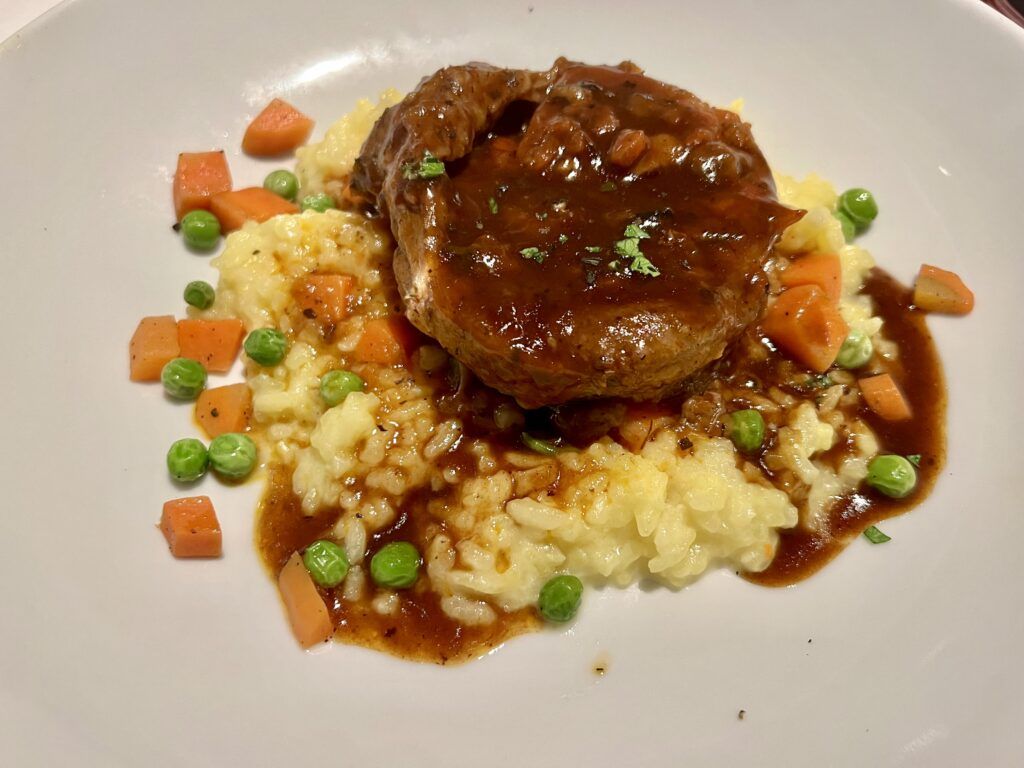 With the same line-up of events, we popped into the Cabaret for a bit then planned on closing out the night with the dueling pianos in Times Square. Though, our timing was off and they were on break when we arrived. So, we decided to just call it a night instead.
With so much traveling recently, we were pretty exhausted anyway. We had another day of travel tomorrow then only 3 days at home to turnaround for our next cruise.
BOOK NOW: MSC Seascape Cruises on Sale Now!
MSC Seascape Inaugural Caribbean Cruise Review – Disembarkation
Will We Ever Get Off the Ship?
Today was the saddest day of this MSC Seascape Inaugural Caribbean Cruise Review, disembarkation day.
With express walk-off scheduled to begin around 7:30 AM, we set a 5:30 AM alarm. This would give us enough time to get ready, have a quick breakfast, and pack up our remaining items.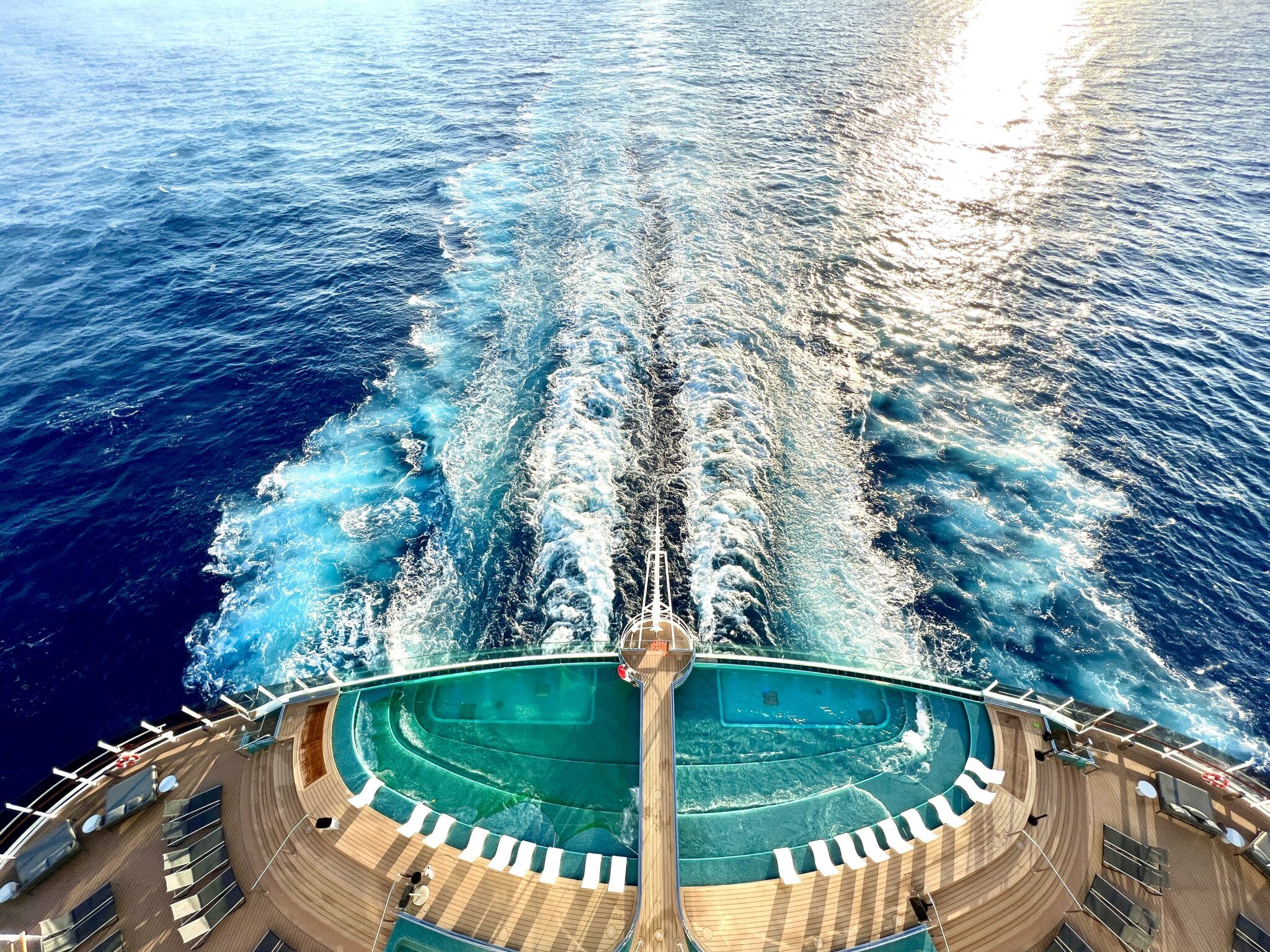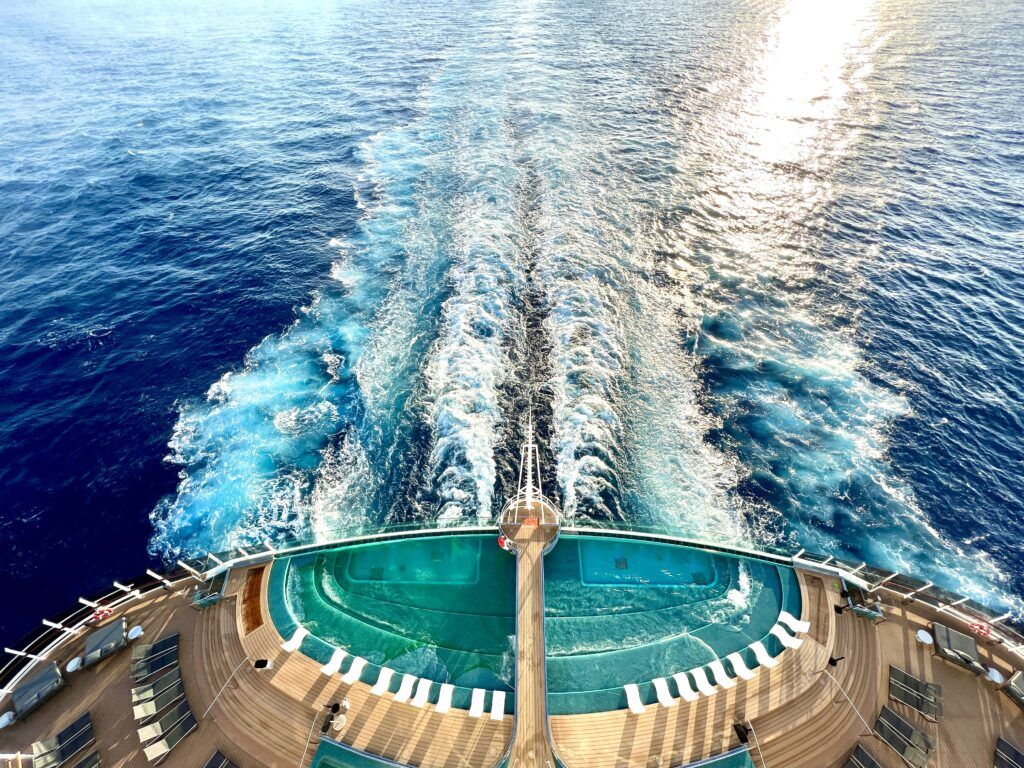 Around 7:15 AM, the cruise director was already making an announcement that there was a back-up at the gangway. So, we waited another 15 minutes or so before attempting to disembark. We hoped this would be enough time to clear the crowds. Alas, we were wrong.
Waiting and waiting for an elevator, we eventually carried our luggage down 7 flights of stairs. At the landing of the stairwell on deck 6, we were greeted by a mob of already disgruntled cruisers. Not wanting to cut the line, but also having no room to go much of anywhere, Don snaked his way back while I waited with the bags.
When he made his way back to where I was standing, I joined in the queue which snaked through the dining room, around the Venchi Chocolate Bar, through switchbacks in Times Square and eventually off the ship.
Our disembarkation was complicated even further, as it stated we had an unsettled bill when we tried to scan off the ship. Even though we loaded our credit card pre-cruise, then had to re-load it on the ship, the system never properly linked our accounts. So, I was being held hostage for a $12 gelato bill.
Luckily, this was a quick fix at a nearby machine, and we were finally scanned off the ship, only to wait in another line on the gangway. The whole process from our cabin to curbside for an Uber took about 90 minutes, one of our longest disembarkations ever.
Thankfully, it was smooth sailing the rest of the way. With an Uber to Fort Lauderdale and a 1:30 PM flight, we returned home without any delays. Now, we had three days to unpack, do laundry, and re-pack for our final cruise of the year. This cruise would be a "vacation" with family for Christmas on Navigator of the Seas.
Comments
Did you enjoy our MSC Seascape Caribbean Cruise Review? Do you have plans to sail on this brand new MSC Cruises ship? Drop us an anchor below to share your recent cruise reviews!