When it comes to enjoying a drink, Mariner of the Seas offers travelers several different bars and lounges. Not sure where to start? Our Mariner of the Seas Bar Guide includes all of the details and bar menus to help you make the difficult decisions.
The good news is that there are plenty of spots to make use of that Deluxe Drink Package. With the updates to the Crown and Anchor Society benefits, cruisers can now also use drink vouchers on these drinks anytime throughout the day at most bars on the ship.
Mariner of the Seas Bar Guide (2022)
Royal Theater (Decks 3 and 4)
The ship's main theater hosts nightly entertainment ranging from production shows to headliner entertainers. If you want to enjoy a refreshing drink during the performance, there are several bar servers making the rounds to take your order. Or, you can visit one of the two bars located at the back of the theater on deck 3.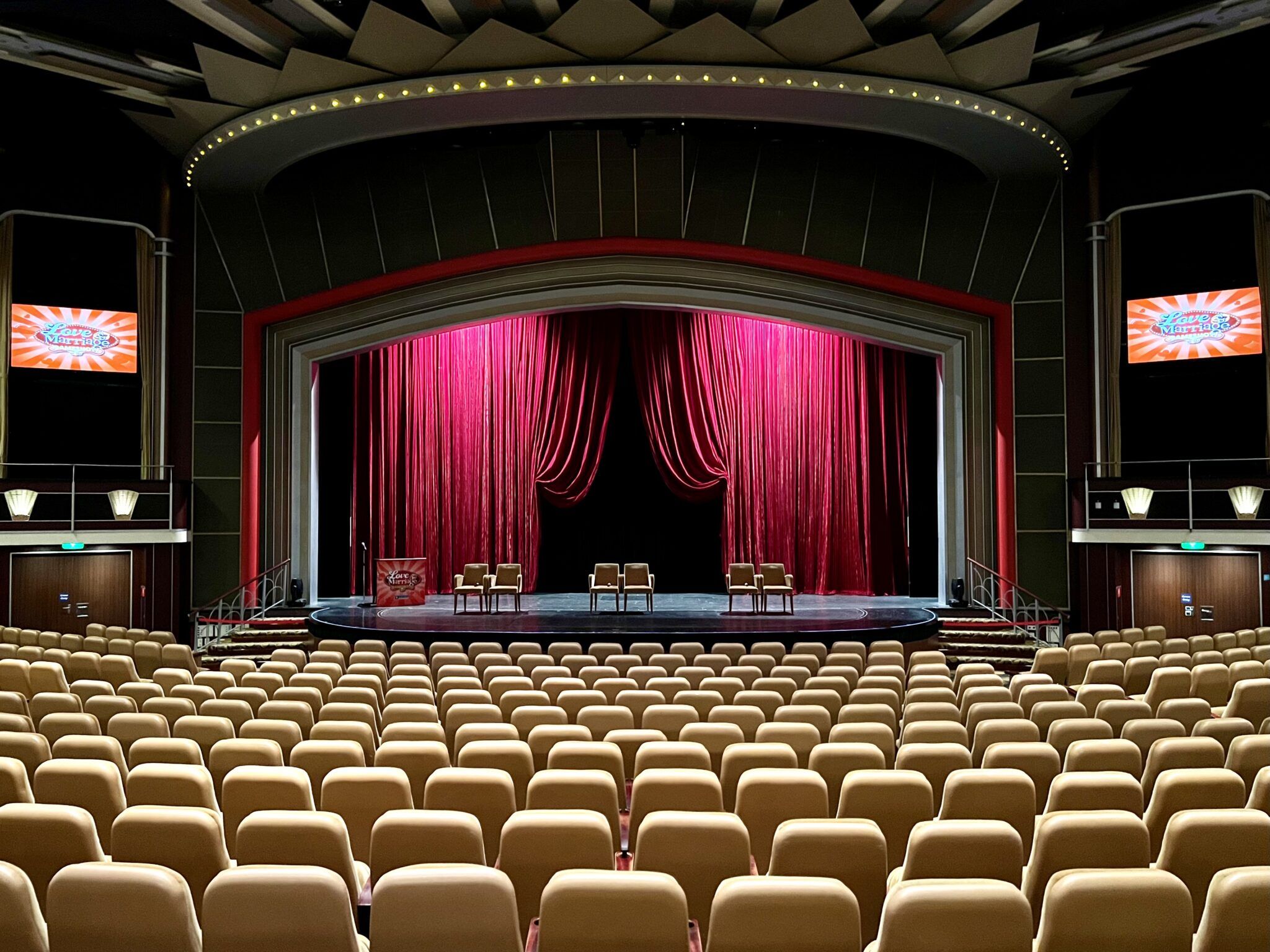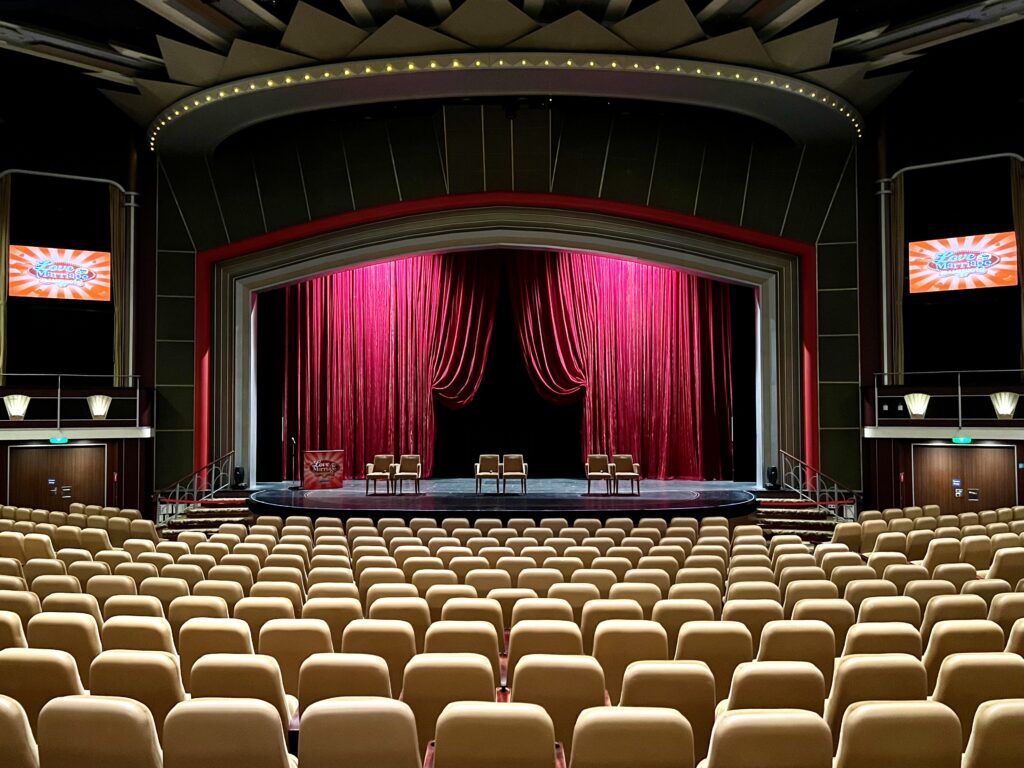 The Royal Theater offers a full bar along with all the drink offerings in the newly updated standard bar menu rolled out across the Royal Caribbean fleet.
Studio B (Deck 3)
Home to the line's signature ice show on select evenings, you will certainly want to enjoy a cool drink in this icy venue. There are bars on both sides of Studio B, as well as servers making their way around the venue to take your drink order.
Availability might be limited during the performance, so be sure to order your cocktails before showtime.
Schooner Bar (Deck 4)
Royal Caribbean's signature piano bar is a favorite on any ship. The Schooner Bar boasts a specialty drink menu with martinis including our personal favorites, the Sidecar and Lavender Daiquiri.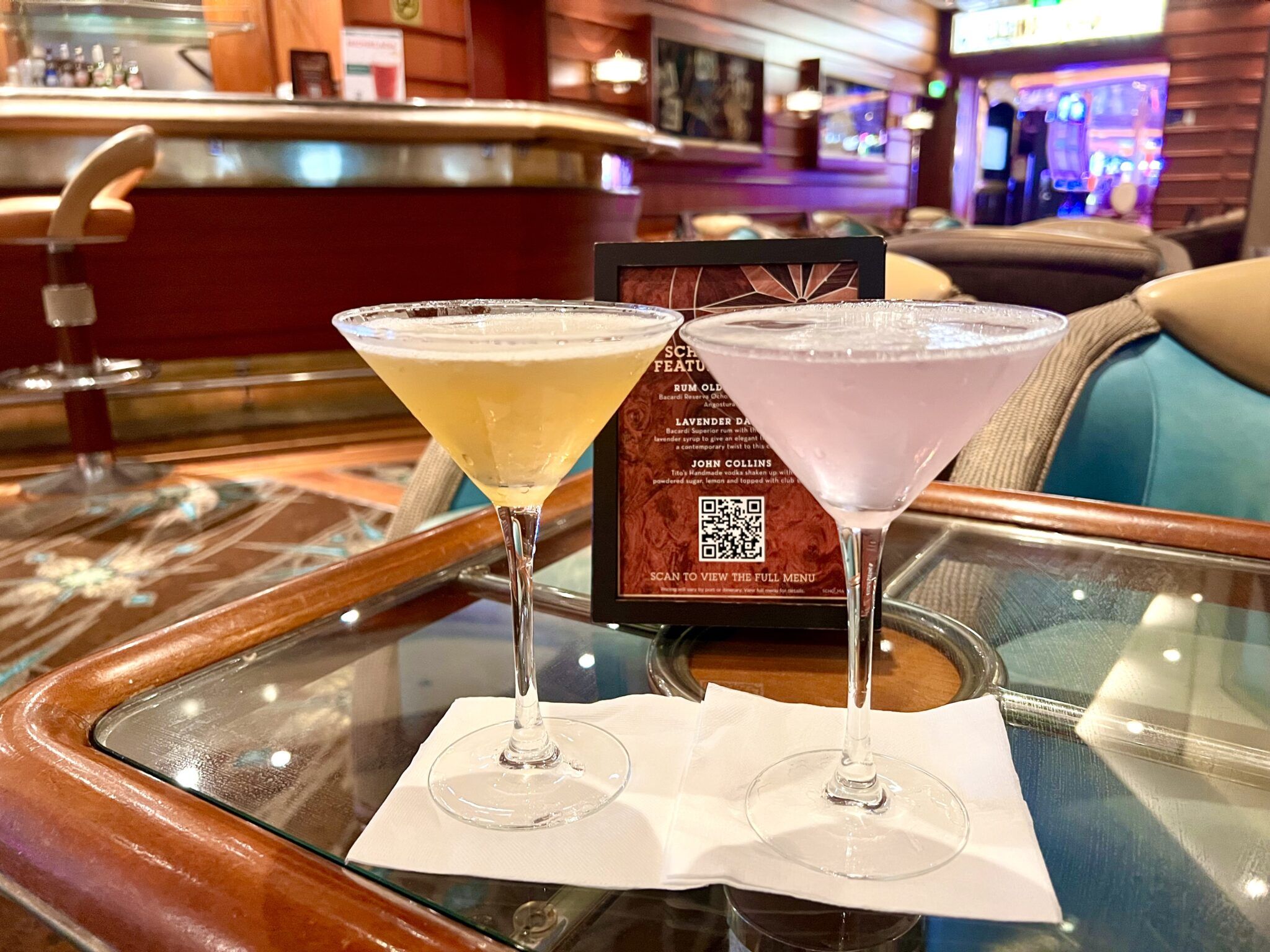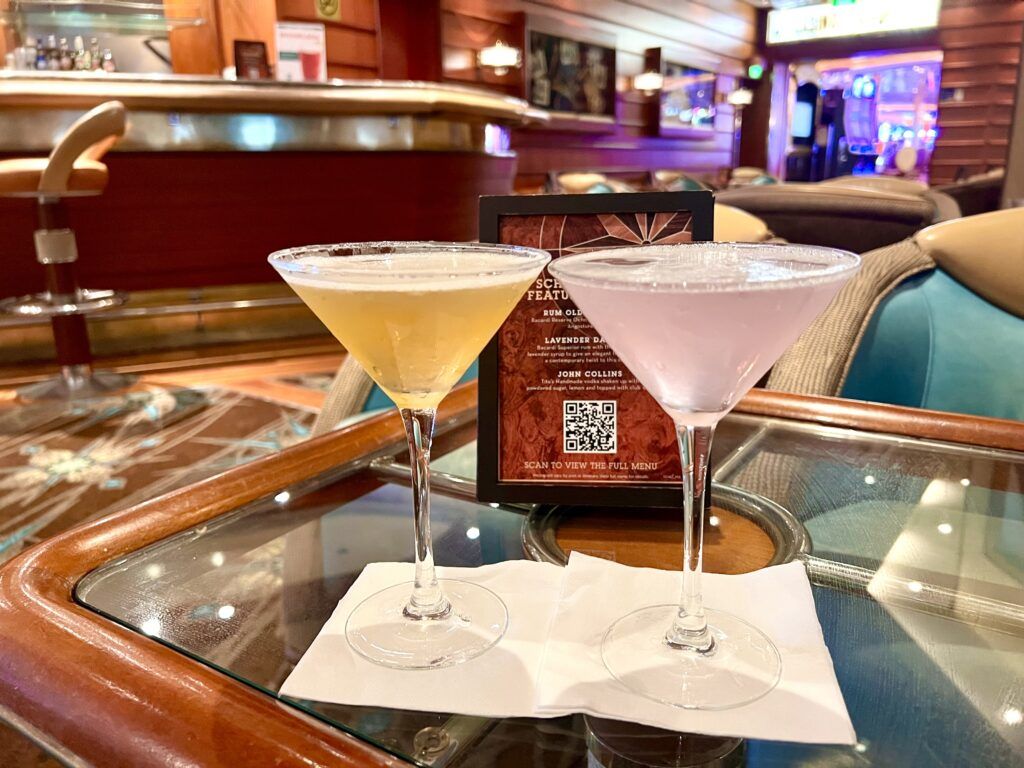 Located right in front of the theater, this makes for a great stop before or after the nightly performances. The Schooner Bar also regularly hosts trivia and live piano music that should not be missed.
Casino Bar (Deck 4)
If you need a beverage to go along with your slot play, then the Casino Bar is your stop. Offering drinks from the cruise ship's standard menu, the bar is open whenever the casino is open.
This is one of the late night spots on the ship, so don't be surprised to see some of the night owls grabbing one last drink at this centrally located venue.
Starbucks (Deck 4)
Just like the popular coffee shop on land, Mariner of the Seas has its own Starbucks serving up all your favorite drinks. From lattes to iced teas, refreshers, and frappuccinos, your handcrafted beverage awaits you. However, they will cost you extra money.
Beverages at Starbucks are priced a la carte and are not included in the deluxe beverage package or the Café Select coffee card.
Boleros (Deck 4)
The Latin-inspired Boleros is a staple on Royal Caribbean cruise ships. Boasting a signature cocktail menu featuring daquiris, caipirinhas, and other rum-based drinks, you might feel like you've been transported to Havana.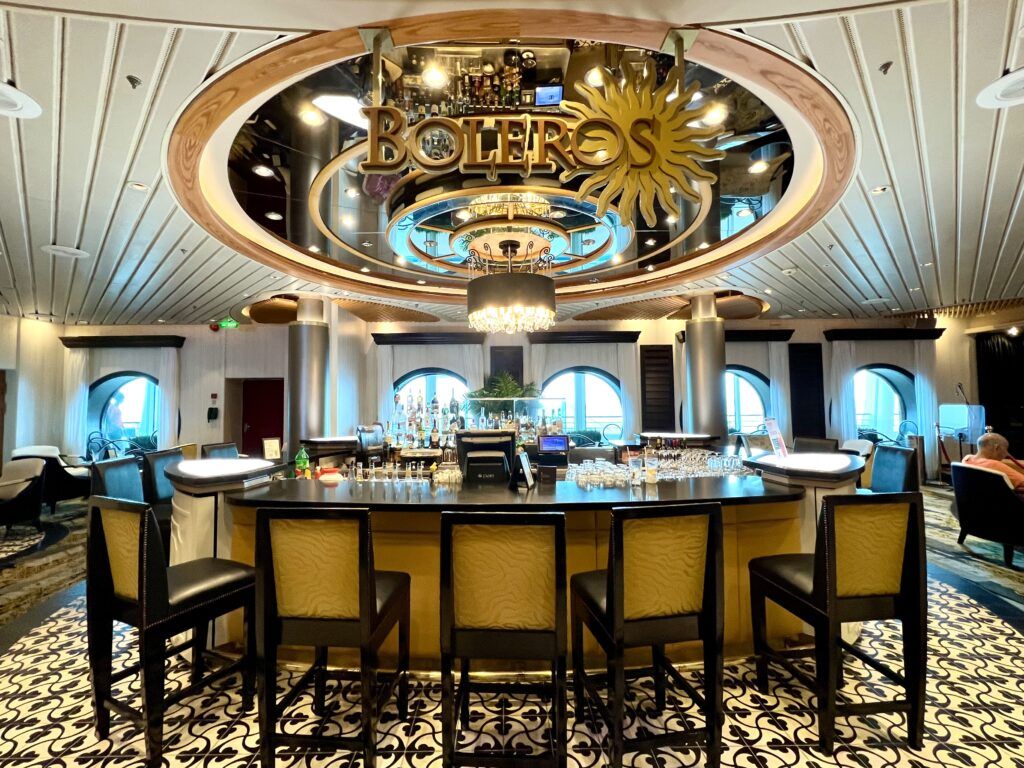 Located near the main dining room, this is the perfect place to enjoy a pre-dinner or post-dinner cocktail while listening to some live music. During our sailing, the venue's musical offerings rotated between a Latin duo and a rock band.
Star Lounge (Deck 5)
Home to game shows, trivia, karaoke, and Bingo hosted by the cruise director staff, the Star Lounge comes equipped with a full bar. You can grab a seat and enjoy a drink as you partake in these activities.
Some of our favorites include Majority Rules, Finish That Lyric, and Battle of the Sexes.
Café Promenade (Deck 5)
Open 24 hours a day, the Café Promenade is your go-to spot for snacks any time of day. Serving up breakfast pastries, sandwiches, and small desserts, you will never go hungry on Mariner of the Seas. Since there is no Sorrento's on this ship, Café Promenade also serves up pizza.
In addition, specialty coffee is available at Café Promenade. These espresso-based drinks are included in the Deluxe Beverage Package or the Café Select coffee card. There is also a small selection of beer here.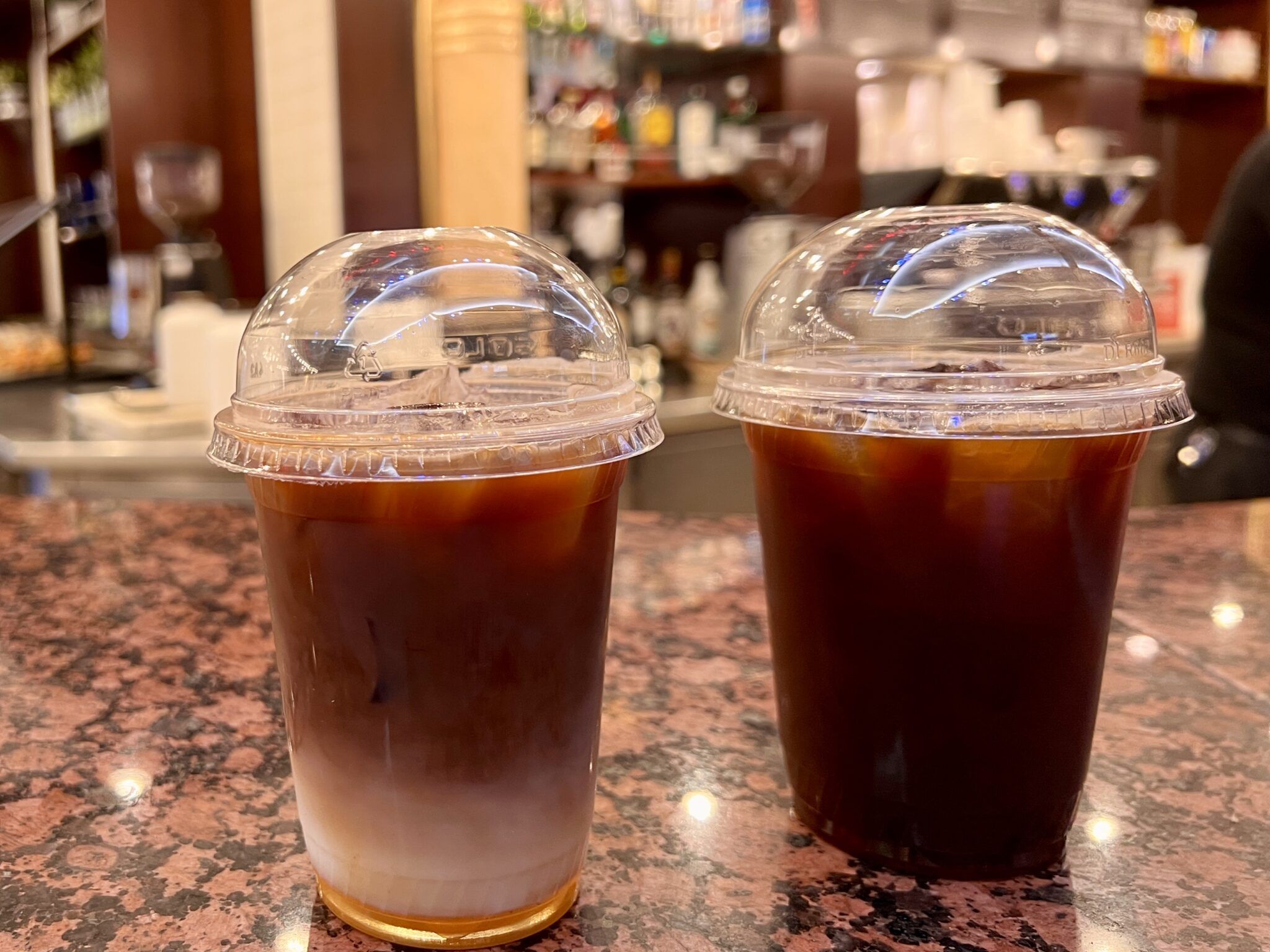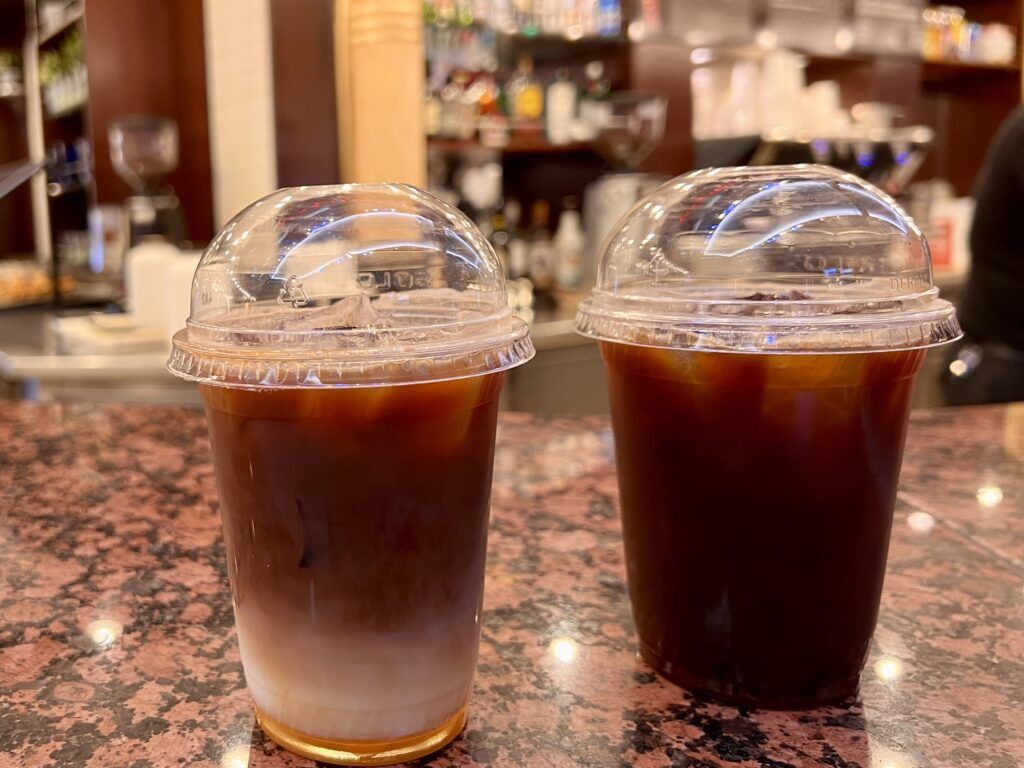 This venue is a great place to grab a table and people watch as there is always something happening in the Royal Promenade.
Playmakers Sports Bar and Arcade (Deck 5)
New to the ship, Playmakers is a great spot for all the sports lovers. Televisions line this sports bar broadcasting games from around the world. There is also a pool table and retro arcade games here.
When it comes to food and drinks, Playmakers features an a la carte food menu including fan favorites like nachos, chicken wings, and even an onion ring tower. The venue also serves an extensive beer menu meaning you will always have a drink ready to cheer on your home team.
Playmakers Food and Drink Menu
Barnacle and Barrel (Deck 5)
This English-style pub is a fan favorite on Royal Caribbean ships. Located in the Royal Promenade, Barnacle and Barrel features a variety of lagers, stouts, and ales. So, you are sure to find a brew. Of course, the venue has a full bar so is capable of making most of your favorite cocktails as well.
In addition, the pub features live acoustic guitar music most evenings so you can sing along with popular songs as you enjoy your beer on the Royal Promenade.
Bamboo Room (Deck 5)
This Polynesian inspired tiki bar is funky and fun with a drink menu that is as exotic as the décor. Open most days starting in the mid afternoon, this venue's specialty menu serves up some new favorites like the Royal Zombie and the On the Run.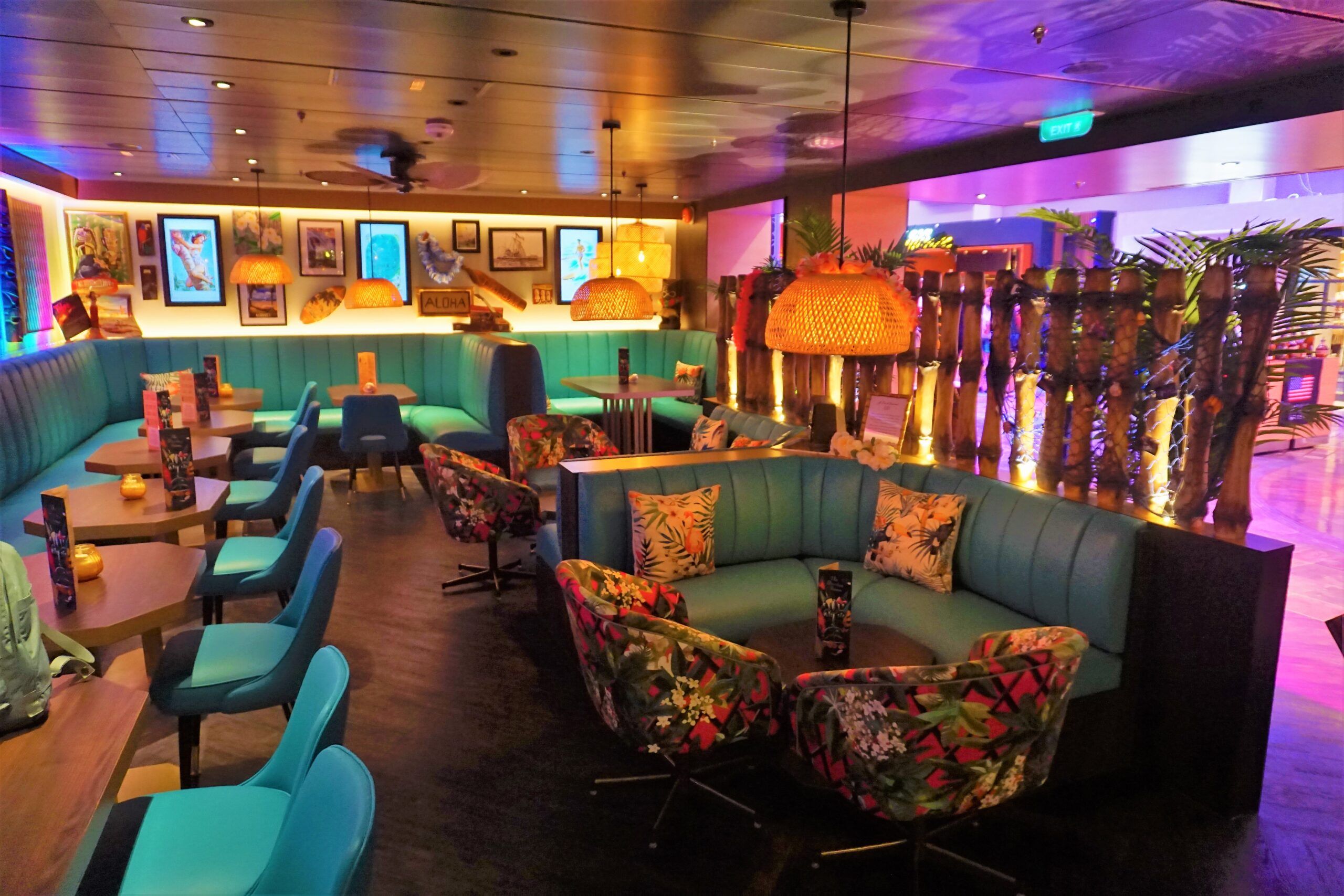 The menu also features a few a la carte food offerings like pulled pork sliders and tuna poke, with prices ranging from $5 to $10.
Solarium Bar (Deck 11)
This adults-only area in the front of the ship includes a pool as well as a bar for those grown-up beverages. Serving the Pool Bar Menu, this is where you can relax sans children and still get to enjoy your favorite frozen drink.
With some comfy day beds and loungers, and even whirlpools, this little oasis separates you from the rest of the hustle and bustle on the ship. Unlike some other ships in the fleet though, the Solarium pool is not enclosed.
Pool Bar (Deck 11)
Conveniently located next to the main pool and plenty of loungers, this bar is the place to be during the day. Grab a Pina Colada and get ready for the day's events like the Belly Flop contest or the Sail Away party.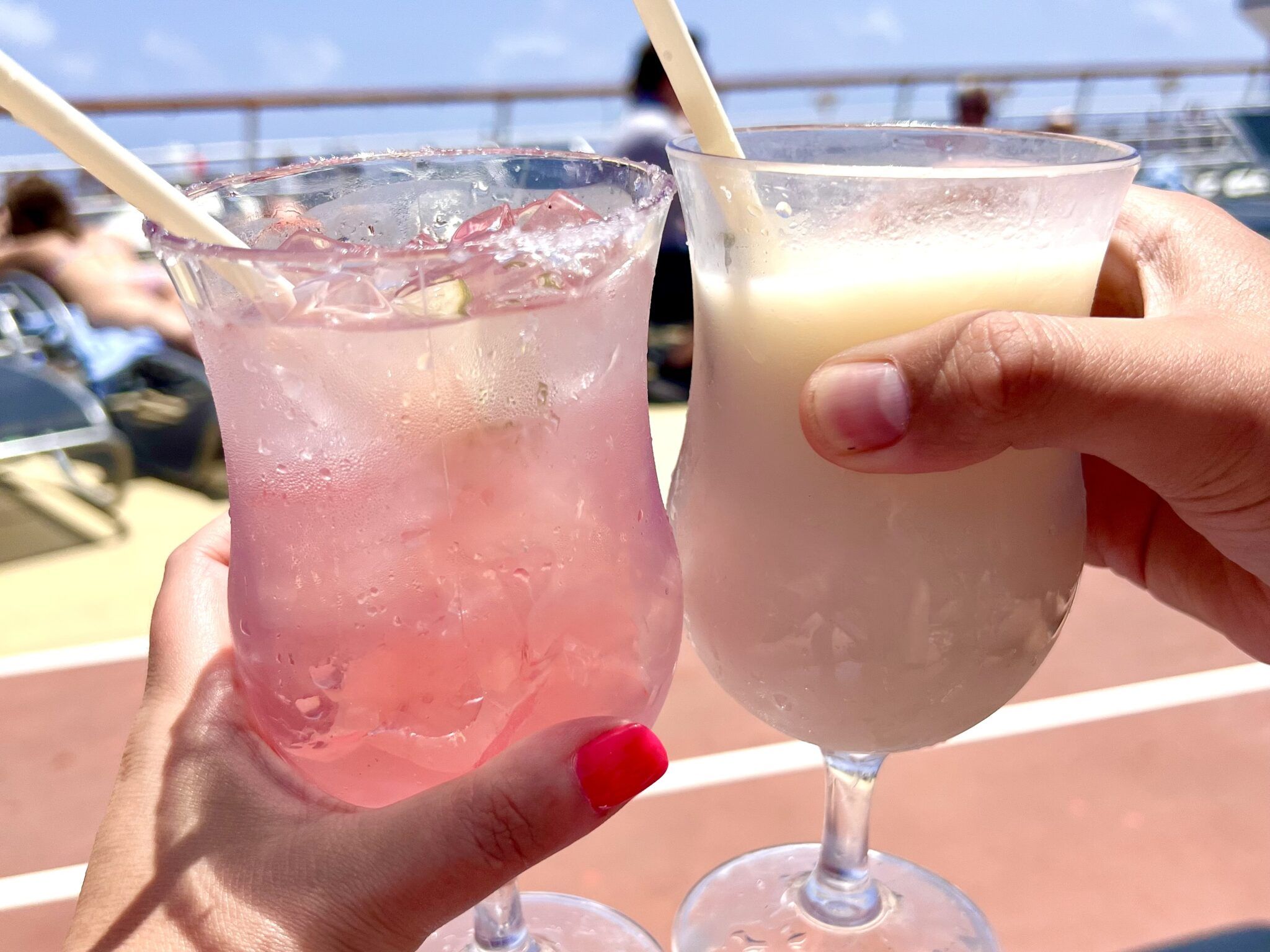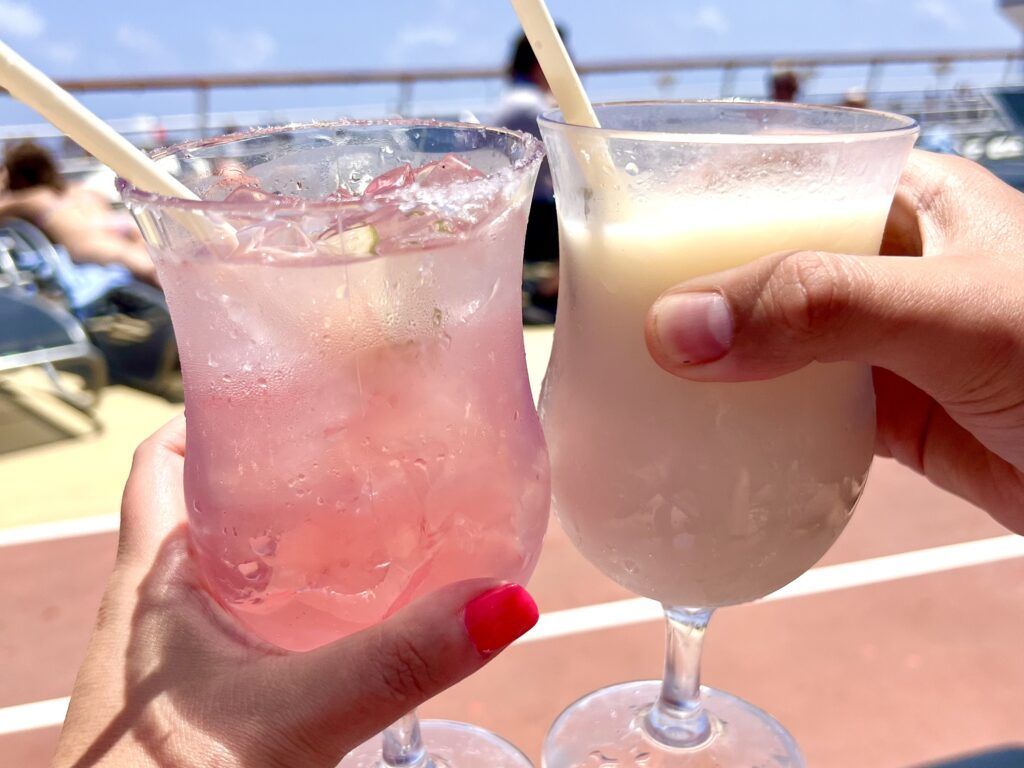 Unlike other amplified ships in the Royal Caribbean fleet, this pool bar has not been updated to the Lime and Coconut. Thus, the pool bar menu does not include the signature Lime and Coconut cocktail found on newer ships.
Plaza Bar (Deck 11)
If you are dining at one of the specialty restaurants (Jamie's Italian or Chops Grille), you can grab a pre-dinner drink at the Plaza Bar. This bar also serves as the main watering hole for those dining in the Windjammer Café.
This bar is located at the front of the Windjammer and offers a wide variety of liquors, beers, and wines to enjoy.
Sky Lounge (Deck 12)
Overlooking the pool deck is the outdoor Sky Lounge. With some comfy chairs and an ideal people-watching location, this is your outdoor lounge to catch some sun with a cocktail in your hand.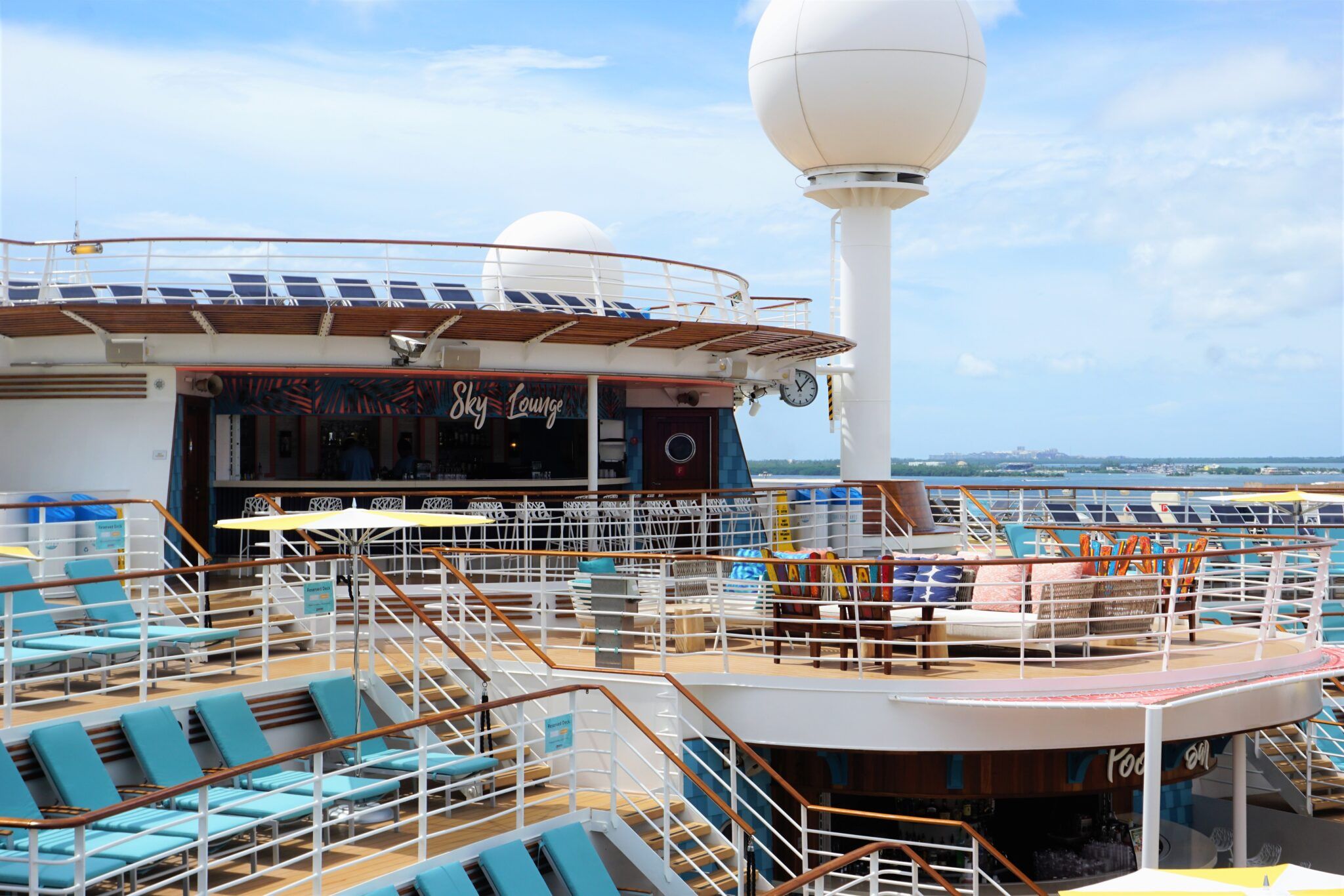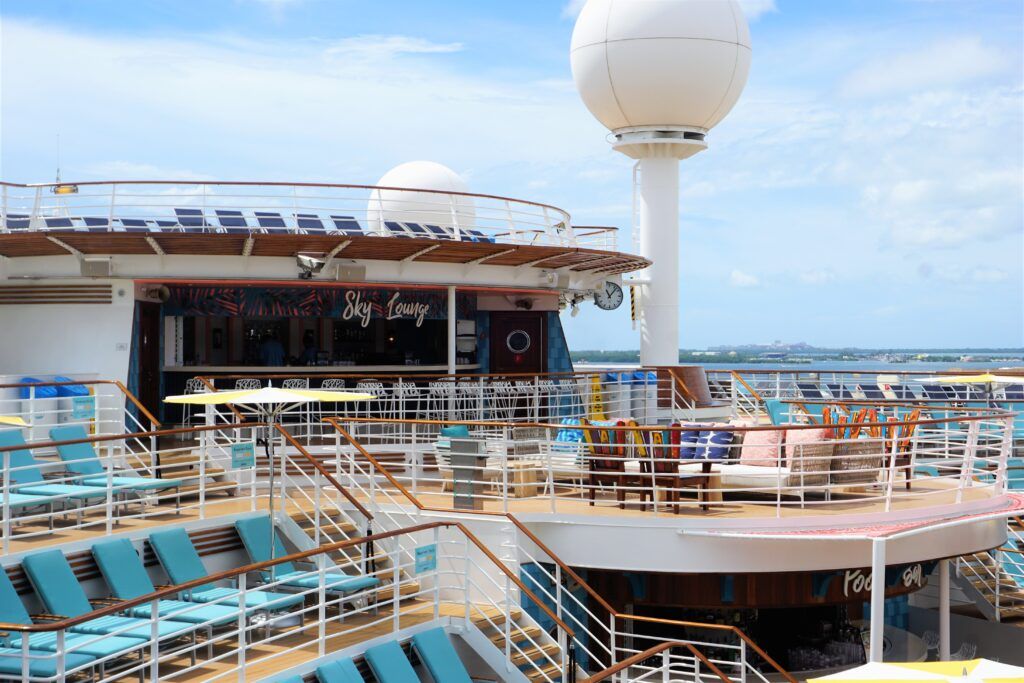 Featuring the Pool Bar Menu, this venue allows you to still enjoy all of the sights and sounds of the pool deck, without being in the middle of the crowds.
Ellington's (Deck 14)
Located at the very top of the ship is Ellington's. Offering stunning views, this venue is a quiet space to relax during the day. At night, Ellington's turns on the party vibe with the HUSH Silent Party and the late night club with the DJ spinning hits.
Of course, there is also a generously sized bar here to quench your thirst.
Comments
What is your favorite bar on Mariner of the Seas? Do you do a pub crawl while onboard the ship? Drop us an anchor below to share where you like to spend time sipping your favorite drinks onboard Royal Caribbean cruise ships.