MARGARITAVILLE AT SEA LAUNCHES "HEROES PASS" OFFERING UNLIMITED CRUISES IN 2024
One pass includes unlimited Bahamas cruises for Active Military and Veterans, First Responders, and Educators aboard Margaritaville at Sea Paradise
Margaritaville at Sea launches unlimited cruises in 2024! The new Heroes Pass offers U.S. military service members (active duty and veterans), police, fire, EMS personnel, and educators unlimited cruises to the Bahamas from the Port of Palm Beach now through the end of 2024.
For just $299*, the Heroes Pass mirrors the popular Ultimate Paradise Pass launched earlier this year. It offers passholders and one guest unlimited, non-consecutive, sailings aboard the Margaritaville at Sea Paradise.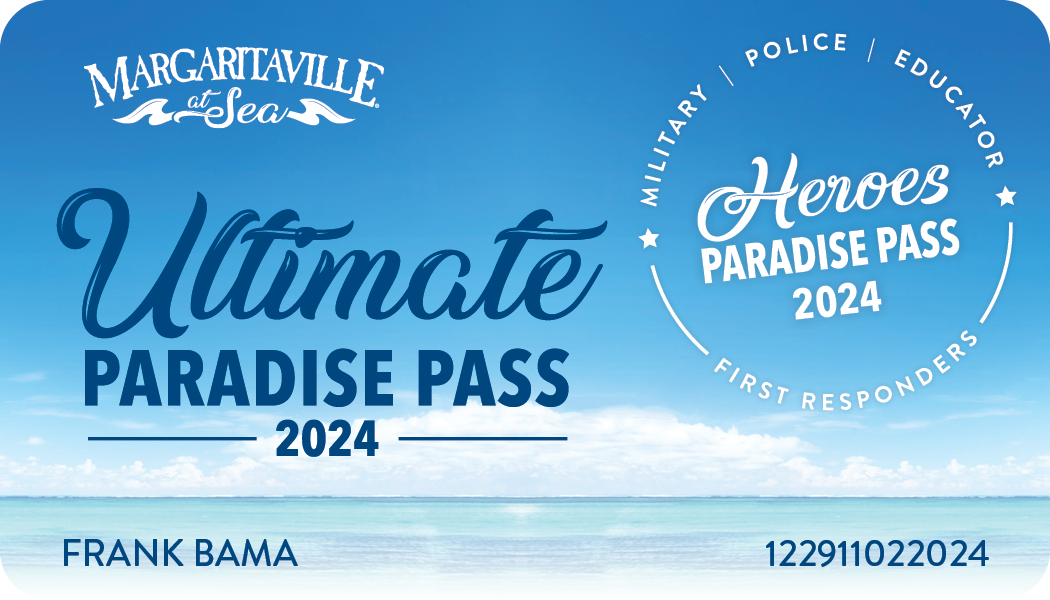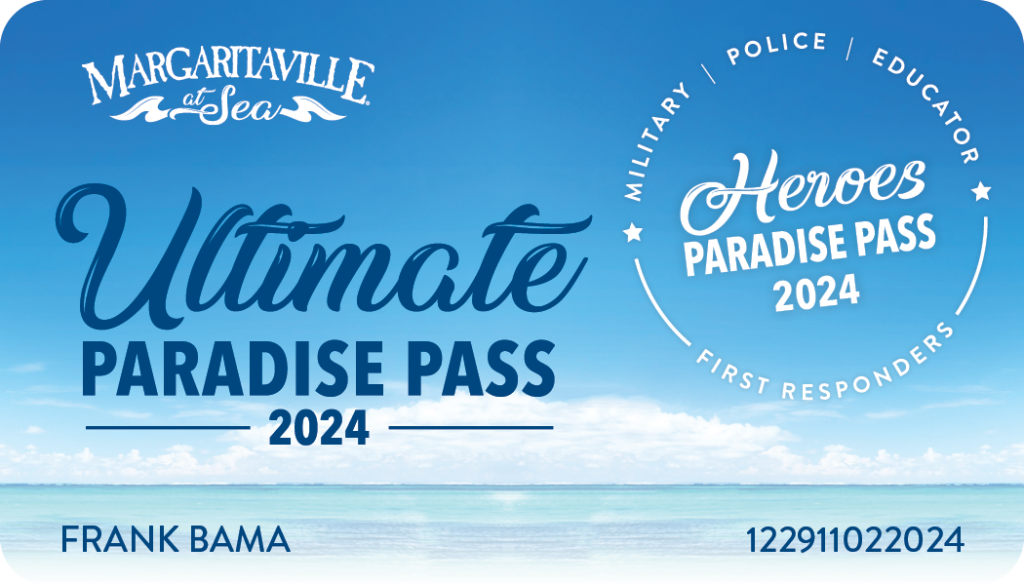 "The Heroes Pass is another way to show our gratitude to the hardest-working people out there, tirelessly supporting our communities," said Christopher Ivy, CEO of Margaritaville at Sea. "In our first two years, we've launched the unprecedented Heroes Sail Free program, as well as the cruise industry's first season pass. We're excited to add the Heroes Pass as a way for our heroes to relax with a quick escape to the Bahamas, as often as they want."
Coordinated through a partnership with GovX, qualifying guests can purchase the Heroes Pass online.
In addition to the Heroes Pass, the Ultimate Paradise Pass will be available in 2024 for $999*.
Both passes include unlimited sailings for passholders and one guest in the best available, double occupancy cabin. They can be used immediately for sailings starting in November 2023, giving passholders an extra two months.
Additional benefits for passholders include a 10% discount on packages and excursions booked onboard, access to exclusive previews, and events designed just for passholders. They also include a free express pass on the first sailing, exclusive retail discounts, and more. Only limited quantities will be available and sold on a first-come, first-served basis.
Sailings booked with the Heroes Pass and Ultimate Paradise Pass can only be booked 24-72 hours in advance. This makes the passes ideal for those with flexible schedules. "Our short itineraries make it a breeze to sail to the Bahamas multiple times a year without using up weeks of vacation time," said Ivy.
More on Margaritaville at Sea
Margaritaville at Sea brings the Margaritaville brand's hospitality to the open ocean for a one-of-a-kind vacation where guests can relax and unwind in comfort.
Among the 10 passenger decks, guests will enjoy endless entertainment, including two Stars on the Water shows – Caribbean Heat and Radio Margaritaville: LIVE! At Sea. Several dining venues feature a variety of island-inspired cuisine. While bars and lounges provide non-stop excitement paired with premium cocktails.
The ship also features a regulation-sized pickleball court, renovated kid's clubs for all ages, an action-packed casino, pools, hot tubs, a rejuvenating spa and salon, and plenty of quiet spaces to soak up the Caribbean sun. 
For more information on the new Heroes Pass or Ultimate Paradise Pass, visit margaritavilleatsea.com/current-offers/2024-heroes-pass and margaritavilleatsea.com/current-offers/ultimate-paradise-pass. 
*Does not include taxes, fees, and port expenses, which must be paid for each guest at time of booking. Booking fees are variable between weekday and weekend sailings for both passes. Limited quantities are available. November and December 2023 sailings included. Limited blackout dates. 2024 passes expire 12/31/2024.
SOURCE Margaritaville at Sea
Comments
Are you happy to hear that Margaritaville at Sea launches passes for unlimited cruises in 2024? Have you sailed on Margaritaville at Sea Paradise? Drop us an anchor below to share your experiences.
Stay up to date with the latest cruise news and travel updates!