Holland America Line Named Official Event Partner of the International Skating Union in Sport of Speed Skating
Partnership with ISU brings the essence of cruising to popular winter sport
Holland America Line has been named an Official Event Partner of the International Skating Union (ISU) for ice speed skating. Building on its long history of Dutch excellence in the sport, including 12 speed skating medals for the Netherlands at the 2022 Beijing Olympics, Holland America Line will have a presence at national and international competitions leading up to the 2026 Olympics.
Kicking off the partnership, Holland America Line will have visibility at the upcoming ISU World Cup of Speed Skating events. These events are taking place in the Netherlands, Japan, China, Norway, Poland, the U.S. and Canada. Fans also can look for Holland America Line branding at the European and World Speed Skating Championships.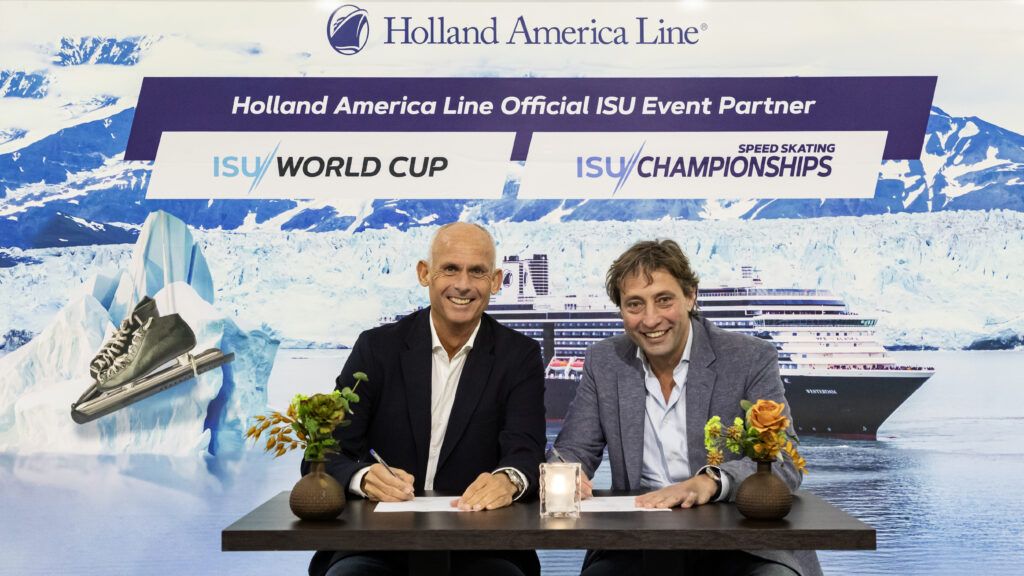 "Speed skating is one of the most-watched winter sports in the Netherlands and many other countries, with more than 4 million Dutch fans alone, and we are proud to be an event partner of the ISU and cheer on speed skaters from all countries," said Nico Bleichrodt, vice president of international sales, Holland America Line. "Speed skating fans are passionate about the sport like our guests are passionate about cruising, and we're excited to support the ISU and bring these two communities together."
Holland America Brings Cruising to This Winter Sport
The ISU speed skating sponsorship enables the cruise line to reach a large fanbase at a variety of speed skating events. Holland America will reach fans in the Netherlands, United States, Canada, Germany, Norway and Asia, where many guests reside.
Under the multiyear agreement, Holland America Line will have a presence on television with branding along the rink, across social media channels, in various event materials, digital campaigns, and at venue activations.
Koen Hermens, managing partner at House of Sports said, "The International Skating Union and House of Sports welcomes Holland America Line as official ISU Event Partner in ice speed skating. It is an Olympic winter sport with a strong track record in advertising value and speed skating is highly effective when it comes to sports exposure and brand awareness, especially in the Netherlands. With powerful performances on the ice, worldwide TV-coverage and wide digital engagement through social media, speed skating has all the ingredients to generate valuable visibility in exclusive brand partnerships."
SOURCE Holland America Line
Comments
Are you happy to hear that Holland America is named the official event partner of the International Skating Union? Are you a fan of ice skating and Holland America Line? Drop us an anchor below to share what you love about sailing with this cruise line.
Stay up to date with the latest cruise news and travel updates!