Ship Overview
Holland America Line's Rotterdam is the seventh cruise ship to bear this historic name. This newest version is the third in the Pinnacle Class of ships. Similar to its two sister ships, this close to 100K gross ton ship is home to plenty of classic features along with a few firsts for the brand.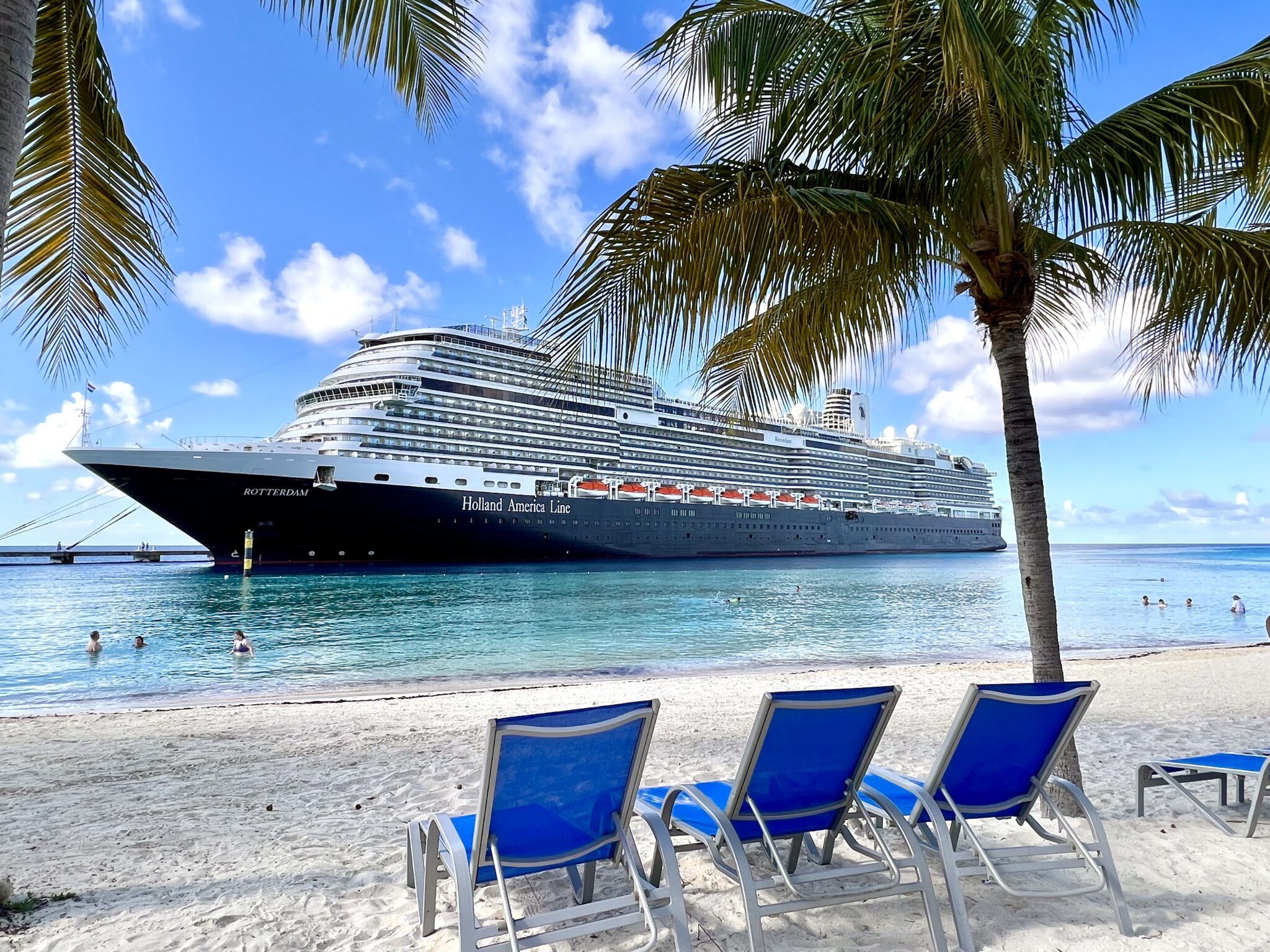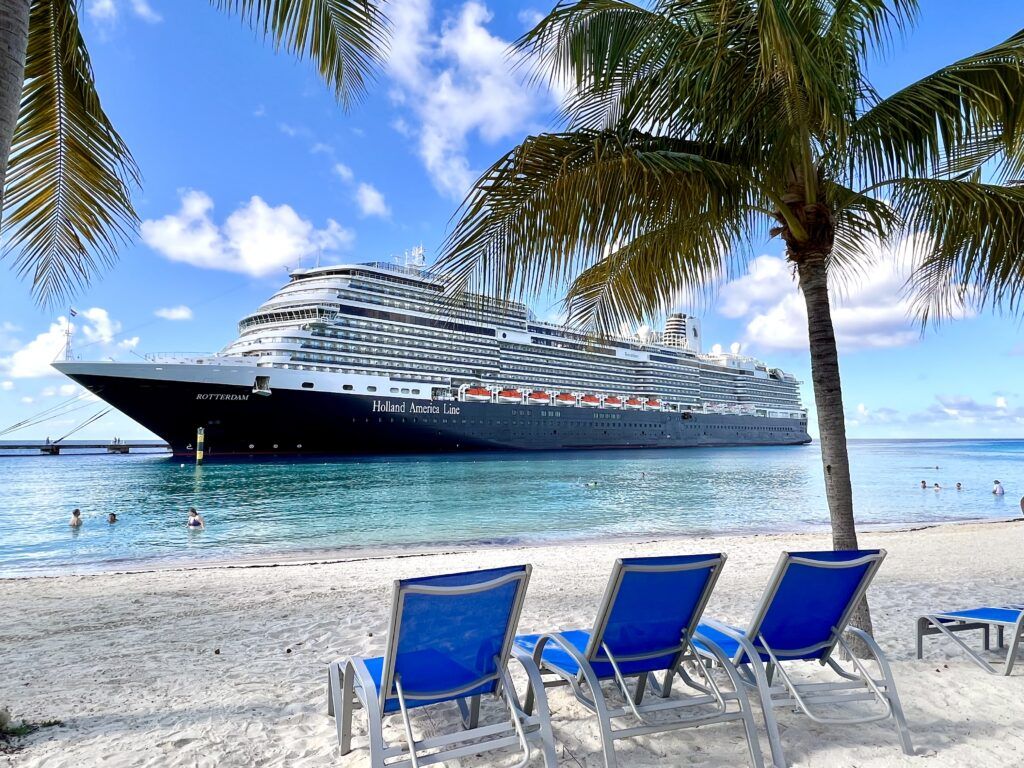 Among some of the line's hallmark public areas is the Explorations Café. Located in the front of the ship, it offers panoramic views, along with enrichment, a full bar, and a board game room.
The Grand Dutch Café is also a fan favorite on Pinnacle Class ships. This Dutch inspired bar and café located on the Promenade deck is the perfect spot to enjoy a specialty coffee and a sweet treat.
There is also the Sea View pool and bar. This aft located adults-only pool area offers fantastic wake views with plenty of loungers and easy access to the Lido Market buffet. At the center of Deck 9 is the main Lido Pool. With a retractable roof, it is always a pool day at this midship space regardless of the outside weather.
When it comes to dining, the ship offers a variety of options. Among our favorite casual options is the centrally located New York Deli and Pizza open for lunch, dinner, and late-night snacks. There is also the Dive-In, which serves up burgers and fries. Of course, these are in addition to the Lido Market buffet and the two-story Dining Room.
Watch Our Exclusive Holland America Rotterdam Review Video!
The specialty restaurants on Holland America Line's Rotterdam are also top notch. From the upscale Pinnacle Grill to the Pan Asian Tamarind and the seafood brasserie Rudi's Sel de Mer, you can't go wrong with dining at any of these venues.
Along with exquisite dining, the cruise line is also known for its live music.
Rotterdam has four different music venues on the Deck 2 Music Walk. Billboard Onboard is the piano bar, while B.B. King's Blues Club showcases jazz music and Lincoln Center stage features orchestra performances. Finally, the Rolling Stone Rock Room is by far the liveliest venue featuring live rock music almost every night of the cruise.
In addition, the main theater features production shows by the StepONE dance company, EXC enrichment talks, and BBC Earth in Concert ensuring that there is something for everyone to enjoy day and night.
New to Holland America Line's Rotterdam is the Half Moon Bar and the Library. The upscale Half Moon Bar features exclusive cocktails each with its own story to tell paying tribute to the cruise line's history. The Library is also not found on the other Pinnacle Class ships. This book store of sorts features a variety of works that guests can check out during their cruise.
The musically inspired Holland America Line Rotterdam shines with a classic design and modern amenities. For an Eastern Caribbean cruise, this ship served as an ideal vessel as we soaked up the sun and the fun.
With extra attention to health and safety protocols, including upgraded air-filtration systems, vaccine and testing requirements, mandatory mask use, and enhanced sanitation protocols, we felt completely safe during our Holland America Line Rotterdam Caribbean cruise.
Continue reading our Holland America Line Caribbean cruise review below as we share all the details of our first 2022 cruise. See why this ship might be perfect for your next cruise vacation.
Disclaimer: We were hosted guests of Holland America Line on this sailing, but as always, all opinions in this post are our own.
EXCLUSIVE SAVINGS: Get Deals on Holland America's Rotterdam NOW!
Holland America Line Rotterdam Caribbean Cruise Review – Day 1
A Later Than Typical Embarkation
A new year, a new cruise ship! For our first trip of 2022, we set sail on a 7-day Eastern Caribbean cruise on Holland America Line's Rotterdam. This 7th version of the ship is the brand's third Pinnacle Class vessel.
Our only other cruise with this brand was an Alaska cruise on Nieuw Amsterdam last summer. So, we were eager to test out this newest cruise ship from this often overlooked cruise line.
Like usual, we flew into Fort Lauderdale the night before our trip, booking a pre-cruise stay a few blocks from the pier. Our night stay at the Renaissance Fort Lauderdale made sure we were well rested for embarkation day.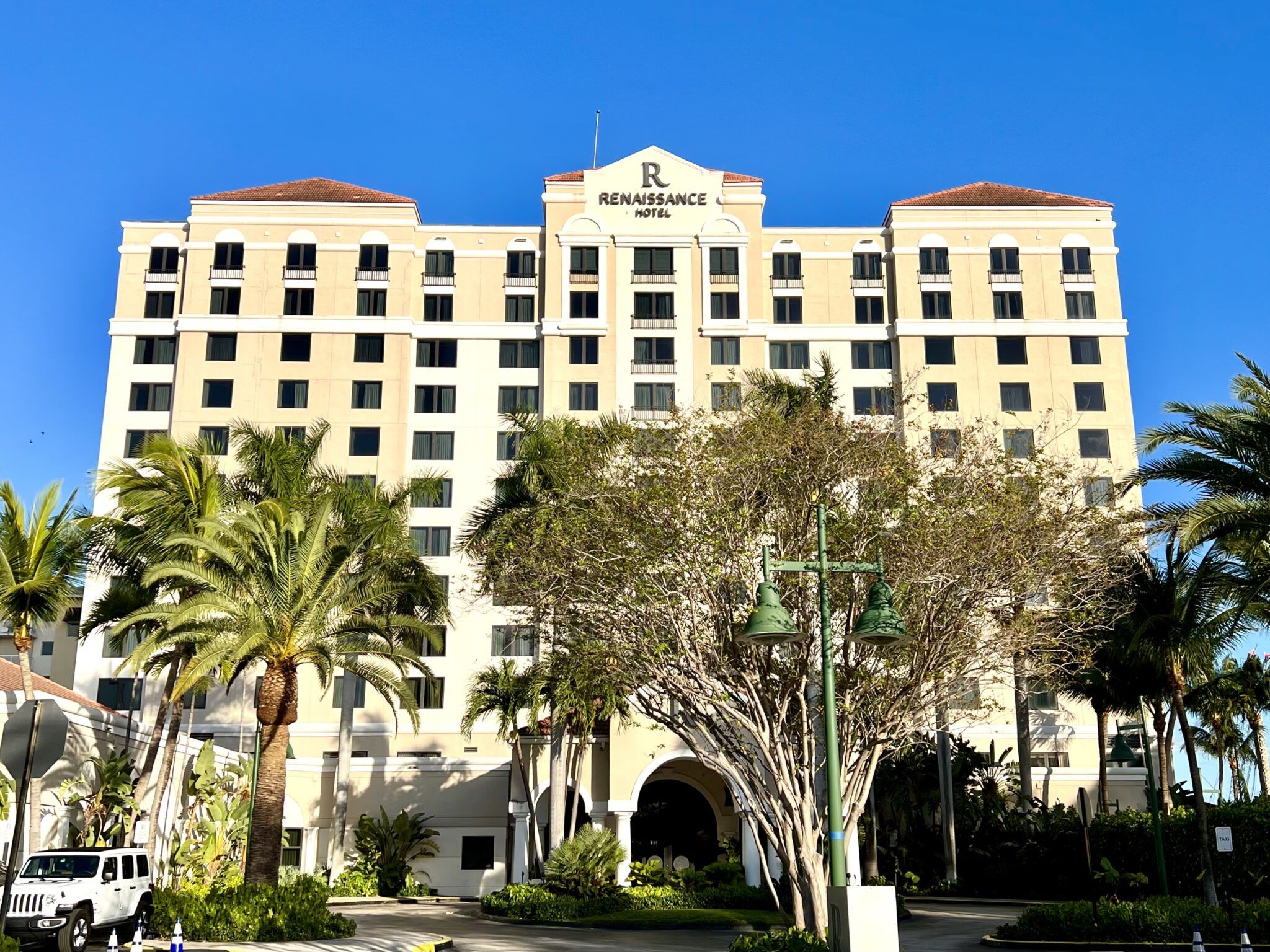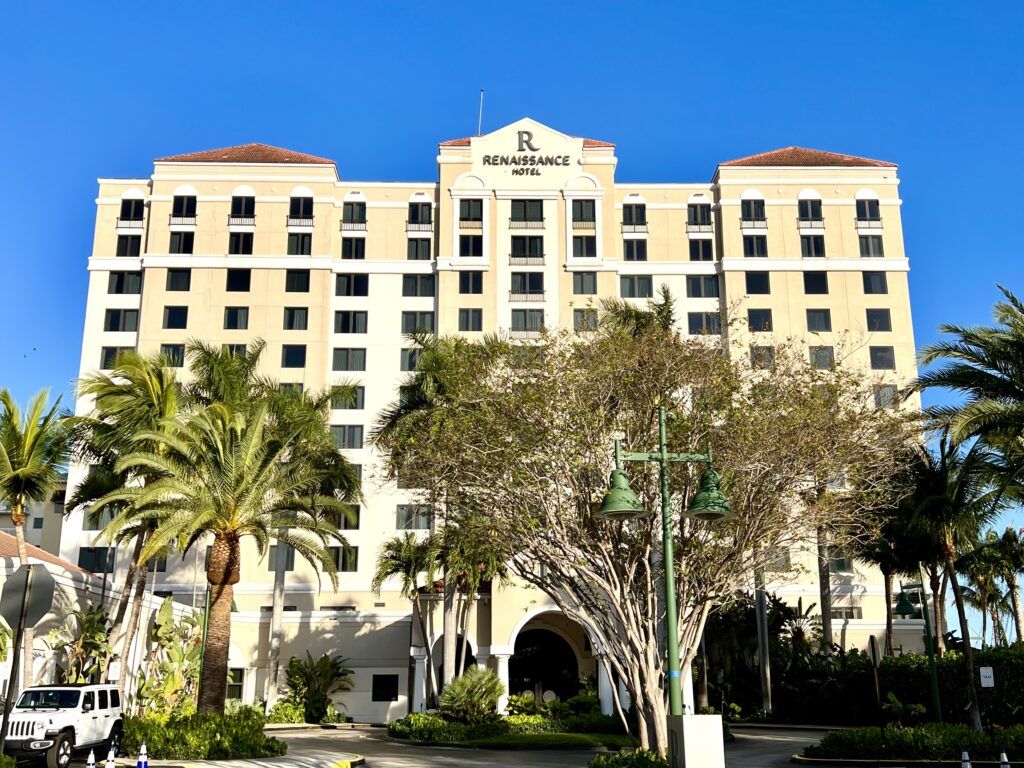 There were a total of 6 ships in port this day. So, it wasn't surprising that the hotel was very busy with other cruisers. In fact, it took over 10 minutes to get an Uber to the cruise port.
It was close to 11:30 am when we finally arrived at Terminal 21. Thankfully, the terminal did not seem too busy. Our boarding group was Group C, with a scheduled embarkation of 12:40 pm, but we were allowed to begin our check-in early. The entire process from security, to health screening, to the actual check-in took only about 20 minutes.
As we finished, the cruise line was beginning to board its suites and loyalty cruisers. So, we sat down for about five minutes before general boarding was allowed to embark the ship.
Just before noon, we were onboard and ready to explore this brand new Holland America Line cruise ship. Our first cruise of 2022!
New Year, Same Day 1 Routine
We are creatures of habit. So, like always, we headed to the top decks to begin our unofficial ship tour.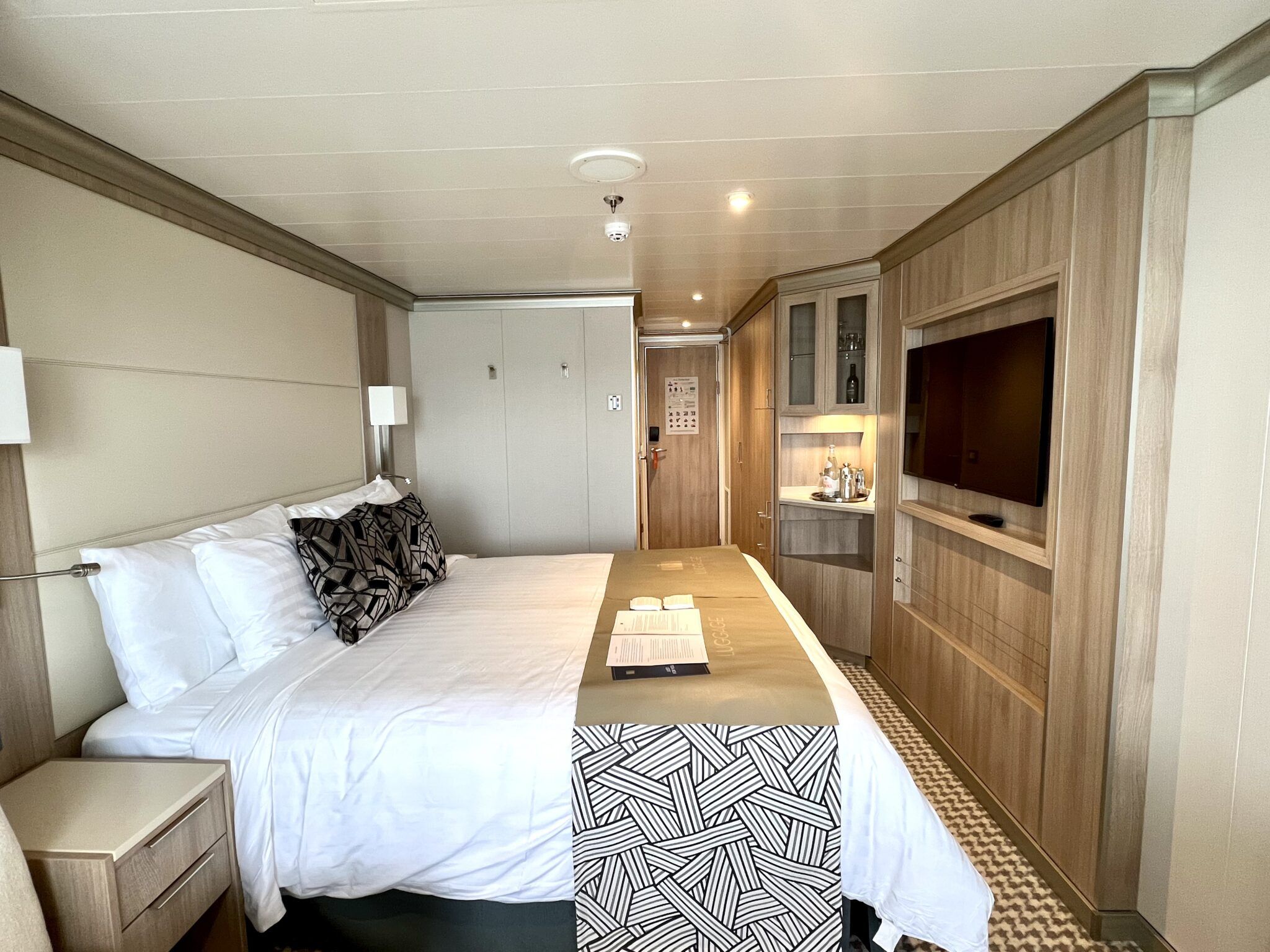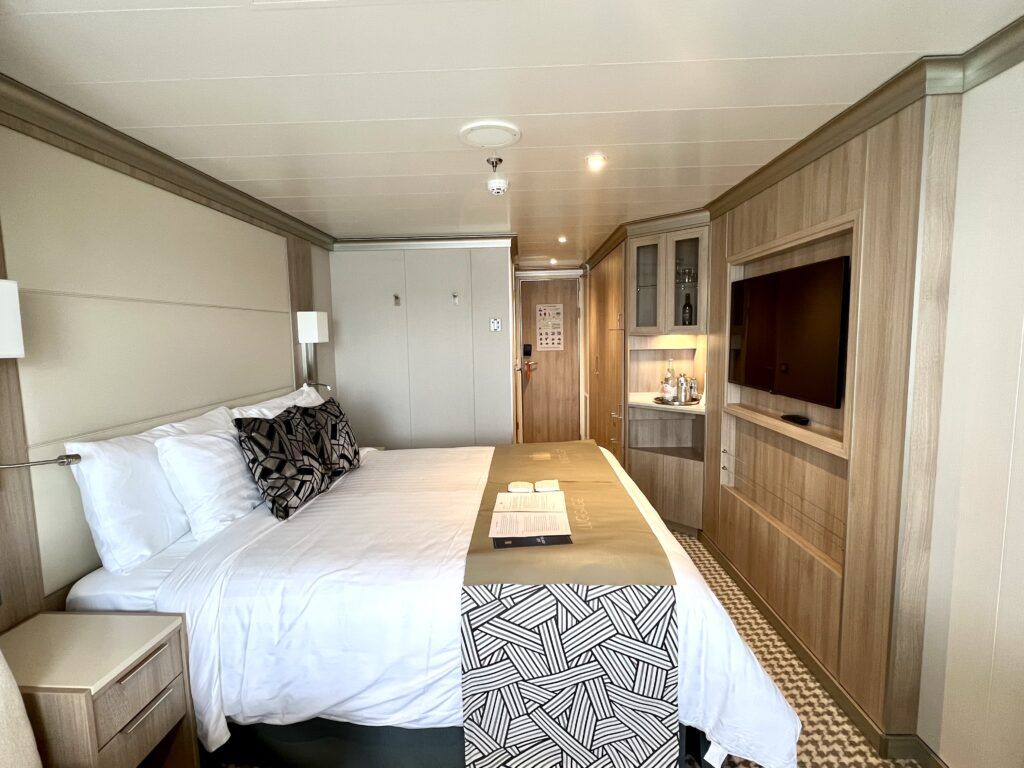 First, we stopped at our stateroom to drop-off our bags. As we were boarding, the crew informed us that the rooms were ready. Perfect! A quick pit stop, and then we were off to the outdoor decks.
Prioritizing public venues, we took a tour of the Greenhouse Spa and Fitness Center. Then, we snuck into the private cabanas for a few quick shots.
Getting from the forward to aft of the ship takes a little maneuvering on some public decks. Still, we were able to check out the sports deck, the Sea View aft pool, and the sun deck before they were filled with fellow cruisers.
While still outside, we decided to stop for lunch around 1:30 pm. We sampled the NY Pizza and Deli. Cruisers can customize their personal pizzas or choose from 6 signature pizzas. In addition, the venue serves 7 different subs, including pastrami and meatball.
The order took about 10 minutes. Once we were done with lunch, it was on to the interior public spaces. But first, we had to complete muster.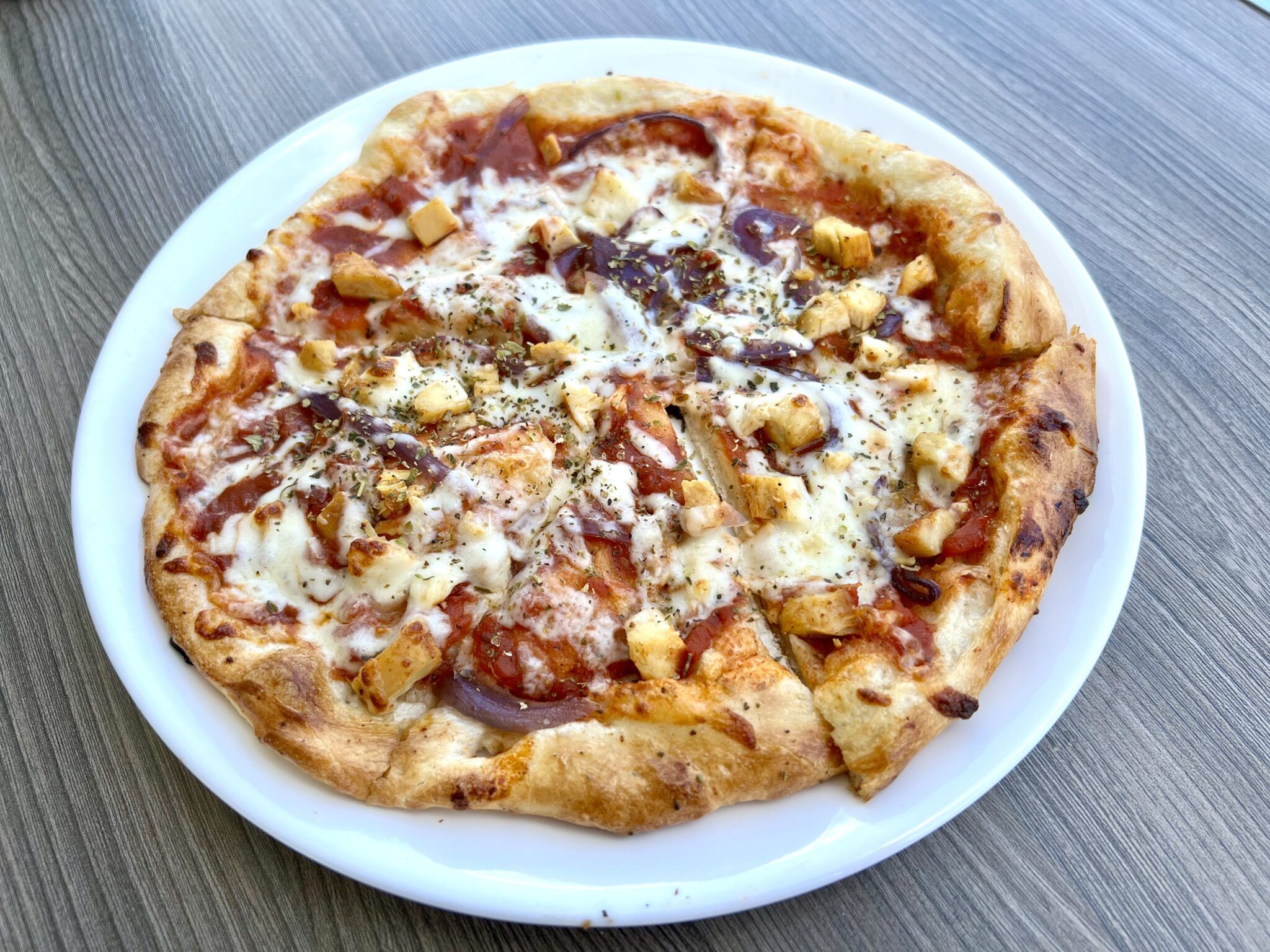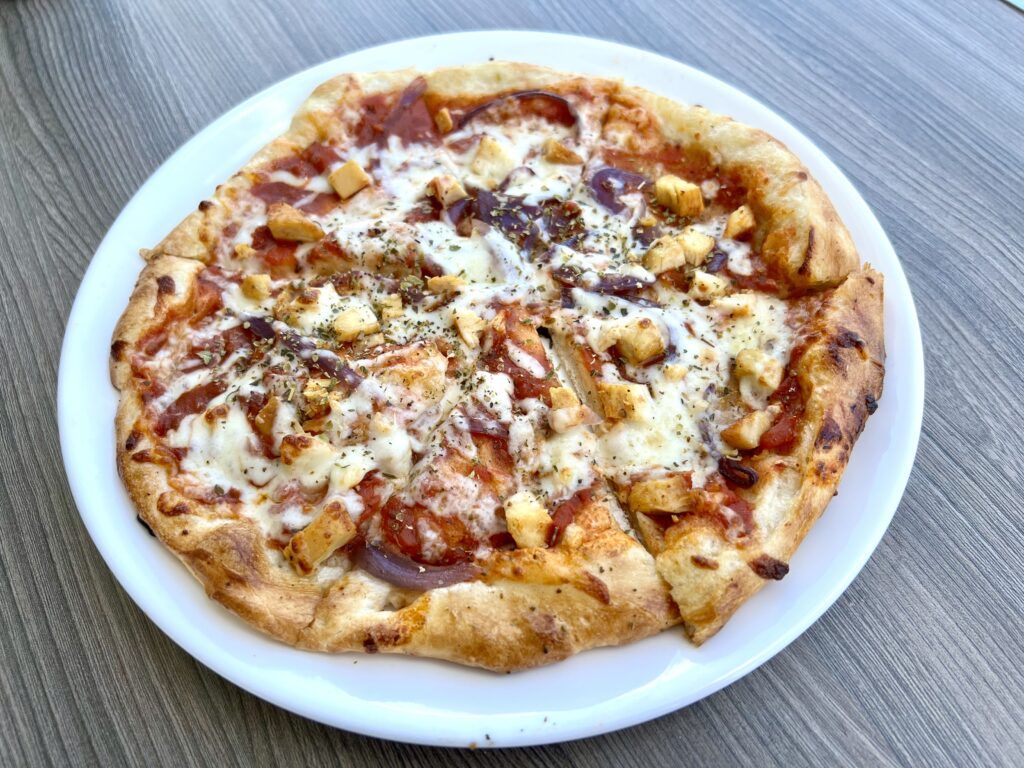 Holland America Line's newly modified safety program involves three steps. The first step is checking in at your assigned muster station, which was B2 near Billboard Onboard for us.
We were then able to explore the Music Walk and other entertainment and dining venues on decks 2 and 3. While the restaurants and entertainment venues were empty, the same could not be said about the bars. By now, cruisers were taking advantage of their Holland America beverage packages.
We were no exception. Instead of grabbing cocktails though, we grabbed some iced lattes from the Grand Dutch Café. This midship coffee shop is in addition to the Explorations Café on Deck 12.
With our coffees in hand, we returned to our room around 3:30 pm. Our luggage was in our room, but we really didn't have much time to unpack before sail away. Taking some quick photos and videos of our stateroom, we were back up to the Sea View pool area by 4 pm for sail away.
Almost on cue, the ship carefully maneuvered out of Port Everglades and past the beach effortlessly.
Having spent over 4.5 hours on the ship, it was time for our sail away drink, even if it was a bit late.
Bouncing Around Rotterdam
Grabbing drinks and table from the nearby Sea View Bar, we cheered to the start of (hopefully) many 2022 cruises. Unlike typical embarkation days, we weren't too rushed to get to dinner. With the cruise line's Dine Anytime, we made a pre-cruise reservation in the main dining room for 6:30 pm this evening.
Back to our room by 5:15 pm, this gave us over an hour to unpack, change up, and head to deck 2 of the Dining Room.
Upon arrival, we were quickly escorted to a starboard side table for two by a window. Our waitstaff team of Anang and Santosa were very attentive. Expecting a 90+ minute Night 1 dinner, we were surprised to be done in just over an hour.
On our previous HAL cruise, I was not overly impressed with the main dining room food. Tonight though, the cruise line exceeded my expectations. The grilled swordfish was great, and the jerked pork tenderloin had just the right amount of spice.
Like most Night 1 lineups, there was only one showtime for the World Stage theater. In fact, it wasn't even really a show, rather an EXC talk about the history of the company. Even though we attended this presentation on our previous trip, we were looking forward to seeing the Origin Story again.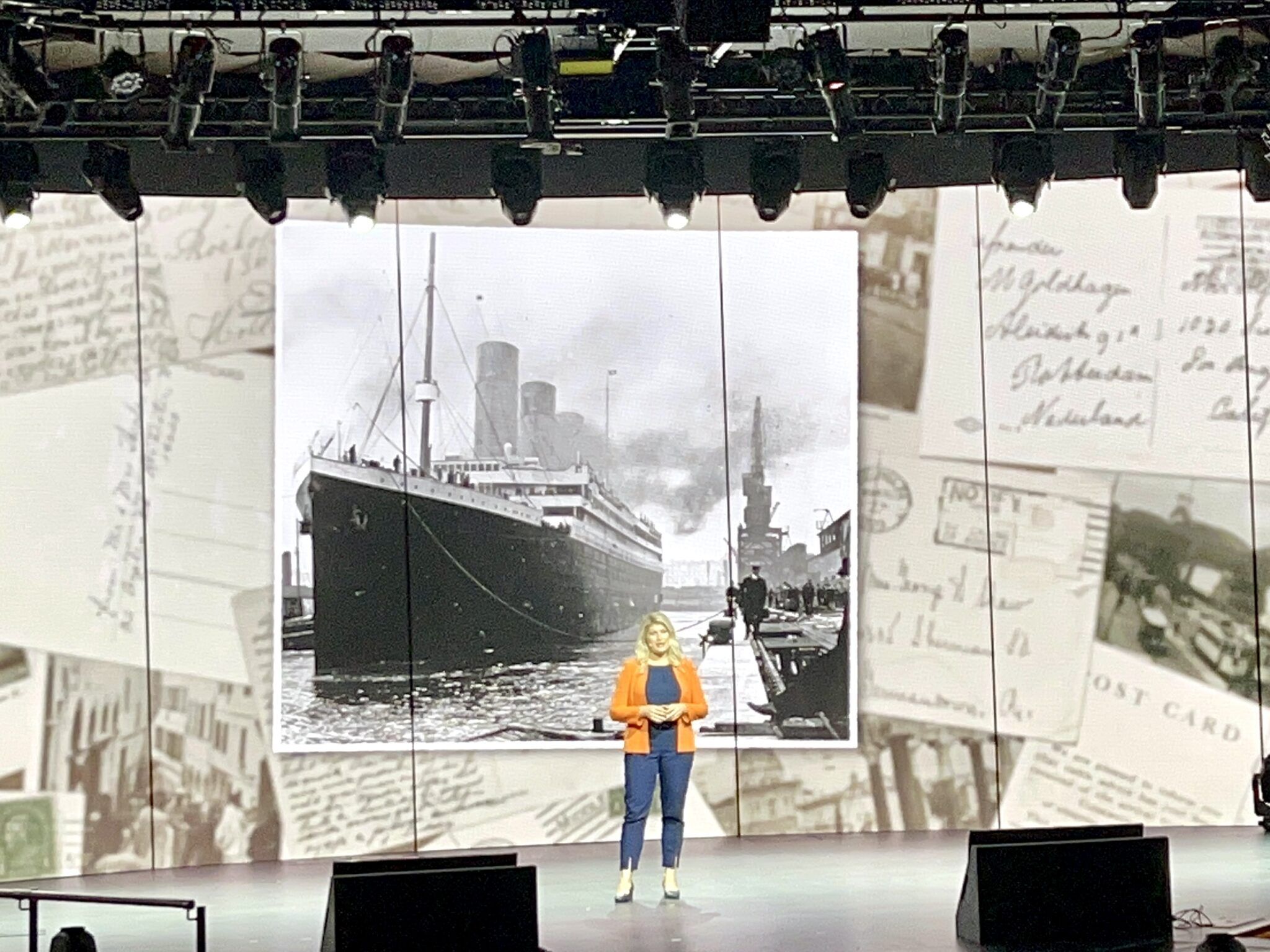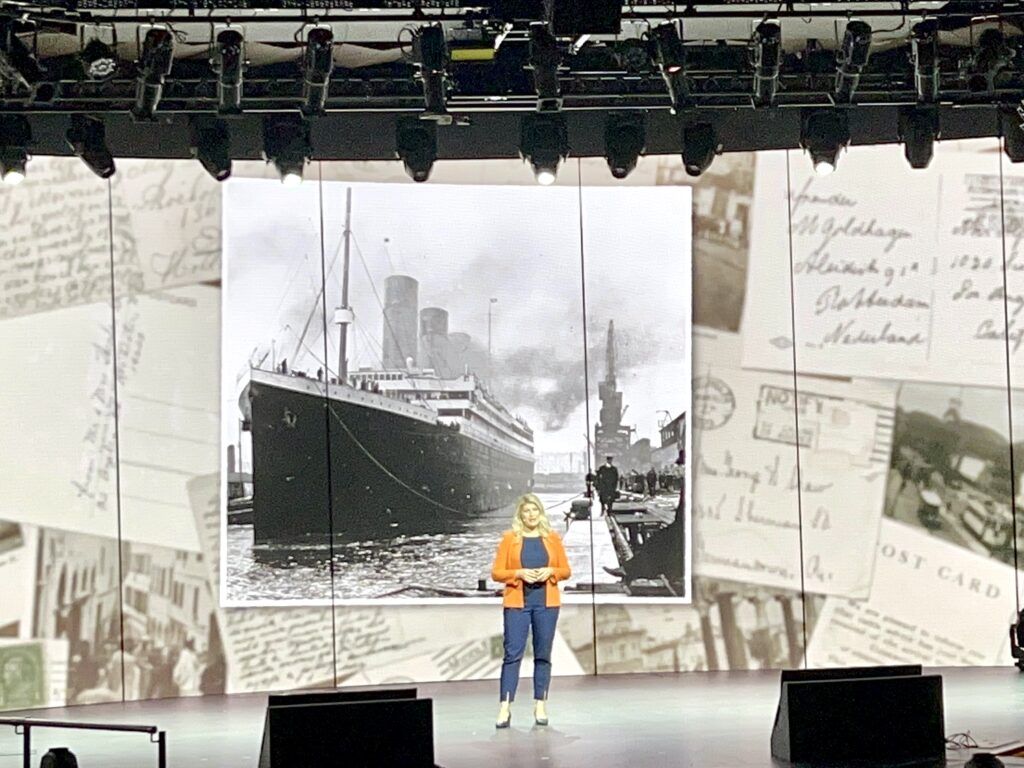 Given this presentation was at 9 pm, we had plenty of time to check out some of the live music around the ship first. We headed to the Rolling Stone Rock Room to listen to the rock band, with lead singer Mr. McMillan. This band is a must-see. The eclectic song list and powerhouse musicians make the Rock Room an amazing addition to Holland America Line ships.
Watching the entire 45-minute set, we didn't have any issues getting seats in the World Stage for the show.
Presented by the cruise and travel director Rebekah, this well-produced production tells the cruise line's 150-year history. This compelling and entertaining presentation includes a mix of firsthand accounts, history, humor, and plenty of heart.
Finishing up before 10 pm, we bounced between Billboard Onboard and Rolling Stone Rock Room until we decided to call it a night just before midnight. I guess it says something about a ship when we are part of the "late night crowd".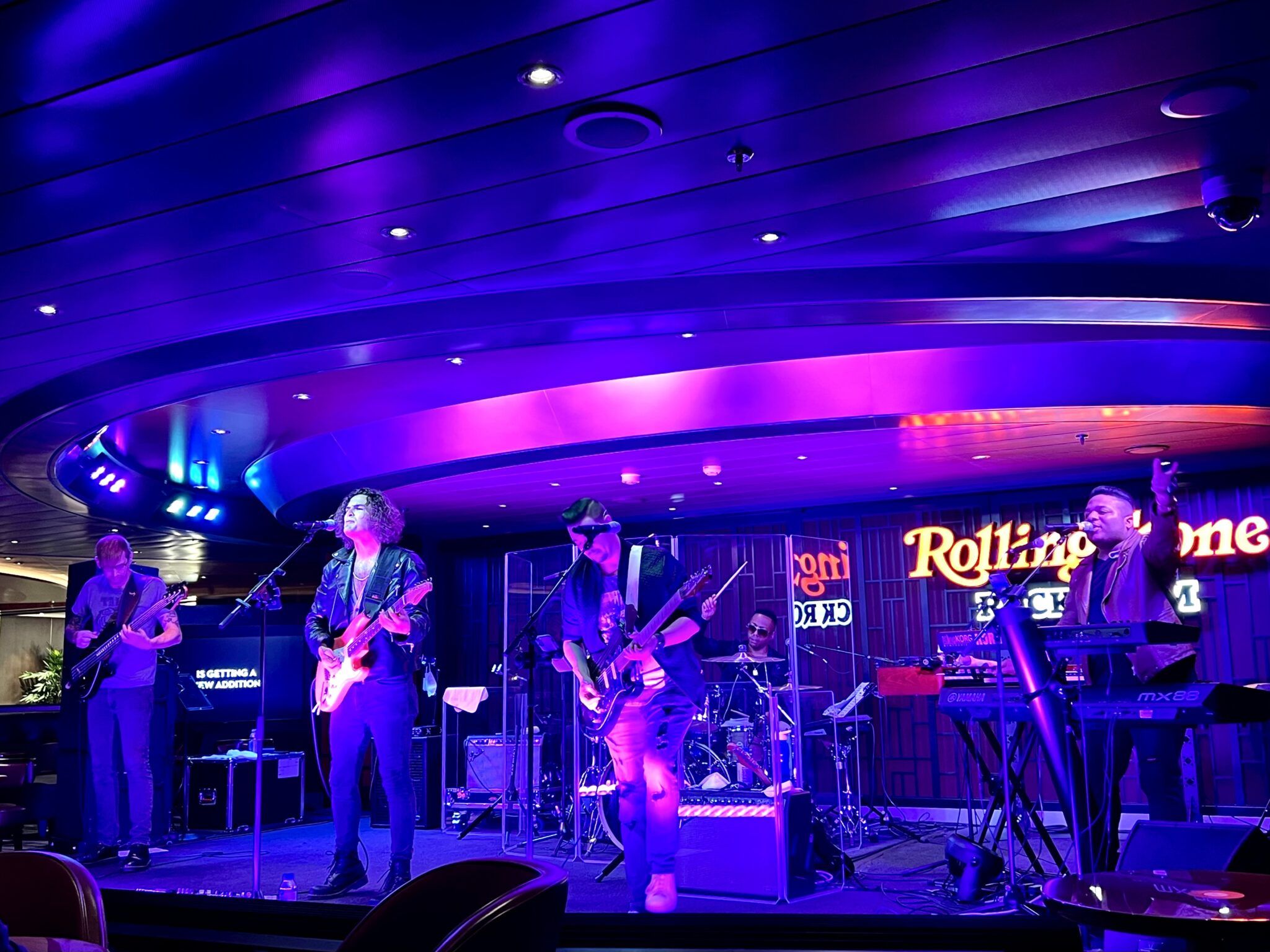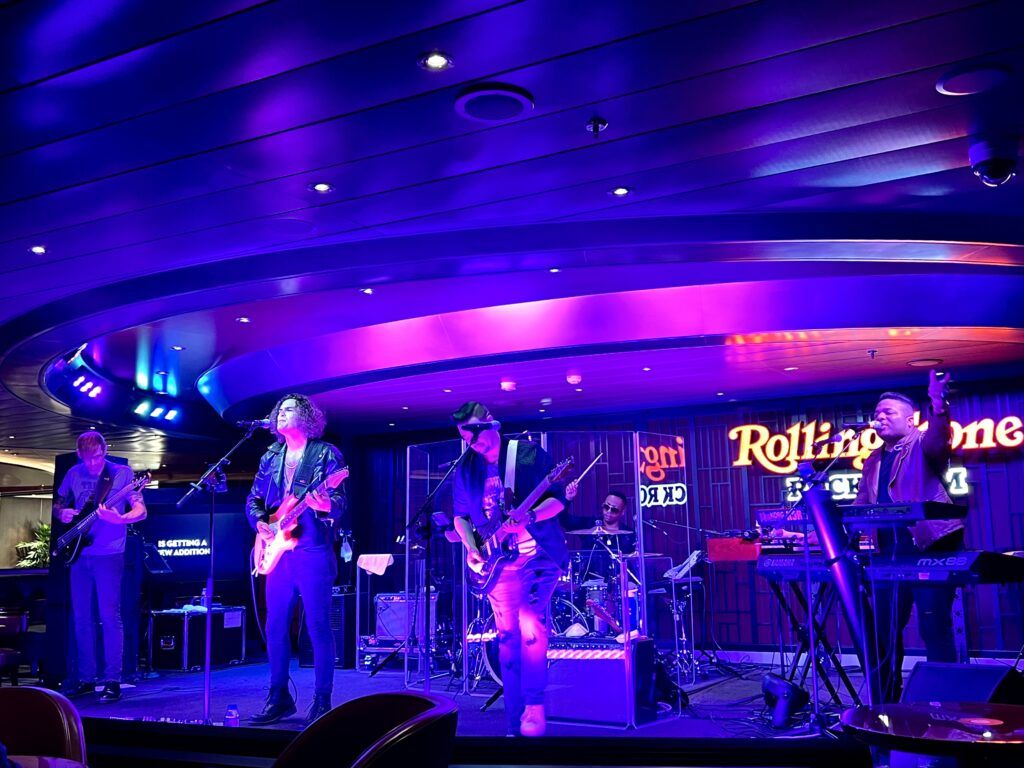 Both of these venues, in addition to B.B. King's Blues Club, offer a variety for music lovers. Although, the adjacent location of these venues means performances only occur in one venue at a time.
With tomorrow being a sea day, we planned to sleep in a little.
Holland America Line Rotterdam Caribbean Cruise Review – Day 2
A Quiet Morning at Sea
Day 2 of this Holland America Line Rotterdam Caribbean cruise review was a sea day. For us, this usually means one of two things. Either, we spend the day crisscrossing the ship to get photos and videos, or we just relax on the outdoor decks. With the sunny and warm weather, we opted for the latter.
With a 7:30 am alarm, I grabbed our morning coffees at the Grand Dutch Café. Taking our time to get ready for the day, we headed down to breakfast right before 9 am. Today, we opted for a sit-down breakfast at the main dining room.
Like the previous night, the restaurant was not very busy. Our waiter, Gusti, came over promptly. The entire dining experience was less than an hour. I went with the frittata, and Heidi did the Texas French Toast. Both were satisfying breakfast choices.
We then took our devices and found some loungers near the deck 9 Lido Pool. These comfortable chairs made for a fine morning office. Slowly, the sun crept over us during our three hour low-key morning by this partially covered pool.
A Slow and Steady Afternoon on Rotterdam
By 1 pm, we had used enough cognitive energy to warrant getting something to eat for lunch. So, we decided to grab some sandwiches and fries from the nearby Dive-In.
One nice feature of the Holland America Navigator app is the ability to mobile order food from the two outdoor casual dining venues. Testing out how the technology worked, we wait 18 minutes for our order.
As we waited, we grabbed a few drinks from the Lido pool bar of course. This venue features the same cocktail menu as the other outdoor bars.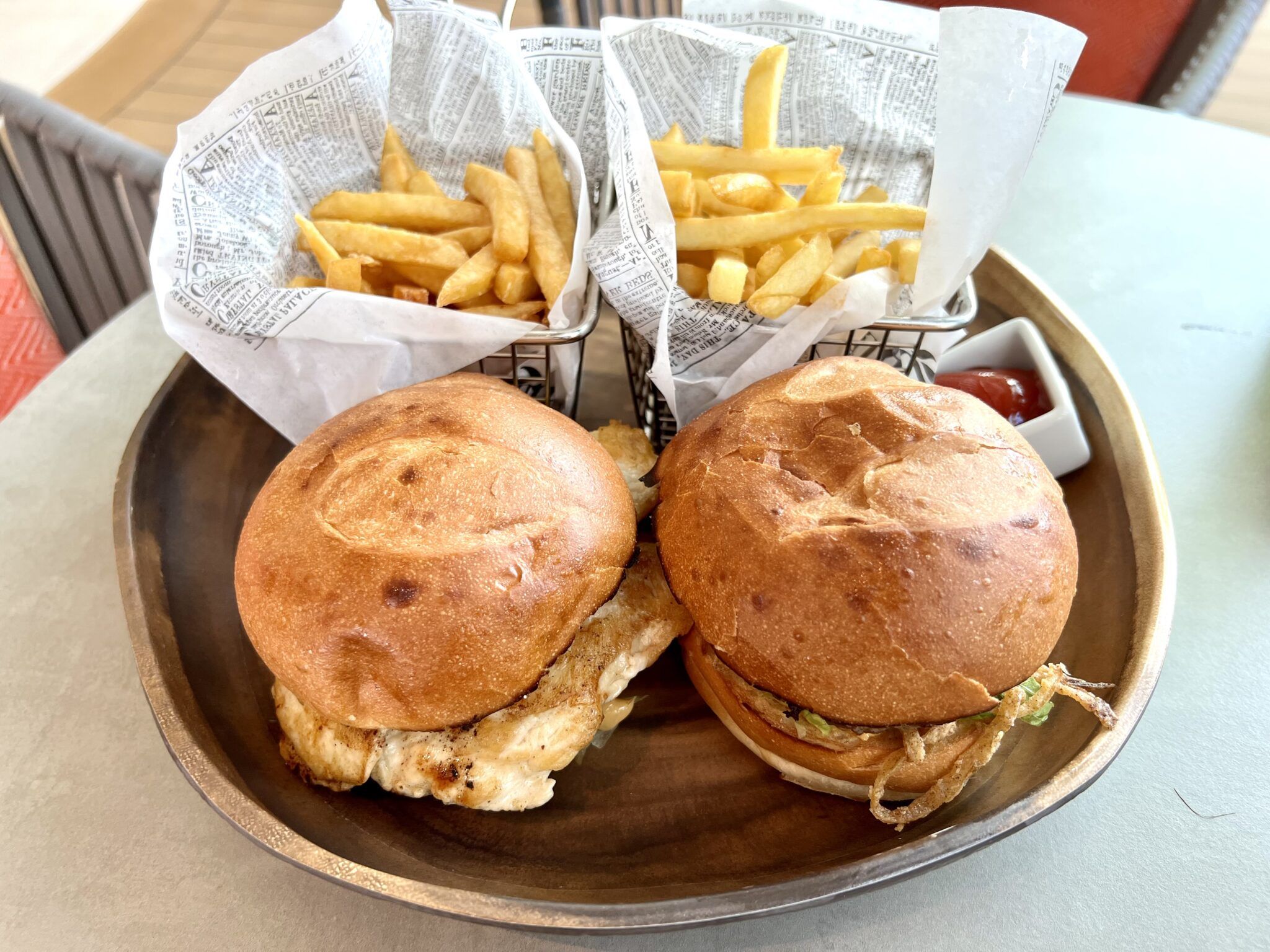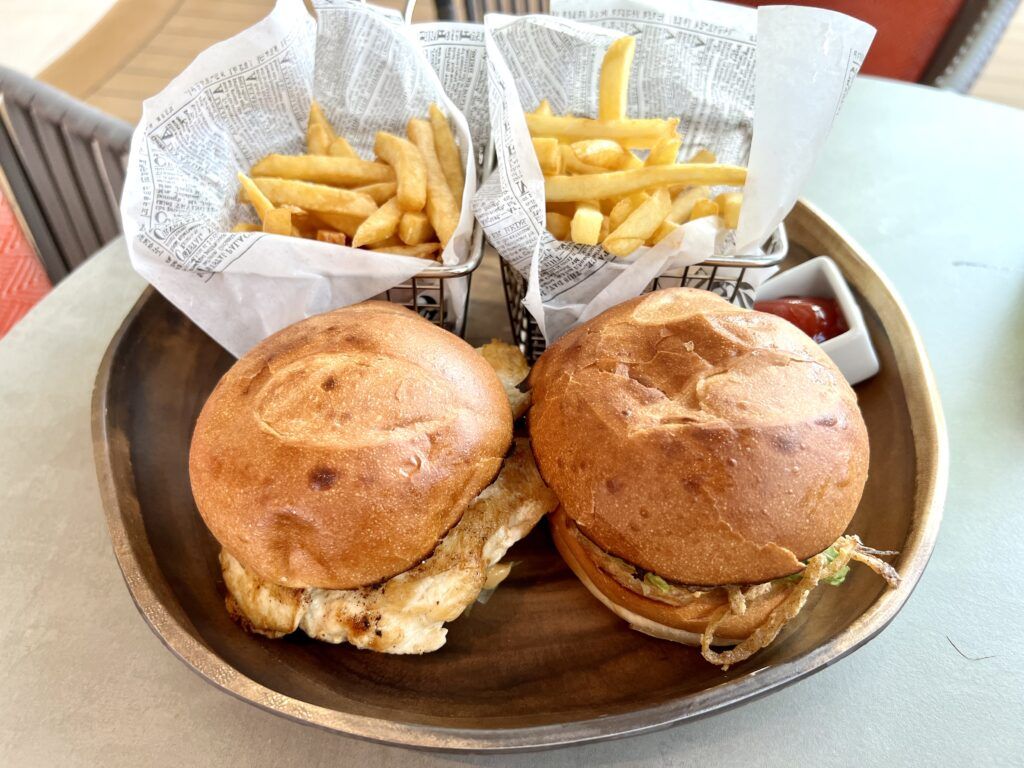 Our food order consisted of the chicken sandwich and fries for Heidi and the Gainer burger and fries for me. These items were served hot and fresh off the grill.
The Dive-In is suspiciously located next to the up-charge Gelato shop. Watching a steady flow of cruisers getting this frozen Italian treat, Heidi insisted we try this venue.
The gelato was smooth and creamy, definitely an upgrade from the typical complimentary ice cream in the buffet. Given the nominal charge of $2 for a hefty 4 oz. serving, I was fine splurging.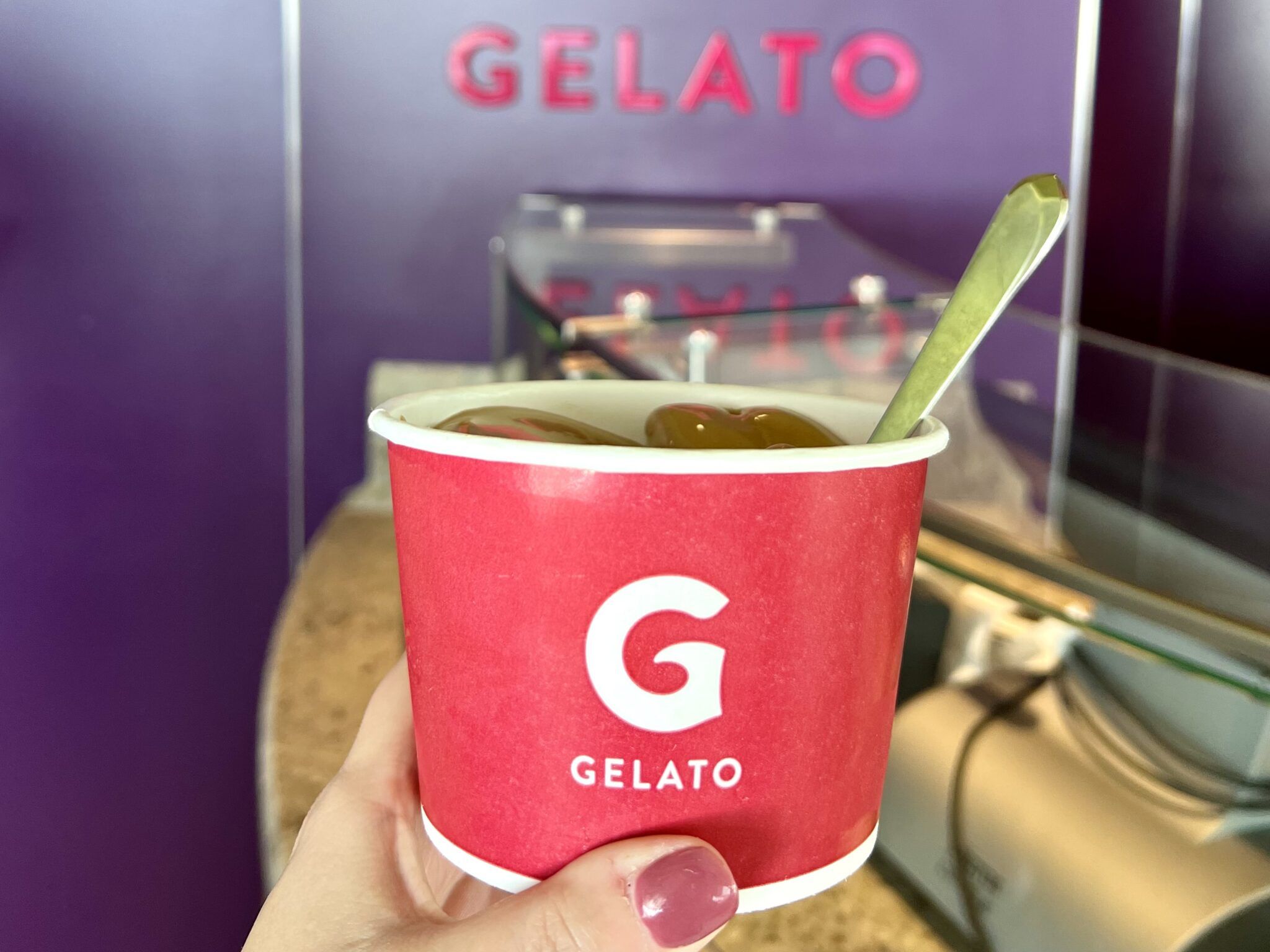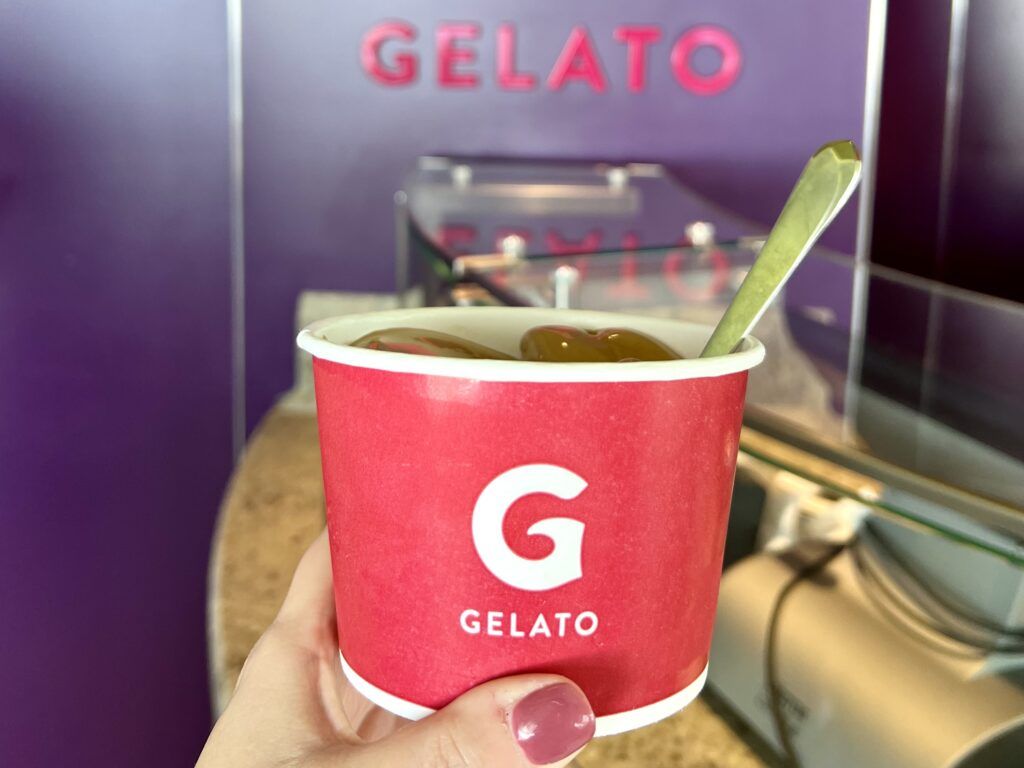 Looking for a change of scenery, we headed aft to the Sea View pool after lunch. This "adults-only" pool is more open than the midship main pool.
Enjoying the breeze for close to another hour, we were starting to feel a bit lethargic. Not that sitting around for close to 5 hours had anything to do with our lack of energy.
So, we headed down for a second round of coffee. While at the coffee shop, we noticed the time for our shore excursion tomorrow had changed. Now, the tour was leaving a full hour earlier.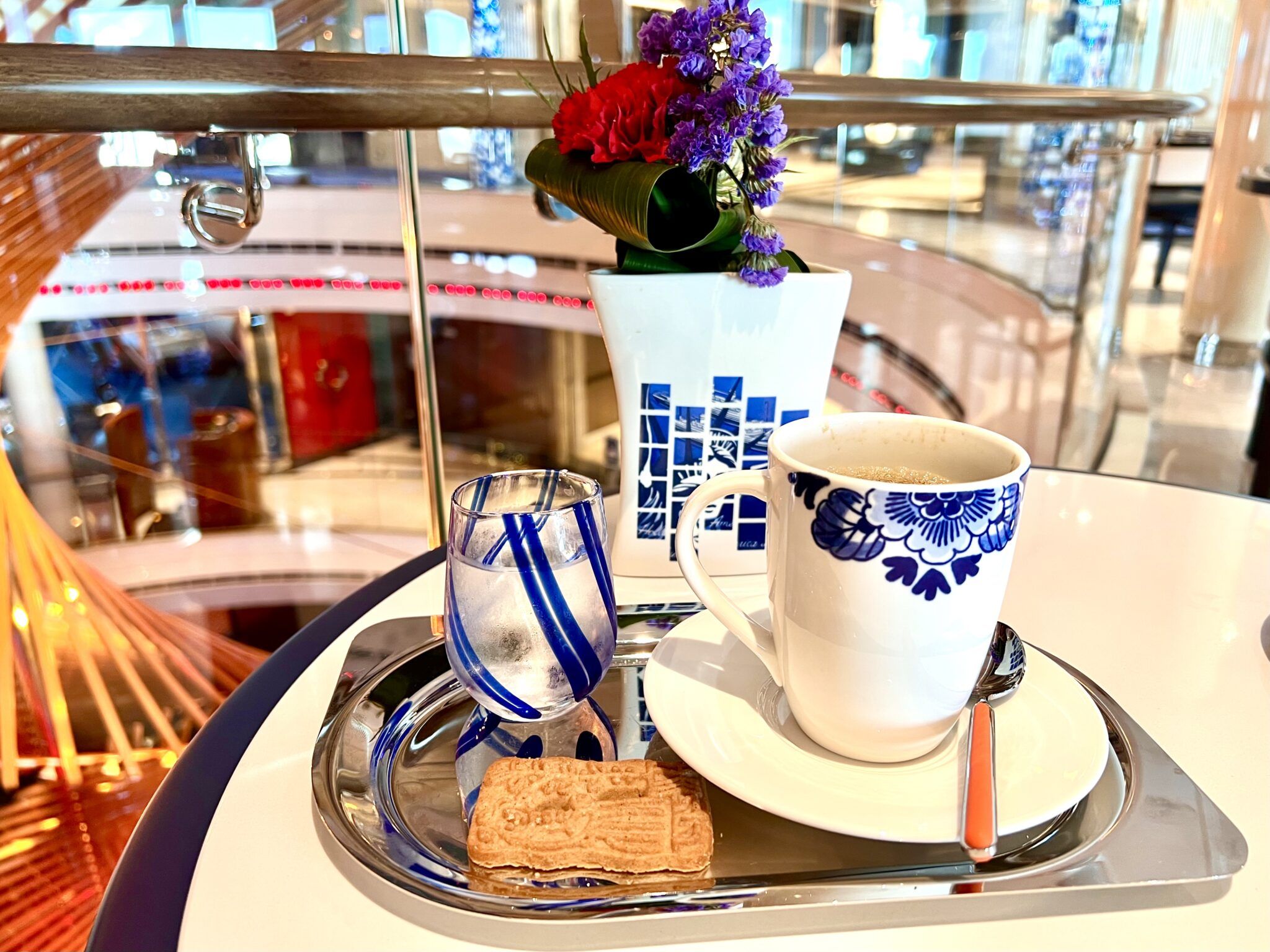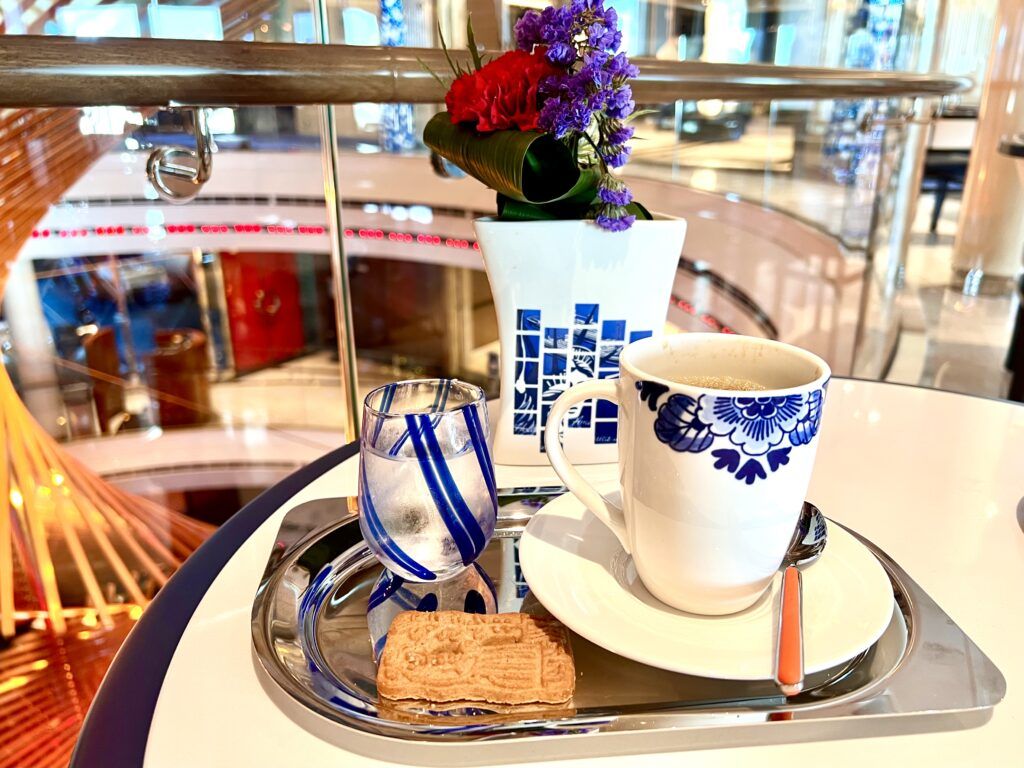 We also made a quick stop into the logo shop. Unfortunately, there were no ship ornaments or inaugural season t-shirts in my size.
Without much left to do, we headed back to our room to make use of our balcony for a little bit before changing for dinner.
All Dressed Up for Dinner
Tonight was the first "Gala Night", the cruise line's version of formal night. Pre-cruise, we made reservations at the French restaurant Rudi's Sel de Mer for 6 pm. If you have to get dressed up, you might as well dine at the fancy restaurant on the ship!
Reviewing the photo stations, the Princess decided we could skip taking formal photos for this evening. This meant we were actually to the restaurant on time for once.
Rudi's Sel de Mer is a small restaurant on Deck 2 that offers an intimate and posh dining experience.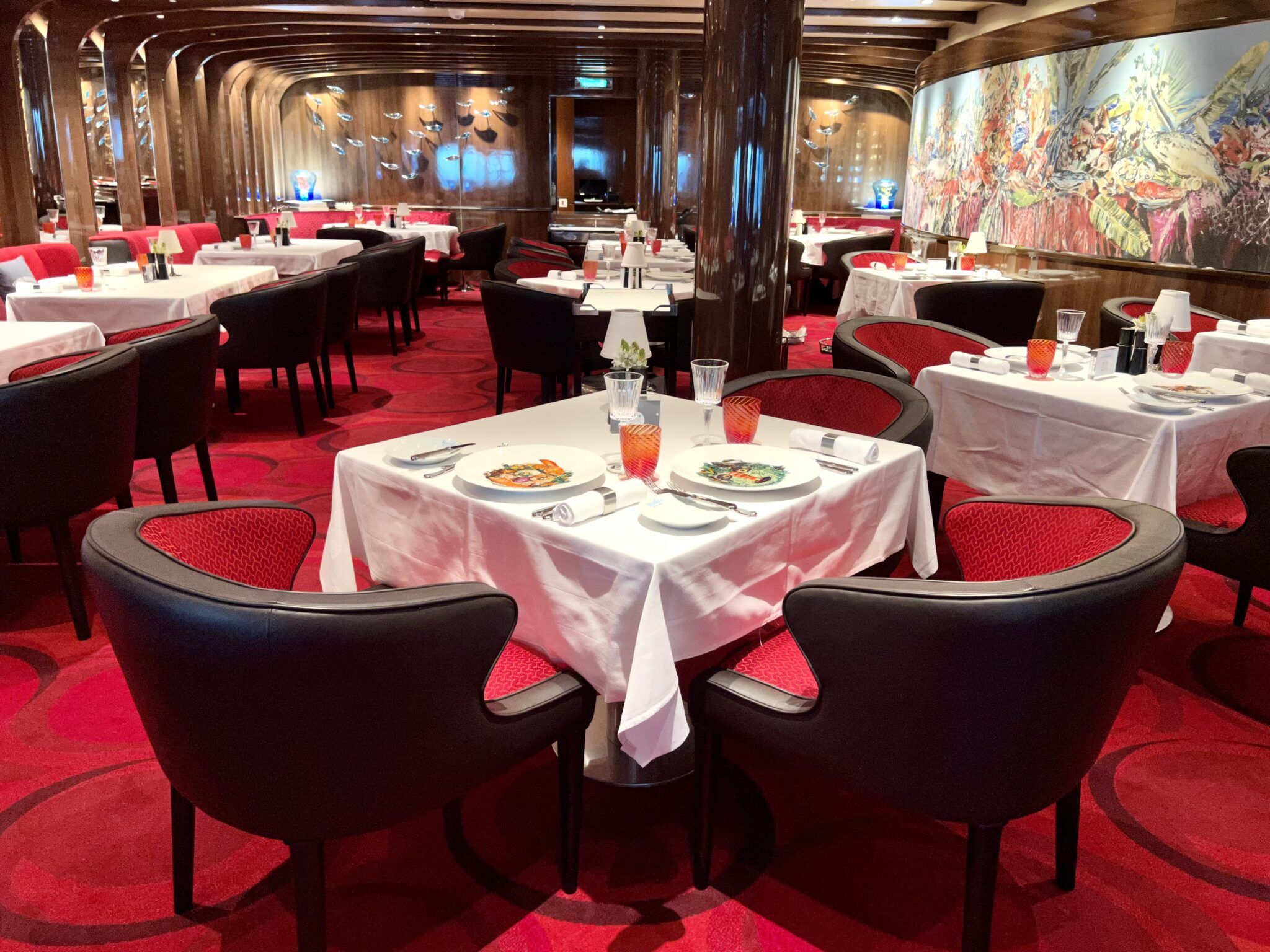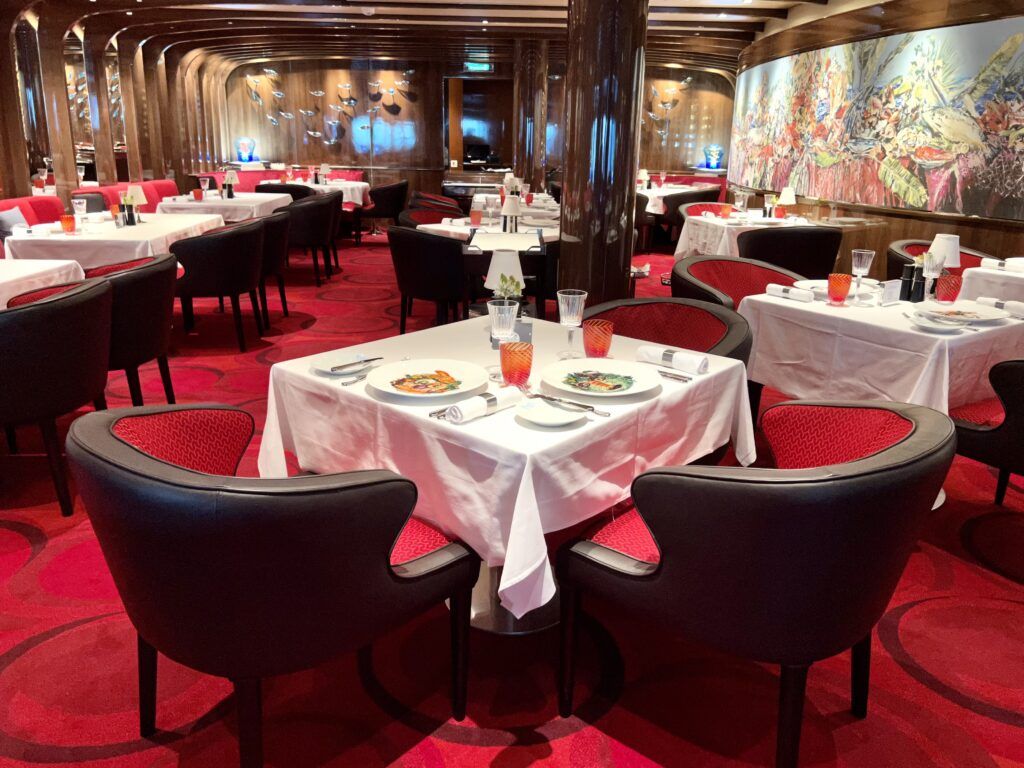 At Rudi's, the formal affair began with a complimentary glass of French cognac with sparkling wine. This was just one of the many small touches that gave this restaurant a sense of elegance.
The menu is heavy on seafood, but there was a hearty coq au vin entrée on the menu for Heidi. For a starter, she went with the cheese board (which is technically a dessert option).
To start, I ordered the marinated lobster and fried calamari apps. The latter was better.
For my entrée, I went with the Bouillabaisse. This traditional seafood stew was full of fresh fish, shrimp, clams, and mussels. The broth was a smooth, dark broth ripe for dunking some of the crusty French bread that is another staple of the restaurant.
Sampling More Nightlife on Rotterdam
Our server was a tad on the slow side given that the restaurant was not very busy. Thus, the experience was a full two hours.
Since we were too late to catch the 7:30 pm show in the World Stage, we strolled down to B.B. King's Blues Club for the 8:30 pm performance. Unlike our previous trip on HAL, the Navigator app or printed daily did not indicate a theme for this evening's set. It ended up consisting of pop music from mostly the 1960's.
Playing for barely 40 minutes, the show was over with plenty of time to get to the main theater for the 9:30 pm showing of StepONE's Humanity.
In terms of main theater entertainment, Holland America Line does not feature the large cast of singers and dancers you find on its competitors. Instead, the shows feature a small troupe of dancers that bring stories to life with thoughtfully choreographed productions.
Humanity, the first of four shows on this cruise, was by far our favorite. With a mix of popular music, well-integrated use of the digital screens, and heartful story telling, it is a show you shouldn't miss.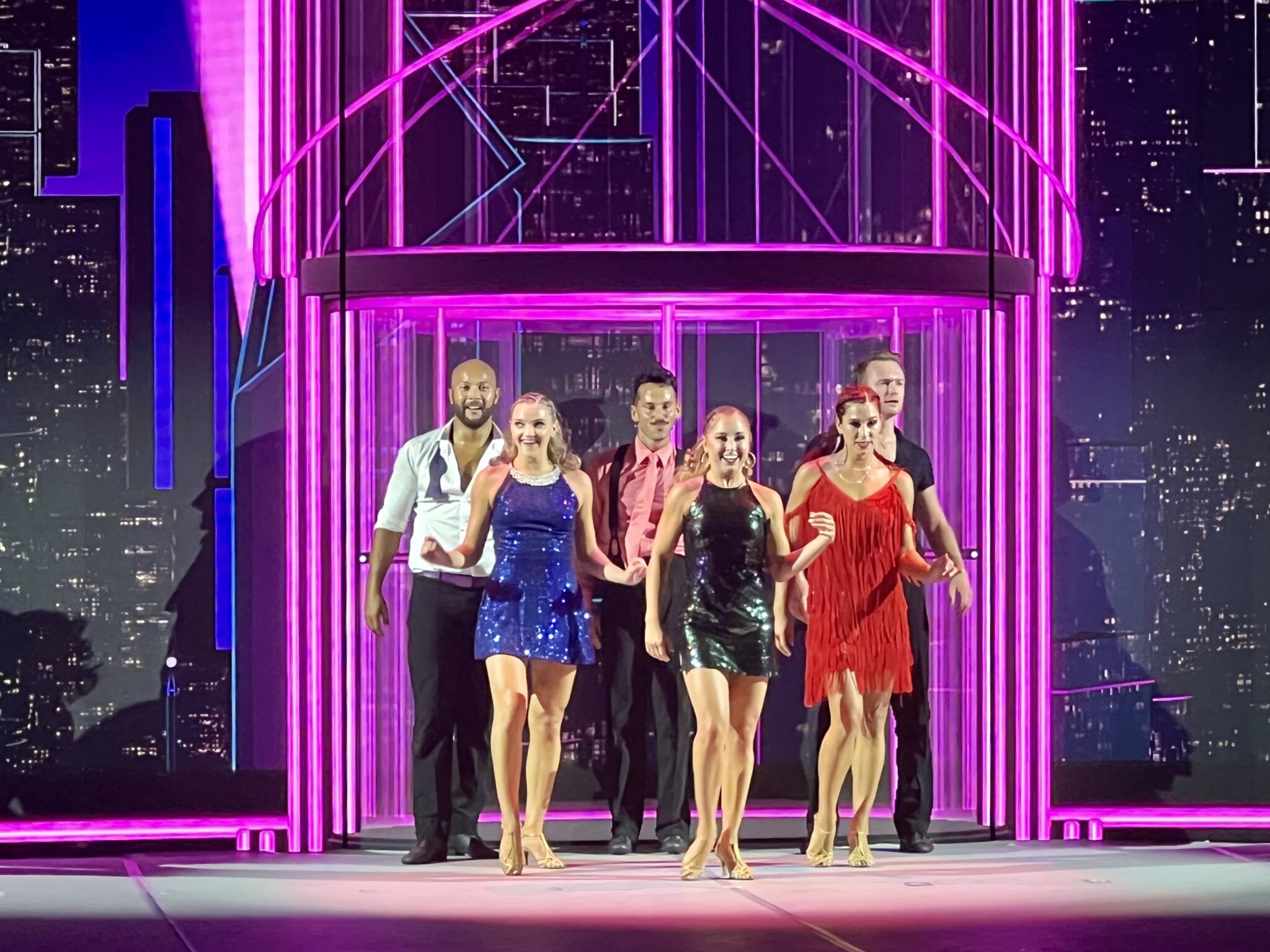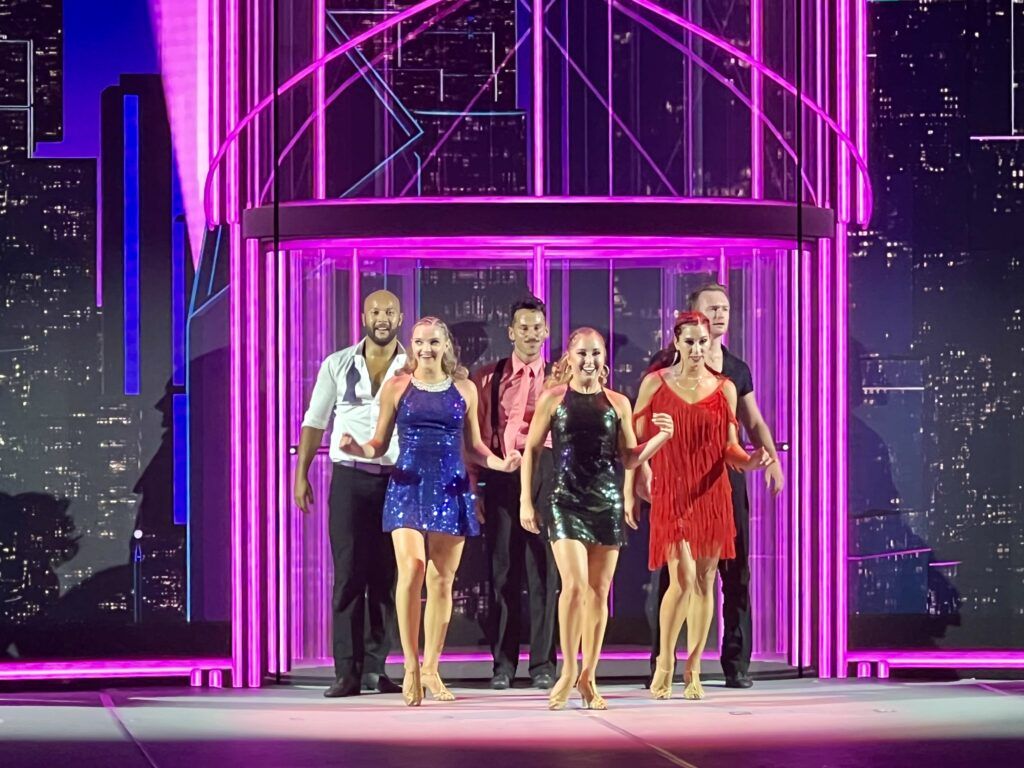 Due to our itinerary change on this cruise, we were arriving an hour earlier in our first port of call tomorrow. So, with one of the first tours off the ship, we needed to rest, especially since this was our first visit to Grand Turk.
This meant that we called it a night after the show.
Holland America Line Rotterdam Caribbean Cruise Review – Day 3
Riding Around Grand Turk
Our call into Grand Turk this morning was now an hour earlier at 7 am.
Before the cruise, we booked our shore excursions via Holland America Line's cruise planner. Given the changing nature of cruising in 2022, we figured it was easier to reserve directly with the cruise line.
With a 5:30 am alarm, the Princess prepared for the day while I wandered the ship getting some photos and videos. I needed to wait for the Explorations Café to open at 6 am to grab our morning coffees.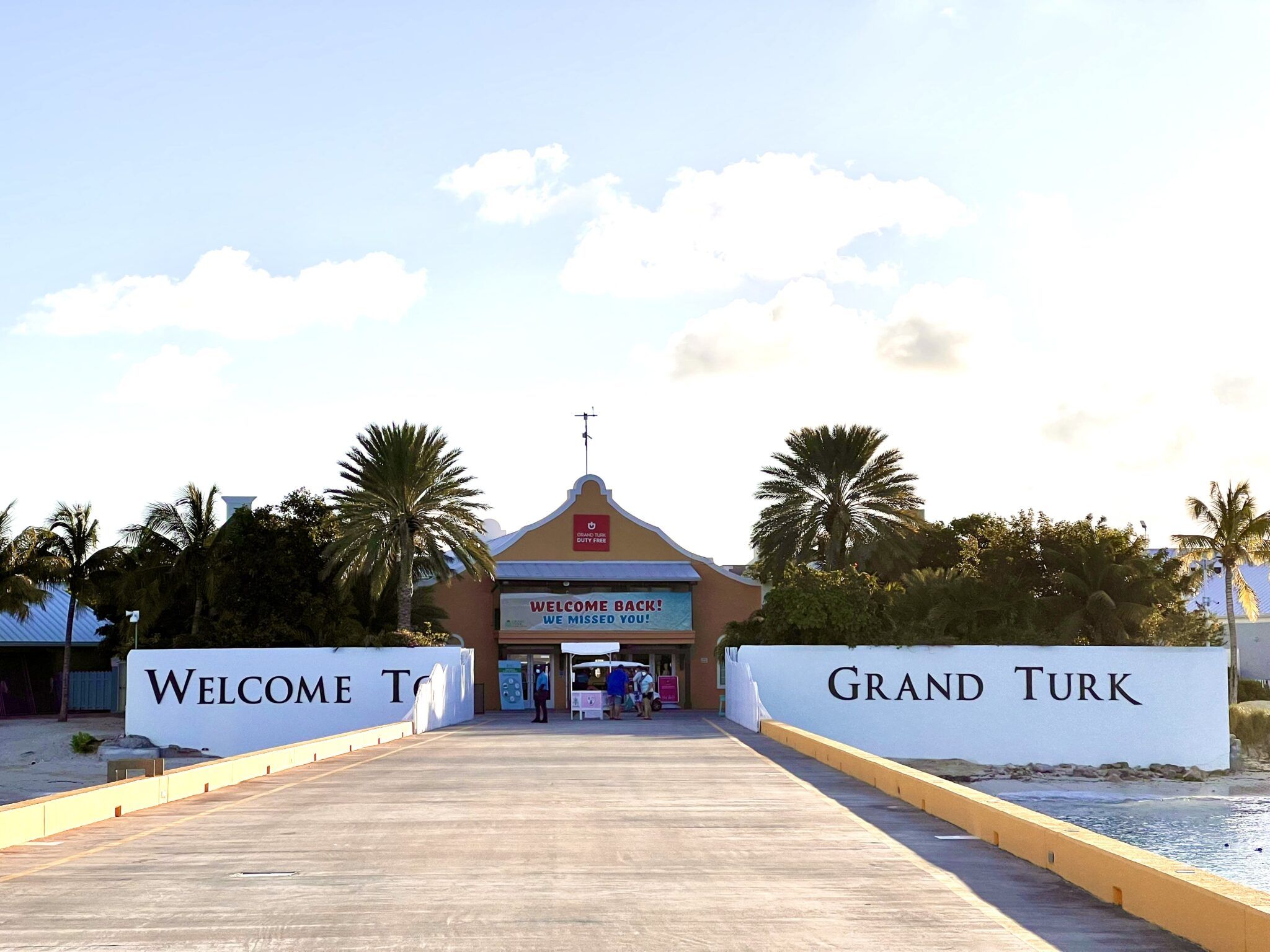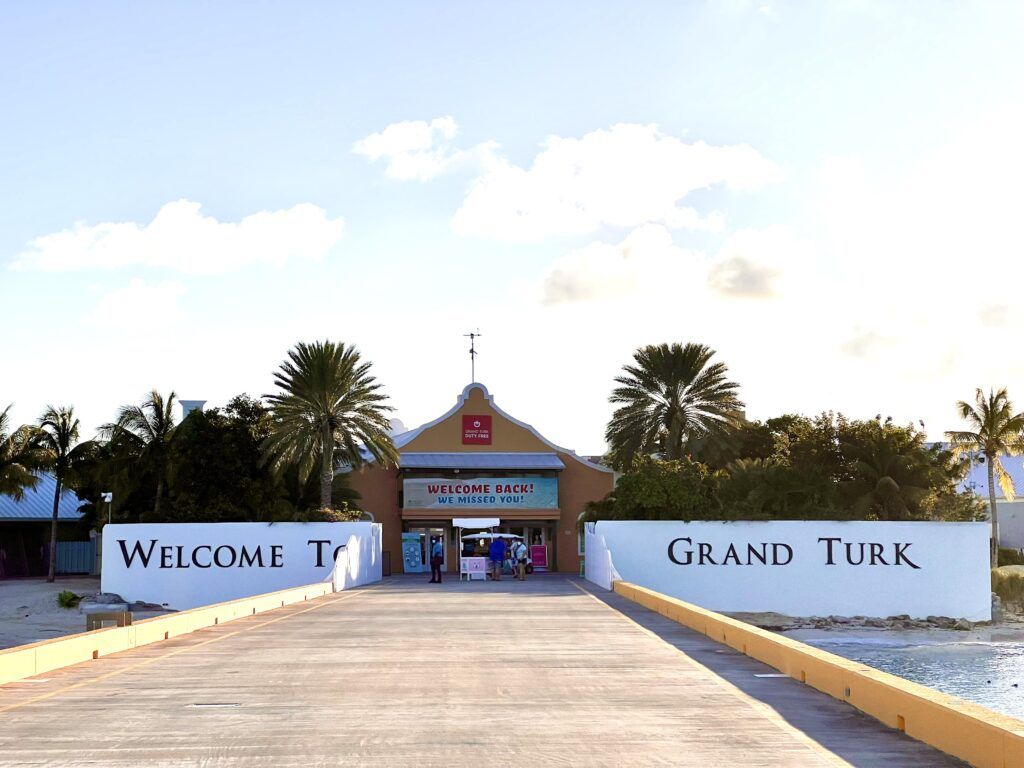 Back down to our cabin with coffee, I got ready and we were off the ship by 7:15 am. Us, and the 30-ish other people on our tour, were the only cruisers out and about this early in the morning.
Checking in at the tour desk immediately beyond the arrivals plaza, we were ready for a morning of exploring Grand Turk. This island nation is only 7 miles long by 1.5 miles wide, making it an ideal place to explore via our own personal electric hummers.
The two-hour guided drive operated by Fantastic Tours took us all around the island. Literally. We started at the cruise port, then headed west to the downtown area. Then, we headed north to the nature reserve and on to the remaining salt fields.
Each vehicle offered narration from our guides via Bluetooth. For the most part, this was a pretty typical island tour. But, the added fun of driving our own stylish red hummer and the upbeat tour guides made this anything but an ordinary tour.
The shore excursion was well organized, comprehensive, and just the right amount of time. We were able to see the highlights with adequately timed stops throughout the morning.
Our caravan returned to the port by 9:45 am. Now, we had the rest of the day to ourselves.
A Picture-Perfect Rest of the Day
Even though it was closing in on 10 am, the port area was still rather empty. So, we were able to explore with few other cruisers.
First on our must-do list was get a selfie in front of the ship. With the beach right along the pier, it offered the perfect vantage point for capturing this mandatory photo during a cruise.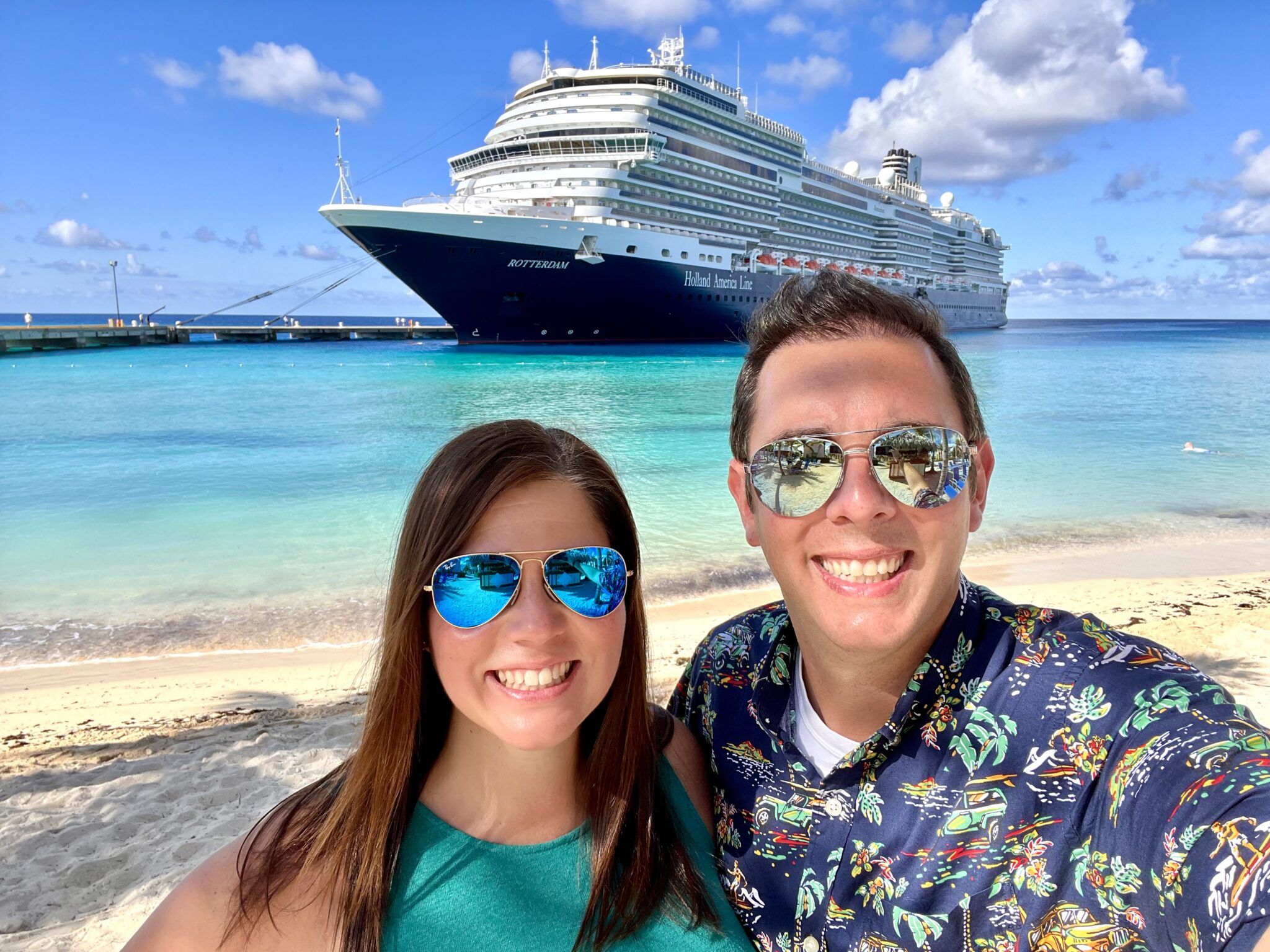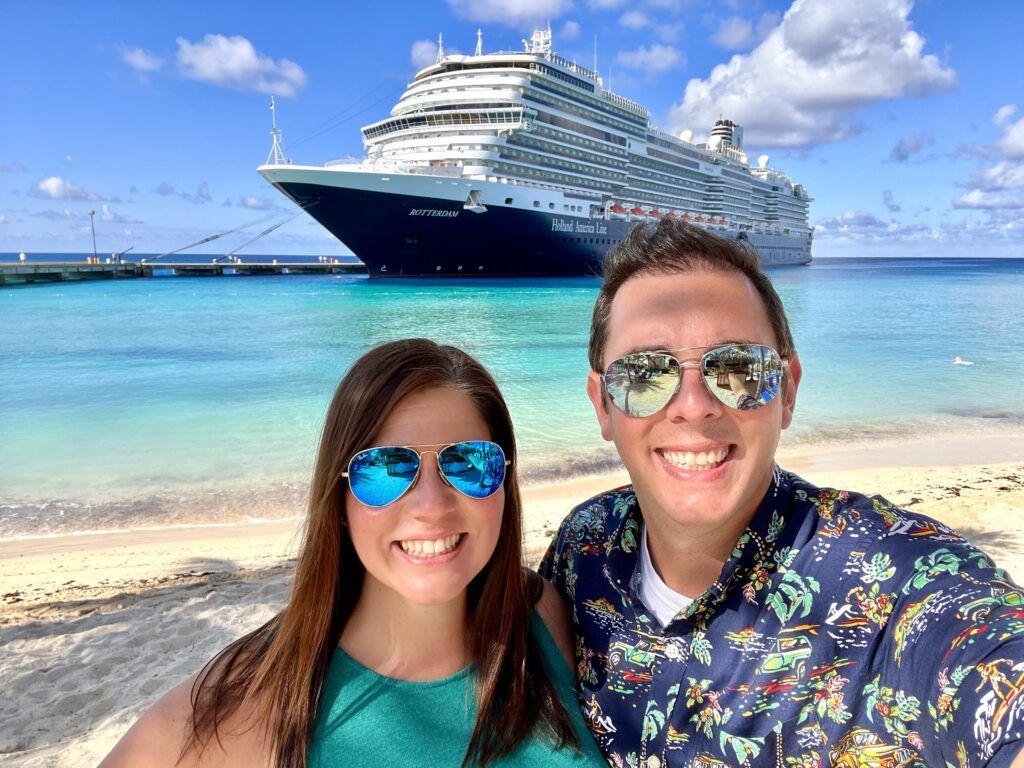 From there, we explored the shops and beachfront until about 11:30 am. In the distance, we could see the Regal Princess making her approach to the pier.
Thus, before thousands of additional cruisers bombarded the port, we made the decision to get a beachside table at Margaritaville. Normally, we would return to the ship for lunch, but there was something about this venue calling my name.
Maybe it was the location, or perhaps the drinks, but we pulled up a chair and relaxed here for about an hour and a half.
With our margaritas in hand, we people watched. We might have also ordered the volcano nachos. We did skip breakfast, so having an early "lunch" made total sense to us.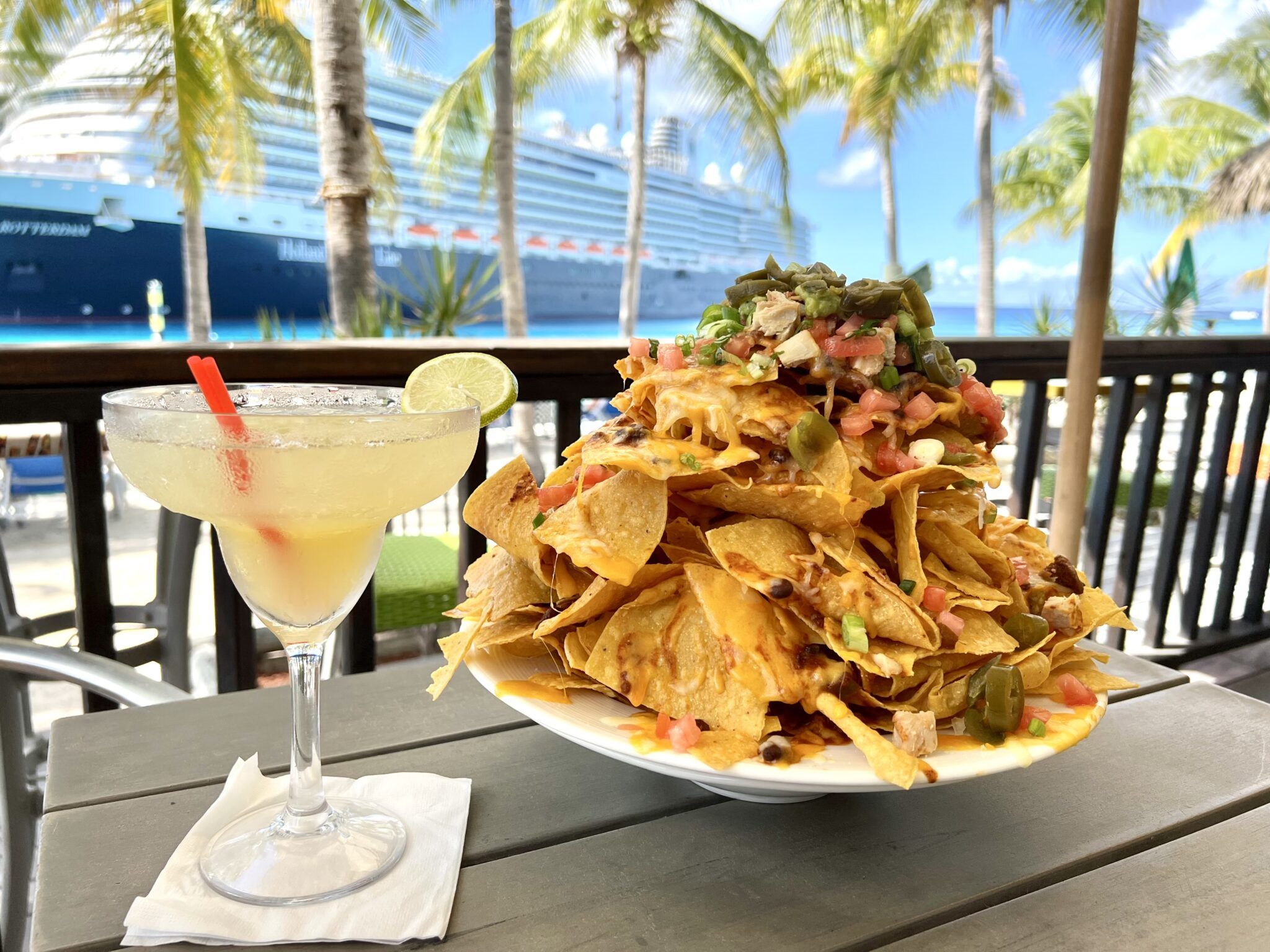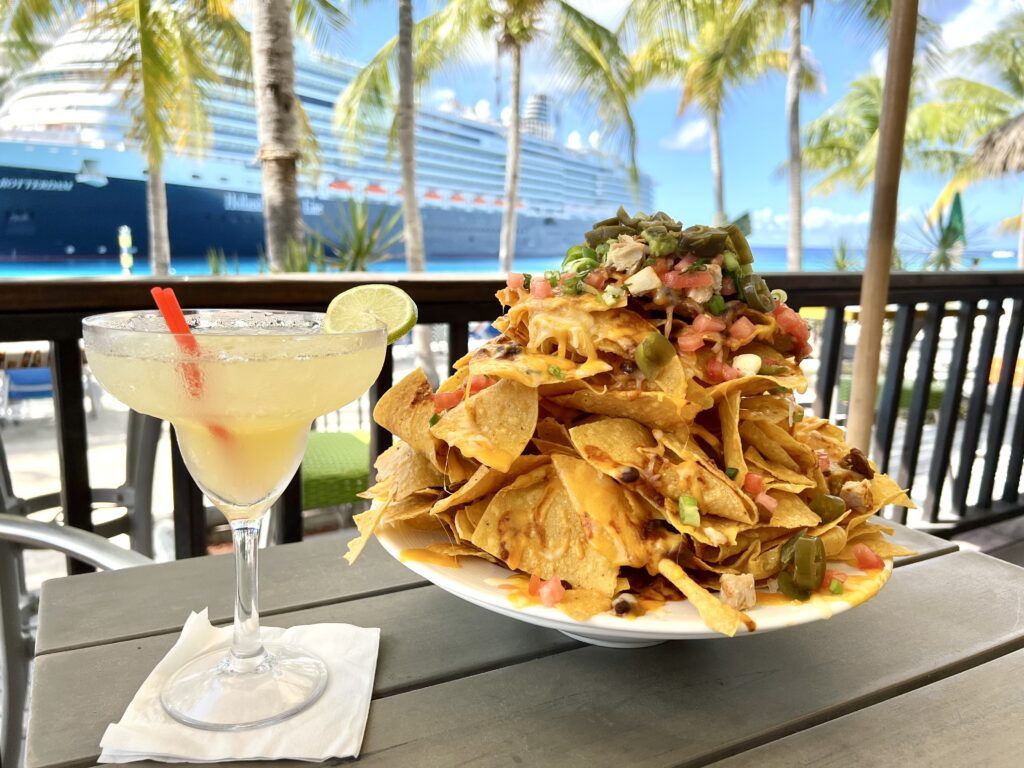 By 1 pm, it was getting hot and crowded. So, it was time to return to the ship. After all, this was technically a work day.
Dining in Style on Rotterdam
With all aboard not until 4:30 pm, many of our fellow cruisers were still on the island. This gave us the perfect opportunity to continue getting some remaining photos and videos of the ship.
So, with a better idea of the ship's layout now, we retraced our steps from day one. Finishing up at the interior decks around 3:30 pm, we grabbed some afternoon coffee and headed back to our room.
Tonight, we had an early dinner at the line's signature steakhouse, the Pinnacle Grill. Pre-cruise, the only time we could get for this popular specialty restaurant was 5:30 pm.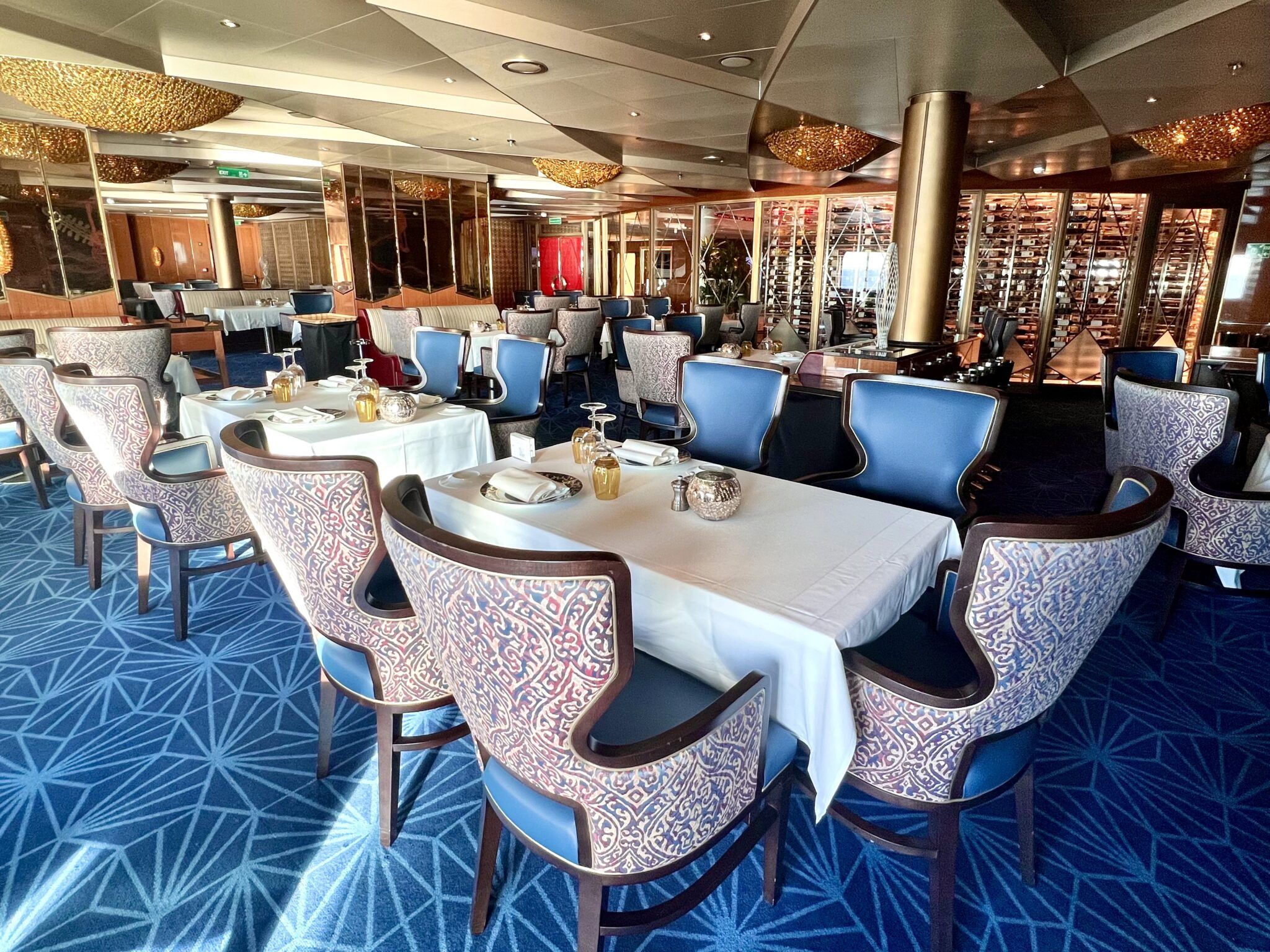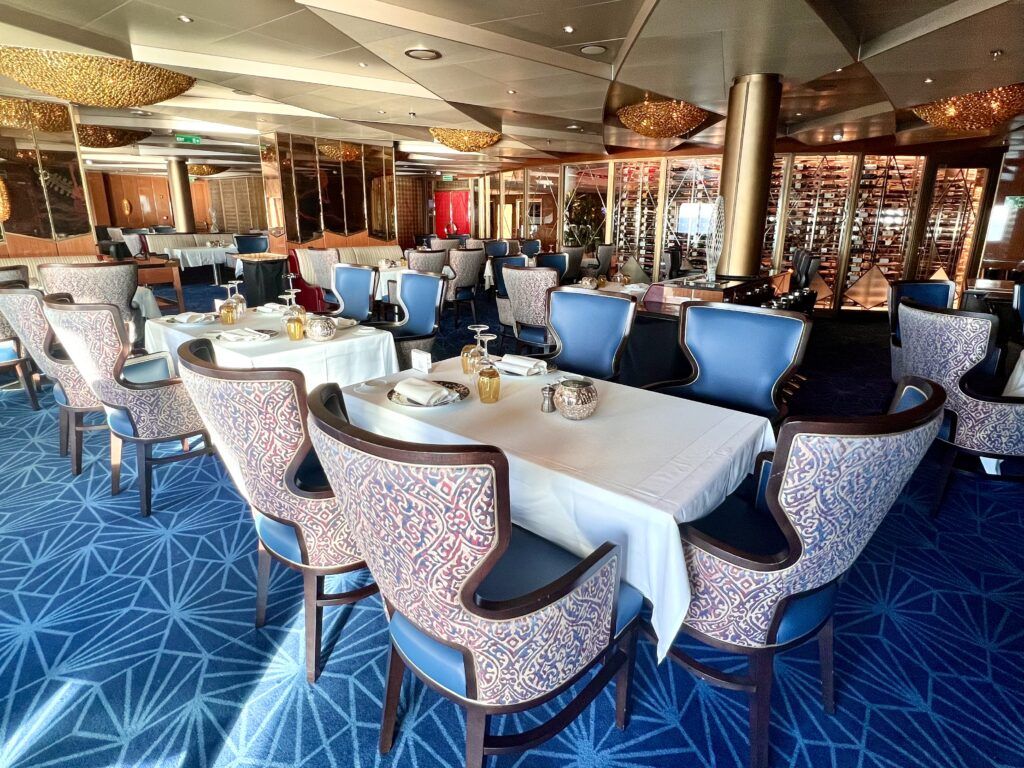 Dinner was timed much better tonight. Our friendly and talkative waitress, Betty, made sure we had everything we needed throughout the entire meal.
For starters, we could not pass up the signature candied bacon. This is a must-try menu item at this restaurant. On the other hand, my crab cakes were a tad dry, while the Princess' iceberg salad was pretty standard.
For entrees, I went with the 10 oz. filet. It was perfectly cooked to a medium-rare temperature. To try something new, I added the red wine sauce on the side. This paired extremely well with the tender meat.
As you could guess, Heidi ordered the lone chicken dish on the menu. Our sides included the French Fries and sautéed mushrooms.
For dessert, mine was the clear winner over Heidi's non-traditional baked Alaska. After watching the two tables next to us order it, I opted for the key lime pie. This dish was smooth with a tangy finish and a crisp graham cracker crust.
Dinner had us out of the restaurant a little past 7 pm. This was perfect timing to get some decent seats on the portside of the World Stage. Tonight's main theater show was Billboard Off the Charts.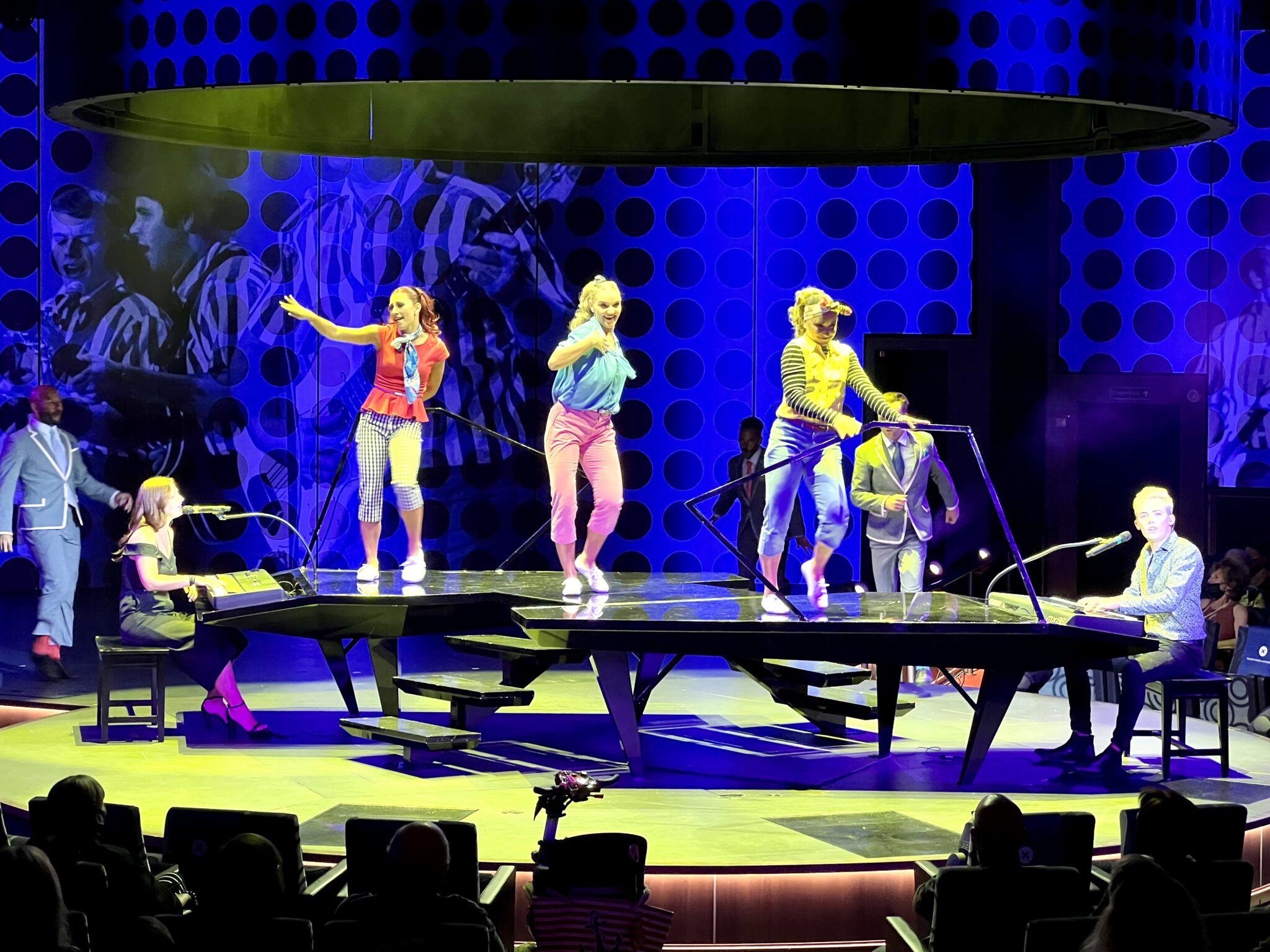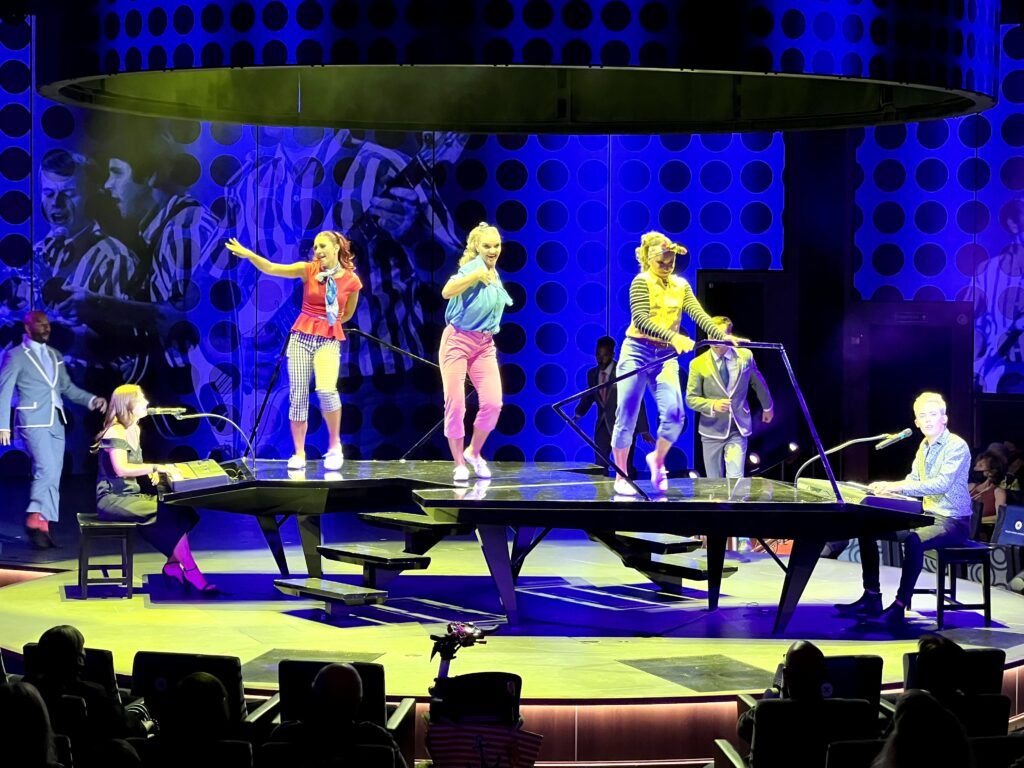 The show included the two pianists from the Billboard Onboard and the dancers from the StepONE troupe. Though, it was a rather predictable cruise revue show.
The 45-minute performance included the pianists, Matt and Meagan, singing snippets of hit songs accompanied by dance numbers from StepONE.
Following the show, we made a b-line to B.B. King's for the 8:30 pm game show, Majority Rules. There was a decent crowd of around 23 teams. We started out strong with the first couple of questions, but our performance quickly dwindled.
The game show lasted a little over an hour. We had the option to remain at B.B. King's to watch the All Star Band or head to the Rolling Stone Rock Room. We opted for the latter.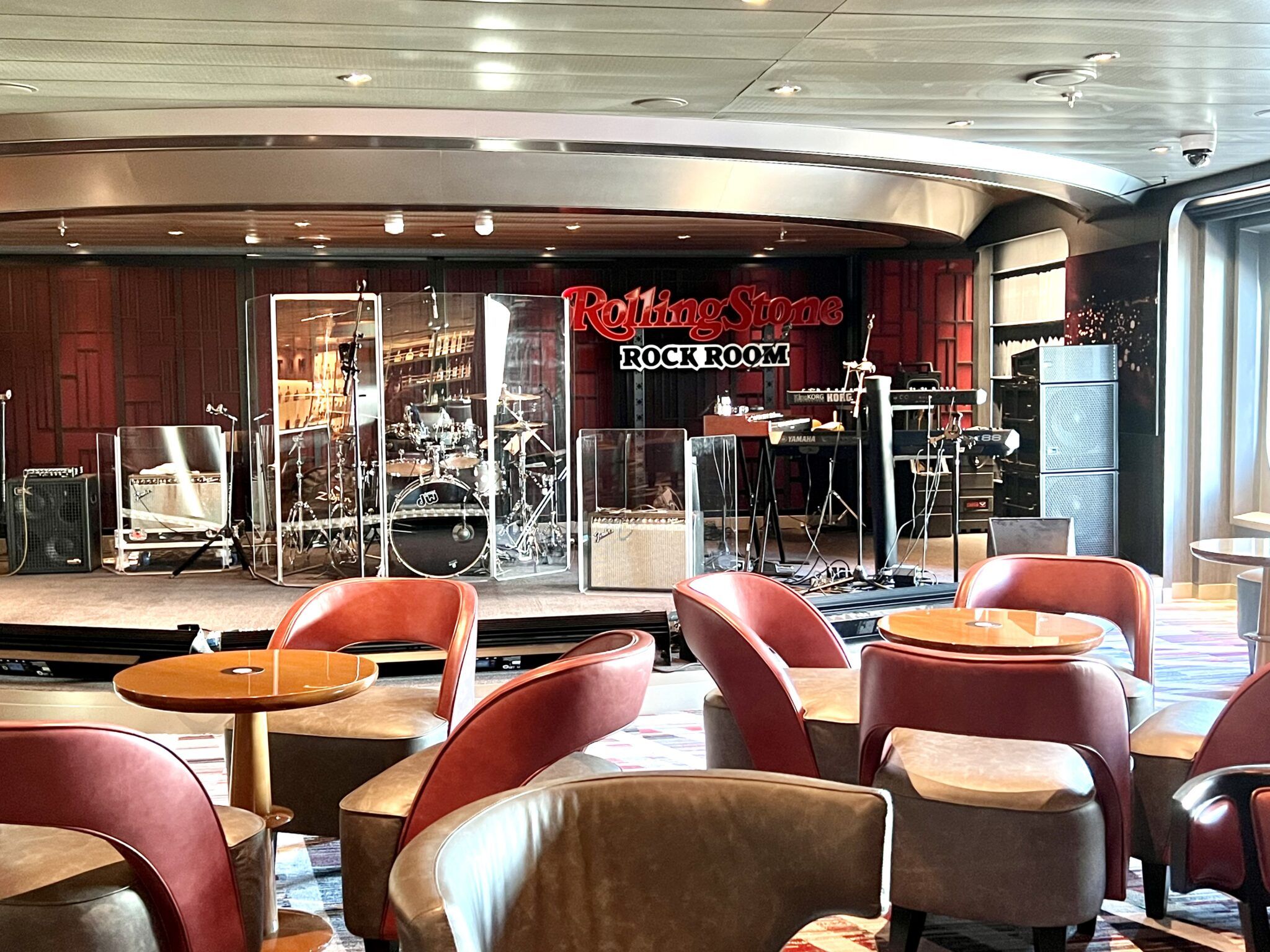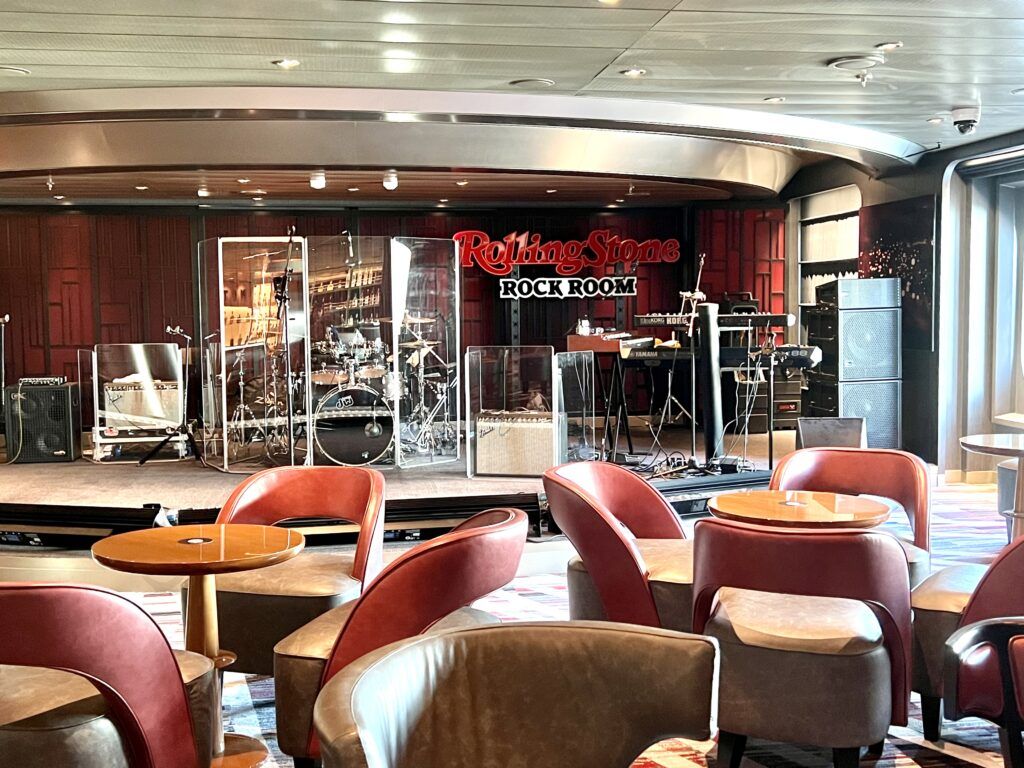 Again, this band kept the energy alive with impressive rock performances of classic rock songs from every era.
Finishing up around 10:30 pm, we headed back to our room. With another early morning port of call, it was time to call it a night.
SCORE BIG: Exclusive Savings on Rotterdam Caribbean Cruises!
Holland America Line Rotterdam Caribbean Cruise Review – Day 4
Another New Port of Call
Given an itinerary change, our Holland America Line Rotterdam Caribbean cruise review was visiting three new ports of call for us. In light of new COVID requirements, our stop in Puerto Rico originally scheduled for today was replaced with a short stop at Amber Cove in the Dominican Republic.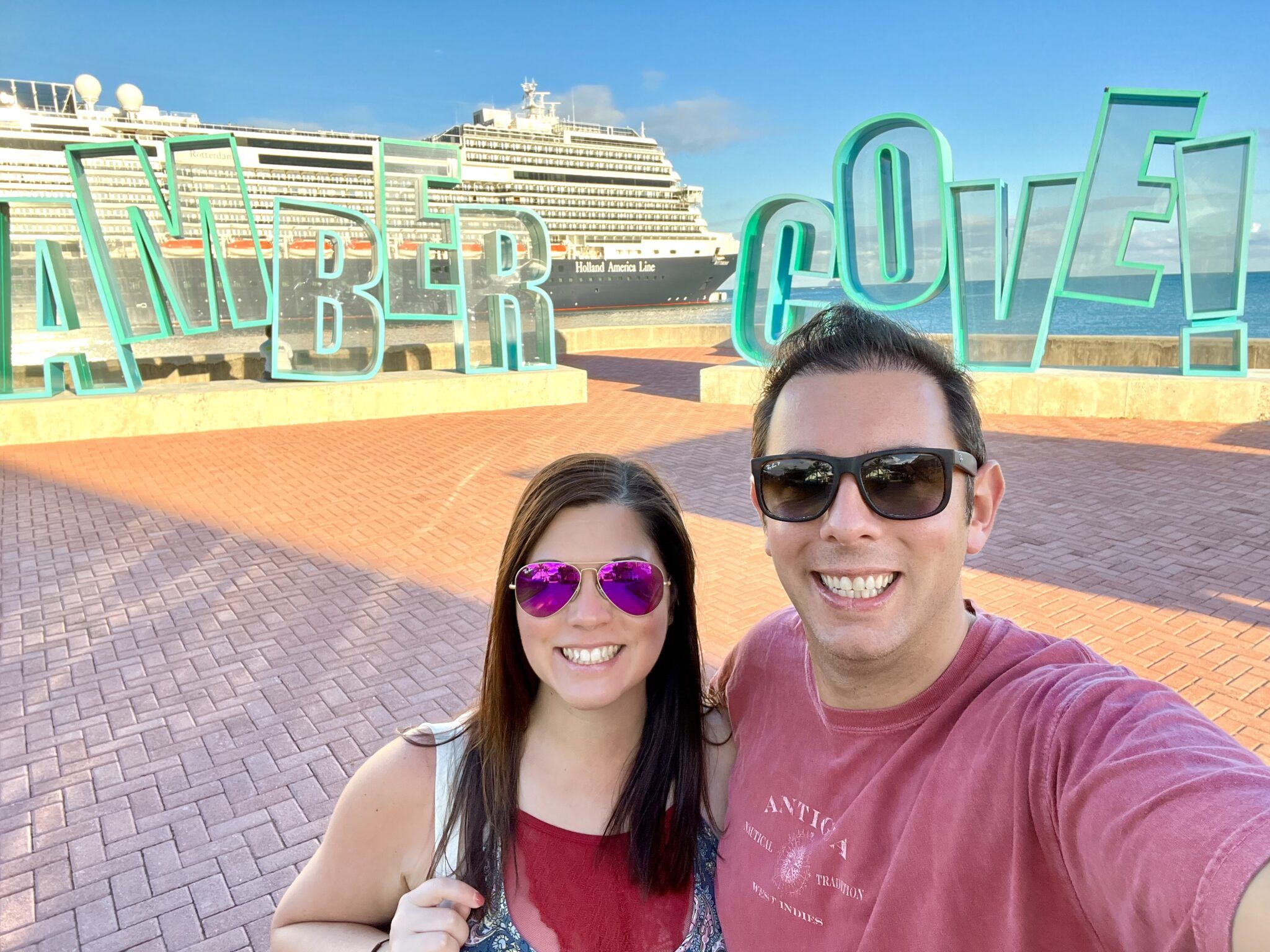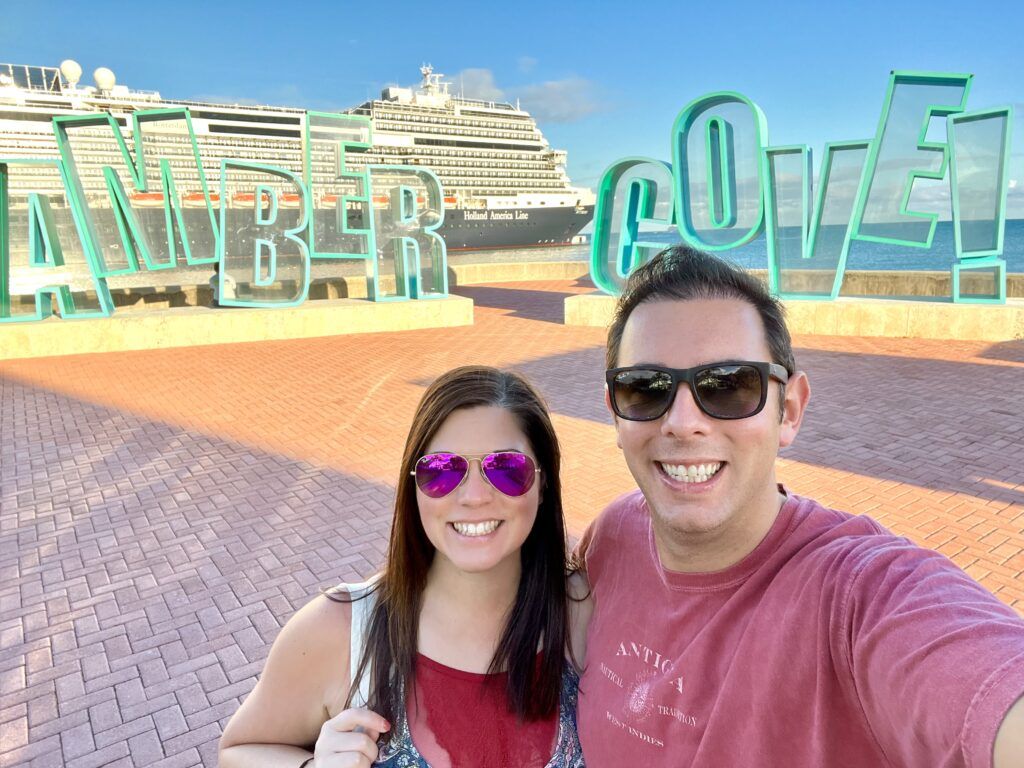 This private terminal and port area for Carnival Corp. offers several tours to Puerto Plata. Or, you can stick around and utilize the amenities in port like the large lagoon pool, restaurants, shops, waterslides, and a zipline.
Our call into port was at 7 am. We wanted to make sure we were off the ship at a reasonable time to get photos and videos before it got too crowded. So, we set the alarm for 6:30 am, hoping to be off the ship by 8 am.
While Heidi got ready, I grabbed coffees from the Explorations Café and a few breakfast pastries from the Lido Market.
Ready by 8 am as planned, there were only a few fellow cruisers strolling down the long, L-shaped pier when we disembarked the ship. Heading to the central area, there were a few tours gearing up to explore the island, but the rest of the port was empty.
Honestly, we had the entire Amber Cove cruise port all to ourselves for hours. This gave us a great opportunity to explore everything. From the lagoon pool, to the water sport rentals and cabanas, to the shops and restaurants, we spent 2.5 hours seeing it all.
One of us even trekked up the hillside to the Sky View Bar to get some great panoramic views of the surrounding area.
By around 10 am, we could see a Carnival Cruise Line ship approaching. As luck would have it, the vessel was the line's newest ship, Mardi Gras.
Good thing we were able to get most of what we wanted to see and do checked off before this mega-ship docked.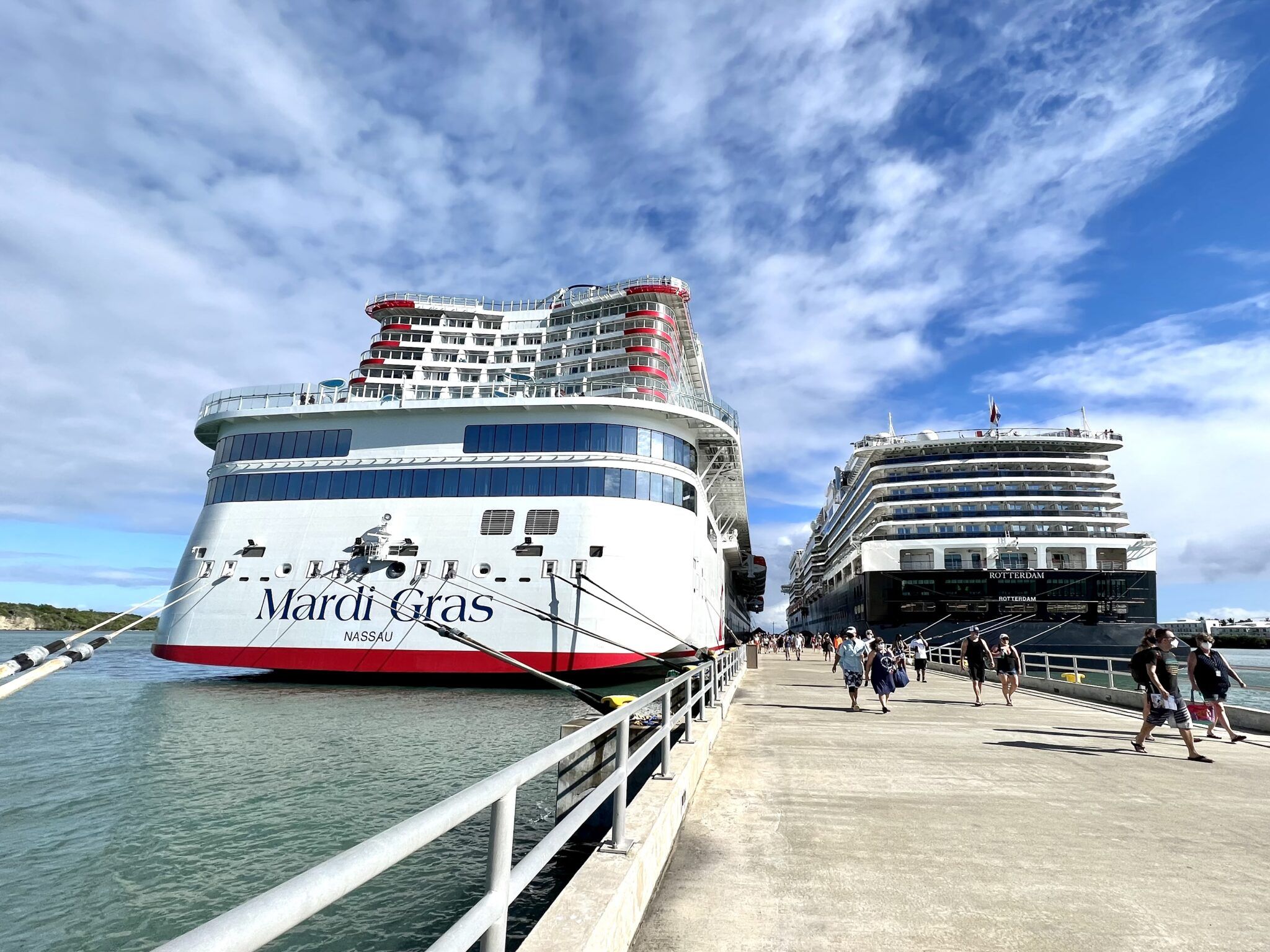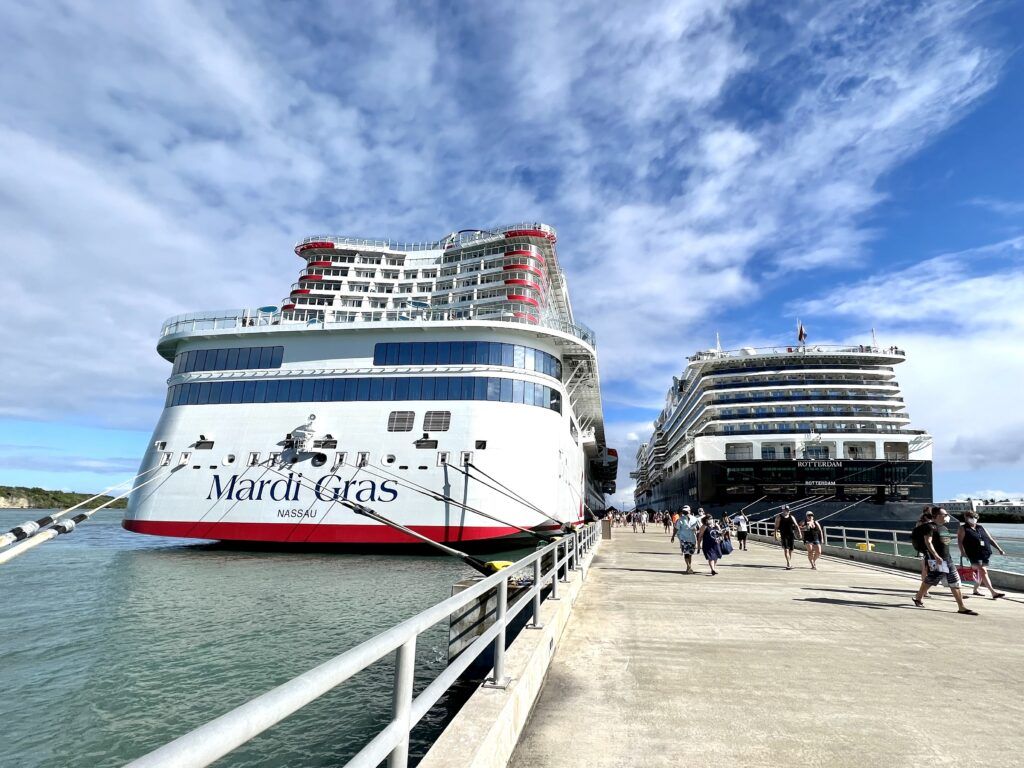 We were back onboard around 10:45 am, as I had an 11 am call for work. With that call over, we headed to the Sea View pool with our laptops in hand where I continued to work for the next couple of hours.
Another Sunny Afternoon Onboard Rotterdam
With the all aboard time not until 1:30 pm, we had no issues getting loungers near this aft pool.
Before shoving off, we grabbed lunch from the Lido Market, which is conveniently located right next to this outdoor area.
One thing we like about the buffet on Holland America Line is the predictable, easy layout. With several stations, I made a b-line for the Distant Lands for some Asian cuisine. After browsing some of the other stations, the Princess did the same. Similar to our other trip, the wok and noodles were outstanding.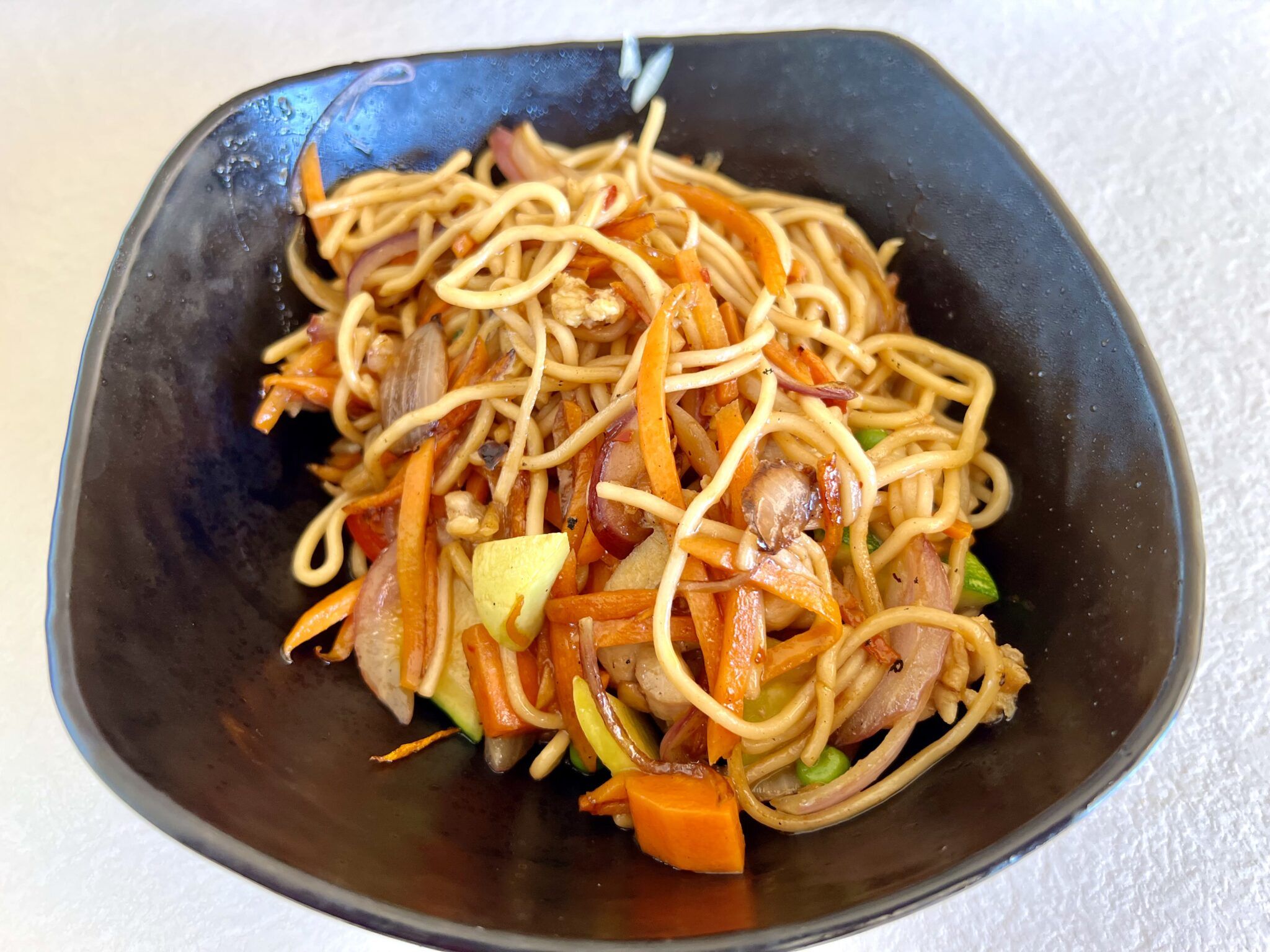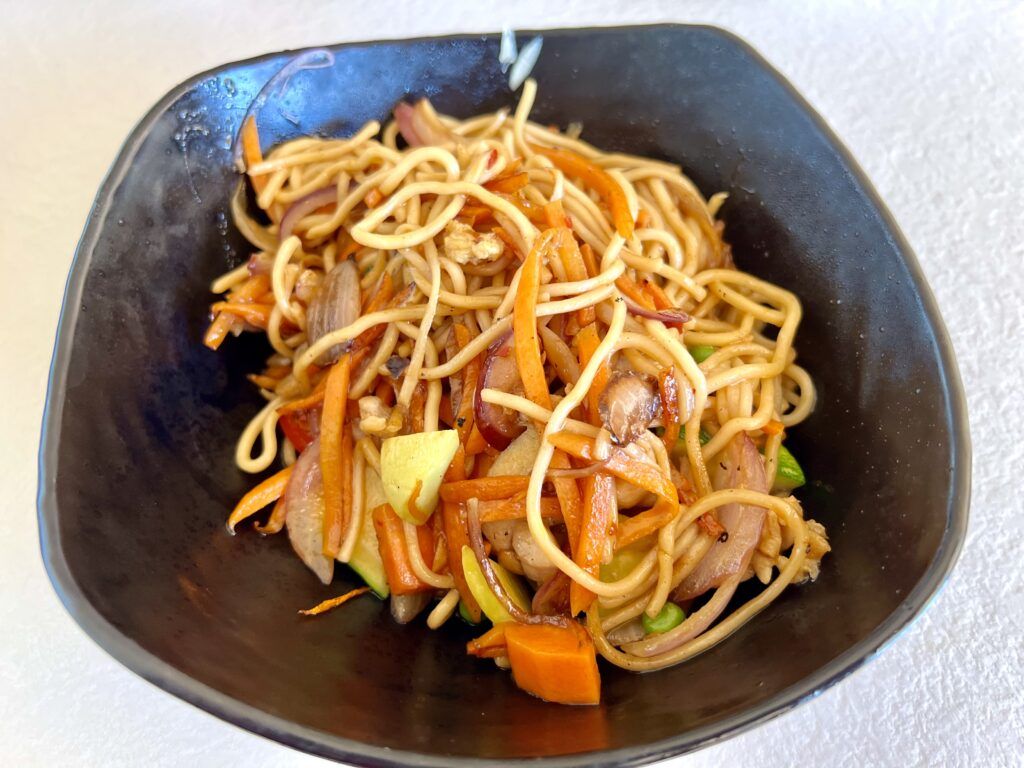 With lunch done, and some work that I still had to complete, we grabbed coffees and cookies and headed back to our cabin around 2:15 pm.
Until today, the WiFi had been solid. Unfortunately, this afternoon it decided to take a break for close to 90 minutes. Not as productive as I wanted to be, we made due while enjoying the ocean breeze on our balcony.
Another Excellent Dinner in the Main Dining Room
Tonight, we had pre-booked another dinner in the main dining room for 6:30 pm. When we arrived early, Hazel greeted us and had someone escort us to table 21 with the same waitstaff team of Anang and Santosa.
Tonight, the restaurant seemed even less busy than the first night. At some points during the trip, we wondered where everyone else was on the ship.
Again, dinner took just a little over an hour for all three courses. For starters, I ordered the vegetable spring roll, and Heidi did the buffalo mozzarella.
For an entrée, Heidi ordered the Chef Rudi's spiced chicken which was massive!
I ordered two different main courses. I started with the port to table offering, the jerk lamb shank. The meat was very tender, and the sauce had plenty of spice and flavor. My second sampling was the beef tenderloin. This was not exactly what I was expecting, but the beef was flavorful.
Overall, the main dining room continued to impress us during this trip.
For dessert, my apple tart was the perfect ending. I made sure to add a scoop of vanilla ice cream of course.
Fitting Everything in to the Night
We were out of dinner by 7:15 pm. Hoping we could squeeze in multiple shows this evening, we headed to the World Stage. Entering from the deck 3 portside entrance, the theater was the busiest it had been all cruise.
The show this evening was BBC Planet Earth II in concert featuring Lincoln Center Stage. The orchestral ensemble played alongside nature footage and audio put together by BBC.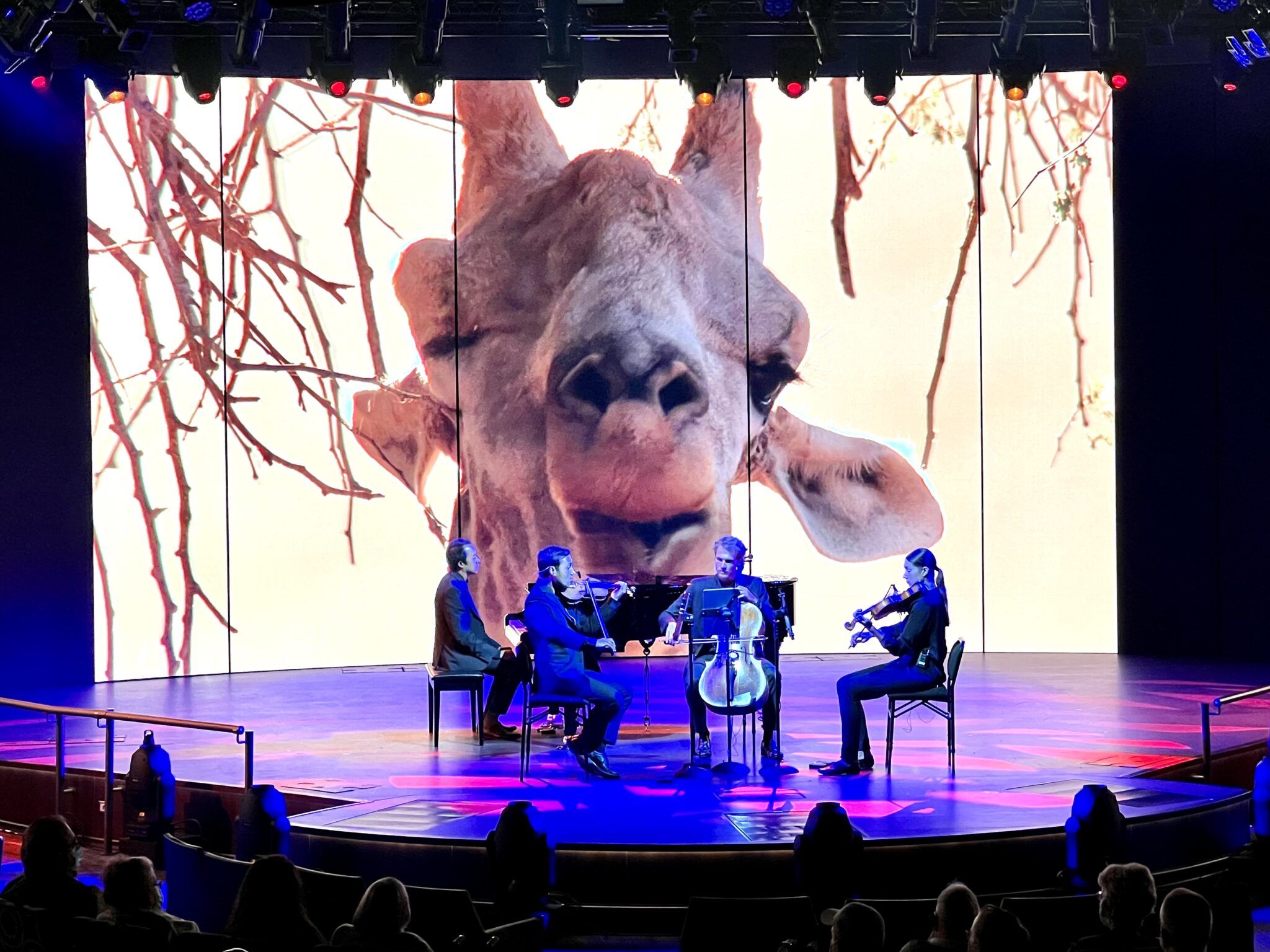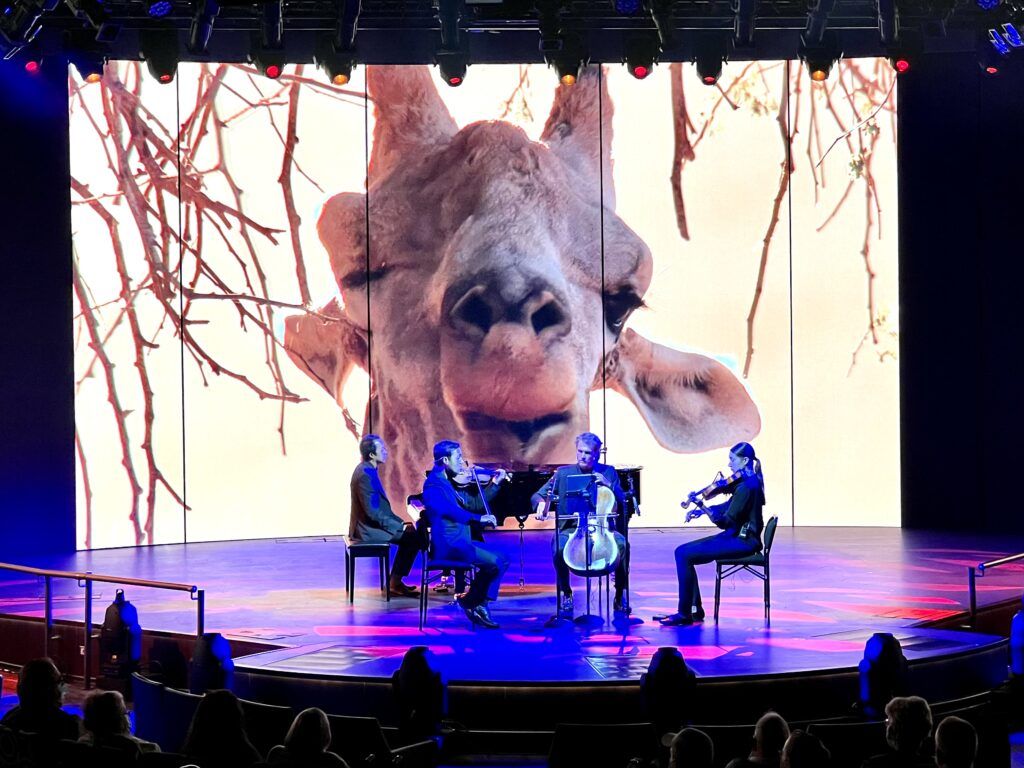 The 50 minute presentation was very well done. We enjoyed the various "acts" that showcased penguins, lions, sloths, and even the common field mouse.
Finishing up the main theater show, we had some time to kill before the 9:30 pm comedy show. Continuing our drink around the ship, we headed to the Ocean Bar.
Even though it is not covered in the drink package, I had to try the smoked cherry old fashioned. This unique cocktail is brought to life in front of you by the knowledgeable mixologist. While I like smoky drinks, even this one was a bit over-powering for me.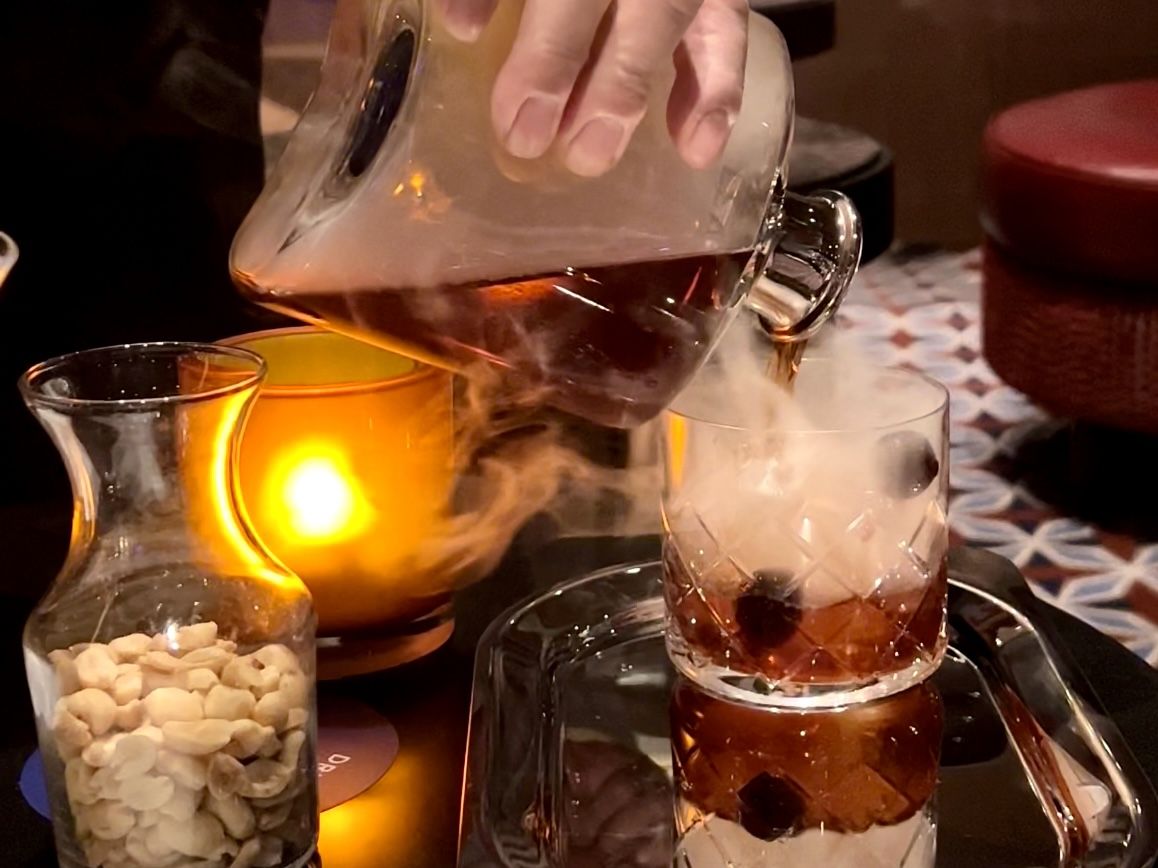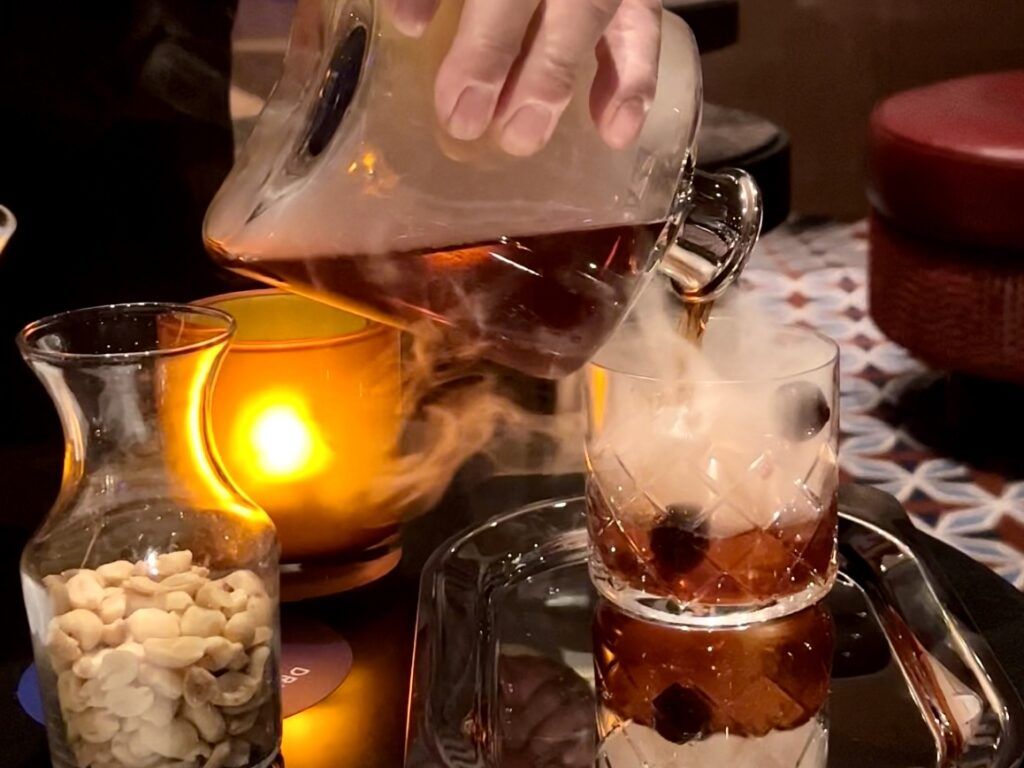 Around 9 pm, we made our way to B.B. King's where a game show was still occurring. The Secret Identify game show, essentially a version of Yes or No, featured members of the entertainment team trying to guess which occupation they were assigned.
The game show wrapped up around 9:15 pm, when the lounge was transformed for the comedy show. By transformed, I mean they added some additional seating on the dance floor.
The comedian on this sailing was Warren B. Hall. As luck would have it, he was one of the two comedians we saw on Nieuw Amsterdam last summer.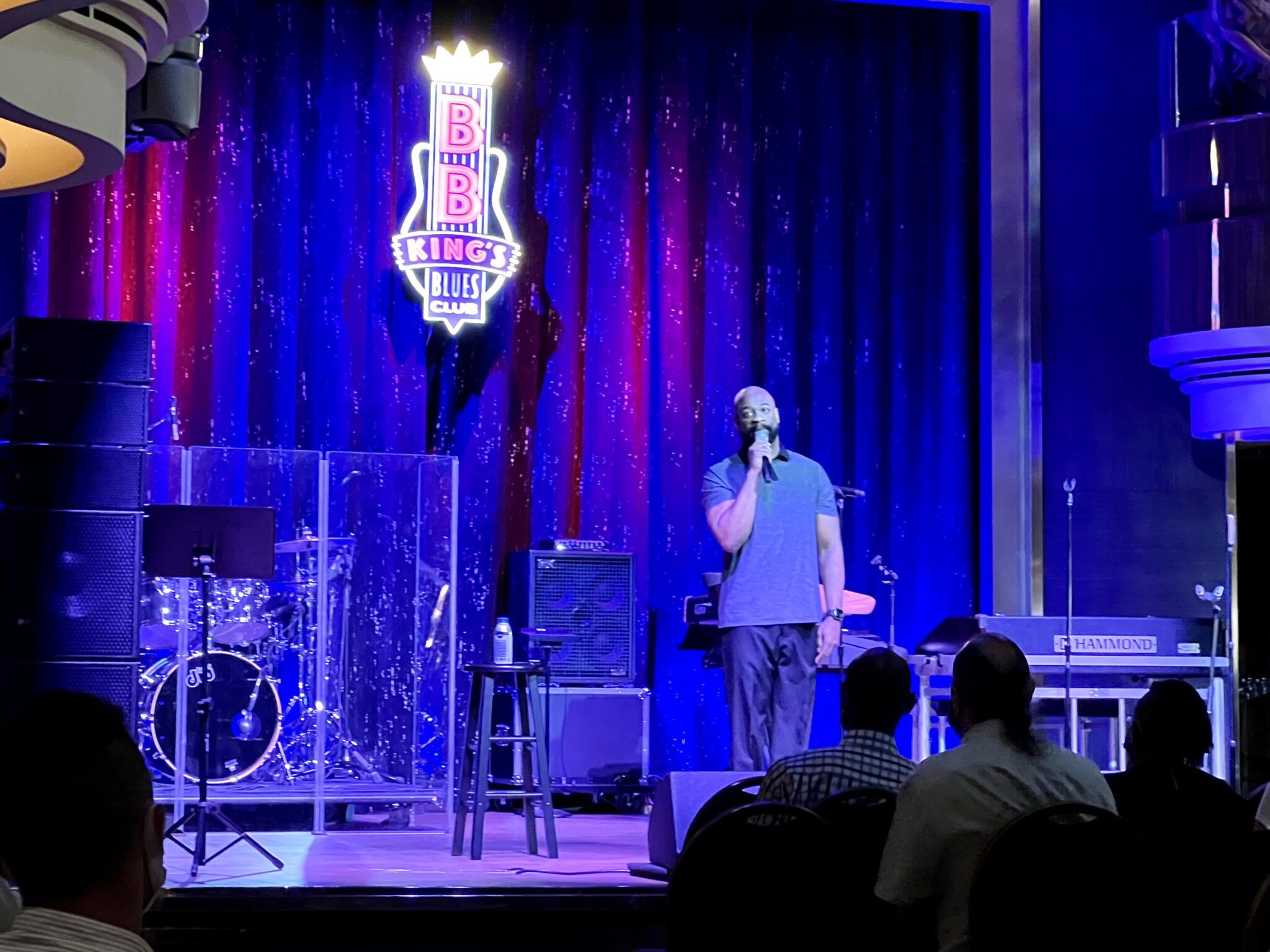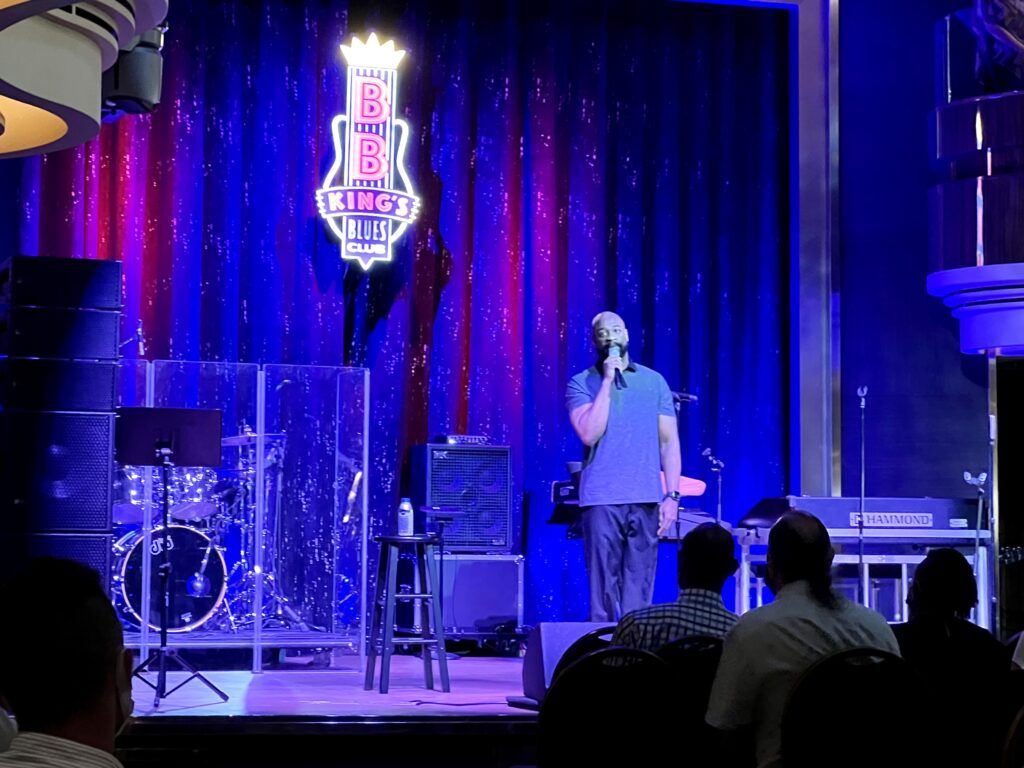 His set "About Me", featured some of the same jokes from the show back in August 2021. Overall, he was a pretty typical cruise ship comedian.
His set was only 35 minutes. So, this gave us enough time to find front row seats at the Rolling Stone Rock Room for the last performance of the night.
Done by 11 pm, there was not much else to do on the ship. Even though we had a late day port of call tomorrow, we just decided to call it a night.
Holland America Line Rotterdam Caribbean Cruise Review – Day 5
All along, St. Thomas was our third port of call. Although, we didn't realize the time had been changed until we got a notification about changes to our shore excursion the day prior.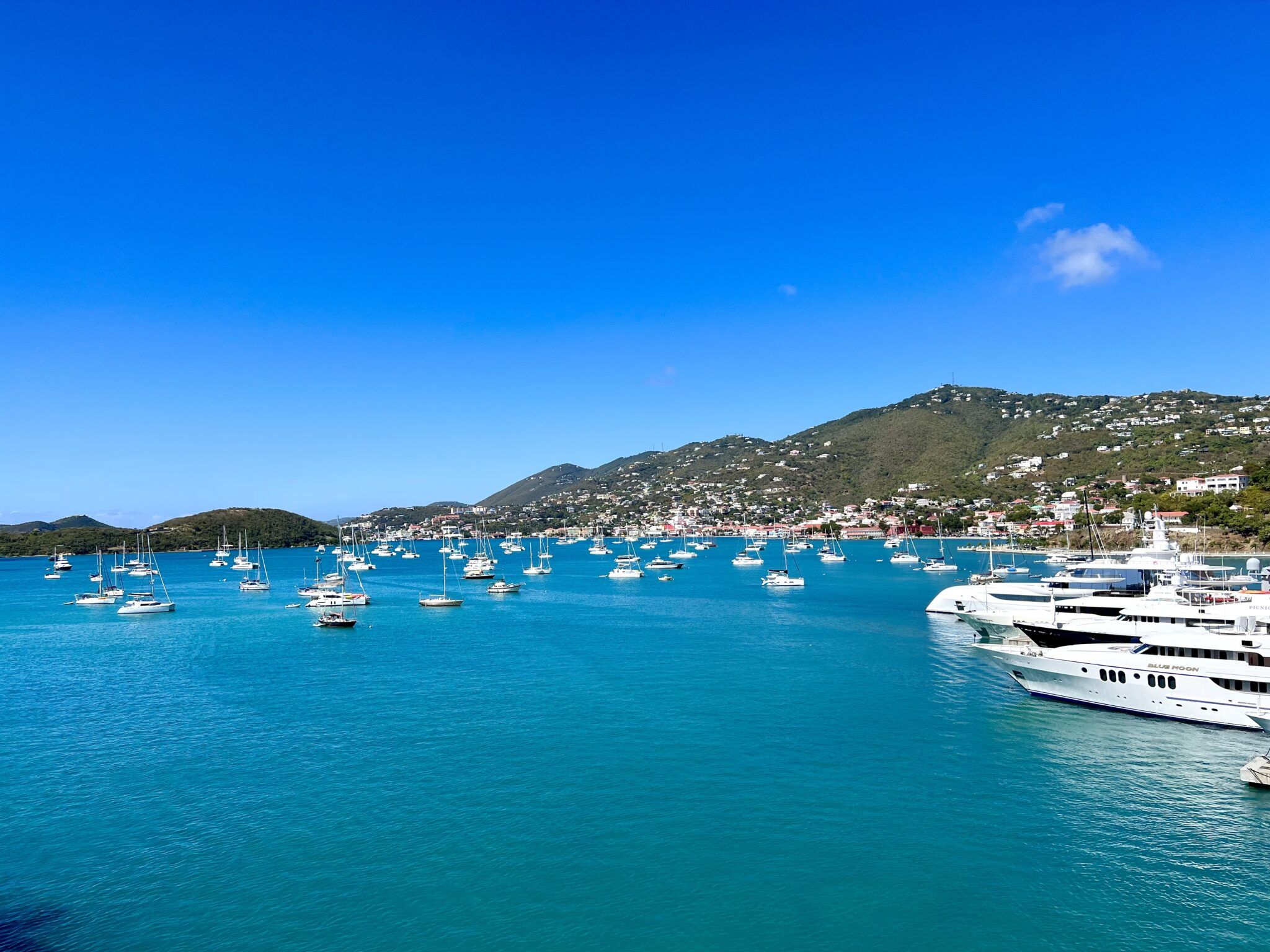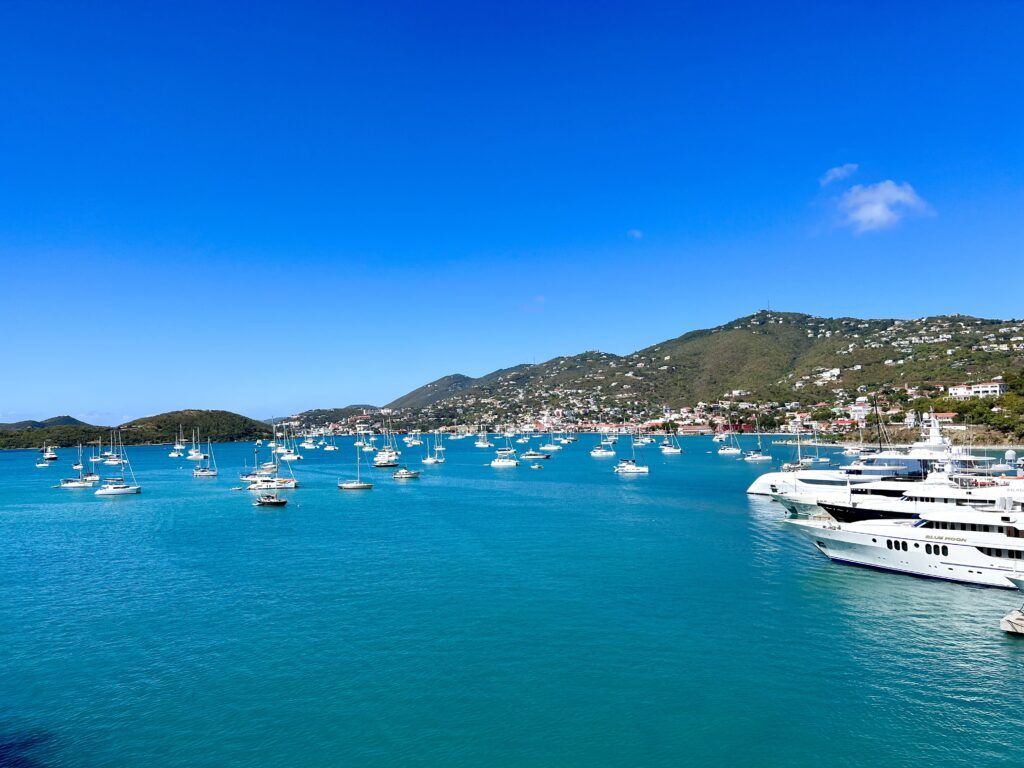 We were supposed to have an 8 am arrival. Now, we had a new arrival time of 11 am, with the ship staying in port until 8 pm. Normally, we would take advantage of a late day stop, but I had to work my full-time job this week and had some meetings and other obligations I could not miss this afternoon.
This meant we had to cancel our revised shore excursion to Coral World and Coki Beach.
Back with our usual morning pick me up, we were both ready by 9 am local time, so there was time for breakfast before starting my work day. The easiest and quickest option was the Lido Market. We sampled a few items, including the custom omelet station.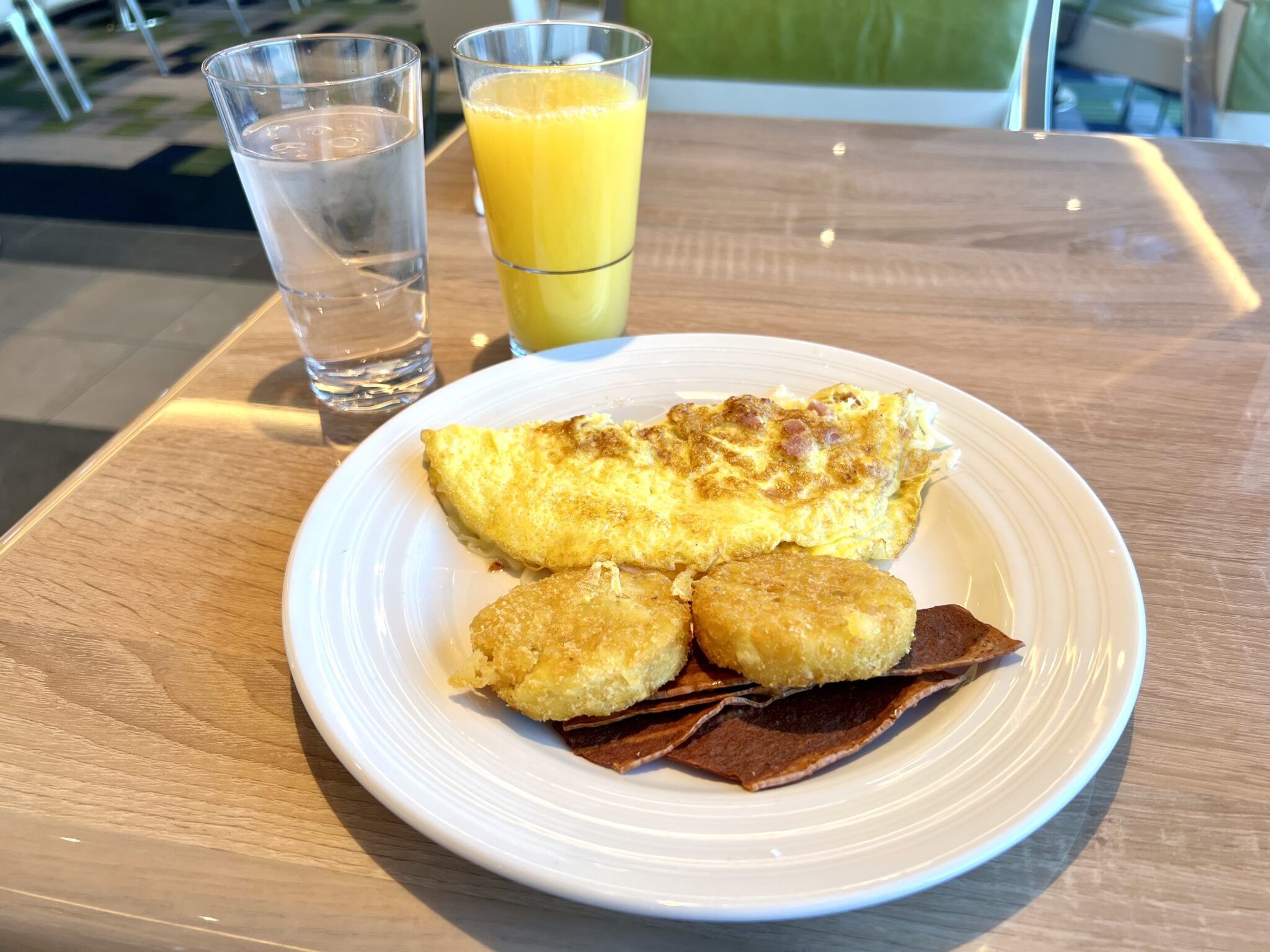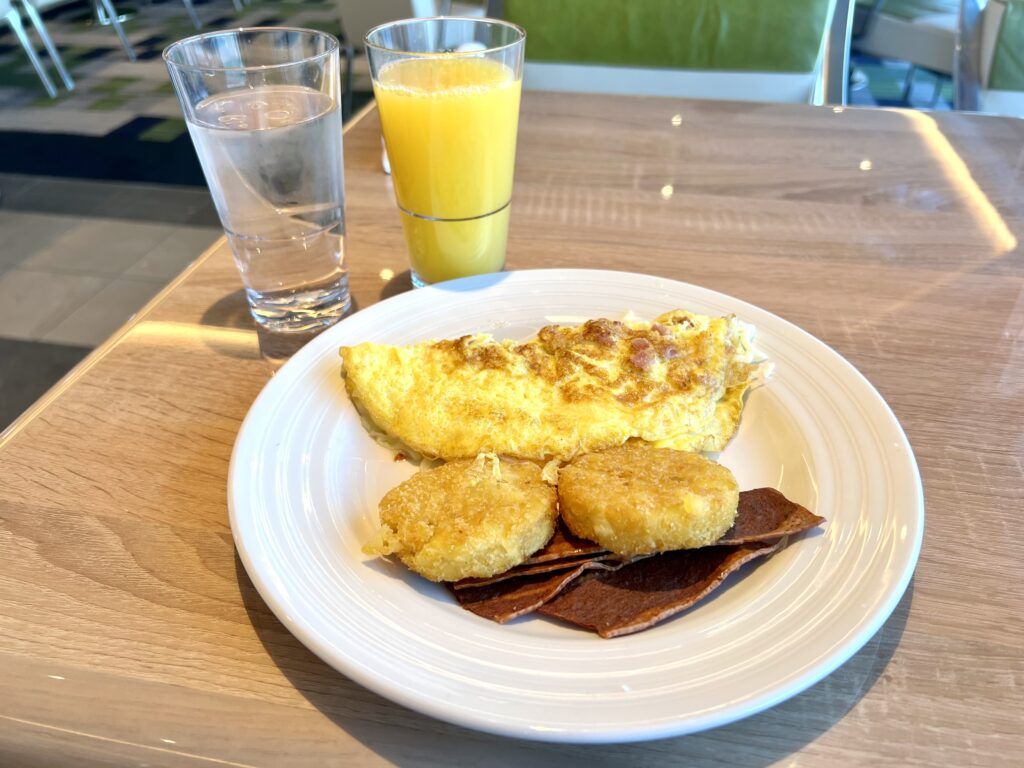 Good thing for me, we were docked and cleared right before 11 am. With all the PA announcements done, along with 5G internet speeds and cell service, I was able to hop on a Teams meeting without issue.
Working While on a Cruise
Around noon, we took a break to head off the ship for a bit. I had meetings basically from 3 pm to 6 pm ship's time. So, we made the decision to walk around St. Thomas for a bit and enjoy the beautiful weather.
Honestly, we didn't go too far. We walked out to the Skyride at Paradise Point but decided not to take the 700-foot ride up to the top. I couldn't justify spending the money for such a short amount of time.
We then walked around the shops at the Havensight port and got a few selfies near the ship before heading back onboard around 1:30 pm.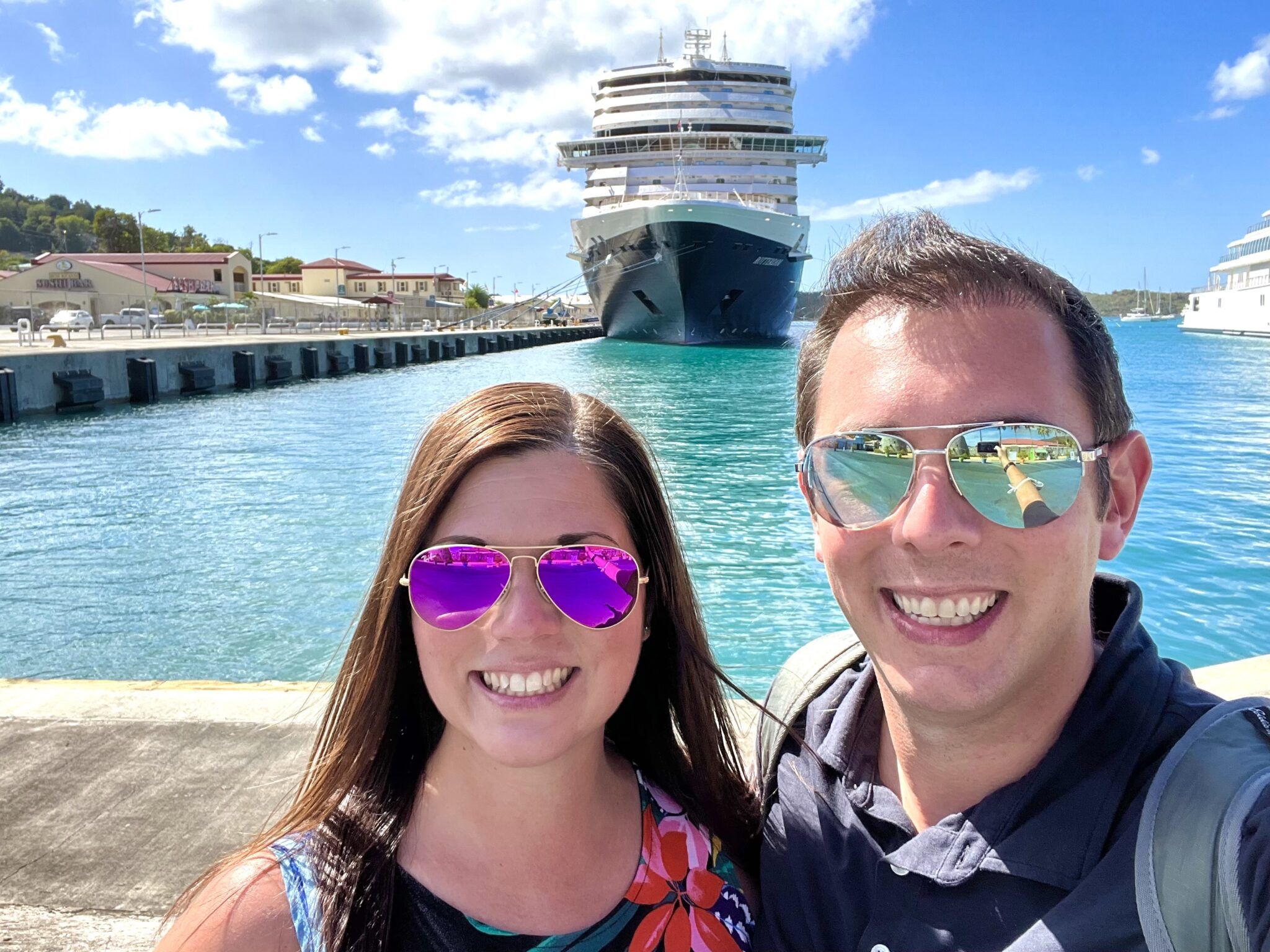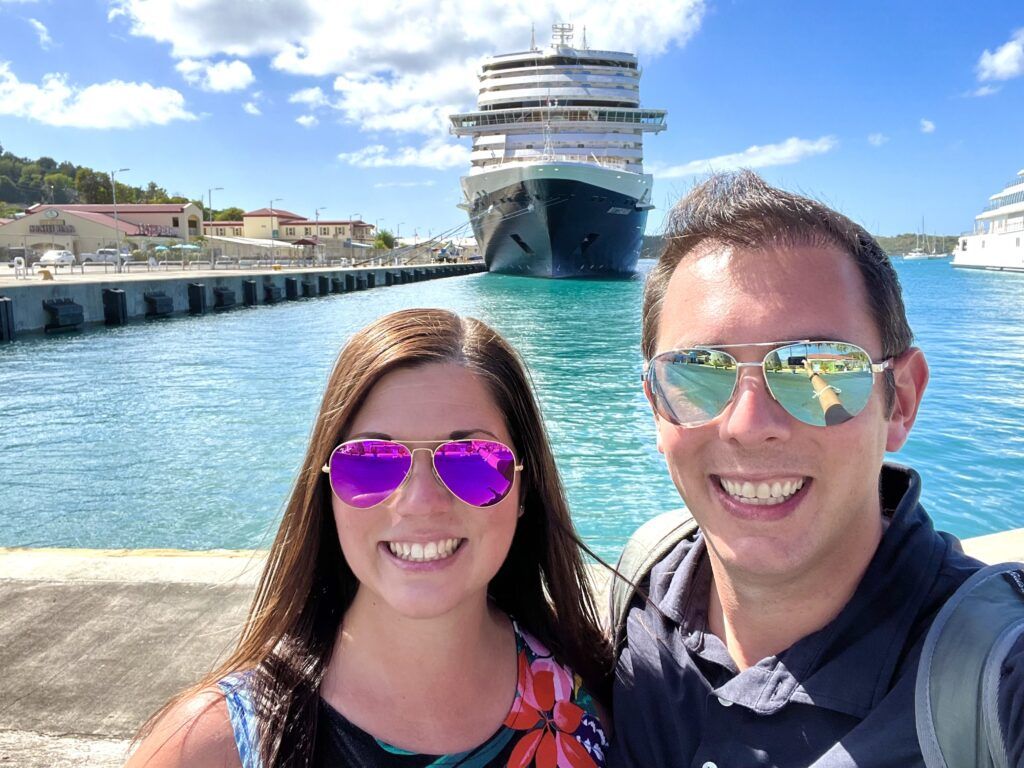 Holland America Line's cruise fare includes free room service. This came in handy as we ordered a few items for lunch while I continued to work on our balcony. You do need to call for room service; though, it would be nice if you could just order it in the app.
With my work officially done by 6:15 pm local time, we had plenty of time before our 7 pm dinner.
Are We the Only Ones at Dinner?
Tonight, we were dining in the Italian specialty restaurant, Canaletto. Up to Deck 9, there were only a few occupied tables at the restaurant when we arrived.
For the most part, we stuck to similar items we had when we dined at the restaurant in 2021. Though honestly, we did not enjoy the selections as much as we did the last time around.
I did like the grilled calamari. This is a nice alternative to the typical fried variation of this starter. Heidi went with the mozzarella, which she felt was not too flavorful.
For meals, I went with a half order of the short rib braised gnocchi and the night's special veal saltimbocca. The short rib did not disappoint. It was tender and flavorful. My other option was just ok. For a half-order, it was still quite large!
Heidi went with the same pasta dish she had before. She did ask if she could get the chicken parm which was a special from a previous night, but she was told no.
The rich and hearty pasta meals were rather filling. Still, we found room for dessert. I have to say that the ricotta tart was the best dessert I had all trip!
Service was quick; so yet again, we were done in a little over an hour. By the time we left the restaurant, there was only one other couple in the entire venue.
A Rather Predictable Night on the Music Walk
There was no production show in the World Stage this evening. Instead, the main theater was showing a movie. Thus, we expected the other entertainment venues to be busy.
Surprisingly though, the ship continued to feel rather empty.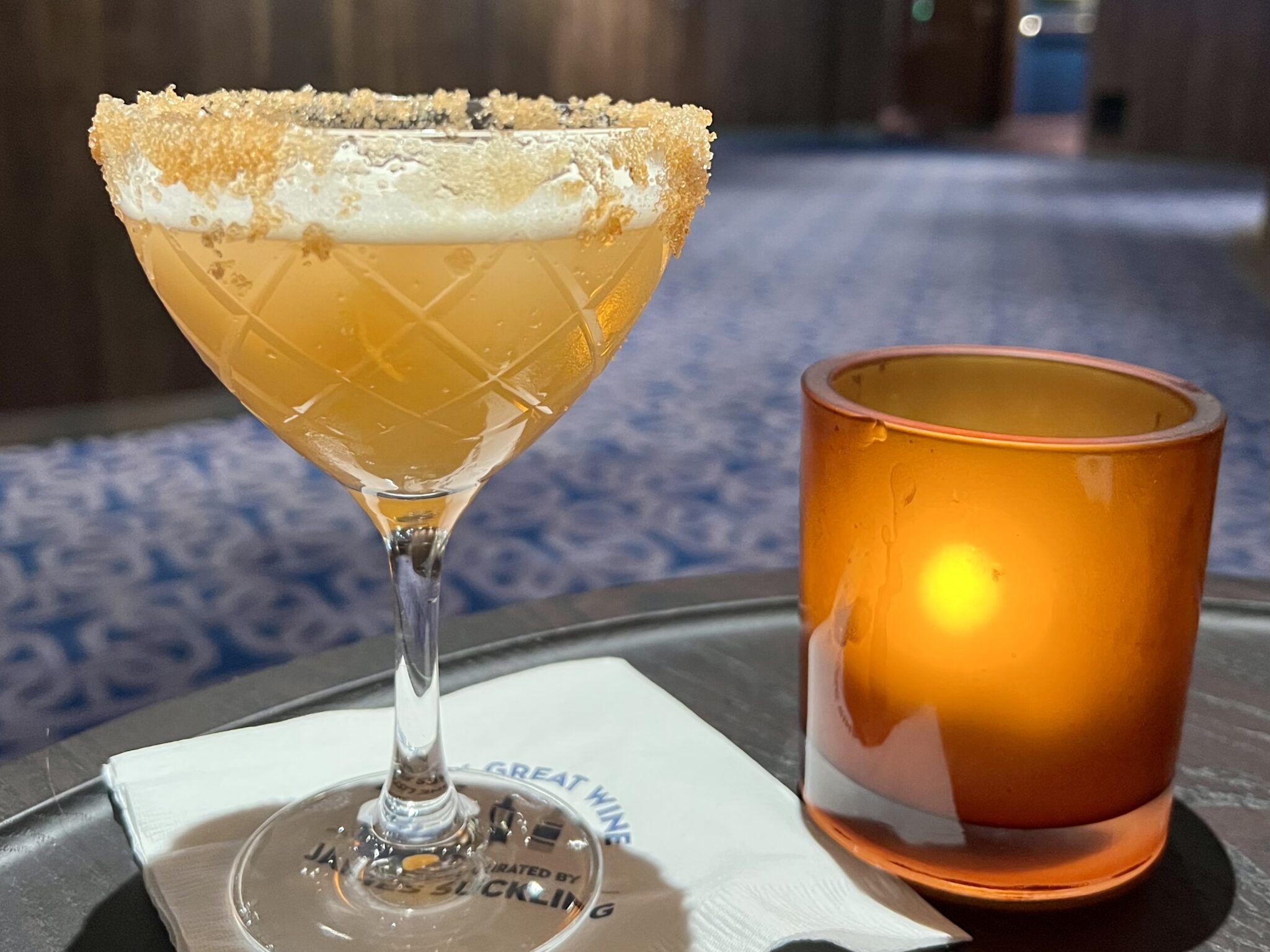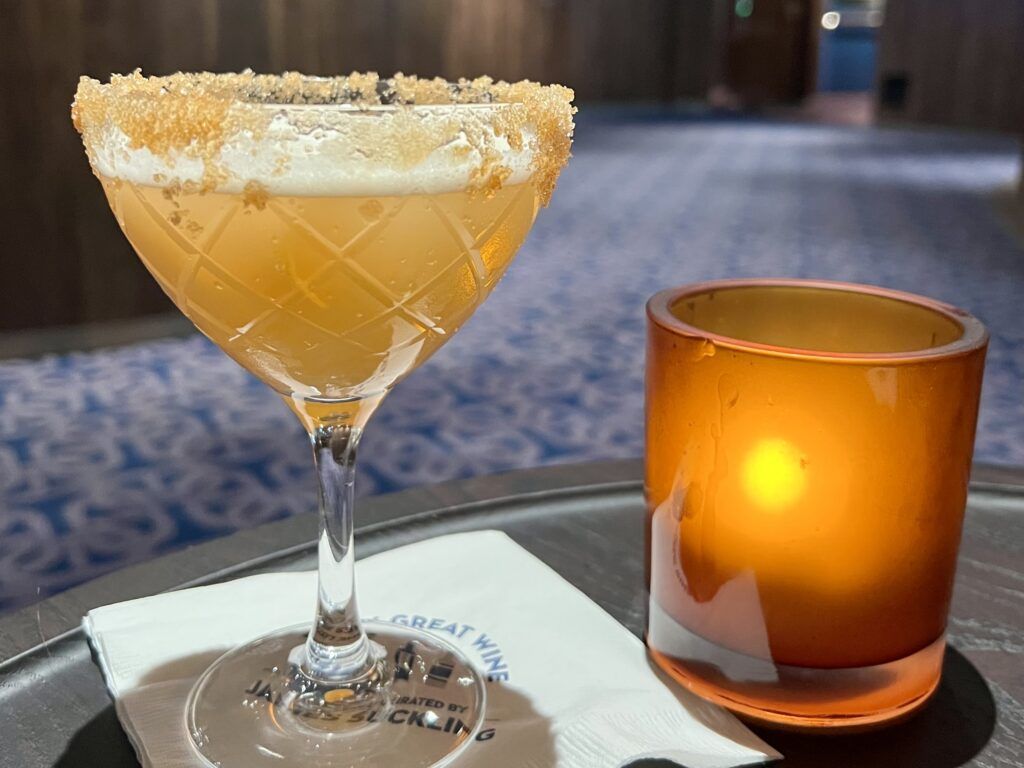 Our plan for the evening was to check out the live music and comedy at B.B. King's. Before heading to this lounge, we stopped at the Half Moon Bar.
This small bar is new to the cruise line. It includes 7 classic cocktails with a unique HAL twist. All of them are in honor of the cruise line's history. I went with the 3 Mile Run with whiskey. It was a well balanced and refreshing cocktail.
The location of the bar is in a corner between the midship atrium and dining rooms. So, we people watched while sipping cocktails for about 20 minutes before making our way to B.B. King's.
The All Star band featured one female singer, who mainly performed slow jazz or 60's pop music. When the 35-minute set ended, we had a short wait for the comedy show.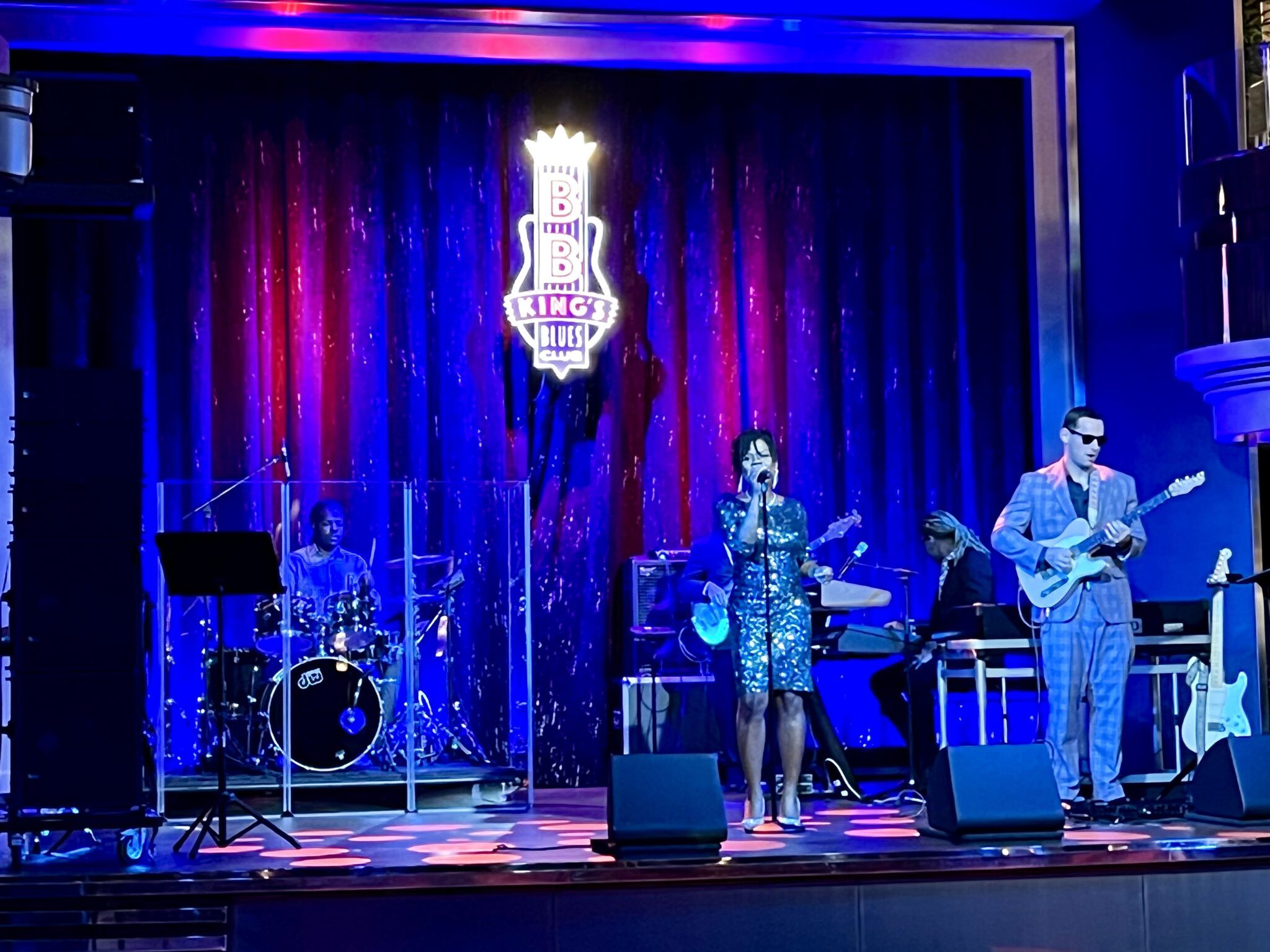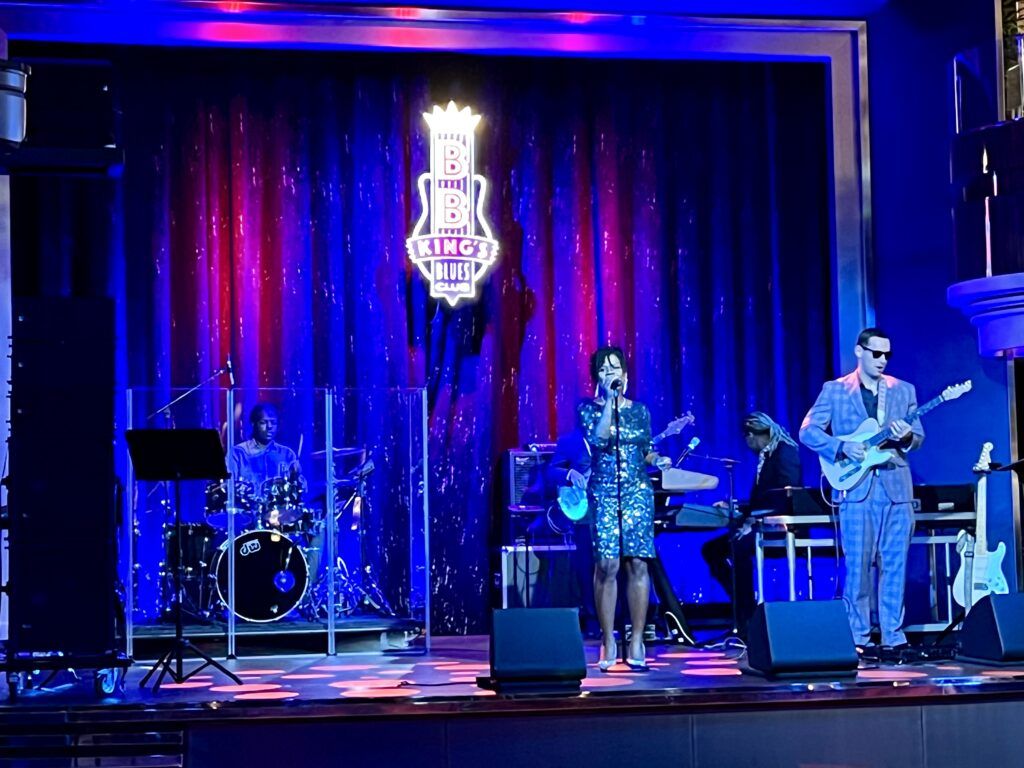 This second performance by Warren B. Hall focused on jokes about cruising and cruise ships. Aptly named, "Boat Stuff", the set was more entertaining than the show we watched on Night 2.
Following the small crowd, we strolled forward and secured seats at Billboard Onboard after the comedy show. This 10:15 pm set was the all request show.
Even though the pair had only been together on the ship for two weeks, they worked well together.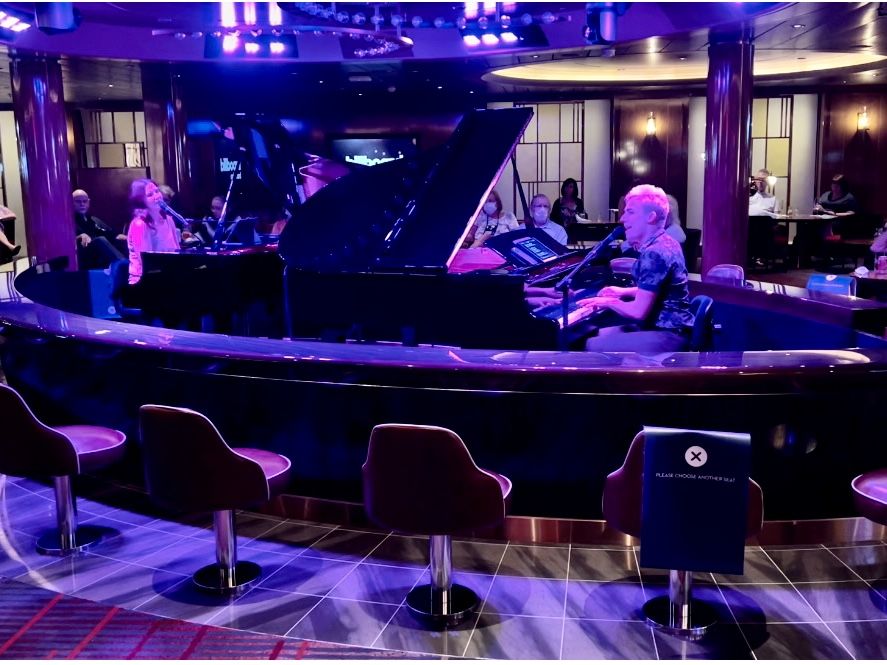 The next day was a sea day, but there wasn't much else to do on the ship past 11 pm.
We browsed the casino but decided to just head back to our room instead.
Holland America Line Rotterdam Caribbean Cruise Review – Day 6
A Perfect Morning at Sea
This morning, we opted to sleep in a bit as it was going to be a relatively lowkey day onboard the ship.
Still, we fell into our normal morning routine. I had a few more videos and photos to get as Heidi got ready. During my travels, I stumbled upon the back-to-back COVID testing on Deck 1.
According to a staff member, approximately 300 cruisers would be returning the following week. Given we had around 1300 passengers on the ship, that was over 20% sailing again!
Back to the room, I prepared for our sea day, then we decided to get a light breakfast at the Lido Market. Like our first visit, the food was warm and well prepared.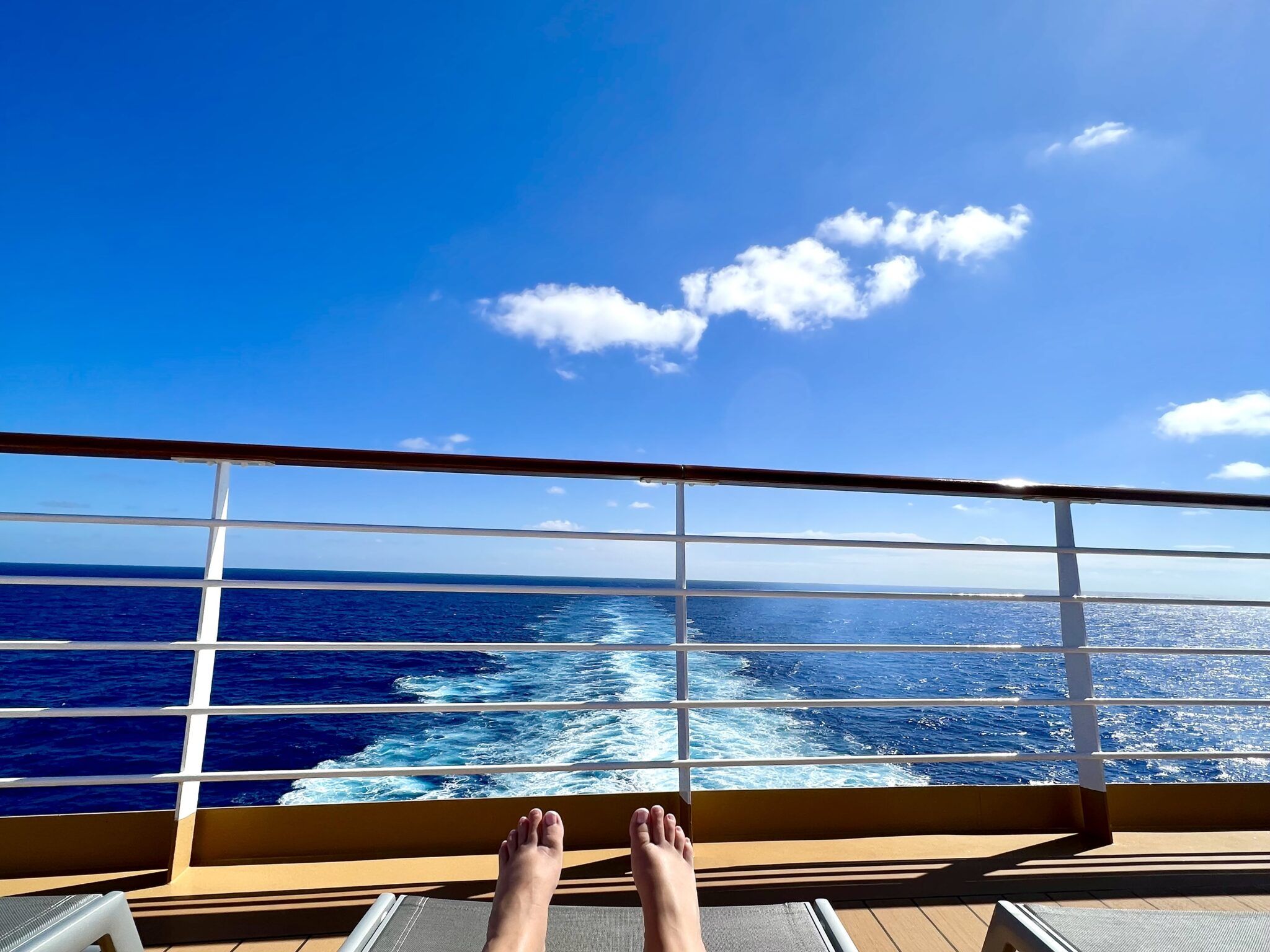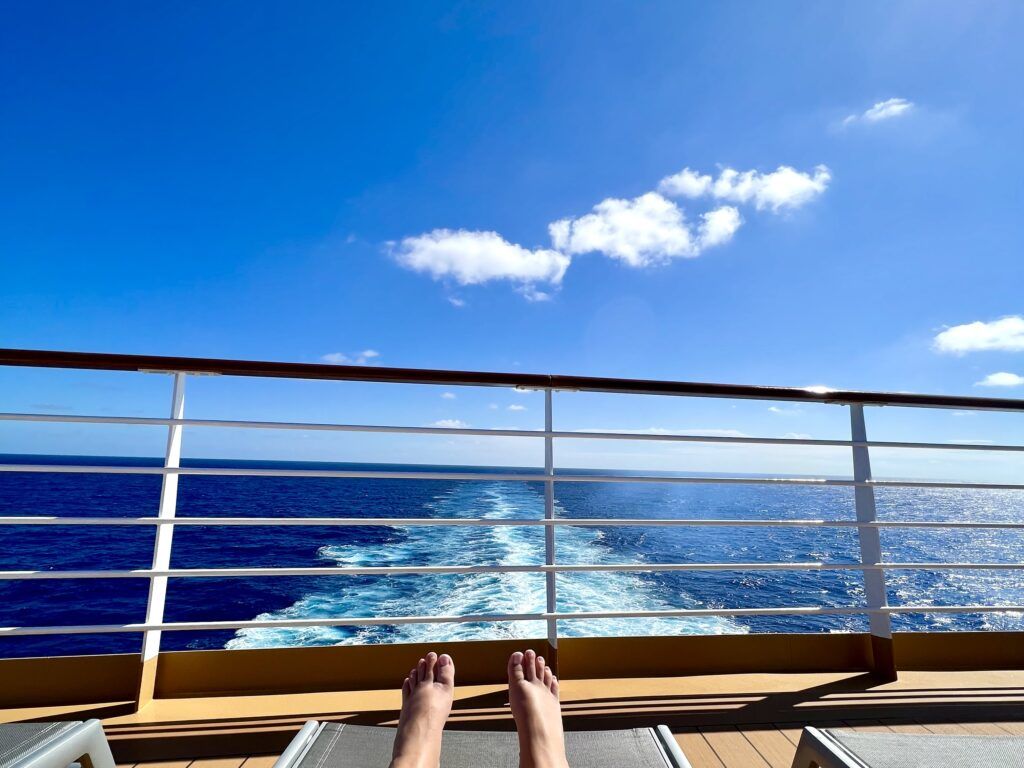 Normally, by 10 am on a sea day, the pool decks would be packed. Today, that was not the case at all. In fact, we were able to secure two deck chairs at the very aft of the ship with ease.
With the beautiful weather and light breeze, we soaked up the sun. We spent a good majority of the day here alternating between our loungers and a shaded table near the Sea View pool.
During this time, I ordered my first pina colada of the cruise. Better late than never! With the signature beverage package, this frozen drink and virtually all other drinks are covered.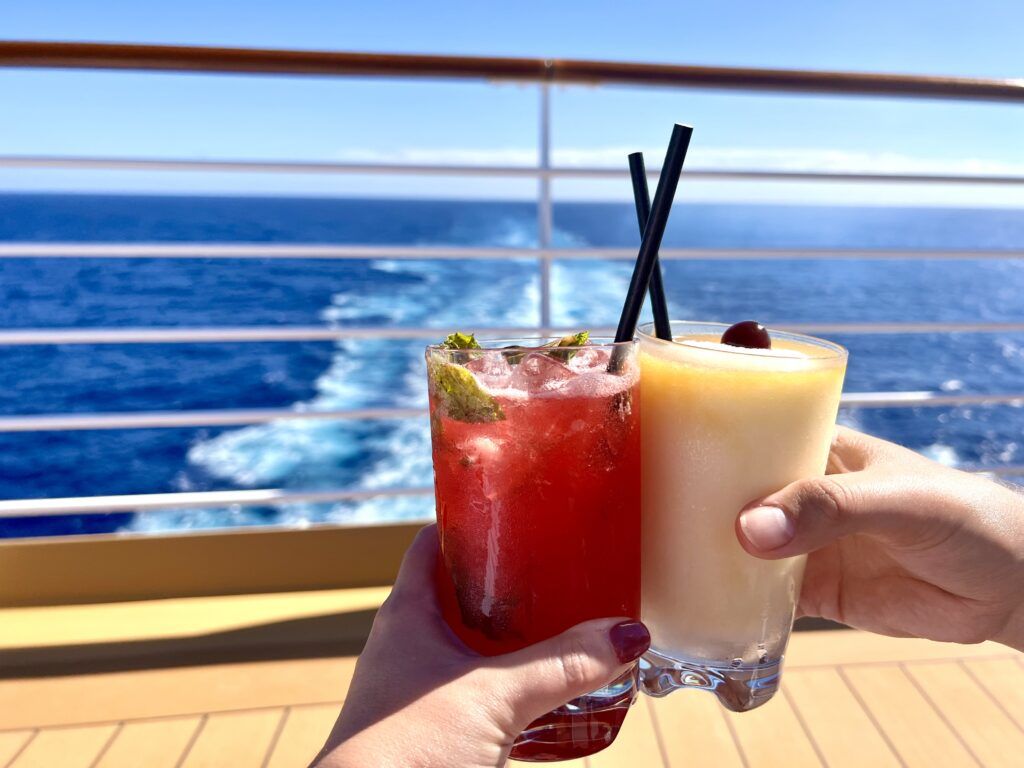 Catching up on the Balcony
As the morning turned into the afternoon, we ordered a few items from the New York Pizza and Deli for lunch via the app. We were notified about 20 minutes later that our food was ready.
This time around, I tried the meatball sub. This offering was the perfect midday meal. The warm meatballs were coated with just the right amount of sauce on a crusty sub roll.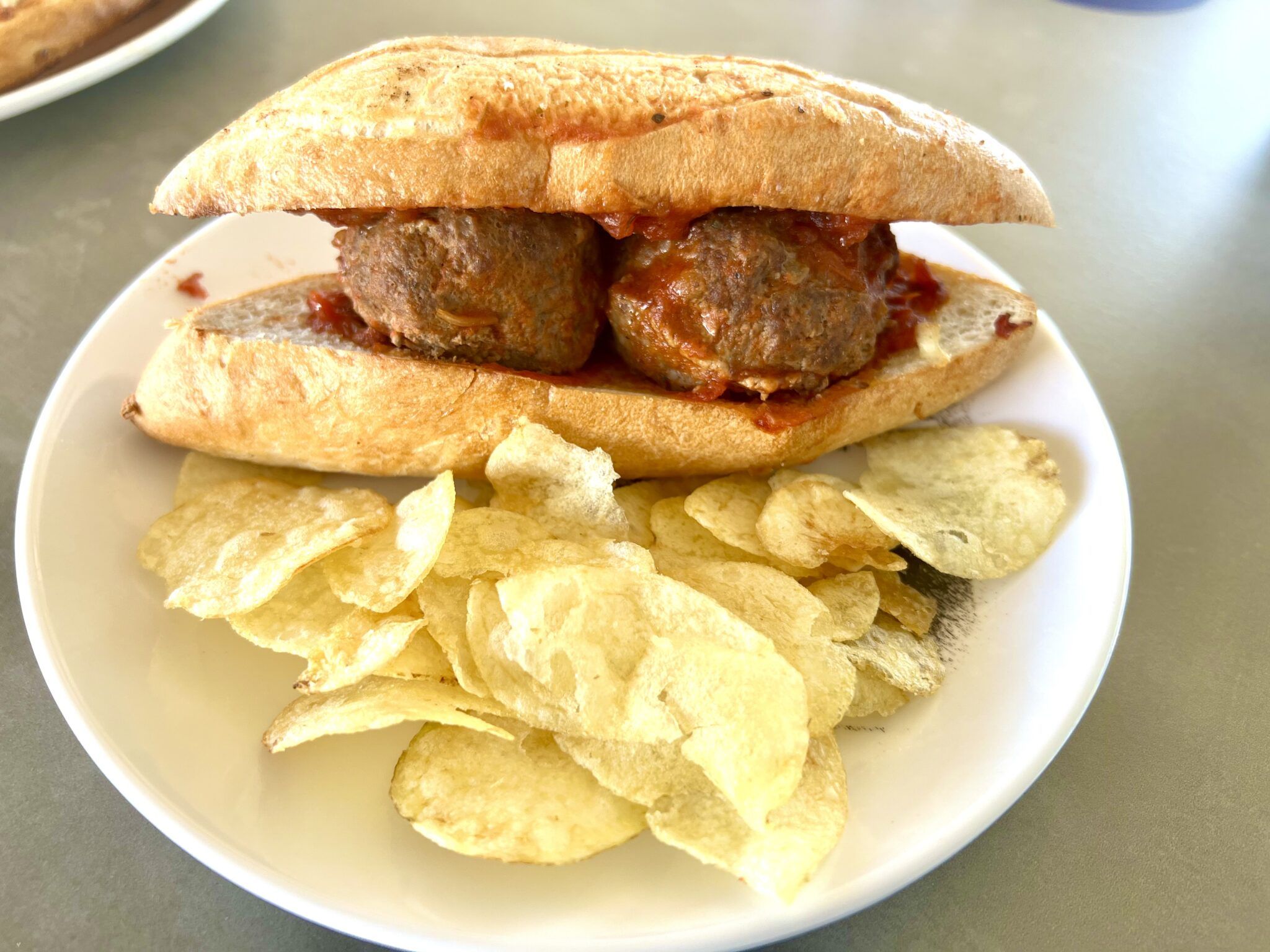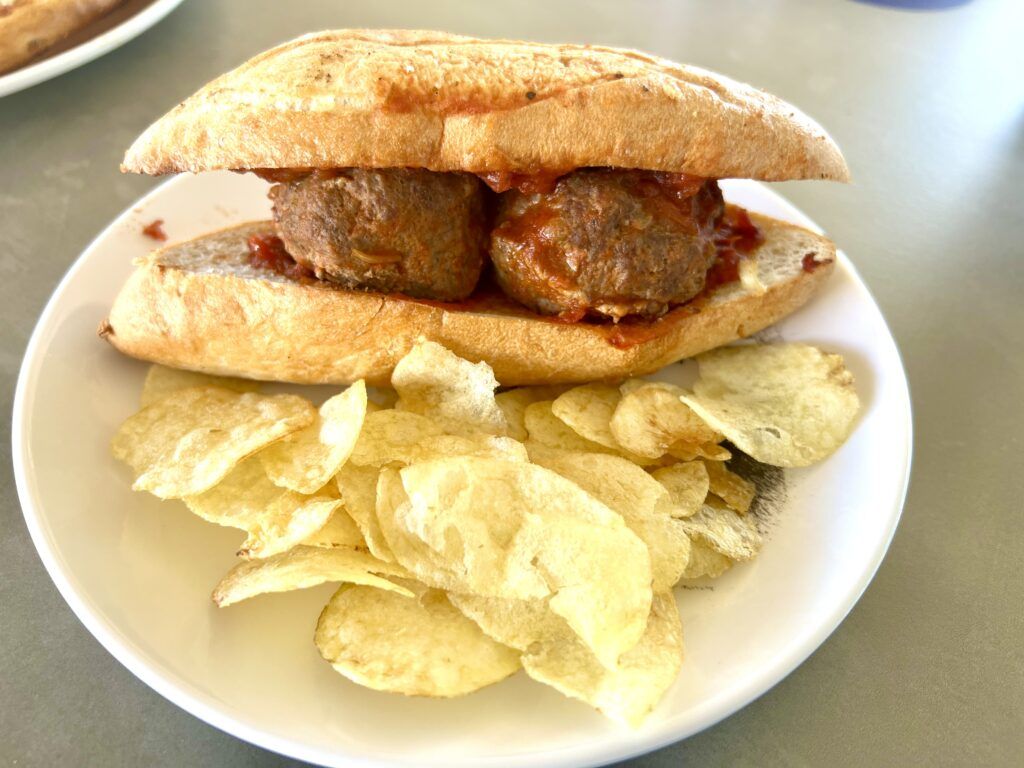 Finally, around 2:15 pm, we had had enough of the sun. Our on way back to the cabin, we stopped in for some gelato and then two iced lattes from the Grand Dutch Café.
Back in the room, we caught up on some work on the balcony until dinner time.
All Dressed Up and Plenty of Places to Go
Tonight, we had a 6:30 pm reservation in the main dining room. It was also the second formal night of the cruise.
Similar to our previous two main dining room meals, we had the same table and the same great service. By now, our waiter knew our drink order. He also anticipated me ordering several items from the menu.
Unfortunately, Gala Night on Holland America Line does not include lobster. Still, there were a few upgraded items. Among them was the jumbo shrimp cocktail. True to the name, the shrimp were larger than you typically get in complimentary cruise ship restaurants. Heidi went with the baked brie for her appetizer.
For dinner, she ordered the spinach and ricotta ravioli. I did the glazed duck breast and the cracked peppercorn beef tenderloin with shrimp. The duck was sweet and succulent with a light sauce. The beef tenderloin had a spiced crust and was cooked to a perfect medium-rare temperature. This made it difficult for me to pick which one I liked more.
For dessert, I went with the warm chocolate cake, and Heidi did the tiramisu. While neither were outstanding, they hit the spot.
A Late Night Out
By now, we had visited all of the bars at least once for our drink around the ship. So, I voted for another cocktail at the Half Moon Bar.
This time around, I went with the Sea Castles, which was described as a version of my favorite cocktail, the side car. True to form, this version was served with a sugar rim and was a sweet and sour mix of cognac and orange liquor. It was just the right libation for this upscale evening.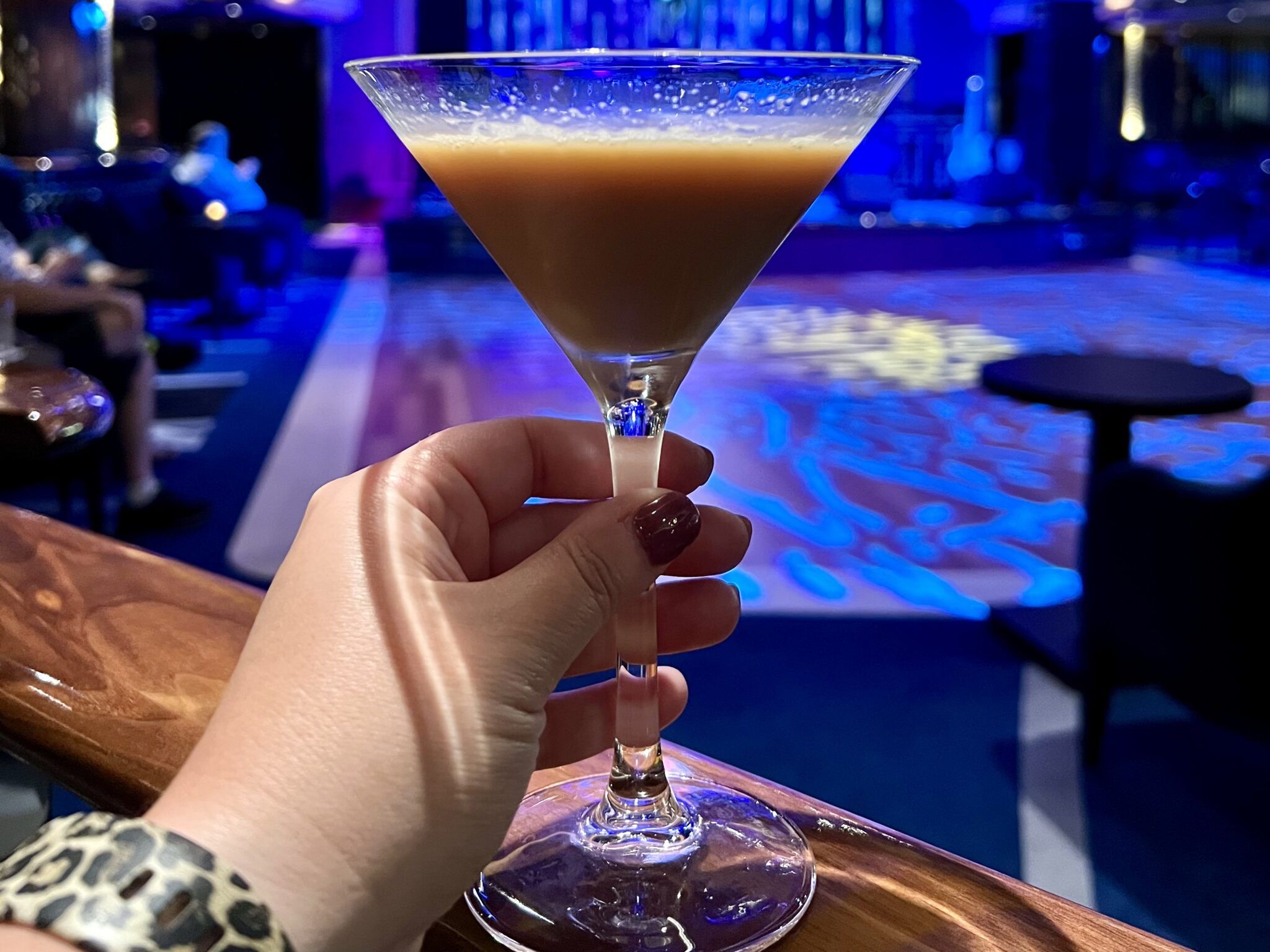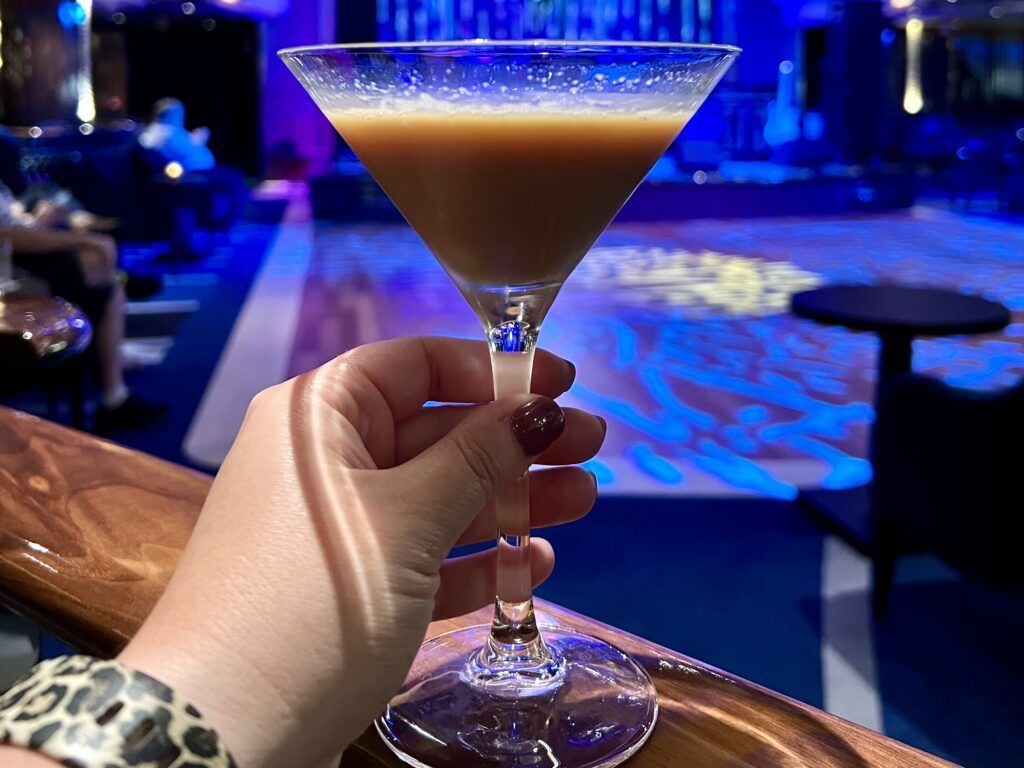 With my drink in hand, we headed to B.B. King's for the 8:30 pm game show, Call My Bluff. Here, Heidi ordered her espresso martini with Baileys. The ship was actually out of this liqueur for several days, so she was finally able to enjoy her favorite cocktail.
This evening's game show was a take on the Liar's Club. The game includes three staff members who are asked to provide the definition to an odd word. Then, the audience needs to determine who is telling the truth. Tonight's panel consisted of the comedian, Nick the entertainment host, and the head of the Future Cruise desk.
Oddly enough, the comedian was the least prepared and least funny of the three.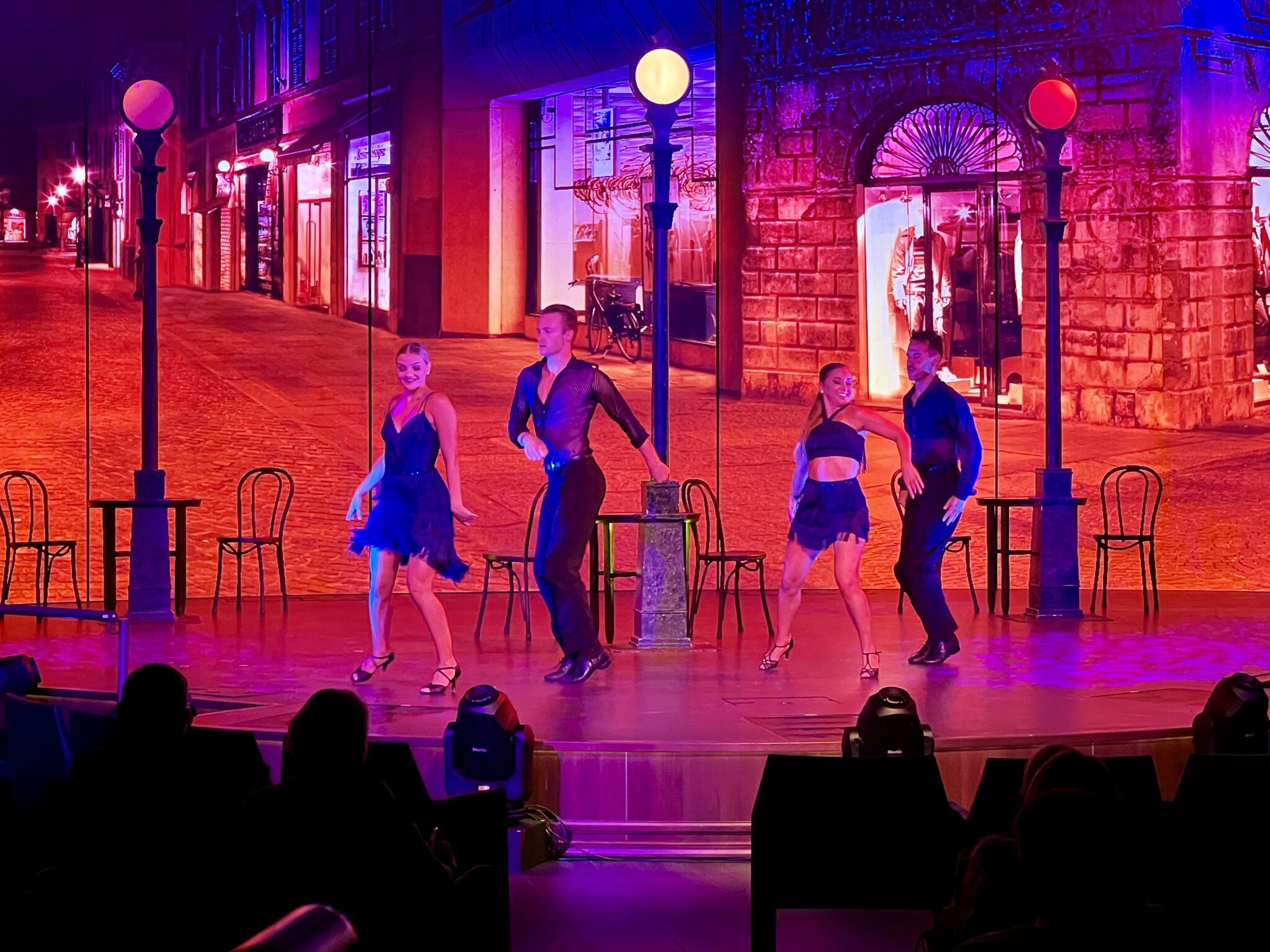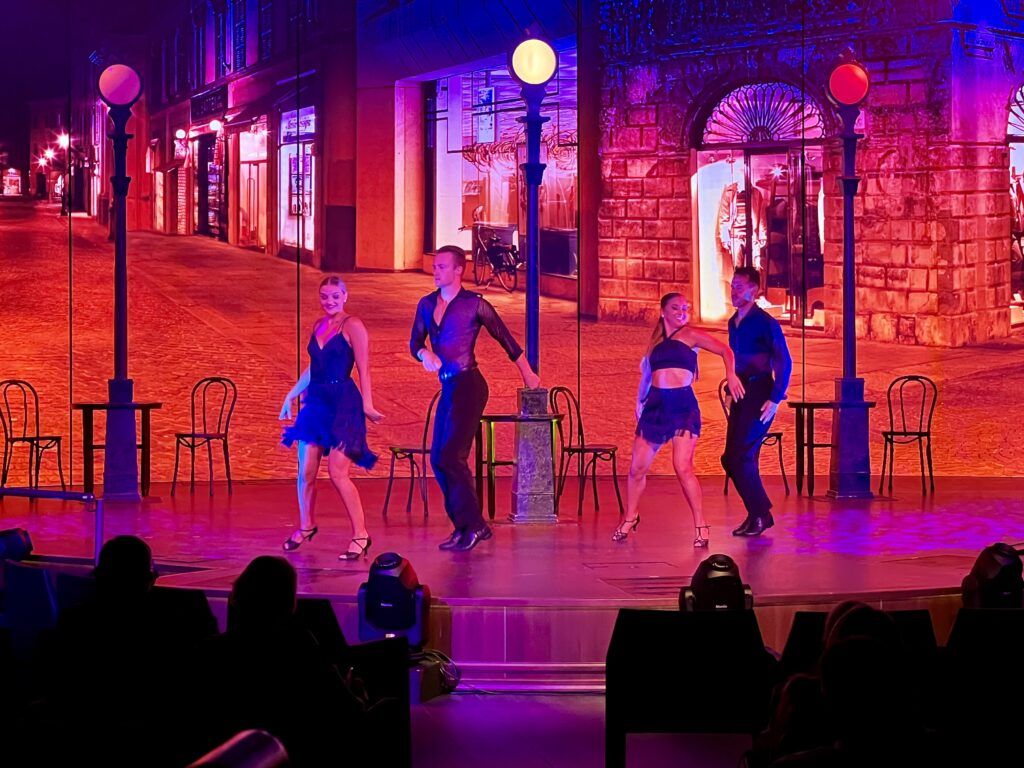 After we finished up our drinks, we walked over to the theater for the StepONE production show. Tonight's show was entitled In Tandem.
This production is akin to a cruise ship revue show with the troupe of six dancers pacing through several set pieces with no live vocals. Compared to the other shows, the choreography was the least varied.
Done by a little after 10 pm, we grabbed seats at Billboard Onboard. This final request session of the evening was an interesting mix of selections. From Elton John, to Maroon 5, to Barry Manilow and Adelle, the duo did an admirable job with the requests.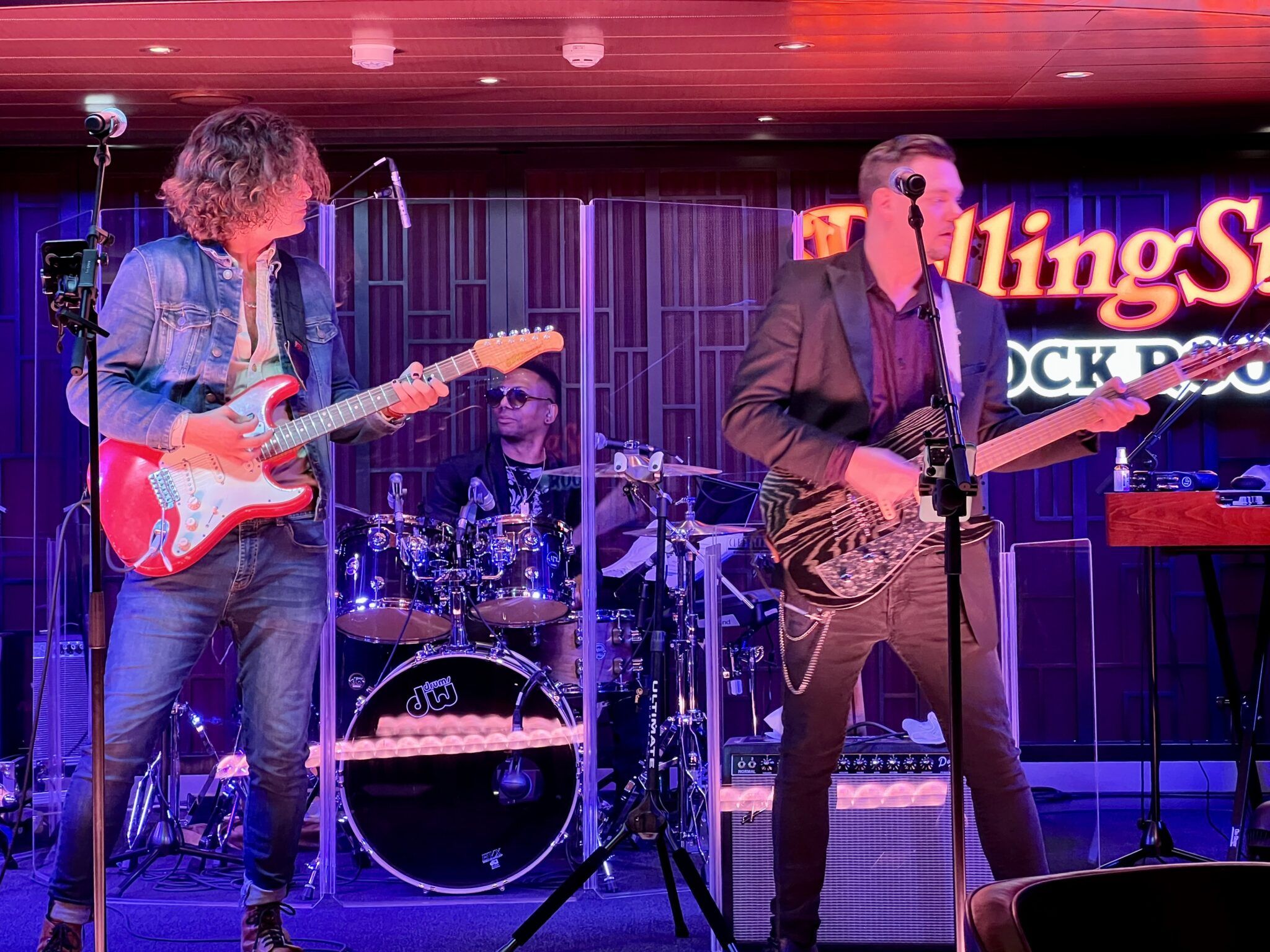 After this set, we walked across the way to the Rock Room for their 11 pm set. With a final drink of the night, we enjoyed songs from Foo Fighters, Radio Head, and other classics like Bruce Springsteen.
Surprisingly, this was the first day that we hit our 15 drink limit (total alcoholic and non-alcoholic drinks) on the Signature drink package.
Holland America Line Rotterdam Caribbean Cruise Review – Day 7
Will We Actually Get to Visit the Island?
Our final day of this Holland America Line Rotterdam Caribbean cruise review included a stop at the cruise line's private island of Half Moon Cay.
From the get-go, we were worried about this port of call. Reports online during the week indicated that several cruise ships from other lines were denied entry to Bahamas ports.
We were really looking forward to our first visit to this private destination. So, with fingers crossed, we set a 6 am alarm. Our plan was to be among the first on the island.
Unfortunately, Half Moon Cay is a tender port of call. So, we wanted to be ready for the all cleared announcement from the cruise director.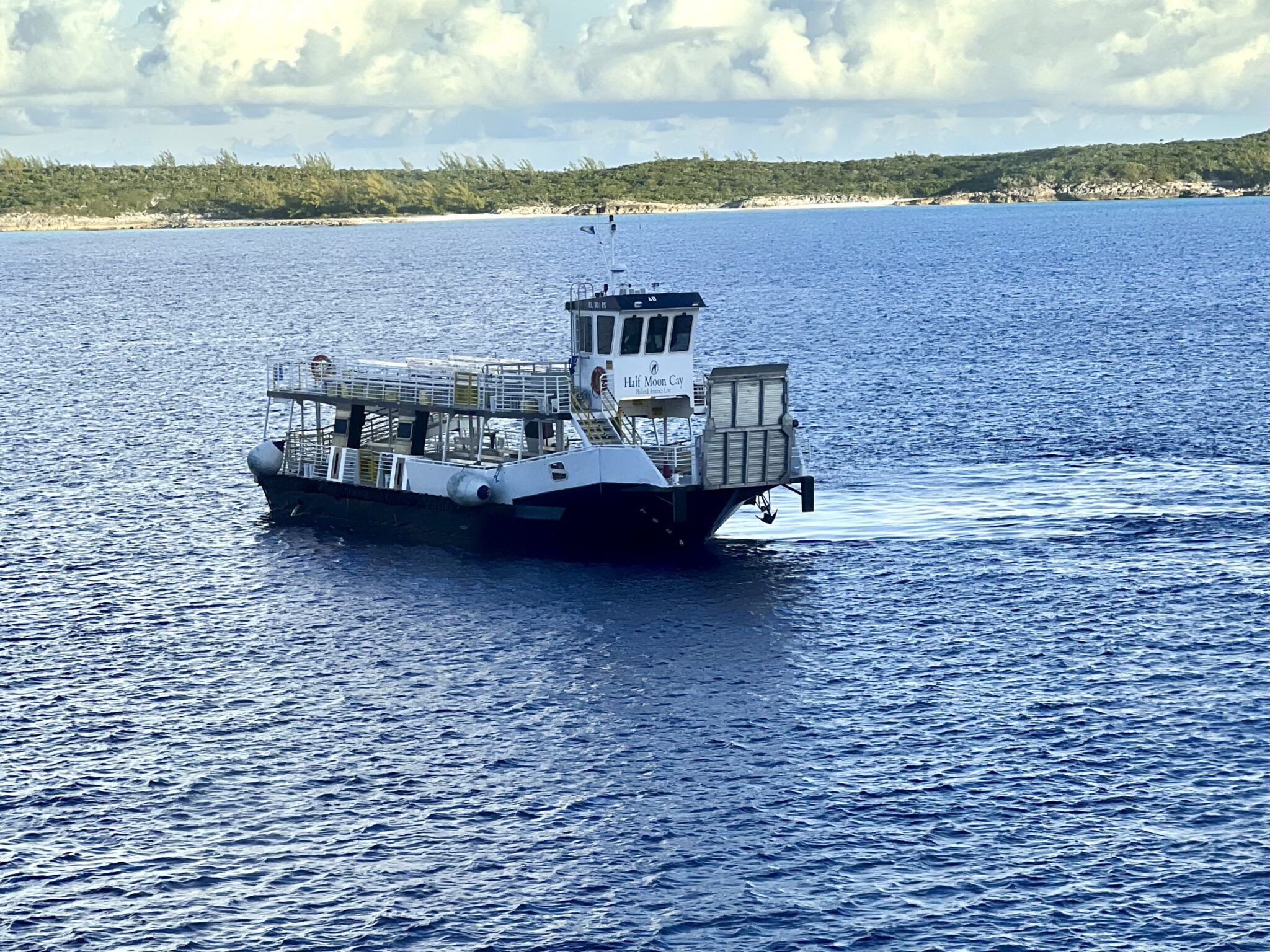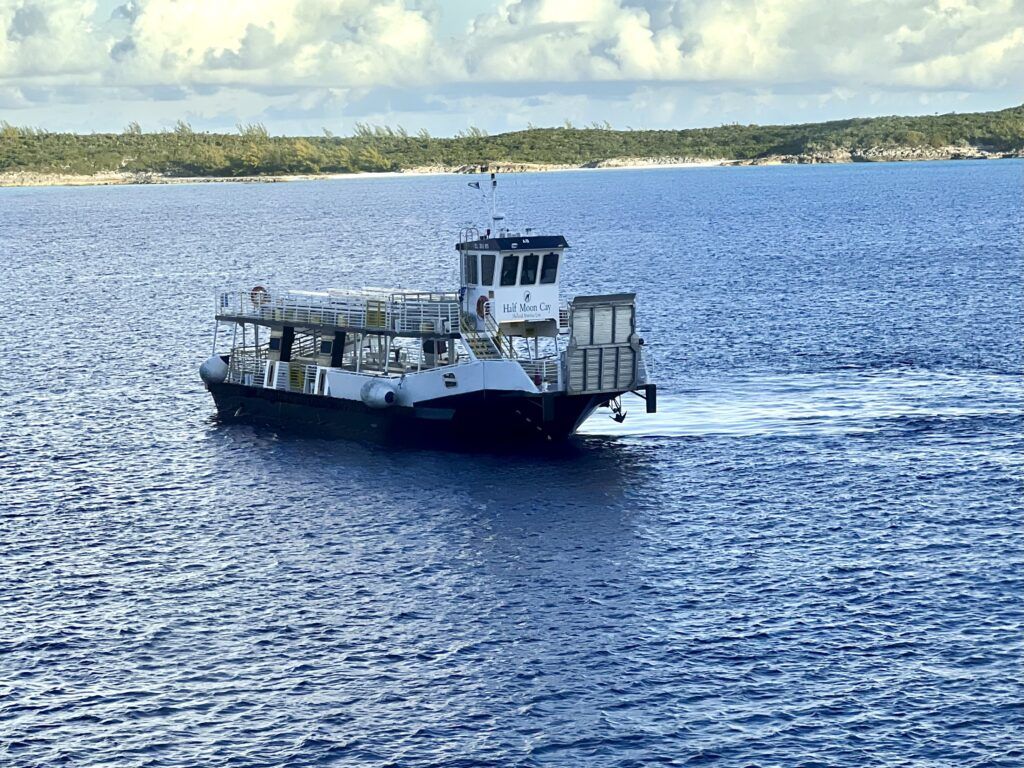 As Heidi prepared for the day, I did my usual coffee run and grabbed a few items from the Lido Market for breakfast.
Clearly, the ship was on time, and we were ready and waiting before 8 am. Though, it wasn't until 8:15 am that an announcement indicated we were still waiting for Bahamas officials to clear the vessel.
When there was still no word by 8:40 am, we headed to deck 2 to wait for more information. Like other cruisers, we were getting anxious about our chances of actually getting to the island today.
Past 9 am now, we figured our luck had run out and that we would be denied entry into the country.
Not long after that, we noticed more tender boats approaching our ship. Not waiting for an announcement, we decided to head towards the gangway. As we began the descent, the official all clear announcement was made, a full hour and 45 minutes late.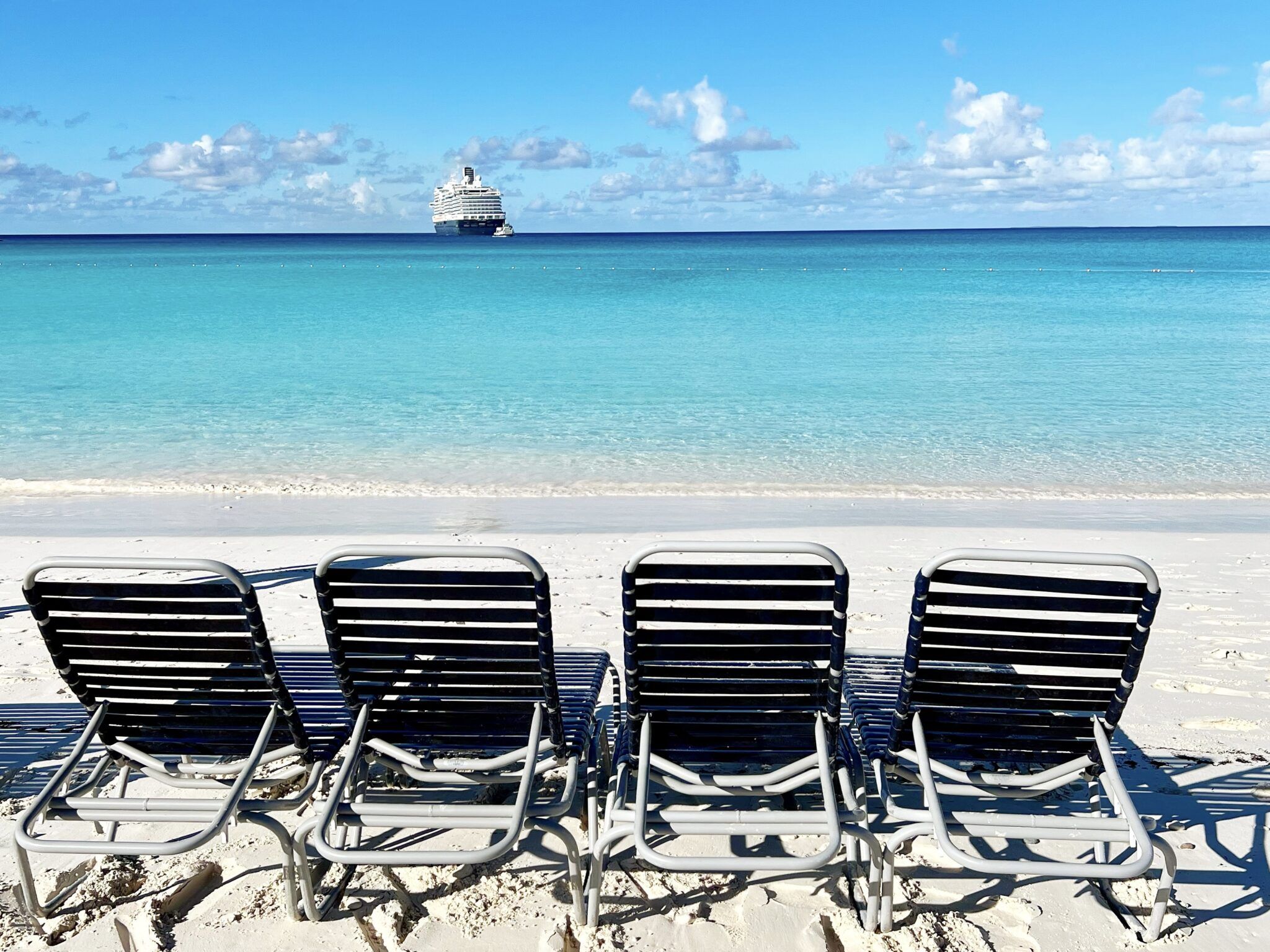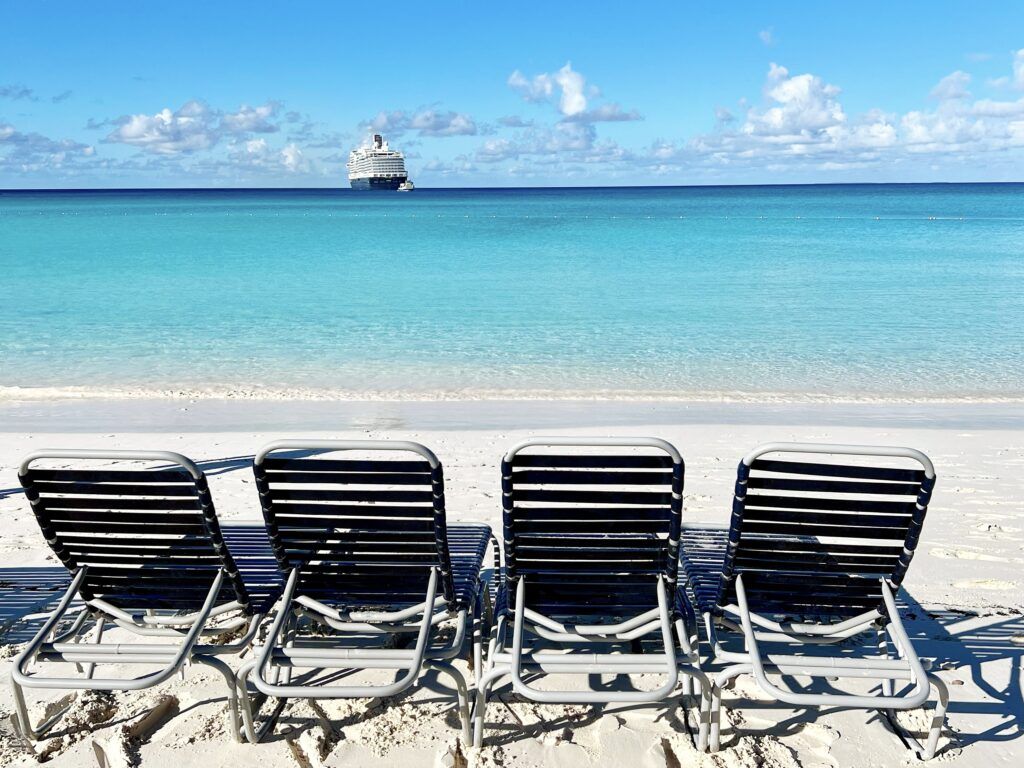 Luckily, we were on the first tender and ready for our beach day at Half Moon Cay.
Finding Our Way Around Half Moon Cay
Arriving on the island around 10 am, we were a little disoriented.
In atypical fashion for us, neither of us had done much research about the island. We didn't even have an island map!
Following the crowd, we headed to the beach.
At first, it was a sea of people trying to grab lounge chairs and make their way to cabanas and villas. Once we broke free from the crowds, things got a little better.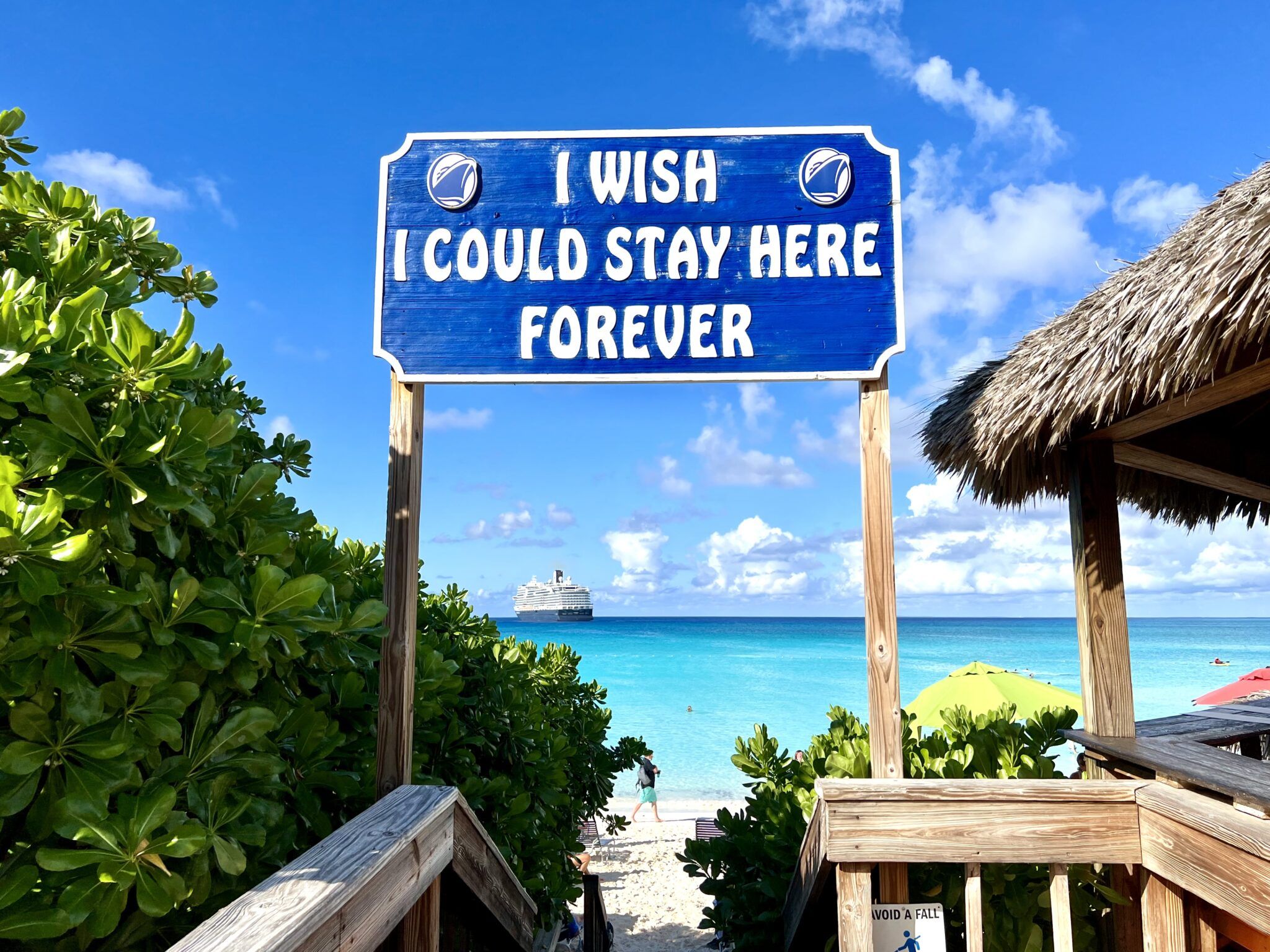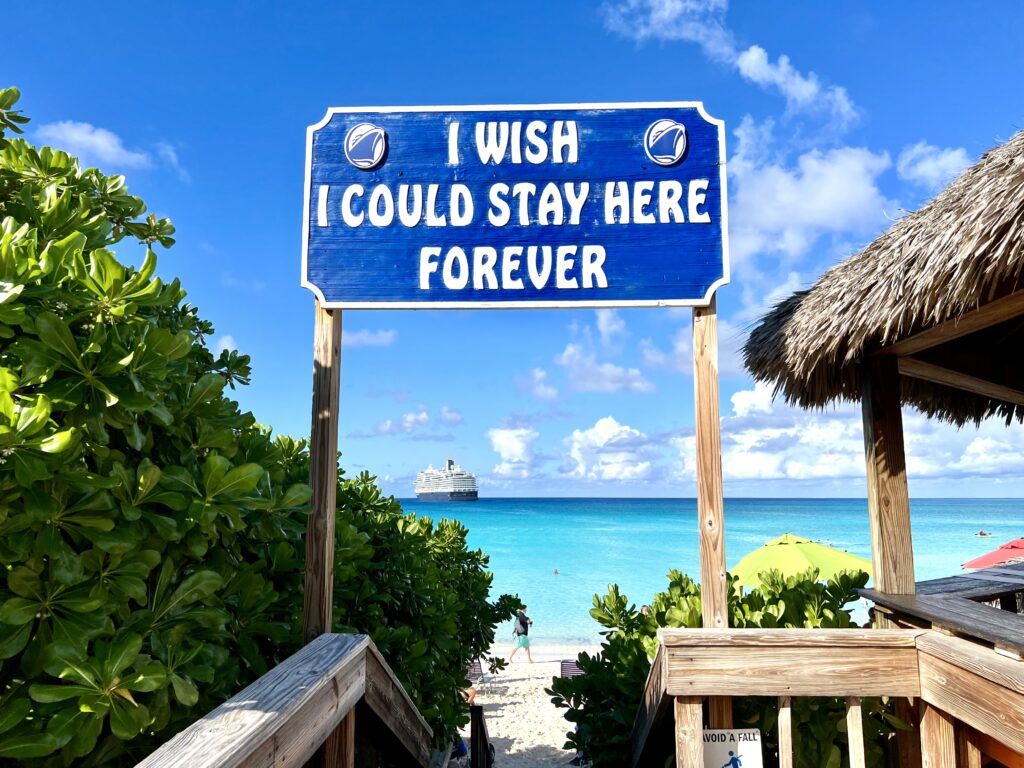 We walked essentially all the way to the end of beach area from the welcome center. Then, we headed back along the main path. This loop took us past the On the Rocks bar, cabanas, dining pavilion, basketball court, and children's play area.
Back at the welcome area, it was less crowded now. Before too many other cruisers arrived, we decided to checkout the shops and grab a logo t-shirt.
Enjoying Some Beach Time on the Island
Now that we had a better sense of direction on the island, we walked back along the path to get pictures and videos of some of the places we missed during our first lap.
As we did so, cruisers were already heading back to the beach with food. So, before claiming our spot on the beach, we too made our way to the dining pavilion for an early lunch.
The island barbecue was pretty standard. It included a few different items like grilled chicken, boneless ribs, and some salads. For me, the best selection was the fish tacos with rice and beans.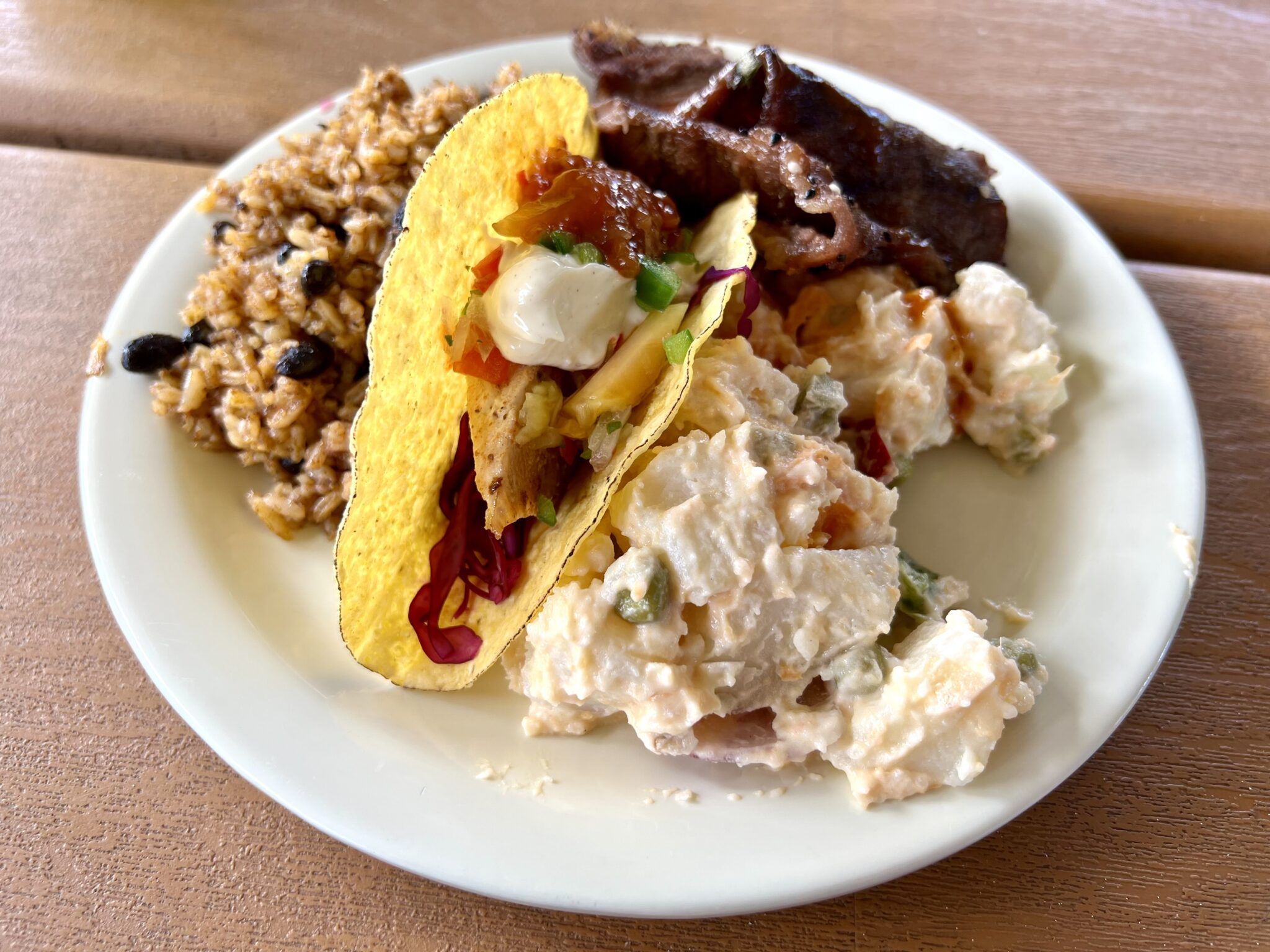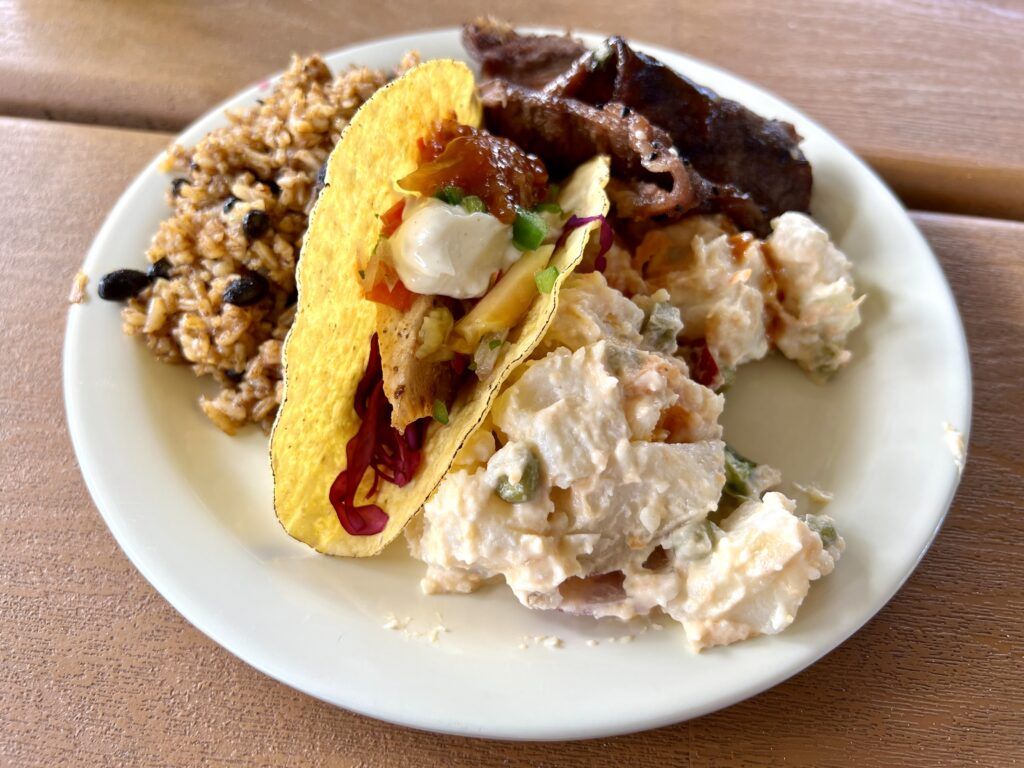 Done with lunch, we settled into some empty loungers near the E villa a little after 12 pm.
As private island beaches go, Half Moon Cay is by far one of the best. The soft, powdery sand and crystal-clear water stretches along the entire shore.
With our ship at less than half capacity, there were plenty of loungers and empty space for all to enjoy.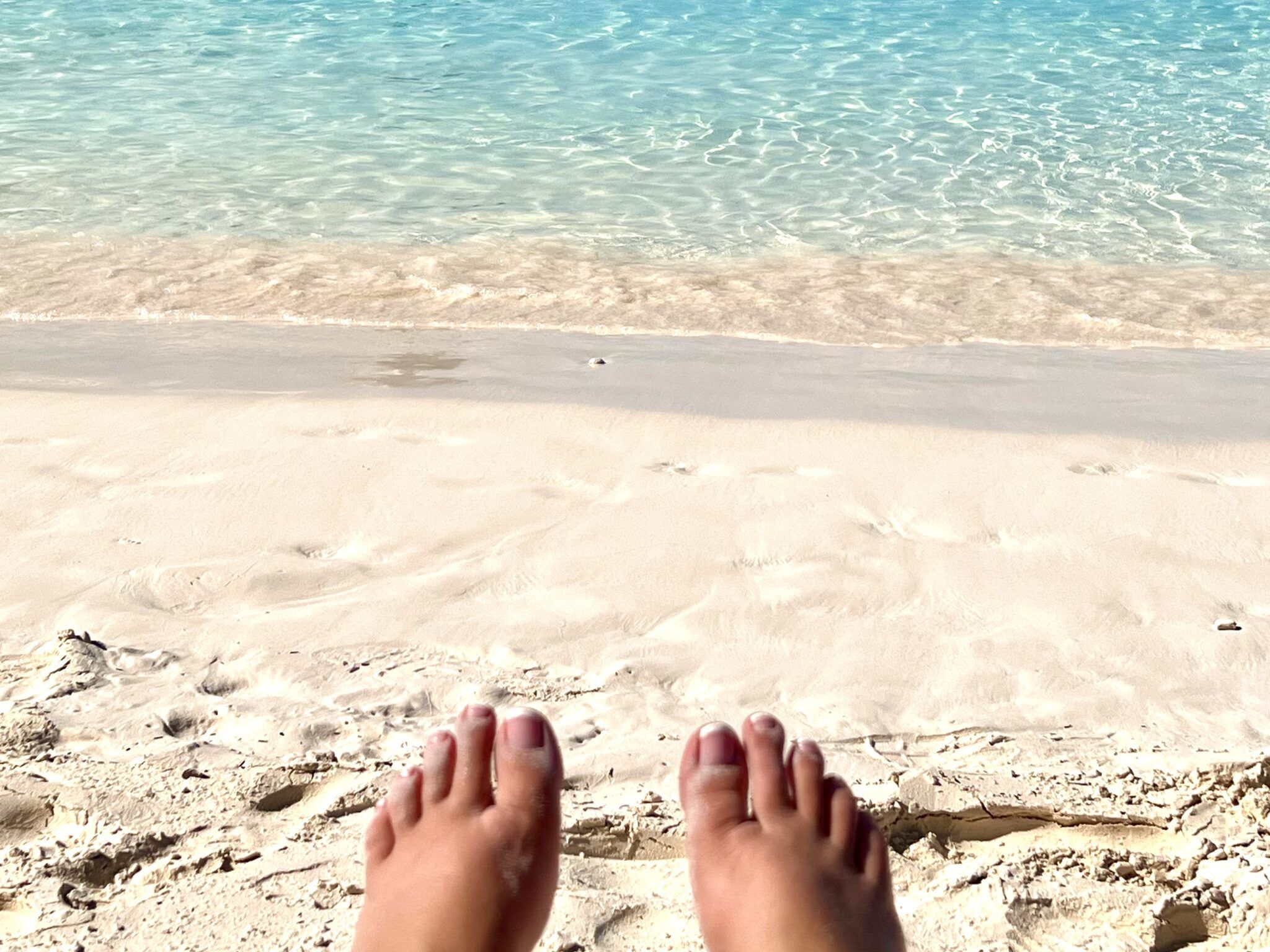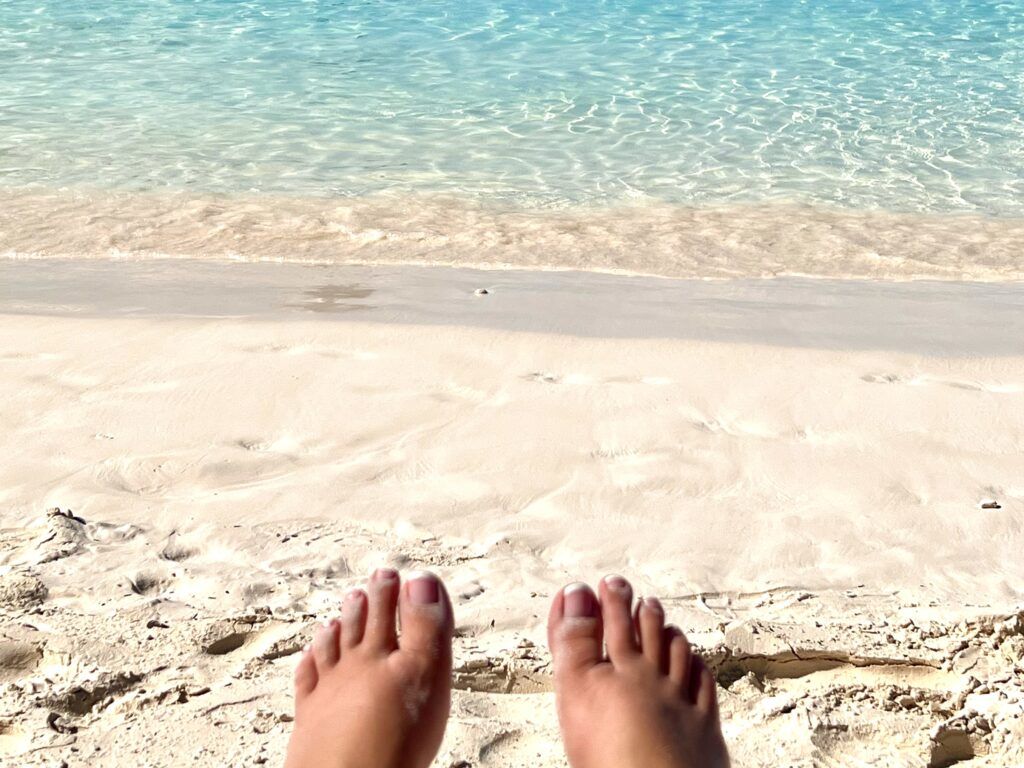 It was another picture-perfect sunny day, so we spent a good two hours just relaxing on the beach.
By 2 pm, the heat was starting to get to the wife. With the bars on the island already closed, we decided to pack up and grab a tender back.
The return to the ship was seamless, as we walked through security, on to a tender boat, and were back on the ship in less than 20 minutes.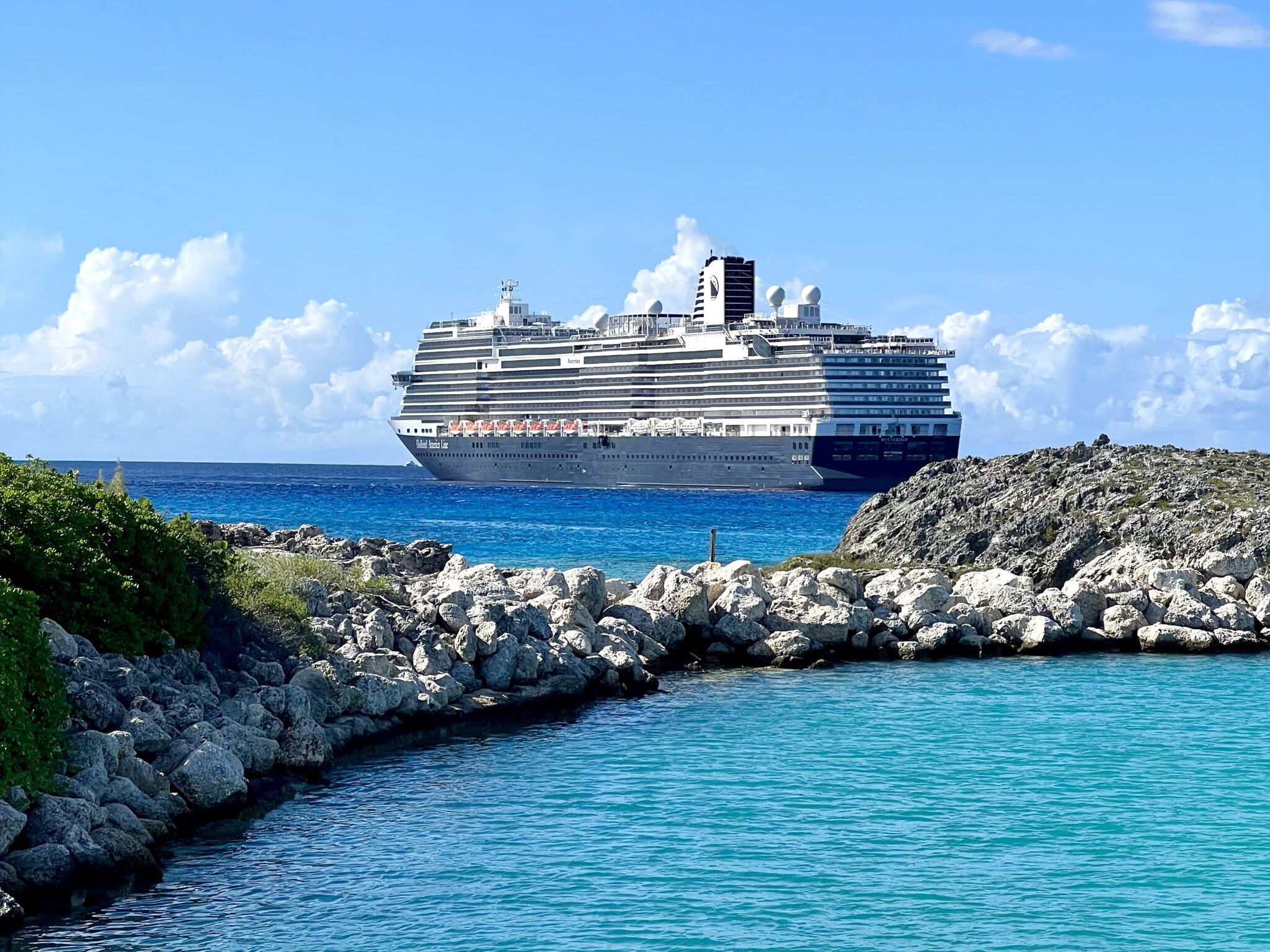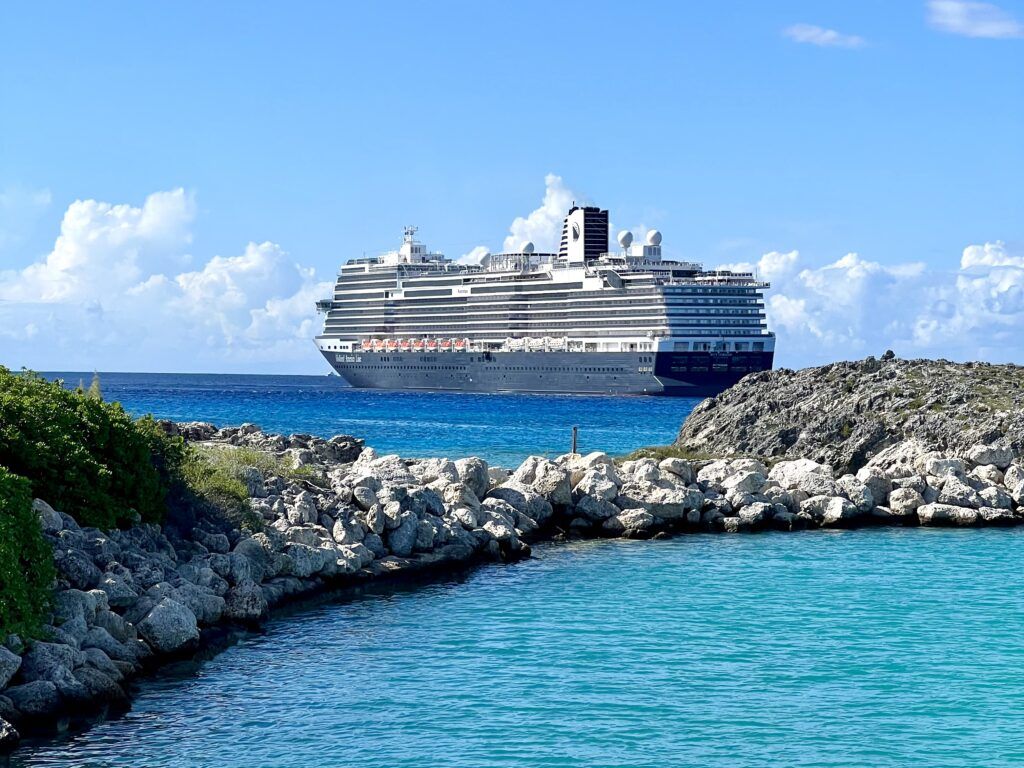 Before heading back to our room, we stopped in at the Café for our afternoon iced lattes.
One Final Night Onboard Rotterdam
Tonight, we had dinner at Tamarind at 6 pm, along with our usual plan of the night's show and some live music. This meant we had to spend some time this afternoon packing.
Back in our cabin, we were able to cool off and pack up most of our belongings before dinner.
There was no better way to end this cruise than with a meal at Tamarind.
Of course, we started with some cocktails, including the Wasabi and the Far East Legacy.
For starters, I went with the pot stickers and the five spice ribs. The pot stickers were prepared in the traditional way, with a succulent filling of lobster and shrimp. The ribs were spicy, with a light sauce and meat so tender that I did not even need a knife.
As one could guess, Heidi did the only chicken options. For a starter, she ordered the satay sampler with just chicken. For dinner, she went with the red curry coconut chicken and an order of dan dan noodles to share.
I couldn't pass up the Szechuan shrimp as my entrée. This spicy dish featured battered fried shrimp and vegetables. To accompany the meal, I ordered the crab fried rice as well. It had just the right amount of flavoring and was a nice upgrade from the typical steamed rice.
For dessert, we both got the yuzu cheesecake. This light, fruity dessert was a refreshing third course, especially after a spicy entrée.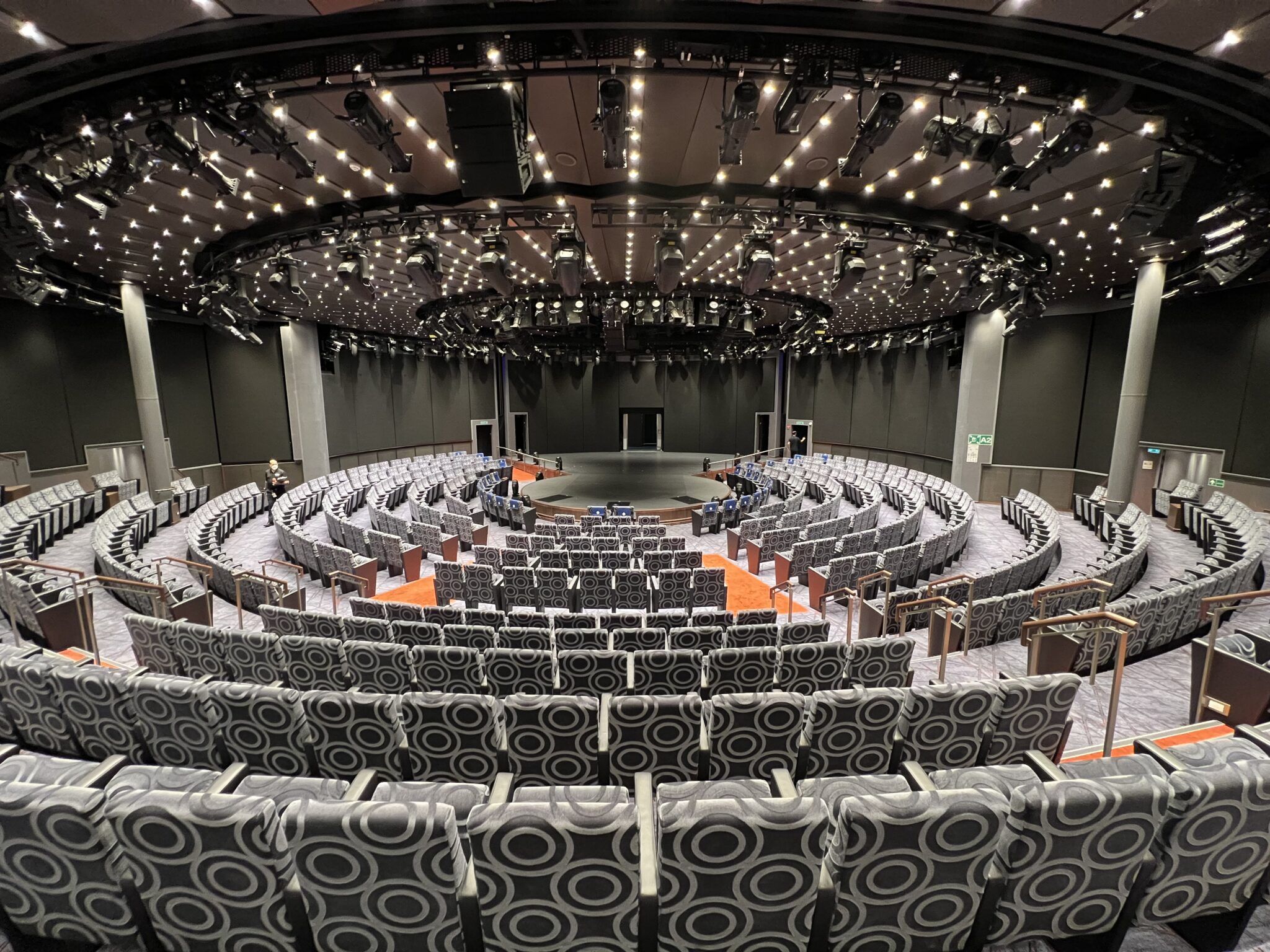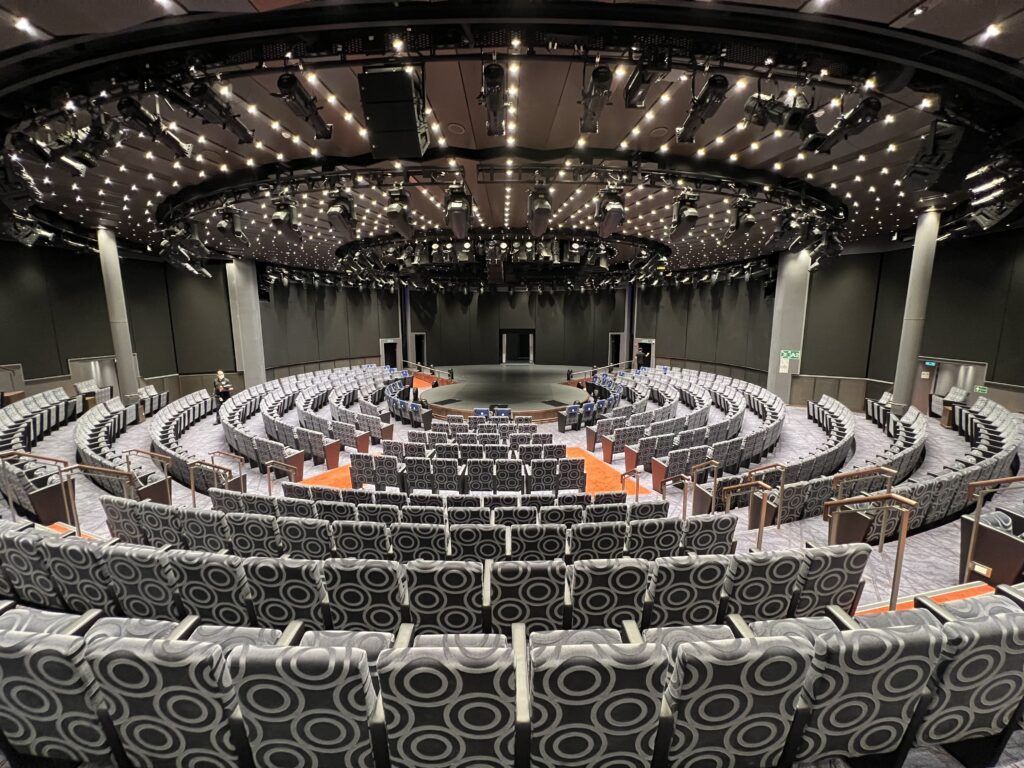 Taking my second drink to go, we headed to the World Stage just in time for the 7:30 pm show. Luckily, the theater was not overly crowded, and we slipped into portside seats close to our typical seating area.
Tonight was the final production show from StepONE. Entitled Musicology, this show featured dance pieces that were inspired by different musical instruments like the guitar, violin, and cello, to name a few.
Following this 40-minute production, we popped into the Rock Room to catch a few songs before heading to Lincoln Center Stage.
The All Star band was off this evening, so this gave us a chance to listen to this orchestra quartet. Oddly enough, the set featuring all American composers was similar to the one on our Alaska cruise.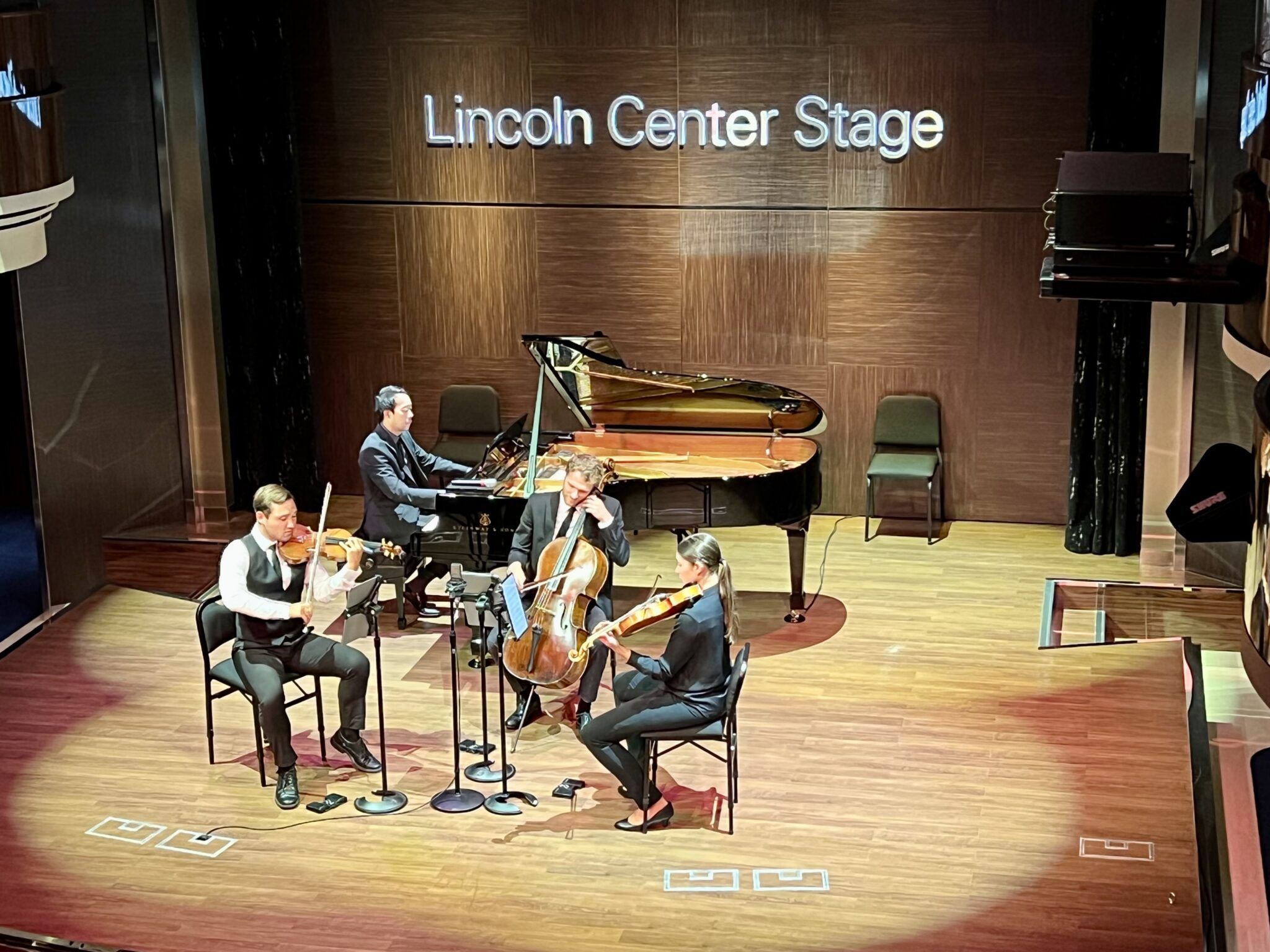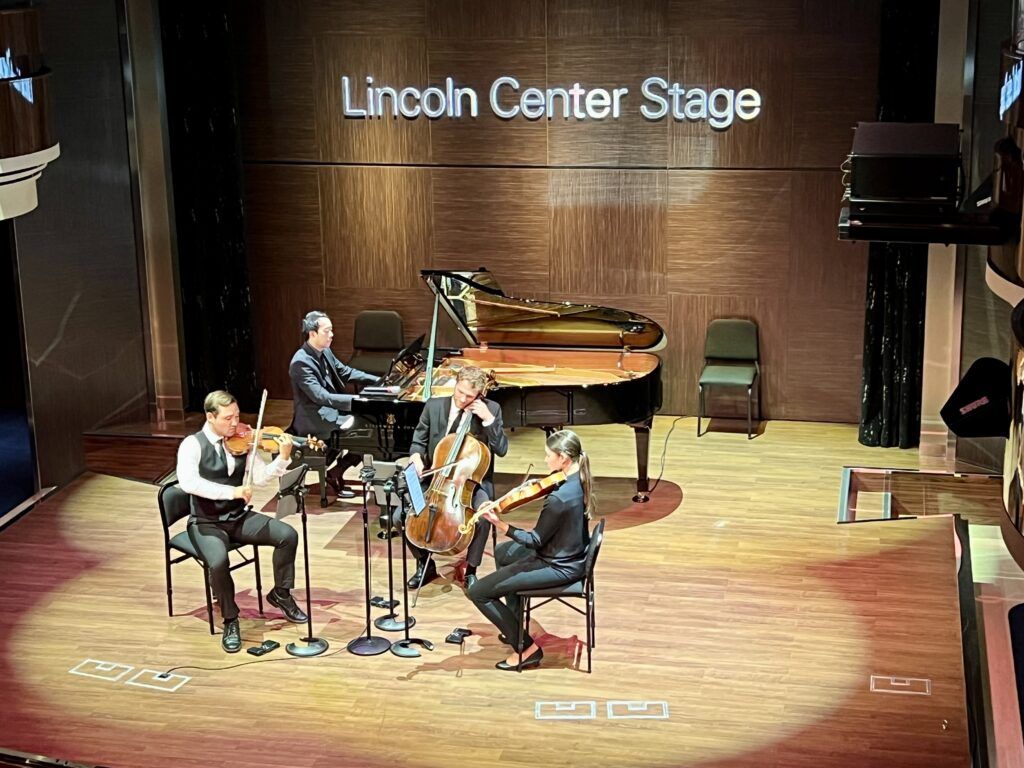 Given we had prime seats, we decided to stay put for the adult comedy show.
For our final drinks of the cruise, I headed down to the Half Moon bar to get another Sea Castles. This classic cocktail was one of my favorites of the cruise. Once I returned with the drink, Heidi ordered her usual espresso martini.
As we predicted, B.B. King's was standing room only by the time the comedian took the stage. This "adult" show was rather tame, with most of the material revolving around some sexual innuendo and a few jokes regarding race.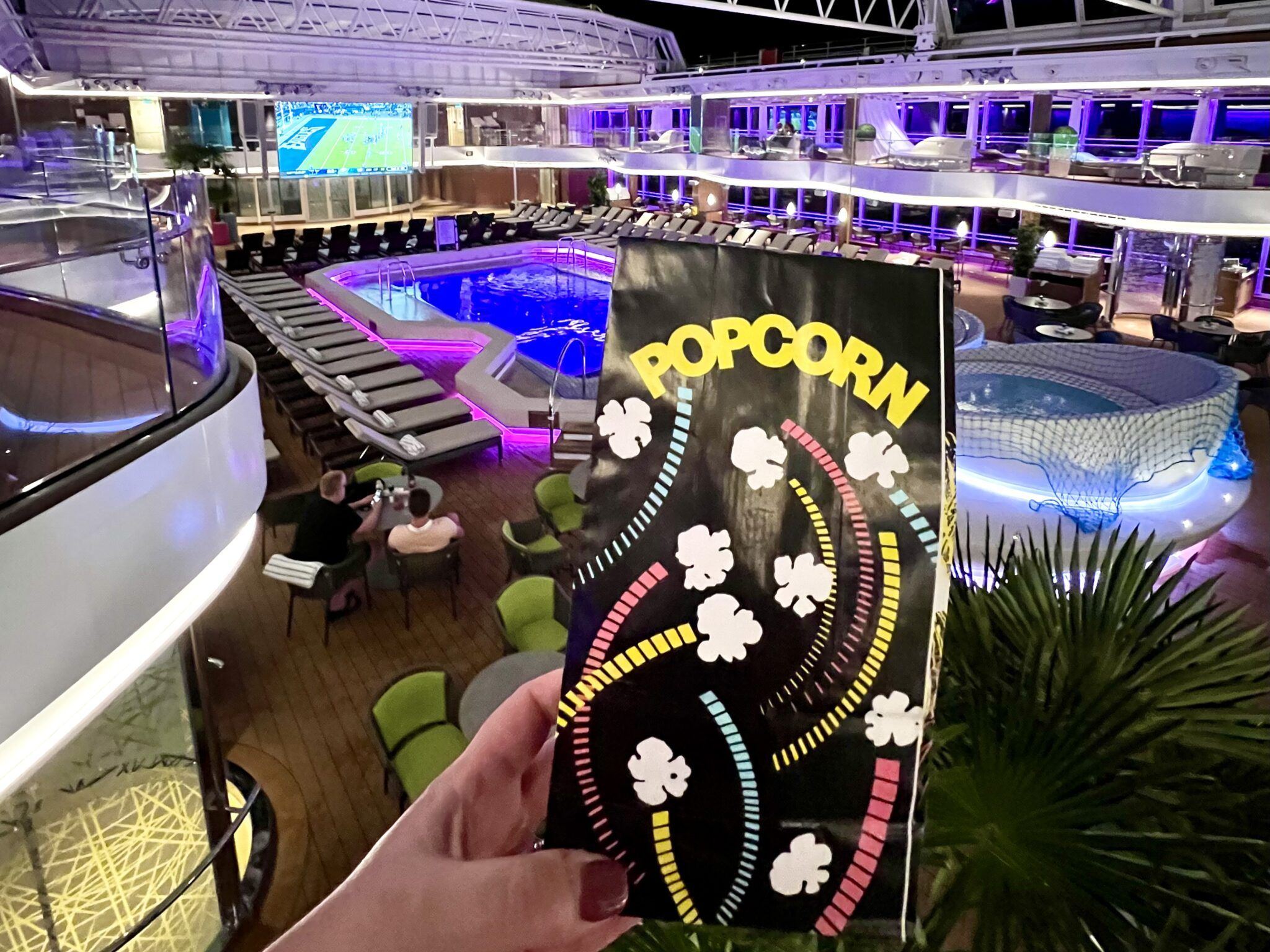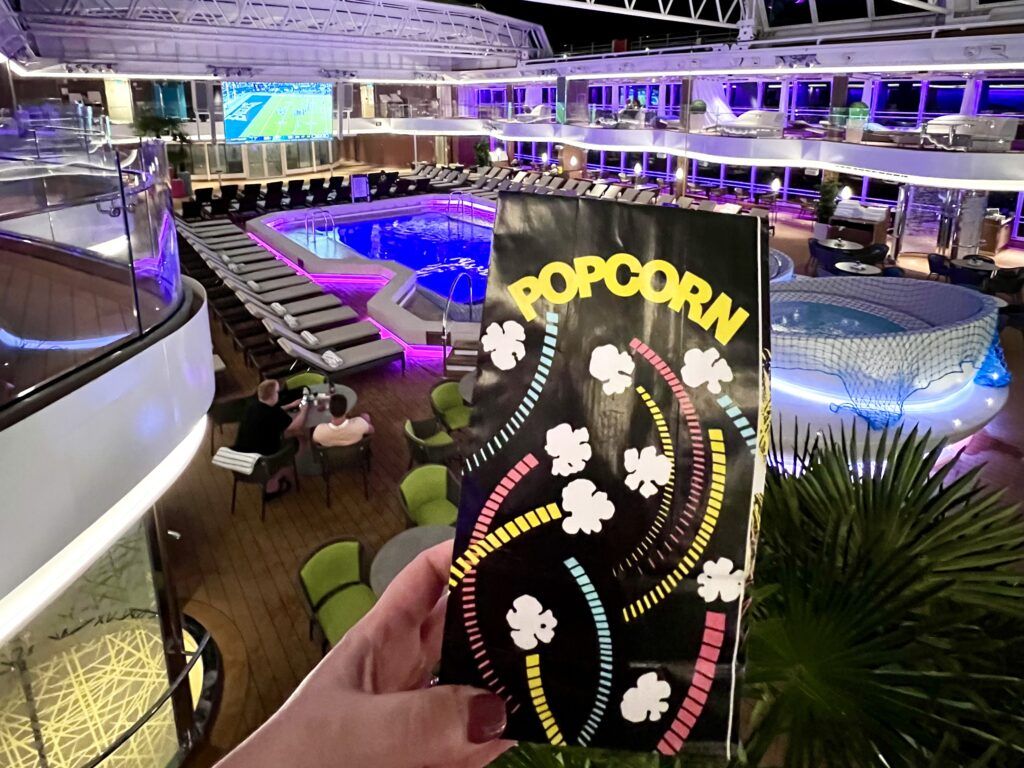 It was 10:30 pm, and we had one outstanding item on our list, trying the ship's late-night poolside snacks. In the name of cruise review research, I was determined to try some of the selections from the Deck 10 New York Deli and Pizza before it closed at 11 pm. Certainly, we were not alone.
We went with a warm pretzel and some chicken wings. There were also bags of pre-made popcorn waiting for us. The food took about 10 minutes, but in the end, it was a bit of a letdown.
Oh well, given there are so many great dining options onboard the ship, we will let this one slide.
By now, it was a little after 11 pm, and we decided to call it a night. At least we would gain an hour of sleep back tonight.
Holland America Line Rotterdam Caribbean Cruise Review – Disembarkation
On Day 3, we received information for disembarkation. Like always, we opted for self check-out.
With a 12:55 pm flight out of Fort Lauderdale, we were in no rush to get off the ship and end this Holland America Line Rotterdam Caribbean cruise review.
With a few remaining items to pack in the morning, we set the alarm for 6 am. As the Princess got ready, I made my way up to the Explorations Café for our morning coffees.
It was still dark out, but I could see we were already docked at the port. It also appeared we were at a different terminal than the one we left from 7 days ago.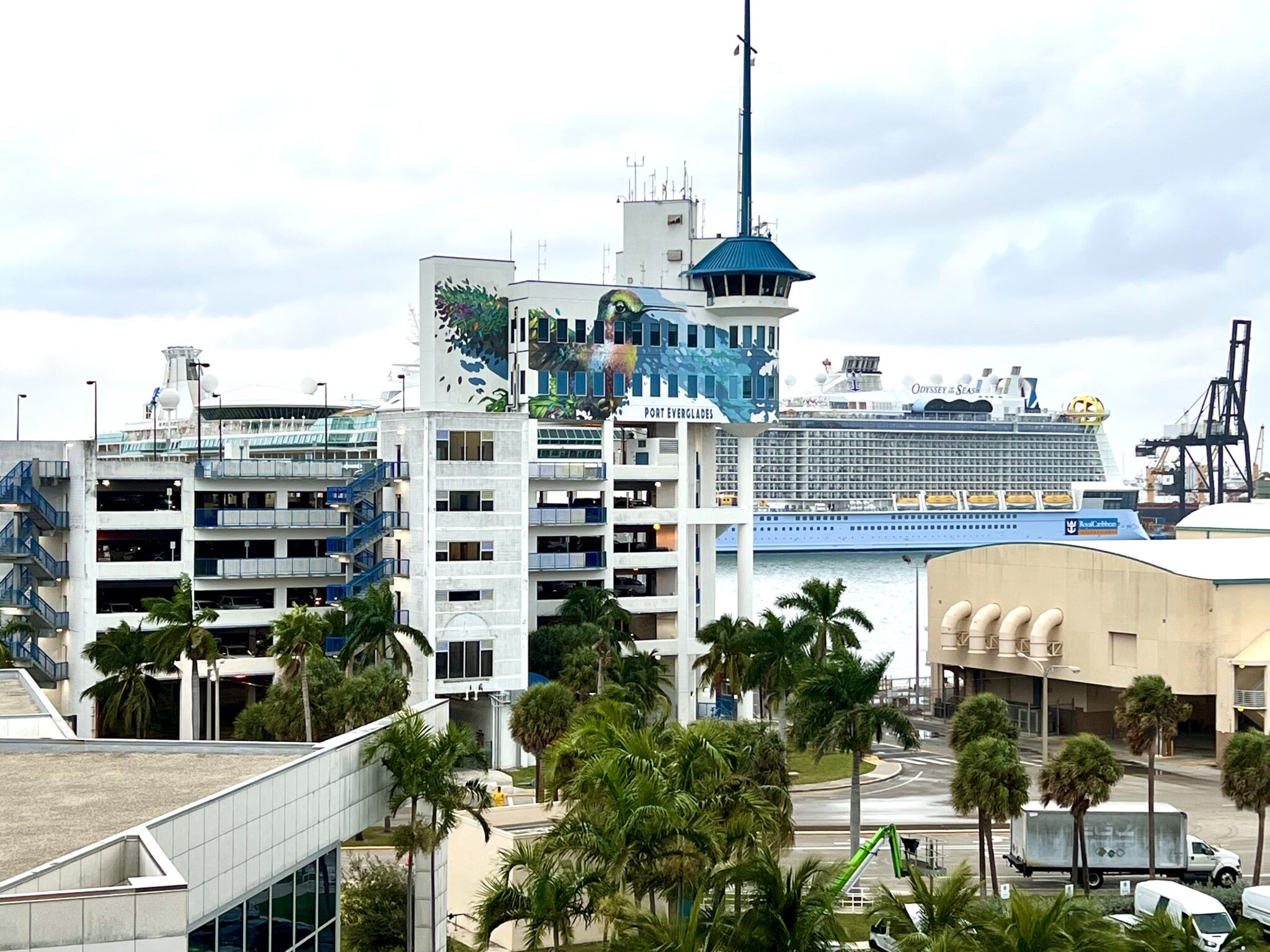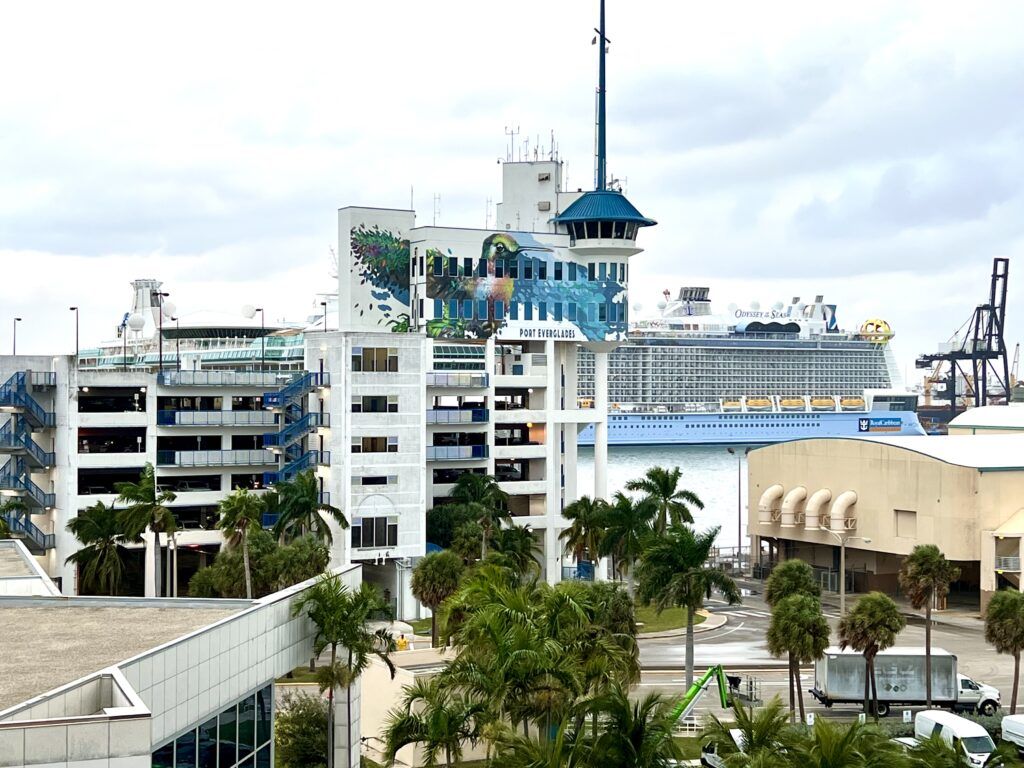 By 7:15 am, the cruise ship was already cleared, and guests were beginning to disembark.
A Quick and Simple Disembarkation
We were ready to leave a little after 8 am. Surprisingly, we were able to get an empty elevator right away. It even descended uninterrupted from deck 6 all the way down to the deck 2 gangway.
There was no line whatsoever. So, we were able to go from the elevator to the terminal without stopping once.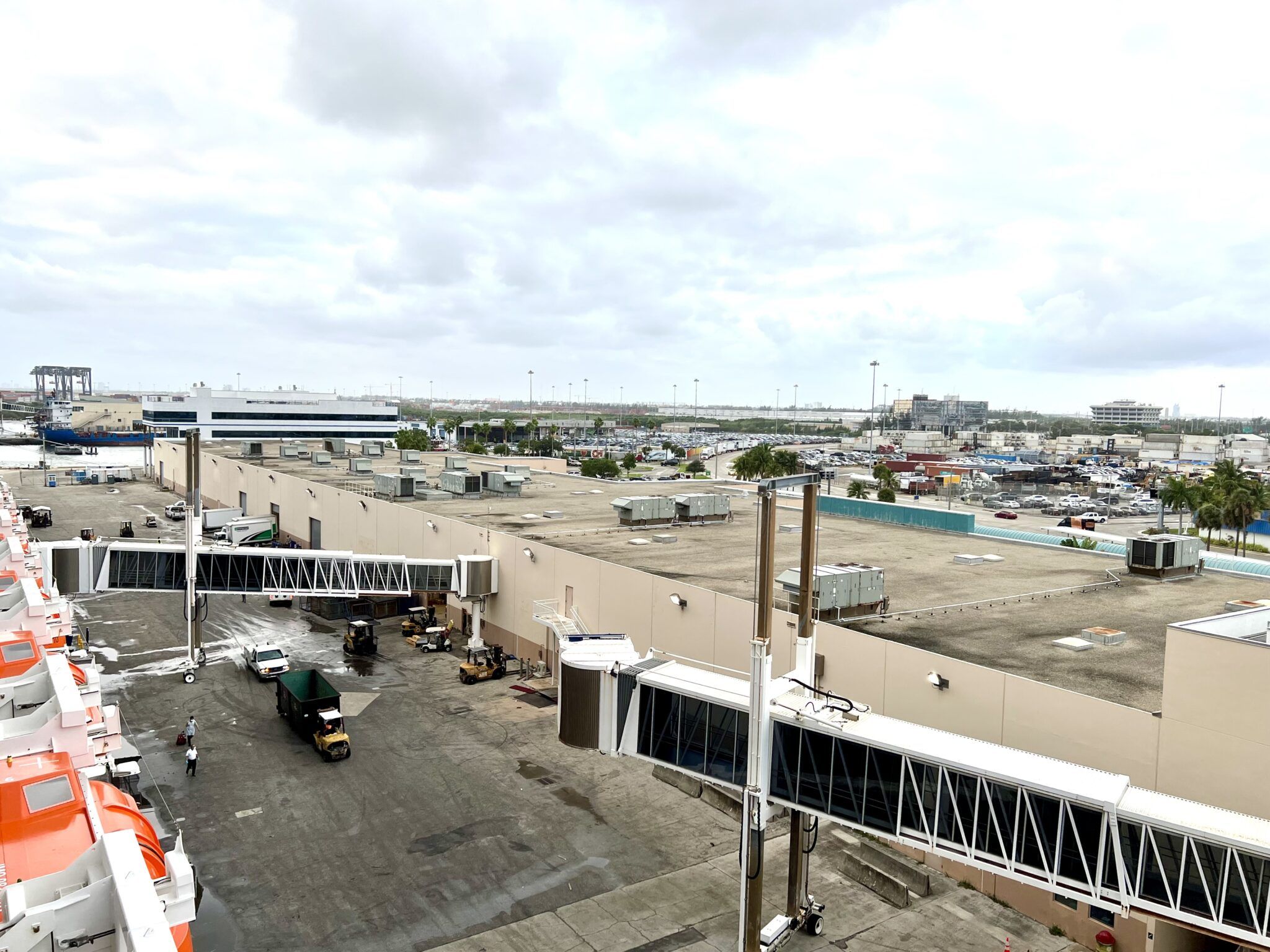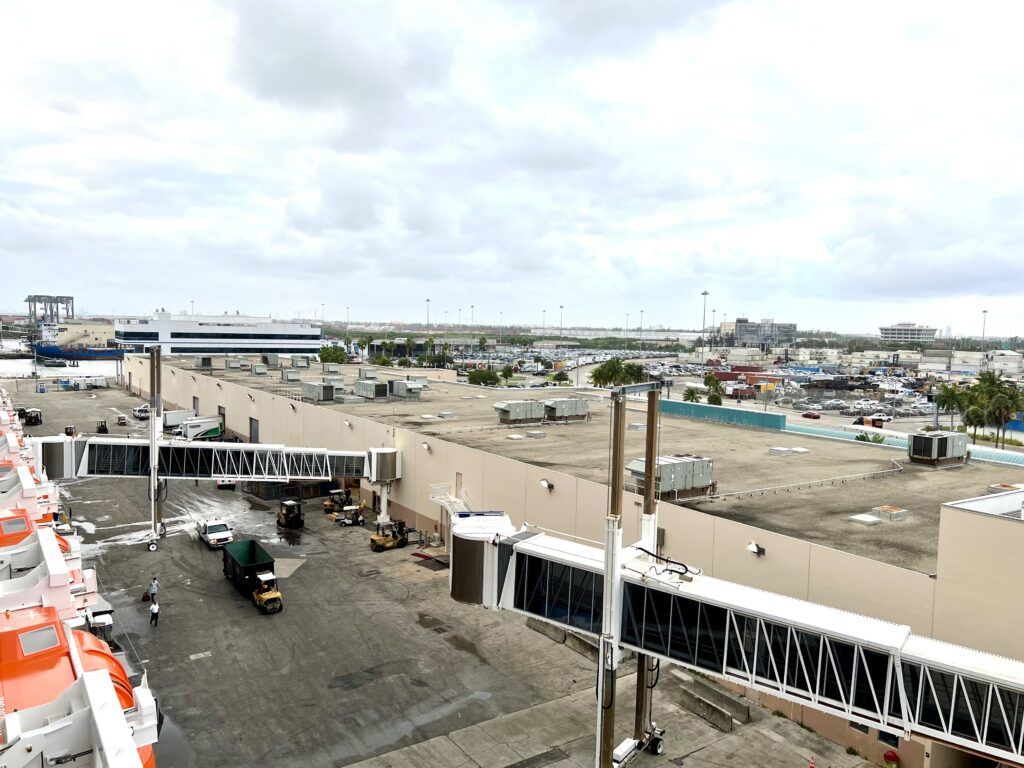 There was a small line at border patrol in Terminal 26, as it did not have the facial recognition stations. Still, we waited less than 10 minutes to be processed and exit the terminal.
In fact, we had to wait 15 minutes at the American Airlines check-in counter before we could even check our bags.
The airport was actually busier than when we traveled for Thanksgiving. The security line took a while, but we have plenty of time before boarding our flight around 12:20 pm.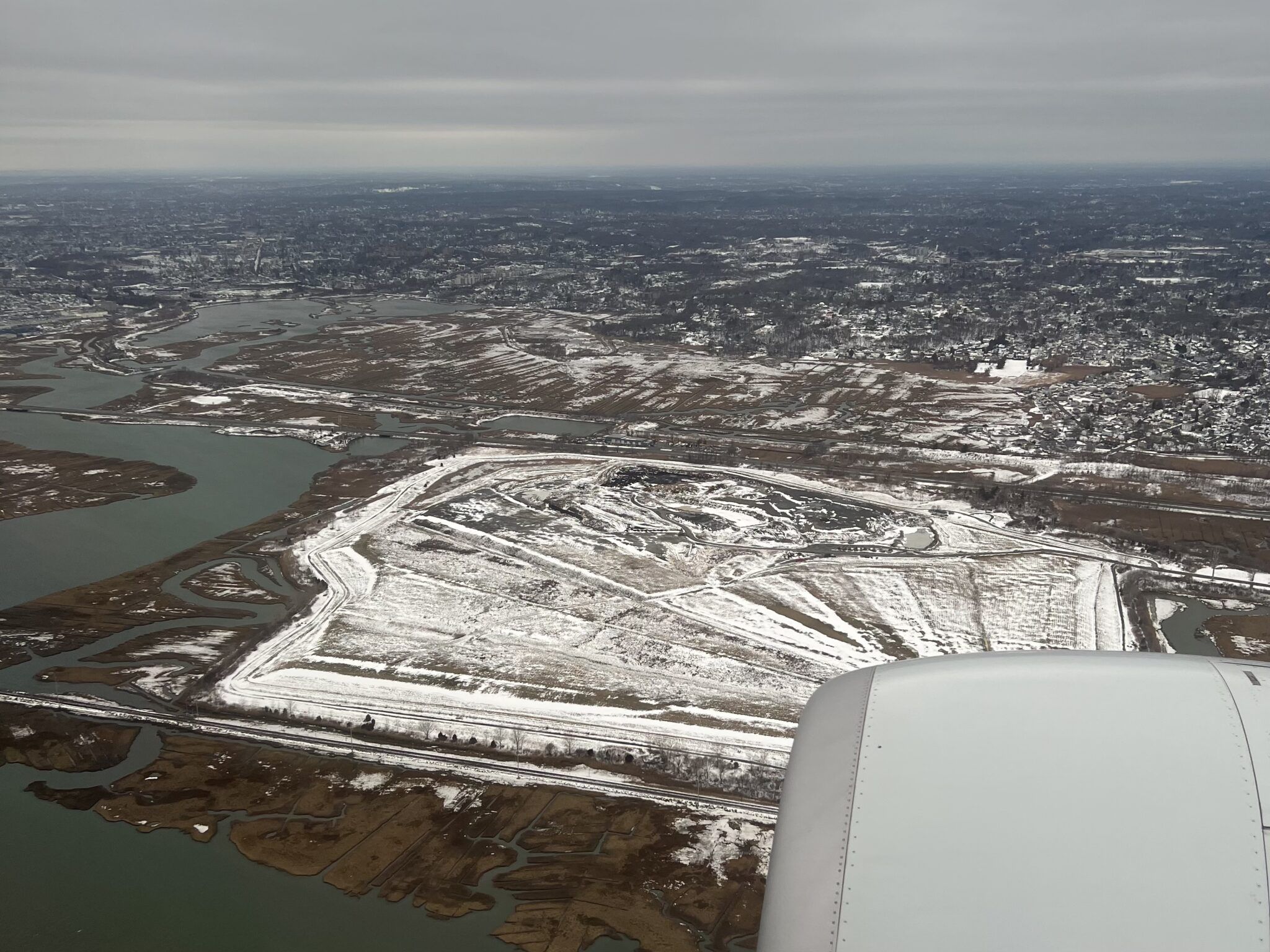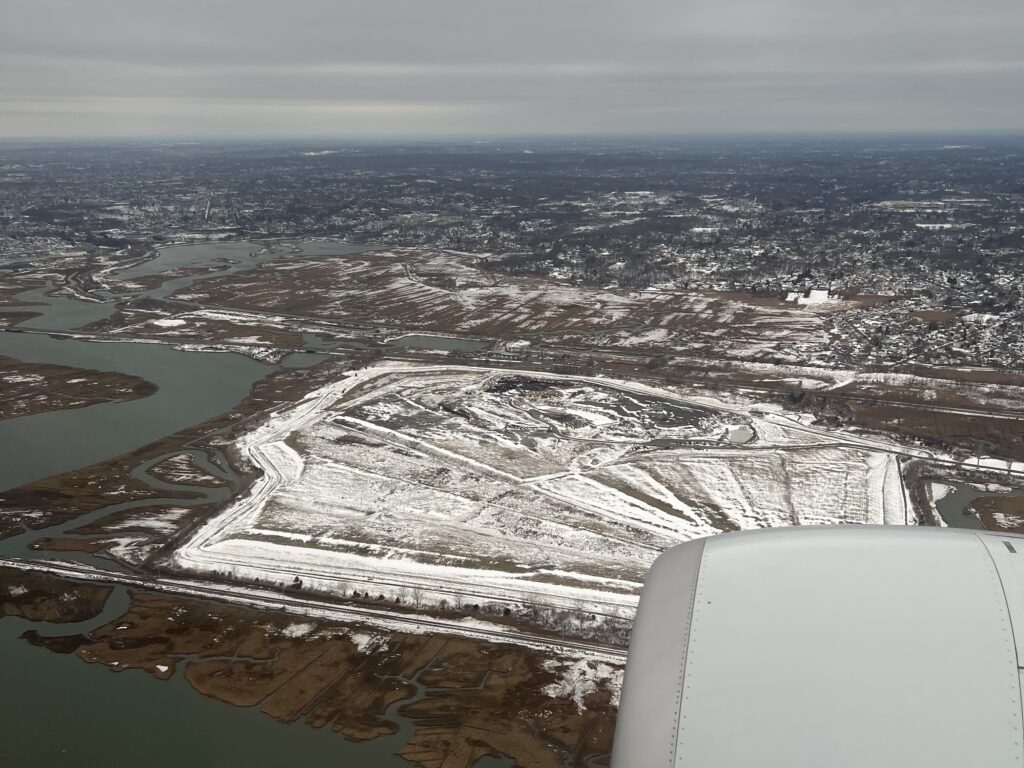 We returned to our house in the early evening to a few inches of snow and ice. Thankfully, this cold greeting was going to be short-lived, as we had plans for our most exotic destination yet next month, a 10-day trip to Tahiti!
Comments
Did you enjoy our Holland America Line Rotterdam Caribbean Cruise Review? Do you have plans to sail on this new HAL cruise ship? Drop us an anchor below to share your experiences cruising with Holland America.