When it comes to enjoying a drink, Holland America Line offers cruisers a variety of bars and lounges. Not sure where to start? We just returned from our first sailing with the brand on Nieuw Amsterdam. So, we have put together this Holland America Line Bar Guide including all of the details and bar menus to help you make the difficult decisions. Cheers!
Holland America Line Bar Guide
Pinnacle Bar – Deck 2
Located adjacent to the Pinnacle Grill, this bar is a great place to grab a pre-dinner cocktail before enjoying your elegant dining experience at this specialty restaurant.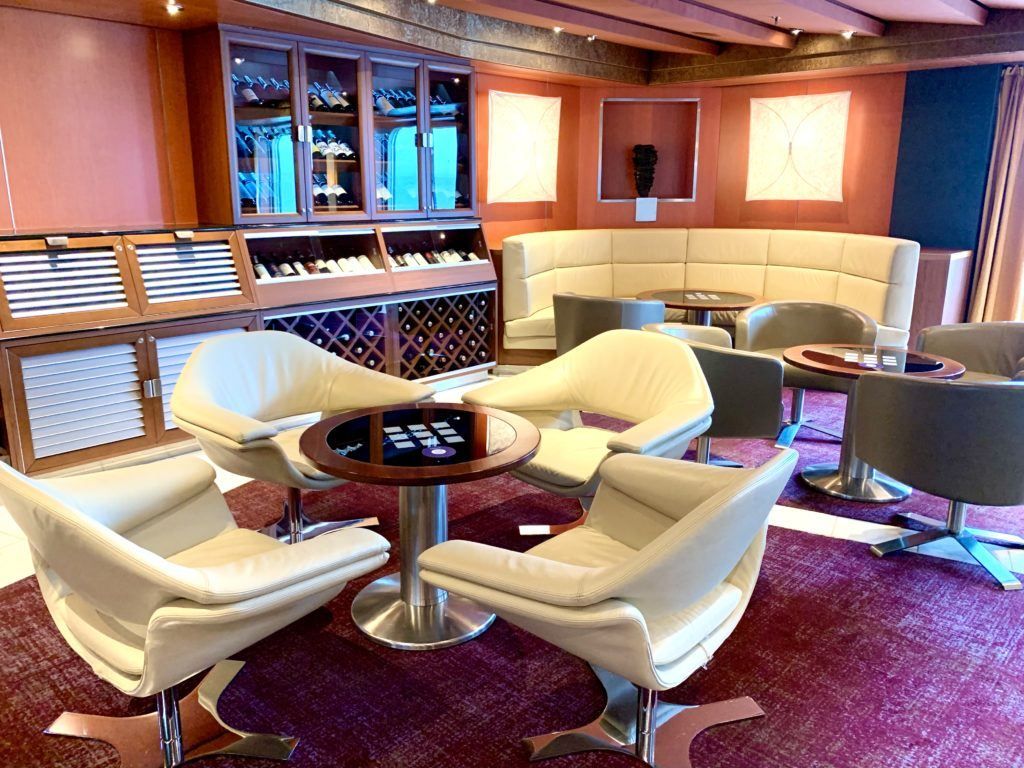 The Pinnacle Bar offers full bar service and selections from the standard bar menu. This menu features a large variety of wines, beers, and spirits. There are also handcrafted cocktails from master mixologist Dale Degroff on the menu.
Related Post: Holland America Line Alaska Cruise Review
B.B. King's Blues Club – Deck 2
The B.B. King's Blues Club brings the best of Memphis to the high seas. This intimate entertainment venue features soulful musical performances paired with great signature cocktails.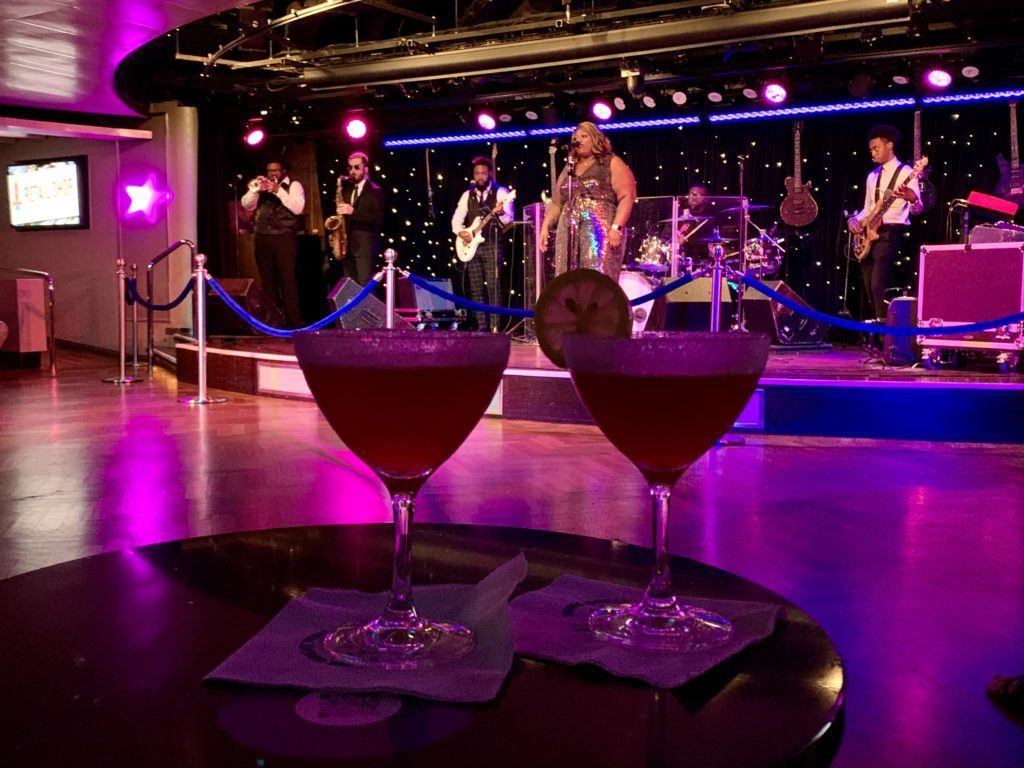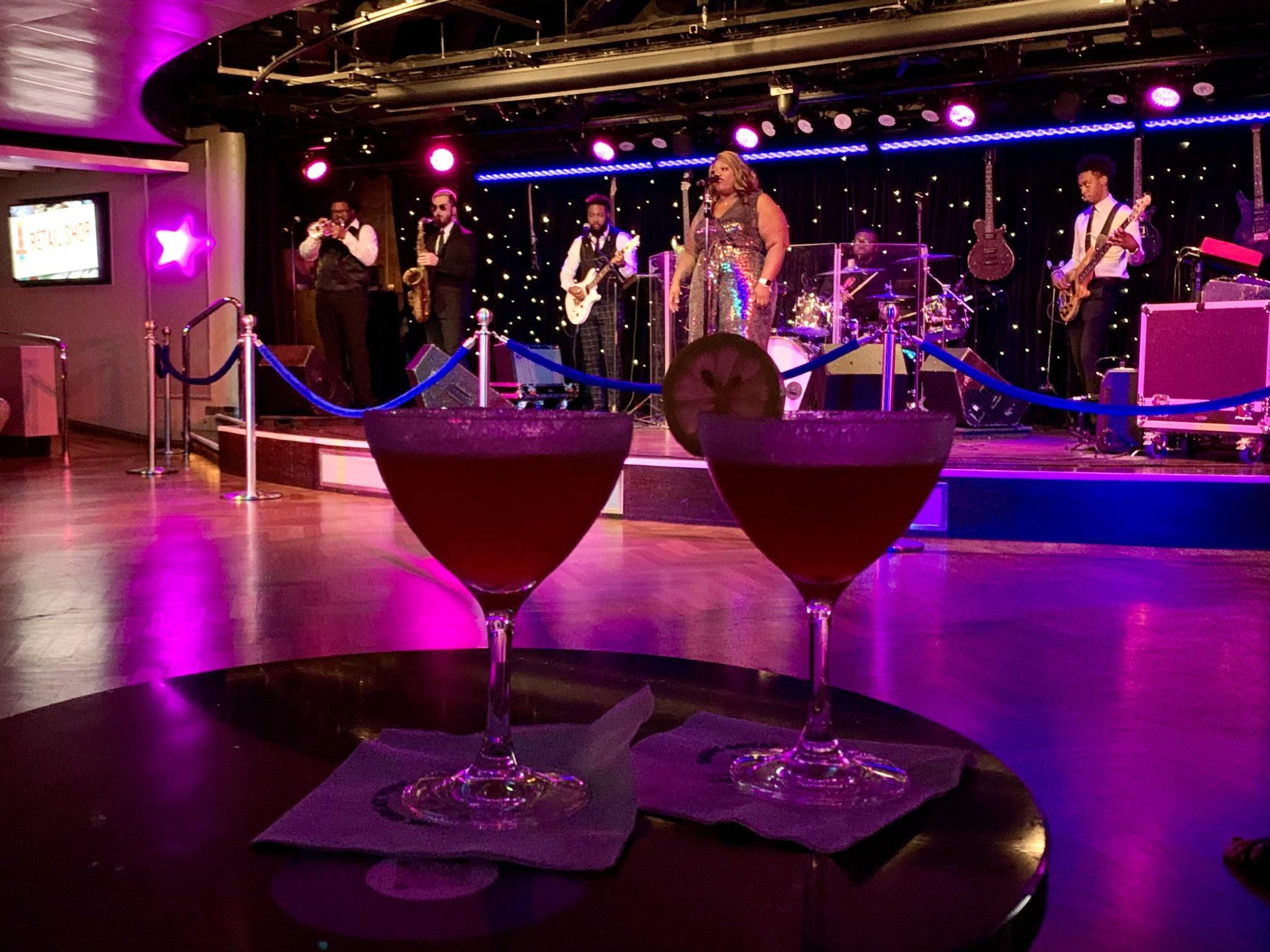 The menu includes musically inspired drinks like the Rhythm and Blues, Roadhouse Drop, and Hootchie Cootchie. You will definitely want to sample these signature cocktails while enjoying the nightly performances.
Gallery Bar – Deck 2
The Gallery Bar is a unique art themed bar located near Billboard Onboard and the Casino. Its location makes it an ideal spot to gather with friends away from the crowds. Yet, it is still close enough to hear the live piano music from Billboard Onboard in the background.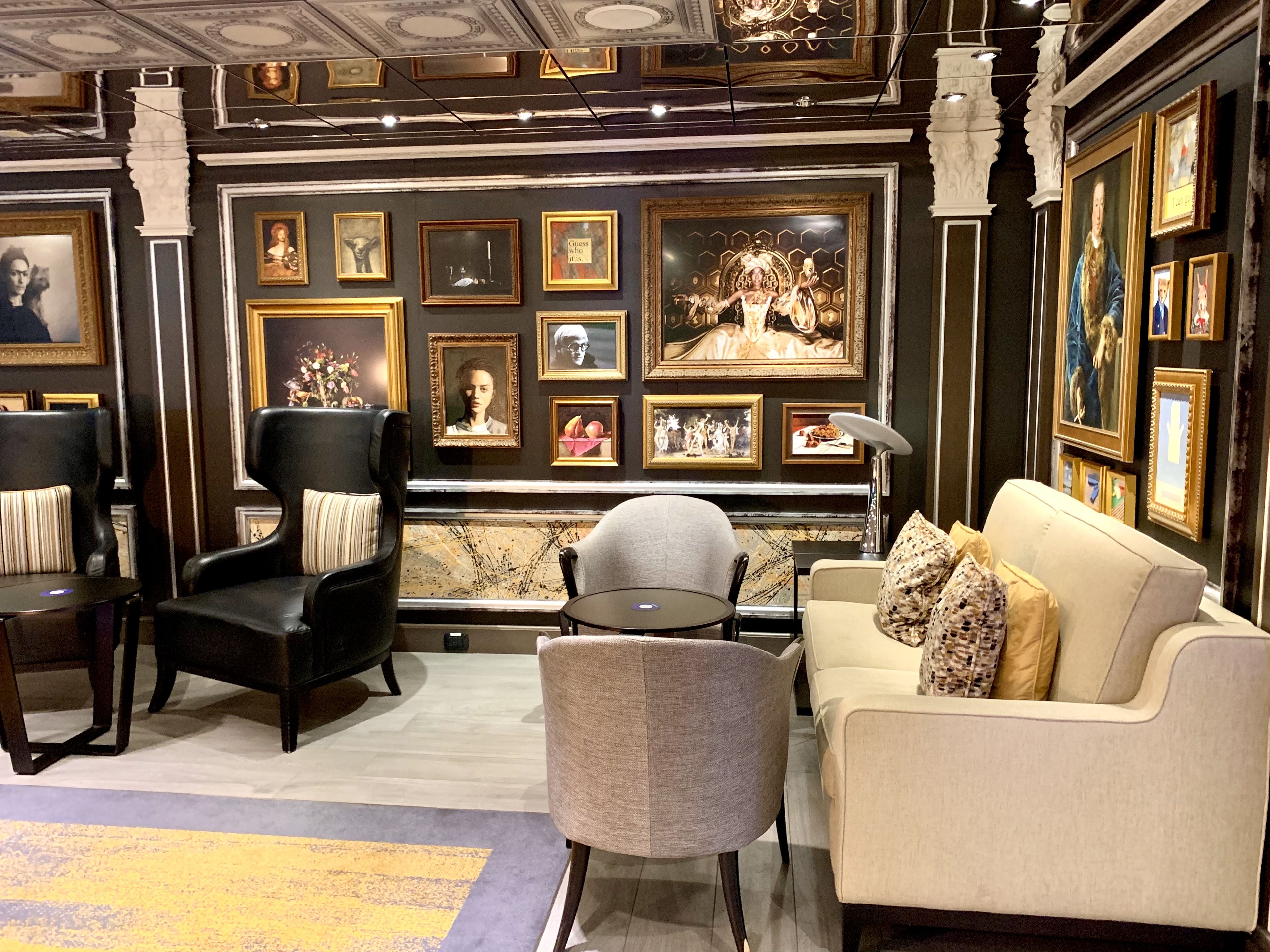 Offering its own signature drink menu, you certainly don't want to overlook this bar on Nieuw Amsterdam. Here, you can sip drinks like a Hemingway Daiquiri or the "slightly less than perfect" Perfect Manhattan.
Billboard Onboard – Deck 2
Billboard Onboard is another popular entertainment space featuring live music and drinks on Holland America Line. A nighttime hub of activity, Billboard Onboard features performances by a piano duo most evenings of the cruise.
With great music, a lively atmosphere, and equally delightful cocktails, you might find yourself spending quite a bit of time here. We enjoyed the selection of craft cocktails, with the Ultimate Raspberry Lemonade and the Whiskey Smash being among our favorites on the menu.
Ocean Bar – Deck 3
The Ocean Bar is centrally located on deck 3 at the top of the Atrium making it a nice spot to grab a cocktail before heading to dinner in the Dining Room. It is also a nice spot to relax away from the crowds.
We did feel that this venue was under-utilized though. There was a piano tucked away in the corner, but no events or live music ever occurred here during our cruise. Nonetheless, the Ocean Bar does feature some signature drinks on its menu and Happy Hour specials.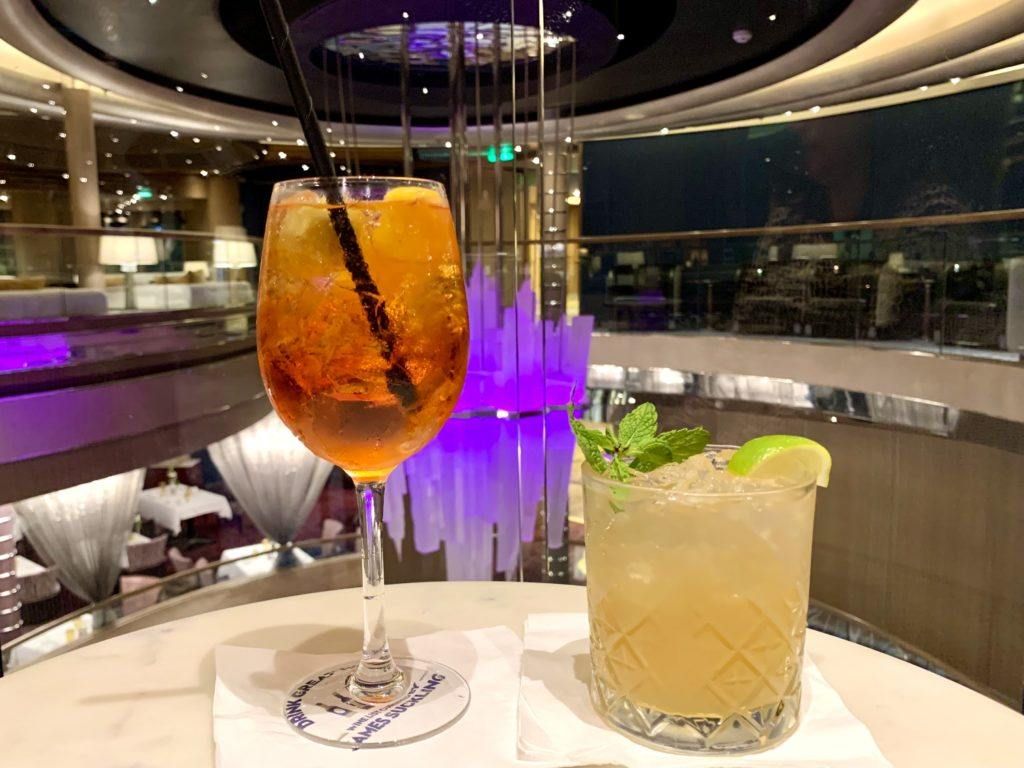 Sea View Bar – Deck 9
Located aft on deck 9 near the Sea View Pool, this bar offers great wake views and cocktails. If the weather allows on your Nieuw Amsterdam Alaska cruise, we suggest pulling up a seat at this venue to enjoy the fresh air and amazing scenery.
We enjoyed sail away here on embarkation day. We also soaked up some sun on the last sea day and actually spotted a pod of orcas near the ship.
This bar's menu is the same as the Lido Bar (see below).
Related Post: Holland America Line Restaurant Guide
Lido Bar – Deck 9
The Lido Bar is your classic pool bar. Located right next to the main pool, this will be your go-to spot while lounging poolside. The great thing about the Lido Pool on Holland America Line is the retractable roof, so you can enjoy some pool time and cruise cocktails no matter the weather.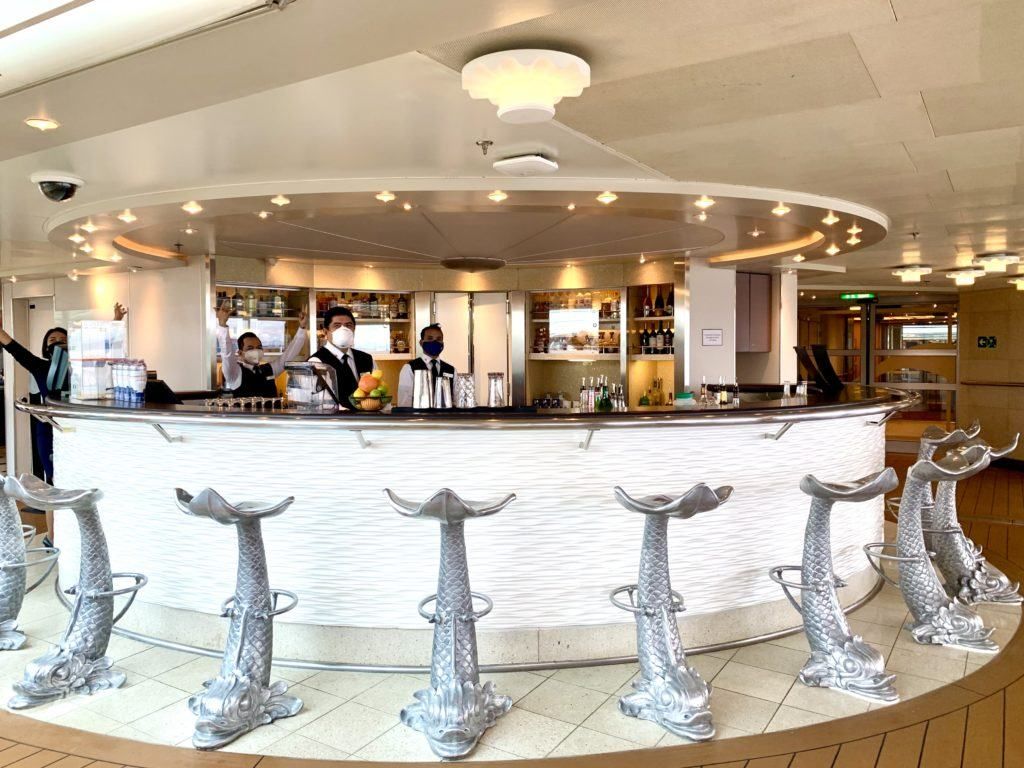 The Lido Bar menu features some classic cruise cocktails like the Bahama Mama and Painkiller. It also includes a variety of mojitos, daiquiris, and margaritas.
Tamarind Bar – Deck 11
The Tamarind Bar is located on the top deck adjacent to the restaurant making it the obvious choice for a pre-dinner cocktail before dining at this specialty venue. Given its location on the ship, this bar offers great ocean vistas paired with signature cocktails.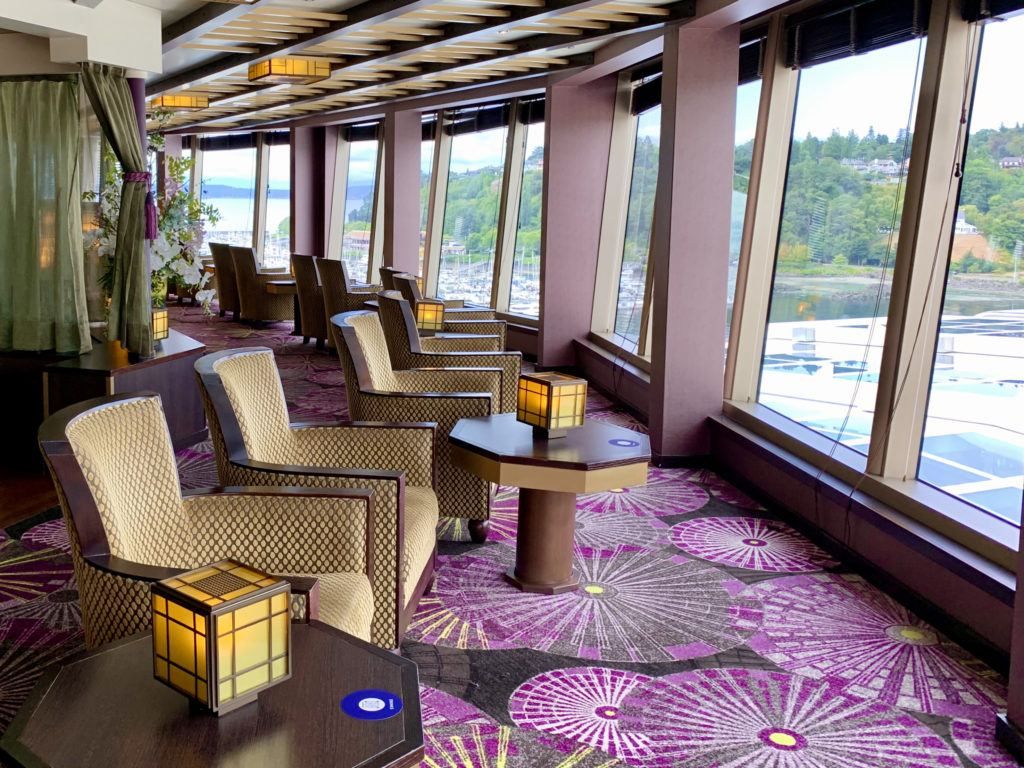 It features Asian inspired décor and drinks like the Wasabi cocktail, the Emperor's Nectar, and the Far East Legacy.
This venue is a bit of a hidden gem.
Explorations Café (Crow's Nest) – Deck 11
The Explorations Café is your go-to spot for espresso based drinks. Whether you want to relax with a morning cup of coffee or grab an afternoon latte after returning from your day ashore, this café's menu features it all.
At night, this venue offers great panoramic views alongside cocktails. Of course, you can never go wrong with some espresso martinis.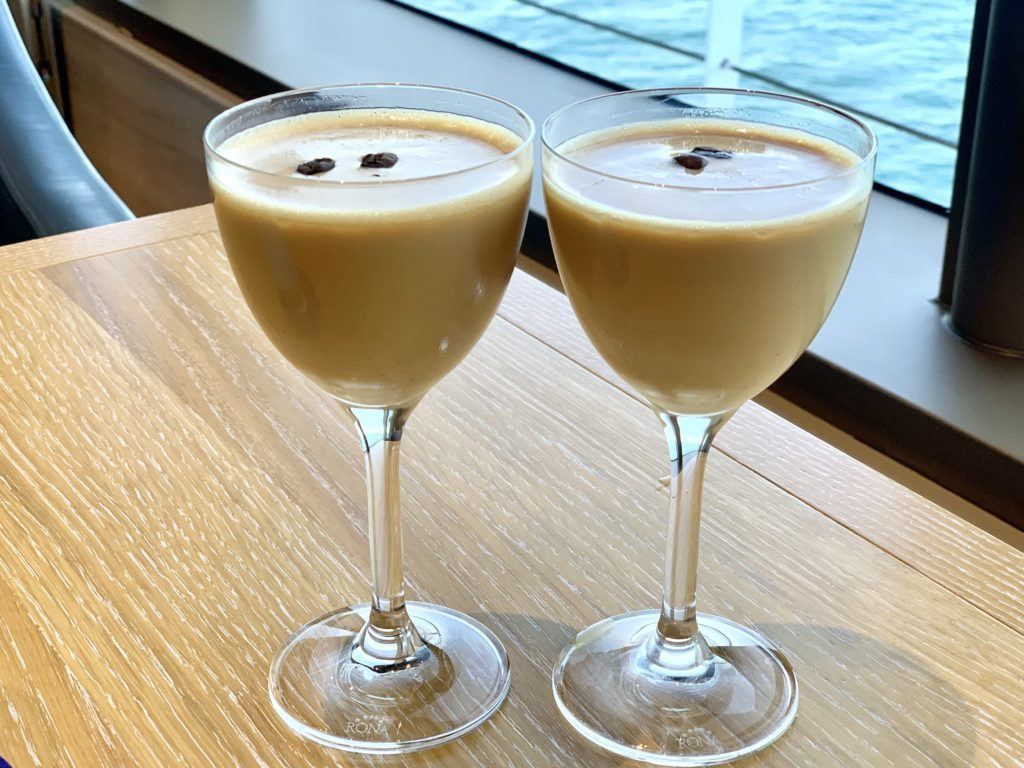 Explorations Café Coffee Menu | Explorations Café Drink Menu
With so many signature drinks at bars throughout the ship, there's no better time to start planning a bar crawl for your next Holland America Line Cruise!
Comments
Did you enjoy this Holland America Line Bar Guide With Menus? What are your favorite HAL bars? Drop us an anchor below to share your top cruise drinks.