It certainly pays to be loyal to one particular cruise line. Most cruise lines offer incentives for repeat customers with loyalty programs. In addition, these tiered programs offer cruisers more and more perks as they work their way up the ranks. In this Complete Guide to Norwegian's Latitudes Rewards Program, we provide all the details on each level in this loyalty program including all the associated benefits.
Guide to Norwegian Cruise Line's Latitudes Rewards Program
How to Sign Up for Norwegian's Latitudes Rewards Program
Becoming a member of Norwegian's Latitudes Rewards Program is easy. All you need to do is take a cruise with NCL! All Norwegian Cruise Line guests who are 18 years or older are automatically enrolled in the Latitudes Rewards program within 48 hours after a completed sailing. Minors will receive all points earned on their first cruise taken after they turn 18 years of age.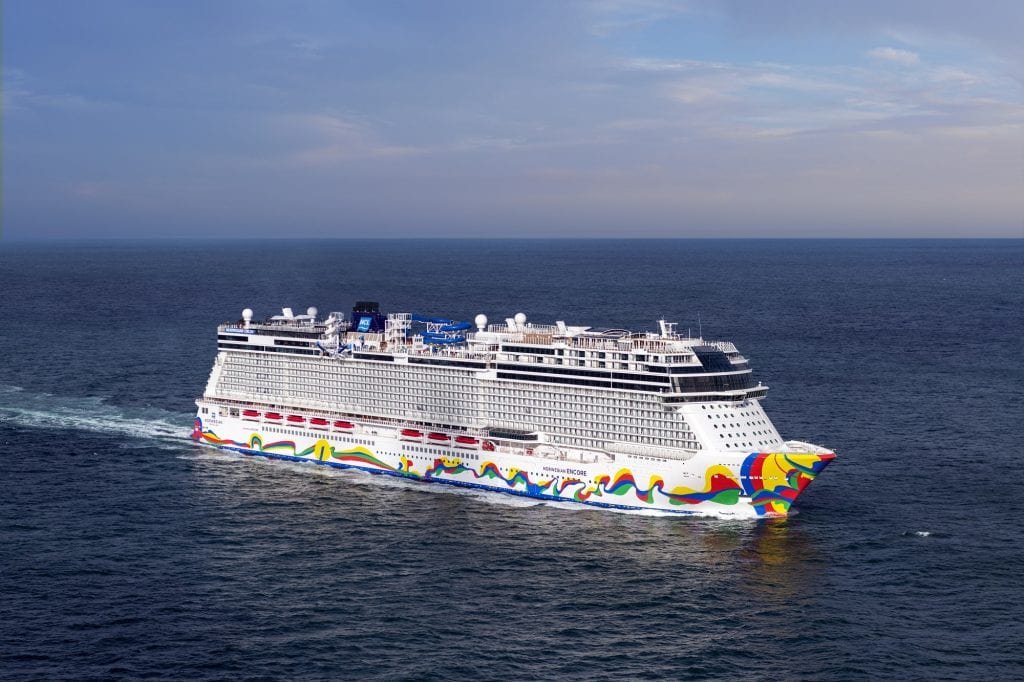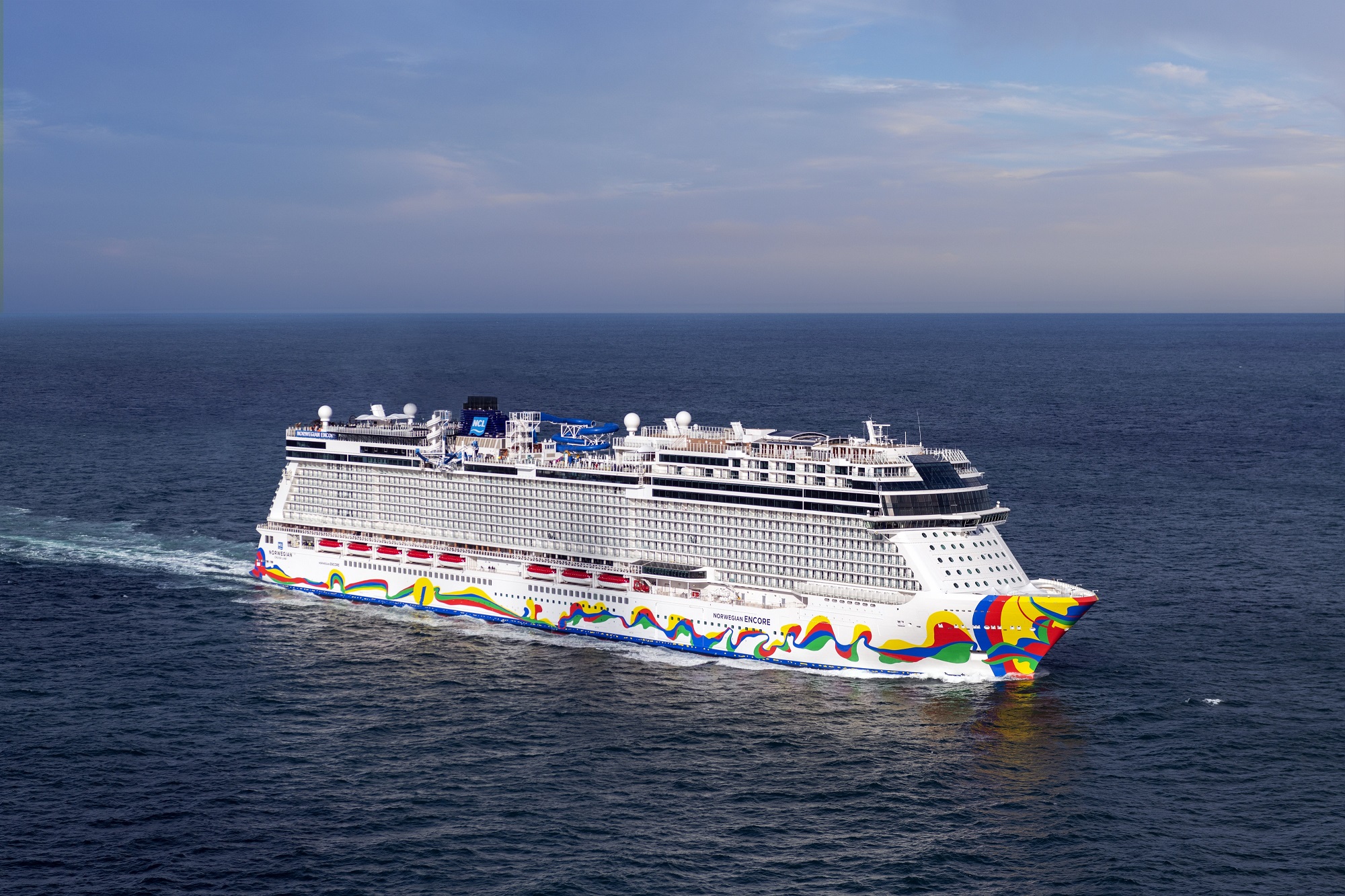 Cruisers then receive loyalty points equal to every cruise night. For instance, a 7-day cruise will earn you 7 points. In addition, guests who book Concierge, Suites, or The Haven will earn double points. Of note, Mini-Suites and Club Balcony Suites are not included in this offer. This point structure applies to all cruise destinations.
Related Post: Beginner's Guide to Cruise Planning
Further, NCL will occasionally have Latitudes Rewards Insider Offers which qualify for double points when booking.
How to Earn Points in Norwegian's Latitudes Rewards Program
As mentioned above, you will accrue Latitudes points for each night you spend on a Norwegian Cruise Line ship. Cruisers will receive these points after completing their cruise. Therefore, if a current sailing bumps you into the next level, you will not recognize the new benefits until your next sailing.
Further, you earn Latitudes points based on the cabin category for which you paid during the initial reservation. It does not apply to upgrades. If you receive a free or discounted upgrade to a Suite or The Haven you will not receive Suite points. Also, cruisetour nights do not accrue points either. However, guests sailing with Friends & Family rates and/or Casino cruises will still earn points.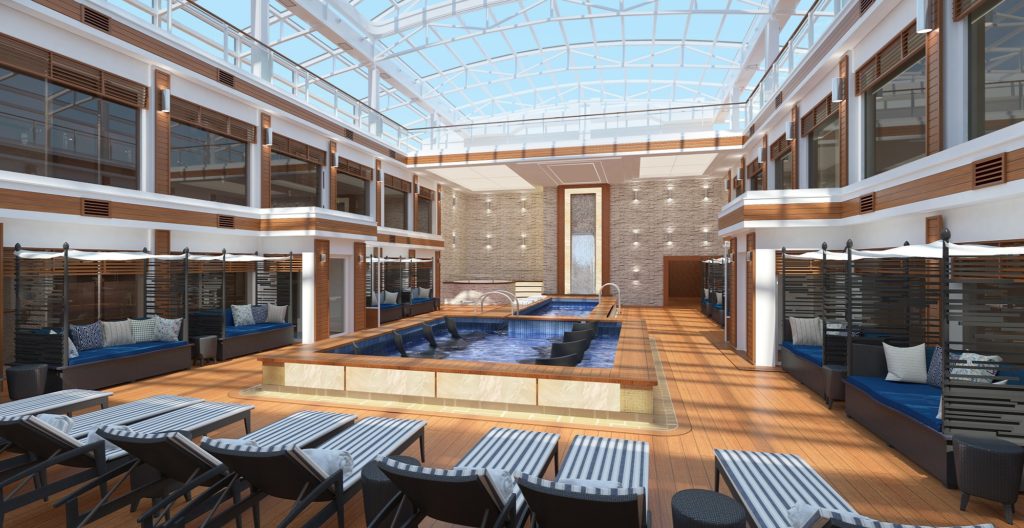 Chartered cruises (with the exception of Sixthman charters), inaugural events, and cruises taken via a cruise certificate do not qualify for rewards points.
Norwegian's Latitudes Rewards Program was last updated in 2017. Now, you will no longer receive the additional points for booking nine months or more in advance. You also need more points to achieve higher tier status now. Though, the point structure is exactly the same as Royal Caribbean's Crown and Anchor Society.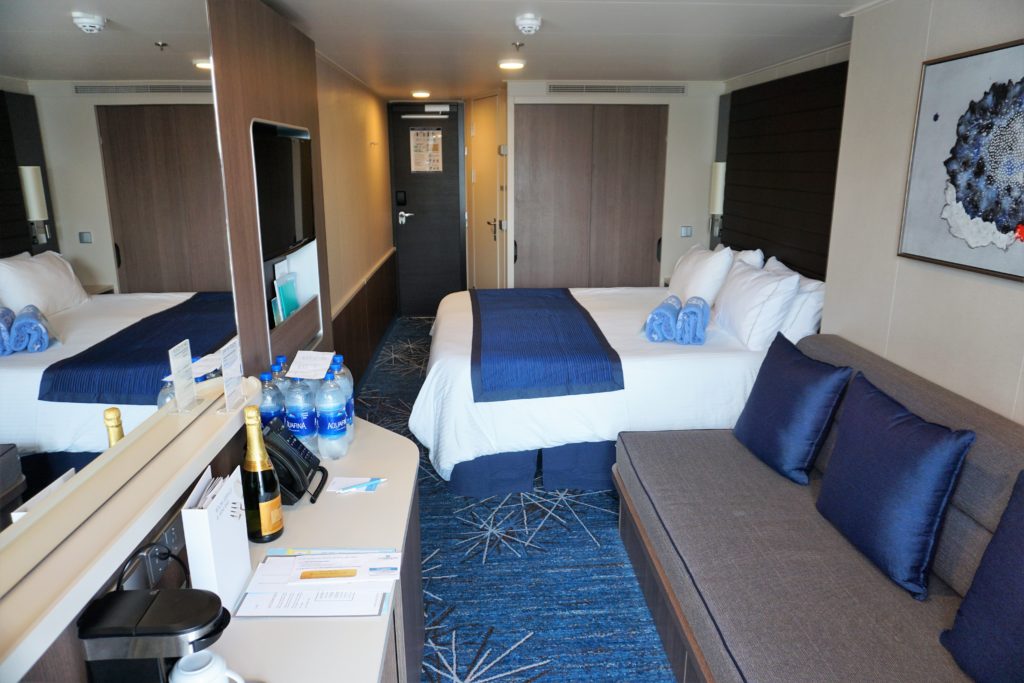 If you are cruising in the same stateroom with a Latitudes member with a different tier status, both guests will receive the benefit of the higher tier for rewards delivered on a stateroom level.
Though, each member will receive the benefit that corresponds to their respective tier for rewards delivered on an individual level.
Related Post: Guide to Norwegian Cruise Line's Drink Packages
Norwegian's Latitudes Rewards Program Levels
Bronze:
After taking one cruise with NCL, you will receive Bronze status. This level includes cruisers with 1-29 points. Bronze level cruisers receive priority check-in, a bottle of sparkling wine per stateroom, and a 10% discount in duty-free shops. Further, guests will receive free internet minutes with the purchase of an internet package. In addition, these guests receive free artwork for attending an art auction.
Exclusive: Norwegian Cruise Line Deals and Sales
Silver:
The second level in Norwegian's Latitudes Rewards Program is Silver. Guests with 30-54 cruise points are Silver status. These members receive all benefits of the bronze level as well as additional perks. These additional perks include an exclusive cocktail party.
Also, they receive a 10% discount on shore excursions, 20% discount on photos, and 15% discount in duty-free shops on logo merchandise. Additionally, cruisers receive 15% off signature spa treatments on port days.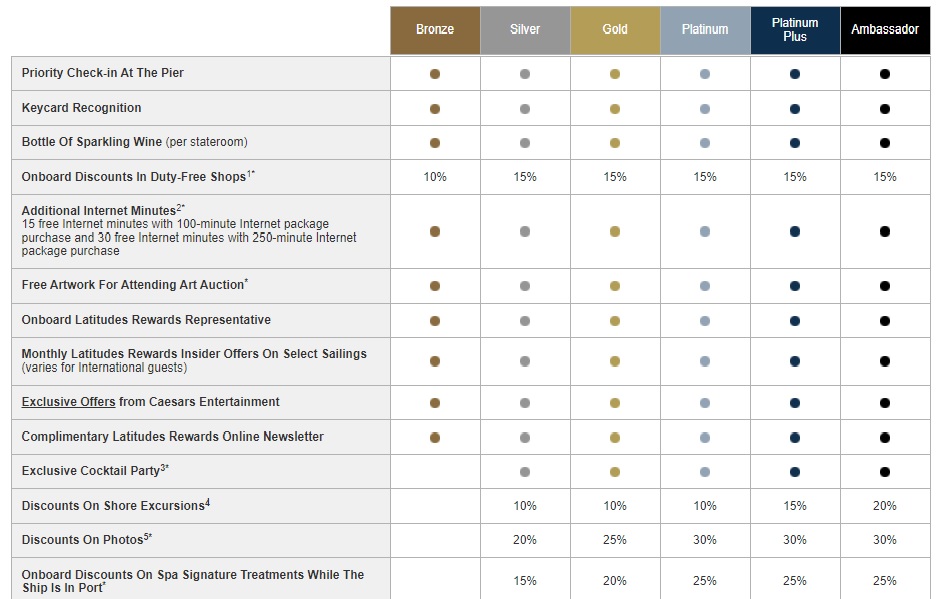 Gold:
The next tier in Norwegian's Latitudes Rewards Program is Gold. Cruisers with 55-79 points are Gold Level. This level entitles guests to all the Silver tier perks as well as additional perks. The additional perks include photo discount increased to 25% and spa discount increased to 20%. Gold guests will also receive 1 free carton of water, 50% off a bag of laundry, priority tender tickets, and priority disembarkation.
Platinum:
If you are an NCL cruiser with 80-174 points, you have Platinum status. This status has all the benefits of Gold status with an increased photo discount to 30% and spa discount to 25%, as well as a free bag of laundry. Platinum guests also earn priority embarkation and 30 free internet minutes with no other purchase required.
This tier also earns dinner for two in Cagney's or Le Bistro with a bottle of wine and dinner for two at Moderno or La Cucina. Wait, there's more. Guests will receive chocolate covered strawberries, a Behind the Scenes tour, and Concierge service on the ship.
Related Post: Guide to NCL's Specialty Dining Packages
Platinum Plus:
Platinum Plus guests have 175-699 cruise points. In addition to all the other benefits of Platinum, these guests also receive a dinner with Officers and priority restaurant and entertainment seating. The free internet minutes are also increased from 30 minutes to 60 minutes as is the shore excursion discount from 10% to 15%.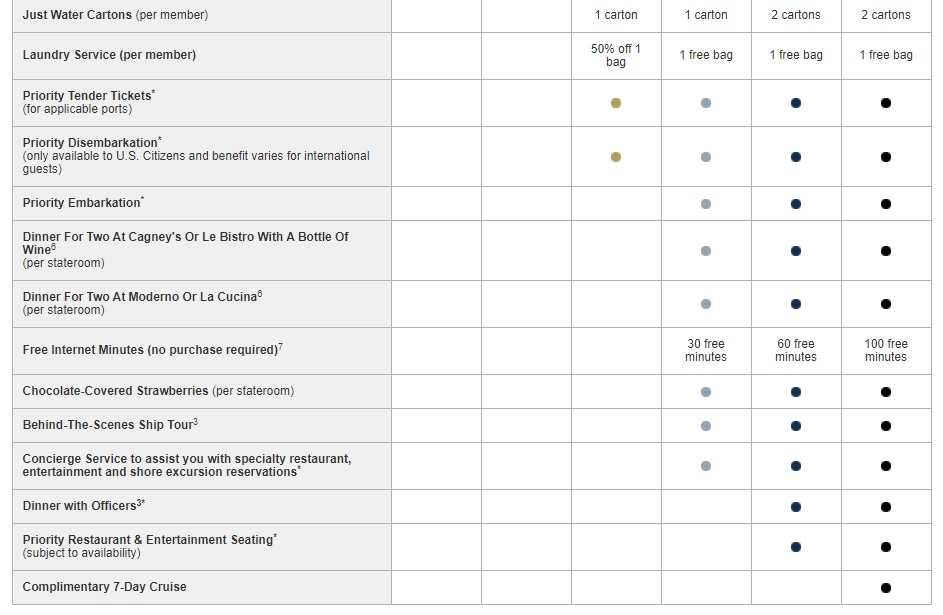 Ambassador:
Every NCL cruiser's dream is to become Ambassador one day. To attain this Norwegian Latitudes Rewards Program level, you will need a whopping 700+ points. This is about two full years at sea! Of course, your rewards for being the most loyal cruisers are many extra perks. This includes milestone FREE CRUISES! Other added perks include an increase to 20% off shore excursions and 100 free internet minutes.
Additional Perks of Norwegian's Latitudes Rewards Program
All Norwegian's Latitudes Rewards Program members will receive additional on land perks. These include a monthly Latitudes Rewards Insider Offers email. This entitles cruisers to exclusive booking bonuses for select sailings. Members also receive exclusive offers from Caesar's Entertainment and an online Newsletter.
Norwegian's Latitudes Rewards Program Benefits Fine Print
To receive onboard discounts, guests only need to present their keycards at the appropriate location. These locations include the gift shop, shore excursions desk, spa, photo gallery, internet cafe, or art auction.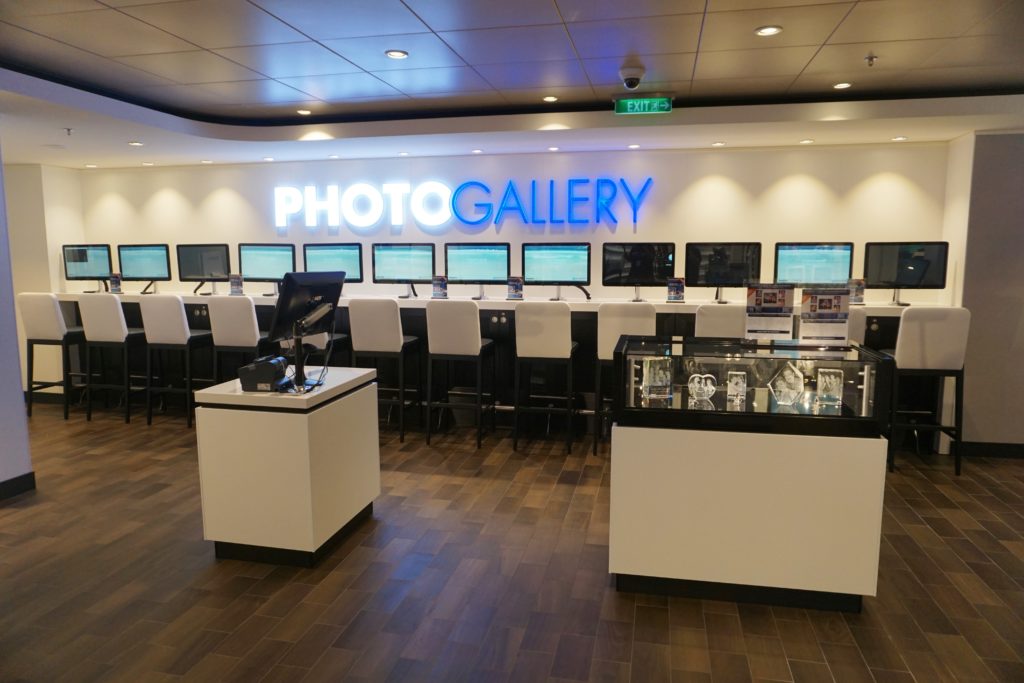 Cruisers can use shore excursion discounts and photo discounts online pre-cruise in their My NCL account or onboard the ship. If booking shore excursions onboard the ship, you will need to visit the shore excursions desk. The discounts do not apply if booking on the TV, onboard touchscreens, iConcierge, or the Shore Excursions drop box.
Luckily, the shore excursion discount is combinable with the Free at Sea promotion.
The Free specialty dinner benefit is no longer delivered per guest but now per stateroom. Service charges are included in this benefit. They are applicable only on sailings of 5 nights or longer. This perk entitles each guest to one appetizer, one entrée (up to $35), and one dessert of choice. For items over this amount, guests will incur an upcharge on their onboard account.
Guests must present their voucher to their server before ordering.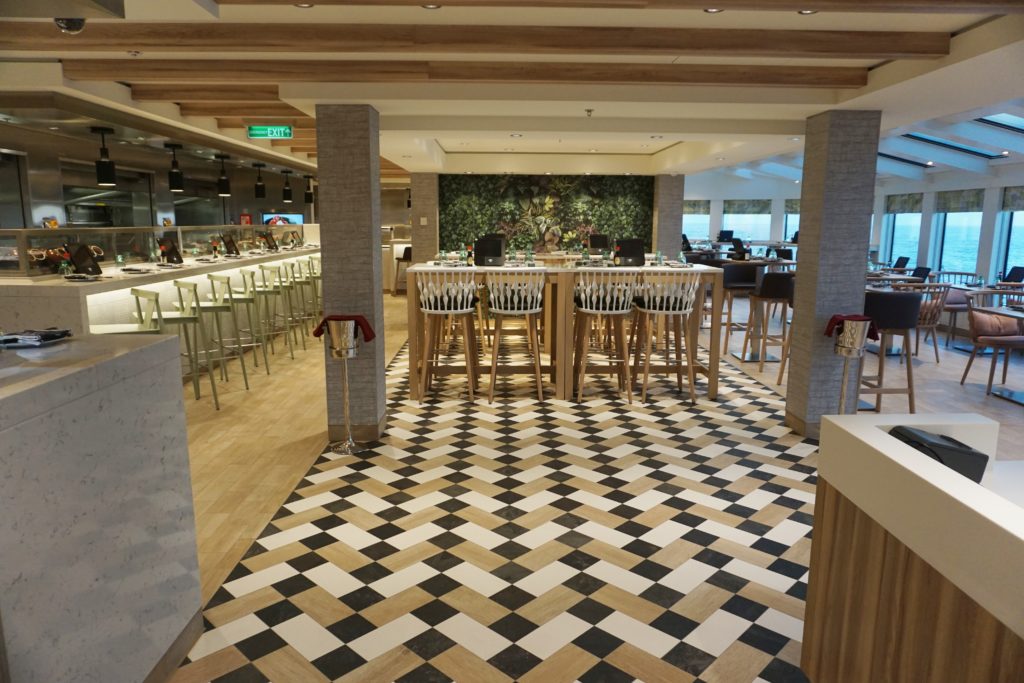 On Norwegian Bliss, Moderno is replaced by Los Lobos or Q. On Norwegian Joy, cruisers can dine at Food Republic or Q instead of Moderno. In Food Republic, the benefit entitles each guest to a total food value of $35.
On Norwegian Encore, guests can choose Los Lobos or Q instead of Moderno or La Cucina. On Norwegian Spirit, Cagney's or Le Bistro becomes Cagney's only, and Moderno or La Cucina is replaced by Le Bistro or Onda.
At each embarkation port there will be an exclusive check-in line for Platinum, Platinum Plus, and Ambassador members. Also, after check-in, these members will wait in a priority embarkation seating area. Then, priority embarkation will take place following embarkation for guests who require special assistance and The Haven and Suite guests.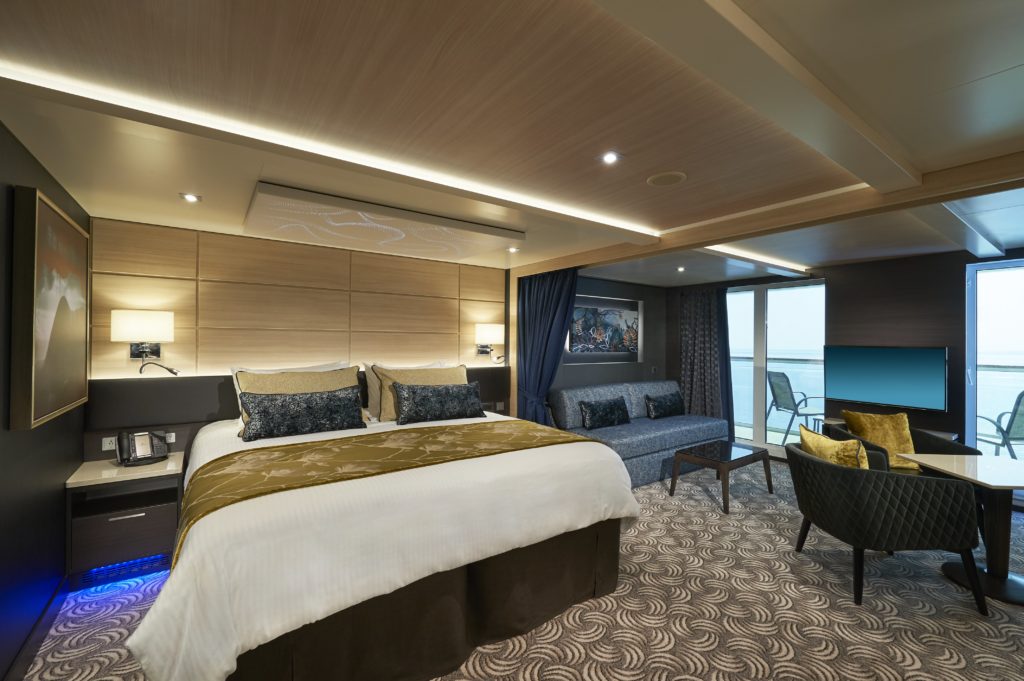 For the Ambassador level free cruise, guests receive a complimentary 7-day cruise in a balcony stateroom on any ship. Surprisingly, there are no destination restrictions. Though, holiday sailings are excluded (Christmas and New Year's). In addition, the cruise is for 2 people, so 3rd and 4th guests will be charged at prevailing rates (if applicable). Taxes, fees and service charges still apply.
Eligible Ambassador members will have one year to take the complimentary cruise. Although, if you wish to upgrade, you can pay the difference from the prevailing balcony rate to the rate of the Suite or The Haven on that same ship and sailing. However, you can not upgrade the length of the itinerary.
Comments
To which of the Norwegian's Latitudes Rewards Program Levels do you belong? Do you take advantage of all the perks associated with this loyalty program? Drop us an anchor below to let us know if you prefer to stay loyal to one brand or cruise with a variety of brands.