Among the new innovations debuting on Celebrity Edge was the entertainment lineup. Celebrity Cruises completely revolutionized the main theater and introduced several new shows on this ship. Celebrity Edge also includes other new venues and nightlife not currently found on any of the line's other ships. To help cruisers ensure they never miss a show, we have put together this complete guide to Celebrity Edge Entertainment.


Complete Guide to Celebrity Edge Entertainment
Day Time Activities on Celebrity Edge
Onboard Celebrity Edge, the vibe during the day is relaxing and carefree. The Resort Deck is home to a chic, beach club-inspired pool area with a DJ and/or live music playing most of the day along with plenty of loungers to catch some rays.
If you are looking to escape the pool deck, the Rooftop Garden is a nice, outdoor alternative. Here, cruisers can enjoy the outdoors on comfy patio furniture, along with some classic garden games. Some of our favorites included the giant Jenga and Connect Four.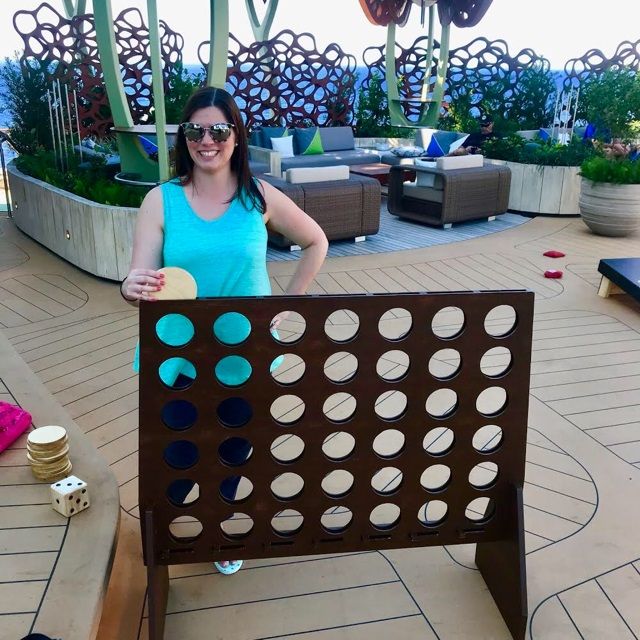 Inside the ship, the Club offers a variety of daytime activities. In the morning (typically from 9 am until noon) and some afternoons, it is open play with board games and Xbox games.
Offered during the early afternoon, one of our favorite activities was the Tabletop Maze – Free Spirits. This complimentary activity was offered on both sea days at 1 pm. This take on an escape room was a family friendly brain teaser and a fun way to pass some time. The Club also offered other games during the day including archery and a laser maze.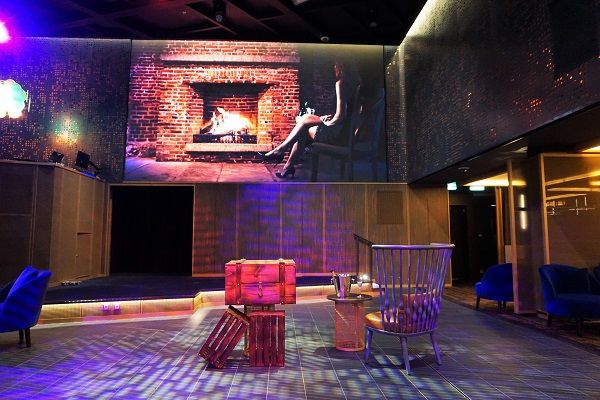 In Eden, you can find a series of different tabletop, wooden puzzles. These puzzles are usually available from around 9 am to 5 pm. These games are highly addictive, so you could easily spend hours challenging your wits.
Eden is also home to trivia during the day. With a variety of themed and general trivia occurring on both sea days and port days, you are sure to find a session that would challenge even the most knowledgeable cruisers.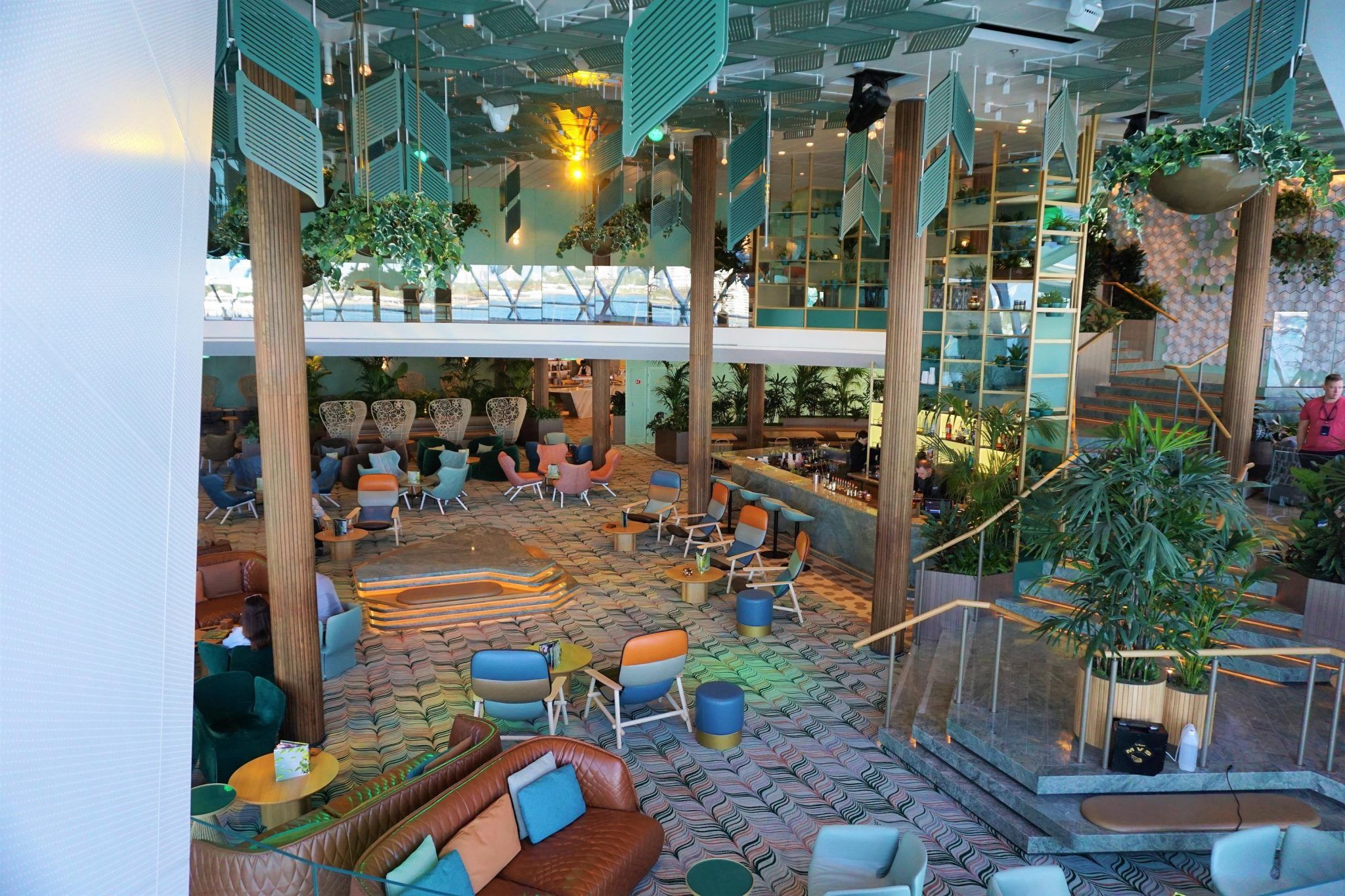 Throughout the ship, you will also find different musical acts playing at various times throughout the day in venues like Eden, the Resort Deck, Grand Plaza, Rooftop Garden, and the Club.
Related Post: A Complete Guide to the Bars and Lounges on Celebrity Edge
Celebrity Edge Main Theater Entertainment
The most ambitious enhancement to Celebrity Edge was the redesigned theater, boasting a circular stage and high-definition screens as a backdrop. To make use of this technologically advanced setup, Celebrity Cruises produced three new shows for the ship as well as "resident headliner" acts.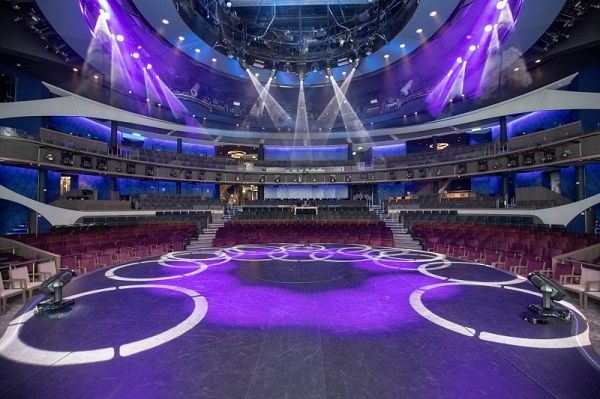 For each show, there are always two showtimes. On our cruise, the early show was 7:15 pm and the late show was 9:15 pm.
There were also two comedians on the ship, similar to a traditional headliner act in the theater. These two performances occurred on Night 1 and Night 6 of our cruise. The comedians also each had a "late night" show following one of the main production shows (on Nights 3 and 7).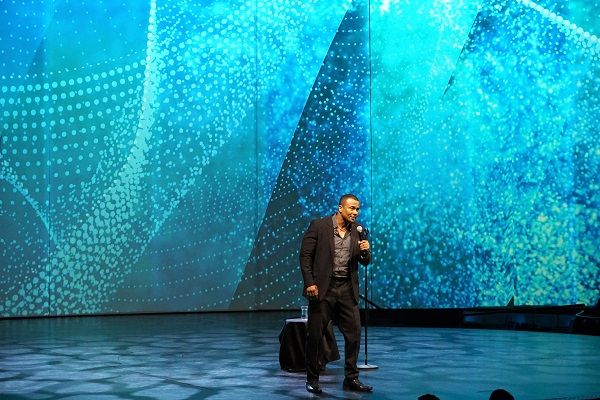 The first new show was Kaleidoscope and was performed on Night 2. Honestly, this show felt like your typical cruise review show. While the performers were excellent, and the music more modern, it was very similar to most main theater productions.
On Night 4, the second, and the oddest, of the new shows occurred. The Jewelry Box is a sci-fi fantasy tale about four tribes trying to save a dying planet. We felt that the show was too far fetched, relying heavily on the digital screens and overlooking the casts' talents. Since our sailing, it appears this show has been replaced with a new show, Colors of Life.
On Night 7, the third new show, A Hot Summer Night's Dream, took place. This take on the classic Shakespearean tale was our favorite production show of the cruise. It had the right mix of music, dance, digital enhancements, and acrobatics. The rest of the crowd seemed to agree with our opinion, as the show was the best received.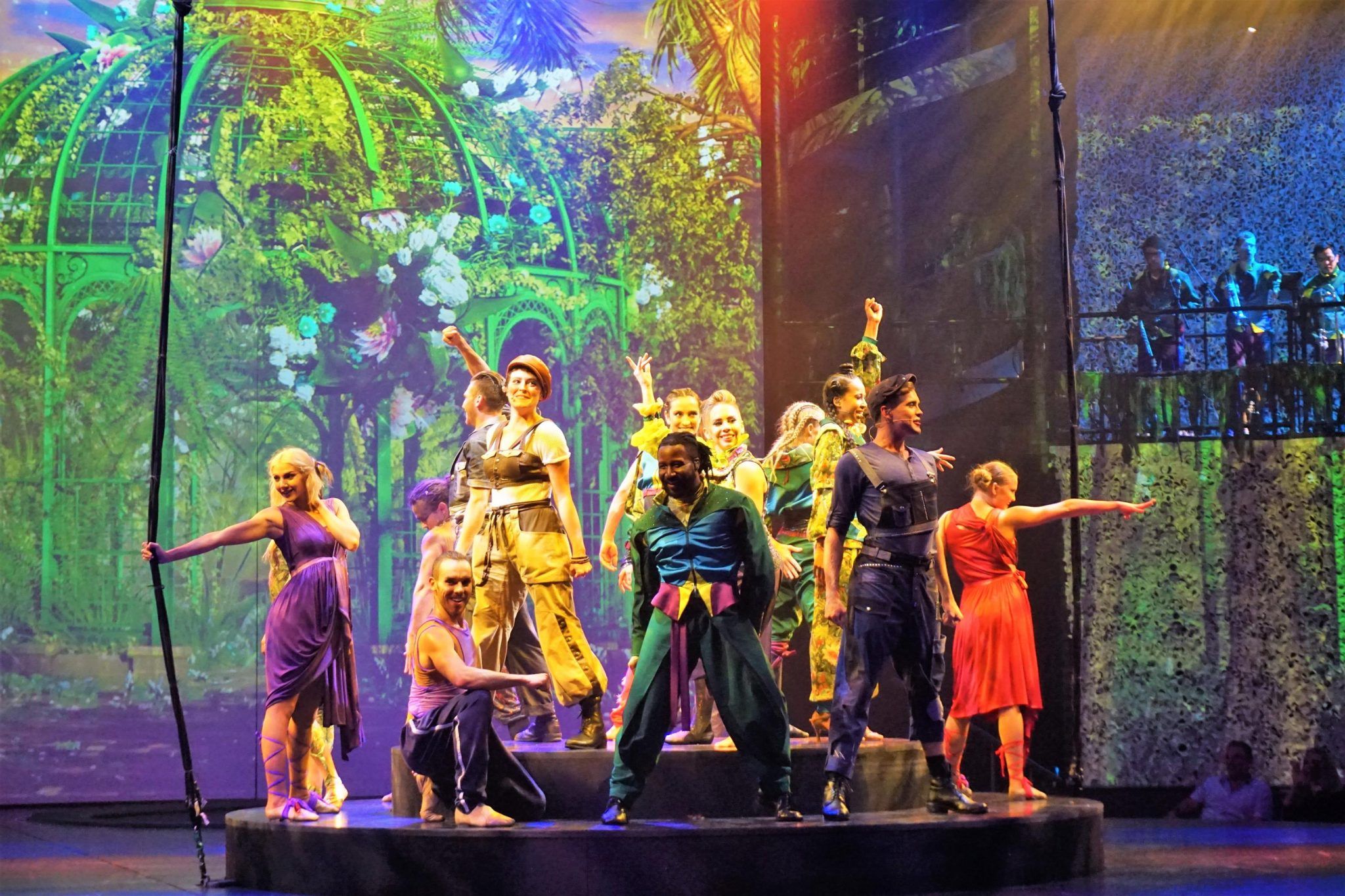 Along with the new signature productions, Celebrity Edge also has "resident" headliners. These shows are essentially pop concerts that you would expect to find in a Las Vegas venue. On Night 3 was The Purpose with singer Ashlie-Amber Smith, a finalist from America's Got Talent. She had an amazing voice, but the show did not seem to resonate well with some cruisers. I enjoyed the show more than the Princess did.
On Night 5 was the second act, Hype, starring Marcus Terell. He put on a non-stop, high energy show with popular hits from artists like Bruno Mars, Justin Timberlake, and other pop stars. We loved this show and were glad to see an updated musical selection.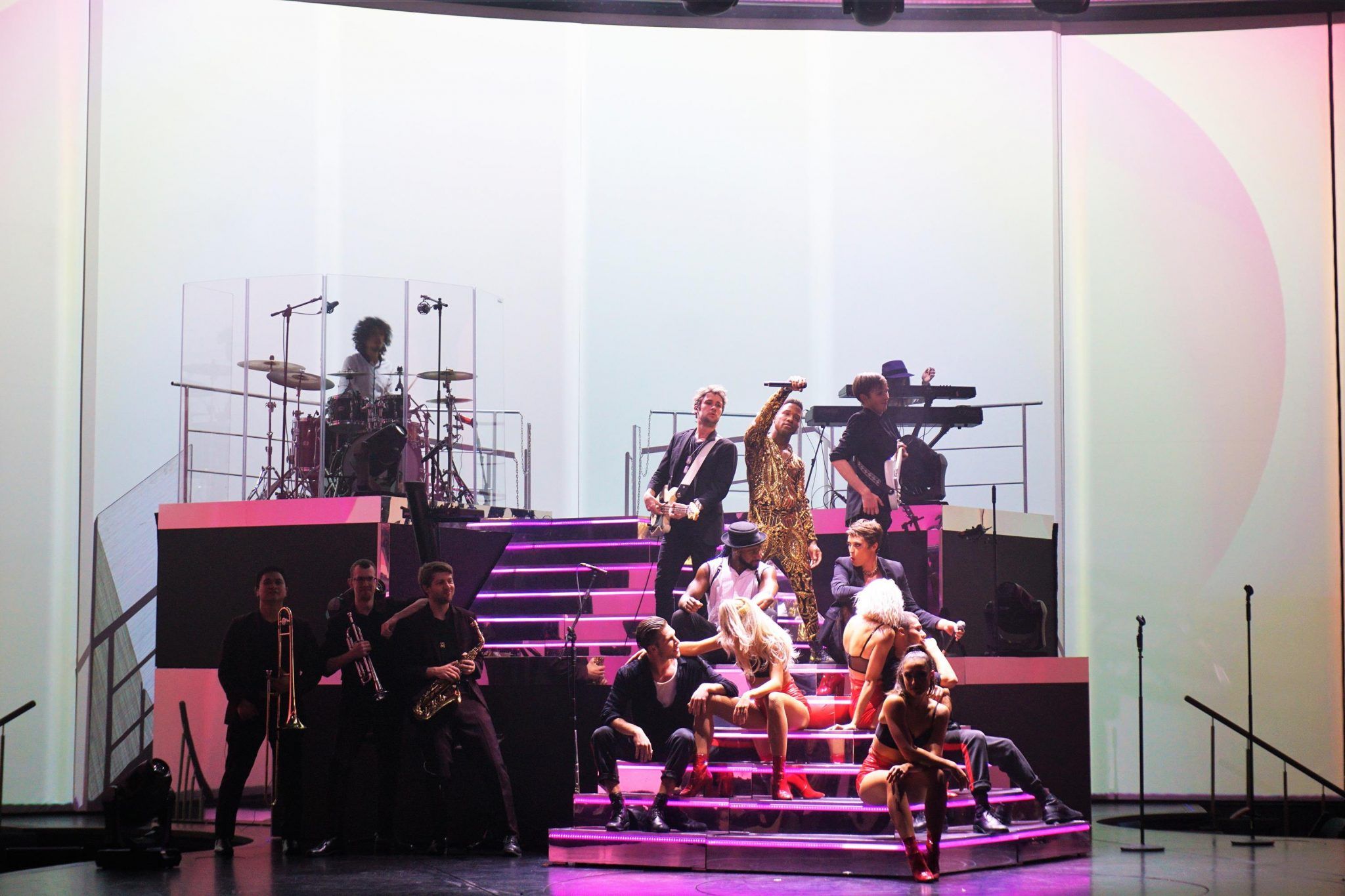 Both of the "resident headliner" shows were complete with full bands and digital backdrops that truly gave the shows an arena-like, high-end production. These were definitely not the typical acts that you find on most cruise ships.


Celebrity Edge Game Shows and Events
Gamers will be surprised to find no Bingo onboard the ship. Instead, there were several games of the popular Deal or No Deal. On our cruise, these occurred on Night 1 at 8:15 pm, Day 4 at 4:00 pm, and Day 7 at 4:00 pm. While we do enjoy this game, we did not play this cruise.
There were also several different game shows during the cruise that tended to take place in The Club around 8 pm. All of these shows included audience participation, and while we didn't play, they were fun to watch! During our cruise, Celebrity Edge had the following game shows: True or False (Night 2), Family Feud (Night 3), Caption This (Night 5), Minute to Win It (Night 6), and Yes or No (Night 7).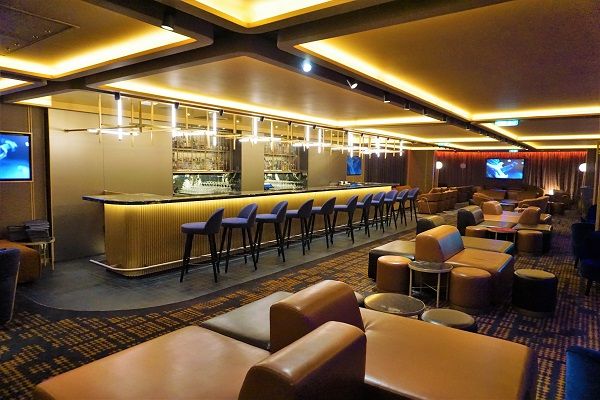 Another new addition to the ship was the interactive trivia game Timeplay Live! We got to test out this game during some pre-show demos in the theater. This is a for-fee activity, and you need a tablet or smartphone to play. On our cruise, these games were held on Night 1 and Night 4.
The Club also held a talk show called Live at the Club which was hosted by the Cruise Director and occurred on Night 4. This event reminded us of the Tonight Show with two guest interviews and various comedic banter.
Of course, there are also your typical port talks and various sales, seminars, and up-charge tastings.
Related Post: Download a Copy of the Celebrity Edge Dailies Detailing Each Day's Activities and Events.
Nightlife on Celebrity Edge
The other main entertainment venue was Eden. On Nights 2, 4, 5, and 6, Eden came alive with Revelations. This interactive, performance art spectacle was not exactly what we were expecting, and we were not alone. The 2+ hour production (which has been shortened since our sailing) was a series of different performers including dancers, strength acts, singers, and improv. The show does not really have a plot; instead, you enter a world with these primitive Edenists and never know quite what to expect.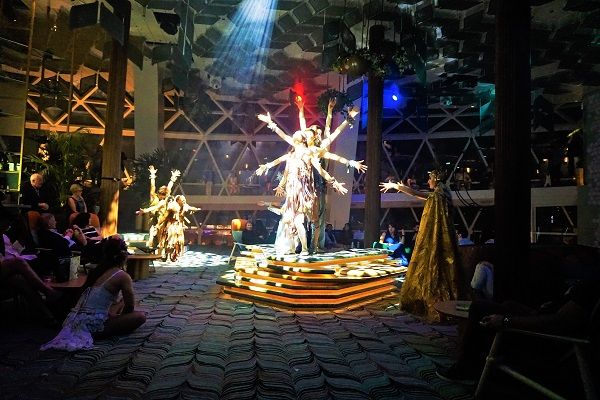 The problem is that the show feeds off audience participation, and many cruisers did not want to get involved in this "strange" performance. Count us in on that. We had high hopes for this new addition, but Eden fell short of our expectations.
There are also several musical acts that rotate through the venues on Celebrity Edge. On our cruise, Reckless Charms was a Tennessee-based country music band that was showcased in several venues.
Fringe Collective was a combination of piano and saxophone that provided ideal background music. There was also the acoustic performances of Michael Redden, a musician we enjoyed in the Ensemble Lounge during our Celebrity Eclipse cruise.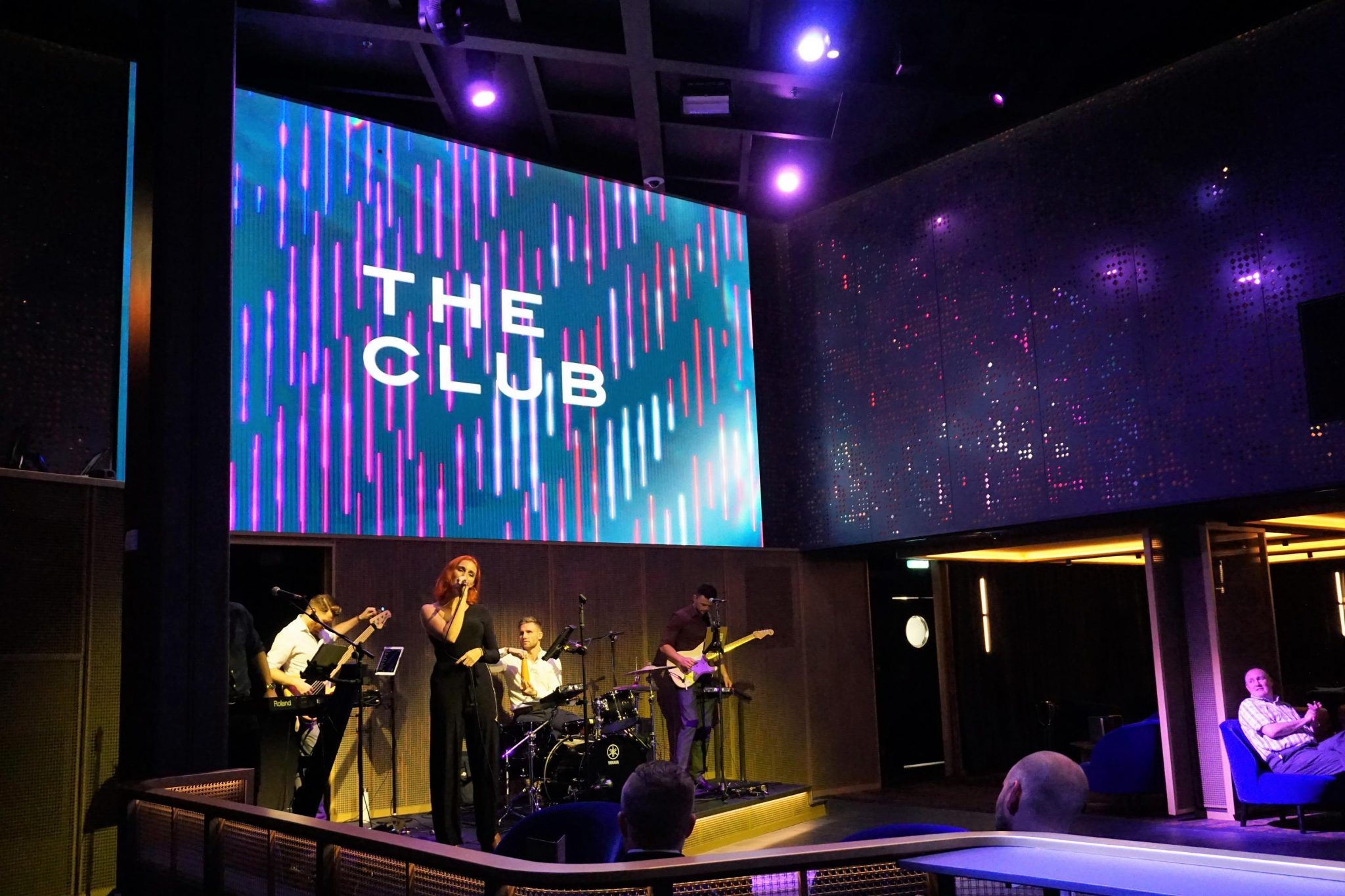 One band that had a pretty predictable show schedule was Impulse. This modern pop/rock band could be found most nights in the Club. This band was definitely a departure from the house bands on most ships. Impulse usually performed in the evenings until the Club turned into a dance party around 11 pm.
Each night, a classic movie is also shown on the large screen in the Rooftop Garden. These movies ranged from Casablanca to Rocky. The movies usually started around 10 pm.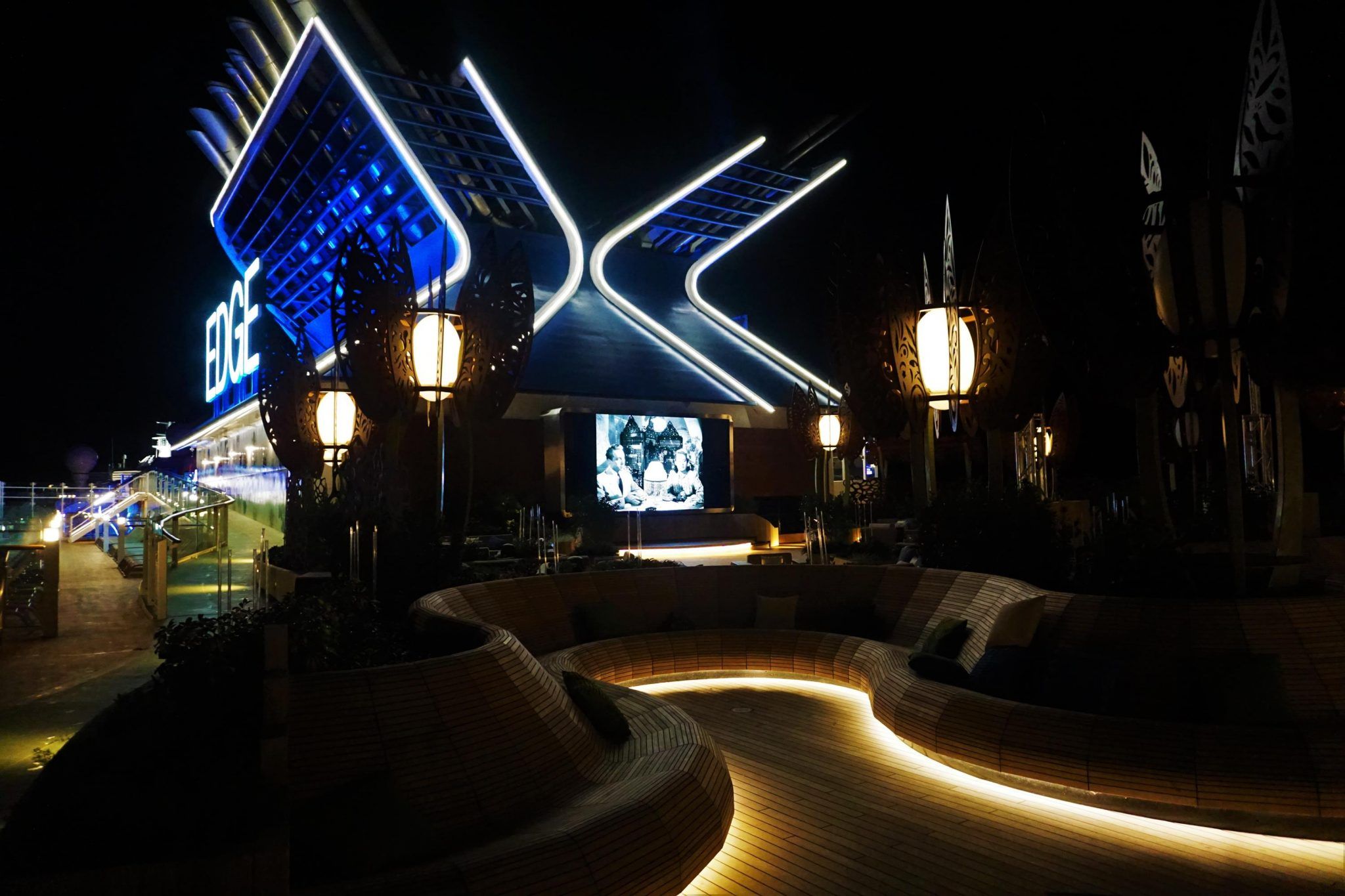 Nighttime Parties on Celebrity Edge
We were a bit disappointed that some of the parties that were advertised pre-cruise did not occur on our voyage. Among these was the Andromeda party. Still, there were a few themed parties that did occur. On Night 6, there was Sinful at Eden. On Nights 2 and 7, the Club hosted the Silent Disco party at 10 pm. This event has become popular on many cruise lines.
For those travelers who have never attended a Silent Disco, the venue has two (or more) DJs spinning different songs, and each person can choose what music they want to dance to during the evening by changing the frequency on their headphones. While you can hear the music through your headphones, a passerby can only hear party-goers singing out loud to a variety of songs. It can be quite funny to just watch.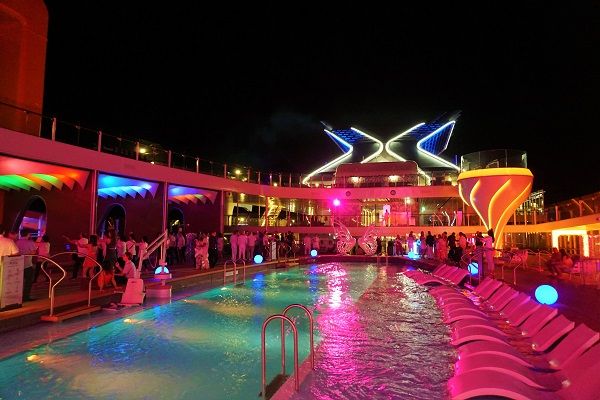 On Nights 3 and 5, there were outdoor parties. The party on Night 3 occurred in the Rooftop Garden. We attended the Night 5 Nocturnal Party on the Resort Deck, which is like the ship's "white party". This party was somewhat under-attended compared to similar parties on other cruise lines.
There you have it, a recap of all the entertainment on Celebrity Edge. Celebrity Cruises is continuously working to modify and enhance these entertainment selections based on customer feedback, so some variations in programming might occur. The days/times are also subject to change based on the ship's itinerary.
Of course, there were several other great things to do and see while on the ship as well. The only way to truly experience it all is with a cruise on this new and innovative vessel. So, what are you waiting for?

Comments
Have you experienced the Celebrity Edge entertainment yet? What was your favorite show or event occurring on the ship? Drop us an anchor below to share your review of the unique offerings onboard Celebrity Cruises' newest ship.