When it comes to cruise ship dining, few brands excel like Celebrity Cruises. Along with the excellent main dining room selections, the cruise line has several specialty restaurants that are equally delicious. On our Celebrity Eclipse Ireland and Iceland cruise, we tested out a few of these up-charge venues. We were even able to sway our family members to dine with us at Tuscan Grille for one massive Italian dinner experience. We discuss every mouthwatering detail in our Celebrity Eclipse Tuscan Grille Review.

Celebrity Eclipse Tuscan Grille Review
Prior to our cruise, we reviewed the different dining options onboard Celebrity Eclipse. Even though we normally dine mostly in the main dining room on a cruise ship, we wanted to explore our options. Two restaurants immediately caught our attention, Tuscan Grille and Qsine.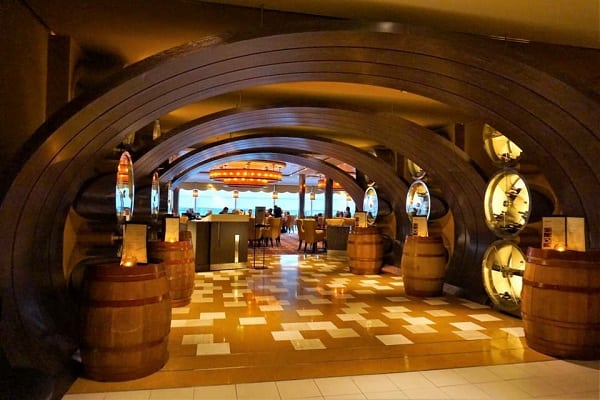 On night 6 of our cruise, we were able to reserve a table for four at 7 pm. A bit later than our usual dining time, but this would give us a bit of time to unwind from our day ashore.
An Italian Feast
Meeting our family at the restaurant right at 7 pm, we were quickly escorted into the venue that was nowhere near full. The restaurant is located all the way forward on Deck 5. While we did not have a table directly against the windows, we still had a magnificent view as the ship sailed away from the port.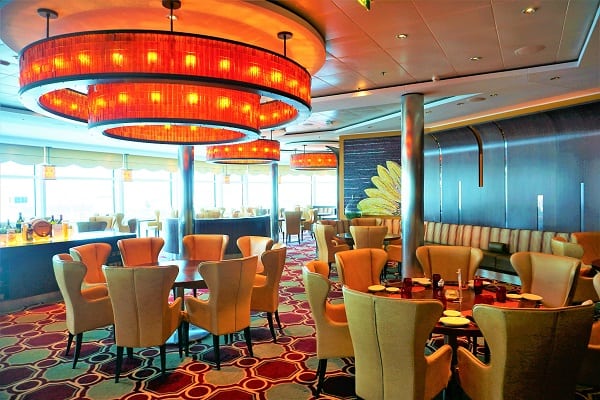 Our waitress came over momentarily and was quick to review the menu selections and courses. She was attentive and nice. We also had a bar server who came over to see if we wanted any drinks. Since all four of us had the Premium Beverage package, we happily obliged. As our beverages arrived, so did a basket of various bread selections. Dinner was starting off on the right foot!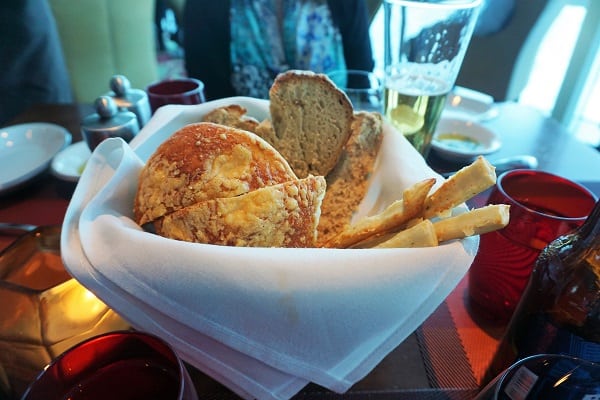 Given the many tempting options on this menu, the four of us went all in tonight on ordering a wide selection of starters, salads and soups, pasta, entrees, and desserts.

Getting Our Tuscan Grille Dinner Started
We started with the Antipasti Board. A pretty traditional starer, this board was good, although a bit small for a group of four people if you were not considering all of the other items that we also ordered. Given we had a rather large list of items to test, we sampled a few of the cheeses and meats and then saved our appetites for the other menu choices.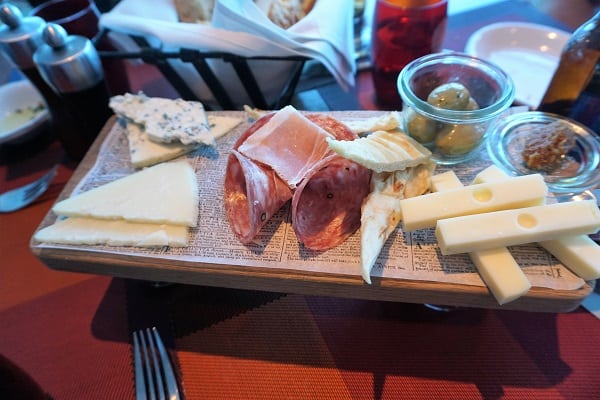 For additional starters, I ordered the fried calamari and the crab cake. The calamari was hot and crispy with a mayonnaise-based dipping sauce, and the crab cake was chocked full of crab meat. The Princess tried the bruschetta, which was perfectly crunchy and topped with lightly seasoned olives and cheese.
Our family did not shy away from ordering several starters either. In addition to our selections, they also tried the meatballs and the creamy burrata salad. Both got two thumbs up.
Our eyes were bigger than our stomachs tonight! In addition to ordering entrees, I also went with a pasta course- the short-rib pappardelle ragu. Something must have gotten lost in translation though as our entrees were delivered at the same time as the plates of pasta. This meant I had a medium filet mignon and the rich pasta dish sitting in front of me at the same time.
At least the Princess was a bit more sensible, going with just the Chicken Parmesan and a side of polenta fries.
Everything we sampled was thoroughly enjoyable and then some. While there were no particular standouts, my steak was cooked just as requested, and the Princess liked her chicken dish. The sides were all well seasoned, even if they were a bit indulgent. My pasta dish was savory and rich, and our uncle was equally impressed with his lobster rigatoni alfredo.
After dining for close to two hours and eating virtually half of the menu, we somehow found the room to order dessert. In our ongoing battle for dessert bragging rights, I thought my limoncello cheesecake was the clear winner; however, the Princess felt her tiramisu was the top choice. So, we called it a draw and toasted with the house-made limoncello shots to one of our most over-sized cruise ship dinners to date!
Recap of Celebrity Eclipse Tuscan Grille
Tuscan Grille is found on several ships in Celebrity Cruises Solstice-class. During our cruise, the restaurant was open for dinner from 6 pm to 10 pm.
For dinner, the restaurant has a per person up-charge of $45. On select sea days, the restaurant was also open for lunch with a cover charge of $35 a person.
You can make dinner reservations ahead of time on your cruise planner or once onboard the ship. If you make the reservations pre-cruise, your credit card is charged at the time of booking. When you book on the ship, the charges are added to your SeaPass account.
The restaurant's atmosphere was cozy with warm, rich colors and comfy furniture. Given its location on the ship, you can also gaze upon some spectacular views. Tuscan Grille is the ideal restaurant for a romantic dinner for two; although, it was equally fitting for our family dinner as well.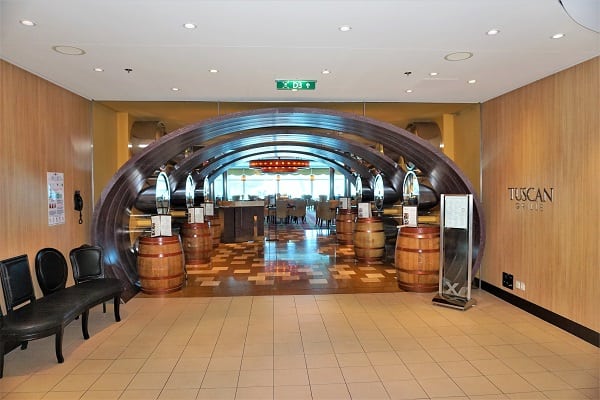 Overall, the service was timely and the spacing of the different courses was adequate. Given how much food we consumed, the two hour dining time would be expected. Our waitress and bar server were both very attentive during our meal, giving Celebrity Cruises a consistent A+ for service.
When sailing on another Celebrity Cruises' ship, we would certainly consider dining at Tuscan Grille again and highly recommend you try the venue yourself during your next cruise.
Comments
Have you dined at Tuscan Grille on a Celebrity Cruises' ship? What is your favorite specialty restaurant on a cruise? Drop us an anchor below to share your restaurant reviews with fellow cruisers.