A cruise is an ideal vacation for families. With hundreds of ships visiting all corners of the globe, you can certainly find a vessel and destination that is perfect for your next family trip. Of course, with all of the various cruise ships and brands, it might be a bit overwhelming. If you have never cruised before, you might not know where to start. To help with your cruise planning process, we have put together this comprehensive list of the best cruise lines for families.
Best Cruise Lines for Families
Understanding Cruise Line Ship Classes
Broadly speaking, cruise lines are large companies that manage a fleet of ships. Some of the world's largest cruise lines have dozens of ships.
Each cruise line has its own standard venues, entertainment offerings, and "style". So, by investigating each cruise line's general approach to cruising, you can decide whether it is a good fit for your family's next cruise vacation.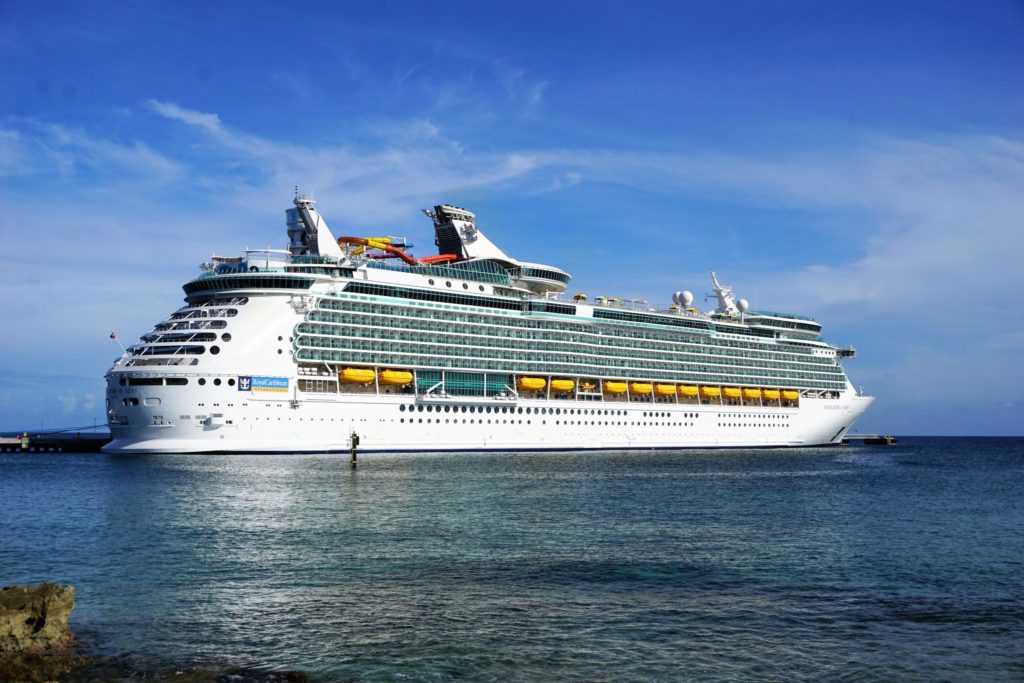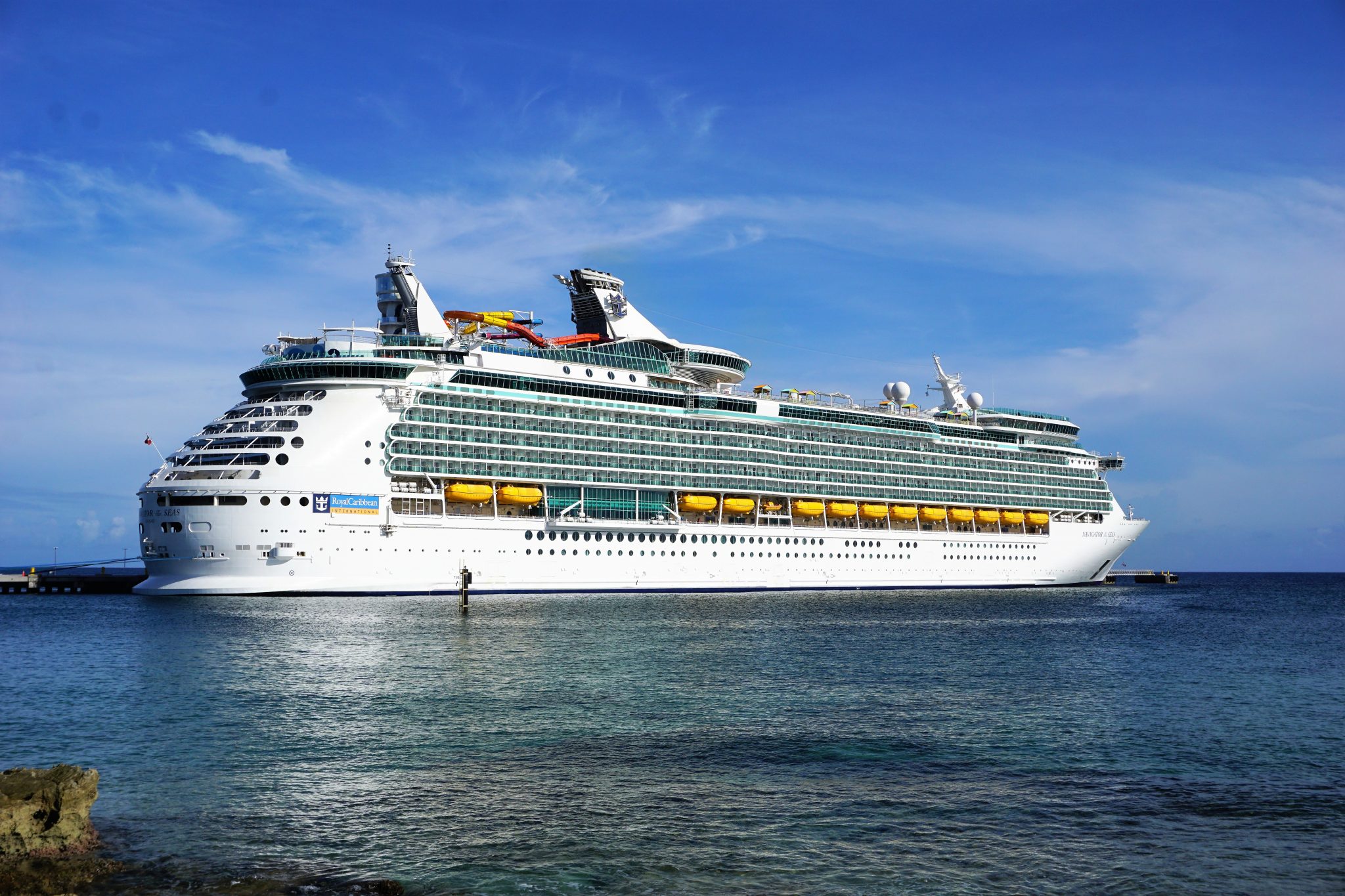 Within a brand, there are also different offerings between ships. For instance, Royal Caribbean International has 28 cruise ships available to book through 2022. It would take you hours to research each ship individually just for that one cruise line. Not to mention, Royal Caribbean is just one of over 60 international cruise lines.
Hence, it's important to note that each cruise line offers different groups of ships. These "classes" of cruise ships often feature specific amenities or venues found only on those vessels. While there might be slight differences between ships within a class, they are largely identical.
So, when comparing cruise vacations, you can focus on which classes of ships best appeal to families.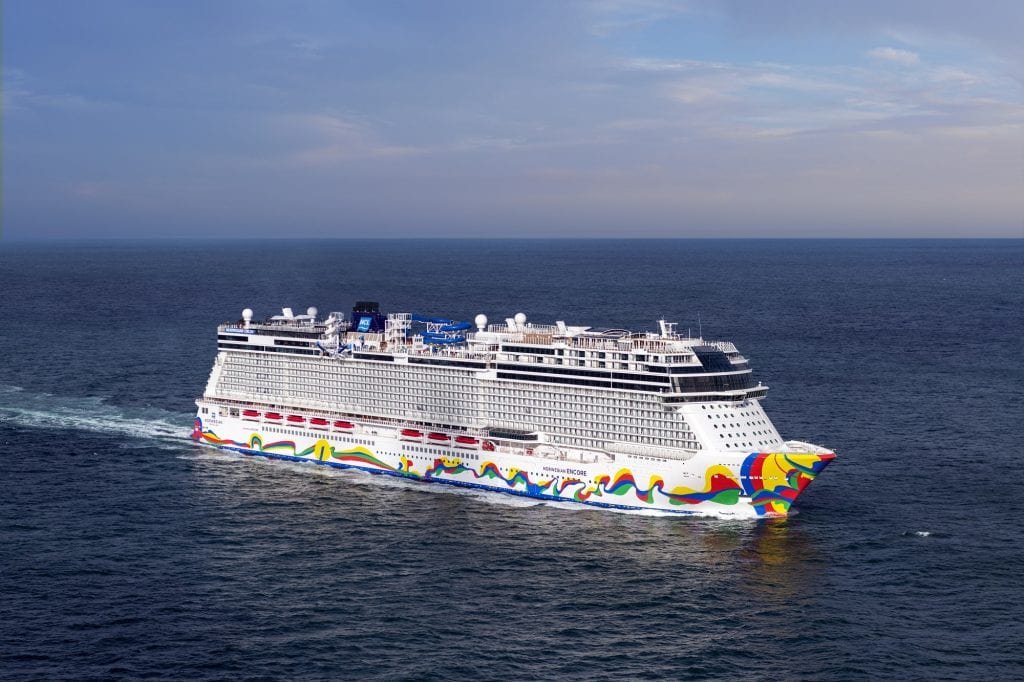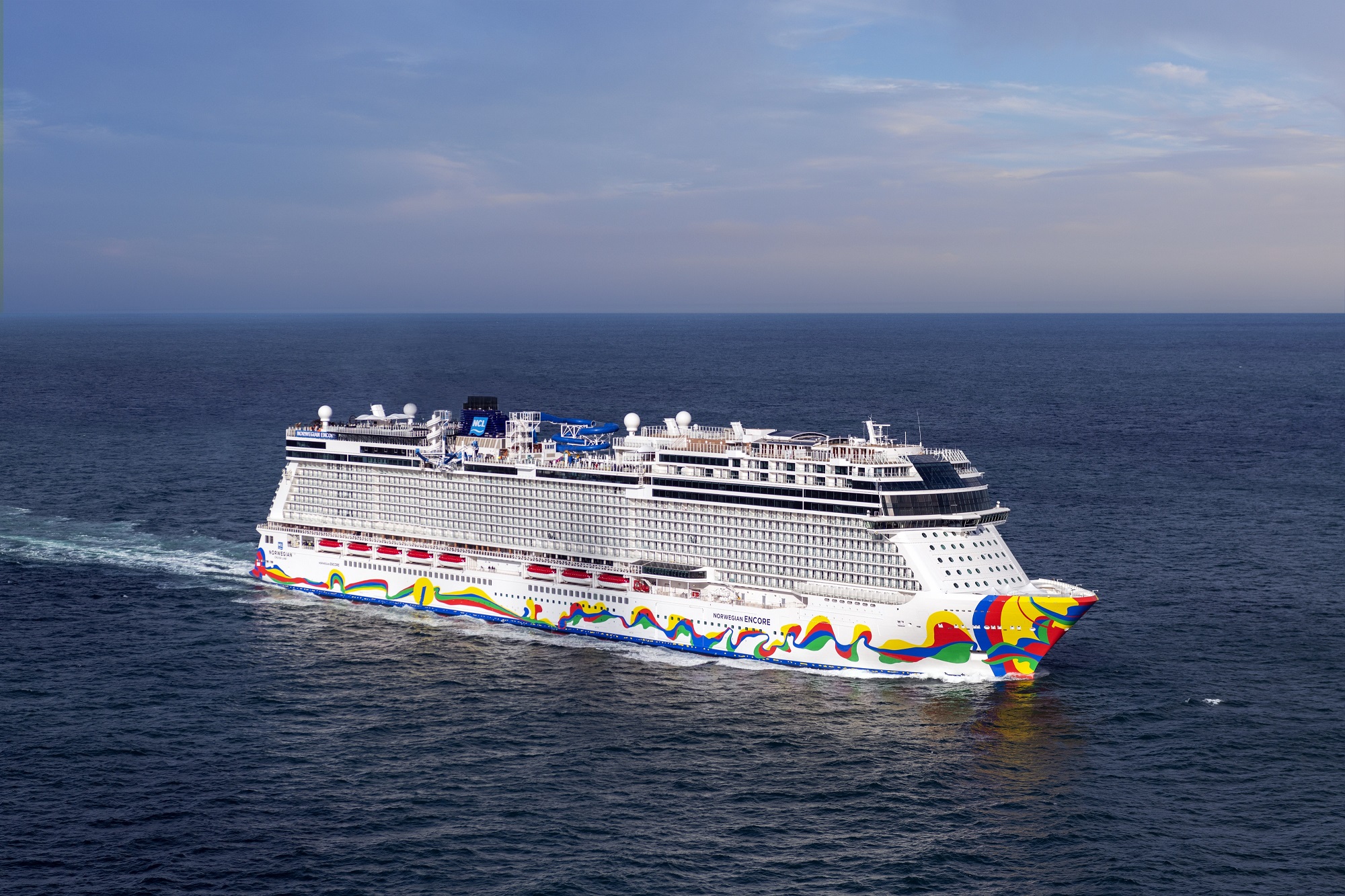 In this guide to the best cruise lines for families, we attempt to highlight the cruise lines and the cruise ship classes within the brand that we would recommend for multi-generational travel parties.
Related Post: Best Cruise Ships for 2021
Best Cruise Lines for Families: Disney Cruise Line
When it comes to offering a classic cruise experience with a bit of magic, families can't go wrong with Disney Cruise Line.
The cruise line has a total of 4 ships. These vessels have very similar design and aesthetic, reminiscent of classic ocean liners. The two original vessels, Disney Wonder and Disney Magic, are considerably smaller than the line's newer vessels.
The two newer ships, Disney Fantasy and Disney Dream, are bigger and boast new additions including the Aqua Duck, a waterslide roller coaster.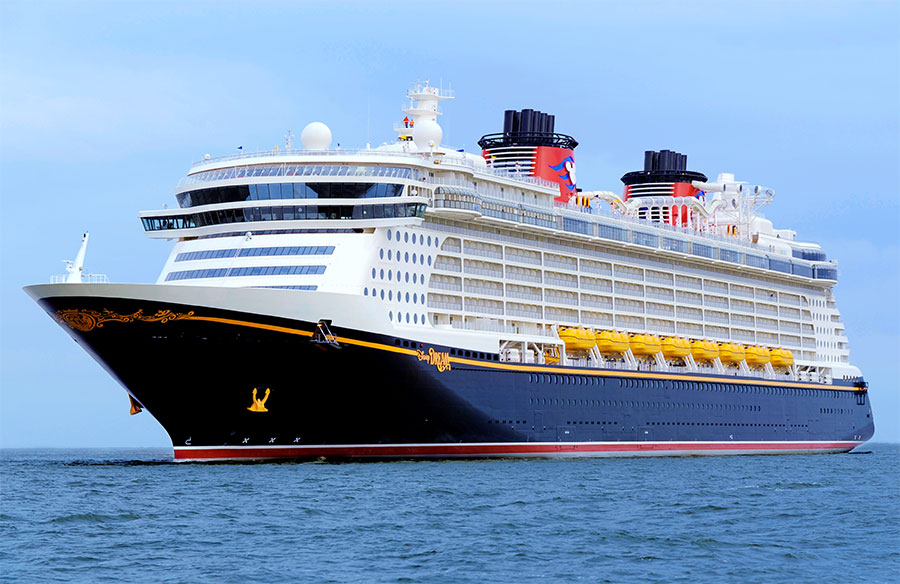 Across the four ships, you will find award-winning service. All ships have typical amenities including dedicated youth activities organized by age groups and a gym. All ships also have a sports deck, with the larger ships even offering mini-golf.
When it comes to dining, the cruise line offers "traditional dining". This means that there are set meal times for dinner at the main dining rooms. However, unique to Disney is rotational dining. So, cruisers remain with their waitstaff and dining mates throughout the cruise but rotate through different themed venues on the ship. Each of the dining rooms offers a unique theme.
When you want to escape from the little ones, all ships offer the adult only restaurant, Palo, which is an American steakhouse. The newer vessels have a second adults only restaurant, the French Remy. Both are specialty venues with up-charges.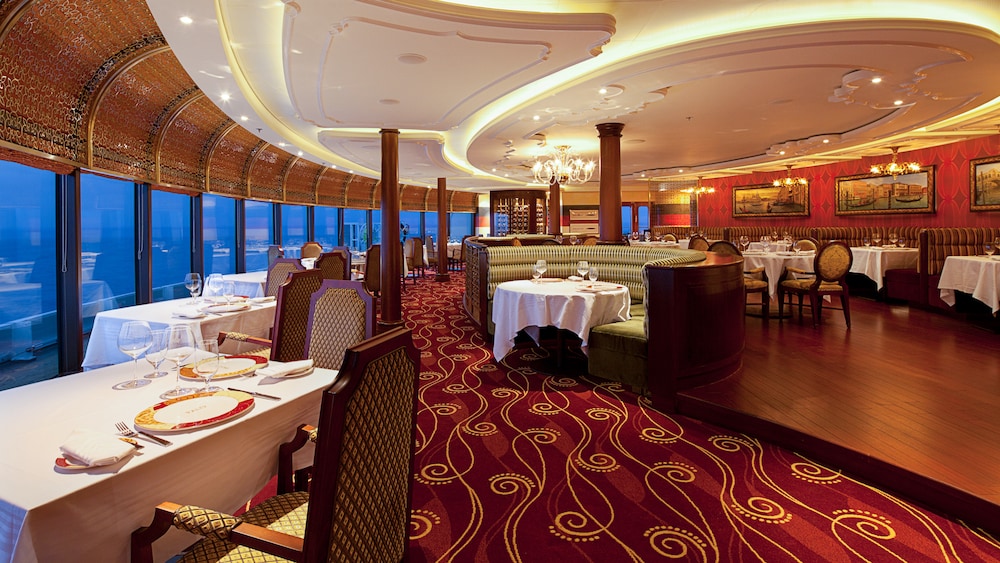 A limited number of bars and lounges can also be found on Disney ships.
Entertainment venues consist of two theaters on all ships. The Buena Vista Theater is home to Disney classics and modern blockbuster movies playing all day long.
In the Walt Disney Theater, live entertainment occurs nightly. Ships offer a variety of Disney themed entertainment, from revue shows featuring your favorite Disney music to complete production shows. From Frozen, to Tangled, to Beauty and the Beast, these live stage adaptions are geared towards Disney enthusiasts.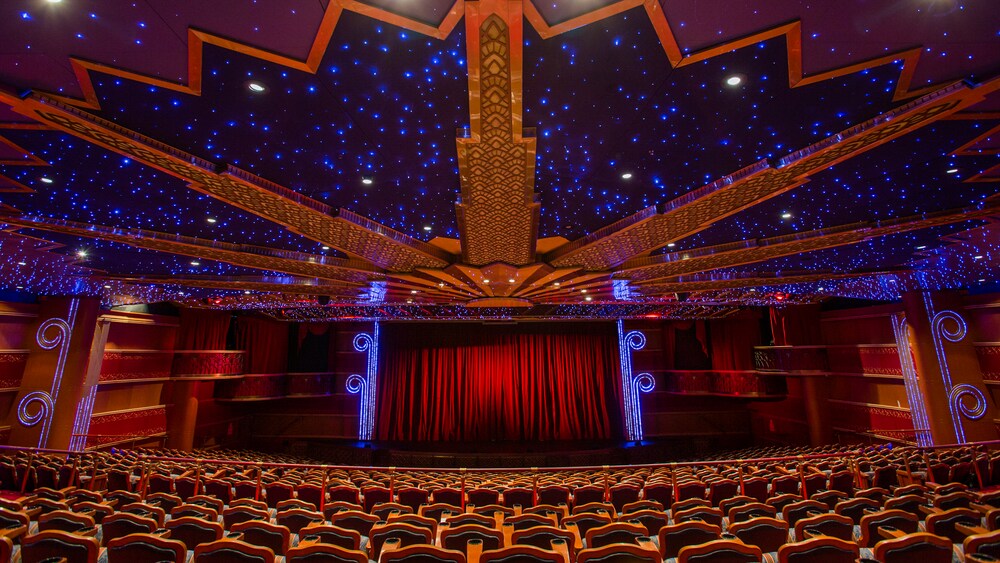 Other events and nightlife include themed deck parties, character meet and greets, and Disney themed activities for the entire family.
Evaluating Disney Cruise Line
Pros: Popular Disney characters and experiences are found on all ships. Kids areas are well-themed and offer a variety of indoor and outdoor activities. Disney offers a variety of short cruises that you can bundle with a trip to Walt Disney World. There is no casino and limited smoking in designated areas at night. Food, shore excursions, and other offerings are similar to other cruise lines. However, service is often rated better than other similar cruise lines.
Cons: DCL is expensive when compared to other contemporary cruise lines. There is limited dining, and the brand does not offer flexible main dining room options. A small fleet means limited cruises to destinations outside of the Bahamas/Caribbean. The main focus on Disney Cruise Line is younger children, with limited adult venues. EVERYTHING is Disney, so just make sure you are a fan of the brand's characters and movies.
Related Post: Reasons to Love Disney Cruise Line
Best Cruise Lines for Families: Royal Caribbean International
Another one of our top picks for the best cruise lines for families is Royal Caribbean. Across all of the line's vessels, the company offers a mix of casual dining options, a traditional main dining room, and several lounges and bars for nightlife and entertainment. Many of the family friendly activities, dining, and entertainment are included in the Royal Caribbean cruise fare.
All ships have a main theater, which offers nightly entertainment. There are also other standard cruise amenities like a gym, spa, onboard shopping, and a casino.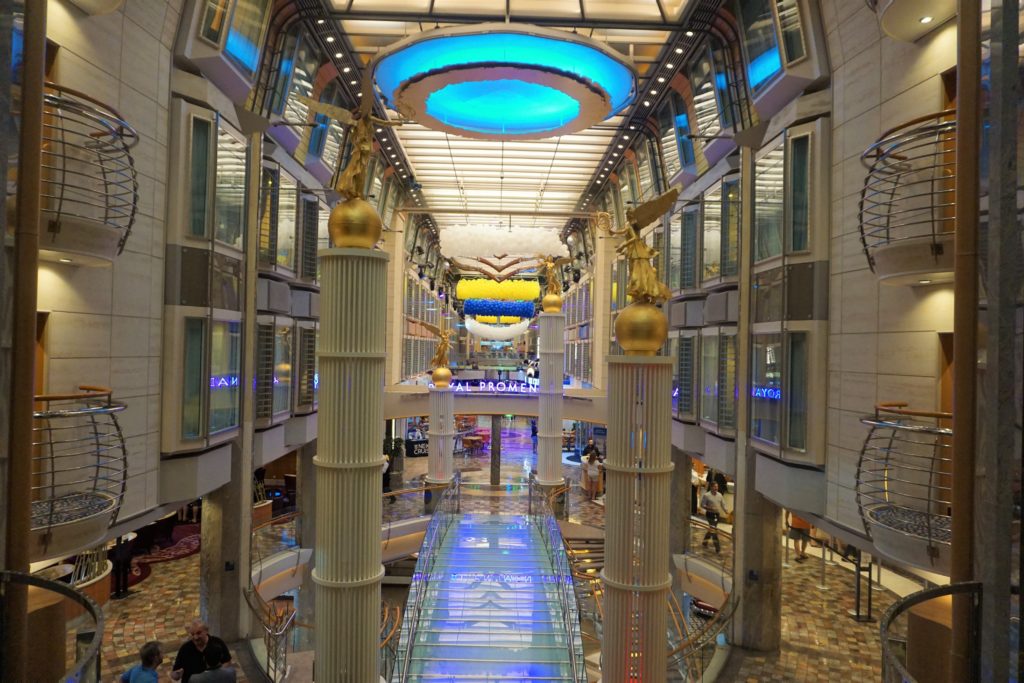 Standard service and predictable cabin categories are found on most of the line's newer, larger ships. With an appropriate mix of adult-focused and family-friendly themed parties, activities, and events, there is plenty to keep your multi-generational family busy.
Perhaps one of the best benefits of a family cruise on Royal Caribbean is the opportunity to visit Perfect Day at CocoCay. This cruise line private island is home to several beaches, a lagoon-style pool, a kid's aqua park, and the Thrill Waterpark, among other attractions.
It certainly ranks as one of the top cruise line private islands anywhere in the world. We have visited Perfect Day at CocoCay twice since it has been re-imagined and loved it! The island offers a variety of dining, activities, and shore excursions for a day of fun in the sun for the entire family.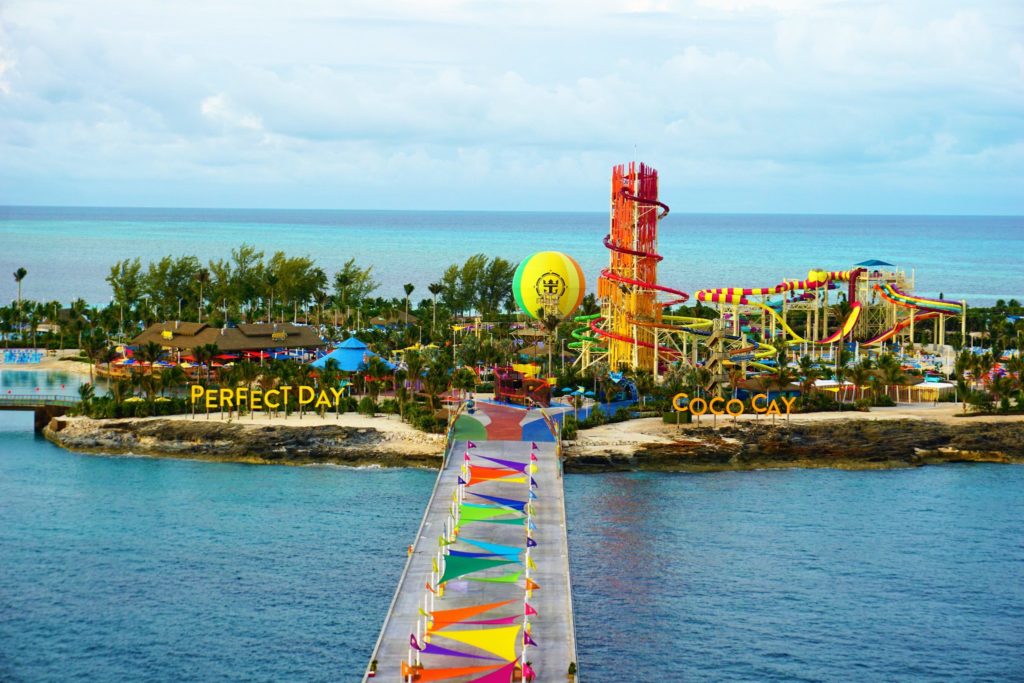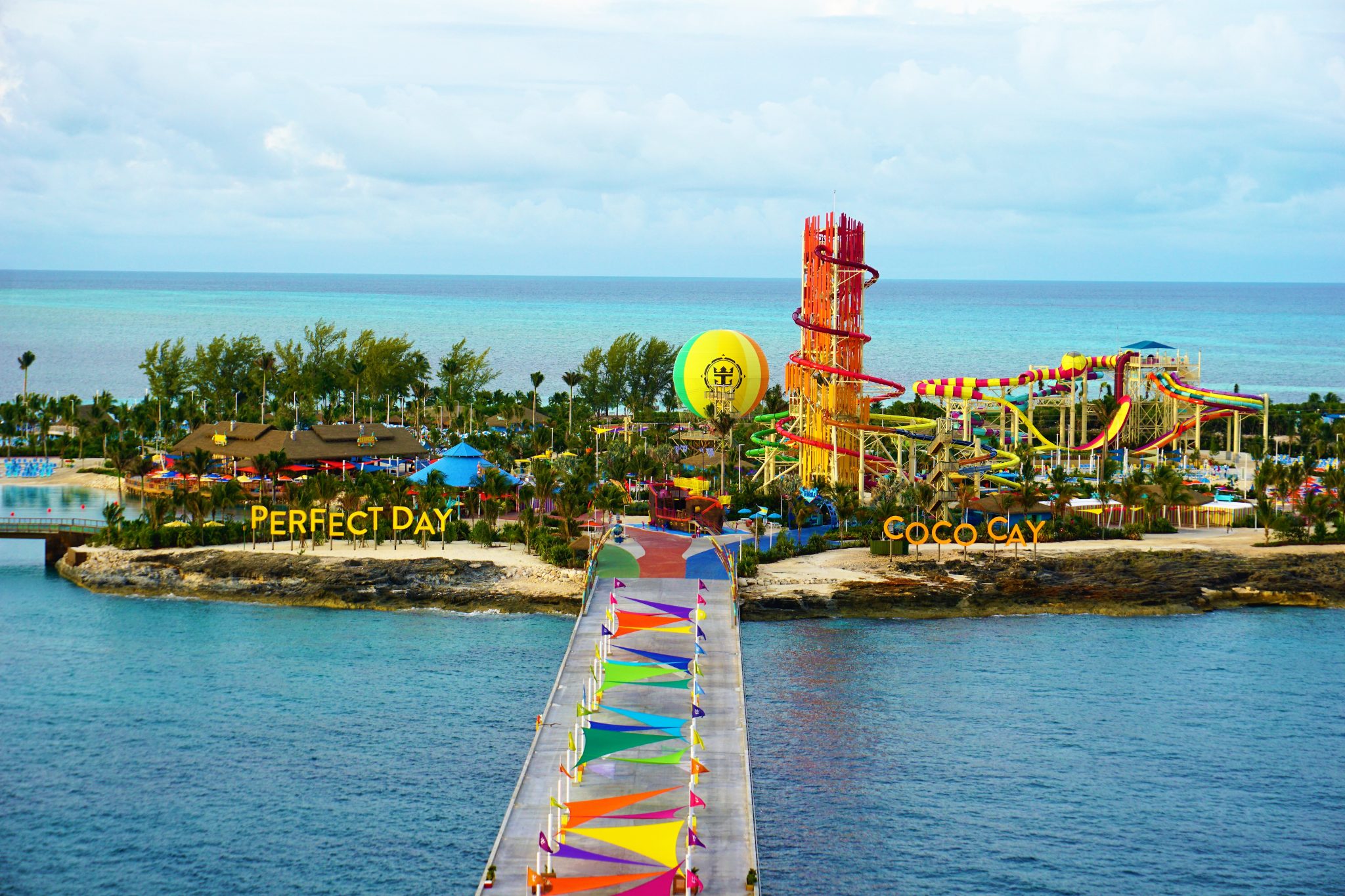 Royal Caribbean Oasis-Class
Royal Caribbean features the world's largest class of ship, the Oasis-class. These mega-ships are home to a variety of family friendly amenities that are mostly part of the standard cruise fare.
These include an onboard water park, a surf simulator, a zip line, sports decks, a skating rink, laser tag, and more. There is a youth program that is also complimentary and organized by junior cruisers' ages.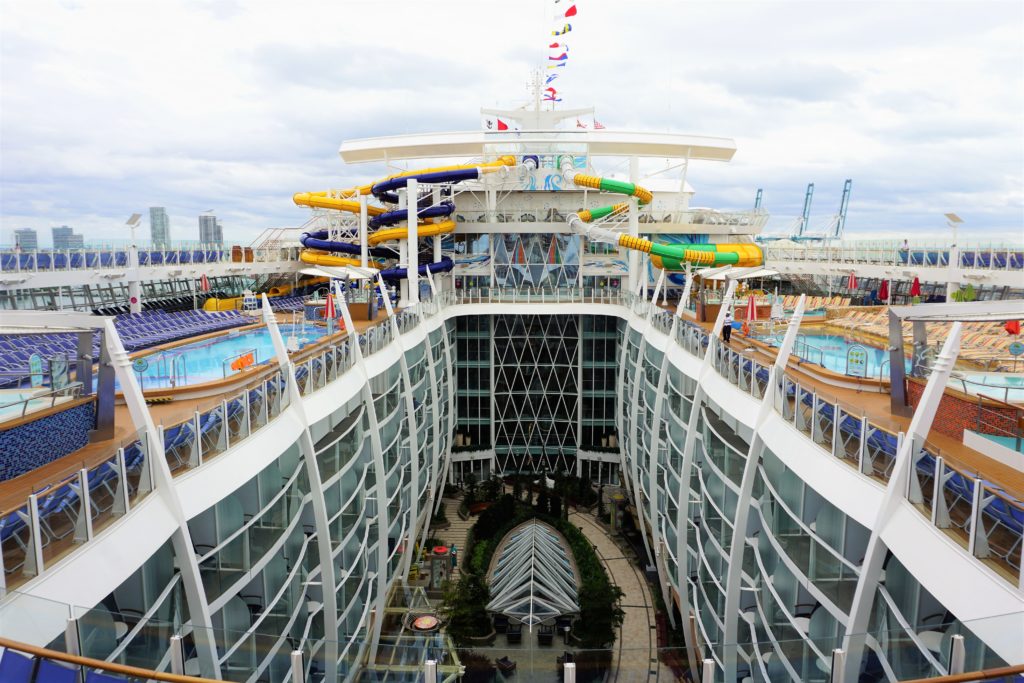 For dining, the main dining room offers both a flexible dining option for dinner or a traditional dining experience. Other casual options include the cruise line's well regarded buffet, the Windjammer, and other spots such as Sorrento's Pizza, Park Cafe (think Panera Bread at sea), the Boardwalk Dog House, and other snack venues. Not to mention, there are several up-charge specialty restaurants for those special occasions.
For entertainment, the ships in this class all have signature Broadway caliber shows, including some of our favorites like Flight and Hairspray on Symphony of the Seas. All Oasis-class ships also feature an outdoor venue known as the Aqua Theater. Here, diving performances showcase talented acrobats and synchronized swimmers.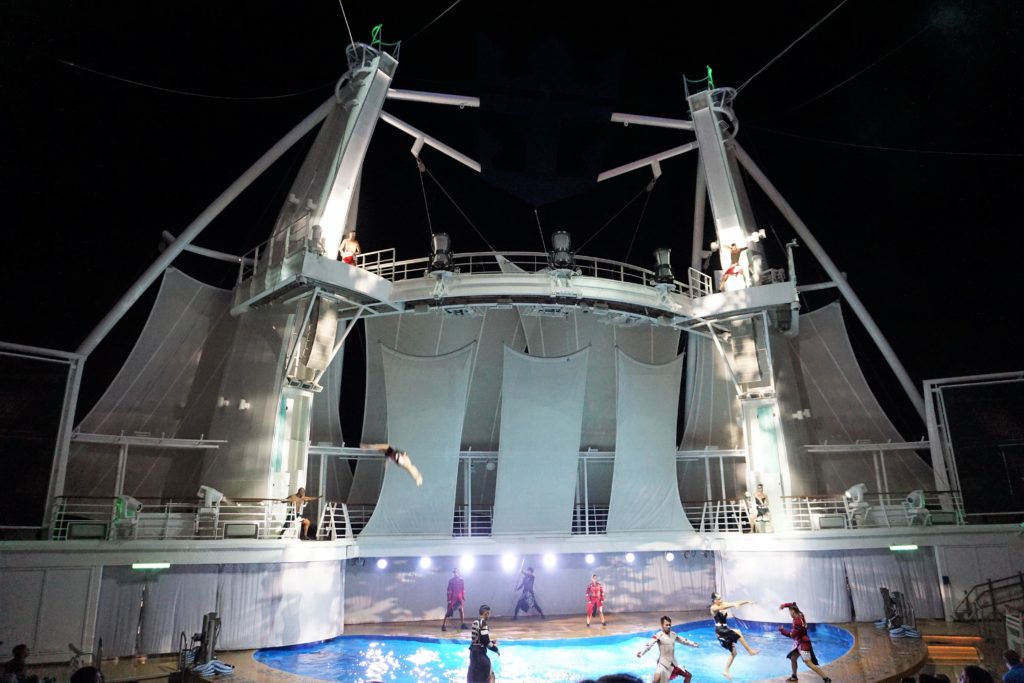 During the day, guests of all ages can partake in trivia contests, scavenger hunts, game shows, and poolside activities. Or, you can just relax at one of the many bars and lounges.
For nightlife, the ships offer a number of themed bars with live music. The Schooner Bar is your piano bar, there is the Latin-inspired Boleros, the Bionic Bar with robotic bartenders, an English pub, and more.
Additional Royal Caribbean Cruise Ships
If you are concerned about the size of these massive vessels, the Freedom-class of ships offer many of the same restaurants, bars, and nightlife as its bigger sisters but are 40% smaller.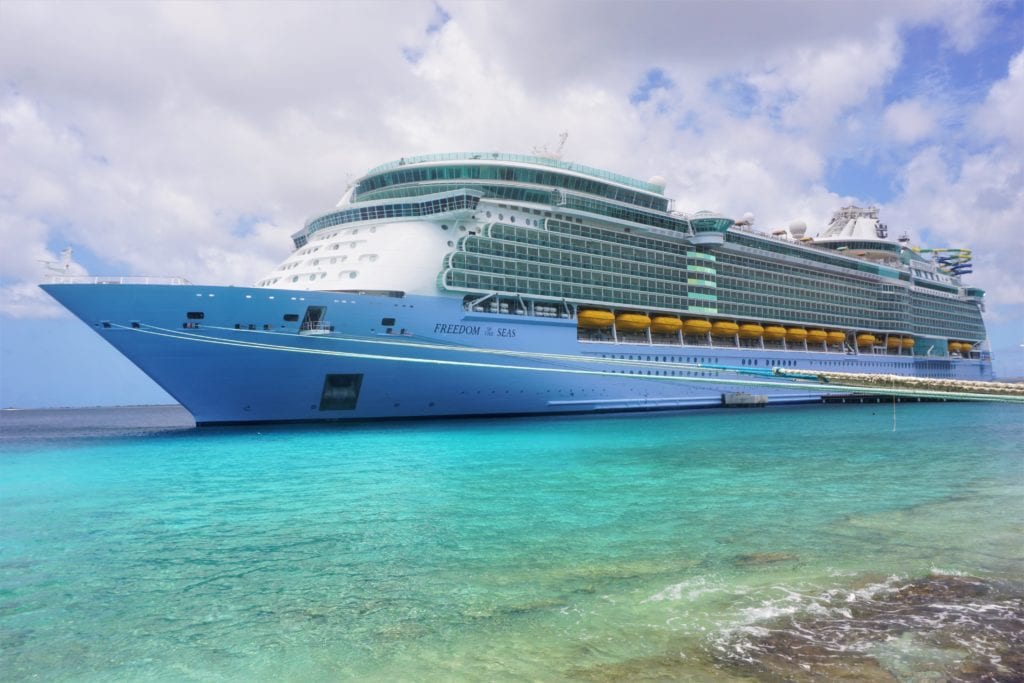 These vessels can also offer more unique itineraries, as they can dock at smaller ports. There are three ships in this class, including the newly amplified Freedom of the Seas. This ship has been enhanced with new dining and onboard activities.
For shorter cruises, the cruise line offers 3 and 4-night cruises on two recently amplified ships, Navigator of the Seas and Mariner of the Seas. These vessels are perfect for a quick weekend getaway cruise. All cruises on both ships visit Perfect Day at CocoCay in the Bahamas.
Finally, Royal Caribbean's Quantum-class ships are also ideal for a family cruise vacation, possibly in a cold weather destination. These ships feature an abundance of one of a kind attractions to keep cruisers of all ages entertained. The Seaplex is home to bumper cars and roller skating, as well as gaming areas. There is also the high-flying North Star and the skydiving simulator, RipCord by iFLY.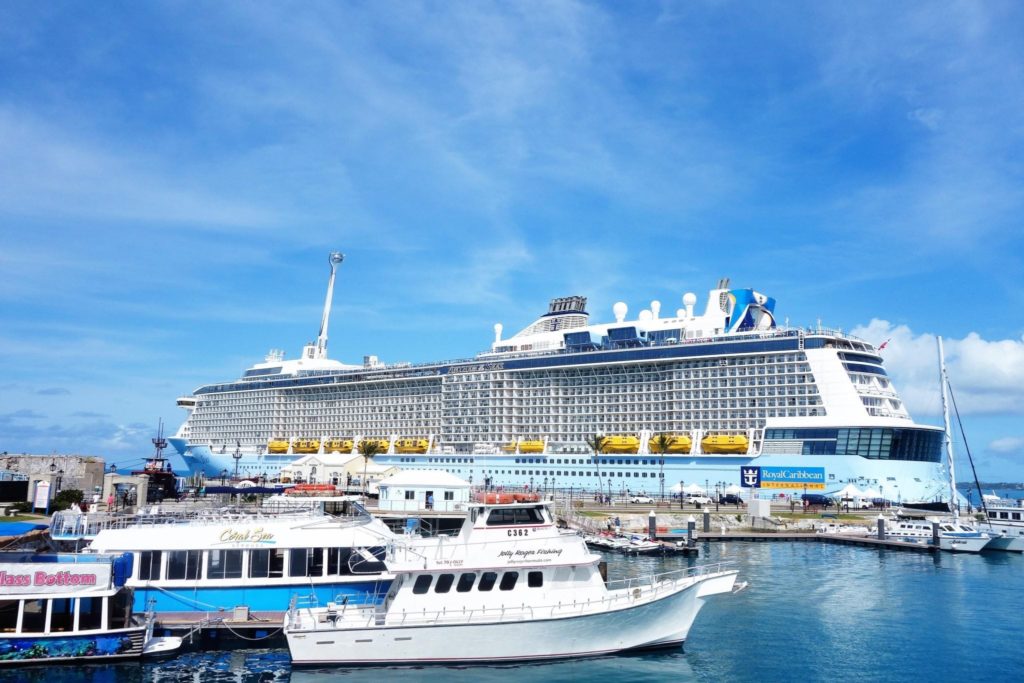 In addition to the main theater, Quantum-class ships are also home to the dynamic Two70. This entertainment venue includes original production shows enhanced with digital screens and robotics. This class of ships also contains the Music Hall, with tribute bands and live performances most nights of the cruise.
Odyssey of the Seas will be the first Quantum Ultra-class ship when she debuts in 2021.
Evaluating Royal Caribbean International
Pros: Royal Caribbean offers a variety of casual dining throughout the ship. Both traditional and flexible dining options are available in the main dining room. There are also a variety of activities for kids of all ages. Further, most onboard activities are included in the cruise fare, with the entertainment options being among the best at sea. Royal Caribbean's private destinations also offer some of best fun ashore.
Cons: Some of the cruise line's ships are very large. So, the demand for onboard activities often means queues form, especially on sea days. The main theater and nightly entertainment options require reservations, which means more planning. Cruises on these mega-ships are moderately priced with limited promotions compared to some other competitor brands.
Related Post: Things You Can Only Find on Royal Caribbean
Best Cruise Lines for Families: Carnival Cruise Line
For those with younger children, Carnival Cruise Line is a great family cruise option at a cheaper price point than Disney. So, it makes our list of the best cruise lines for families.
Currently, Carnival Cruise Line is in the midst of a restructuring. Four vessels from the fleet have been scrapped this year. Further, some of the remaining older ships are now going through extensive updates to receive the brand's Fun Ship 2.0 updates.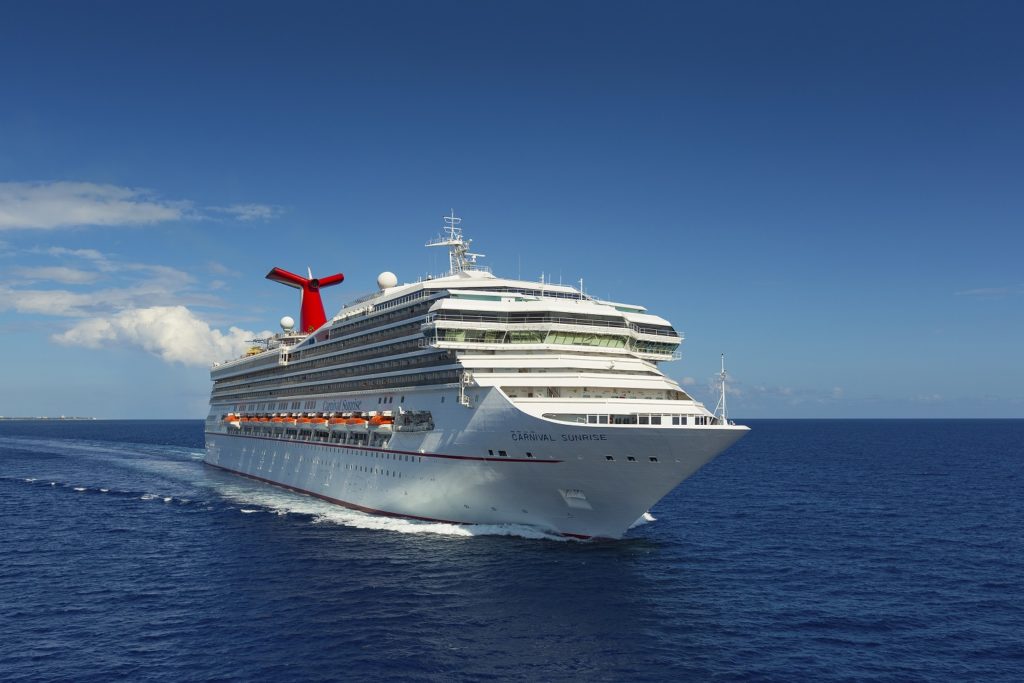 This means that most of the Carnival Cruise Line ships now offer many of the same dining, onboard activities, and amenities regardless of class.
For families, Carnival Cruise Line offers some of the best casual and complimentary dining options. Like other cruise lines, it also offers a traditional main dining room, with both set dining times as well as the flexible Anytime Dining on its vessels.
All ships feature standard amenities like a fitness center, onboard shopping, as well as a casino. Newer vessels feature the Cloud 9 Spa, which also boasts a thermal suite.
The company's Playlist Productions are family-friendly night time shows that are shorter in length than typical cruise ship entertainment. Other entertainment options include shows, like Hasbro Game Night and Lip Sync Battle, that will appeal to both adults and kids.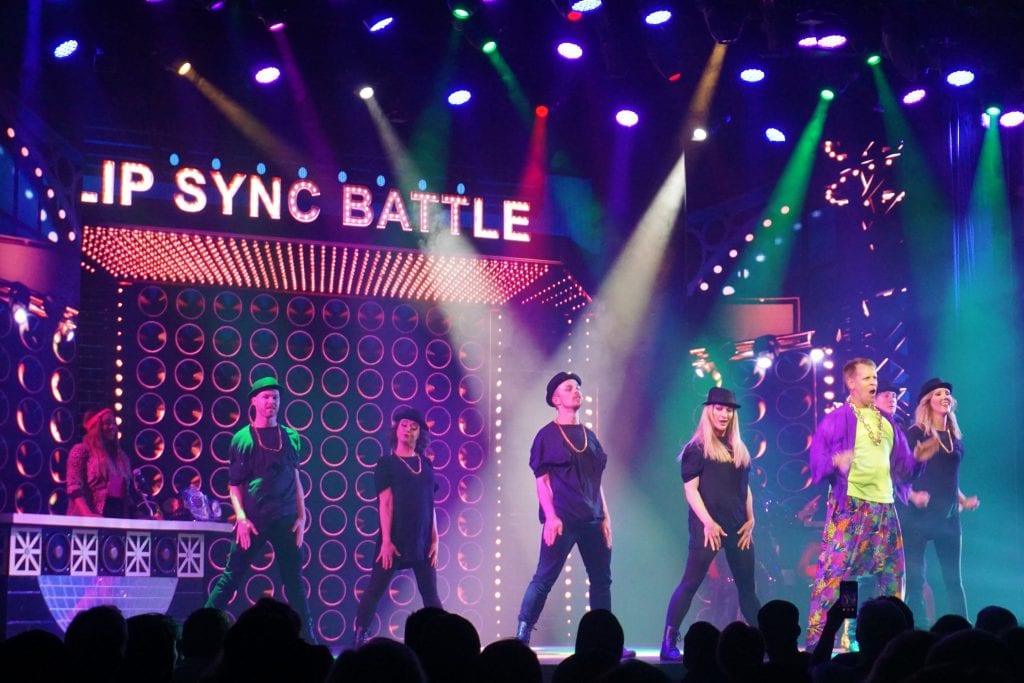 A variety of other activities and nightlife can be found fleet wide. However, we recommend Carnival's Vista-class vessels, as well as the three Dream-class ships. New for 2021 will also be the first ship in the Excel-class, Carnival Mardi Gras.
Carnival Cruise Line Vista-Class
We sailed on the newest member of Carnival's fleet earlier this year. We had a great time on our Carnival Panorama cruise to the Mexican Riviera. So, we can attest firsthand that these ships would be a great option for families with kids of all ages.
The sports deck on this class features something for everyone. Thrill seekers will like the ropes course, as well as the Sky Ride. This self-propelled attraction has you pedaling high above sea level. There is also mini-golf, a basketball court, as well as other larger than life games like pool tables, foosball, and corn hole.
Again, all of these activities are included in the price of your cruise fare. For younger cruisers, the company partners with Cat in Hat to offer themed activities including a Green Eggs and Ham breakfast (additional fee applies). Carnival is not just for the little ones though, as there is also a separate area for teens with plenty of complimentary entertainment.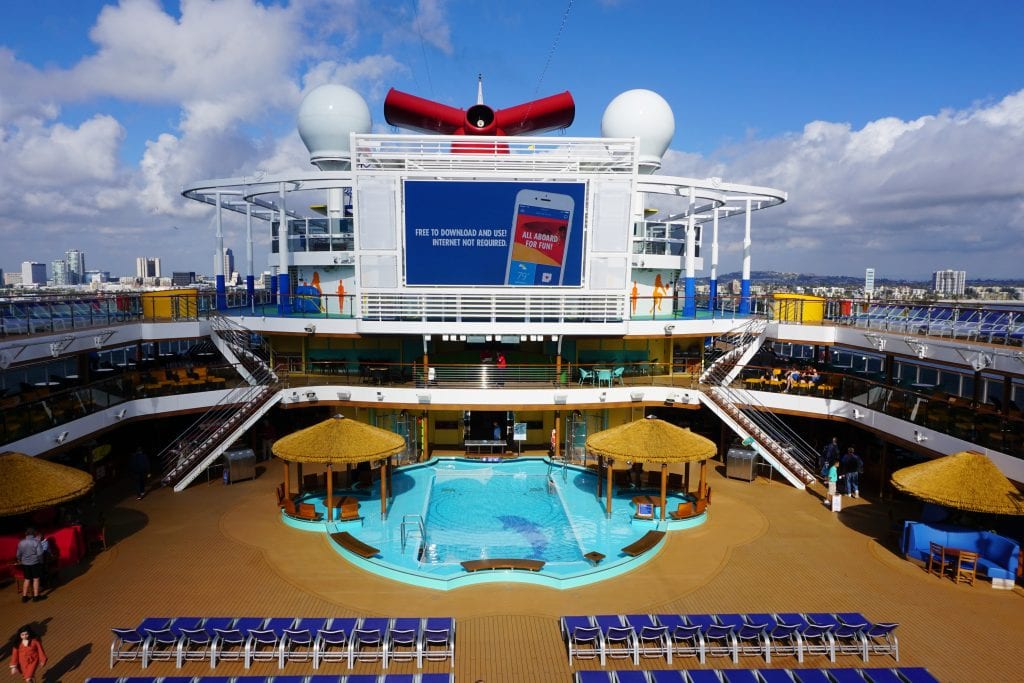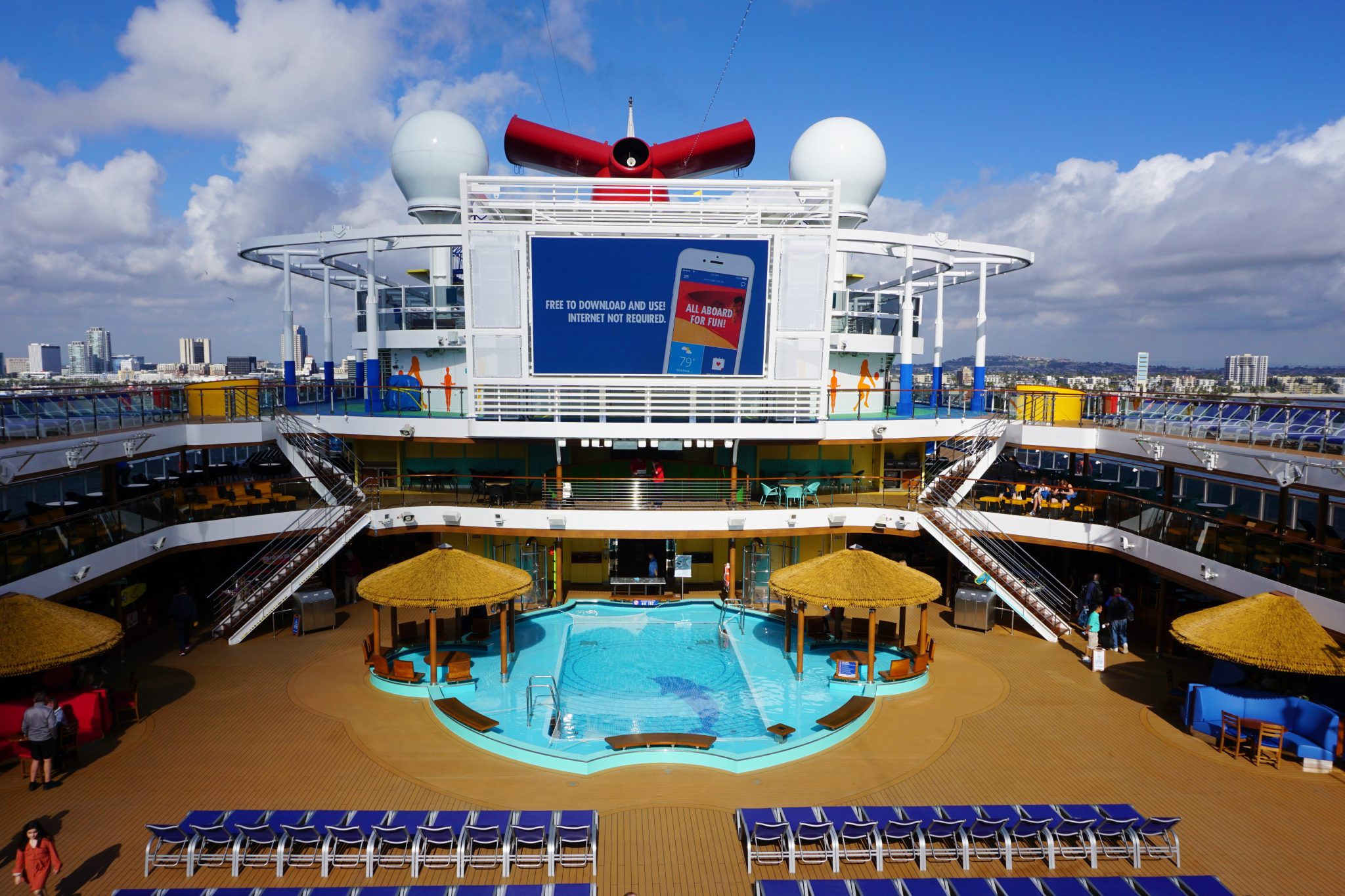 With a main pool, an aft pool, and an adults only Serenity area, there is plenty of outdoor spaces to relax and find your happy place in the sun. There is also the cruise line's water park with slides open to cruisers of all ages.
The best part is that there are plenty of food and drink options that are not far from any of these points. Cruisers can enjoy a custom made burrito at the Blue Iguana Cantina or a Guy's Burger piled high with all the fixings. Not to mention, the 24-hour pizza spot is perhaps the best at sea.
Both a tequila bar and rum bar are also conveniently located near the pool deck for some adult fun.
While there are plenty of delicious specialty restaurants on the Vista-class of ships, we found the complimentary food in the main dining room to be far better than expected. The cruise line features two evenings with upgraded menus, including lobster and other seafood dishes.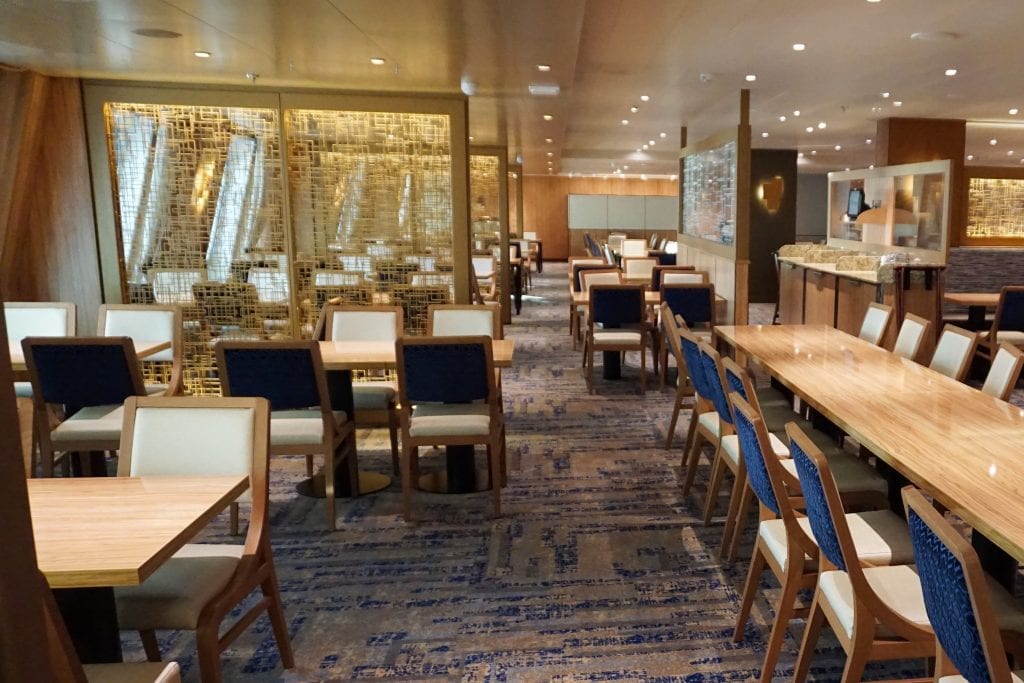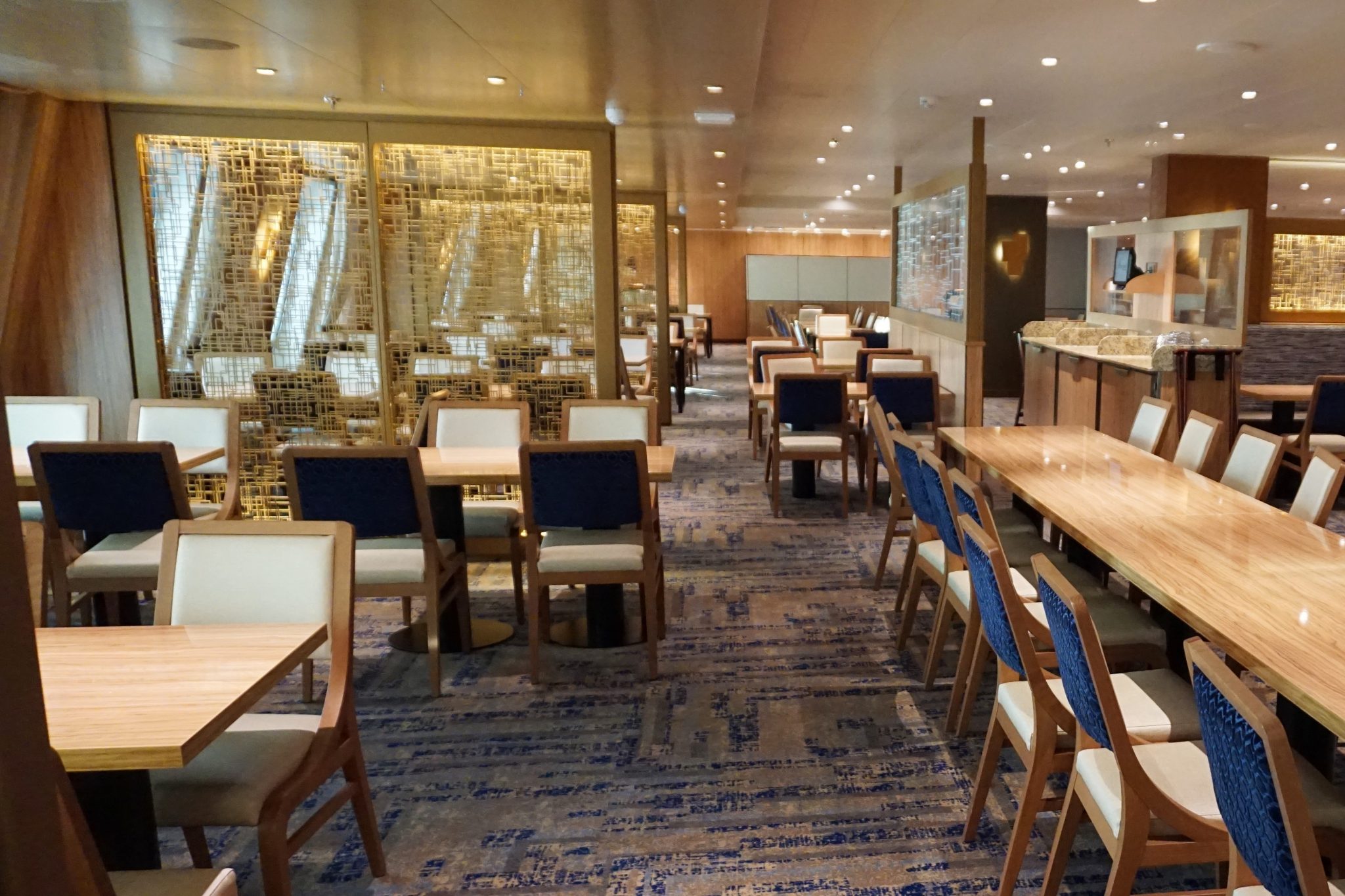 These ships are also home to several themed lounges that feature live music and great cocktails. Our favorite spot to grab some drinks was the Alchemy Bar. There is even a comedy club, featuring both adult only and family friendly shows during the trip. Not to mention, there is a piano bar, a Latin-bar, and the lively Atrium Bar hosting live entertainment and parties throughout the voyage.
Related Post: Things You Can Only Find on Carnival Cruise Line
Additional Carnival Cruise Line Ships
The Dream-class is the next largest class of ships in the Carnival Cruise Line fleet. These three ships feature many of the same bars, restaurants, and amenities that Carnival cruisers love. The variety of onboard offerings make these ships highly appealing to families as well.
Further, Carnival Radiance (formerly Carnival Victory), has undergone an extensive $200 million refurbishment. Carnival Radiance will now debut in Spring of 2021 from Long Beach, California. This "new" ship will sail 3 and 4-day cruises to Baja Mexico visiting Catalina Island and Ensenada.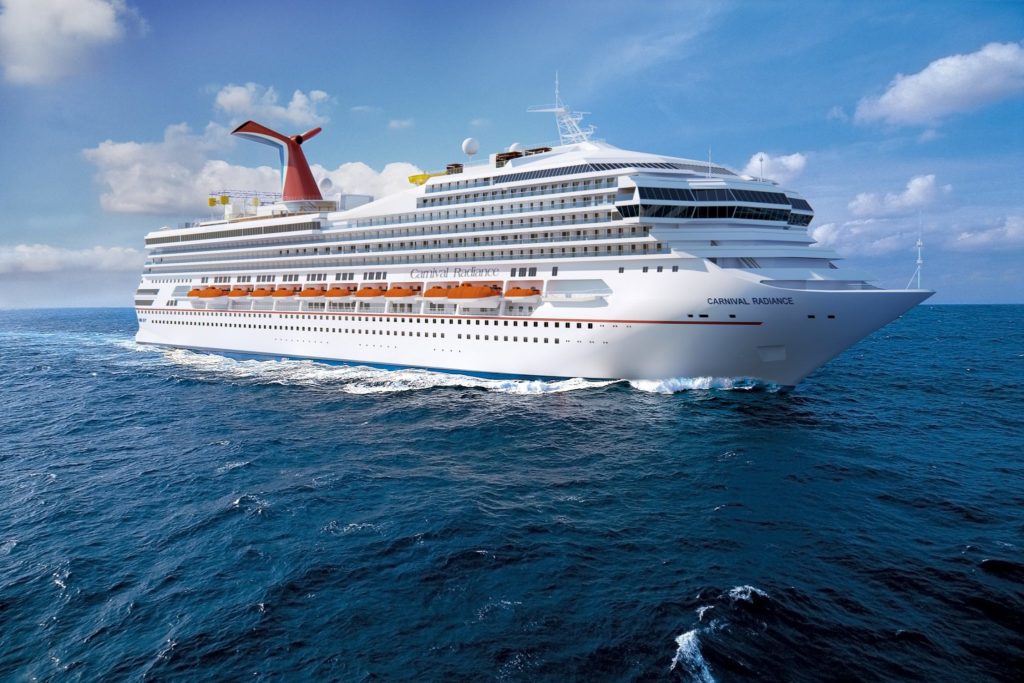 Among Carnival Radiance's many offerings will be the first-ever Big Chicken at sea restaurant, created by the line's Chief Fun Officer, Shaquille O'Neal.
Let's not forget the brand new Carnival Mardi Gras that is also set to debut in 2021. This first ship in the new Excel-class will feature some of the latest and greatest onboard attractions and restaurants.
This ship will be home to the new Emeril's Bistro 1396, in partnership with celebrity chef Emeril Lagasse. Carnival Mardi Gras will also debut the first rollercoaster at sea, as well as the new and improved RedFrog Tiki Bar, a two-story poolside watering hole.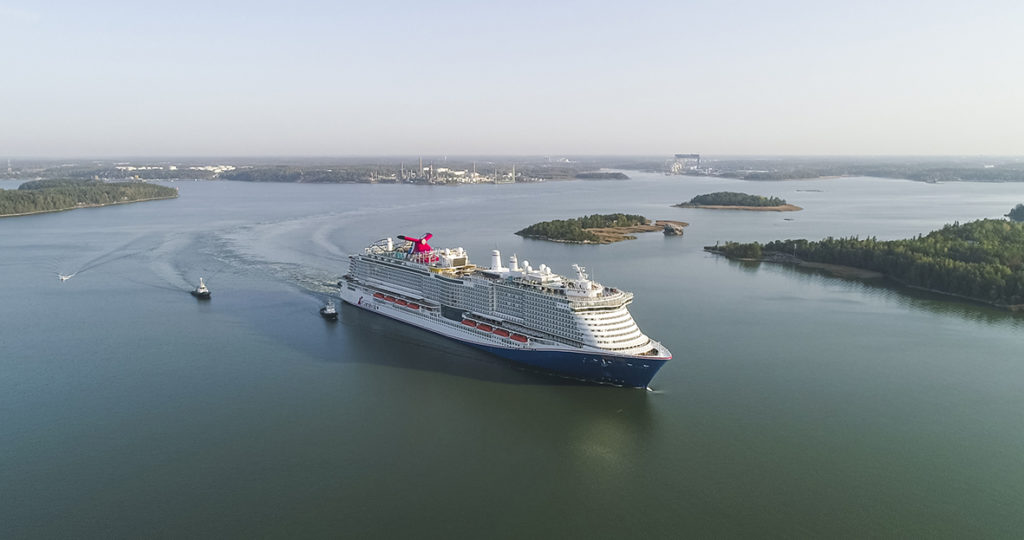 Evaluating Carnival Cruise Line
Pros: Carnival Cruise Line is reasonably priced when compared to its competitors. The cruise line offers a variety of cabin options, with specific family friendly staterooms. There are several youth oriented activities throughout the ship for kids and teens. Further, the dining is excellent, especially the casual options included with the cruise fare.
Cons: Many of the youth programs are geared to younger children with its Dr. Seuss partnership. In our opinion, entertainment is subpar when compared to other brands like Royal Caribbean and NCL. There will be many kids onboard these ships. So, areas can become quickly crowded with limited spaces to enjoy a little rest and relaxation.
Best Cruise Lines for Families: Norwegian Cruise Line
Norwegian Cruise Line is the innovator of the freestyle approach to cruising. This mean that there are no set dinner times or table assignments. On all Norwegian Cruise Line ships, cruisers can choose where they want to eat, when they want to eat. These vessels have a variety of complimentary and specialty restaurants that offer diverse menus.
For those looking for flexibility and some of the newest onboard activities, Norwegian Cruise Line is one of the best cruise lines for families.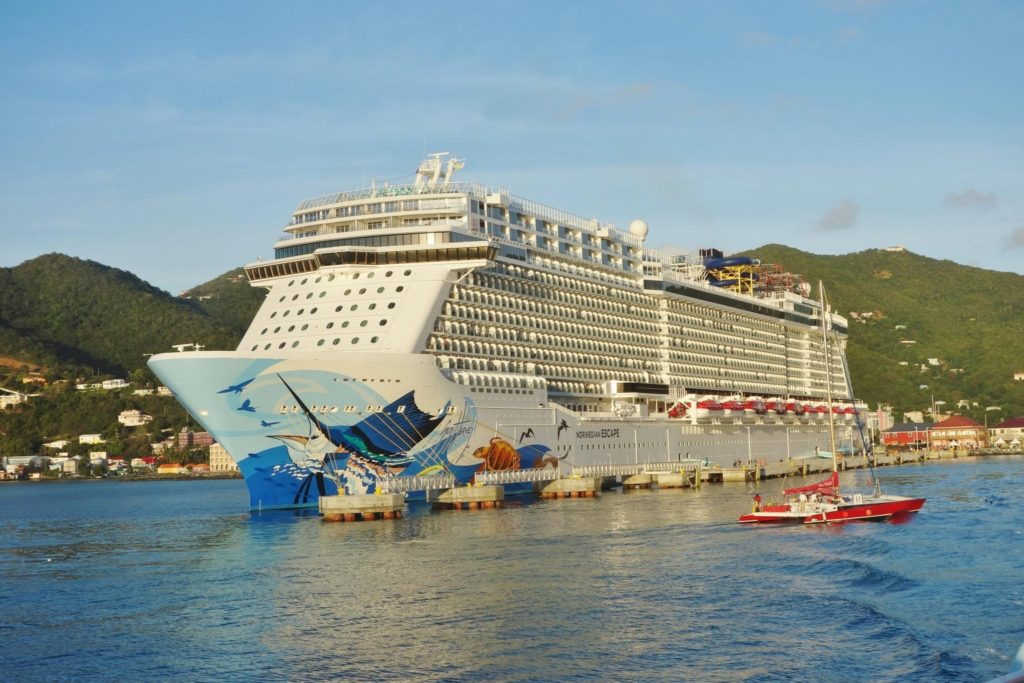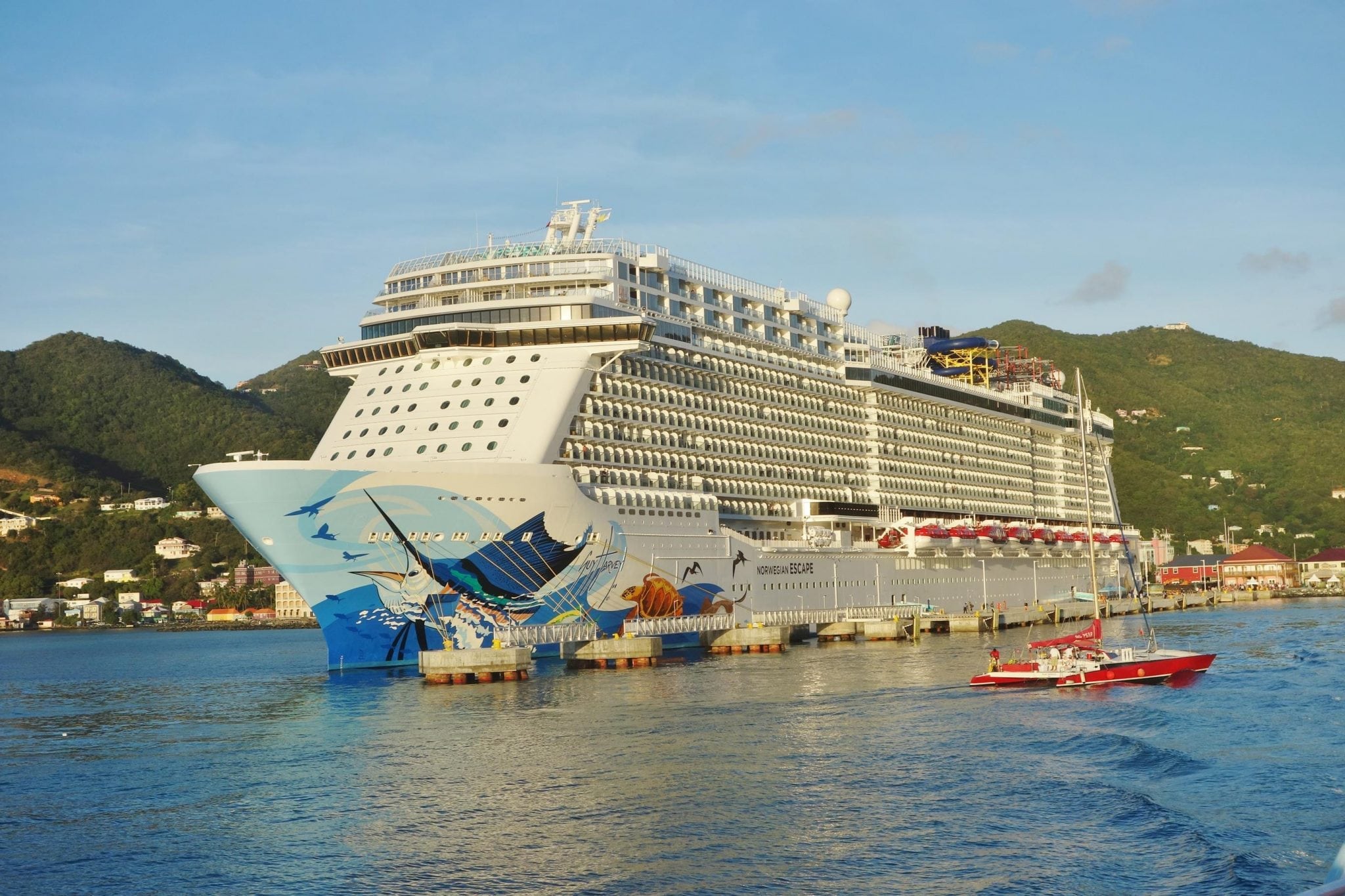 The line's newest class of ships is the Breakaway-Plus class. These innovative vessels boast a number of features that make them the perfect option for families with kids of all ages.
We have sailed on several ships in this class, as well as the slightly smaller Breakaway-class, and highly recommend them. These ships offer cruises in several regions of the world, making them a great option if you are looking for an itinerary outside of the typical Caribbean cruises.
Norwegian Cruise Line Breakaway-Plus Class
This class of ship has four vessels. The newest of them is Norwegian Encore, followed by its sister ships, Norwegian Joy, Norwegian Bliss, and Norwegian Escape.
One of our favorite features of this class of ship is the Waterfront. This mid-level promenade deck features a variety of restaurants, bars and lounges, and other amenities including shopping and entertainment venues. Among some of the newer additions to this area is the specialty restaurant turned country music venue Q Texas Smokehouse. This area also features many of the other restaurants, such as the line's signature steak house Cagney's.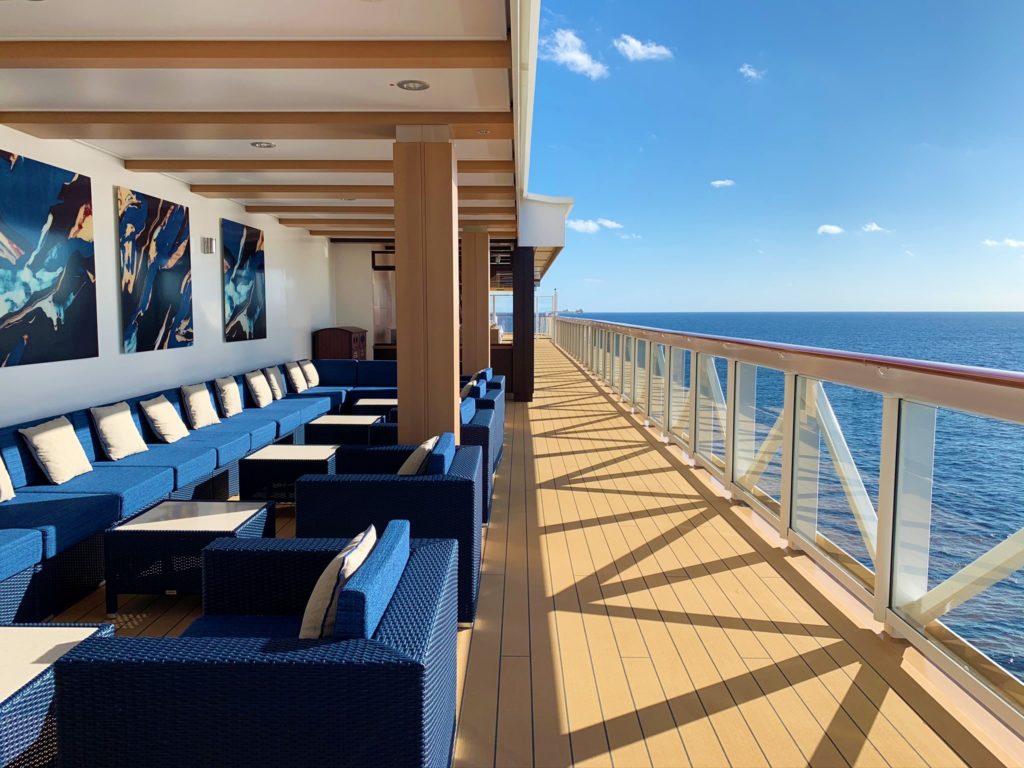 There is also the Princess' favorite, the Sugarcane Mojito Bar. One of the best parts of the Waterfront is that most venues include both indoor and outdoor areas.
The Breakaway-Plus class of ships has some of the most thrilling attractions at sea. Among them are go-kart courses, state of the art laser tag, ropes courses, as well as some of the fastest waterslides. Some of these ships also feature Spice H20, an adults only area with water features, a bar, and private space for those that are 18+.
On Norwegian Joy and Norwegian Encore, there is the Galaxy Pavilion too. This digitally enhanced area is home to interactive attractions, ride simulators, and games that everyone in the family will enjoy.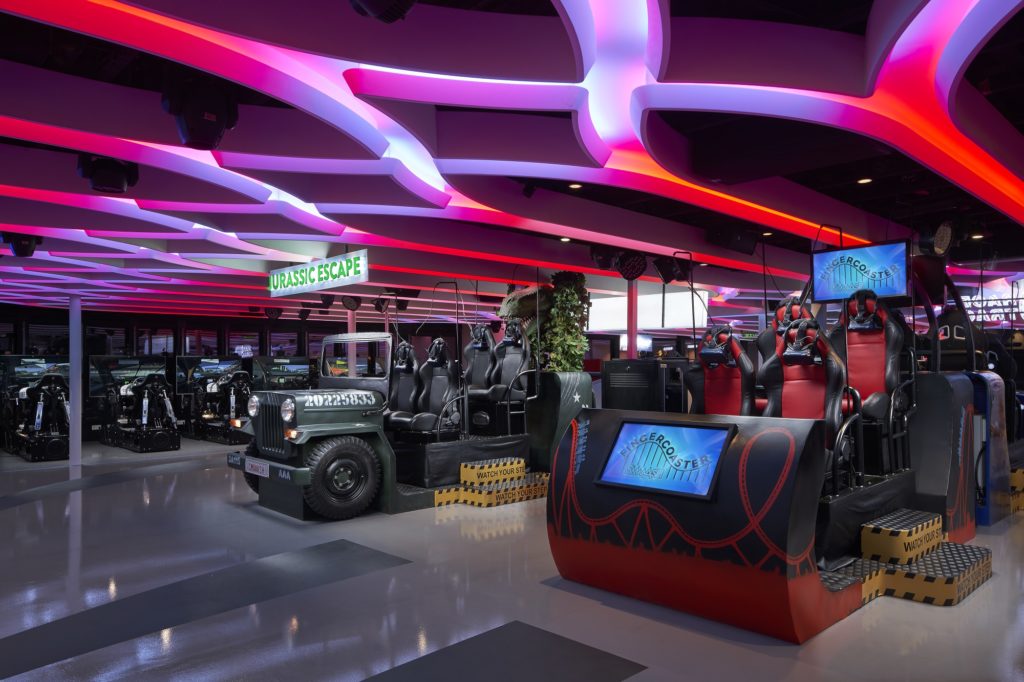 The main theater is home to Broadway-caliber shows, such as Jersey Boys and Kinky Boots. Another exclusive entertainment option on many ships is Choir of Man, a lively cruiser favorite. Nightlife includes comedy shows, live music in several venues like the Cavern Club featuring Beatles tribute bands, and typical cruise line game shows and parties.
Related Post: Things You Can Only Find on NCL Ships
Additional Norwegian Cruise Line Ships
As mentioned above, the cruise line's Breakaway-class features many of the same amenities as the brand's larger Breakaway-Plus class of ships. These include the Waterfront with bars and lounges, as well as their own signature entertainment in the main theater along with Howl at the Moon, a dueling pianos bar.
Both Norwegian Breakaway and Norwegian Getaway actually have more outdoor activities that are included in the cruise fare, such as a waterpark featuring drop slides and an aqua park for the little ones. Both ships also have a full-fledged ropes course complete with zip lines and a plank that extends off the side of the ship, as well as mini-golf courses.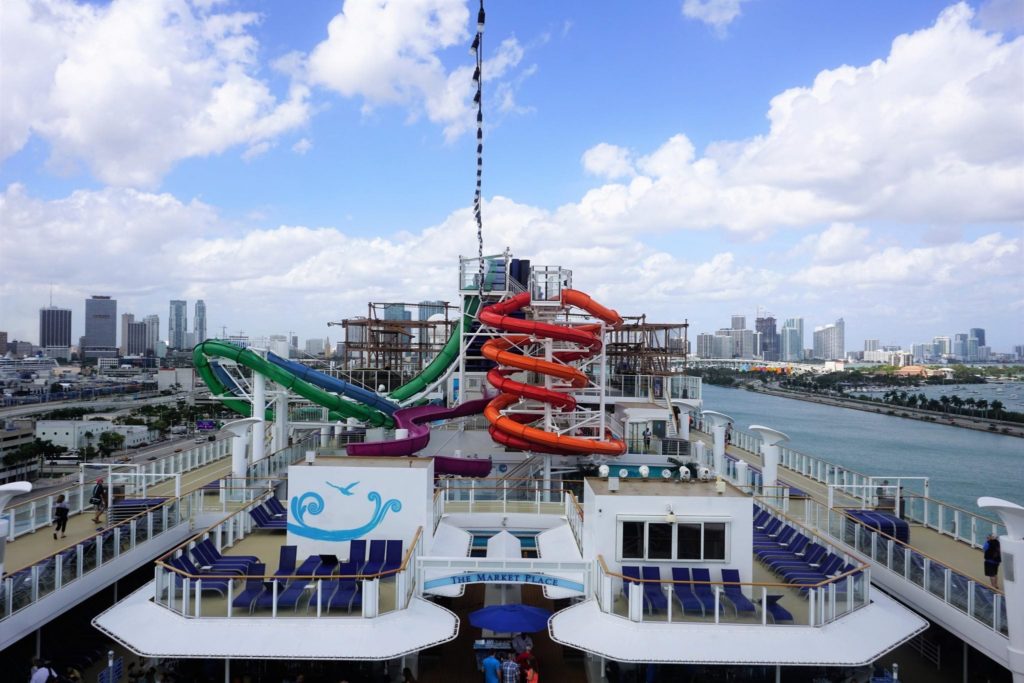 Many of the same restaurants exist on these ships too, offering a mix of up-charge and complimentary dining venues with over 15 different options to choose.
For those looking to go big, both classes of ships have the Haven. This exclusive area of the ship features its own private pool, restaurant, bar, and other perks available to only guests with staterooms in this category. The Haven's larger rooms offer more comfort and luxuries than your typical stateroom cabin. Of course, rooms in this secluded part of the ship do come at a premium!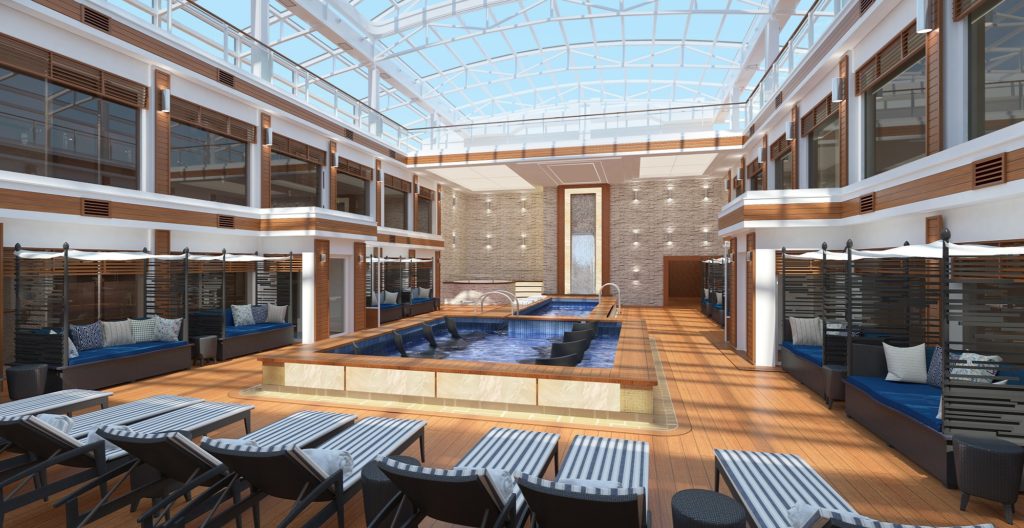 Evaluating Norwegian Cruise Line
Pros: Norwegian Cruise Line often has some of the cheapest cruise fares of the contemporary cruise lines. Also, NCL regularly runs promotions including Kids Sail Free and free Adult Beverage Packages. The brand's ships offer a variety of activities appealing to adults and older kids, as well as top-night entertainment. The freestyle approach to cruising allows for flexibility for those who want to go with the flow. However, for those who like to plan, you can still make reservations ahead of time.
Cons: Some ships lack kid friendly options for the little ones. There are many great specialty restaurants but they do come at an up-charge. Likewise, several of the onboard activities have additional fees as well. Like Royal Caribbean, reservations are required for some entertainment options, and they can hit capacity quickly.
Related Post: Guide to Norwegian Cruise Line Drink Packages
Best Cruise Lines for Families: MSC Cruises
Almost all brands offer voyages in Europe and the Mediterranean. Still, MSC Cruises is one of the largest cruise lines in the region. This family-owned cruise line offers a variety of larger vessels that are a perfect fit for families of all ages. So, MSC Cruises rounds out our list of the best cruise lines for families.
It was just a few years ago that the cruise line announced an ambitious expansion plan of launching 11 ships in 10 years. This plan includes a number of new ship classes and vessels. Among the new ships that have successfully set sail (or will debut soon) are the Seaside-class (3 ships), the Meraviglia-class (2 ships), and the Meraviglia-Plus class (2 ships).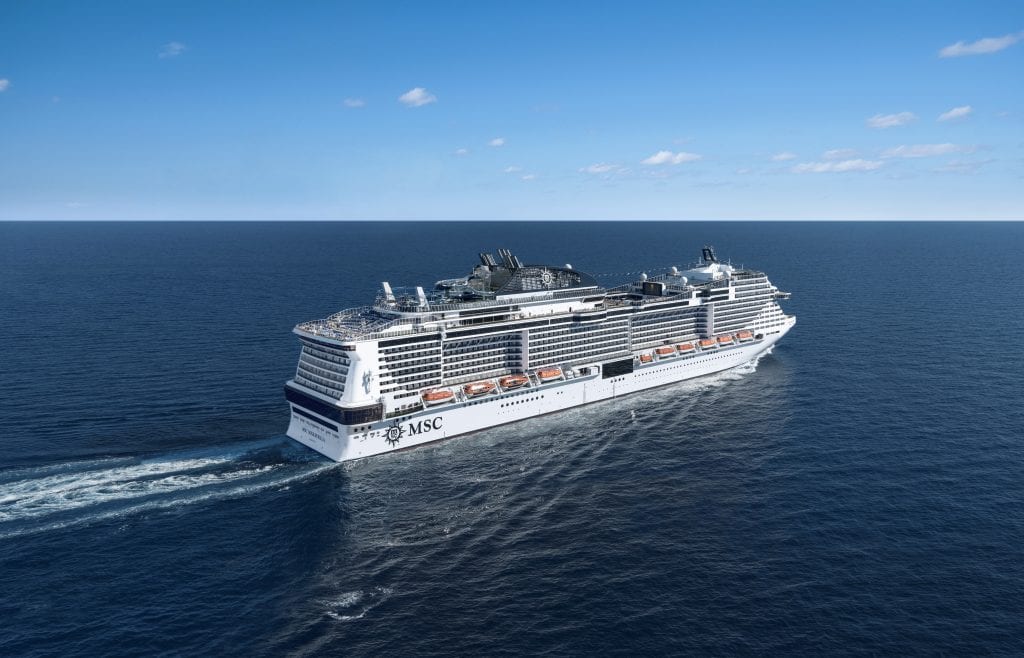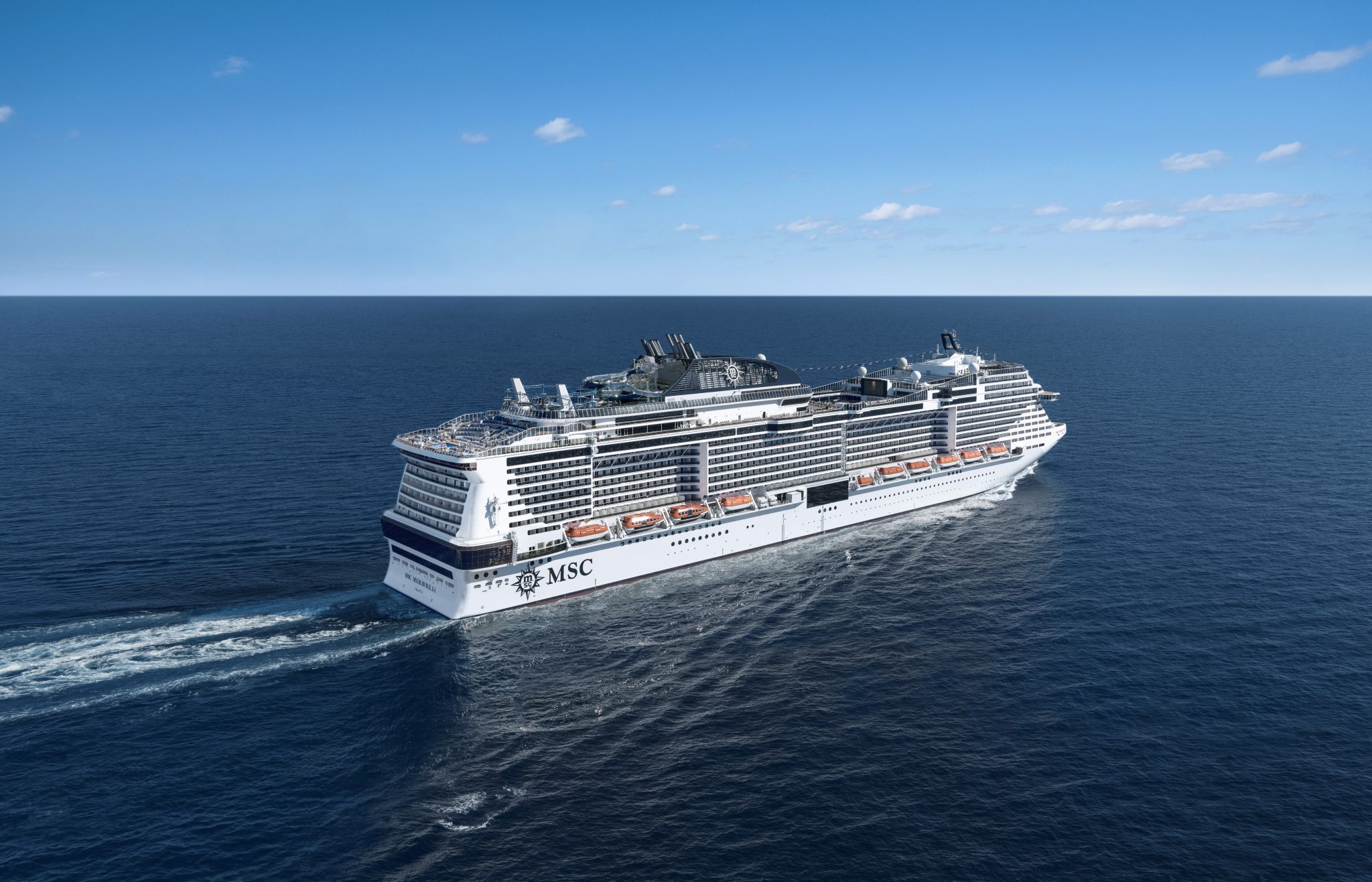 Although they are different classes of ships, many of these modern cruise ships do have several of the same features. So, when examining cruise ships on MSC Cruises, we would recommend you focus on these newer, more modern vessels.
MSC Cruises Newest Ships
MSC Cruises' newest ships boast some of the most outdoor space at sea. These public decks included several features that will appeal to multi-generational families.
Most of the larger MSC ships offer several pools each with its own theme. These include family friendly pools, as well as adult only pools. After all, parents deserve a little rest and relaxation on vacation too.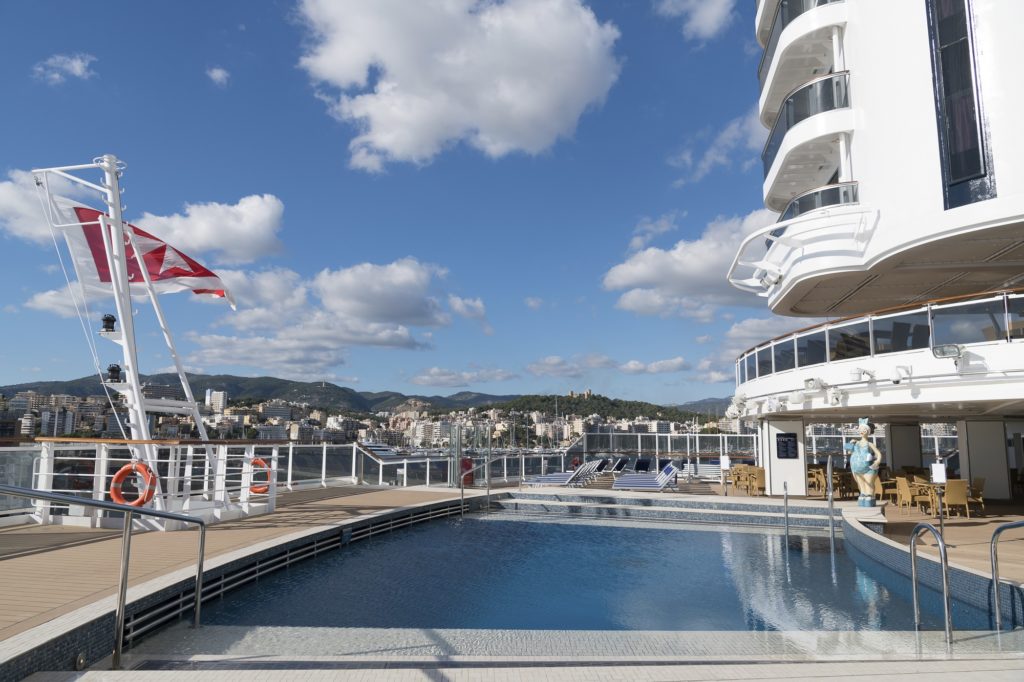 On MSC Seaside, which sails in the U.S., you will find waterslides and plenty of other outdoor entertainment. These include sports courts, ropes courses, and zip lines. The children's areas on MSC Cruises are quite large as well, offering a diversity of activities for kids from 3 to 17 years old.
Other activities on MSC Cruises that will appeal to families include interactive experiences. Among these are 4D ride simulators, F1 car simulators, and other digitally enhanced games.
Regardless of the class of ship, all of these vessels include the MSC Aurea Spa as well. With a mix of different spa treatments, as well as a thermal suite, you can unwind in style. These ships also feature state of the art fitness centers with new equipment and group classes.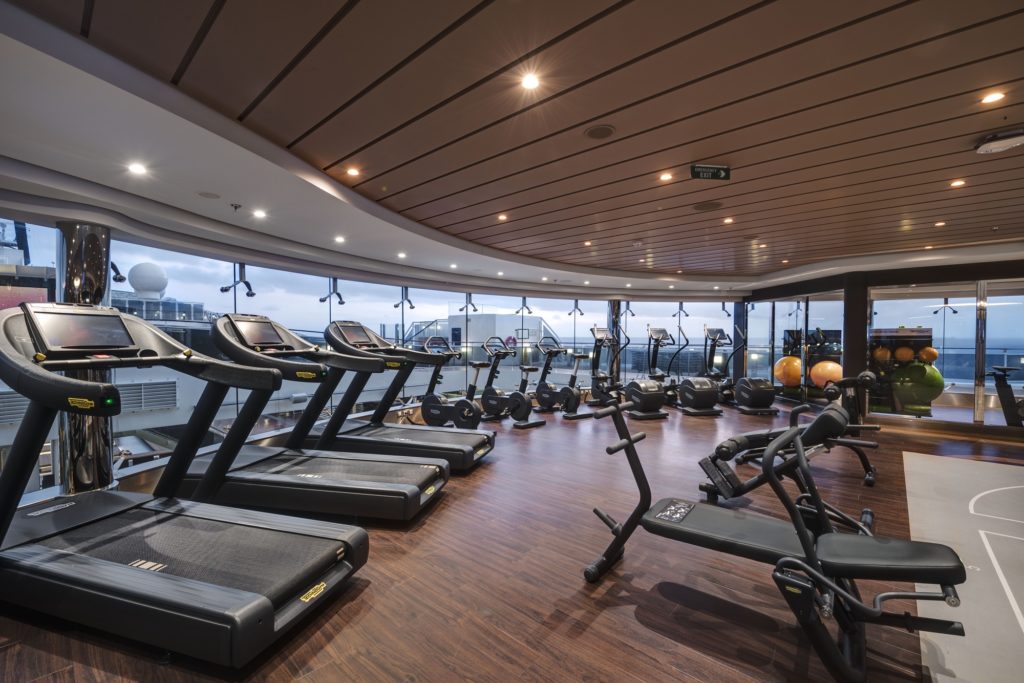 All of the brand's mega-ships offer a main dining room with both traditional and flexible dining options. In addition, the ships boast a number of casual dining options, including a massive buffet with food from around the world. Did we mention that MSC Cruises also has some of the best pizza at sea? Perfect for the kids!
When it comes to specialty dining, there are several themed restaurants featuring French, Italian, seafood, and Spanish cuisine. Not to mention, there are signature steakhouses, Asian and sushi, and upscale dessert and chocolatier options to indulge on during your vacation. The cruise line does offer both adult beverage packages and specialty dining packages for ease and cost savings.
On the Seaside-class, you can enjoy the Waterfront Boardwalk. This mid-ship promenade deck offers amazing outdoor views, al fresco dining and drinks, as well as shopping and an exclusive pool area. On the Meraviglia and Meraviglia-Plus class, the Galleria is an indoor promenade with shops, dining, and other experiences. To top things off, the roof of this deck includes an LED screen for interactive scenery throughout the day.
In the main theater, these ships offer production show featuring the ship's singers and dancers nightly. MSC Cruises also has an exclusive partnership with Cirque Du Soleil. For the most part, these mega-ships offer two different shows during the cruise which occur in their own signature theater. These Cirque shows are an up-charge but well worth the costs.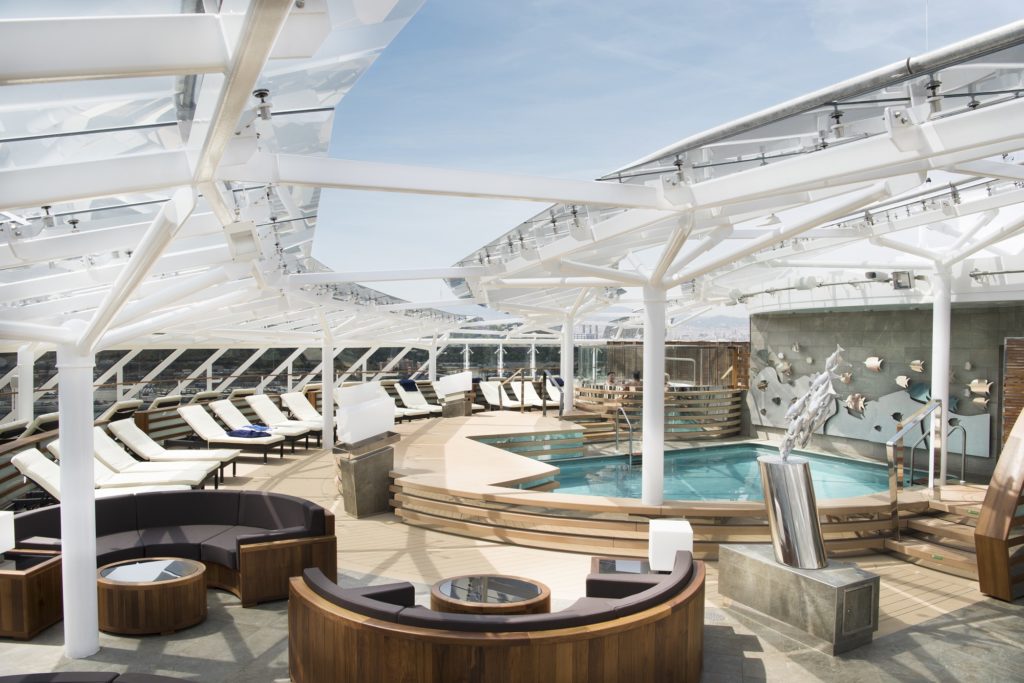 Similar to Norwegian Cruise Line's Haven, MSC Cruises offers the Yacht Club. This "ship within a ship" concept has a private restaurant, lounge, and pool area for individuals staying in a stateroom in the Yacht Club. Upgrading to this area provides you with additional privileges throughout the ship as well. These include select beverages at bars and lounges, butler service, upgraded internet, and priority boarding.
Related Post: Where Should I Go on My First Cruise?
Evaluating MSC Cruises
Pros: MSC Cruises offers a plethora of new ships with a variety of amenities. These ships also sail to various regions of the world. The brand's ships offer some of the largest guest to space ratios of contemporary cruise ships. Onboard amenities appeal to all ages, with specific areas for kids, teens, and adults. MSC has several dining options and first-class entertainment with exclusive partnerships. Further, MSC offers a generous matching status for its loyalty program.
Cons: There are a limited number of ships that sail from the United States. Like NCL, several onboard amenities are an up-charge. Youth programs lack theming and popular brands familiar to U.S. based cruisers. Included dining options are often rated subpar by cruisers when compared to other cruise lines. The multi-cultural clientele and European influence on the ships might not appeal to all travelers.
Comments
Did we leave any of your favorite cruise lines off this list? Do you have a recommendation for the best cruise lines for families? Drop us an anchor below to share your family cruise experiences.