Norwegian Cruise Line was an innovator in the industry when it introduced Freestyle Dining. With 17 ships in its fleet, the cruise line offers a variety of restaurants and eateries. Having sailed on many of these NCL ships, we have sampled quite a few of the mouthwatering options. See what ranks as some of our favorites dishes in our top foods on Norwegian Cruise Line.
Let us know in the comments section below your picks for the best foods on NCL.
Top 12 Foods on Norwegian Cruise Line
Chicken Wings at The Local
One of our favorite casual dining spots on a cruise ship is The Local, or O'Sheehan's on slightly older NCL ships. This pub is open 24 hours a day offering breakfast, lunch/dinner, and late night snacks. One of the best features for me are the chicken wings.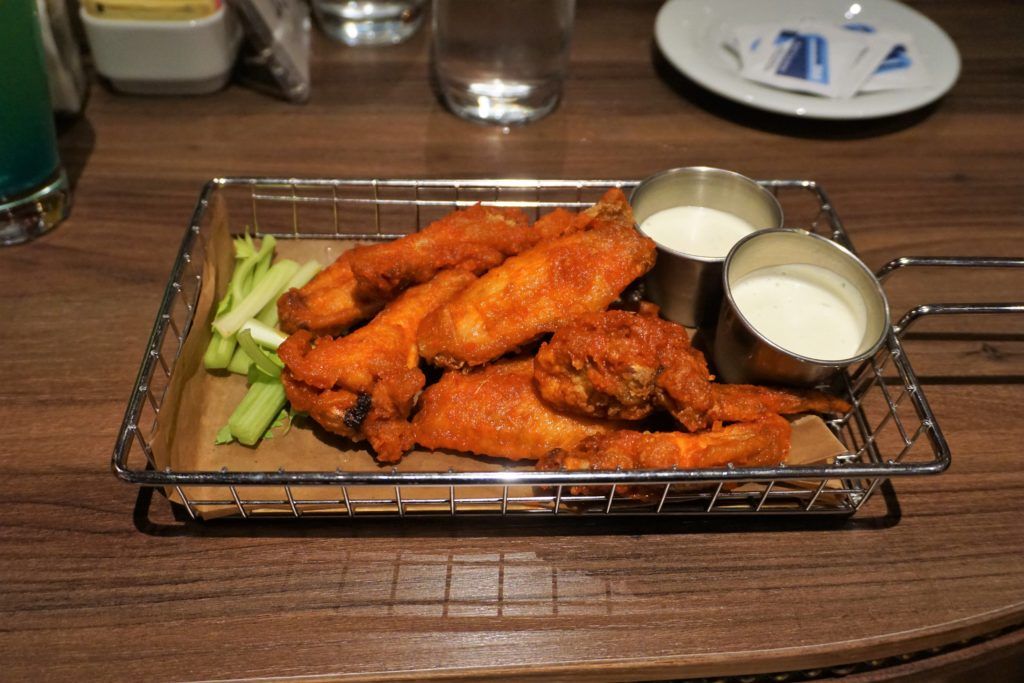 Served with a variety of sauces, I am known for ordering several dozen wings over the course of a week long cruise. Hot, fresh, and crispy. Did I mention that these are complimentary? Other favorites here include the Reuben and the Watermelon Greek Salad.
Prime Rib at the Manhattan Room
On Norwegian Cruise Line's larger ships, such as Norwegian Encore, there are several main dining rooms. The signature venue is the Manhattan Room. Located aft of the ship, this upscale and complimentary venue offers amazing views, coupled with great food. While the menu changes nightly and features a variety of tasty options, you can't go wrong with the Roasted Prime Rib. Often served on the last night of the cruise, it is a great farewell entrée.
Related Post: Norwegian Encore Restaurant Guide
Surf and Turf at Cagney's Steakhouse
For meat lovers looking for the ideal combination, you can't go wrong with the Surf and Turf at Cagney's Steakhouse. Depending on the ship, we have seen this duo include a filet mignon, with either grilled shrimp or a lobster tail. Either way, this perfectly seared steak pairs nicely with either seafood option.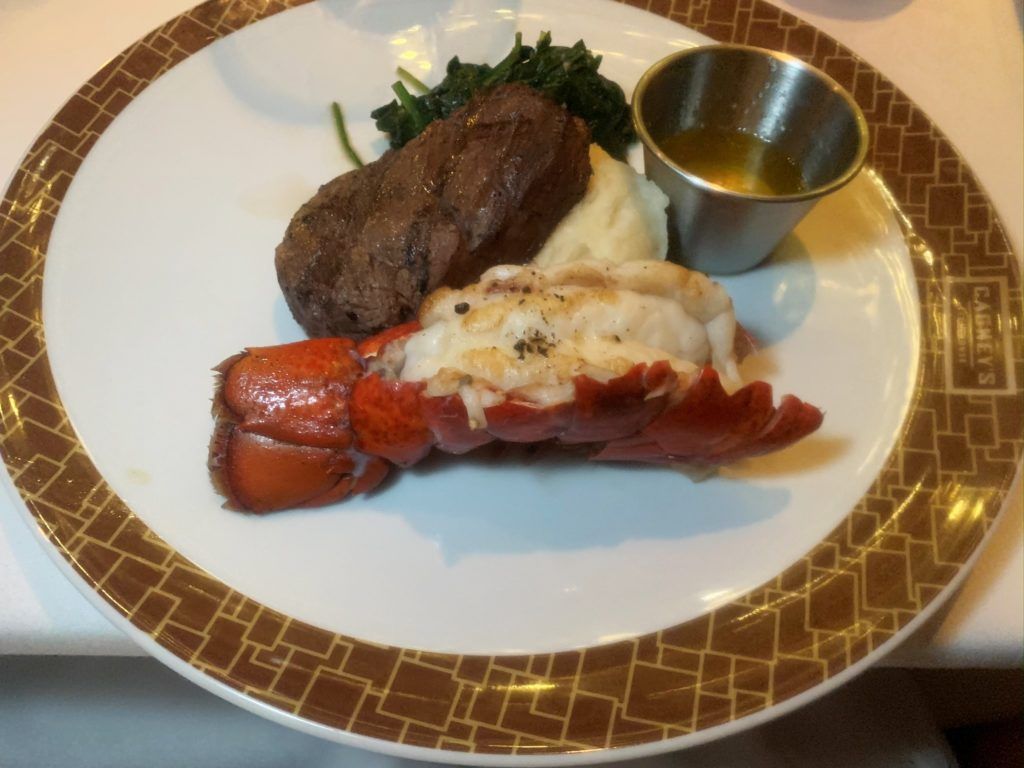 Not to mention, you can enjoy other favorites including crab cakes and shrimp cocktail at this specialty restaurant. Just make sure you have a Norwegian Cruise Line Specialty Dining Package so you can enjoy the steakhouse at a great savings!
Seafood Extravaganza at the Garden Cafe
While we often avoid the ship's buffet, there is certainly one night I always stop into the Garden Cafe. This is for the featured Seafood Extravaganza. You can expect to find a variety of chilled specialties and delicious entrees making it a worthy addition to our top foods on Norwegian Cruise Line. While offerings may differ by ship, the buffet will most likely feature items such as shrimp cocktail, crab legs and claws, oysters, seafood pasta, fried fish, and more.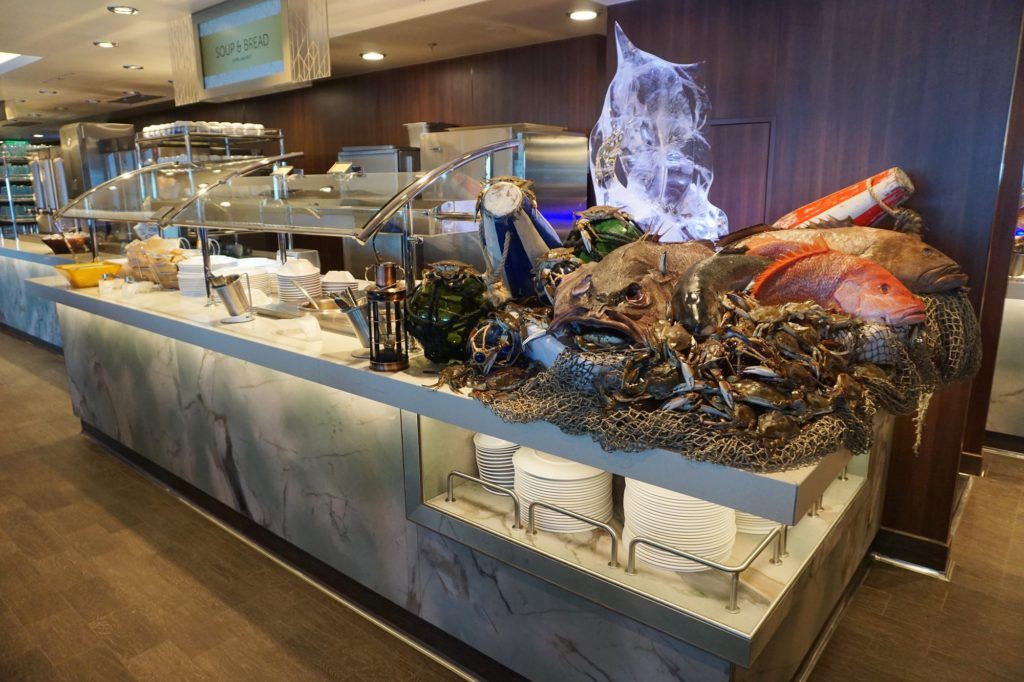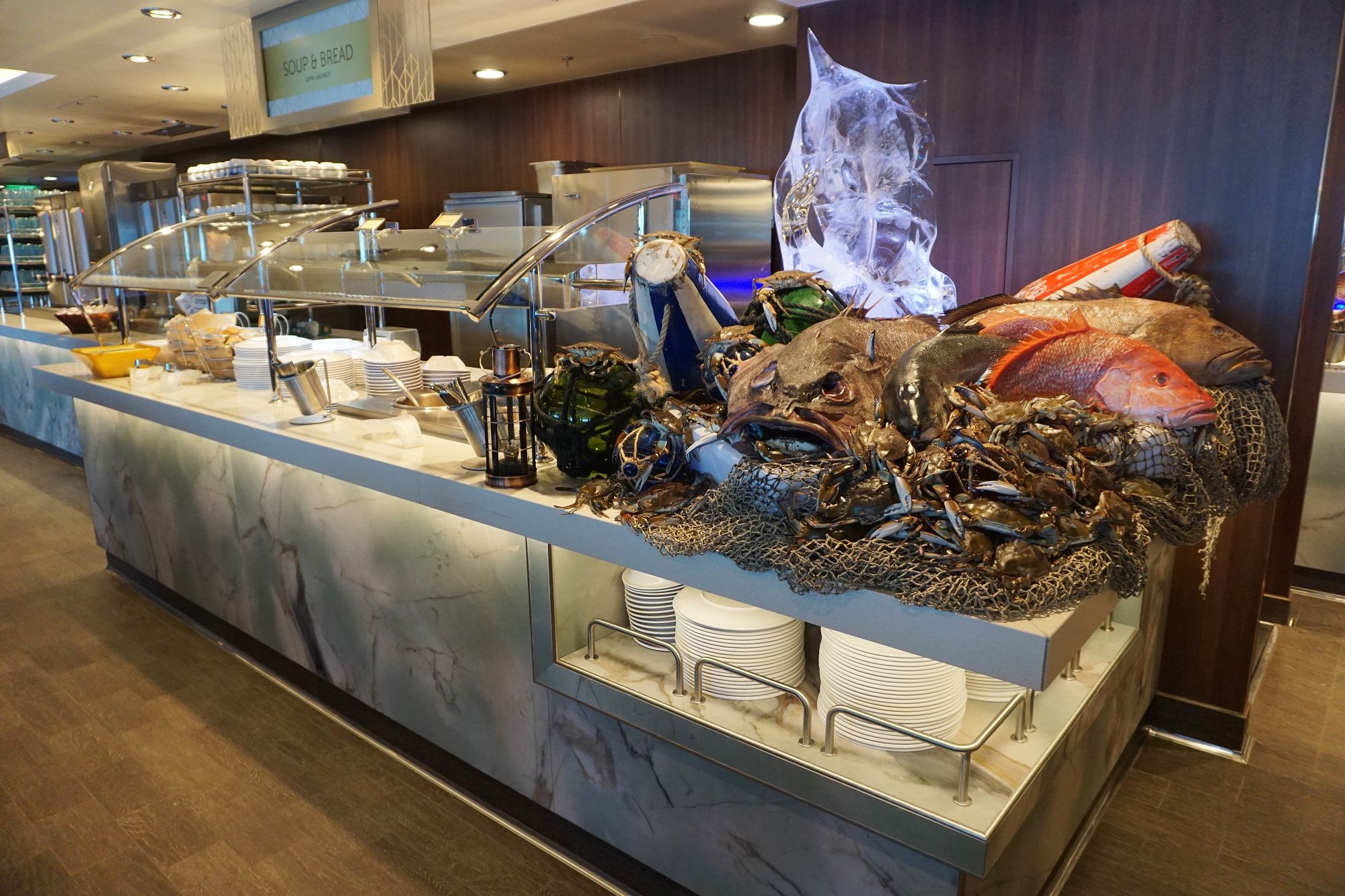 Related Post: What's Included on Norwegian Cruise Line
Small Bites at Food Republic
If your Norwegian Cruise Line ship has a Food Republic, you should definitely reserve a spot at this tapas restaurant. Located on the Waterfront, this specialty dining venue is a fusion restaurant offering an eclectic mix of small plates. Combining cooking styles and ingredients from around the world, we highly recommend the Salt and Pepper Calamari, the Kimchee Fried Rice, the Elote Mexicano, and the Spicey Korean Fried Chicken, to name a few! There is also an extensive sushi bar and the very popular green tea jar for dessert!
Coq Au Vin at Le Bistro
Norwegian Cruise Line's signature French restaurant, Le Bistro, serves up a number of authentic dishes. One of the Princess' go-to entrees when dining at this restaurant is the Coq Au Vin. This hearty, classic French dish offers tender roasted chicken in a light wine sauce. Other favorites include the marinated mussels starter and the profiteroles for dessert. Any way you slice it, the food at Le Bistro is magnifique!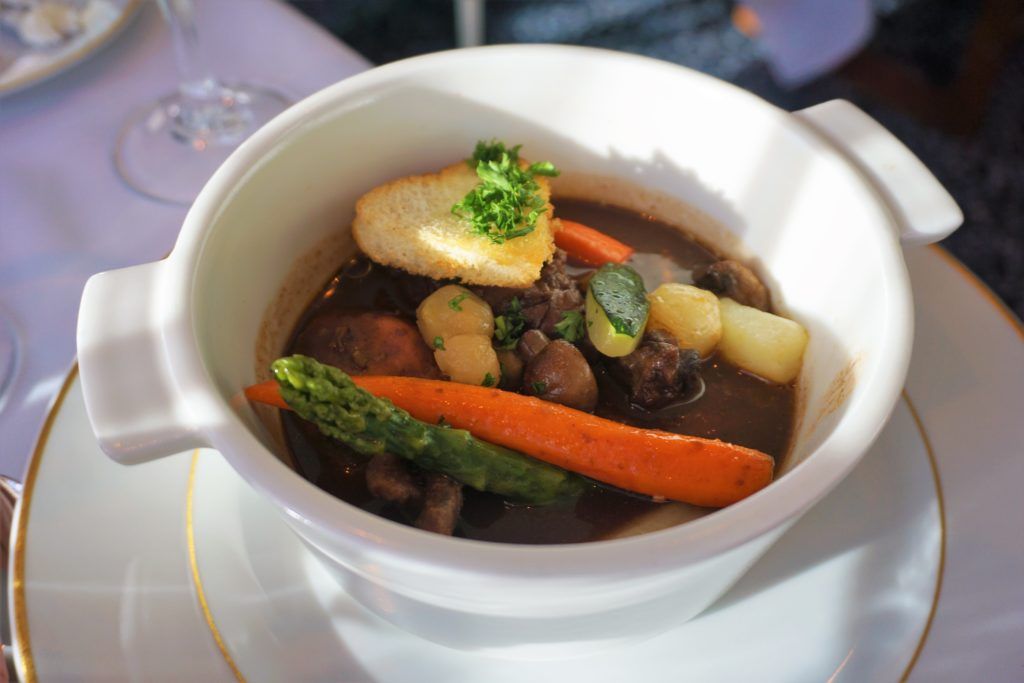 Hibachi at Teppanyaki
Dinner on NCL tastes even better when it is coupled with a show. One venue we always visit on a cruise is the Japanese steakhouse Teppanyaki. The combination of freshly prepared seafood, steak, and chicken, coupled with the craftsmanship of the expertly trained chefs, is not to be missed. We have never been let down by our meals at this restaurant. This multi-course dinner and a show is certainly worth the up-charge or one of your specialty restaurant credits.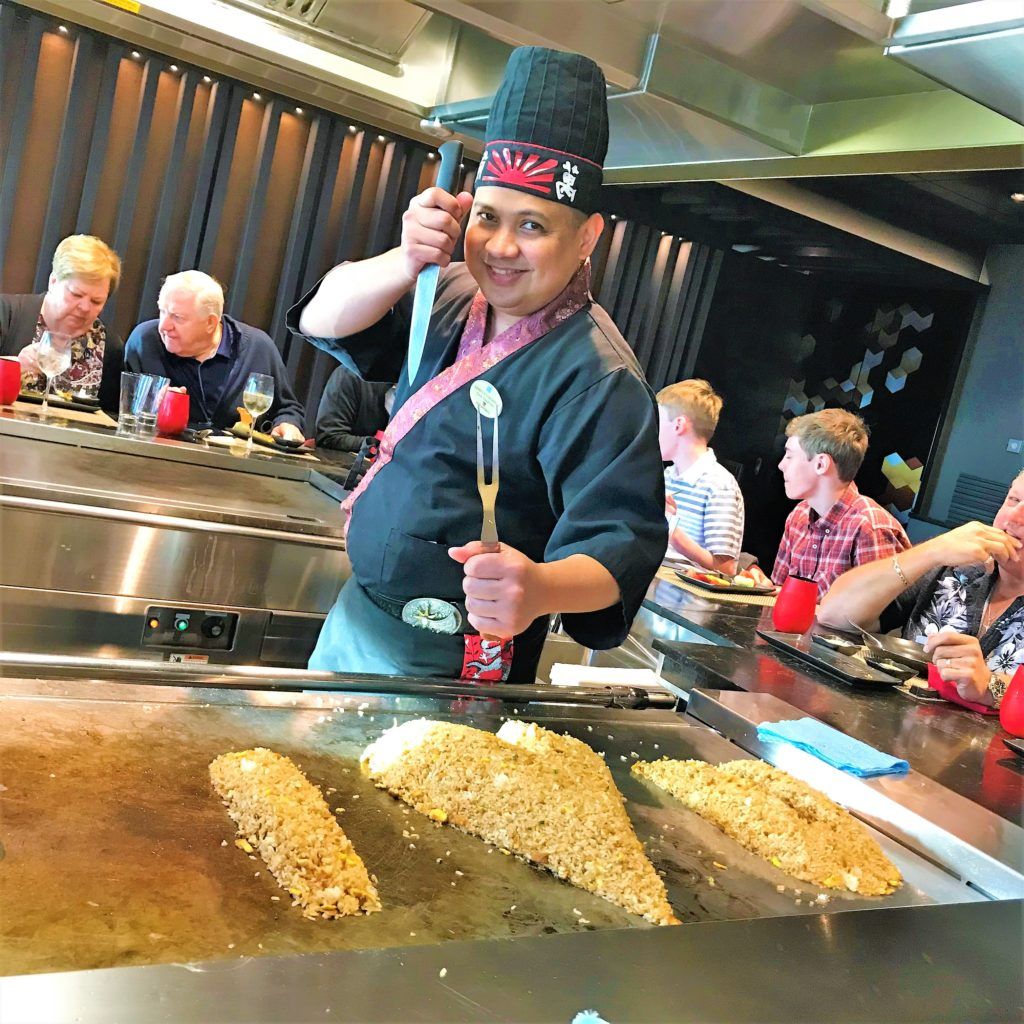 Related Post: Best Cruise Lines for Families
Ice Cream at Coco's
If you have a sweet tooth, then Coco's on the newer Norwegian Cruise Line ships is your new favorite dessert venue. We are quite fond of the over-the-top snacks that are served here. Sadly, Coco's is not included in your cruise fare. Still, you must splurge on one of these frosty treats. The menu is quite extensive, so it is tough to pick a favorite. The concoctions range from a brownie s'mores sundae, to a snickers bar milkshake, to homemade crepes. You might want to order two, so you can share!
Pasta at Onda by Scarpetta
Norwegian Cruise Line's newest Italian restaurant is Onda by Scarpetta. This upscale specialty restaurant is home to some of the line's most savory dishes. For starters, you can't go wrong with the smooth burrata or the braised octopus. For entrees, my veal chop was well-prepared, but the sign of any good Italian restaurant is its pasta. All the pasta at Onda is made daily in-house, using only simple, natural ingredients. So, no matter what you choose, whether it is the the tagliatelle or the ravioli, it is bound to be full of flavor.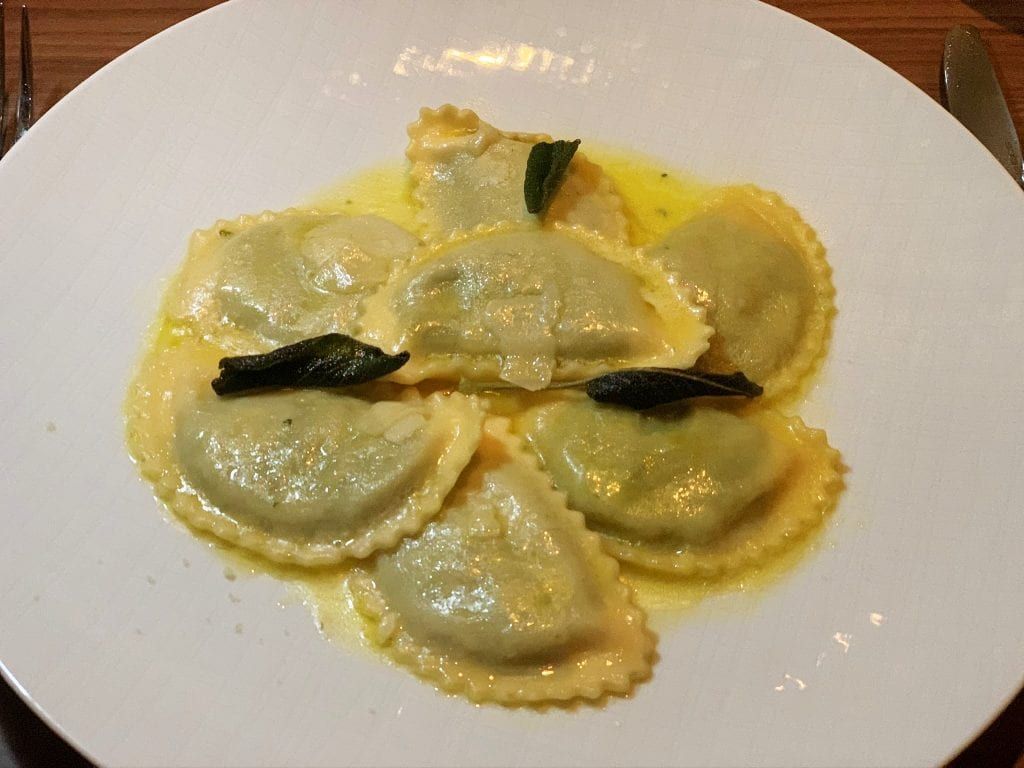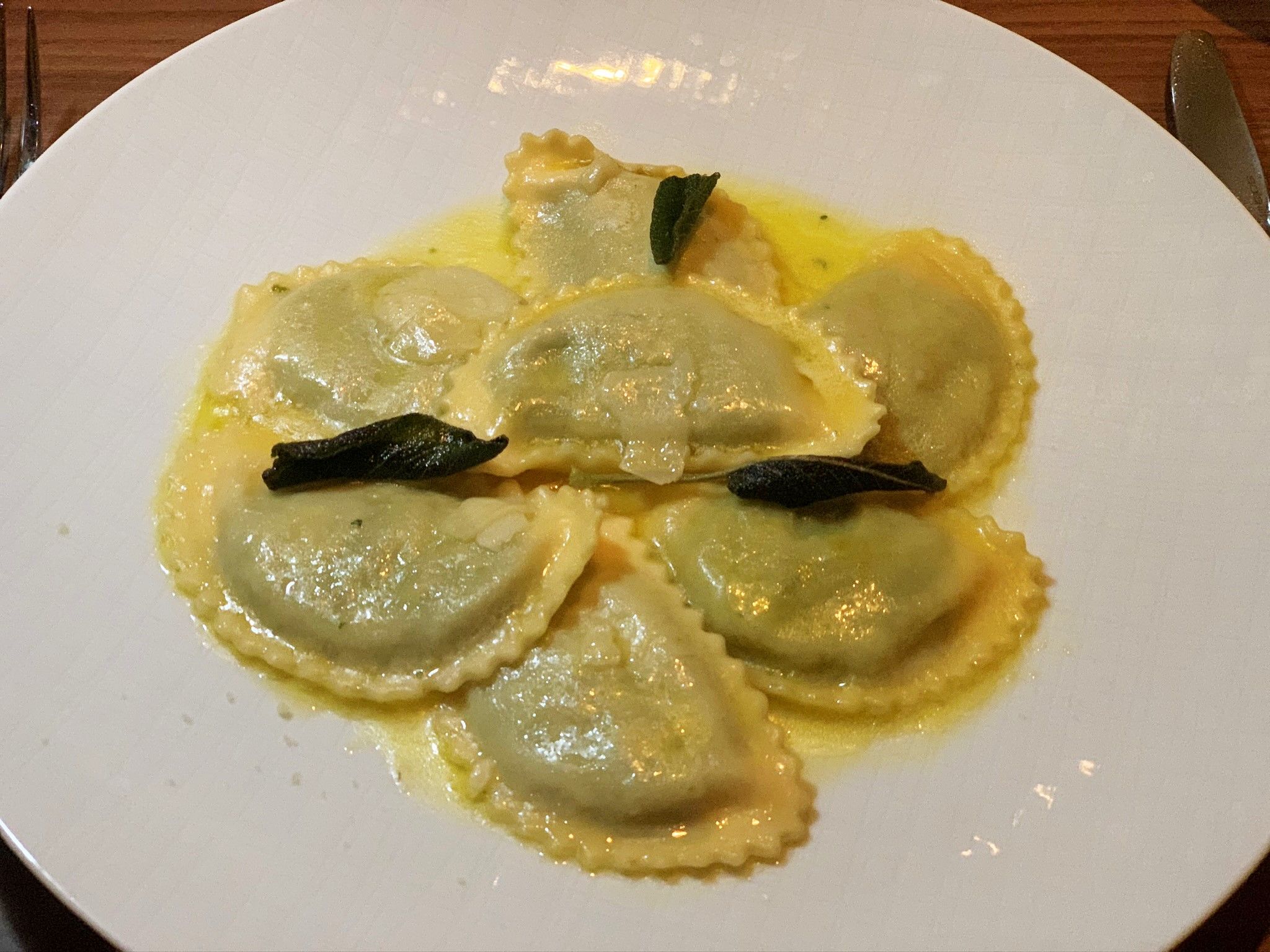 Pitmaster Platter at Q Texas Smokehouse
If you can't decide what to get at Norwegian Cruise Line's new barbecue locale, Q Texas Smokehouse, why not sample a bit of everything? Those indecisive diners among us are sure to love this heaping mix of all the restaurant's top selections. My favorites include the pork spare ribs, the smoked sausage, and of course, the corn bread. All these BBQ favorites are made even better with a selection of tableside sauces. While tempting to scarf it all down, make sure to save some room for desserts. We can't help ourselves when it comes to the banana pudding served in a mason jar.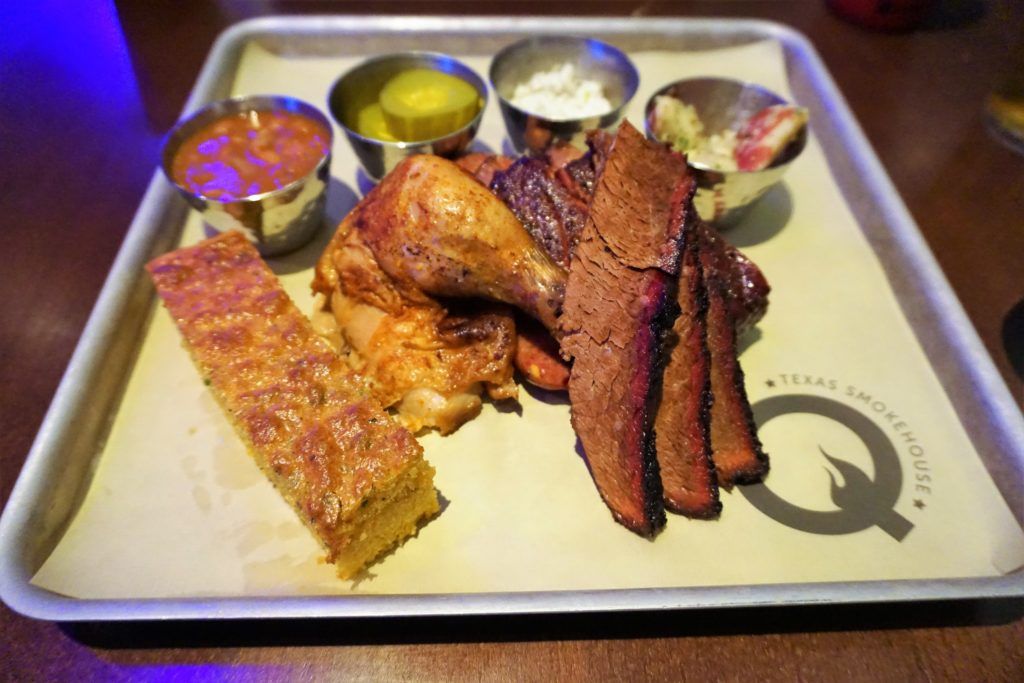 Hand-Crafted Mojitos at Sugarcane Mojito Bar
Norwegian Cruise Line ships boast a number of themed bars with specialty drink menus. Hands down, our favorite go-to spot is the Sugarcane Mojito Bar. Located on the Waterfront, with both indoor and al fresco seating, it is the perfect place to enjoy the ocean breezes alongside your favorite cocktails. My drink of choice is the jalapeño cucumber mojito. This smooth and spicy drink is easy to sip and has a crisp, refreshing finish. As for the Princess, she loves the raspberry guava mojito. This sugary yet tangy drink pairs fresh fruit with rum for one sweet cocktail.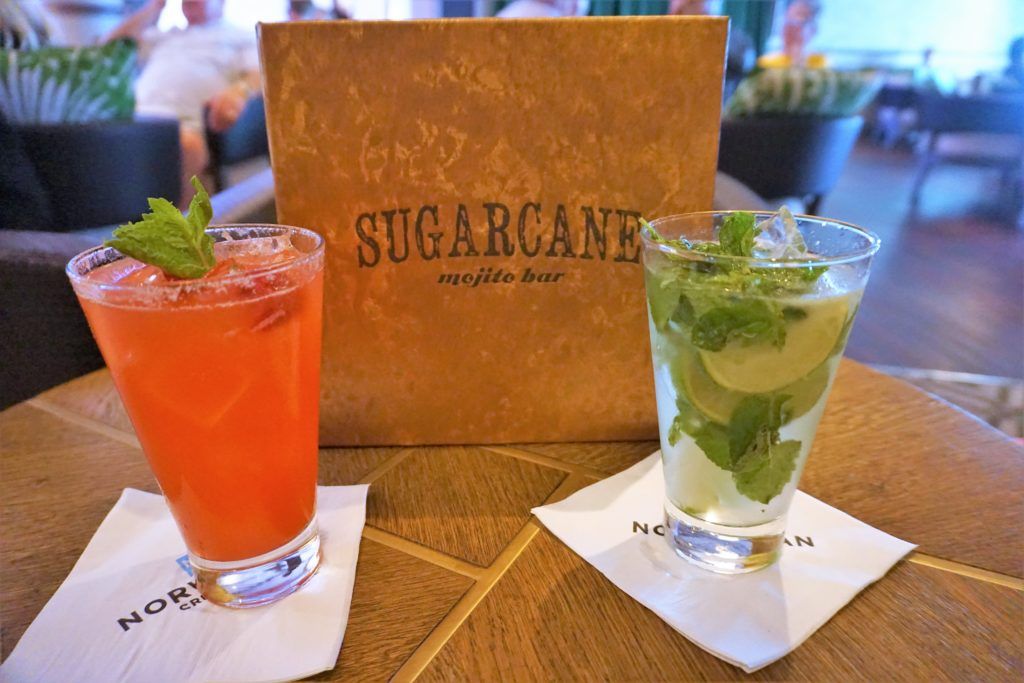 Frozen Cocktails
Our top foods on Norwegian Cruise Line post would not be complete without the line's signature frozen cocktails. While there are many that are unique to NCL, there are two we always make sure to order. For me, it is the Bushwhacker. A chocolatey combination of vodka, Bailey's, Kahlua, and Disaronno's, it is a heavenly milkshake. The Princess enjoys sipping the Mango Meltdown while lounging in the Caribbean sun. A combination of mango and strawberry, mixed with rum and Disaronno's, it is as pleasant to the eyes as it is to the taste buds.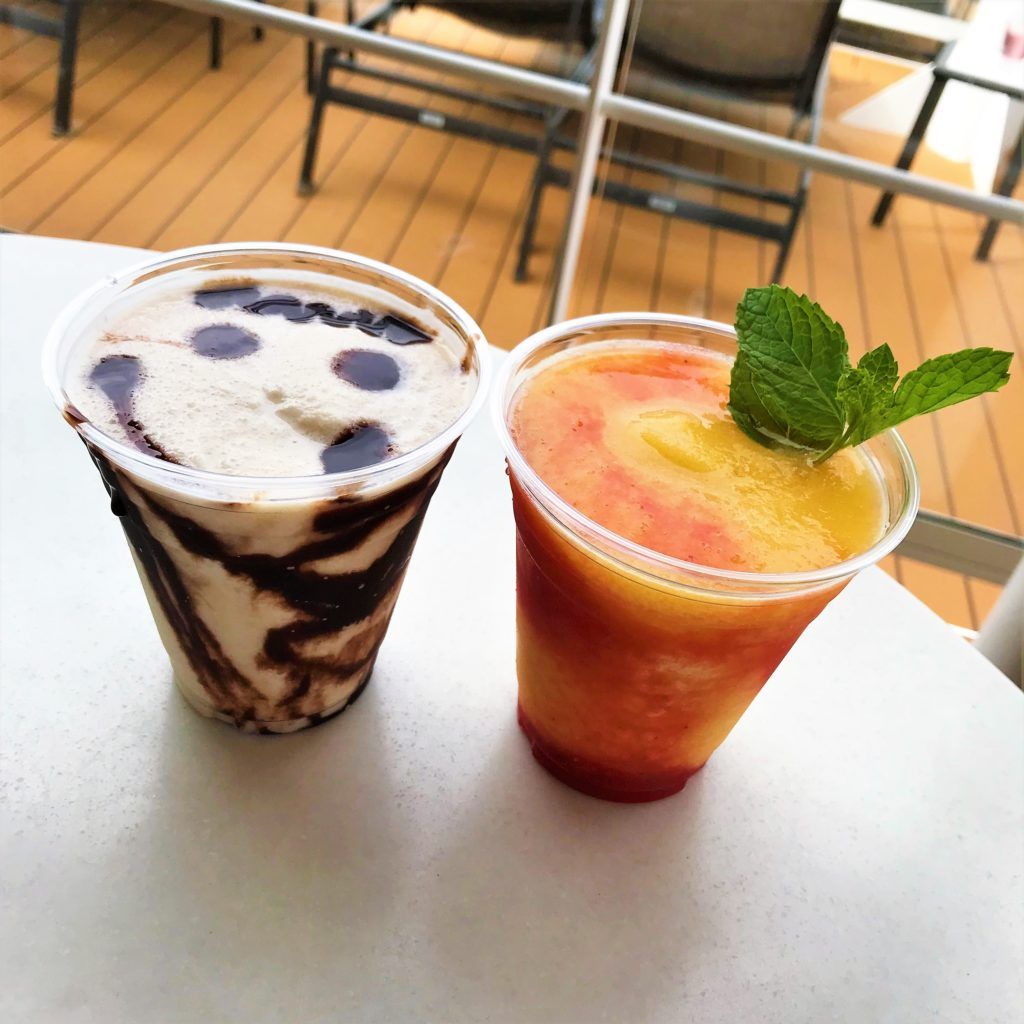 Related Post: Guide to Norwegian Cruise Line Drink Packages
Comments
Did we miss any of your top foods on Norwegian Cruise Line? Is there an item that you think we should add to our list? Drop us an anchor below with your favorite food or beverage on NCL ships.