Avalon Waterways River Cruise Review – Burgundy & Provence (Northbound) Itinerary on Avalon Poetry II
My husband Dev and I are avid international travelers who have regularly enjoyed ocean cruising. River cruising has always been on our list; plus, we love wine. So, we jumped at the chance when we saw the Burgundy & Provence (Northbound) itinerary offered by Avalon Waterways. This sailing included stops in Arles, Avignon, Viviers, Tournon, Lyon, Tournus, and St. Jean de Losne. For those considering a more unique cruise vacation, we share our 7-day experience on Poetry II in this Avalon Waterways River Cruise Review.
Ship Overview
Avalon Waterways prides itself on providing passengers with an intimate, world-class river cruising experience.
Poetry II is 361 feet in length with 52 suites and 12 smaller staterooms, equaling a maximum guest capacity of 128. In fact, our trip was at about 80% capacity. Further, Poetry II offers Panorama Suites with ultra comfortable beds facing an entire wall of floor-to-ceiling windows that slide open to create a de facto balcony.
While ocean cruising can feel like an entire city at sea, we liken river cruising to a luxury hotel on water. There are four levels, with the bottom three (Indigo Deck, Sapphire Deck, and Royal Deck) containing staterooms. The top Sky Deck provides abundant lounge chairs with awnings and a whirlpool tub.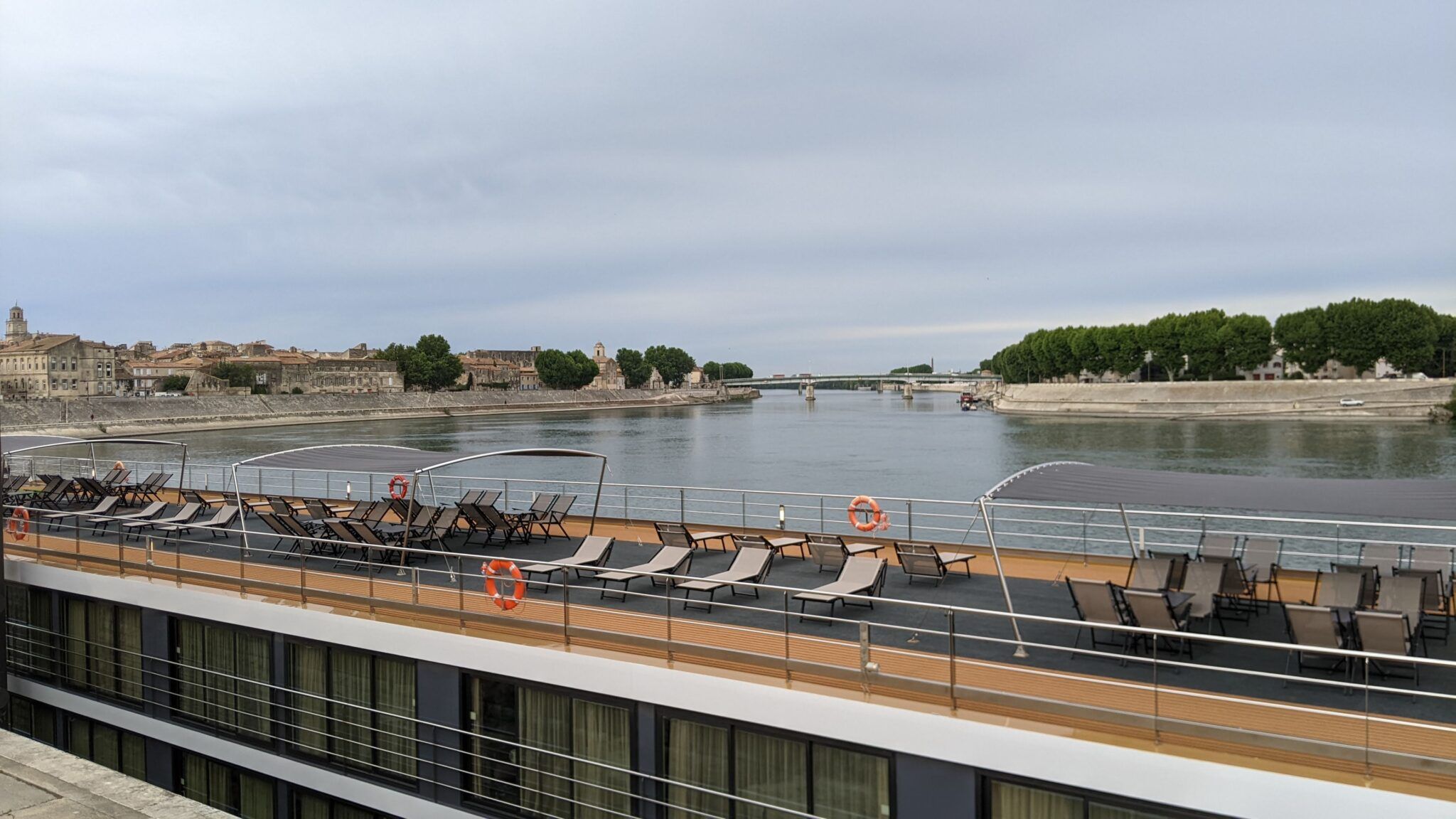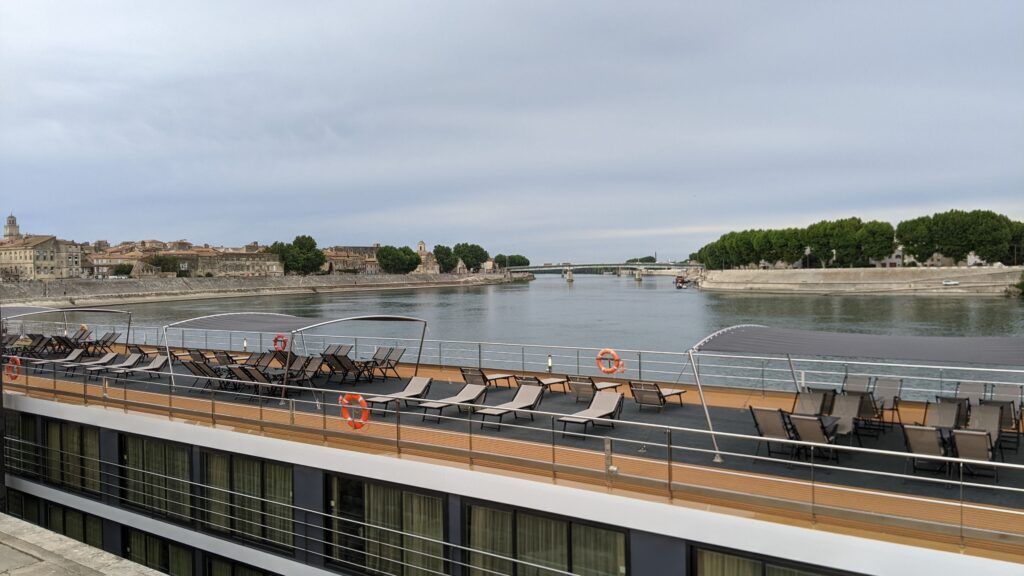 The ship boasts two dining options. There's the more casual Panorama Bistro/Lounge that also serves as a bar and entertainment space as well as the formal Dining Room. The Club Lounge at the back of the Royal Deck provides a casual spot to relax with books and board games, self-service coffee, tea, and/or snacks (doughnuts!), and a small outdoor space to smoke.
Ship amenities include complimentary Wi-Fi (fairly strong and consistent, with only a few spotty areas), options for both complimentary and upcharge shore excursions, and a small fitness center. There's also the Adventure Center with bicycles, yoga mats, walking sticks, etc.
While our Avalon Waterways river cruise review was in France, the ship clearly catered to English speakers. In fact, most of the guests were from the UK and United States, with a few from Canada, Australia, and New Zealand.
EXCLUSIVE RATES: Get Deals on Avalon Waterways River Cruises!
An Easy Embarkation
We arrived in Marseille, France the day before embarkation. Thus, we did not take advantage of the airport transfer that was part of our trip package. Port St. Louis is an easy and scenic 50-minute drive from Marseille Provence Airport.
The ship was easy to spot, and we were some of the first guests aboard at 1 pm. Due to our early arrival, our stateroom wasn't ready. However, the Avalon crew took our bags to our room and encouraged us to explore and have some food and drinks at the Panorama Bistro.
After filling out some simple paperwork, we did exactly that: sunning ourselves on that top deck and then tumbling back downstairs to enjoy pasta, soup, sandwiches, and the first of many glasses of wine and beer on plush club chairs facing the water. What an excellent first impression!
Another early observation: we were clearly the youngest cruisers on board, aside from a few teenagers with their families.
When we met the Cruise Director, the first question he asked was if we were with our parents…we are in our forties! While we were never uncomfortable, it did become evident via the pace, entertainment, and general vibe that this sailing was for an older clientele.
A Stateroom with a View
Our stateroom was the epitome of comfortable living. The room was spacious and efficiently laid out.
Upon entry, we noted a roomy closet with plenty of space for hanging and folded clothes and luggage. A large vanity/desk provided the perfect spot for piling wallets, glasses, etc. along with outlets for charging devices. Underneath, there was a fully-stocked minibar (additional charge).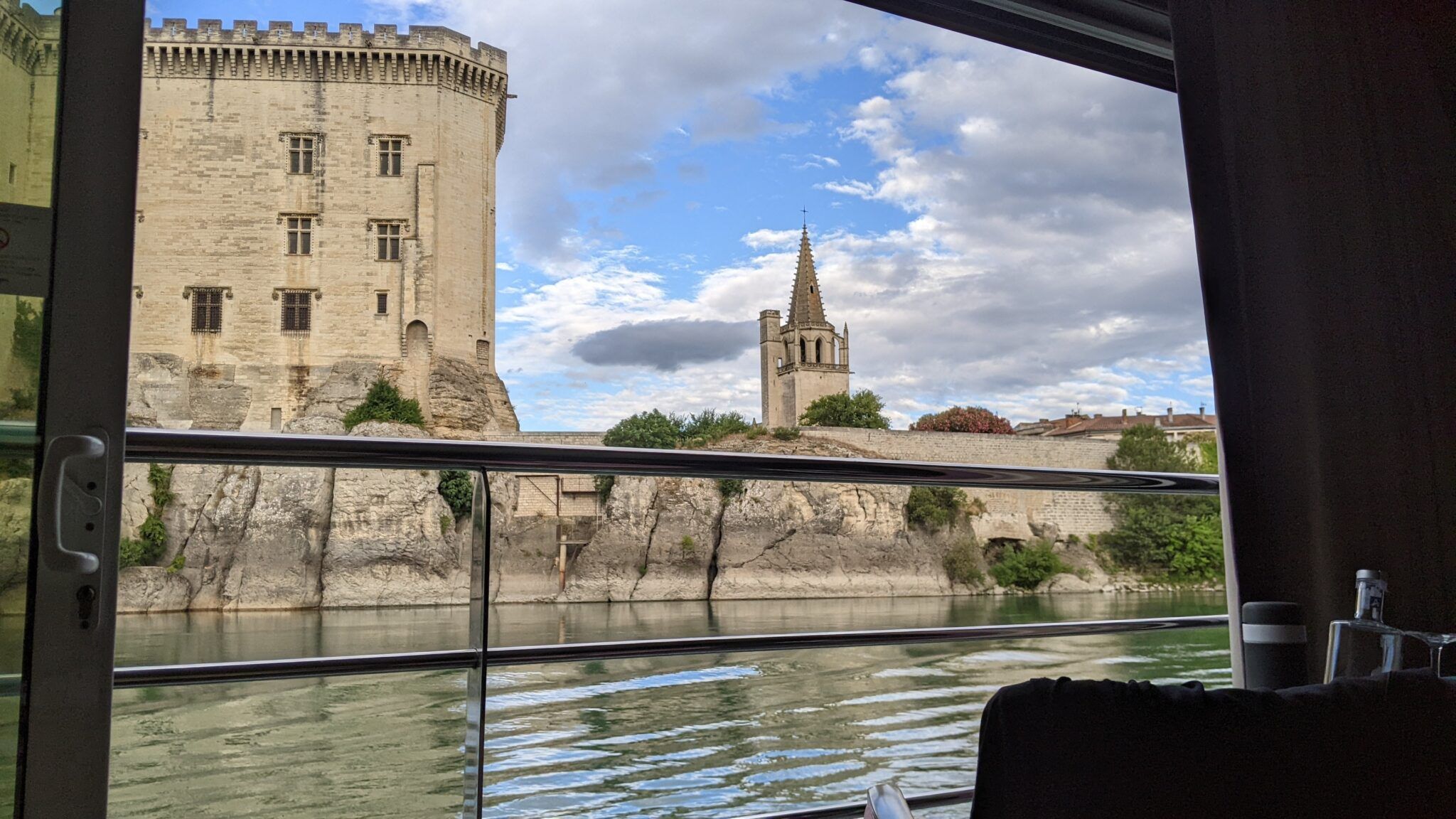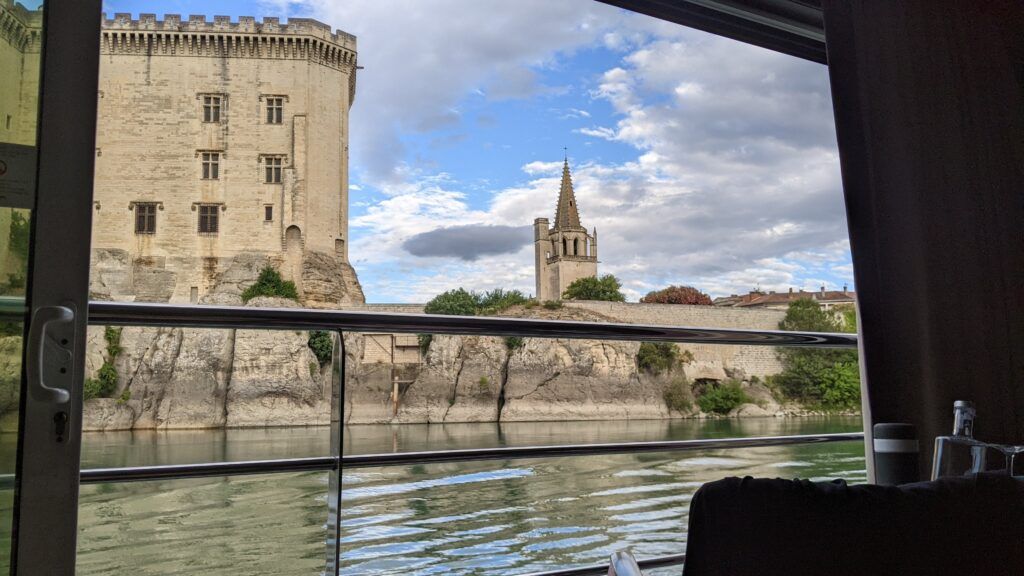 A small couch, armchair, and table were nearby the aforementioned star of the ship: the floor-to-ceiling wall of windows. We easily slid them open to attain the signature open-air balcony feel. We ended up opening the windows most of the time we were in our room, luxuriating in the ever-changing scenery and sweet breeze blowing through what becomes the ultimate indoor/outdoor space.
The other back corner of the cabin had a TV that we only ended up using to look at the scrolling list of activities and food specialties. The plush king bed, oriented to face the lovely scenery, featured smooth, comfortable sheets. Both bedside tables had plenty of surface area for bedside items and outlets.
As ocean cruisers, we are accustomed to a more compact bathroom, but Avalon Poetry II's bathroom would have been right at home in a hotel. There was just so much space, including countertop, under-sink, and shelf. Two sets of different-colored towels were on the rack so that guests sharing a bathroom wouldn't get their towels mixed up (if you care about that sort of thing). Fancy L'Occitane products were also provided.
The overall comfort was definitely comparable to the better hotels we've stayed in over the years with the added gleeful bonus of all of that fresh air.
Well-Fed and Well-"Hydrated"
Dev and I really like to eat. We have been fortunate to have dined at several Michelin-starred restaurants around the world. We found Avalon Poetry II's meals beautifully presented and spectacular.
Breakfast and lunch were buffet style with a rotating made-to-order station (e.g., omelets, pasta, meat carving). We sampled plenty of breakfast standards, such as hardboiled eggs, scrambled eggs, freshly cut fruit, potatoes, and bacon. Crew were at the ready to offer tea and coffee.
Lunch was available at both the main Dining Room and Panorama Bistro (containing a subset of the Dining Room options). The entrée options varied each day, ranging from fish to eggplant casserole to veal in cream sauce. Sandwiches, salads, soups, fruits, and desserts were available daily.
We liked everything we tried; the food tasted fresh and was not overly rich or salty. Being a European cruise with mostly western dishes, the flavor profile was more subtle (i.e., nothing very spicy or acidic). Although, as lovers of both of these flavors, some options would have been a nice bonus.
The Panorama Bistro was always an option for casual dinner. Same as lunch, it was buffet-style with a subset of the menu from the main Dining Room. We primarily had dinner at the main Dining Room, which was a multi-course affair.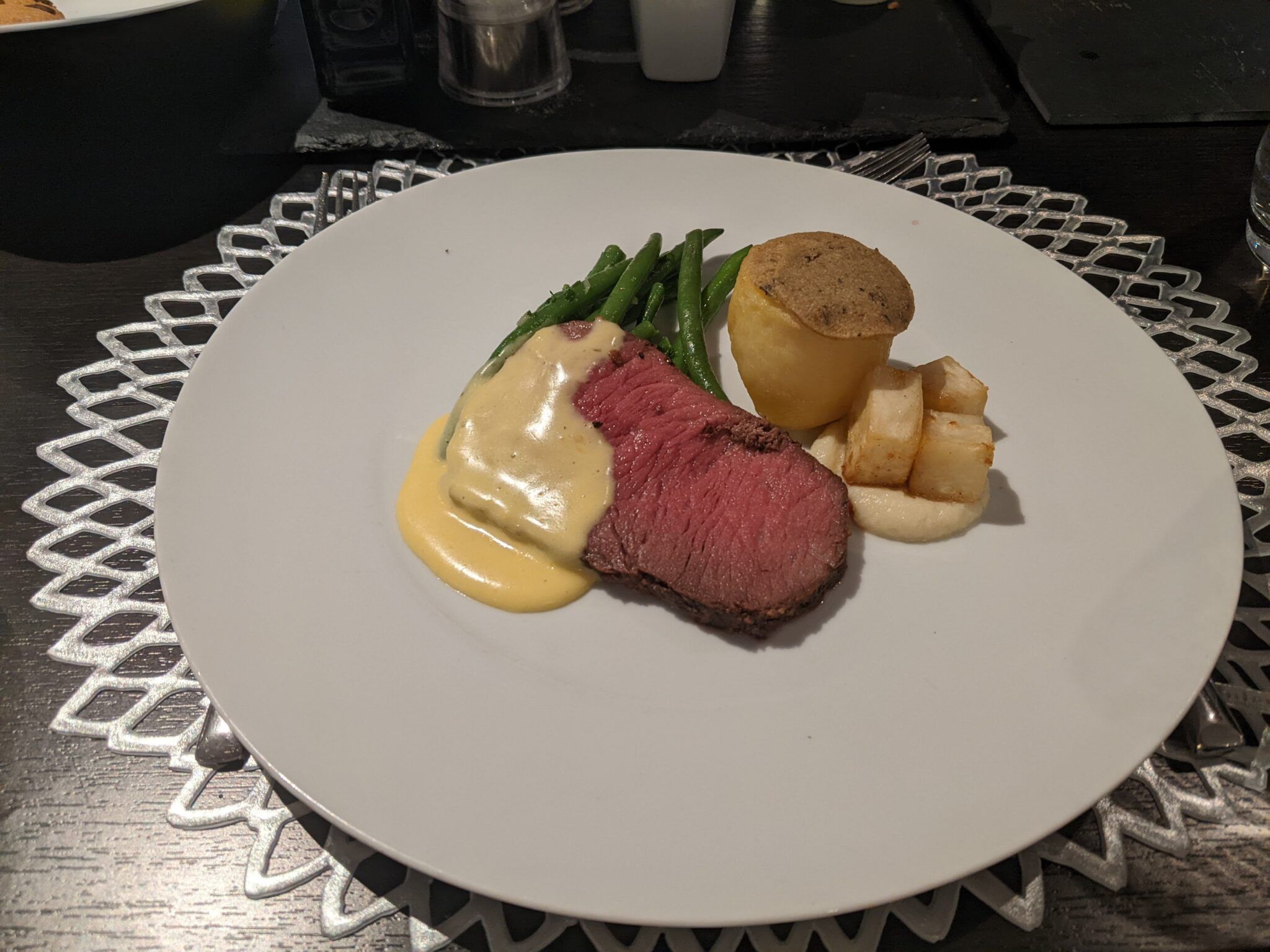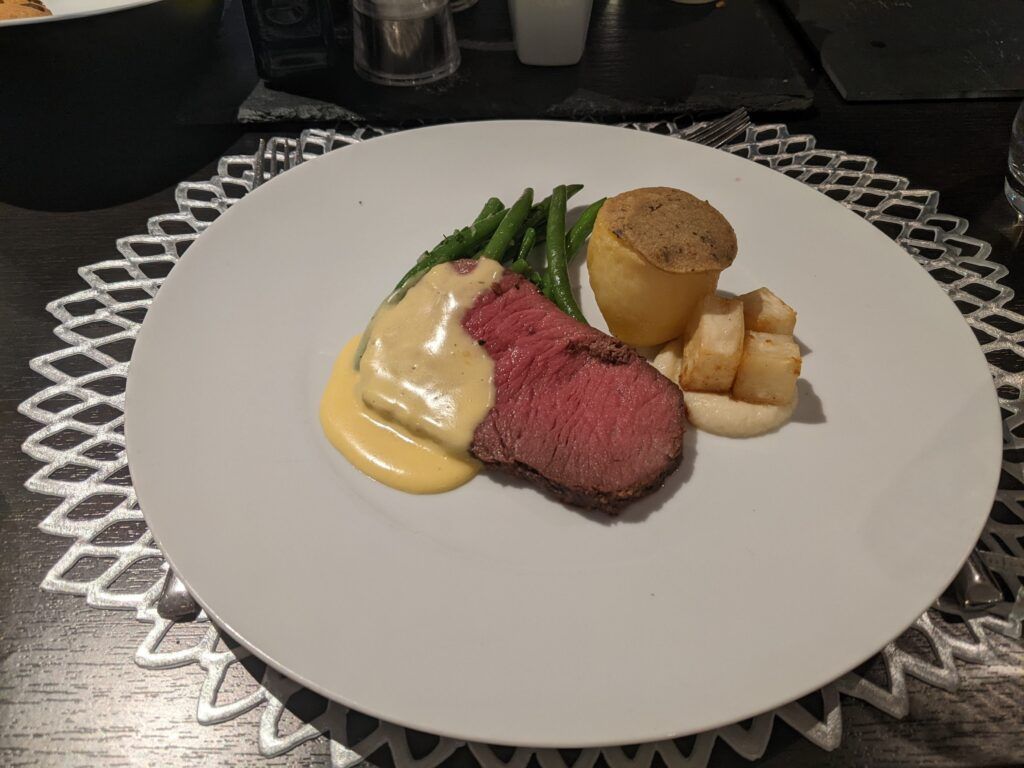 There were many table configurations so guests could easily sit with their own party or add new friends from the ship.
Bread, butter, and an additional rotating spread (hummus, olive tapenade) were always already waiting for us at the table.
We were provided menus to peruse that generally featured four starters, two soups, four entrees, and three desserts. The menu changed daily and if none of the dishes appealed, guests always had the option to request grilled chicken breast, beef tenderloin, or salmon. We never had to resort to that, as something always piqued our interest.
Some of our favorites included roasted rack of lamb with thyme sauce, ratatouille and polenta, and grilled sea bass with vegetable bouquet and rice.
Avalon was great working around food allergies and preferences. There was a meeting on the first day (which we did not attend) designed to discuss special dietary needs. I personally do not like cheese, and the waitstaff gladly helped me work around that.
Further, the head chef on our itinerary was from Portugal and sometimes included a few items from his home country, including a version of pastel de nata (an egg custard tart) which added a lovely personal touch.
Beer and wine are included as part of lunch and dinner. However, there is an additional charge per drink for alcohol outside of mealtime.
Related Post: First Impressions of a Viking Expedition Cruise
Every Day: New Stops and Sights!
As ocean cruisers, we discovered a fun and unexpected bonus from Avalon. The river cruise line offers at least a couple of shore excursions per day at no extra charge. These were easy, guided walking tours through the city or athletic adventure tours (e.g., hiking, cycling).
We did not end up doing any of the adventure tours as they didn't seem as focused on city highlights, but we enjoyed several of the regular walking tours. We used earpieces plugged into individual listening devices so even stragglers could hear the guide well. Walking tours were generally a perfect 2-3 hours each and leisurely paced.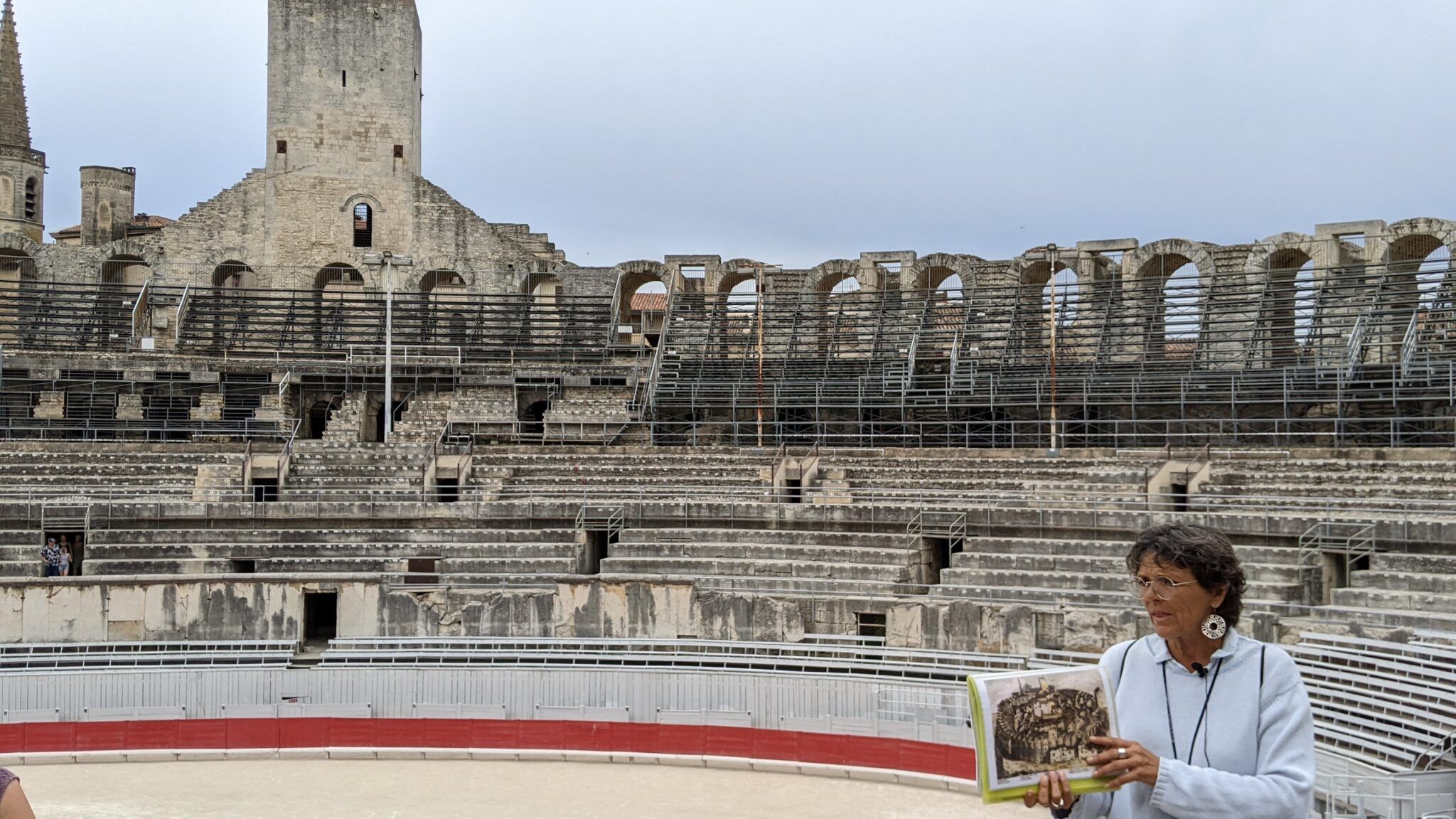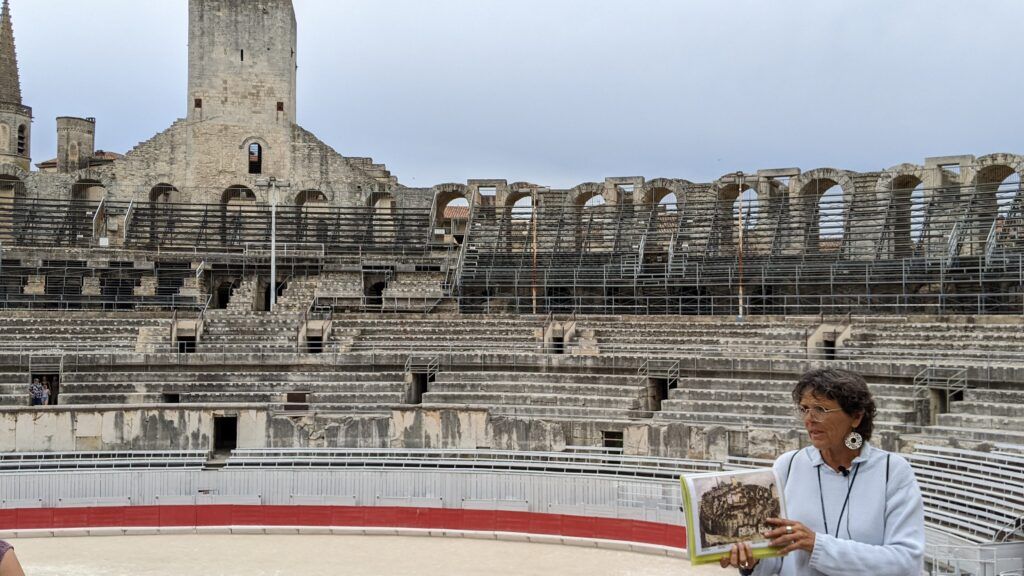 Dev and I also opted to pay extra for a couple excursions; one favorite was a wine tour. Via bus, we visited a breathtaking wine region with an incredibly knowledgeable guide sharing interesting details about French wines including biodynamic processes.
Perhaps our favorite excursion was the culinary tour in Lyon. Our tour took the metro to Lyon's legendary Les Halles de Paul Bocuse indoor food market. We strolled past different food stands with diverse offerings such as fish, meats, breads, and desserts. It culminated in a section where we got to sample wine, cured meats, crackers, sausages baked into soft bread, and sweets. There was plenty of everything, so guests were able to eat and drink as much as they wanted. And, there were still leftovers!
Overall, we found the shore excursions to be high quality. However, there were a couple of drawbacks. First, the walking was a bit too slow-paced for our liking. Further, while unfortunate, some of the tour guides' jokes relied heavily on outdated gender/racial stereotypes.
Entertainment: The Gipsy Kings Were Onboard!
Evening entertainment occurred in the Panorama Lounge. In contrast to ocean cruises, the entertainment aboard Poetry II was less ubiquitous and more chill; live musicians performed on a couple of nights.
One night, we arrived in the Lounge to find it buzzing with excitement. The Gipsy Kings were going to perform! Sadly, Dev and I didn't know who they were. Though, we absolutely loved their lively performance. We later looked them up and were delighted to learn that they are flamenco, salsa, and pop musicians from southern France. So, they are very much both a world famous and local group.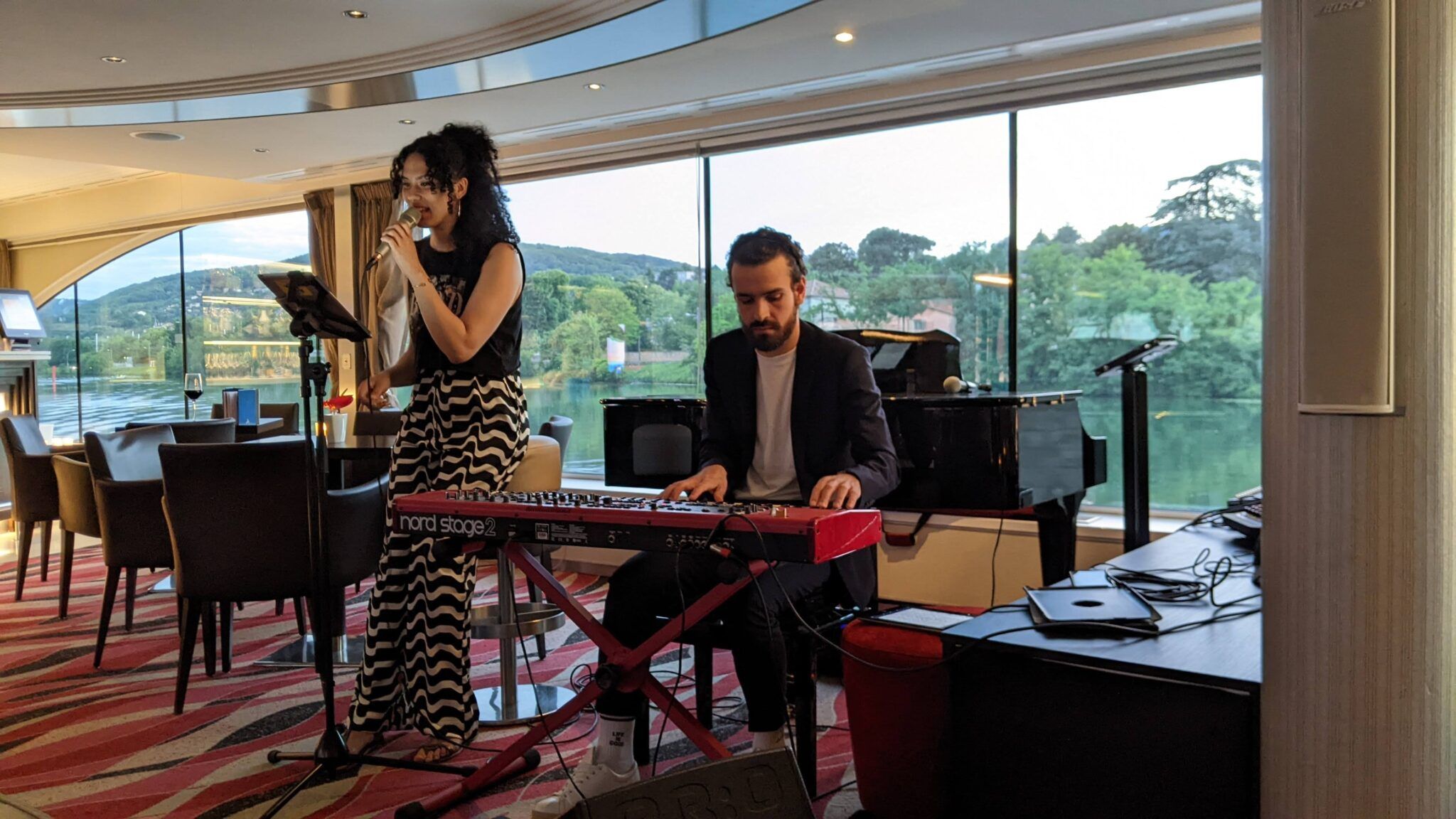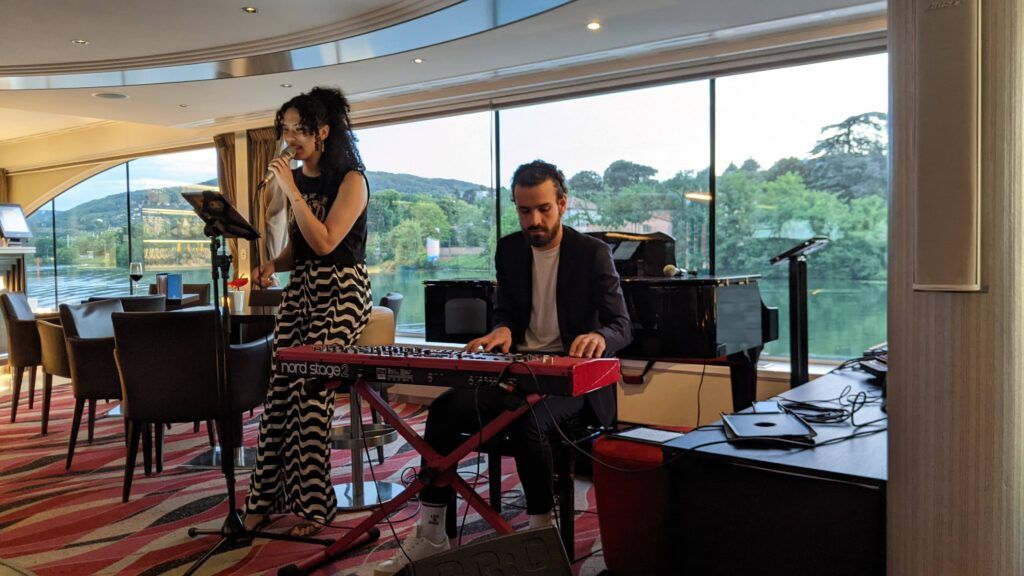 The App: Great Idea, Somewhat Inconsistent Experience
Avalon Waterways has an app that was intuitive and easy to use with information on each stop and shore excursions. It is also supposed to contain daily menus and newsletters. We referred to the app often to keep on schedule. Unfortunately though, it wasn't always up-to-date. Whole days went by without the latest menu or newsletter.
Ultimately, the drawbacks of the app were not a big deal. We overheard that many guests did not even download it. Plus, information was always available through the television, the daily port talks from the Cruise Director, and from any crew member.
Friendly and Attentive Crew
We are always blown away by the hospitality we receive on cruises. Avalon Poetry II was no different. Every single crew member we interacted with was kind and attentive. Cruise Director Tony learned our names on the first day and took time to get to know us and share his personal travel experiences.
Unfortunately, I forgot the name of the Head Bartender at the Panorama Lounge but will always remember how fun he was. He danced enthusiastically with the Gipsy Kings and shared hilarious anecdotes with me about the Club Lounge "snack thief" onboard.
We were so happy to see Avalon carve out time during the last dinner for crew appreciation. Section by section, crew that we saw everyday and those behind the scenes did a quick spin around the dining room so we could applaud their hard work.
Later on, we also had the opportunity to provide additional tips (either to a specific person or an overall pot) via an envelope that we could drop off at the front desk. (Regular gratuities were already included in the price of our itinerary.)
BOOK YOUR RIVER CRUISE WITH AVALON WATERWAYS NOW!
An Uneventful Disembarkation and Transfer to the Airport
The night before disembarkation, all guests were invited to a presentation about the process. A bulletin board near the front desk assigned guests color-coded luggage tags with disembarkation times based on guests' travel plans.
Dev and I received the last time slot. We were to put our tagged luggage out at our allocated time, and our luggage would be loaded for us to the van for our transfer to the airport.
We had to be out of our staterooms in the morning so crew could prepare them for the next guests. Though, we were invited to relax in any of the public areas and fed both breakfast and lunch.
The van arrived exactly as scheduled, and we rode in comfort to the airport with four other guests.
Avalon Waterways River Cruise Review – Conclusion
Overall, Dev and I enjoyed our first river cruising experience. We were thoroughly impressed with Avalon's quality food and hospitality.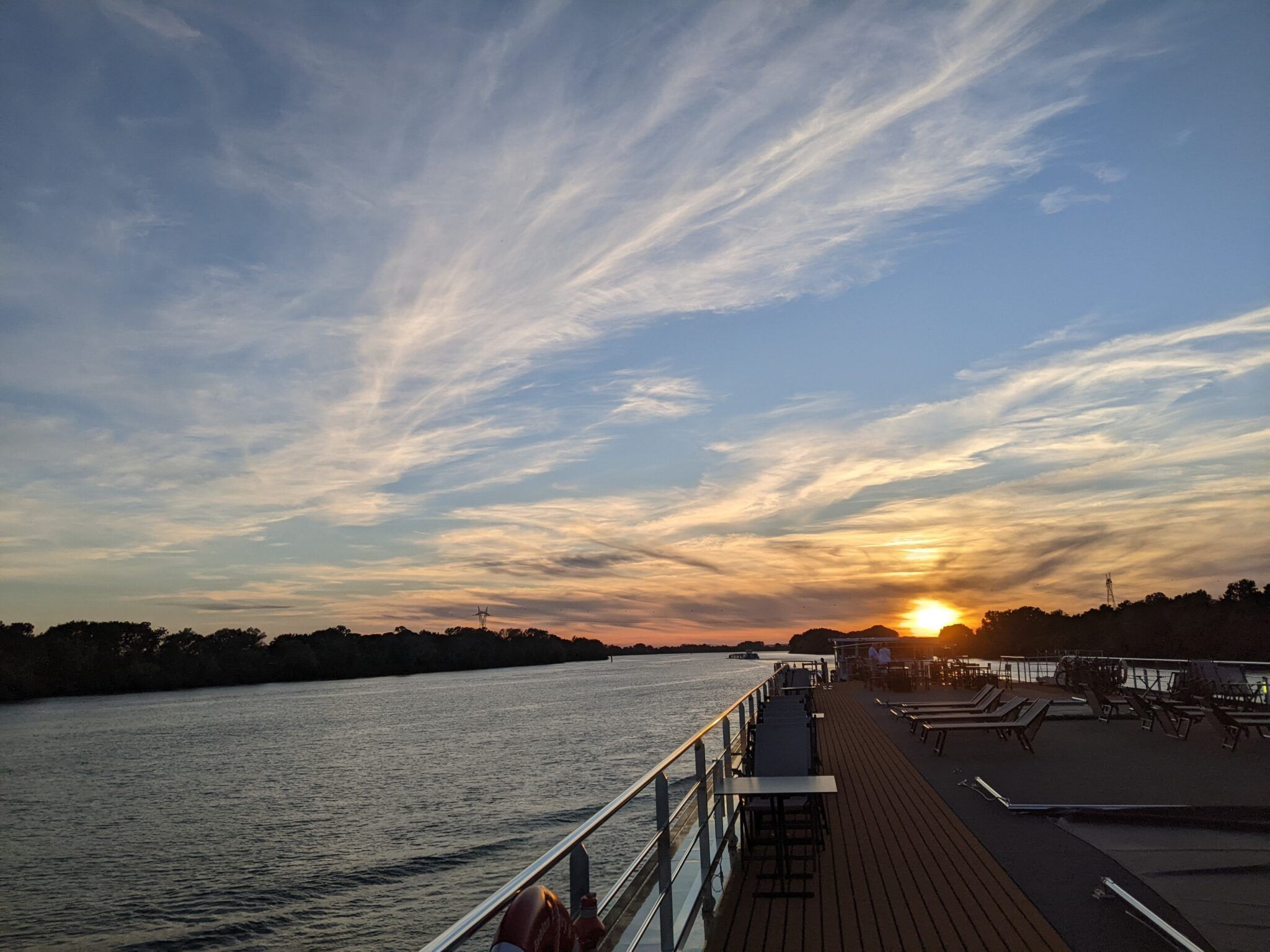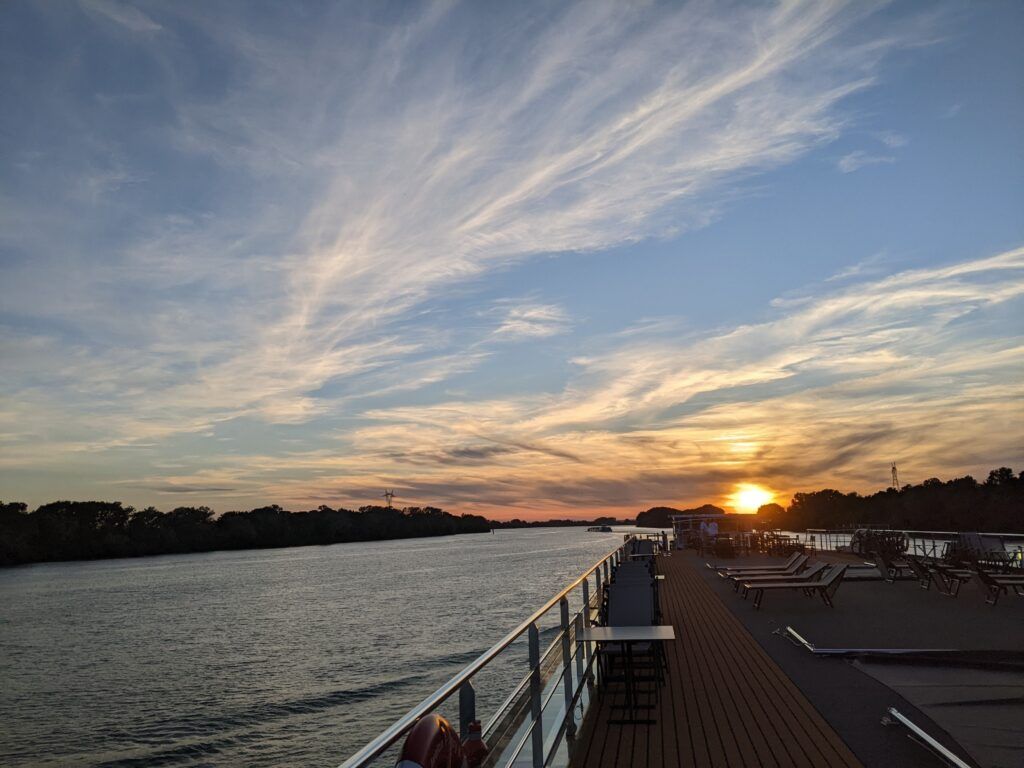 Would we do it again? Definitely, but maybe not for a couple more decades. We completely acknowledge that this cruise caters to an older clientele which we appreciate. If all goes well, we will be senior citizens too one day and will want something that is tailored to us.
However, as a result, the walking tours were a bit on the slow-paced side and some of the outdated humor really should be refreshed to reflect current global social norms.
It will be interesting to see if and how river cruising evolves. If a disruptor catering to a younger and more diverse clientele emerges, we'll be on the first ship out!
Comments
Did you enjoy this Avalon Waterways River Cruise Review? Have you sailed with this cruise line? Drop us an anchor below to share your river cruise experiences.