Aruba is a Southern Caribbean island, collectively with Bonaire and Curacao, referred to as the ABC islands. Its location, 15 miles north of Venezuela, lies just below the hurricane belt. This makes it an ideal port of call for many Southern Caribbean cruises.
In fact, Aruba has the least rainfall of all the Caribbean islands; thus, the weather is mostly sunny and dry year round and leading to desert-like terrain. However, the trade winds keep temperatures in an ideal zone and lend to beautiful warm water beaches. These ideal weather conditions attract many tourists seeking some fun in the sun.
If your next cruise is stopping in Oranjestad, the island's capital, you'll want to take a look at our list of the Best Things to Do in Aruba on a Cruise.
Related Post: Caribbean Cruise Planning Guide
Best Things to Do in Aruba on a Cruise (2021)
Take an Off-Road Adventure
With Aruba's dry and arid terrain, there is no better way to explore all the natural wonders this island has to offer than with an off-road adventure. Head out in a 4×4 vehicle to marvel at the dramatic coastline and visit natural formations.
Highlights of this type of tour can include the Natural Bridge, the Natural Pool located in the Arikok National Park, the Rock Formations, and several other notable Aruba landmarks.
We recommend booking the Island Ultimate Safari with ABC Tours Aruba for an unforgettable off-road adventure.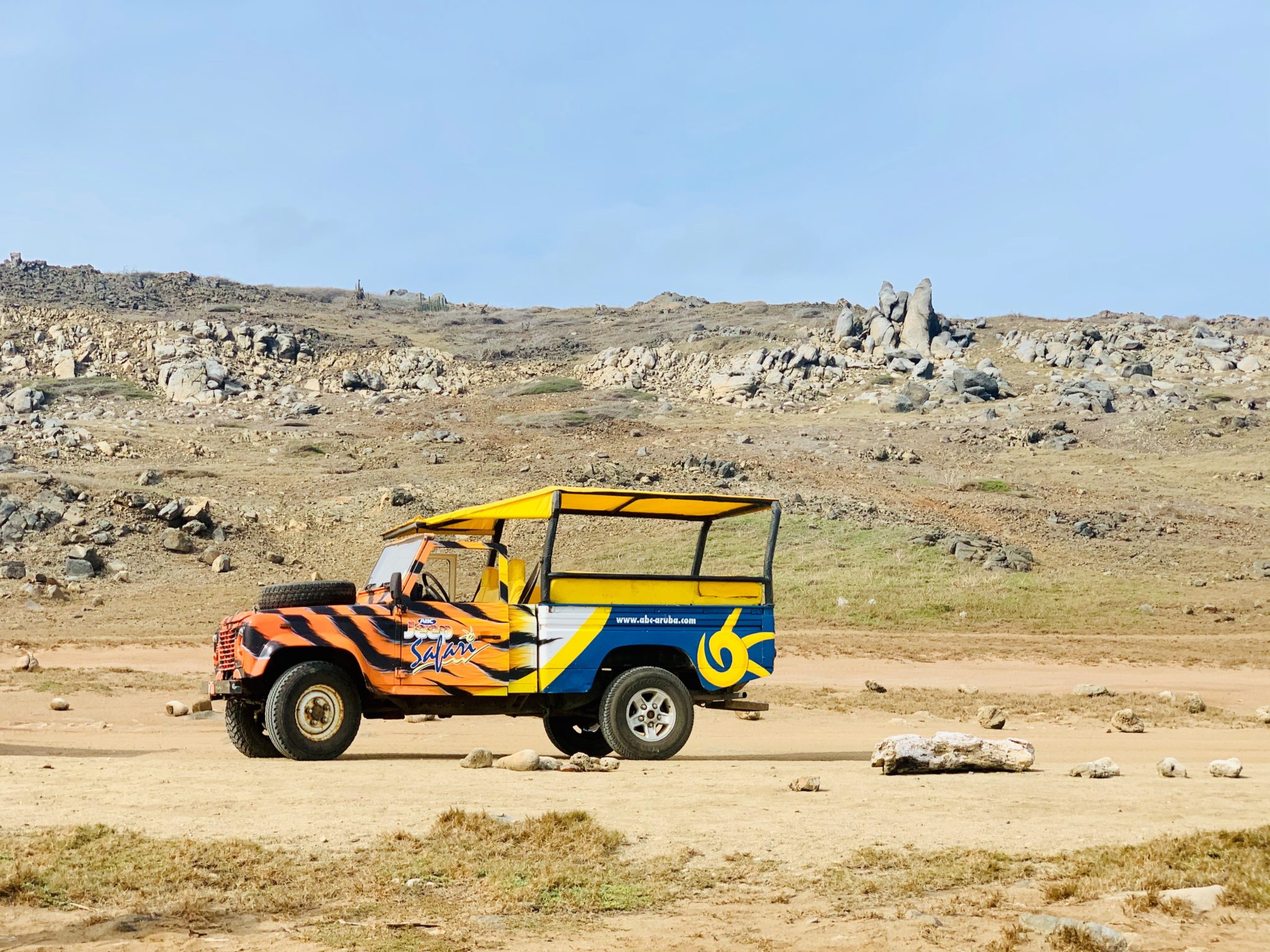 The original Natural Bridge in Aruba was one of the largest natural formations from coral limestone until its collapse in 2005. It spanned between the Bushiribana gold mine ruins and Andicuri Beach. Despite its collapse, the remains of this "mother" bridge and other smaller natural bridges are still popular photo spots.
The Natural Pool, also referred to as "Conchi", is located in the Arikok National Park. It is known as the hidden pool surrounded by volcanic stone formations.
Book Now: Find Deals on Caribbean Cruises!
This area is only accessible by 4×4 due to the rugged surrounding terrain. Believe us, it is quite the bumpy ride to get there!
The Arikok National Park covers 20% of the island. It offers plenty of other natural landscapes to explore as well, including the Indian drawings within the caves.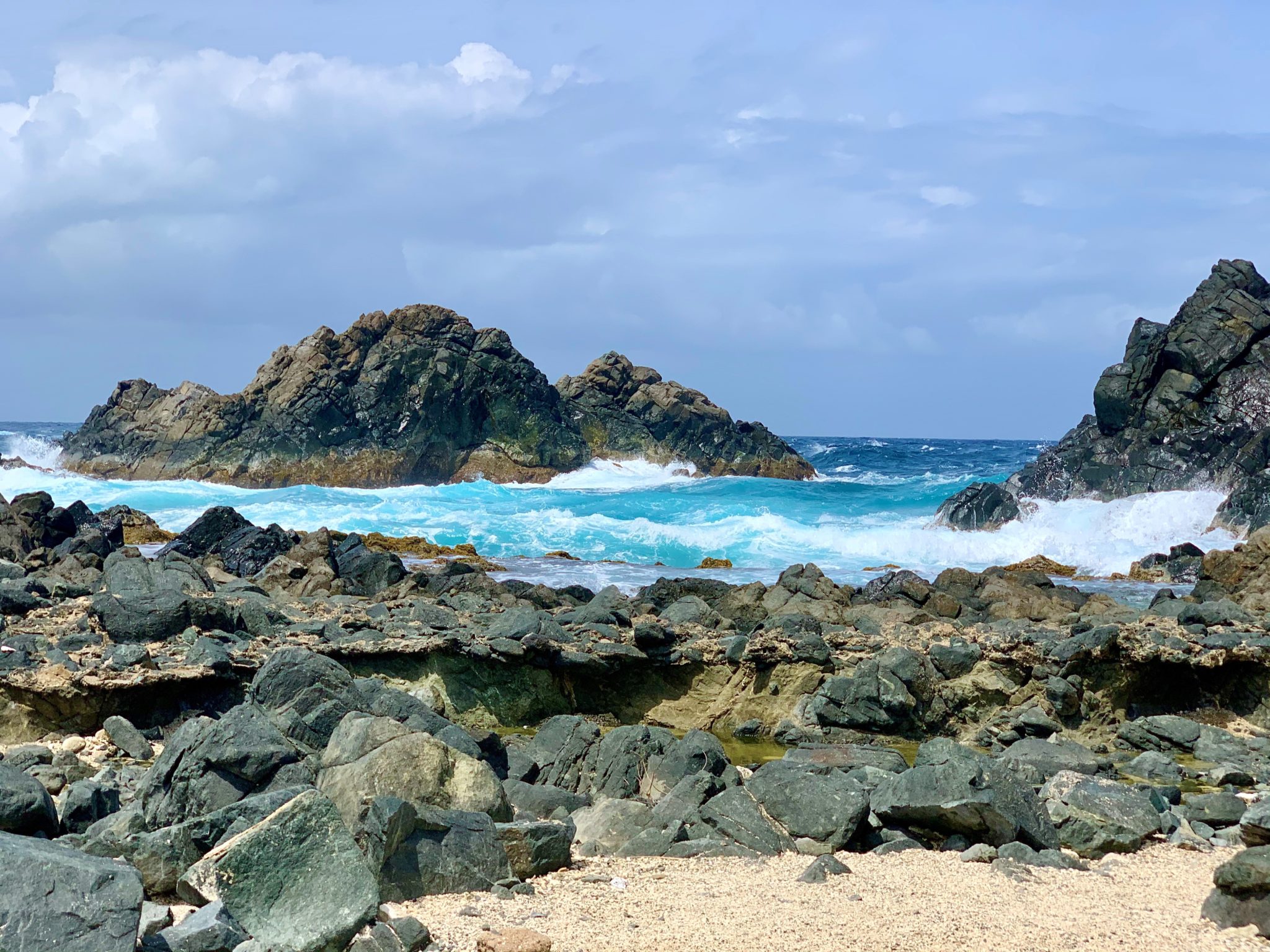 The Ayo and Casibari Rock Formations are also notable natural formations. The Ayo Rock Formations are located near the Natural Bridge; while the Casibari Rock Formations are located in the center of the island. Both locations offer the unique opportunity to view and walk among the giant boulders that have been carved out over time by nature.
From atop these locations, you will be able to capture great photos of the island.
Sight See on an Island Tour
If a 4×4 off-road adventure is not your idea of fun, maybe you would prefer to tour the island via an air-conditioned bus. Several island tours are available that offer different combinations of drive-bys and stops at popular island highlights.
These can include some of the natural formations above. In addition, you can visit the Bushiribana Gold Mill Ruins, Alto Vista Chapel, California Lighthouse, Aloe Factory and Museum, Donkey Sanctuary, and Ostrich Farm.
The Bushiribana Gold Mill once processed ore from the neighboring mines during the 19th century gold rush in Aruba. Today, visitors can tour the remaining ruins. It is located right next to the Natural Bridge so is definitely worth a few photo-ops while in the area.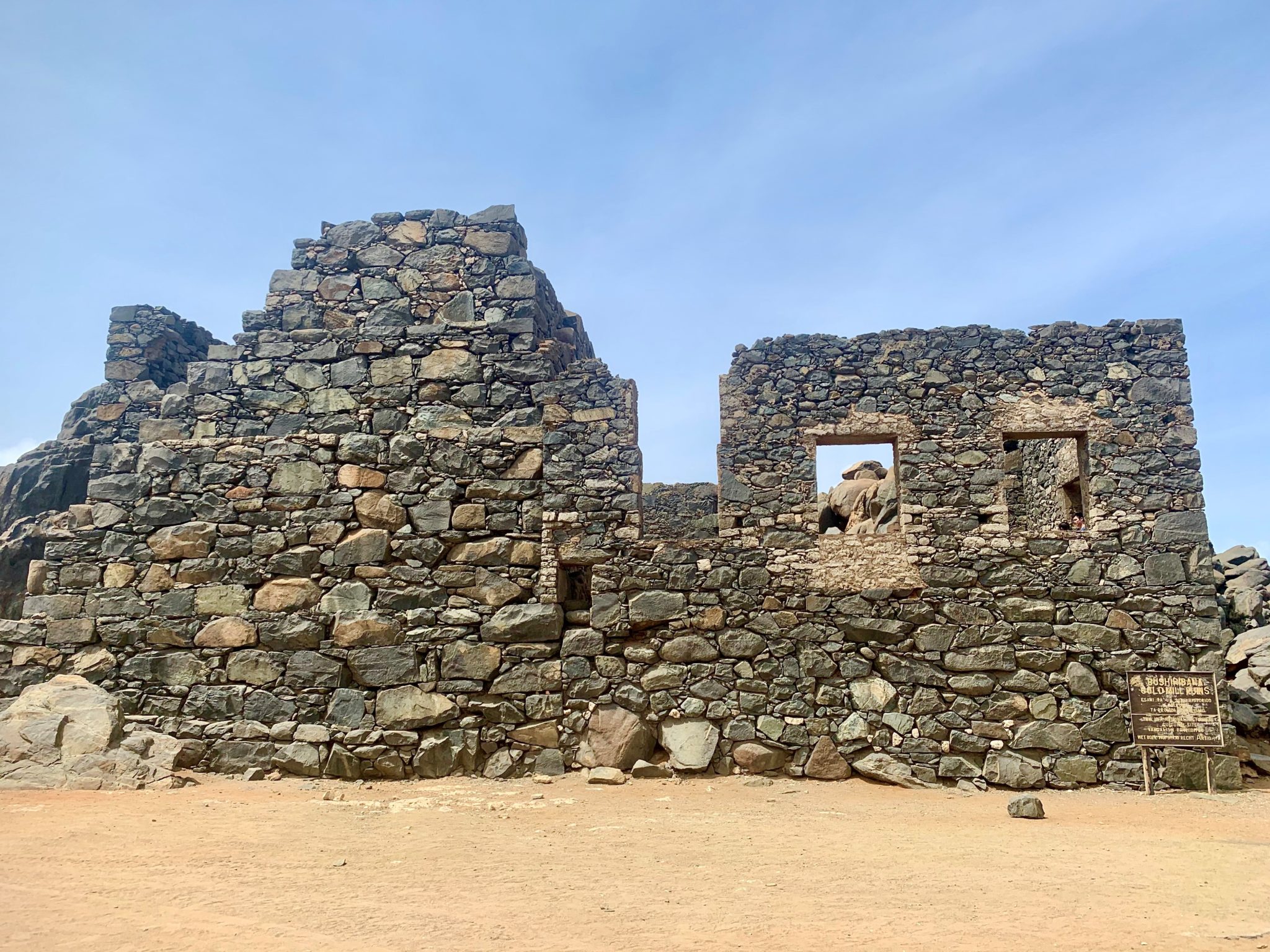 The present day Alto Vista Chapel built in 1952 sits on the site of the first Catholic church built in Aruba in 1750. While visiting this small yellow church, take a moment to meditate on the grounds or simply enjoy the spectacular views of the North Coast.
The California Lighthouse, built between 1914-1916 and named after the S.S. California, is now a popular tourist attraction. Since a renovation that was completed in 2016, visitors can once again climb to the top of the lighthouse for views of Aruba's north coastline.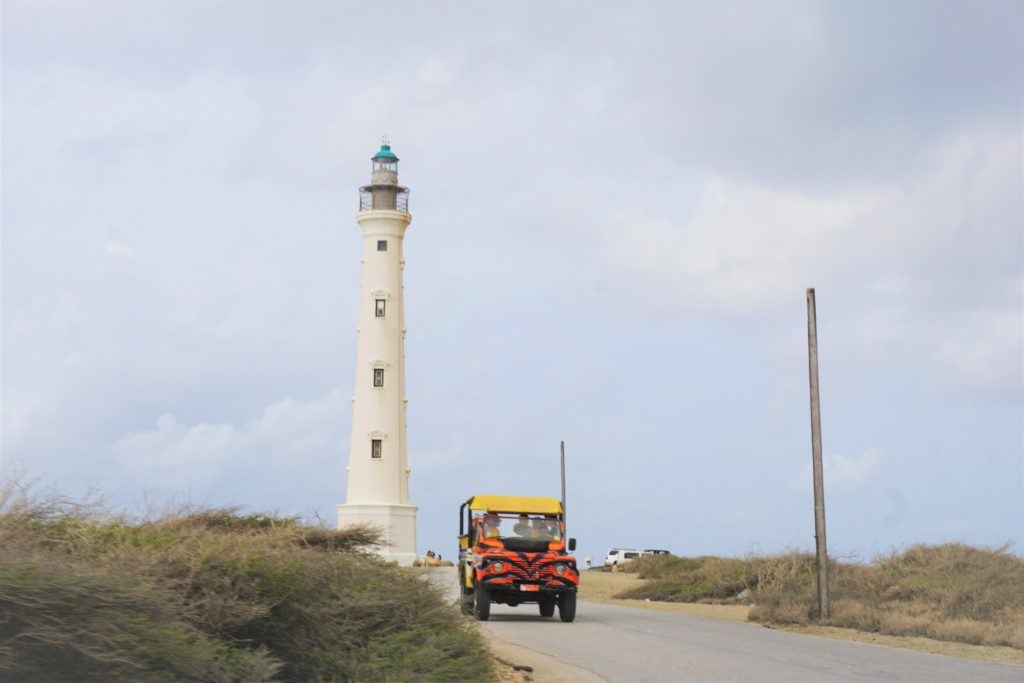 While visiting Aruba you might also want to tour the Aloe Factory and Museum. Here, tour guides will explain Aruba's history with aloe. It is said that the Caribbean sun and desert-like environment of Aruba intensifies the healing properties of aloe. So, be sure to purchase some products during your visit.
The Donkey Sanctuary, created as a non-profit organization in 1997, has helped to save the population from near extinction on the island. During your visit, you can interact with these creatures. There is no entrance fee but donations are encouraged.
If you are an animal lover, you might also want to visit the Ostrich Farm. Here, you can gain knowledge about ostriches and emus as well as interact with these creatures. You can see firsthand how big an ostrich egg really is!
Make it a Beach Day
If you are visiting Aruba, you will want to take advantage of the crystal clear waters and white sand beaches that this island boasts. Some of the more popular beaches on the island include Eagle Beach, Palm Beach, and Baby Beach.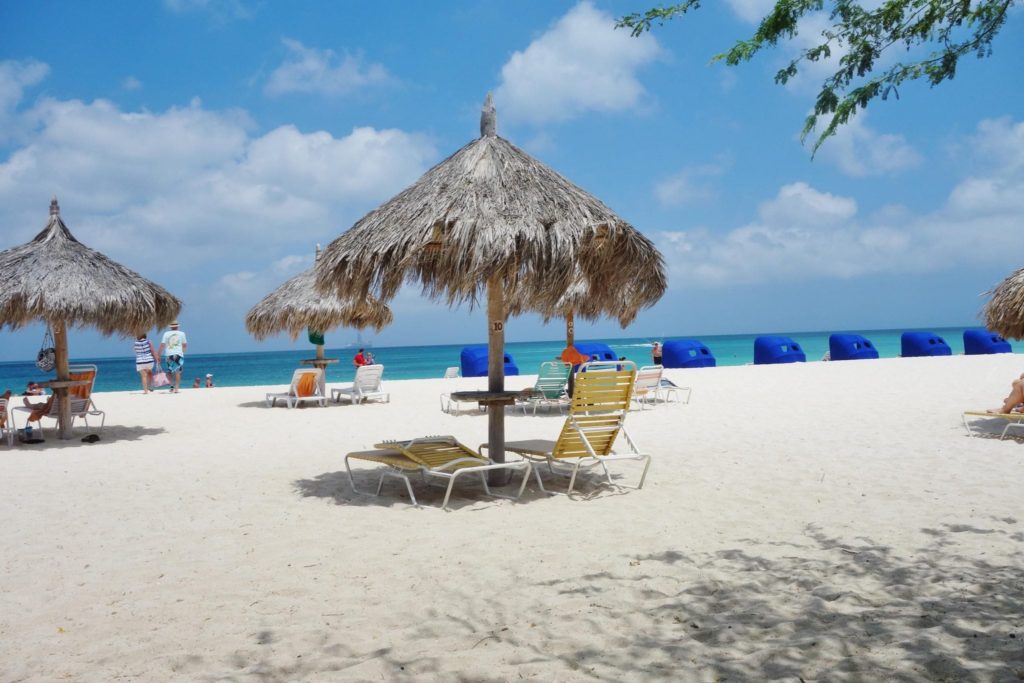 Eagle Beach, the widest beach on the island, has been proclaimed as one of the best beaches in Aruba and is free to the public. It is conveniently located near the cruise port and offers beach hut and chair rentals for a fee.
There are plenty of trees too if you are seeking to relax in the shade. In fact, Eagle Beach is known for its Divi Divi trees. Eagle Beach is not only popular among tourists but also among sea turtles, as a large population nests here each year.
Related Post: Caribbean Cruise Packing List
Palm Beach, another tourist favorite, is home to Aruba's resort hotels and is a bit livelier than Eagle Beach. This beach hosts many restaurants, bars, watersport rentals, and family friendly activities. There will certainly be something for everyone to enjoy at this beach.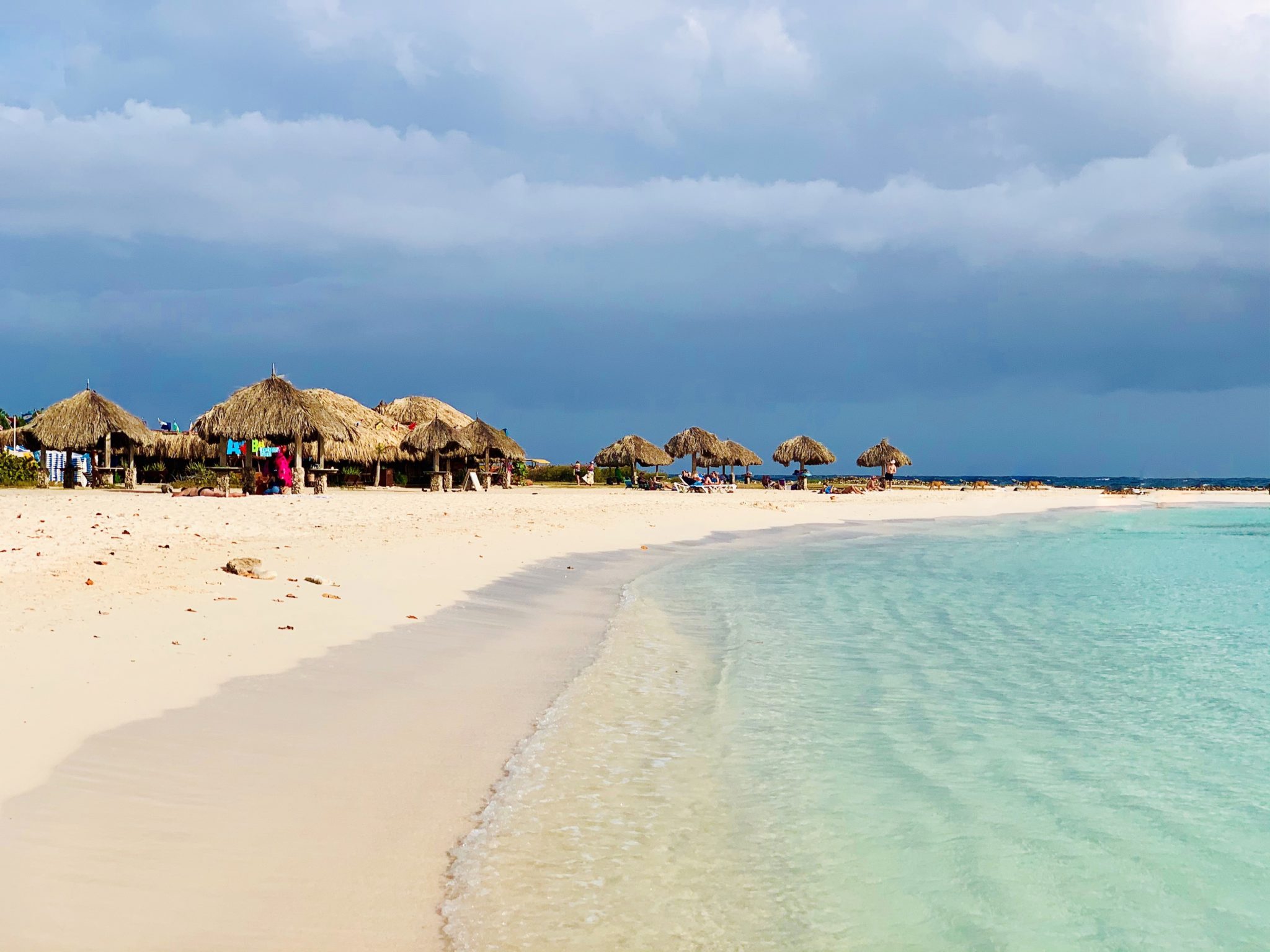 Baby Beach, located on the southeastern side of the island, is located a bit further from the cruise terminal but is a calm, shallow lagoon making it the perfect beach for families with small children. Baby Beach is also a recommended snorkel location on the island.
You will find snack options and equipment rentals here, with fewer crowds than Eagle and Palm beaches.
Visit De Palm Island
If you are looking for a more all-inclusive beach experience while visiting Aruba, check out De Palm Island. This island getaway is perfect for families and couples alike. This all-inclusive experience is open from 9 am to 5 pm daily and offers unlimited food and beverages including a breakfast and lunch buffet and grill station.
This fee also includes use of beach chairs and huts as well as water sports and equipment. Whether you want to participate in a complimentary snorkel tour, soar on a zipline, take a ride on a banana boat, challenge yourself on an air-jumper, or enjoy the water park, it is all yours to enjoy endlessly throughout the day.
While on De Palm Island, you can also opt to pay an additional fee for signature experiences like SNUBA or a Sea Trek underwater helmet walk.
Take a Sunset Sail
If you have the luxury of spending an evening in Aruba, then a sunset sail should complete your list of the Best Things to Do in Aruba on a Cruise.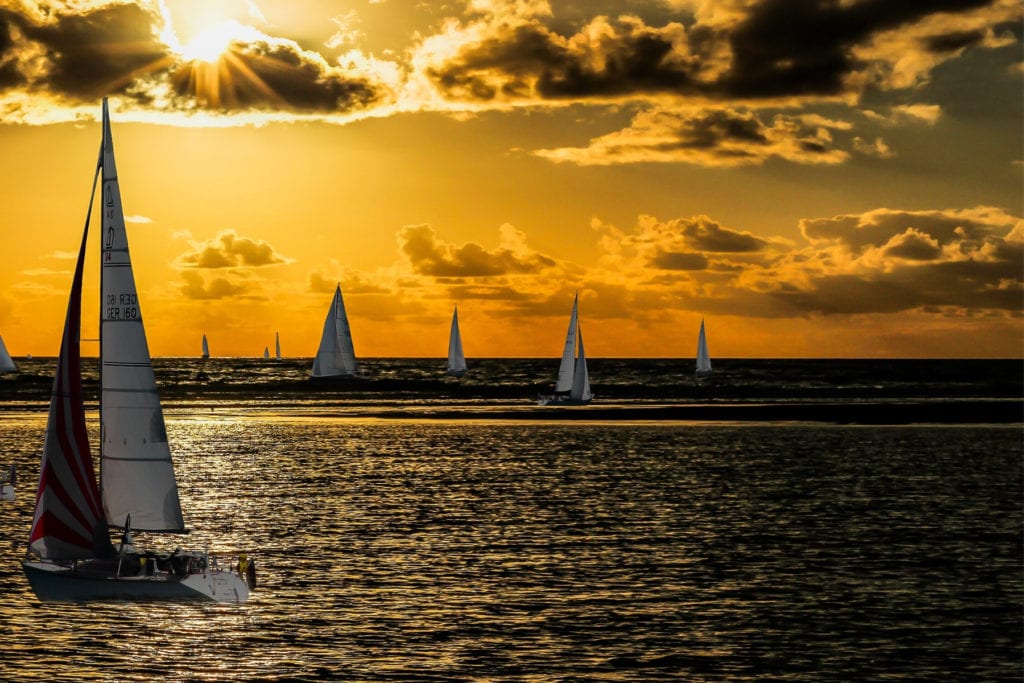 Several tour companies offer similar excursions that take a leisurely catamaran cruise along the Caribbean Sea at sunset. It's a perfectly romantic activity for you and your significant other to enjoy. Sit back and watch the Aruban sky glow while enjoying some cocktails and hors d'oeuvres during this approximately 2 hour sail. What better way to end your visit to Aruba?
Related Post: Top Caribbean Cruise Shore Excursions
Comments
Have you visited any of these attractions during your cruise to Aruba? What makes your list of the Best Things to Do in Aruba on a Cruise? Drop us an anchor below to tell us your experiences visiting this "One Happy Island".