Make the most of your vacation with a little planning and some of our "insider tips". After just returning from a cruise on Norwegian Getaway, we have some essential tidbits to help you stay one step ahead of the other cruisers. Have a memorable and stress-free vacation with our 15 Norwegian Getaway Secrets You Need to Know for Your Next Cruise.

15 Norwegian Getaway Secrets You Need to Know for Your Next Cruise
Pre-book Your Shows Before Embarkation
Bookings for your cruise will become available 90 days prior to your sail date. At that point in time, log into your NCL online account where you will find a variety of items that are able to be pre-booked, including the entertainment in the main theater, dining reservations, shore excursions, and more. We highly recommend that you book the shows as soon as possible. You can always change or cancel at any point before or during your trip. Also, there is currently no plenty for missing an entertainment reservation if you decide not to attend the show.
15 Norwegian Getaway Secrets
The Comedy Shows Must Be Booked Onboard
One entertainment option that is not available for booking pre-cruise is the comedy show. On most sailings, there will be two different comedians that offer shows at various times throughout the cruise in the Headliners Comedy Club. You will want to book these shows on embarkation day as they do fill up quickly. Instead of waiting in line at the box office, you can also use the Norwegian iConcierge app or your stateroom television to make reservations. Currently, you can reserve as many showtimes as you wish; we recommend reserving a time slot for each comedian (11pm shows are adult only).
15 Norwegian Getaway Secrets
There is a New Escape Room Onboard
Just added to the Norwegian Getaway entertainment lineup is a new escape room experience, called Escape the Big Top. Taking place in the Illusionarium a few times throughout the cruise, this complimentary game is open to approximately 60 people at a time. You need to make reservations for this activity ahead of time, which can be done at the Box Office on Deck 6. It was a lot of fun, and we highly recommend it! On our cruise, the event took place three different days and times, so space is limited. Be sure to sign up early.
15 Norwegian Getaway Secrets
Related Post: See our Exclusive Day-By-Day Norwegian Getaway Cruise Review
The Drinks at Margaritaville Are Included in the Ultimate Beverage Package
If you don't feel like spending money on food during your food cruise, you can still enjoy the beverages at Margaritaville. You will need to order a la carte food items to be seated in the restaurant, but you can always just pull up a stool at the Chill Bar, located at the back of the restaurant, to enjoy the drinks. Along with the friendly mixologists at the bar, this is the only place on the ship to enjoy these 10 signature drinks. You can't go wrong with a Who's to Blame margarita or the delicious frozen concoction Havanas and Bananas. The venue closes at night, so be sure to stop in for a midday cocktail.
15 Norwegian Getaway Secrets
There is a Private Sun Deck Called Vibe on Deck 17
You can escape the crowds and have access to your own private oasis at the Vibe Beach Club without breaking the bank. For the price of $99 a week, per person, you will be one of the select few with a guaranteed padded deck chair for the entire cruise. Vibe is open from 7am to 11pm and includes a bar, access to a whirlpool, and some magnificent views. Passes sell out quickly, so inquire about them at Guest Services on Deck 6 on embarkation day. On select port days, a day pass can be purchased for $25 on a very limited basis as well.
15 Norwegian Getaway Secrets
You Can Learn to Dance with Burn the Floor
Burn the Floor is a fast-paced and high energy dance spectacle occurring in the main theater that should not be missed. It is one of the best production shows we have seen on a cruise ship. As luck would have it, the impressive performers from the show offer dance classes on select sea days so you too can learn the sexy and vibrant moves featured in the show. This is definitely not your ordinary "dance class" on a ship. Join these talented dancers and learn to cha cha your way across the dance floor. We can't promise you'll be good, but at least you'll have fun.
Ice Bar Discounts with the Ultimate Beverage Package
For this one, you need to read the fine print. If you are unsure about trying the Ice Bar onboard Norwegian Getaway, a discount might help to make up your mind. The advertised price for admission and two signature drinks in the Ice Bar is $19.95, plus an 18% gratuity. However, if you have the Ultimate Beverage Package, you will receive a 20% discount, leaving the final cost about $18.83. For some, this might be a little steep considering the average person only braves the frigid temperatures for 10-20 minutes, but it is a unique experience.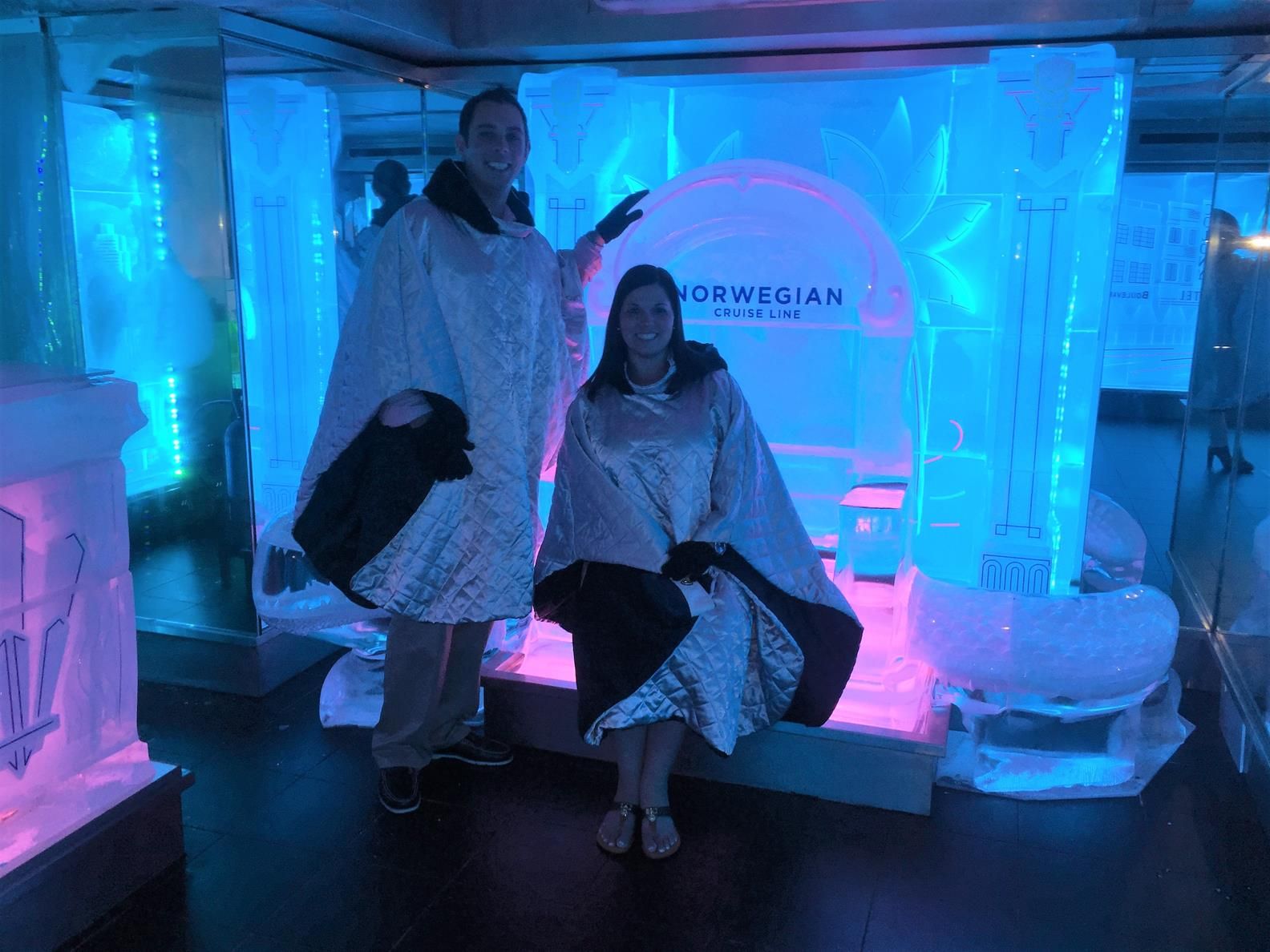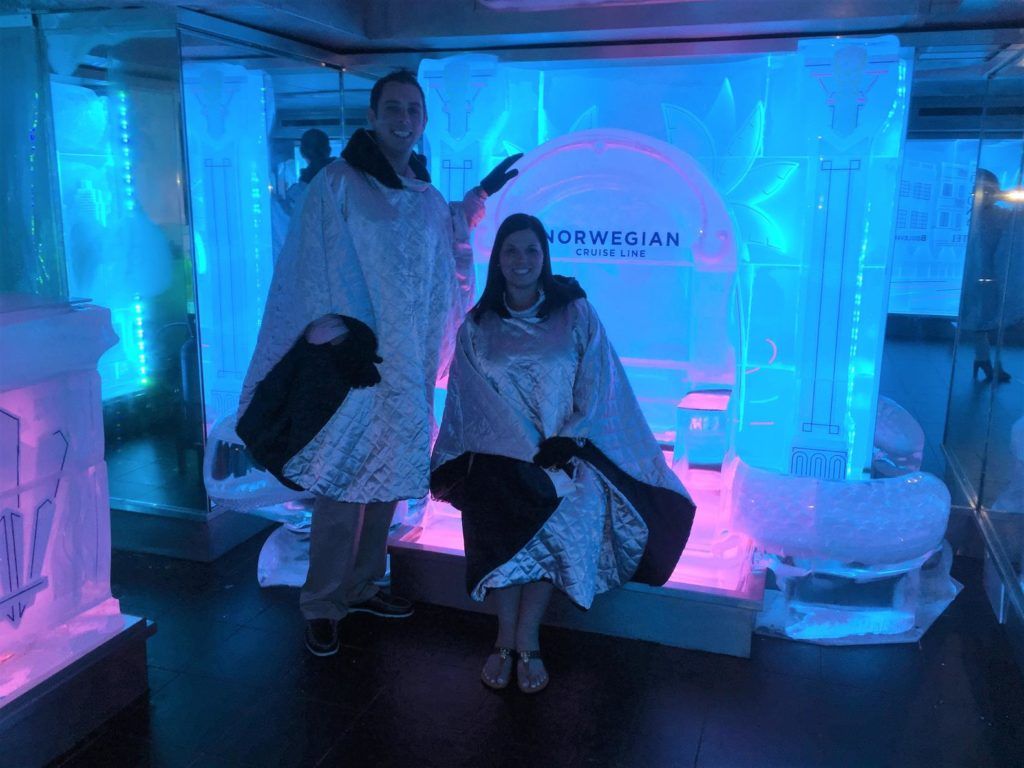 Related Post: Complete Guide to Norwegian Cruise Line Beverage Packages
There Are Some Things You Can (and Can't) Bring on the Waterslides
On the Free Fall racer slides, you are not allowed to wear any accessories. This includes earrings, wedding rings, watches, glasses, bracelets, necklaces, or body piercings. This rule is strictly enforced, and you will be turned away at the top if you are wearing any of the prohibited items. So, save yourself time and remove all items before waiting in line to ride these slides. On the Whip slides, you can wear all of those items, in addition to a GoPro. Yes, you can capture all the twisting and turning as you plummet down the slide and then share it with the rest of the world on social media.
15 Norwegian Getaway Secrets
O'Sheehan's Pub is Open 24 Hours
O'Sheehan's Pub is the one place on Norwegian Getaway that you can go for some late night food, laughs, and even a game of darts. This restaurant is open 24 hours to satisfy your cravings any time of day. Breakfast is served from 5:30am to 11am including custom omlets, followed by lunch and dinner to 11pm, and a limited late night snacks menu after 11pm. If you get the munchies after a long night of dancing and partying, head over to O'Sheehan's for some good old fashion comfort food. The tasty chicken wings might just be the fix you need.
15 Norwegian Getaway Secrets
You Get a 20% Discount on the Illusionarium on the First Night of the Cruise
This is another secret you can only take advantage of once you are onboard the ship. You can save 20% off the cover price of the Illusionairum (starting at $29.95 a person) on the first night of the cruise. This impressive magic show features a three course dinner and some first-rate illusionists, mentalists, and impressive effects. It is well worth the cover charge, especially if you score this "opening night" discount. You can also use one of your specialty dining package credits to get a discounted price if you wish to see the show on a different night of the cruise.
15 Norwegian Getaway Secrets
Ocean Blue Offers a Great Sea Day Lunch
If you like some seaside lunch, then the takeout counter at Ocean Blue is a hidden gem. Located Starboard side on the Waterfront, this takeout window is only available on sea days. Serving a lobster roll ($9.95) that revivals any we have had up here in New England, along with other freshly made seafood delights, you will want to head here to escape the crowds at the buffet. With table side service, a cool breeze, and great ocean views, this is the perfect spot to grab a quick lunch, especially for all those seafood lovers. All items are priced a la carte.
15 Norwegian Getaway Secrets
Get to the Shanghai Noodle Bar Early
One of the best complimentary dining venues on Norwegian Getaway is the Shanghai Noodle Bar, located on Deck 7 aft (near the casino). If you like noodles and other Asian-inspired tapas, this place is for you. You can not make reservations here, so the crowds and wait times grow quickly. The venue opens at 5:30pm, and we suggest getting there early. We heard wait times for a party of 2 quoted for greater than an hour at peak times. If nothing else, go early for a few appetizers to taste test the menu, then head to your restaurant of choice later for dinner.
15 Norwegian Getaway Secrets
Get a Custom Omelet at Margaritaville
You will not see this advertised in the Freestyle Daily, but there is a complimentary breakfast buffet at Margaritaville on select days. You can avoid the lines at the buffet and still get a custom made omelet (or egg white omelet) with other breakfast options in the comforts of this quiet outdoor eatery. During our stop here on the last sea day, the venue was virtually empty. While the selection is smaller, it had everything we would want to fuel up for the day, including coffee and a selection of juices that would also be found in the Garden Cafe.
15 Norwegian Getaway Secrets
The Fish Swim Forward
On one of the largest ships in the Norwegian Cruise Line fleet, it is easy to get a little confused about location while sailing on Norwegian Getaway. One simple trick that is easy to remember is that the fish always swim forward. If you are unsure which direction to head, use the fish on the carpets as your guide. The fish will help lead the way, but you will still need to remember your cabin number! There are also ship maps on the digital touch screens located near the elevators. Between these two helpers, navigating the ship should be smooth sailing.
A Specialty Dining Package Saves You Money
If you did not get one for free as a booking perk, we strongly recommend purchasing a specialty dining package if you plan on dining at any of the specialty restaurants. These packages will save you a good deal of money. Many of the restaurants on Norwegian Cruise Line are now priced a la carte, which means you can start to rack up quite a bill. By using the specialty dining plan, you can select as many starters, entrees (limited to one entree at some venues), and desserts as you want for one set price. Saving money on a cruise is always a good thing!
Comments
Have you sailed on Norwegian Getaway? Do you have any insider tips that you would like to share with other cruisers? Drop us an anchor below to tell us your Norwegian Getaway Secrets.