This seven-night Caribbean Celebrations cruise on Windstar Cruises' Wind Surf was the President's Cruise featuring both the president of Windstar Cruises, John Delaney, and the president of Porthole Magazine, Bill Panoff. With seven ports of call over the course of the week, it was an action-packed Eastern Caribbean sailing. We have just returned from this unique trip and are happy to share this exclusive Windstar Cruises' Wind Surf cruise review.


Introduction to Wind Surf
The largest in Windstar Cruises' fleet of six luxury yachts, the Wind Surf is the world's largest sailing cruise ship. The ship holds slightly over 300 passengers and has 155 staterooms. Cruising on a ship of this size was a great departure for us, as we normally sail on some of the largest ships in the world with thousands of other cruisers.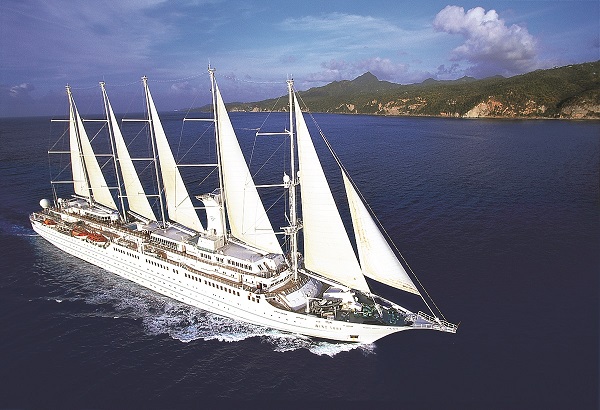 Being on a more intimate vessel certainly had some perks. We were both acclimated to the ship within hours of boarding. The public venues, focused on deck 4, are in close proximity to one another, allowing for easy access to the Yacht Club's espresso cafe, pool bar, pool and loungers, and the main dining room.
With a total of 6 decks, there is plenty of outdoor space that you can enjoy. While a rather simple layout, you can easily find nooks and crannies of the ship to call your own.
There is still a gym, a spa, and the line's signature Marina. This additional "deck" is off the back of the ship filled with sports equipment allowing you to kayak, swim, snorkel, and even wakeboard!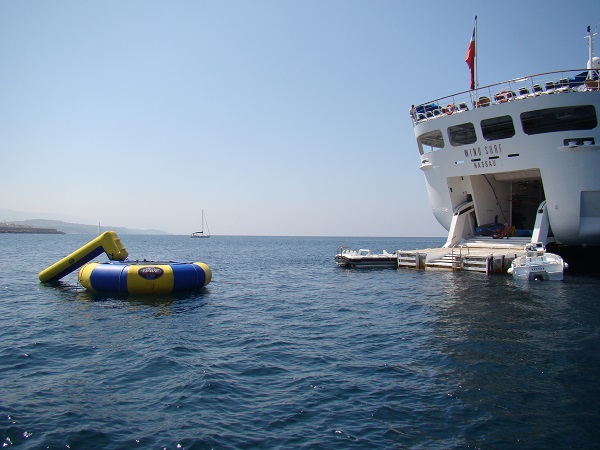 During our seven-day voyage, we rarely encountered any lines or wait times. No matter the time of day, there seemed to always be enough seating for popular events and meals. Cruising on a vessel of this size is certainly an adjustment for us mega-ship fans, but getting to visit unique islands that the larger ships can't was worth the trade-off.
Ports of Call
This seven-night Caribbean Celebrations cruise had no sea days.
Originating from St. Maarten, we were lucky to secure a direct flight from Boston, MA that landed early afternoon. With transfers arranged by the cruise line, we were taxied to the ship which was docked next to other vessels in port for the day, including Royal Caribbean's Freedom of the Seas.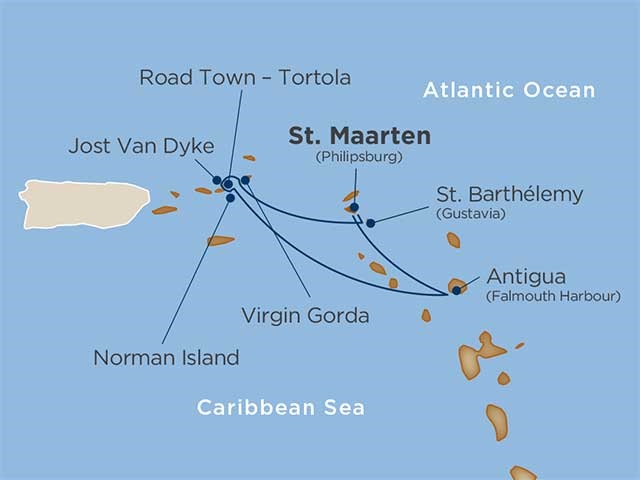 From St. Maarten, we ventured to other lesser-visited islands including several British Virgin Islands including Tortola, Norman Island, Jost Van Dyke, Virgin Gorda, as well as Antigua, Barbuda, and St. Barts.
In both Antigua and Tortola, we completed island tours to see some of the destinations' most significant landmarks. In Antigua, we visited the popular vantage point Shirley Heights and spent an hour exploring Nelson's Dockyard. In Tortola, our tour included a scenic drive around the island, a quick stop at the Callwood Rum Distillery, and a 45 minute beach break at Cane Garden Bay Beach.
Being the only cruise ship still stopping in Barbuda, we had the island to ourselves. We were able to see the island's main city, Coddington, while also exploring the frigate bird sanctuary. Even though the natural mangroves were partially destroyed by the hurricanes, it was great to still see thousands of these majestic birds and to learn more about this rare species. We are glad to see that the island is slowly bouncing back from all the devastation in 2017.
The lesser visited islands of Norman Island and Jost Van Dyke were perfect for beach breaks. Cruisers on larger ships can access the White Bay beach in Jost Van Dyke from Tortola. It is home to the famous Soggy Dollar Bar. Legend has it that the popular drink the Painkiller was first crafted at this location. Cruisers can also access Norman Island for some snorkeling via an excursion from Tortola.
We highly suggest you consider taking a trip to Jost Van Dyke if you visit the BVIs. The lower bay beach was one of the best beaches that we have visited in the Caribbean. It does get busy, so make sure you take the earliest possible ferry/tour to be guaranteed a spot on the beach.
During our stop at Virgin Gorda, the cruise line secured a section of the coastline at Fischer's Cove for an exclusive beach party and barbecue, which included some great food, water sports, and sun time. This is another signature Windstar event that occurs every cruise and is a nice alternative to stopping at a cruise line's "private island".
Finally, our last stop was St. Barts. We should have booked a daytime excursion, but instead we just walked around the port area for a little while and headed back to the ship. We loved our evening sunset catamaran cruise excursion. The weather was beautiful, and the sunset was gorgeous. The entire experience, complete with snacks and a champagne toast, made the sail even more special. This was perhaps our favorite shore activity among a list of other great experiences.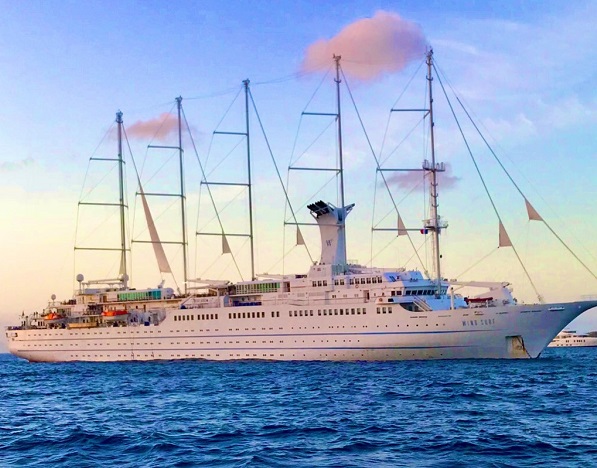 The Ship – Windstar Cruises Wind Surf Cruise Review
Outdoor Spaces
The ship has a total of six decks, with decks 4, 5, and 6 offering outdoor areas. Like many cruise ships, there is a small pool and two whirlpools, three outdoor bars, and an outdoor dining area. There is also plenty of rail space with loungers and tables and chairs strategically located on both the port and starboard sides of the ship. Given the small nature of the vessel, the percentage of outdoor space is quite impressive, and there was never an issue finding a place to relax or soak up some sun.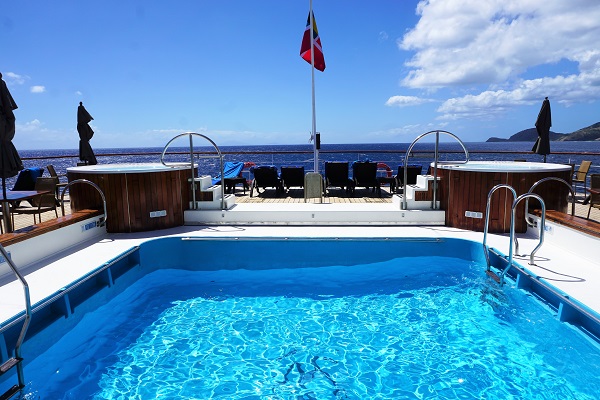 You are able to circle the entire ship on deck 5, walking right past and into the bridge. Yes, Windstar has an open bridge policy, which means you can stop in and say hi to the captain and view the navigational systems while at sea. This is pretty cool for the cruise nerd in all of us.
Service
On a small luxury line, you would expect exceptional service. Luckily, Wind Surf truly delivered with personal and friendly services. After only a day or two, the staff will know your name, and more importantly, your preferred beverages at the bar! Throughout the ship, the crew always had a smile on their faces and seemed genuinely happy. While you do not have a dedicated dining staff, as Wind Surf has open seating restaurants, the service we received during meals was usually stellar. Our room attendant Ni Luh did a wonderful job taking care of our cabin over the course of the week.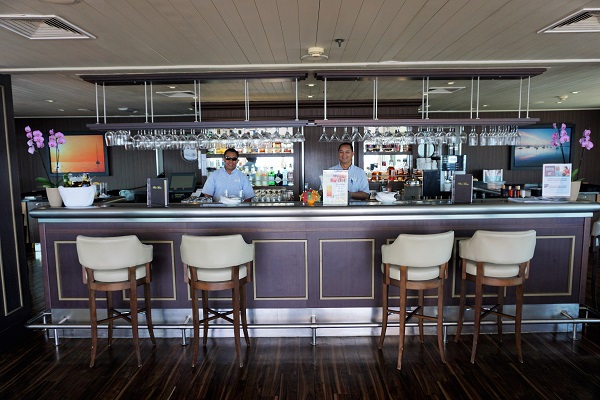 Onboard Activities
Cruising with Windstar Cruises is really about the destinations. With a new port of call each day, sometimes even two ports of call in a day, the voyage is truly about the onshore experiences. With that being said, there were virtually no organized activities during the day. There were none of the typical cruise activities like trivia or bingo. There were only a few scheduled events like fitness classes, galley tours, and wine or rum tastings. So, we suggest taking a book or your Kindle along to keep you occupied while on the ship.
Exclusive to Windstar Cruises is the Marina. Located on deck 2 behind the spa, this water sports platform is open most days pending sea conditions. Here, you can jump off the back of the ship, take out a kayak, snorkel, jump on the water trampoline, or even wakeboard. So, if you are feeling adventurous, we suggest you definitely check out the Marina on Wind Surf.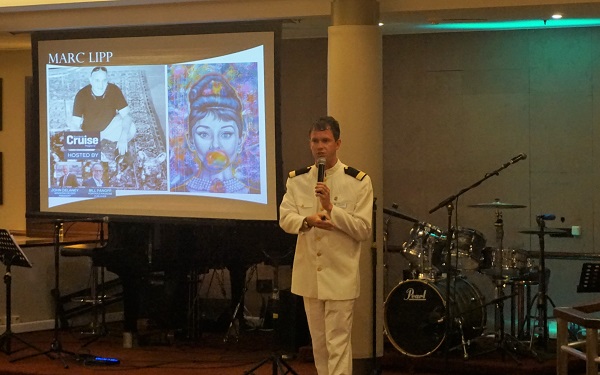 At night, there are a few entertainment options. Every evening James, the Destination's Manager, hosts a port talk. It was less of a sales pitch for tours than the typical port talks on other ships. He provided information about the ports of call, as well as the tour options being sold by the cruise line. Many evenings, there were also special sail away events with passed drinks and appetizers.
After dinner, the Lounge and Compass Rose featured music from two musical acts including themed nights like Latin Night, Beatles Night, and Rock and Roll Night. While the literature indicated that there would be entertainment featuring local performers, none occurred during our trip. If you are looking for a cruise with a structured nightlife, this is certainly not for you as there is no main theater. We did miss having something to do in the evenings, but we could usually be found bouncing around the open venues with the rest of the "late night crowd". We did enjoy the crew talent show which occurred one evening of the cruise.


Food and Dining
Overall, the food on Wind Surf was on par with what we have come to expect from cruise ship dining.
There were small bites available at the Yacht Club for breakfast and lunch which did not change much during the trip. We occasionally grabbed some continental breakfast items or some finger sandwiches for lunch. The coffee here was brewing all day! By the middle of the week, Russ, our "barista", knew the Princess' iced, skinny caramel latte order by heart. Now that's service!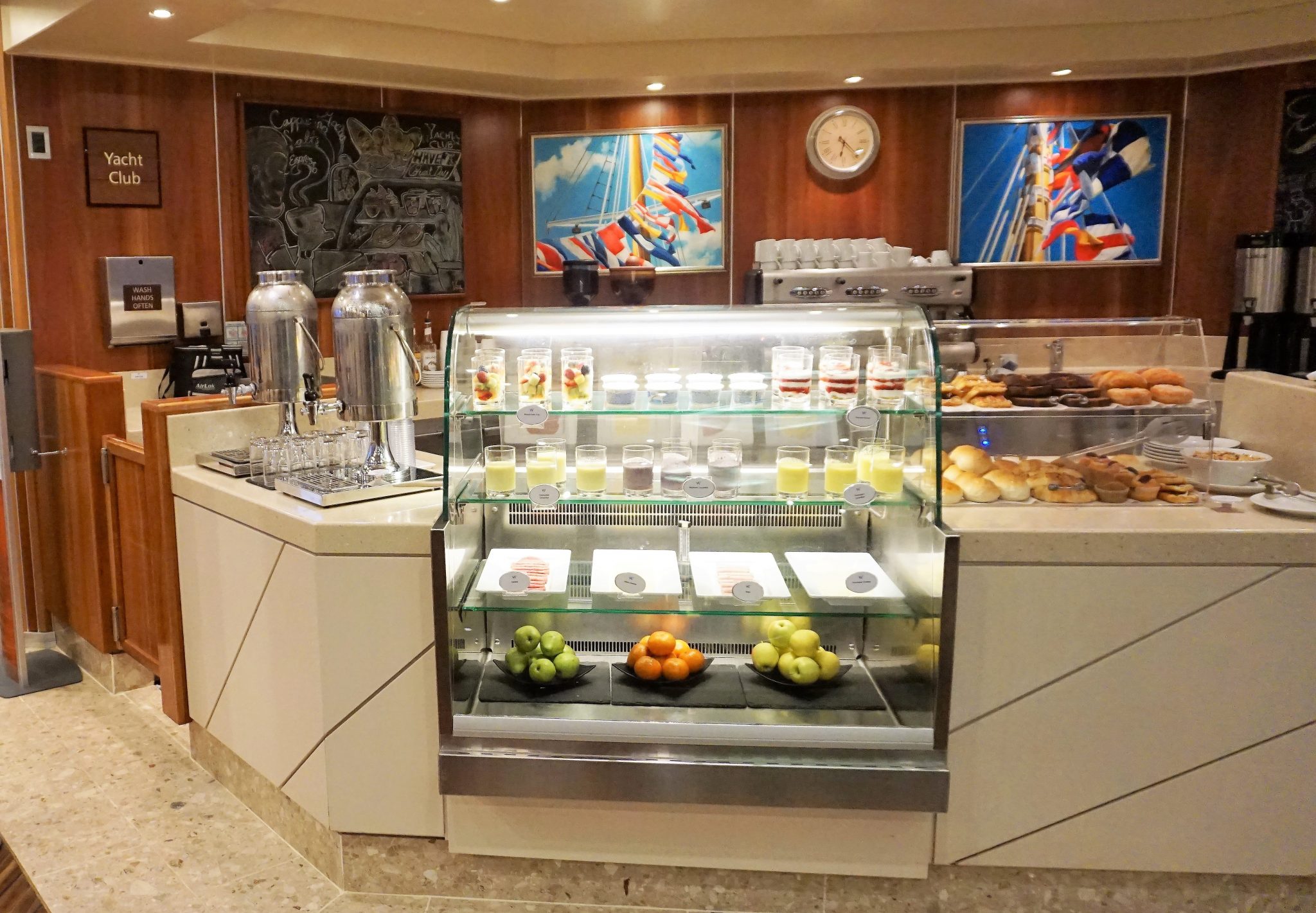 The Veranda on Deck 6 was a hybrid casual restaurant/buffet for breakfast and lunch. We enjoyed our meals here and found the food quality to be better than a typical buffet on other ships. The food selections here were limited, but they did change every day. You could help yourself to hot and cold buffet items and/or order off the menu. Selections off the menu included items like omelets, pancakes, and waffles for breakfast and hamburgers, paninis, and pizza for lunch. There was also a carving station located in the buffet at lunch time.
For dinner, the AmphorA restaurant was the main dining room with a different menu each evening. Open from 7 to 9 pm, the venue had an open seating arrangement with no set table assignments or reservations required. The food here was pretty typical of cruise ships. Likewise, there was also your traditional lobster night one evening of the cruise.
On one evening, Wind Surf offers the line's signature barbecue deck party. This was some of the best food of the entire trip with a wide selection of premium options like paella, grilled lobster tail, and a roasted pig. It was a great event and certainly a dining experience that sets Windstar Cruises apart from contemporary cruise lines.
In addition to the MDR, there are two specialty restaurants. Both of these restaurants require reservations. You should make reservations as soon as you board the ship as they do book up quickly. Unlike contemporary cruise lines, these venues are included in the price of your cruise fare with no cover charges.
Stella Bistro is a French-inspired restaurant, while Candles is the outdoor Steakhouse. Located in the same outdoor space occupied by the Veranda restaurant during the day, Candles was our favorite of the two specialty restaurants.
Bars and Lounges
We could have easily completed our typical drink around the ship in a day on Wind Surf. Don't worry, we didn't try it. All bars served the same signature menu with a variety of cocktail options. There were also a few themed events like a Whiskey and Martini night.
Located near the pool, the Pool Bar was open from 9:30 am to 6 pm on most days. The Lounge is the hub of entertainment pre-dinner and post-dinner. A live band played here most evenings until about 11:30 pm.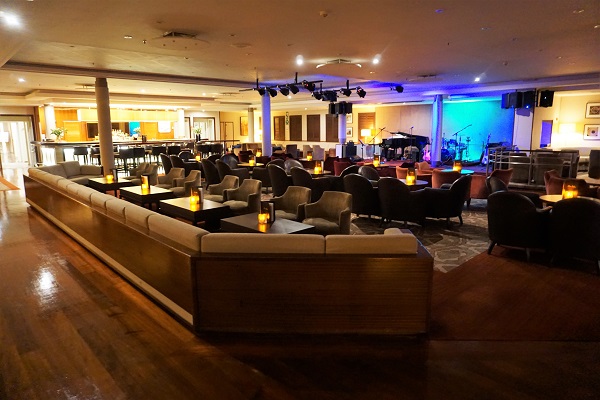 On Deck 5, the Compass Rose was an indoor/outdoor venue which opened in the mornings by 9:30 am and stayed open until about midnight. Offering great views and live music most evenings, this was one of the happening places on the ship.
There was also the Terrace Bar and Cigar Lounge with bar staff routinely around during the evenings to serve drinks.
Stateroom
We stayed in cabin 252, an AX Deluxe category stateroom. While the room was quite large in comparison to other contemporary cruise lines, it certainly showed signs of wear and tear. The ship is due for a four-week dry dock in a few months. Along with changes to some public venues, we hope the staterooms get some tidying up as well.
The décor in our stateroom was dated and tired with the carpet and fixtures showing their age. For a luxury cruise ship, we would expect more stylish and high-end furnishings. Even the technology was dated, with a small LCD television, a blu-ray player, and a Bose radio. Granted, we did not spend much time in the room but it did not live up to our expectations. During a Q&A session, the president of the cruise line did hint at advancements coming down the line for the brand as a whole.
Of note, there are also no balcony staterooms on Wind Surf. So, if you want that morning breeze or breakfast with a view, you will have to head to the outdoor decks.
Recap of Windstar Cruises Wind Surf Cruise Review
Sailing on a luxury yacht offered us the opportunity to spend several hours exploring ports of call that we usually do not get to visit on larger ships. However, it also meant that we needed to tender at most ports. With rough seas, this could be a challenge to those who are prone to motion sickness. Thankfully, this doesn't impact us.
With a very visible set of officers and a crew to guest ratio of 1 to 1.5, we certainly felt pampered during the trip. There were also enough familiar cruise elements and venues that we did not feel completely out of our element on this smaller ship.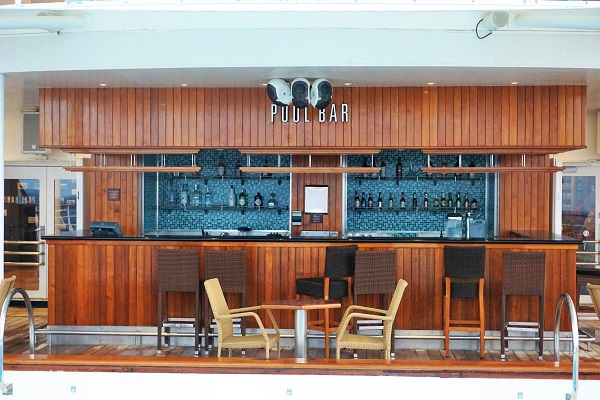 For those who have never cruised before, this ship will introduce you to the elements of cruising that we love. If you are concerned about sailing on the "monsters" (which Windstar staff affectionately calls the larger ships), these yachts would enable you to get closer to your destinations of interest while still experiencing a cruise vacation.
Wind Surf is entering a dry dock next month to undergo some maintenance, clean-up, and updates. The ship could certainly use some cosmetic work in the public venues and staterooms. She has a familiar layout and dedicated staff, so with some touch-ups and a few more entertainment options, we would consider another sailing.
The overall experience was engaging, relaxing, and enlightening. Visiting Barbuda and speaking with the locals gave us a new perspective on life in the Caribbean after the devastating hurricanes in 2017. During our trip, Windstar Cruises and Porthole Cruise donated funds to local schools to help during the recovery efforts.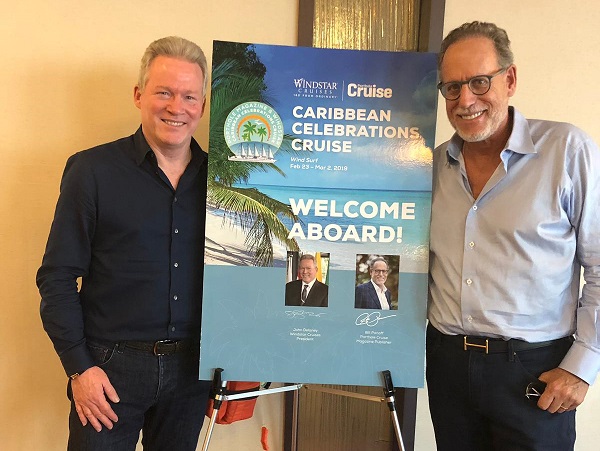 While on our trip, president John Delaney detailed updates coming to the Star-class yachts. These include lengthening two of the ships and adding dining venues, an improved spa, and a revamped pool deck. We could certainly see ourselves cruising on one of these vessels when they re-enter the fleet.

Comments
Have you sailed on any ships in the Windstar Cruises' fleet? Do you enjoy the small ship experience? Drop us an anchor below to share your reviews of these boutique vessels.
Disclaimer: We were guests of Windstar Cruises and Porthole Cruise for the Caribbean Celebrations cruise. All of the opinions and reviews are all our own.