Norwegian Cruise Line's newest ship, Norwegian Encore, has finally made it to Miami, Florida. The ship will offer cruises to the Caribbean until the summer season when it will reposition to New York to sail to Bermuda. As we prepared for our trip on the christening cruise for Norwegian Encore, we put together this latest post detailing What You Need to Know Before Cruising on Norwegian Encore.


What You Need to Know Before Cruising on Norwegian Encore – Booking the Cruise
Book Early
We always recommend booking a cruise at least 6 to 12 months in advance. Early bookings allow for a greater selection of cabins, and you can often secure some of the lowest rates. If promotions or prices change, you can contact the cruise line to get an adjustment. Also, keep an eye out for sales as NCL frequently runs Free at Sea promotions where cruisers can score anywhere from one up to six free perks with booking the cruise.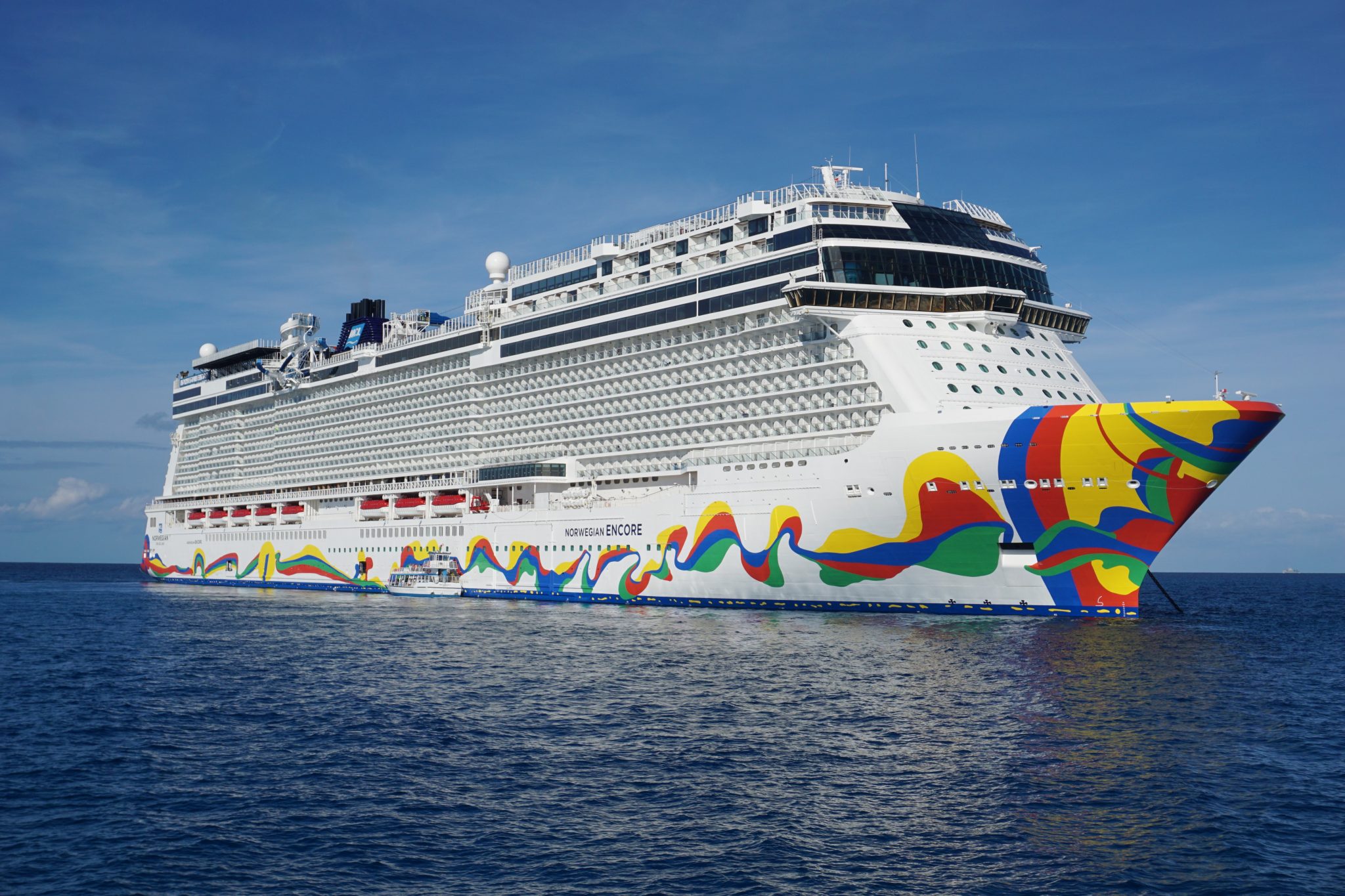 Consider a Travel Agent
We recommend using a travel agent if you are new to cruising. Even if you have cruised before, using a trusted travel agent may help you with the planning stages as Norwegian Cruise Line offers a unique approach to dining compared to other cruise lines, and this ship has many new amenities. Not to mention, using a travel agent can often save you money and offer you some great incentives in addition to any promotions being run by the cruise line.
Review Cabin Types
Norwegian Encore offers several different cruise cabin categories. From your traditional inside rooms, balconies, and suites to the unique studios for solo travelers, the options are quite diverse. Some cruisers might also want to consider The Haven, an exclusive "ship within a ship" concept which includes a private sun deck, lounge, and other exclusive amenities. The various cabin categories might also include different perks, so take a few minutes to explore the different options before booking.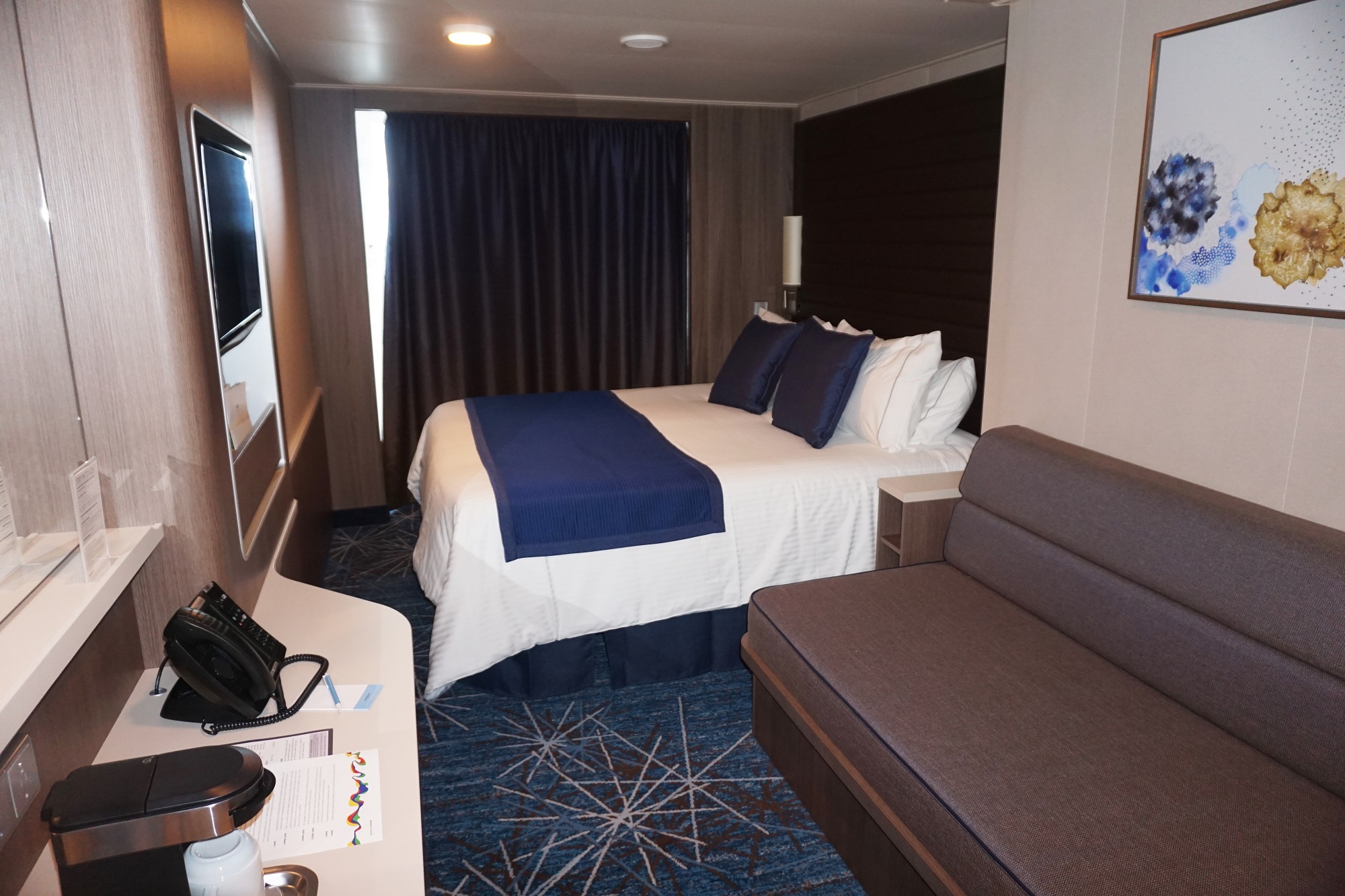 Explore Onboard Amenities
All cruise lines offering a variety of onboard amenities for guests. Even within a brand, the onboard activities can vary greatly. Norwegian Encore happens to offer some of the most innovative features on any cruise ship. From an aqua park featuring some of the most adventurous waterslides at sea, to the longest race track at sea, an Atlantis-themed outdoor laser tag arena, and an out of this world virtual reality experience in the Galaxy Pavilion, this ship is fun for all ages. There's also plenty of bars and lounges, including the Observation Lounge, Sugarcane Mojito bar, and the popular Cavern Club, to keep guests entertained day and night. Not to mention, there is live music, game shows, dance parties, and more.


What You Need to Know Before Cruising on Norwegian Encore – Pre-Cruise Prep
Make Dining Reservations
With NCL's signature Freestyle approach to dining, there are no set dinner times and no set table arrangements. Instead, there are several complimentary and specialty dining options for guests to enjoy on Norwegian Encore. Reservations can be made for the main dining room and the specialty restaurants up to 120 days prior to your cruise using the online cruise planner. Even if you are a go with the flow type of person, we highly recommend making at least a few reservations pre-cruise, especially for popular venues.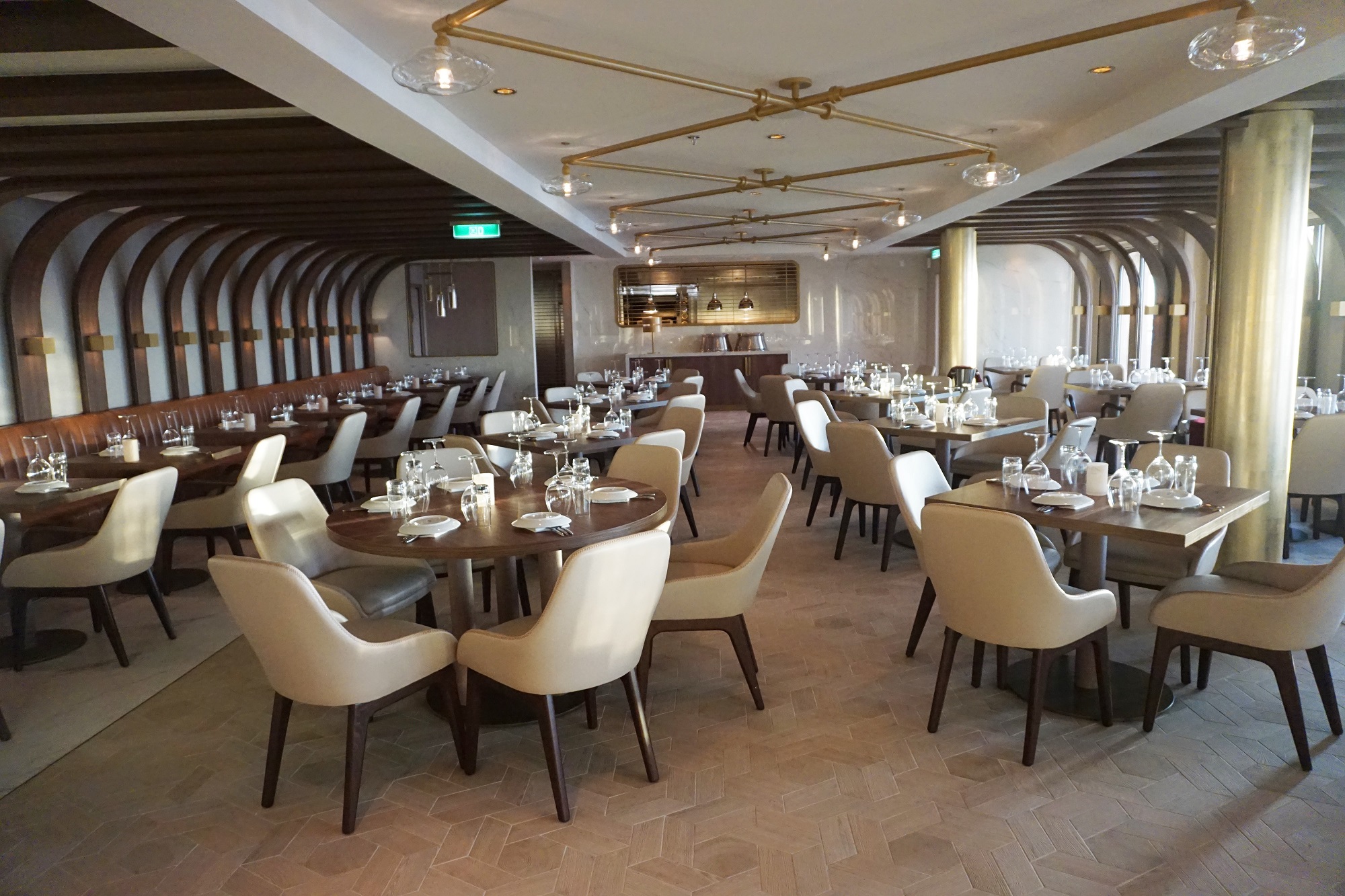 Consider a Dining Package and Drink Package
Cagney's Steakhouse, Los Lobos Mexican Restaurant, the French Le Bistro, Teppanyaki, Q Texas Smokehouse, Ocean Blue, Food Republic, and the brand new Italian Onda by Scarpetta are all specialty restaurants found on Norwegian Encore. Most of these restaurants, excluding Teppanyaki which has a flat-fee cover charge, are all a la carte pricing. If you plan on dining at a few of these venues, the costs can add up quickly. We suggest purchasing a specialty dining package which can add up to some great savings.
Related Post: Specialty Dining Package Review from Norwegian Bliss
Similarly, if you plan to sample beverages from many of the great bars onboard Nowegian Encore, those prices can add up quickly. If you didn't already score a free drink package when booking, then you might want to consider purchasing one. NCL recently updated their drink package offerings. The Premium Beverage Package (former Ultimate Beverage Package) covers a wide range of soda, beer, wine, and cocktails up to $15. The new Premium Plus Beverage Package covers the widest range of alcoholic beverages in addition to soda, still and sparkling water, energy drinks, and specialty coffee. Even if you got a free beverage package, you can upgrade to the premium plus on the first day of your cruise for an additional fee. Of note, you will be assessed a 20% service charge on top of the per person, per day pricing of the package.
Related Post: Should I Upgrade to the Premium Plus Beverage Package?
Make Entertainment Reservations
Entertainment reservations can also be made up to 120 days prior to your sailing. There are two shows that you can pre-book in the main theater before your cruise. The Tony Award-winning musical Kinky Boots and the wildly popular Choir of Man. Typically, each show plays on at least two separate evenings with a few different show times. Again, we highly recommend that you book these shows before you set sail. There are also other entertainment offerings that are not available to book online like the comedians who perform in the Social Comedy Club. Happy Hour Prohibition- The Musical is an up-charge entertainment offering that requires a reservation as well.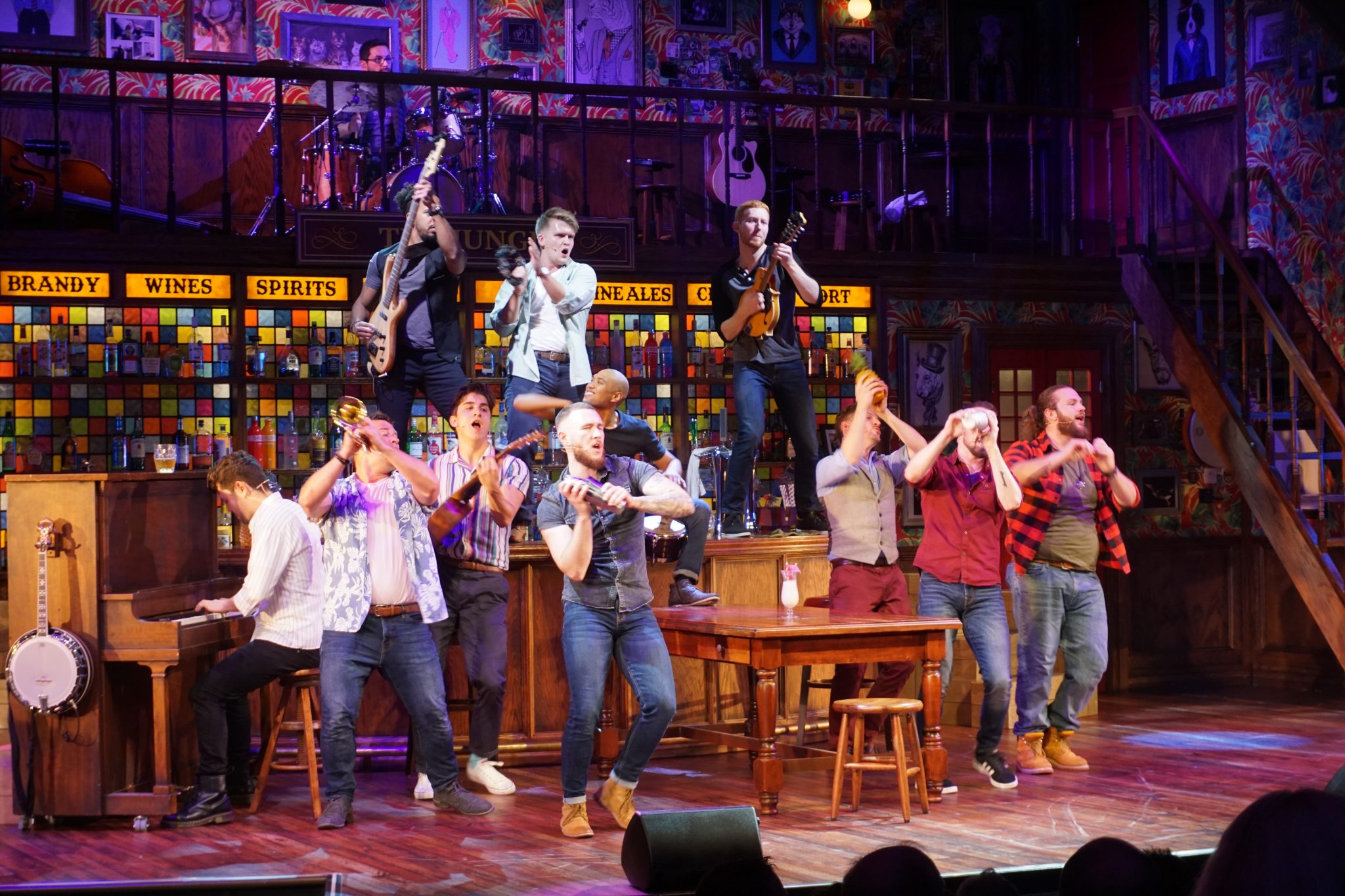 Book Additional Items
Now is also the time to book any additional items like shore excursions. Yes, there are plenty of great things to do on the ship, but you will also be visiting several amazing ports of call. Review your options on what to do at each port before your cruise. Waiting to book until you are on the ship could lead to disappointment. This doesn't mean that you have to book your shore excursions with NCL, as there are many local tour providers or third party companies that you can also book over the internet prior to your cruise.
In addition, think about booking things like spa treatments or thermal suite passes. If you know that you will enjoy the Thermal Suite amenities, including the sauna, snow room, and heated loungers, it pays to reserve passes before the cruise. You can save 10% (or more) when compared to onboard prices.
Create Checklists
There is a lot to do before and during your cruise, so get organized. We make checklists to help us organize everything including the schedule for days ashore, dining reservations, and entertainment reservations. There are many great venues on the ship, tons of onboard activities, and other things you will want to enjoy during your trip. So, we suggest also making a short checklist of all the things you MUST do, see, eat, and experience on the ship. That way, you will never have to ask yourself, "Why didn't we do that?". For starters, have a look at our Top Things to Do on Norwegian Encore.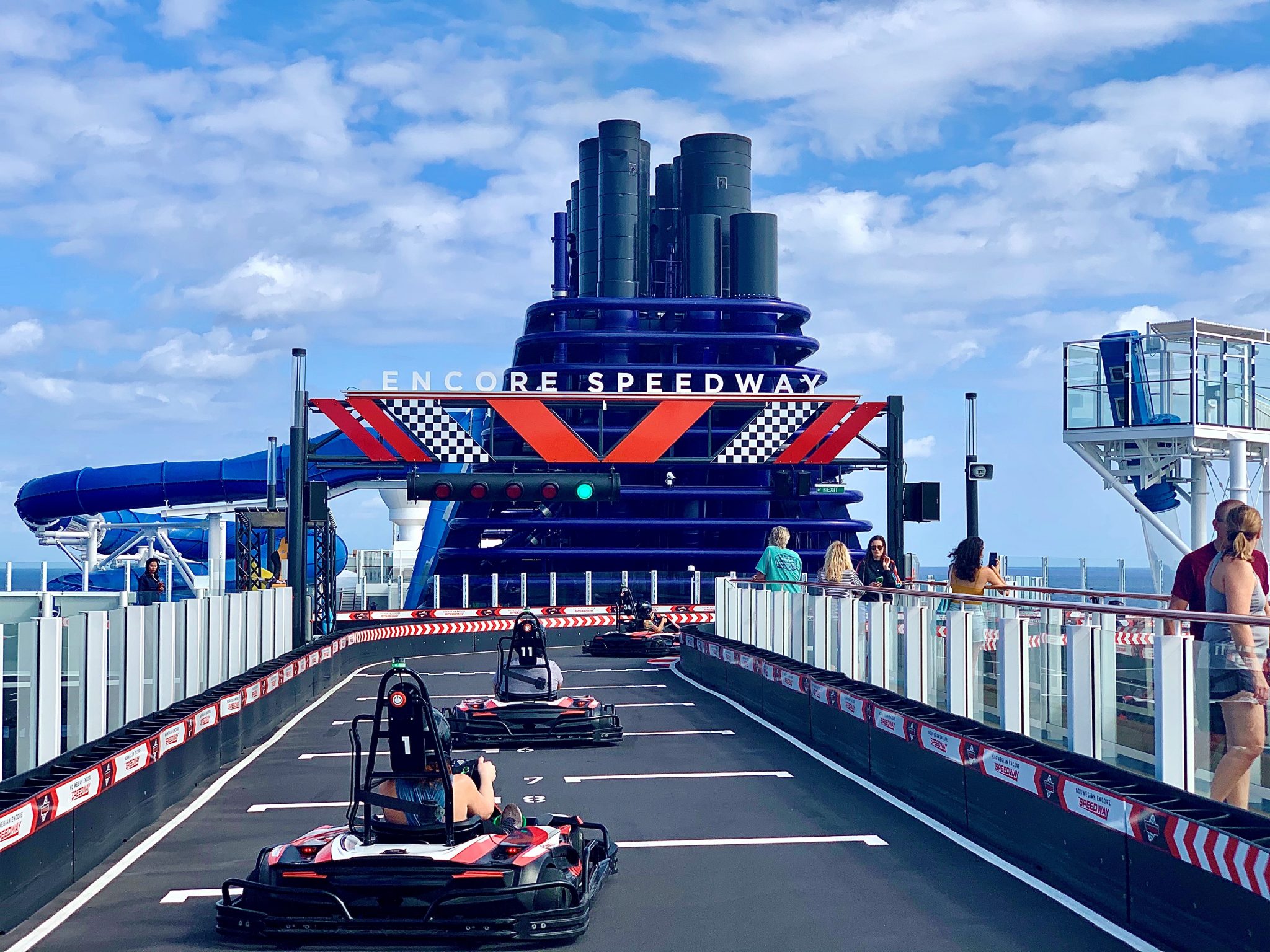 Plan a Pre-Cruise Hotel Stay
We always recommend starting your vacation a day early as bad weather, flight delays, or other travel disruptions could start your trip off on the wrong foot. A pre-cruise stay in Miami is even more important if you are flying from snowy regions in the winter. If you are searching for the perfect pre-cruise hotel for Norwegian Encore, we have you covered with our Guide to Miami Hotels Near the Cruise port.
Complete Cruise Check-in and Print Luggage Tags
Once your final payment is processed, one of the last steps is to complete your online check-in. Print your Cruise Contract and your luggage tags, along with copies of other documents like shore excursion tickets, airline confirmation, and your hotel confirmation. Having this paperwork in place will make your processing at the cruise terminal much more efficient. If you'd prefer to be paperless, you can also use the Norwegian Cruise Line app for the check-in process at the terminal. We also recommend that you check the expiration of your passports (It can't expire within 6 months of your sail date). We wouldn't want you to miss out on cruising on Norwegian Encore!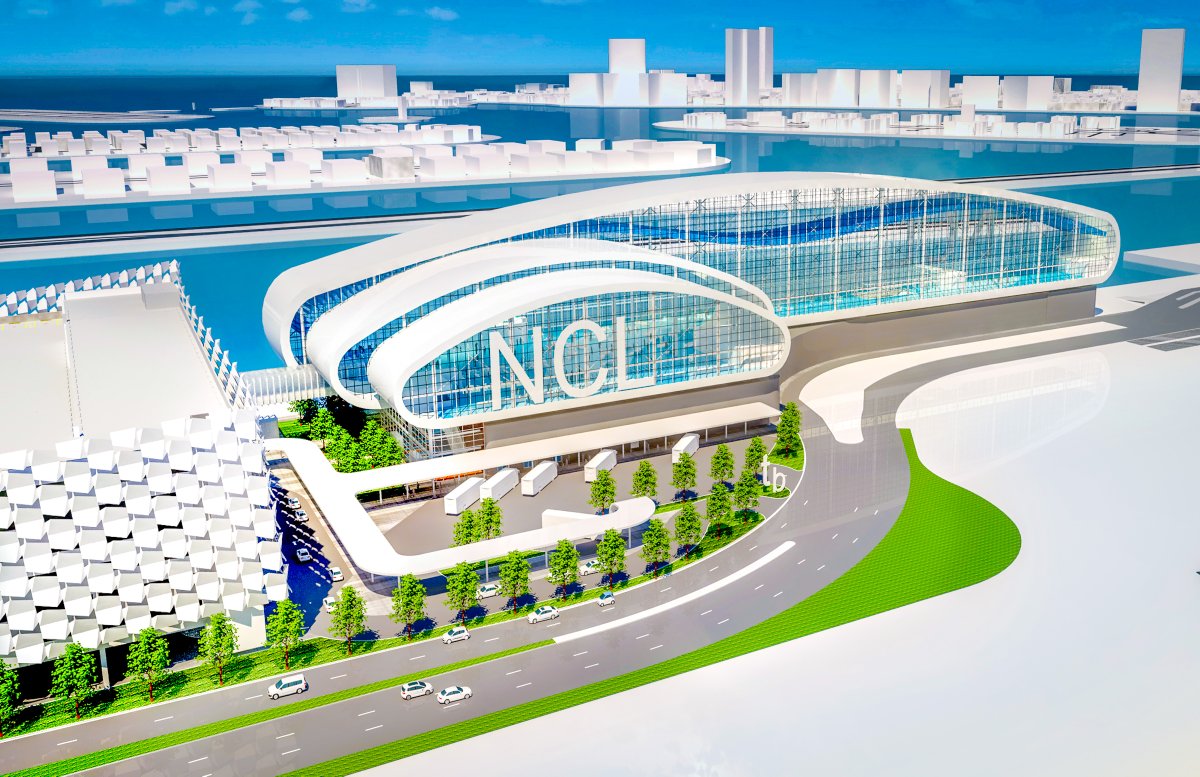 Get Packing
Packing is both an art and a science. If you need some guidance, we have put together a complete Packing Guide for the Caribbean. We have a list of the essentials you need to pack for any cruise that is now standard in our checked bags as well. You will also want to make sure that you have a well-stocked carry on with items like a bathing suit, change of clothes, medications, and a few vacation staples.Yes, you will see your luggage again, but it won't be for several hours. If you are bringing bottles of wine onboard the ship, they should also be packed in your carry-on luggage.
Download the App
Download the Norwegian Cruise Line app to your smart device. This app gives you access to the daily planner listing all of the day's activities, show times, and dining information, as well as the ability to make reservations. You can also review your account activity to keep track of your charges throughout the cruise. You can even complete your online check-in on the app. You do not need to pay for the internet to use the app, and it saves you from carrying around the paper version of the Freestyle Daily.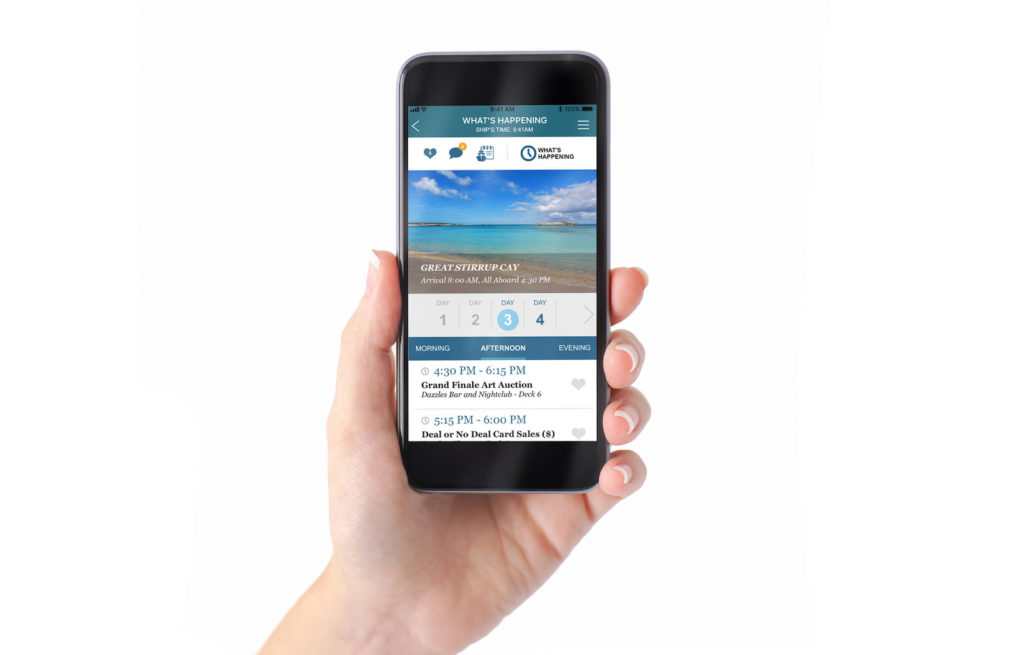 What You Need to Know Before Cruising on Norwegian Encore -Embarkation Day
Get to the Pier Early
Regardless of the time you are assigned to board the ship, we suggest you get to the terminal by 10-10:30 am. They will already be letting people in by this time, and you will be through security, checked-in, and assigned a group number to board in no time. They will begin letting cruisers on the ship as early as 11 am, depending on when the ship is cleared. Now, you can be among the first onboard Norwegian Encore to start exploring and making additional plans.
Explore the Ship
With that being said, one of the most important things to do on embarkation day on any ship is to explore. Yes, you may have read reviews, studied the deck plans, and know everything about the ship and your itinerary. Still, there is much you can discover once you step foot on the ship. Explore all of the nooks and crannies of the vessel and establish your directional sense early on during the cruise. This way, you will always be one step ahead of your fellow passengers.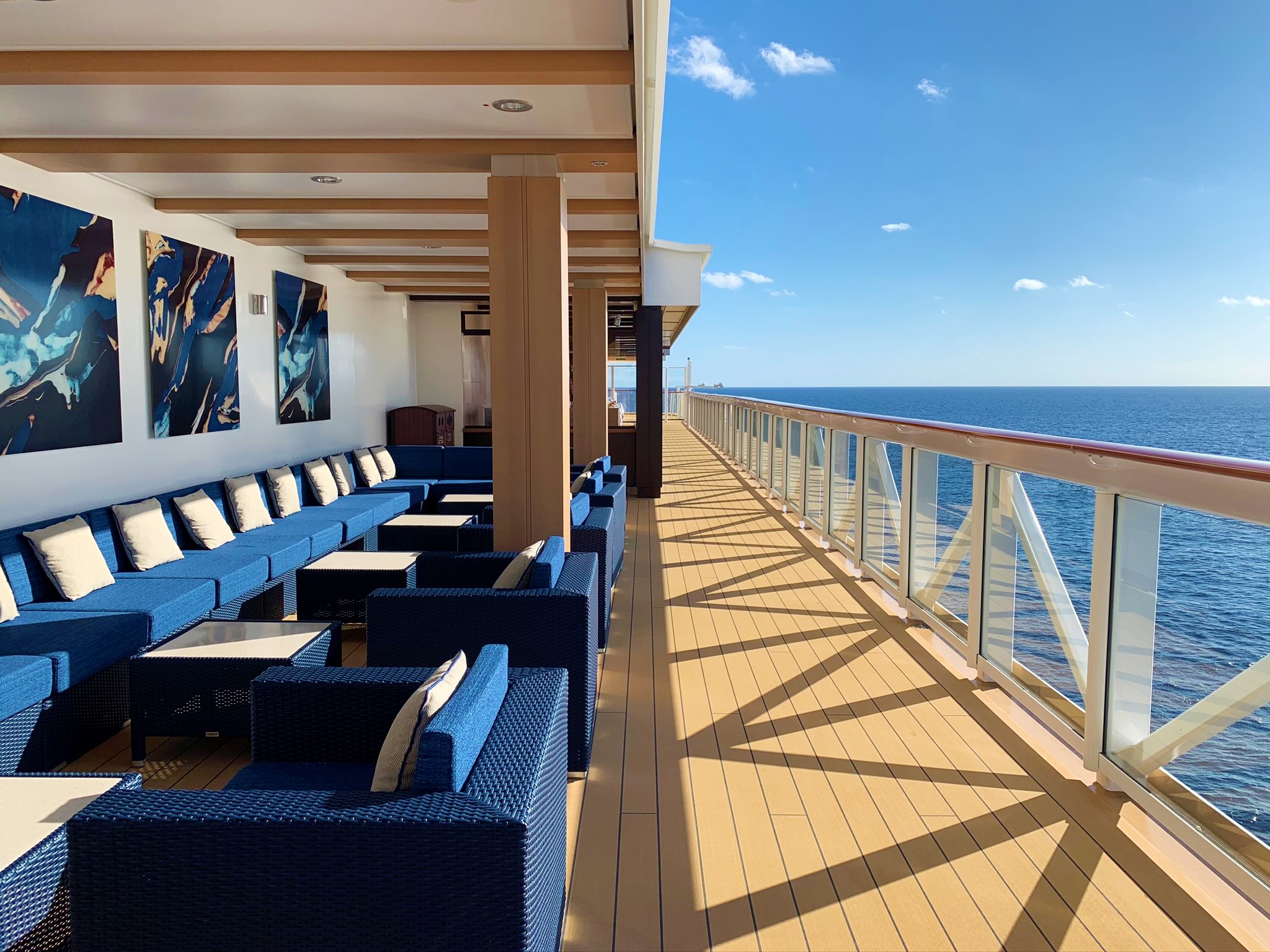 Skip the Buffet on Embarkation
Norwegian Encore offers a variety of complimentary dining options. We highly recommend skipping the buffet for one of these alternative venues. You can enjoy a sit down meal in the main dining room or the complimentary pub, The Local. You could also grab some light bites in the Observation Lounge or try out the new American Diner (additional fee applies). Even if you have your heart set on eating in the Garden Cafe, wait a little while before trying to grab a bite to eat. In our experiences, the crowds tend to be quieter during late lunch as other travelers head to their staterooms.
Register Children for the Kids Program
If you are cruising with the family, you will want to head to deck 5 to register the children for the kids' programs on embarkation day. Norwegian Encore offers youth programs for children aged 3-17 years old. Splash Academy is for kids 3-12 and includes various interactive activities. Entourage in the teen hangout for those 13-17 years old. This area includes a dance zone, game zone, and other activities taking place around the ship. There is also a Guppies program (a non-drop off program) for parents and children aged 6 months to 3 years old.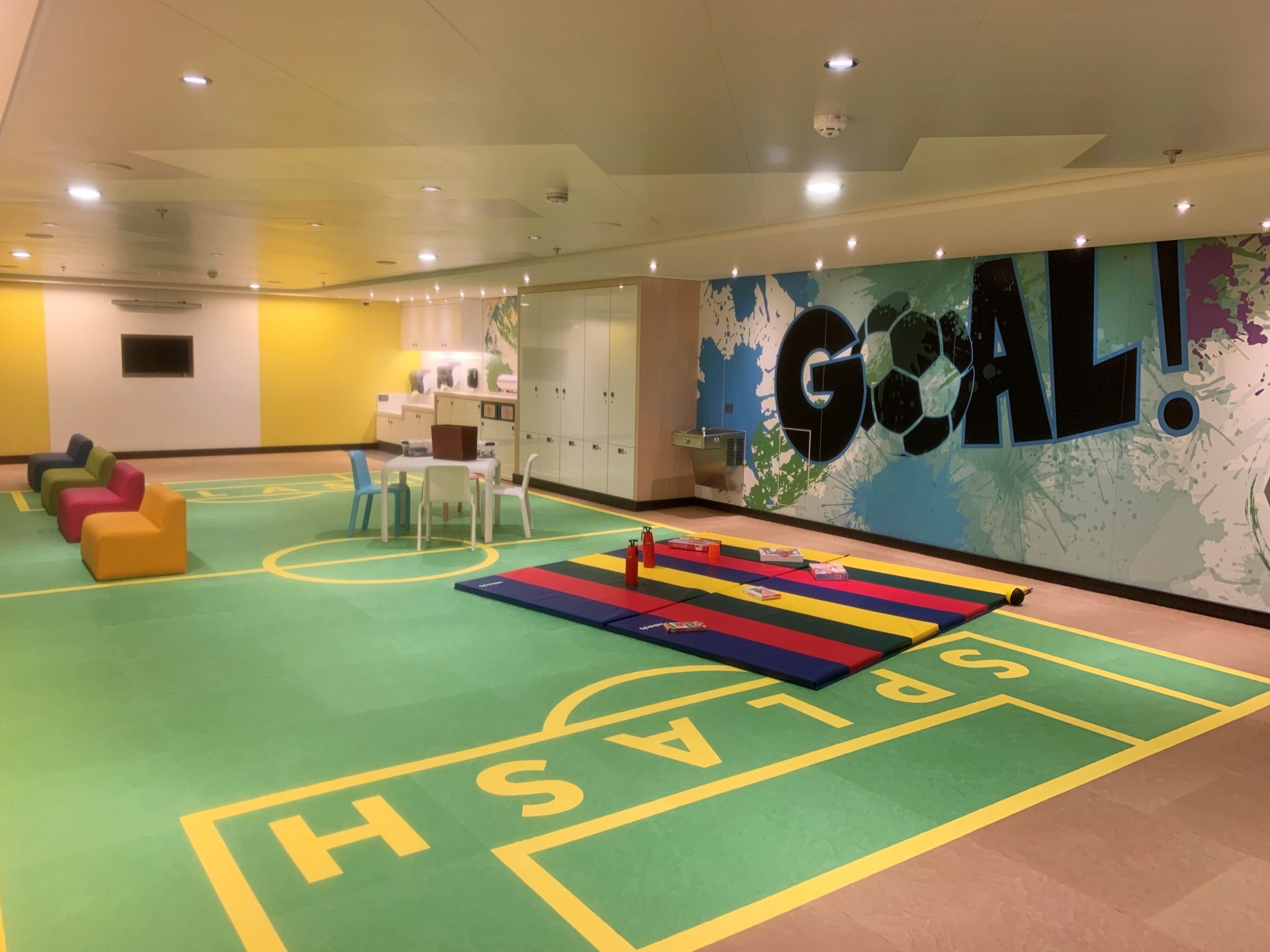 Onboard Activity Reservations
On the first day of your cruise, you can reserve time slots for the go-karts, laser tag, and additional entertainment in-person on deck 6. Head there as soon as you board the ship and reserve some slots as these popular onboard activities do book up quickly. If you want to purchase an unlimited pass for the racetrack, now is the time to book that too. There will also be separate lines to book entertainment like the comedy shows that occur in the Social and dining reservations if you have not already done so.
Consider Vibe Beach Passes
One of the biggest cruiser complaints on Norwegian Encore is that there is no Spice H2O. That's right the adults only area that has become a staple on NCL ships has been replaced by the Galaxy Pavilion. However, the new and improved Vibe Beach Club on Norwegian Encore is now a 2-story private retreat for the 18+ crowd with comfy loungers, hot tubs that extend off the side of the ship, a water feature, and full bar service. At present, passes can only be purchased once onboard the ship at Guest Services. There are only a limited number of passes available for each sailing, so secure them early.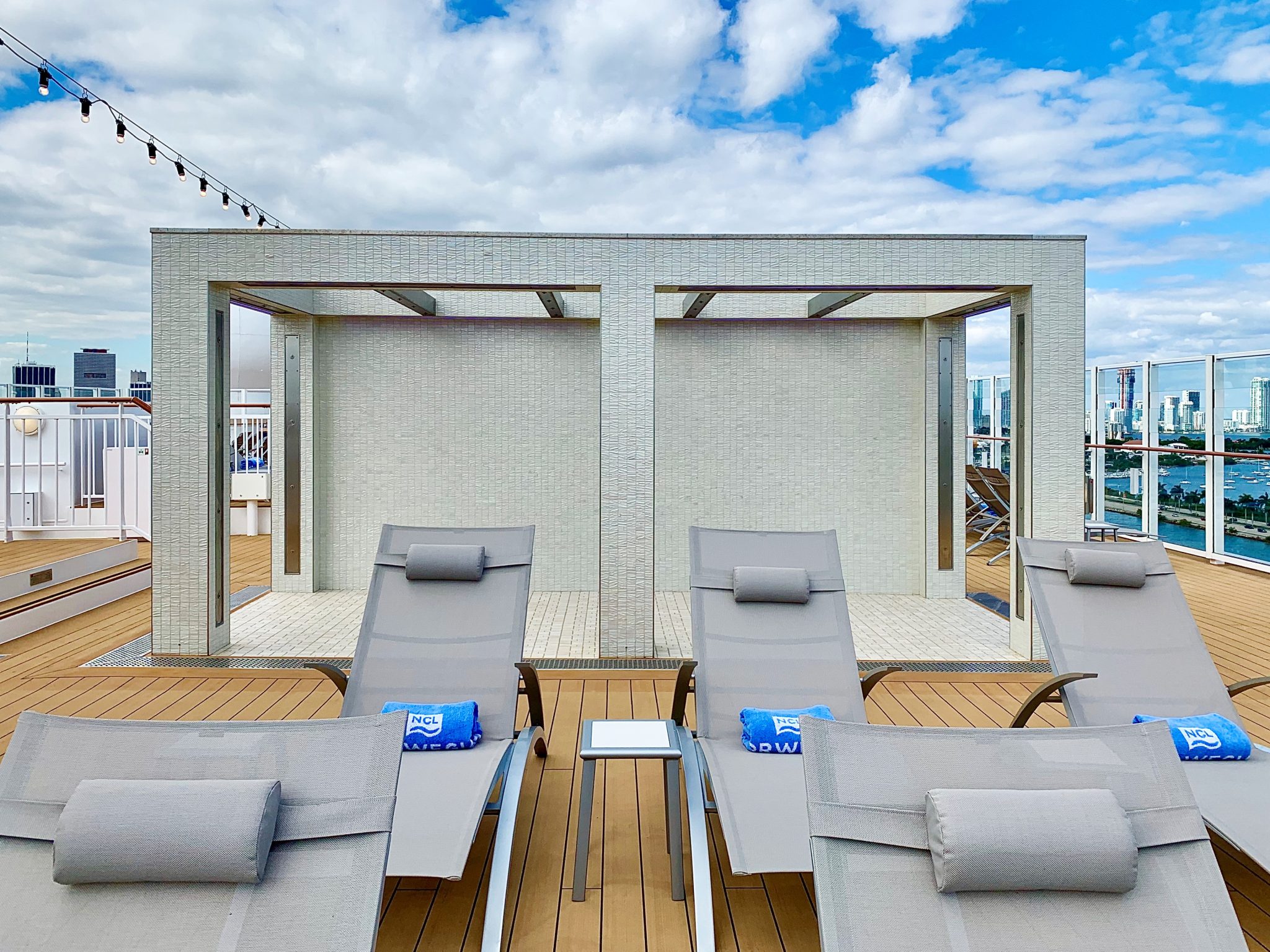 Related Post: Norwegian Encore Christening Cruise Review
What You Need to Know Before Cruising on Norwegian Encore – Once Onboard the Ship
Know the Complimentary Dining Options
While there are many up-charge dining venues on Nowegian Encore, there are still many complimentary options. The complimentary main dining rooms on Norwegian Encore are Savor, Taste, and the Manhattan Room. For breakfast and lunch, the menu is the same every day and is served in either Savor or Taste. For dinner, all three dining rooms are open nightly. The menu does change each evening; however, it is the same across all of the locations. There is also The Local, the updated version of the popular O'Sheehan's Pub. This venue serves all your pub favorites 24 hours a day. The Garden Cafe is the casual buffet which is open for breakfast, lunch, and dinner and offers a variety of food options. The Observation Lounge also offers casual light fare for breakfast and lunch. The American Diner is an up-charge for lunch and has a la carte pricing.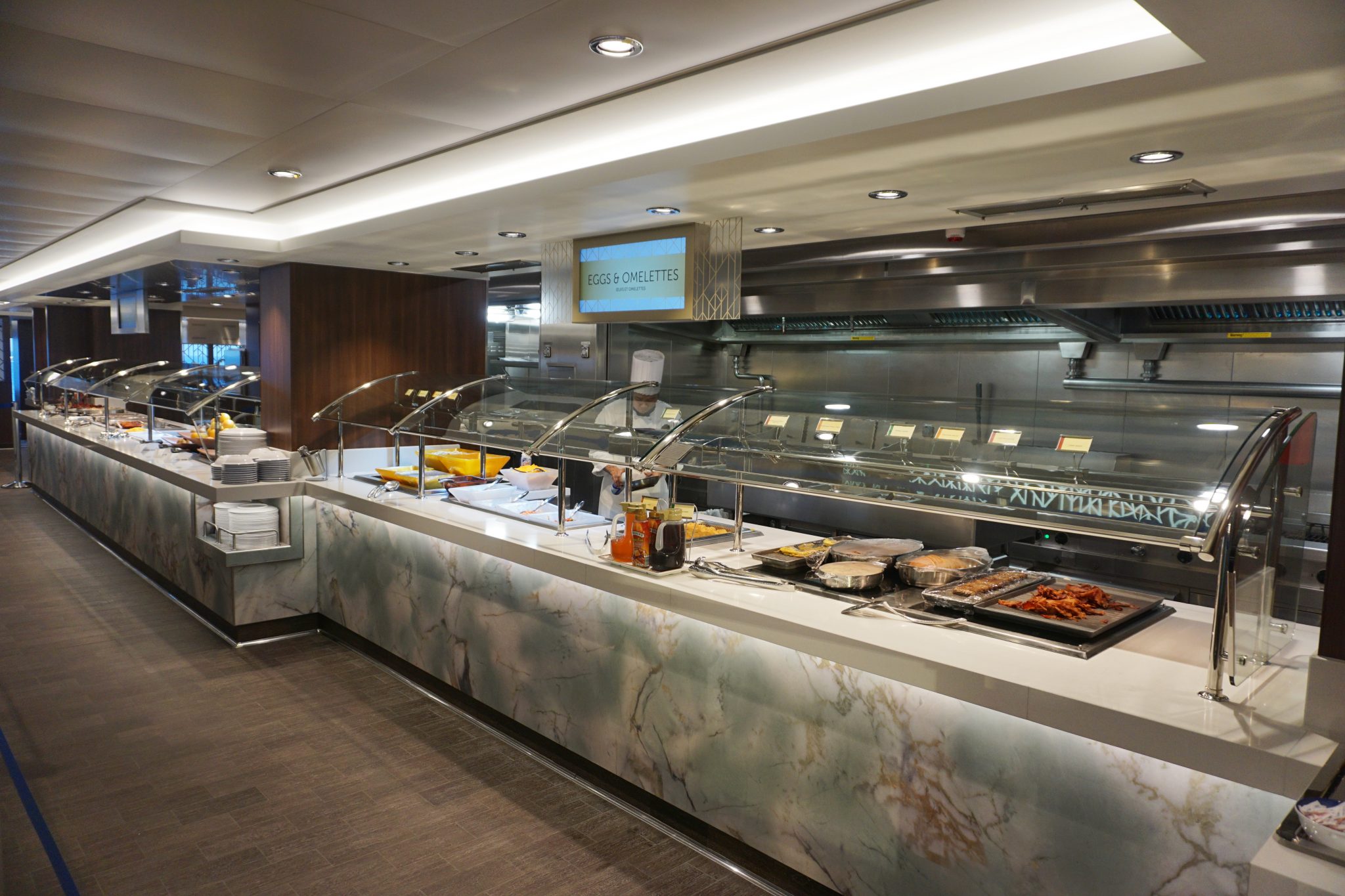 Fish Swim Forward
You'll never get lost when walking back to your stateroom on Norwegian Encore once you know this little secret. The fish on the hallway carpets always swim forward. Of course, they won't remember your stateroom number, or if you are on the starboard or port side of the ship, but at least it's an easy trick to figure out if you are heading forward or aft once you exit the elevators.
Onboard Activity Pricing
Some of the onboard activities on Norwegian Encore do cost extra money, specifically the Galaxy Pavilion, Laser Tag, and Race Track. While these activities are fun and certainly worth paying for in our opinion, they are added costs that you will need to figure into your cruise budget. The race track will cost you $15 for one 8-minute ride or $199 for an unlimited week pass. The laser tag will cost you $9.95 for one 10-minute session. The Galaxy Pavilion is home to several virtual reality experiences. Most of the games will cost you $8 each or you can purchase a few different passes that make the per game price cheaper. The best value is 18 games for $60. Of course, the ship has just begun sailing its first season in the Caribbean, so these prices are subject to change.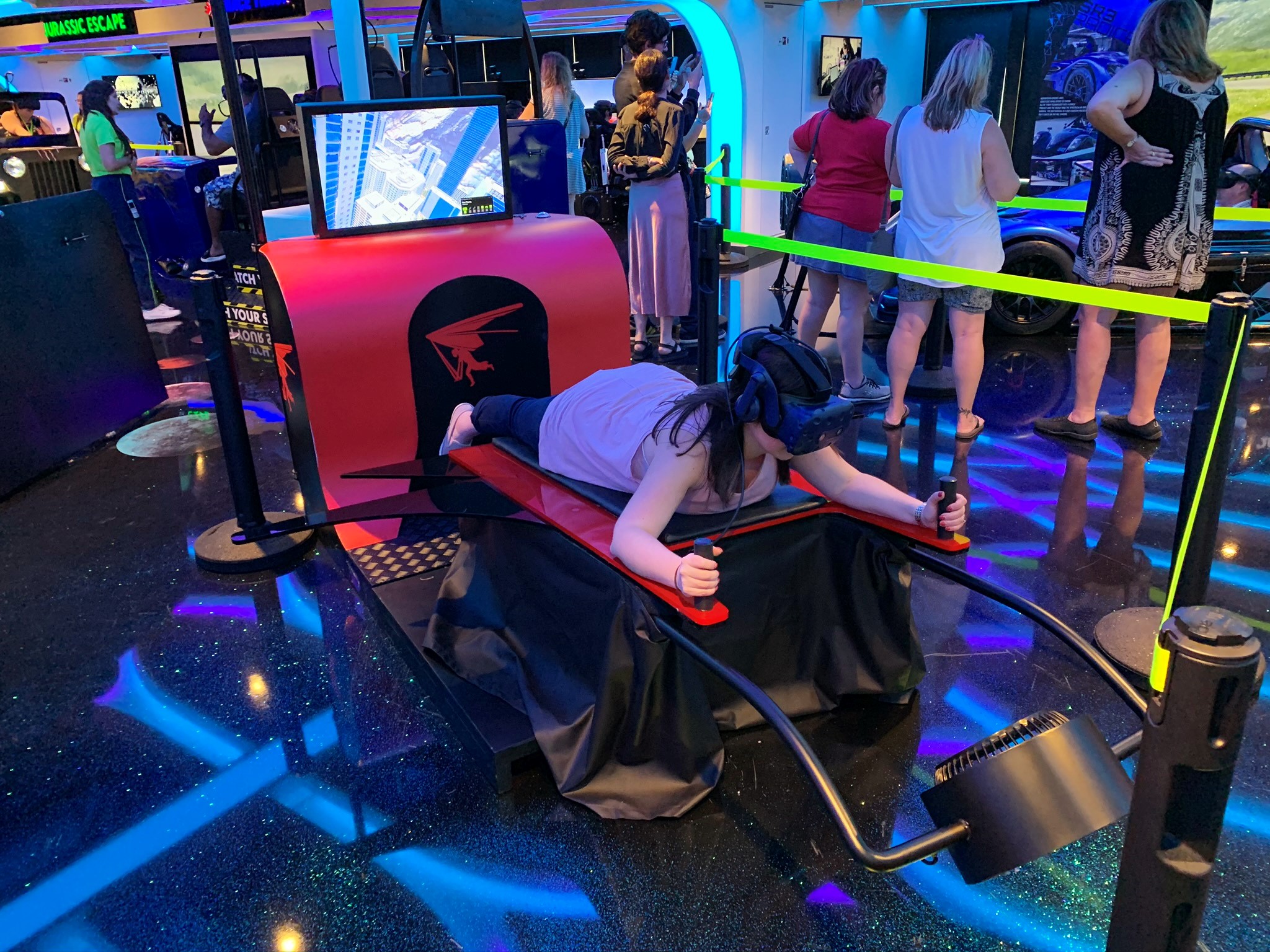 Make Use of the Freestyle Daily
The Freestyle Daily left in your room each evening (or the NCL smartphone app) is your source for all the information you need while sailing on Norwegian Encore. It provides hours of operation for all the restaurants and bars as well as a list of all the daily activities. From dance classes, mixology demonstrations, and trivia during the day to game shows, live music, and signature shows in the evenings, your Freestyle daily will provide all of the times that these events are occurring. This magazine also provides other helpful info like which port you will be visiting next, the all aboard times, and the weather forecast.
Sweet Treats Will Cost You More Than Just Calories
When it comes to dessert cravings, there is no better place to indulge your sweet tooth than Coco's. With a wide selection of ice cream sundaes and milkshakes, these out of this world treats will be hard to resist. Although, they will also cost you money! All of the items in Coco's, as well as the onboard Starbucks, the Bake Shop, and Dolce Gelato are priced a la carte. They are not included in any of the dining packages or drink packages either.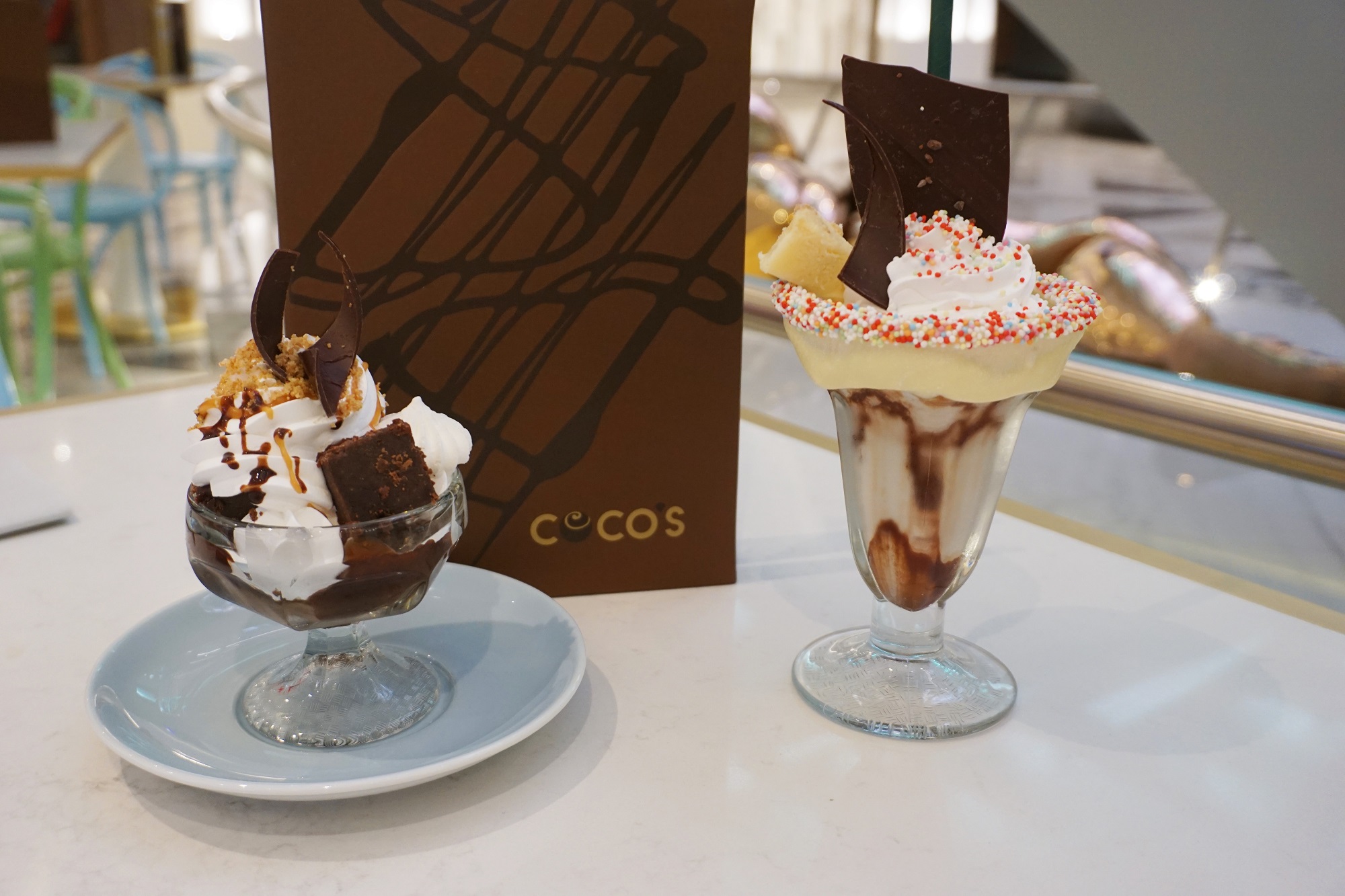 Gratuities Will Be Extra
While your cruise fare does cover quite a bit, there will be an additional daily service charge for each guest. These per person, per day charges will be added to your onboard cruise account (or you can opt to pre-pay them online prior to the cruise). These daily gratuities are currently $15 and $18 for suites and Haven guests. These charges go towards the hardworking staff on the ship including your stateroom attendant, wait staff, bar servers, and various other crew.
Bonus- Take Advantage of the First Few Sea Days
It is not your imagination, the ship does get busier as the cruise progresses. Regardless of the itinerary, lines and waits will be longer towards the end of the cruise for signature attractions. So, one of our Norwegian Encore secrets is to use the first few sea days to do things like the waterslides, the racetrack, and the Galaxy Pavilion. Whatever it is you want to do, and this might include just relaxing in a deck chair, do it early on in the cruise to avoid the crowds.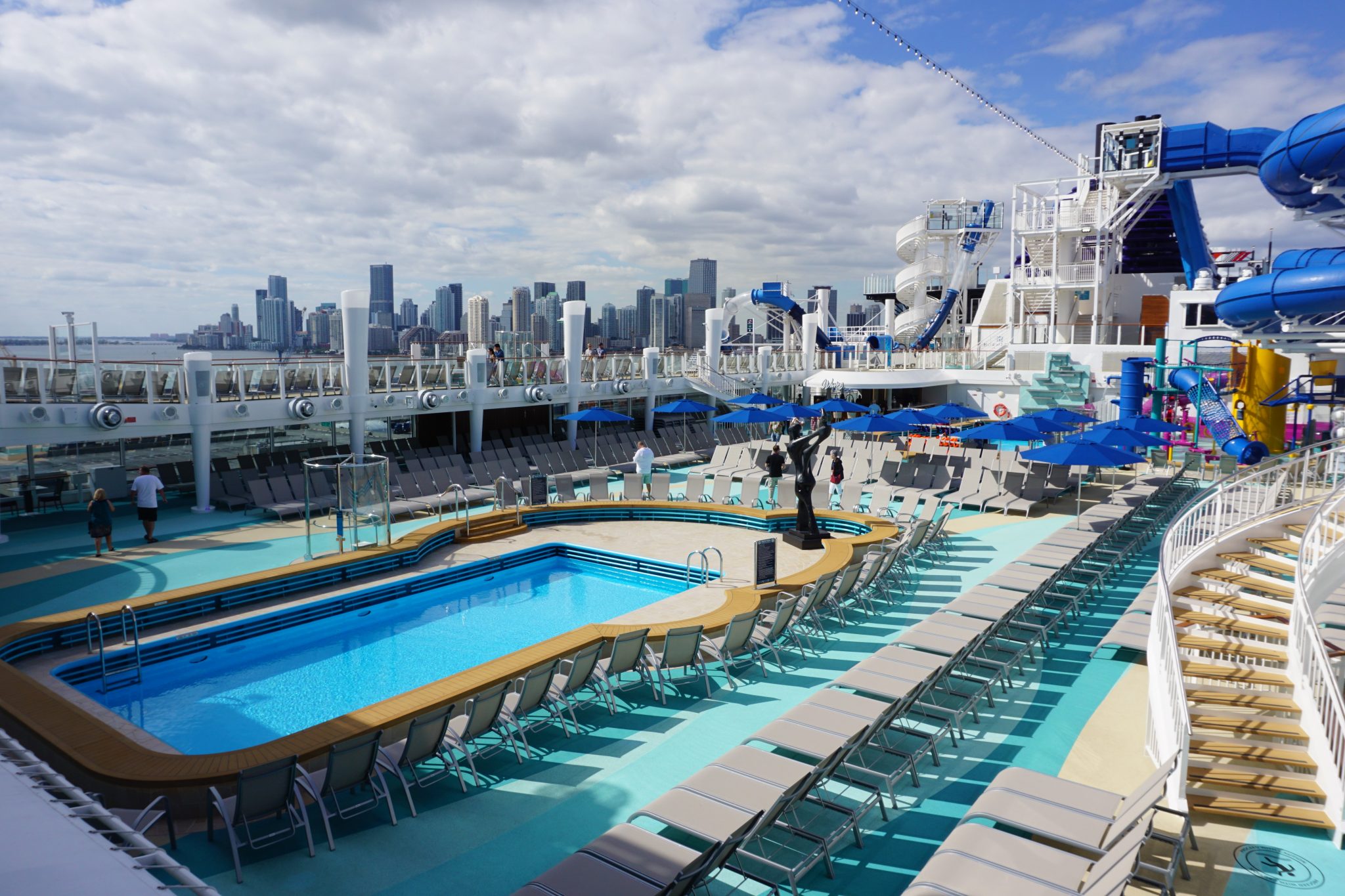 Comments
Do you have a cruise booked on Norwegian Encore? Did you find these tips helpful? Drop us an anchor below to ask anything else you need to know before cruising on Norwegian Encore.