Virgin Voyage's Scarlet Lady is one of the newest cruise ships to arrive in the United States. With its maiden voyage setting sail from Miami, FL this week, many U.S. travelers are eager to learn more about this ship. We were recently invited to spend a day onboard exploring the entire vessel. While we anticipated it to be different, there were several things that surprised us about Virgin Voyages. 
New Video! What Surprised Us About Virgin Voyages
Things That Surprised Us About Virgin Voyages
The Food on Scarlet Lady
Virgin Voyages offers over 20 different eateries. One of the most attractive features of this new cruise line is that all dining is included. In fact, there is no main dining room. Instead, cruisers can select from a variety of themed restaurants.
During our day tour, we were able to eat dinner on the ship. With several choices, our group opted for the Korean BBQ, Gunbae. This is the perfect venue to dine with a group of friends.
Gunbae offers authentically cooked Korean dishes in a lively and fun atmosphere. Given our party size, we had a table all to ourselves. This enabled us to sample everything on the menu.
While quite an impressive feat, we tasted a variety of Asian side dishes, starters, and entrees during our 90 minute feast. Not to mention, we played a Korean drinking game complete with soju.
Some of our favorites included the crispy chicken appetizer, the grilled shrimp and squid, the fried rice, and the short rib. Even the soft serve dessert came with its own "twist". Along with black sesame and sikhye flavors, there is a small toppings bar of caramel, granola, and mini marshmallows. Definitely not your standard cruise food!
Now, there are several other restaurants as well onboard Scarlet Lady. Of course, we could not dine at them all during this visit. So, we can't wait to check out the other dining venues on a future sailing.
EXCLUSIVE SAVINGS: Find the Lowest Prices on Virgin Voyages Cruises!
Other Dining Options on the Ship
There is an ongoing "controversy" on whether Virgin Voyages really has a buffet. The Galley does offer a variety of casual fare but in a more food court like setting rather than a typical cruise ship buffet.
The offerings seemed fresher and somewhat unique. Further, the staff do serve all food to guests.
So, we are eager to try out several of the stations, like the Breakfast All Day Diner and Burger Bar to see if the Galley is really a step above cruise ship buffets.
Additionally, we liked that many of the restaurants were smaller and more intimate with unique décor. We also liked that many of the restaurants had a bar featuring signature cocktails. So, you can grab a pre-dinner or after dinner drink from these restaurant lounges.
When we sail on Virgin Voyages, we can't wait to test out the other dining experiences at Razzle Dazzle, The Wake, Pink Agave, Extra Virgin, and more.
Virgin Voyages Entertainment
All along, we knew the entertainment would be different on Virgin Voyages. The cruise line has been clear that its nightlife and theater shows would not resemble anything found at sea.
During our day tour of Scarlet Lady, we were able to attend a showing of Duel Reality.
The differences started immediately upon entering the theater. The Red Room, Virgin Voyages main theater, is a small intimate venue.
Offering three different orientations, the setup for this show is a central entertainment space with seats on either side. Think high school gymnasium with seats on either side of a "court".
According to crew, this setup holds up to 430 guests. This seems quite small given the ship can hold up to 2,700 guests.
Watching Duel Realty on Scarlet Lady
When it comes to the show, I must admit, it was better than I expected. Now, it is certainly not like any show we have seen on a cruise ship before.
There is no cast of singers or dancers. The "stage" has no set or backdrop. Likewise, there are no Broadway tunes or elaborate costumes.
Still, there are plenty of familiar elements. The production is akin to a modern day Romeo and Juliet with a star-crossed love story. Further, the show features aerial acrobats, gymnasts, and strength acts.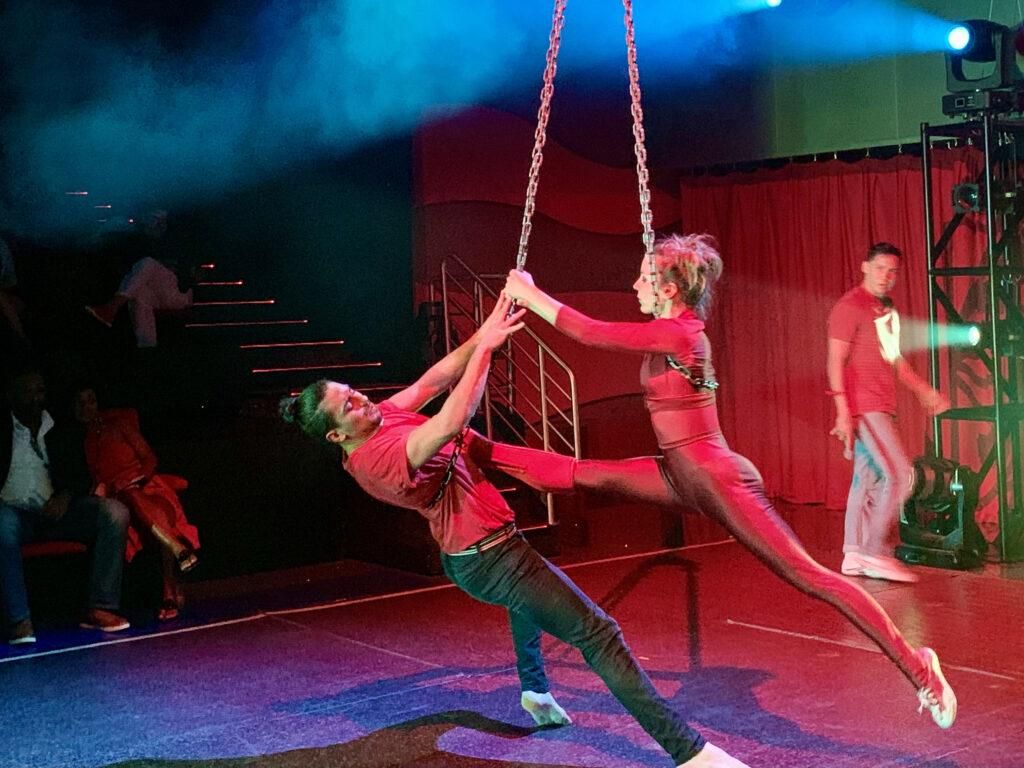 The performers were extremely athletic, and the show was certainly well choregraphed and engaging.
I walked out of the show impressed by this cosmopolitan-inspired show. This leaves us wondering if the other shows on Scarlet Lady can measure up to this performance.
The Ship Layout and Features
Along with several complimentary restaurants, Virgin Voyages features several other amenities and a layout that is rather atypical for a cruise ship.
You have certainly heard of some of these features already like Squid Ink, the ship's tattoo parlor. While this is not our style, reports indicate that it is quite popular.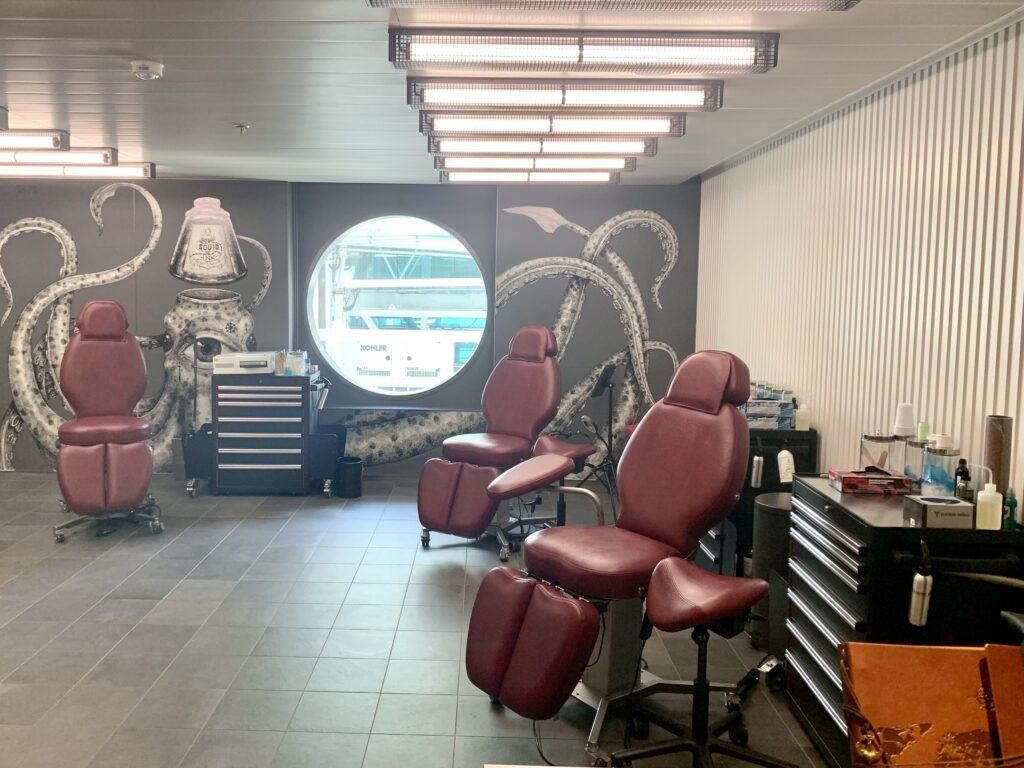 Then, there is Virgin Vinyl, the onboard record shop. Honestly, this is a very small space right next to a bar. It didn't appear to offer many selections and took up valuable real estate.
There are several distinct workout areas as well. These include separate fitness spaces for cardio equipment and strength equipment, a cycle room, an outdoor "athletic club" with a boxing ring, a yoga space, and more.
While these features may appeal to some, we aren't sure they add much value for more traditional cruisers.
Navigating Virgin Voyages Scarlet Lady
For a brand new ship, another thing that surprised us about Virgin Voyages was the overall design of the public spaces. Like older vessels, there are several instances where you need to walk through one venue to get to another area.
Heading forward on Deck 6, you can only get to the theater from the starboard side going through the casino. The Red Room offers most of its seating on Deck 6, which is accessed through a narrow entryway.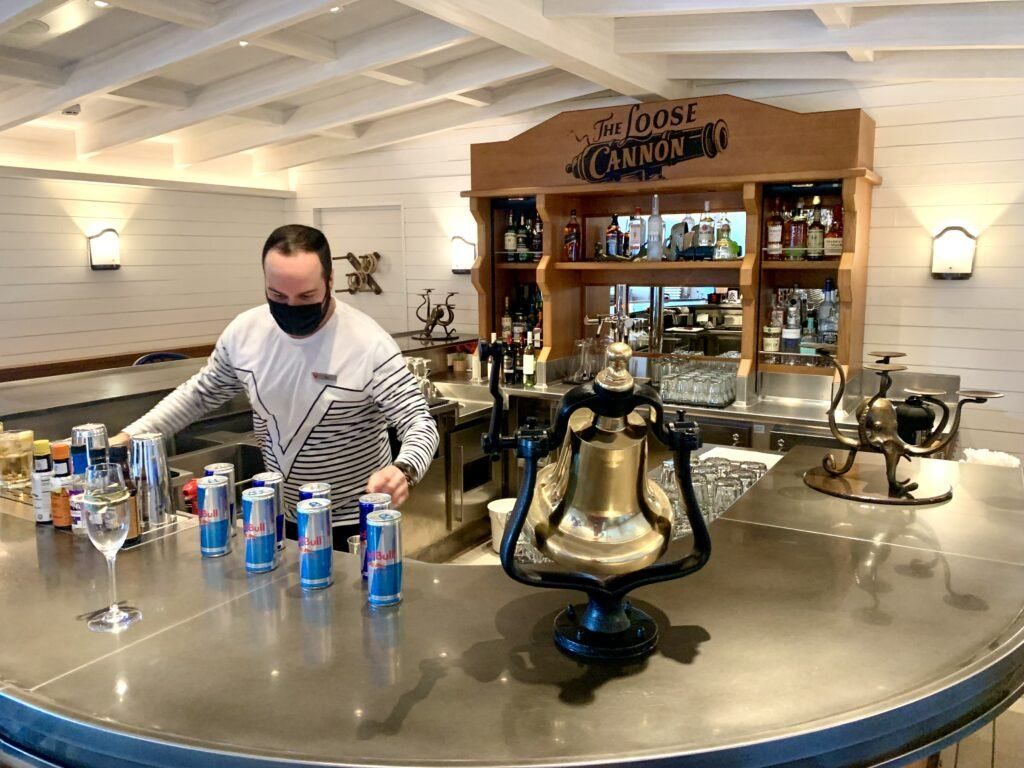 At times, the inside layout felt a bit maze-like. For instance, you need to walk through the Social Club to get to the Loose Cannon Bar. To access the Pizza Parlor, you first need to walk through the Ice Cream shop.
Granted, it was a rather whirlwind day for us. So, we are interested in seeing if this non-traditional ship layout is more manageable during a 4 or 5-day sailing.
On a positive note, there are plenty of signs, color coded elevators, and friendly crew to point you in the right direction.
What Surprised Us About Virgin Voyages Outdoor Spaces
Decks 15 through 17 are the open-air deck spaces on Scarlet Lady. Surprisingly, these outdoor decks felt narrow and lacked that open pool deck feel on most cruise ships. It will be very interesting to see how these outdoor spaces function on Bahamas and Mexican cruises.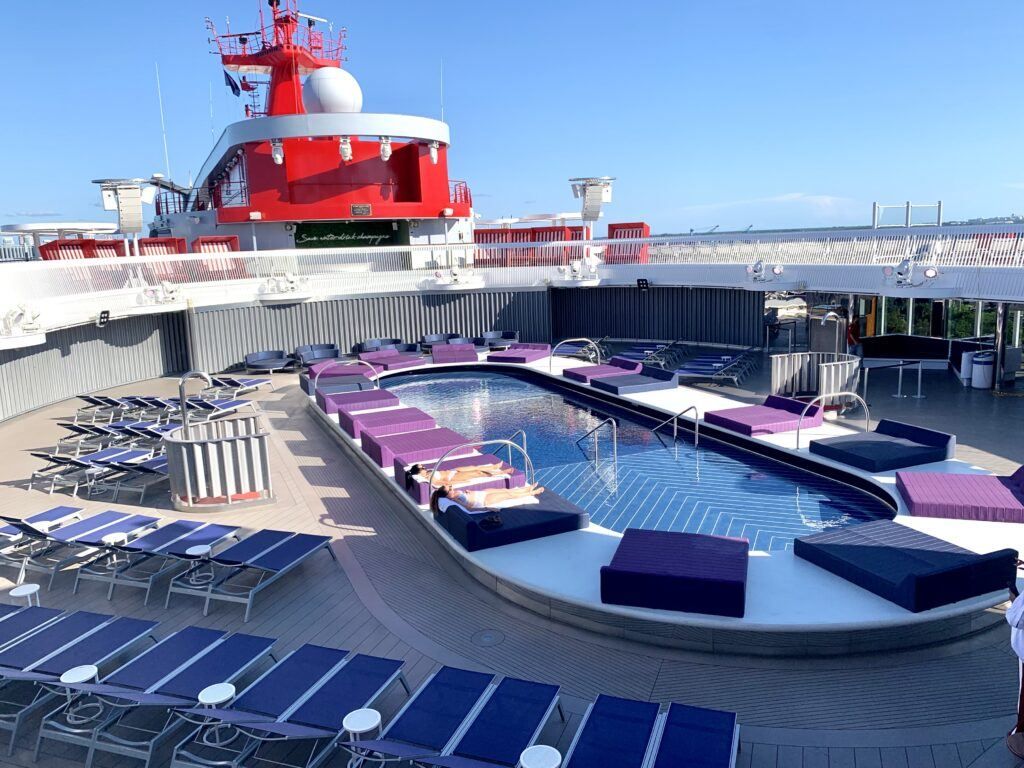 The main pool deck is deck 15. Like others have already pointed out, the pool is small for a ship of this size. However, that might not matter on an adults-only cruise ship. Though, the deck itself felt a bit cramped to us, not allow much walking space. Of course, the real test will be a sea day during an upcoming voyage.
Booking Bonus: Save When You Book Your Next Cruise NOW!
Additional Outdoor Spaces on Scarlet Lady
One deck above, Deck 16, feels tight as well. Particularly, the starboard side which houses the cabanas feels very closed off. This means cruisers walk down a walled off corridor, with steel on both sides.
Equally difficult to transverse is the portside Athletic Club. With outdoor fitness equipment for circuit training, a boxing ring, and various swings, it is a unique sports deck. However, these amenities make the walkways very narrow.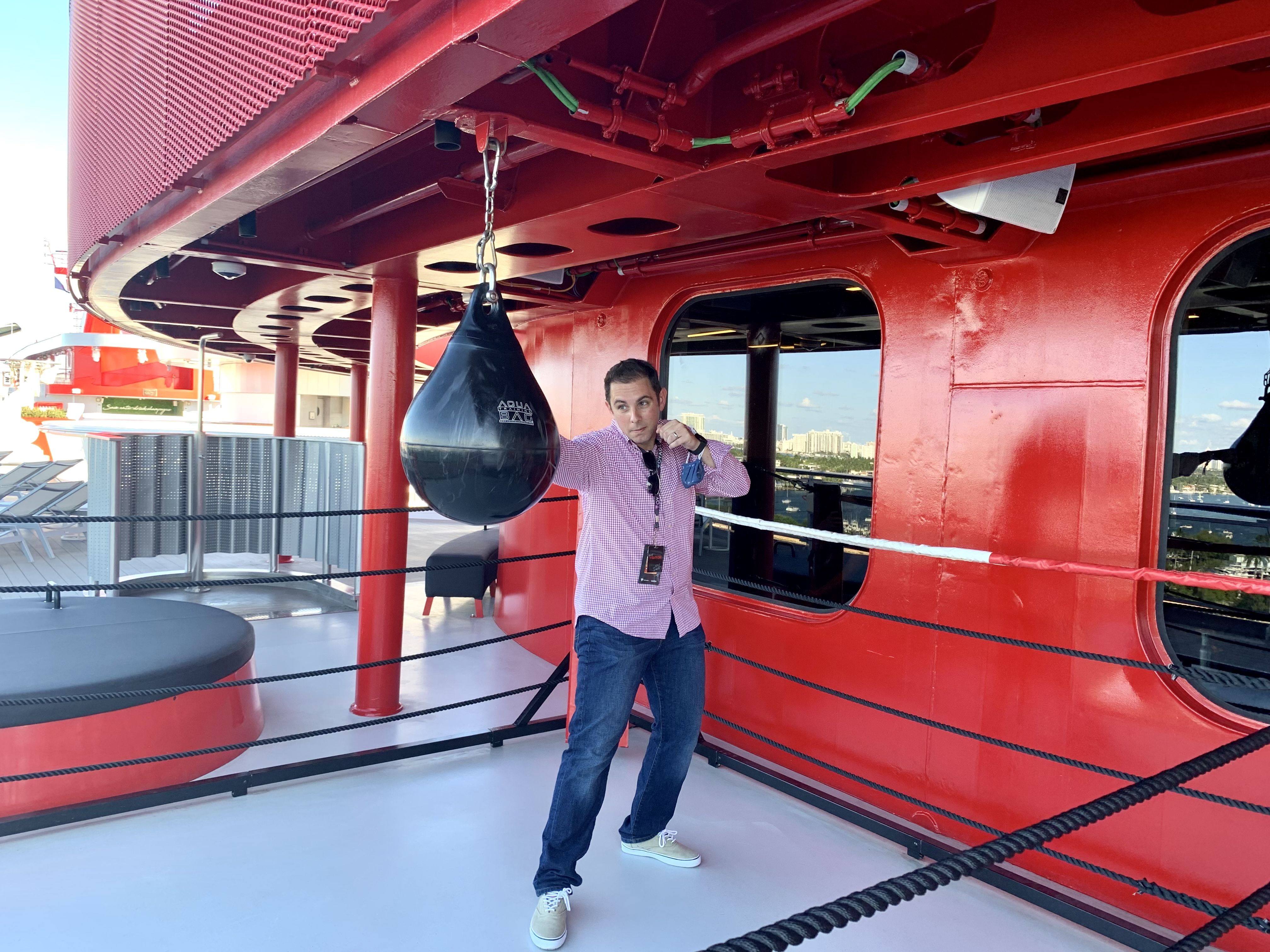 Finally, deck 17 aft contains the running track which feels a tad small as well.
Admittedly, we usually sail on megaships that cater to families and relaxed travelers. So perhaps, these outdoor spaces will function just fine for Virgin Voyages' sailors.
We do have plans to sail on Scarlet Lady. Thus, we hope to gain a better sense of how the ship's public spaces, both indoors and outdoors, function during a real sailing.
Comments
Do you agree with what surprised us about Virgin Voyages? What aspects of this new cruise line do you like? Drop us an anchor below with your reactions to Scarlet Lady.