As one of the biggest cruise ports in the world, Port Canaveral, Florida hosts ships from a variety of cruise lines. Serving as an embarkation port as well as a port of call on some Bahamas cruises, you might be wondering what activities there are to enjoy while visiting this area. You are in luck, as we have just put together our list of the Top Things to Do Near Port Canaveral, Florida on a Cruise.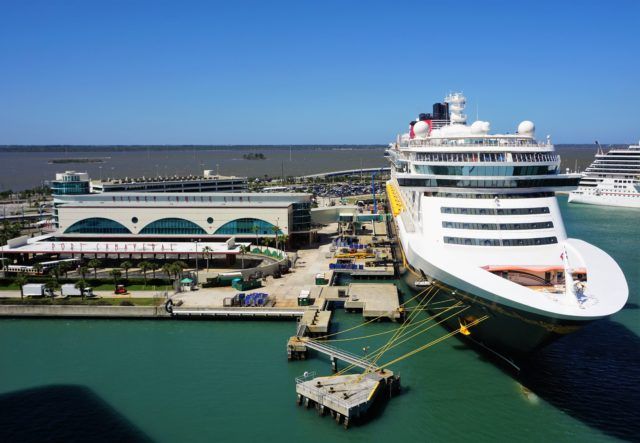 Top Things to Do Near Port Canaveral, Florida on a Cruise
Kennedy Space Center
Kennedy Space Center is one of the most popular attractions near Port Canaveral. Admission to this active spaceflight facility includes a variety of exhibits and attractions. The Behind the Gates bus tour includes a drive-by of the Vehicle Assembly Building and historic launch pads. It also includes the Apollo/Saturn V Center featuring an actual Saturn V moon rocket and real moon rocks along with other Apollo program artifacts.
Other highlights include a visit to the permanent home of the Space Shuttle Atlantis, the Universe Theater, Astronaut Hall of Fame, and the Rocket Garden. There are also interactive experiences like the Shuttle Launch Experience, Astronaut Training Simulators, 3D space films in the IMAX Theater, and so much more.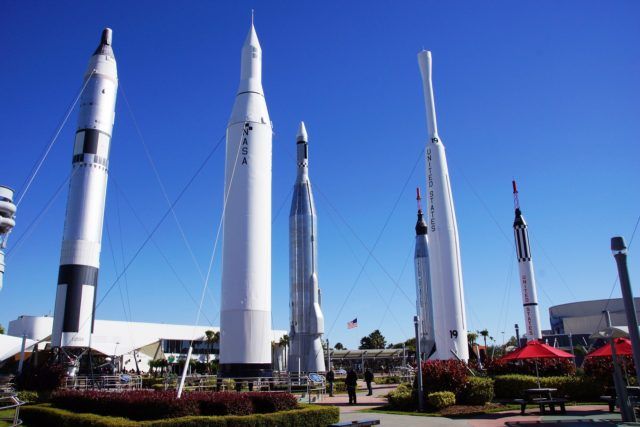 Guests can also purchase add-ons like the Astronaut Training Experience. To enjoy everything Kennedy Space Center has to offer, plan on spending at least one full day here.
Exploration Tower
The Exploration Tower in Port Canaveral is an architectural landmark that offers several educational and interactive exhibits as well as observation decks with stunning views. The Exploration Tower opened in November 2013 as part of the Canaveral Port Authority's 60th anniversary celebration.
While visiting this popular attraction, guests can learn a bit of Central Florida's history as well as the history of the port itself. The Air and Space Port on the 6th floor is an indoor observation deck that faces the Kennedy Space Center. The 7th floor is home to an outdoor observation deck that features panoramic views of Port Canaveral, the cruise ships, and surrounding beaches and wildlife. There is even a state of the art theater and a navigation simulator making a visit to the Exploration Tower fun for the whole family.
Related Post: Top Things to Do in Fort Lauderdale
Day Trip to Disney World
If you are taking a cruise from Port Canaveral, you should consider a pre-cruise or post-cruise visit to the most magical place on earth, Disney World. Walt Disney World is located in Orlando, Florida which is a little over an hour away from Port Canaveral.
Walt Disney World is home to the popular Magic Kingdom theme park and Epcot which hosts various festivals throughout the year like the Food and Wine Festival. Additionally, Hollywood Studios is home to the new Star Wars Galaxy's Edge. Not to mention, there is also Animal Kingdom with it's popular Avatar-themed land, two waterparks, and Disney Springs which is home to several dining and shopping experiences.
While we recommend visiting Disney pre-cruise or post-cruise, some cruise lines do offer shore excursions to the parks during a day visit in port. In an previous post we break down if it's actually worth visiting Disney World as a shore excursion.
Jetty Park Beach and Pier
Jetty Park has over 30 acres to explore. The park offers 4.5 acres of sandy beachfront for relaxation, a fishing pier, a children's playground, and more. With all the recreational activities available at Jetty Park, it is easy to spend the day here soaking up the Florida sun. Jetty Park has all the necessary amenities to make your visit comfortable including concessions, beach chair and umbrella rentals, and restrooms.
If that's not enough, the 1,200 foot fishing pier that extends into the ocean is a great place to watch the cruise ships sail away. This is a popular location, so do expect a bit of a crowd around sail away time. While rather bitter sweet, watching your cruise ship sail away with the next group of vacationers might be the perfect way to end your trip. Fish Lips is a nearby restaurant that is also a cruiser favorite spot to watch the ships sail out of port.
Related Post: Best Hotels Port Canaveral Cruise Port
Cocoa Beach Aerial Adventures
If you are looking for a little excitement during your visit to Port Canaveral, then you will want to check out Cocoa Beach Aerial Adventures. Here, you can enjoy a day filled with plenty of zipping and climbing fun. This aerial adventure park offers 7 different trails of varying levels of difficulty with a total of 49 different challenges.
The unique ability to traverse through the course as an individual instead of as a group gives participants the flexibility to only complete the challenges with which they are comfortable. This makes it a great activity for all age and skill levels. During a typical 2-hour climb session, participants usually complete 3 or 4 of the courses.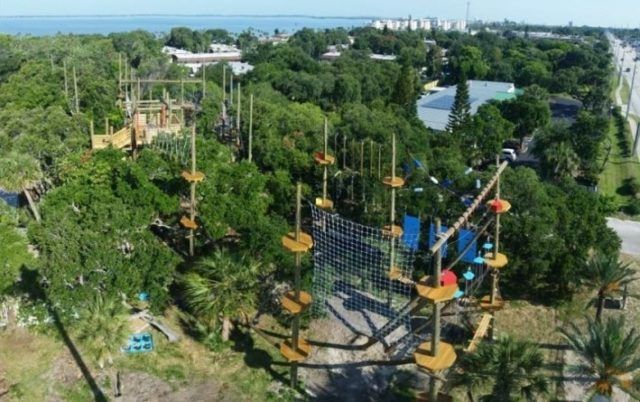 The park is located between the Banana River and Atlantic Ocean affording spectacular views from atop the lush canopy.
Cocoa Beach
Cocoa Beach is located just outside Port Canaveral and is known for its sand and surf. It is also a popular pre-cruise hotel area due to the distance from the pier and the availability of amenities.
Besides the obvious beach day, visitors can stroll the Cocoa Beach Boardwalk that stretches 800 feet over the Atlantic Ocean. This boardwalk is lined with restaurants and shops. There is also the Ron Jon Surf Shop which is the largest surf shop in the world with its own surf museum.
If you are looking for a bit more excitement, Cocoa Beach offers a variety of watersport activities like paddle boarding, kite surfing, and even surf lessons. Or, you could take a short stroll through the woods to Lori Wilson Park. This park has its own nature trail and is a haven for birds and other wildlife.
Related Post: Best Ways to Get to Port Canaveral from Orlando
Kayaking Tour
Cruisers can also explore a bit of the area's wildlife and natural beauty on a kayak tour. BK Adventure offers a few different tour options including the Manatee and Dolphin kayak tour and the nighttime Bioluminescence tour.
The Manatee and Dolphin kayak tour is a popular eco-adventure that departs from the Wildlife Refuge in Titusville. As guests set out along the Indian River on the 1.5 hour journey, they will get to observe these sea mammals in their natural habitats. Manatees love this river because of the abundance of seagrass beds. Some other wildlife you may be lucky enough to see along the way are herons, turtles, and otters.
You've probably heard of the bioluminescent waters of Puerto Rico, but did you know that you can take a bioluminesecent kayak tour right in Florida? The Indian River and the Banana River both have glowing algae. These rivers are part of the Indian River Lagoon, also known as Florida's "Bioluminescent Bay". BK Adventure offers nighttime kayak tours and raft tours for those who would prefer not to paddle. These tours are offered from a couple different departure points in the Orlando area.
Airboat Ride
Another popular excursion in Florida is an airboat ride through the marshy swamps in search of the wildlife lurking within. While many cruisers are probably aware of airboat tours near Port Everglades (Ft. Lauderdale), there is also a similar tour offered in the Port Canaveral area from the Lone Cabbage Fish Camp.
At this old style Florida Fish Camp on the banks of the Saint Johns River, guests can dine on gator tails, frog legs, or catfish. Or, they can depart on a Twister Airboat Ride.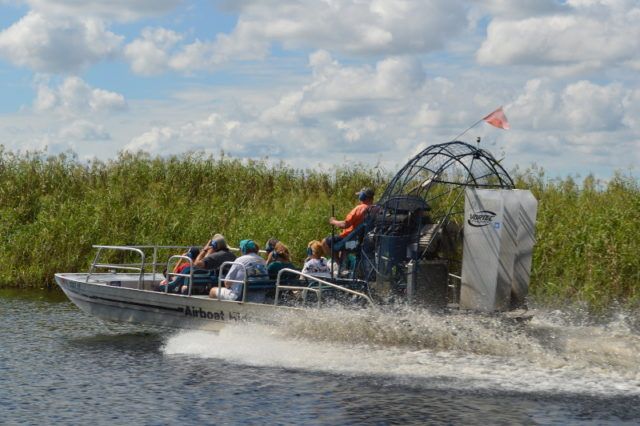 On this 30-minute adventure, you'll glide through the grassy wetlands at speeds up to 45 mph. Prepare to see wildlife up close and personal, as you will be treated to appearances by alligators, bald eagles, birds, and possibly even wild hogs.
Comments
Have you cruised out of Port Canaveral, Florida? What are some of your top things to do near Port Canaveral? Drop us an anchor below to share your favorite activities near this popular cruise port.