Is your next Royal Caribbean cruise taking you to the cruise line's private Caribbean destination? Are you wondering what are the Best Things to Do in Labadee, Haiti on a cruise?
Well, we are here to help! Over the course of our multiple visits to this "island", we have become quite acquainted with all of the activities and things to do and see on Labadee.


Top Things to Do in Labadee, Haiti
Reserved exclusively for travelers on Royal Caribbean ships, Labadee is actually a private beach resort located on a peninsula on the northern coast of Haiti. Built by the cruise line, Labadee is a secluded slice of Caribbean heaven with cruise ships calling on the port daily. In most instances, there will not be more than two cruise ships in port at one time- and only one if you sail on a mega ship like the Quantum-class or the Oasis-class.
Dragon's Breath Flight Line
No trip to Labadee, Haiti would be complete without a ride on the longest zip line over water, the Dragon's Breath Flight Line. This half mile zip line can reach speeds of up to fifty miles an hour as riders descend from over 500 feet above sea level. Make sure you keep your eyes open and have that GoPro filming as you scream your way down this signature attraction. If there is only one thing you do when visiting Labadee, this zip line should be it!

Go Shopping
Authentic hand crafted goods, art, and clothing can all be purchased in Labadee. In the Artisan Village, you can wheel and deal with the craftsmen themselves as they barter with you to buy their homemade goods. If you are looking for a more relaxed experience, the Artisan Marketplace offers similar goods, including a variety of flavors of Haitian rum, without all of the haggling. Just remember to bring cash, as your SeaPass card does not work for these purchases!
Explore The Island
No matter how many times we stop at this port, one of our favorite things to do in Labadee, Haiti is to take a walk around the resort. It seems like we discover something new every time and come home with even more great pictures. We recommend getting off the ship as soon as it docks so you can be one of the first cruisers on the island. Using a map, you can make a loop around the area in about 60-90 minutes depending on your pace.

Ride the Dragon's Tail Coaster
Want a little excitement during your stop at port? Then one of the fastest things to do in Labadee, Haiti is a ride on the Dragon's Tail Coaster. This alpine style coaster seats one or two passengers and can reach speeds of up to 30 miles per hour as you descend from 680 feet above the ocean. A single ride or an all day pass can be purchased depending on your need for speed.
Splash in the Arawak Aqua Park
Located in Columbus Cove, the Arawak Aqua Park is an inflatable water park with a variety of attractions that are fun for swimmers of all ages. It is securely roped off to ensure that only swimmers with paid access can use the attractions which include a water trampoline, a "rock climbing wall", small water slides, and other water toys. For an additional fee, you can enjoy the nearby Dragon's Splash Waterslide. With all this splishing and splashing, be sure to bring your goggles!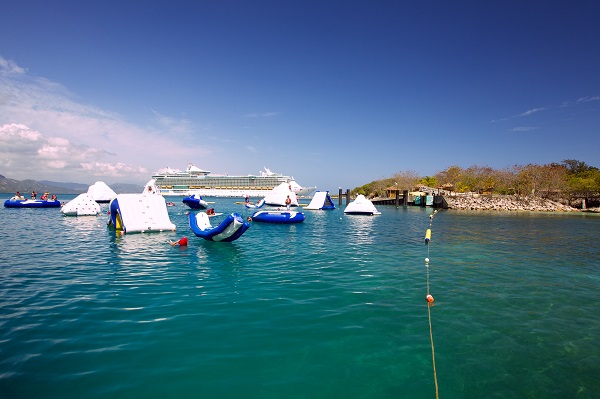 Labadee Wave Jet Tour
If the last thing on your mind during vacation is exercise, you can still get a closer view of the landscape and seacoast of Labadee with a Wave Jet Tour. Another guided exploration, you will board these wave runners for an exhilarating one hour expedition. No experience is necessary, and if you are afraid of driving these vehicles, you can always be a passenger. Rev your engines and get ready for a wet and wild ride.
Kayak Adventure
Interested in seeing some of the surroundings of Labadee while also getting in a pretty good workout? Then the guided Kayak Adventure is for you. Paddle your way through the Bay of Labadee while you learn about the history and culture of Haiti. You can also grab some great photos of the island and your ship. The tour is short so you will still have plenty of time to enjoy the other attractions on the island.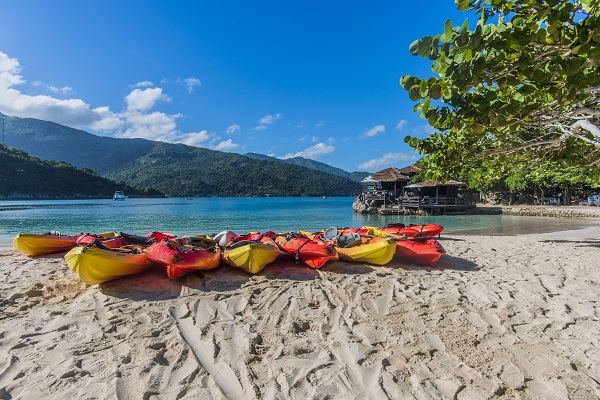 Labadee Snorkel Safari
Located on several coral reefs, the surrounding waters of Labadee, Haiti are a snorkelers dream come true. If you are looking for a little underwater exploration, the Labadee Snorkel Safari is your tour. After taking a relaxing catamaran ride to the reefs, you will have plenty of time to view the reefs and feed the fish. This tour is great for families with all the equipment provided and with guides to provide assistance when snorkeling.

Relax on the beach
There are a handful of beaches on the island where you can find your ideal tanning spot. Lounge chairs are plentiful, and there are some shaded areas too for those who prefer to stay out of the sun. Once you claim your favorite spot, it is time to sit back, relax, and order a few rounds of Labadoozies, the island's signature drink. These frozen cocktails are our favorite specialty drink.

Eat Some Barbecue
With all of the great things to do in Labadee, Haiti, you will certainly work up an appetite. You can head back to the ship and dine at one of the open venues, but why? There are several dining areas on the island serving a barbecue lunch. With an assortment of hamburgers, hot dogs, barbecue chicken, and ribs, you should leave some room for this lunch. Make sure to grab some napkins because it could get a little messy.
There you have it, our Top 10 Things to do in Labadee, Haiti. With so many choices, it might be hard to try to do it all in one trip. That is probably why we keep returning to the island! After one stop in Labadee, you too may be looking to book another cruise so you can revisit this lovely retreat.

Comments
What's your favorite thing to do in Labadee, Haiti? What are your recommendations for travelers who have never been to the island before? Drop us an anchor below to help your fellow cruisers find the perfect things to do in Labadee, Haiti on a cruise.