San Juan, Puerto Rico is one of our favorite cruise ports. There are so many things to do in Puerto Rico on a cruise. Plus, the destination is also a homeport for several ships offering Southern Caribbean cruises. So, if you have plans to take a round-trip voyage from the island, you will certainly want to book a pre-cruise or post cruise hotel stay. Our top hotels near the San Juan cruise port will help you find the ideal place for your stay!
Top Hotels Near the San Juan Cruise Port in 2020
Hyatt House San Juan
You can not find a hotel closer to the Pan American cruise port than the new Hyatt House San Juan. This hotel is within walking distance to the cruise port. If you pack as much luggage as we do though, you will probably still want a car to take you there.
The Hyatt House San Juan offers a variety of rooms, all that feature a separate private bedroom. This way you can select the right accommodations for you and your family. The rooms range from suites with a kitchen and a den to rooms with just a separate seating area.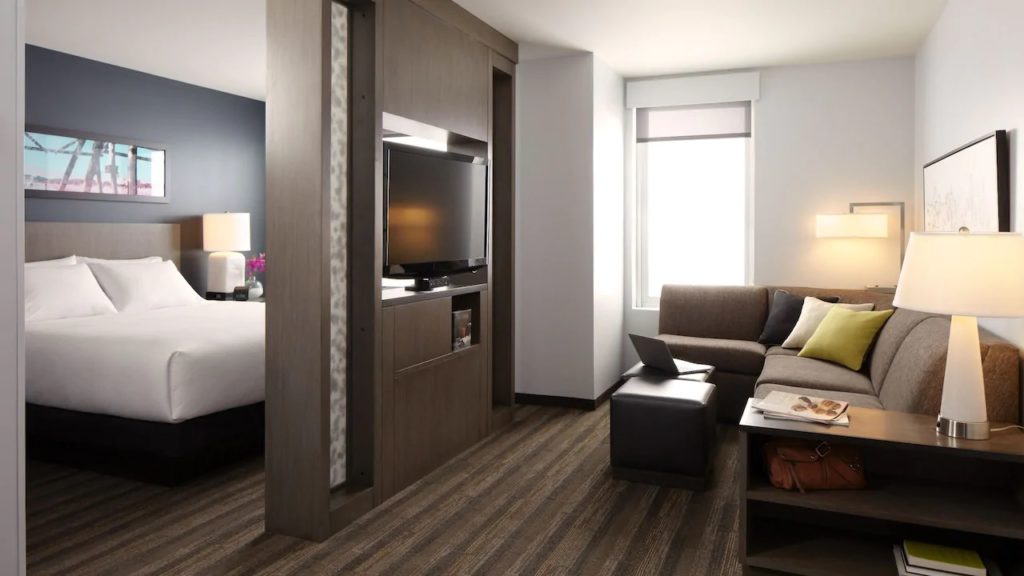 The modestly appointed 320 square foot king rooms feature Hyatt Grand Plush bedding to ensure a restful night sleep. It comes with a separate seating area with a love seat, a dedicated workstation, and a 42″ inch television. Residential stylings and furniture will make you feel right at home. These rooms also have single-serve coffee-makers and a large glass shower with complimentary KenetMD Luxury products.
There is free WiFi throughout the resort so you will always be connected. An outdoor pool, 24 hour fitness center, and an on-site bar and restaurant ensure that you do not need to leave the hotel for anything. Each morning, there is even a complimentary hot breakfast buffet.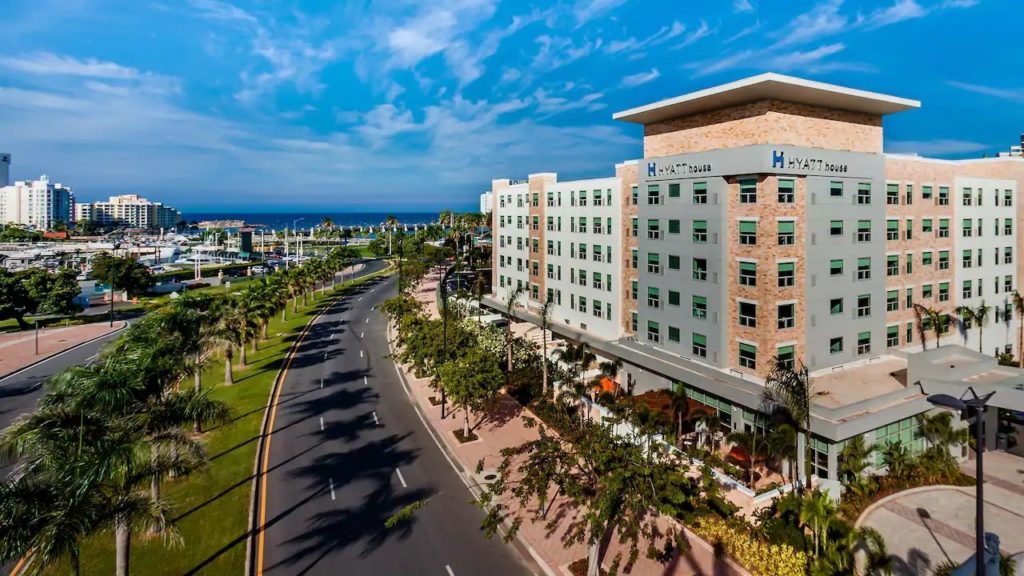 Still, if you want to explore, the hotel offers a free shuttle to Old San Juan. Or, car share rides or taxis to surrounding restaurants and nightlife will not cost you much either. If you decide to rent a car, parking is priced at $14 a day, with unlimited in and out privileges.
Condado Vanderbilt
The historic Condado Vanderbilt Hotel is located right on Ashford Street next to the beach. This revitalized site offers travelers a glimpse into the decadence of the early 1920's. The remodeled hotel captures the timeless elegance and charm of that time period. Yet, it boasts modern features that do not feel out of place.
Inside this Spanish revival building, the hotel boasts several elegant features. The main tower of the hotel features two exquisite bars and even a cigar lounge. There is also the hotel's signature restaurant, 1919, by Michelin Star-rated Executive Chef Juan José Cuevas.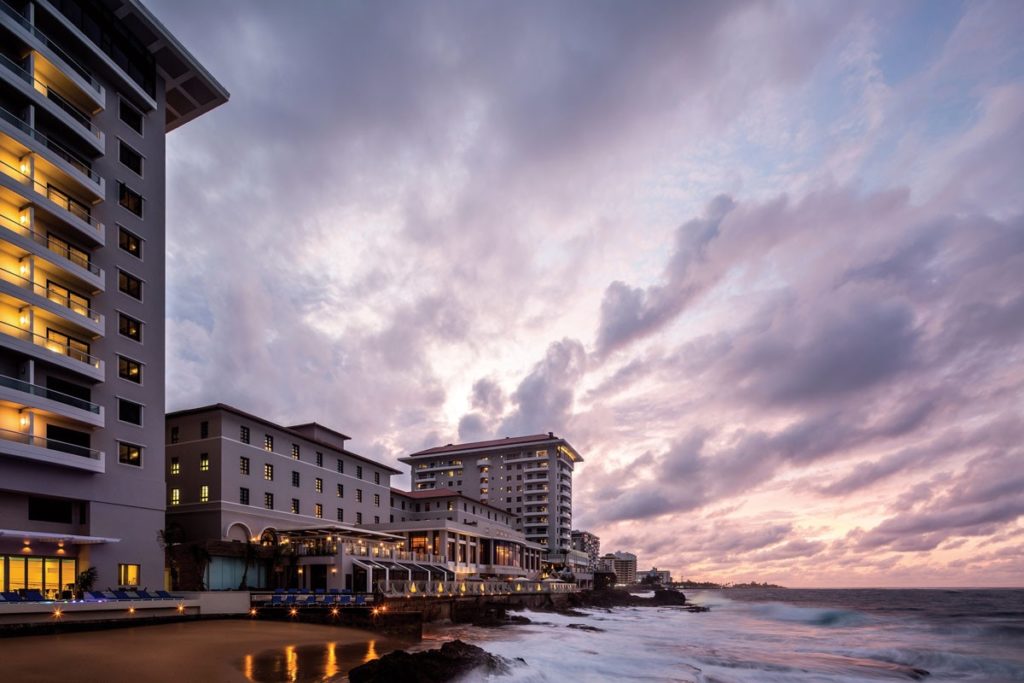 Other dining options include Tacos and Tequila, where we dined during our stay at the Condado Vanderbilt earlier this year. This restaurant offers al fresco dining and a selection of small plates and entrees. Not to mention, some perfectly blended cocktails and live music on the weekends. The hotel also features a signature steakhouse for dinner and the Ola Oceanfront casual restaurant which is open all day. During the day, you will want to enjoy all the resort has to offer. There is the adults-only pool area with two pools and a whirlpool. Or, there is the main pool area, including an infinity pool and the mojito bar. This is where we soaked up some sun before our Freedom of the Seas Southern Caribbean Cruise.
The Condado Vanderbilt also has a spa offering several different treatments and experiences, as well as a complimentary fitness center. The resort fee includes WiFi throughout the property, as well as access to the pools and beach.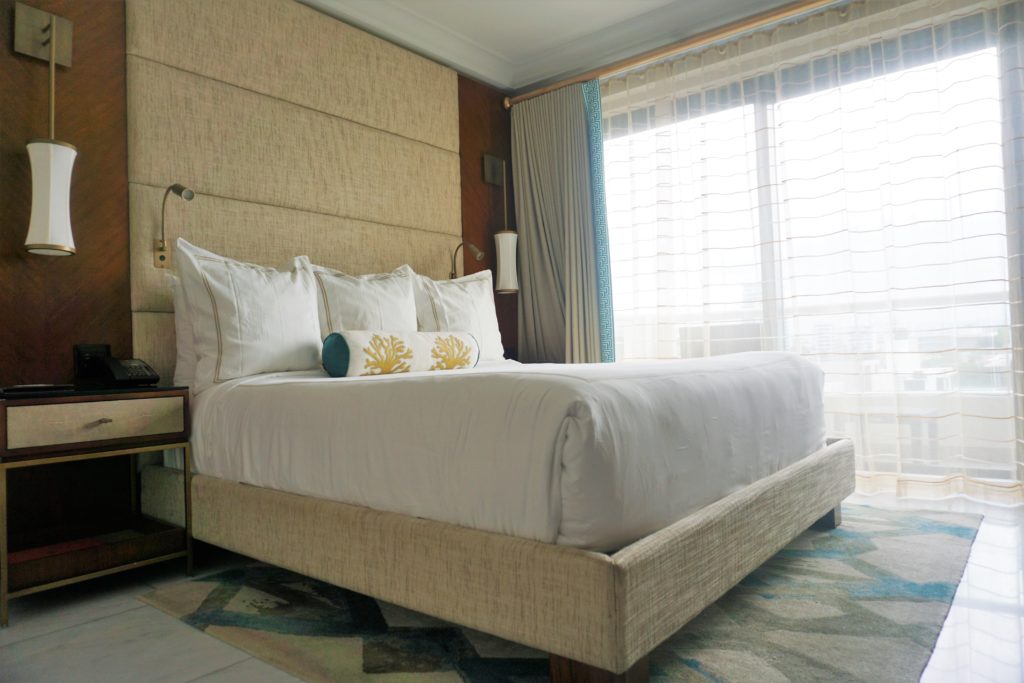 The 450 square foot City View king room offers plush accommodations. The hotel's Rivolta Carmignani linen bedding offered a restful night sleep during our stay. With a neutral color palette, the room exudes beach vibes with modern elegance and plenty of amenities.
The upgraded fixtures, marble floors, and over-sized shower were just what we needed for our vacation. The room also features typical offerings, such as a coffee-maker, LCD television, and a separate seating area.
The hotel is approximately 15 minutes away from both the airport and the cruise terminal. So, it was not an issue getting to and from the property during our travels. Of course, you can certainly set out to explore San Juan, but at this resort, there is really no need to leave.
Embassy Suites by Hilton
One of our favorite value hotels is the Embassy Suites. So, it shouldn't be a surprise that the Embassy Suites by Hilton San Juan Hotel & Casino ranks high on our list of the best hotels near the San Juan cruise port.
This all-suite hotel features 450 square foot, two room suites. It is perfect for families or those who want some extra space to spread out.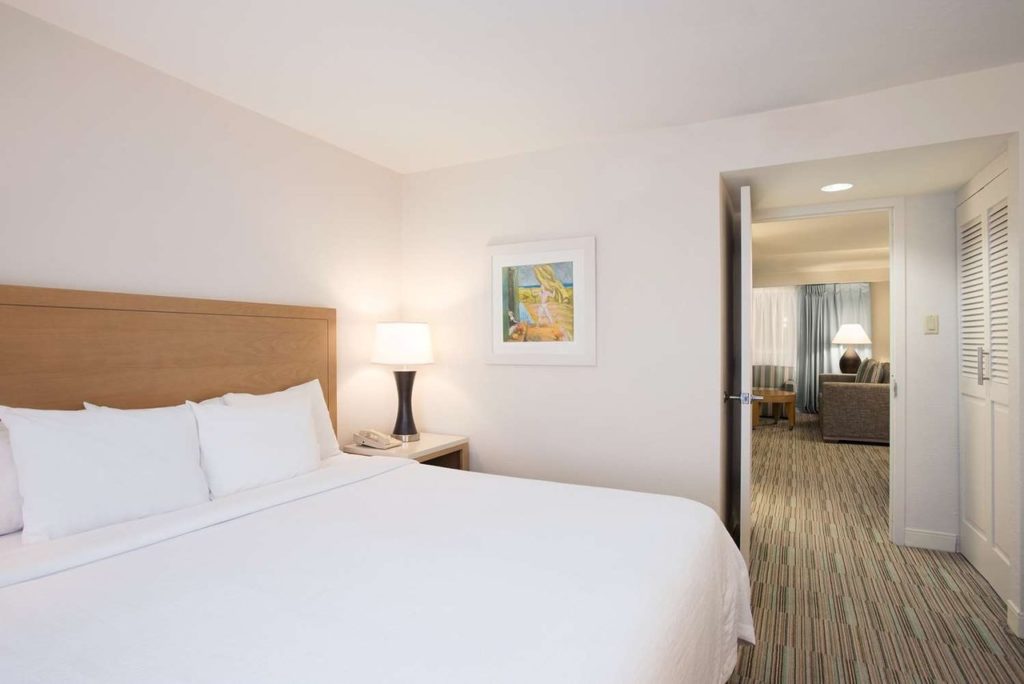 All rooms come equipped with a private bedroom and separate living room with a dining/work area. The living room features a refrigerator, microwave, wet bar, a sofa bed, and a TV. For travelers planning to spend a few extra days in Puerto Rico, the hotel really does offer all the comforts of home.
One reason we like this brand of hotels, along with the clean and spacious rooms, is the added amenities. All individuals staying at the hotel can enjoy an evening reception. This event includes a mix of complimentary snacks and alcoholic beverages. In the morning, a fresh, made to order breakfast is also part of the total hotel fee. The best part is that there are no hidden costs (i.e., resort fees) for all of the hotel's additional services.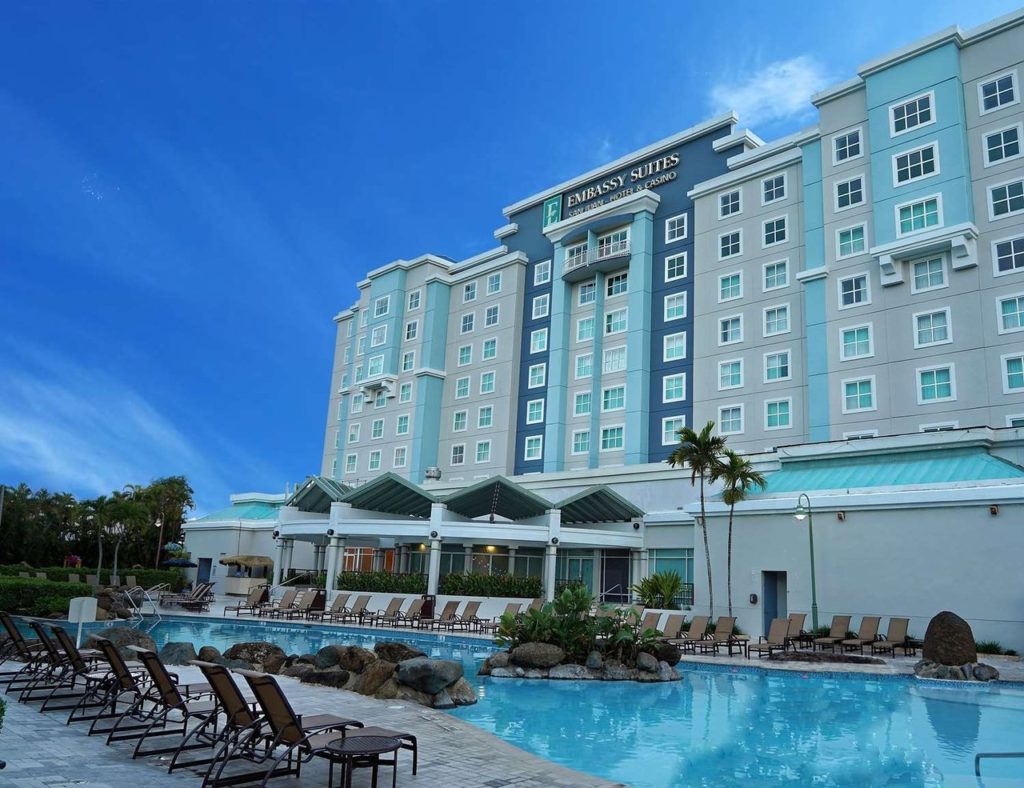 The Embassy Suites in San Juan features its own pool with tropical theming and access to a fitness center. There is also free WiFi throughout the hotel. The property is about a 5 minute walk from Isla Verde Beach. Hotel guests do have beach access with beach chairs and towels at no additional charge.
The hotel is close to the airport, meaning it is a bit further from the cruise port than some of the other hotel options. Still, it is less than a 15 minute Uber ride from the hotel to the Pan American Pier.
Sheraton Old San Juan
If you have cruised to Puerto Rico before, you have probably seen the colorful Sheraton Old San Juan. This hotel is literally across the street from the Old San Juan cruise port. Thus, this perfectly situated hotel offers an amazing location, with all of the comforts you would expect to find at a moderate hotel. The hotel's decor offers a modern, yet retro vibe that feels right at home in this iconic location.
While most cruise ships leaving from San Juan do so from the Pan American pier, the Sheraton Old San Juan is just about a 10 minute ride away from your embarkation port.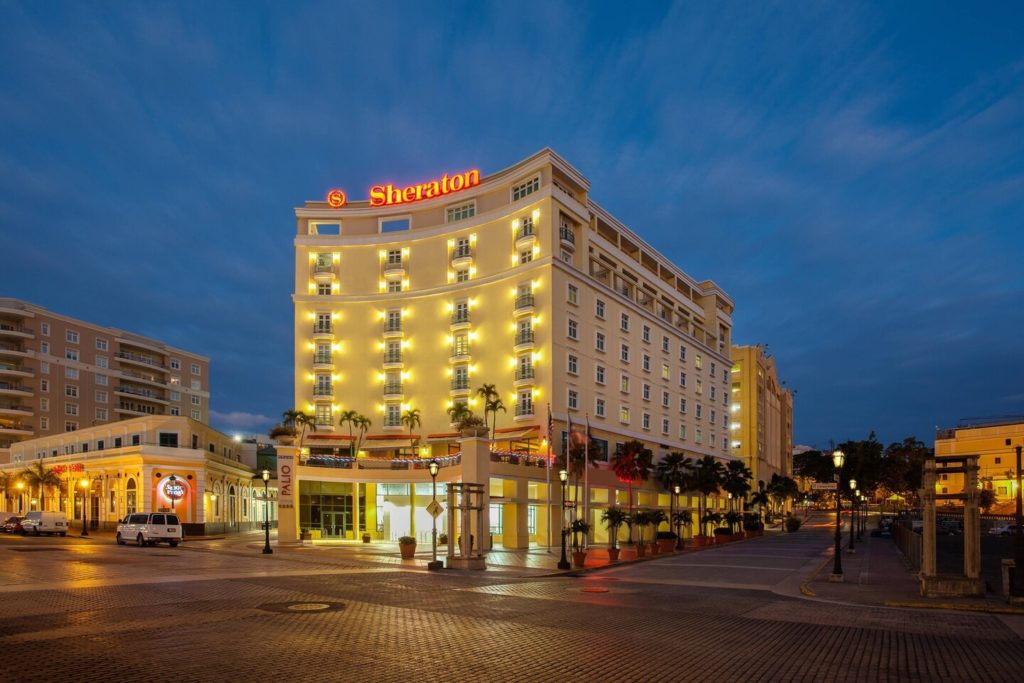 For cruisers looking to explore Old San Juan on foot, this hotel is the perfect starting point. You can traverse the cobblestone streets, historic buildings, and fortress walls during the day, then return to all of the luxuries of the 21st century.
Included WiFi is accessible in your room and throughout the property. The fitness center is complimentary as well, and includes separate changing rooms and showers for extra convenience.
If you are looking to unwind, the rooftop pool and whirlpool offer an escape from the crowds and some stunning views of the bay (and potentially) other docking cruise ships. For dinner with a view, the Palio restaurant features traditional Puerto Rican cuisine. The restaurant's patio will give you amazing bay views as well. Inside, there is the Wine and Coffee Bar, featuring craft beverages and food items throughout the day.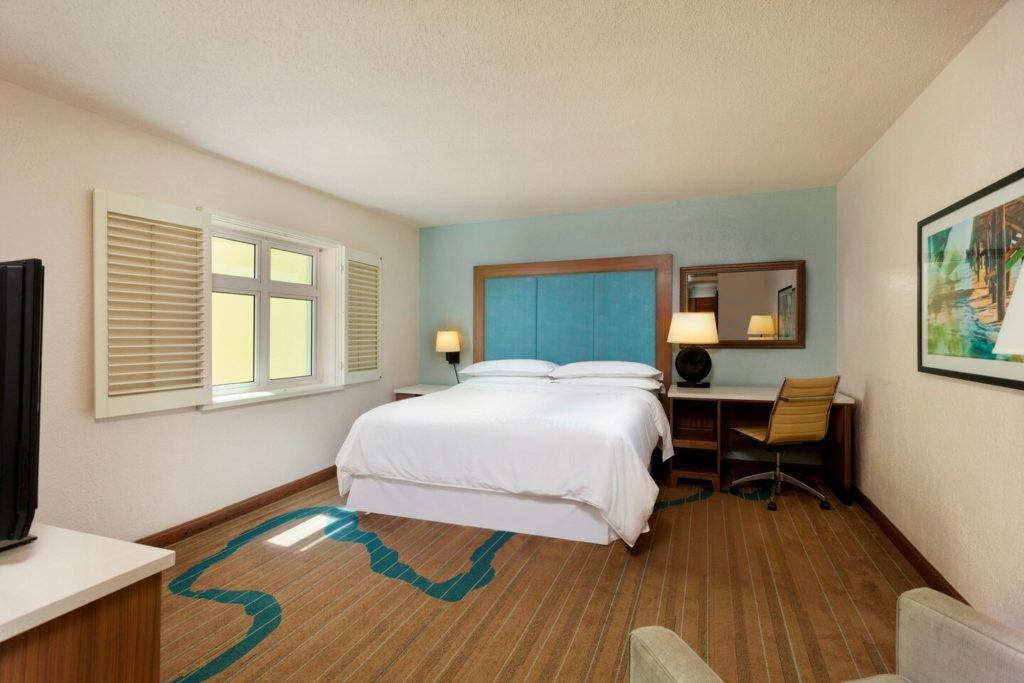 The traditional king room comes with all the standard features of a typical hotel. This 230 square foot room is equipped with an LCD television and USB plugs for easy charging of your devices. A separate work station provides enough space for your laptop. Further, an in-room coffee maker and seating area round out this accommodation.
Hotel El Convento
Hotel El Convento is perfect for cruisers looking for the ideal mix of history, luxury, and location in the heart of Old San Juan.
A converted convent sets the backdrop for the perfect blend of old world charm and contemporary style. This Spanish Colonial hotel is truly unique as it maintains much of the time period design aesthetic. These features include exposed mahogany beams and richly detailed accents throughout the property.
It is no surprise that the Hotel El Convento has received numerous awards and accolades. It consistently ranks among the top hotels in the Caribbean, nevermind Puerto Rico. The hotel is about 20 minutes from the airport and 15 minutes from the cruise port. So, it is slightly further away than some of our other best hotels near the San Juan cruise port. But, it is well worth the drive!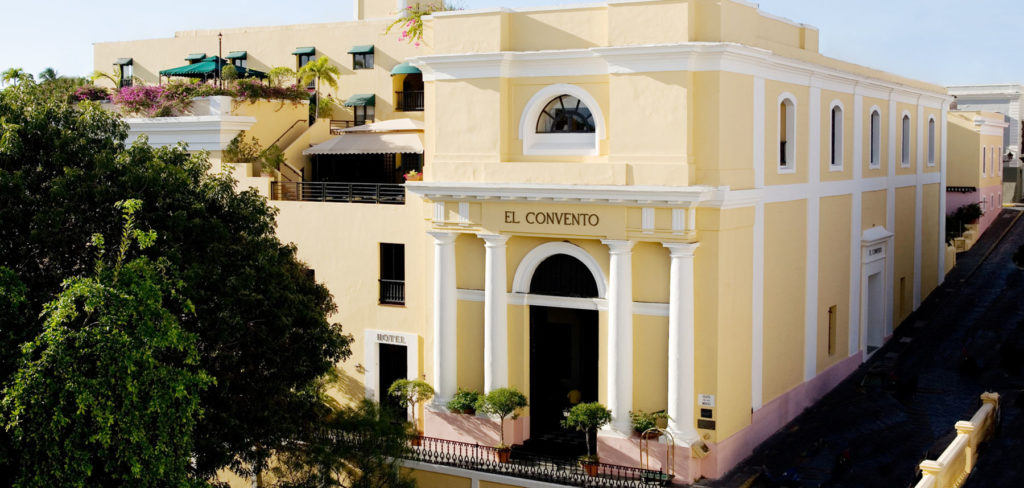 Among the hotel's list of amenities is a 24 hour fitness center. A small plunge pool and whirlpool are also available to help you relax during your stay. If you are craving the soft sands of a beach, then you can take advantage of the hotel's El Convento Beach Club. The benefits give travelers beach privileges at two beaches adjacent to the hotel's sister properties.
This boutique hotel is home to 58 rooms that offer a rustic elegance. Each room boasts ornate handcrafted furniture, marble bathrooms, and Andalusian tile floors. All rooms offer a balcony, with various views of surrounding historic Old San Juan.
The accommodations feature pretty typical amenities. The Queen Superior room includes a work station, separate seating area, flat screen LCD television, as well as complimentary WiFi.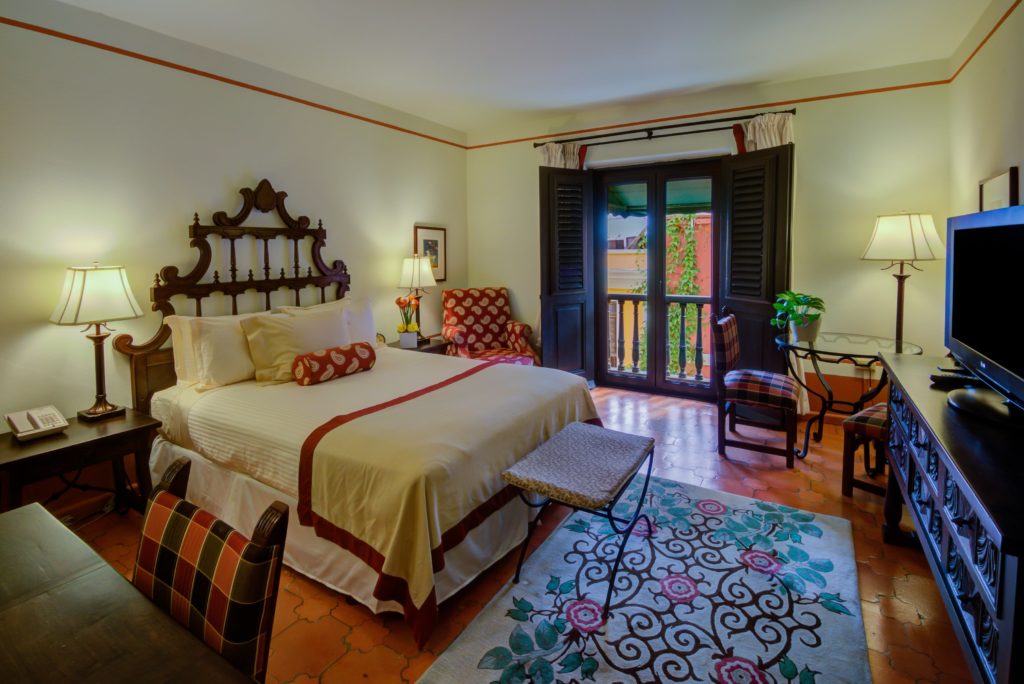 If you get hungry while taking in the hotel's beauty, you can stop in for breakfast, lunch, or dinner at the Patio del Níspero Restaurant. This acclaimed open-air courtyard restaurant offers a gourmet menu of authentic Puerto Rican food in a one-of-a-kind setting.
To ensure that you are well taken care of during your stay, the hotel maintains a complimentary hospitality bar. This 24 hour spot includes coffee, water, and snacks throughout the day. Each evening, travelers can also sample select complimentary local wines and appetizers during the Manager's Reception.
San Juan Marriott Resort and Stellaris Casino
For a hotel in the middle of it all, look no further than the San Juan Marriott Resort and Stellaris Casino. Located in the popular Condado Beach area, you are steps away from all of this area's attractions.
The San Juan Marriott Resort and Stellaris Casino also offers plenty of attractions and amenities that will make you want to stick around for a while. With direct beach access, you are not far from the shoreline and the sun. While there, enjoy a list of free games and activities. Both young and old will enjoy paddle ball, volleyball, and other games like ring toss or horseshoes.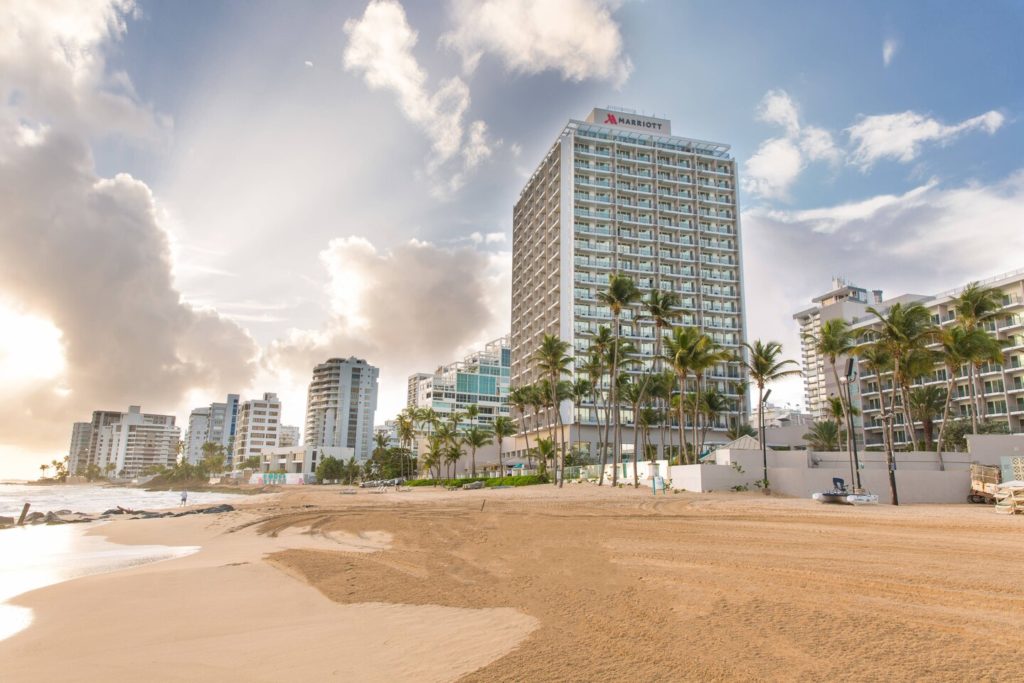 Or, if you prefer, the resort offers two pools and plenty of loungers as well. While you are there, you can grab an exotic drink and light snacks from the Pool Bar.
Other amenities include the Ocean Club fitness center open 24 hours a day. Classes are also available for a fee, as are bike rentals.
Onsite eateries include the coffee house serving up locally sourced Puerto Rican coffee and a wide selection of pastries and on-the-go options perfect for the beach. If you are looking for lunch or dinner with a view, you can sample the menu at Gingambo. This restaurant offers several options with indoor or al fresco seating.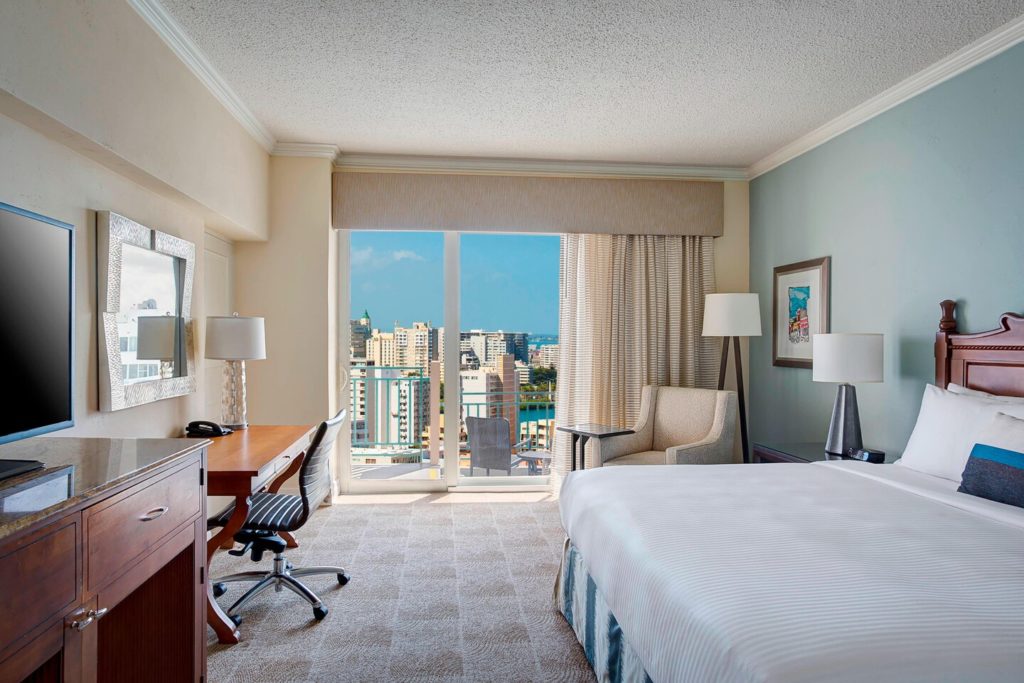 The 250 square foot City King view room features lavish bedding, with down comforters, cotton-rich linens, and fluffy pillows. All rooms include a balcony as well, so you can start and end your day admiring the outdoor views.
You will find other upgraded features too. These include a 47″ LCD television, a mini-fridge, a coffee-maker, a separate desk with an ergonomic chair, and seating area. The spacious bathrooms provide guests with THANN amenities and other accessories. WiFi is also available as part of the room's cost.
Caribe Hilton
If you are looking for waterfront real estate, then the Caribe Hilton will not disappoint. As the first international Hilton property, the hotel has a 70+ year history of offering amazing accommodations. That is why it still makes our list of the best hotels near the San Juan cruise port.
Situated slightly more than 10 minutes from the airport and about 5 minutes from the cruise pier, you are not far from either destination. Located nearby the Condado Beach strip and Old San Juan, you have plenty of options for dining and nightlife.
The hotel embraces the Caribbean surroundings. Its secluded cove offers the perfect oasis that feels miles away from the city. The resort boasts a bird sanctuary and tropical gardens that guests will want to explore at their leisure.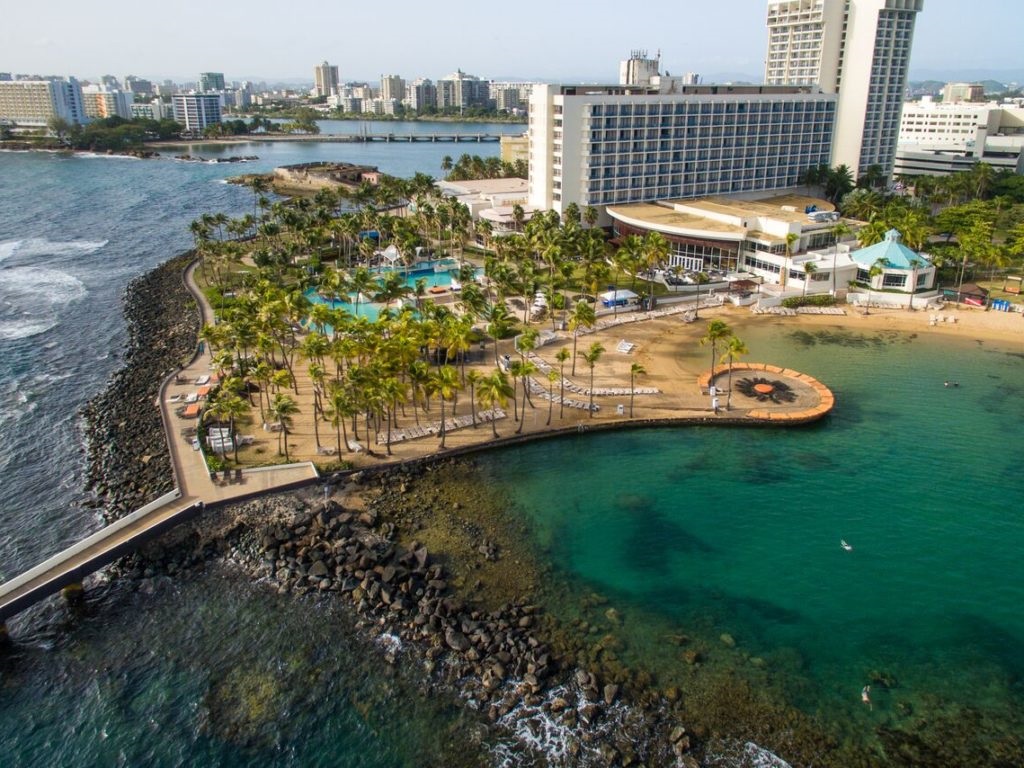 Whether you are traveling as a couple or with the kids, there is the ideal outdoor spot for you to call your own. The hotel's pool complex features four pools, including an infinity pool and a kid-friendly fountain pool. Adults will want to grab a drink from the swim-up bar and enjoy the main pool's cascading waterfall.
The complimentary fitness center will ensure you are in tip-top shape to begin your long awaited cruise. Or, if you choose to stay at the Caribe Hilton post cruise, you can continue the vacation with a little rejuvenation at the onsite spa.
The resort offers several onsite amenities such as volleyball, tennis, and a family playground. If you are looking for even more excitement, the hotel partners with companies offering reef tours, snorkeling, and scuba diving excursions.
The hotel also offers several dining options. From rustic Italian fare, to upscale and casual Puerto Rican cuisine, a tapas bar, and a Morton's Steakhouse, there is sure to be a restaurant to satisfy even the pickiest eaters. Not to mention, there are several bars featuring signature cocktail menus.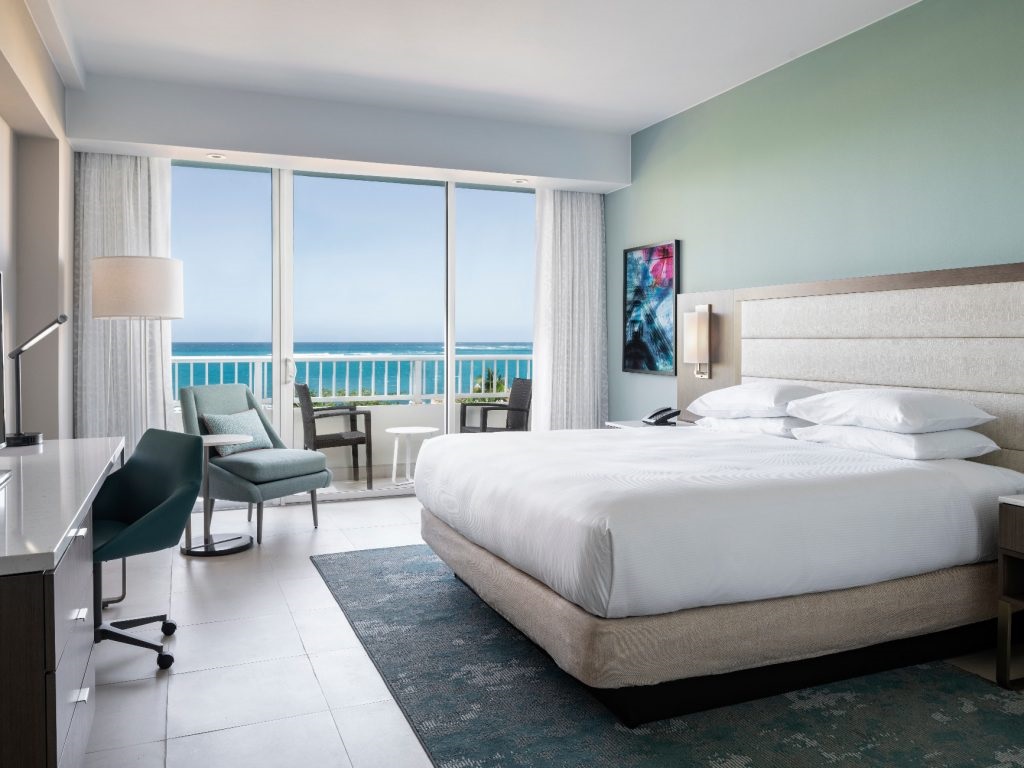 The standard king bed with a balcony offers a stylish retreat. With a clean and neutral color palette, these rooms offer the necessities such as Hilton Serenity beds with cotton duvets. The room also boasts a safe that can fit a laptop, a work station, and a large walk-in tile shower.
Complimentary WiFi is included as part of the resort fee as well. In addition, the rooms come with coffee makers and mini-fridges to provide you with extra convenience for extended stays.
Tryp by Wyndam
A value hotel that does not cut corners, Tryp by Wyndam offers travelers convenience, location, and all the essentials. It delivers all of this and is just mere steps from the beach. Located two miles from the airport, and about 15 minutes from the cruise terminal, accessing this hotel is easy.
Tryp by Wyndam is certainly not your typical hotel. From a bright and colorful theme throughout the resort to excellent customer service, the hotel feels more like a boutique establishment. Located at the center of the action, you have plenty of options for dining, nightlife, and of course, the beach.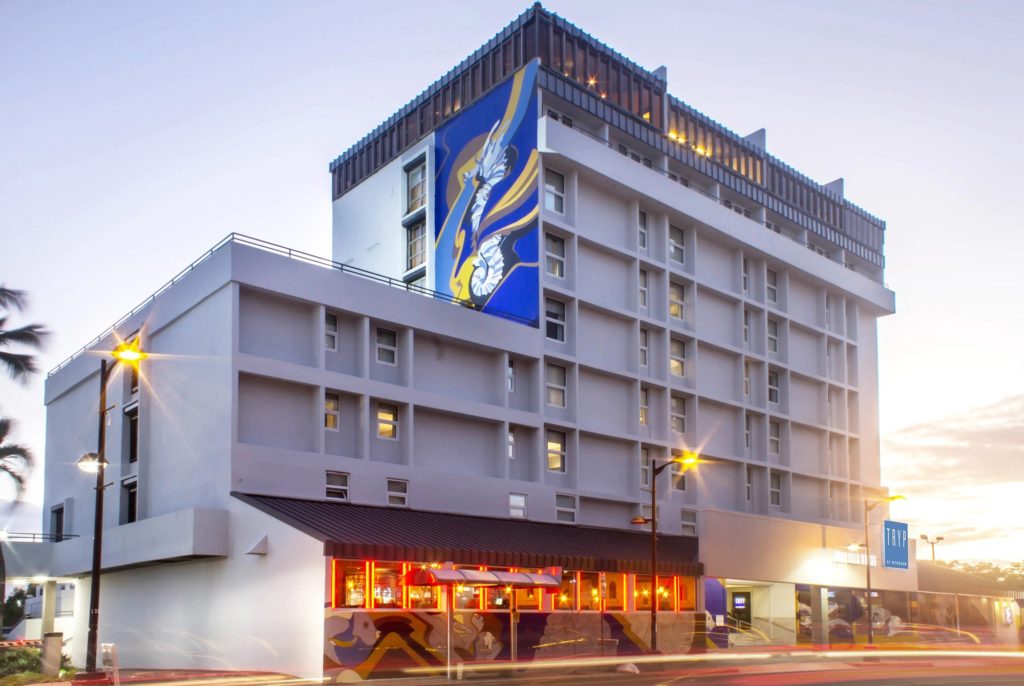 With its trendy and unique vibe, we wouldn't blame you if you opted to just stay at the hotel. With a fitness center and an outdoor pool as well, you can get in that last minute work or simply just relax.
The hotel is also home to two restaurants, including an upscale Italian restaurant serving classic favorites and signature cocktails. Or, the hotel's main restaurant offers Puerto Rican cuisine, with a well stocked bar for those looking for a night cap.
The hotel's lobby restaurant and bar is anything but typical though. It also features a breakfast buffet during the week and a brunch on the weekends.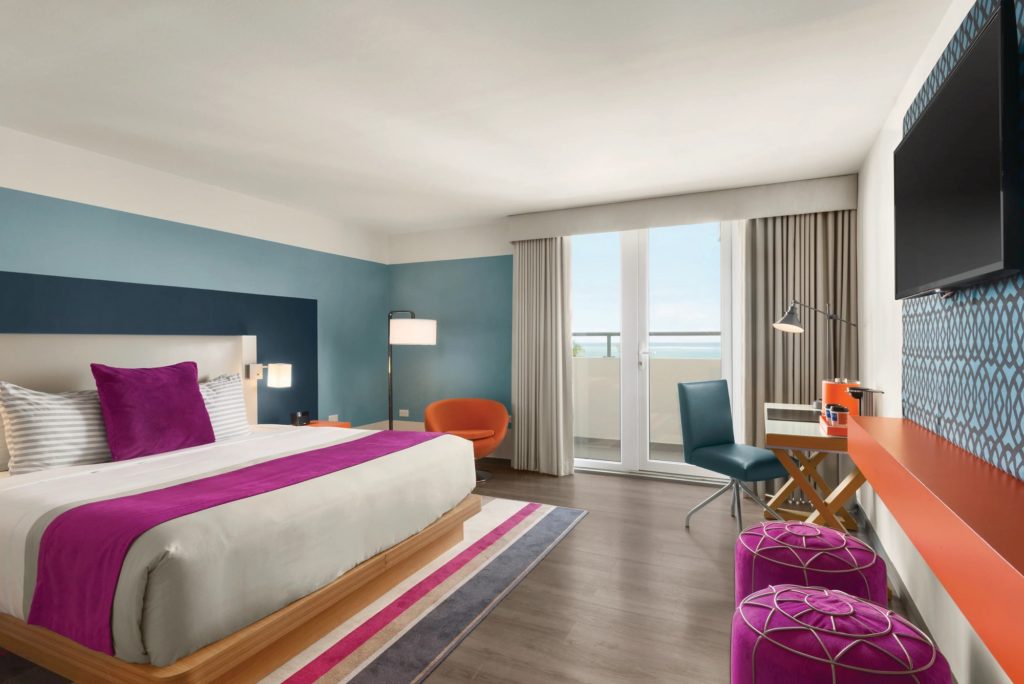 This bright 290 square foot king room boasts pops of color with urban chic furniture that is truly unexpected. The Perfect Sleeper king mattress will ensure you are well rested and ready to tackle your cruise embarkation day. Inside the room, there are all the comforts you expect to find at a moderate resort. These include a large LCD flat screen television, an ergonomic work station, and an iHome alarm clock.
Other conveniences include a coffee maker, a microwave, and a mini-fridge upon request.
Laundry facilities are available, and the hotel offers complimentary WiFi if you need to catch up on some work before your trip.
Shertaon Puerto Rico Hotel and Casino
At less than a mile from the Pan American Pier, the Sheraton Puerto Rico Hotel and Casino is mere blocks from your cruise departure point.
However, it is not just the distance that makes this hotel one of our best hotels near the San Juan cruise port. The Sheraton Puerto Rico Hotel and Casino offers a variety of activities, amenities, dining, and stylish room accommodations. This makes it a worthy contender for a pre-cruise or post cruise stay.
You can enjoy the sunny Caribbean weather at the rooftop infinity pool that overlooks the bay. While enjoying the view, grab a bite to eat or a drink at the nearby Pool Bar and Grill.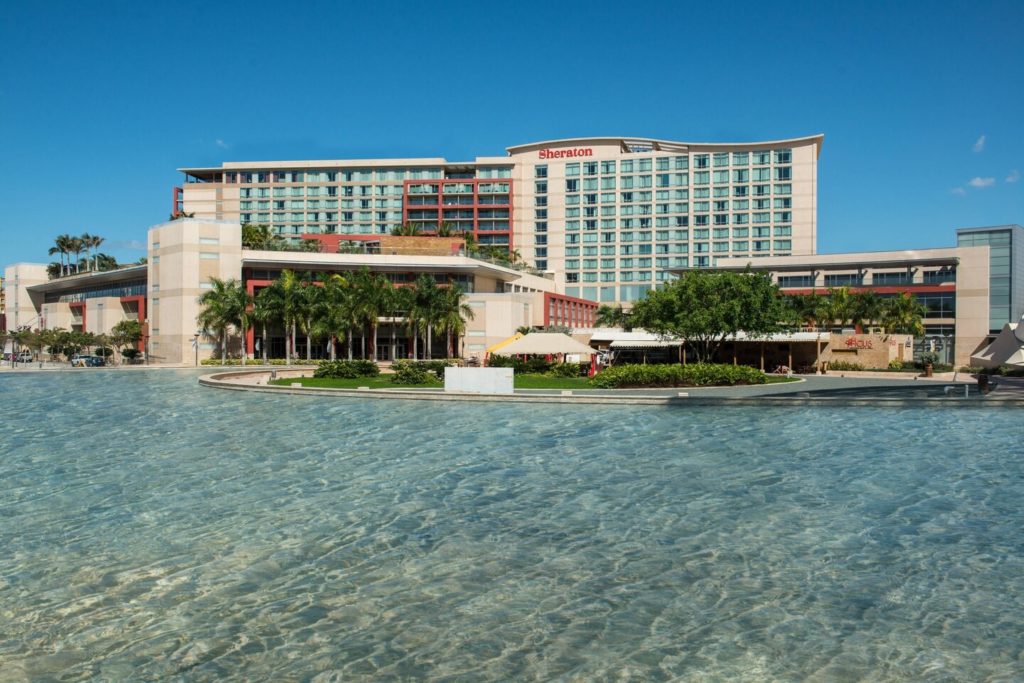 The hotel is also home to several different restaurants. There is a traditional Brazilian steakhouse that features 15 different cuts of meat. Or, you can try the Puerto Rican-Cuban restaurant, as well as the more casual bistro open throughout the day. The chic lobby and sushi bar is also a great place for an evening drink or some light bites.
Travelers staying at the property have access to a complimentary 24-hour fitness center. If you need further relaxation, you can make appointments for a massage or other services at the Zen Spa.
The 310 square foot traditional King room feature the comfy Sheraton Signature Sleep Experience bed. You will certainly not have any issues falling asleep after a long day in the city.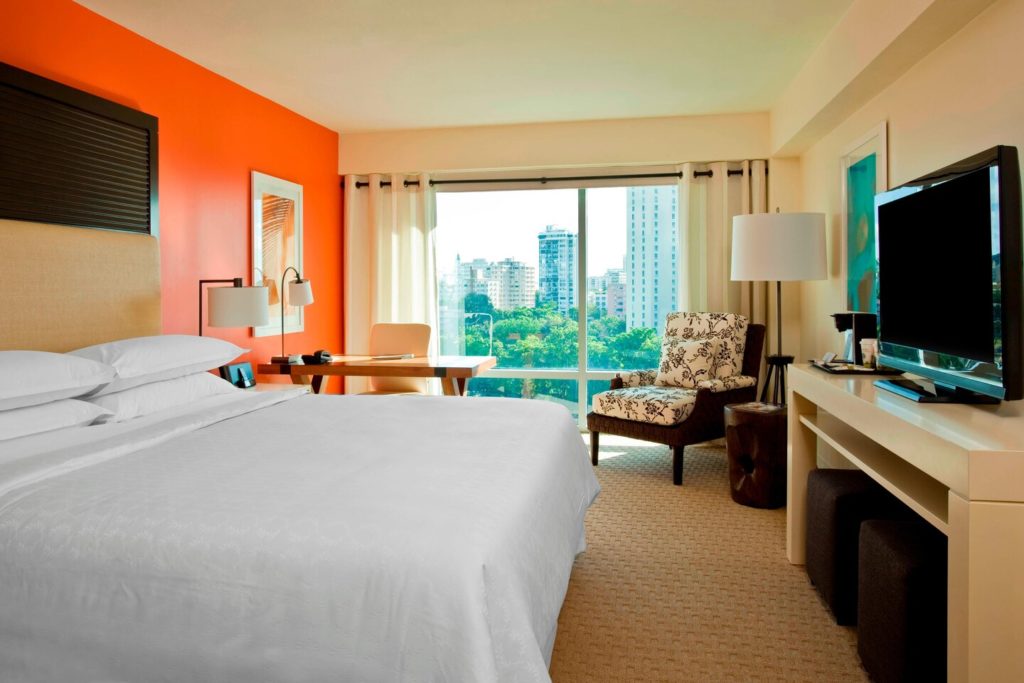 All rooms feature either a city or bay view. Inside the room, there is a large flat-screen television, a separate seating area, and an ergonomic desk chair and workstation. Rooms also come equipped with coffee-makers and other essentials, as well as a large walk-in marble shower.
La Concha Resort
La Concha Resort is located right on the beach in the Condado area. It is home to simple, yet tastefully designed and spacious rooms. Along with several onsite restaurants, plenty of shoreline, and an ideal location, it is a great choice for a pre-cruise hotel. That is why we stayed at La Concha resort prior to our first Southern Caribbean cruise back in 2015.
The hotel's lobby has an open feel with neutral colors and marble accents welcoming visitors. The large lobby bar is directly in front of this open area. This bar is definitely a place to meet and mingle later in the evening. In the morning, the bar also offers an a la carte breakfast. Among the items available are coffee, fruits, and snacks for travelers on the go.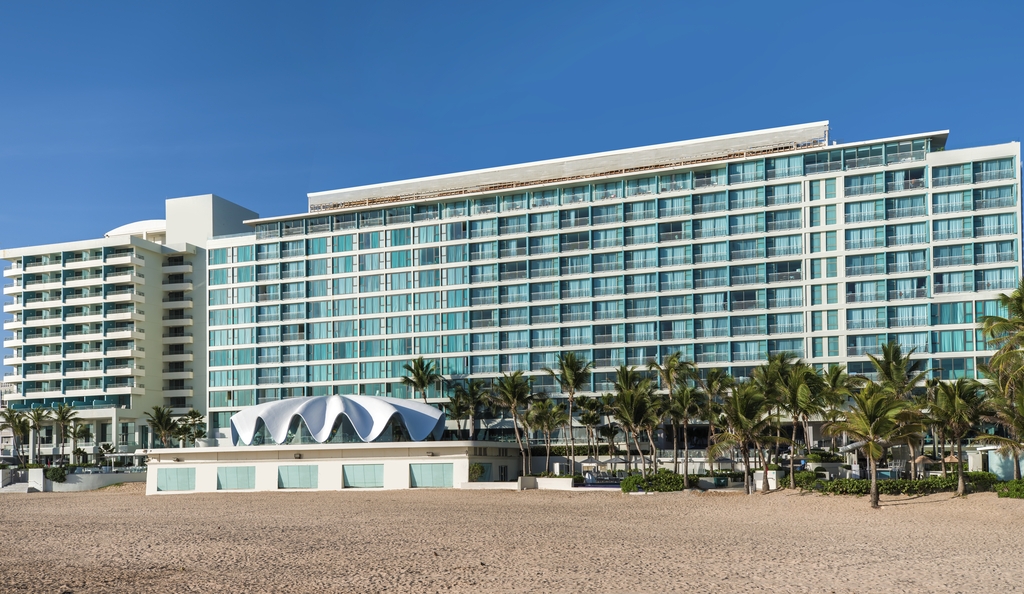 The hotel is home to a variety of restaurants as well. We savored the Italian dishes at the casual and delicious Serafina. There are a few outdoor dining venues too. The multi-level terrace Solera serves up tapas, burgers, and other casual menu items poolside. There is also the Sereno Beach Bar and Grill located near the infinity pool. Either option is sure to satisfy your appetite while relaxing at this upscale resort.
For adults, Marena is the perfect place for a beachside cocktail. Or, you can grab some dinner and drinks at the Loft Beachfront restaurant. Per La Concha's website, new menu creations by Chef Erika Gómez are currently under development.
The resort offers a large stretch of soft, sandy beach exclusive to hotel guests, as well as three distinct pool areas. The multilevel main pool is the center of all of the action. Or, you can escape to the Sereno Pool, with unobstructed views of the ocean. For those 18+, the adults only Ocean Terrace infinity pool at the Suite Tower offers a more tranquil experience.
A fitness center and spa round out the offerings you would expect from a luxury resort.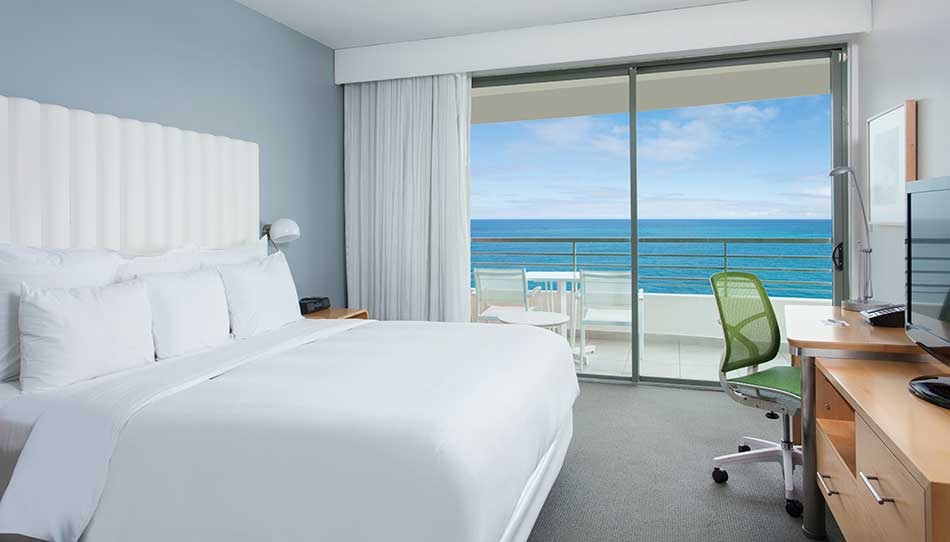 The 300 square foot City King room is located in La Concha's Ocean Tower. These rooms offer a balcony providing views of the nightlife. Of course, you can upgrade to an ocean view if you'd prefer to wake up to the waves.
Inside these "tropically modern" rooms, there are plenty of upgraded features. Inviting pillow-top beds and a walk-in, spa-style shower complete the luxurious feel. There is also a separate work station, 37″ LCD television, and free WiFi.
Comments
Did we miss any of your picks for the best hotels near the San Juan cruise port? What is your favorite hotel in San Juan, Puerto Rico? Drop us an anchor below with your top choices for accommodations in this Southern Caribbean cruise departure point.