Yes, we are at it again.
After only a few months, we could not help but escape this brutal New England winter for another cruise. Taking advantage of some accrued travel points, we were able to secure a 3 day Bahamas cruise onboard Royal Caribbean's Enchantment of the Seas for free, paying just port charges and taxes.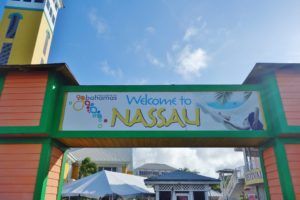 Considering it had been a while since we had traveled to the Bahamas, we thought there is no better time than the present to have a little fun in the sun.
Below is a quick recap of this short cruise. You can read our detailed day-by-day review here. Or, for those who would rather listen, you can hear DB give a review of this trip on a recent Cruise Radio podcast.
Enchantment of the Seas Summary
Embarkation
Getting on the ship was a breeze. We got to the new terminal at Port Canaveral right around 10am. We were through security, checked in, and ready to board  in less than 10 minutes. Getting to the terminal early is always a good idea as we were able to board Enchantment of the Seas by 10:45am!
Inside the New Cruise Terminal at Port Canaveral
Enchantment of the Seas Summary: The Ship
Enchantment of the Seas is the largest of the Royal Caribbean's Vision class, as it went through a major renovation in 2005, being cut in half and extend over 70 feet. For a three day cruise, Enchantment of the Seas was a great ship with much to offer.
Upon entering the ship in the Centrum on Deck 4, you are greeted with a large open atrium. This is the one of  hubs of activity hosting entertainment during the day as well as evening events. The main attraction here is the R Bar, serving signature cocktails and great fun!
When Open the R Bar on Deck 4 was Always a Happening Venue
The public venues were mostly well maintained, although you could tell the ship has been in service for a while. Some furniture was worn, and the decor in some venues could use a bit of sprucing up. One of the more popular venues on other Royal Caribbean ships, Boleros, was actually not very busy during our cruise.
Boleros
Outside, there was plenty of space on the Pool Deck, Deck 9, and getting a lounge chair did not prove difficult during the three day cruise. We found the layout to be very conducive to relaxing and getting some much needed sun.
Pool Deck
The pool deck was also home to another one of our favorite spots, the Oasis Bar. We were not alone as this bar was always crowded. We did purchase a drink package, which seemed to be prevalent on this sailing. There were some long waits at the bars, but just a great excuse to strike up a conversation with those waiting around you.
Preparing for the Onboard Rush at the Oasis Bar
Of course, there were all the other Royal Caribbean staples including the casino,  the Schooner Bar, and the Viking Crown Lounge, which served as the night club in the evenings. It was busy, loud, and the happening nighttime spot.
This Dance Floor Was Packed Each Night of the Cruise
Enchantment of the Seas Summary: Our Cabin
When redeeming our reward points for this cruise, it specified that it had to be an ocean view cabin. Due to our last minute booking, this meant we were stuck with a cabin on Deck 2. While at first we were disappointed, it actually turned out to be a perfect location-a few decks up to the Centrum and MDR and a quick elevator ride up to the 9th deck for the pool and outdoor hot spots.
Inside our Cabin
We normally book an inside cabin as we are not cruising to stay in our room, so this ocean view cabin was pretty standard in terms of layout and size. If you have never cruised before, these are some tight quarters, but you get used to it pretty quickly.
Our Room Before We Unpacked
Our stateroom attendant, Mark, was very attentive and had a great sense of humor. He always remarked how much I liked to drink…coffee!
Enchantment of the Seas Summary: Entertainment
Let's be honest, the main reason people go on a cruise is to have a good time, and Enchantment of the Seas delivered with plenty of entertainment. If fact, there were so many different shows and activities that it was difficult to fit everything we wanted to do into 3 days. From the Royal Caribbean theater productions, to pool deck parties and the Belly Flop Contest, and even a midnight buffet, it was all here with only three short days to enjoy it all!
Cruise Director Mark Hosting a 70s Disco Party
If you are looking to test the waters, this ship and itinerary is a perfect way to try out a cruise and get the complete Royal Caribbean experience. Give it a try, and I bet you will be hooked!
Headliner Show Featuring the Magic of Puck
The evening shows included the Royal Caribbean singers and dancers, as well as a headliner Magician, Puck, a finalist on America's Got Talent.  There was also a late night comedy act, Al Ducharme, which provided some rather offbeat humor.
Enchantment of the Seas Summary: Dining
When we were not at a show or relaxing by the pool with a frozen cocktail in hand, we were probably eating.
While the dining options on Enchantment of the Seas are somewhat limited compared to newer ships, the quality and service lived up to the Royal Caribbean standards. We frequently visited the Park Cafe in the Solarium on Deck 9. This restaurant offers some fresh signature sandwiches, salads, and soups and is a nice alternative to the buffet for breakfast and lunch.
Sandwich and Panini from Park Cafe
The Windjammer, the buffet found on Deck 9, is open for breakfast, lunch, dinner. It does have a good selection of food, but we recommend you try some other venues too!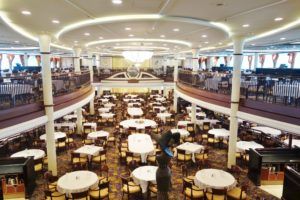 You should make time to eat in the My Fair Lady Dining Room, located on Decks 4 and 5. We opted for My Time Dining on this cruise, and made all of our reservations in advance.  We never had any issues getting a table for two, and we were sat in the same section with the same excellent waitstaff each night.
Just one of my scrumptious meals at the Main Dining Room
Having sailed on Royal Caribbean many times, we were quite familiar with the menu,  and I was ready to order all of my favorite starters and entrees. Yes, you can order as much as you like, and I do!
Cheesecake Anyone?
Enchantment of the Seas Summary: Ports of Call
This short 3 day Bahamas cruise is really about getting away for an extended weekend of fun, sun, and relaxation. That said, you do stop in two Bahama ports-the historic Nassau, Bahamas and Royal Caribbean's private island Coco Cay, Bahamas. Both stops have a diversity of things to do and see depending upon how much you want to cram into your vacation.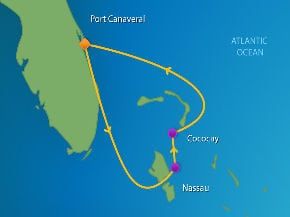 In Nassau, we booked an island tour which visited a couple historic forts as well as the famous Queen's Staircase. It also made some quick stops for photo-ops and allowed for a brief jaunt at Atlantis on Paradise Island. If you have never been to Nassau, this tour might be the best way to get a glimpse of the beautiful island. We will have a complete picture review of this excursion posted soon.
Fort Fincastle in Nassau, Bahamas
On the third day of the cruise, we relaxed at Royal Caribbean's private island, Coco, Cay, Bahamas. It had been five years since we last visited this island, and it was much nicer than we recalled. We spent all day lounging near the beach.
Don't You Wish You Were Here?
The beach at the farthest end of the island, Barefoot Beach, is a bit nicer and less rocky (and less crowded). There are plenty of things to do on this great island if you prefer a bit more adventure like jet skis, snorkeling, and even a nature walk.
Coco Locos!
Or like us, you could just catch some rays while sipping a few Coco Locos, the island's signature frozen drink. This was the perfect way to spend our last day of the cruise!
Enchantment of the Seas Summary: Disembarkation
Just like getting on the ship, getting off was simple, but depressing. We carried our own bags and were off the ship in literally a few minutes. There was a bit of a hold up at customs as there seemed to be a shortage of agents. The line was quite long, but did keep moving.
Back at the Cruise Terminal, Boo!
It was okay, we were fine with staying in Florida a little bit longer!
Final Impressions

The Enchantment of the Seas over delivered when it came to a short cruise. First rate entertainment, excellent food and service, and plenty of Royal Caribbean staples to be had. The cruise director Mark and his staff kept the party going. The bars onboard Enchantment of the Seas were the busiest I have ever seen on a cruise ship-seriously. Many travelers, like us, purchased drink packages and they came ready to use them.
Great Food, Drinks, and Entertainment Onboard Enchantment of the Seas
Fellow travelers were definitely more of an eclectic mix than other cruises. Plenty of first time cruisers, and others just out to have a good time, including at least 10 bachelorette parties. Getting seats for shows was relatively easy, and public spaces (beside bars) never felt too packed, even the casino was not too crazy.
If we had the vacation time, we would certainly sample a four day cruise on this ship!
Want more? Then don't forget to check out our detailed review of this Enchantment of the Seas cruise, complete with compasses, menus, and photo gallery.
Comments
Have you sailed on Enchantment of the Seas? Ever done a short, Bahamas cruise? Drop us an anchor below to let your fellow travelers know about your experiences cruising. We would love to hear about your voyages, so don't be bashful!