Norwegian Sky Cuba Cruise Review
05/08/17 – 05/11/17
Summary
The Ship
While the smallest ship in Norwegian Cruise Line's fleet, Norwegian Sky is currently the largest ship doing regular sailings to Cuba. This 12 deck, 77K gross ton ship holds just about 2,000 passengers. Norwegian Sky offers a bite-sized version of the line's larger vessels. Delivering nightly entertainment, several restaurants with the line's Freestyle dining approach, and several bars, there is plenty to do onboard this ship. Also, your cruise fare includes an open bar, with unlimited alcoholic beverages, for an even greater cruise value.
Norwegian Sky Ship Cuba Cruise Review
This 18 year old ship holds up fairly well. The venues were clean, and the onboard service was superb, even if the decor on the ship was a bit dated. The ship's layout does take some time to get used to as it is a bit more maze-like than the newer vessels in the fleet. Still, Norwegian Sky is an excellent choice for those wanting to cruise to Cuba. With Norwegian Sky, you won't have to sacrifice  onboard amenities and experiences.
Itinerary
This trip was all about one place…Cuba. The four day cruise included no true sea days. Departing on a Monday afternoon, we hit Havana, Cuba by 8am the next morning and stayed overnight, not departing until 5pm on Wednesday. If you are considering a trip to this largest island in the Caribbean, the overnight in Havana is a huge bonus. Even with 2 days in Cuba, it is still not enough time to do and see everything. The last day of the trip was a stop at the cruise line's private island of Great Stirrup Cay. This line-up was perfect, as after two straight days absorbing as much Cuban history and culture as we could, the last beach day was ideal for recharging our batteries.
Norwegian Sky Ship Cuba Cruise Review
Highlight
The full day we spent touring old and new Havana with Havana Journeys was one of the best days in port we have had in our 16 cruises. You can explore the neighborhoods of the country's capital on your own, or get to know the real Havana with a cruise ship excursion or private tour. Offering a mix of the must do sights and photos, along with an honest look at life on the island, it was an informative and eye-opening experience. We highly recommend booking a tour and taking time to explore Havana with a guide.
Norwegian Sky Cuba Cruise Review
What's Missing
Norwegian Sky held her own when comparing the vessel to similar sized ships that we have sailed on in the past, like Royal Caribbean's Enchantment of the Seas. If we could improve one thing about the trip, it would be the onboard enrichment. Yes, you are in port for large portions of the trip, so there are limited onboard activities for a good reason. Yet, it would have been great if the cruise line offered talks on the history, culture, or art of Cuba. While these trips are new, there wasn't even your typical port guide flyer included with the daily schedule. We hope this changes as all cruisers would benefit from more insight into the people and island during the trip.
Main Takeaway
If you are considering a cruise to Cuba, we would highly recommend Norwegian Sky. For a cruise experience, NCL Sky delivered excellent food and top notch service. Nightly entertainment in the main theater was what you would expect from a mainstream cruise line, in addition to the other live musical acts in the bars and lounges around the ship. The all-inclusive nature of the trip was nice because you did not have to take out your room key card to get most drinks. A specialty dining package is a great idea on the ship too, as the three specialty dining restaurants should not be missed.
Norwegian Sky Cuba Cruise Review
The cabins are a bit tiny, so be prepared for some creative packing and storage options. Norwegian Sky is certainly family friendly, even if it does lack the waterslides and other attractions of the newer ships, but the passenger make-up on this Norwegian Sky Cuba cruise was mostly adults. We would certainly do this cruise all over again!
Read our detailed, day-by-day Norwegian Sky Cuba Cruise Review…
Norwegian Sky Cuba Cruise Review
Day 0
A Pre-Cruise Weekend
Flying down the day before your cruise is a must. Flying down two days before your cruise is just an excuse to live it up in Miami Beach. Taking the opportunity to spend a weekend in Miami before our sailing, a stay at Fontainebleau felt like an easy choice. With a great room rate, and even cheaper flight, we switched our original plans a few weeks before the trip to add the extra night.
Now flying out first thing Saturday morning, we had extra time to relax in the sun before our cruise. This also meant that we now had two full suitcases for what was supposed to be a short cruise. With a 7:45am flight, we were ready and out the door around 5am. To the airport in reasonable time, we were checked in at the updated Southwest counter and through security in less than 10 minutes.
Norwegian Sky Cuba Cruise Review
Now with plenty of time on our hands, we grabbed a Starbucks and did some blogging as we we waited about 45 minutes for boarding to begin. A rather calm and uneventful flight, we landed in Fort Lauderdale, grabbed our bags, requested an Uber, and were off to Miami Beach.
Our Room is Still Not Ready?
The ride from the airport to our hotel was close to an hour, partly due to traffic and partly due to our driver who elected to go an alternate route because of the traffic. Either way, we did not arrive at the hotel until around 12:30pm. Of course, our room was not ready as check-in wasn't until 4pm. Giving us day passes to enjoy the outdoor pool area and surrounding grounds, we decided to do some exploration and picture taking, assuming that our room was sure to be ready soon.
Norwegian Sky Cuba Cruise Review
The 20+ acre resort was certainly a perfect hotel for us, not as outrageous as South Beach but still lively enough. For a Saturday afternoon, the lounge chairs near the pools were packed, but the beach area had plenty of space. During our travels, we checked out the restaurant La Cote, where we had booked a casual dinner for this evening. Still no text from the hotel, so we decided to stroll the Boardwalk along the beach.
Norwegian Sky Cuba Cruise Review
We headed both south and north of the hotel to get the lay of the land. We actually didn't hear from the hotel until 3:45pm that our room was ready. While later than we expected, we were greeted with an upgrade from a deluxe room to a junior suite. So, at least we got some extra room for our delays.
Enjoying the Miami Nightlife…Sorta
With little time to unpack and get ready, we were content with just a light touch-up and costume change before our 5:30pm dining reservations. One of the more casual restaurants at the hotel, La Cote offers salads and sandwiches with a few entrees. It also hosts live music and a DJ at the nearby bar area.
We ordered a round of drinks and an appetizer with the intention of stretching things out for a few hours. Once we heard the DJ indicate the music was stopping at 7pm, we inquired to our waiter what time they stopped serving food. He also confirmed that was 7pm. Yikes! We threw in our order for dinner and additional drinks.
Norwegian Sky Cuba Cruise Review
Our meals and drinks were exactly what we were looking for after traveling all day. Be warned though, like any venue on the island, you will have to pay Miami prices for everything.This means $18 drinks and $20+ sandwiches. Finishing up around 7:30pm, we grabbed a few rounds of drinks at the hotel lobby bar and took them back outside to relax in a Cabana. Hey, at least at night you don't have to pay hundreds of dollars for these things! In fact, everything outside closes down early, even the bars, which was surprising to us.
With the day of travel (and drinks) hitting us hard around 9:30pm, we decided to head back to our room. A full day of sun and relaxation was awaiting us on Sunday. Sadly, there were no towel animals back at the room. Just our 600 square foot accommodations overlooking the bay. Boy, how things would change come Monday night onboard Norwegian Sky.
Norwegian Sky Cuba Cruise Review
A Second Pre-Cruise Day
Hold up, we have one more full day before setting sail on Norwegian Sky. If you have been following us, you know that given yesterday's arrival, I was on photo duty this morning. Up around 7am, when the pools officially open, I was in charge of getting pictures of the hotel's public areas before the rest of the masses awakened. This is Miami Beach, so in all honesty, most places were dead at this time in the morning. Yes, perfect picture taking opportunities.
After about 45 minutes of circling both indoor and outdoor areas, I was able to get photos of the beaches, pools, and shopping/dining venues. Back to the room to drop the camera off, I headed two blocks up to a nearby hotel that had a Starbucks. We would soon learn that the Chez Bon Bon in Fontainebleau served up some pretty delightful iced latte treats as well.
Norwegian Sky Cuba Cruise Review
SB drinks and food in tow, I was back to the room around 8:30am to shower and change up for the day. Not that I need to do much to lay near the pool and the beach.
Now This Is the Life
Getting to the main pool area by 9:30am, we were still way ahead of the crowds. Later, it became apparent the the hotel was much quieter on Sundays than Saturdays. Staking out the ideal sun chairs behind the bow-tie pool, it was time to soak up some Miami Beach sun. I could lay out in the sun all day without a care in the world. On the other hand, the Princess can only tolerate the sun in small doses. So, we stayed out for close to 3 hours before she needed to take a break.
Our dinner reservations tonight were for 6:30pm at the Asian-inspired restaurant Hakkasan. We certainly couldn't go all day without eating, so we decided to take things indoors and try the Pizza and Burger (yes, that is the name) restaurant which we thought would be a break from the sun. While it did offer some shade, there was little air conditioning in the venue. With a few bites to eat, including one hearty Steak Burger, and a few drinks, we had our break from the Florida sun.
Norwegian Sky Cuba Cruise Review
A Second Go Round Outside
Like many hotel restaurants, the kitchen was pretty fast serving up our lunch and drinks, so the Princess was still not ready to return to the heat just yet. Before venturing outside, we decided we could use some caffeine to keep us from completely passing out in the sun. Checking out the rather busy coffee shop at the hotel, we discovered the incredible flavored iced lattes. With a Peanut Butter Cup Latte and a S'mores Cold Brew Iced coffee as featured drinks, it was easy for us to cheat on Starbucks.
Drinks in tow, it was time to head back to the pool. This go-round we found chairs that included a large umbrella to shade the Princess from the sun. It was a bit of a walk to the pool, so for the most part, we enjoyed the sun for the next 2 hours.
Norwegian Sky Cuba Cruise Review
Getting close to 4pm, I indicated we should check out the beach, and the Princess reluctantly agreed. Taking some pictures of the ocean and surrounding hotel section of the beach first, I then got to fulfill my desire to swim on Miami Beach, albeit a total of 5 minutes.
An Eventful Evening
Back to the room close to 4:30pm, we pumped the A/C and took a break from the sun. Checking email and social media, we then showered and got ready for dinner. Completing our costume change into more appropriate dinner attire, we were to the restaurant right around 6:30pm. This spread out resort encompasses a few city blocks, so getting from one area of the hotel to the next can take several minutes.
This time around, the restaurant was very quiet. Designed with several smaller rooms inside, we were seated in an empty section. Over time, a few other diners were seated in the room. On the waiter's recommendation, we ordered an entree, one rice, and one noodle dish to share. The food was hit or miss as were our signature cocktails, with the orange chicken dish being our favorite even if it was prepared differently than expected.
Norwegian Sky Cuba Cruise Review
Finished by about 8pm, our plans were similar to the night before, grab a few rounds of drinks and enjoy the outdoor areas of the hotel.
Ordering up cocktails from the lobby bar, we headed out to grab a cabana and watch the planes come and go in the night sky. We were sipping our drinks, when around 9pm, we heard what turned out to be gun shots in the front of the hotel. Yes, those were gunshots.
Norwegian Sky Cuba Cruise Review
Making our way inside as quickly and cautiously as possible, the hotel lobby was becoming a chaotic scene. Police and ambulances were arriving, and fellow curious visitors were congregating to find out what was happening. Depending where you were in this large hotel, some people were not even aware there was a shooting.
Learning that two people were shot outside the valet area but not knowing the status of the shooter, we decided it was safest to retire to our room for the evening. With a rather abrupt end to our evening, we went to bed around 10pm, while listening to helicopters circle the area, hoping things would be cleared up in the morning.
Norwegian Sky Cuba Cruise Review
Day 1
I Don't Think We Are Going the Right Away
We were ready to greet embarkation day with renewed optimism following the unexpected events of the previous night. As usual, our plans were to get to the cruise port for around 10am. This meant getting an Uber by 9:30am. Our alarm was set for 7:00am, and while the Princess began her morning ritual, I grabbed a few additional photos along with breakfast and coffee from the coffee shop in the hotel. Public venues were quiet, and hotel staff were going about their business as usual for a Monday morning.
Norwegian Sky Cuba Cruise Review
Amazingly, we were ready early, just after 9am. Perhaps we both felt the need to leave the hotel ASAP. Down to the lobby to checkout, we waited in a short line to review our room statement. Everything added up perfectly, and it was now time to get an Uber and make a final exit. Heading toward the departure area, our Uber was only a few minutes away.
When our driver arrived, it was apparent that she spoke little English. For most of the ride, things were fine, as her Spanish-speaking GPS was directing us closer to the cruise terminal. However, when we arrived to the port, the driver passed the cruise terminal and continued driving toward the cargo shipping area!
Norwegian Sky Cuba Cruise Review
To make matters worse, once we used a combination of Google translate and gestures to instruct her to change course, she turned around and began driving directly into oncoming traffic! Luckily, we finally made it to Terminal C where Norwegian Sky was docked. Approaching 10am, crowds were light, which was an early indicator that this trip would start out on the right foot. We needed it after the past 12 hours.
You Are Looking at Two VIPs
With our luggage officially checked with a porter, we could see that the small line was now being let into the terminal building. Through security in the matter of minutes, we got our health questionnaire and paperwork ready for the agent. It took about 15 minutes or so for us to snake through the line. Once we checked in, we were informed we were listed as VIPs and needed to be escorted to the Priority Lounge area for our check-in to be completed.
Thanks to Norwegian Cruise Line Social Media for the upgrade! Entering the lounge, we completed check-in and waited here about an hour before we could be let on the ship around 11:30am. Here, there were light snacks, coffee, water, and some juice. This area is normally reserved for suite cabins, plus a few special folks like us upgraded by corporate.
Norwegian Sky Cuba Cruise Review
We can honestly say that we were among the first 10 people to board Norwegian Sky. Once onboard the ship, it was time for our routine of touring and taking pictures, but first, we had to be escorted to the Concierge Lounge (which was the Plantation Club) to meet Suzanna, our concierge. One of the additional perks of being a VIP was having access to the concierge 24/7. This included priority tendering and disembarkation at the ports and a private breakfast and lunch at Cagney's. A cruise blogger could get used to this type of treatment.
Norwegian Sky Cuba Cruise Review
Now Back to Our Regularly Scheduled Embarkation Day
Skipping the onboard lunch at Cagney's today, it was time for our photo tour. Already being on Deck 12, we started with the outdoor venues and public areas next to us. We continued the tour of the pool deck and other areas, including the Outrigger Lounge on Deck 11 forward. As you would expect, the buffet areas were packed already, so we would need to get pictures there a different day.
Norwegian Sky Cuba Cruise Review
As we continued down to the public spaces on Decks 6 and 7, we encountered more and more guests. We did manage to get some pictures of the theater and Palace dining room (which is only open for dinner) along with the Guest Services area. When the group service coordinator comes up to you and refers to you by name, you know you have arrived.
In about 45 minutes, we were able to capture about 50% of the pictures we needed, but the other 50% would have to wait until there were less crowds. Now that we had explored the ship, it was time to test the food.
Norwegian Sky Cuba Cruise Review
Avoiding the masses at the Garden Cafe, we tried the Iunch at Il Adagio. This consists of a pizza station and a made to order pasta station. Not being overly hungry, we both tried a few slices of the pizza. Compared to other rival company's pizza, I found it to be more flavorful.
Norwegian Sky Cuba Cruise Review
Photos taken, lunch consumed, and still before 1pm. What were we to do with this free time? If you said get a drink, then you are our type of cruiser. We had read pre-cruise that all of the specialty drinks on the menu are pre-made in large containers. Unfortunately, this is true even at the Atrium Bar which is now the resident mojito bar on the ship. Borrowing the menu from the Sugarcane Mojito bar found on NCL's larger vessels, this venue's cocktails tasted nothing like their counterparts we have had on Norwegian Escape and Norwegian Getaway.
Norwegian Sky Cuba Cruise Review
Taking our drinks up to the top decks to enjoy the sun, it wasn't until after 1:30pm that the announcement was made that rooms were ready. We sipped our drinks then decided to trek down the two decks to our room, Cabin 0123 on Deck 10.
What to Do with the Rest of the Afternoon
Being economical, we opted for an inside cabin. We knew the room would be small. Still, it was a bit of a shock once we opened up the cabin door for the first time. This barely 140 square foot room managed to squeeze everything that you typically find in a cabin into the tight quarters. While it was fine for a four day cruise, I can't imagine how one could manage in such small quarters for 7 nights. Needless to say, our photo tour of the cabin was quick!
As we walked to our room, I had noticed our luggage down the hallway, so I grabbed our suitcases, and we attempted to unpack. Being creative with storage, we did manage to get everything out of our two bags and stored somewhere in the room.
Norwegian Sky Cuba Cruise Review
We were done within an hour and decided to head back up to the pool deck for another round of drinks. We also both called home to let our family know we were onboard. Grabbing a few selfies on the outside decks, it was approaching 4:15pm and the muster drill.
On older ships like Norwegian Sky, muster is held on the open decks with the crew. By the time we checked-in, went through the mandatory announcements, and were dismissed, it was about 30 minutes. Given the setup, it was relatively smooth and effortless.
Norwegian Sky Cuba Cruise Review
Now the vacation was officially ready to begin.
We Are Now on Vacation
Back on decks 11 and 12, the Sail Away party was in full effect. With a choreographed number by the cruise director staff, it was time to celebrate our cruise to Cuba. This celebration also included a pool deck grill that had some of the best smelling food I have ever found on a cruise ship. Too bad we had dinner reservations at 6:30pm because the plates of grilled chicken and corn on the cob looked irresistible.
Norwegian Sky Cuba Cruise Review
We were the last ship to leave Miami, so we enjoyed seeing two Carnival ships and one Royal Caribbean ship make their way out of the port into the open ocean. Sadly, we had to head inside around 5:15pm, so we were not able to watch our own sail away in action. Showering and changing up, we had 6:30pm reservations back at Il Adagio.
Norwegian Sky Cuba Cruise Review
If you know anything about us, you know we make all of our reservations pre-cruise. We research, plan, and execute all well in advance.
After being noticed by the group service coordinator, it was like deja vu when the hostess said "You must be Mr. and Mrs. Bucolo". Does everyone on this ship know us? Actually, she later divulged that we were the last reservation at 6:30pm to show up for dinner. And we thought we were special or something. Oh well.
Norwegian Sky Cuba Cruise Review
Dinner lasted 90 minutes and included some of the items you find at La Cucina, the NCL Italian restaurant on other ships. Food here was probably not up to par with the offerings at La Cucina. Still, we did not go away hungry. Our appetizers, the fried calamari, bruschetta, and caprese salad, were all solid. The Princess' chicken parm was the entree highlight; and my chocolate tarte with vanilla ice cream was a sweet way to end the meal. So far, the food this cruise was holding up to expectations.
Norwegian Sky Cuba Cruise Review
Our First Night Onboard
The Welcome Aboard show was scheduled for 9:30pm. On this cruise, there was only one show each evening in the main theater, including a comedian on Night 2 and two production shows on Nights 3 and 4. Of course, there were other game shows and forms of entertainment at the other venues around the ship as well.
Norwegian Sky Cuba Cruise Review
Since we had some time to kill before the show, we perused the indoor areas and the logo shop to purchase our souvenirs, including a ship ornament and Cuba t-shirts. We were not going to miss out on getting these.
Purchases made, we still had some time to kill. So, off to the third bar of the day. This time, it was a stop at Captain Cook's bar on deck 6. The Princess went with the French Martini, and I tried the Havana Old Fashion. Each drink was custom made at this bar, which was a nice surprise. We listened to the piano music at the lounge for about 30 minutes while sipping our freshly made cocktails.
Norwegian Sky Cuba Cruise Review
Beginning to notice more and more travelers heading to the theater, we joined the crowd. Arriving just as the theater doors were opening, we found perfect seats towards the middle of the main floor.
The show was your typical Welcome Aboard show, complete with a few numbers from the NCL singers and dancers, some introductions by the cruise director Tom, and a few plugs for the casino and gambling. Towards the end of the show, there was about 15 minutes of comedy from the ship's comedian. It was not the most engaging show but certainly not the worst.
Norwegian Sky Cuba Cruise Review
The show ended by 10:30pm, and after having a rather long day, with plans for an even longer day ashore tomorrow, we called it quits for the night. Back to the room, we had not even met our room attendant Eddie, yet he still came through with a welcome aboard towel animal.
Norwegian Sky Cuba Cruise Review
Day 2
We Have Arrived in Havana
Up early at 5:30am, we were not going to miss a minute of this day. While the Princess got ready, I was sent off on my usual early morning missions. Given the early hour, the public venues were quite empty and perfect for picture-taking. Even the early bird breakfast didn't officially start until 6am. I could see the lights of Cuba off in the distance and knew that the sun would soon be rising and it would be time for some amazing sail-in pictures.
Norwegian Sky Cuba Cruise Review
Back to the room to get ready myself, we were down to the coffee shop for two lattes and back up to the buffet for about 6:45am. As soon as we grabbed our food and a table outdoors, we could see the ship approaching the bay. Instead of eating, I headed toward the front of the ship on Deck 12 to get pictures of the forts and the Havana cityscape. The Princess manned the rear of the ship snapping photos on her smartphone. With a scheduled 8 am arrival, we suggest getting outside around 6:30am if you want to witness the entire sail in to port.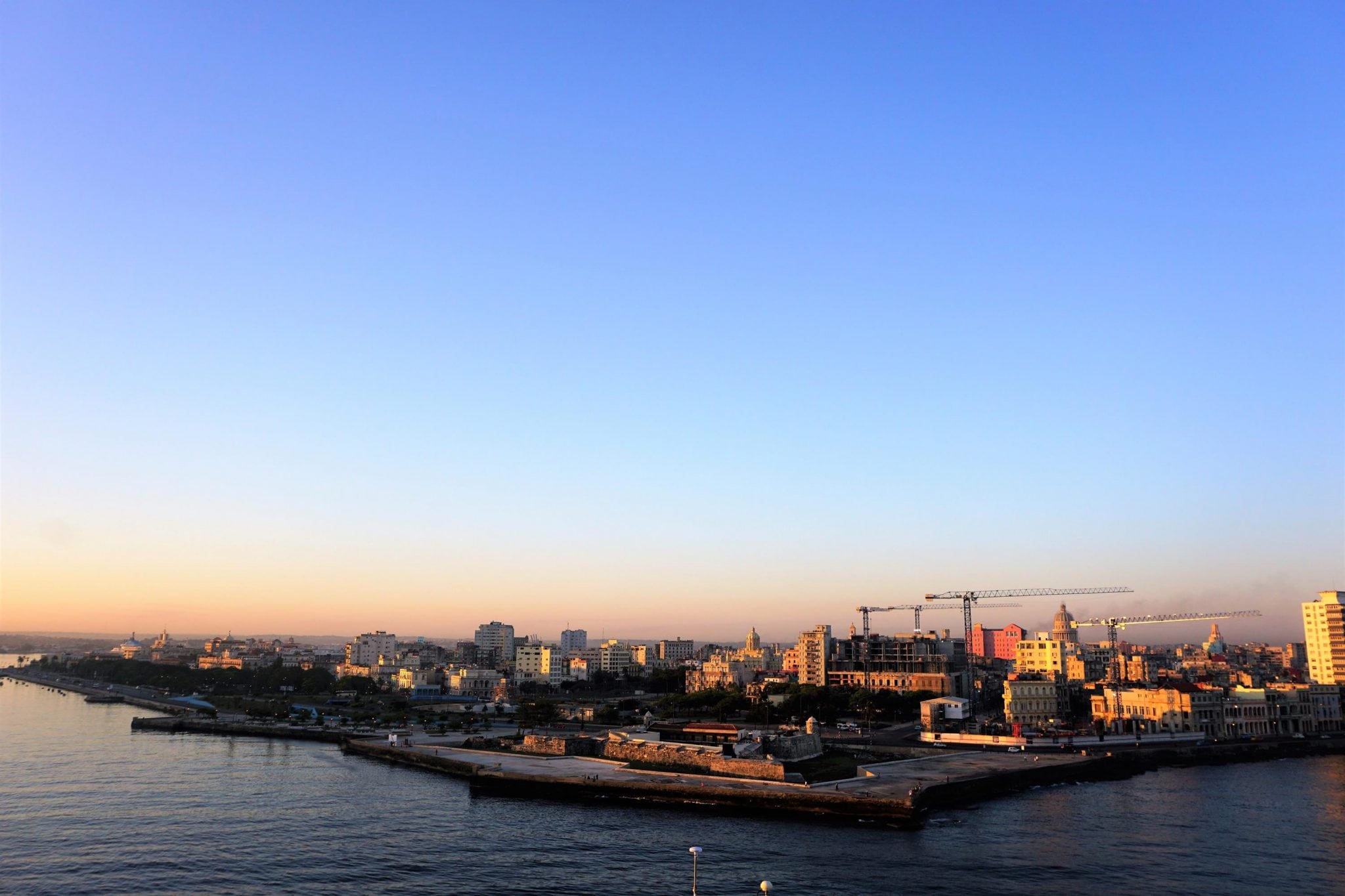 Spending about a half-hour going back and forth to both the port and starboard sides of the ship (hey, I wasn't the only one), I then headed back to the Great Outdoors and my cold breakfast. The excitement was already filling the ship. We were in Havana, Cuba!
There is a ticketing process used to stagger the number of people getting off the ship. Tickets are given out at the Outrigger Lounge early in the morning. If you book a private tour, you are going to want to get your ticket as early as possible. If you book a shore excursion with Norwegian Cruise Line, you don't have to worry about this process. Lucky for us, we had the Concierge and priority escort off the ship.
Do You Know Which Statue is Chopin?
Following breakfast, we headed back to our room around 7:45am. We had just enough time to pack our day bag and grab our e-tickets for our tour when the announcement was made that we had been cleared by local officials.
The cruise line had already started calling passengers to disembark before our set meeting time. So, we decided to just head down early to our meeting spot in the dining room. Letting staff know we were meeting our concierge, we were routed around the line. Being early, we weren't surprised that she was not there yet. So instead of waiting, we discretely blended ourselves in the disembarkation line and made a b-line to the exit.
Norwegian Sky Cuba Cruise Review
Room key card, passport, and visa all in hand, we were swiped off the ship, headed down the gangway, and stepped onto Cuban soil for the first time. Or rather, concrete at the customs and immigration office. Taking about 10 minutes to make our way through customs, we had our passports scanned, handed over our visas, our photos taken, and our carry-on bag through the x-ray machine before we were officially in the terminal area. With everything we had read online, we were surprised that we were through the customs and security process with no issues at all.
There was a money exchange counter at the far end of the upper level of the terminal, so we exchanged our USD for CUC right in the cruise terminal. In the end, if we would have converted the $500 USD we spent in Cuba to other foreign currency prior to sailing, we may have walked away with $20-30 more in our pocket, but that is best case scenario getting the most preferable exchange rates.
Norwegian Sky Cuba Cruise Review
Our scheduled time to meet our guide was 9am, next to the Chopin statue in the Plaza de San Francisco, which is directly across the street from the cruise terminal. Only problem, there were 4 different statues in the square!
A Fun Filled Day in Havana
Of course, none of the signs are in English, so we did our best to decipher what we could. Finally, we discovered our meeting spot by accident as I was taking a picture next to the statue. We wait only a few minutes until our guide, Cathy, approached us asking if I was Mr. Bucolo. What gave it away that we were tourists?
Norwegian Sky Cuba Cruise Review
A female tour guide? For some reasons that was not what I was expecting at all. But, we could not have been more pleased as she was the best tour guide we have ever encountered on a cruise. It couldn't hurt that she was also a law professor at the University and had a good sense of humor. Yes, she even pretended to laugh at my many awful jokes.
We spent a little over 3 hours walking Old Havana, getting to see both the tourist areas as well as the "off the beaten path" parts of the city. Exploring the 4 main squares of Old Havana and everything in between, we finished our walking portion of the tour in Parque Central where we met our taxi driver for the second part of the tour. He just happened to pull up in a shiny 1956 Ford. Not a pink car like the Princess was hoping for, but a wonderful classic nonetheless.
Norwegian Sky Cuba Cruise Review
The afternoon tour in the classic car took us to other areas of the city, including Vedado, Miramar, and across the bay to get some amazing photos of the cruise ship and the entire city. The over 6 hour tour even included a stop at the Romeo and Juliet cigar factory for a quick rum and cigar purchase. Yes, somehow this was Princess approved! Stay tuned for our full review of our time with Havana Journeys coming soon.
Norwegian Sky Cuba Cruise Review
A Second Round of Havana
Dropped back at the cruise terminal around 3pm, we were still pumped and ready for more exploration. Before the cruise, we had made dinner reservations at the main dining room for 6pm, partly because we knew we might end of skipping dinner to enjoy more of Havana. Both of us agreed that it didn't make sense to wait around until 6pm for dinner, so we headed to the Great Outdoors Cafe for a "snack" and some coffees before venturing out again a little after 4pm.
Norwegian Sky Cuba Cruise Review
We would spend another four hours revisiting some of the sites we did not get great pictures of during the day, in addition to the Revolution Museum and the Capitol. We were also able to grab some drinks at two of the most famous bars in the area, Bodeguita del Medio (birthplace of the mojito) and El Floridita (Hemingway's stomping ground for some daiquiris). Leaving no stone un-turned, we even got a little lost at one point but managed to get directions from a military guard.
Norwegian Sky Cuba Cruise Review
Finishing our second tour of the day, we were back to the Malecon by 8pm. As the sun set, we watched some of the cars cruise by before we officially decided to head back to the ship. After all, we had basically been touring the city for about 10 hours, give or take.
Norwegian Sky Cuba Cruise Review
The Princess wanted to get seats on the outdoor deck to watch the famous El Canonazo firing as we did not make it to La Cabana to watch the ceremony. With a few additional snacks, including cocktails and some roasted pig for me and a crepe for the Princess, we waited anxiously for 9pm to see the canons being fired. The Princess had read that it was quite a spectacle but unfortunately, all we could take away was the sound of one canon firing. Apparently, you actually had to be at the fort. A bit anti-climatic, but oh well.
For the remainder of the evening, there was a comedy show, several bars with live music…but our bed was calling. We still had a full day in Havana tomorrow, and we wanted to be recharged and ready to tackle more of this memorable city.
Norwegian Sky Cuba Cruise Review
Day 3
The Same Thing Every Morning
You could guess what was on our docket for today- more sightseeing in Havana! Originally, we had booked a tour through Norwegian Cruise Line visiting the forts in the morning and the fishing village of Cojimar afterwards, but this tour got canceled a few weeks prior to our sailing. With a look around to other local tour guides, we could not find anyone offering a similar experience. So, we figured we would give it a go on our own! Though our tour guide from the day before mentioned that Cojimar was not really worth the trip.
Norwegian Sky Cuba Cruise Review
With the forts opening up at 10am, we wanted to be up early and off the ship by 9am. Our alarm went off at 6:30am, and so our morning routine began. I went for some iced lattes at the Coffee Shop and some photos while the Princess got ready. Back to the room, I hopped in the shower and was ready before 8:30am.
We headed up to breakfast buffet which had a decent crowd. The inside was much busier than the Great Outdoors Cafe, so I grabbed the Princess to head aft where there was no line for food or omelets. Breakfast completed, with a stunning view of the Malecon and Havana, we went back to our room to grab our day bag, and we were off. Unlike the previous day, there was no ordering for disembarkation; you could exit the ship whenever you wanted to do so.
Norwegian Sky Cuba Cruise Review
We made our way down to deck 5 and were through ship security, customs, and additional money exchange in about 10-15 minutes, putting us close to 9:30am. After several attempts at negotiating a taxi to the fort, we finally found someone willing to take us in a rather shabby vehicle for $15 (as our tour guide the day before had told us it should be no more than $10-15). Albeit not the nicest car, it was a means to get us from point A to B, a mere 8 minute ride across the bay. The driver was friendly, but spoke no English, so the ride was an experiment in communicating in mostly gestures and a few Spanish phrases. We arrived at the first fort, El Morro, right before it officially opened at 10am.
Norwegian Sky Cuba Cruise Review
Our First Stop Across the Bay
A few tour buses were lining up to take pictures at this point, but none of the passengers were actually going to be touring the fort. Admission was $6 CUC a person and an additional $1 a person for a guided tour. I was just about to say yes, when the Princess indicated we didn't need a tour guide. Really, for $1?
A guide would have come in handy as most of the signs at the exhibits are in Spanish. Still, we were able to explore some of the various museum-like exhibits and the grounds of the fort thanks to the diligent pre-cruise research conducted by the Princess.
Norwegian Sky Cuba Cruise Review
One downer was that the lighthouse was not open for touring as the Princess had read you could walk to the top for amazing views of Havana. Oh well, we still got to see the entire fort, grab some pictures, and learn a bit more about the history during our roughly 45 minute self guided tour.
Exiting the fort, there are several merchants selling typical souvenirs, and you know we are suckers for keepsakes. Here, the vendors were willing to take USD or CUC, which really didn't matter when it came to their prices. We grabbed a few small things and were ready to take the trek across the way to the next fort, La Cabana.
Norwegian Sky Cuba Cruise Review
There is More to This Fort than Meets the Eye
This large fort is the home to the El Canonazo canon firing ceremony that we "heard" the night before. It is also the largest Spanish fort in the Americas. So, it is quite huge. Though uphill, it is only about a 10-15 minute walk from El Morro.
Norwegian Sky Cuba Cruise Review
Some parts of the fort have been turned into shops and restaurants. It was pretty quiet during our visit, so we can see why the evening is really the best time to check this place out. Still, we spent about 75 minutes exploring, taking photos, and examining some of the different exhibits, including the Che Guevara exhibit.
Of course, we made it a point to stop in the cigar and rum shop at the fort, home to the largest hand-rolled cigar in the world.
Norwegian Sky Cuba Cruise Review
With our touring of the forts done slightly before 12:30pm, we were able to find a taxi to take us back to the ship by walking down to a small restaurant near the fort, though trying to communicate "cruise terminal" to the driver was the most difficult part.
Getting dropped off at Plaza de San Francisco (which is directly across the street from the cruise terminal), we still had a few more souvenirs to purchase, including our Cuba Christmas tree ornament. So, we set off through the squares of Old Havana looking for treasures.
Norwegian Sky Cuba Cruise Review
Along the way, we may have stopped at the brewery to grab a beer, Factoria Plaza Vieja. Not finding exactly what we were looking for while browsing a few shops, we made do with a small key-chain that we can convert to an ornament. Guess that means we will need to come back to Havana in the future.
Back Onboard for the Afternoon
Approaching 1:30pm, we headed back to the ship to attempt to make the VIP lunch at Cagney's which closed at 2:00pm. With no line to get through customs, we flew through security and were back onboard in no time. Up to the room to drop everything off, we were only one deck away from the restaurant. Walking in at about 1:50pm, we were greeted with some amazing hospitality and very personable waitstaff.
Norwegian Sky Cuba Cruise Review
Lunch was superb. The menu offered a few classic entrees, as well as a few specialties. Not an easy eater to satisfy, the Princess made her own concoction which was the bruschetta sandwich topped with grilled chicken. It looked amazing. I went with the French Dip which was much better than any offerings you could get for lunch anywhere else on the ship.
Norwegian Sky Cuba Cruise Review
Service was quick, and we were done with lunch in slightly less than an hour. While we loved our time ashore in Havana, we were not going to be leaving the ship again today, so we ventured across the deck to the Longboard Bar to get down to business with our drink around the ship.
This time, we each tried one of the Cuban-inspired cocktails, the Hotel Nacional and the Floridita. Both were just okay, as they had rather dominating flavors.
Norwegian Sky Cuba Cruise Review
Cooling off indoors for about 30 minutes, we wanted a change of scenery so decided to grab one more pre-dinner drink at the Champs bar, the outdoor bar on Deck 12 forward. Again, this venue had the same menu, so we both went with some frozen drinks for some refreshment. Sipping our drinks in the sun, we lasted about 30 minutes until we decided to head back to the room for some social media and to get ready for dinner.
While the Princess got ready, I went for a walk and noticed some great sail away picture opportunities, but I didn't have the camera on me. By the time I went back to the room to grab it, I was too late, as we had already pulled out of the bay. We now know for next time that sail away pictures are just as good, if not better, than sail in pictures.
Norwegian Sky Cuba Cruise Review
More Norwegian Sky Superstars
Our pre-cruise dinner reservations for this evening were for Cagney's Steakhouse at 6:30pm. Ready a few minutes early, we were up to the restaurant to see some of the same waitstaff from earlier in the day. Getting some picturesque seats in the aft of the restaurant, we were in for a real treat.
Norwegian Sky Cuba Cruise Review
Our waiter, Bosco, was one of the best servers we have ever had on a ship. We endured a solid 90 minute nonstop feast which included another round of the tomahawk steak and more sides than could fit on the table. Again, thanks to the Norwegian Cruise Line Specialty Dining package. It truly is a cruiser's best friend.
Norwegian Sky Cuba Cruise Review
Looking to scratch another bar off our list, we headed to the Plantation Club after Cagney's a little past 8pm. There was no live entertainment yet, but there were a few people having cocktails, as well as ordering sushi which is served at the venue in the evening. We also saw our Concierge in her make shift office area behind the bar.
Norwegian Sky Cuba Cruise Review
Thirty minutes seemed to be our max time spent in a bar. Reviewing the daily, we decided to catch the end of the Perfect Couple game show occurring in Dazzles before heading to the nightly show in the theater. Of note, The Norwegian iConcierge app does not work on this ship. The Perfect Couple game show is not exactly something we would ever participate in ourselves, but watching others make fools of themselves is always good fun!
The show ended at 9pm, and most of the crowd walked aft to the main theater where doors were just opening. Tonight's production show was Showdown, a take on American Idol. While there were audience judges, the Princess and I weren't sure if the singers who got voted off were staged or not. Either way, the vocal performances were pretty solid, even if the song choices were a bit dated. Think 1960's Motown for the most part.
Norwegian Sky Cuba Cruise Review
This was a non-stop night. Following the production show, it was up to the pool deck for the White Party. Don't worry, we had the appropriate attire on for this one.
Norwegian Sky Cuba Cruise Review
It started right at 10:30pm with a live band and some great party music, but after a while, it phased into a DJ and started to die out. It was a rocking scene for a solid hour, so around 1130pm, we headed out. The Princess thought it was a good idea to go lose some of my money in the casino. Lucky for me, I only had a limited amount on me, which lasted about (you guessed it) 30 minutes.
Retiring back to our room around midnight, we thought our stateroom attendant had forgotten our towel animal, when low and behold, this little guy snuck up on the Princess as she went to get into bed.
Norwegian Sky Cuba Cruise Review
Day 4
Ready for a Day at the Beach
Our call into Great Stirrup Cay today was not until 11am. Finally, a morning where we could take it easy on this trip. Still, the Princess had some plans for the morning. This included doing a sit down breakfast at Cagney's to make full use of her VIP status. This breakfast ended at 9:30am, so we had to get there prior to them "closing the doors".
Norwegian Sky Cuba Cruise Review
We both struggled to get out of bed this morning, so as you would know it, I went to get us iced lattes stat. Even though it was later in the morning, the ship was still rather quiet. I guess everyone else had the same idea of "sleeping in".
Back with our much needed pick-me-up, we got ready for the day and were out of the room by 9am. Up to breakfast, it was like we were family. The host greeted us by name, and our pal Bosco was there to take extra good care of us. We thought the lunch at Cagney's was special, but we were not prepared for breakfast. It was probably the best breakfast we have had on a ship ever.
Norwegian Sky Cuba Cruise Review
A fresh fruit and continental "buffet" is set up in the back of the room with a wide assortment of goodies, including the irresistible almond croissants. The small menu is really a starting point as you can customize your order with essentially anything you want.
Norwegian Sky Cuba Cruise Review
It is Island Time
Finishing up breakfast by 10am, we headed outside to get some aerial shots of the island. You do dock a good distance away from the island, so it was difficult to get decent pictures. With a few small cays around, we were on the look out for the neighboring private resort of Royal Caribbean, which is not too far away, but we couldn't make any sense of the location from this far away.
Norwegian Sky Cuba Cruise Review
Similar to the first day in Havana, you have to grab a tendering ticket. Or, you can meet your concierge who escorts you to the front of the line for tendering. Meeting at 10:45am, we were brought behind the scenes and put on one of the first tenders to the island.
Filling the tender takes a while, and the rather rocky ride is about 10 minutes from the ship. We finally arrived on the island about 11:15am. Being our first trip ever to Great Stirrup Cay, we spent about 45 minutes walking around, taking pictures, and getting a lay of the land so to speak.
Norwegian Sky Cuba Cruise Review
There is a good deal of construction happening at the island currently which is expected to be completed by the end of this year. This includes adding a few venues, restaurants, bars, and an entertainment area. The island was very easy to navigate, and we decided to take up residence on the north side, near one of the new additions, the Abaco Taco shop, and the Patron Bar. We definitely wanted to sample some tacos for lunch.
Renting a clam shell ($29) for some shade, the mid-day sun was taking a toll on us. It felt much warmer than the past two days in Havana. Not to mention there was no breeze, and the clam shells were positioned so close to each other that there was no air circulation.
All of the drinks on the island are included in the Norwegian Sky "open bar" program, except things like bottled water or Powerade drinks. So, I went to grab a margarita from the nearby Patron Bar, whereas the Princess decided to roast in the sun. I also grabbed a few pictures of the entrance to the island in between tender drop-offs.
Norwegian Sky Cuba Cruise Review
After about an hour of baking in the heat, the Princess needed some shade. Why not grab some food at the same time? For us, the new Abaco Taco was the perfect complimentary venue. We sampled all three types of tacos and made sure to load them up with the wide selection from the toppings bar.
Norwegian Sky Cuba Cruise Review
It is like a quick service counter line, and there is a shaded bench area for you to enjoy your snack. Or, you can just bring the food back to your chair or lounger. On the other side of the island, there is also a buffet. While I didn't have anything to eat, I peeked in to take some pictures and perhaps grab a few desserts.
After this 20 minute or so break, we headed back to our loungers. The Princess couldn't even make another 30 minutes before needing to find a place with some air and shade. We strolled the straw market for a few minutes, but came up empty on the t-shirt and ornament front. Then, we took up shop under the umbrellas at the Patron Bar and got a round of frozen drinks before the bar officially closed at 2:30pm. Overhearing a few fellow passengers discussing their travels in Havana, we were entertained for the next half hour or so.
Norwegian Sky Cuba Cruise Review
Time to Cool off Onboard
Hitting 3pm, we headed back to the tender station and were able to walk right on a tender. Departing about 10 minutes after we boarded, we were back onboard the ship and in our cool air conditioned room by 3:30pm. There is no better way to cool off from a hot day than with soft serve ice cream.
Norwegian Sky Cuba Cruise Review
Or a drink! While the Princess found her way to the self-serve ice cream machines in front of the Garden Cafe, I found myself at the bar, grabbing a refreshing beverage. Relaxing in the shade of this open air deck, we were able to cool off from the heat while still enjoying the Bahamian weather.
Finishing up our "snacks" rather quickly, it was time for round two; however, this time we decided to get some caffeine. Heading down to the onboard coffee shop, we both ordered iced lattes. The sun drain was beginning to take a toll and the evening had not even started yet, so we decided it was time to head back to the room.
Norwegian Sky Cuba Cruise Review
Our dinner reservations tonight were for 6:30pm at the last specialty restaurant on the ship, Le Bistro. Taking our time getting ready, we were at Le Bistro right at 6:30pm for our reservation. Not wholly surprised, we entered to find the restaurant was empty. It would slowly begin to fill-in, but for the most part, the restaurant was not very active.
Norwegian Sky Cuba Cruise Review
While our starters and entrees were good, there were no true standouts, except for the fondue dessert. How can you go wrong with fondue?!?!
Norwegian Sky Cuba Cruise Review
Checking off Our Final Onboard Activities
Dinner was over by 8:15pm, and we were on to the Princess' final check-list items. Before getting to the bars and shows, we took a quick glance at the few photos we took during the cruise. Nothing caught our fancy, and we walked away from the Photo Gallery without spending any money. I believe that is a first for us on a cruise. Although, the Princess was eyeing an elephant towel animal photo frame on display.
Dazzles was one of the final bars we had to check off our drink around the ship list. We got their to witness the second round of the Not So Newlywed Game show. Oddly enough, one of the couples we met in the priority lounge on embarkation day was participating in the game show and eventually won.
Norwegian Sky Cuba Cruise Review
Going with the crowd, we exited the lounge and headed straight to the main theater for the production show. Rock You Tonight started at 9:30pm and included the same cast as the production show from the night before. While it contained more modern songs, like rock songs from the 70's and 80's, it was just an okay performance.
Norwegian Sky Cuba Cruise Review
The last few minutes of the show were reserved for the typical send off from the senior officers on the ship and the cruise director. Saying good-bye to the staff we never really met, it was time for the worst part of the final evening- packing.
We have this packing thing almost down to a science now. Collecting our remaining clothes and accessories, we were able to get our suitcases into relatively adequate condition, within the 50 lbs mark, in about 45 minutes. This gave us just enough time to get to the theater again for the late night adult comedy.
Norwegian Sky Cuba Cruise Review
While not exactly an edgy comedian, he did have some pretty decent jokes. There was a lot of audience participation, and even a few call-outs when the comedian (apparently) made the same joke that he had done on night 2. I guess even the entertainment was starting to get the end of cruise jitters.
Norwegian Sky Cuba Cruise Review
Finishing up a little after midnight, it was time for bed. Our self walk off wasn't scheduled until 7:30am the following morning, but you know the Princess. We were not going to leave this ship without breakfast or coffee first. As we retired for the evening, our fingers were crossed that disembarkation would be smoother than our last adventure on Norwegian Getaway.
Norwegian Sky Cuba Cruise Review
Day 5
That Went Better Than Expected
Figuring we would get breakfast around 7:00am so we could enter the self-assist line no later than 8am, the alarm was set for 5:30am this morning. I packed a few last minute items and hopped in the shower to get ready. With none of the onboard venues open until 6:00am, and no pictures to take, I could actually take it easy.
Norwegian Sky Cuba Cruise Review
Finishing the survey of our room, it was down to the coffee shop for the wife's iced latte. I would be fine with coffee from Cagney's this morning. Almost on schedule, we got to the venue a little before 7am to find a decent crowd. Ordering breakfast from Bosco, I snuck over to the buffet for the final round of almond croissants. Our concierge was making the rounds letting people know that she would be in the Captain's Cook Lounge to aid with priority disembarkation.
Breakfast felt faster than usual, and while I was not overly hungry, I knew that it was going to be a rather long morning if I didn't at least eat something.
Norwegian Sky Cuba Cruise Review
Following breakfast, we were back to the room to collect our things and head out. The Princess would officially go all cruise without ever meeting our stateroom attendant. Being basically on schedule, we exited the room right at 8am. Getting an elevator took a few attempts, especially with our over-sized bags, but overall not too bad. Eventually, we were able to get on with two other people who were also exiting the ship. The first tags were already being called to exit, even though technically they were not supposed to disembark until 8:30am.
Some of our fellow VIPs were at the lounge waiting when we arrived, presumably because they did not carry off their own bags, as the concierge guided us through a side door to checkout as soon as we arrived. Only thing, we skipped a line that did not exist. We walked down the gangway with one final look back at the ship. Disembarkation was going to be much smoother this time around.
Norwegian Sky Cuba Cruise Review
We encountered absolutely no lines throughout the whole process, and we were through customs in less than 10 minutes. This might just be our most efficient disembarkation yet.
Our Trip Home
Our flight home wasn't until almost 2pm today. Knowing the costs of a taxi to the Ft. Lauderdale airport, we decided to give Uber a try. We usually just take a taxi when leaving a cruise for the convenience. Lucky for us though, there was an Uber driver right in the terminal area, so we waited about only two minutes. Our driver was nice, but we encountered a lot of traffic heading to the airport as the carpool lane was closed. Taking an alternative route, our trip to the airport still took a solid hour.
Not that we were in a rush or had to pay extra for the Uber. So, we easily saved ourselves $40-50 bucks with this ride share service as opposed to a taxi.
Norwegian Sky Cuba Cruise Review
Getting to the airport by 9:30am, we had to wait a few minutes to check our bags. Luggage checked, through security, and we were able to secure a few seats next to power outlets in the small Terminal 1 area by 10:30am. Spending time uploading photos and blogging, we waited for the next few hours to pass.
Grabbing a few snacks, it was finally time to board our plane. Having pre-purchased the early bird advance check-in, we were in the first boarding group. Securing our seats, the flight home was rather uneventful.
Norwegian Sky Cuba Cruise Review
Back in Providence, the airport was full of travelers heading out so there were more crowds than usual. Our flight also included a number of passengers who had also parked in the economy lot. This was the first time in a while that we had to wait for a second bus to cart us off to the long-term parking lot. Good thing it was not the middle of winter.
That Feeling When You Realize Your Cruise is Over
Returning to our car, it was a smooth ride home, with a quick stop off to get some dinner. Returning home, it was around 7pm. It was a struggle to get the bags in the house, but somehow I managed. At least we had the entire weekend to get back to reality until Monday morning when it was back to work.
Norwegian Sky Cuba Cruise Review
Another cruise down, and a full three months until our next cruise, this time on Royal Caribbean's Majesty of the Seas. How are we going to manage?
Comments
Have you sailed on Norwegian Sky? Do you plan on taking a cruise to Cuba? Drop us an anchor below to share your experiences cruising with Norwegian Cruise Line.