Norwegian Escape Cruise Review
1/9/16- 1/16/16
Summary:
The Ship
The newest and largest cruise ship in Norwegian Cruise Line's fleet, Norwegian Escape is one impressive ship. Rising twenty decks, Norwegian Escape encompasses all of the elements that have come to signify the cruise brand's style. A variety of specialty dining options, outdoor decks featuring waterslides and a rope course, exclusive areas for guests willing to spend extra money, and plenty of freestyle cruisers looking to have a good time. Even though we had not sailed on an NCL ship in eight years,  we knew we had to get our Norwegian Escape Cruise Review completed during the ship's inaugural season. We are glad we did as the ship did not disappoint, delivering top notch food, dynamic dining options, plenty of entertainment, and a laid back cruise atmosphere.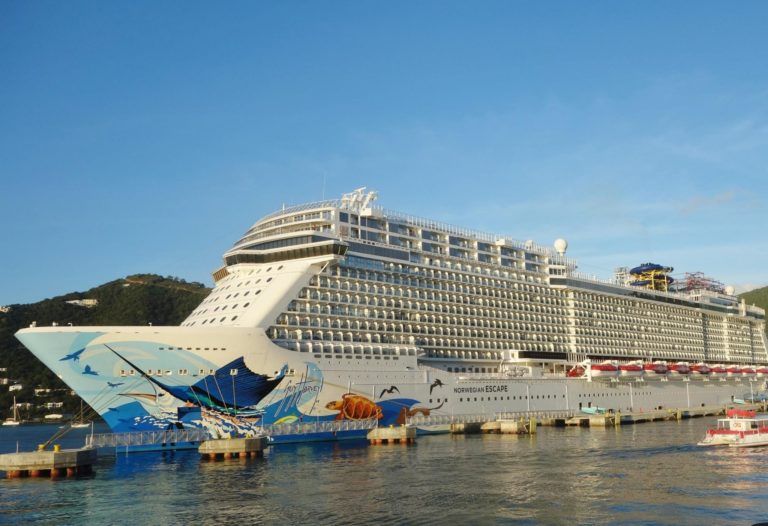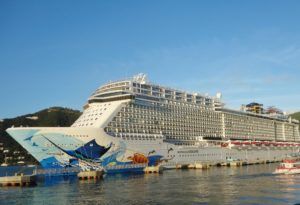 Itinerary
For the first few months of Norwegian Escape's season, the ship is sailing only Eastern Caribbean itineraries- not that the ports of call matter that much with a ship of this magnitude. That said, the itinerary does feature a stop at the British Virgin Island of Tortola, which is not a very common cruise port for contemporary cruise lines, and two other common cruise ports- St. Thomas U.S. Virgin Islands and Nassau, Bahamas. With great weather, we did venture off the ship at all of the ports, but for those cruise enthusiasts who have been to these islands more than they would like to admit, you can find plenty to do onboard the Norwegian Escape. Starting this summer, a Western Caribbean itinerary will be available for booking.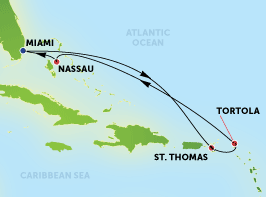 Highlight
While Norwegians know how to do a lot of things well, the highlight of our Norwegian Escape Cruise Review has to be the specialty dining. The selection of restaurants and quality of the food rivaled any cruise we have ever sailed on in the past. Given the a la carte pricing of many of the restaurants, a specialty dining package is a must, and if you plan your trip right, you might be able to score the package for free as a promotional perk. Our favorite dinner was at La Cucina on the Waterfront, but a real hidden gem is the fusion restaurant, Food Republic. Serving a variety of small plates and tapas with unique combinations of flavors and tastes, you will want to try everything.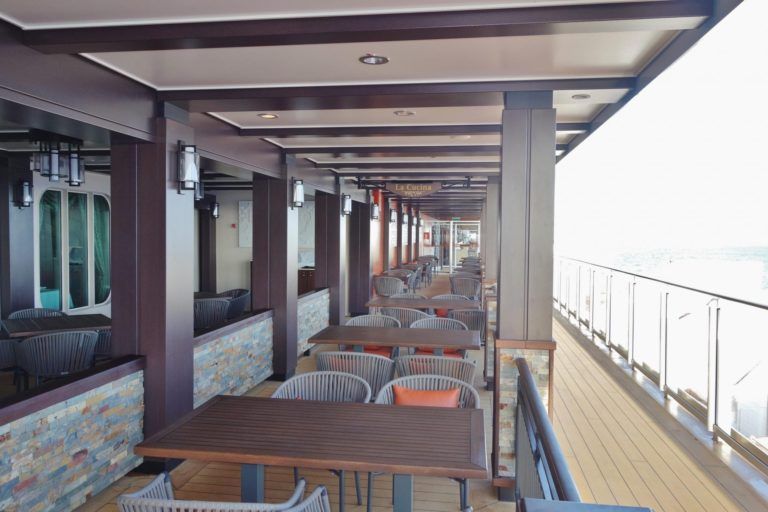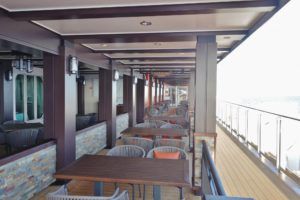 What's Missing
There are a variety of venues at night to grab a drink with different menus and decor, but we found the variety of nightly entertainment to be a bit limited. There are two Broadway productions playing in the main theater and a comedy club that also doubled some nights as a dueling piano bar. However, the live music and entertainment throughout the ship consisted of a few different piano players and musical acts that rotated through the different venues. It would have been great if certain lounges had dedicated performers like other ships. Even the game shows and other cruise director activities seemed sparse, and the few we attended did not have the same energy of rival cruise lines.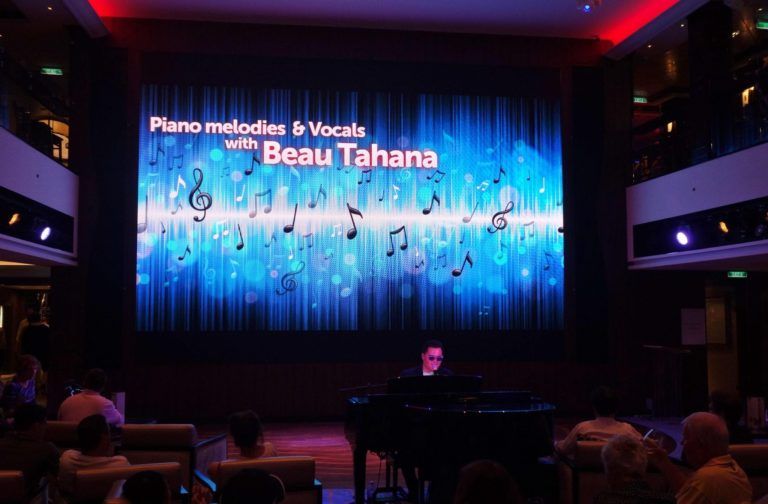 Main Takeaway
If you like to sail on mega ships, then you will love Norwegian Escape. This ship certainly is in a class all her own. Compared to other ships of about the same size, Escape delivers on all fronts. Top notch dining, well appointed rooms, and a mix of spaces to accommodate all types of travelers. We especially appreciated the adult only venues like Spice H20. But, the ship also offers tons of children activities and events for families. If you prefer to cruise on smaller ships then Escape might be overwhelming. It can get crowded at times, and if you do not pre-book entertainment, or book as soon as you board, then you may not get to see all of the shows and entertainment. However, with a little planning before you board, you can take advantage of as little or as much of the ship's offerings as you want. We highly recommend this ship. After sailing on Norwegian Escape, we are considering giving one of her kid sisters (Breakaway or Getaway) a try. Continue reading our Norwegian Escape Cruise Review below to find out more about this new ship.
Read our detailed, day by day Norwegian Escape Cruise Review below…
Norwegian Escape Cruise Review – Day 0
Vacations are meant to be a time to recharge your batteries and relax, unless you cruise with my wife. Her idea of a vacation is seeing and doing as much as possible. That is why on our pre-cruise day, we were up at 3:00am to catch the first direct flight from Providence airport down to Ft. Lauderdale. Wanting to leave no stone unturned, we had a full day of sightseeing and picture taking planned. I was going to need plenty of coffee to make it through this day…and the entire seven days onboard Norwegian Escape if we were going to have a coherent Norwegian Escape Cruise Review.
Just one of the many rounds of iced lattes
The Princess might try to blame the early wake up on me, as she claims I get to the airport too early. Leaving our house at 4:30am, we would arrive at T.F. Green airport around 5:15am, about 90 minutes before our scheduled flight time. Parking and taking the transport from the parking lot took only a few minutes- one reason we love to fly from this small airport. Southwest's luggage check line was manageable, but the security line was not. It was actually one of the longest lines that we have seen at this airport in years. By the time we got through security, grabbed a coffee, and made a restroom break, they were already lining up to board the plane. With our "B" boarding passes, we had a few extra minutes but no real time to spare. Sometimes planning to be a little early works out in your favor!
With an uneventful flight, we landed in Ft. Lauderdale, collected our luggage- all three checked bags (for now), and used the Uber app to secure a ride to the InterContinental Miami hotel 27 miles away. The weather today in Florida was not ideal, partly cloudy and in the upper sixties. As the day progressed it did get sunnier, and thankfully, for the rest of the trip we would be graced with beautiful weather. With not much traffic on the roads and our Uber driver using the express lane (you are not required to pay any additional tolls for this convenience), our total ride time from being picked up at the terminal to the hotel was about 35 minutes.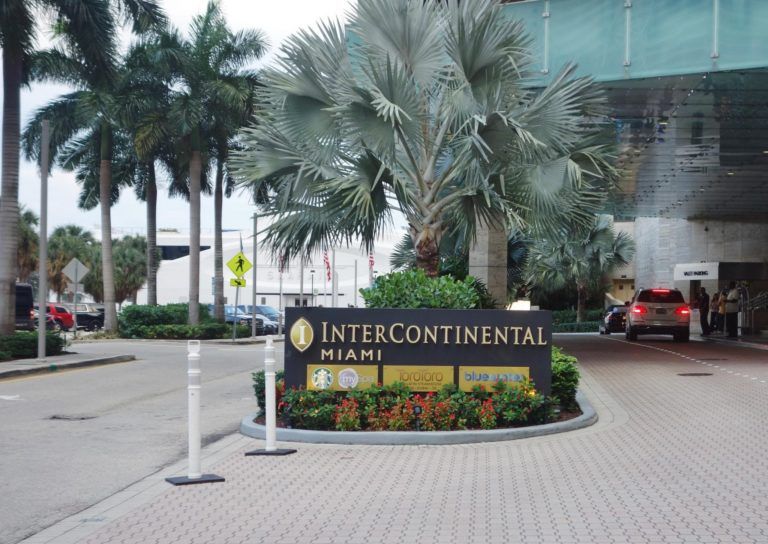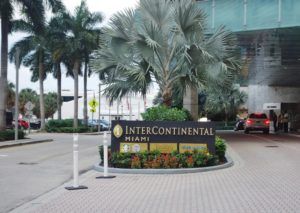 Arriving at the InterContinental Miami by 11:15am, we expected to leave our luggage with the valet and explore the city, but to our surprise, we could check-in to our room. Up to the 21st floor we headed to check out the room, take some pictures, and await our luggage which was being transported by hotel staff.
Norwegian Escape Cruise Review – King Guestroom at InterContinental
It took only a few moments for our bags to arrive, giving us just enough time to take some pictures of the king room for our hotel review. Our room had a bay view from which we could see a Carnival, Royal Caribbean, and Norwegian ship at the port. Tomorrow morning, Norwegian Escape would be docked here awaiting our arrival.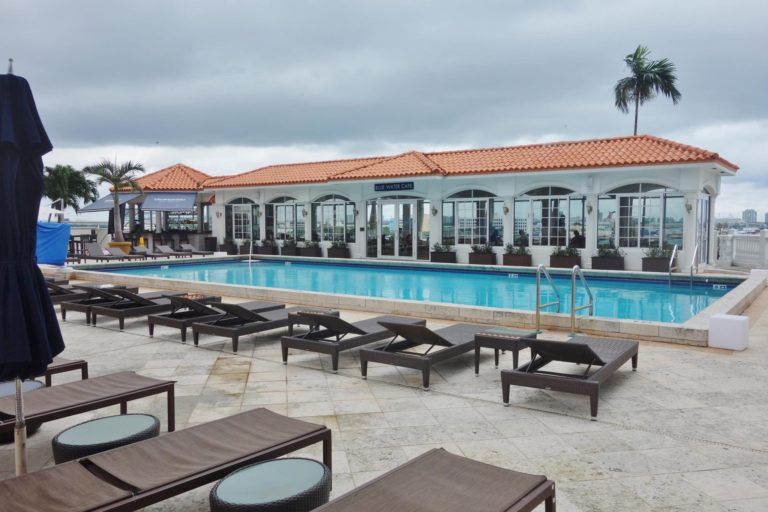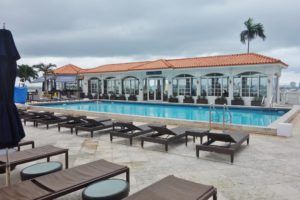 With the hotel rather quiet, we took a self-guided tour of the lobby, the rooftop pool and outdoor bar, and the surrounding grounds to get some great shots of the hotel. InterContinental is located right on the water next to Bayfront Park, offering some great views and optimal picture taking opportunities. During our stay, the park was being transformed for an upcoming electronic dance music festival, so it was a bit hectic.
Few Remaining Signs of Christmas at the Park
Snapping photos and maneuvering through the maze of scaffolding, we arrived at the Big Bus Central station just missing the 12:45pm bus doing the "city loop". Now, we would have to wait another thirty minutes for the next bus. I used this time to briefly walk around the Bayside Mall and grab a few more photos.
Norwegian Escape Cruise Review – Big Bus Tour
Before we knew it, the bus for the city loop arrived, and we boarded the bus for the 90 minute tour. You can hop off and on the bus at several stops along the route, with scheduled pick up times every half hour. But given our time constraints and the bus operating schedule, we knew we would not have the time to thoroughly explore all of the museums and neighborhoods on our list. Oh well, I guess we will need to take another trip to Miami to get all our sightseeing done. We opted to stay on the bus at the Vizcaya Museum and Gardens leaving that exploration for a future visit.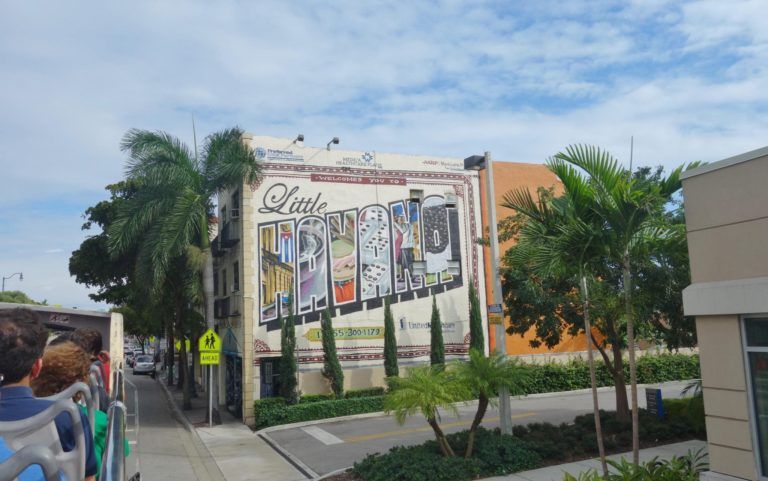 We did get off in Little Havana to see the Walk of Fame, Domino Park, and the Tower Theater. But besides that, we stayed on the bus to experience the tour. Getting back to the main terminal around 3:30pm, we pondered taking another tour, the "uptown loop", which started at 4:00pm. The Princess wanted to see the Wynwood Walls, but being the last tour of the day, we would not be able to hop off at any of the bus stops.
Norwegian Escape Cruise Review – Some of the Wynwood Walls
It was a good thing we decided to hop on this tour to experience the Wynwood Walls, as they are some pretty impressive works of art. The 60 minute tour got us back to Bayside slightly after 5:00pm. Prior to leaving, we made dinner reservations at the hotel's restaurant Toro Toro for 7:15pm. So, with plenty of buffer time, we headed off to take more pictures of the Bayfront Park sculptures by world renowned Colombian artist Fernando Botero and the Bayside Marketplace.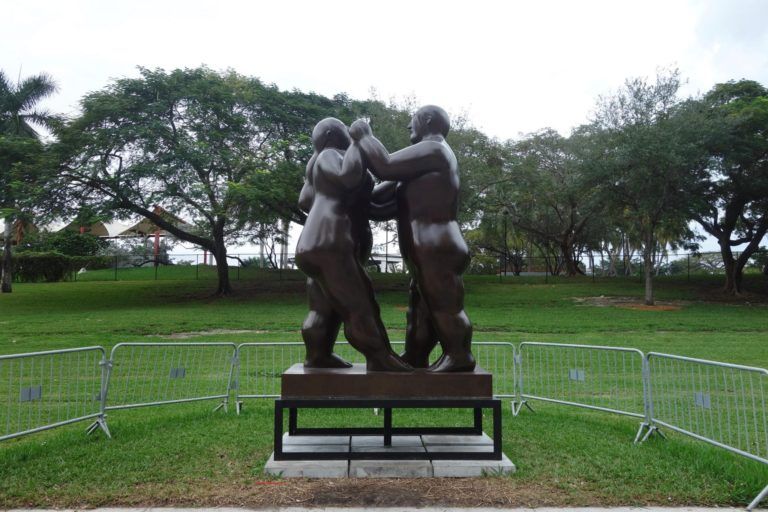 Not being too far from our hotel, we still got back in time to shower, change up, and have a few minutes of relaxation before dinner. While catching an elevator for dinner, we ran into a gentleman who happened to also be sailing on Norwegian Escape, as part of a promotion through Park West Gallery. While we never ran into Mike on the ship, we did see a large group of people with a Park West representative during our cruise. On to dinner!
Bar at Toro Toro
Toro Toro's bar was rather busy, but the restaurant itself was mostly empty. Miami diners apparently do not like to eat as early as we do (7:15pm is actually late for us!) because the restaurant got rather crowded as we were finishing up. We enjoyed our dinner, getting an empanada appetizer, one of the signature dishes for two- the Toro Toro, and a round of drinks.
Dinner at Toro Toro
Given the hotel's location, we contemplated going to the Brickell Village for some drinks and more exploration, but we decided to stay closer to the hotel. Plus, fatigue and food coma were setting in, so we walked down to Bayside. For a Friday night, the area was busy but not overwhelming.
Downtown Miami Skyline at Night
After a short walk around the area, we settled into a high top table to listen to some live music and enjoy a drink at the Make Your Own Daiquiri Bar. Honestly, we let them make the drinks, we just consumed them.
Norwegian Escape Cruise Review –  A Miami Nightcap
Approaching 11pm, we decided to start walking back, knowing that along the way we would stop at a convenience store to grab some bottled water to bring onboard the ship. Not finding a suitable brand for the Princess at our first stop, we headed to the Walgreens two blocks up from our hotel, where luckily 24 packs of water were on sale.
Returning to the Hotel
Lugging one of these over my shoulder, while the Princess carried a bag filled with a few bottles of Powerade, we returned to our luxury accommodations shortly after 11pm to retire for the evening.
Norwegian Escape Cruise Review- Day 1
With all the planning and extra preparation, we were up around 6:45am on embarkation day. Our "check-in time" was scheduled for 9:30am, but we knew the ship would not actually be loaded until somewhere around 11:00am. That said, we wanted to get to the port for our arranged time anyway.
Norwegian Escape Cruise Review – Quiet Hotel Lobby
Having a Starbucks on the first floor of our hotel was essential, as we were going to have a long day of picture taking and exploration on the largest cruise ship in the Norwegian Cruise Line fleet. Of course, this meant I had to make the trek down the 21 floors (which the Princess subconsciously kept referring to as "decks" during our hotel stay) to get us some iced lattes and breakfast. We had stopped the night before to grab a case of bottled water, as the NCL Ultimate Beverage Package does not included bottled water or premium coffees, but we wanted to get some additional bottles for our carry-on. This ultimately meant that I had to set out again to buy another 24 pack of water. Luckily, all of this water did make it to our stateroom later in the day and was consumed in its entirety during the course of the week.
The extra time spent running around for these last minute items meant we were not going to leave the hotel by 9am to make our scheduled 9:30am check-in. Already behind schedule, the Princess was not happy that our plans were not being executed appropriately. In any case, we checked out of the hotel and with assistance of two valets, moved our luggage, now containing 48 bottles of water, into a nearby taxi.
Saying Goodbye to the InterContinental Miami
The short taxi ride to the pier cost around $11. Having saved money on our Uber ride from the Ft. Lauderdale airport the previous day, we were not going to sit around and waste more time waiting for a ride share service this morning.
Our First Glimpse of the Norwegian Escape
Arriving at the port before 10am, there were still plenty of cruisers from the previous week's cruise trying to get back home. We were dropped off in the middle of this scene and had to wheel our luggage to the appropriate drop off location. There were not many people in line yet, so we were able to leave the luggage with a porter and go through security rather quickly. With only one sailing on NCL in our cruise history, we did not get priority check-in which meant a small queue, but it moved quickly. Within 20 minutes, we were checked in, cruise cards in hand, and ready to get onboard to start our cruise vacation. Then we waited.
Norwegian Escape Cruise Review – Selfie Terminal Waiting to Board the Ship
Assigned a "group 3" card, I knew we would be among the first on the ship, although, not among the very first as we often are on Royal Caribbean ships. Further altering the Princess' plans, this meant that many venues would be crowded with fellow passengers by the time we made our way from the top decks down during our photo tour. As the crowds grew in the waiting area of the terminal, no announcements were made and no information was provided; the natives were getting restless. We could see a large line of cruisers who were still exiting the ship. We overheard someone claim that there was an issue with customs meaning we would not be able to board the ship until noon.
Welcome Aboard the Norwegian Escape !
Luckily, that was not the case as the first group was called around 11:30am and our group shortly after. Finally, we were about to set foot on a Norwegian Cruise ship again after an eight year hiatus. We boarded on deck 7 forward right next to the box office and main entrance to the Escape Theater. Not wanting to waste any more time, the Princess and I quickly made it onto an elevator-which are rather narrow but deeper than a typical elevator-and headed all the way up to deck 16 to begin grabbing photos for our Norwegian Escape Cruise Review.
Norwegian Escape Cruise Review – Few Photos of the Pool Decks and Waterpark
Making it to the pool deck, we would roam around the outdoor and indoor spaces grabbing as many photos as we could of these public venues sans passengers, first heading up a few decks to deck 20, then making our descent. We started out rather solid, but by the time we made it inside towards deck 8, we were overcome by crowds of eager cruisers like us, testing out the bars and lounges of this ship.
We were able to get more complete coverage in subsequent days, so check out our entire Norwegian Escape Photo Tour to see a deck-by-deck overview of the ship with over 200 pictures!. After 2 hours of touring and taking pictures, it was time for lunch.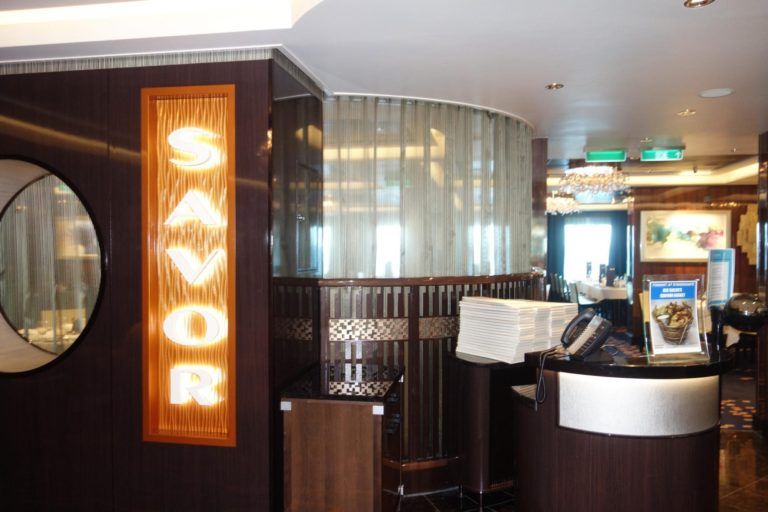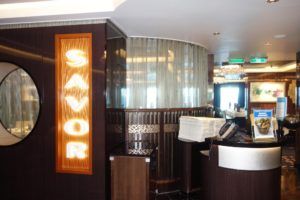 On embarkation day, passengers have a variety of venues to choose from, including the main dining room, Garden Café Buffet, and the 24 hour complimentary O'Sheehan's. With time running out, we were able to get a table in the main dining room of Savor for lunch right before the cut off time of 2:00pm. Lunch menus in the main dining rooms are the same each day of the cruise, and Savor and Taste are open most sea days.
Norwegian Escape Cruise Review – Lunch at Savor
Not too hungry and knowing that dinner was only a few hours away, we ordered a bunch of starters to share- the nachos, the chicken Caesar salad, the popcorn shrimp (ok, those were only for me), and the potato skins. The food was okay, but some of the apps were a bit different than we expected, especially the potato skins. We were out of the dining room in about an hour. Cabins had been ready for a while, so we headed up a few flights to deck 11 to our cabin, 11782, a starboard side balcony.
Norwegian Escape Cruise Review – Balcony Room
With modern décor and design, it was reminiscent of Quantum of the Seas and was most definitely larger than our typical inside cabin. Upon entering our room, we were pleasantly surprised by a Bon Voyage package including balloons, streamers, and some special towel animals-yes we kept these up the entire length of the cruise.
After the short photo tour of the cabin, we were greeted by a knock on the door and two pieces of luggage. Half our bags had made it, and it was not clear whether our duffel bag full of water would find its way to our room or get us called to the "naughty room". A few minutes later, our stateroom attendant, Diogo stopped by our room for introductions. We thanked him for the great job setting up all of the colorful decorations, and just as soon as he left, there was another knock on the door. There was Diogo again with our other pieces of luggage. Yes, everything was accounted for including our 2 cases of water. With not much time remaining before muster, we started to unpack but after the second announcement, we finally headed down to deck 6.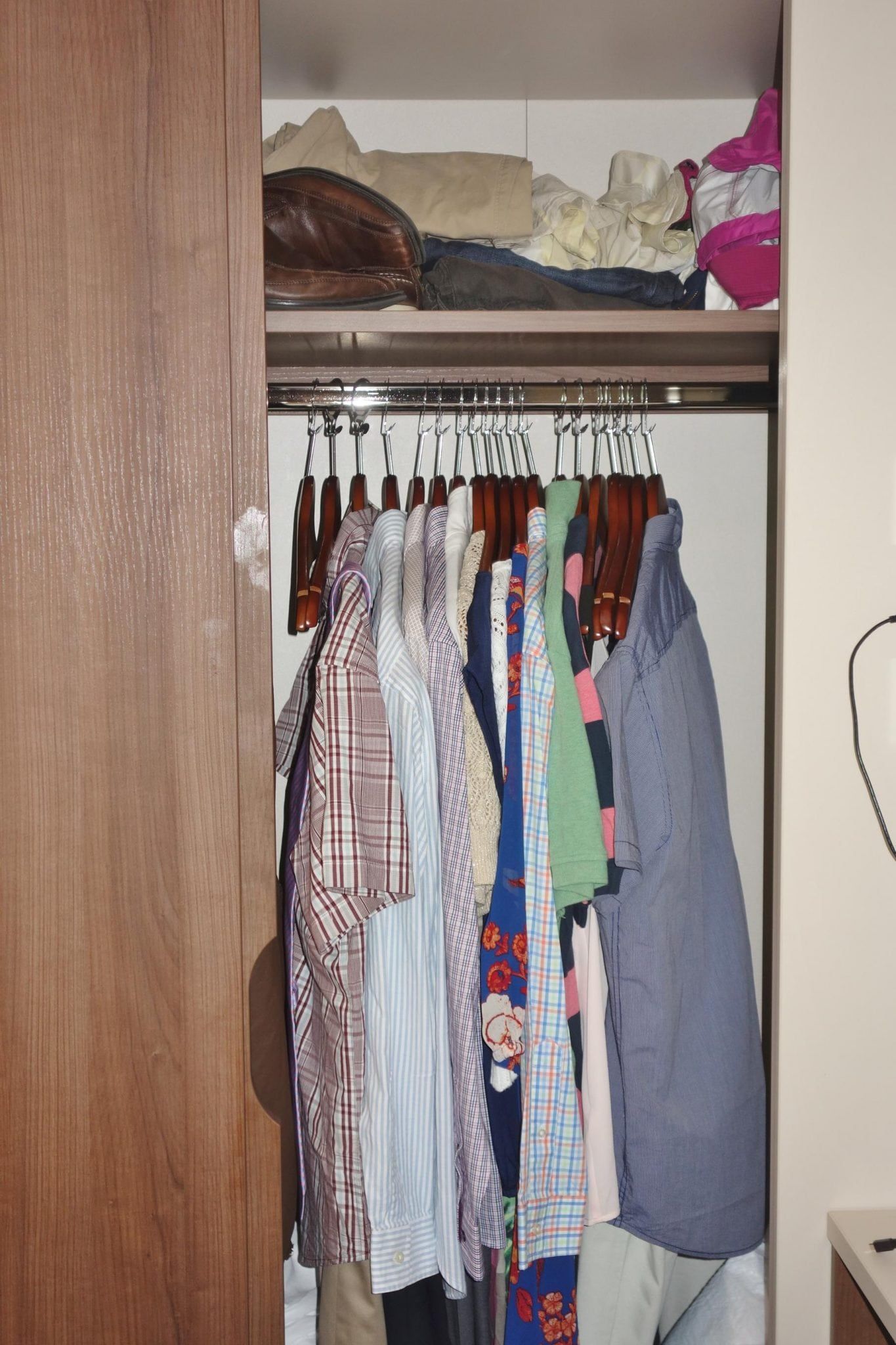 Our muster station was located on deck 6 in the atrium. It was over in a flash and officially time for us to get this vacation started.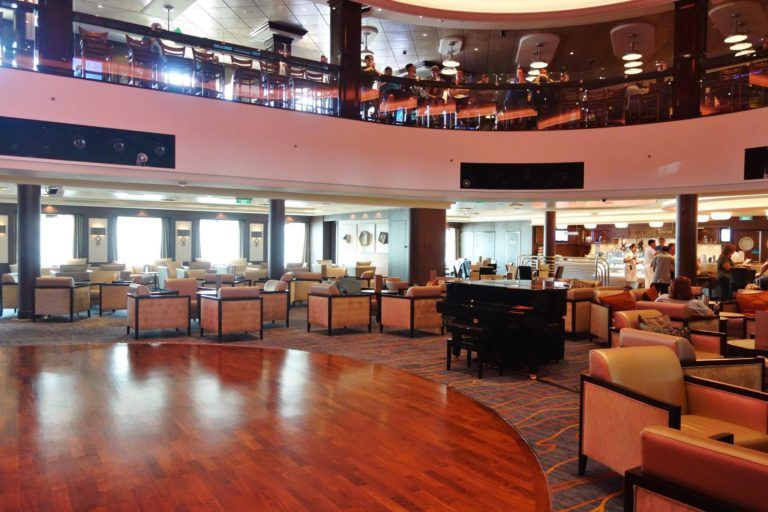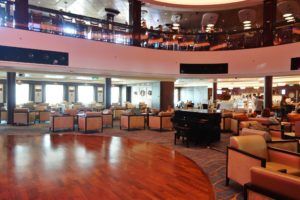 Up to deck 16 for the sail away party, we finally got our first cocktail of the cruise. We had already been on the ship for 5 hours, so we were behind MY drinking schedule! Along with all of the other cruisers, we were fortunate to get a few seats portside to watch sail away, while I headed to the Waves Pool Bar for a customary Miami Vice and Long Island Iced Tea. By the time I got our drinks, the cruise director Julie and her staff had gotten the party started with music and dancing.
During the approximate hour that we spent enjoying sail away, we grabbed a second round of drinks, this time the drink of the day, the Daydreamer's Daiquiri. Now in open waters, it was time to get ready for dinner.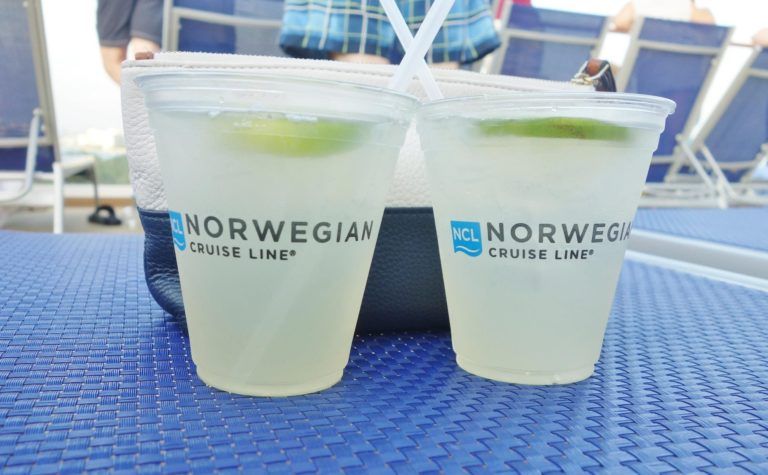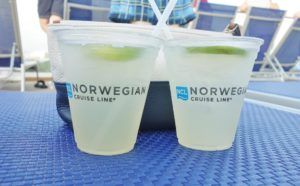 Norwegian Escape Cruise Review – Drinks of the Day
Prior to sailing, we purchased the 6 night specialty dining package and made all of our dinner arrangements prior to the cruise using the NCL Planner. (If you are sailing on this ship, be sure to check out our complete guide to planning a Norwegian Escape Cruise). First up on our specialty restaurant list was Moderno at 6:30pm tonight. This Brazilian-style steakhouse is all you can eat for a cover charge of $24.95 per person (including gratuity). The restaurant was not busy, so we were seated without any issues. If you do choose to dine at this restaurant, give yourself close to two hours, as it is a non-stop carnivorous experience.
Norwegian Escape Cruise Review – Dinner at Moderno.
Finishing dinner after 8:00pm, we were both stuffed. The Welcome Aboard show started at 7:30pm, so it was obvious that we were too late to catch that show. Instead, we started our Drink Around the Ship, in which we get at least one signature drink at each bar and lounge on the ship.
We made it to two bars-the Sugar Mojito Bar and Tobacco Road, both located on deck 8. We are not huge fans of mojitos, but Sugarcane has one of the best bartenders on the ship-Bong. When you visit, you will see why-his brain teasers, drink tricks, and plenty of personality! Completing these two bars, we decided to call it a night around 11pm.
Norwegian Escape Cruise Review – Day 2
The alarm seemed to sound way earlier than it should have. Today was the first full sea day so it was time to test out the crowds. Any cruiser knows that the ship and public areas only get busier as the cruise progresses; this is why we get up early to secure our real estate. Only problem, I hate the mornings! Somehow, the Princess is able to pull herself out of bed, but I struggle.
Among the to-dos set by the Princess for our Norwegian Escape Cruise Review, we had to eat breakfast and lunch at every venue to try out the offerings. Before retiring the night before, the plan was made to try O'sheehan's for breakfast this morning. After putting on an eating display at Moderno the night before, the last thing on my mind this morning was breakfast. We showered, got ready, and headed down to the Café Atrium for coffee before 9am.
Norwegian Escape Cruise Review – Cafe Atrium
The Ultimate Drink Package does not cover lattes and premium coffees, so we knew there were going to be some additional charges on the account, but the Princess does not like drip coffee. Breakfast at O'Sheehan's was steady, but not overly busy. Our waiter, Wayne was nice and prompt, and our two omelets came out rather quickly.We were through breakfast much quicker than the sit down lunch the day before.
Norwegian Escape Cruise Review – Breakfast at O'Sheehan's Bar and Grill
Before heading to the pool deck, we grabbed some photos on deck 8 of the Waterfront and other venues that had been packed with cruisers the previous day. Now, they were relatively empty as others were either still sleeping or up on the pool deck already.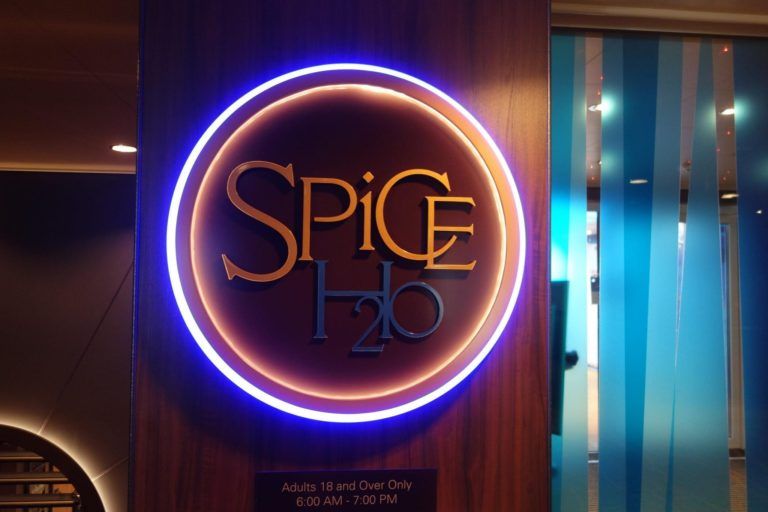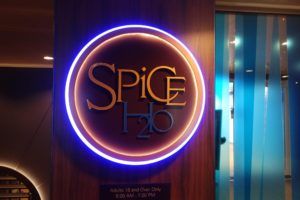 We took the elevators up to deck 17, gravitating towards the Spice H20 area. This adult only area at the back of the ship would become our go to tanning spot. Low key, some direct sunlight, and quick bar service, it was perfect. We got two deck chairs positioned in the middle of the main row.
Norwegian Escape Cruise Review – Inside the Spice H20
One of the best perks here is the Grotto, this cave-like water feature allows you to cool off without having to jump into a pool filled with children and other travelers. Again, this feature remained relatively unused the first few days of the cruise, until others began to realize this was a great way to escape the mid-day heat.
After lounging in the sun for about an hour, it was time to test out one of the ship's main attractions-the waterslides. There are three different slides-the family slide, the Aqua Loop, and the Aqua Racer. There are two side by side Aqua Loop slides, which allow you to race with another cruiser. These slides are dubbed the fastest at sea and start with a free fall drop. While I am a water rat, The Princess can't swim and does not like getting water in her face.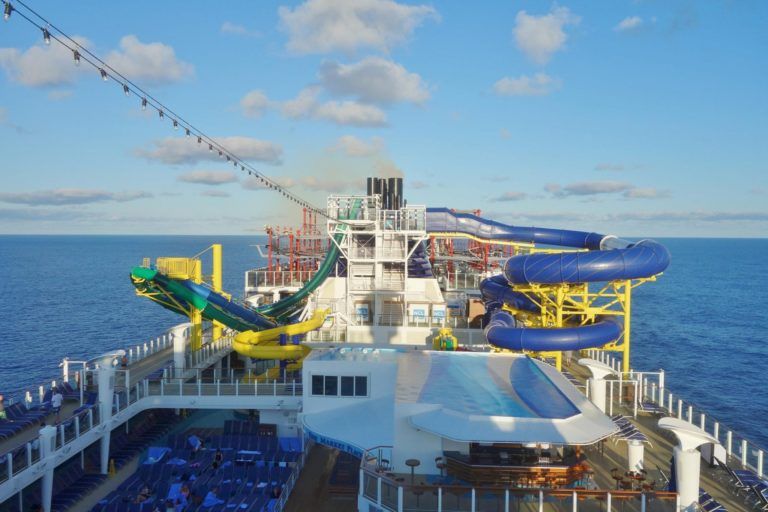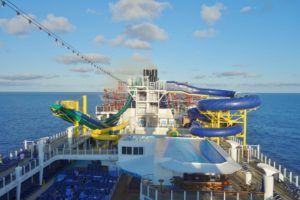 It was easy to convince her to do the Aqua Racer as it is a tube ride that we could ride together. It is a little tricky to get to the waterslides, as the entrance is tucked behind the pool on deck 16. Once you go up a few steps, you need to head right to grab a tube; we were surprised that there was really no signage or staff directing cruisers. The line to get a tube was small, but we did have to wait a bit for an adult sized double tube. After securing a tube, we proceeded up the additional steps to the Aqua Racer entrance. The total wait time was probably less than 10 minutes. The slide was fun, and the Princess survived.
Norwegian Escape Cruise Review – Aqua Racer Slide
Building her confidence, it was now time to conquer the Aqua Loop. We did not notice the small sign indicating that jewelry could not be worn on the ride. This means watches, earrings, wedding bands, etc. So, it was only at the top of the line that a fellow cruiser behind us informed us of the restriction, and shortly thereafter, we witnessed one gentleman get turned away because he was wearing a necklace. Not wanting to waste the time we already spent in line, I gave the Princess my watch and wedding ring and completed the slide first.
Meanwhile, she let a few people in line go before her while I ran back up to the top to swap jewelry. I may have also fibbed a bit when asked how the ride was. I really enjoyed the slide, and rode it several times the next couple of days, but I knew the Princess would not like it. Although she is a thrill seeker and loves rollercoasters, there is a surge of water that hits you near the end. As suspected, The Princess was not impressed with this slide. She claims she broke her toe when she slipped getting into the launching tube and said she felt like she was drowning at the end! Excuses.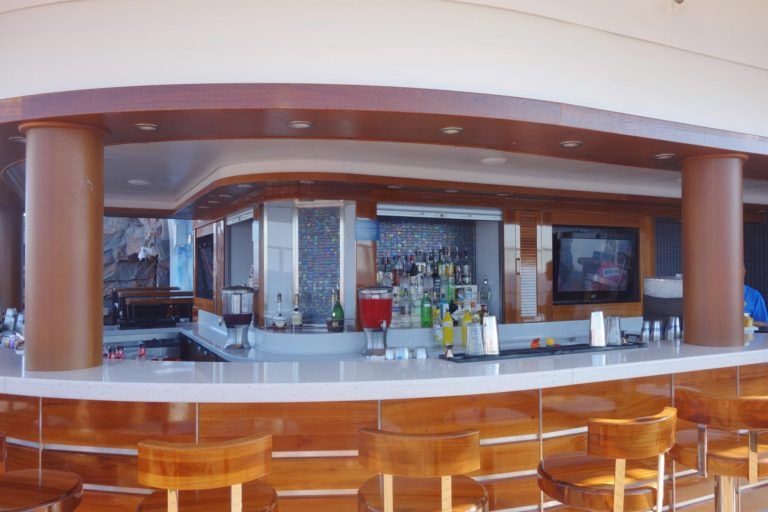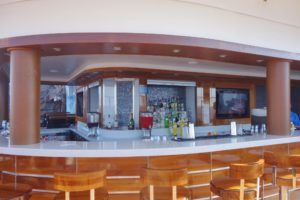 Back to re-claim our chairs at Spice H20, it was now time for a few drinks of the day, Cherry-Lime Aid. We dried off in the sun for about an hour then tried out the grotto which was cold, but certainly refreshing.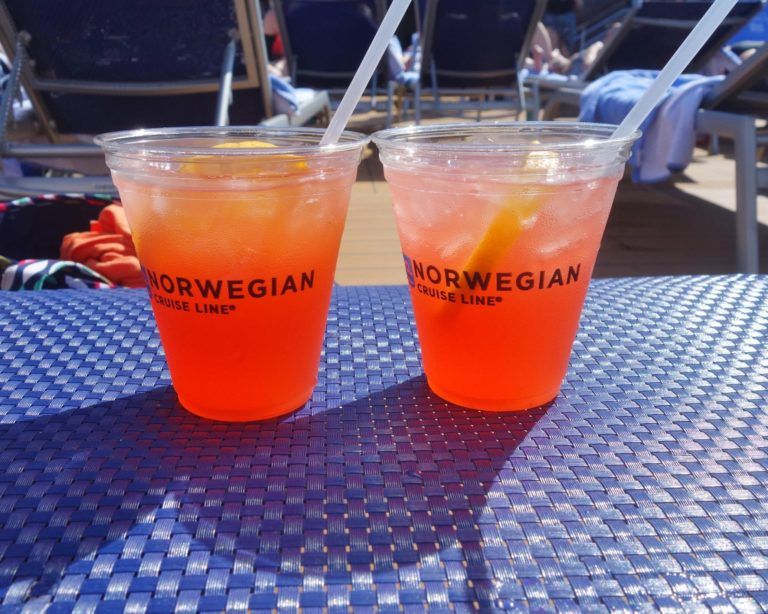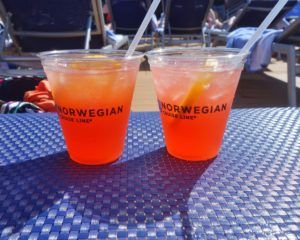 Approaching 1:15pm, we gathered our belongings and headed towards the pool to get a viewing spot for the sexy legs contest. Usually a good time, the contestants and judges this particular sailing did not seem too enthusiastic. Perhaps it was too early in the cruise for people to really let loose. We grabbed a few photos and rooted for the two guys from our home state, and then moved on.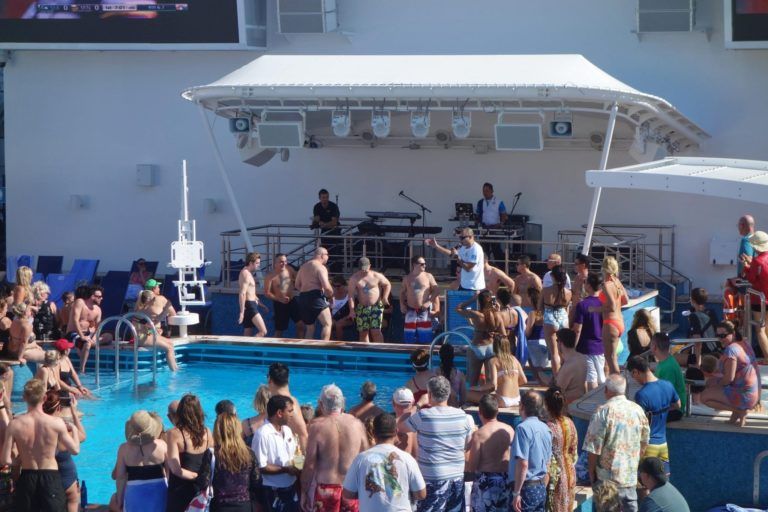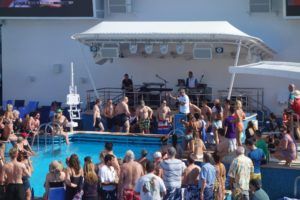 Not being overly hungry, we decided to grab some snacks at Margaritaville to try out this highly talked about venue. Oh, and of course some drinks! With the dining package, you have the option of using one of your meals or paying a la carte. Knowing we would not spend much, we opted to pay per item today. Who could resist the nachos? Certainly not us, and it felt like every table around us had a heaping pile of these chips topped with cheese, salsa, and guacamole too.
Norwegian Escape Cruise Review – Margaritaville at Sea
Not even sure why we also ordered the pretzel sticks,(probably so we could write about them in this Norwegian Escape Cruise Review) but we were more than full with these two appetizers. Full and ready for a nap, we decided to work off some of these nachos with some physical activity. Well, if you consider mini golf an activity. The course was rather busy, so it took a few minutes to get clubs of the appropriate size. The course design was not the greatest, as most holes had the same setup with you trying to hit the ball through some building or obstacle, but it was rather challenging.
Norwegian Escape Cruise Review – Mini Golf Course
Both the Princess and I got exactly the same score, which was well above par. Unfortunately, with so many other activities, we never got to battle it out for the title of Norwegian Escape mini-golf champion. Approaching 3:00pm, we did not want to spend too much more time outside. Tonight is Norwegian's only "dress-up" night, and of course, we would be taking pictures. This is actually our first cruise ever that I did not pack a suit. Instead, I planned a blue blazer with a tie and some khakis. I know, very nautical. To avoid being red in these formal portraits, we decided to head inside. A few of the restaurants and bars were closed, which gave us a great opportunity to get some pictures without other cruisers in them. During the trip, we also made a pit stop at the photo gallery to find our picture folder and review our welcome aboard pictures. For the last couple of cruises, our Welcome Aboard photos have been less than stellar.
The Photo Gallery on Norwegian Escape
Before heading back to the room to shower and get ready for dinner, we did some of our souvenir shopping. In the past, I have missed out on getting t-shirts and other items from the cruise gift shop by waiting until the end of the cruise. Not going to let that happen on this trip. We got our cruise ship ornament and an inaugural season t-shirt. Mission Accomplished. We headed back to the room for 4:00pm to get ready and begin putting together this cruise review.
Norwegian Escape Cruise Review – Ready for Formal Night
Down to deck 8 by about 5:40pm, we completed 5 of the 7 portrait stations, two studios on deck 8 and 3 out of 5 studios on deck 6, rather quickly. We were about 5 minutes late to our 6:00pm reservation at the Manhattan Room. This would be the only time during the cruise we would eat at one of the complementary venues for dinner. Making the reservations ahead of time, we did not know what the menu would be, as the dinner menu changes nightly (but is the same in all 3 complementary venues). We choose this venue versus Savor or Taste because we knew it was "formal night", and the Manhattan Room is the most grandiose, complete with live music and dancing.
Our dinner this evening took about 90 minutes with the food and service being just average. Tonight's menu featured a chicken dish, so the Princess was all set. For a starter, she tried the Heirloom Tomato Carpaccio which had an odd presentation and was not exactly what she was expecting. Her main dish, the Chicken Kiev, looked pretty ordinary. The same was true of the raspberry cake she got for dessert. With nothing on the menu that really caught my attention, I went with the Classic Favorites, starting with a Caesar Salad. Even though we would be eating at Cagney's the following night (had to get as many specialty restaurants in as we could fit for our Norwegian Escape Cruise Review) , I did the steak frites for an entree. The steak was not very well seasoned, but the french fries were warm and crispy. My dessert, the warm chocolate lava cake, was the bright spot of the meal. It paired nicely with a scoop of vanilla ice cream.
Norwegian Escape Cruise Review – Dinner at Manhattan Room
Our plan after dinner was to get seats for the Newlywed Game, which was in the Atrium at 8:45pm. After a quick loss in the casino, we found two of the very few seats left in the Atrium around 7:45pm. I ordered us drinks at the Atrium Bar, checking it off our Drink Around the Ship. Tierney and Sandra were playing a tribute entitled "A Night in Paris". Apparently the show's title didn't dawn on the Princess. By about the third song in, she turns to me and says "Why are all the songs in French?".
Atrium Entertainment on Norwegian Escape
Following their set, the stage was set for the Newlywed Game. Similar to what you would see on other cruise lines, multiple couples who had been married a variety of years are asked questions about each other to see if their answers match. Julie, the cruise director, was the host, and this was the first time we had seen her around the ship since the sail away party. There were a few laughs, but the show did not have the same feeling or excitement we have experienced on other ships. We actually jetted a few minutes early to make sure we got seats at the first theater production, After Midnight.
Getting to the Escape Theater around 9:30pm for the 10 pm showing, they were already scanning cards. We were quickly scanned in and found seats, right center near the aisle. There was limited bar service, so we did not end up getting to order a drink before the show as the theater was jammed pack.
Running time for the show was 75 minutes, and the performers were excellent; however, we were not huge fans of the show. Maybe it was the jazz genre or the time of night, but we actually did see several cruisers leaving the show. We stuck it out for the entirety of the show, but having had a full day, we retired to our room for the night immediately following the show.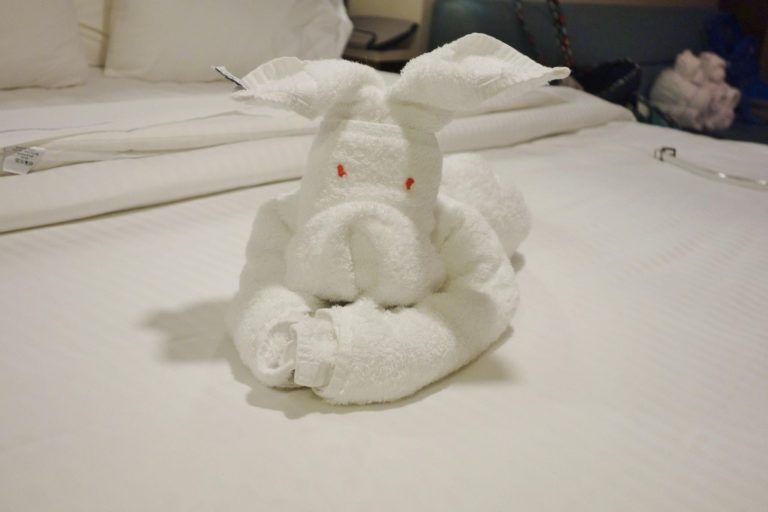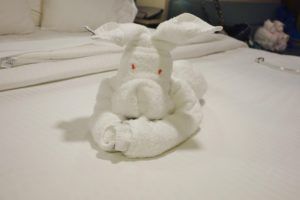 We were greeted by our first nightly towel animal.
Norwegian Escape Cruise Review- Day 3
Getting two complete sea days in the beginning of the cruise was great as it gave us time to do and see as much as possible. When sailing on mega ships, it always feels like there is not enough time to get everything done. Sometimes, we end up trying to squeeze too much into the last sea day, and we know that Mother Nature does not always cooperate.
Today on the itinerary was tackling the ropes course. Oh, and more food and drinks. Yes, I know, it is a tough life when sailing on one of the largest cruise ships in the world and having to try everything once to have a comprehensive cruise review. The only downside to experiencing all of this fun was another early alarm at 6:45am. Already feeling the effects of the cruise food, we both decided to skip breakfast.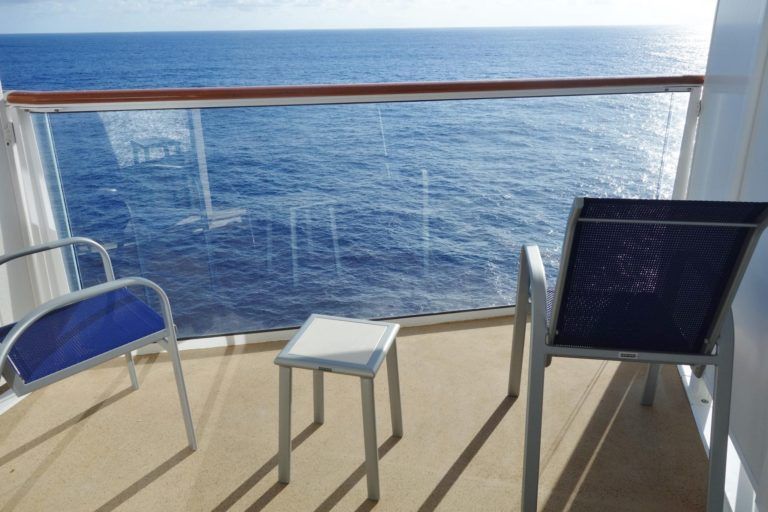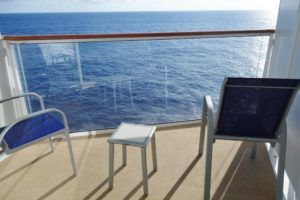 So, I went to get us coffee from the Atrium Café while the Princess got ready. Seeing how empty the ship was at this hour, I came back to the room to grab my camera and went back downstairs to get some nice photos of the Waterfront and outdoor areas. It also felt good to get a few laps around the Waterfront in as a morning exercise.
The small jogging track on deck 16 can be busy in the morning, so if you want to take a morning stroll, the Waterfront is a great alternative. There are also coffee stations in a few places (during our trip, located near both Cellars and 5 O'clock Somewhere), so you can also just sit back and enjoy the view as you sip your morning brew.
Back to the room for a quick shower, we were to Spice H20 for 9:30am- just in time. On the first sea day, there were no issues getting seats, but today, we got the last two lounge chairs available. At the time, they were in the shade but within an hour, they were in direct sunlight and made for a perfect location.
Norwegian Escape Cruise Review – Inside an Empty Spice H20
With our seats now secured, we debated when we should do the ropes course, which opened at 10:00am. I knew that it would only get busier, and the wife's courage weaker, the longer we waited. At exactly 10am, we took the stairs up one deck to be greeted by a small line getting geared up in the harnesses and a good number of cruisers already on the ropes course. After making a quick trip back downstairs to drop off our camera, as they are pretty strict about enforcing no items in your pockets (wearable Go-Pro cameras are allowed), we were geared up and ready to go.
We spent about 45 minutes conquering this multi-story obstacle course. It was quite windy this morning, so the top level was not open (which is fine as I did that level on another sea day, and it was not any different). Due to the wind, only one plank was open on the starboard side of the ship. The first couple of challenges are easy, and we soon reached a bottleneck before the first zip line.
Norwegian Escape Cruise Review – Entrance to the Ropes Course
The Princess had no problem walking through those courses and loves zip lines, so far it was a piece of cake. But then came the plank. Dangling eight feet over the edge of the ship, there was now some trepidation. The Princess began questioning whether she could do it. With a rather brisk wind and a fear that if she lost her footing, she would not be able to get herself back up, she tried bypassing the plank. I was not going to let her back down now.
Norwegian Escape Cruise Review – Preparing to Walk the Plank
With some encouragement from the young boy in front of her, she put one foot out on the plank. Looking down to the ocean eighteen decks below her, she started to have second thoughts. But, she mustered up enough courage to make a quick creep out to pull the "selfie" rope and hurried back in. Oh, did I mention I got all of this on my GoPro?
Norwegian Escape Cruise Review – Video of Ropes Course
On to another zip line, and then the course opened up over the mini-golf area allowing a bit of choice in your path with some options more difficult than others. Completing the remainder of the course was no big deal, but after about 45 minutes, the Princess had had enough. We made our way back to Spice before 11am and changed into our bathing suits. We were here for about 90 minutes soaking up the beautiful Caribbean sun when the Princess suggested I get a video of the Aqua Racer tube slide.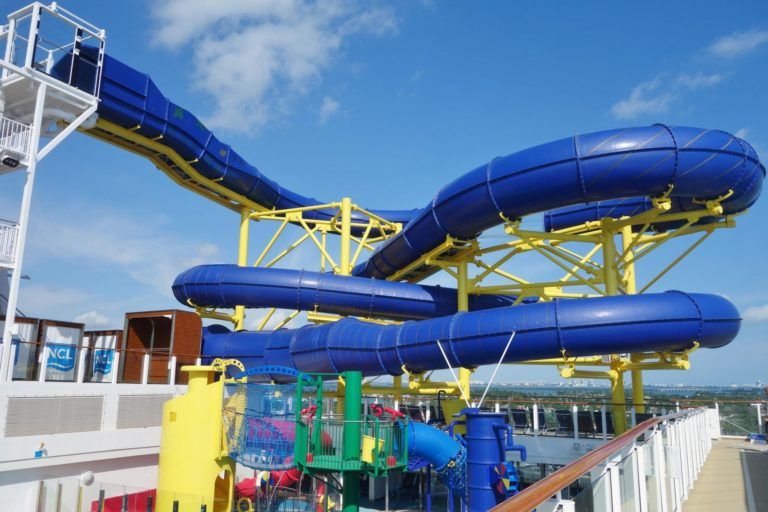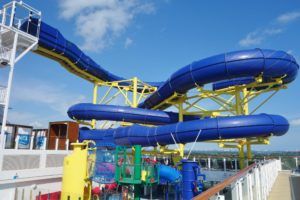 I had asked the day before and was told that GoPros were allowed on that slide. Before the Aqua Racer, I took off all accessories and headed to the Aqua Loop slide first then came back down to grab the GoPro. With another short line, I was at the launching pad of the Aqua Racer in no time and got a little kick start to help me capture the ride.
Norwegian Escape Cruise Review – Aqua Racer
With the video meeting the Princess' approval, we went back to Spice for more sun, a drink of the day, and time spent in the Grotto.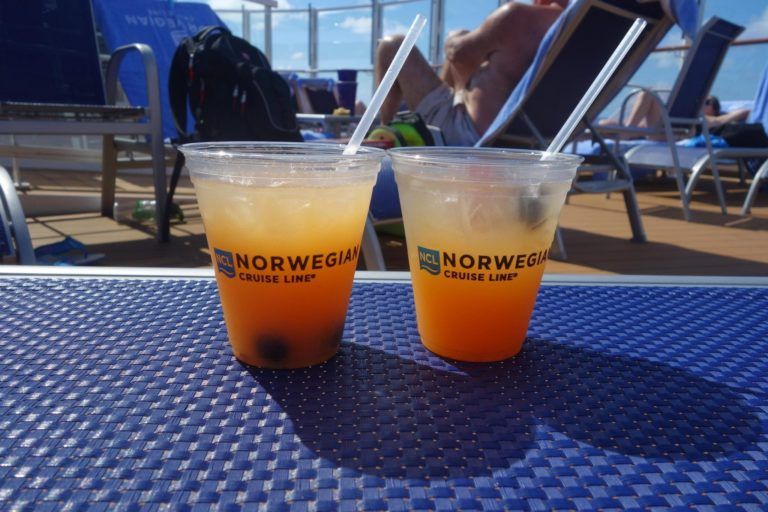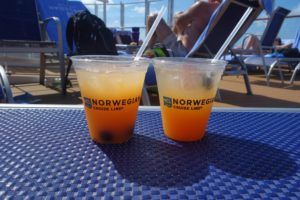 Not having had any breakfast this morning, we started to get hungry by about 2pm so decided to try O'Sheehan's for lunch. This 24 hour venue has the same menu for lunch and dinner, so if we sampled it for lunch, it would suffice for the Princess' check list. Before trekking down 8 decks, we paused quickly at the Chill Bar in Margaritaville for another drink around the ship pit stop. The specialty cocktail menu here is the same as the restaurant, but you do not need to pay any surcharges to use the bar- a nice option if you don't want to pay the a la carte prices for the food at Margaritaville.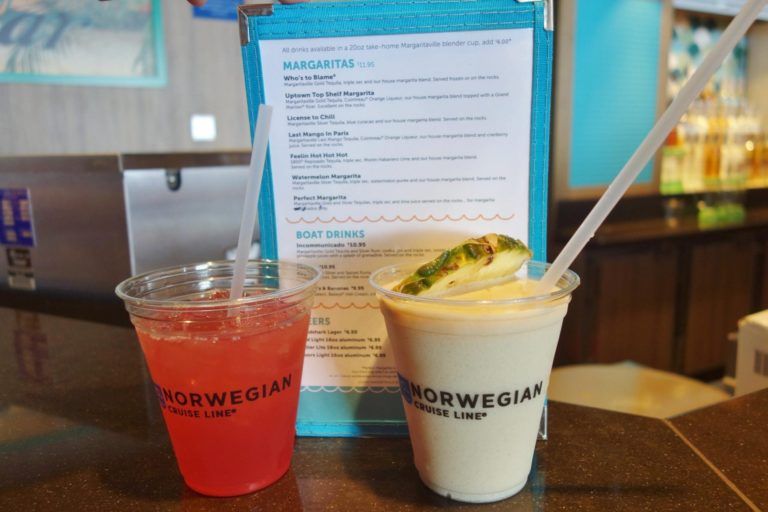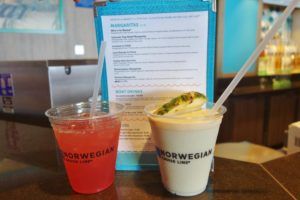 At O'Sheehan's, it took a few minutes to be seated as there were a few couples ahead of us, but once we were seated, our waitress came over to take our order pretty quickly. Along with a few more cocktails, the Princess tried the artichoke dip and the chicken fajitas, and I had the chicken wings and Chicago Style Hot Dog. The chicken wings were hot, fresh, and crispy. I was very impressed with them as you usually do not find chicken wings on a cruise ship. The hot dog too was well prepared, and the French fries were crispy and seasoned just right. The wife enjoyed her dip, which I thought looked just so-so, and her chicken fajitas were also spot on.
Norwegian Escape Cruise Review – Lunch at O'Sheehan's Grill
While not the healthiest, the pub-style menu of this restaurant was right up our ally. We would have been happy testing out additional menu items during the cruise, but unfortunately, too many venues and not enough time. The port side of O'Sheehan's also has a small game room with air hockey, pool tables, darts, bowling, and other arcade games. With time to kill, we took our drinks over to this area and squeezed into the open bowling lane. It costs 5 dollars a person for a game.
After a close first game, we decided to have a rematch, which was interrupted by a malfunction. The pins are on strings, instead of a traditional rack system. After one of my impressive strikes, two of these strings got tangled up, resulting in the system's inability to untangle and reset the pins after several attempts. Finally, an error message came on the screen, so I had to go to the bar and have them send someone up to fix it. This took a while, so the technician was nice enough to refund the game due to the error. We finished the last couple of strings and were back to our room by 4:15pm.
Norwegian Escape Cruise Review – Balcony Sunset
Reservations tonight were at Cagney's for 6:30pm. This restaurant is a la carte pricing on Escape unless you have a specialty dining plan. We were actually ready for dinner early, so we made a quick stop at one of the picture studios for a casual portrait. Normally, the Princess would be all over the pictures each night, but NCL does not currently have a digital photo package, and the hard copy packages were quite pricey in comparison to Royal Caribbean's packages. We also made a quick stop to review our "formal" photos from the day before and narrowed them down to a few of our favorites.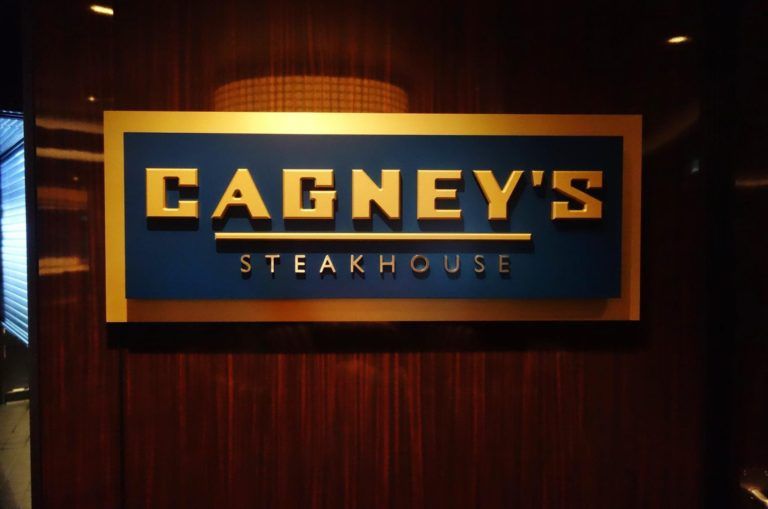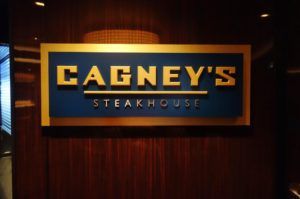 By then, it was time for dinner at the cruise line's signature steak house. There were a few couples in front of us, so it took a few minutes to get seated. The restaurant was also much busier than Moderno on day 1. The complete dinner took close to 90 minutes, and the overall food and service were just average, but in all fairness, the restaurant was very busy.
Norwegian Escape Cruise Review – Dinner at Cagney's Steakhouse
Located right between Cagney's and Moderno is the Prime Meridian bar. So, we stopped here after dinner for a couple drinks and to check it off our drink around the ship list before heading to our next destination for the evening.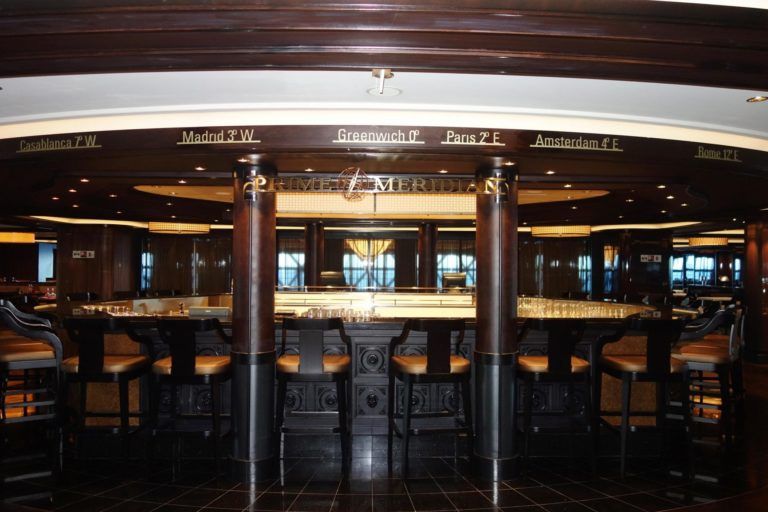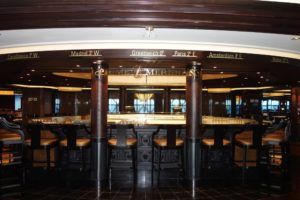 Norwegian Escape Cruise Review – Prime Meridian Bar Deck 8
On the first day of the cruise, we reserved the comedy show in Headliner's at 9:00pm. The cruise features two different comedians, which were not available for pre-booking prior to the cruise. The two comedians rotate days and times with showings usually at 7pm, 9pm, and 11pm. We do recommend booking these shows once onboard as they do sell out quickly and the stand by lines were quite long.
Norwegian Escape Cruise Review – Entrance to Headliner's
For all shows on Norwegian Escape, doors open about a half hour before showtime. So, a few minutes past 8:30pm, we were checked in for the show and secured seats toward the right of stage. The show's host and opener was Frank Townsend, and tonight's featured comedian was Mark Viera. Being a comedy fan, I enjoyed the show and thought both performers were funny. Note, the 7:00pm and 9:00pm shows are considered the "family" shows and the 11:00pm show is the adult only. We heard that the material was very similar, just a bit more graphic.
Norwegian Escape Cruise Review – Inside Headliner's Comedy Club
Later in the cruise, there was a "late night comedy" show featuring both comedians in the main theater and neither one of the main acts were very dirty. After the show, there were plenty of things we could have done on the ship, but we decided to retreat for the evening. Having our first port of call tomorrow with a shore excursion meeting right when the ship was scheduled to dock, we wanted a good night's rest. Organizing our gear, checking the internet, doing some social media updates, and taking notes on the day's activities ended up taking us close to two hours, so our plan to get to bed early did not exactly work out as anticipated.
Norwegian Escape Cruise Review- Day 4
As if we were not already waking up early enough on this cruise, for our first port of call in St. Thomas, the Princess had the alarm set for 5:30am. The ship was scheduled to arrive for 8am, and we had a private tour scheduled with Sunny Liston Tours for 9:00am. Knowing that we would not be back on the ship for lunch, the plan was to get ready and go to the Garden Café for breakfast. One advantage of being up this early is getting to watch the sunrise, and later the sail into St. Thomas, while enjoying our morning lattes.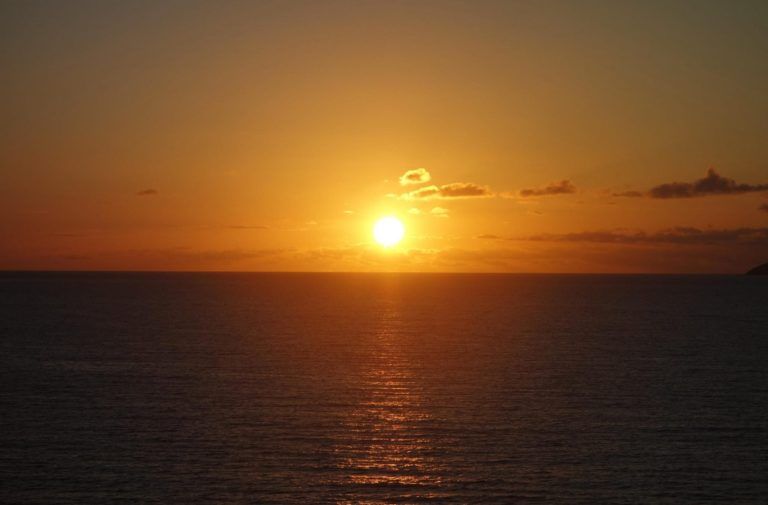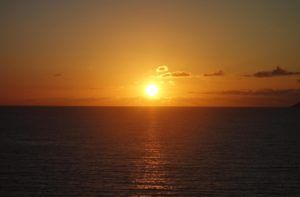 This is where having a balcony is a plus; however, one drawback was the availability of lattes early in the morning. The Atrium Café did not open until 7:00am that morning. So, change of plans. After getting ready, we went back down to get some iced caramel lattes and just grabbed a bakery basket to go from O'Sheehan's instead so we could go back to the room to enjoy the sail in.
Norwegian Escape Cruise Review – Sail into St. Thomas
Our shore excursion included a two-hour beach break. On Norwegian Escape, beach towels are in your stateroom and your room attendant switches them out for you. There are also stations available for you to get pool towels when exiting the ship, but they swipe your card and put a $25 dollar hold on your account until the towel is returned. With no beach towels left the night before, I had to flag down our room attendant. He was all out of beach towels, but delivered them a few minutes later, just in time for us to get off the ship.
Getting off the ship in St. Thomas was a breeze, a small line that moved very quickly. Julie, the cruise director, was greeting guests as they exited, which I thought was a nice touch. Of course, on the pier, there were photo opportunities so we did stop for a few pictures. But without a digital package offering, none of these pictures made it home with us. The instructions for our shore excursion were to meet our guide "immediately outside of the gate". We had to walk up and down this area for a while before we finally spotted our tour guide Sunny Liston, with his brightly painted red open air bus, pulling into the terminal area.
Norwegian Escape Cruise Review – Our Tour Bus
His tour has several different starting times as the first portion of the tour is a drop off in Downtown for shopping. We chose the earliest pickup time to make the most of our tour. Apparently, we were the only ones who did, so he put us on another tour heading to downtown Charlotte Amalie. Here, we spent some time exploring the shops and vendor's market.
Norwegian Escape Cruise Reviews – View of Ship from Downtown
We were back to Emancipation Gardens for 11:45am to meet back up with him for a 12pm departure from Downtown to begin the rest of the island tour and beach break. Be on the lookout for our complete St. Thomas Island Tour review coming soon.
With our tour bus blaring pop music as we traveled down Frenchman Bay Road, we returned to the cruise terminal area in style around 4:00pm. Sunny dropped off some of the cruisers at the Havensight Mall, and we got off too to do a little shopping. Thankfully, the shopping spree did not last too long, so we were back onboard the ship around 4:30pm. Getting through security was easy, and Norwegian has stepped up their game offering cleansing towels and a water and fruit juice station right outside the ship now.
Havensight Shopping Mall
The cruise director's staff was also there welcoming passengers back onboard. Having spent a full day in the sun, a second round of coffees from the Atrium Café was in order. The lattes were definitely better than we remember from our previous cruise, and the costs comparable to other cruise lines.
Tonight's dinner was at Teppanyaki at 6:15pm. This is a signature hibachi restaurant, providing dinner and a show. The flat fee is $29.95, which includes soup, salad, your choice of meats prepared right in front of you, fried rice (which was delicious), and dessert. Even if you didn't order something, the chef was willing to let you sample other items as he cooked everything in abundance.
Norwegian Escape Cruise Review – Inside Teppanyaki Restaurant
Seating is staggered at this restaurant so that each chef can prepare meals for a seating of approximately 10 people. The food and the service were both on point tonight, and we left this venue stuffed after about two hours of non-stop eating. See our complete picture review of this restaurant coming soon.
Timing was perfect as we got out of the restaurant just in time to walk across the way to Headliner's Comedy Club for tonight's Howl at the Moon dueling piano show. Even though the show had just started, it was tough to find seats, so we were stuck towards the back of the club. The show plays several days during the week, alternating with the comedy shows, and features the same three performers who rotate in and out. The piano players feed off the crowd, asking for the audience's requests and participation. Remember, you can suggest a song for free, but if you want to request a song (i.e., make sure it gets played) then you are going to want to pony up some cash. The three performers were entertaining, adding some banter between the singing and playing.
We both enjoyed the "show" and would have stayed longer, but the seats were quite uncomfortable and we had show reservations for Million Dollar Quartet for 10:00pm. We stayed until about 9:30pm then headed off to the theater. By the time we got to the Escape Theater, they were already letting cruisers with reservations into the show. We gravitated towards roughly the same seats as we did for After Midnight. This time, however, we did grab some drinks from the bar. Noting the lack of bar servers, I just went directly to the bar and got some speedy service.
Norwegian Escape Theater Bar
The show started promptly at 10:00pm. This 75 minute show is based on an actual event, an evening when Jerry Lee Lewis, Carl Perkins, Elvis Presley, and Johnny Cash did a jam session at Sun Records.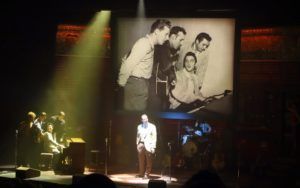 The show features songs from these performers, and according to the preshow introduction, all of the singing and musical performances were live. The entertainers were impressive, but there was not much of a story line.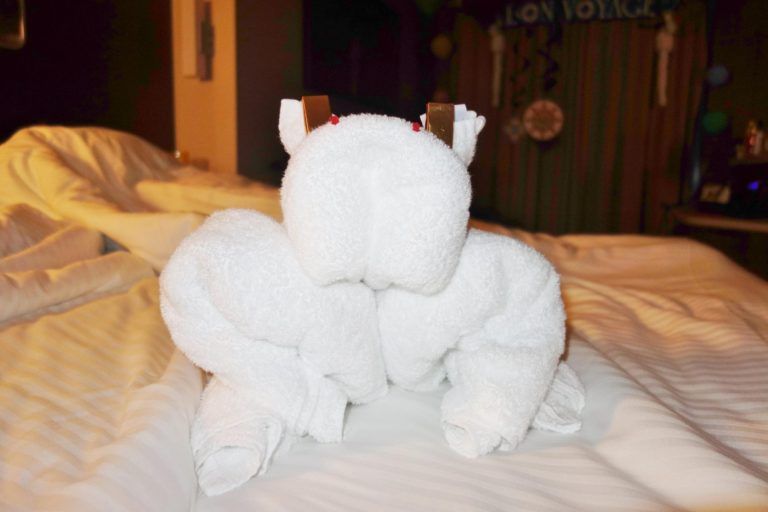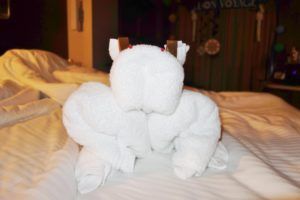 Ending around 11:15pm, we retired for the evening as we had an even earlier start tomorrow with our shore excursion in Tortola, but we grabbed a photo of our nightly towel animal before hitting the sack.
Norwegian Escape Cruise Review – Day 5
If you thought that waking up at 5:00am on vacation was crazy, you would be right. But with an early arrival into Tortola at 7am and an excursion booked (this one through NCL) which departed right when the ship docked, this was the time the Princess insisted the alarm be set. On a previous NCL cruise back in 2008, we had done the same excursion to the Baths at Virgin Gorda, but sadly, we do not recall much about the tour. Being only our second cruise together, we were newbies. So, 8 years and 8 cruises later, we decided to head to Virgin Gorda again.
Now and Then Pictures of us from The Baths at Virgin Gorda
You can book the excursion through the cruise company directly or opt to take the ferry ride over to Virgin Gorda yourself with a few different lines, but after comparing ferry times with our arrival and departure times, it made the most sense to just book with the cruise line. Even though we could have possibly squeaked out an extra hour at the Baths, we did not want to chance missing the ferry and our all aboard time.
So, up even earlier than the day before and no shot at getting lattes, I did run down to O'Sheehan's for a bakery basket to go so we would at least have something to eat before departing. Dressed in our bathing suits and beach towels packed, we made our way to the Escape Theater at 7am along with a large group of fellow cruisers. Our excursion was called within a few minutes, and we were escorted off the ship toward the ferries awaiting our tour.
Early Morning Shot of Norwegian Escape in Road Town, Tortola
Along the way, we did stop to get a few of the pier side portraits but did not end up purchasing any of them. Our group was led to the Speedy's Ferry where we handed over our tickets. The ferry ride was approximately 35 minutes, followed by a 10 minute bus ride.
Norwegian Escape Cruise Review – Our Virgin Gorda Ferry
By the time we got to the baths, we had a solid two hours to swim and explore the sea caves. You can find out more about our day at the Baths in Virgin Gorda in our upcoming shore excursion review.
Sneak Peek of our Beach Break at Virgin Gorda
Our ferry back to Tortola left at 11am, taking closer to 45 minutes to arrive back on land. Upon our arrival, we were surprised to see another cruise ship, the Aida Luna, parked alongside us. Never one to miss a photo opportunity, we snapped some pictures of the colorful hull of this ship, even though the chances of us sailing on this German line are pretty slim.
AidaLuna Docked Next to the Norwegian Escape
After grabbing some photos, we browsed the few shops that were open as the port is current undergoing some updating and expansion. As one comedian commented later that night, the port will be beautiful once it is finished. I did find one store that was selling Tortola rum, so I picked up a few bottles as gifts (including one for myself). The Princess began venturing into town as she was intent on finding an ornament to buy for our vacation tree.
Norwegian Escape Cruise Review – Crafts Alive in Tortola
We happened to stumble upon the Crafts Alive Village offering plenty of souvenirs and locally made goods. This is a five minute walk from the ship, heading southwest down Administration Drive to the first major intersection on Waterfront Drive. This spot also provides an excellent vantage point to get some additional photos of the cruise ship.
Norwegian Escape Cruise Review – View of the Norwegian Escape from
We were back on the ship around 1pm. Running on no caffeine, we skipped the elevators and climbed the few decks up to get some iced caramel lattes at the Atrium Cafe. We were not alone as this was the longest line we encountered for coffee thus far. Debating what we should do next, we opted for lunch again at Margaritaville. In hindsight, doing lunch at O'Sheehan's probably would have been the smarter option as we never made it back there to sample more of the venue's enticing menu.
Norwegian Escape Cruise Review – Lunch from Margaritaville at Sea
There was a small line at Margaritaville, so we had to wait a few minutes before getting seated. Today, we both ordered our own appetizers and meals. I ordered a cheeseburger and conch fritters, and the Princess ordered the Cobb Salad and Chicken Quesadillas. Lunch was busy, but our server was very prompt. Even though there is an upcharge, this venue was one of our favorites on the ship, combining food, theming, and overall atmosphere. In preparation for the sail away, we walked up to the Bar on deck 19 for a drink of the day, and to cross another bar off our drink around the ship.
Norwegian Escape Cruise Review – Drinks at the Sundeck Bar Deck 19
There were plenty of loungers available, but we decided to chill on a few of the oversized chairs near this bar in front of Vibe. On a few occasions, cruisers came in and out of Vibe, and I joked about making a dash through the fence to see what it was like on the other side. NCL's hotel staff was nice enough later in the cruise to give us a guided tour of both the Haven and the Vibe Beach Club so we could see how the other half lived, if only for a short while.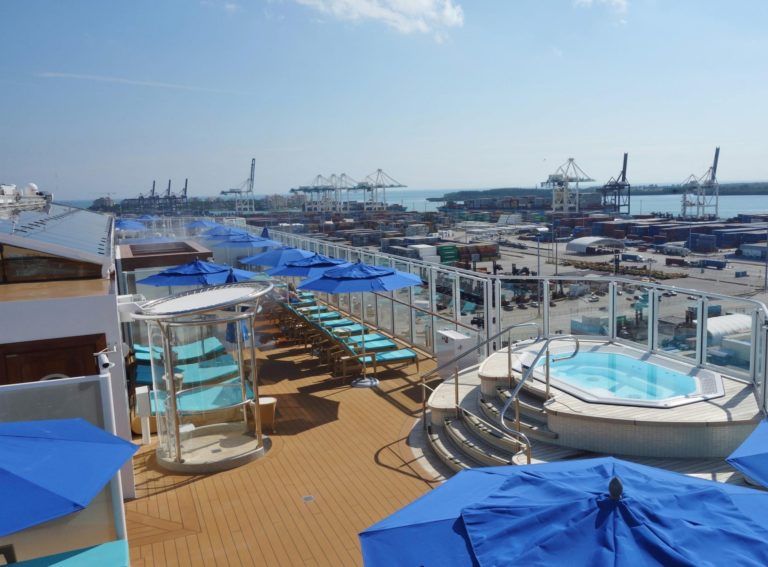 Norwegian Escape Cruise Review – A peek into Vibe Beach Club
As the ship began to pull away from port, we left the comfort of our chairs to head down to deck 17 to get some photos of the sail away. Noting the nice conditions and relatively quiet ropes course, I ran downstairs to change up. The top level of the ropes course was open, so I wanted to try it out. The Princess decided to stay grounded today and take some pictures and video of me on the course.
All the excitement was quickly exhausted as the zip line was not open and the challenges were actually less rigorous on this level. At least I can say I did complete all of the different levels, but I was expecting a bit more. Perhaps the caffeine was finally kicking in, but we both seemed to have a bit more energy now. We made our way to the photo gallery to check out all our recent photos and also ended up getting a drink at the outside bar of 5 O'clock Somewhere, which does have a slightly different drink menu than Margaritaville.
Margaritas at 5 O'Clock Somewhere Bar
By now it was about 5 pm, so we headed back to change up for dinner. We had reservations tonight for 6:30pm at La Cucina. Given the nice weather, we discussed dining on the Waterfront as we really hadn't spent much time out there yet. Arriving at La Cucina, there was no line, and the restaurant was not very busy. Not sure why this restaurant was not as busy as some of the other venues because we ended up having the best meal of our cruise at this restaurant.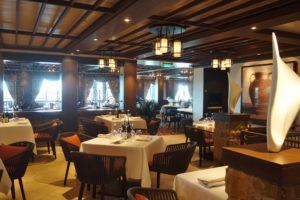 Eating al fresco in the venue was also nice, even if the Princess complained about the wind messing up her hair. Our waitress and assistant waiter were excellent, and the food was phenomenal. Hands down, when we sail on Norwegian Cruise Line in the future, we will be sure to have at least one dinner here.
Norwegian Escape Cruise Review – A Few of the Plates from La Cucina
After dinner, we walked next door to Cellars to grab a glass of wine as we continued to cross bars off our drink around the ship, but there were no seats available outside. We sat inside for a bit then moved on. We walked through the casino, where the Princess and I both lost more money at the one arm bandits. I guess we had not learned our lessons from the previous days.
Norwegian Escape Cruise Review – Glasses of Wine from Cellars
A fellow cruiser had highly recommended one of the ship's entertainers, Beau Tahana, and we had yet to catch him at any of the lounges. There were a few different musical acts which tended to rotate through many of the bars, so tonight Beau was in the District Brewhouse. This was perfect as it was a venue we had yet to get a drink at also. For some reason, the crowd was non-existent tonight. We grabbed seats on one of the comfy sofas and ordered a few drinks. Beau is definitely a solid performer with a good voice and a quirky personality.
Tonight was also the 80s party. There was already a decent crowd at Spice H20 when we strolled in a few minutes after 10pm. We managed to both squeeze into an oversized chair in the back near the bar. There was 80s music blaring but not many people on the dance floor. It would take some cajoling from the cruise director staff to get cruisers out there on the dance floor. I headed down to the dance floor for a bit to grab some pictures when the "special guests" arrived-a bunch of fellow cruisers dressed up as popular acts from the 80s, like Madonna and KISS.
80s Party at Spice H20
It was getting close to 11pm, so we made the decision to leave the party to take in the adult comedy show in the Escape Theater. This show featured both headliner acts doing completely different sets. There were definitely more adult themes and adult language in this show but nothing too over the top. The entire show was about 50 minutes.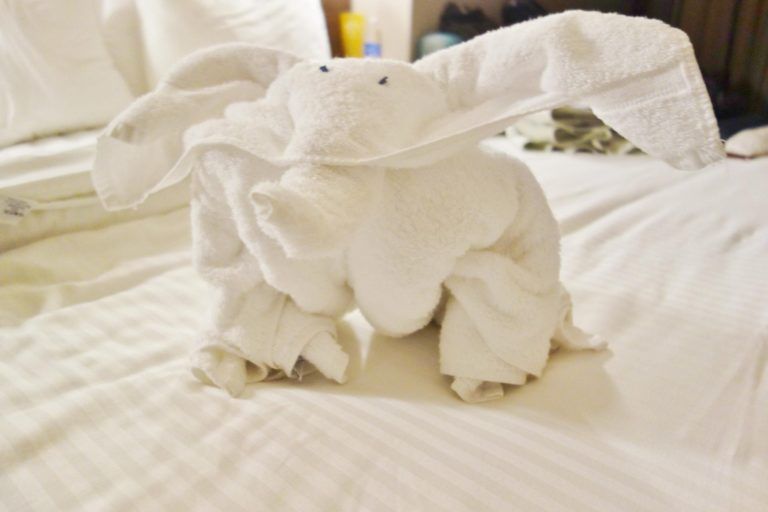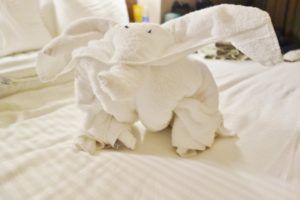 So slightly before midnight, it was time to head to bed as we had a busy day in store for our last sea day. Of course, our new found towel animal was waiting for us when we returned.
Norwegian Escape Cruise Review – Day 6
We should know better, but we decided to sleep in a bit today. And by sleeping in, I mean the alarm went off at 7am. While the Princess got ready, I went down to get our customary iced lattes. I also made a few loops around the Waterfront with my GoPro as the crowds were relatively light in the early mornings. We were up to deck 17 around 9:15am to find not an empty deck chair to be had in Spice H2O. Of course, there were plenty of "reserved" deck chairs with towels on them, but not many fellow cruisers actually sitting on them. So, despite our success the past two sea days, we had to find an alternative location for our last sea day. After searching around deck 17 a bit, we opted to move forward to deck 19. There were quite a few seats here.
When in Doubt, Decks 20 and 19 Forward Tended to Have Available Deck Chairs
Securing our seats with towels and towel clips, we headed to the Garden Café for breakfast. This was our first time at the buffet all cruise. While we are not usually fans of buffets, we were pleasantly surprised at the quality and selection of the breakfast. The food was fresh, the made to order omelets were well prepared, and the flow of passengers was manageable. We recommend entering the restaurant and heading aft as we found plenty of seats.
Norwegian Escape Cruise Review – Breakfast at the Garden Cafe
Breakfast lasted about a half hour, and then it was back outside to enjoy our last chance at relaxing in the sun for this cruise. As we were leaving breakfast, we stumbled upon the $10 t-shirt sale that was just beginning at the outdoor Marketplace on deck 16, right near the pool. The $10 t-shirt sale is one sale that we normally try to catch on a cruise as I am a sucker for a good cruise t-shirt. This time around, the sale was pretty organized and they actually had shirts in my size, so we grabbed a few before they were all sold out.
Marketplace on Deck 16
Back to our deck chairs by 10:30am (yes, I know we left these chairs abandoned for close to an hour), we relaxed in the glorious Caribbean sun. There were some storm clouds ahead, but the Captain did an excellent job maneuvering around the weather, so we only got a light sprinkle of rain.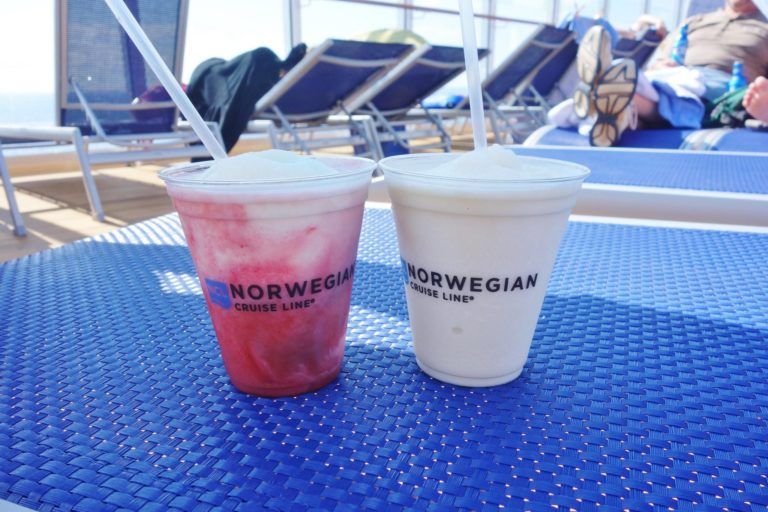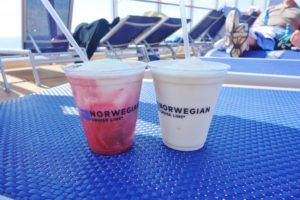 We lounged for close to three hours, grabbing some drinks in the meantime, my first pina colada of the cruise! I snuck off for a few minutes at one point to grab some photos of the ice carving demonstration happening at the pool deck.
Norwegian Escape Cruise Review – Ice Carving Demonstration on Deck 16
After doing nothing but eating, drinking, and lying in the sun for three hours, we had no option but to go to lunch, so back to the Garden Café to test out the lunch selections. We scored a booth in the same location we ate breakfast a few hours ago. Again, not usually a fan of cruise ship buffets, lunch here was better than we expected. Similar selections as other cruise lines, but the food itself seemed better prepared. You can see the hamburgers and grilled chicken being cooked right in front of you. We also liked the ice cream and dessert area, not that we really needed to eat dessert at 2:00pm, but whatever.
Norwegian Escape Cruise Review – Lunch at Garden Cafe
Finishing up lunch, we went back to our room to drop off our bag and beach towels as there was no need to cart them around the rest of the afternoon. Then, we decided to head back out and enjoy more of the ship's outdoor decks. Back to the 5 O'Clock Somewhere Bar on the Waterfront, we ordered a few more drinks off the signature menu. We wish we would have discovered this outdoor bar a bit sooner as the bartenders were very comical, and the specialty drinks were some of our favorites.
Norwegian Escape Cruise Review – More 5 O'Clock Somewhere Cocktails
There was a large group of Jimmy Buffet fans sailing on our cruise, so this area was always packed and could get a bit rowdy at times. Finishing our cocktails rather quickly, we decided to get another round from Bong at the Sugarcane Mojito Bar. Unfortunately, this bar was packed too, so we decided to do our own al fresco drinking out on the balcony and do some social media/blogging while sipping our drinks.
Norwegian Escape Cruise Review – Raspberry Mojitos on Our Balcony
Time passed quickly, and before we knew it, it was time to shower and get changed up for dinner. Yup, more eating and drinking! This was a tough last day at sea. Actually ready ahead of schedule for a change, we walked around to a few casual portrait stations as the Princess had not been too impressed with our photos so far this cruise. There were actually some different backdrops tonight, so we posed at three of them. Good thing, as we ended purchasing one of the portraits from this evening's photo shoot as our sole photo of the cruise. This photo has now replaced our photo from our Enchantment of the Seas cruise from last year. Awkwardly, the NCL photo is in an RCI frame, but we won't tell if you don't!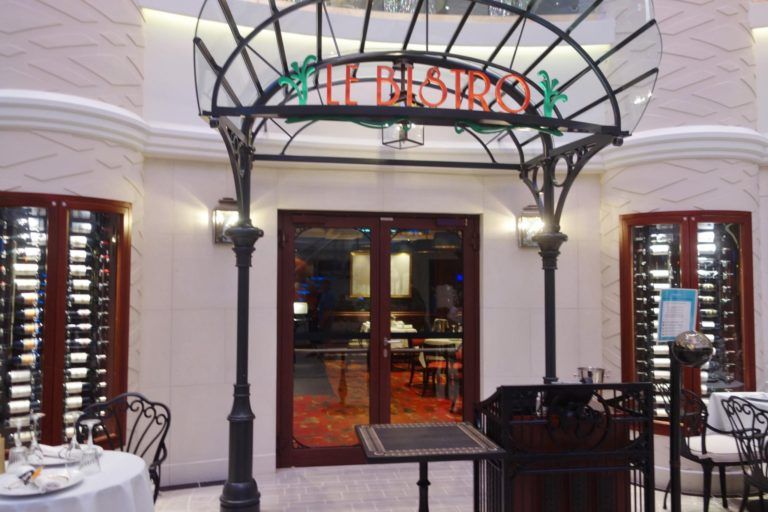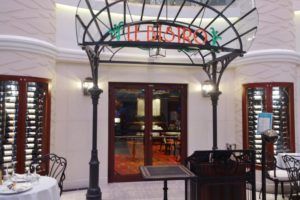 Following photos, we walked over to Le Bistro for our dinner reservation at 6:30pm. Coming off a great meal with excellent service at La Cucina, Le Bistro was a bit of a letdown. The appetizers were nothing special, and the wife's chicken dish was actually better than my veal. The profiteroles dessert was the one shining element of dinner.
Highlights of Dinner at Le Bistro on Norwegian Escape
Tonight, we had another comedy show reservation for 9:00pm. Out of dinner by about 8pm, we had some time to grab a post dinner drink at Mixx Bar for our drink around the ship quest. This bar had the standard menu, and since we had not already done so, we ordered two drinks of the day then headed over to Headliner's shortly after.
Tonight's featured comedian was Rodney Laney. Similar to the other two comedy shows, Frank Townsend came out to warm up the crowd with a different set, with tonight's focus on why women are smarter than men. Rodney followed with material that was also different from the previous adult comedy show. Rodney put on a solid show again tonight, and I would definitely recommend making time in your schedule to see both Rodney and Mark perform in Headliner's.
Ready to Take the Stage at Headliner's Comedy Club
Finishing around 9:45pm, we made our way to Spice H2O; we were not going to be shut out of seats for the Glow Party at 10:15pm. We arrived only to find the area soaking wet. Apparently, it was raining earlier?! We grabbed some prime people-watching seats in the front row, but before long, I had to run downstairs to grab a sweatshirt for the Princess as the weather had definitely gotten windy and chilly. Despite the weather, the crowds filled in quickly. Before long it was GLOW time, complete with plenty of white outfits, large neon glow sticks, pop music, and lots of energy.
This party was much different than the 80s party. Fellow cruisers were ready to drink, dance, and have a good time. We joined in the fun by singing and getting a round of drinks, but the Princess was not ready to lose her coveted deck chair to make it out to the dance floor. After about an hour of fun and excitement, the Princess needed to head inside to warm up a bit. Knowing this would be our last late night, we went to the Skyline Bar to complete our drink around the ship. Finished our drink around the ship with a whole day to spare? What would we do tomorrow?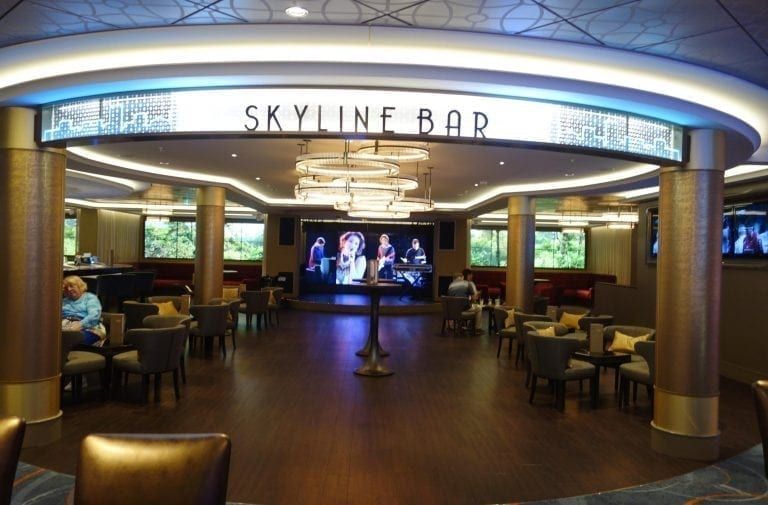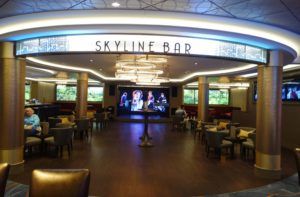 When we arrived at Skyline, Sandra and Thierry were finishing up the last few songs of their set, and the stage transitioned over to the DJ. After some music and a few rounds of drinks, it was well past midnight when we decided to leave.
Norwegian Escape Cruise Review- Late Night at Skyline Bar
But, the casino could not escape us, as the Wizard of Oz machine that we had been eyeing all cruise was actually available. Losing the rest of our gambling money, we realized why no one was playing the machine!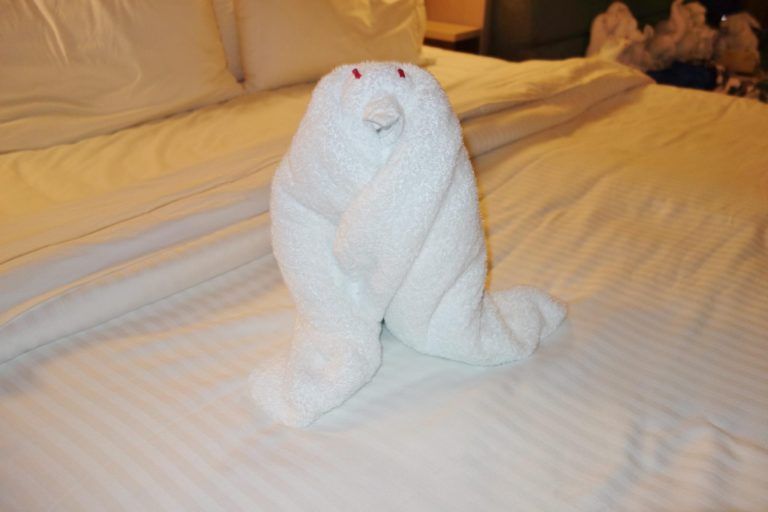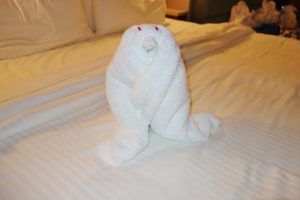 Oh well, guess that was our sign to call it a night. At least our stateroom attendant came through again with another towel animal.
Norwegian Escape Cruise Review – Day 7
Not accustomed to having the last day of our week long cruise as a port day, we had made plans to make the most of our morning. We needed to get as much as possible completed for our Norwegian Escape Cruise Review before heading off the ship in Nassau. Having just visited this port not too long ago, we decided to explore Ardastra Gardens this time around, and if time allowed, the nearby Fish Fry and Junkanoo Beach, all within walking distance from the pier. But first, we had to pack.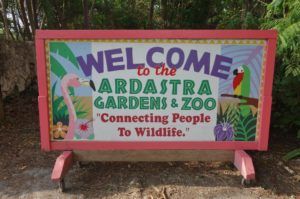 We had also scheduled a tour of the Haven and Thermal Suite for this morning with Hotel Services. So, it was our mission to squeeze in all of this before the ship docked at noon. With a 6:30am wake up, we got ready and went downstairs to Taste around 8:00am for breakfast. Service was a bit slow resulting in us cutting it pretty close for our scheduled 9am meeting. The restaurant was not crowded, but we overheard people next to us claim this was the busiest they had seen the restaurant for breakfast.
Breakfast at Taste on Norwegian Escape
Finishing up right on time, we met the crew member near guest services for a tour of the Thermal Suite and Haven area. The spaces were relatively quiet, so we were able to get some pictures of both locations. Not that we ordinarily utilize the spa on a cruise, but after taking the tour, we would definitely consider getting a day pass on one of the sea days ($54 a person).
Norwegian Escape Cruise Review – Some of the Treatments in the Thermal Spa
As you would expect, the Haven area was luxurious. The décor matched the rest of the ship but just felt slightly more elegant. We got to view an Owner's Suite, as apparently the original occupants switched to a spa suite instead. Touring the areas took about an hour.
A Glimpse into the Haven
I made arrangements with the staff member to meet her later in the day to get pictures of the restaurant as we did not want to disturb those Haven cruisers who were still having breakfast. Done packing up what we could by around 11am, we headed out and about on the ship, making a quick stop off at the photo gallery to purchase only one photo this cruise. Next we made our way out on the Waterfront, just in time for sail-in and some great up close shots of the lighthouse.
Norwegian Escape Cruise Review – Docking in Nassau, Bahamas
Norwegian Escape was cleared right around 12pm, and we were off the ship by 12:10pm. Maneuvering through the crowds, we followed the masses looking for a taxi. When we told one of the drivers we were heading to Ardastra Gardens, he told us to wait with another family who were also heading west to Cable Beach.
Norwegian Escape Cruise Review – Norwegian Escape Docked at Nassau Port
The next half hour consisted of us and about 8 other travelers waiting around for the driver, first near the taxi stand and then sitting in the taxi.  Ironically enough, the taxi driver actually lost money in the long run because as he was trying to round up additional people, four of the travelers in our van got impatient and left.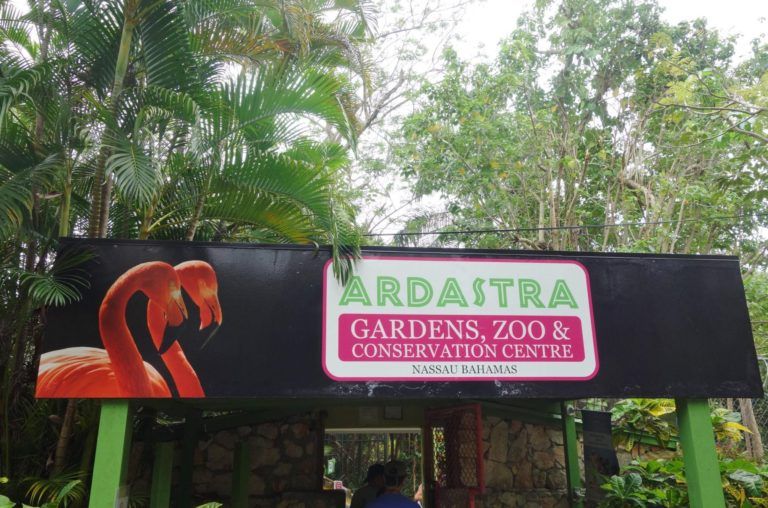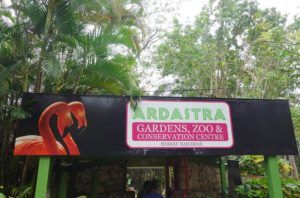 Better late than never, we finally arrived at Ardastra Gardens, though we could've made it there quicker by walking. Luckily, we still had enough time to get a complete tour of the facility and catch the shows and interact with the animals. Be sure to check out our full photo review of Ardastra Gardens coming soon.
After our taxi issues earlier in the day, we decided to walk back. Trekking by popular attractions like the Fish Fry and Junkanoo Beach, we were tempted to stop, but it was approaching 4:00pm, so we decided to just head back to the ship.
Norwegian Escape Cruise Review – View of the Ships from Junkanoo Beach
We were back onboard by 4:30pm, so I had to make a quick costume change to meet the hotel director's assistant for 5:00pm for some additional backstage tours. Flying solo this time, I was able to get some pictures of the Haven Restaurant and a quick tour of the Studio Lounge and Vibe Beach Club.
More Behinds the Scenes Looks at Exclusive Areas on Norwegian Escape
I was back to the room for 5:30pm to meet the Princess and head off for the evening. Tonight, we had reservations for the Supper Club. After reading reviews online, the food seemed to be a primary complaint. Armed with this information, we had already discussed getting appetizers at The Food Republic prior to the show. Norwegian Cruise Line must have read our minds, as they offered us a complimentary meal at this venue! We would have paid for it anyway, but now that it was free, we might be more inclined to try a bunch of the menu items.
Norwegian Escape Cruise Review – Inside Food Republic on Deck 8
Of note, this venue is a la carte and is not included in the specialty dining package. The venue was actually pretty empty; not sure if it was just the time of day or not, but it surprised us as this was some of the best food we had all cruise! We ordered a total of 8 different tapas, and all of them were excellent. Although the waiter tried to stagger bringing the dishes to the table, all the plates were delivered quite quickly, so we may have looked a bit gluttonous to some. We definitely recommend trying this venue. See our upcoming review for all of the juicy details about this restaurant.
A Sample of the Delights at Food Republic on Norwegian Escape
We devoured the dishes in about an hour and proceeded to waddle our way to the Supper Club around 6:30pm to find that guests were already being seated. The show is immersive, so we had been told to try to sit towards the back of the small restaurant to have a full view. The hostess tried seating us towards the front, but we politely requested one of the high top tables for two in the back. Most of the other seating arrangements are shared.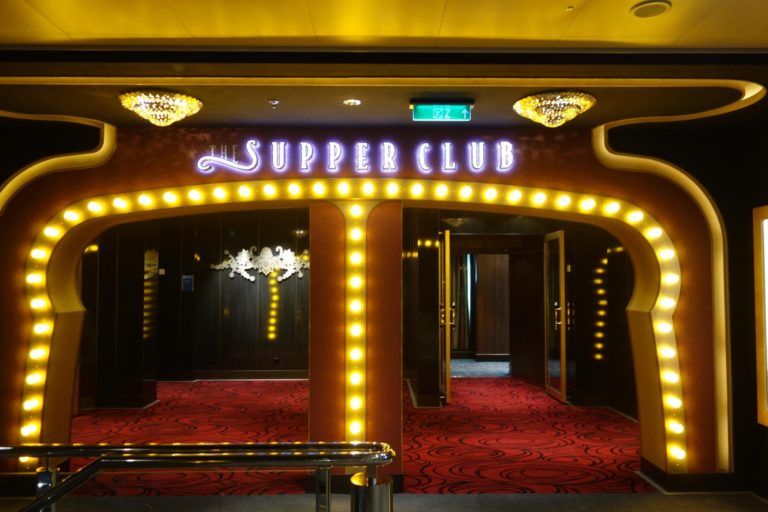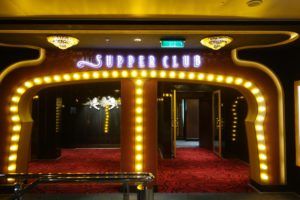 Dinner at the Supper Club is a prefix three course menu with nothing the Princess would eat. Not that I was hungry, but I did sample some of the food and found it to be nothing special. Both of us really enjoyed the For the Record: The Brat Pack show itself though. With its 80s movies montage, it was by far our favorite show of the entire cruise. The performers were great and the wait staff even got in on the act. While it is an upcharge, you should consider booking the show (but plan on eating elsewhere).
Norwegian Escape Cruise Review – Highlights from the Brat Pack
With the show ending around 8:30pm, it was time for some final drinks and entertainment. We headed over to Howl at the Moon for another round of the dueling pianos. If we were planning to stay longer, I would have given a request for some Bon Jovi, but after about 45 minutes, we decided to move on to another bar.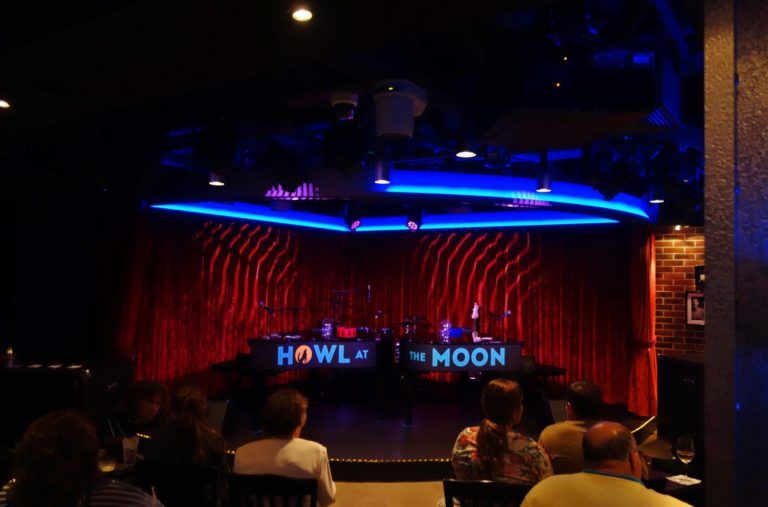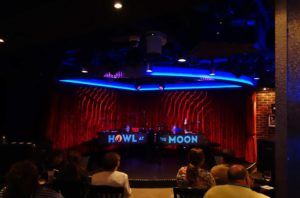 Going a whole week on a cruise without karaoke just felt wrong, so we made our way to the 5 O'Clock Somewhere Bar. Besides, we technically never got a drink from the inside bar at this venue. We arrived in time to watch 6 of the 8 karaoke contestants, including two of the three finalists. Out of LandShark beer-apparently all of the parrot heads onboard raided this bar- we both ordered margaritas. You know you have had too much to drink over the span of a week when you can't even finish a margarita!
Norwegian Escape Cruise Review – Margaritas at 5 O'Clock Somewhere Inside
After karaoke, we stuck around for a few minutes to listen to the Golden Octaves, but they were minus the lead singer. So, we moved on to the District Brew House to catch some piano music. But, as luck would have it, when we arrived, he was finishing his last song before taking a break. I guess that was our cue that it was time to call it a night. Slightly after 11 pm, we headed back to the room, placed our two larger suitcases outside the door, and said goodbye to our Norwegian Escape Cruise Review.
Norwegian Escape Cruise Review – Day 8
For our last couple of cruises, our departure flights have been dreadful, and this time around was no different. Coming from Miami to Ft. Lauderdale, there was a chance we could make a 10am flight, but uncertain of how long NCL's disembarkation would take, we opted for the late day flight instead (3:30pm). With time to kill, we purchased a transfer tour with Norwegian, the hop on hop off bus with transport to the Ft. Lauderdale airport. Yes, we had already done this tour pre-cruise, but only 2 of the 3 loops, leaving the Miami Beach loop for our return. Our plan was to explore some of Miami Beach and South Beach, but unfortunately that did not turn out as planned.
Firstly, we had received a letter in our room the previous day indicating that the bus route had to be altered this weekend, due to a festival in Miami Beach. Essentially, the tour would not be driving on Ocean Drive due to street closures- Great!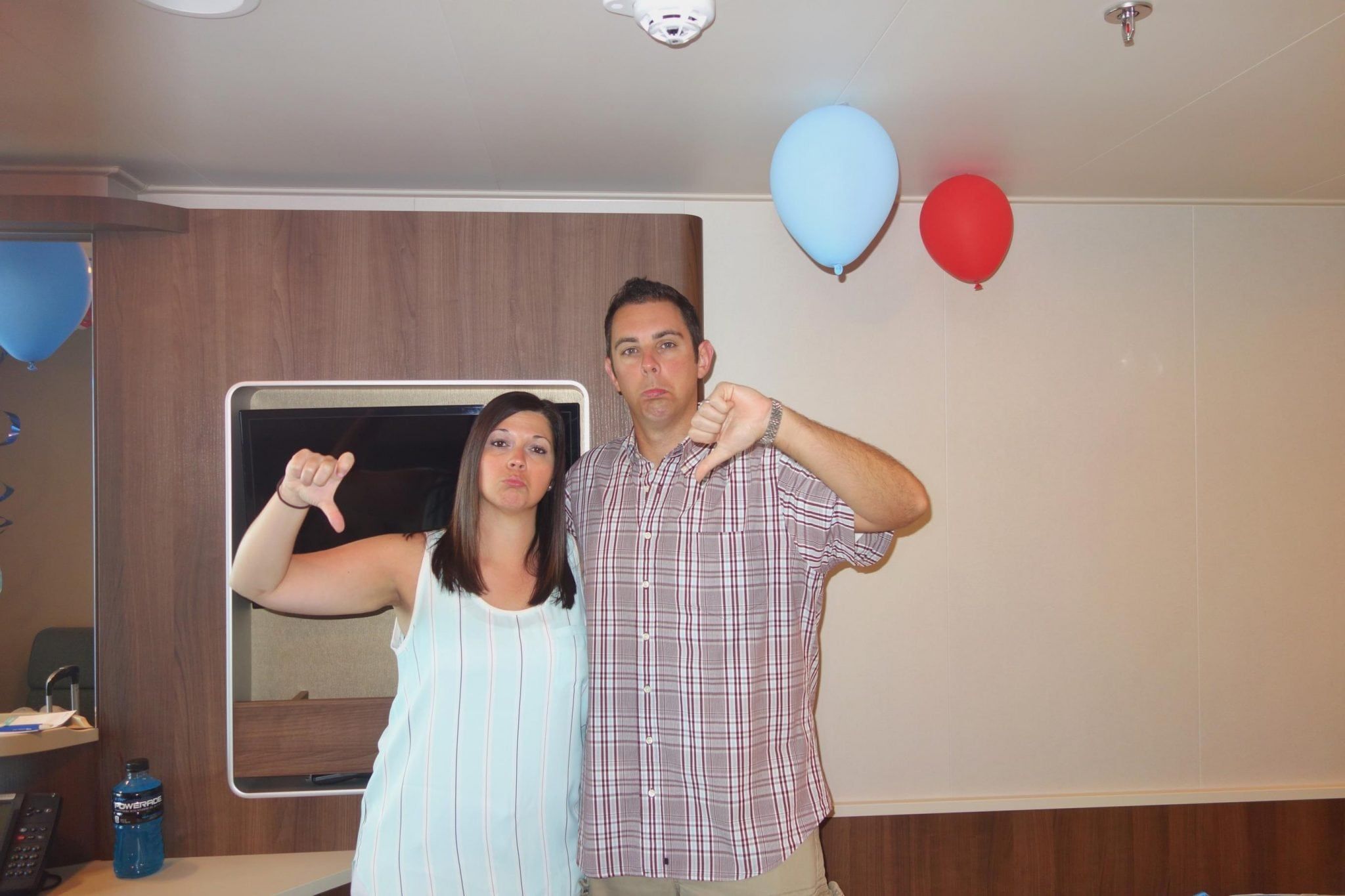 Worst Part of the Disembarkation Day – Back to Reality
Then, we were informed that transports to Miami airport would occur every hour from the Big Bus Central Terminal where our luggage would be stored, but that only 2 transports to Ft. Lauderdale would occur-one at 12pm and the other at 2pm. This meant that we would need to catch the 12pm transfer to ensure we made our 3:30pm flight.
Our shore excursion tickets had a meeting time of 8am in the theater. We set the alarm for 6 am, with the expectation that we would get ready and grab some breakfast before our meet up time. When the Princess woke up, she was startled to learn it was already 6:45am. It appeared that she accidentally changed the time on her weekly work alarm, which is set to only go off Monday-Friday, hence it did not go off this morning!
Norwegian Escape Cruise Review – Our "Zoo" of Towel Animals Wishing Us Safe Travels
With a mad dash to get ready and finish packing, we somehow managed to have just enough time to grab our last latte before heading to the theater. Maneuvering around the crowded decks with two pieces of luggage took some work, especially since some areas and staircases were roped off to direct the flow of traffic. Shortly after arriving in the theater and checking in for our shore excursion, we were given departure instructions, and around 8:20am, we got the green light to begin exiting.
Total embarkation time took about 40 minutes with a rather long delay at customs. Reunited with our luggage, and through U.S. Customs, we found the Big Bus Miami tour operator who directed us to the luggage drop off area and then the bus that would take us to central station. The ride from the port to Bayside Marketplace, where all of the bus tours originate, took just over five minutes.
Don't Want to Miss The Bus
We arrived just in time to catch the 9:30am Miami Beach loop and grab some of the last seats on the top deck. The total loop is 90 minutes. Given the detours and the time constraint imposed by our airport transfer, we decided that we really only had time to hop off at one stop, so we chose Lincoln Road, known for its shopping.
With only 30 minutes, we did not have much time to venture around, so we grabbed an iced coffee from one of the three Starbucks we passed and a few more city pictures. The next bus was quite packed, so we were stuck sitting inside for the remainder of the trip. Arriving back at the central station around 11:30am, there was just enough time for a bathroom break before boarding the shuttle to the Ft. Lauderdale airport. The shuttle is first come, first serve, so we wanted to ensure our spot.
We arrived at the airport around 12:45pm. One thing that I have learned flying Southwest over the years is to pay for the early bird check-in for the flight home. This ensures no worries about forgetting to check-in the day before and no C boarding group. After checking our bags and making our way through security, we scoped out two seats near the gate area is this very crowded terminal. Once our seats were claimed, I grabbed us a bite to eat and before long, we were boarding.
On the plane and back up in the air, we were over twenty minutes early arriving in Providence, being greeted with a balmy 40 degree temperature. Then, it was just a bus ride to the parking lot and the final 40 minute car ride home. Arriving home at 7:30pm, we did what any normal cruise blogger would do- grabbed our computers to start working on posts, social media, and editing pictures. At least this would keep the vacation going in our heads. Laundry, unpacking, grocery shopping, and all those other things could wait for another day!
Comments
Have you sailed on Norwegian Escape? What do you think of our Norwegian Cruise Escape Review? Drop us an anchor below to let us know if you have any questions or feedback on this detailed look at Norwegian Cruise Line's newest and largest ship.