When it comes to enjoying a drink, Norwegian Encore offers travelers several different bars and lounges. With so many choices, you might want to complete your own "drink around the ship" just like we do! We always sample at least one beverage from every venue onboard a cruise ship. Not sure where to start? Our Norwegian Encore Bar Guide includes all of the details, photos, and bar menus to help you make the difficult decisions.

Norwegian Encore Bar Guide and Menus
Deck 6
Mixx Bar
Located between the Savor and Taste main dining rooms, the Mixx Bar is the ideal location for a pre-dinner or post dinner cocktail. This central location is a hub of activity and a great meeting spot to gather up your crew. This venue offers a selection of house wines, beers, and the standard cocktail list found throughout the ship.
Standard Cocktails | Spirits | Beer and Wine
Social Comedy Club
This entertainment venue offers a variety of acts from live comedy to the silent disco and dance music until the wee hours of the morning. No matter what your mood, you are bound to find yourself in the Social with a cocktail in hand at some point during your cruise. So, it's a good thing that there is a complete bar serving up all of the classic beverages on Norwegian Cruise Line.
Q Texas Smokehouse
During the evenings, Q Texas Smokehouse is a specialty restaurant serving up Southern-style barbecue. At night, the venue turns into a kick up your heels good time with live country music. Couple the band with a signature drink menu featuring exclusive cocktails only found in this venue, and Q might just become your new favorite hoedown on the ship!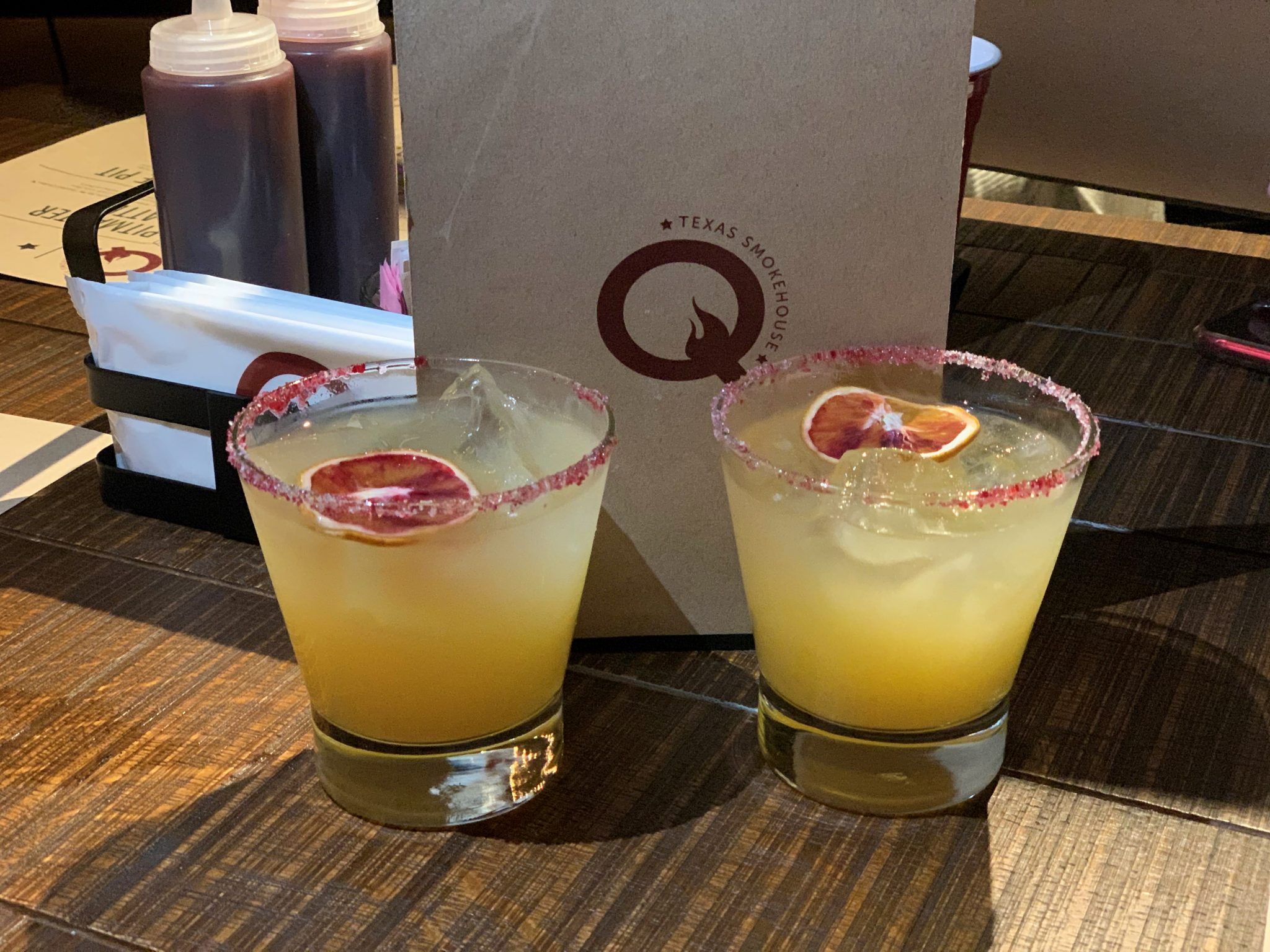 Atrium Bar
Located in the center of the ship is the Atrium Bar. This lounge has you covered throughout the day. Need a morning mimosa? Looking for a glass of wine or beer while enjoying one of the many events occurring in the Atrium? Well, the Atrium Bar is perfectly situated so you are never too far away from a drink.
Related Post: Norwegian Encore Christening Cruise Review
Deck 7
Skyline Bar
This is not your ordinary casino bar. On Norwegian Encore, the Skyline Bar is a must see even if you are not a gambler. The high definition screens that line the back wall depict different skylines from cities around the world, giving you an unforgettable view as you sip your favorite drinks. Of course, you can always test your luck in the casino while you are here.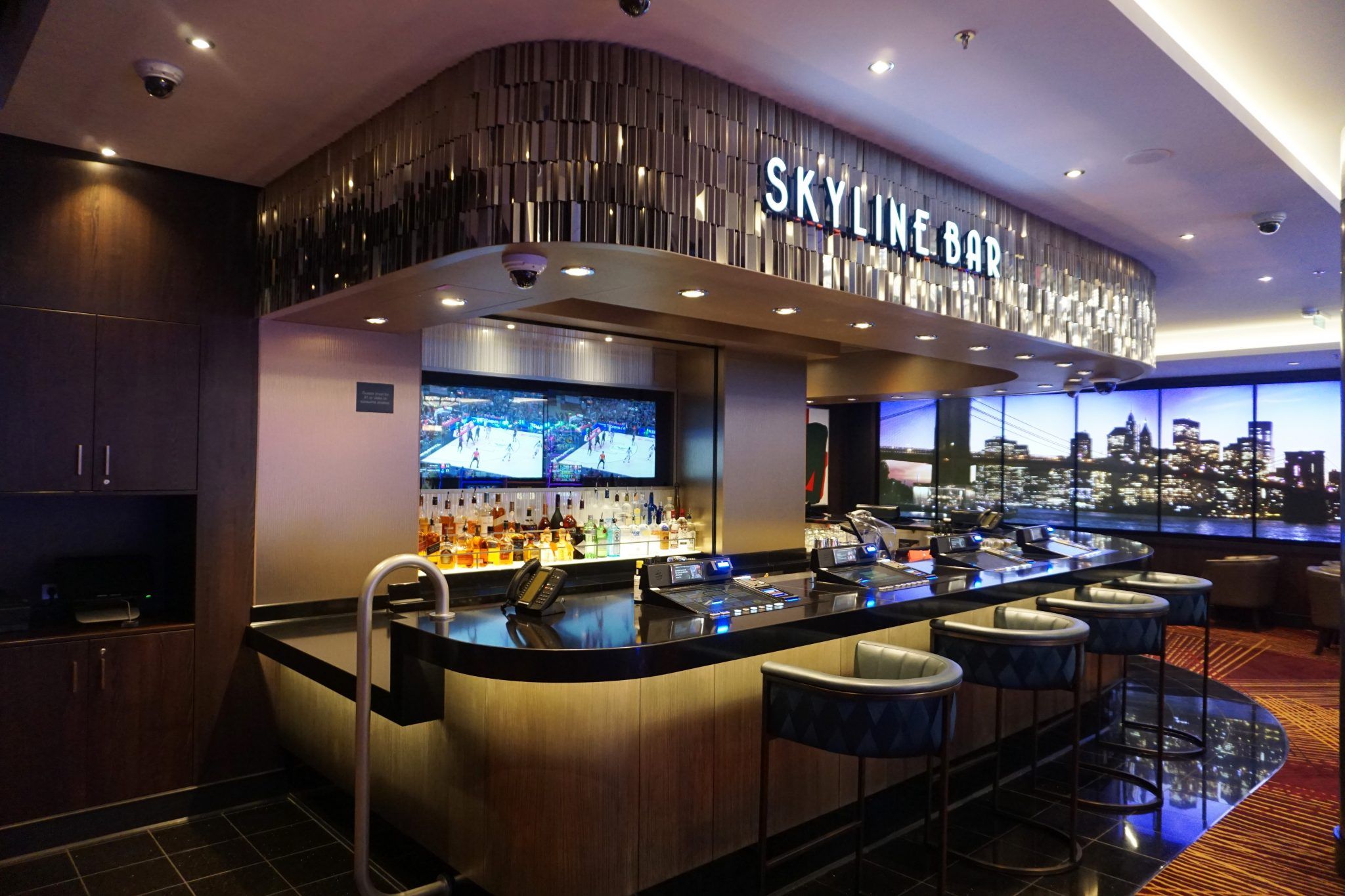 The Local Bar and Grill
Pull up a stool with some friends at the Local Bar and Grill on Norwegian Encore. This centrally located restaurant and bar, which has replaced O'Sheehan's, has the brews and bites you are craving. Open 24 hours a day with complimentary food morning, noon, and late night, you can unwind with a pint, catch the latest sporting events, or score a view overlooking all the action in the Atrium.
Local Bar Menu 1 | Local Bar Menu 2
Deck 8
A-List Bar
You don't have to be famous to be noticed at the A-List Bar. Positioned next to two popular specialty restaurants on the Waterfront, Los Lobos and Cagney's, the A-List Bar serves up a signature menu of craft drinks. Named after the departing President & CEO of Norwegian Cruise Line, you know you are in exclusive company when you settle in for your pre-dinner cocktail at this venue.
Signature Cocktails | Spirits | Wine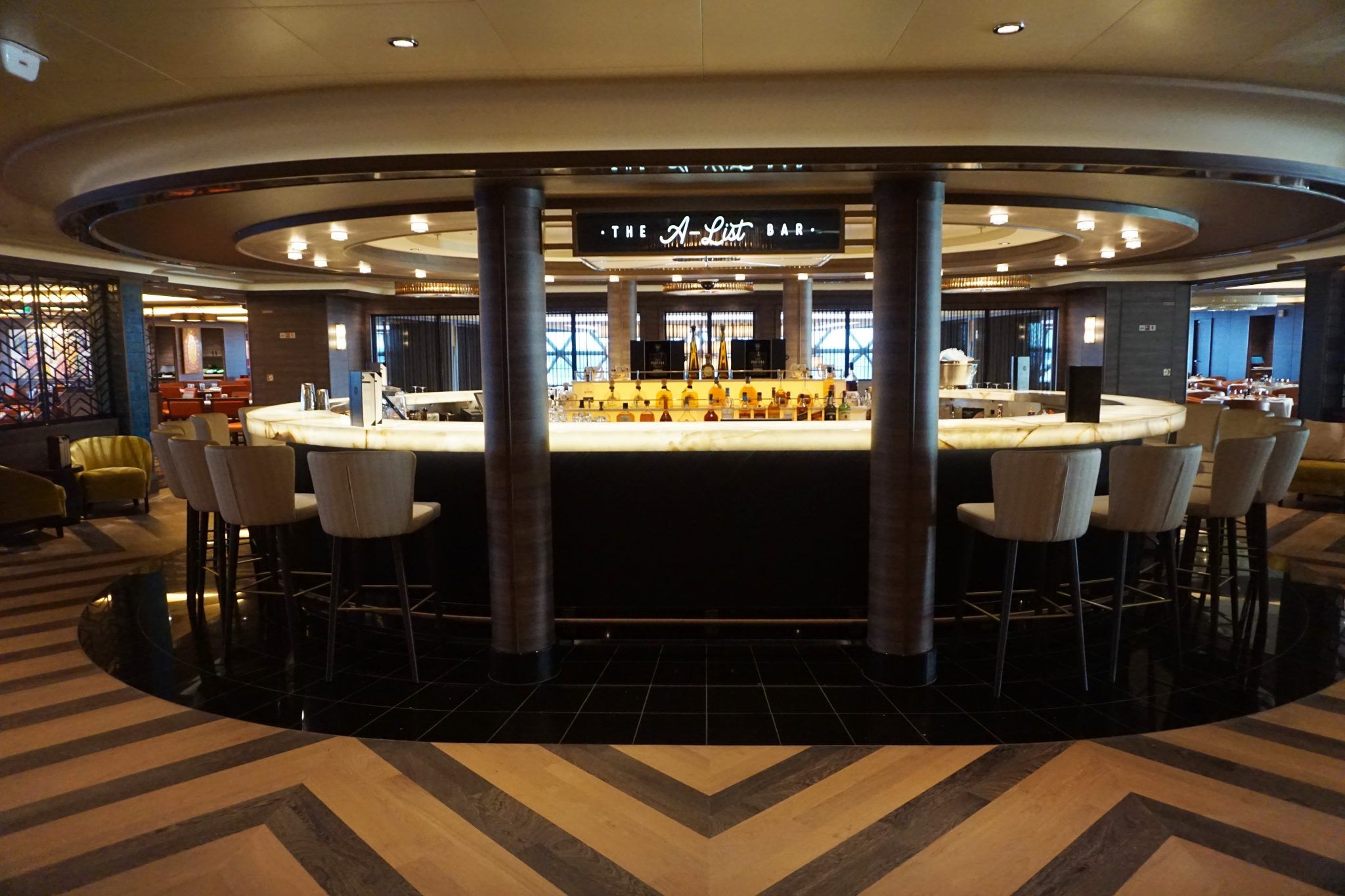 Malting's Whiskey Bar
Whiskey lovers will want to indulge in one of the internationally inspired mixed drinks from the Malting's Whiskey Bar. Featuring a variety of whiskeys that span the globe, you can enjoy signature cocktails in this warm and inviting venue. This is a great location for a nightcap with some newly made friends.
The Latest Norwegian Cruise Line Free at Sea Promotions and Deals!
Sugarcane Mojito Bar
You don't have to head to Miami or Havana for the ultimate mojito. You have several options to choose from at the Sugarcane Mojito Bar on Norwegian Encore. This venue has both indoor and outdoor seating on the Waterfront. With so many signature drinks to try, one stop is never enough at this popular lounge. Our go-to favorites are the raspberry-guava and jalapeno-cucumber mojitos!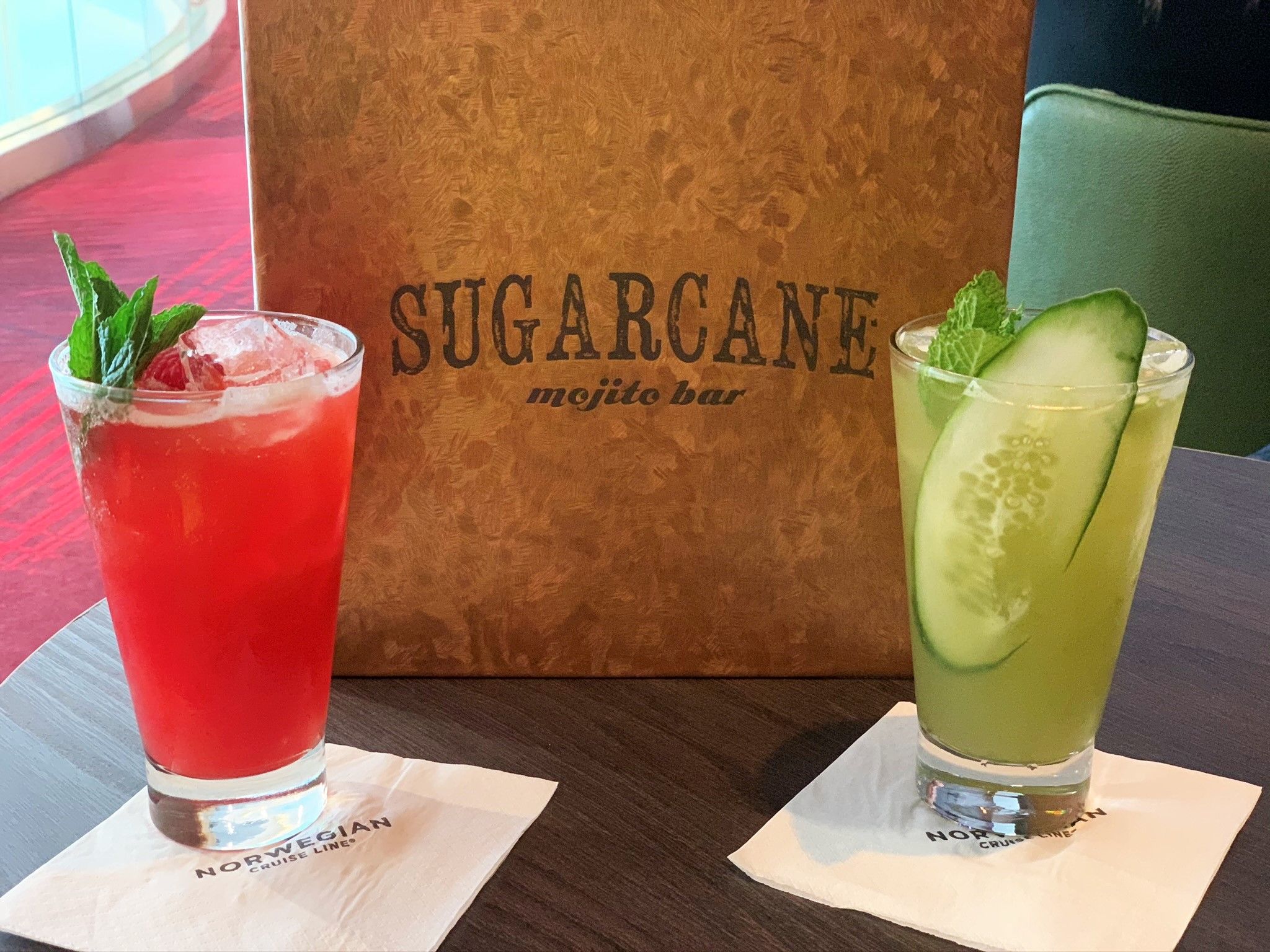 The Cellars Wine Bar
You will always find an expert pour at the wine bar on Norwegian Encore. The Cellars Wine Bar from the Michael Mondavi family is conveniently located right outside the brand new Onda by Scarpetta Italian restaurant. Whether you are a wine connoisseur or simply want to enjoy a glass of rosé, this lounge offers cruisers the chance to sample various varietals from around the world.
Complete Wine Selection (Please note this is a large file)
Related Post: Top Things to Do on Norwegian Encore
Cavern Club
It's time to "Come Together" at the Cavern Club on Norwegian Encore. Home to the Beatles tribute band and other rock performances, this venue is where music lovers congregate to rock out while enjoying classic cocktails, beer, and wine. If you are looking for a seat, you better get there early as the Cavern Club tends to be standing room only for most performances.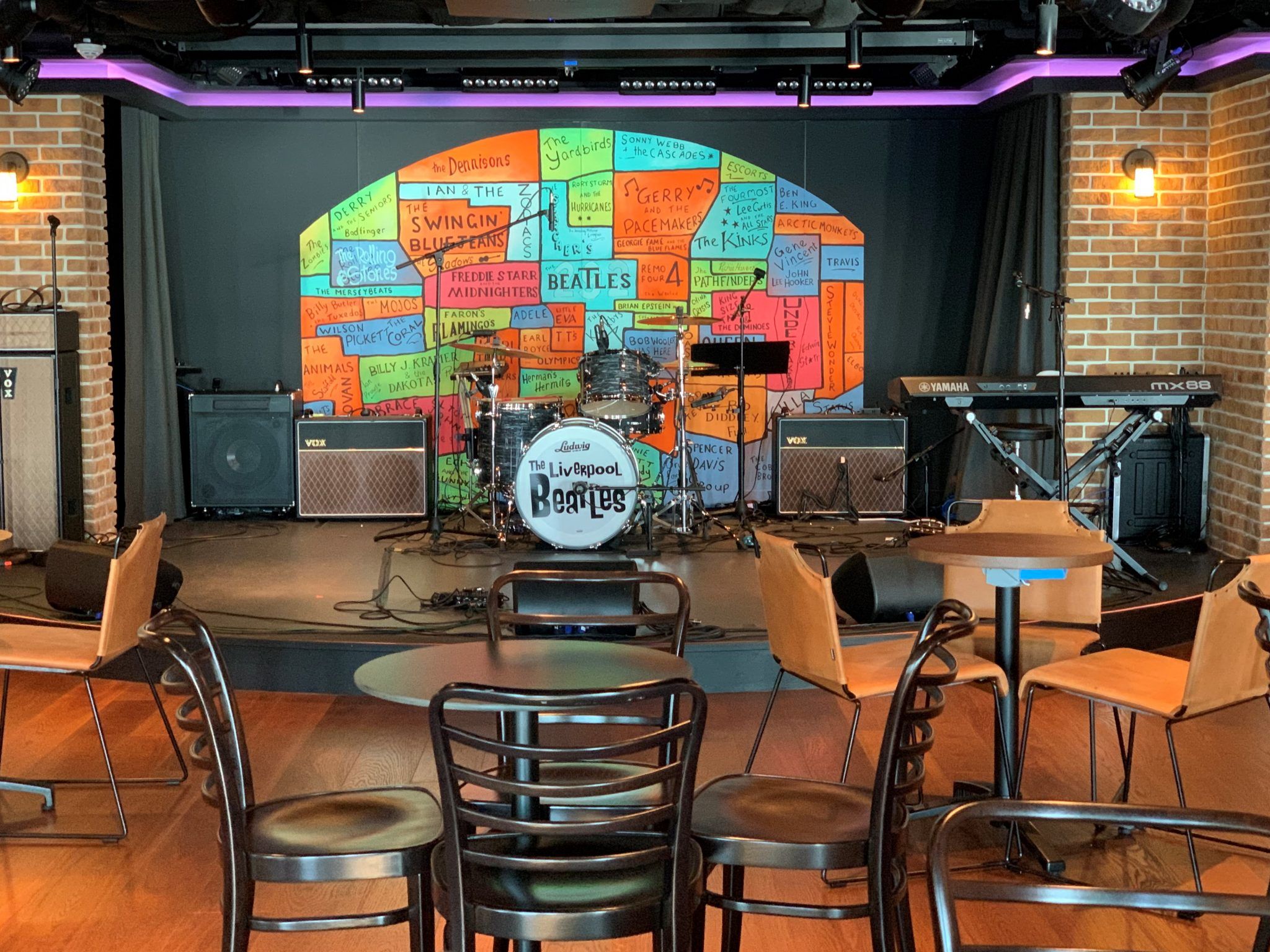 The District Brew House
Craft beer drinkers can rejoice. The District Brew House is your spot for a few brews and live music, featuring the most extensive beer selection on the entire ship. Offering over two dozen draft selections, 50 additional bottled options, and some exclusive cocktails, the menu at the District Brew House is as craft as you will find at any pub at sea.
Signature Cocktails | Beers on Tap | Bottled & Canned Beers
Deck 15
Observation Lounge
Along with breathtaking views from the 180-degree glass walls, the Observation Lounge on Norwegian Encore has a bar serving up your favorite drinks. Whether you are taking in the scenery, enjoying some light music, or simply just relaxing, the Observation Lounge is the place to be for uninhibited views from the top decks while sipping your beverage of choice.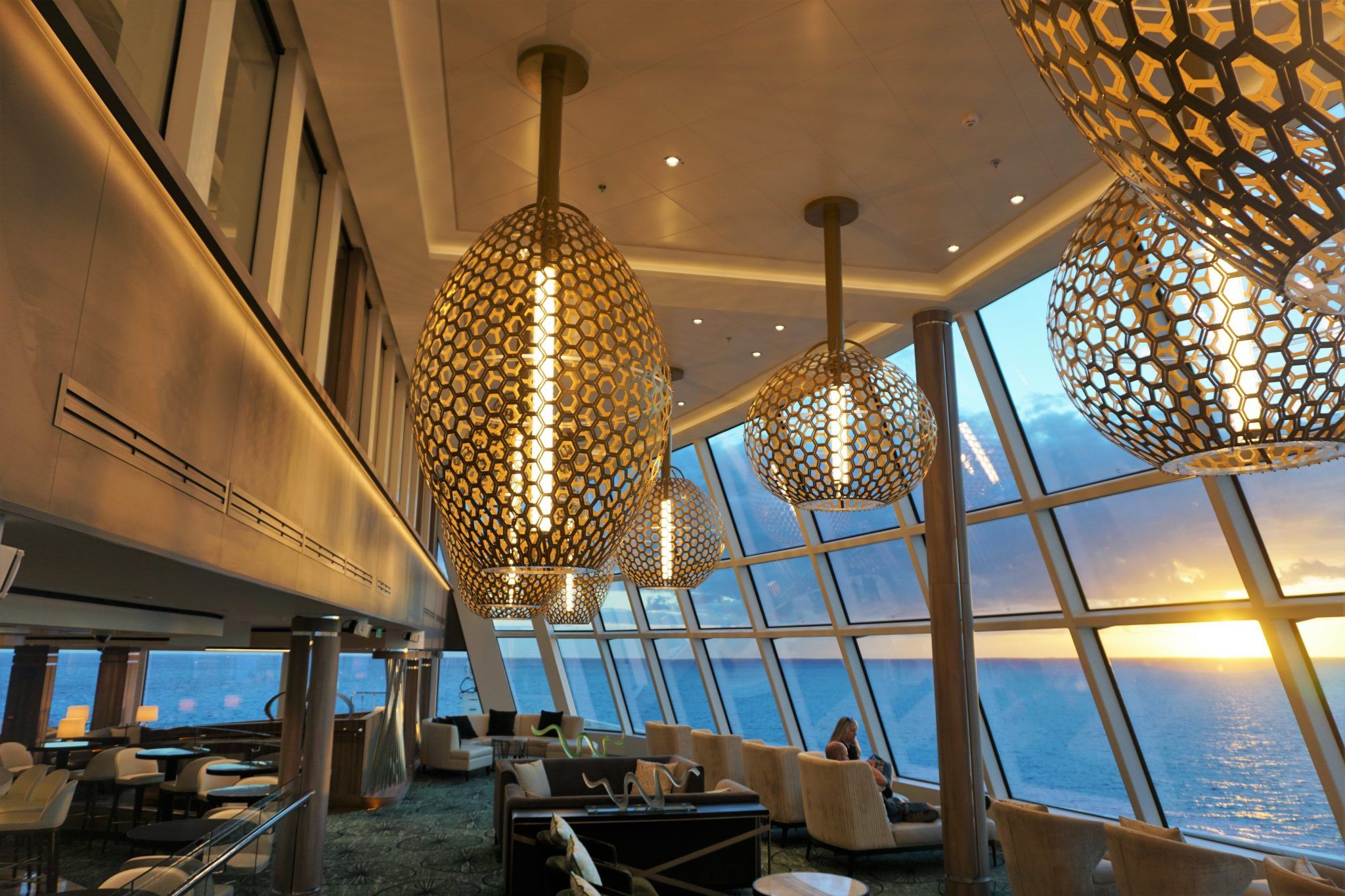 Deck 16
Waves Bar
Grab a frozen drink, a cocktail, or a beer at the pool deck's most popular spot. There is no better way to enjoy the Caribbean sun than with one of your favorite beverages from the outdoor bar menu. Frequent freestyle cruisers will be familiar with some of these signature drinks, such as the Mango Meltdown and the Bushwhacker. What's your pool drink of choice?
Specialty Cocktails | Standard Drinks
Surf Bar
If you don't want to venture too far from the pool, the Surf Bar is also just steps away. Nestled next to some outdoor seating for the Garden Cafe, this bar will be one of your daytime favorites while enjoying the great outdoors. The Surf Bar also serves a selection of popular beer, frozen drinks, and other beverages from the outdoor bar menu.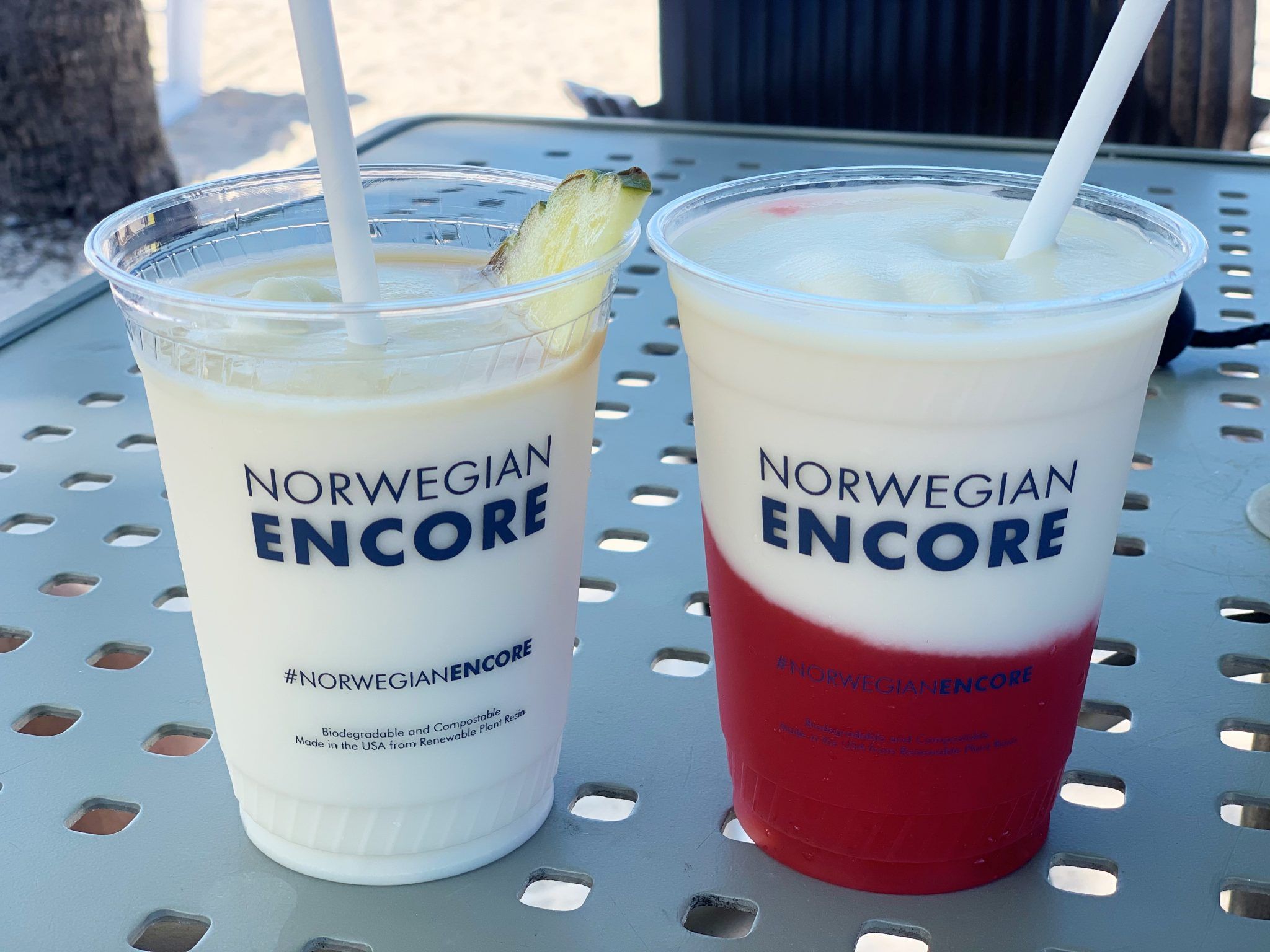 Related Post: Guide to Norwegian Cruise Line Drink Packages
Deck 17
American Diner
Taking the place of the Margaritaville restaurant on Norwegian Escape and Norwegian Bliss, the American Diner is a new casual diner serving up your favorite comfort foods like sliders, chicken sandwiches, and mozzarella sticks. While the food at this venue is a la carte pricing, you can certainly just grab a drink at the bar located near the back of the restaurant.
Deck 19
Vibe Beach Club
This 2-story private retreat offers guests a full service bar along with hot tubs, a water feature, loungers, light snacks, and amazing ocean views. A limited number of passes to this secluded area can be purchased once onboard the ship at Guest Services. Those choosing to upgrade their experience can enjoy champagne, cocktails, and Caribbean breezes in exclusive company.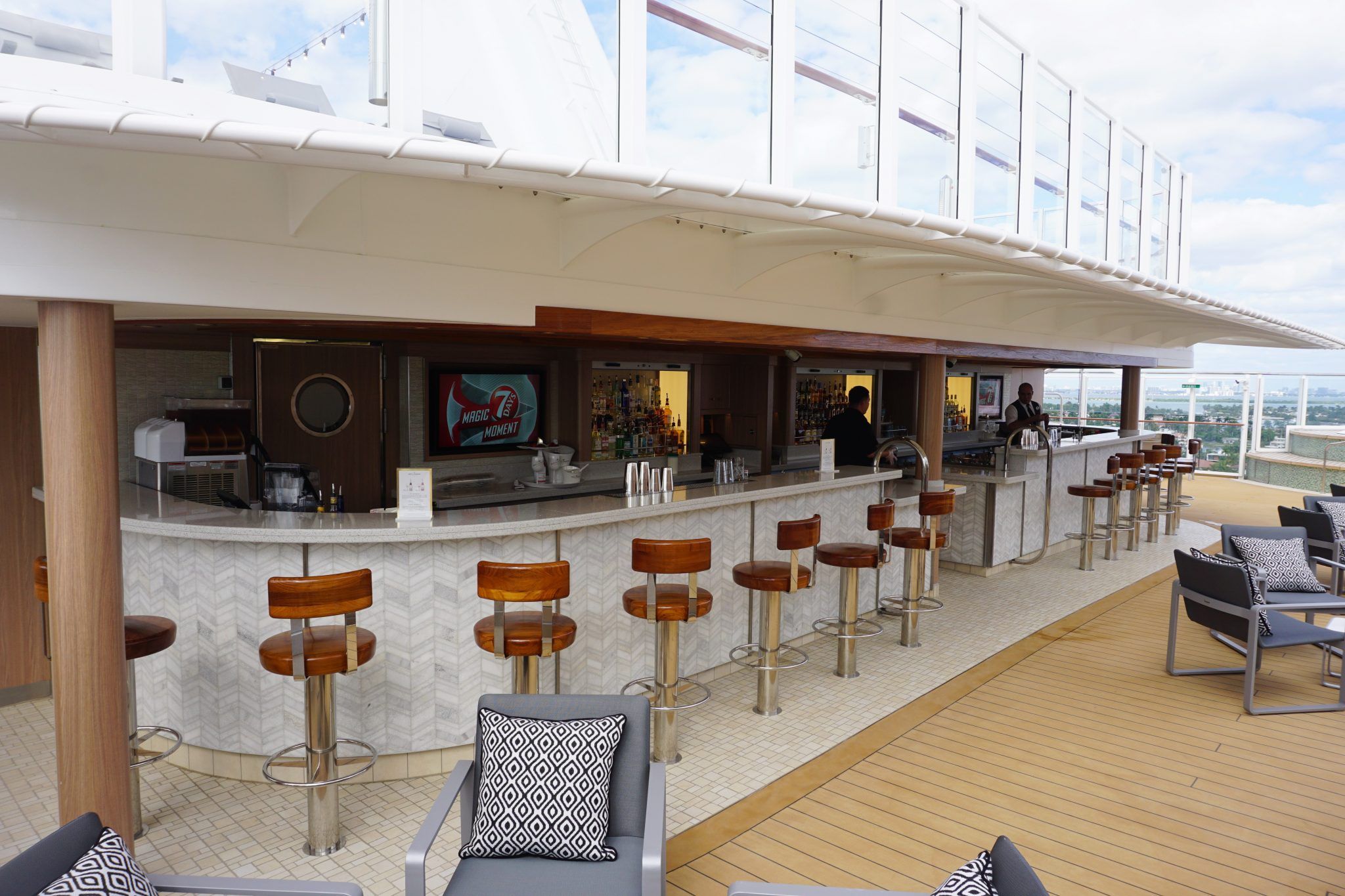 No matter which Norwegian Encore bar you choose, you are bound to find great drinks and great company. With so many diverse bar options offering specialty drink menus, why not try them all!

Comments
Do you have a cruise booked on Norwegian Encore? What is your favorite Norwegian Cruise Line bar? Drop us an anchor below to share your go-to watering hole on an NCL ship.