Norwegian Bliss Alaska Cruise Review
08/25/2018 – 09/1/2018
Summary:
This 7-night Alaskan cruise was a very similar itinerary to our 2014 Alaskan cruise on Celebrity Solstice. With so much to do and see at each port of call, visiting the region again just four years later felt like the perfect time between visits. Plus, it is rare that a brand new ship makes its debut in the Alaskan region. Being avid mega-ship fans, this end of summer cruise was almost a given for us.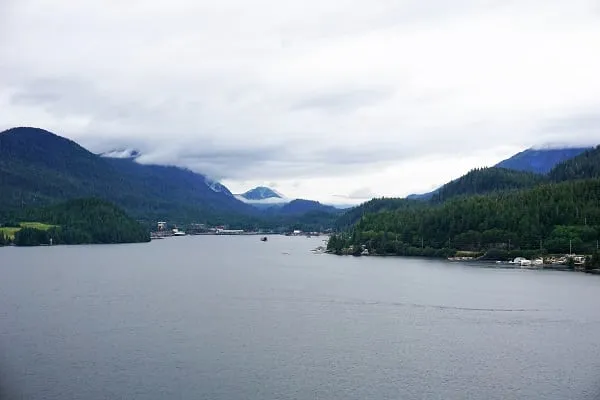 We chose this cruise for several reasons, including testing out the brand new ship, returning to the beautiful Alaskan ports of call, and having the chance to sail with some friends. Norwegian Cruise Line's freestyle approach makes cruising with others easy. For cruisers who have never sailed to Alaska, the ports of call are some of the most popular locales to visit, and this innovative ship is a great way to see the 49th state as it is currently the largest vessel sailing in the region.
The Ship
Norwegian Bliss is a Breakaway-Plus class ship, which is currently the largest in Norwegian Cruise Line's fleet. This high-tech vessel includes the largest go-kart race track at sea, an outdoor laser tag course, as well as signature entertainment. The Observation Lounge on Deck 15 might be one of the most impressive features of the ship, offering small bites, a bar, and some of the most amazing vistas of the surrounding Alaskan landscapes all from the comfort of indoors.
Courtesy of Norwegian Cruise Line
The ship holds just over 4,000 passengers but disperses the crowds nicely at most times. With Freestyle Dining, we were able to pre-book reservations at most of the popular specialty restaurants with varying party sizes without any issues. Some of the outdoor venues were under-utilized during the rainy and cool Alaska weather, but there was still various entertainment, signature main theater shows, and over two dozens restaurants and bars to keep all types of cruisers occupied.
Itinerary
This 7-day cruise was a round-trip cruise leaving from Seattle, WA. The ports included Ketchikan, Juneau, Skagway, and Victoria, British Columbia. This is a pretty typical round-trip itinerary, but we did feel our time in Juneau was a little rushed. Full day stops in Ketchikan and Skagway provided ample opportunity to enjoy a shore excursion as well as time to self-explore the downtown and port area. Like our previous cruise, it was a late day stop in Victoria, British Columbia. Still, this schedule was a great re-introduction to the region and a wonderful 7-day cruise.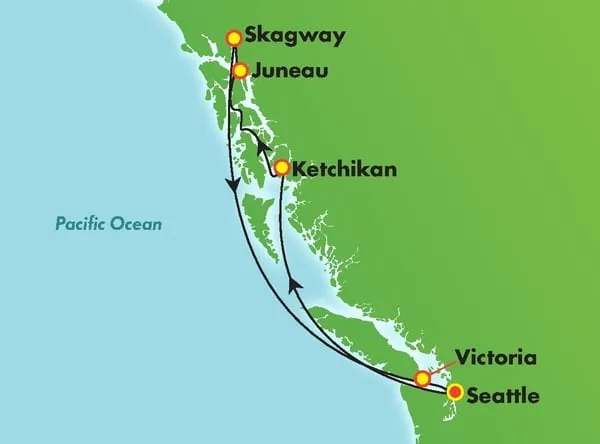 Highlight
Norwegian Bliss is home to several new and innovative spaces that you can only find on the ship. These features include the largest race track at sea and the first outdoor laser tag. Both of these activities are fun, even if they do cost additional money. The Ocean Loop waterslide was a gravity-defying wet and wild ride that you will want to repeat numerous times. Yes- even in Alaska! While there are several ships sailing to Alaska, none of them offer the onboard experiences and venues that you will find on the Norwegian Bliss. It is certainly a destination in and of itself.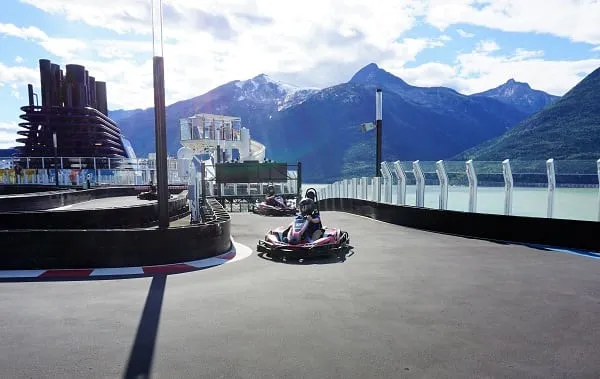 What's Missing
One thing we did miss on Norwegian Bliss was enrichment talks and port specific activities. Our previous cruise on Celebrity included a naturalist and historian who gave standing room only talks almost every day. There was a one-hour long presentation at the beginning of the cruise, but it was mostly a glorified shore excursion sales talk. We would have liked to see activities or classes that focused on the different ports or the history and culture of the region. Instead, many of the daily activities included your typical trivia and demonstrations or several for-fee offerings like painting classes, wine tastings, and other premium events.
Main Takeaway
After cruising on Norwegian Bliss, we are more than glad we opted to secure the vacation funds for a second Alaskan cruise sooner than expected. For mega-ship lovers, Norwegian Bliss is the ship to choose when cruising to Alaska. It has all of the bells and whistles you have come to expect from a ship of its size, including signature entertainment, a variety of bars and lounges, diverse dining options, and an enthusiastic crew.
The cruise director Dan Dan was very upbeat and visible around the ship. His activities manager Jackie was also very engaging and funny. The entire staff on Norwegian Bliss provided excellent service all week long. In fact, this is probably the best all-around service that we have ever experienced on a Norwegian Cruise Line ship!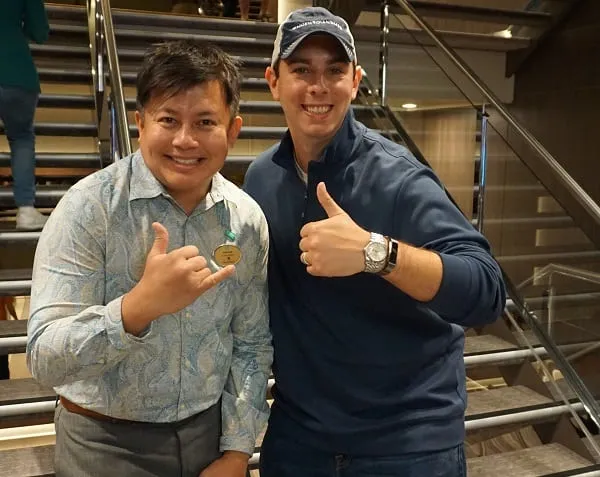 For those who are a bit worried about cruising to the region, NCL Bliss is a breath of fresh air. Now, with its sister ship Norwegian Joy cruising in Alaska next year, there are two opportunities to test out the Breakaway-Plus class. Between the ports of call and all the amenities on the ship, you will never be bored.
Read our detailed, day by day Norwegian Bliss Alaska Cruise Review…
Norwegian Bliss Alaska Cruise Review
Day 1
A Year in the Making
Over a year of planning went into our Alaskan cruise on Norwegian Bliss. We booked this trip almost as soon as the itineraries were released. Even though we had a little taste of the new ship during a 3-day inaugural cruise earlier this summer, we couldn't wait to get back onboard Norwegian Bliss. For our full week trip, we were cruising with two other couples. This "group cruise" included several planned dinners and excursions together, as well as some separately.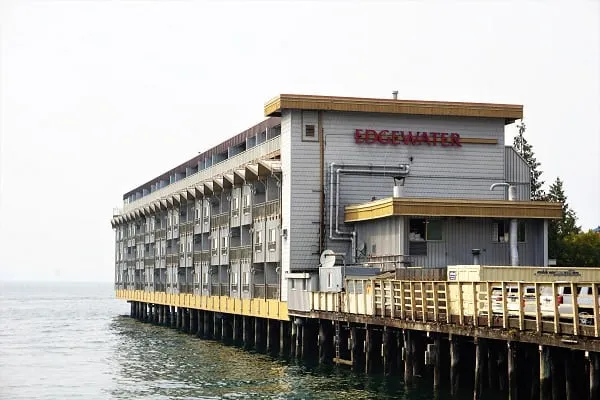 We flew into Seattle the day before the cruise, reserving a harbor view king room at the Edgewater. This hotel is located right next to Pier 66 allowing us to walk to the pier in the morning.
Being crazy cruise bloggers, we were up at 5 am to watch NCL Bliss sail into port. We tried to fall back asleep, but the adrenaline was already starting to surge. Showering, getting dressed, and grabbing coffee, we were ready for a long day of our usual embarkation ritual.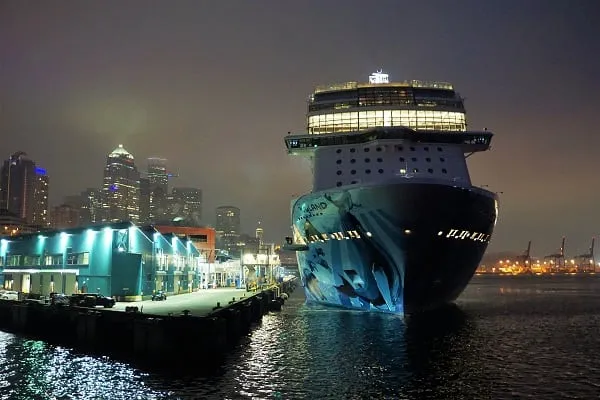 Given the short commute, we checked out of the hotel around 10:15 am and were to the port for 10:20 am! The security line was moving swiftly, and we were checked in within 10 minutes. Our friends at the NCL social media group were nice enough to get us VIP embarkation, which meant we were allowed to use the Haven waiting area and board the ship early with those guests.
While we expected to wait a little while, we were both surprised that we were already led onto the ship by 10:45 am. Not that we are complaining, as we grabbed our gear and made our way back on the ship after a three month hiatus!
We Are Onboard, Now Make Some Reservations.
Embarking on Deck 7, we were among the first people on the ship. We began our usual picture-taking process as it has just become reflexive at this point. Having sailed on Bliss back in May, we did already have plenty of photos. So, when we heard that the entertainment reservations were already open in Q, we opted to delay the photo tour.
Inside this specialty restaurant, there were two reservation areas, one for the go-karts and laser tag and a second for entertainment reservations.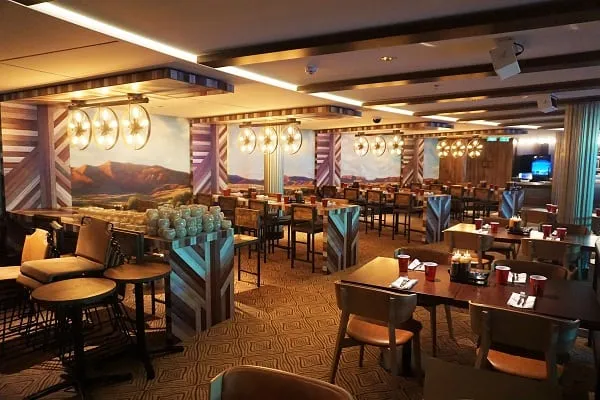 We signed up for the comedy show and the for-fee Happy Hour Prohibition which are not available to pre-book online. The staff did let us reserve those shows for our friends as well. Even though there are two comedians that rotate sets in the Social, you are only allowed to book a reservation for one showing.
However, we were not able to secure times for all of us on the outdoor activities, so the six of us would return later in the day to book a time slot for the race track and the laser tag. These reservations do fill up quickly, so we suggest that you book on embarkation day if you have your heart set on testing out these activities.
Accomplishing our reservations, at least for the moment, we grabbed some celebratory mimosas at the Mixx Bar and the aft elevators up to Deck 16. It was a windy and overcast Seattle morning, a striking contrast to the sunny and unseasonably warm day that we experienced on embarkation day back in May.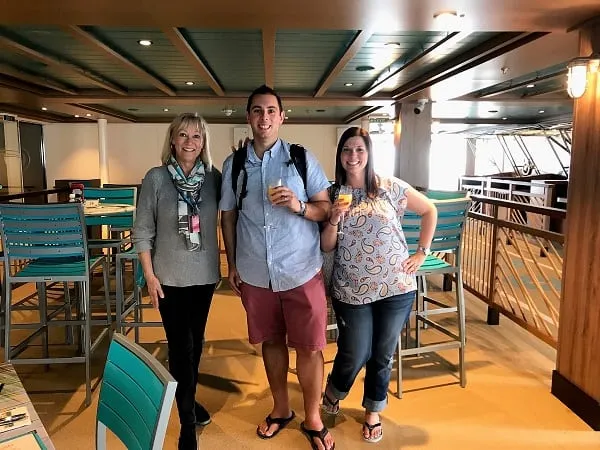 Still, we tried to snap a few more pictures before other cruisers boarded the ship. During our travels, we bumped into another (much more famous) travel writer, Sherry from Cruisemaven.com. We had met on an influencer trip on NCL Getaway the previous year, so it was a pleasant surprise.
It was slightly past noon at this point, and the masses were starting to fill the outdoor decks and inside venues. Before things got too busy, we decided to grab some snacks at the Observation Lounge. This would become a regular thing for us over the week as the Observation Lounge is one of the best spots on the ship!
Grabbing snacks and coffee, we reviewed our schedule for the week while waiting for our friends to get onboard the ship. Shortly thereafter, an announcement was made that the rooms were "accessible", so we decided to venture down to check out our cabin.
We Are All Together on a Ship
Our room was located on Deck 12, 12768. Considered a mid-ship balcony, it was a few staterooms forward of the forward staircase on the starboard side of the ship. It ended up being the ideal location as it was easy to get to and from the main decks below us as well as the pool and sports decks above us.
Our luggage was nowhere to be seen yet, but at least we could unload our carry-ons and take some pictures of the cabin. While we knew what to expect, the cabins on Norwegian Cruise Line ships just seem so much narrower than other cruise lines. With a small closet and only a few storage areas, we were lucky that we had our shoe organizer and magnetic hooks to give us additional storage options.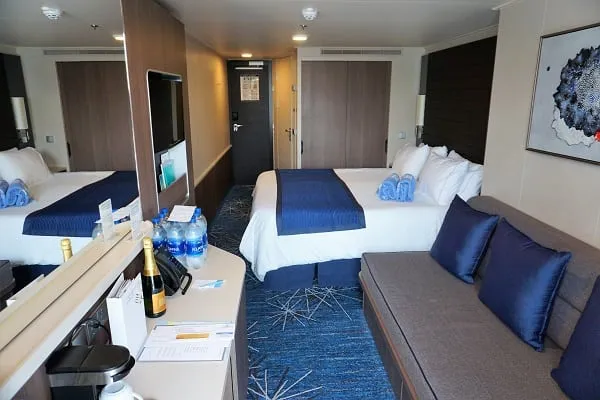 As it was approaching 2 pm, we texted our friends who were planning to board around this time. Within a few minutes, we received texts that they were already onboard. Geez guys, thanks for the notice! Meeting up, we went down to Q to reserve time slots for the race track and laser tag then made a plan to meet after the 3:30 pm muster drill for a celebratory sail away drink.
We headed for the mojito bar for our second drink of the cruise around 2:45 pm. With the venues closing in a bit, we sipped our cocktails until 3:15 pm when they made us head over to the Bliss Theater, our muster station.
Time to Sail Away
Muster went by uneventfully, so it was officially time to get the cruise started. Snagging seats on Deck 16 near the main pool, we ordered a round of cocktails and let the Sail Away party begin. When compared to similar outdoor celebrations on Caribbean cruises, this party was a bit lackluster due to the weather. Still, the cruise director Dan Dan and his staff tried to get the crowd energized.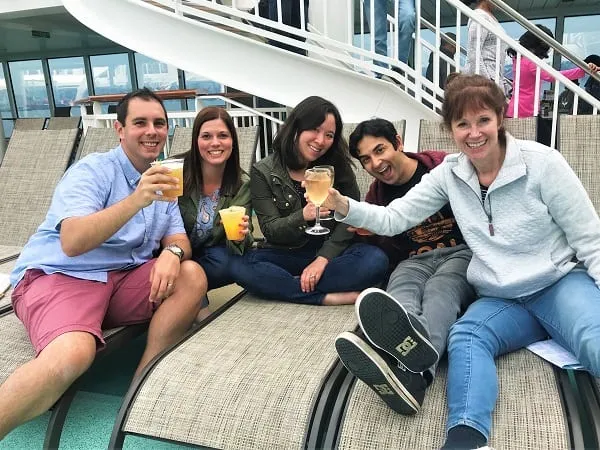 The ship did not officially pull away from the pier until after 5 pm. With our dinner reservation for 6 pm, we made our way downstairs hoping to find our luggage so we could unpack. Luckily, the luggage had arrived, so it was a mad rush to unpack and spruce ourselves up for dinner.
Actually, we were quite proud of our ability to get everything done and get to the restaurant on time. Tonight, we were dining at Los Lobos with our party of six. We had sampled a few items from the menu on our preview cruise and were eager to get back. One of the many benefits of cruising with a group is being able to order a variety of things and sample the different dishes.
We thoroughly enjoyed the orders of guacamole and the queso that we ordered as starters for the table.The Princess ordered the quesadillas as a meal as she enjoyed those the last time, while I tried something different, the pork tacos. Given the time crunch, we rushed through dessert a bit, which included the homemade ice cream and the Tres Leches cake.
The First Night Onboard
Dinner took about 90 minutes, meaning we were getting out just as the Welcome Aboard show was starting. Usually, this show is not well attended, so we figured we could still find some seats if we walked in late. Wrong! The theater was packed, and we were stuck standing at the top of the balcony to watch the remainder of the show. Too bad we were late. From what we were able to see, the show was one of the better welcome aboard shows.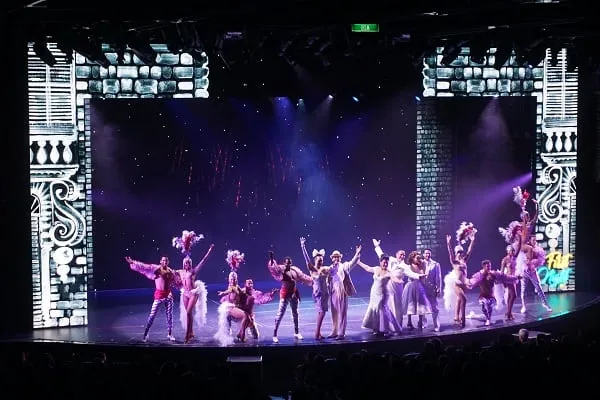 The show was relatively short and ended by 8:15 pm. Our group decided to split up for a bit and meet back at 9:45 pm in the Cavern Club to hear the band Siglo and stick around for late-night karaoke. Yes, one couple was much braver than we are and was ready to sing.
With our unpacking already done, we made our way to the Observation Lounge to continue our drink around the ship. By now, the sun had mostly set, but there was still a light glow in the sky illuminating the nearby coastline.
There is no signature menu at this bar, so we ordered our typical go-to drinks, a Daydreamer's Daiquiri and a Sidecar. We could already tell that the reports would be correct and that the Observation Lounge would be busy the entire cruise.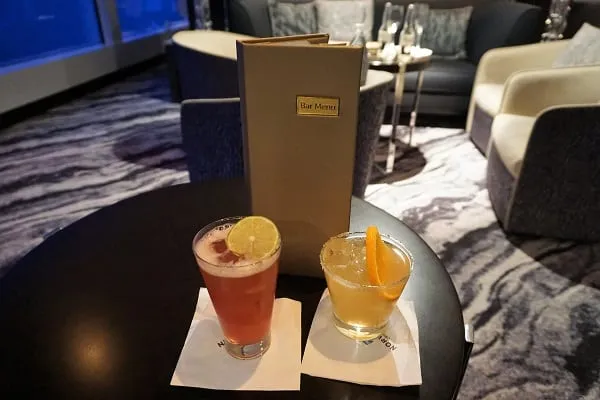 Finishing up our drinks, we thought it made sense to get to Cavern Club early since Siglo is one of the best cruise ship acts out there. We were right as the venue was packed with others cruisers listening to the band's British Invasion set.
Keeping our eyes out for seats, we were able to score a few towards the back of the room as people began to filter out when this set ended. The band's second act began at 9:45 pm. Watching and singing along to a mix of rock songs throughout the ages, my vocals were all tapped out for karaoke.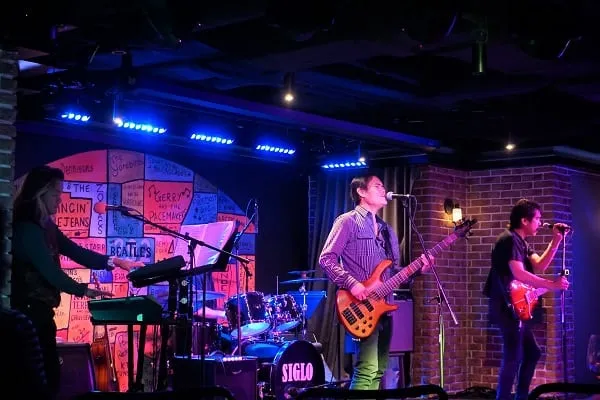 However, our friends were ready to belt out a tune. Even though the first cruiser to sing was obviously a trained musician, this did not stop them for getting up there for a duet of Keene's, Somewhere Only We Know. We stuck around to hear a few more songs, and then all of us decided it was time to call it a night.
Having only briefly met our stateroom attendant earlier in the day, we were not surprised when there was no towel animal to greet us upon our return. Luckily, that would not be the case for the remaining nights of the trip.
Norwegian Bliss Alaska Cruise Review
Day 2
A Leisurely Morning At Sea
I was able to convince the Princess to sleep in a bit today. After all, this is a vacation.
The alarm was set for 8 am. This is about as late as I ever get to sleep. There are so many things to do and see that we couldn't waste time snoozing. While the Princess got ready, I used the time to get some photos and videos of inside venues, including the dining rooms, the Waterfront, and 678 Ocean Place.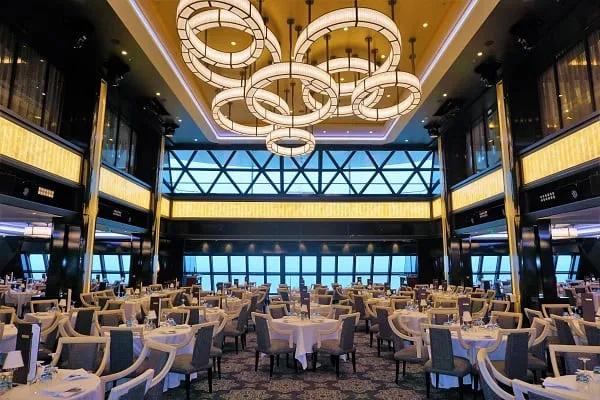 The weather outside was cloudy and windy today. During my travels, I grabbed the Princess a Starbucks coffee and a few breakfast pastries from the Observation Lounge. Again, we can not say enough great things about this venue.
We attended the This is Alaska presentation in the main theater this morning occurring at 10 am. One thing we loved on our Celebrity Cruises Alaskan trip was the enrichment presentations by Brent Nixon. Unfortunately, this presentation would be the closest thing that the ship offered, and it was a glorified shore excursions talk. Still, it did get us excited about our upcoming ports.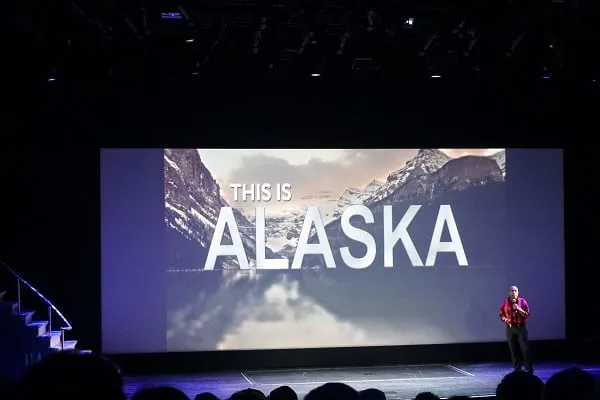 Needing more caffeine, we took another detour to the Observation Lounge to get coffee. We ran into our friends who indicated that we had a reservation for the 12 pm Escape the Big Top puzzle break. This activity occurs in Q and is complimentary. This gave us about 30 minutes of free time.
Putting Our Minds to the Test
Getting to Q Texas Smokehouse about 20 minutes before the game started, our group of 6 was escorted into the room. Two additional parent/son groups would join our team for a total of 10 players. The Escape the Big Top challenge consists of a series of six puzzles that you need to solve to identify the magic words required to escape.
Compared to our previous experiences with puzzle breaks, our team did amazing! We got all the words and were so close, but we were just two steps too slow. Another team just beat us out!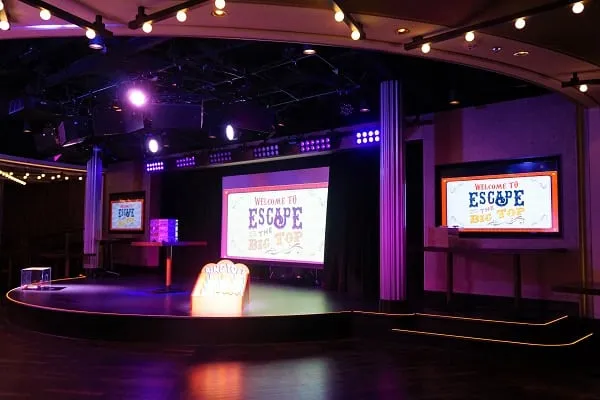 The game takes approximately an hour, so we were done by 1 pm. Some of us decided to get lunch at the Local, which is just one deck up. We got stuck at a bar top table in not the best location, but we did have a very attentive waitress who made sure our customized meals were correct. Hats off to Norwegian Cruise Line for ensuring proper staffing so that the crew could provide personalized service.
We also checked this venue off our drink around the ship with the Glacier Blue and the Passion Fruit Lime Cooler. It was the afternoon, so it passed the Princess' strict drinking rules!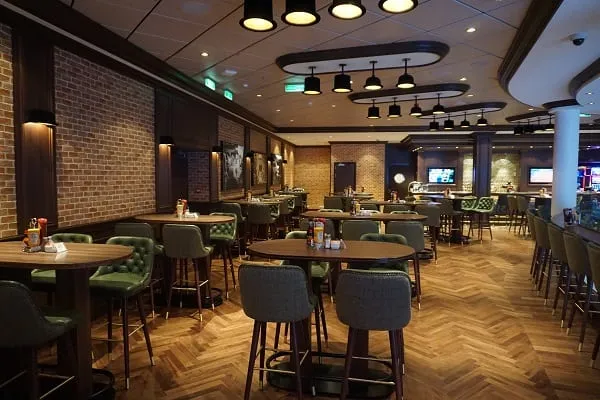 Lunch took about an hour. I couldn't resist getting an order of Buffalo wings, while the Princess tried the Rachel sandwich, a popular choice among NCL Bliss cruisers. Both of the items were very satisfying. Finishing up lunch, we went our separate ways for the rest of the afternoon with the plan for all 6 of us to attend the main theater show Havana at 10: 00 pm tonight.
With the shops open, now was as good of a time as any to secure our normal cruise ship purchases, a ship ornament for our holiday tree and an inaugural season t-shirt. I was a bit disappointed in the clothing selections, but I still managed to find a passable shirt in my size.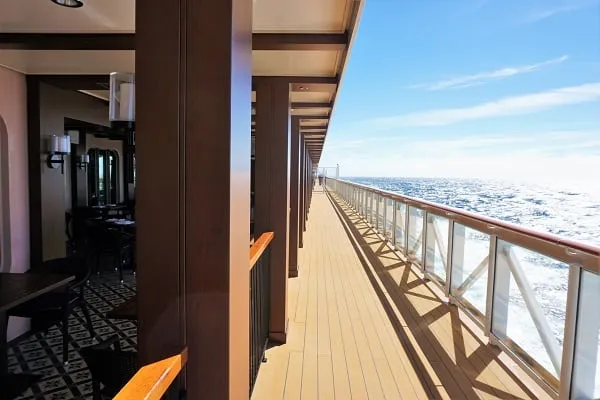 Outside, the weather appeared to be getting nicer, so we took a stroll on the Waterfront. Still a tad too windy to stay outside for any length of time, it was nice to get some fresh air. Looking for something else to do, we decided to check another bar off our list. We were really making use of the Norwegian Ultimate Beverage Package.
This time, we stopped at the Malting's Whiskey Bar. The Princess is not a fan of whiskey, so this would be our only stop at this lounge all trip. While at Malting's, we bumped into our other friends who were waiting for a 4 pm wine tasting class. After chatting with them until they had to check-in, we decided to head back to the room to do some blog work and prepare for our 6 pm dinner reservation at Le Bistro.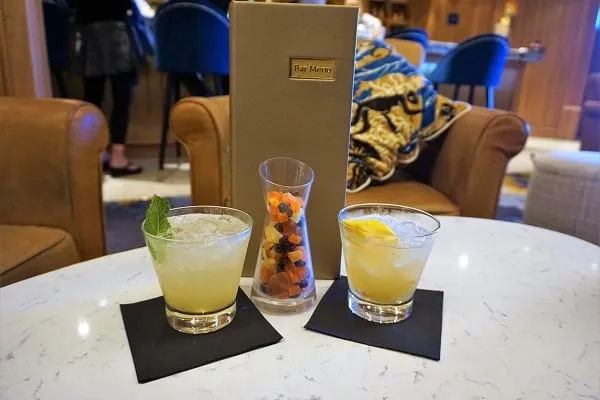 A Ship of the Night
We booked a 6 pm reservation at Le Bistro for tonight as we knew this would be the "formal night" on the ship. Picture stations on Deck 6 and 8 opened at 5 pm, so our plan was to hit up a few of them before dinner.
Ready by 5:40 pm, we made our way down to deck 8 for a few of the different backdrops. These would end up being the only pictures that we took all cruise, and none of them were worthy enough to purchase according to the Princess.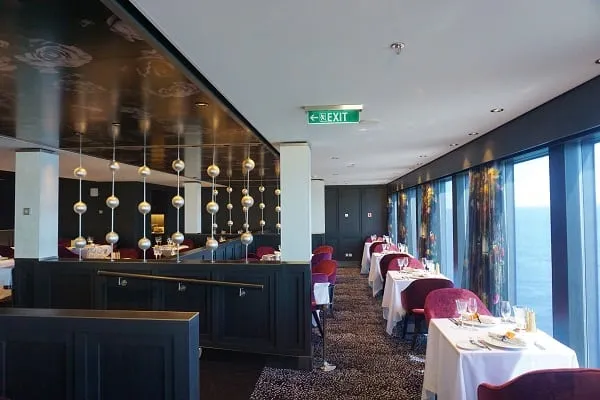 On Norwegian Bliss, Le Bistro is located on Deck 17 across from the Margaritaville restaurant. This new location gives the venue some amazing views in a cozier location.
Dinner took about 75 minutes tonight. This was partly due to the maitre'd moving us to a waterfront view table early on in the evening. Our experiences at Le Bistro have been hit or miss in the past, so we had not dined here in a while. For this cruise, the Princess wanted to give it another try, and I reluctantly agreed. I am so happy I caved. Our meal at Le Bistro was one of the better dinners we had on the ship.
The filet I ordered was probably the best entree I had all cruise. The Princess was also fond of the coq au vin, which is her go-to at this restaurant. While the profiteroles were not as memorable as Norwegian Escape, overall the service and food at Le Bistro were superb. It was the ideal dinner for the only true dress up night on the ship.
Given that we were already upstairs, I wanted to peek into the much publicized Seafood Buffet at the Garden Cafe. Honestly, it was a bit disappointing. The only additions were a large section of shrimp cocktail and steamed mussels. A few other seafood dishes were scattered among the other food but nothing really stood out.
With plenty of time before we had scheduled to meet our group, we strolled around the ship. While on Deck 7, we grabbed a drink at the Skyline Bar located in the casino. Enjoying the "view" of New York city on the bar's giant screens for a few moments, the Princess wanted to scope out the slot machines.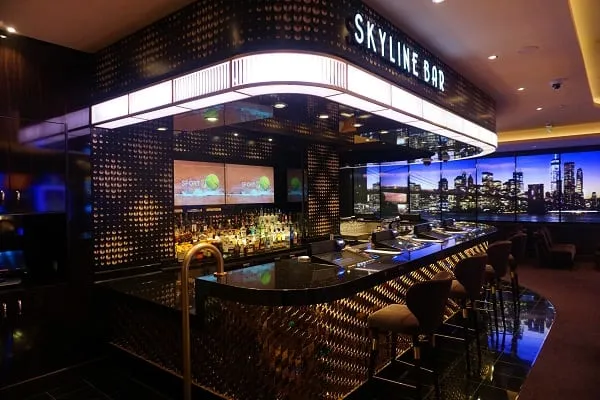 As Norwegian Bliss is a brand new ship, the machines in the casino are mostly new games. This meant that her favorite slot was nowhere to be found. So, she tested out a game named after her but quickly lost the $20 that she threw into the machine. With so much nightlife onboard, we actually never returned to the casino for the rest of the cruise.
We decided to secure some seats at the District Brew House early as we weren't scheduled to meet our friends here until 9 pm. At first, only a high-top table was available, but as our friends strolled in, we were able to grab a table in the back that could fit us all.
By the time everyone else arrived, we were both done with our drinks. So, time for our next round! This time, we both tested out the signature cocktails on tap- the Cool as a Cucumber and Peach Berry Sparkle. Each drink received two thumbs up!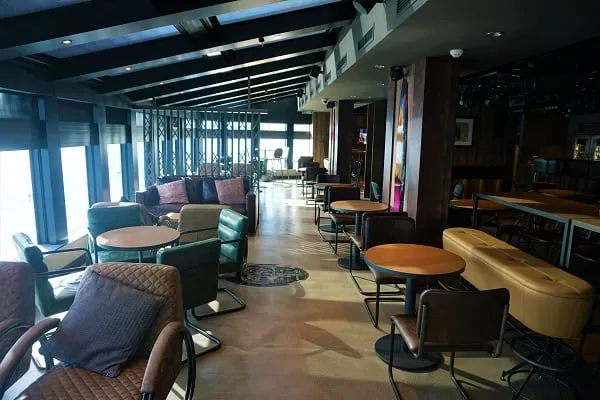 Right around 9 pm, the resident piano man, Jim Badger, began to perform. While he receives good reviews online, none of us were very impressed with his unique humor and rather basic piano skills.
Approaching 9:30 pm, we slowly walked the one flight of stairs to get in the queue for Havana. The lines were already extending into the elevator lobby, and the doors opened a few minutes after we arrived.
This 90-minute original production is a narrative musical about a family that owns a night club, the Palace of Lights. It includes several original songs and a cast of singers and dancers telling the story of one night in Havana. Even after a second viewing, I still found the show to be just okay, whereas the Princess was fond of the performance. Our friends' opinions seemed split too.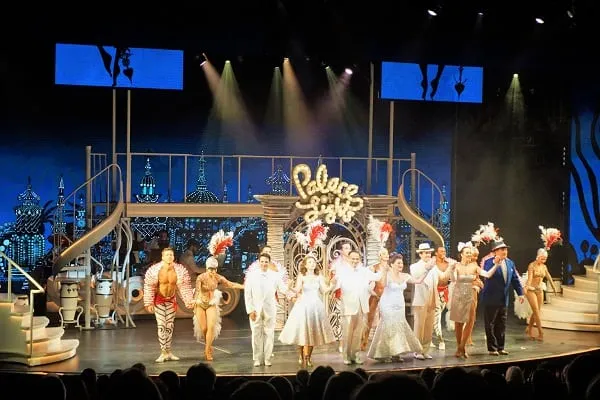 It was 11:30 pm when the show ended, and with our first call in port the next day, one couple said good night. The other couple convinced us to go to the Social Club for the Dance through the Decades party. At least we could check the venue off our drink around the ship! The club was about half full when we arrived. We lasted about 30 minutes sipping our drinks before we starting feeling the effects of a full sea day.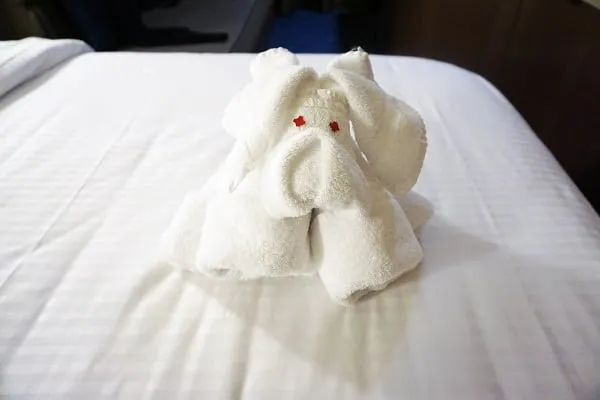 Saying good night, we returned to our room to find our first towel animal of the cruise!
Norwegian Bliss Alaska Cruise Review
Day 3
Flying Over the Misty Fjords
Our first port of call was Ketchikan, Alaska. On our previous cruise, we did a combo tour which included the Alaskan Lumberjack Show and a tour of authentic totem poles in Potlatch Park. This time around, we selected the Magnificent Misty Fjords by Seaplane excursion.
Waking up at 6 am, we were able to get some fabulous video and photos as we floated into Ketchikan. It appeared that we docked in roughly the same place as our last stop into the port.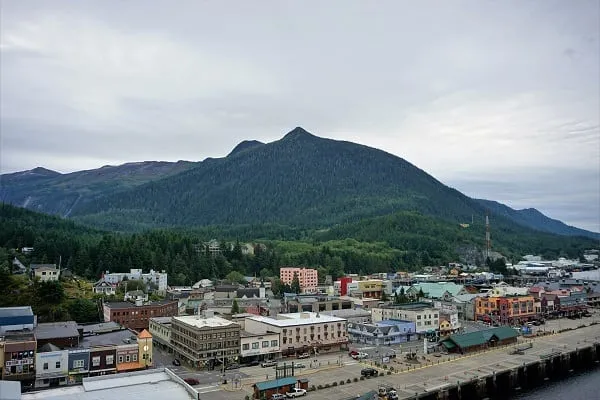 The ship was scheduled to be cleared by 7 am, and our tour had a meeting time of 8:15 am which meant we had plenty of time to prepare. During the morning, I took a quick run up to the Garden Cafe to get some breakfast items for the room. This trip also included some coffee for me and a trip down to Starbucks for the Princess' iced caramel latte.
Meeting one of the couples, we were in the theater for exactly 8:15 am. Within a minute, our tour was called, but of course, the two ladies were in the bathroom! As they strolled back into the theater, we were waving them on that our tour was already being escorted off the ship!
Making our way outside to the bus, we were on the road for 8:45 am taking the 10 minute ride to the Taquan Air field, where we would depart on our 75 minute flight over the Tongass National Rainforest and the Misty Fjords. Luckily, the visibility was actually quite good today, so we had some lovely views of this vast natural wonder. The excursion was definitely a once in a lifetime experience. Stay tuned for our upcoming review.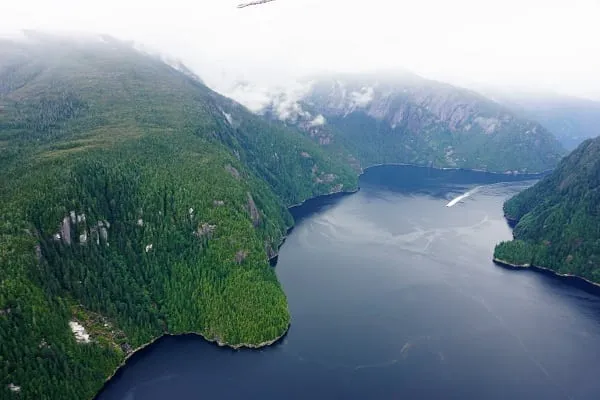 Back in town by 11:15 am, we decided to take a walk around downtown and the Creek Street area. We couldn't ask for better weather in Ketchikan as it was about 60 degrees and dry! Making a few purchases and snapping some photos, we were back onboard the ship by 1 pm.
An Afternoon Back Onboard
We returned to the Local for lunch to be greeted by the hostess who was quoting 15 to 20 minute wait times! Truthfully, we waited less than five minutes for a table of two. I decided to snack on a plate of Buffalo wings (again) and fries, while the Princess went with the Grilled Cheese meal this time. While we both did salads as appetizers, we opted to skip dessert.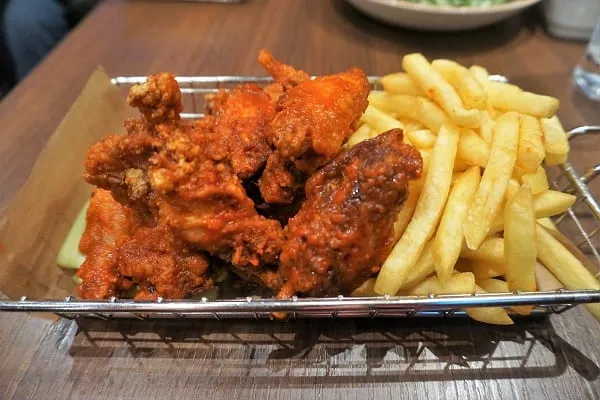 Following lunch, the Princess got a Starbucks, and I found my way up to the Observation Lounge for a hot coffee. As we had come to expect, there was not an empty seat in the Lounge. So, we decided to watch the sail away from the Waterfront. The temperature was perfect and the views were equally as impressive.
To our amusement, laughter and applause busted out as many people on their balconies and outdoors started cheering on some pier runners. With the sail-away a half hour behind as a result, we could only watch for a bit before heading up to our laser tag match at 4 pm.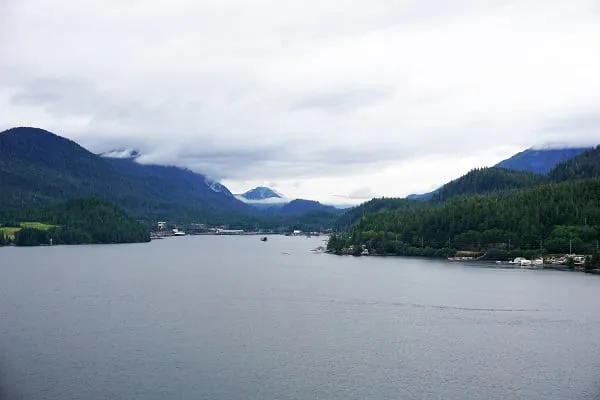 The scene at the laser tag check-in area was a bit chaotic and unorganized. We checked in and were immediately told to join a team, even though our friends had not yet arrived. We told the attendant that we wanted to wait for them as our reservation was for 4 pm, and he gave us a sigh and eye-roll. Oh well!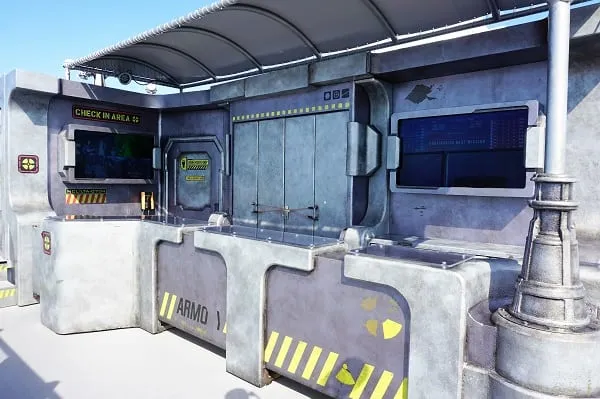 Our friends showed up a few minutes later, and we were finally ready for an epic two rounds of mayhem! We were split into two teams with our red team somehow being deemed the "old people". These old people took a decisive victory on the first game, but we were somehow demolished in the second game. I thoroughly enjoyed the Laser Tag, but one session this cruise was enough for the Princess.
Drinks and Dinner and Drinks
There was no better way to both celebrate our victory and commiserate in our defeat than with a drink at Margaritaville. Given the venue is only open until 5 pm, the four of us were able to squeeze in just before last call around 4:30 pm. I went with the Perfect Margarita, named after me of course, and the Princess had the Watermelon Margarita.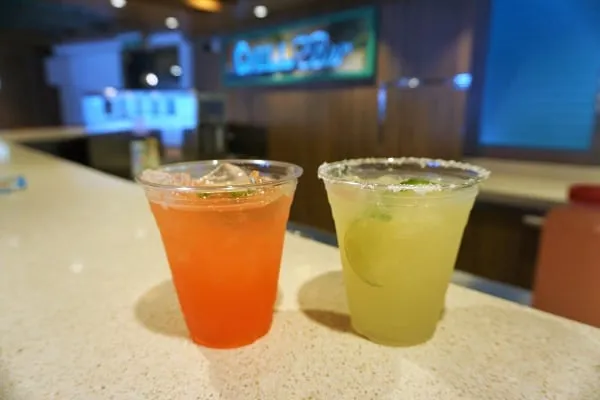 Getting the hint around 5 pm that we should leave, it was back to our room to shower and change up for our 6:30 pm reservation at Q Texas Smokehouse. Tonight, all six of us would be dining together again.
Arriving right at 6:30 pm, the venue was surprisingly dead. Perhaps it was our early dining time, but throughout the evening the venue never really picked up. After our second dining experience here, we are still surprised that Q has received only a mediocre reception from the NCL enthusiasts.
We both enjoyed our meals, which included another round of the Deviled Eggs and Turkey for the Princess, as well as a test of the loaded fries. I went all in with the Pitmaster Platter, along with a few apps of course. The pork spareribs remain my hands-down favorite with the brisket and chicken being strong contenders.
Desserts at Q also shined with the mason jar banana pudding, warm chocolate brownie, pecan pie, and bread pudding all getting the seal of approval from our table.
Even though the restaurant was not very busy, service felt a bit slower tonight, with the total dining time hitting the two hour mark. We made plans to meet back up for a drink around 9 pm in Cellars wine bar.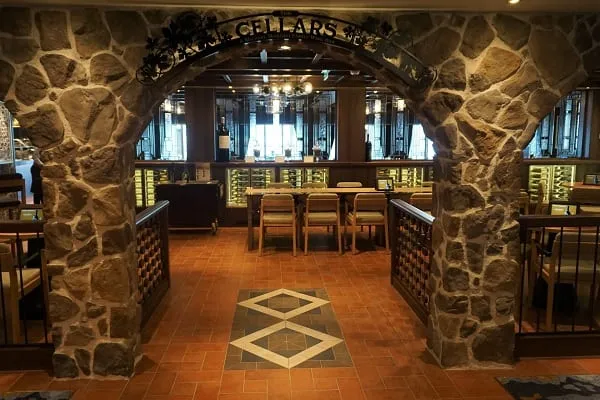 We arrived to the wine bar early and put in our order to check another bar off our list. This drink around the ship was going to be done in no time! Chatting and recounting the day with our friends, time flew by.
Right around 9:30 pm, we walked over to get in line for the comedy show, which was not as long as we would have expected. The opening comedian was Lenny, the same comedian from the Welcome Aboard show. He actually recycled the five minute routine which did not bode well with me. Actually none of our group thought he was very funny. Thankfully, our headliner this evening was Tom Simmons. He was not at all what you expect from a cruise ship comedian.
His roughly 30-minute set was timely with reference to current events and controversial topics that just felt very atypical for a cruise ship. I did find some of his jokes good but overall was not impressed. The group's opinion was a bit more split with this comedian as I seemed in the minority this time.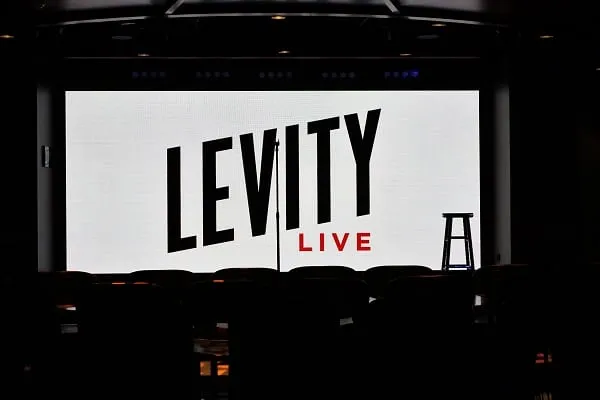 The show was over by 10:40 pm, and while we contemplated going to another venue, all parties agreed to turn in early tonight. Tomorrow was another early call into Juneau with our tour meeting in the Bliss Theater at 7:40 am.
Back to the room before 11 pm, we were greeted by another towel animal!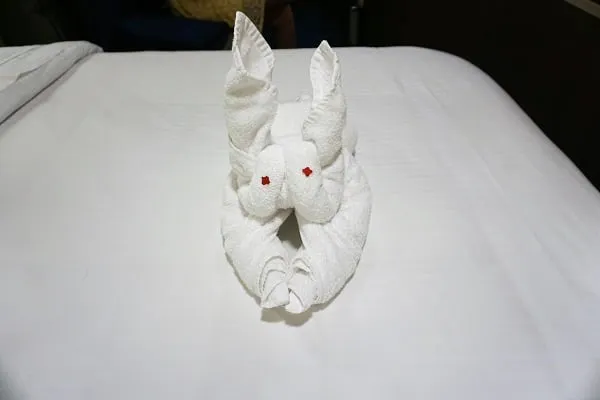 The Princess was happy to have another towel animal, but it was a mixed blessing as our stateroom attendant used the towels from his previous day's creation to build this new masterpiece. So, while we were greeted with a new display each night, she was not able to build her usual zoo on the couch!
Norwegian Bliss Alaska Cruise Review
Day 4
A Wet Day Ashore
Our 6 am alarm went off all too early this morning. Half awake, I did my usual morning routine for coffee and snacks. The weather outside looked miserable today, with steady rain, gray skies, and dense fog. Now, this is Southeastern Alaska.
Today's shore excursion was the Mendenhall Glacier Explorer, giving us two hours at the Mendenhall National Park. So, this was not exactly the weather we were hoping for today.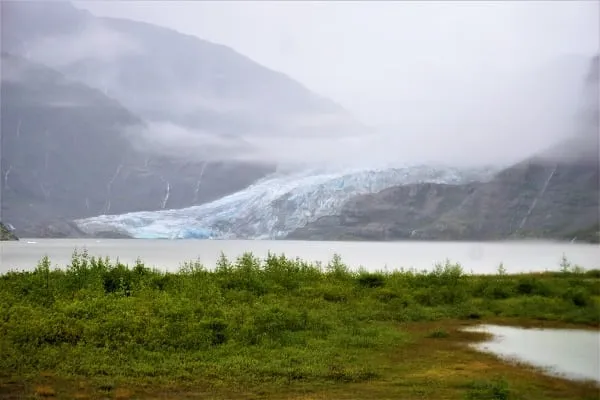 Learning from experience, we were at the theater for 7:30 am just to be safe. Our group of 6 were all going on this excursion today, so we met up but then proceeded to wait about 20 minutes until our tour was called.
During this time, the announcement was made that several tours were being canceled, which included the Mendenhall Glacier Helicopter Tour and Guided Walk that we completed during our last visit to Juneau. Phew! Our tour today was one of the most popular, and a large mob of people were led outside into the rain to slowly load onto buses.
We departed the port at 8:15 am for the roughly 30 minute drive to the park. Our driver was a substitute teacher during the non-cruise season, and a bus driver in the summer; she was a chatty but informative driver.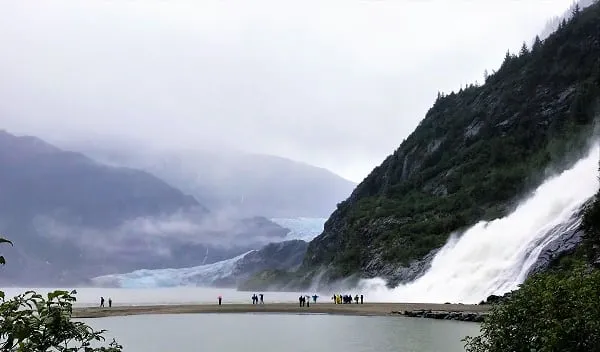 Dropping us off and picking us up 2.5 hours later, we trekked through the wet conditions along the Nugget Falls and the Photo Op trails to try to get some views and pictures of the beautiful landscape. Mother Nature had other plans though as our camera started malfunctioning due to the rain. Our full review of this excursion will be coming soon.
Back on the bus by 11:45 am, we convinced our driver to drop us off downtown so we could grab a quick bite at Tracy's Crab Shack. She obliged and informed us that there would be shuttles back to our ship as it was about a mile away from downtown.
With only about 45 minutes to spare, we were able to order, find seats, and dig into the savory crab legs! This was on the top of my to-do list for this trip, so I am glad we were able to fit it in.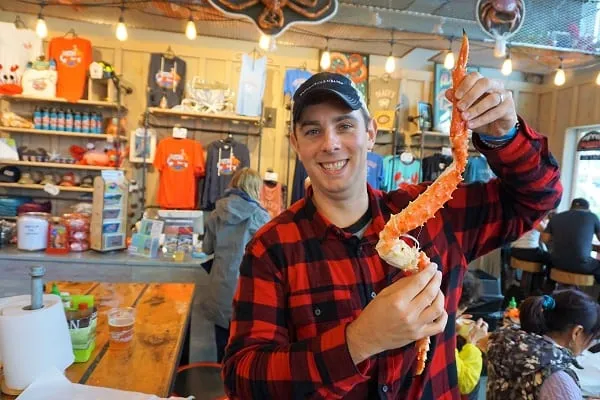 We were back onboard the ship just before 1 pm. This was the closest that we have ever cut it to the all aboard time, but we made it!
Time to Dry Off
Back on the ship, we needed to warm up and dry off for a bit. We headed down to the theater around 2:15 pm for the 2:30 pm showing of Britain's Finest, the Early Years. This Beatles cover band also performed several themed nights in the Cavern Club. This main theater show focused on the band's first hits with songs like Help!, I Want to Hold Your Hand, and A Hard Day's Night. The tribute band did excellent renditions of all the songs.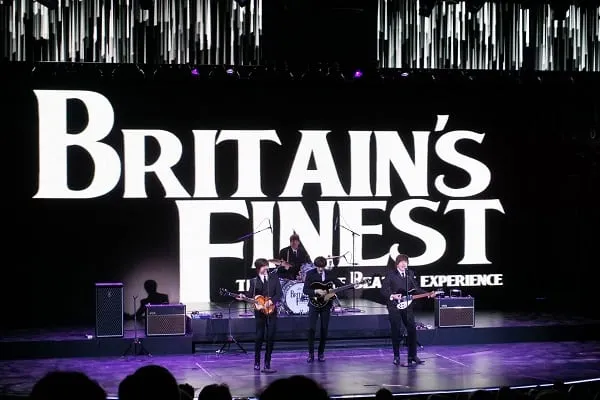 The show was over around 3:15 pm, and we had some time to kill before the sail into Endicott Arm scheduled for 4 pm.
The ship was making the crew only area on the front of Deck 8 available for cruisers to get an up-close view of Endicott Arm and the Dawes Glacier. Along with some other adventurous cruisers, we found our way to the not so well labeled viewing area. However, we were turned around by security as the viewing section was not officially open yet.
Deciding that we could watch most of the scenery from our balcony, we figured that we would just chill for a while then maybe venture back down closer to when the Dawes Glacier would be in sight. Grabbing a quick coffee, we were back to our room by 3:45 pm to watch the ship enter the fog.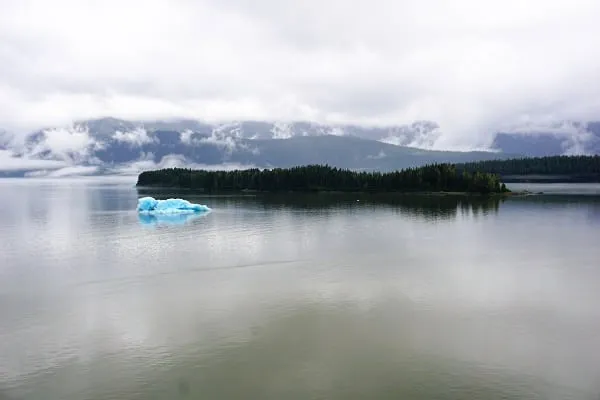 Around 5 pm, I could tell that we were starting to turn. A few moments later, the announcement was made that due to the weather conditions, we would need to turn around and could not make it to the glacier today. Oh well, the weather successfully thwarted our plans all day long!
What to Do With Our Time
For dinner, we planned to meet one of the couples at Food Republic for 7 pm. This would have allowed us time to watch the sail in and glacier viewing. Now, with 90 minutes until our meeting time, what would we do? If you said drink and take pictures, then you are a regular reader of this blog!
Even though we still had other venues to check off our drink around the ship, we decided to go to one of our favorites, the Sugarcane Mojito Bar. We can not resist the Jalapeno Cucumber and Raspberry-Guava mojitos. Sipping our cocktails, we did some people watching. Before we forgot, I quickly ran over to the Manhattan room to get this evening's dinner menu. Hey, our readers want to know what's for dinner!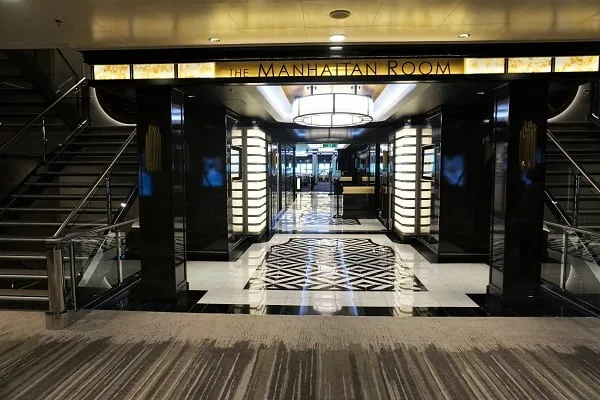 Dinner and an Entertaining Evening
To the Food Republic right before 7 pm, we had to wait a few minutes for our friends to show up, wine in hand, of course. Food Republic is one of our favorite NCL restaurants. You can not make reservations at this venue, but it is never that busy either, as it is not part of the Norwegian Specialty Dining package.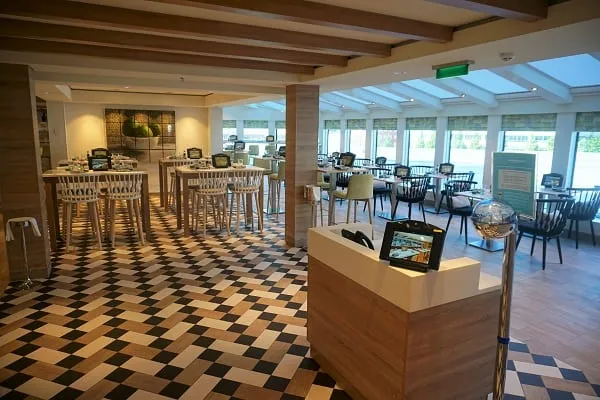 Still, we feel that the food is worth the additional cost. For the two of us, we ended up spending about $46, so an average of $23 a person, which is just slightly more than the per person cost of the specialty dining package.
Dining at Food Republic with other people is also highly suggested as you can split several small plates to try everything. All items are ordered through an iPad, so you can spread the meal out if you want and dine at your own pace.
Between the four of us, we ordered a number of different options, including some sushi, pot stickers, rice, calamari, chicken (of course), and the signature Green Tea Brownie for dessert. Needless to say, we were all quite stuffed.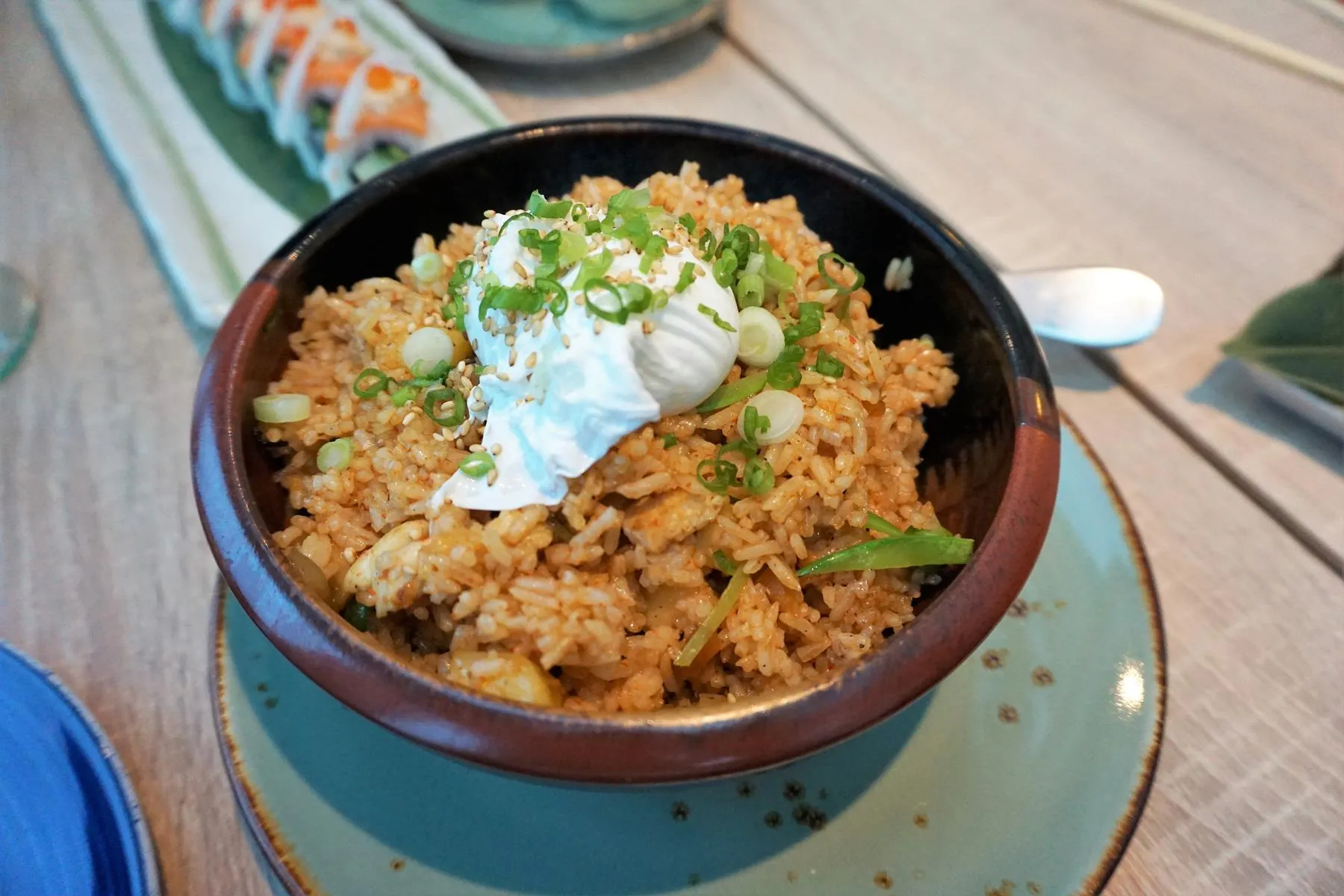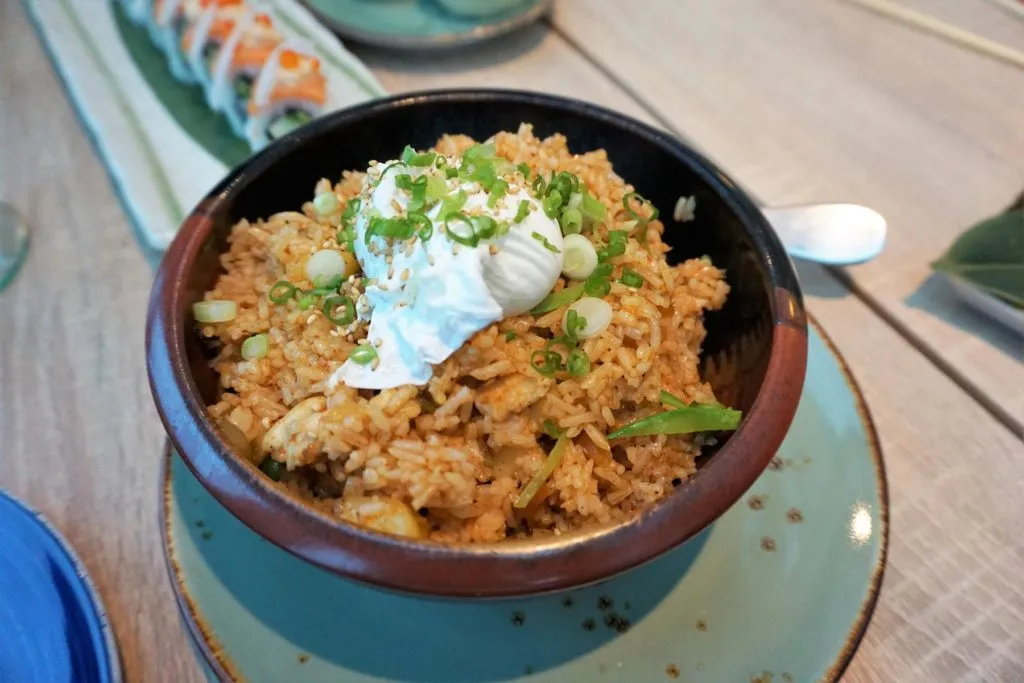 Dinner wrapped at 8:45 pm giving us just enough time to squeeze in our next bar on the pub crawl, the Atrium Bar. We did not have the greatest seats, but Siglo was playing a tribute to the Eagles and James Taylor. Theses talented musicians had no problem recreating popular songs by these well-known artists. There was really no genre of music Siglo could not perform.
We then headed to the theater for the adults-only comedy show which was open seating. For this performance, Tom Simmons was the opening act doing about 20 minutes of new material. Lenny Schmidt was the closer, also doing about a 20 minute set.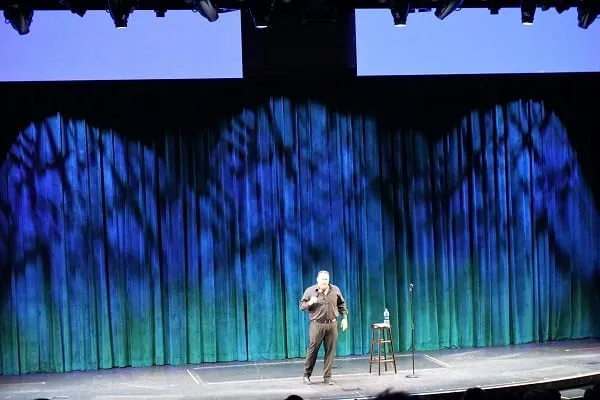 Thankfully, he did not do any of the same jokes this time around. Even after a second pass, I was not won over by Tom's non-traditional cruise ship comedy routine; although, he was still much funnier than Lenny.
With comedy over, next up on the list was the new Nashville Nights party, occurring in Q. As a new addition to the NCL themed parties, we were looking forward to Nashville Nights. Honestly, it was a bit of a letdown though. Perhaps it was the lack of theming or that it was not well attended, but it ended up being a glorified line dancing class.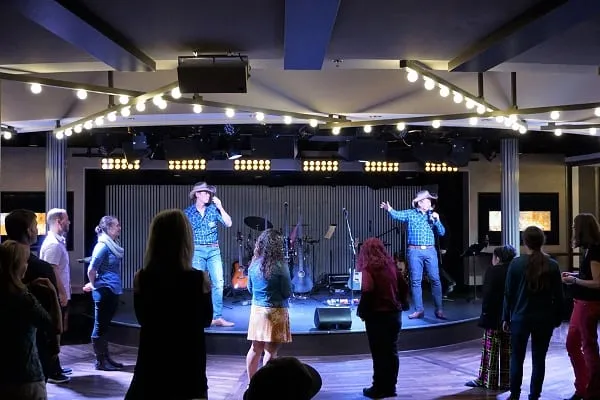 Even a round of Peach margaritas couldn't improve the situation. Our friends jetted after about 45 minutes, while we stayed to watch the first few songs of the house band Greg White, Jr.. We really enjoyed Camille Rae during the inaugural trip, but sadly, this band just didn't really do it for us. After a couple of songs, we just called it a night at 11:30 pm.
Back at the room, there was another new towel animal. Tomorrow was our third stop in Skagway at 8 am.
Norwegian Bliss Alaska Cruise Review
Day 5
The Street Walkers of Skagway
With three ports in a row, we were starting to feel the fatigue. With a 6 am wake up, it was tough to wrestle ourselves out of bed, but being able to catch Royal Caribbean's Radiance of the Seas turn and pull into port next to us was worth it.
With a beautiful morning unfolding, today was the day that I could finally capture some outdoor pictures and video. The sun was shining and there were few clouds in the sky.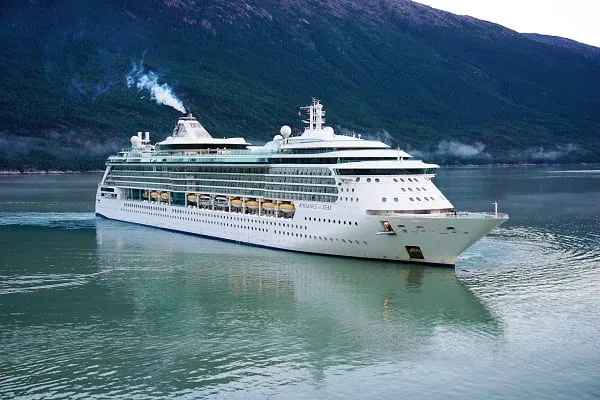 For today's excursion, the two of us booked the Ghost and Good Time Girls walking tour directly through the Red Onion Saloon's website. Our instructions indicated that we had to meet at the McCabe building which was an approximately 30-minute walk from the ship with us taking plenty of photos of the rather quiet downtown along the way. While we did arrive a bit before our scheduled 9 am meeting time, our tour guide did not show up until 9:15 am, leaving us a bit frustrated in the meantime.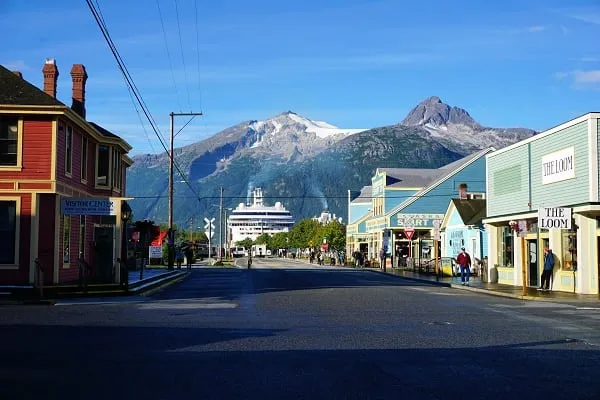 The tour itself was fun and informative. Two hours in total, this walking tour took us through the streets of Skagway, reliving the history of this boom and bust town during the late 1890's from a different perspective. On our last cruise, we did a combo tour that included a ride down the White Pass Railway, so we were already familiar with the stories of the Klondike Gold Rush. However, this edgy tour told the tales of the "ladies" of the era.
At the end of the tour, you are given a brief walk through the brothel museum at the top of the Saloon. This includes tales of the resident ghost Lydia, who was once a goodtime girl herself during the brothel's heyday.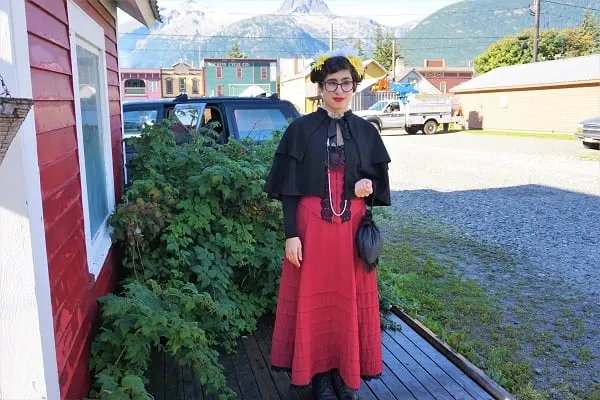 With the tour wrapping up a bit past 11 am, we spent the next two hours or so strolling through town, stopping to buy some fudge at the local shop and grabbing some t-shirts from the large outlet store. Of course, we also made a trip down to see all the other ships in port that day by walking down to the ferry landing.
On our way back to the ship, we bumped into two of our friends who were just heading out for the day. What slackers!
Really Going Overboard
Back onboard around 1:15 pm, we dropped off our purchases and decided to pay the additional $14.95 (+service charge) fee to eat lunch at Margaritaville. The nice outdoor seating at Margaritaville and the beautiful weather helped convince me.
As the Princess said, we had to get our money's worth, which meant ordering an appetizer and an entree. So, this included an order of the Volcano Nachos, a Cobb salad, fish tacos, and the grilled chicken sandwich. She even wanted to order dessert, but thankfully she reconsidered after we were half-way through the meal.
While we are fans of this restaurant and the food, the flat fee charge of $14.95 is too steep in our opinion. On other ships, the menu is/was priced a la carte, which makes more sense as the portions are quite large, and there was no way we could remotely finish all that we ordered.
For the rest of the afternoon, we walked around the outdoor decks. We found the mini-golf course tucked behind the race track on deck 19. We also strolled the Waterfront, trying to burn off some of the calories we just devoured. With the nice weather still in full effect, we grabbed some cocktails from the Sugarcane Mojito bar and relaxed on the couches on the Waterfront for a while.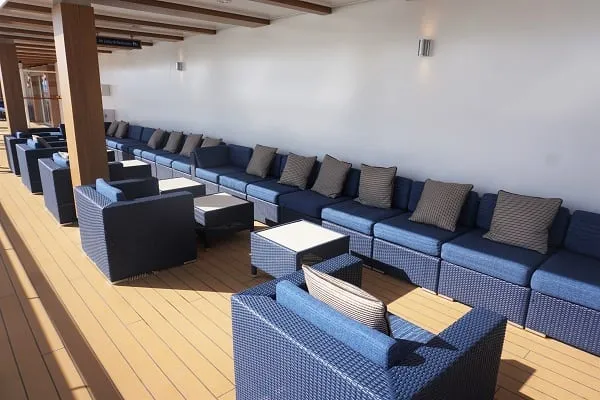 Back to our room a bit before 5 pm, we began to change up for dinner. Not that either of us were all that hungry after lunch at Margaritaville. I wasn't sure how I was going to make room for a three course Cagney's meal tonight.
They Say We Aren't Perfect Either
Finding the fortitude to make it down to Cagney's, we were seated at a table for two overlooking the Manhattan Room. For a prime dinner time, Cagney's was busy but not bursting at the seams- unlike my waist line. Similarly, we both commented that the Manhattan Room did not appear too busy either.
Our waitress came by to introduce herself, and we began our 90 minute dining experience. Ordering the usual cocktails first, we each then ordered at least one item for a starter, entree, and later dessert. As usual, the Princess kindly asked to have a chicken dish from the main dining room for her entree. This did not pose a problem with our waitress as it has in some past Cagney's visits.
As far as Cagney's experiences go, this one ranks toward the bottom of our list. The steak was fine but did not compare to the one at Le Bistro. The sides were also just okay. The dessert was better than usual though. We tried the OMG caramel-butterscotch cheesecake, which was aptly named.
Tonight, we were doing Jersey Boys with the wives of the other two couples. I guess the gentlemen were not into this style of music. Prior to meeting at the show for 10 pm, we grabbed a drink at the A-List bar. Neither cocktail was well-made though.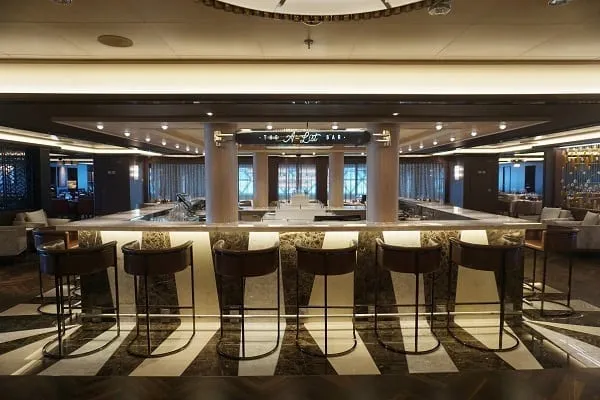 Sipping the cocktails for a few moments, we decided to snag some seats at the 9 pm atrium game show, The Perfect Couple. The Princess did not want to participate of course. Luckily, the couples they did choose provided plenty of laughs as they tried to beat the clock in three challenges. Trying to describe the challenges would not do them justice. If you are sailing on an NCL ship, you will just have to see the show for yourself.
Only lasting 30 minutes, this meant we still had some time to watch Siglo perform their 90's alternative rock set. We entered to them playing Oasis' Don't Look Back in Anger. This was going to be good.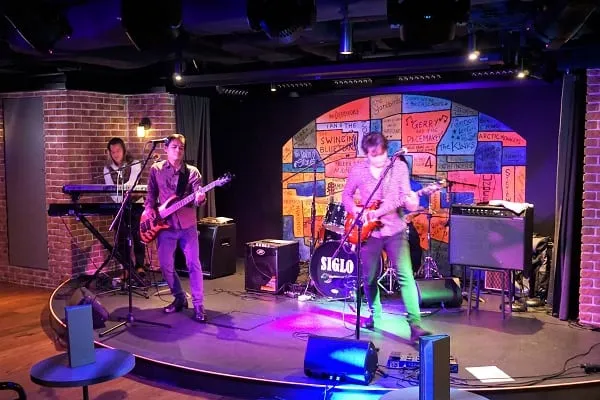 The set included admirable performances of songs by bands like Live, Blur, and Creed, among others. In fact, we accidentally stayed past 10 pm. Getting to the theater closer to 10:10 pm, guests were already being scanned in and seating was a bit more limited. We were still able to find decent seats even if they were a bit more off centered than usual.
I particularly enjoyed the show, as did our other friends, despite the Princess not being a big fan. The principal performers were the same four men that performed on the inaugural, and they did an excellent job just the same.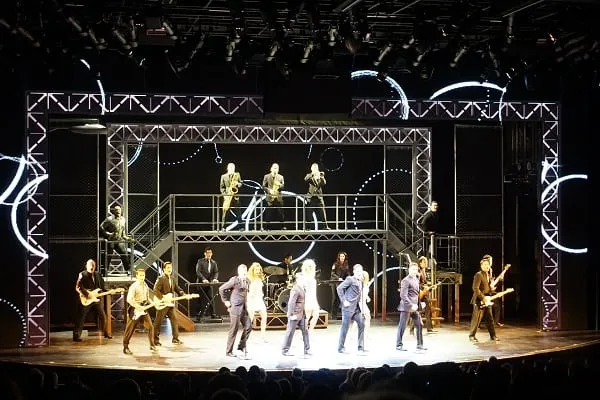 Jersey Boys is a full 100 minute production, so it was past midnight by the time we were out of the theater. All of us were in agreement that it was time for bed.
Back to the room, we had another towel animal to wish us a good night.
Tomorrow was a full sea day, so we could sleep in a bit. The clocks were being moved an hour ahead, but we didn't have any official plans until our race track reservation at 11 am.
Norwegian Bliss Alaska Cruise Review
Day 6
Look at the Scoreboard, Baby!
With the time change, our 8:30 am wake-up didn't really feel like we got to sleep in much. This did provide enough time for me to get some Starbucks and snacks at the Observation Lounge before our scheduled 11 am go kart race.
The weather was a bit cloudy but at least it wasn't raining. Meeting one group of friends around 10:45 am, we were reminded that the other couple was going to be here right at 11 am as they were doing a painting class immediately before.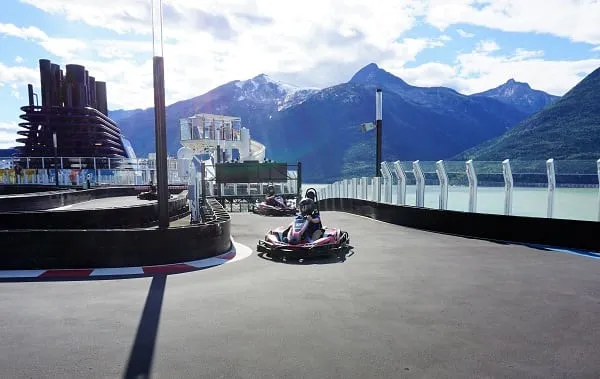 Once they arrived, we all checked in and were ready to put the pedal to the metal. The track was slightly wet and slick, as there was an odd rain cloud spitting water on one section of the course. Of course, it had to be the most difficult part of the course to navigate that had the water hazard. Even though the cars were a bit wet and dirty, we thought nothing of it during the race.
I will let the scoreboard speak for itself when it comes to rating the track. Although, the end result was that we were all covered in dirt splatter. Even though we did not have this issue on our first go-round, we would suggest not wearing any good clothing on the track.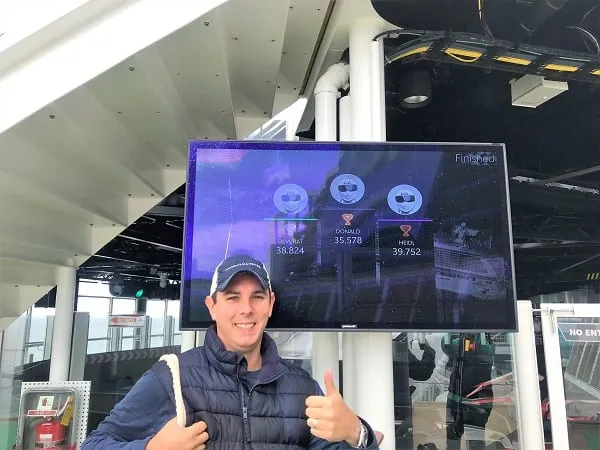 Finishing up around 11:45 am, we had to make a quick pit stop back at the room for a costume change. Two of us had been invited to a VIP Brew House experience at noon, and we could not show up looking like this!
I'm Not Sure if We Can Fit This All In
Walking into the District Brew House a few minutes late, our friends had already grabbed a table, food, and some brews. Thanks for waiting for us guys!
The hour long experience was a very nice touch with several officers stopping by to say hi. We are not sure who got invites to this event, but there were maybe 20 guests in total. The snacks and beer were quite delectable.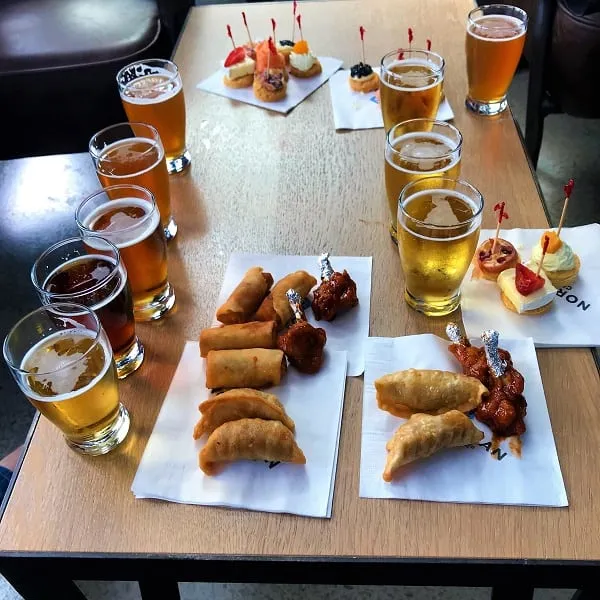 Since the Princess did not eat or drink much at this event, she convinced me to take her to Coco's for lunch. Yes, you read that sentence correctly- our lunch was at an ice cream shop!
These Instagram-worthy desserts were as delicious as they looked. It was tough to pick a favorite, but I was more a fan of the milkshake than the sundae. Given the costs, I think it would be more reasonable to split one item the next time. While pricey, any chocolate lover needs to stop in to Coco's at least once during the cruise.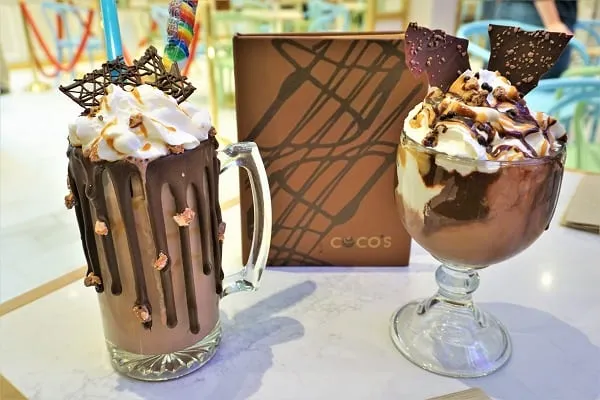 Running high on sugar, we met our friends for the crew talent show set to begin at 2:30 pm. This was a new one for us, but there were actually some good singers and dancers among the crew. The real wow factor was Dan Dan's performance of Andre Bocelli. He unexpectedly nailed it. I thought for certain it was going to be a joke or skit, but that man has got some serious vocal power.
The performance was done by 3:45 pm, and the weather was decent enough outside, so we headed to Spice H20, which was actually open today, to continue our drink around the ship. In retrospect, I have no idea what we were thinking when we ordered frozen drinks. We had just eaten dessert, so barely had enough room for alcohol, nevermind the Bushwhacker and Mango Meltdown that we ordered.
The covered area of the Spice H20 bar had heaters, so we were comfortable sitting outside for a while sipping the drinks. We headed back to our room around 4:45 pm to do a bit of work and get ready for our 6 pm dinner at Teppanyaki.
Make the Most of Our Second to Last Night
This was the last planned dinner with all 6 of us. There is no better way to round out the cruise than with the dinner and show that is typical at this Japanese-style steakhouse. While we each had separate reservations for two, the hostess was able to sit us all together.
Unexpectedly, the restaurant manager stopped by our table at Teppanyaki to ask how everything was going during the cruise. She claimed she was "following" us all trip. We assured her everything was fabulous. To show her appreciation, she provided us with a bottle of sake! Needless to say, several of us worked hard to finish that bottle throughout the dinner.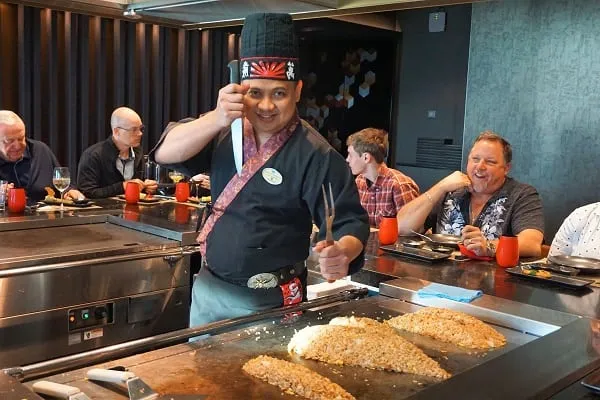 The food at Teppanyaki was good as usual. Our chef cooked way too much food for everyone so was giving away samples of literally everything. Even though I ordered shrimp and calamari, I got to taste some chicken and steak too.
Leaving the restaurant thoroughly stuffed, we had plans to meet back up at 9:30 pm to wait in line for Happy Hour Prohibition. One of the other couples decided to join us for a drink at Sugarcane. We did want to go easy as the Prohibition show's cover charge includes five cocktails which is a tall order in just one hour.
As it got closer to 9:30 pm, I peeked over to see a line already forming at the door. We made some quick bathroom breaks and headed down two flights of stairs to get in the queue.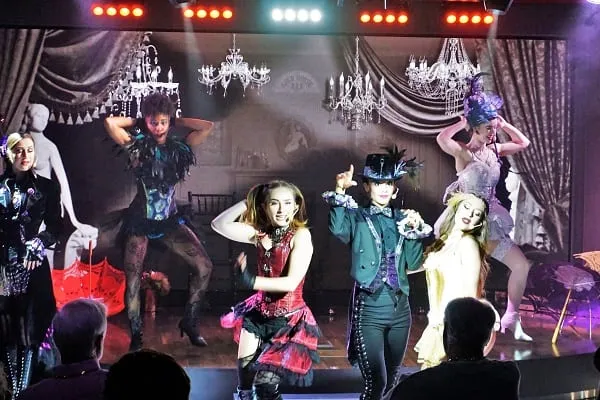 The show was a solid hour and included several song and dance routines with Madam Lulu and her "girls". The show was enjoyable; although, the cover charge feels a bit steep at $29.95 plus service charge.
Not having to wake up early tomorrow, we were ready for our next venture at 11 pm when the show let out. We made a quick pit stop by the Caliente party which occurred in the Atrium. In contrast to the usual Glow Party, this new onboard activity was not that well attended. Possibly because of the location?
Looking for a place to grab a final round of drinks, we settled on the District Brew House to listen to the rantings and music of Jim Badger. As a big fan of piano music, I was expecting more from this performer.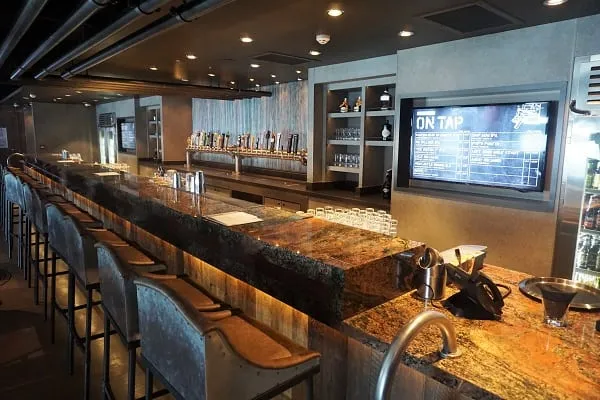 That said, the odd pace of his show meant the four of us could discuss the trip and our thoughts on everything so far. Given the cruise was almost over, it was interesting to hear everyone's perspectives about the shows, dining, and the ship itself. When the lights came up a bit before midnight, it was our cue to leave.
Back in the cabin, we found another towel animal, which we expected to be our last. Unfortunately, our trip was coming to an end!
Norwegian Bliss Alaska Cruise Review
Day 7
Those Last Minute Items
How did the last day of our cruise come so quickly? It seemed just like yesterday we were boarding Norwegian Bliss. Still, we had one more day on the ship and a short stopover in Victoria, British Columbia. Sleeping in a bit, we arrived at the Local at 10 am for breakfast with our Starbucks in hand.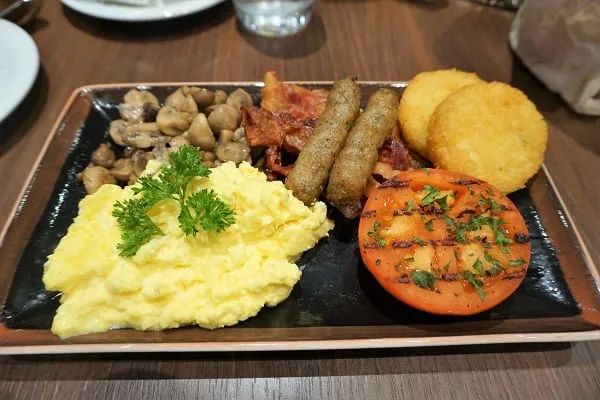 Service was speedy. Our orders of a custom omelet and the country sampler were delivered promptly, and we were in and out of breakfast in about a half-hour.
Next up for the day was a round of mini-golf. At this awkwardly located 5-hole course on the back of deck 19, you actually need to walk through the course to get to the starting point. With a few unlucky putts, the Princess was able to take this match. We would have to wait for the next item on her list, testing out the waterslides, as they were not set to open until the afternoon.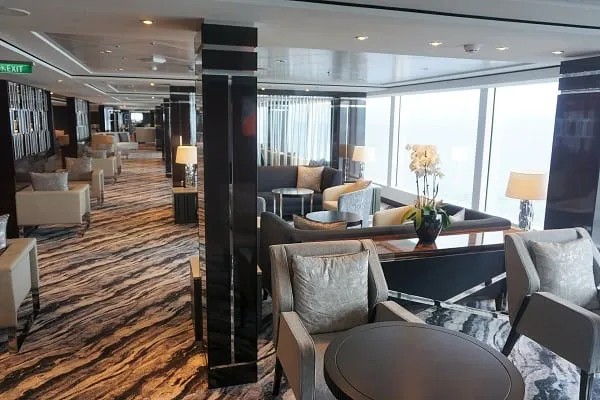 So instead, we somehow secured seats in the Observation Lounge to do some blogging and social media for a little while, grabbing a couple snacks in the process.
Around 1 pm, we went outside to get some fresh air and watch some fellow passengers get stuck on the Ocean Loop waterslide. Even though I was not really in the mood to put on a bathing suit, the Princess somehow guilted me into it. How did the Ocean Loop compare to the slides on Escape? We wouldn't know unless I tired. Leaving my belongings with the Princess outside, I went back down to our room to change into my bathing suit. It was going to be now or never.
Now that I was forced into this, I was going to ride the slides a couple times to make the costume change worth it. Luckily, I did not get stuck on the Ocean Loop and did enjoy both waterslides.
Some Final Goodbyes on the Ship
Wanting to catch the farewell Beatles tribute show at 2 pm, we rushed back to our cabin to make another costume change. Arriving to the show just as it was starting, we were able to find seats off to the side without too much difficulty.
The show included a mix of songs, some that we had already heard in the band's first show, as well as songs from the Abbey Road album and a few notable solos like Lennon's Imagine. At the end of the performance, there was the typical officers farewell along with a parade of crew members. It was a bittersweet moment as we had an amazing cruise, but it was also the realization that it was all coming to a close.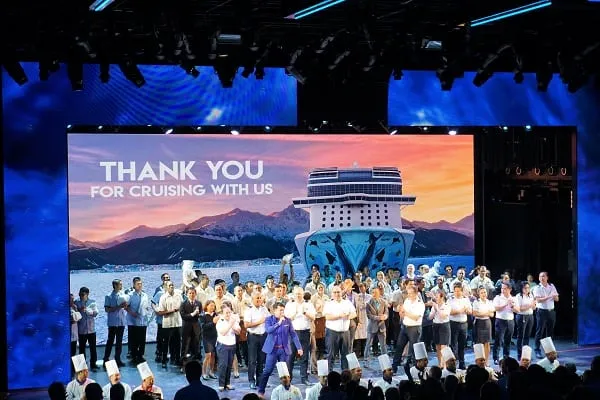 With the show over at 3:15 pm, we had a decision to make. All along we were planning to meet our friends in Victoria for dinner following a tea tasting excursion that they were taking. That would mean that we wouldn't be eating until after 7 pm. So, we ended up deciding to get a snack at the Local. When in doubt, eating on a cruise is always a good option.
While I would have been happy ordering wings again, the Princess shamed me into getting something different. Instead, I did a small order of wings as a starter and tried the Wrangler Burger. She went with the artichoke dip and the turkey pot pie.
This late lunch was over by 4 pm, just as the ship was docking. Saying goodbye to the Local, we went back to our room to do a little packing before heading out.
An Evening in Victoria
This took a bit longer than expected, so we were not off the ship until 5 pm. Still, this gave us about two hours to explore. Finding our way to Fishermen's Wharf was very easy, and the scenic walk took only about 10 minutes. We both enjoyed the walk as it was a gorgeous night that felt like autumn back home.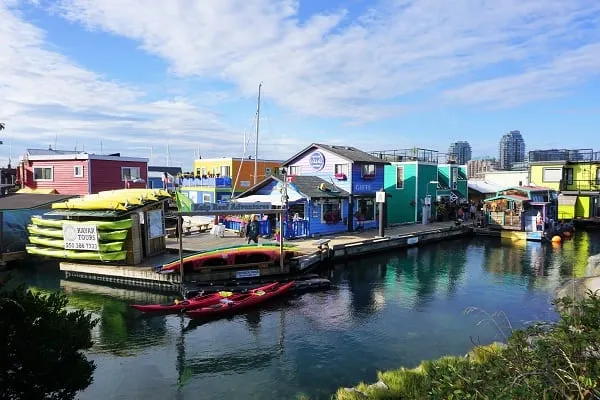 Arriving at the Wharf, you are greeted by a small pier that is home to several eateries, tours, and some very elaborate houseboats. It is a picturesque scene, especially from some of the vantage points further down the scenic harbor walk. Although, it is much smaller than both of us envisioned.
We continued our stroll to downtown and the Inner Harbor area passing by the Empress Hotel and Parliament building.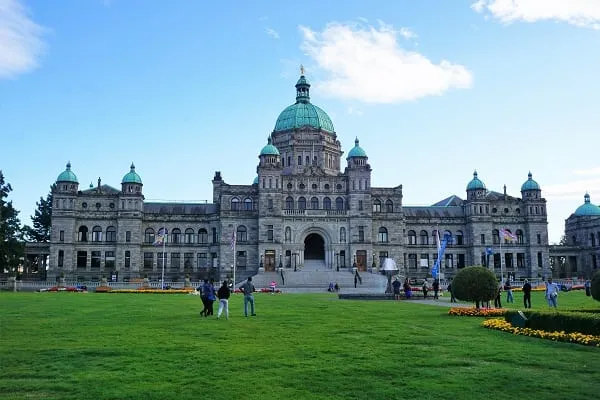 With more time to kill, we ventured on further to Chinatown. Along the way, we peeked into a few shops but resisted the urge to purchase anything. We ended up meeting our friends in front of the Empress Hotel around 7:15 pm and headed back towards the ship.
We stopped in for some appetizers and drinks at the Blue Crab, a recommended restaurant which is located along the waterfront. We enjoyed our light fare of local mussels and clam chowder. Even if the server did spill a beer all over me.
One Last Get Together
Trekking back along the same waterfront route, we were back to the ship just before 9 pm. Of course, with the ship all lit up, we wanted to take some pictures so made plans to meet up with everyone around 9:30 pm.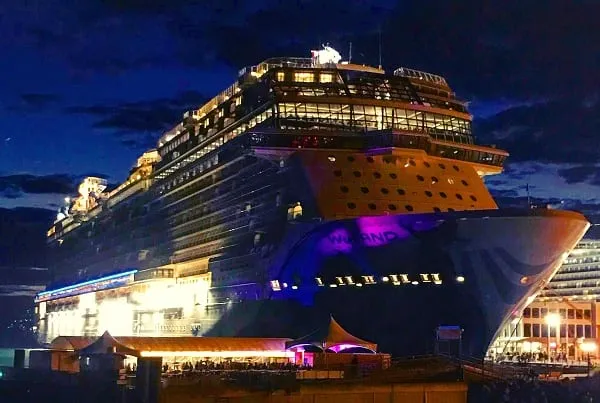 With the Malting's Whiskey bar packed, we were able to grab a couch at our go-to Sugarcane Mojito bar. It wasn't scheduled to open for another 20 minutes, but this would be the perfect place for our last celebratory drink. We stayed until 11 pm or so when we all decided to call it a night. We were the only ones flying out the next morning as one couple lives in Seattle and the other couple was flying back east on Sunday.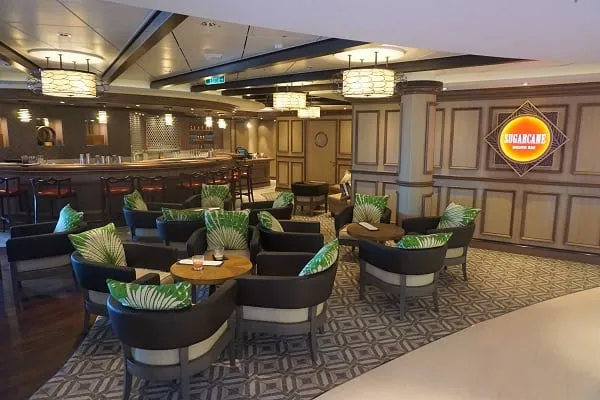 Back to our room, we were surprised that we did indeed get a towel animal for the final evening. Bravo to our very persistent room attendant.
The next morning, we were up at 5 am so we could complete the self check-out. Grabbing breakfast around 7 am, we were in an elevator by 7:15 am and off the ship and in an Uber by 7:45 am. This was the smoothest disembarkation that we have ever had on an NCL ship.
Arriving at the airport, we had our bags checked and were through security with plenty of time to do some social media and blogging.
Our flight left on time, and we arrived almost 25 minutes early. Getting in our car, it was now an hour drive back home. We pretty much crashed immediately and began dreaming of our next cruise on Symphony of the Seas which is currently 2 months away.
Comments
Have you sailed on Norwegian Bliss? Do you have an Alaskan cruise review from this year? Drop us an anchor below to tell us about your experiences cruising on this amazing new vessel.