We are back from our second three day cruise on the newly amplified Navigator of the Seas. This ship offers three and four day cruises which include stops at the newly updated private island Perfect Day at CocoCay. This short weekend getaway is a great vacation, and you can make it even better by bringing along some friends. For this return trip, that's exactly what we did! With great weather and plenty of laughs, we have put together our latest review of the Navigator of the Seas Bahamas and Perfect Day Cruise.


Navigator of the Seas Bahamas and Perfect Day Cruise Review
Navigator of the Seas was updated in 2019 adding several new venues and attractions. These include new specialty restaurants, such as Playmakers Sports Bar and Arcade and two new waterslides. The pool deck also received a face-lift with a new Caribbean vibe including the multi-story Lime and Coconut Bar. Along with a new stage production, Showgirl, and a new ice skating show, Navigator of the Seas has been completely transformed.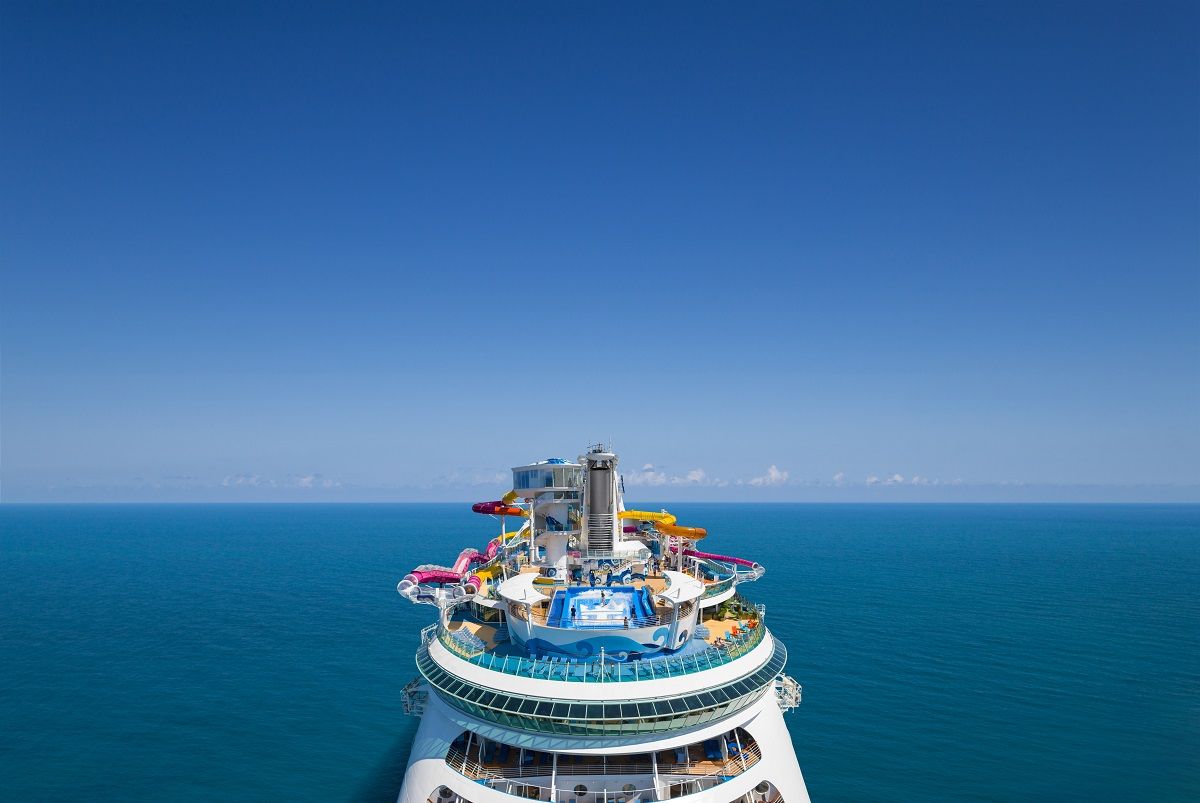 Of course, on our first Bahamas cruise on Navigator of the Seas in June 2019, we explored all of these offerings! Sure, we planned on doing much of the same on this trip. Yet, we knew what we wanted to do again and what we could pass on during this sailing.
One of the main draws was Perfect Day at CocoCay. We couldn't wait to get back for another full day. Convincing some friends to join us for the trip, we could get their perspective on the ship and the island.
Related Posts: Navigator of the Seas Ship Scorecard Review
Day 1 – Miami, FL
A Pretty Typical Embarkation Morning
As always, we flew into Florida the night before. For this stay, we booked a room at the Mandarin Oriental Hotel. It was a very exquisite and upscale hotel, and our only regret was that we did not have more time to enjoy the property.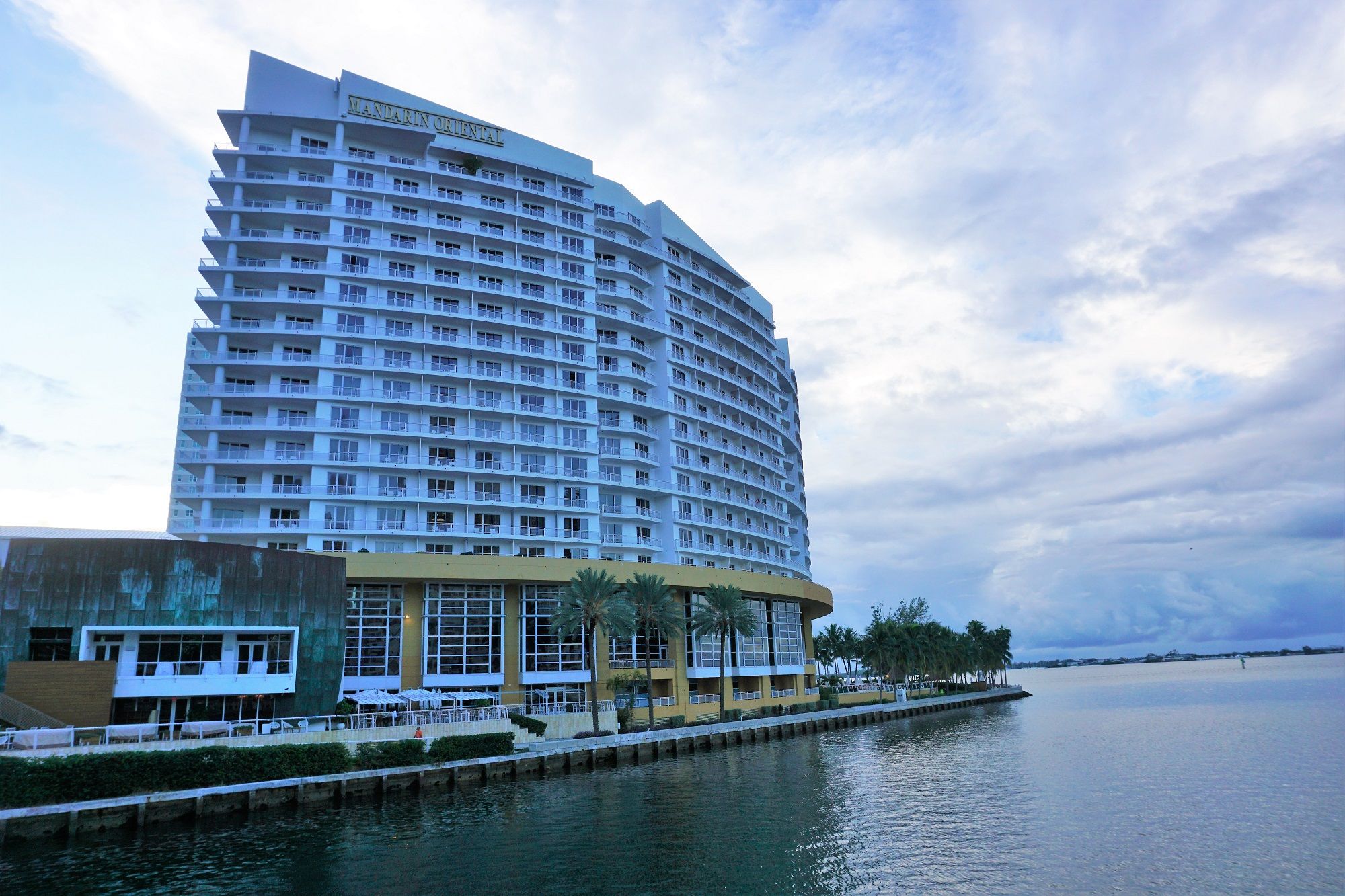 We were up and ready by 9:30 am. With a twenty-minute Uber ride to the port, we arrived at Terminal A before 10 am. Walking through security and checking-in was as simple as the last time. Although, multiple staff members were having connectivity issues with the tablets.
We were allowed onboard Navigator of the Seas around 10:45 am. No matter how many cruises we take, there is just something exciting about stepping foot on the ship to begin your voyage.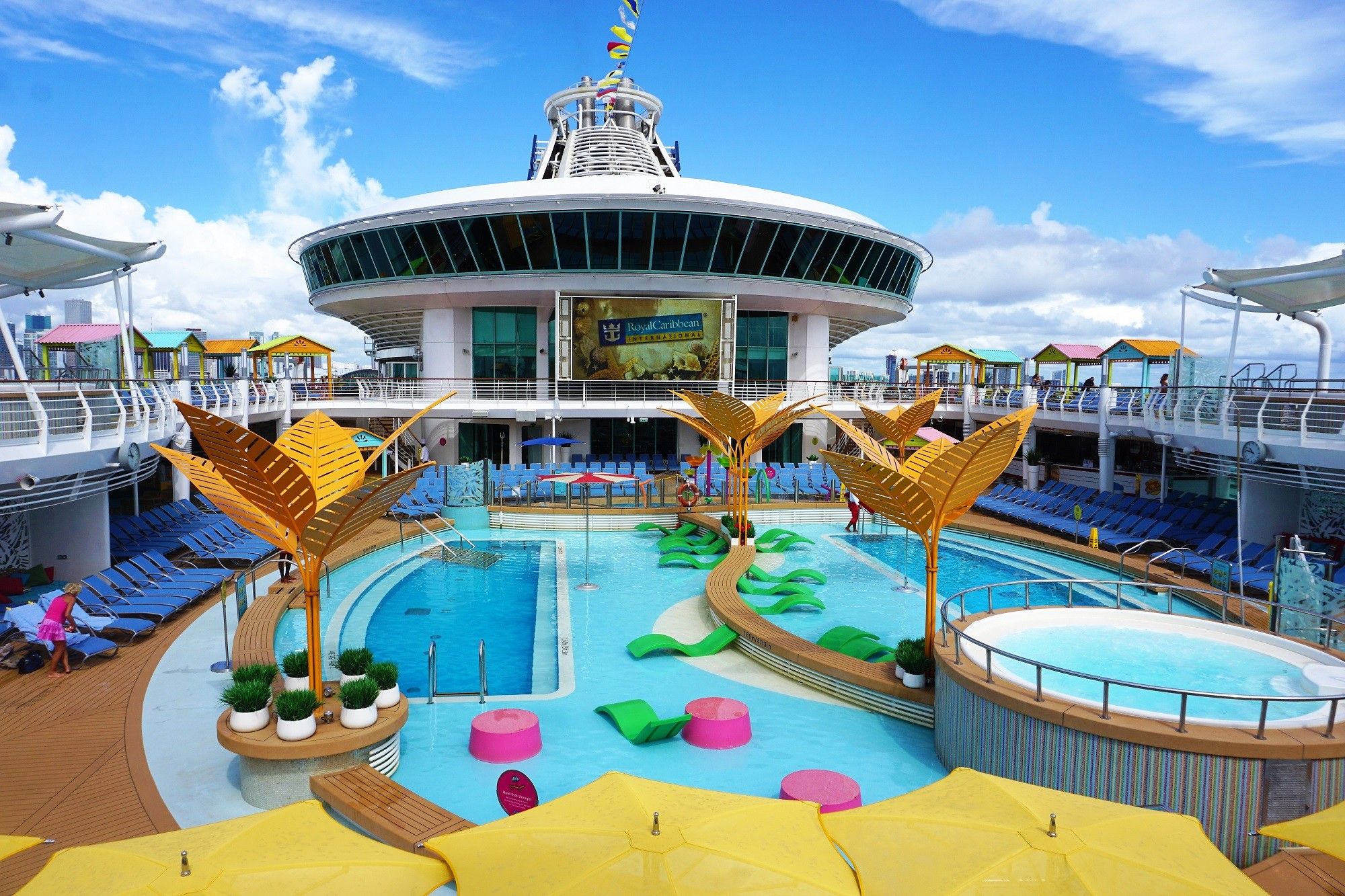 For the next 90 minutes, we walked around the ship snapping some photos and collecting additional video footage. Luckily, we could take our time as we already had plenty of content from the first trip. Still, the weather was nice, and it couldn't hurt to have a few more cruise ship photos!
Our friends were flying in that morning. After a short flight delay, they were onboard the ship by 12:45 pm.
In the meantime, we might have grabbed our first cruise drink at the Lime and Coconut bar without them. Against our better judgement, we ate lunch at the Windjammer upon their arrival. It was surprisingly easy to navigate and find a table. The food was average, with the Asian chicken and fried rice being among my favorite options.
Fueled and ready to go, we did a quick tour of the main public areas of the ship for our friends. With the rooms ready, we all made a quick pit stop on Deck 6.
Along our trek forward to cabin 6524, we found both of our pieces of luggage. Somehow, the Princess did the quickest unpacking job ever, getting both suitcases completely emptied within 15 minutes.
Now, it was time for that "first" drink of our Navigator of the Seas Bahamas and Perfect Day cruise.
We Are Officially On Vacation
The four of us headed up to Deck 12 for a round of Welcome Aboard drinks from the Lime and Coconut bar. We were able to snag a covered casita, which blocked some of the sun from this rather hot Miami Friday.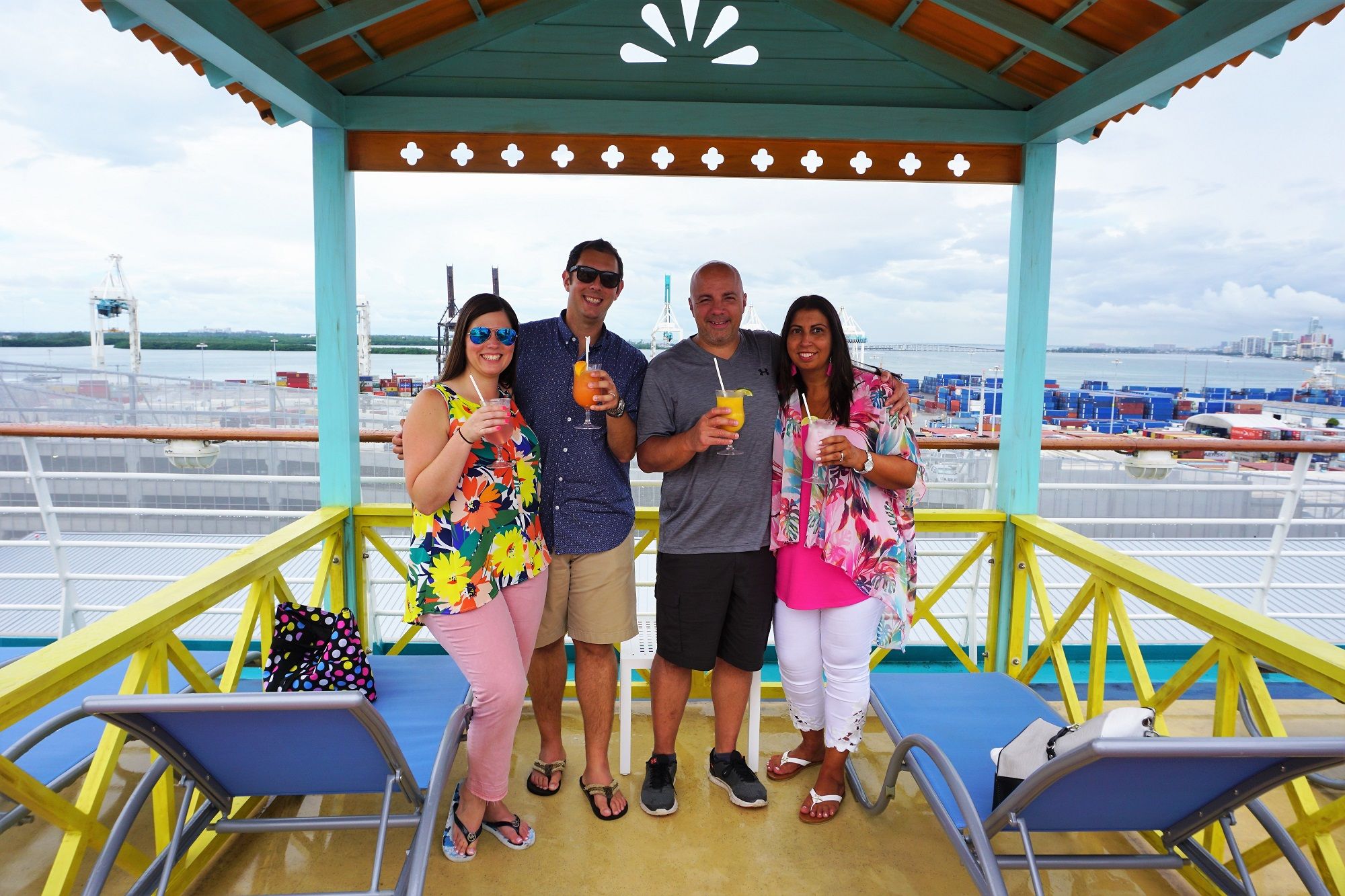 Two round later, it was approaching muster time. When staff started making the rounds, it was our cue to head to our station. This time around, we were in muster A4, which was the Star Lounge. Unfortunately, our friends were stuck with an outdoor muster station.
Our plans to meet up for sail-away were thwarted by an extra long muster. So, we decided to head back to the room to change up for dinner. If you have been following along with our journeys, you know we always do the early dinner time, which on this ship is 6 pm.
Since both our cabins were on deck 6, we made the Next Cruise office our meeting spot for the entire cruise.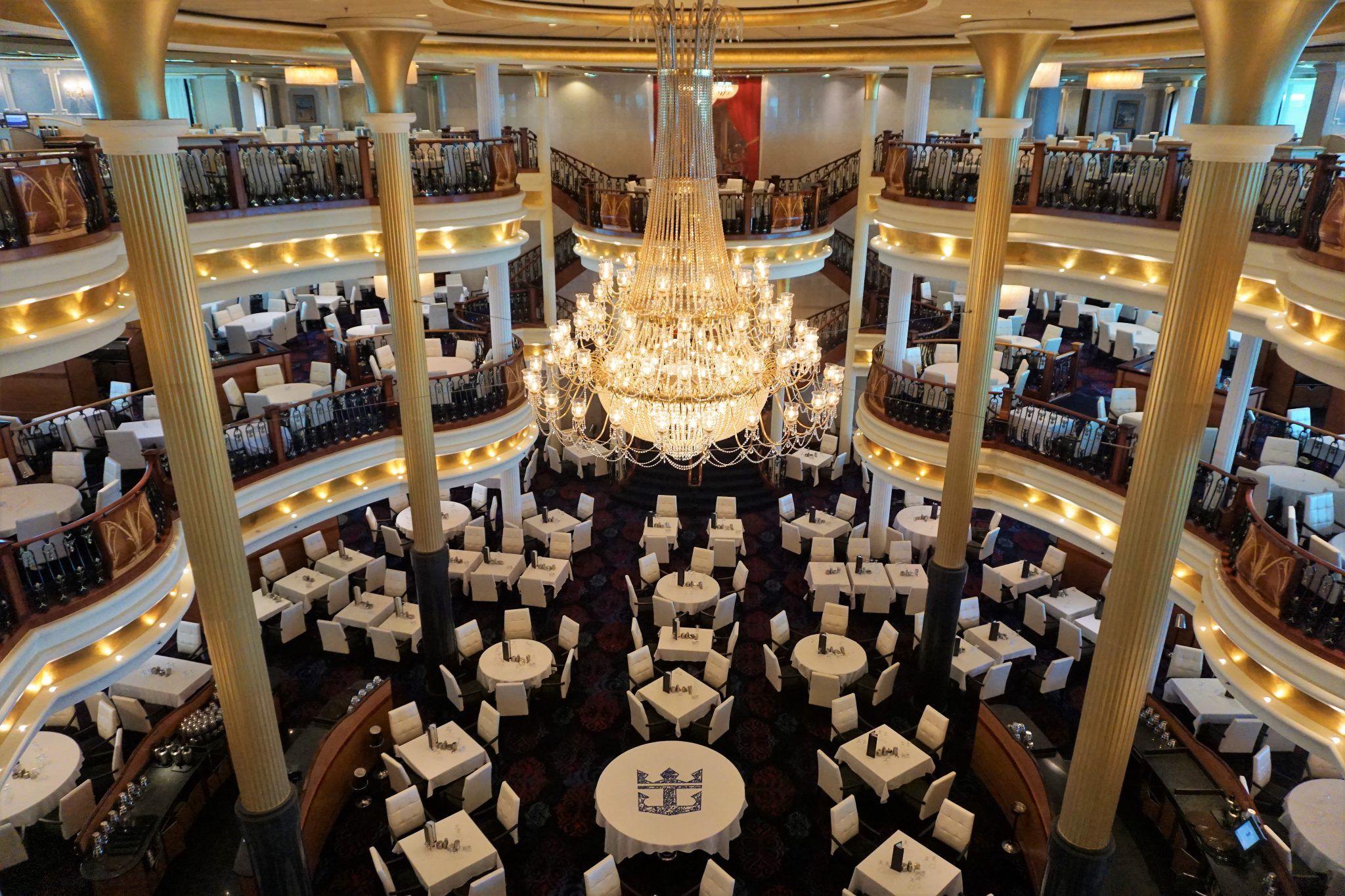 We had checked our seating assignment earlier in the day, and we were indeed assigned a private table for 4. Table 538 was located on the portside of the ship, near the kitchen. Our waitress was Yongxu and assistant waiter was JayPee. They were timely and vigilant, keeping our dining experience at a usual 75 to 90 minute pace.
Tonight, I went with the Prime Rib, medium rare, and it was practically mooing. Yes, just the way I like it. The Princess ordered the Chicken Marsala, which was solid as well.
For dessert, the Key Lime Pie delivered just the right amount of sweetness, especially with the side of vanilla ice cream. Our friends really enjoyed the chocolate hazelnut cake. Next time, I will opt to test out that dessert.
Dinner was done by 7:30 pm, and the night was still young.
The Party Don't Stop on Night 1
A frequent cruiser who we had met on Navigator of the Seas during our last sailing was also onboard this cruise. He invited us to his aft balcony room for a celebratory glass of wine. Before meeting up, we browsed the shops. Luckily, we were able to purchase one of the last ship ornaments featuring the newly amplified design of the ship which were not available last trip.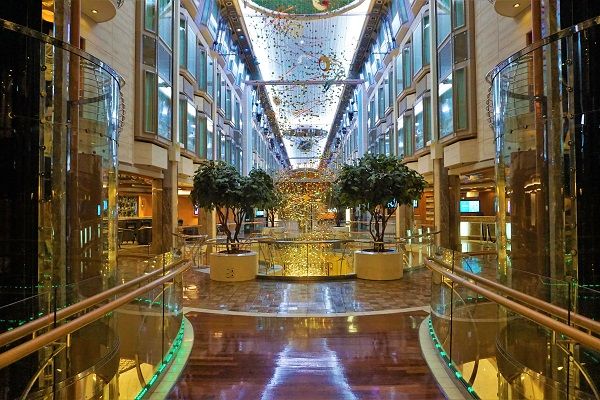 Now, our travel Christmas tree will be complete!
Checking out the views from an aft balcony, we all swapped cruise stories and upcoming travel plans for about 40 minutes. With time approaching for the ice show, we all headed down to Studio B on deck 3. While we had seen the iSkate 2.0 show a few months ago, we were happy to watch it again. Good thing, as the performers were all different.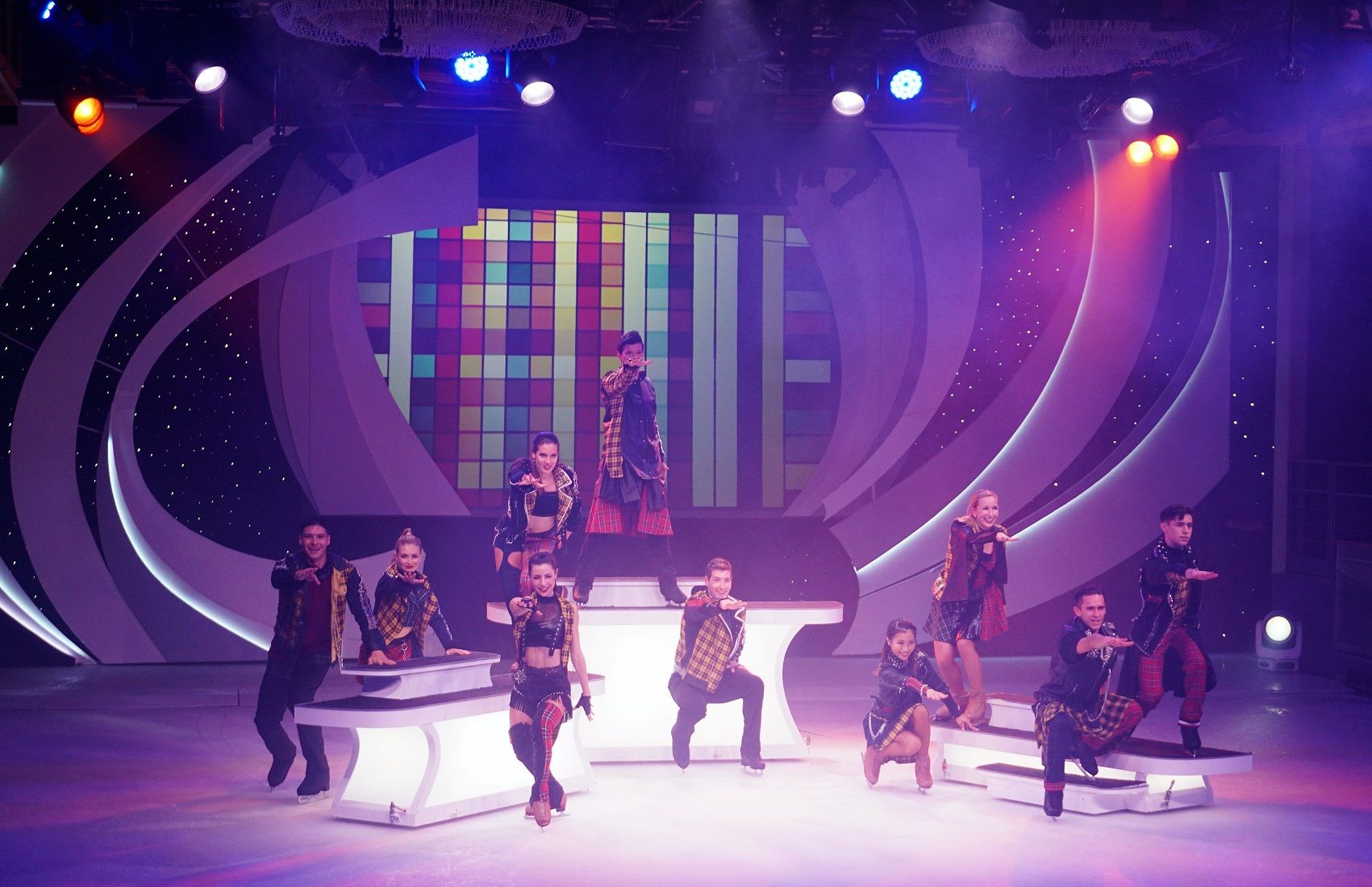 Exiting Studio B, it was up to the main theater for tonight's show. Our Cruise Director Cory was the host. In terms of cruise directors, he was rather forgettable. He had nowhere near as much energy or spirit as Hugo, the cruise director we had back in June.
The comedian this cruise was Don Gavin. His tagline was the "Godfather of Boston Comedy". Being from Massachusetts, none of us had heard of him. Though, his set this evening was fairly funny. Both the Princess and I agreed that he was much better than the comedian on our cruise earlier this summer.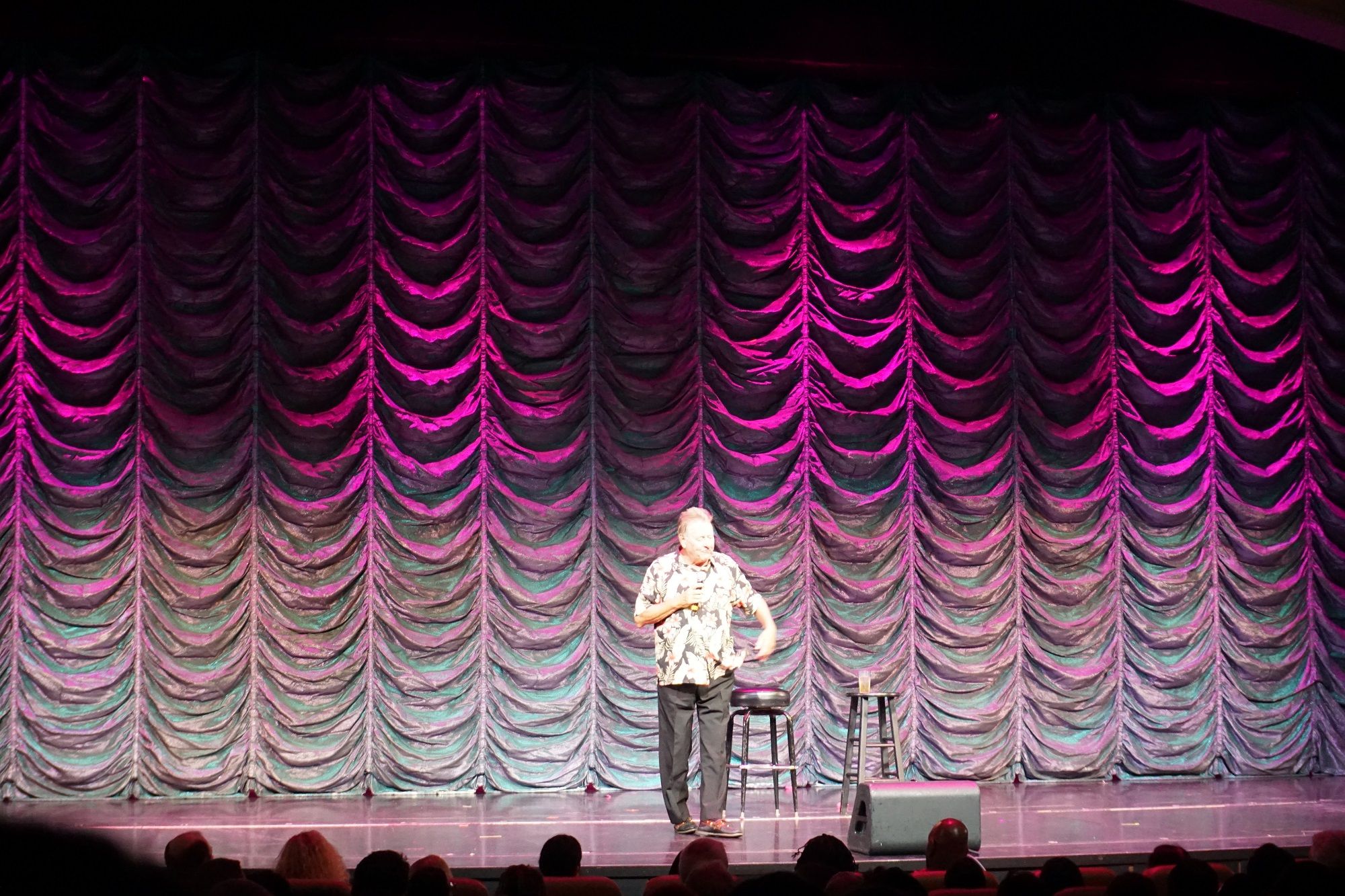 Leaving the show around 11 pm, we skipped the 70's party in lieu of umbrella drinks at the Bamboo Room. We could still hear the music from the Royal Promenade, but I much preferred our friends' company and some drinks at my favorite bar on the ship.
A few rounds later, we made our way out to the promenade for the midnight balloon drop. Not sure if we are unlucky, but our section of balloons did not release right again on this trip.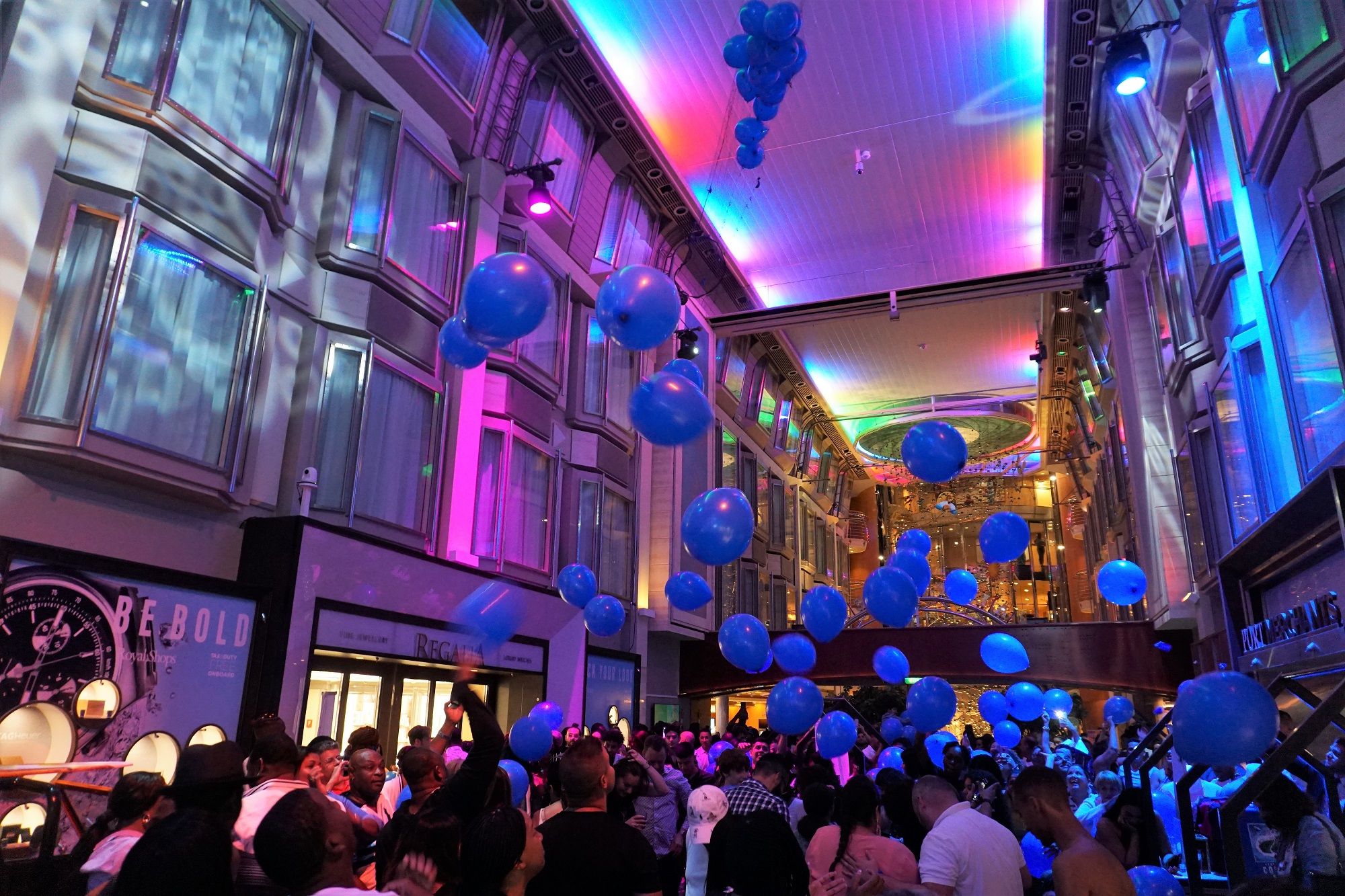 Now, it was bed time. Our plan was to be ready to get on to the island right at 8 am. Our friends would meet us later as they were not going to wake up that early. Amateurs!
Having not met our stateroom attendant, we returned to our room turned down, but no animal towel.


Day 2 – Perfect Day at CocoCay
One of the main reasons we booked this Navigator of the Seas Bahamas and Perfect Day cruise was the full day stop at Perfect Day at CocoCay. Our last visit to the island was amazing. We spent most of the time in the Perfect Day Thrill Waterpark. We also tested out the Perfect Day at CocoCay Ziplines.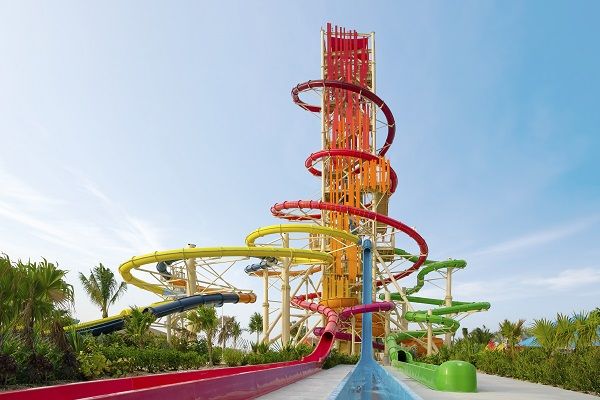 This time around, our plan was to enjoy some of the complimentary activities on the island. Still, we wanted to be among the first off the ship. Our alarm was set for 5:45 am. Yes, you read that correctly.
While the Princess did her morning routine, I completed the usual photo and video duties.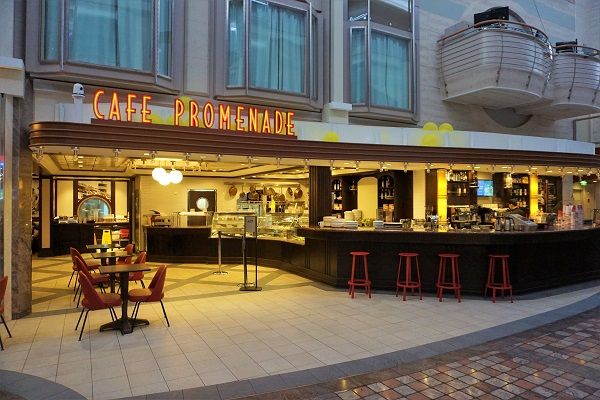 On my way back to the room, I grabbed two iced lattes and a few breakfast pastries from Cafe Promenade. There was no time for a full breakfast this morning.
The ship docked at 7:15 am with some light rain. The forecast was calling for mostly cloudy skies with some potential afternoon showers. Luckily, by the time that the ship was cleared about an hour later, it was a bright and sunny day.
Related Posts: Our Honest Review of Perfect Day at CocoCay
Claiming Our Ideal Spot on the Island
Unlike our last trip, when the 8:15 am all cleared announcement was made, there were several other cruisers joining us as we walked off the ship. With some music playing, friendly staff, and the beautiful island straight ahead, we could do this every morning.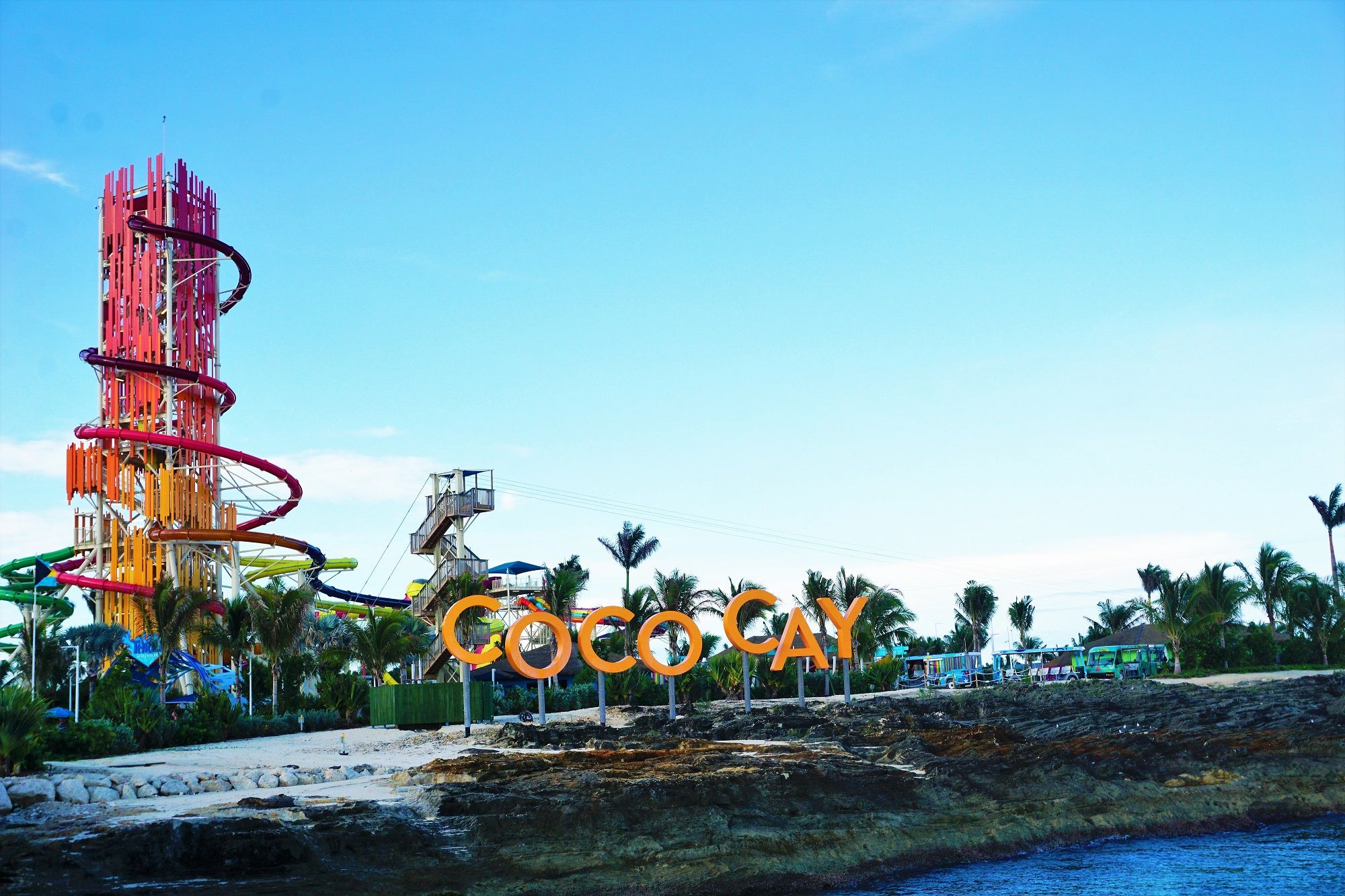 Our plan was to spend most of the day at the Oasis Lagoon Pool. We found the perfect set of four chairs with an umbrella poolside, not far from the swim-up bar. Now that our chairs were secured, we took a walk around the island to see if we could spot any differences from our last visit in June.
We tried to get some pictures of the construction at the new Coco Beach Club, but all you could see was some of the early framing of the building. All of the beach beds and bungalows that were located on South Beach were moved to other locations on the beach. The "clam shells" are now all the way at the front of Chill Beach. The Beach Bungalows are also located right over the bridge, whereas the beach beds remained near South Beach.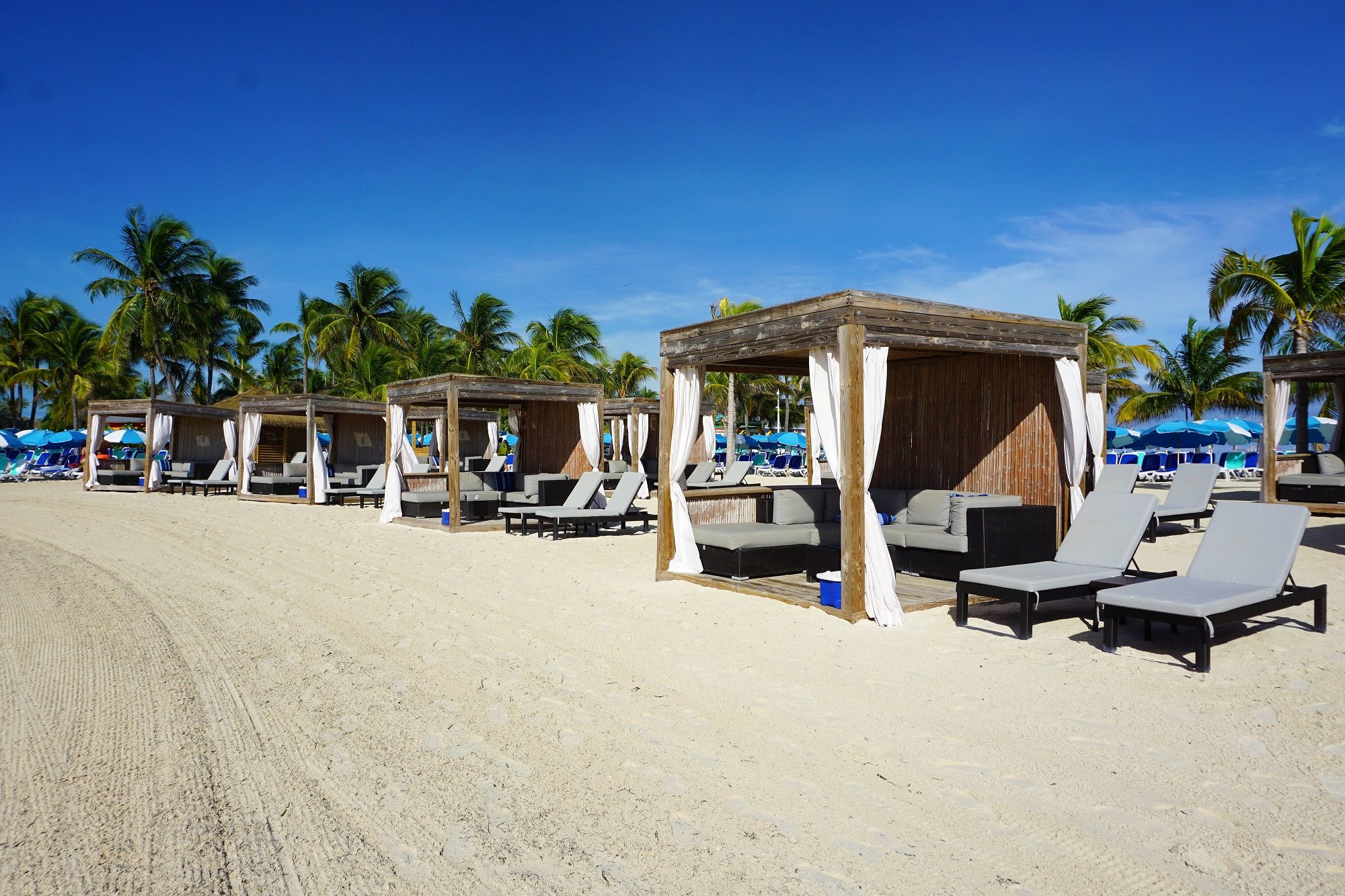 After taking some pictures and video, we returned to our seats around 9:45 am, and our friends joined us shortly after. We spent the next two hours enjoying the sunny weather, light breezes, and chairs in the pool. It was the ultimate pool day.
Slowly, more and more cruisers began to find their way to the pool, but there were still plenty of lounge chairs and umbrellas for everyone. Now, it was time for some Coco Locos from our bar server pal Alonso in order to celebrate this perfect day.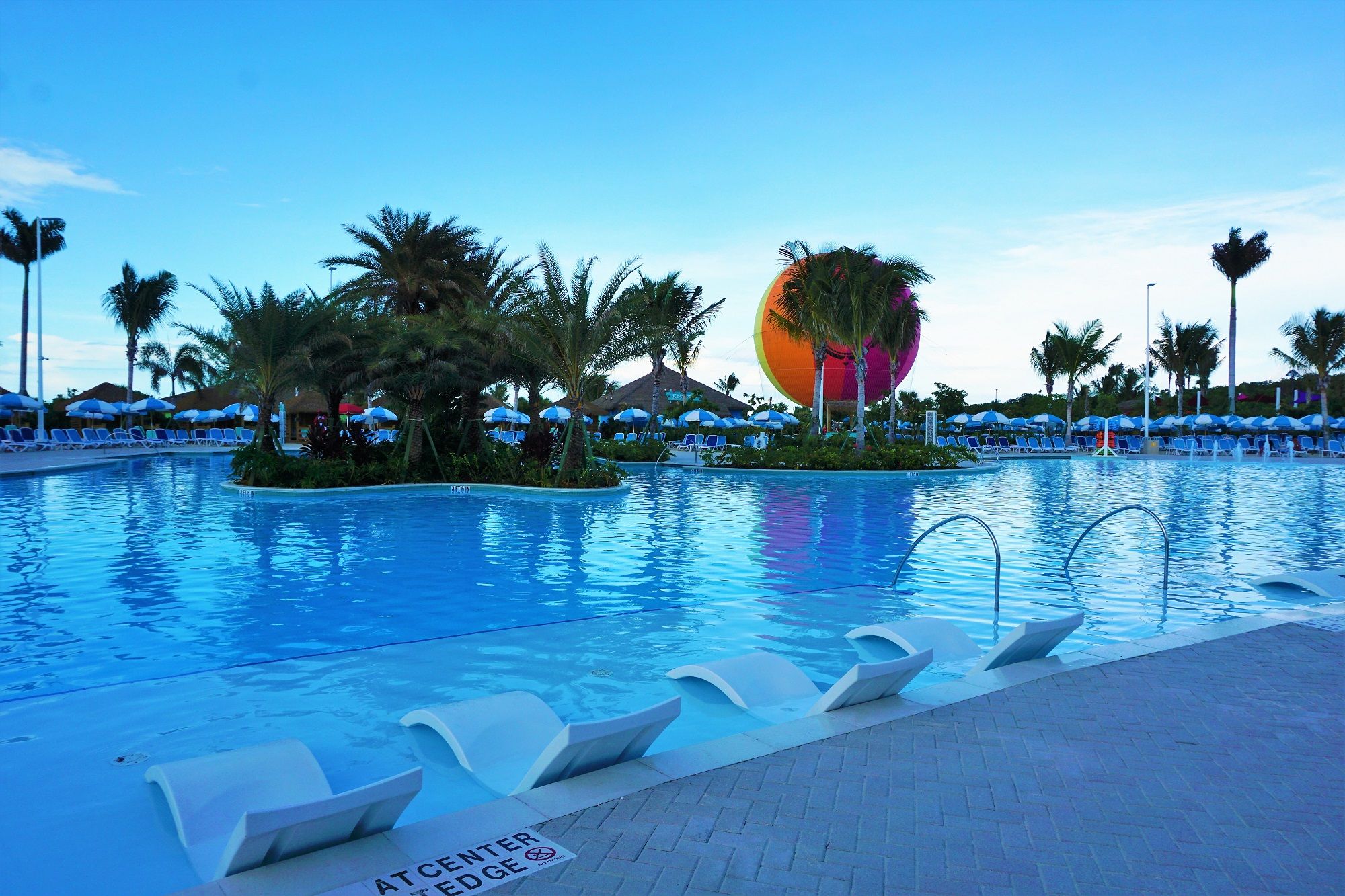 We had 12:30 pm reservations for the Up, Up, and Away Balloon ride. We had already noticed that the balloon remained tethered with its net and no riders were rising above the island yet this morning. Around noon, I walked over to the attraction to inquire whether the balloon was going to fly today. The attendant claimed that the nearby thunderstorms were keeping it grounded, but we could check back later in the day. If we saw the balloon take off and land twice in a row, then we knew it was cleared for flights.
While we did not see any clouds, and the winds were light, the balloon never took flight. This was the only blemish of the entire day.
An Afternoon in the Sand
With no balloon ride, we headed to grab lunch at the Chill Grill. The food and layout here are vast improvements over the old barbecue lunch on the island. While our friends were raving about another competitor line's private island food, they agreed that this buffet was very good.
I tried the steak sandwich and some of the barbecue chicken and sides. The Cuban sandwich, taco stand, and hamburgers also received thumbs up from our group.
Needless to say we were all a bit full, minus the Princess who was saving room for some mozzarella sticks. This gave us an excuse to visit the nearby Snack Shack. I might have ordered a shack chicken sandwich too. Somehow, these items tasted even better than our first visit to the island in June.
With the hot sun beating down on us, we ventured into the pool to grab drinks at the swim-up bar. While it was busy, we were able to get drinks rather easily. We found a quiet spot at one of the swim up islands to remain in the cool waters while sipping our cocktails.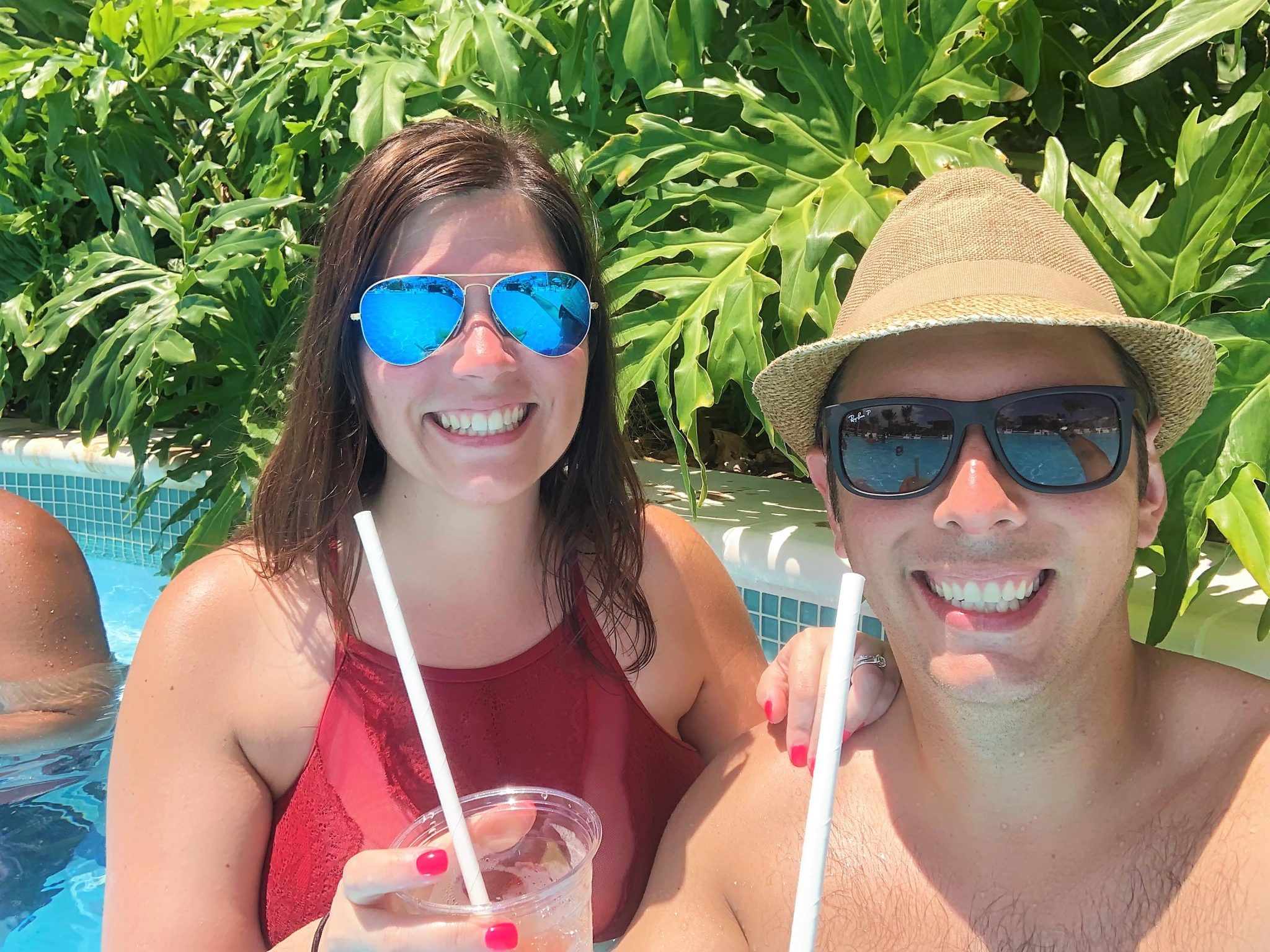 While we were perfectly fine spending the rest of the day right here, our friends wanted to test out the beach. So, we moved our base to Chill Island around 2:30 pm. There were plenty of chairs and umbrellas still available.
With the closure of a large section of South Beach, the lounge chairs did seem a bit more crammed together on the rest of the beachfront.
The water itself was cool and calm, with what felt like a newly combed beach. Our friends did agree that this beach was far better than the beach found at the rival cruise line's private island across the way.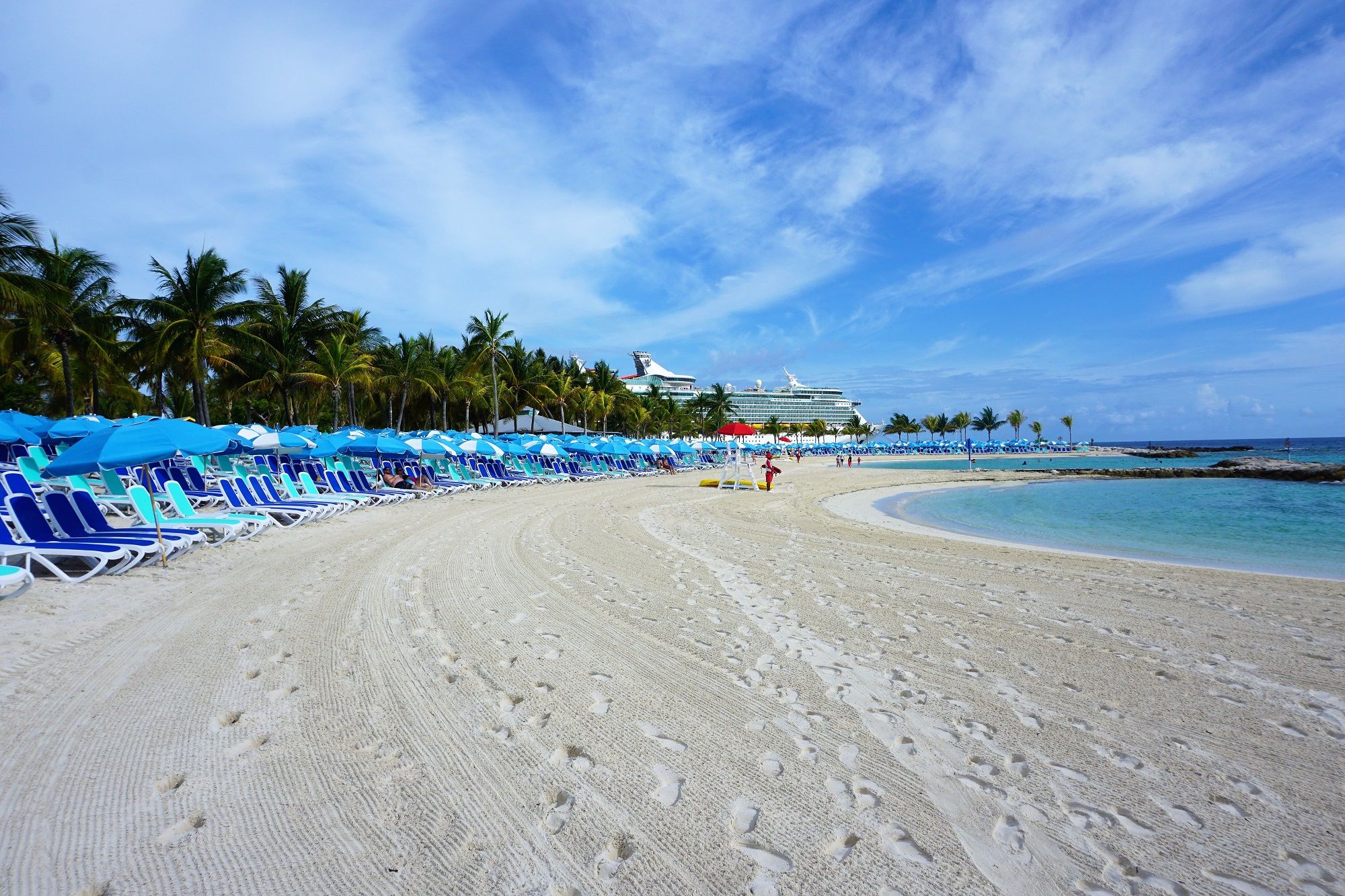 With a passing shower, and needing to change up for dinner anyway, we began gathering up our belongings a little before 4 pm. Again, our time on Perfect Day at CocoCay did not disappoint. The island definitely ranks as one of our favorite places to visit on a cruise!
Back Onboard Navigator of the Seas
Heading back to the ship, we made our way to the Cafe Promenade on Deck 5 for some much needed caffeine. Night 2 is the "Dress Your Best" night, so we agreed to meet up a few minutes early to get a few photos at the portrait studios.
We ended up taking photos at two studios as we did not want to arrive too late to our assigned seats in the main dining room.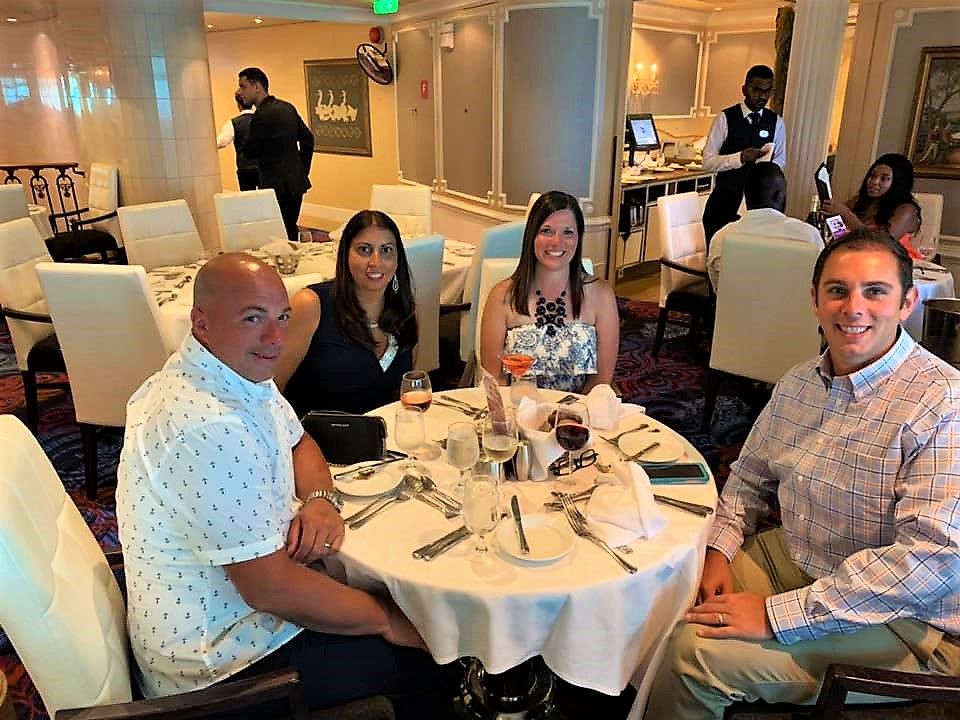 Our waitstaff was timely and attentive again tonight. For dinner, I went with a few options, including the Asian-style pork tacos and two entrees- the tiger shrimp and the rack of lamb.
The Princess went with the tagliatelle, which she found flavorful. The desserts were a bit of a letdown though, as the donuts did not live up to our experience from last time.
Another Busy Night
Dinner was done around 7:30 pm, which gave us enough time for a drink in the Schooner Bar before the show. One of our friends was craving a dirty martini, and there is no better martini bar than the Schooner. It doesn't hurt that my favorite drink, a sidecar, is also properly made at this bar.
While we are usually fans of the piano bar, the ship's piano player was the same as last time. The musical comedy of David Curtis Mutter is just cheesy and something we don't expect to find on a Royal ship.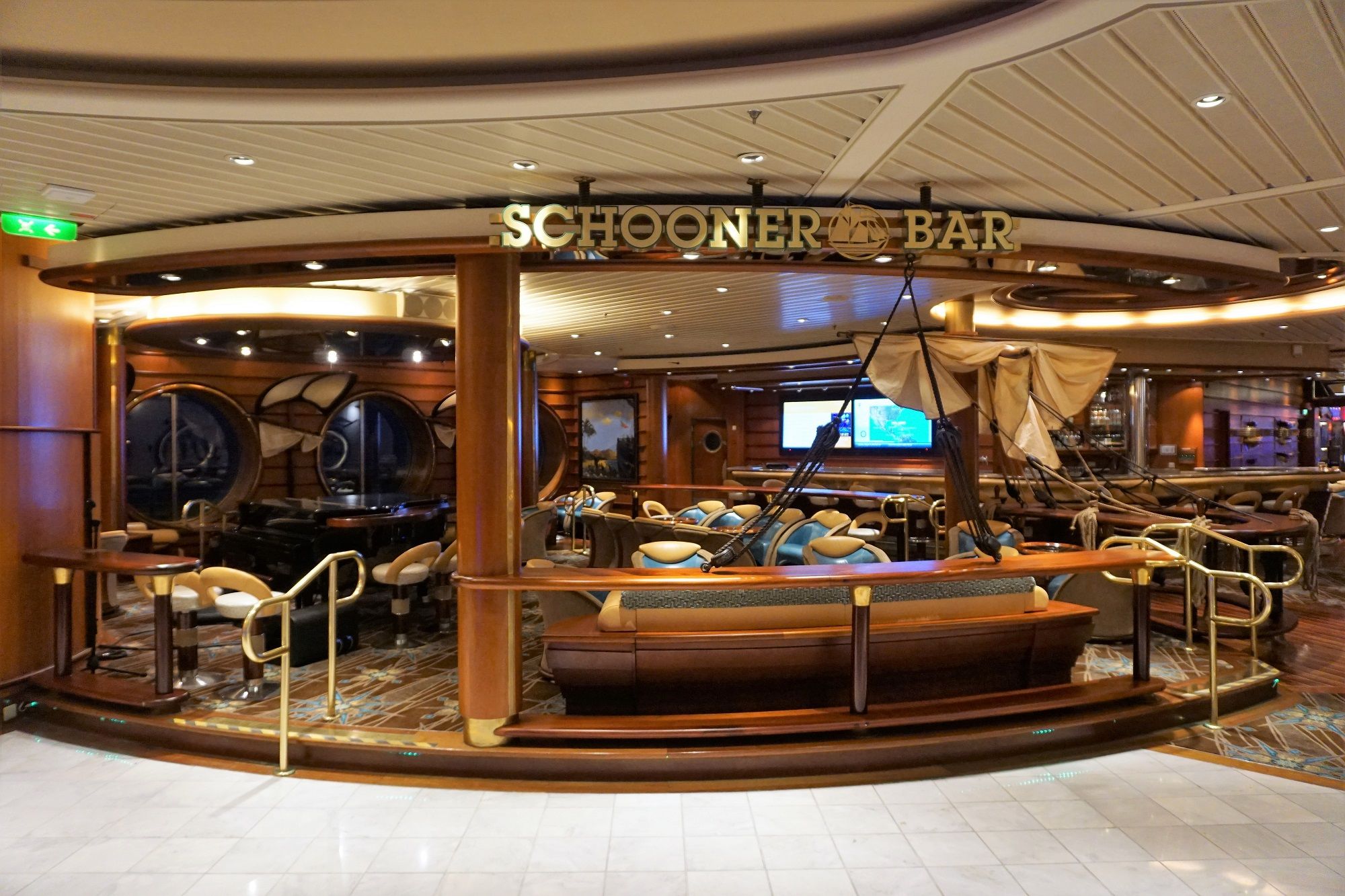 Sipping our drinks for a few minutes, we made the decision to exit to the main theater. Tonight's headliner was a quartet called The Company Men. Their performance included a series of mash-ups, singing over 60 songs in less than an hour.
We all enjoyed the show and agreed that they were a solid headliner act. This performance was much better than the headliner act that we had in June.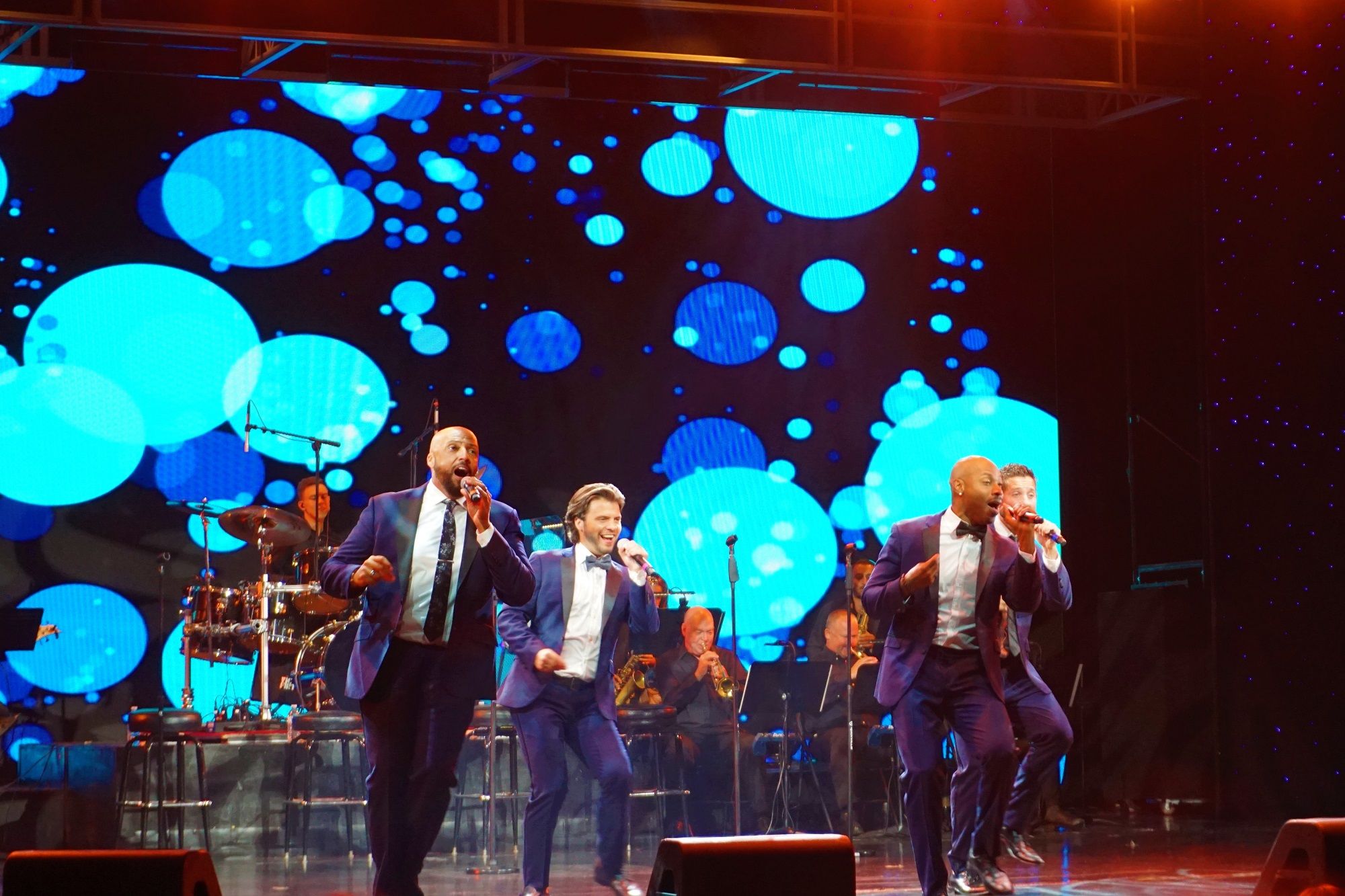 Following the show, our friends were looking to dance. So, we headed to Boleros for some cocktails and salsa. If you know us, you know we never dance. After seeing some of the other cruisers moving and shaking to the Latin music, they passed on dancing too.
We did enjoy some drinks here then decided to head to Studio B around 10 pm. Here, we would stay for close to two hours to watch the adult only shows.
First up was X vs Y. This game show consists of a variety of silly tasks, pitting the men against the women. The show lasted about 45 minutes, with the men coming out victoriously for a change.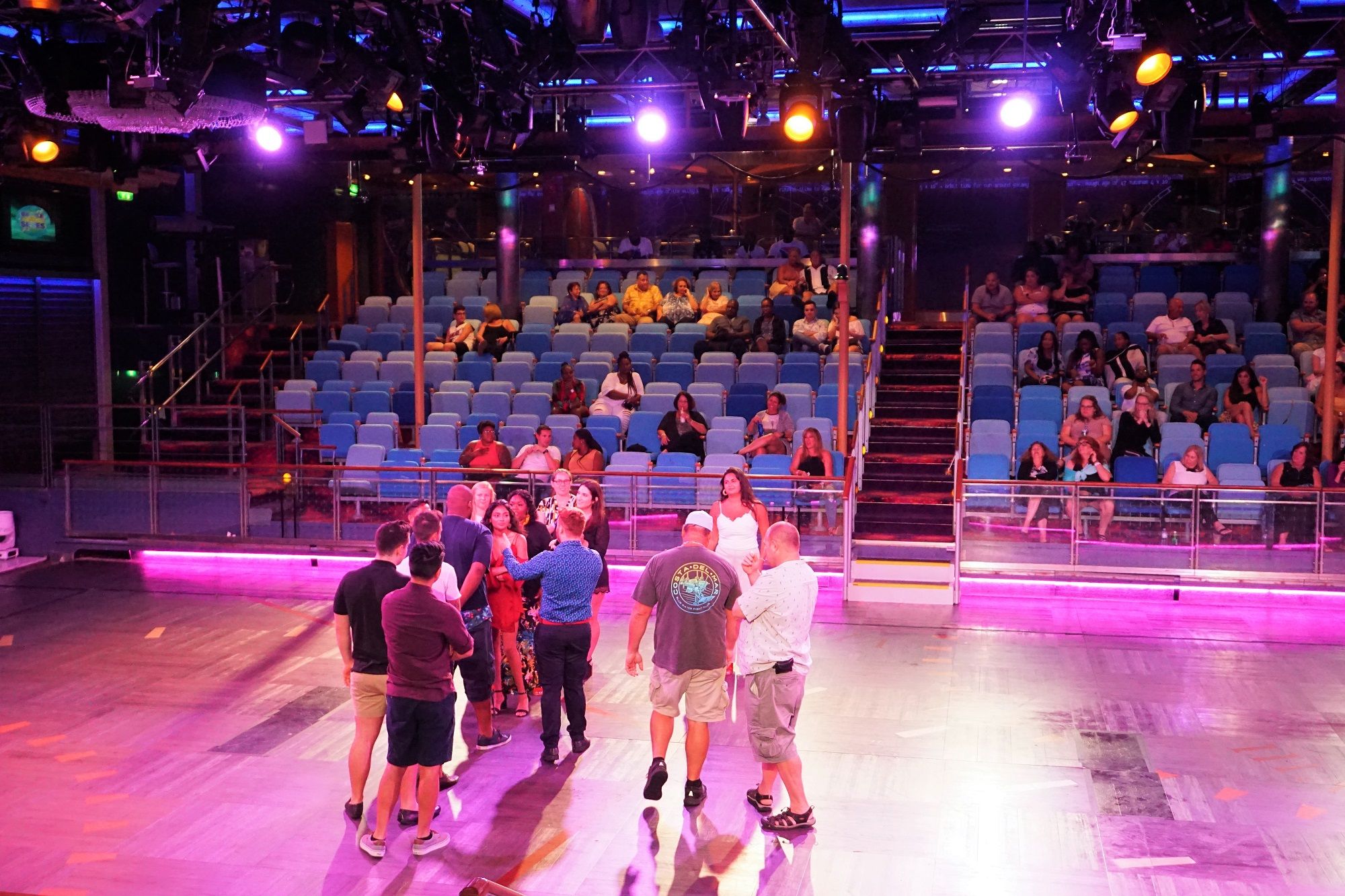 The big event of the evening was the Crazy Quest. We have seen this show so many times and still find it amusing. Given our seating area, we were on team 3. Our team was rather timid, with only a few people actually participating. You know it is bad when the Princess and I had to help with two of the challenges. Needless to say, our team did not even come close to winning.
Cory, the cruise director, was a rather bland host. Unfortunately, he was nowhere near as comical or engaged as Hugo, the previous cruise director. Still, we all had fun watching everyone compete.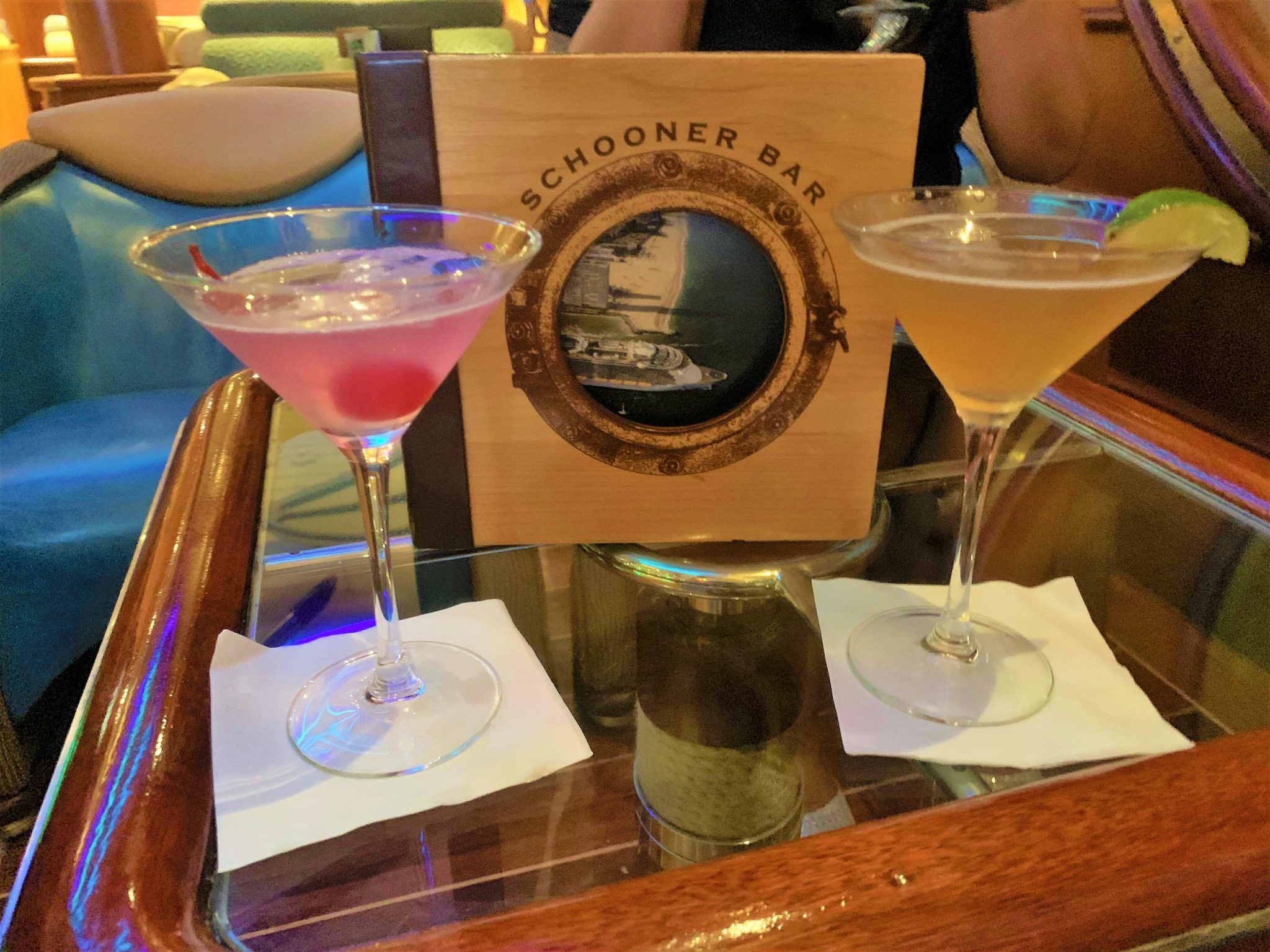 To finish off the night, we went for a night cap at the Schooner Bar. The piano player had collected a small following at this point. Now, he was having others sing along. We didn't realize this was karaoke!
Again, we lasted for about a half hour before we quietly exited. We were back to our room by 12:45 am. At least this time, we had a towel animal.


Day 3 – Nassau, Bahamas
The final day of our Navigator of the Seas Bahamas and Perfect Day cruise was a stop in Nassau, Bahamas. Pre-cruise, we all agreed that we would stay on the ship today. So, we did not book any tours or excursions.
Our plan was to meet for a sit-down breakfast at 8:30 am. Waking up to another sunny day, I went for a coffee run while the Princess completed her morning routine. For the rest of the day, we planned to relax near the pool.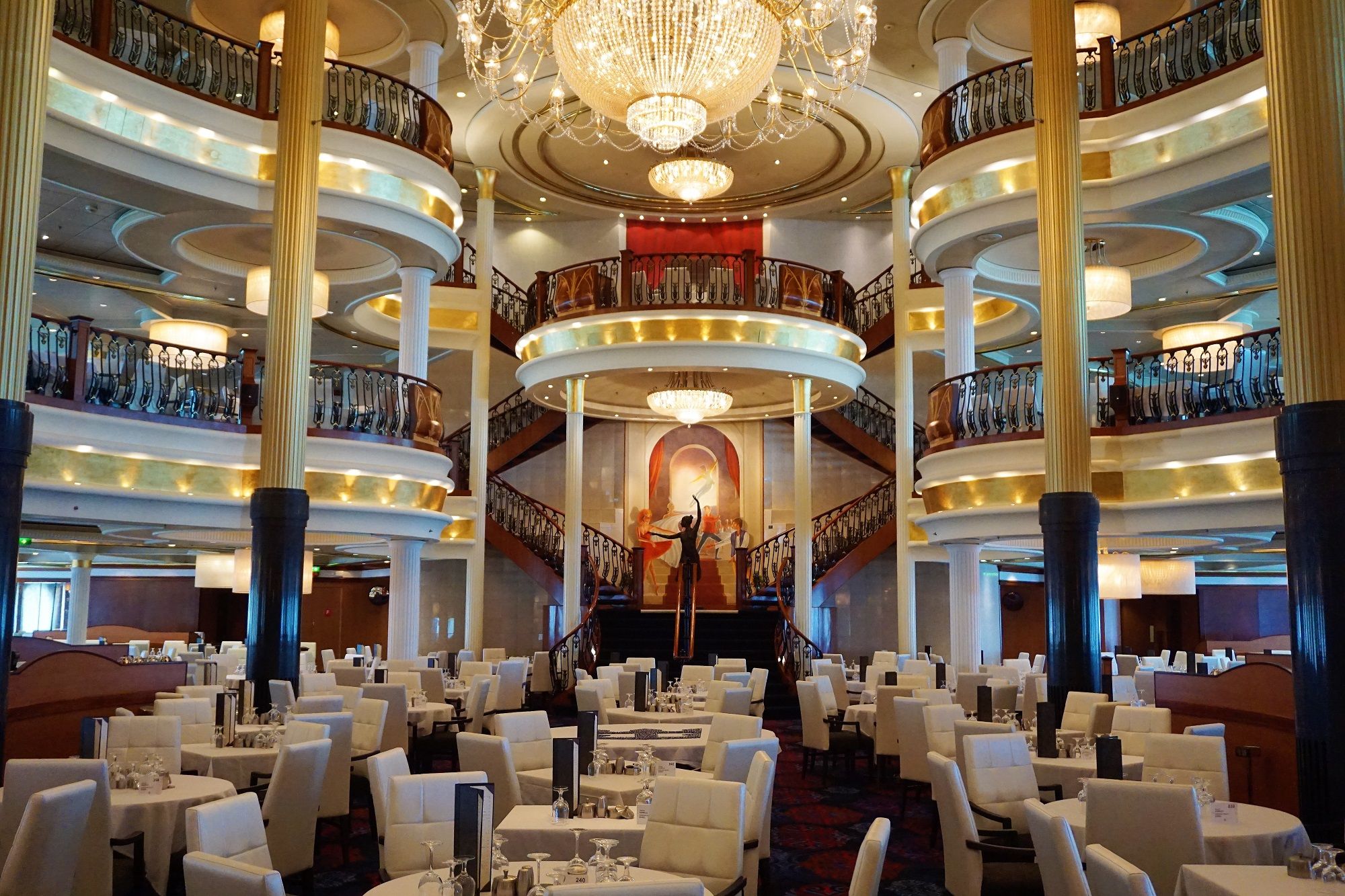 There was a short line at the MDR for those wanting a la carte, but it moved quickly. Of note, there is a separate line for those who just want the buffet options. Within minutes, we were sat at a table for four. An assistant waiter and waiter quickly came by to offer us coffee, juices, and breakfast breads. Service was prompt and attentive again this morning.
While waiting for our made to order breakfast selections, we took a quick peek at the buffet. I would highly recommend the waffle bar, it was fabulous. You also can't go wrong with a few extra hash browns!
Our order was delivered within 20 minutes, and the food was pretty typical breakfast fare. After all, it is hard to mess up an omelet and pancakes.
Back to our rooms around 9:40 am, we switched into our bathing suits, packed our beach bag, and met up around 10:15 am to head outside.
Having the Ship All to Ourselves
Taking an elevator up to Deck 11, there were plenty of chairs available all around the pool deck. I am still surprised by how many cruisers get off the ship at Nassau. All the more ship for us to enjoy!
We snagged a casita on the port side of the ship on Deck 12, along with one of the circle day beds. This location gave us an optimal view down to the pool and a short walk to the bar. Two essential criteria for an optimal day on the ship.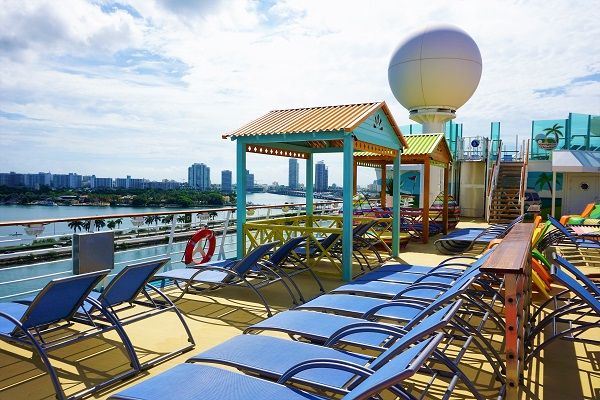 The waterslides opened at 10:30 am, so my buddy and I headed over to get our rides in before the crowds. Good thing we went early, as there was an issue with the Aqua coaster. We were able to get two rides in on each attraction. Honestly, I like the Rip Tide mat slide better, as I feel it goes much faster than the tube slide.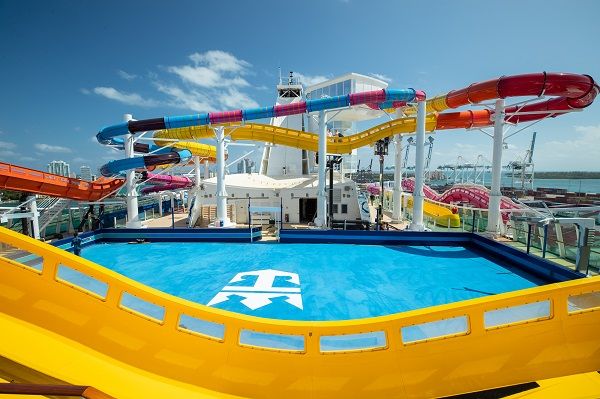 Still, it is impressive to have these two attractions on the deck of a cruise ship for no additional cost.
While testing out the slides, we were able to watch another fellow cruiser tearing it up on the Flowrider. One day, I will learn how to body surf on that attraction.
We returned around 11:15 am, just in time for the first drinks of the day. While our friends went in the pool, the Princess and I competed in a quick mini golf match. Honestly, it was a quick game, and she ended up coming out in the lead.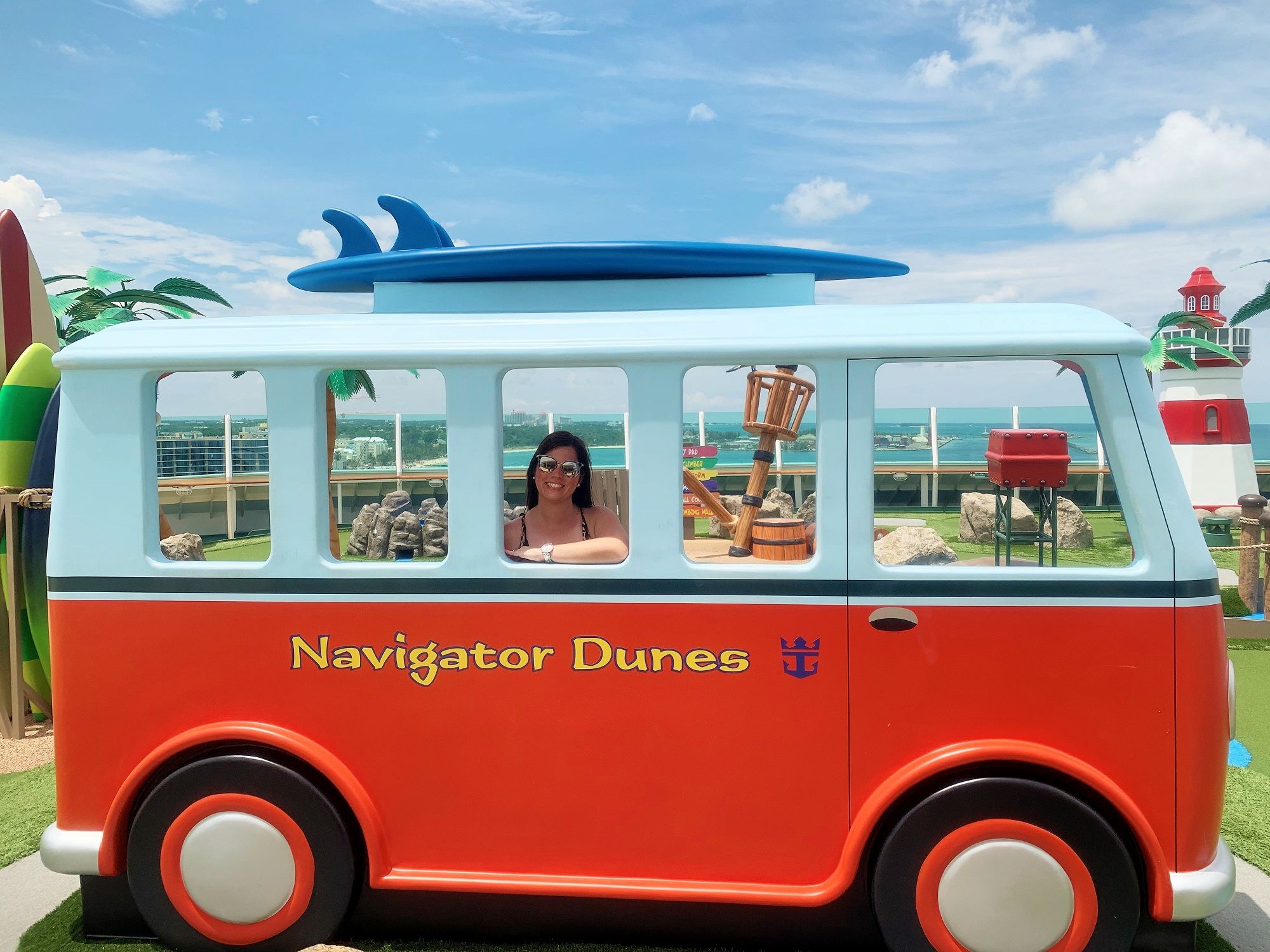 We returned to our casita to enjoy more shade and drinks for most of the day. Even though there was not much physical activity occurring, we started to get hungry.
Good thing El Loco Fresh opened up at 1 pm. We entered the small queue to grab some bites to eat. I made my own rather impressive plate of steak nachos. Others went with the tacos, quesadillas, and rather wimpy looking chips and salsa.
El Loco Fresh is one of our new favorite complimentary casual restaurants on Royal Caribbean ships. Still, you can't beat the Park Cafe on the Oasis-class.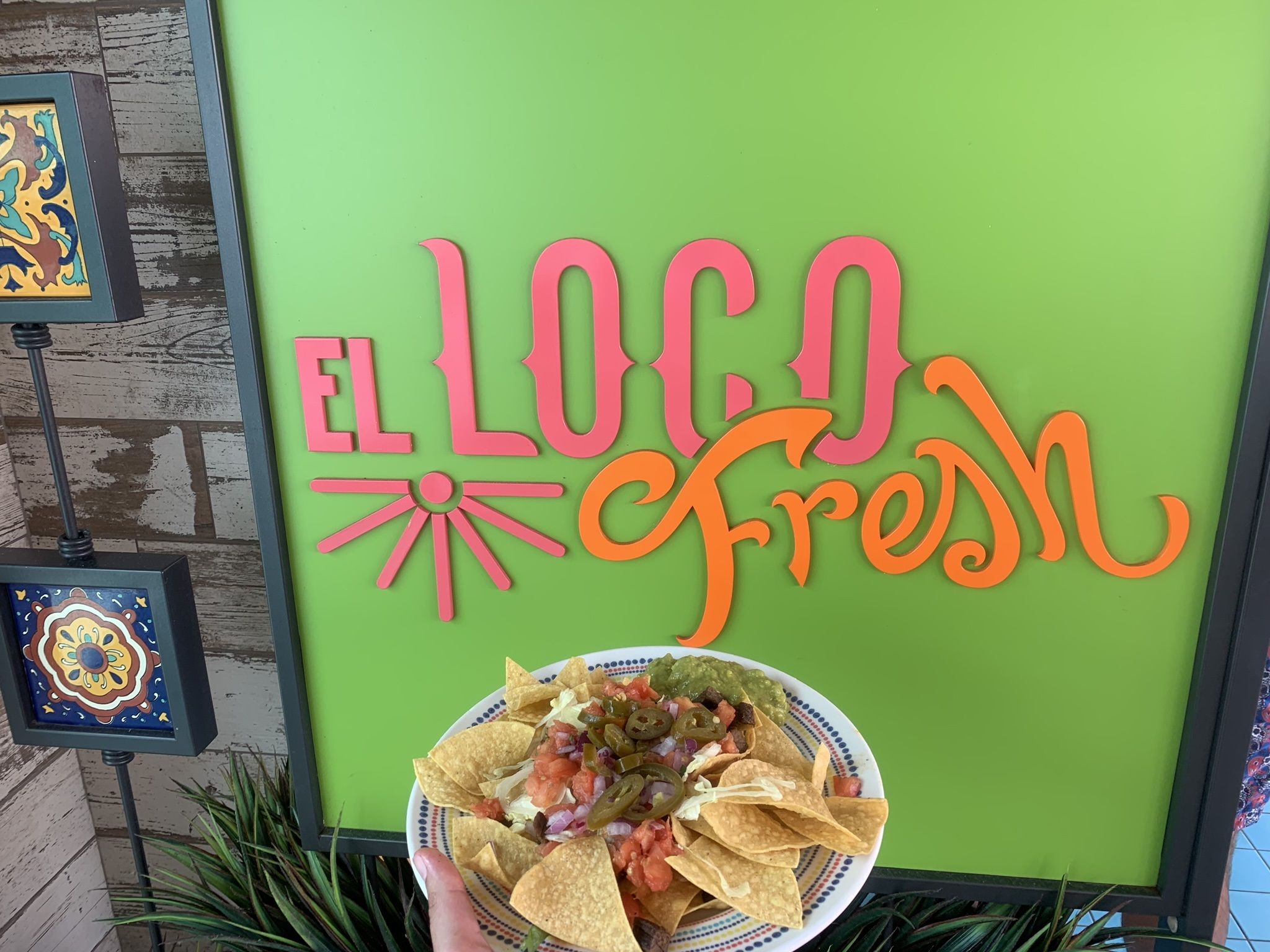 After lunch, we returned to our base camp on Deck 12 to spend another couple of hours enjoying the gorgeous weather and drinks! The crowds began to grow as cruisers began to return from shore excursions and a day spent ashore. Lines at the bars were now longer, and the waterslides easily had a 45 minute wait.
Related Posts: 7 Reasons to Stay on The Ship at Your Next Port of Call
By 4 pm, we were ready to head inside. First order of business was getting some iced lattes. Parting ways with our friends, we agreed to meet at dinner around 6 pm. Surprisingly, we were ready early for once. This gave us time to review the photos from the night before.
Another shocking development, we actually liked a few of the photos! As Diamond cruisers, we receive two free photos. We opted for one with all four of us and one with just the two of us to balance things out. Having extra onboard credit, we purchased two digital copies as well, so we could share them with our friends.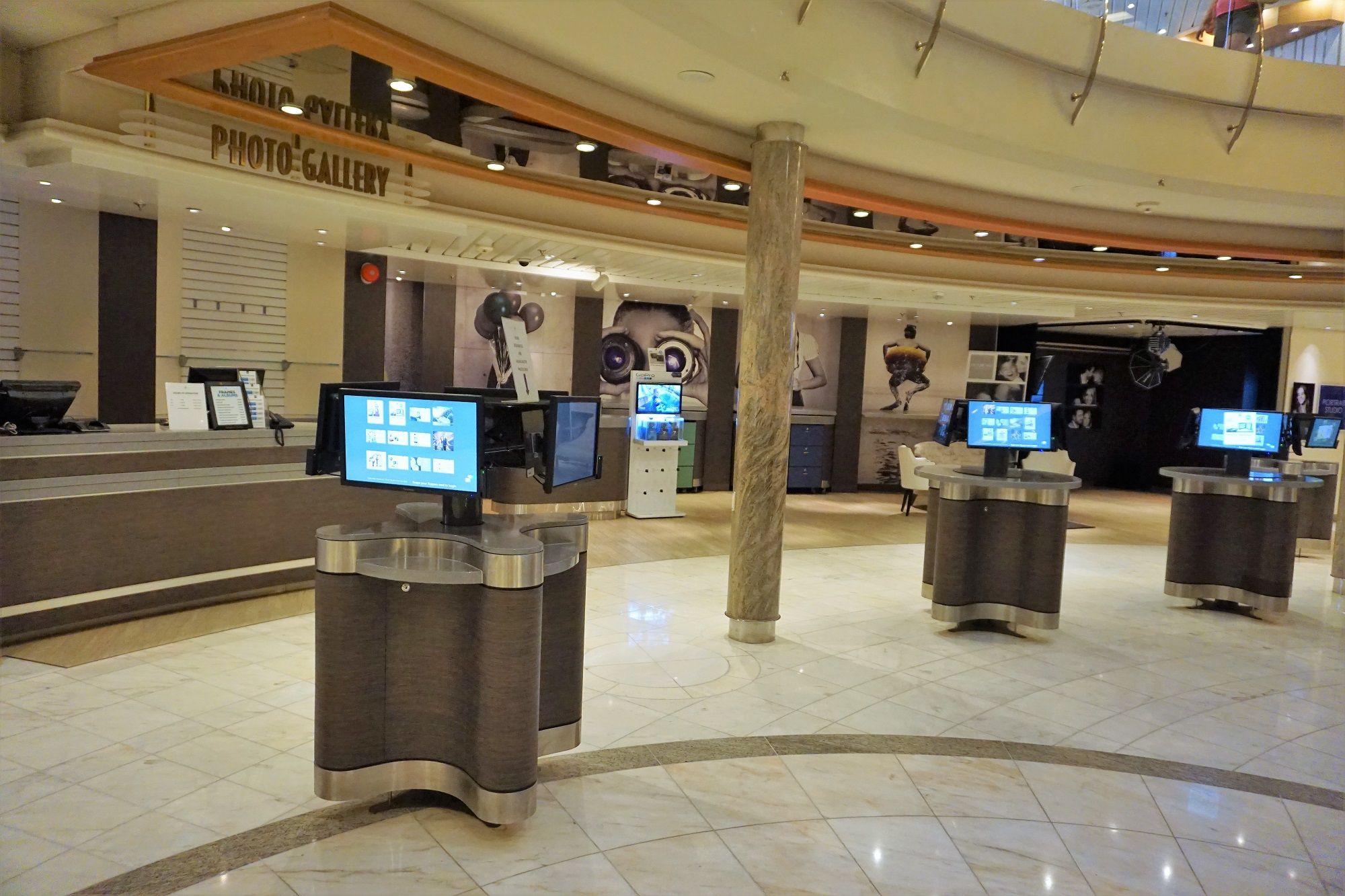 Our dinner tonight seemed a bit longer than usual, despite the venue being rather empty. Tonight's menu featured the Celebration Cake. We have heard so much about this sweet treat that we were very excited to finally try it for ourselves.
As for meals, I ordered the calamari, beef tenderloin, and the special dessert. The Princess did her Wedge Salad, Grilled Chicken, and the same dessert. The celebration cake lived up to its expectations. While it was very sweet, it is the best dessert that we have had on a cruise ship in a long time.
Service was par for the course, as it felt like we were slightly delayed due to the evening's festivities. Nevertheless, we said goodbye to our wait staff and thanked them with an additional gratuity. It was time for our final night onboard Navigator of the Seas.
Last Night Onboard Navigator of the Seas
Our friends headed to the main theater for the 8:30 pm production of Showgirl. We saw the show last time, and for us, once was enough. While they were in the theater, we headed to the R Bar for a drink. It was one of the quieter venues on the ship. Although, our drinks were not made properly and the service was not very attentive.
With more time to kill, we went to the casino to use our free slot pulls. While the casino did not have any of the Princess' favorite game, we did test our luck at some of the machines. While she was ice cold, I had the magic touch tonight. I was able to recoup her loss, and we walked out of the casino about $40 up.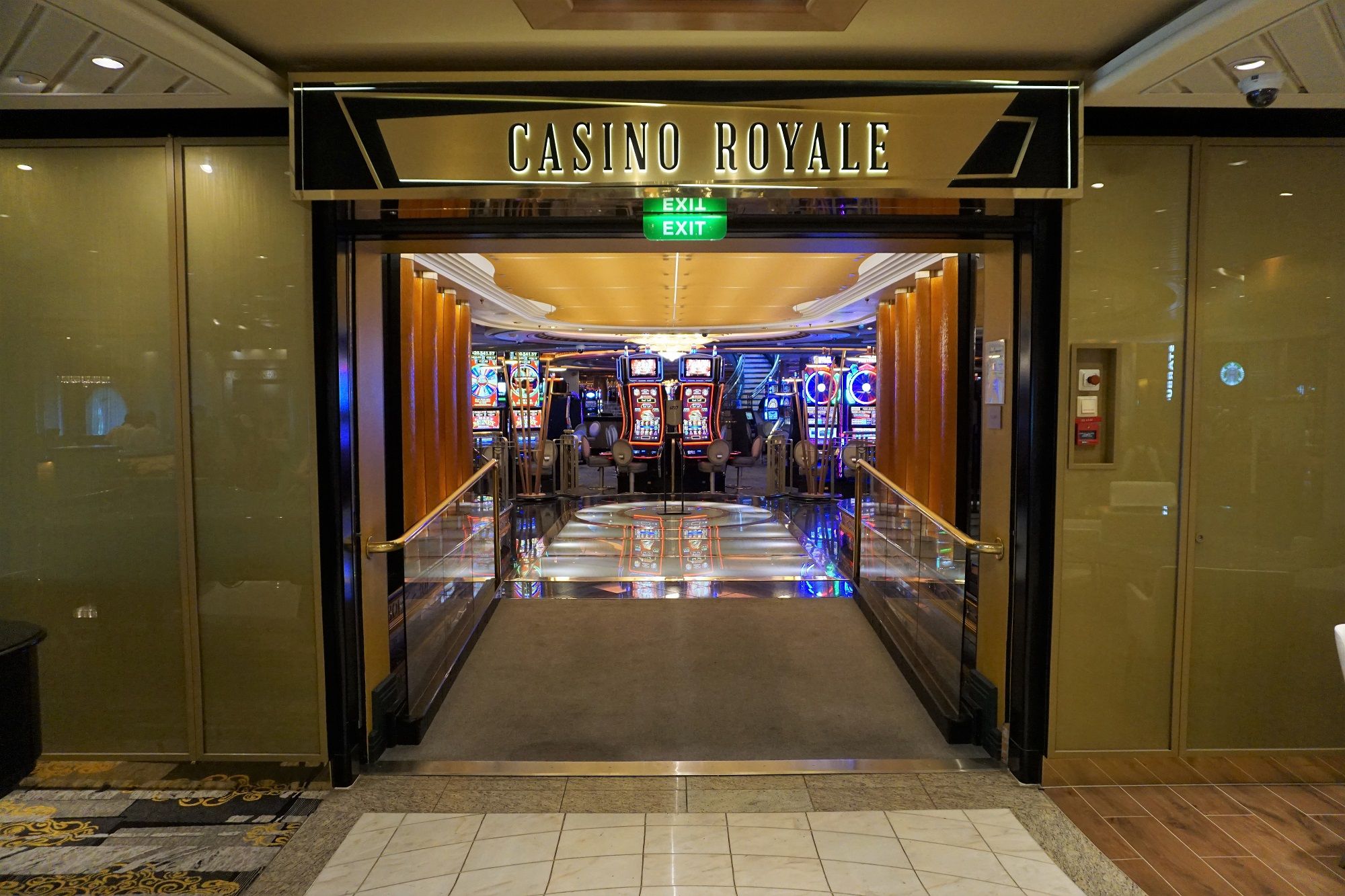 Taking our winnings, we headed up to the Cosmopolitan Bar (better known as the Viking Crown Lounge) for some karaoke. Not as popular as it was on our last cruise, there were still a variety of groups taking the spotlight during the 40 or so minutes that we were there.
We had planned to meet our friends at the Bamboo Room following their show. This venue was dead, and we easily scored some drinks from the bartender. We spent about a half hour here before the Princess had the idea to grab seats at the Pub for the 80's Party.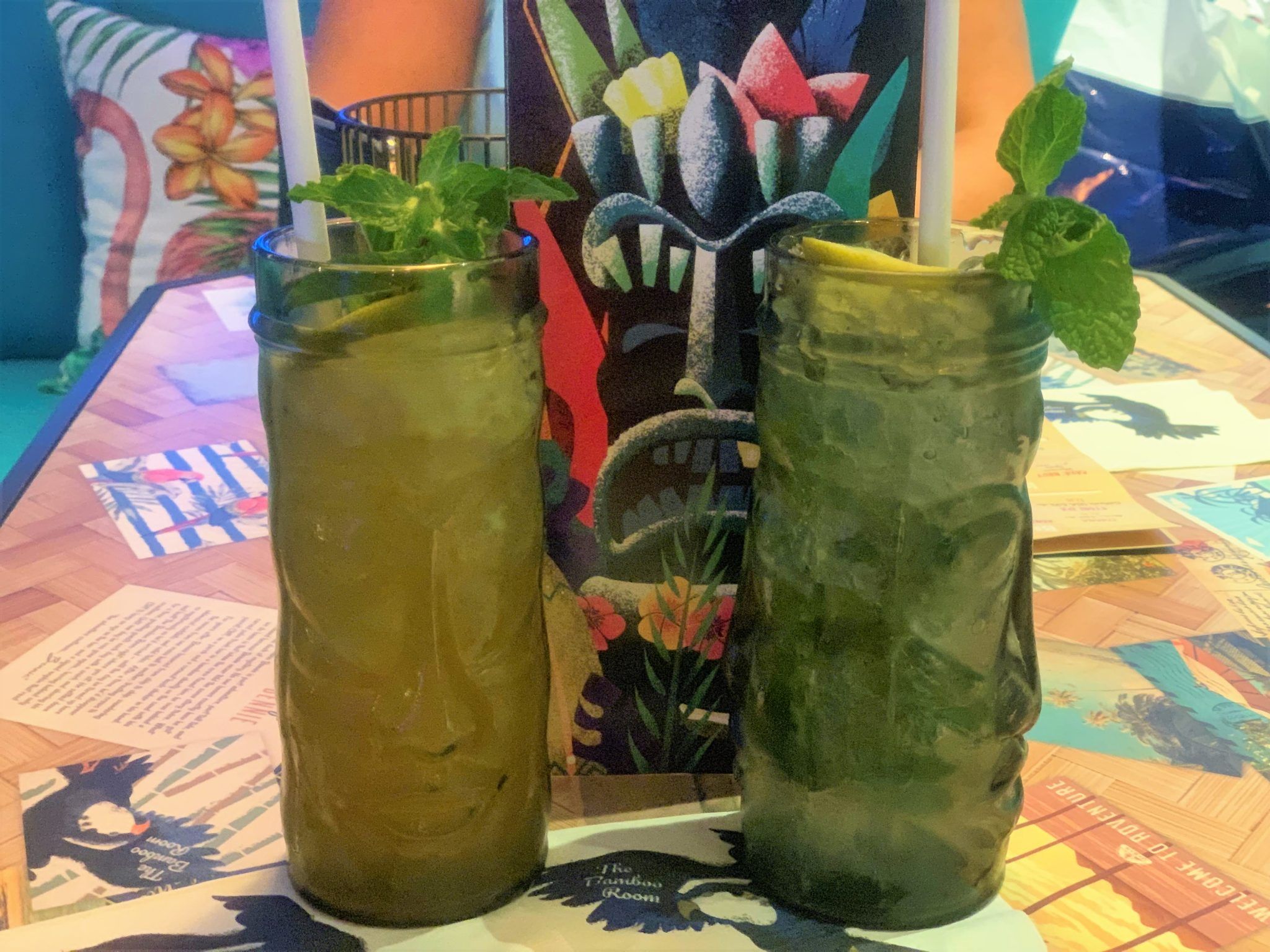 We secured one of the last outdoor tables about 20 minutes before the party started. While not the best viewing area, we were in the heart of the action. Again, Cory and his staff went through the motions, but the overall vibe was rather low on energy. This included the crowd, which was not as animated as we are accustomed to seeing on Royal ships.
Following the party, we made our way forward to the main theater for late night comedy. It was one of the emptiest theaters that we have seen on a cruise ship in a while. Don Gavin was the performer again. Oddly, his "adult" set was actually less funny than the family friendly set on night 1.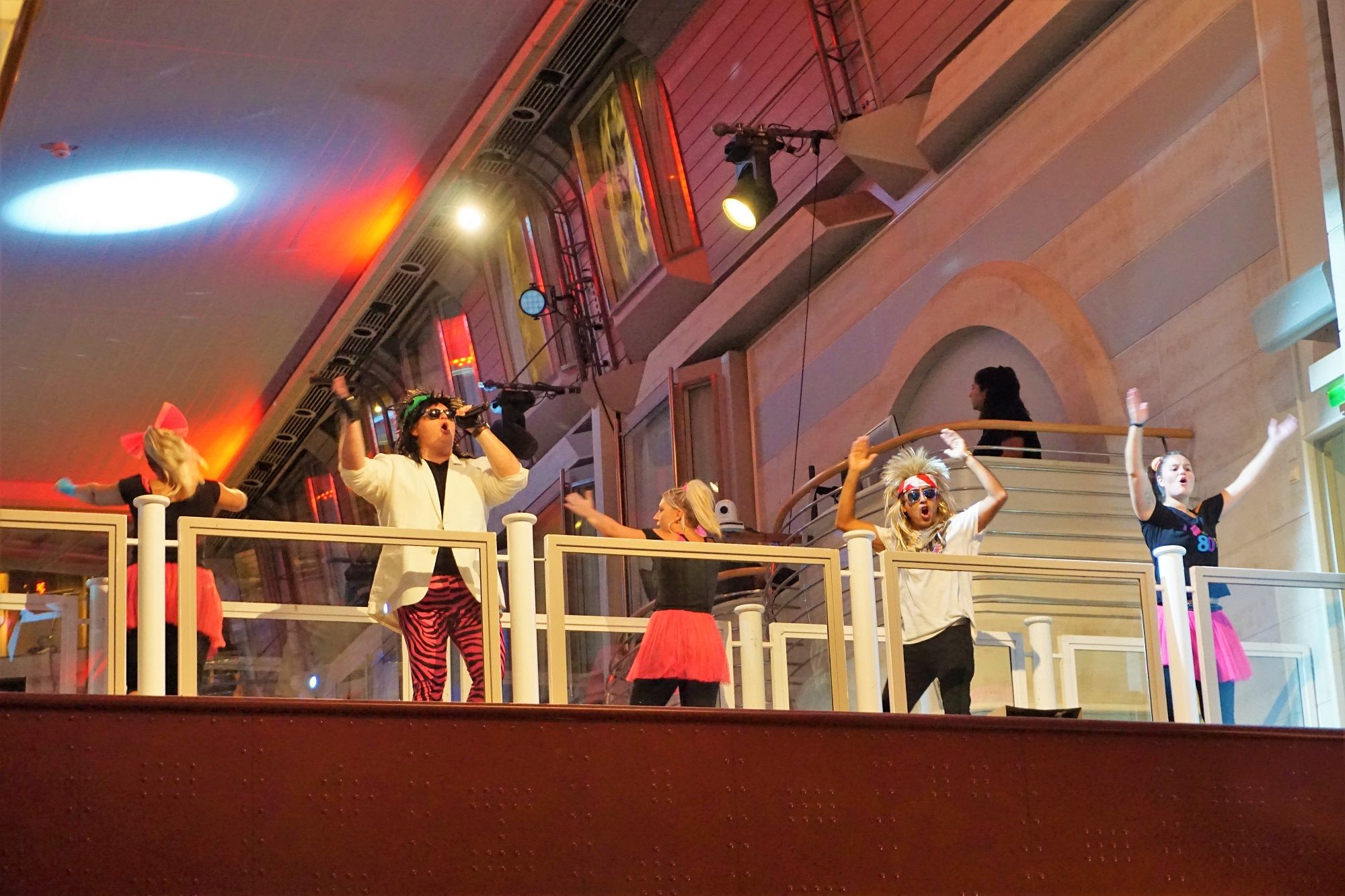 Finishing up at 12:45 am, I put it out there that we should get a night cap, but I was out voted 3-1!
Self-checkout disembarkation was scheduled for 7:30 am. So, we set the alarm for 5:15 am to give us enough time to finish packing and grab some breakfast before leaving the ship.
Getting off the ship this time around was a breeze, and we were at the airport in plenty of time. Unfortunately, our flight was delayed about 75 minutes, which meant we arrived home later than expected. Besides that speed bump, the cruise was a success, and it was a great three day weekend away with friends.
Recap of our Navigator of the Seas Bahamas and Perfect Day Cruise Review
For a three day weekend cruise, you can't beat the Navigator of the Seas Bahamas and Perfect Day cruise. It is the ideal combination of sun, good food, entertainment, and fun ashore. With the recent additions of the waterslides, new dining and bars, and improved onboard amenities, Navigator of the Seas is one of our new favorite ships in the fleet. The Voyager-class ships are the ideal size. They are just big enough to have a variety of venues to satisfy all cruisers, but do not feel as crowded as the Oasis-class.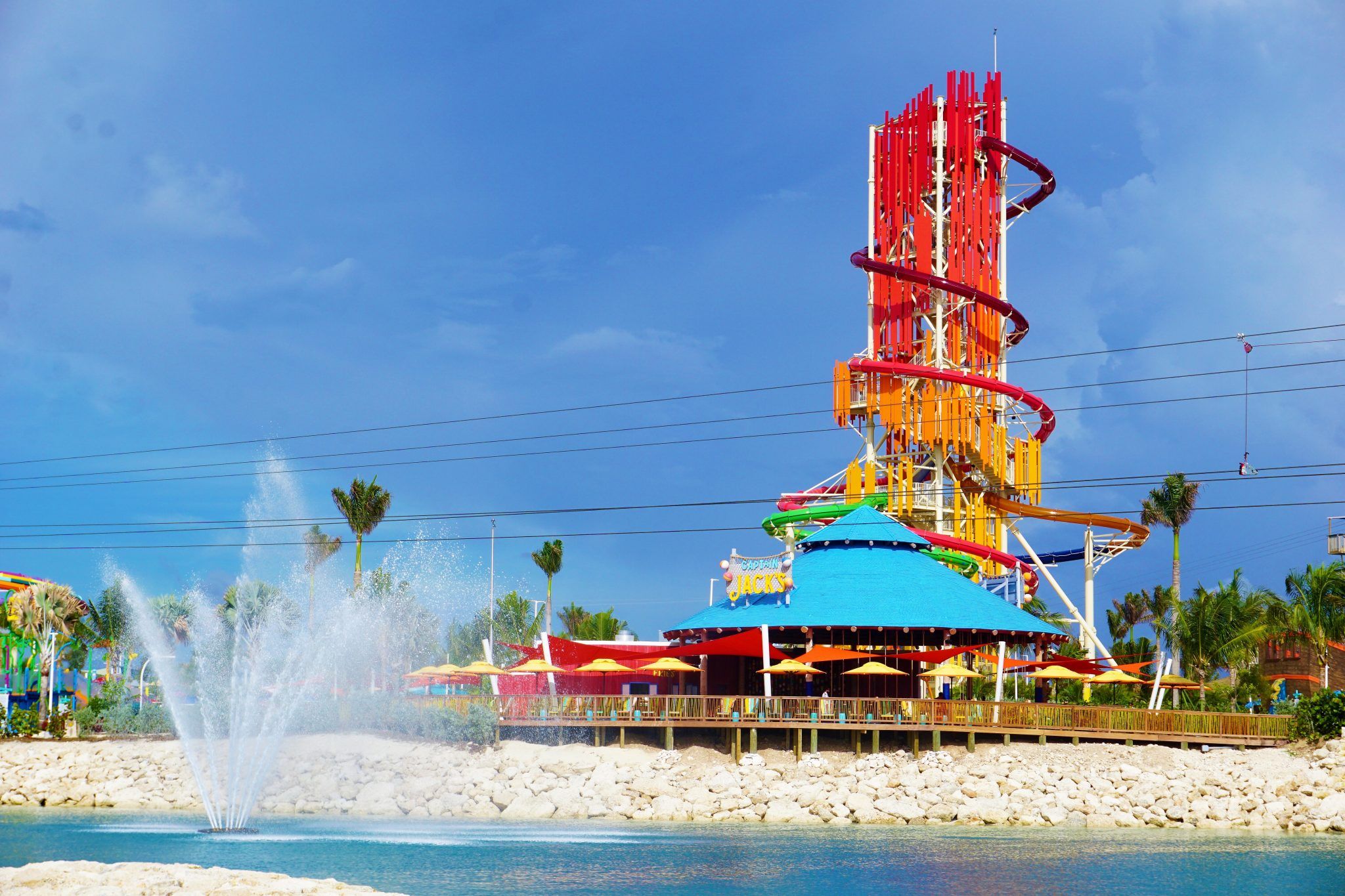 Perfect Day at CocoCay lived up to its name once again. With ideal weather, we were able to fully enjoy all of the complimentary activities on the island. With one ship in port, there is certainly plenty to do and see on the island without ever feeling crowded. You can find your own slice of the beach or pool with chairs and an umbrella without difficulty. Our friends had never been to the island, and they were very impressed with everything it had to offer.
Of course, we would highly recommend this cruise to anyone. If you have never cruised before or not with Royal Caribbean, we feel Navigator of the Seas offers a great introduction to cruising with the line. We hope to see you onboard!
Comments
Have you sailed on Royal Caribbean's newest amplified ship? We would love to get your review of a Navigator of the Seas Bahamas and Perfect Day Cruise. Drop us an anchor below to share your experience on the 3 or 4 day itinerary on Navigator of the Seas.