Indulging in the many food and beverage selections is part of the cruise experience. With so many great culinary options, how do you avoid that post cruise weight gain? With one cruise a year, it's easy to allow yourself to splurge a bit. However, when you cruise several times a year, you do have to make some changes to that routine if you want to avoid the extra pounds…believe us! We give you our 12 Easy Tips on How to Not Gain Weight on a Cruise, yet still order that dessert.
How to Not Gain Weight on a Cruise
Don't Eat and Drink Just to Get Your Money's Worth
It's easy to go overboard on a cruise, pun intended, if you are trying to get your money's worth. Just because most of the food is included in your cruise fare, doesn't mean that you have to eat it all. The same rationale goes for a cruise drink package. You shouldn't feel like you need to order that extra drink just to "break even" for the day.
We often see the value of a drink package in the bottled water and specialty coffee (if they are included) not the alcoholic beverages.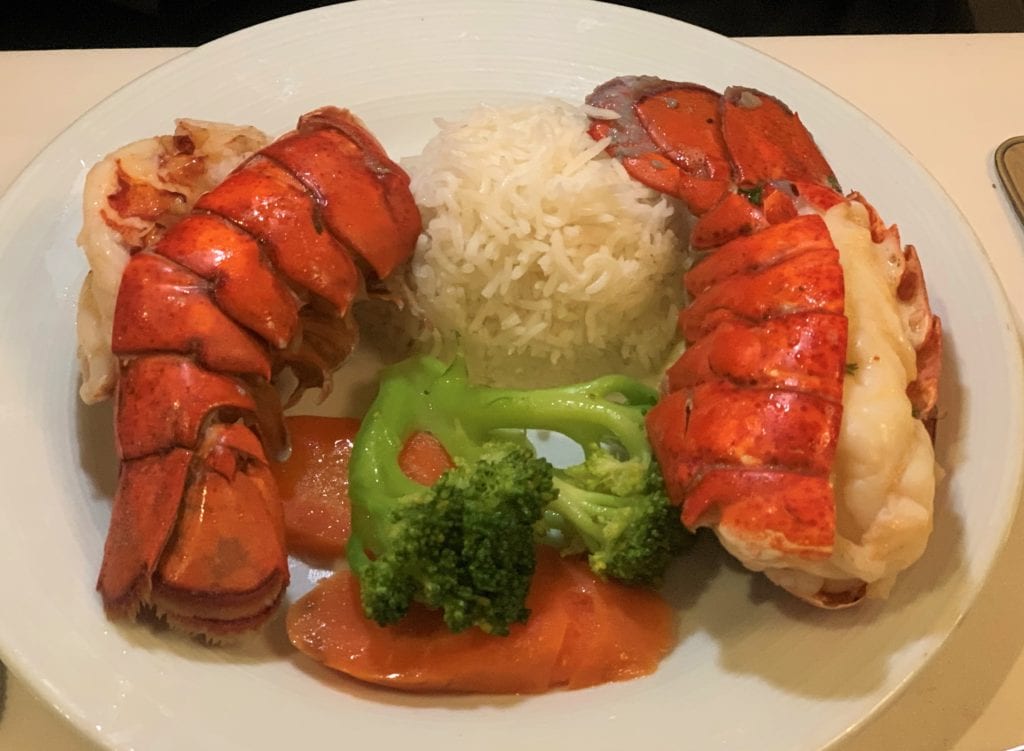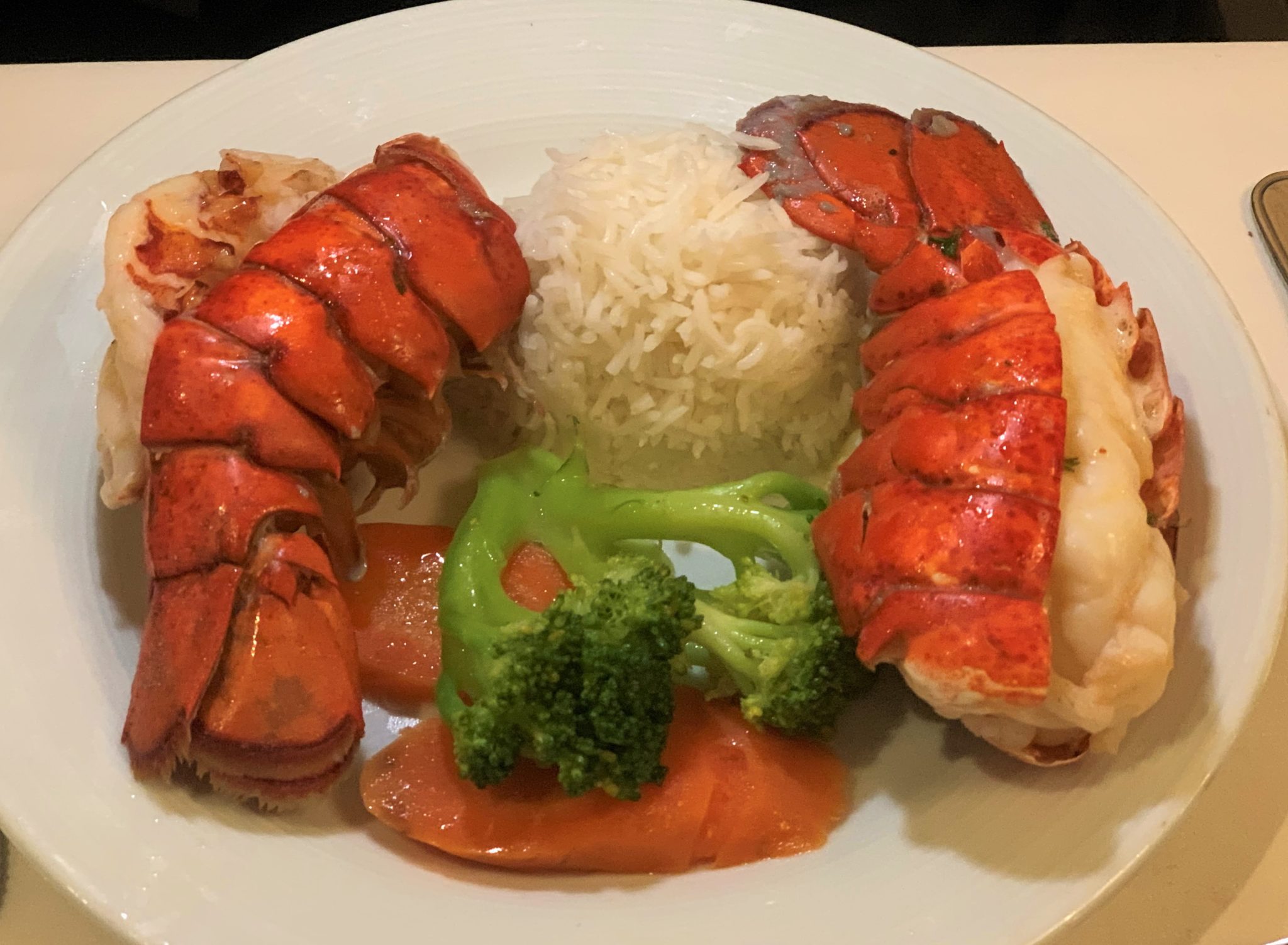 Take the Stairs
If you only need to go up a few decks to the pool, why not take the stairs? If you are walking down to the theater, casino, or main dining room, why not take the stairs? Small amounts of activity that are accumulated over the day still provide health benefits.
Besides, you will probably get to your destination quicker than waiting for an elevator anyway. In the post-COVID era of cruising, avoiding the crowded elevators sounds like an even better plan to us!
Pick (Some) Healthier Menu Choices
We would never tell you to skip dessert, because obviously, we don't either. However, try opting for a healthier menu option like a salad or grilled chicken or salmon entree to off-set the added calories of the chocolate lava cake.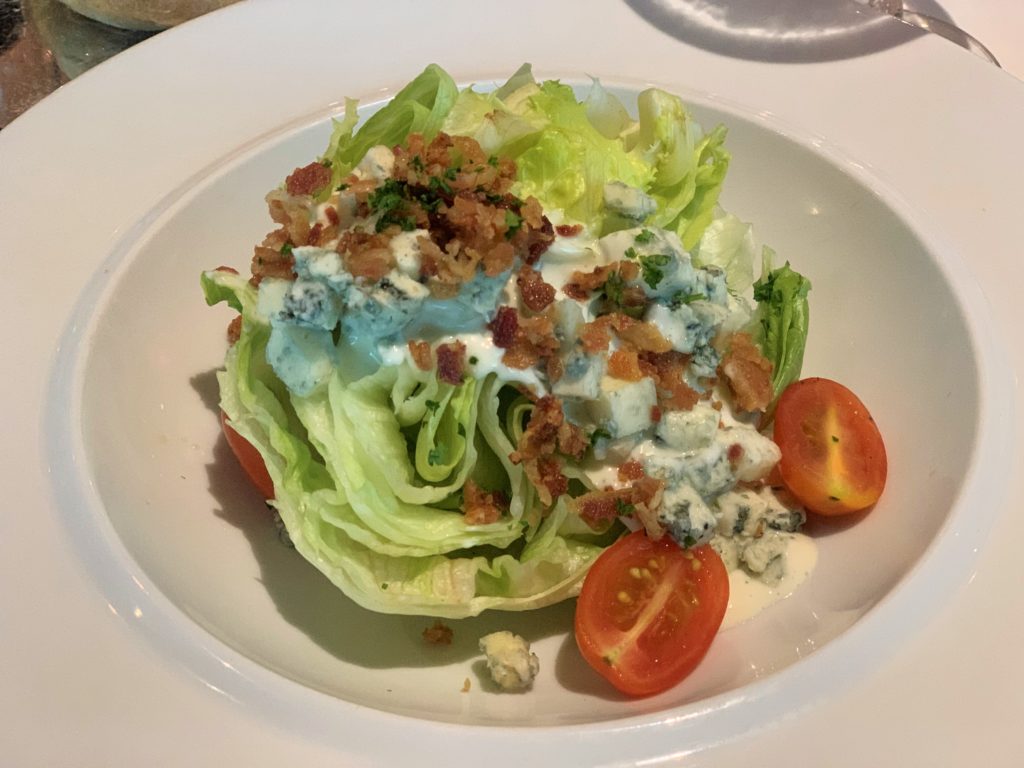 This goes for your beverage choices too. Of course, a Pina Colada or Miami Vice is almost mandatory while lounging poolside, but try to limit the number of frozen concoctions. Instead, try Truly hard seltzer or a low calorie vodka based drink.
Go for a Walk or Jog on the Track
Most cruise ships have an outdoor jogging track, so you can enjoy the ocean breezes while getting in some extra steps. Many tracks will designate laps per mile, or you can use your smart watch to keep track of your steps.
Fitting in an early morning jog or an evening stroll is an easy way to help you not gain weight on a cruise. It will also make you feel better about ordering dessert.
Related Post: Easy Ways to Add Fitness to a Cruise
Work Out with a View
Most cruise ships have fully equipped fitness centers with a variety of cardiovascular equipment including treadmills, ellipticals, and stationary bikes. These facilities also include plenty of free weights and weight machines to meet your needs.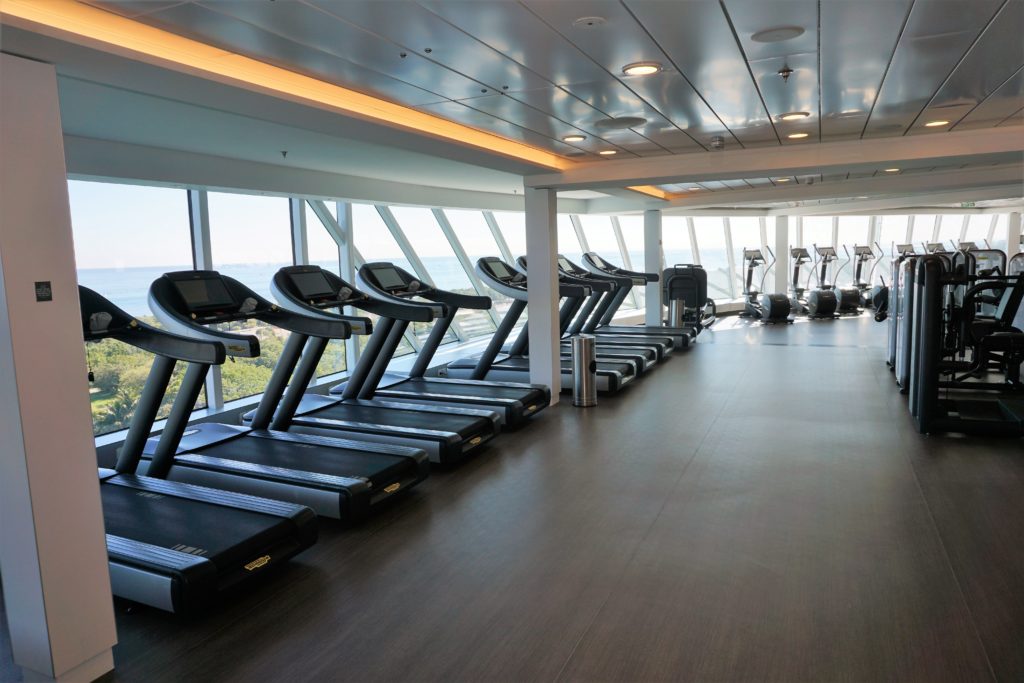 Often times, cruise ship gyms are located all the way forward, so you can watch your ship pull into port or gaze out onto the open ocean while using the treadmill. The gym can become crowded at peak times, so plan your schedule accordingly.
Drink Plenty of Water
Hydration is extremely important on a cruise, especially in the hot Caribbean sun. Drinking plenty of water will not only help you overcome the heat and the alcoholic beverages, but it will help you feel fuller. That way you will not over-eat at meals.
If you purchase a drink package, bottled water is often included. So, stock up on bottles of water while on the ship and be sure to also grab some when going ashore. If you don't have a drink package, we recommend bringing a refillable Yeti bottle.
Opt for the Early Dinner
While we always opt for the early dinner, there is actually a benefit to eating earlier. This way, you can take a quick walk around the ship to help with digestion before enjoying the nightly entertainment. Eating around 6 pm vs. around 8:30 pm also gives you more time to burn off some of the calories before going to bed.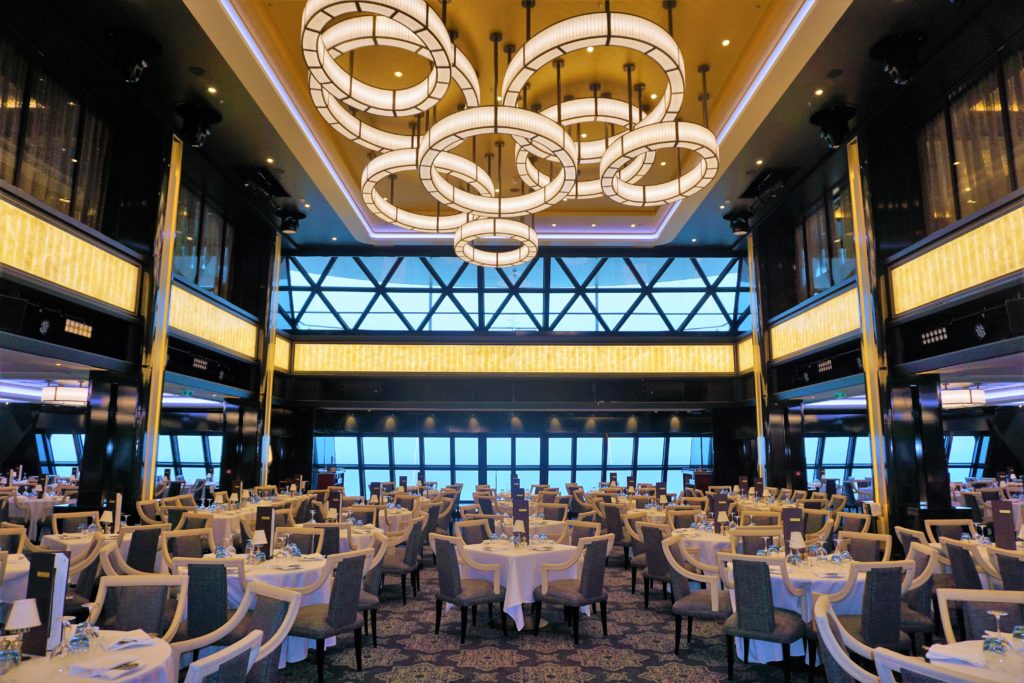 The only downside to eating earlier when docked at a port of call is that it usually means we have to head back to the ship earlier to shower and get ready for dinner.
Take a Fitness Class
Most ocean cruise ships offer various exercise classes for all different fitness levels. Some classes are free for everyone to participate but others do charge a fee. These classes can range from morning yoga and stretching, to pool aerobics, to Zumba on the pool deck, to a spin class in the gym.
Be sure to check your ship's daily schedule for details on all the activities and classes offered to find one that's the right fit for you. Even if you only take one or two classes on sea days, it will certainly help you avoid gaining weight on a cruise.
Create Your Own Workout
Modern day mega-ships have endless activities for cruisers to enjoy. Think rock climbing walls, ice skating/roller skating rinks, sports courts, ropes courses, surf simulators, and more!
Who said exercising couldn't be fun?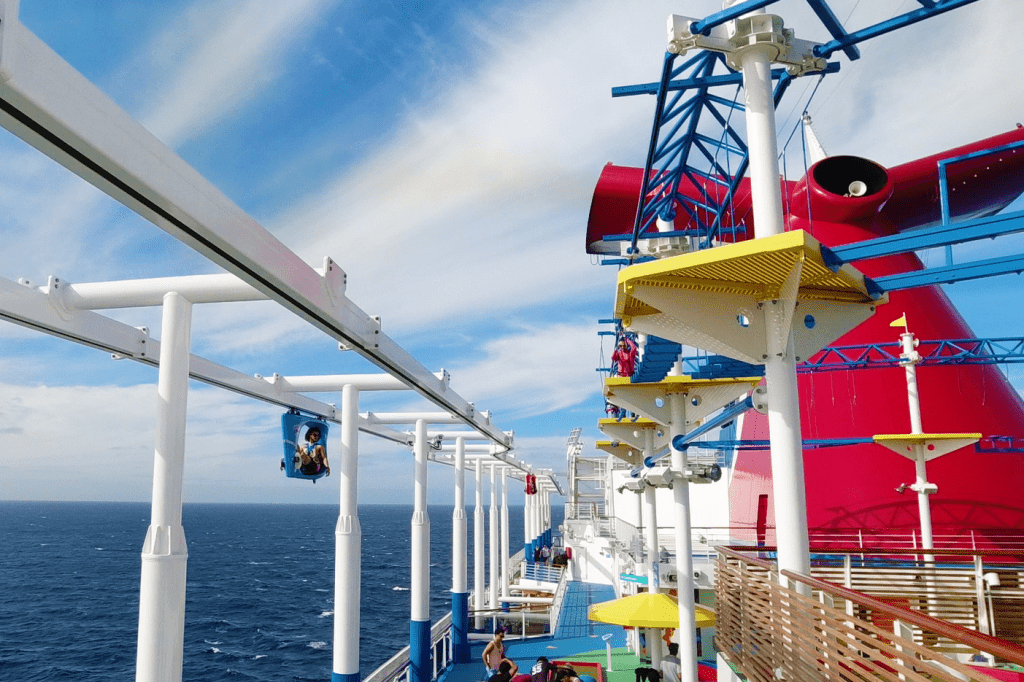 If you are not a gym type of person, you can still get in a good workout in a less traditional way while on a cruise. Thrill seekers can certainly burn a few calories trying out all the amenities that cruise ships have to offer.
Avoid the Buffet
We are not big fans of cruise ship buffets for many reasons. While the traditional buffet will likely be more hands off once cruising resumes, it still lends to over-eating. With so many options, it's easy to fill multiple plates in a cruise ship buffet.
By avoiding the venue, you can more easily control your portions. Instead, grab a sandwich or some light bites from the cafe for breakfast and lunch. Many cruise ships even have healthy dining spots like the Aqua Spa Cafe on Celebrity Cruises or Fresh Creations on Carnival.
Dance It Up
Are you ready to join in on the pool deck dance party? Or, perhaps you might like to participate in a dance class offered by the activities staff on your cruise ship. Whether you want to learn the Thriller dance moves or show off you salsa skills, there are certainly plenty of daytime activities to help you get on your feet.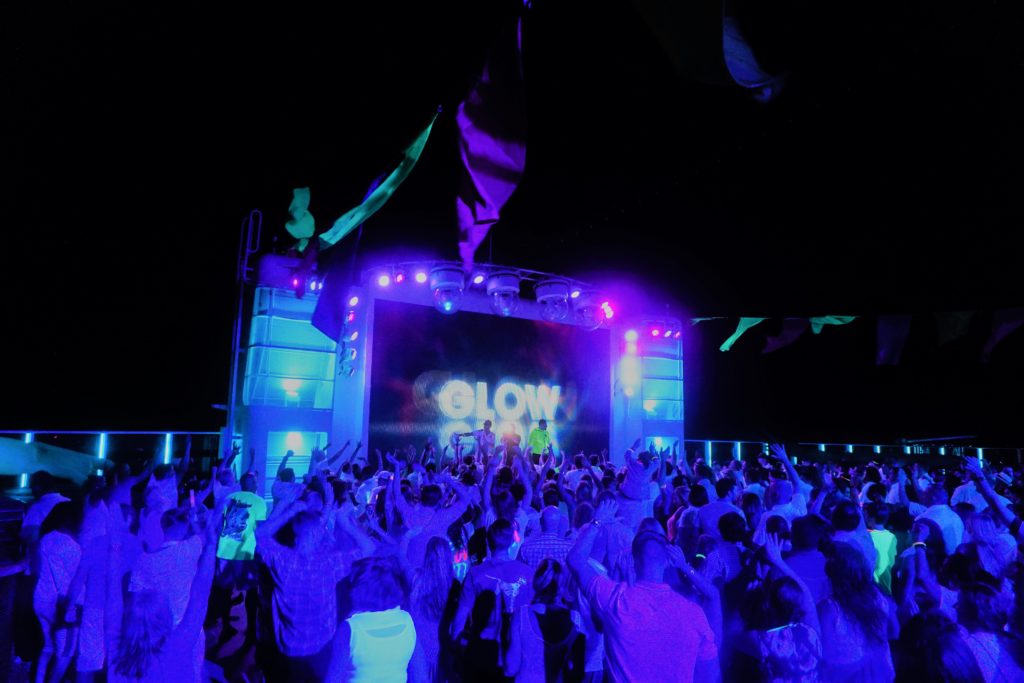 If you feel like your days are booked with other activities both on and off the ship, why not dance the night away at one of the ship's lounges or night club.
Book an Active Shore Excursion
You'd be surprised how much activity you can get even while enjoying a day ashore. If you have a fitness tracker, it is easy to watch your steps accrue during a walking tour. We have easily clocked 20,000-30,000 steps just exploring a port of call.
You can also book an active shore excursion like kayaking, biking, hiking, or other unique experiences in your port of call. Try something you like or try something new, but either way you are sure to break a sweat!
Comments
Do you agree with our easy tips on How Not to Gain Weight on a Cruise? Do you have some additional ideas that you want to add to the list? Drop us an anchor below to tell us how you combat the extra pounds on a cruise.