Emerald Cruises is a river cruise line, akin to Viking Cruises, that markets to the North American traveler and openly welcomes first-time cruisers into the fold. Founded in 2013, Emerald is a brand under Australian company Scenic Luxury Cruises and Tours, which encompasses Scenic land tours, river cruises and yachts, as well as Emerald river cruises and yachts. The primary difference between Emerald and Scenic being that the latter is an all-inclusive luxury product.
Emerald Luna is the latest river ship in the Emerald river fleet, launching in 2022 and joining eight other Star Ships. Emerald's Star Ships are similar in design but sail throughout the many rivers of Europe as well as Southeast Asia. River ships vary slightly based on their deployment. Emerald Luna is built to traverse the Rhine, Moselle, Main and Danube rivers of countries including Germany, France, Hungary, Switzerland and the Netherlands.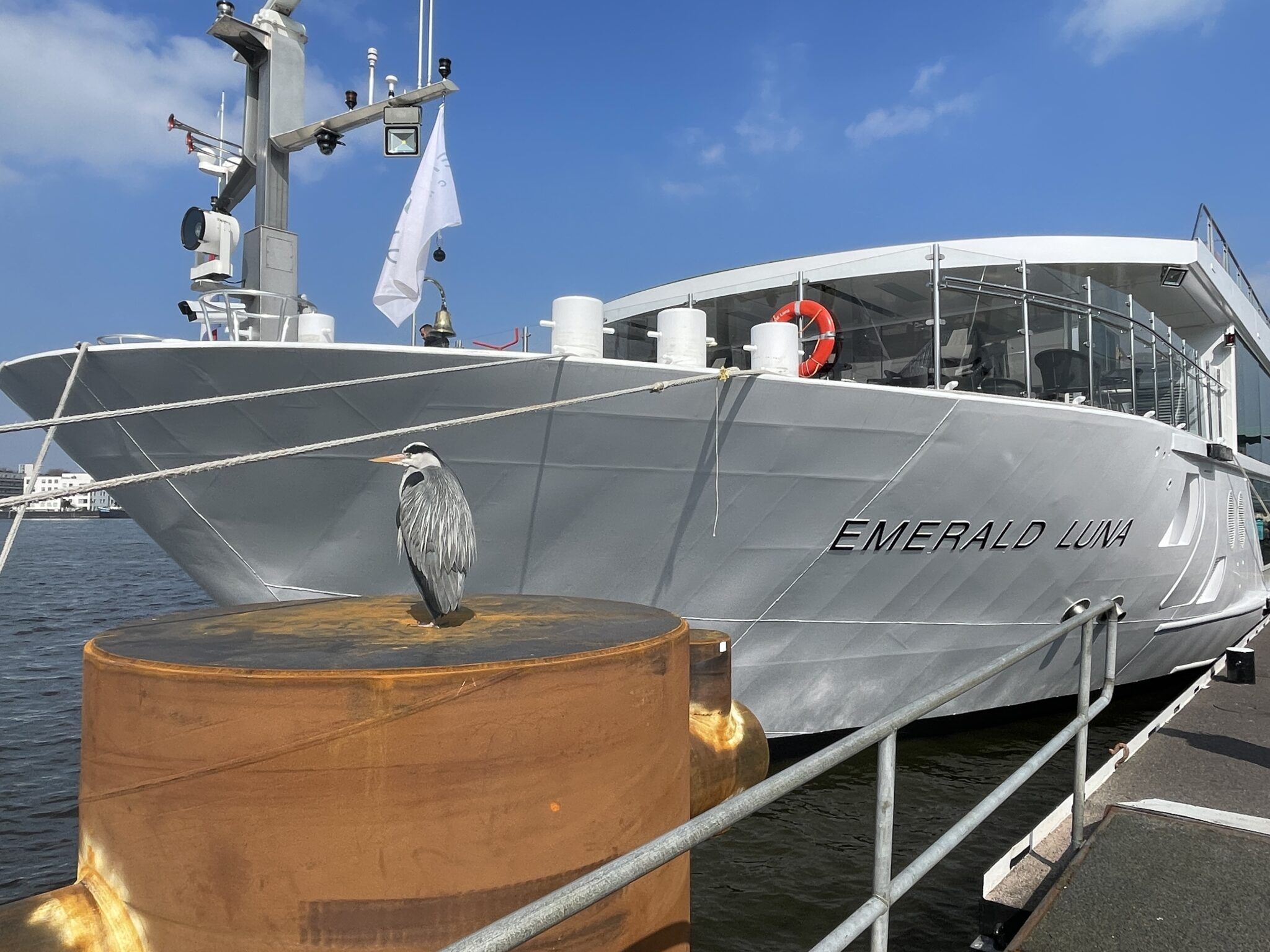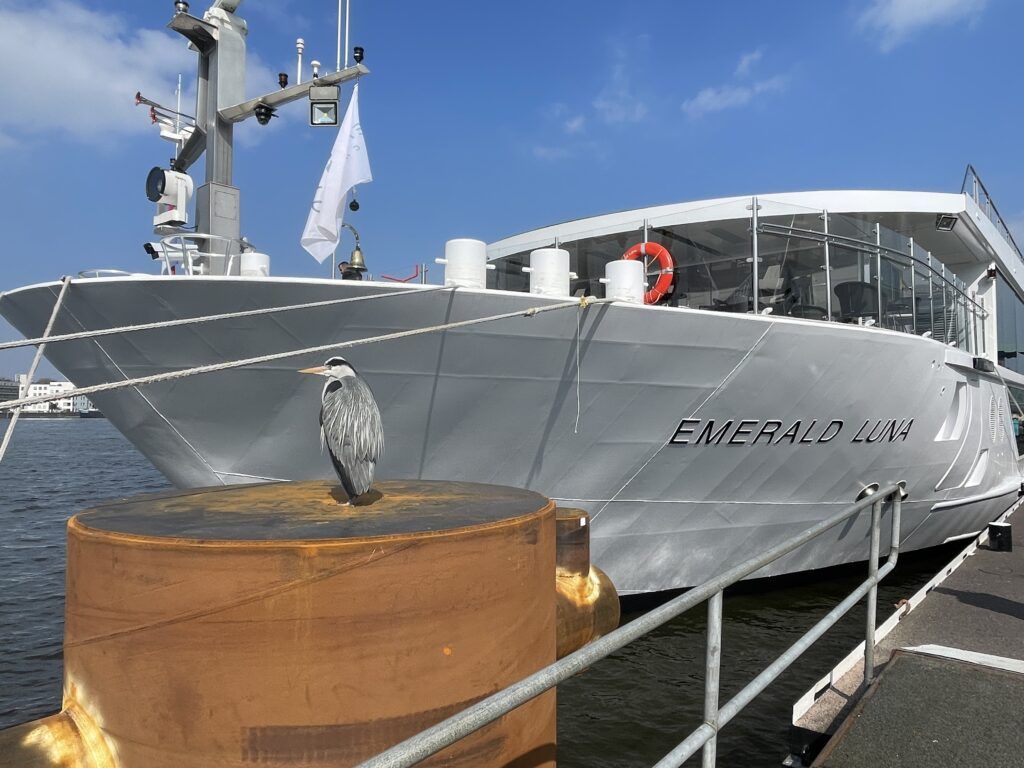 Emerald Luna is about 442 feet long, accommodating up to 180 guests in 91 cabins, with a crew of 47. If you've never sailed on a river ship, they are compact and easy to navigate while remaining an accommodating and comfortable mode of travel. There is just one bar and lounge, just one restaurant, and a small massage room and fitness center. However, you will likely spend much of your time off the ship exploring in port —often docked in the heart of each location.
Onboard activities aim to tie in local enrichment, but they are limited. The choice for evening entertainment is typically a show or trivia in the lounge — or bed. But you will quickly find a sense of comradery with your fellow shipmates who you will see time and time again on walking tours or during the daily port talks that cap off each evening prior to dinner.
A defining feature of Emerald ships is that they feature a pool. Small though it may be, the enclosed pool on Luna is located at the aft end of Deck 3. It is a clever, dual space that converts into a seating area for a cinema on select evenings.
Our Emerald Cruises review is from the very first sailing of the season, departing Amsterdam on April 3, 2023. It was a weeklong "Holland and Belgium in Bloom" cruise through the Netherlands with a stop in Antwerp, Belgium. Unlike oceangoing cruise ships, which reposition year-round, river ships in Europe run a season that begins in the spring and ends after a selection of Christmas market cruises in December.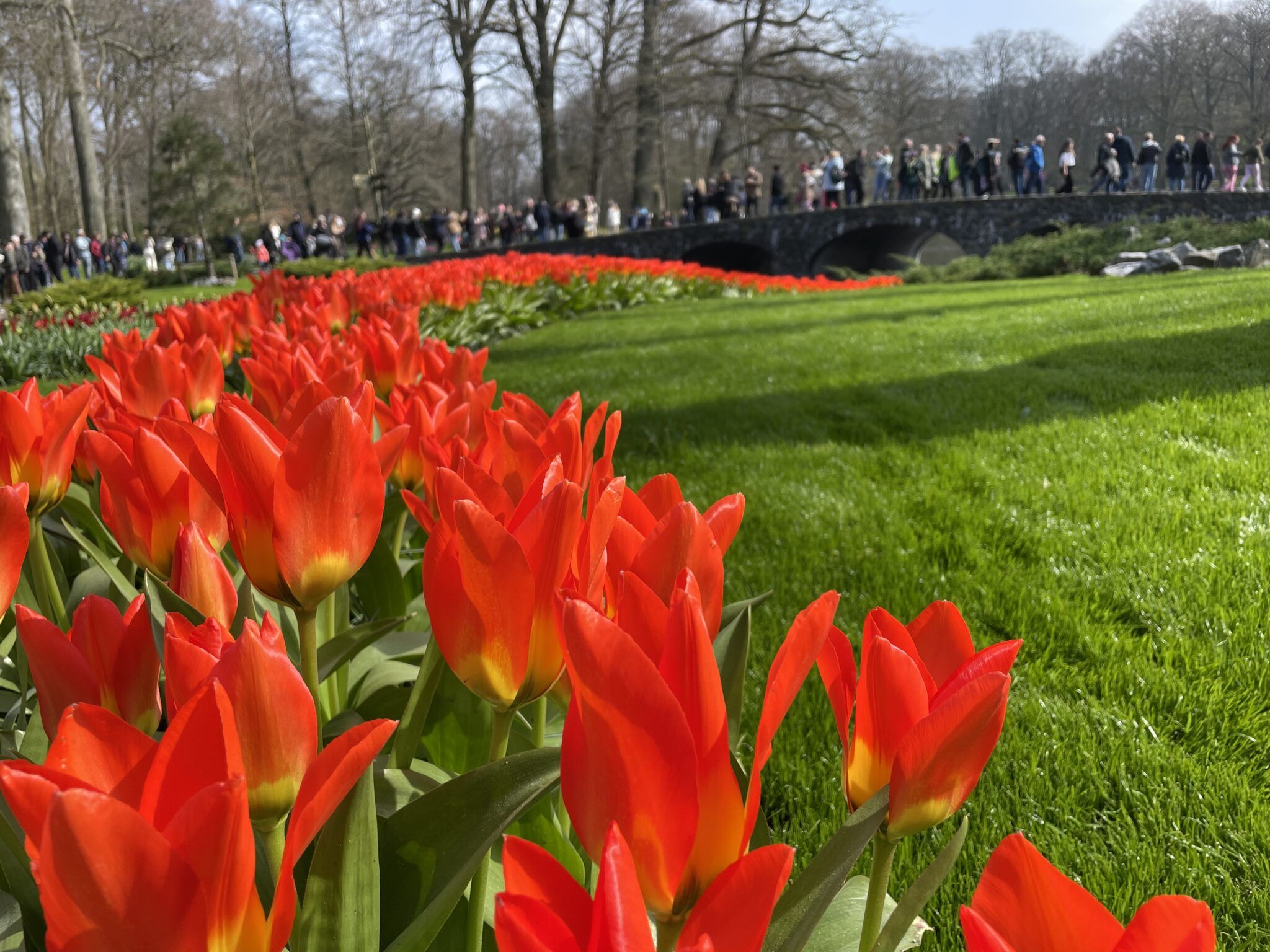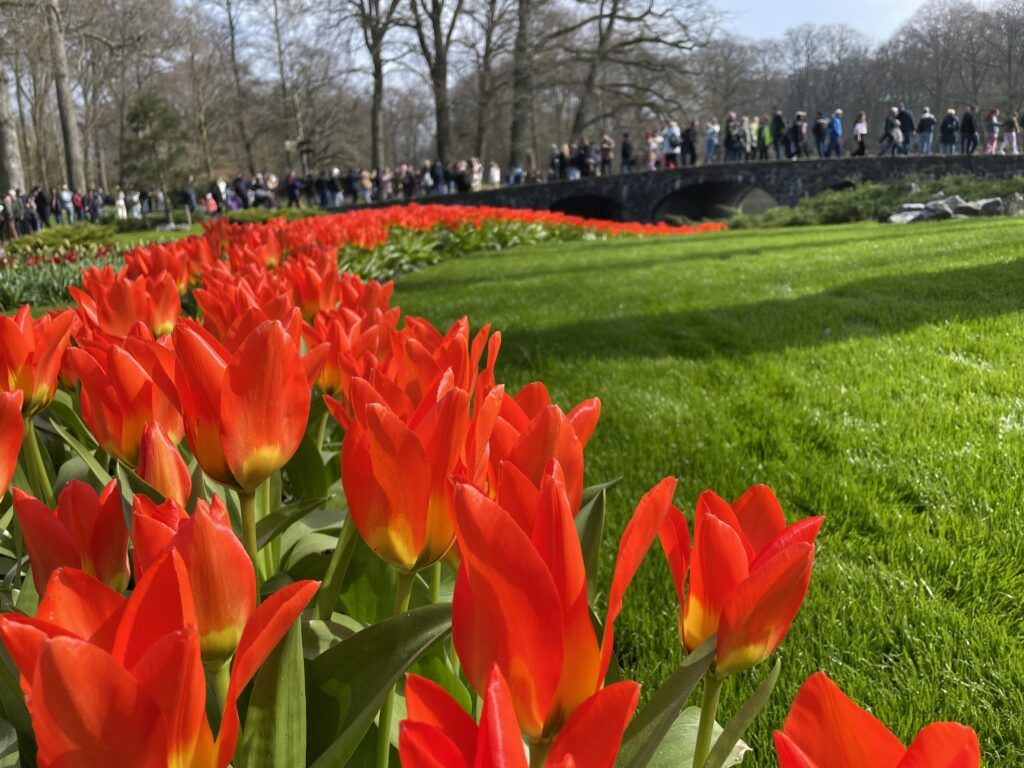 River cruising is a relaxed way to visit multiple ports in the span of eight days (or more). The emphasis on river itineraries is on the destinations and the included tours offered in each.
During our week onboard Emerald Luna, we docked in four ports. We had ample time in Amsterdam and plenty of day trips into other areas. These included Keukenhof Gardens famed for its tulips in Lisse and the Royal Delft Pottery Museum in Delft (from Rotterdam). We also enjoyed a private tour of the Maurithuis Museum in The Hague.
For more on the Emerald Luna onboard experience as well as the excursions offered, continue reading this Emerald Cruises review.
EXCLUSIVE SAVINGS: Get Deals on Your Next Cruise!
Emerald Cruises Review: Emerald Luna
Staterooms
There are three primary room types onboard Emerald Luna (as well as the rest of the ships in the fleet). Further, there are three decks containing passenger cabins. These room types (stateroom with picture window, balcony stateroom, and suite) are spread across eight categories.
Deck 1, the Riviera Deck, has two categories of standard staterooms as well as two single-occupancy cabins for solo travelers. At 117 square feet, the single staterooms are cozy but come with many amenities. Some of these include a picture window, flat-screen TV, mini-bar, hair dryer, filtered in-room water, souvenir water bottle, single bed, bathroom with shower, free Wi-Fi and premium toiletries. The 16 standard rooms are 162 square feet and come in either a queen bed configuration or two twins. The window, at times, might be below water level.
On Deck 2, guests will find 37 of the Emerald Panorama Balcony Suites in two categories across the Vista Deck. Balcony staterooms are about 180 square feet, with a floor-to-ceiling window. Guests can lower this window at the push of a button, creating a French balcony setup. While it isn't a step-out balcony, it lets in plenty of light and air. It creates a more open cabin concept where you can sit in a lounge chair and soak up the sun.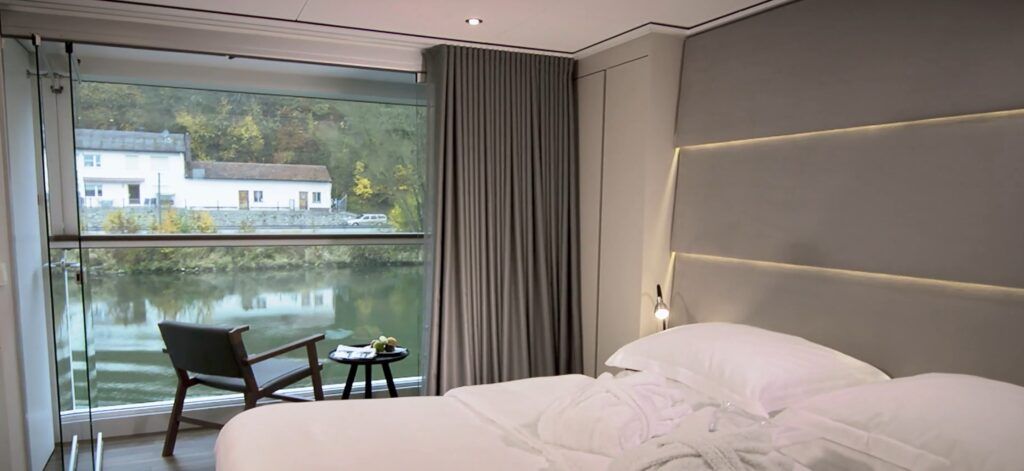 Suites are on the Horizon Deck, or uppermost passenger deck, along with 23 more Emerald Panorama Balcony Suites. There are eight Grand Balcony Suites onboard, featuring 210 square feet. These cabins come with additional amenities including room service breakfast, a Nespresso machine and a larger balcony area separated by a sliding glass door.
Further, there are four, one-bedroom Owner's Suites on Deck 3. These rooms are the largest, at 315 square feet. They have a configuration that divides the bedroom from the living area. These staterooms feature two floor-to-ceiling windows, including one with dedicated balcony area (still indoors) off the lounge. Other inclusions at this level are a walk-in wardrobe, limited laundry service daily, and use of an in-room iPad.
For this Emerald Cruises review, we stayed in a balcony room on Deck 2. We found it to be suitable for the week. There isn't an excess of closet space — one half closet with some additional drawers — so over-packers beware. There is a long shelf along the vanity/desk where the TV is located as well as a shelf above that was useful for storing souvenirs and shopping bags as well as hats and other items we wanted out of the way.
Keep in mind that if you have any items on the little ledge along the window, it won't open or close until you remove them as a safety measure. The window also affects the climate control, so be aware if leaving it open at night.
Depending on the side of the ship you're on, you might awake to a serene view of the river — or a street-level view of pedestrians and dock workers. Privacy is never guaranteed given how closely river ships dock to city centers. Therefore, you might want to leave the blind shut until you're dressed and ready.
We found the nightstands to be a bit too small, with nowhere to plug in our phones to charge except across the room on the desk by the main outlets. (Bring an adapter if you want to plug in more than one device at once.)
Dining
The Reflections Restaurant, on Deck 2, is open for breakfast, lunch and dinner service as the ship's main dining room. Caffeine junkies will love that self-serve espresso machines and hot water for tea are available 24/7 in the lounge on Deck 2 as well as near the pool on Deck 3. Included with this coffee and tea station are usually an offering of cookies and small pastries.
Breakfast is a buffet and hours vary depending on the day's tours, but typically run 7 to 8:30 a.m. An early-riser spread as well as a late-riser offering is available in the Horizon Lounge from 6 to 7 a.m. and again until 9:30 a.m. for a quick coffee, croissant, piece of fruit or yogurt.
The breakfast buffet is a blend of American, European and British specialties. It is more or less the same each morning, with the exception of a daily smoothie or rotating hot dish, like French toast. Expect a made-to-order omelet station, along with meats, cheeses, fruit, yogurt, mueslis, toast, pastries, bacon, scrambled eggs and grilled tomatoes.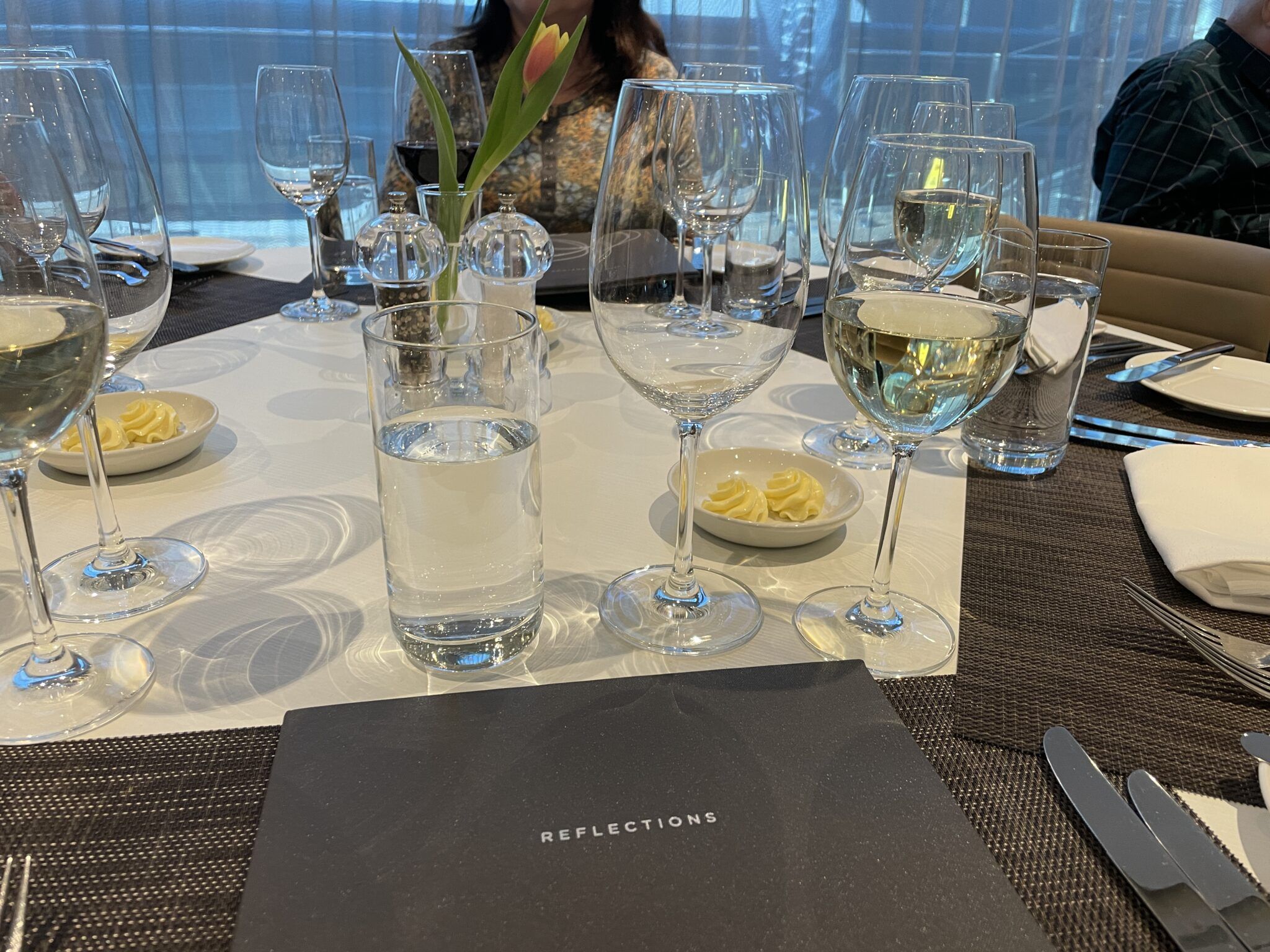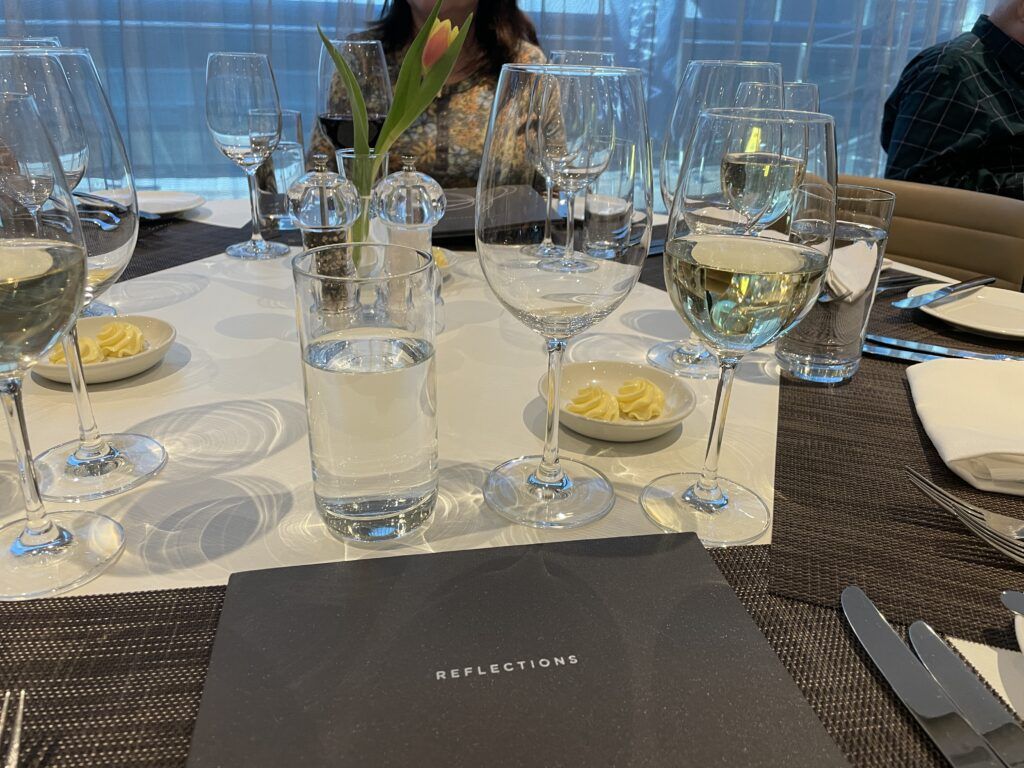 Lunch is a hybrid buffet along with an a la carte menu. Unlike breakfast, more options rotate daily. Selections include a different soup, hot dish, pasta station entrée, and various cold salads as well as a salad bar. Desserts tempt tastebuds daily, along with rotating flavors of gelato and sorbet served sundae style at the buffet counter.
Along with always available options like Caesar salad or steak frites, there is a daily list of lunch specials — usually a meat, fish and vegetarian dish as well as a sandwich. We enjoyed this option as it featured some local dishes like a Dutch beef stew. Lunch was typically served from 12:30 to 2 p.m.
A white and red wine selection, along with beer and soft drinks, are available as included beverage options during lunch and dinner.
The Terrace is on Deck 3 forward, off the lounge. This area offers seating with blankets to watch Luna pass through a lock. On occasion and weather dependent, light lunch is available here as an indoor/outdoor casual dining option.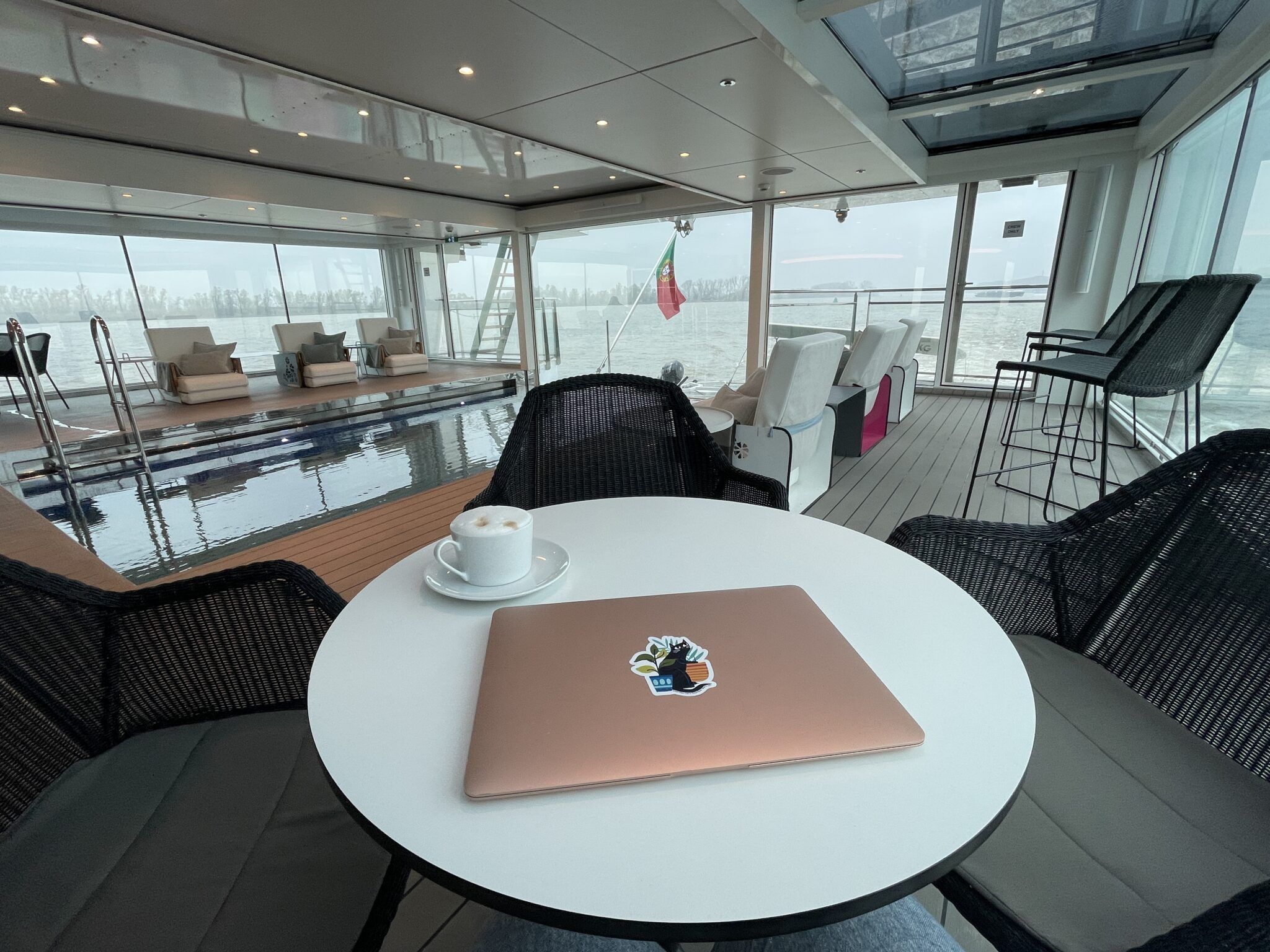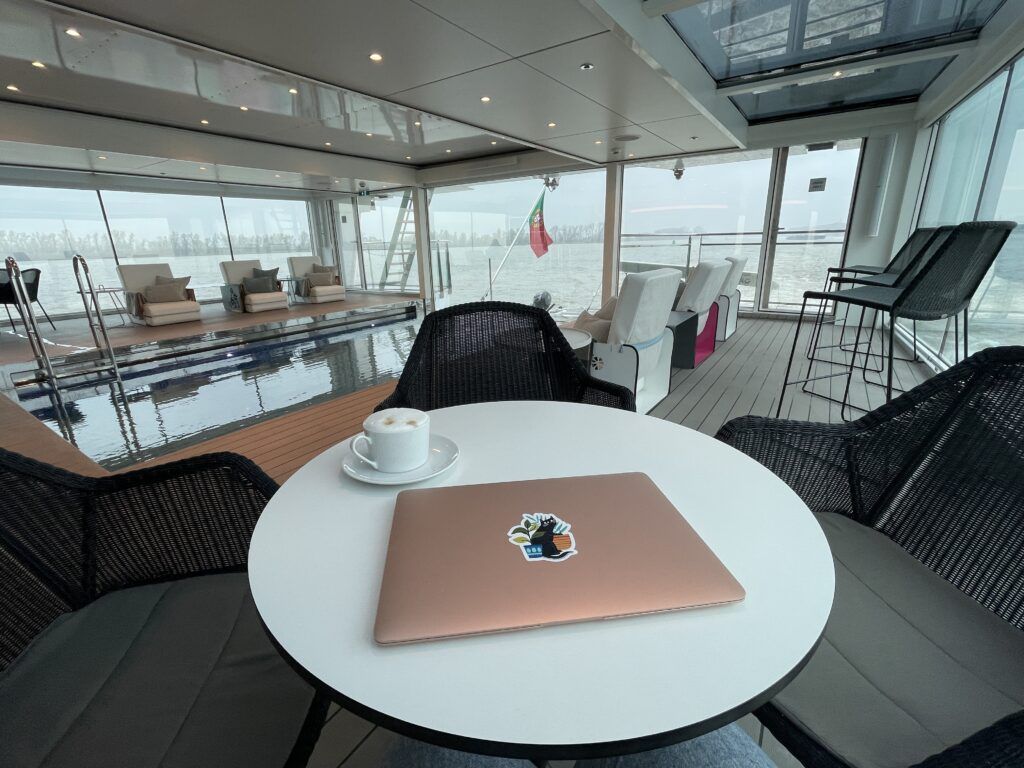 Guests can enjoy afternoon tea daily in the Horizons Lounge, from 4 to 4:30 p.m. It's a self-serve spread of finger sandwiches, dainty desserts, cookies, and of course a selection of tea bags with pots of hot water filled from an eye-catching copper boiler.
Dinner is the main event on any river cruise, and our meals never disappointed on Emerald Luna. Held during a single seating, everyone is encouraged to find a table around 7 p.m., just following the port talk.
During the port talk, the chef and sommelier provide guests with the evening's recommendations. These are typically regional specialties or the chef's favorite dishes. Chef's recommendations include an appetizer, entrée and dessert, listed for your convenience on the menu. Wines are again available with one white and one red included.
In addition to the same Emerald classic dishes offered on the menu at lunch (which oddly enough included bananas foster), cruisers have the option to select from four appetizers, three main courses, and four desserts.
The appetizers always included a soup, salad and vegetarian option among them. Main courses, like at lunch, span a meat, fish and vegetarian option. Veggie options are creative, like a curry, and went beyond a pasta dish every evening. For dessert, there is always fresh fruit, a cheese plate and an "ice coupe" of the day (aka sundae), in addition to a daily dessert special like crepes Suzette.
Our table agreed that portions were manageable. Meaning even if we indulged in three to four courses (gala evenings, held twice per cruise, are more), we didn't feel overly stuffed to the point of exhaustion. That was typically the result of a long day, good company, and delicious wine.
Dietary restrictions are accommodated across the Emerald fleet and should be mentioned upon booking and again once you board.
Bars and Lounges
The Horizon Bar and Lounge is the best (and only) option for a nightcap. It's also where most of the ship-wide activities take place as well as the evening entertainment. Lectures and the daily port talks occur here as well, with plenty of chairs and sofas to comfortably seat the entire ship.
The lounge hosts activities in the afternoon but is also a calm place to sip a cappuccino and catch up on a book while taking in the views from windows along every wall. In the evening, guests gather for a pre-dinner tipple around 6:30 while hearing about the schedule for the following day, led by your cruise director. It's informative and helps you organize your next vacation day. Sometimes there are options for additional excursions that require you to sign up in advance and those are discussed here.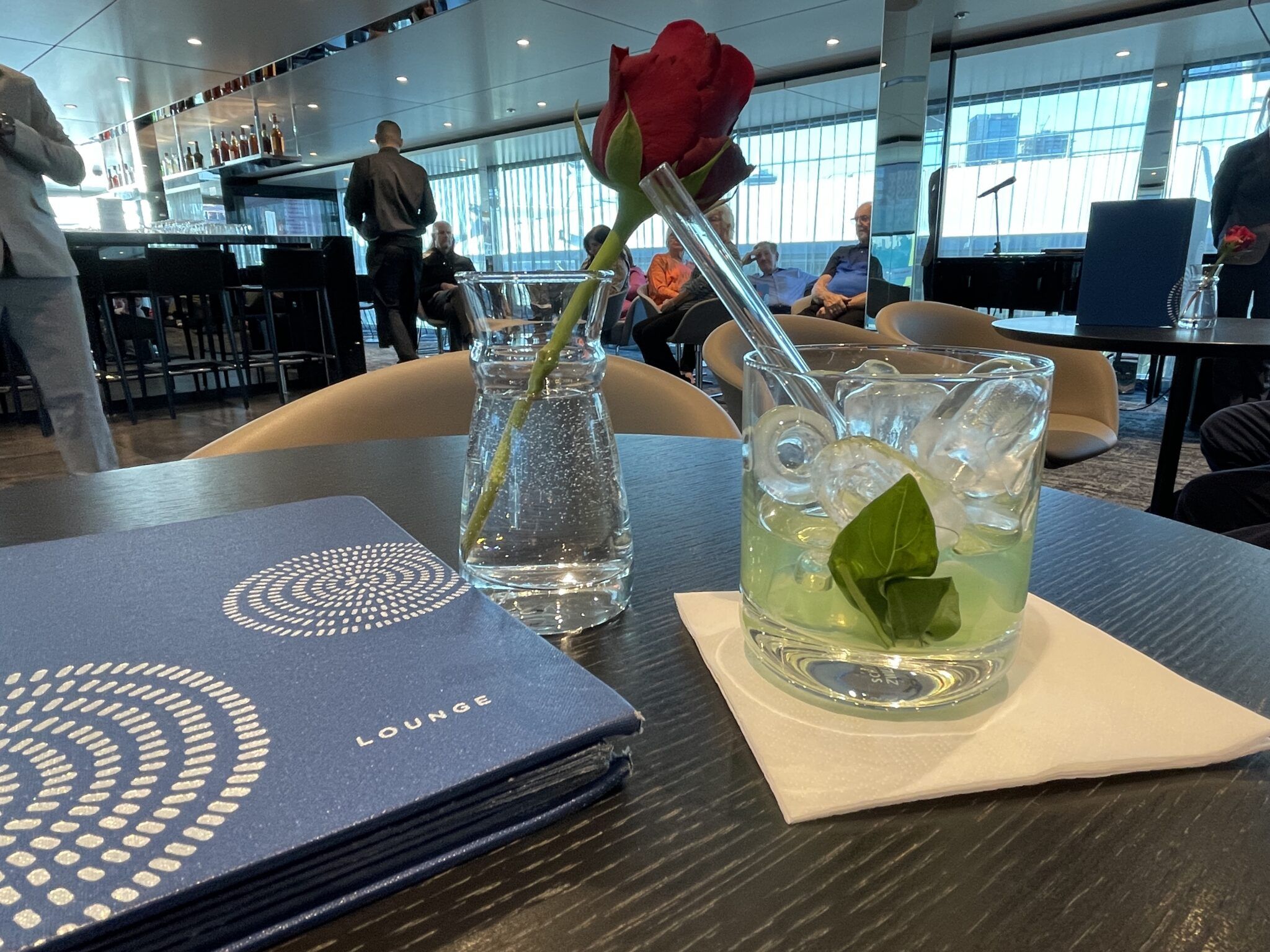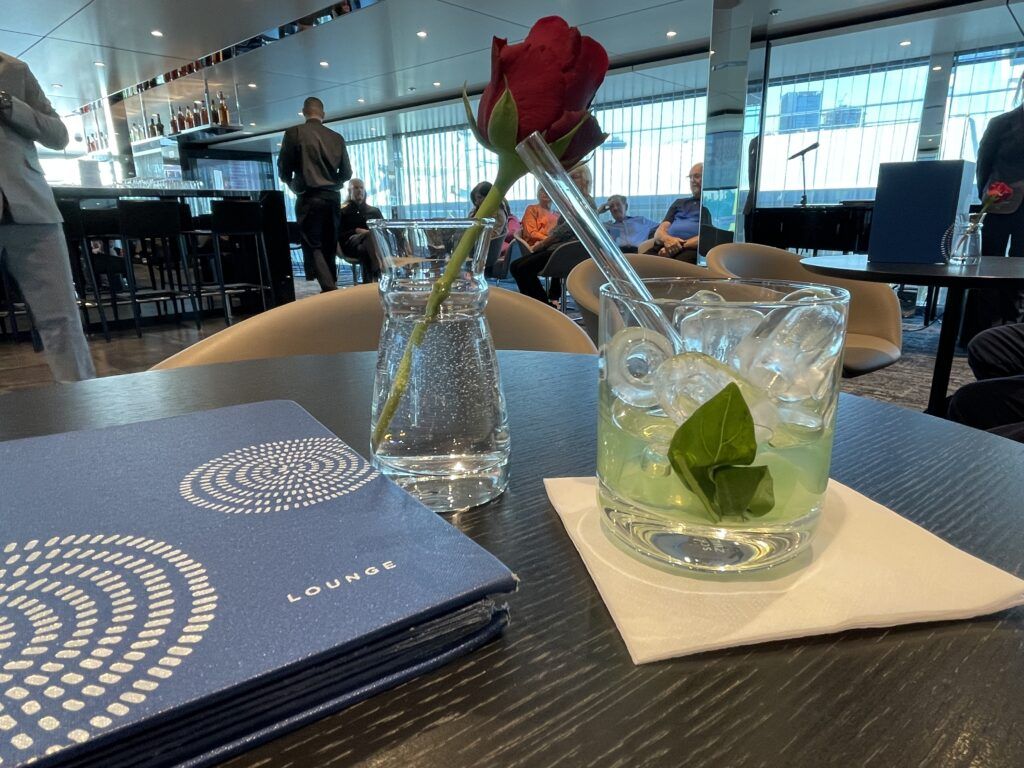 The drink menu is comprehensive, though pricing was a bit scattered. Drink packages are available if you plan to imbibe throughout the sailing. Otherwise, expect to pay 7 to 12 euros for a cocktail. (Euros are the onboard currency.) We didn't notice any drink specials on our sailing, which seemed unusual. However, the selection of spirits was solid and some of the mixology seemed inventive.
Servers circulate in the evening if you wish to order a drink.
A hallmark of river cruises is the captain's welcome and farewell, events that bookend the second night and penultimate night of your sailing. These evenings have a slightly more sophisticated sense of occasion. Champagne is liberally poured for a toast and hors-d'oeuvres are passed during the port talk. The captain usually makes a few remarks and is joined by the crew to greet you and then send you off packing.
SCORE BIG ON YOUR NEXT CRUISE!
Excursions
The shore tours are a main differentiator among river cruise lines. Emerald does an excellent job of offering a variety of included excursions, as well as some special extras. We felt impressed by the unprecedented access we gained to museums and palaces — even with some of the included tours. Exclusive early admittance to see Vermeer's "Girl With a Pearl Earring" and other incredible works of art in The Hague was a truly special memory from our Emerald Cruises review.
Daily included tours typically involve a walking tour or visit to a historic attraction. Sometimes, there are two walking tour groups to accommodate "gentle walkers." However, don't expect these tours to be slow or boring.
Our walking tour of Antwerp was a fascinating insight into the city by an excellent local guide that ended in a gorgeous bag of gourmet Belgian chocolate for each participant. Another welcome surprise was a visit to Palais Het Loo, the Dutch Royal Palace. A first for Emerald, what was even more surprising about the exquisite palace and its grounds is that we had it to ourselves. We were among the first guests to visit before its official reopening following a multi-year renovation.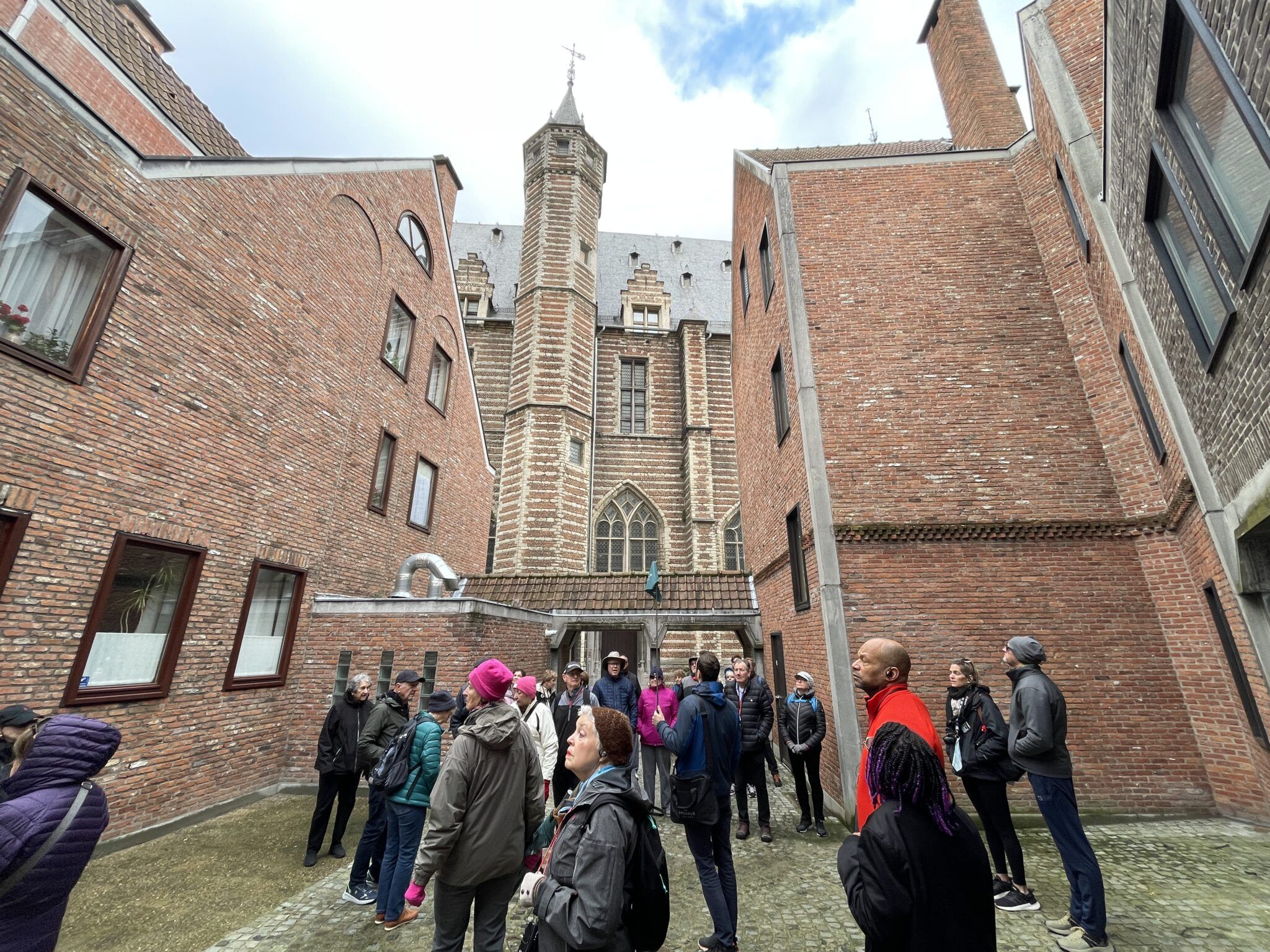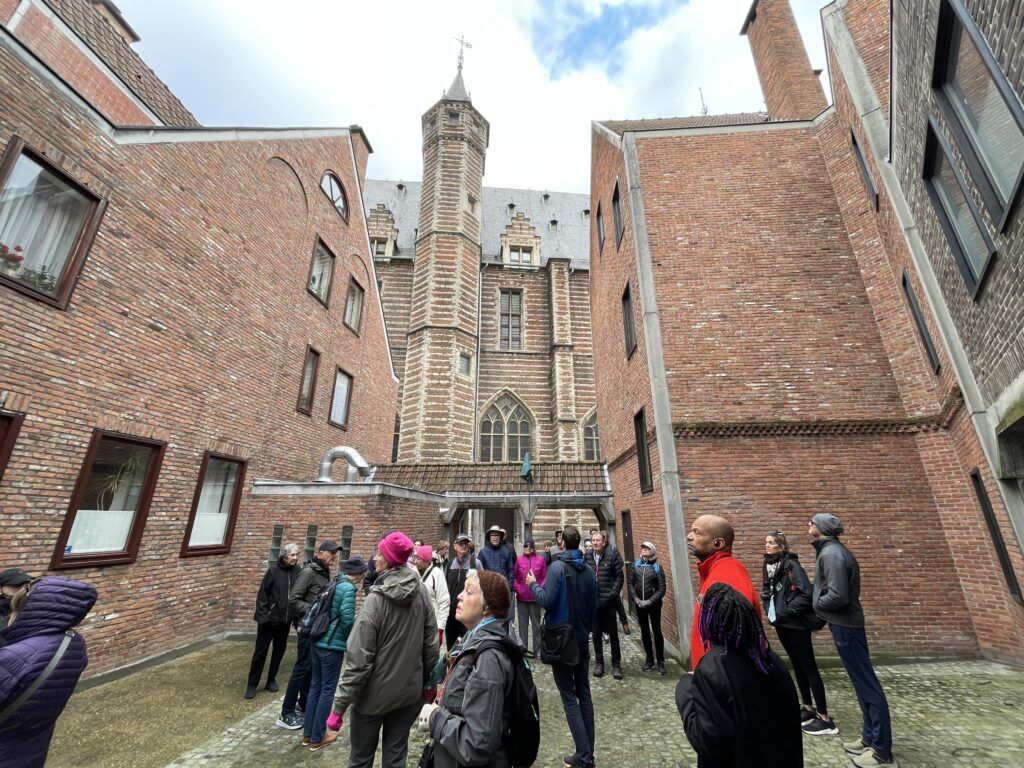 Also included in the cruise fare are a selection of EmeraldACTIVE tours. These tours, as the name suggests, are aimed to get your blood pumping. They might be a bike or hike or something else, depending on the port. We took a cycling tour, led by a local guide, through Rotterdam. It was the best of both being able to explore the port city in plein air, but also enjoy the ease of the electric bicycles kept onboard Emerald Luna. We were less distracted not having to worry about keeping up with the group in a busy city.
For something extra — and who doesn't want an excuse to spend on vacation — there are EmeraldPLUS tours. These excursions incur an additional fee and have limited space. You can book them in advance online, but there was also the chance to join onboard the ship. There were only two of these on our seven-night sailing, and we took part in the afternoon visit to Delft.
The tour of Delft departed after lunch which meant we didn't have to sacrifice our morning tour by bike. The afternoon included an eponymous visit to the Royal Delft headquarters. Here, we learned about the iconic blue-and-white china and of course snagged an ornament for our Christmas tree from the gift store. We then went further into town to learn more about this supremely charming city, with picturesque canals and a bevy of specialty shops and historic homes on every corner. A small amount of free time gave us the chance to pick up some mementos — both tangible and edible.
Like many other cruise lines, Emerald employs the Quietvox system. It uses individual devices and earpieces to better hear guides during each tour (not used on active tours). The learning curve is slight if you've never navigated the color-coded stations and remembering to charge them each night (and bring them each day). But once you do, it solves the problem of asking your guide to speak up.
Activities/Enrichment
As previously mentioned, most of your days will be spent off the ship exploring in port. However, select afternoons while the ship is sailing, you might find a guest lecture or activity suited to your itinerary. On our Netherlands cruise aboard Emerald Luna, we learned more than we ever could imagine about tulips from a former staff member of Keukenhof Gardens.
We also had the amusing opportunity to paint our own small, wooden clog, led by a local Dutch artist. These activities are not only a great way to bond with your fellow cruisers but also make a handy —and handmade — souvenir after the sailing. These activities depend on each voyage (and are complimentary) so expect variations based on where and when you are sailing.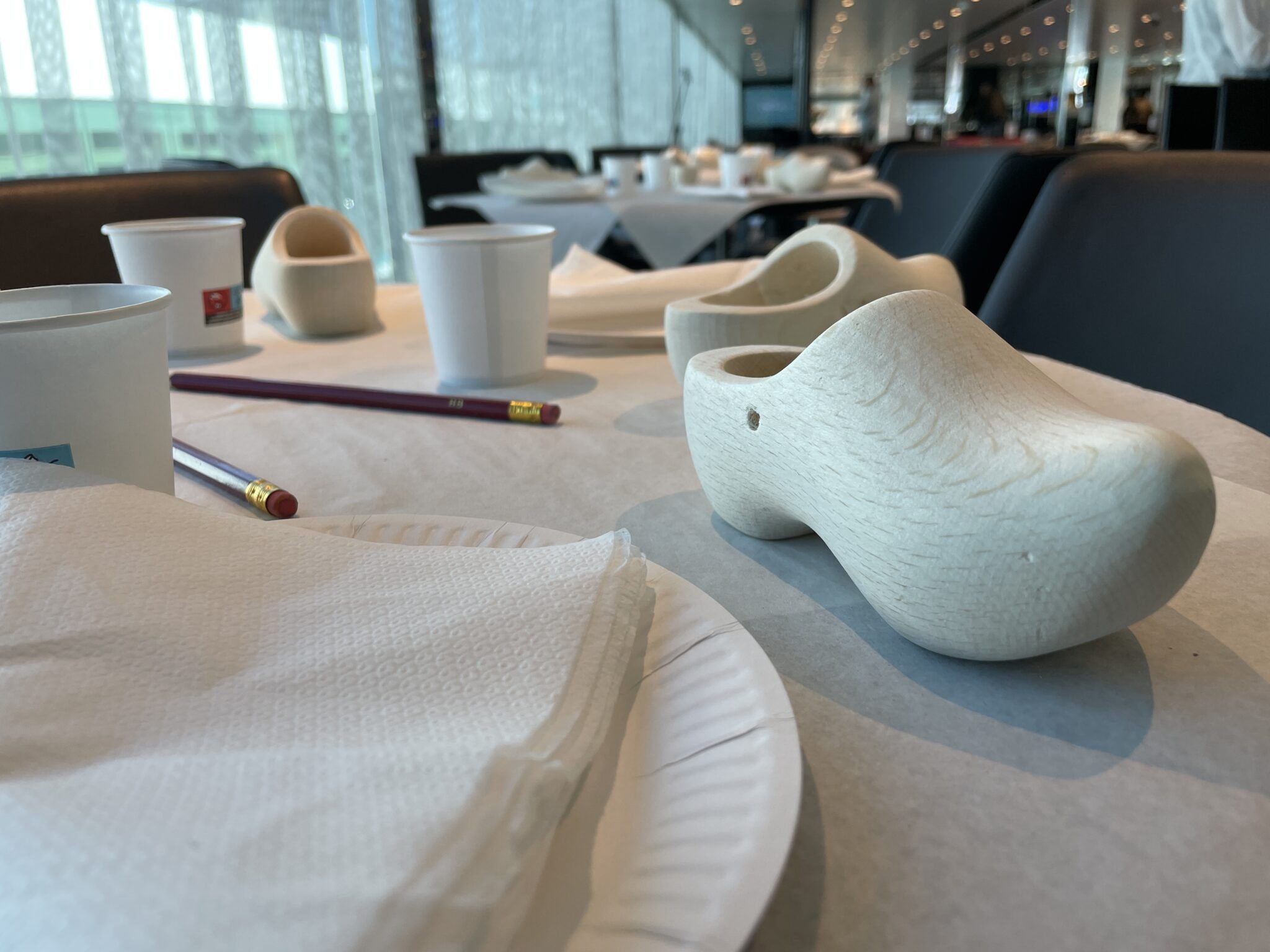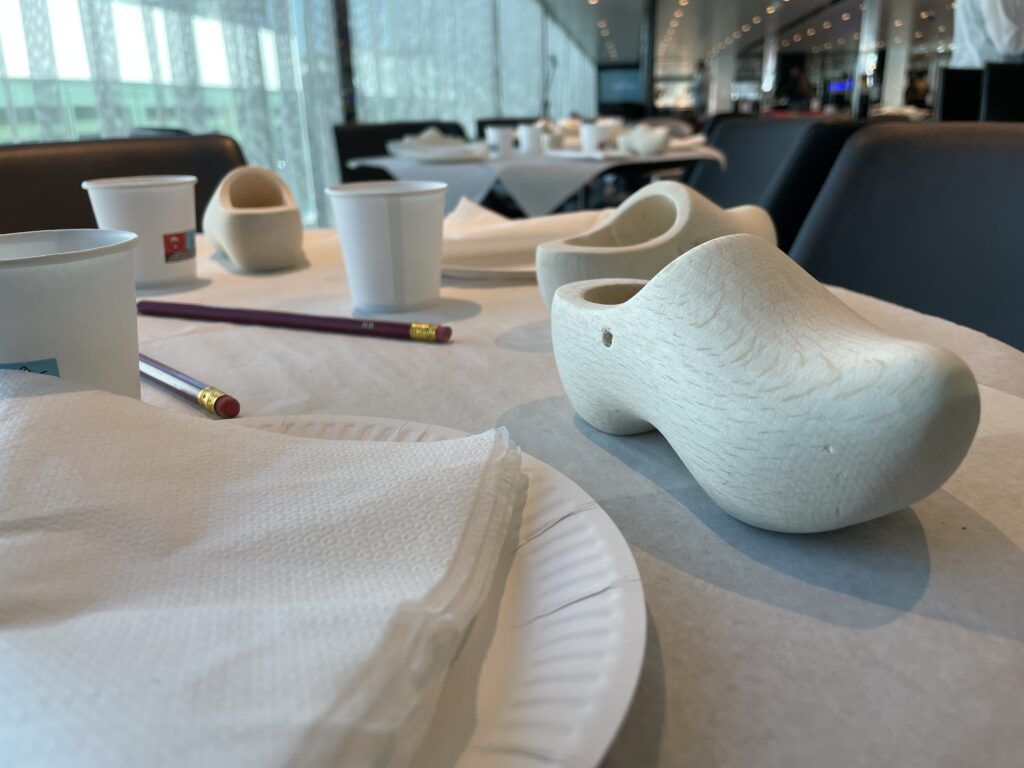 Other daytime activities you might find on any Emerald Luna sailing could include a round of afternoon trivia or a visit to the bridge on the Sun Deck to chat with the captain. In good weather, the top deck of the ship is the place to be. It features 360-degree views of the river and its magical shores, as well as plenty of loungers in the sun and shade.
Guests who venture to the Sun Deck will also find a small golf putting green; a walking track to stretch your legs; and a games area with life-size Tic-Tac-Toe. The smoking area is also located here unless it is moved due to low bridges.
There is a wellness coach on each Emerald sailing, offering massage therapy as well as fitness classes. Most mornings a yoga, Pilates or meditation class was available free of charge. These occurred either in the indoor pool lounge or up on the Sun Deck, depending on the weather. Just keep in mind that early starts are a part of nearly every river cruise. So, if you're looking to join a class before your tour, you will have to be up with the sun.
Evening Entertainment
After dinner, it's back to the lounge for some live entertainment. On our sailing, we were treated to an evening of vocal stylings; a lively round of movie and TV trivia; and a night of disco dancing — all hosted by our Greek activities director who doubled as chanteuse.
At least once or twice during the sailing, Emerald features local onboard talent, and guests should not miss these performances. On our Dutch cruise, we enjoyed a modern, classical music trio as well as an insanely talented Spanish guitarist who took requests.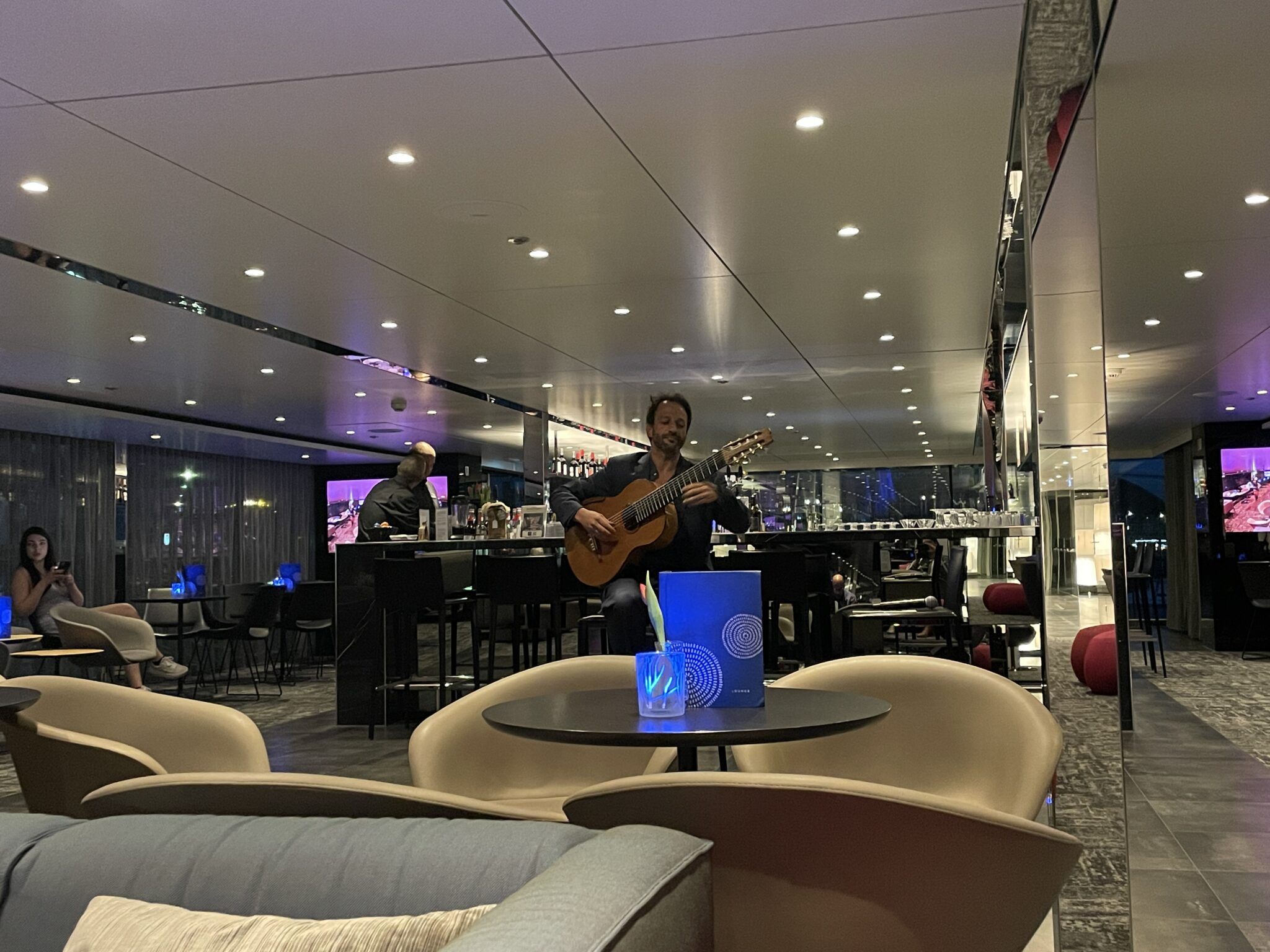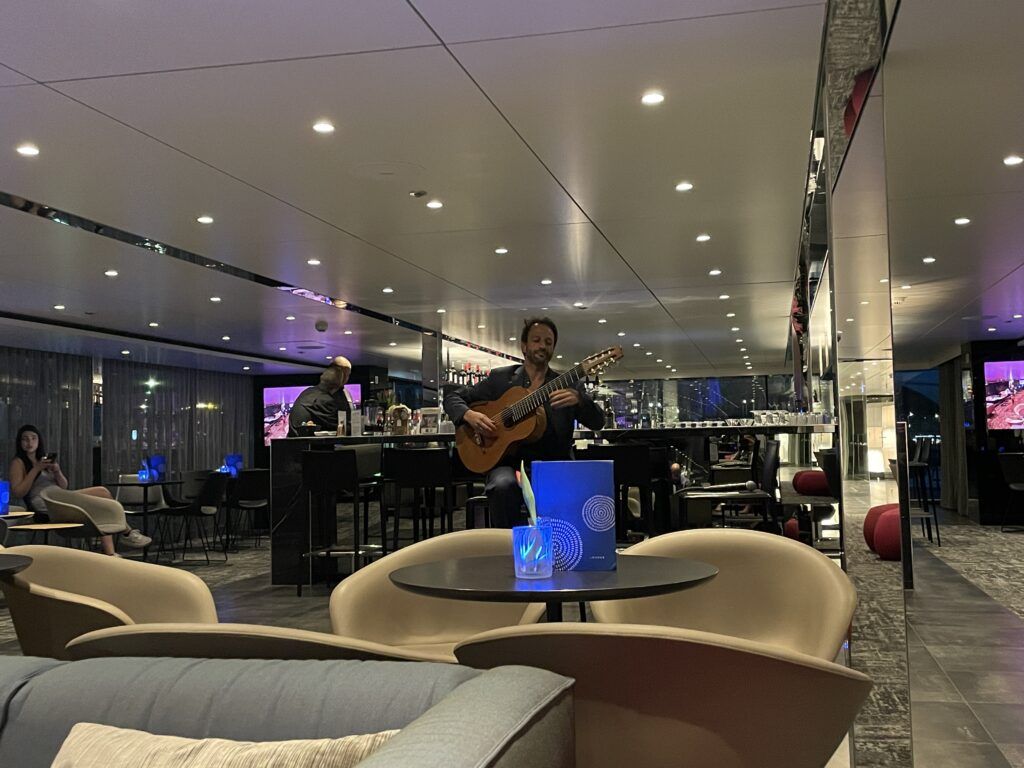 On select evenings of the cruise, Emerald Luna hosts a movie night. This is made possible by a retractable floor that covers the pool and a projector that hosts feel-good films once the sun is set. During our weeklong sailing there were two films, including "Mrs. Harris Goes to Paris."
When there weren't films in the pool/cinema room, the daily schedule advertised the space as the "Riverview Club" for a quiet drink after 9 p.m. But to us, the space was way more welcoming during the daytime when the scenery is visible. Our cruise director often made jokes about heading there after dinner "only if you were antisocial."
Each sailing also typically includes at least one overnight. If you're feeling extra motivated, walk right into town and revel in the resident nightlife. Amsterdam is a city synonymous with painting the town red, though jet lag reared its ugly head early on night one. While a very early flight disrupted any plans to venture downtown on the final night.
Amenities
There aren't the specialty restaurants, sweeping theater, waterslides, or onboard attractions of a cruise ship on a river cruise. Though, many who sail them prefer it that way. Instead, you will find a spacious sun deck with a walking track and putting green, and a unique pool area-turned cinema.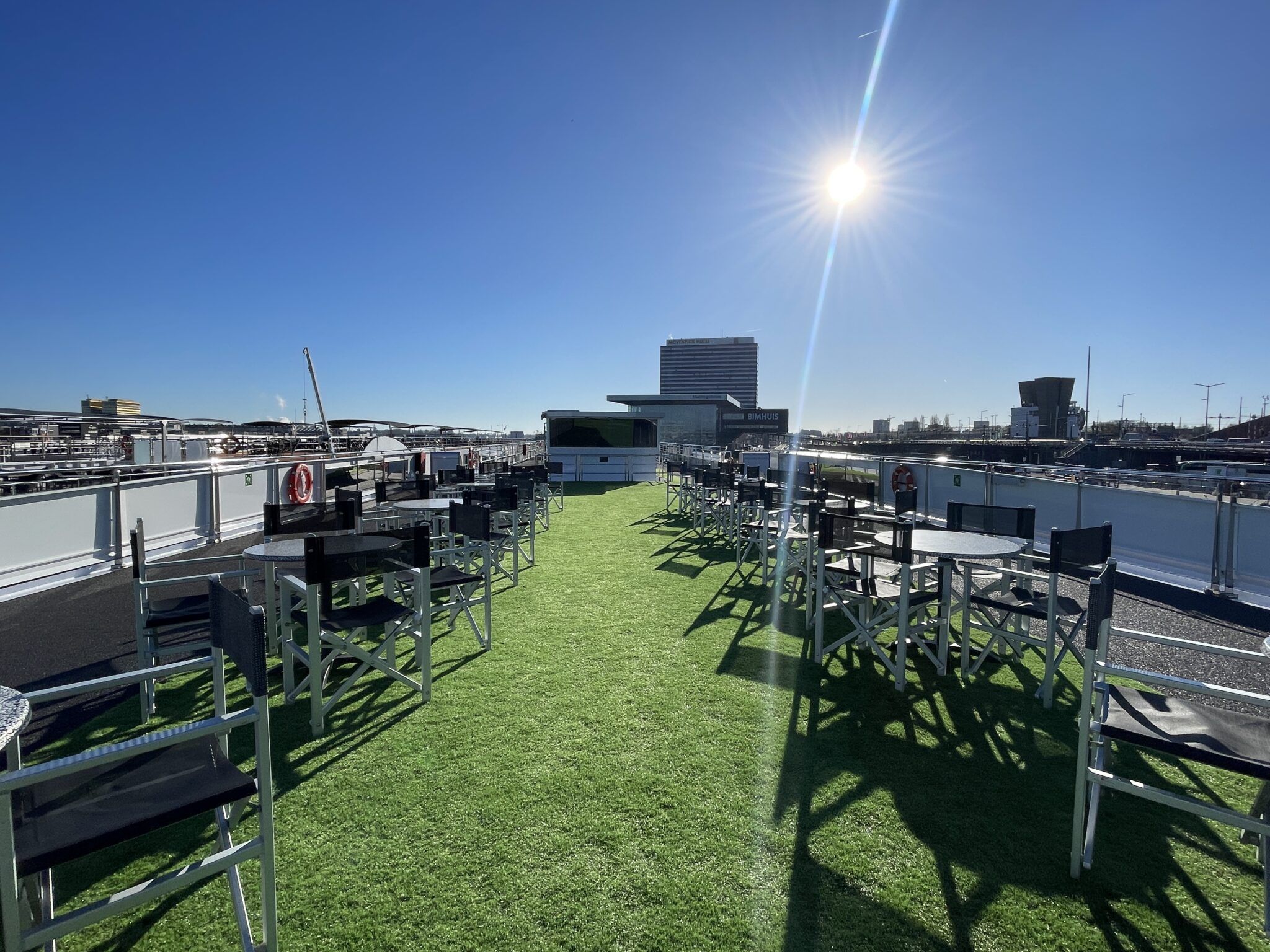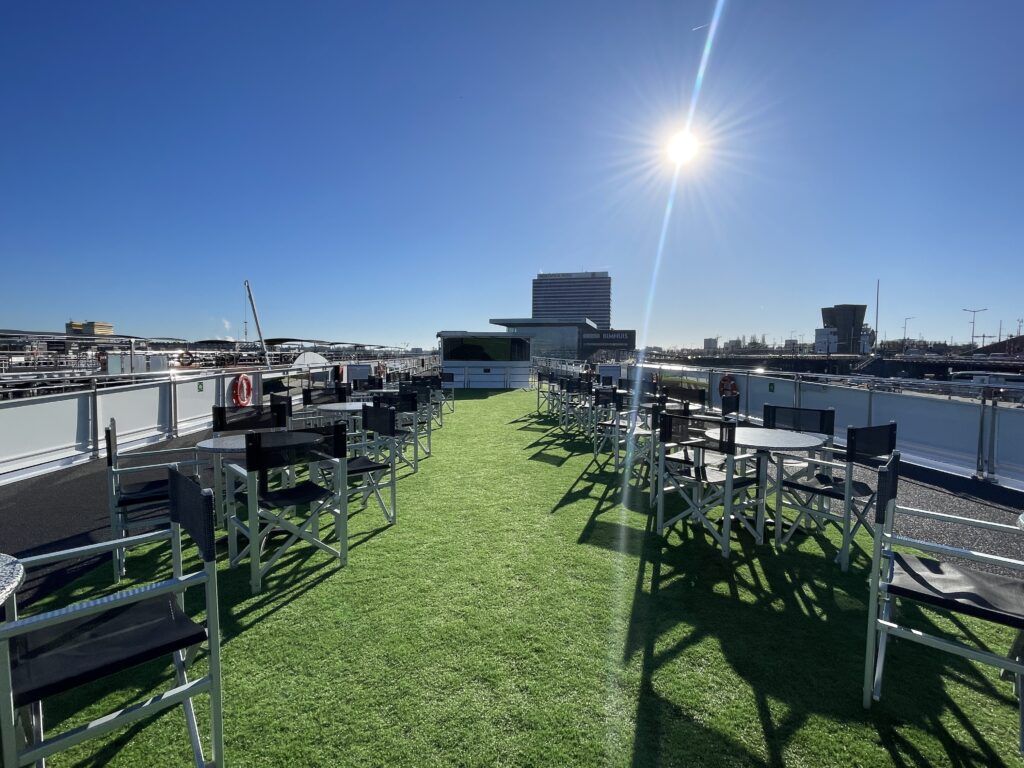 The fitness center is located across from the wellness area on Deck 2, aft. The gym is small but offers a handful of machines like a recumbent stationary bike, treadmills, as well as free weights. The wellness room is where you head if you have a massage or beauty appointment. It consists of a single massage bed for one treatment at a time. A spiral staircase between the rooms is a back entrance up to the pool deck.
There is a lift that spans decks 1 through 3 for anyone who would like to avoid the stairs.
Inclusions
A defining factor of most river cruises is their inclusions. Included in the cruise fare on Emerald Luna are:
All meals
Beer and wine at lunch and dinner
Daily excursions, with active options like bike tours
Use of the onboard fleet of e-bikes
Gratuities
Specialty coffee
Use of umbrellas, robes and slippers
Service
A good cruise director is key to a successful sailing, as they basically emcee your entire cruise from start to finish. Our Dutch cruise director, Wes, interacted well with guests but also elicited genuine laughs from his unique blend of honest wit, dry humor and nightly dad jokes.
The cruise was also buoyed by the upbeat personality and many talents of activities manager Myrtali. She cheerfully led bike tours and trivia, aided with port talks, and serenaded us with her incredible vocal talent.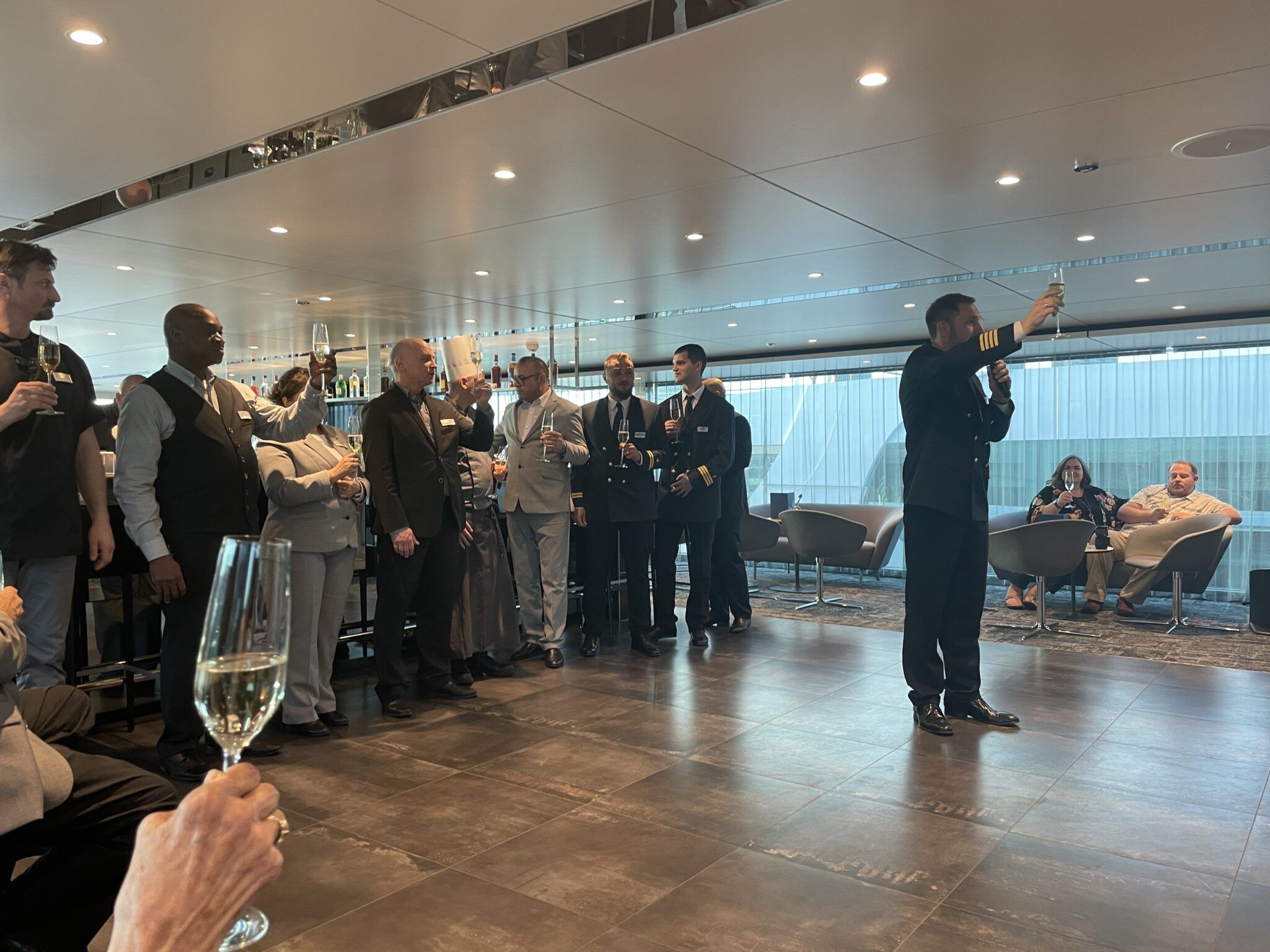 On such a small-ship cruise, everyone from the crew member who checks you into your room to the food and beverage manager, chef, housekeeping manager, and engineers are visible throughout the sailing. This provides guests with a sense that everyone onboard is there to ensure you have the best cruise possible. Each member makes themselves available to field questions, requests, and concerns.
The number of passengers on Emerald Star Ships make it plausible to get to know your bartender and waitstaff quite well. They get to know you and your preferences, providing a stellar level of service that is more difficult to achieve on larger ships with thousands of other passengers.
Our room attendant left our room spotless and surprised us with a cute towel animal on the final evening, as well as nightly chocolates on our pillow during turndown service.
BOOK NOW: Get the Latest Cruise Deals!
Comments
Did you find our Emerald Cruises Review of Emerald Luna informative? Have you sailed with the river cruise line before? Drop us an anchor below to share your experiences on small ship cruise line, Emerald Cruises.