Curacao is a Southern Caribbean island, collectively with Aruba and Bonaire, referred to as the ABC islands. This now Dutch country, located approximately 40 miles north of Venezuela, was originally inhabited by the Arawak people. With a rich history and culture, beautiful weather, and storybook-like vistas, Curacao has become a popular stop on many Southern Caribbean cruises.
If you are sailing to Willemstad, Curacao on your next cruise, then check out our list of the Best Things to Do in Curacao on a Cruise so you don't miss out on all this colorful island has to offer.

Best Things to Do in Curacao on a Cruise (2021)
Visit Historic Willemstad
Downtown Willemstad is a UNESCO World Heritage site. This colorful and historic city center consists of two quarters which are conveniently located near the cruise port. Punda and Ortrabanda are separated by the Saint Anna Bay which can be crossed via a water taxi or the famous Queen Emma Bridge.
Whether you choose to complete a self-guided walking tour, an organized walking tour, or a fun trolley ride, there are many notable stops along the way.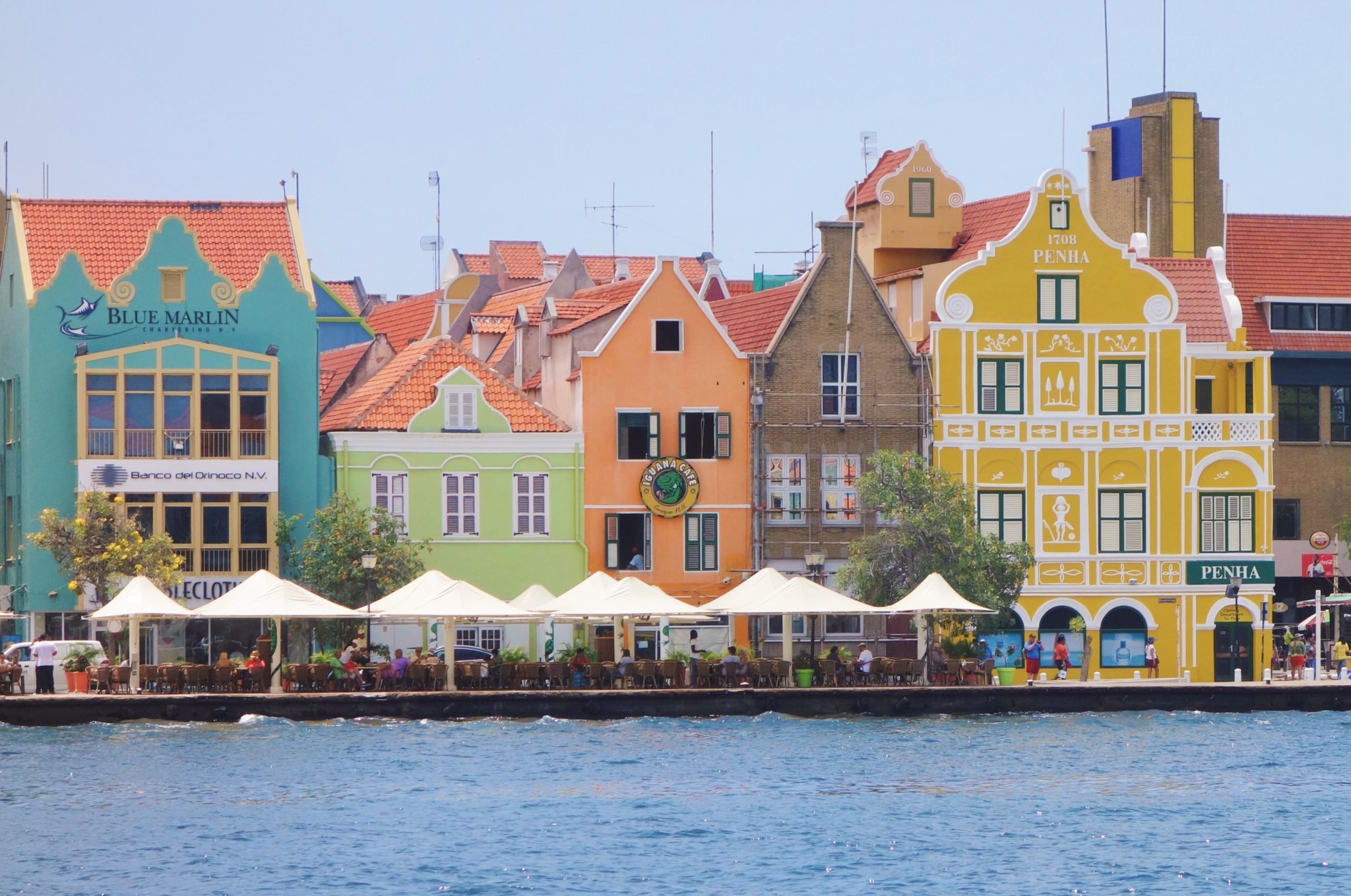 While in Otrobanda, be sure to visit the Kura Hulanda Musuem and stroll along the city streets to admire the historic buildings. You can also visit the Rif Fort. Built in 1828 the fort was designed to defend Willemstad. Today, some original walls remain as part of the Renaissance Resort and Mall. This area offers plenty of shopping and restaurants.
Related Post: Caribbean Cruise Planning Guide
Once you head over the bridge to Punda, you are in the main commercial area, Handelskade. This area is lined with colorful buildings. In addition it is home to the most photographed building in Curacao, the Penha building.
While in Punda, you also need to visit the floating market where vendors sell fresh produce, fish, and local goods directly from their boats. Another notable landmark is the Mikve Israel-Emanuel synagogue, the oldest surviving synagogue in the Western Hemisphere. You will also want to check out the Wilhelmina Park and its statue of Queen Wilhelmina.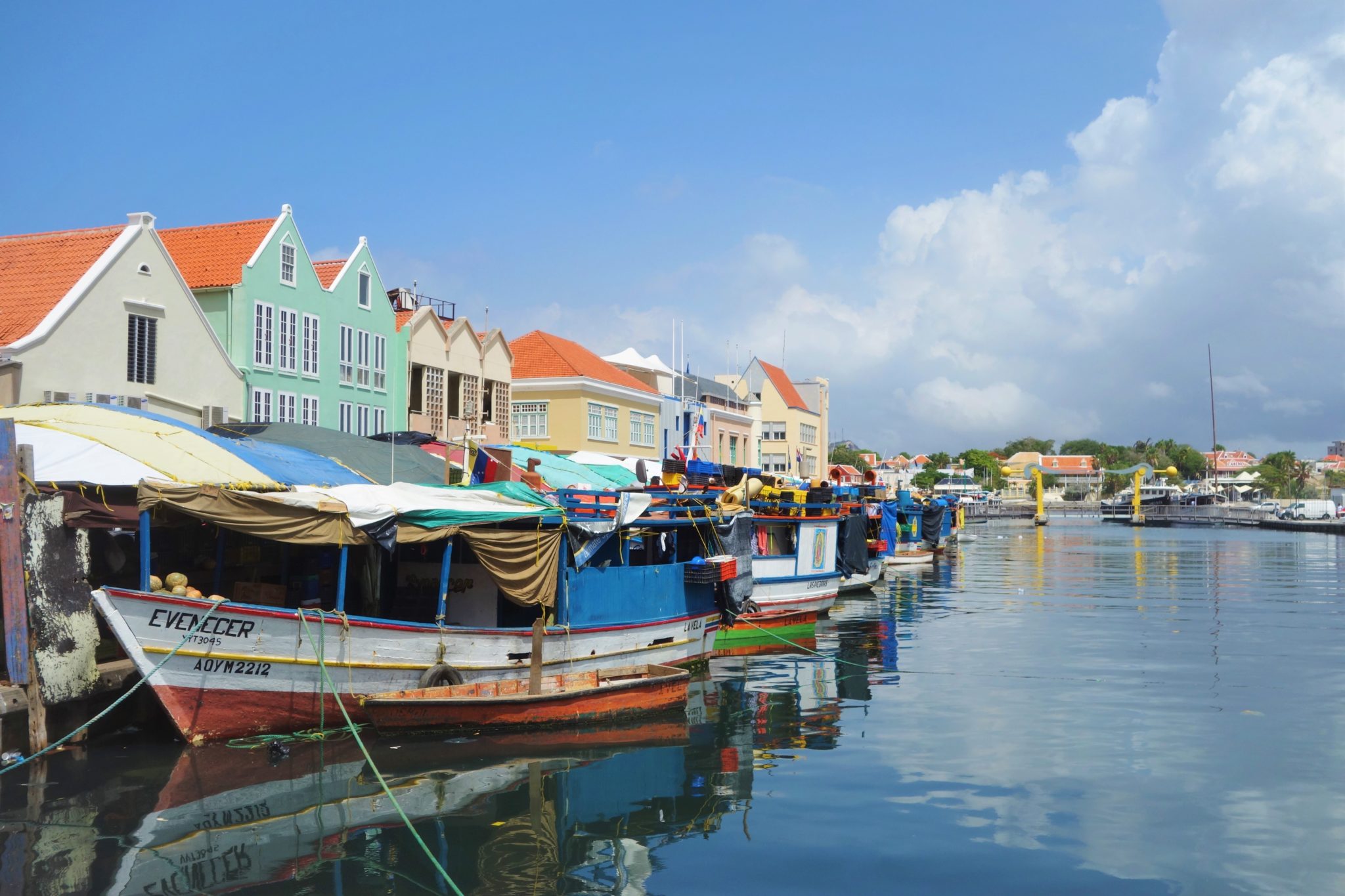 Last but not least, head to Fort Amsterdam, the oldest and most important monument in Curacao. Built in 1635 to guard the entrance to St. Anna Bay, you will now find the Governor's Palace and Fort Church Museum inside the massive stone walls.
Make it a Beach Day
Blue Bay Beach (Blauwbaai) is a popular beach located near the cruise terminal. A small admission fee will gain you access to the beach, use of the facilities, and sun beds. This beach offers plenty of shaded areas, restaurants and bars, and even a children's playground. Not far off the coast of this beach, there are some amazing coral reefs and a great spot for snorkeling and diving.
Mambo Beach, also located close to the cruise terminal, is another popular beach among cruisers. It is located on the man-made beach near the Sea Aquarium. Here, you will have access to plenty of entertainment, bars and restaurants, and use of facilities throughout the day. Admission and chair rentals at Mambo Beach are also reasonably priced.
Related Post: Caribbean Cruise Packing List
Some of the most beautiful beaches in Curacao are located on the west end of the island, requiring a 30-45 minute drive. Knip Beach, Playa Cas Abou, and Playa Porto Marie are well worth the visit. Irie Tours offers an All West Beach Hopping tour that visits both Knip Beach (Playa Kenepa) and Playa Porto Marie, among other stops.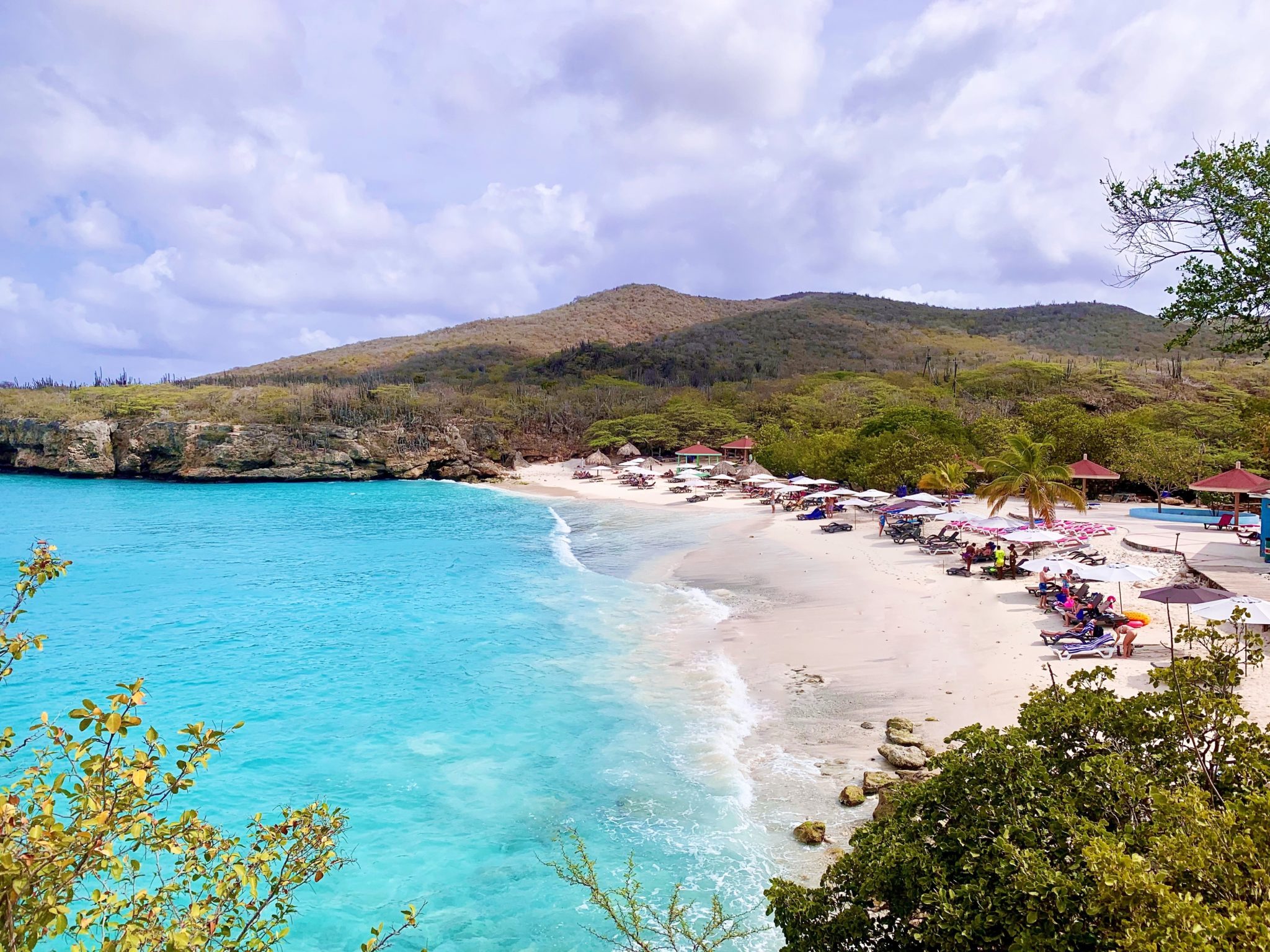 Explore the Hato Caves
The Hato Caves are the largest cave formations on the island. Since its opening to the public in 1991, cave tours have become a popular tourist activity while visiting Curacao. These caves which were made accessible by foot for visitors were once used by Arawaks for shelter and later by escaped slaves.
BOOK NOW: Exclusive Savings on Caribbean Cruises
Tours occur every day and last 45 minutes. During these tours you can learn a bit of the history of these caves and marvel at the limestone formations that have been naturally carved out over the years.
You might even catch a glimpse of some bats. The guides will point out several stalactite and stalagmite creations that are said to resemble various creatures and even the Virgin Mary. Be advised that there are approximately 50 stairs to enter the caves. . Also, once inside it is warm and dimly lit. All have the caves, but one, allow photographs.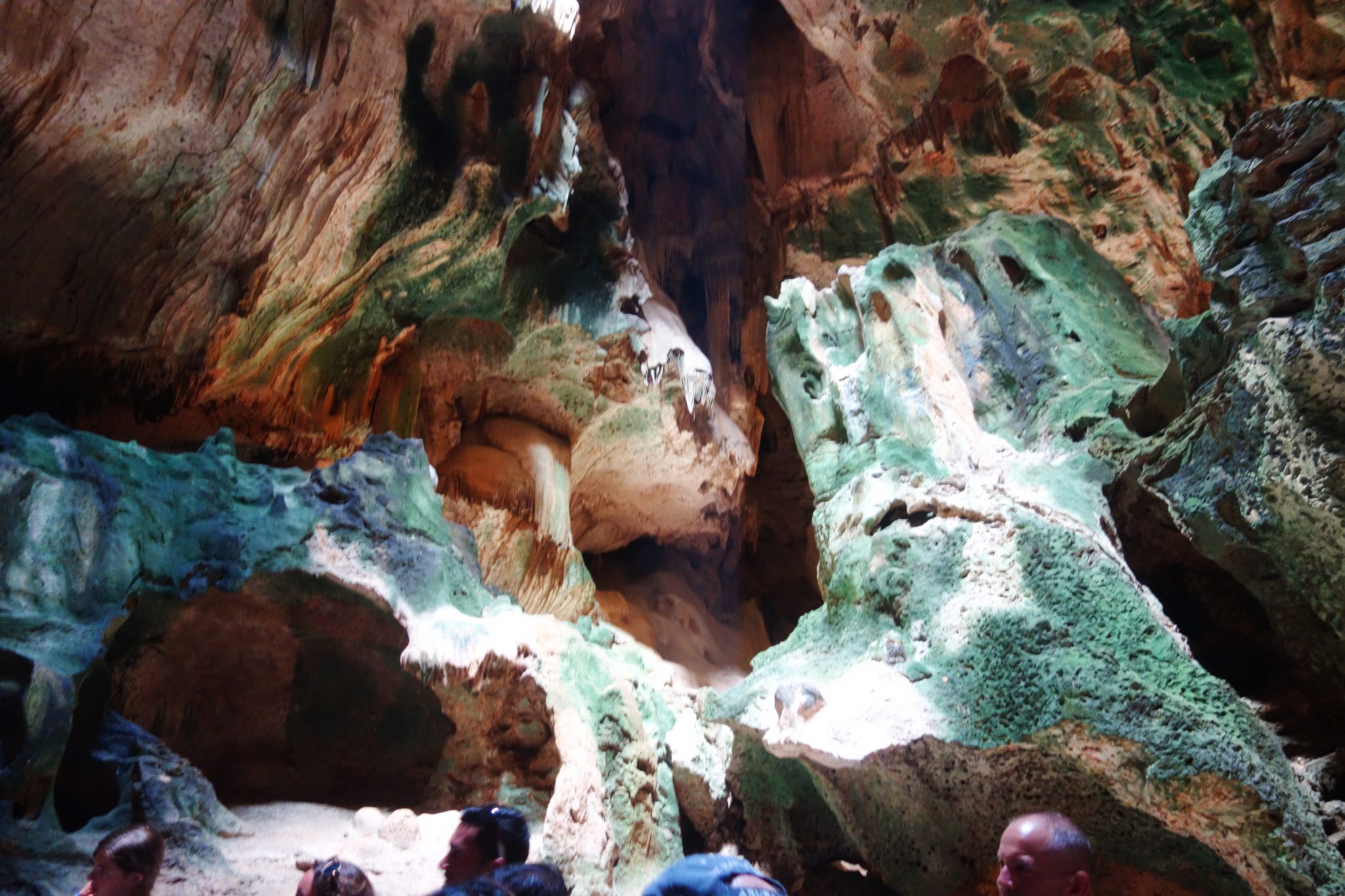 Enjoy the Beauty of Nature
Shete Boka National Park and Christoffel National Park are located adjacent to each other on the northern part of Curacao. Shete Boka, which means "seven inlets", covers approximately 6 miles. The most popular inlet is Boka Tabla. Here, you can walk down the rock-carved steps into the mouth of the cavern, walk the limestone bluffs, or just admire the crashing waves.
There are also 2 hiking trails available. Along these trails, you can explore other areas including Boka Brown where sea turtles lay their eggs and Boka Pistol where huge waves explode into the sky.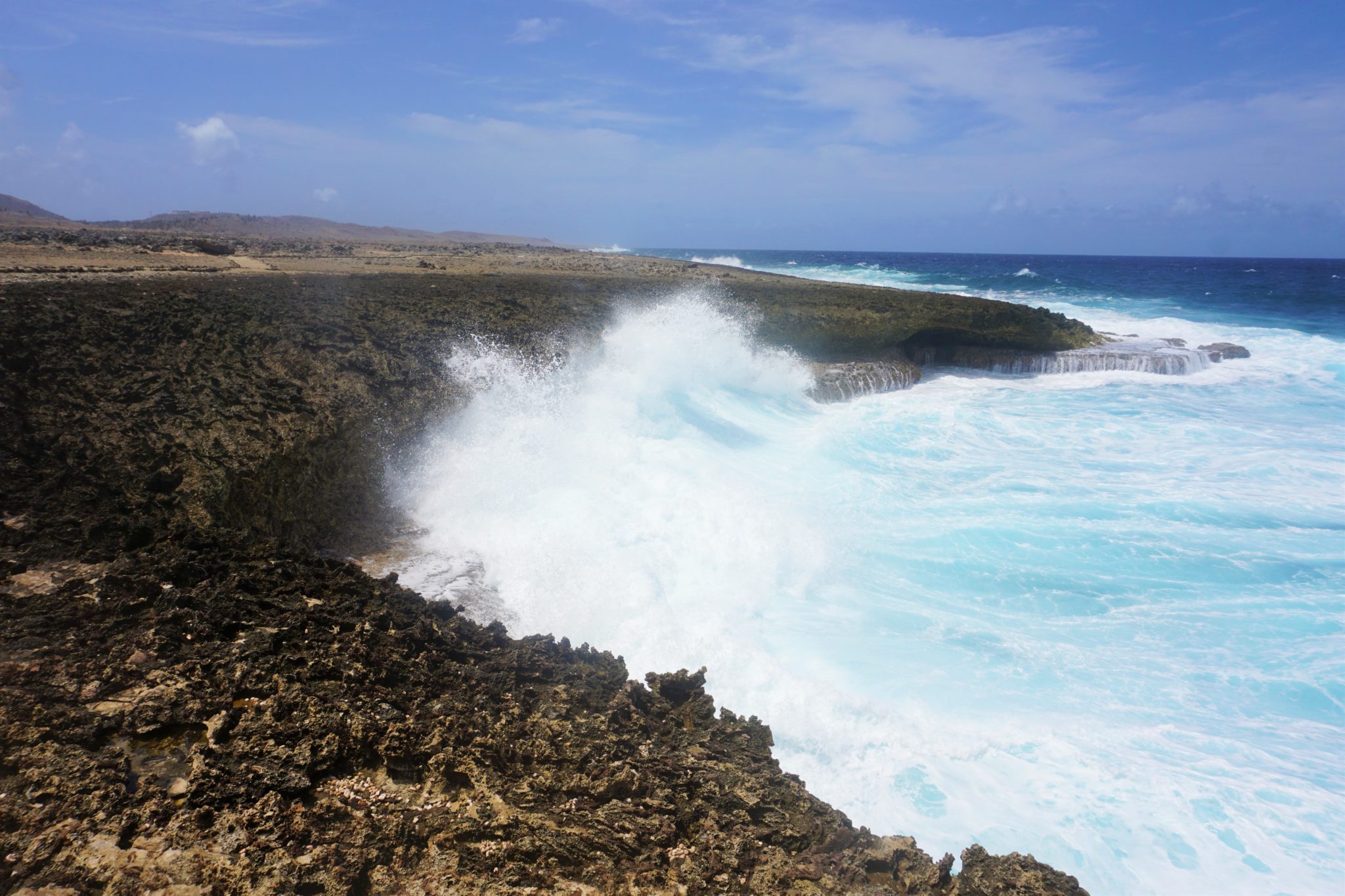 Christoffel National Park is the largest national park in Curacao. It is home to Mt. Christoffel, the island's highest point. There are 8 hiking trials that allow visitors to explore the flora and fauna or even hike to the top of Mt. Christoffel. If hiking is not your idea of a vacation, there are Jeep Tours that also visit the park.
Have Some Fun at the Sea Aquarium
The Curacao Sea Aquarium is possibly one of the biggest tourist attractions on the island. It is unique in that it maintains a natural habitat for its creatures by using an open water system and natural light. Everything in the aquarium originates from the sea surrounding the island.
Since it opened in 1984, the Sea Aquarium has continued to expand its marine exhibits and activities offered. The Aquarium area now comprises a marina, a large beach (Sea Aquarium/Mambo), a hotel, and the aquarium complex. Standard admission to the aquarium includes a dolphin show, a sea lion show, and a nurse shark action feeding. Additionally, guests can partake in a flamingo interaction, an underwater observatory, and touch tanks.

For additional fees, other activities are offered including sea lion encounters, the dolphin academy, and the Substation Curacao. With endless possibilities, there is something to keep the entire family entertained at the Sea Aquarium in Curacao.

Tour the Curacao Liqueur Factory
Landhuis Chobolobo is an old country estate built in the early 1800's that has housed the Senior Co. distillery since 1946. This distillery produces the famous Blue Curacao. So, when in Curacao, you must sample the Curacao! The Curacao Liqueur Factory offers guided tours daily for a fee. However, entrance to the actual distillery is free.
You will gain some history of the estate, observe the making of the liqueur, and sample the delicious flavors. In addition, there is also a café serving up cocktails and dishes inspired by Curacao. Likewise, there is a gift shop to purchase some of this famous liqueur. Some popular flavors include rum raisin, coffee, and chocolate. This visit will take no more than 1-2 hours, so be sure to couple this experience with some of the other great options that Curacao has to offer.
Related Post: Top Caribbean Cruise Tips
Comments
Have you visited Curacao on a cruise? What is your favorite thing to do on this colorful island? Drop us an anchor below to tell us about your experiences in Curacao.