We have just returned from 7 fun-filled nights sailing on Carnival Cruise Line's newest ship, Carnival Panorama. This third Vista-class ship is home to 15 decks of food, activities, entertainment, and plenty of good times. This Mexican Riviera cruise on Carnival Panorama stops at three ports of call including Cabo San Lucas, Mazatlan, and Puerto Vallarta. We detail every moment of this West Coast cruise in our signature, day-by-day Carnival Panorama Mexican Riviera Cruise Review.


Carnival Panorama Mexican Riviera Cruise Review
Carnival Panorama Ship Overview
Carnival Panorama is currently Carnival Cruise Line's largest vessel. This mega-ship holds approximately 4,000 passengers and includes several familiar favorites found throughout the fleet. On the outdoor decks, kids of all ages will enjoy the Carnival Waterworks, which includes two waterslides and a children's splash area. For adults, the Serenity Retreat is a 21+ area with plenty of loungers, day beds, and an exclusive bar serving up signature sangrias.
Active cruisers will enjoy the various challenges, which include a ropes course, the SkyRide aerial bikes, and the brand new SkyZone trampoline park. There are also other games such as pool and 9 holes of mini-golf, an outdoor SkyFitness workout zone, and a full-length basketball court.
Inside, the ship features an upper and lower promenade. These decks are home to the entertainment venues including the Limelight Lounge, which doubles as the Punchliner Comedy Club. There is also live music, trivia, and other Fun Squad events that occur in the Ocean Plaza as well as the ship's Atrium. Most evenings of the cruise, the Liquid Lounge, the ship's main theater, is home to one of Carnival's signature Playlist Productions. For Carnival Panorama, there are two exclusive shows, Broadway Beats and Rock Revolution, along with two other productions.
The ship also features a variety of casual dining options. We were thoroughly impressed with the eateries including the BlueIguana Cantina and Guy's Burger Joint. You also can't go wrong with the hot and fresh 24 hour pizza or the custom sandwich creations at the Carnival Deli. Not to mention, there is also the complimentary lunch at Mongolian Wok and the Captain's Pasta Bar. The main dining room did not disappoint either, especially the Sea Day Brunch.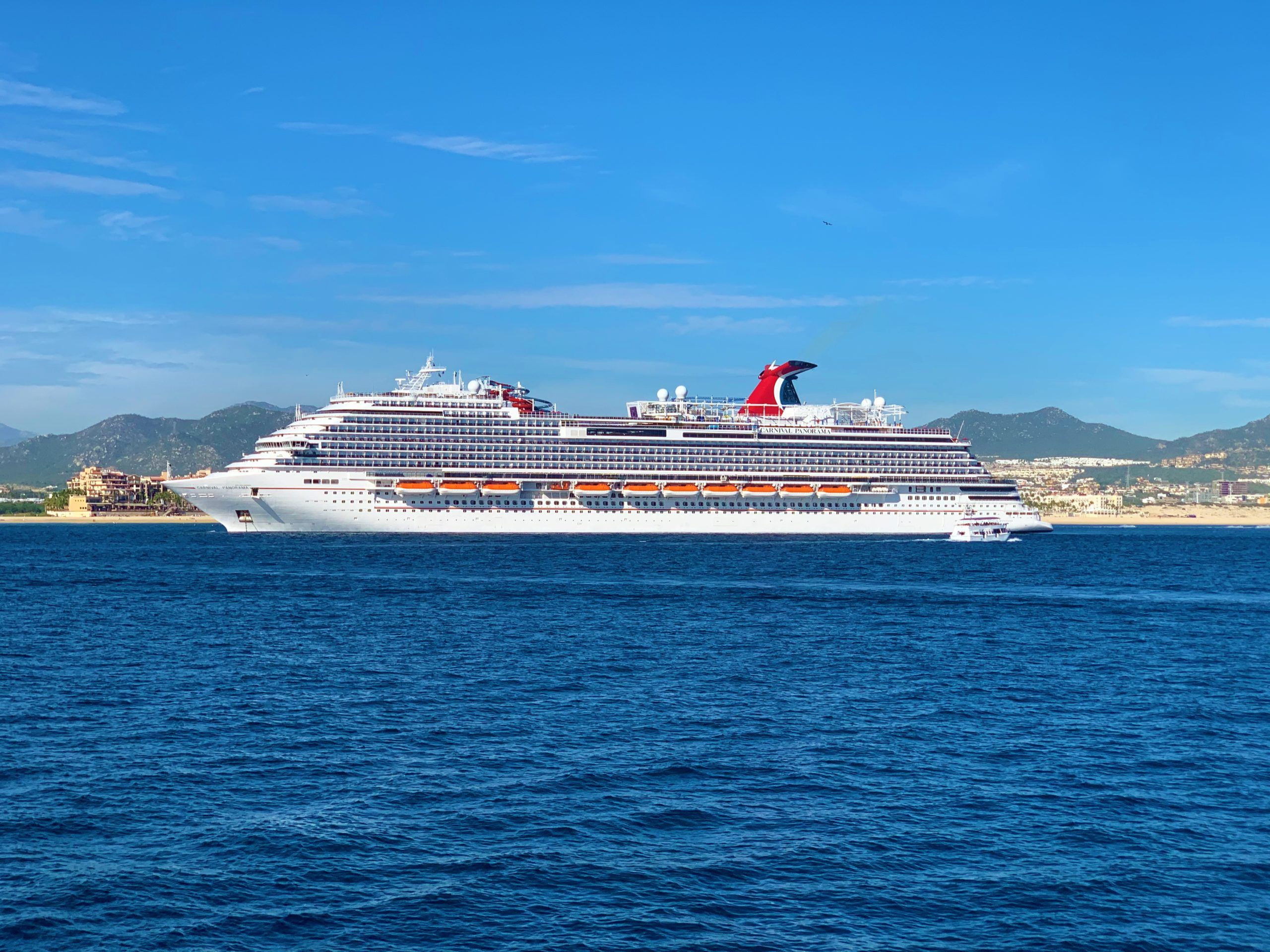 For those who have never sailed on a Carnival Cruise Line ship, we can't think of a better vessel to test out the cruise line. For those frequent Carnival cruisers, you will feel right at home on this latest cruise ship. Overall, Carnival Panorama offered a memorable and action packed cruise filled with great service, amenities, and ports of call. While it was our first Carnival cruise, it certainly will not be our last!
Related Post: Top Things to do on Carnival Panorama
Carnival Panorama Mexican Riviera Cruise Review – Day 1
Trying to Get Onboard
As we were traveling from the East Coast, we flew to California two nights before the cruise. Spending a full-day exploring the shoreline and visiting some family in the area on Friday, we made sure that we were still up and ready early to board the ship on Saturday morning. Our Uber picked us up at the Hyatt Centric Hotel in Long Beach around 10 am for the short drive over to the port.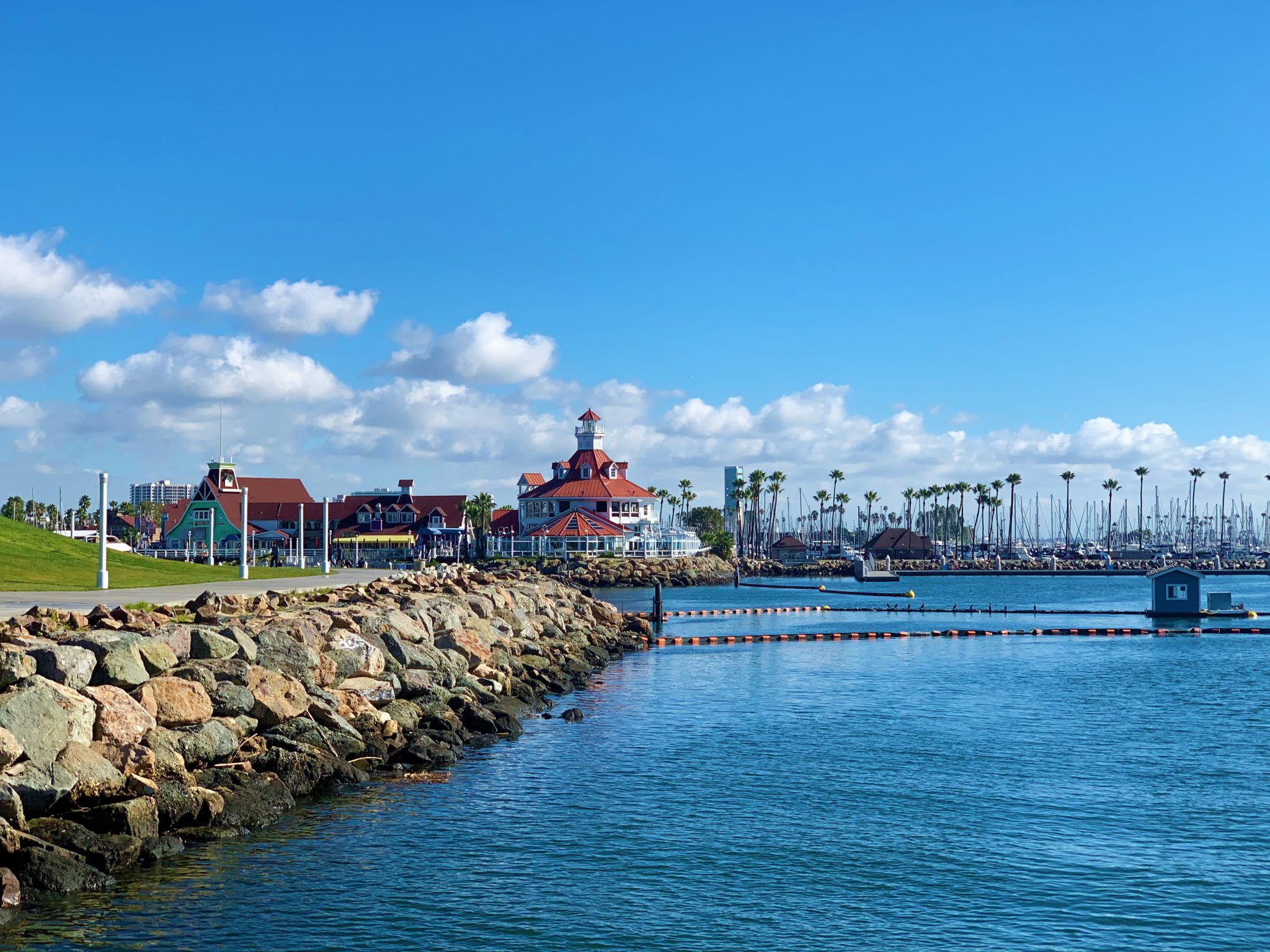 Our first hint that embarkation would not be so smooth was the traffic right next to the parking garage.
By now, it was around 10:30 am and there were many cruisers who had disembarked the ship still clustered around the terminal area. Carnival Cruise Line had provided us with priority embarkation for this trip, meaning we could board ahead of our scheduled 1:30 pm time. While we had the email confirmation, it was not in the system at the terminal apparently. So, it took several conversations with a number of (not so friendly) gate agents to finally allow us to check in before our assigned time and wait in the Captain's Lounge with other priority cruisers to board the ship once cleared.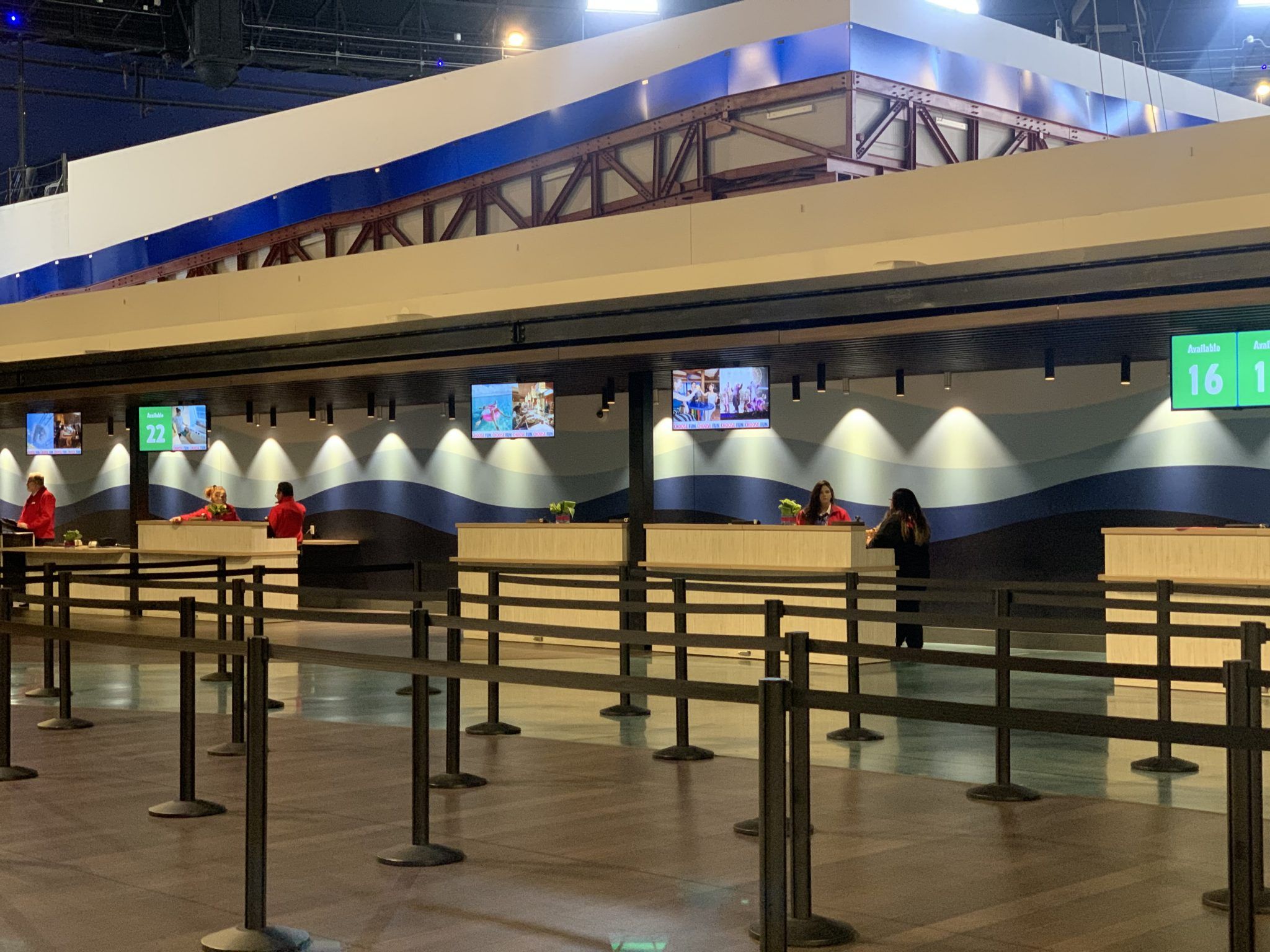 The ship did not begin letting priority cruisers on until about 11:30 am. This was not well organized either, and the barely audible PA system made it even more difficult. Once our priority group was called, we collected our bags and made the trek up the ramp to step foot on this brand new ship!
Our Usual Self-Guided Ship Tour
If you have been reading our reviews for a while, you know that on the first day of our cruise, we always explore the entire ship. So, we headed up to Deck 15 forward to begin our typical photo and video routine. This is the adult's only Serenity Deck. From there, we made our way down to the other outdoor decks, including the WaterWorks, SportSquare, and the Beach and Tides pools. We were also able to see the Thermal Suite and fitness center before they were crowded with other cruisers.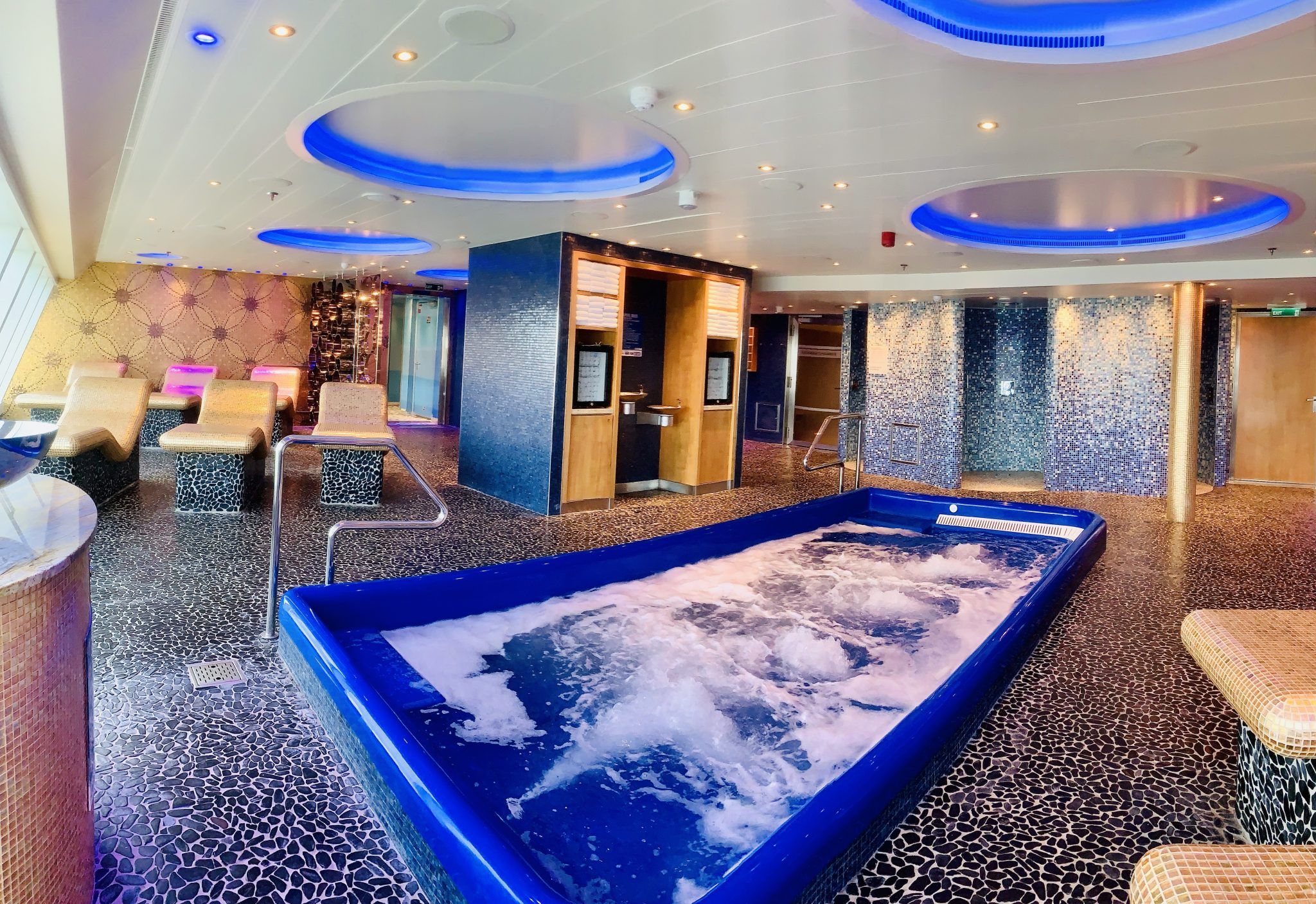 Once we made our way inside to the lower decks, the crowds were beginning to fill-in the public areas; however, we spent close to two hours capturing a variety of images and footage from various decks.
Since the rooms weren't ready yet, we stopped at Guy's Pig and Anchor Smokehouse for lunch a little before 1:30 pm. This specialty restaurant is open for a complimentary buffet lunch on sea days. The menu items consisted of a few different meats and sides. While the food was good, there was not much selection for the Princess. Hence, we opted not to try the up-charge venue for dinner on this trip.
Finishing up lunch, we headed up to our stateroom. We stayed in cabin 8387, which was located further aft than we realized when booking. As far as cabins go, it was a pretty basic balcony cabin with rather plain decor. We thought the storage was average, and the size was on par with other contemporary cruise lines. Although, we were not fans of the balcony door, which included a large window and pull out door versus a sliding door like other brands.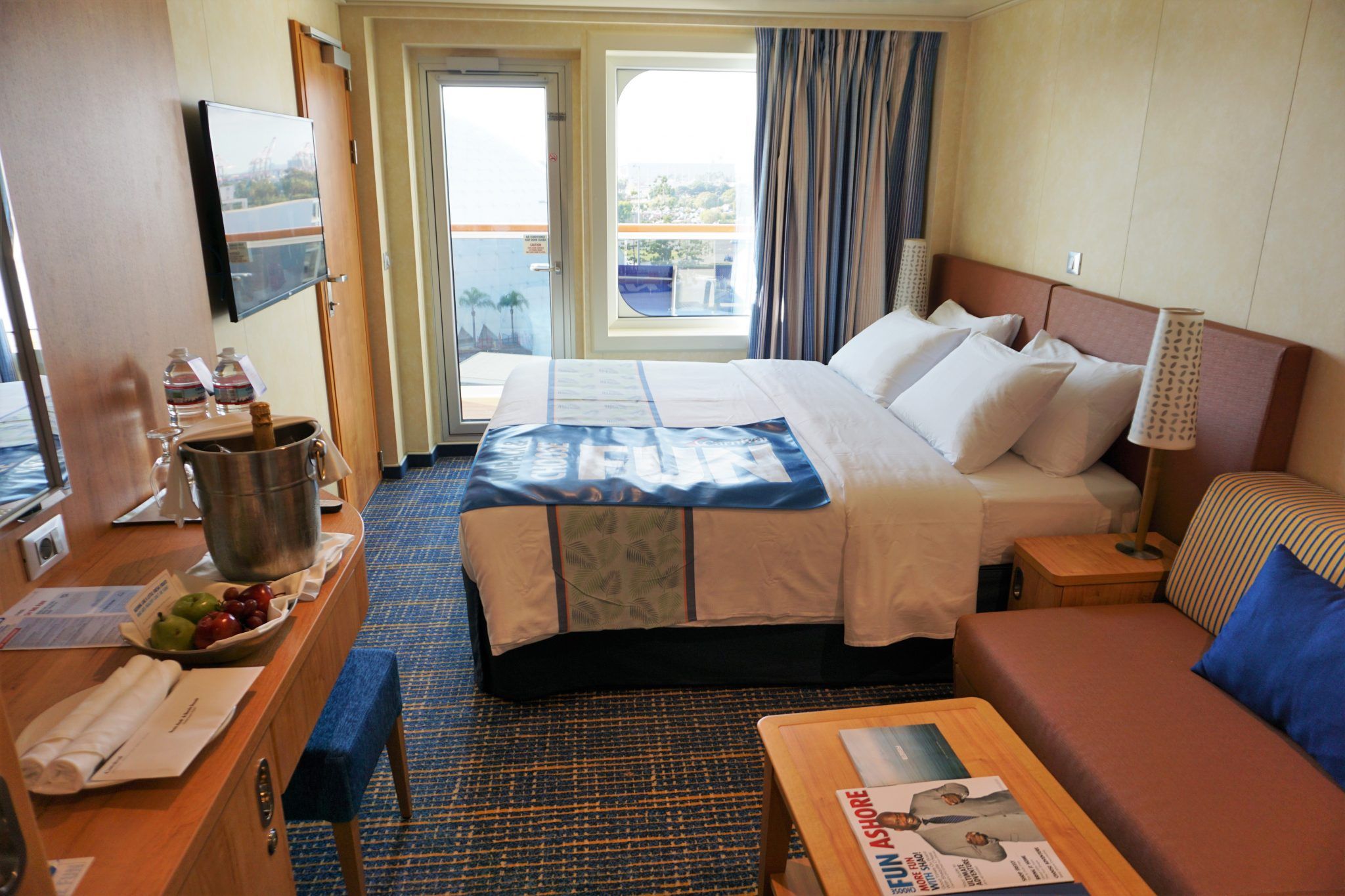 As luck would have it, all three pieces of our luggage had already been delivered. That meant that after we finished our cabin tour, we were able to unpack and get the room situated for our 7-night voyage. This essentially took us to Muster.
Our meeting point for the muster drill was the Limelight Lounge on Deck 4. Muster felt like it took forever, lasting close to 45 minutes. It felt very redundant, with the same messages and advisories repeated over and over again.
What's it Called?
By now, it was 4:15 pm and time to get this cruise started! There was no better way to kick off this trip than with the sail away party on the pool deck.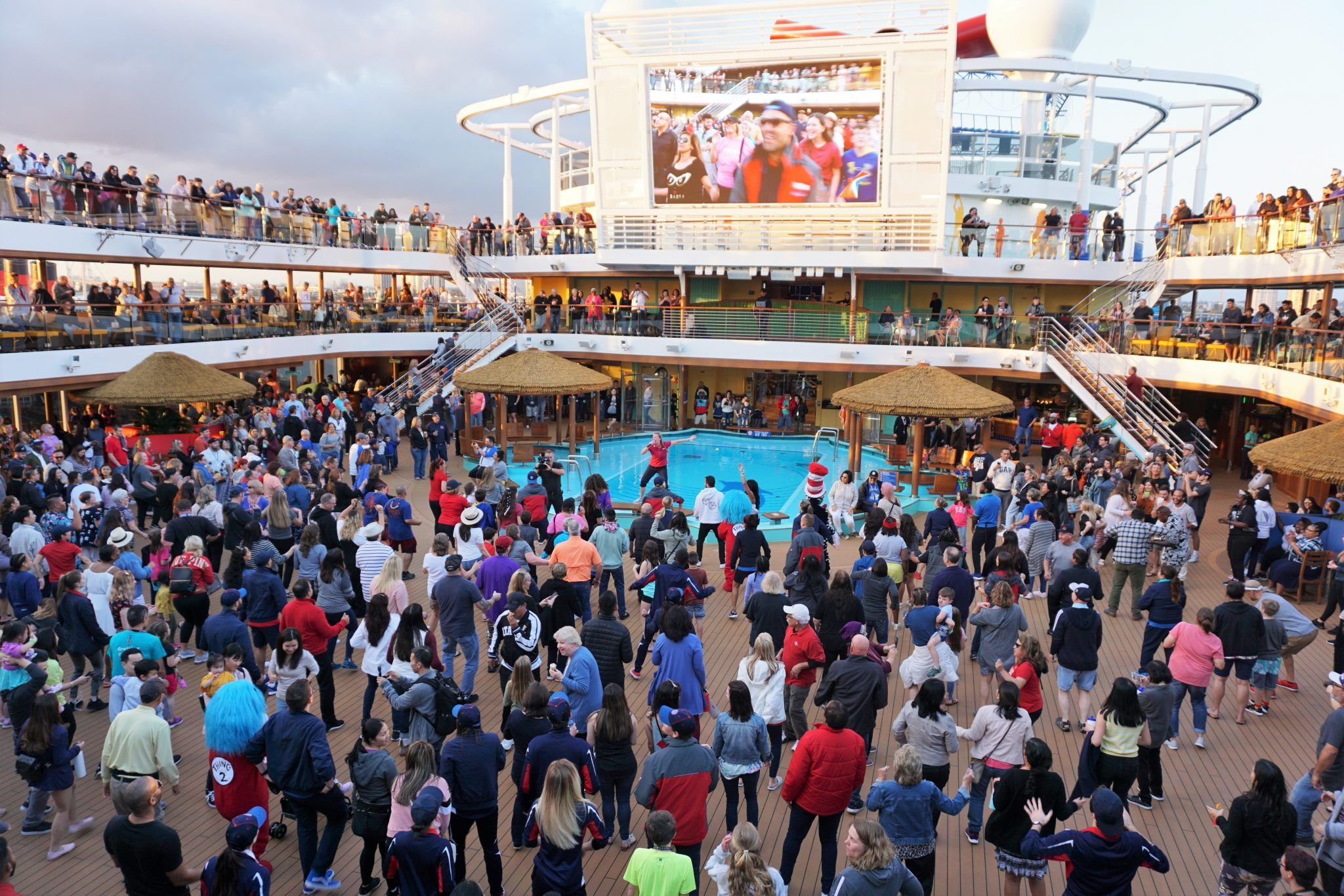 One thing we noted is that Carnival cruisers really do "choose fun". Hosted by the cruise director Emma, this sail away party was one of the liveliest and most crowded that we have seen on a cruise ship in a while. We were so busy enjoying the festivities that we forgot to get a sail away drink!
Oh well, we would have to wait for dinner for our first adult beverage of the trip. Speaking of dinner, we were initially wait-listed but later confirmed for the early dinner time. Typically, early dinner on this ship is 5:45 pm. So, we were confused to find that we were assigned a dining time of 5:15 pm?!?! That is a bit early, even for us.
During our travels earlier in the day, we stopped by the Vista restaurant to speak with the hostess. She assured us that as long as we showed up before 6 pm, we would have our table.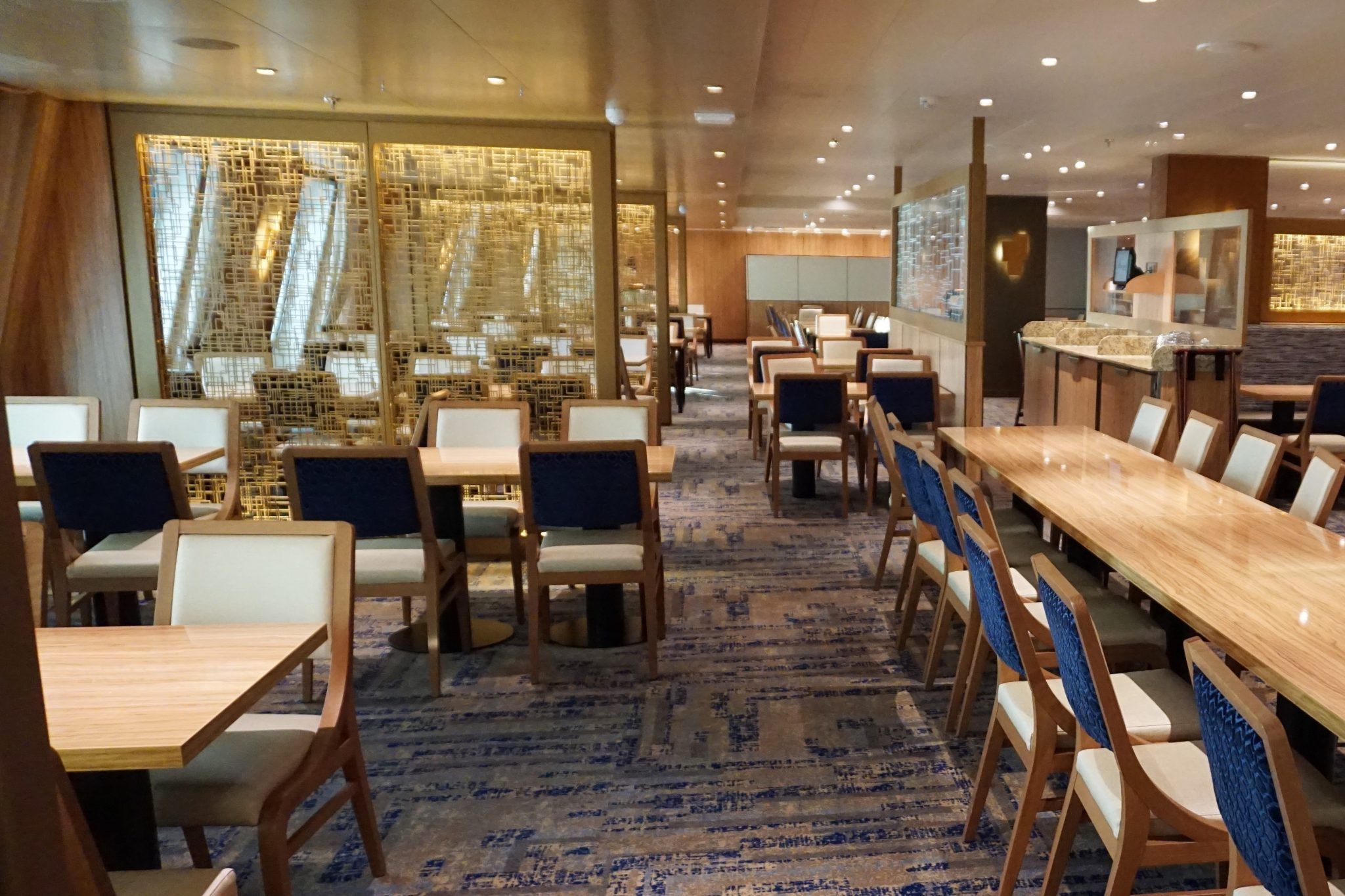 So, it was a quick costume change and to the dining room with a few minutes to spare.
"Showtime" on Carnival Panorama
While the Horizon Restaurant on Deck 3 is normally the dining room for traditional dining, we were seated in the Vista Restaurant, Deck 4, table 644. Our waitress Winnie and assistant waiters Putra and Sebastian were a great team.
For our first meal, we gave the night 1 menu a thorough test.
I went with some Asian-inspired options, including pot stickers and calamari for starters. I really liked the sweet and sour shrimp entree and was equally won over by the line's signature chocolate cake. The wife sampled the chicken quesadilla and vegetable lasagna. While it was only our first dinner, we both agreed the main dining room was just as good, if not slightly better, than other contemporary cruise lines. The food was served hot and the service was on point.
After witnessing "Showtime", where the waiters take a five minute dance break, we were out of the restaurant by 7:15 pm. Again, this was a very well-paced dinner for the first night of any cruise.
Tonight, the Princess had a laundry list of things to do and see. The first of which was the 8:30 pm adult comedy show. With some time to kill, we grabbed our first round of the drink around the ship from Piano Bar 88. Here, there was some light music being played. It was a pleasant way to relax and unwind for a few minutes after a rather busy couple of days.
A Busy First Night Onboard
We headed to the Limelight Lounge on Deck 4 around 8 pm for the first adult comedy show of the cruise. Essentially, all the night time entertainment is covered in the cruise fare on Carnival Cruise ships.
It was a half hour before showtime, and the venue was already pretty full. We were able to get seats, but they were not the best. The seating set-up in this venue is not very well designed. It is nearly impossible to get to some of the seats gracefully. The comedian for this set was Azeem. He would end up being our favorite of the four. Although, most of his set was making fun of people in the audience. Luckily, we were not within his sight.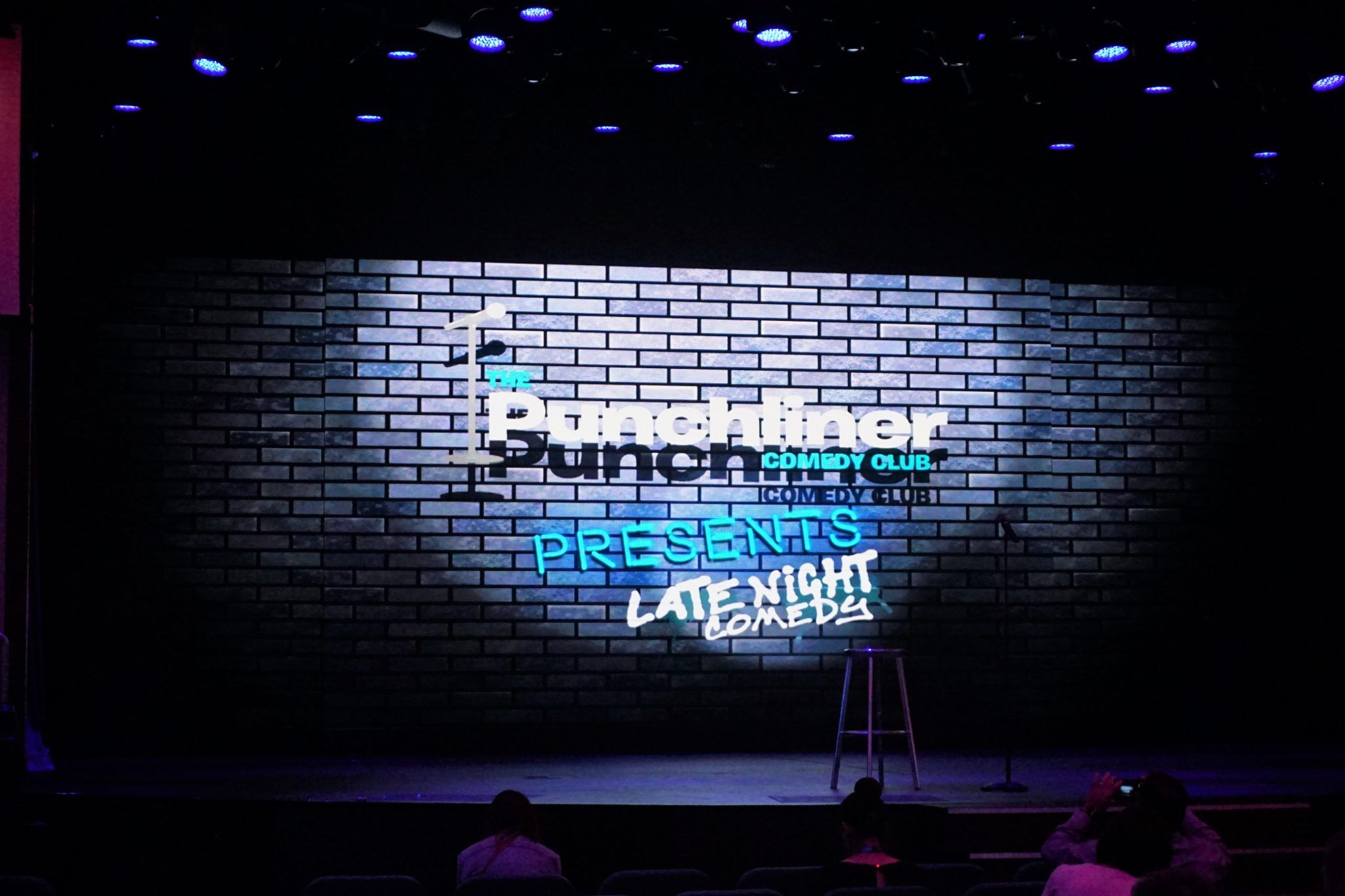 Following his show, we headed forward towards the theater. Along the way, we browsed the shops and were able to purchase an inaugural season t-shirt. Sadly, we were told that there were no more ornaments in stock. Later on in the cruise, we were able to score one luckily.
With our purchases in tow, we were to the theater around 9:30 pm while Bingo was wrapping up. The Liquid Lounge on Decks 4 and 5 is the main theater. For a ship of this size, it is rather small and also poorly designed. It certainly lacked our popular portside viewing area. Throughout the week, we would struggle to find a good vantage point.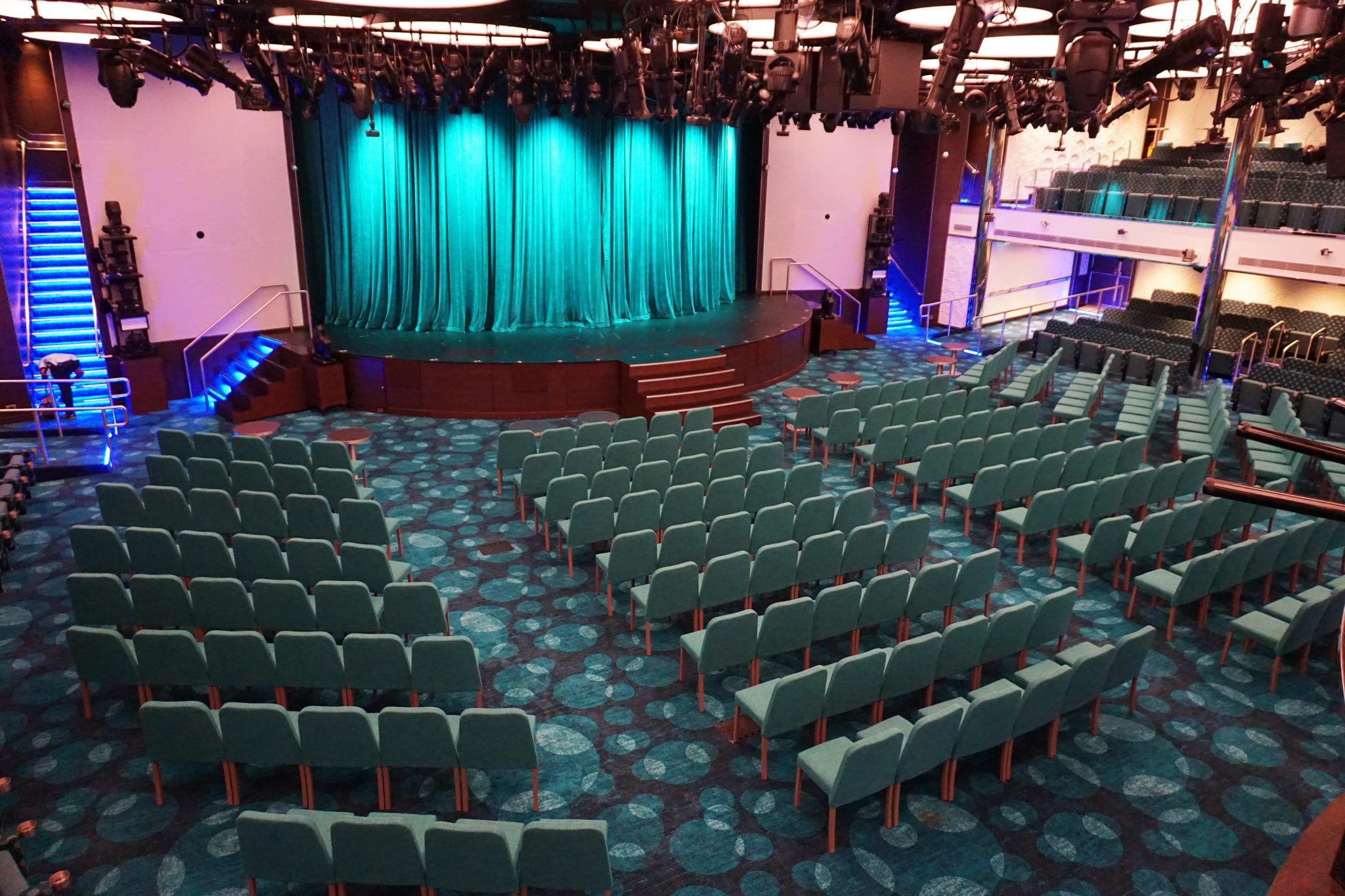 Starting late, the Welcome Aboard show consisted of the typical cruise director introductions. There were also a few numbers from the ship's singers and dancers with a wide range of songs from Van Halen to Bruno Mars and John Legend.
Following the Welcome Aboard show, most of the crowd strolled to the Atrium for Rock the Promenade, also hosted by Emma. While not as well attended as the earlier sail away party, there were certainly plenty of people out on the dance floor. We ended the night with a round of drinks and the late night comedy show in the theater featuring Azeem and Tommy Drake each doing about a 20 minute set.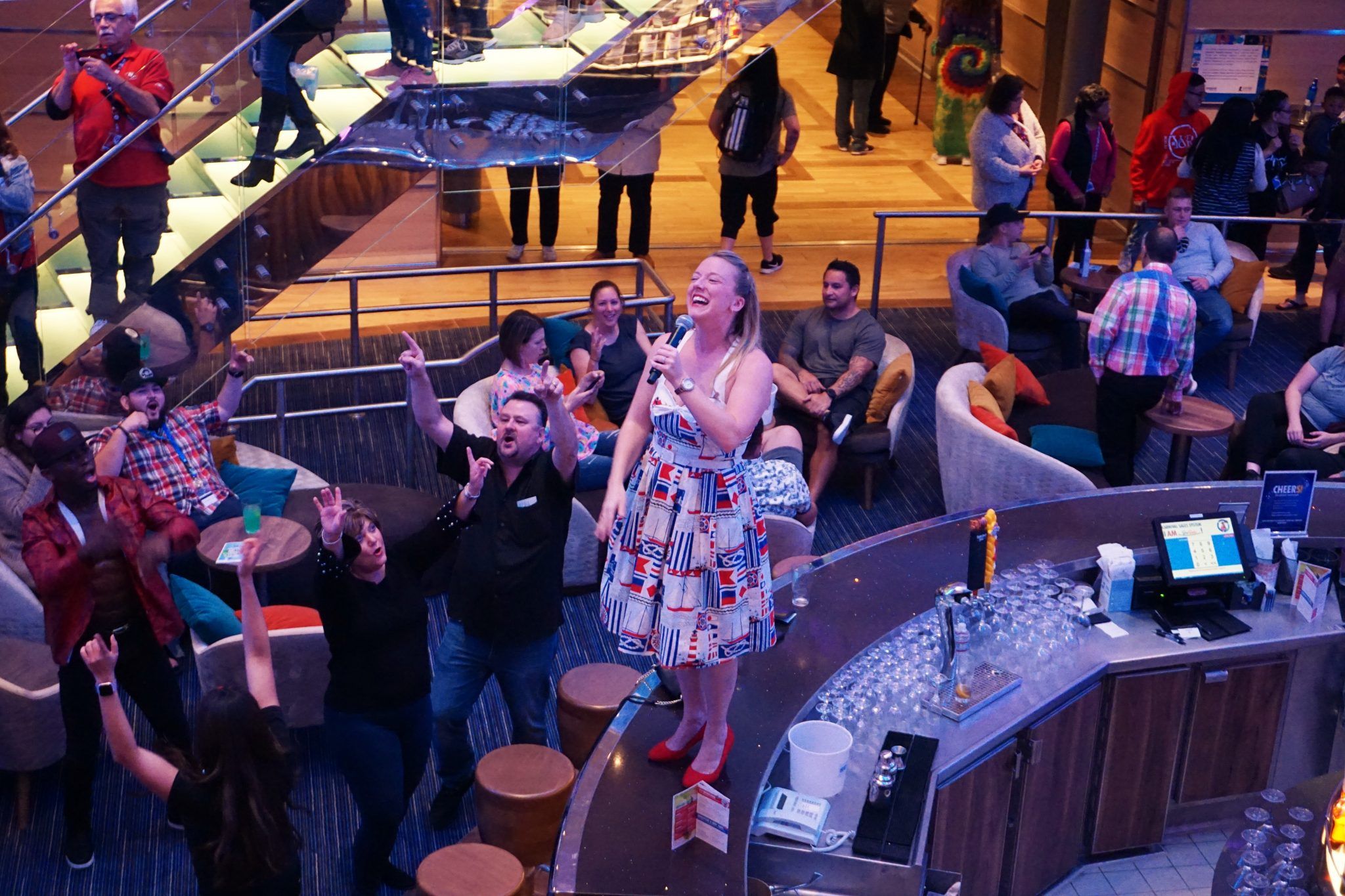 It was time to call it a night. We returned to our stateroom by 12:30 am to find our first towel animal of the cruise. He would not be the last!
Carnival Panorama Mexican Riviera Cruise Review – Day 2
A Morning At Sea
Our second day of the cruise was a sea day. We planned on trying out some of the onboard amenities today. Our bodies were still adjusting to the time zone changes, so we were up before 7 am. I spent about 90 minutes getting some photos and video of indoor venues that we were not able to capture on Day 1. Returning with coffee and changing up, we were off by 9 am.
There are so many casual dining options on this ship. Of course, it was the Princess' goal to try them all. For this day, we opted for the breakfast burritos at the BlueIguana Cantina. These are made to order, and we gave them a big thumbs up. So far, the food was certainly winning us over.
After breakfast, we played a round of mini-golf. Yes, we are big kids at heart. The course is scattered throughout the sports deck, with a few holes even located on the deck above. We don't have to get into the details of who won this round!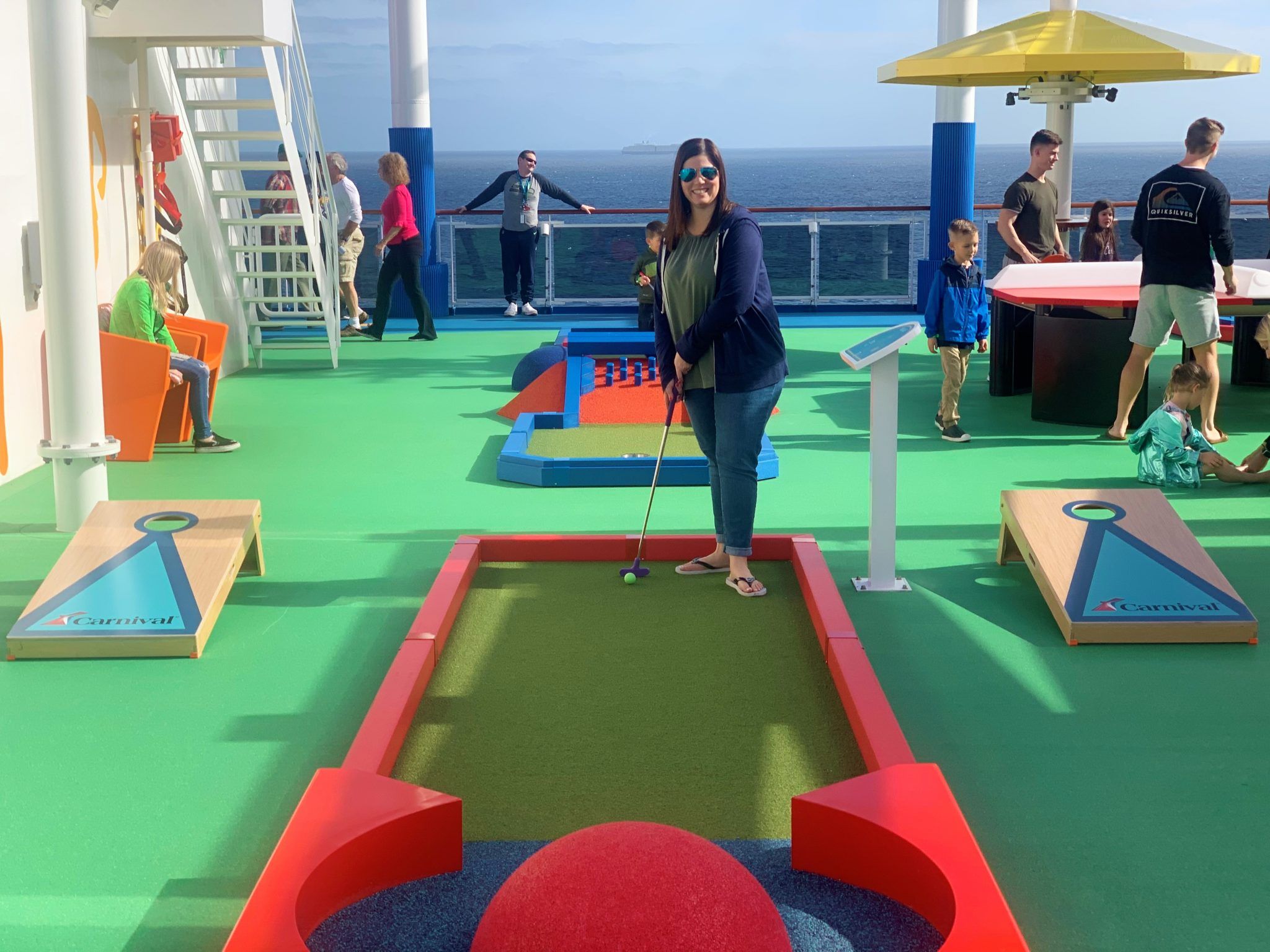 Finishing the game around 10:30 am, we grabbed some seats at the Serenity deck. To our surprise, we were able to get a day bed. The area was moderately busy, as the weather was sunny but a bit too chilly for tanning. As the morning progressed, it did get noticeably warmer.
Along with doing some social media and relaxing, we also grabbed a round of drinks from the Serenity Bar. Another location crossed-off our "drink around the ship".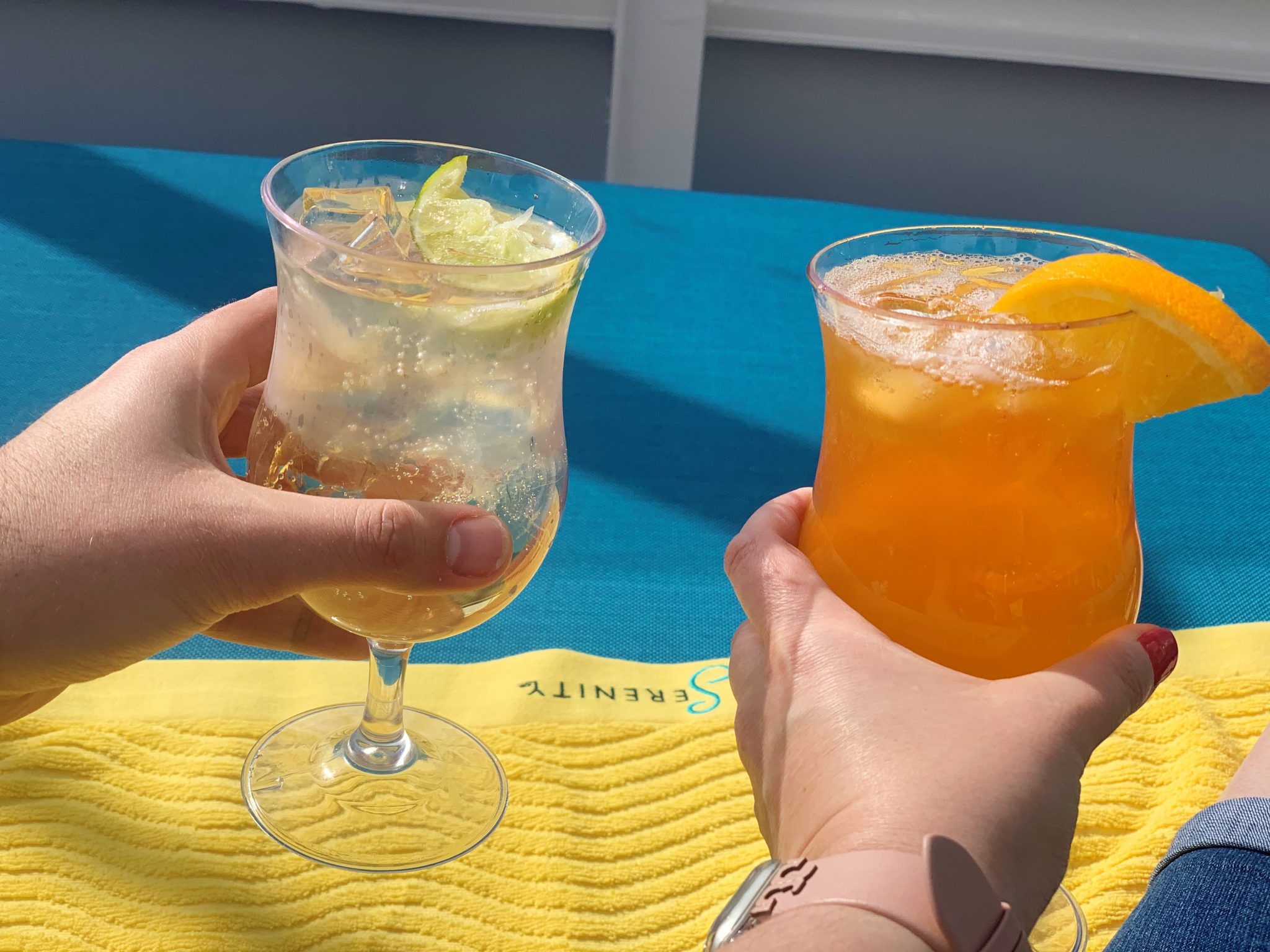 A Sea Day Afternoon
Around 12:30 pm, we returned to the sports deck to try out the ropes course. The Princess was not feeling it today, so I braved the course alone. While it is certainly a nice complimentary addition, it does not compare to the ropes courses on Norwegian Cruise Line ships.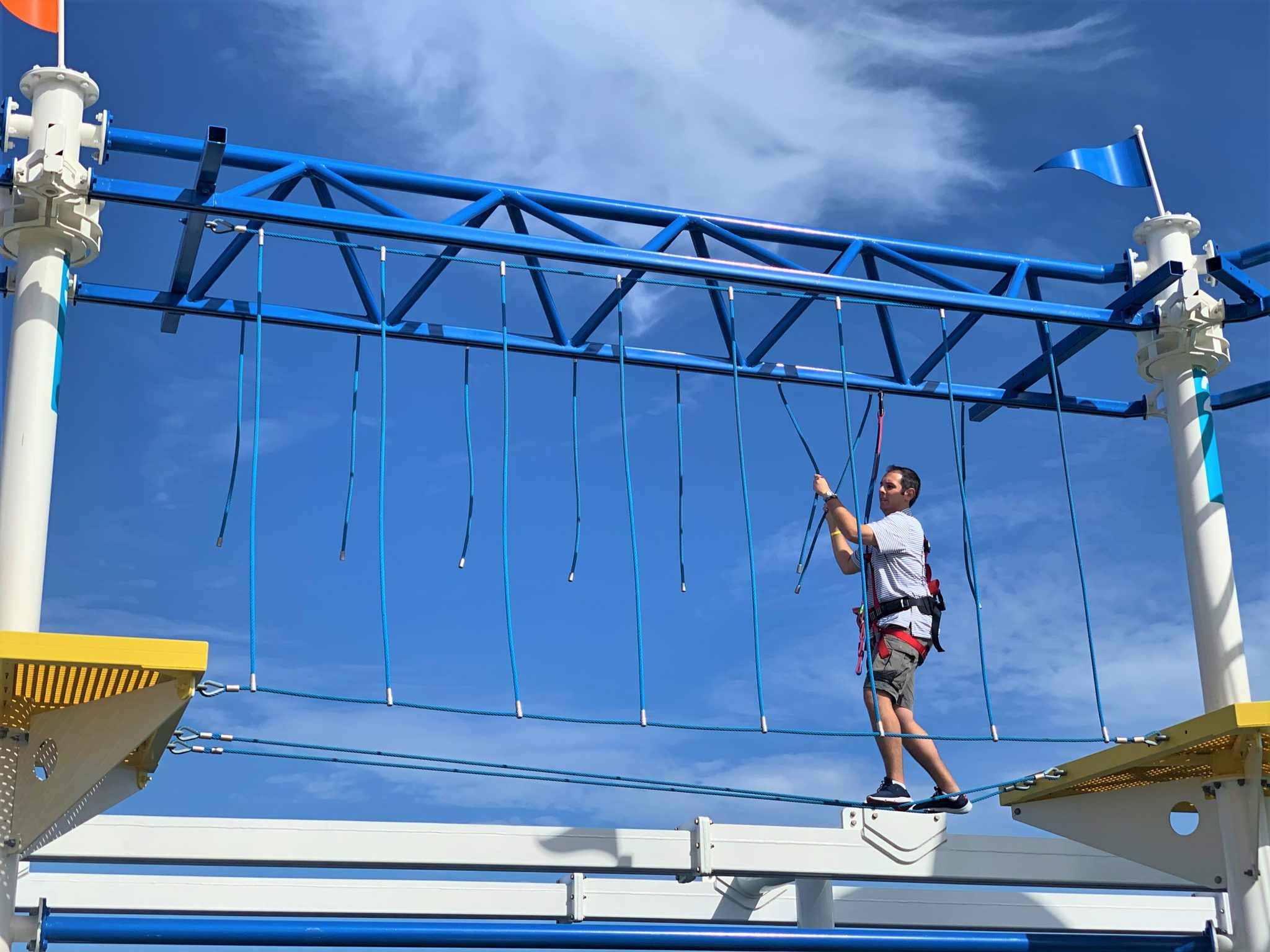 Finishing up my adventures, we caught the very end of the Lip Sync Battle Tryouts on the pool deck. Again, kudos to our fellow Carnival cruisers who went all out to get one of the two spots to be featured in the Lip Sync Battle competition on the final night of the cruise.
Next, the Princess made the executive decision that it was time for lunch. For this meal, she wanted to try another complimentary casual option, JiJi Asian Kitchen. This noodle bar is also known as the Mongolian Wok, which is complimentary for lunch. There was a 20 minute wait for this popular option, so we grabbed drinks from the Tides Bar in the meantime.
Lunch at the restaurant consisted of custom noodle dishes served hot and cooked to perfection. Afterwards, we made a quick pit stop at our room to grab our gear and found some quiet space on the deck 5 outdoor promenade for a couple of hours. I may have snagged a Parched Pig IPA during this "working session".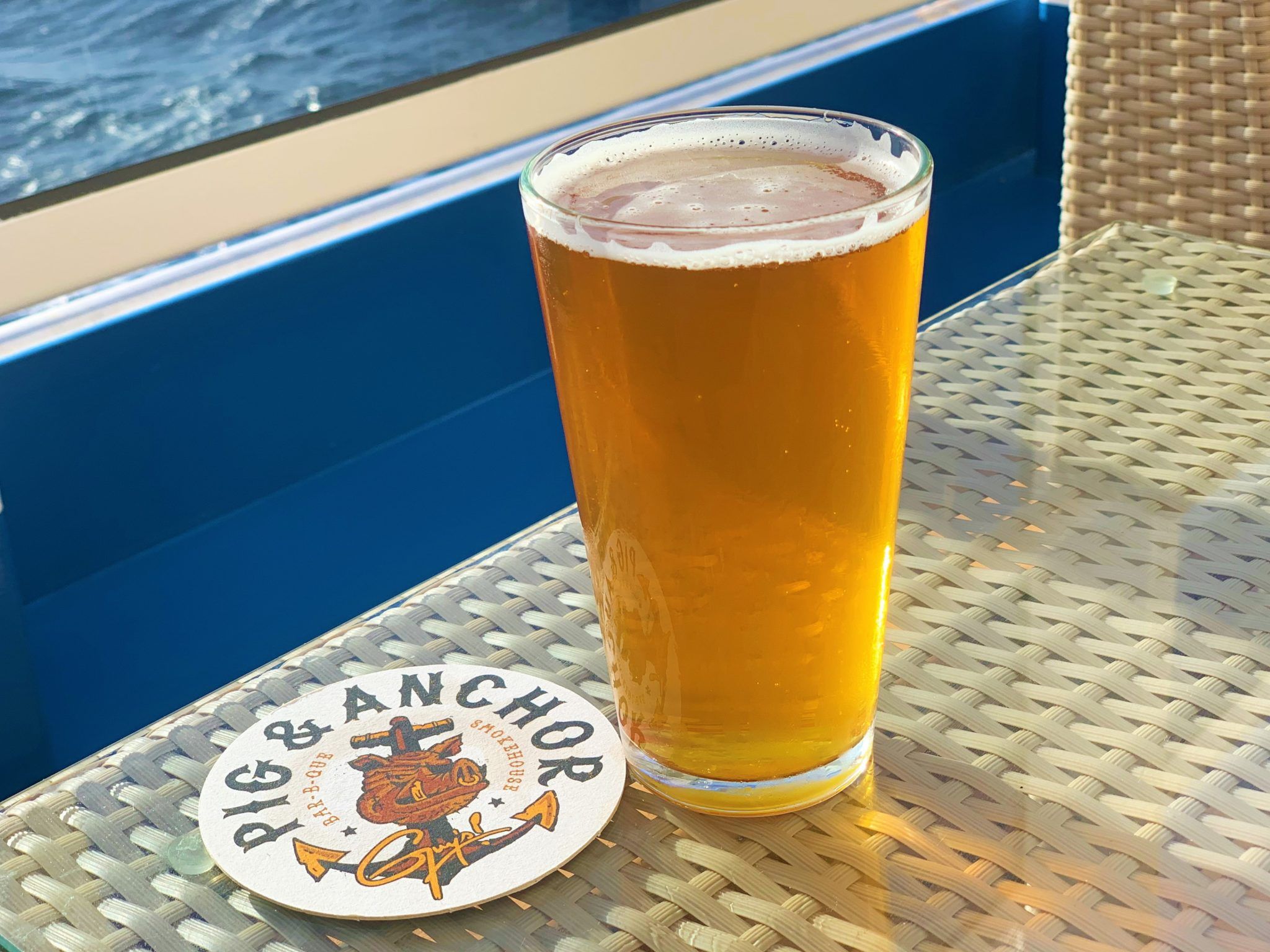 As this was the first elegant night of the cruise, we returned to the room around 4:45 pm to change for dinner and pictures. Tonight, we had reservations at the steakhouse, Fahrenheit 555, at 6:30 pm.
Dinner and a Few Shows
Ready by 5:45 pm, we visited three photo stations located on decks 4 and 5 for portraits. Plenty of fellow cruisers were dressed up tonight. So, you certainly will not be out of place if you like to dress up for "formal nights" on a cruise.
We arrived a few minutes early for our reservation and were promptly seated at a table for two. Dinner here was a mixed-bag.
It started off strong with solid appetizers including the smoked oysters and shrimp cocktail. I did the surf and turf for my entree and thought the steak was pretty average. The lobster was well prepared, but the serving size felt small for a specialty restaurant. The sides were on par with the main dining room, and the desserts were average as well. We still think that the best cruise ship steakhouse is Fine Cut on Celebrity Edge. Dinner took nearly two hours tonight, and the service was rather inconsistent.
This meant that we had just enough time to find some obstructed view seats at the 8:30 pm adult comedy show for the second comedy Tommy Drake. While he certainly had a more polished set than Azeem, he was not that funny with several of his jokes being a bit predictable and corny. Although, his opening line was perhaps one of the funniest of the cruise. We won't spoil the laughs!
Next, it was a mad dash to the main theater for the first Playlist Production show, Broadway Beats. An announcement was made prior to showtime that due to a cast member injury, the show's arrangement was going to be modified for this performance. Even so, we both felt this show was not up to par with other main theater entertainment found on some of the world's largest cruise ships.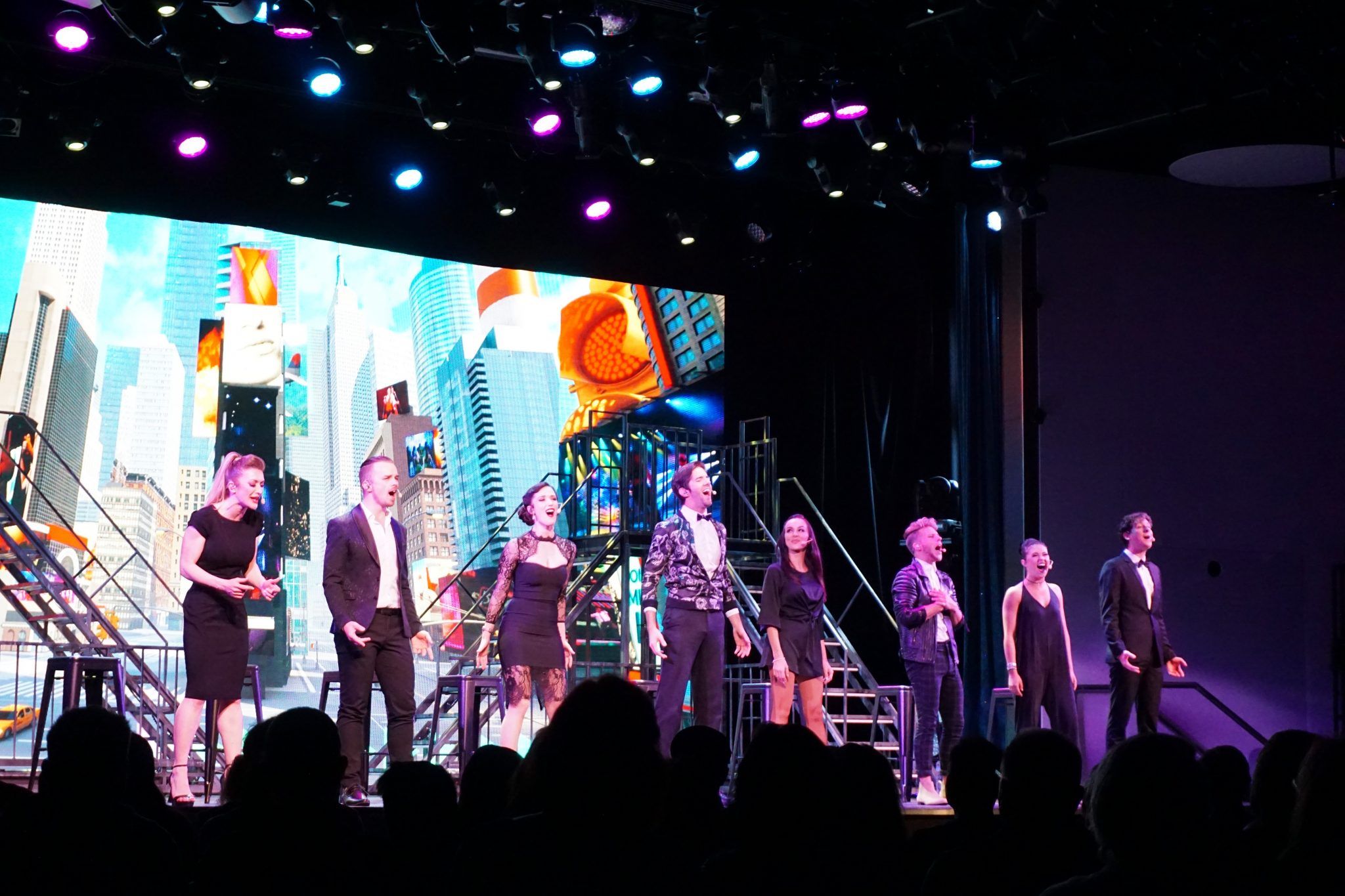 Ending a little after 10 pm, we stopped by the Havana Bar for some mojitos and live music. The drinks from this bar's signature menu were a bit of a letdown as was the music, so we stayed until 11 pm and then called it a night.
Tomorrow was our first port of call in Cabo San Lucas, and we needed to be prepared for an action packed day.


Carnival Panorama Mexican Riviera Cruise Review – Day 3
Preparing for Cabo San Lucas
Our first port of call was a tender at Cabo San Lucas. For that reason, we booked a shore excursion through Carnival Cruise Line that included a whale watching tour and cruise past the famous arch, "Whale Watching and Coastal Cruise". Our ship was scheduled to arrive for 10 am, with our tour meeting at 11 am.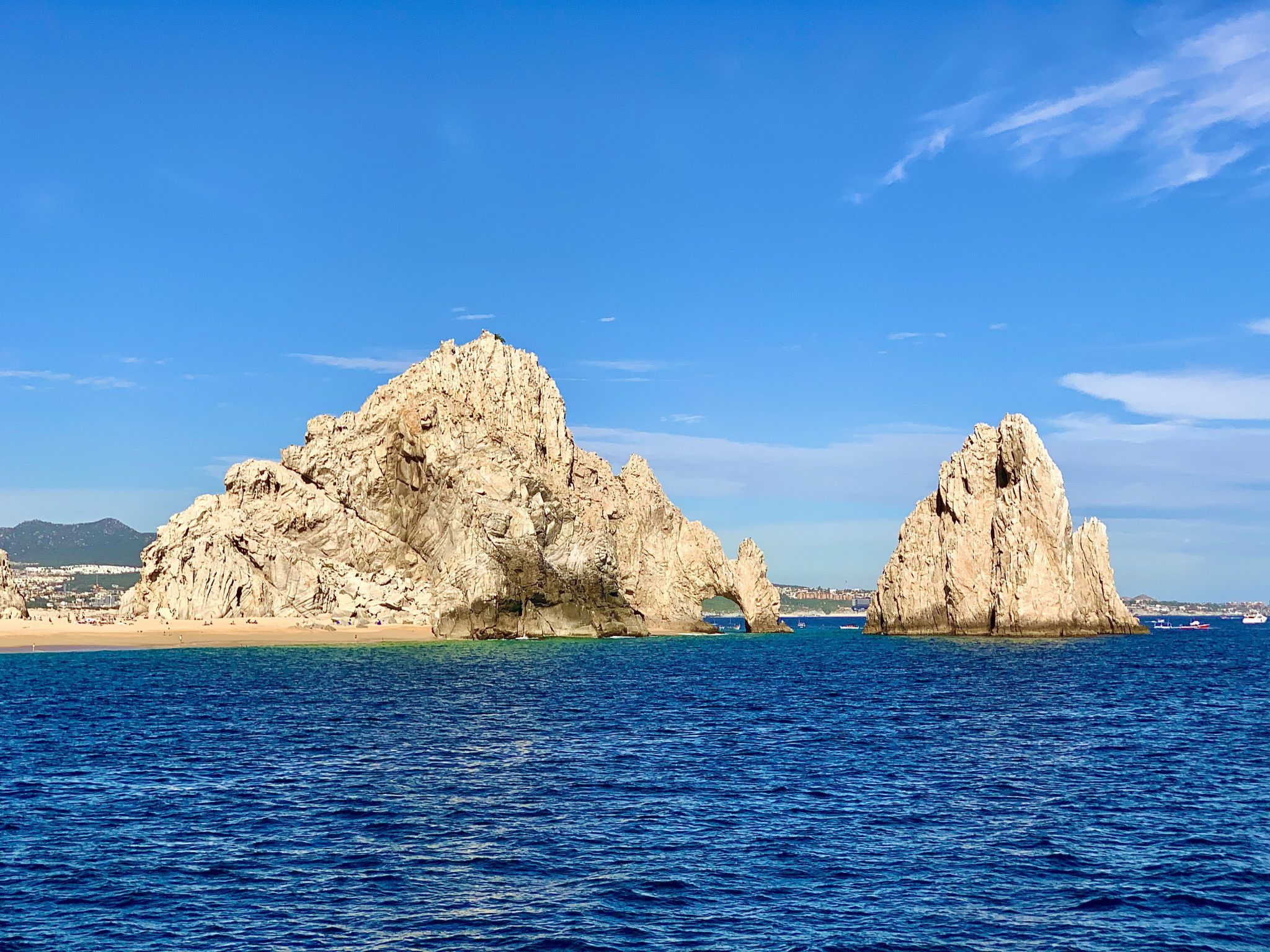 For today's breakfast, the Princess wanted to try the main dining room. So, we arranged our morning routines to make sure we were down to the Vista restaurant on deck 3 for 9 am.
There was a short line, but it moved quickly. Within five minutes, I had a cup of coffee in hand, and we were escorted to a table for two near the aft of the ship. From here, we could see the rock formations that are a landmark of this port of call. Breakfast was similar to what you would find on other cruise lines. Though, the food preparation, timing, and service were all exquisite.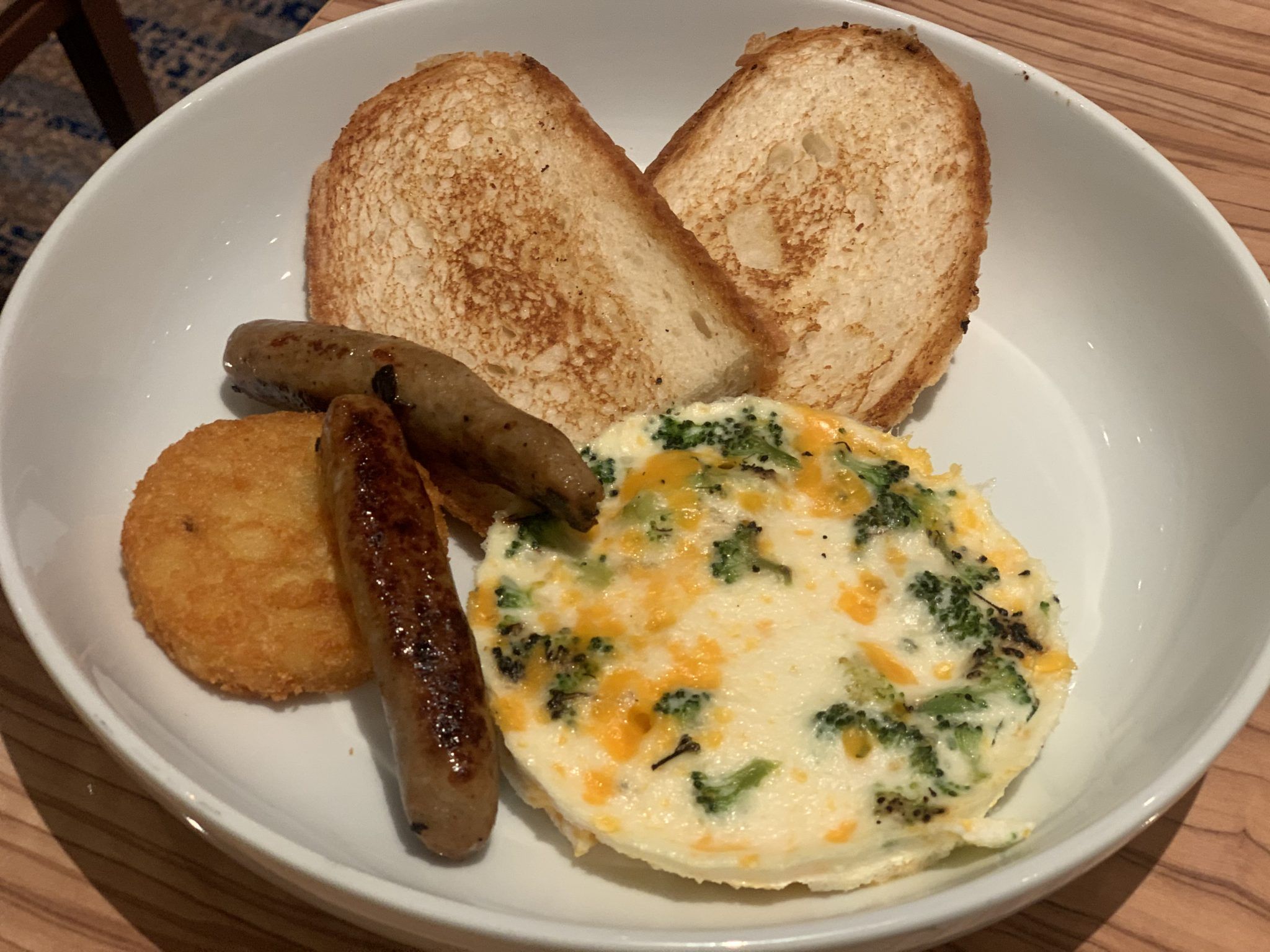 After breakfast, we had about 45 minutes to get some video and photos of the coastline from the open decks. It was pretty windy, so it was tough to score a photo with the backdrop sans hair blowing in someone's face. Not going to say who!
We returned to our room to pack our gear and met for our tour. This really just meant that we were loaded on a tender and would meet our tour guide pier-side. The tendering process seemed a bit slower, taking longer than expected to load passengers and push off. Once on the pier, we located our tour operator rather easily. Being escorted to the boat, we could see it was already rather full with other travelers.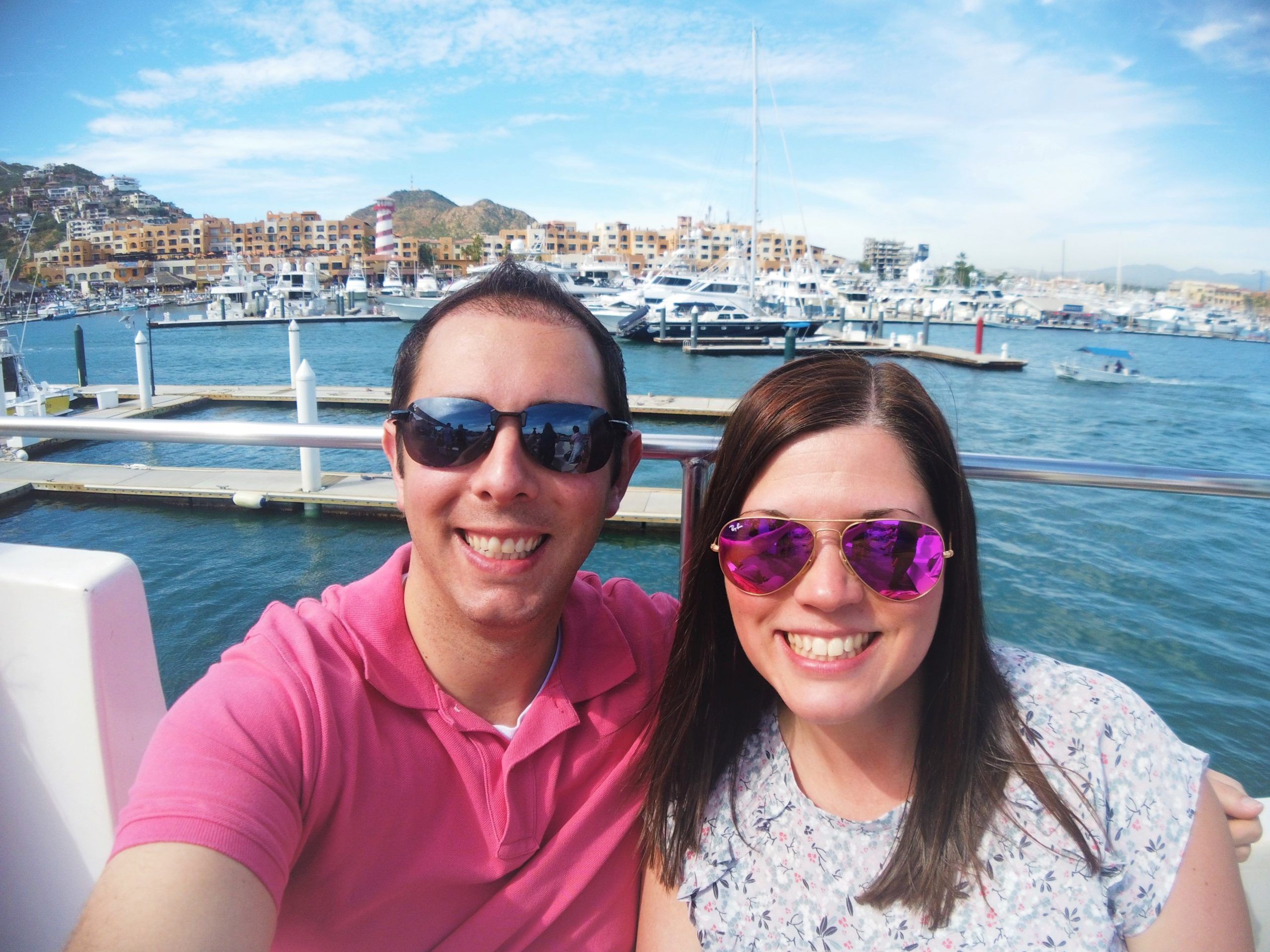 A Day on Cabo San Lucas
The whale watching and harbor cruise lasted about two hours. It was advertised as "open bar", and the staff did a great job coming around to offer people drinks. Most of the mixed drinks were watered down, but I did enjoy a few cervezas during the voyage.
Being a larger vessel, we were not allowed to get as close to the whales as the smaller boats. So, we would see a few flippers or tails here and there, but they were rather far away from the boat. If you really want to get up close and personal, book a smaller boat or a zodiac tour.
Returning to the pier slightly after 2 pm, we walked around browsing the port area for a few hours. We found our way to Cabo Wabo, the tequila bar owned by rocker Sammy Haggar. There were no rockstar sightings during this trip, but we did have time for a drink and a quick snack. Honestly, it was not very busy at all.
On the return walk to the ship, we looked at a few shops to find just the right souvenirs and headed back to the tenders. Timing was ideal, as we were among the last few individuals to board a tender that was just about to leave around 3:45 pm.
Back onboard, it was time for a midday coffee break and to change up for dinner.
A Pretty Typical Evening Onboard
Tonight, we were back in the Vista dining room for traditional dining. We arrived at 5:50 pm and made a b-line to our table. Again, dinner was well timed and we were very satisfied with our meals as well as the service we received from our waitstaff.
I tried some different options, going with the evening's "rare finds", braised rabbit for a starter. For an entree, I ordered the rosemary lamb shank. While different than I expected, it was tender and flavorful. For her meal, the Princess went with the tosdado de pollo inspired by the port of call and the standard chicken breast as an entree.
With no new comedy shows tonight, and our second theater show at 9:30 pm, we had about two hours to roam around the ship. We stopped at the Pixels photo studio to review the previous night's photos. The Princess starred the few that met her approval, but we held off on purchasing any just yet.
Next up was a round of drinks at the Alchemy Bar. This ended up being our favorite bar on the ship as we were fans of the diverse menu and craft cocktails. The bartenders also made a true sidecar, my favorite cocktail at sea and on land.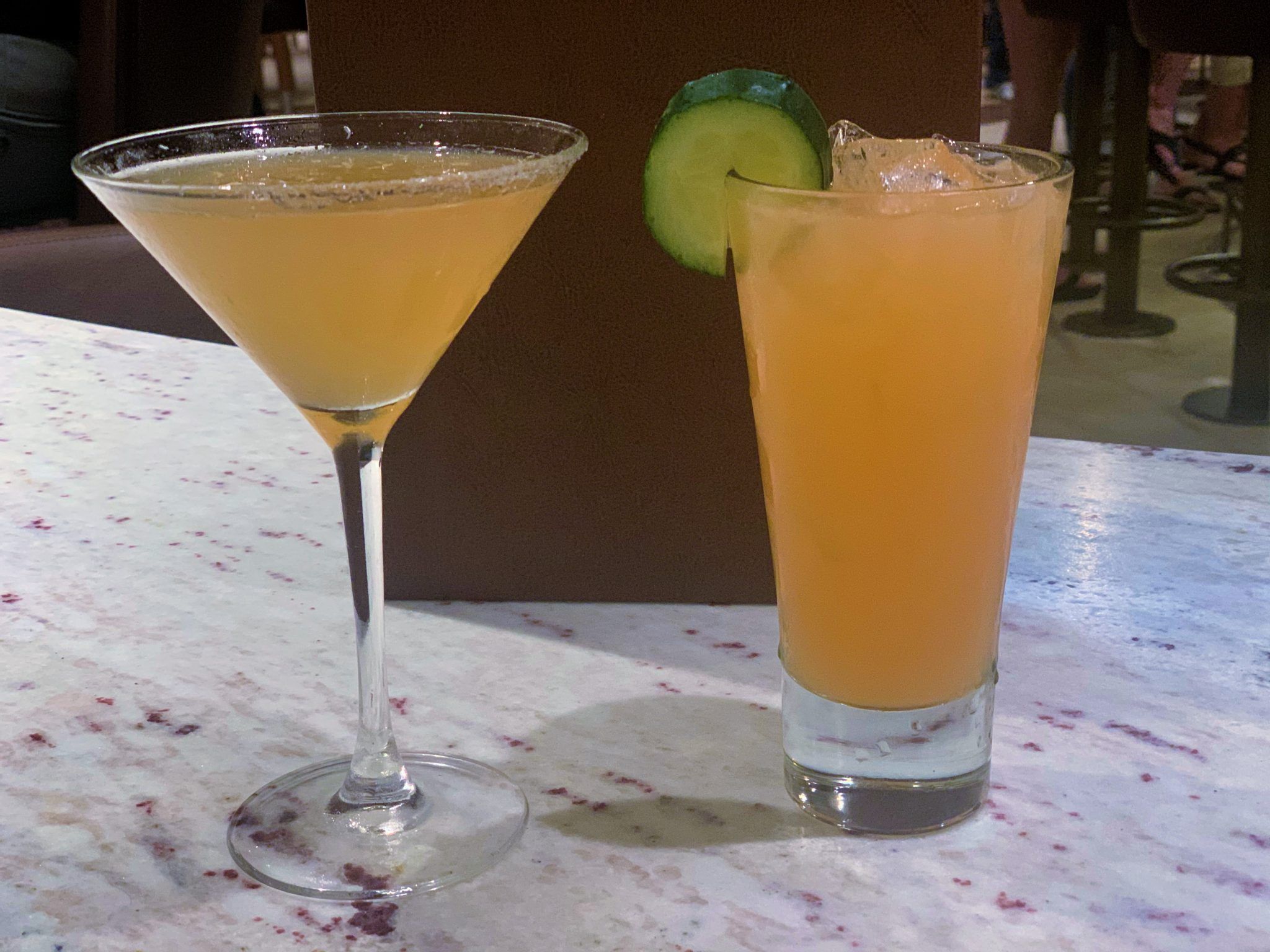 Around 8 pm, we joined the crowd at the "mini" Lip Sync Battle in the Atrium. The winners from the day before put on a small performance to see who would go first in the final competition on the last night of the cruise. The two cruisers gave it their all, and the crowd was loving the antics.
We grabbed another round of cocktails at the Panorama Bar on Deck 3 and took our drinks with us to find some better seats in the main theater for tonight's show. Tonight's performance was Soulbound, a mischievous and enchanting tale of voodoo. While the Princess enjoyed this show, I did not like it at all.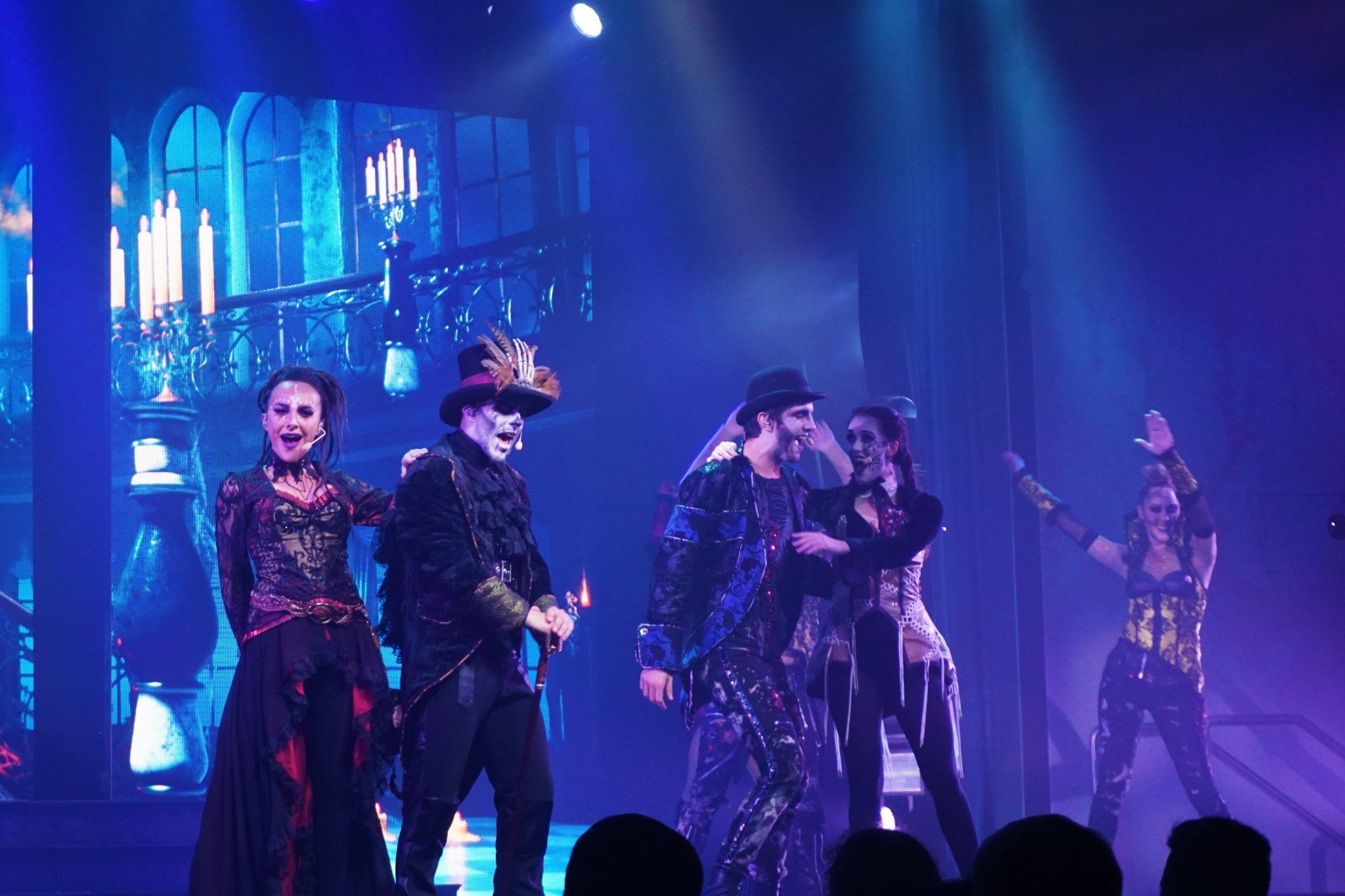 After the show, it was up to the lido deck for the Mega Deck Party and a round of drinks from the RedFrog Rum Bar. Mega it was, as fellow cruisers were out there strutting their stuff alongside Emma again tonight. A mix of common cruise songs and pop music, the deck party lasted until about 11 pm. Once the party dispersed, we returned to our room to prepare for our next port of call, Mazatlan.
Related Post: Top Things to Do on Carnival Panorama
Carnival Panorama Mexican Riviera Cruise Review – Day 4
Your Run of the Mill Island Tour
Before going to bed, we were told to set our clocks ahead one hour. So that 6 am alarm clock was even more annoying as it felt like 5 am.
Since we had an early excursion today, we had opted to order room service the night before. While there are several continental options, we tested out the $3 breakfast sandwiches. Breakfast arrived earlier than we indicated, so I was still in the shower and hadn't gotten our morning coffee yet. Overall, the breakfast sandwiches were good, but we are not sure that they should be an up-charge.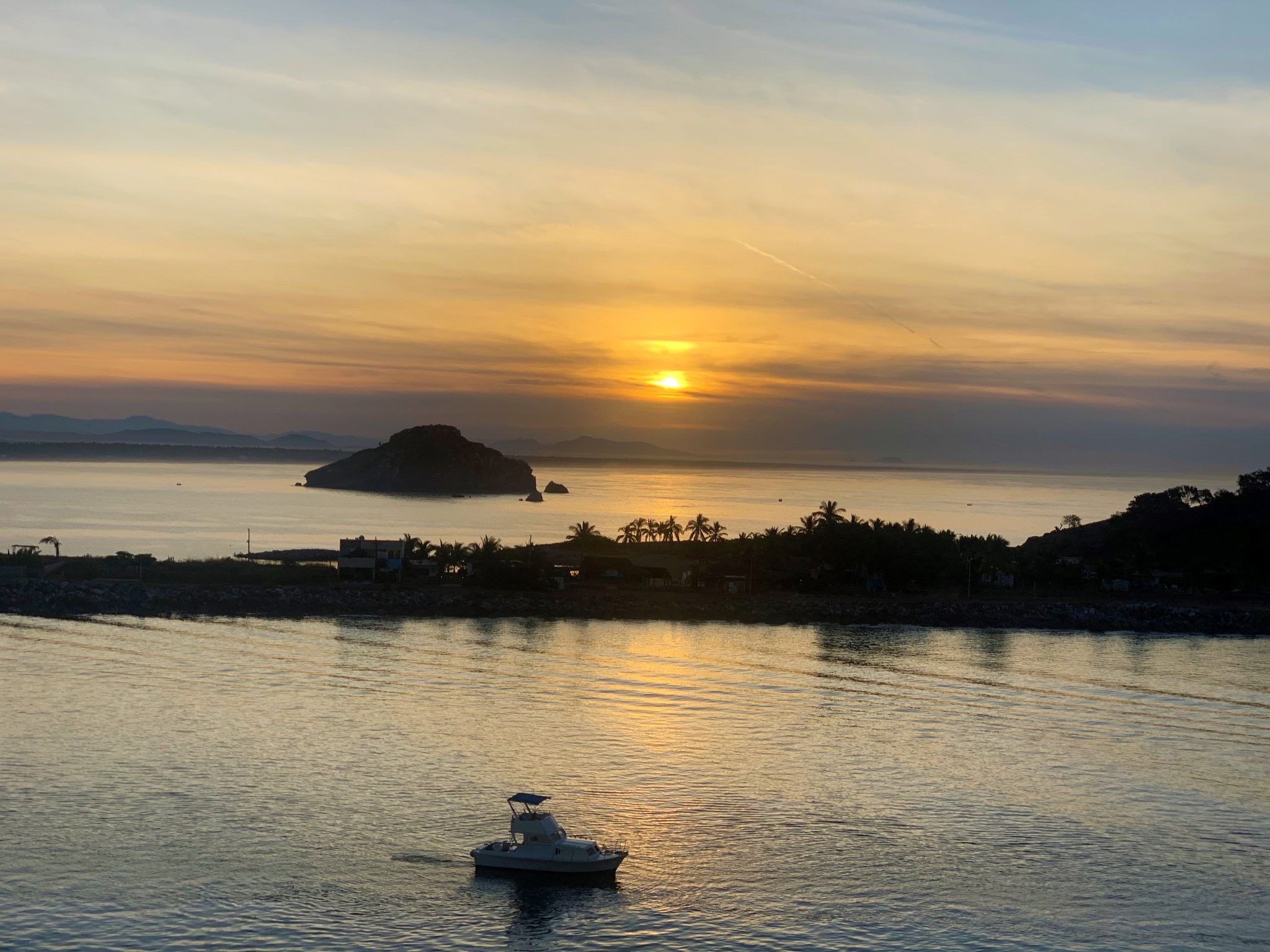 Getting ready and grabbing iced coffees, we met in the Horizon restaurant for 8:30 am for our excursion. Honestly, we are not sure why tours are asked to meet in the dining room, as the shore excursion staff simply walked us down to the gangway. We then had to find the tour operator holding a sign with the name of our excursion. We should have just been told to meet on the pier like other cruise lines organize their excursions.
We boarded the bus for our "City, Malecon, Cliff Divers, and Scenic Harbor Cruise" tour around 8:45 am. This excursion included an approximately 90 minute harbor tour and then a bus tour to several areas of the city. On the harbor cruise portion of the tour, we passed sea caves, Goat Island, Two Brothers Islands, sea lions, the tallest natural lighthouse, and more.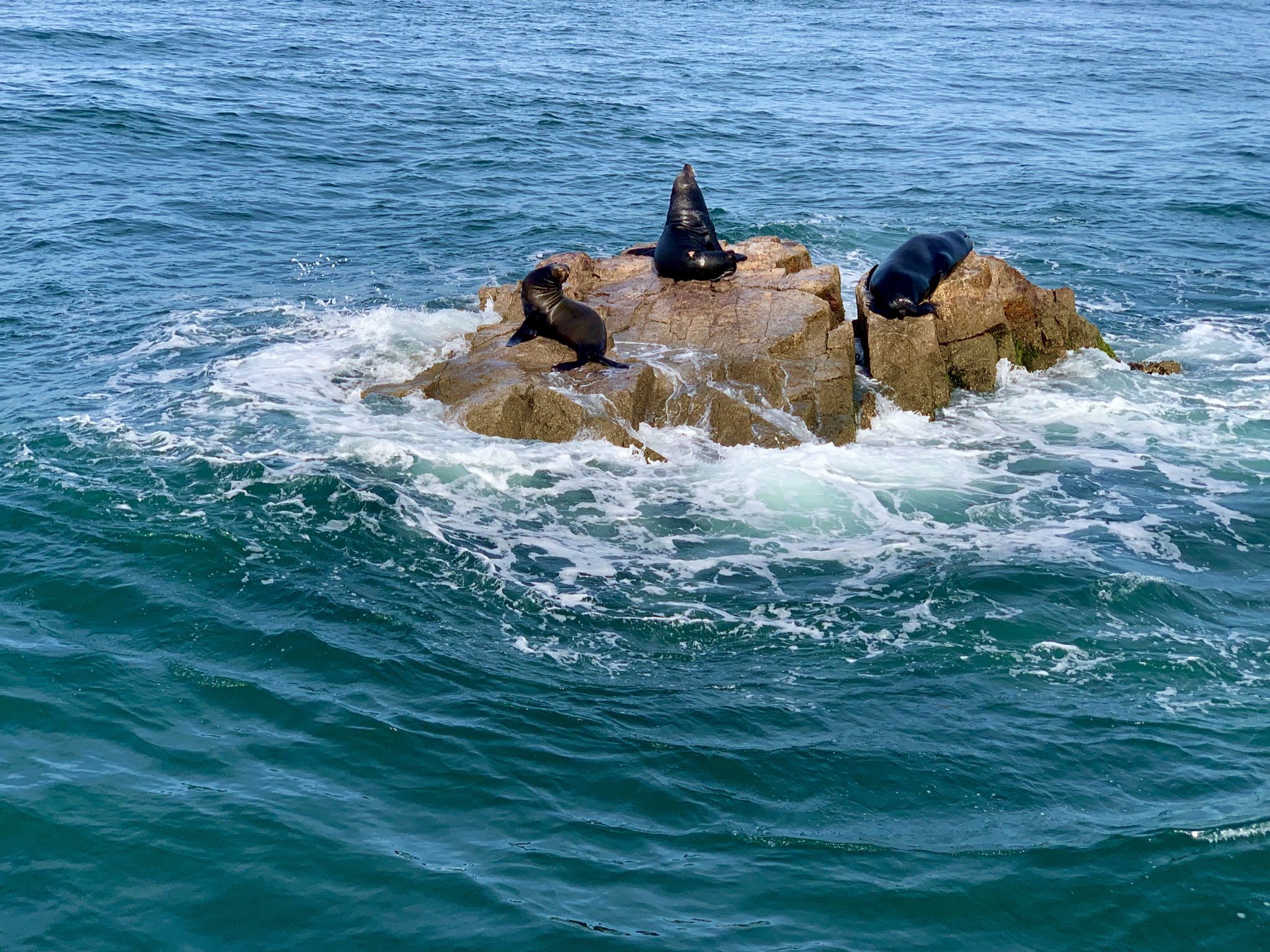 On to the bus, we passed other notable stops like the flower market and shrimp market in the older parts of downtown. We then had a 20 minute stop to watch the cliff divers who jump some forty feet off the cliffs into water that is less than 5 feet deep. The bus also stopped at the Immaculate Conception Cathedral for 30 minutes to tour the town square and church on our own.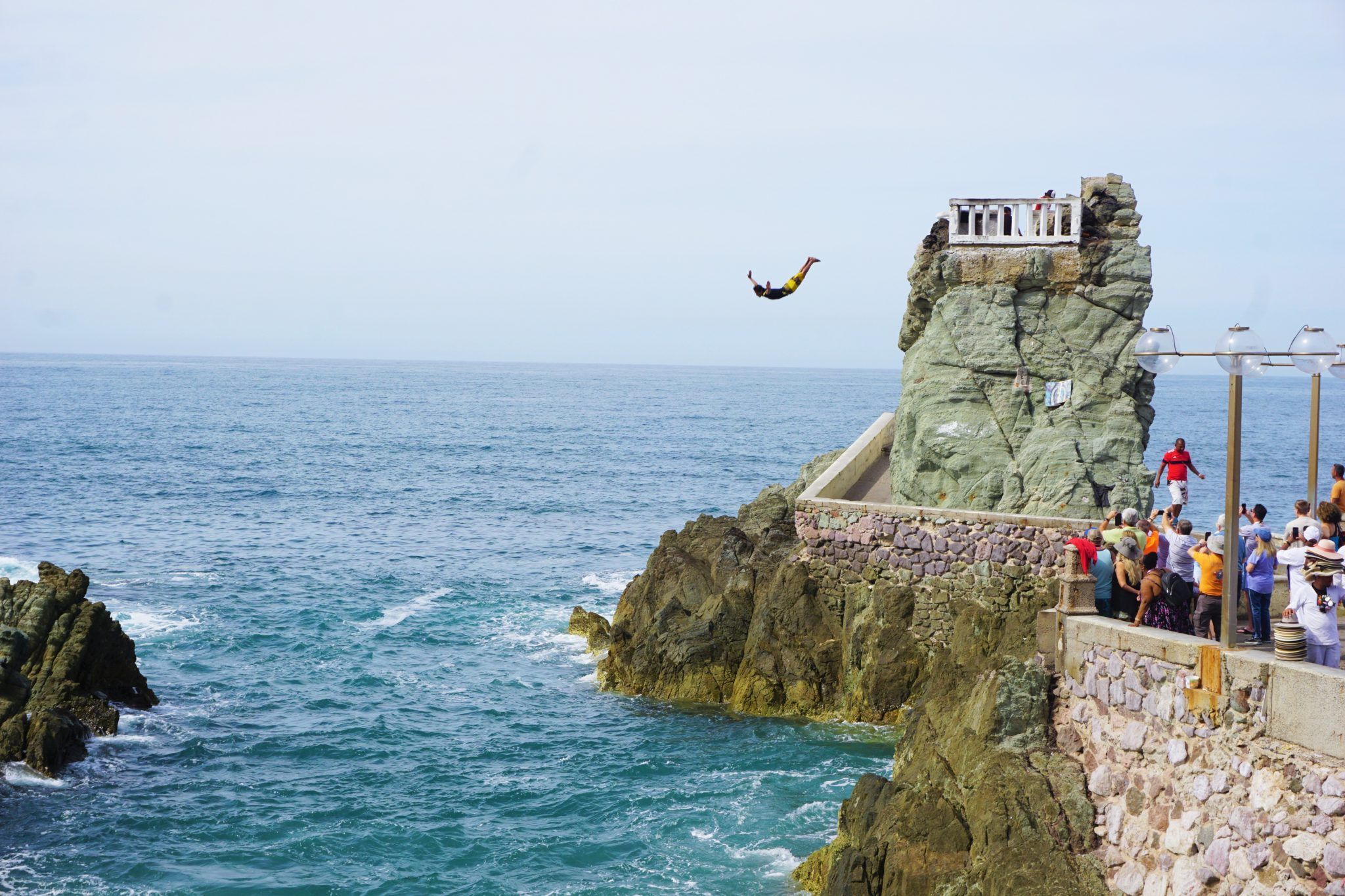 Lastly, we had about 75 minutes of free time in the Golden Zone. This is a tourist area with beaches, restaurants, and shops. We used this time to grab a few souvenirs and a quick bite to test out the local seafood.
We arrived back to the pier around 3:15 pm and made our way through the shops to take the tram back to the ship. Of note, this is a commercial port so you must take the tram to and from the ship. Overall, this 6.5 hour tour was a nice introduction to the city.
Back Onboard Carnival Panorama
Once we were onboard, we headed straight to Java Blue for some coffee. We both needed some extra caffeine. As the wife did not have much to eat on land, she joined the rather lengthy queue at Pizzeria del Capitano. The line moved at a steady pace, and she was back to the table with a personal pizza for herself before very long. Well, I may have had a slice too!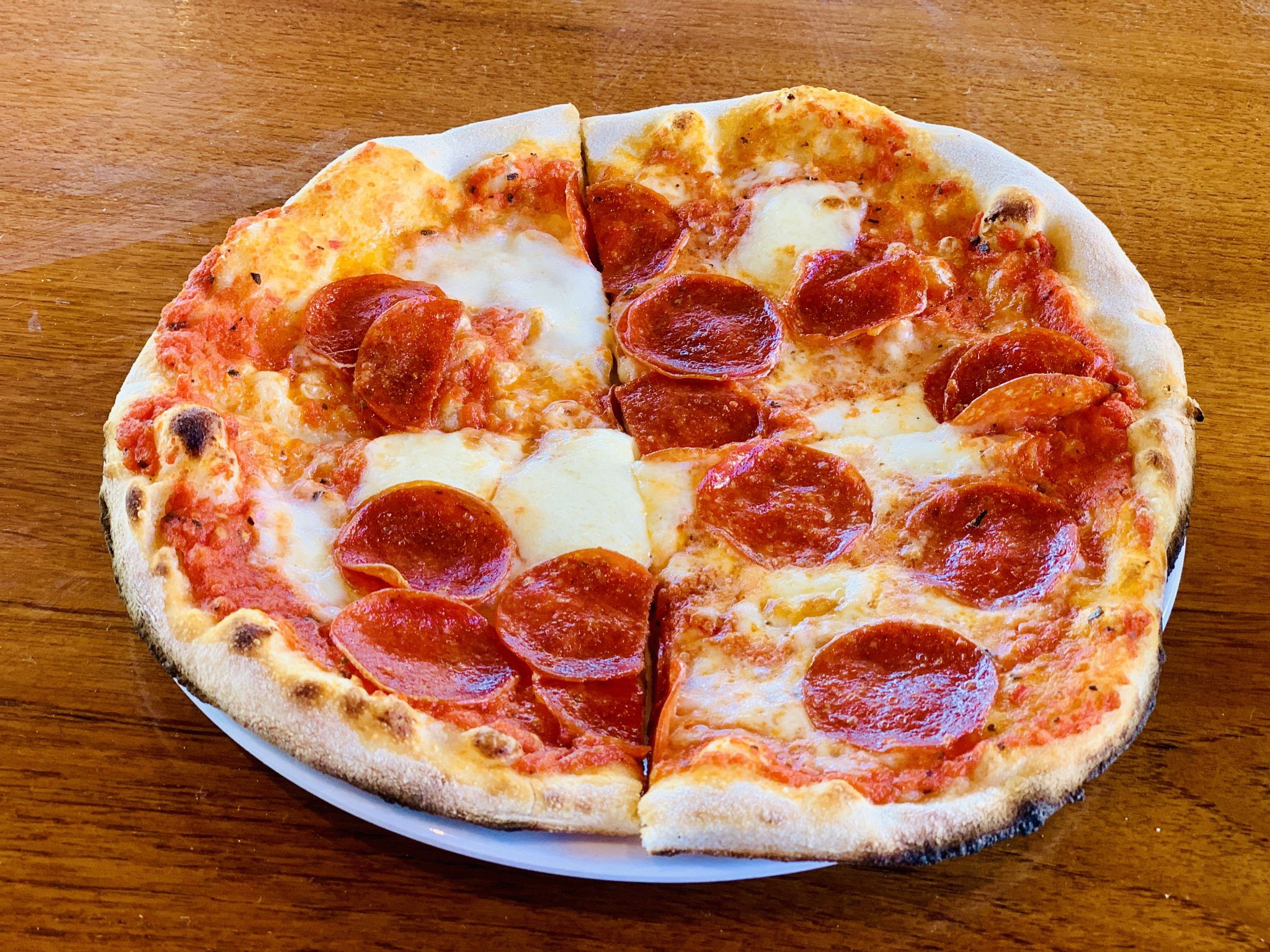 Tonight, we had dinner reservations at JiJi Asian Kitchen at 6 pm. So, we returned to our room around 4:30 pm to load photos and take some time to get ready for dinner. We were ready a bit early, so we took the stairs three flights to this aft restaurant on Deck 11. It was relatively empty, so the hostess had no problem seating us early.
Dinner was solid, as we are fans of this style of Asian cuisine. Our waitress recommended we order two starters, two sides, and two entrees for sharing. For the most part, we stuck to these suggestions, except we ordered three starters. I had to try both the duck and the dumplings. Good thing I did, as they were both delicious. The Princess also enjoyed the chicken spring rolls.
Our entrees were tasty as well, with the Kung Pao Chicken and Hakku Noodles being our favorites. The head chef came over twice to our table to make sure we were enjoying the food and to see if we wanted to order any additional items. For a $15 per person cover charge, we think this specialty dining venue is a great casual option.
Done around 7:15 pm, we headed to karaoke in the Limelight Lounge. It was your typical mix of those individuals who can sing and those who could not carry a tune. Of course, we did not dare to get up there ourselves. We left around 8:30 pm to start making our way towards the main theater. We may have stopped for a few photos along the way.
Trying to Find Seats in the Theater
Arriving around 8:55 pm, we were surprised to find the theater doors already open and the venue quite busy. We ended up finding seats off towards the side of the theater. Again, this venue offers limited seats with prime views. Tonight's show was Rock Revolution. It had a mix of classic rock songs with a Woodstock era vibe. Of the shows to date, I found it to be the best, but the Princess was not feeling the love.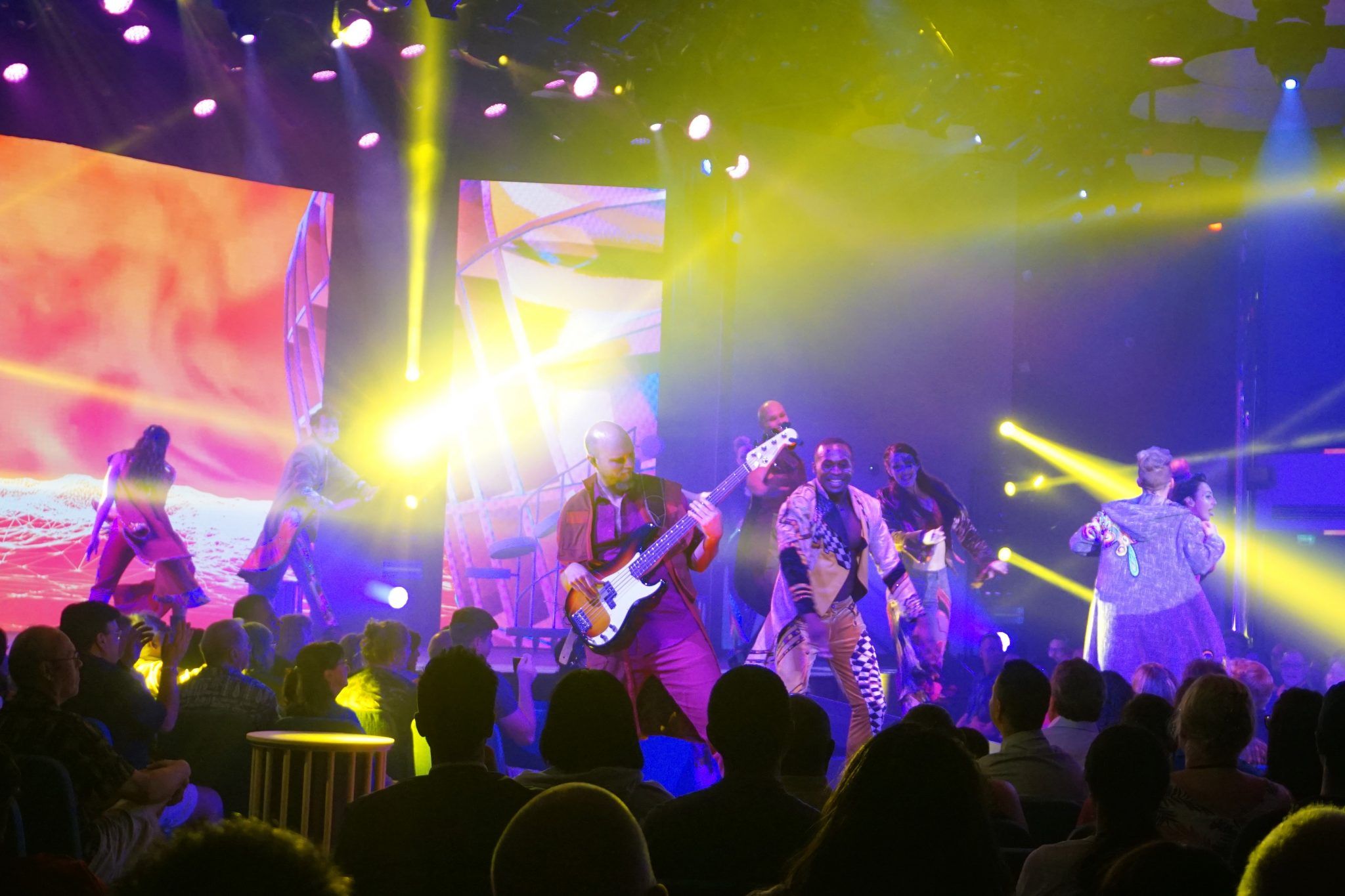 So far, the main theater entertainment on the ship was really the only let down. The show ended at 10:10 pm, and we found ourselves seats at the Ocean Plaza to listen to some live music by the duo Liz and Lucas. They took crowd requests and played a wide range of different songs. While here, we grabbed drinks from the bar to cross another venue off our drink around the ship list.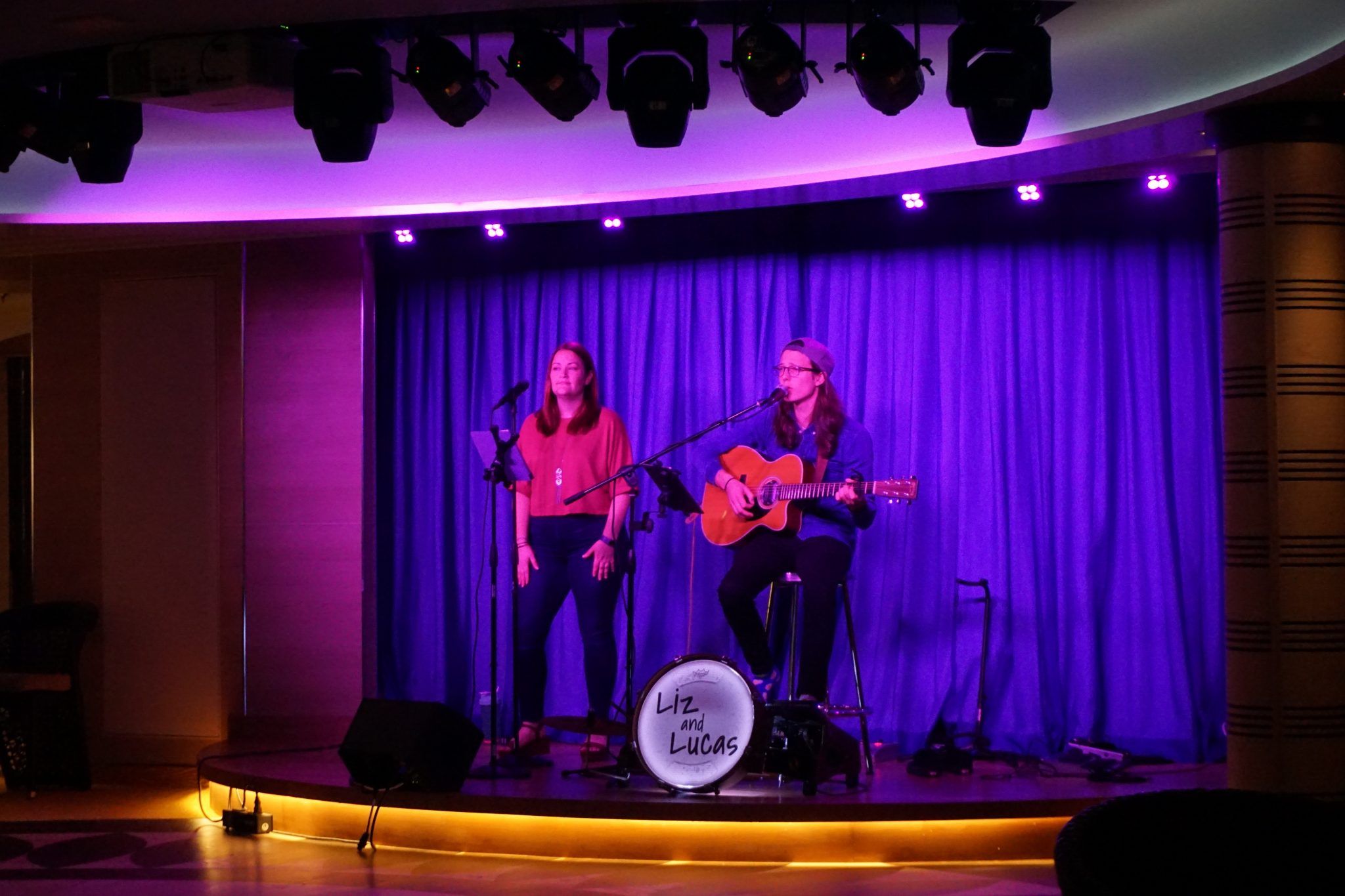 After about an hour of listening to their set, we headed upstairs to the Serenity Party. Unlike the other parties on the ship so far, this one was a ghost town. The Princess was intrigued though as the DJ was spinning some tunes from the 90's and early 2000's straight off one of her mix CDs. I know, we are dating ourselves now! We don't dance, but I can certainly sing along with a Parched Pig IPA while watching others take to the dance floor.
By midnight, the songs had shifted to more modern pop songs. So, it was time for bed to rest up and prepare for our last port of call, Puerto Vallarta.
Carnival Panorama Mexican Riviera Cruise Review – Day 5
A Day on Our Own
Our third and final port was Puerto Vallarta. For this stop, we booked the nighttime show Rhythms of the Night. That meant, we had the day to explore on our own. While I wanted to do a guided tour of the city and Malecon, none of the tours worked with the meeting time for our pre-purchased evening show. So, it was up to us to do some self-exploration.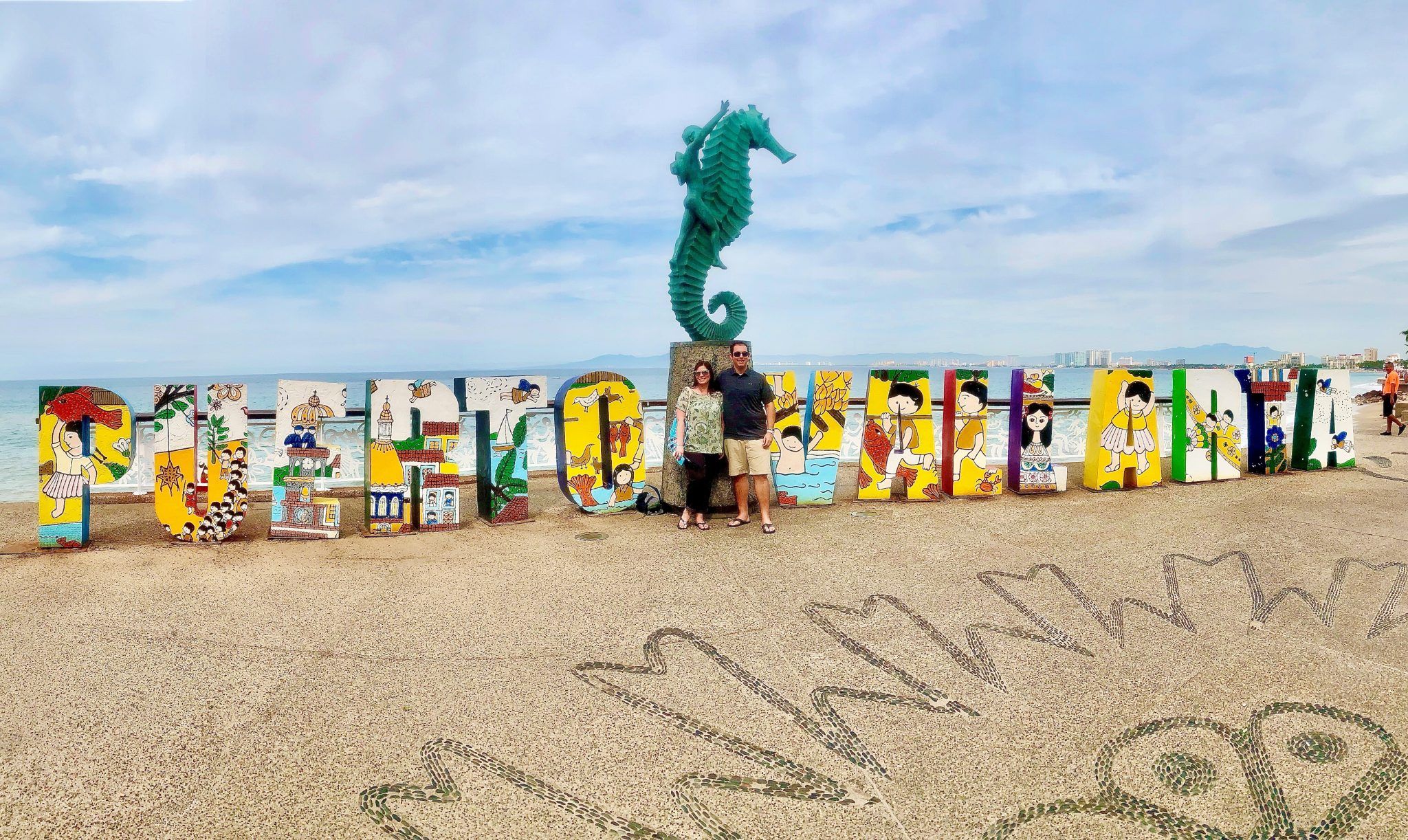 With the ship docking at 9 am, I grabbed some coffees from Java Blue. Swapping places with the wife, I was changed and ready to head to the Lido Marketplace around 9 am. While we enjoyed the casual spots throughout the ship, the buffet was by far our least favorite. The selections were limited and rather repetitive.
Finishing up quickly, we were off the ship around 9:30 am. We were able to find a taxi outside the port area that was willing to take us to the strip for $10 USD. Hitting some traffic, we arrived shortly after 10 am. For the next 90 minutes, we strolled this busy area filled with shops, dining, and the iconic statutes taking plenty of pictures and video along the way.
Returning to the spot our previous taxi left us, we headed back to the ship around noon. While we searched in the shops for one of our signature souvenirs, a Christmas tree ornament, we actually found one in the small craft market right next to the ship. I guess that is just our luck!
Rhythms of the Night
Our excursion had to meet at 2:30 pm in the Horizon restaurant. Even though the show included a buffet dinner, the Princess is a picky eater so wanted to make sure to grab a quick bite to eat before we left just in case. I tested my first ever Guy's Burger. Big thumbs up from me! The Princess did a tortilla bowl from BlueIguana.
After getting a few additional coffees, we were back to the room to change for the excursion. Ready exactly on time, we were down to the Horizon Restaurant for 2:30 pm. Our tour was escorted to the pier and then over to the adjacent dock to take the 45 minute ferry to Las Caletas where the show is located.
Overall, we both really enjoyed the show. I also thought the food was excellent, with my favorite being the sauteed shrimp and squid. Our only critique was the entire experience seemed rushed. You have little time to eat and explore before the show.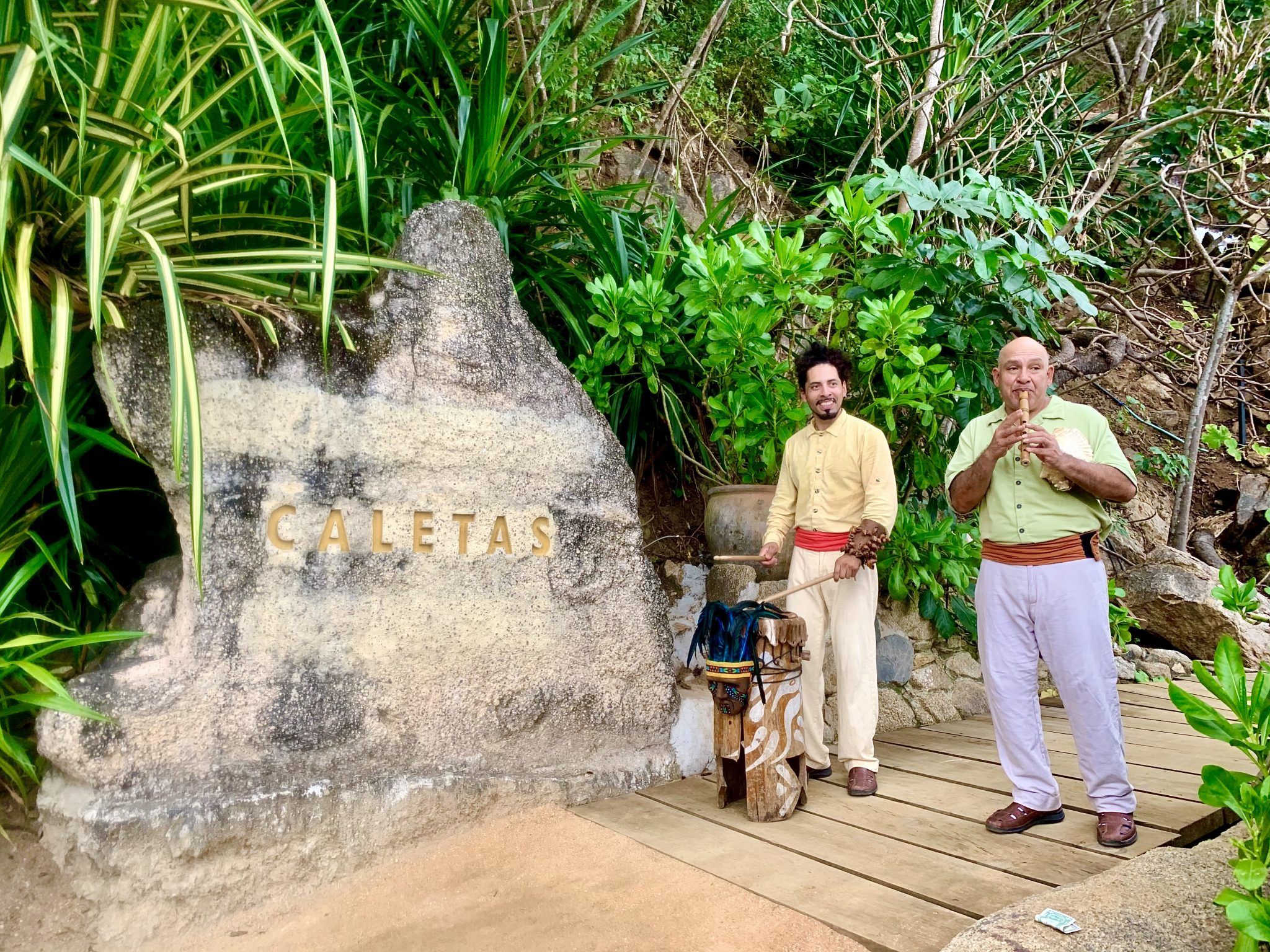 The show is approximately 60 minutes, complete with storytelling, acrobatics, and visual effects. The best comparison I have is that it is similar to a Cirque du Soleil show. While it is called Rhythms of the "Night", the show actually started while it was still light out. This meant that some of the special lighting effects were lost for the first portion of the show.
As soon as the show was over, the staff rushed us off the island to take the ferry back to the ship. The ride back was a party scene with the staff singing and dancing, and everyone having a good time. They also sell you photos and t-shirts. We purchased both of course.
This Evening is Not Over Yet
Our ferry back actually took us right to the ship like a tender, as we were among the last cruisers to board the ship. We made a mad dash to the Liquid Lounge for the Hasbro Game Show which had just started. This was slightly different than we expected, but it was still a lot of fun.
There was no main theater show this evening, with the main attraction being the Love and Marriage show at 9:30 pm. Since we had come directly from Rhythms of the Night, we went up to our room to drop off our purchases and tidy ourselves up as the high-speed ferry ride left us looking a little wind-blown.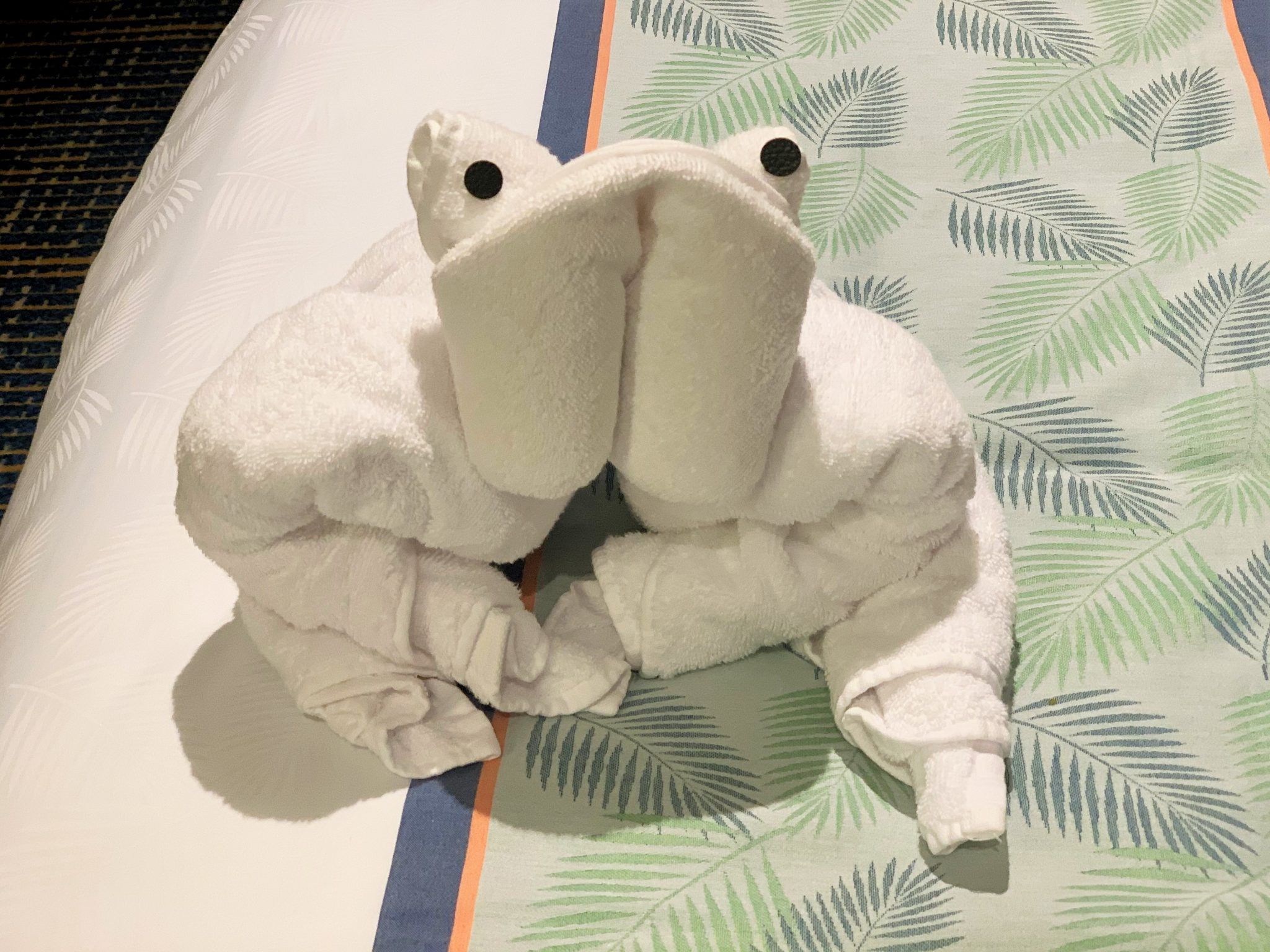 We were back to the theater at 9 pm to grab seats and a round of drinks. While the Love and Marriage show did provide a few laughs, it was more tame than the versions found on RCI and NCL. Partly, it was the questions, and partly it was Emma. She was still a great host, but she had a more PG approach to her jokes and innuendo.
Straight from the Love and Marriage show, it was time for the White Hot Night Party. This took place in the Atrium on Decks 3-5. Glow sticks and music from all decades were the features of this indoor party.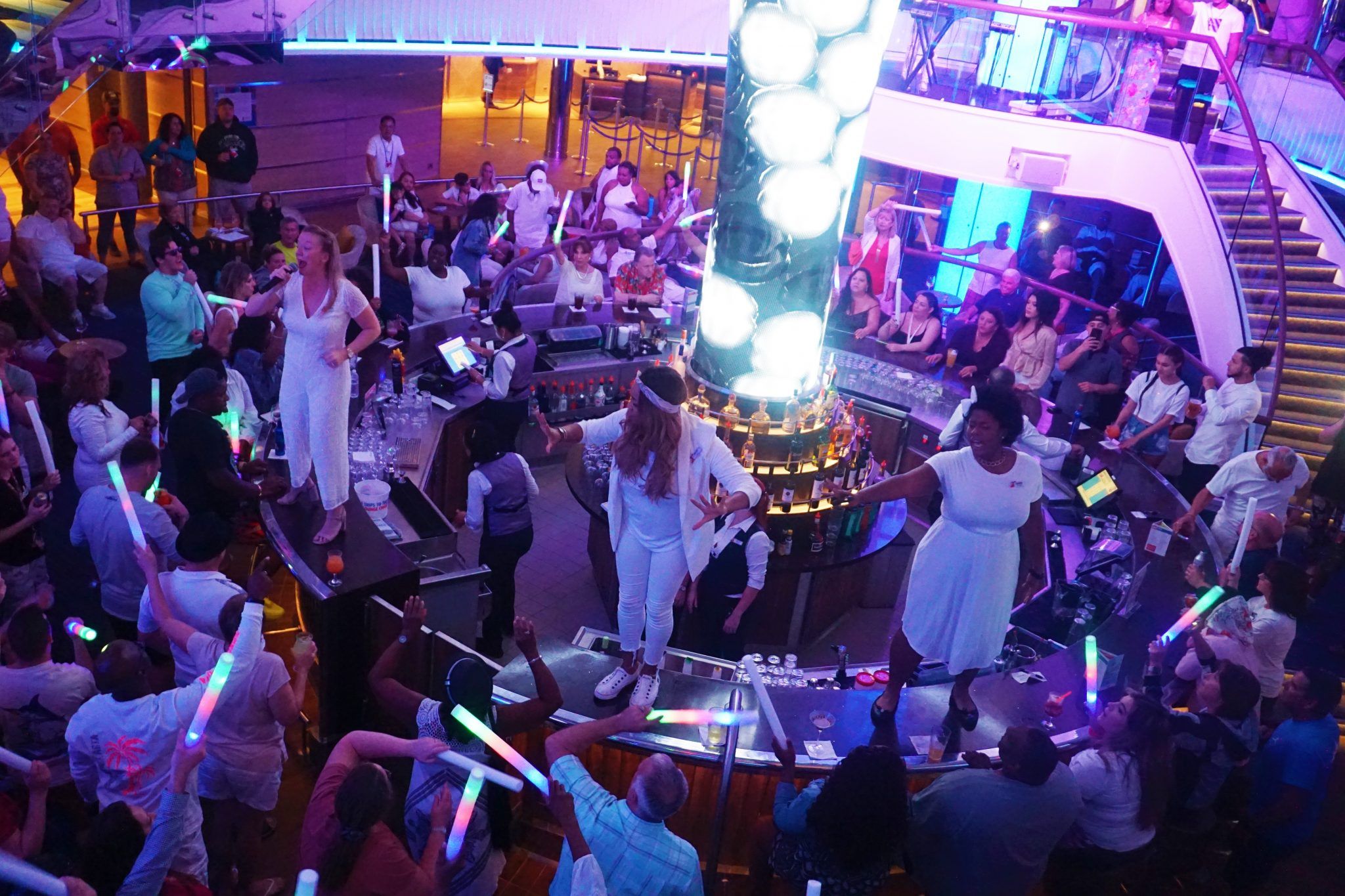 We spent about 45 minutes at the party and then headed back to the theater. It was time for the ship's version of the Quest. We were not going to participate, so like several other cruisers, we hid towards the back of the venue. Again, we have seen versions of this show dozens of times, and the Carnival version was a bit more tame.
Done around 12:30 am, we retired to our room for the night. We had two more sea days filled with plenty of things to do, eat, and drink!
Carnival Panorama Mexican Riviera Cruise Review – Day 6
The Dining Can't Get Any Better
With two sea days in a row, we had plenty of items we wanted to accomplish over the next 48 hours.
The weather outside was sunny, but not very warm. So, we decided it wasn't going to be tanning weather. As lucky would have it, we did not use our bathing suits all cruise. We did not take a dip in the pools or test out the WaterWorks waterslides. To check another item off the Princess' list, we did the Sea Day brunch today.
We arrived at 9:15 am to the Vista restaurant and were greeted with a small line. Again, it moved swiftly, and we were seated at a table for 2 at the aft of the ship. Hands down, this dining option had to be one of our favorites. We both enjoyed the skillet cake and the 12 hour French toast. While I am usually more of a lunch fan, I went with breakfast this morning. Next time, I am certainly testing out the lunch items.
Brunch lasted about an hour. This gave us just enough time to make it to the Dr. Seuss parade departing from the Ocean Plaza at 10:30 am. We followed the parade to the main theater where there was a story time for the little ones. No, we didn't stick around for the story.
Time to Head Outside
With a few character photos captured, we stopped by the Sky Zone to learn more about this up-charge facility. I scheduled a session for the last sea day at 12 pm.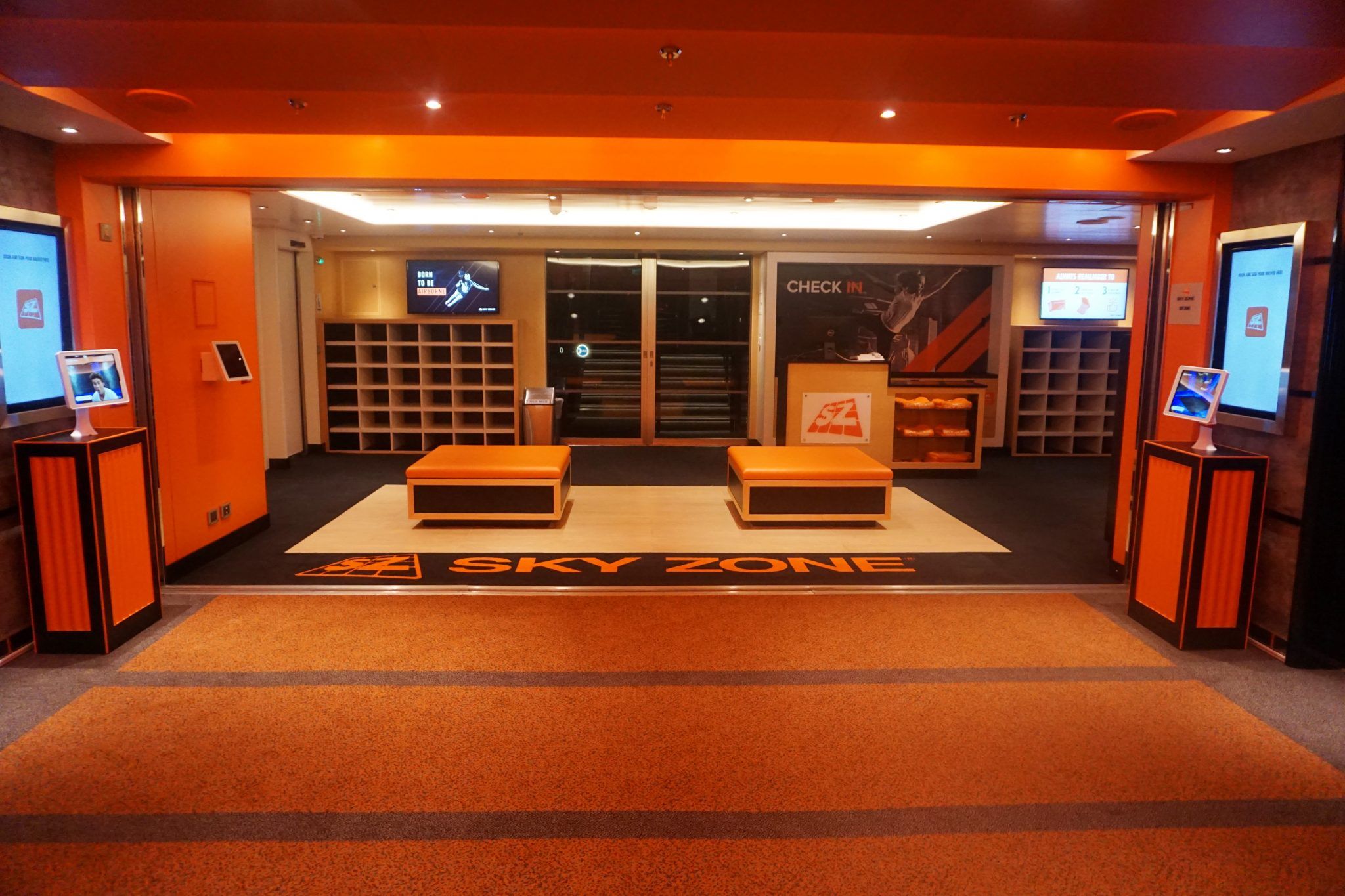 Having spent most of the morning indoors, it was time to brave the weather outside. Luckily, it was sunny but probably only in the 60's.
We snagged some of the last loungers near the beach pool in the direct sunlight. Here, we spent a few hours "working". Apparently, it was prime seating for the ship's hairy chest competition which started at 12:30 pm.
We hung around the pool area until 2:15 pm. Now, it was time for lunch.
With so many options, we decided to sample selections from the deli today. Another solid offering was the buffalo chicken sandwich. It was now official that Carnival Panorama had some of the best casual dining that we have ever had on a cruise ship.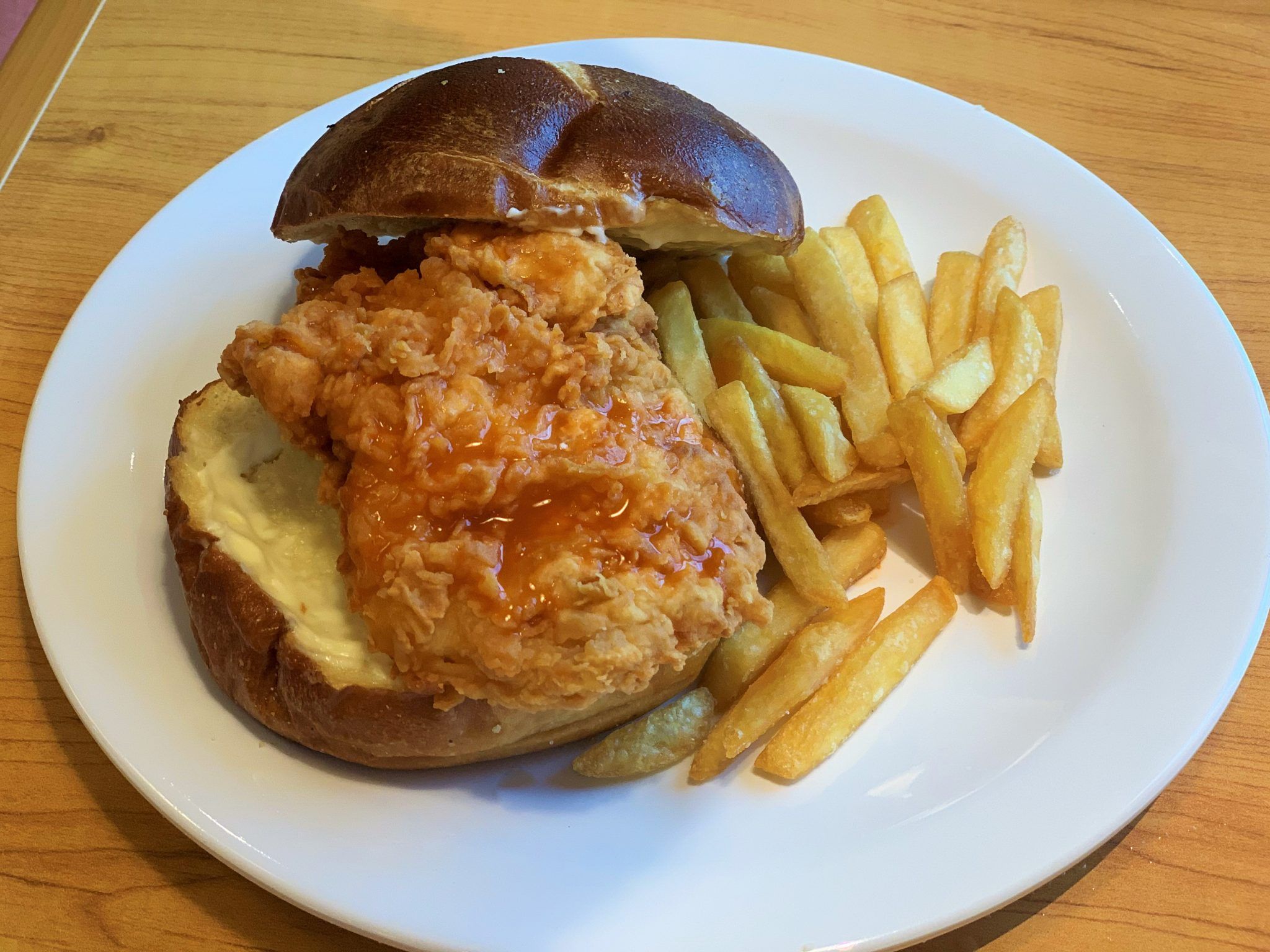 Finishing lunch before 3 pm, we switched views and descended to Deck 5. The hotel director had provided us with complimentary access to the private Havana Pool area. This area includes two hot tubs, an infinity pool, some loungers, day beds, and other comfy outdoor furniture.
We secured a large day bed and a couple of drinks for the next 90 minutes or so until it was time to head back and change for elegant night.
A Feast for the Senses
Knowing we couldn't arrive to dinner any later than 6 pm, we were down to the portrait studios for 5:30 pm. Three picture studios later and a lot of odd posing, we were to dinner for the second Feast menu.
This menu included several upscale offerings. I was a big fan of the crab cake, the filet mignon, and the grilled shrimp. The Princess also gave her seal of approval to the clam chowder. For a meal, she did the fusilli in a mushroom cream sauce, which she thought was just okay.
Another Non-Stop Night
We were out of dinner at 7:15 pm and power walked to the main theater to get seats for the Celestial Strings 7:30 pm performance. Luckily, we were able to get decent seats without too much searching. Still, the venue is just not optimal for photos. Both of us agreed that this was our favorite show. The variety of music and arrangements was captivating, as were the costumes and backdrops.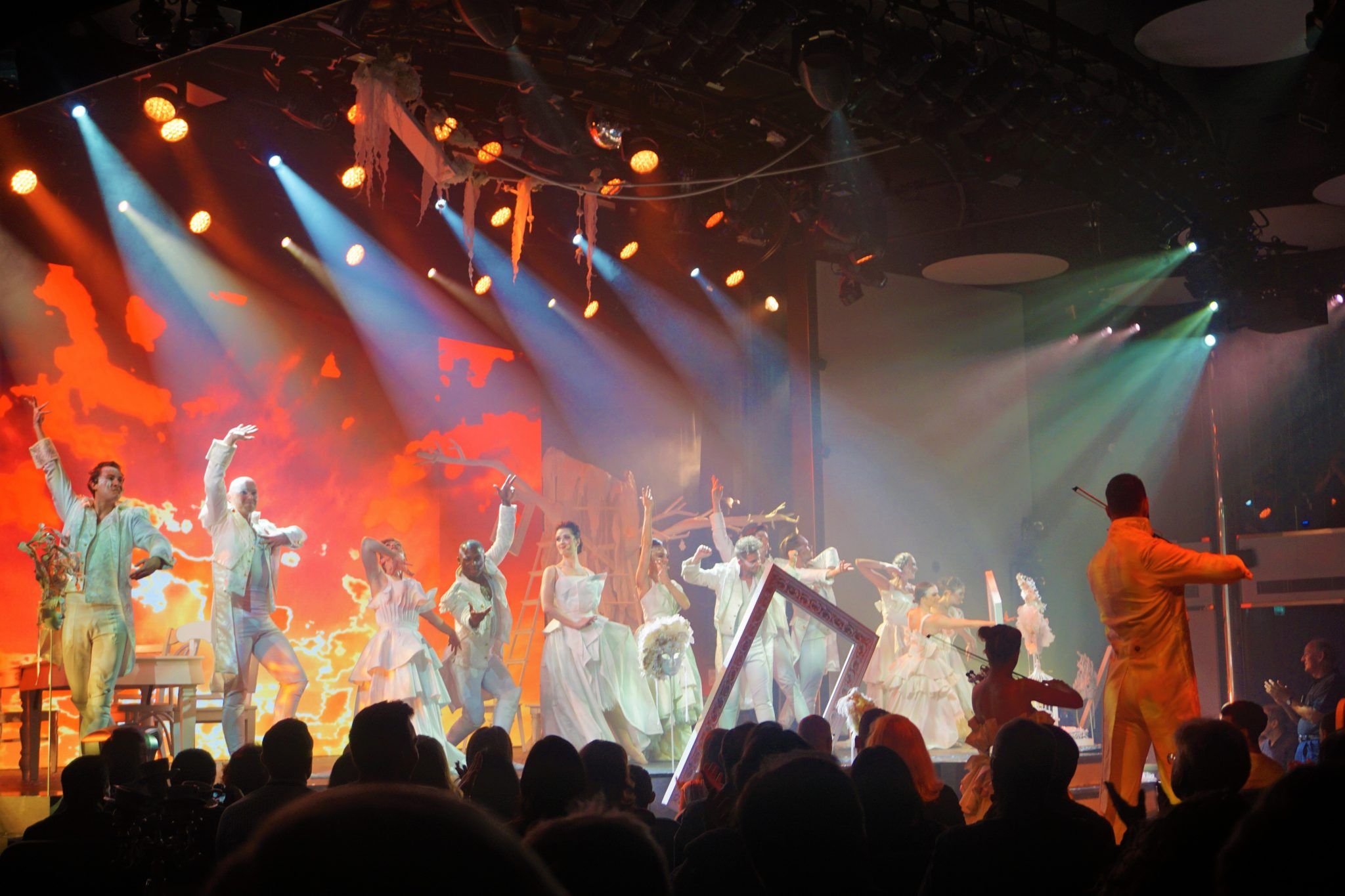 Never wanting to miss anything, it was a sprint across the ship to try to get seats for the 8:30 pm comedy show of Vince Morris. Unfortunately, the venue was already standing room only.
We managed to squeeze out a seat in the back, which was obstructed by other individuals standing in front of us. This comedian was okay but not as funny as Azeem in our opinion.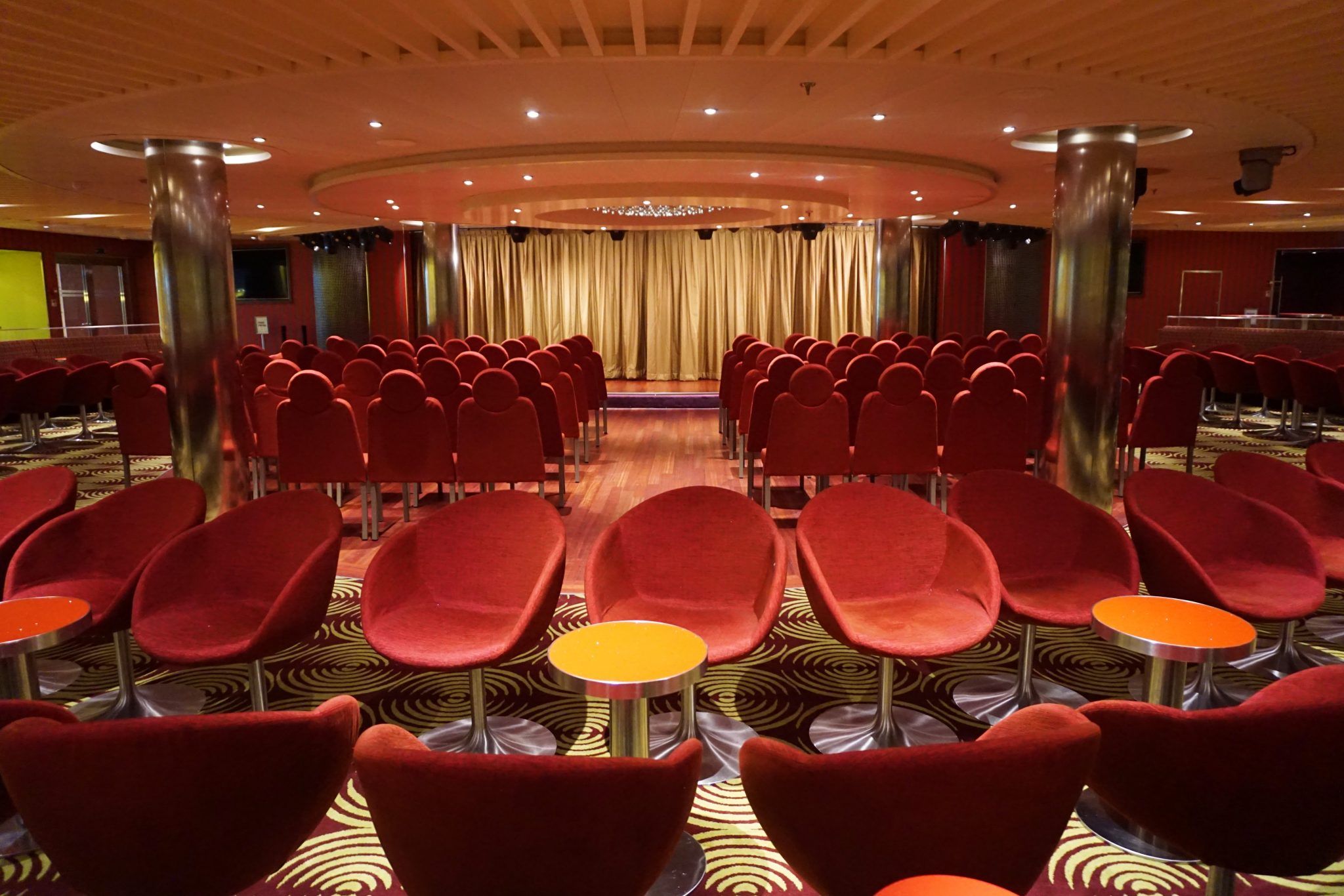 The show ended around 9 pm, and we all had to exit the lounge. While the Princess made a pit stop at the restroom, I entered the queue for the second adult comedy show with Tony Esposito. Finally, we were let back into the venue at 9:20 pm and were able to secure seats with a view. Having a table and chairs this time around, we flagged down a waiter for a couple of drinks.
Tony's set was certainly an act. We both think that we have seen him on another cruise line but couldn't pin-point it. He had some pretty good jokes about his wife and kids, but a lot of the setups felt like they were 10 years old. I mean, he referenced DVDs!
This show ended around 10:10 pm. Were we going to call it a night? Of course not!
Tonight was the 80's Rock and Glow Party. While we did not join the main dance floor, we certainly rocked out to the 80's tunes along with some drinks from the BlueIguana tequila bar. We closed down the party around midnight.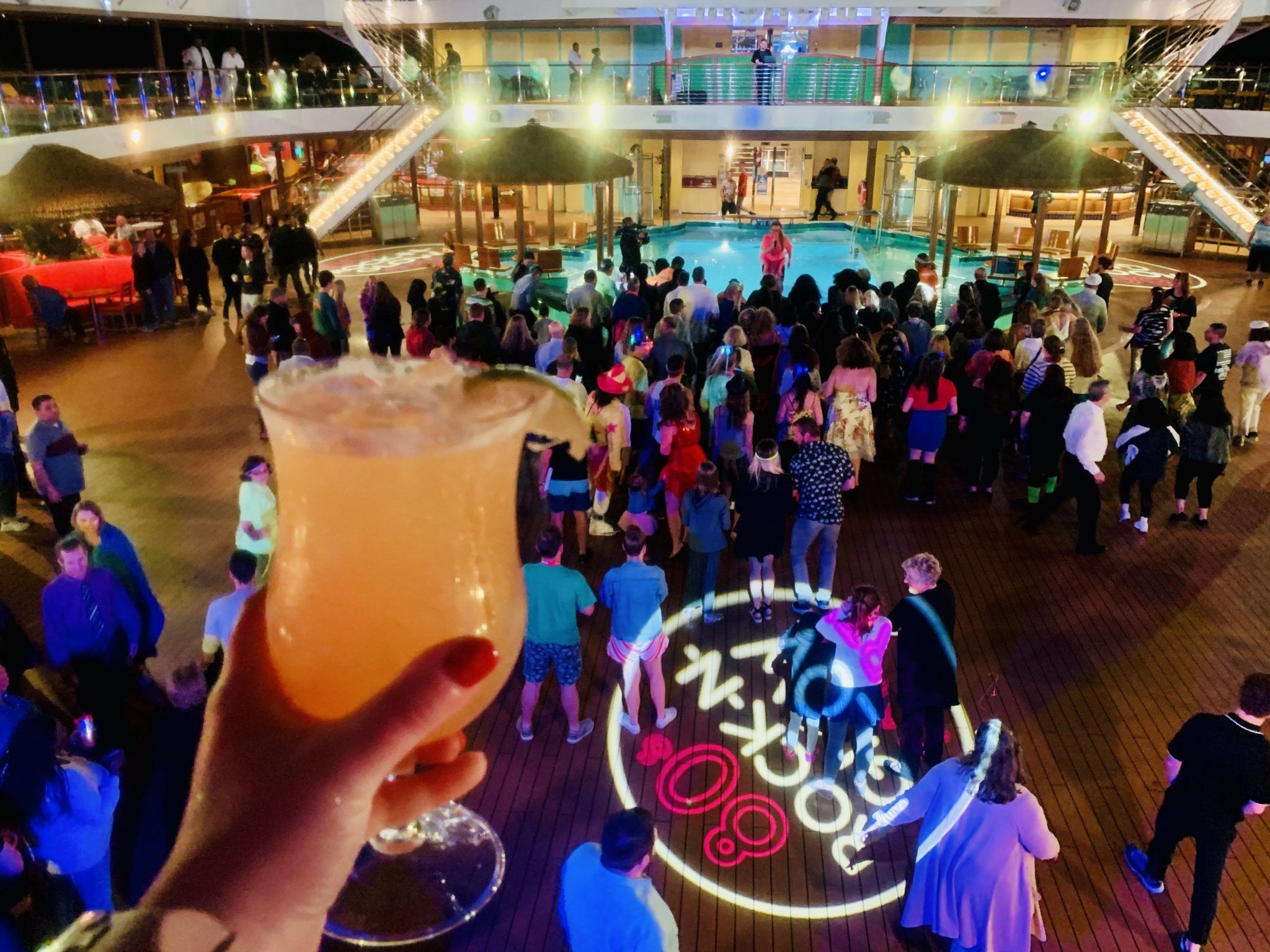 Tonight, we were gaining an hour of sleep back. There was one more day onboard Carnival Panorama and plenty of things we had to accomplish!
Related Post: Guide to Carnival Cruise Line Drink Packages
Carnival Panorama Mexican Riviera Cruise Review – Day 7
Time for Some Green Eggs and Ham
Gaining the hour of sleep, we set the alarm for 6:45 am this morning. On day 1, we made reservations for the ship's Dr. Seuss breakfast at 8:15 am. I grabbed a few sunrise photos and video of the outdoor decks before getting the wife her morning iced latte.
Ready for the day, we headed to the Horizon restaurant for this up-charge event. While it was only a $6 per person cover charge, we both agreed that the food was rather average. Of course, you are paying for the experience, which included character meet and greets with Thing 1 and Thing 2, as well as Sam and the Cat in the Hat.
Yes, this is for families and kids, but we were not the only table of just adults.
Jumping from One Thing to the Next
Breakfast was finished by 9:30 am, and we had some time to kill before my 12 pm Sky Zone appointment. We were able to play another round of mini-golf and do the SkyRide bike with minimal wait times.
This put us close to 12 pm, so we headed down and checked in for the Sky Zone. Of course, only I opted to test out this up-charge trampoline park. The Princess claimed she had to be in the audience for photos and videos.
For $12 a person, you have an hour to use the facilities. They organize it by age group, with 15+ being the oldest category. This meant that old and out of shape me was stuck with teens and twenty somethings that were much more fit and athletic. Still, it was a lot of fun.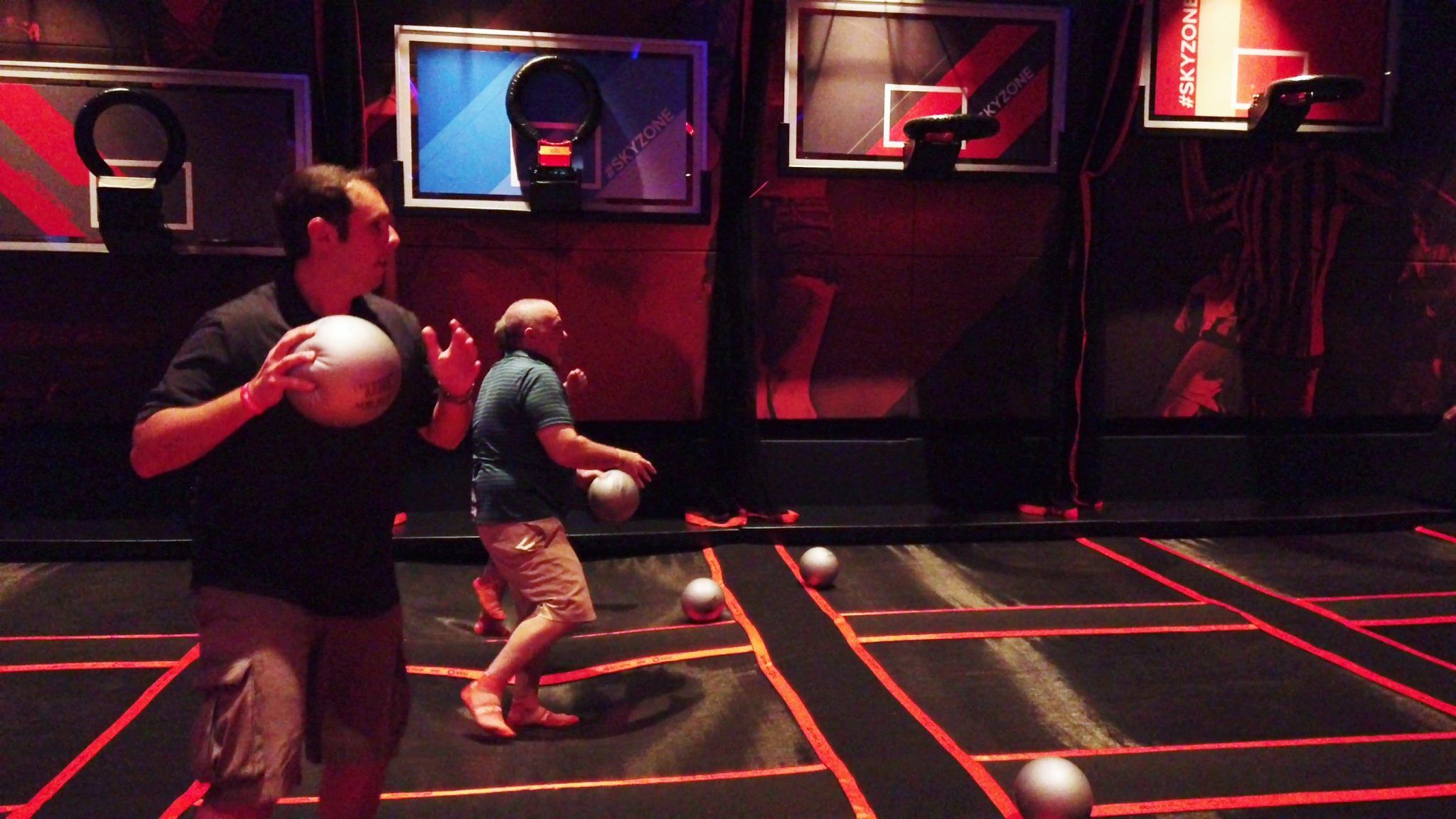 I personally liked the basketball dunking. While my "old" team did come in third place in dodge ball, I think some of the officiating was suspect. The area also includes a few other challenges, such as an interactive rock-climbing wall, jousting, a rope ladder, and tug of war.
On the sidelines, the wife snapped some photos and video of me trying not to break my neck.
Cramming Everything into the Final Day
After all that work, I needed a drink and perhaps a bite to eat.
Good thing the Tides Bar had a short wait as we ordered our only frozen drinks of the entire cruise! While the Princess waited in a long pizza line, I snagged a shrimp burrito from BlueIguana and a table.
Finishing up close to 2 pm, we wanted to get some last hours of sunlight. Unfortunately, it was a bit too cold and windy on the top decks, as well as the Deck 5 outdoor promenade.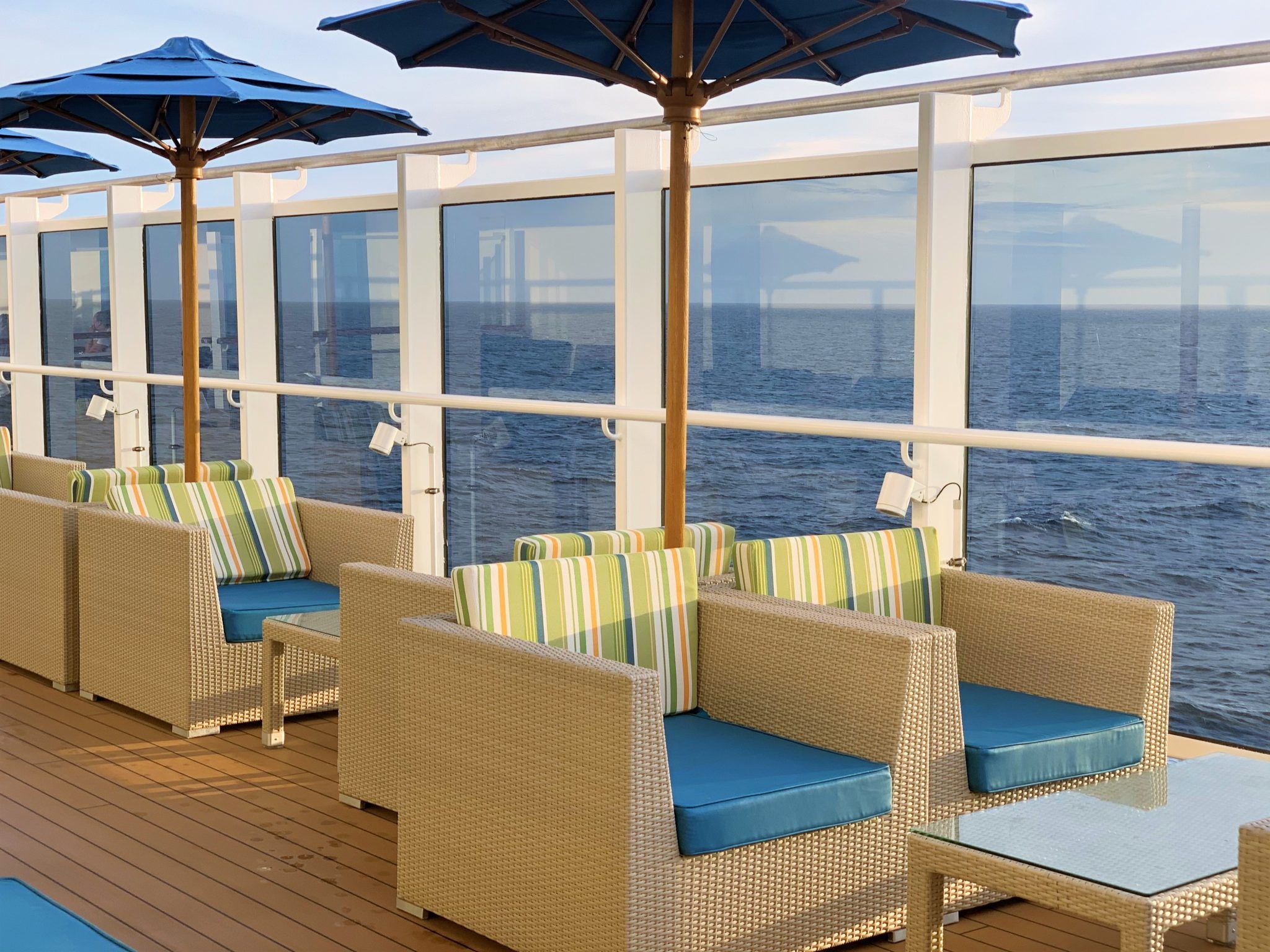 Instead, we grabbed two drinks from Guy's Pig and Anchor Brew House and staked claim to seats in the Havana Bar. This venue is quiet during the day, so we were able to do some work until about 4 pm.
The night before, our host in the dining room, Mr. A, offered us the opportunity to do a Galley Tour at 4:45 pm. This would be cutting it close for dinner, so I went solo to this private event. It lasted about a half hour, while the head chef gave us a run down of the night's menu. We were also able to see the Chef's Table and learn about that exclusive dining experience.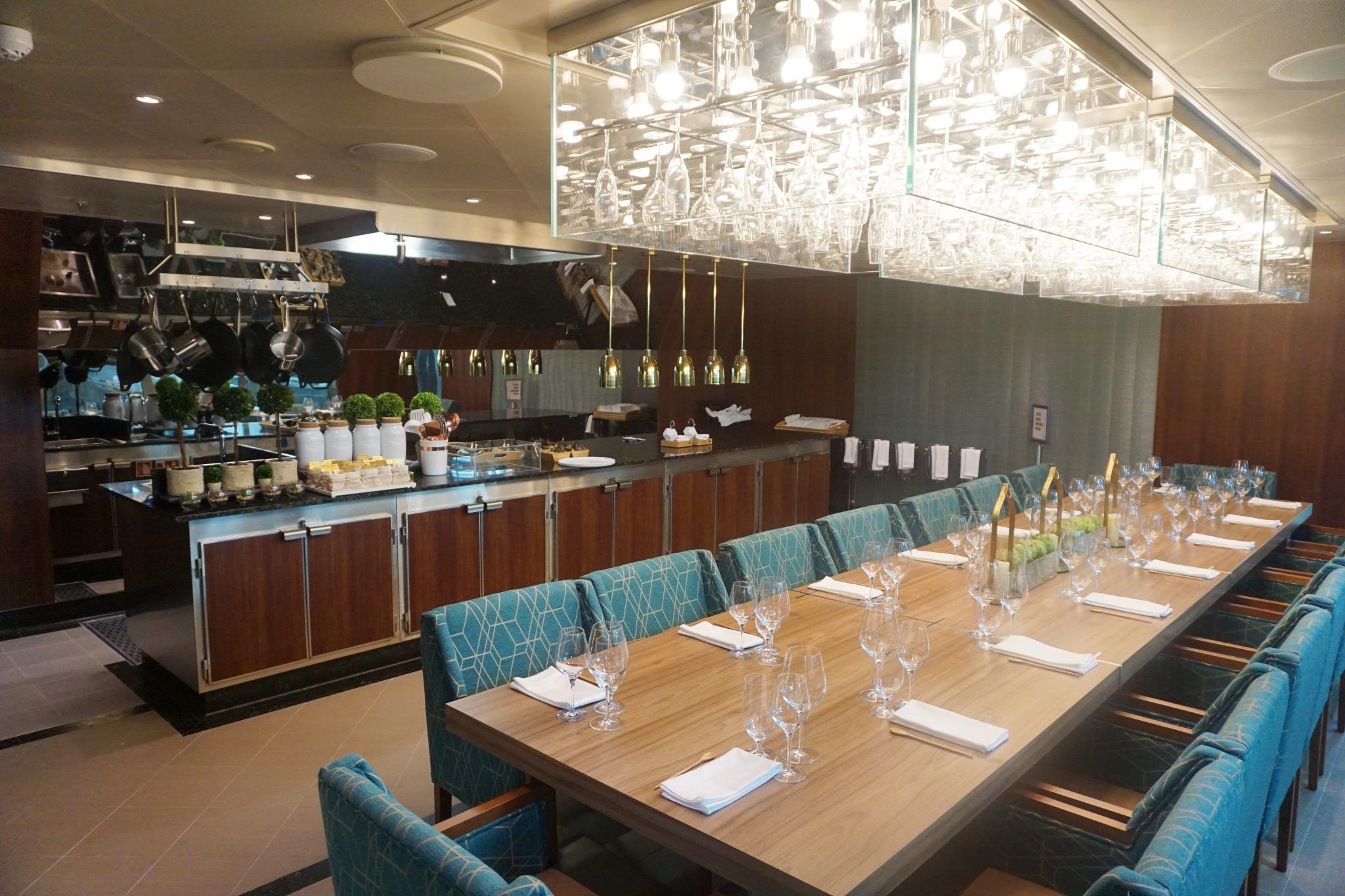 Back to the room, I quickly changed up for dinner. While Carnival had offered us a specialty dinner at Cucina del Capitano, we decided to spend our last night in the main dining room. That way, we could say goodbye to our great waitstaff and properly thank them.
The menu did not feature the Princess' go-to turkey dinner, a last night staple on Royal Caribbean. Instead, she went with a caprese salad and cornmeal crusted chicken.
For a starter, I did the escargot which was surprisingly well seasoned and not drenched in butter. For an entree, I did half orders of the two shrimp dishes- one a pasta dish and the other a rice dish. I preferred the aptly named penne, shrimp, and bacon dish.
The icing on the cake was the dessert. The ship's Baked Alaska was as much a spectacle as it was a sweet treat. Waiters paraded around with this popular dessert complete with flames and sparklers. Not only did it look amazing, it was equally delicious.
Finishing up by around 7 pm, we had a few remaining items to attend to for the cruise.
Final Night Onboard
Tonight was the final competition of the Lip Sync Battle at 7:30 pm.
This was a full out spectacular. Each of the contestants had two rounds to show off their skills. This included one routine with the ship's dancers. Then, there was even a performance by one of the Fun Squad members doing a 90's mash-up and one with Emma doing an 80's mash-up. The entire event lasted about an hour, and it was a great way to top off the cruise.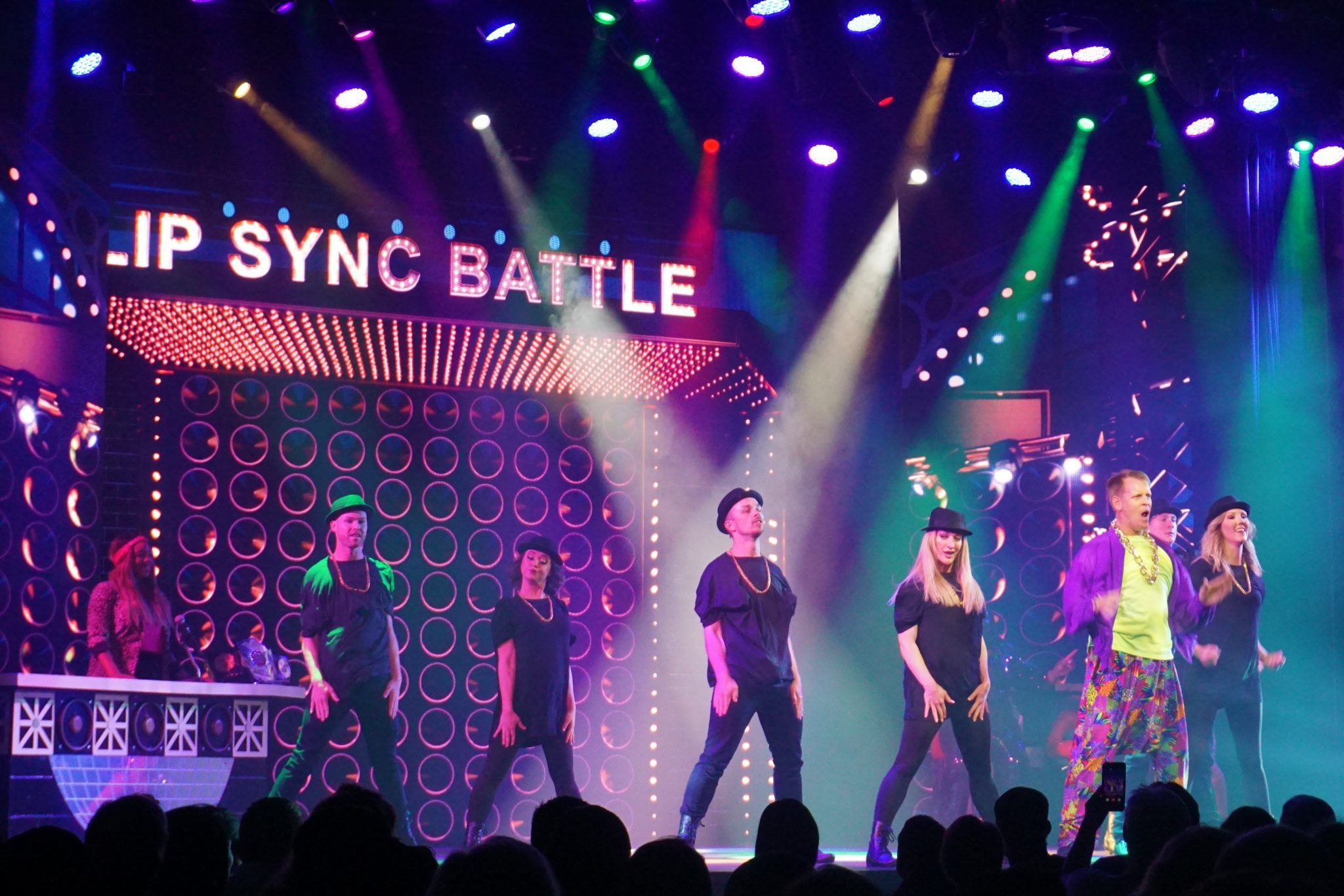 Next, to round out our drink around the ship, we stopped in to the Heroes Tribute bar on deck 4. This is a brand new venue for the Carnival Cruise Line fleet. The venue was not very busy tonight. In fact, the only time we saw a crowd here was during football as there are several large screen televisions to watch the game. So, we each tried one of the signature cocktails on the menu.
The last session of late night comedy was at 10:30 pm in the main theater. With some time to spare, we finished our drinks and headed up to the pool deck to get a glimpse of the Dive-In Movies. A small crowd was watching the live action remake of Disney's Aladdin. For us, it was a bit too chilly outside. Of course, I did snag a bag of popcorn on my way back indoors.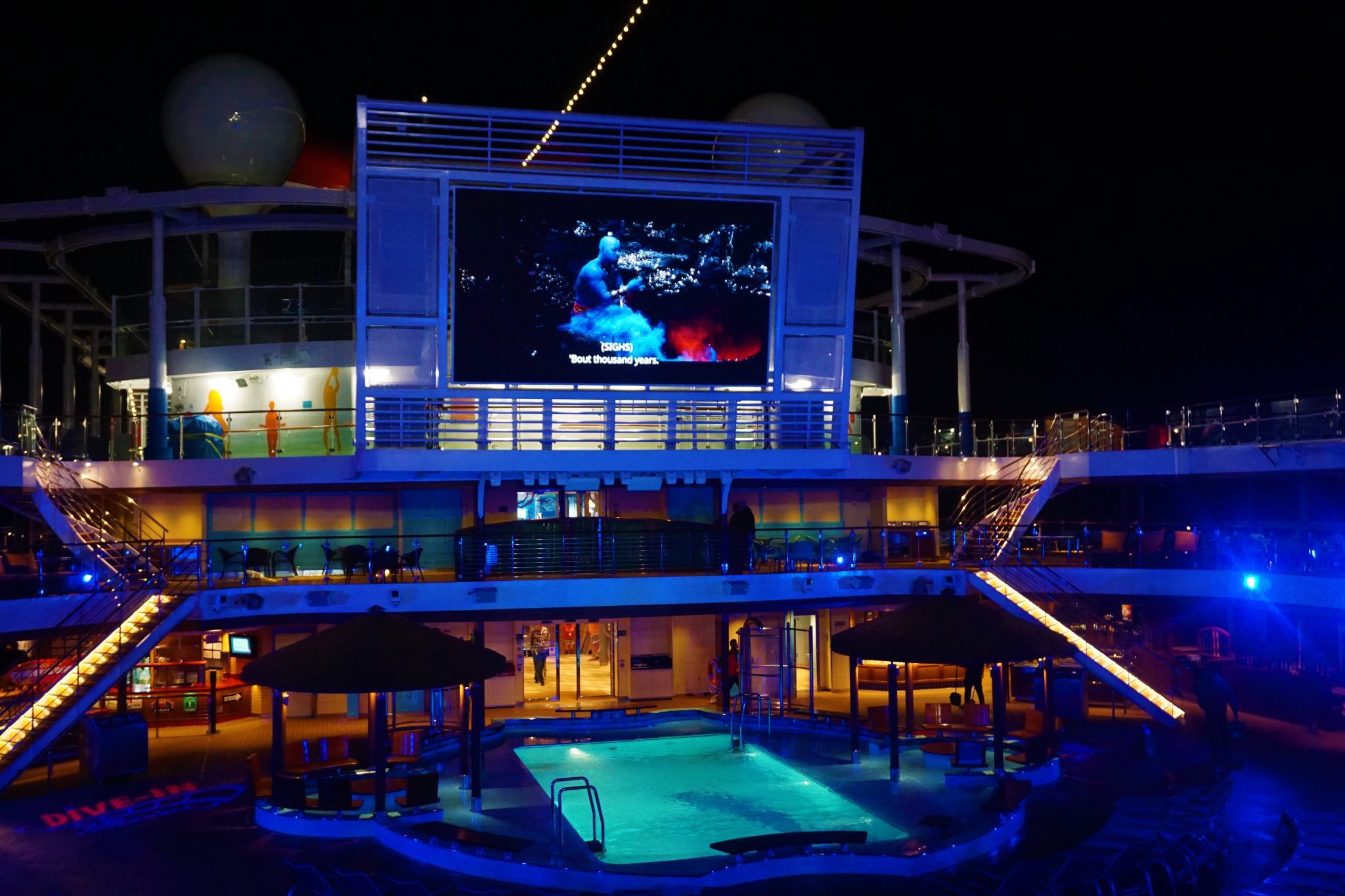 For our last drink of the night, we stopped in at the Alchemy Bar. This was certainly our favorite spot. Sipping our cocktails for a while, we eventually ended up in the theater for the last show of the evening. The two comedians, Tony Esposito and Vince Morris, gave us a few more laughs before it was time to call it a night close to 11:30 pm.
While we did not know exactly what to expect on this trip, we decided to "choose fun" and had a wonderful time on our first ever Carnival cruise.
Carnival Panorama Mexican Riviera Cruise Review – Disembarkation
The saddest time of any cruise is disembarkation. As usual, we opted to do the Self-Assist disembarkation, though it started much later than other cruise lines. We were already docked when we woke up, but they did not begin calling passengers to the gangway until close to 8:30 am. This gave us time to grab a final breakfast at the BlueIguana around 8 am to fuel up for our day. We were going to be spending the day in Long Beach as we did not fly out until the evening.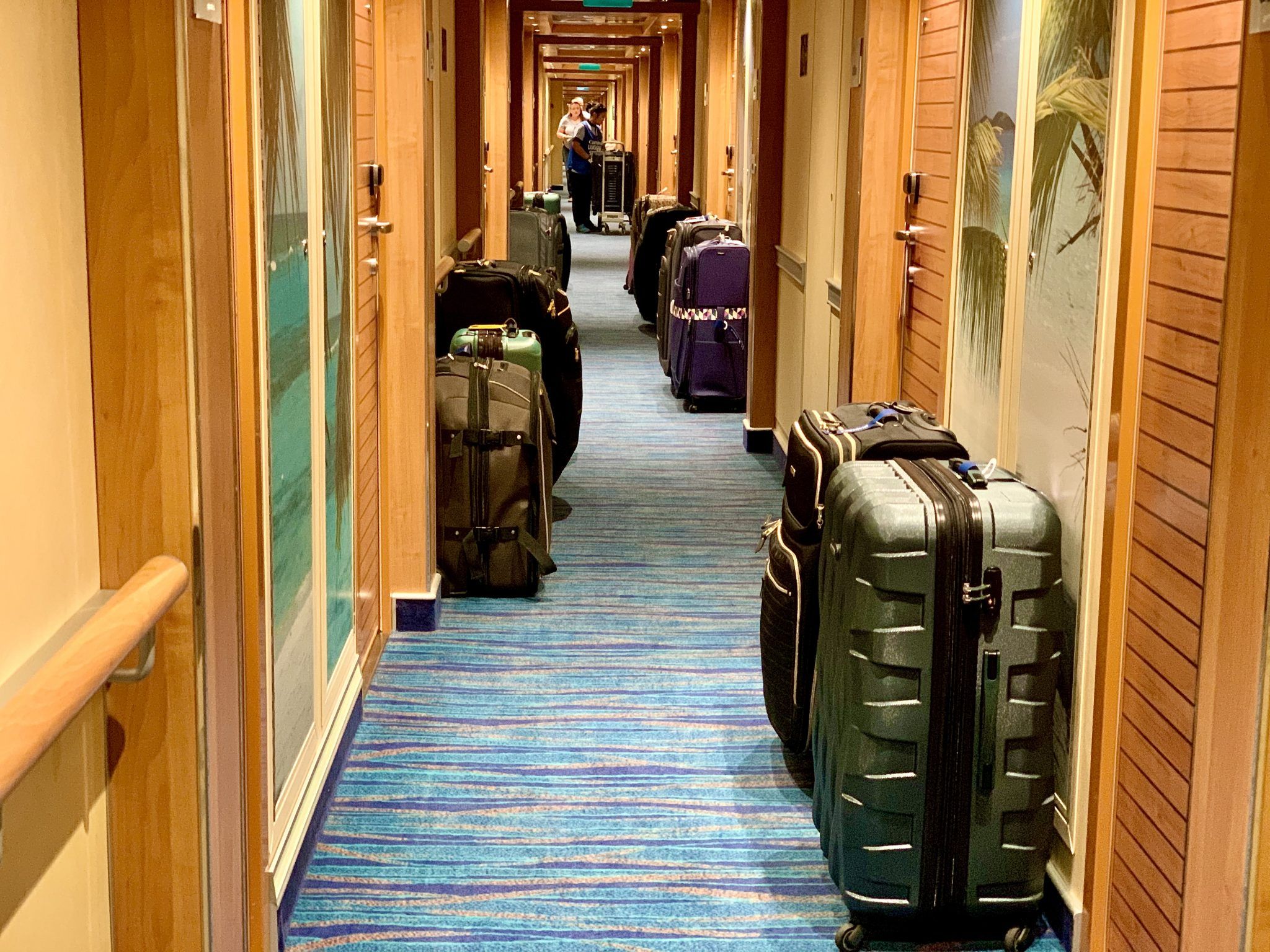 On Carnival Panorama, even self-assist disembarkation was called by deck numbers starting at deck one. We were patient for a bit, but when only deck 1 had been called 15-20 minutes into the process, we decided to head down to the gangway.
We were greeted by a long line of fellow passengers with bags in tow all looking to get off the ship. Taking close to an hour to get scanned off the ship and through Customs, it was close to 9:45 am at this point. We can't imagine how long it took for those individuals who left their luggage out the night before to be called! Now we know why there was such a traffic jam a week ago when we embarked the ship.
We had looked into visiting the Queen Mary prior to our cruise. This was the perfect option to spend the day as it is within walking distance from the terminal, and they will store your luggage for you. So, we headed over and checked our luggage with the bellhop. We then waited 15 minutes or so for the ticket counter to open. To our surprise, we were informed that we could get free entrance by showing our cruise ship card.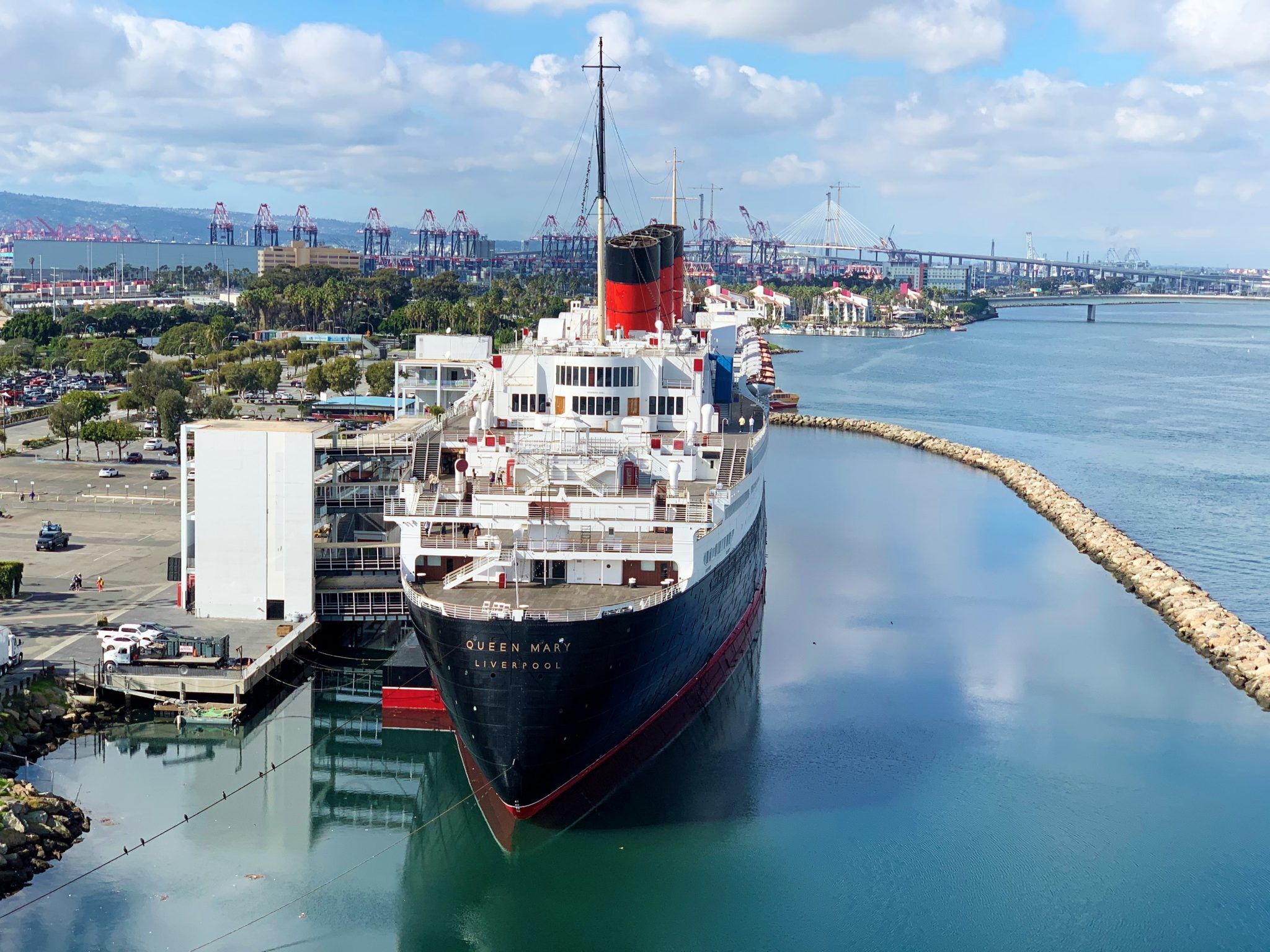 This certainly beats the $40 advertised price online. Of course, this free admission was all self-guided, so we ended up booking two of the tours, the Glory Days Historical Tour and the Haunted Encounters Tour. Each of these tours were about an hour long and cost $10 each per person. We spent a good majority of the day here roaming the ship after completing the two guided tours. It is amazing to see how similar yet different cruising is now.
Around 3 pm, we rounded up our bags and got an Uber to the airport. It was an uneventful red eye flight home. Sad that our cruise was over, it only means that we beginning planning for the next one. Next up is Royal Caribbean's amplified Freedom of the Seas, but we can certainly see ourselves on another Carnival cruise in the near future.
Comments
Do you have plans to cruise on Carnival Panorama? What do you love about sailing with Carnival Cruise Line? Drop us an anchor below with your own Carnival cruise review.