Allure of the Seas Cruise Review
02/24/2013 – 03/03/2013
Summary
Ship:
Allure of the Seas holds the title as the largest cruise ship in the world, but only by two inches. Besides her sister ship, Oasis of the Seas, Allure is over 40% larger than the next class of cruise ship. With her size, comes some impressive features and stats. In this Allure of the Seas Cruise Review we take you through all seven different neighborhoods, including an outdoor Boardwalk on the back of the ship complete with a carousel and Central Park in the middle of the ship with plenty of live plants and quaint dining areas reminiscent of New York City. With a zip line at sea, the Aqua Theater with an outdoor diving show, and plenty of other entertainment options including Broadway hit, Chicago, Allure of the Seas certainly offers something for everyone! The biggest question might be: How will I have time to see and do everything?
Itinerary:
Due to her size, Allure of the Seas is limited in her ports of call. We opted for a 7 day Western Caribbean cruise that took us to Labadee, Haiti, Falmouth, Jamaica, and Cozumel, Mexico. Essentially, Labadee and Falmouth are ports created by Royal Caribbean so attractions are limited but still enjoyable. We made the most of our time spent here by trying new things, including the longest zip line over water! In all honesty, when you sail on an Oasis class ship, the ship is really the attraction and the ports of call are just nice stops in between.
Highlight:
With so much to do on the ship, finding one highlight is tough. Hands down, the entertainment on Allure of the Seas is the best we have experienced on any cruise ship. From the Aqua Theater's show OceanAria, to the full production of Chicago, to Blue Plant which is dubbed by RCI as an "immersive environmental experience", Allure entertainment was rock solid. Was every show a 10? Close–and for those who think cruise ship entertainment is sub-par, Allure will change your perceptions for good!
What's Missing:
Can there be too much of a good thing? Perhaps. With so much to do and see, including specialty restaurants, shows, the sports deck, ice skating rink, about twenty different bars and lounges, parades, contests, trivia, the list is never ending. In fact, there is so much to do that it might be overwhelming for some. For us, relaxation took a back burner as we felt like we had to check everything off the list.
Main Takeaway:
Allure of the Seas is an impressive ship with many unique features and unbelievable entertainment. On Allure, you can customize your vacation to meet your group's needs. If you want to see it all or simply relax, the options are up to you. You can also take away some of the vacation stress by pre-booking much of the entertainment prior to sailing. With 5,400 other passengers, things can be busy, but we did not really feel the ship was any more crowded than our other past sailings. Though, we do usually sail in January and February when crowds are lighter in general. This trip, we were reunited with my favorite cruise director, Allan Brooks, who we also had when we traveled on Freedom of the Seas in 2010. Allan is top notch—very funny and entertaining. We are definitely looking forward to another sailing on an Oasis class ship in the near future and would recommend Allure of the Seas for a fabulous cruise experience for those of all ages.
Read our detailed, day by day Allure of the Seas Cruise Review below…
Day 0 – Pre-Cruise Travel Day
Back in the Saddle Again
It has been a while, too long if you ask me, since our last cruise. With almost three years separating us from our last jaunt on Freedom of the Seas in 2010, it was almost like starting anew. Of course, that was not really the case as we had learned a lot about cruising in our past adventures and had been planning this Allure trip for some time.
We had originally booked this cruise for January 2012, but that trip was cancelled as the ship ended up being chartered for a private event. I guess it was kind of a blessing in disguise as 2012 turned out to be a busy year for the Princess and I. It turns out, we were quite occupied in late late 2011 and 2012 with all the details that go along with building a house, moving, and settling into our new home. Allure of the Seas and our love of cruises would have to take a back burner temporarily.
Once life had settled down a bit, we were ready for a vacation! What better vacation than a cruise on the largest ship in the world? So, we booked a February 2013 trip and began the planning process armed with knowledge from Cruise with Gambee's extensive review on the message boards.
A First, a Pre-Cruise Stay
Unlike our previous winter cruises, this time around, we opted to fly down the day before the cruise–maybe the "older" inner self was telling us to play it safe given that we are New Englanders. This was especially easy as Allure departs on a Sunday, meaning the extra day of travel would not require taking more time off from work.
After carefully weighing the reviews on hotel options, we decided to stay at the Hyatt Place which is a few miles from the pier and located directly behind the Harbor Shops. The hotel's package included transfers from the airport to the hotel and transportation from the hotel to the pier. Our direct flight from Providence, RI on Southwest Airlines was on time, luckily with no weather issues, getting us to Ft. Lauderdale and to the hotel by 11am.
Unfortunately, our room was not available upon our arrival, and the lobby was quite crowded with cruisers getting on shuttles for Saturday departures, including Oasis of the Seas. So, we were forced to leave our luggage in a small, what would soon become, crowded storage area and kill some time until our room was ready.
Strolling Around Fort Lauderdale
Luckily, the weather was sunny and warm, so we headed out for a little walk. We made our way to the Starbucks down the street–the Princess needed her iced latte–and explored the Harbor Shops a bit. We went to the local supermarket to grab some Gatorade and bottled water to take onboard the ship and stopped at Five Guys for lunch. This was actually our first Five Guys experience, and the Cajun fries were quite tasty! As if I wasn't going to be eating enough the next 7 days on the cruise?!
Prior to our arrival, we had made dinner reservations through Open Table at a local restaurant, but given we still did not have our room and were a bit tired from the travel, we changed our reservation to Bistro Mezzaluna, an Italian restaurant literally across the street from the hotel.
We finally received a call from the hotel around 2:30pm that our room was ready, so we headed back and proceeded to wrestle our 3 giant suitcases out of the very crowded storage area. We were also able to put in our request for a shuttle for the next morning. Of course, we signed up for the first shuttle of the morning as we wanted to be the first ones on this ship! The downstairs hotel lobby, though small, seemed relatively up to date, with a bar/coffee station. Our queen bedroom, on the other hand, showed some signs of wear and tear. Crashing here for only one night, these accommodations would work. By this time, a nap and shower were in order.
Then, we were off to dinner at Bistro Mezzaluna. The restaurant was upper scale but the clientele were a bit older than expected—then again it is Ft. Lauderdale. Dinner was good, but a bit overpriced for typical Italian American fare. Service was also a bit slow as the staff seemed to be catering to a few larger parties seated in our section. After an extended dining experience, we made our way back to the room to rest up for the big day tomorrow, boarding the largest ship in the world.
Day 1 – Embarkation
Are You Ready?
The morning had arrived. We were both eager to start this day, so while the Princess was getting ready, I made my way downstairs to grab some light snacks from the continental breakfast. We did not get our morning Starbucks as we knew we had the comfort of lattes every day for the next week at sea. The Allure of the Seas is the only Starbucks at sea, lucky for us!
So, one last room sweep to make sure we didn't forget anything, and we were off. We were in the lobby for about 9:15am for our 9:30am shuttle, and it was a bit chaotic already. Despite the crowded lobby, we were boarded on a shuttle roughly on schedule, and with no traffic, we had arrived at the cruise terminal in virtually no time.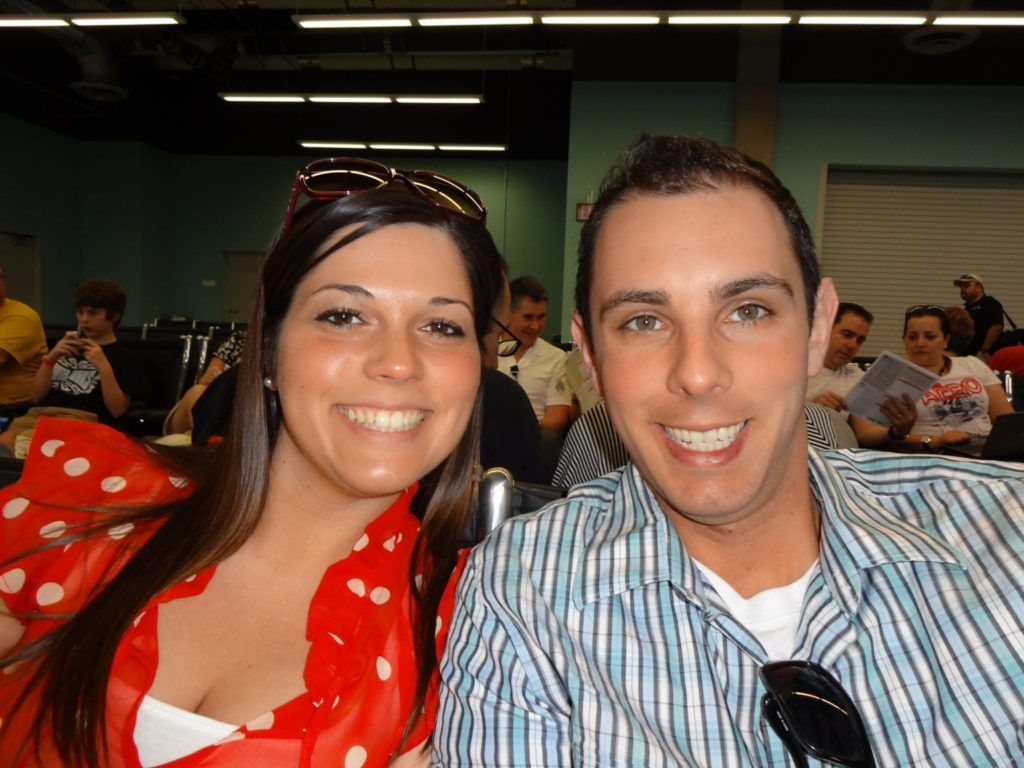 The terminal was especially designed for Allure and Oasis so the processing of people was quite efficient. After all, RCI has to ensure all 5400 passengers are able to board in a timely fashion. We had our bags dropped off, went through the check in process, and had our seapass card in hand in the waiting area in less than 30 minutes. It was great. By the time we made a few phone calls phone, they had already started calling the suite and Diamond Plus passengers to come aboard.
It's Not That Big, Is It?
At last, we were called. It was time to pose for our Welcome Aboard photo and make our way through the gangways to enter at the promenade. First impressions? OK, it's not that big. Initially, it did not seem much bigger than Freedom of the Seas, but after walking around all the other spaces and venues, it became apparent how massive Allure really was.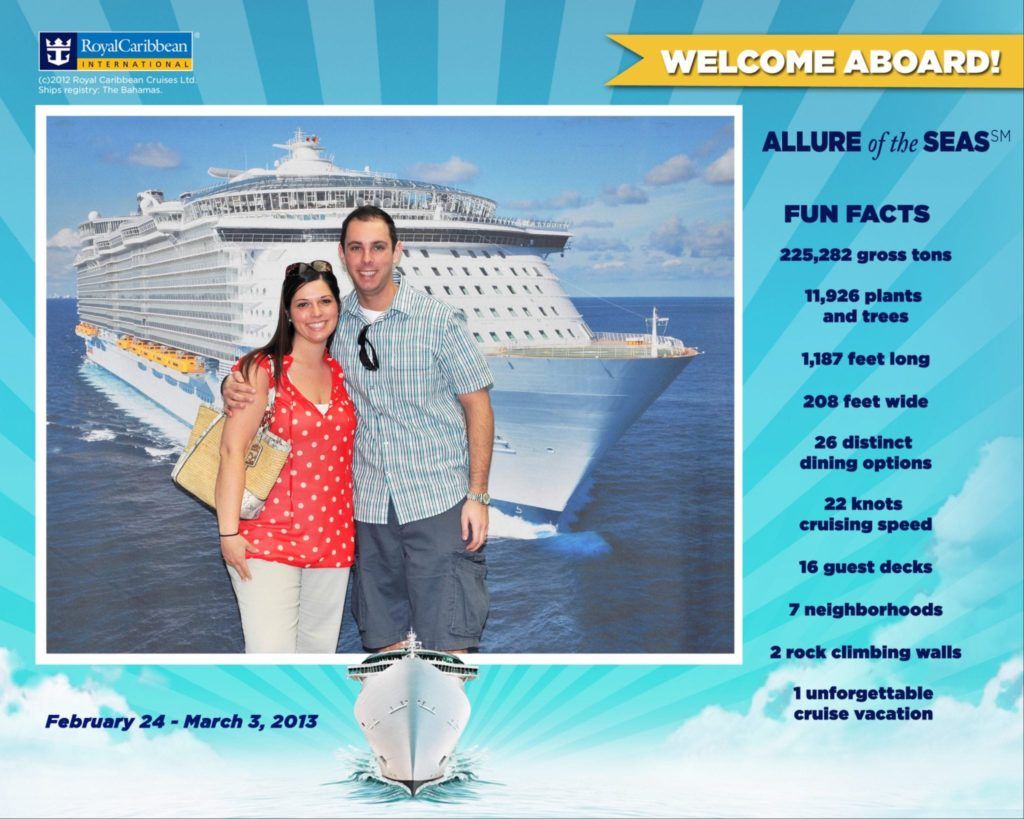 Royal Caribbean had recently rolled out their drink packages, so we had done some investigation and debated back and forth as to whether it would be worth it for us. We walked by a table selling drink packages shortly after boarding, and decided to purchase the premium drink package. What the heck, we are on a long overdue vacation!
After a brief tour of the ship, we headed to Park Café to grab some lunch. I had been reading so much about these famous roast beef sandwiches, I just had to try one. Unfortunately, Park Cafe is no longer a "well-kept secret". As we made our way to Central Park on deck 8, we were greeted by a long line of fellow passengers with the same idea. The line was moving quickly, but we decided that I would order the food while the Princess tried to find us a table.
Lunch and Some Pictures
The sitting area at Park Café is rather small but there is additional outdoor seating at Vintages and Giovanni's Table to accommodate overflow during prime breakfast and lunch times. After ordering the food, I made my way out into the sea of people to find the Princess. I was in disbelief; did the usually shy Princess already make friends? I saw my wife sitting at a table with another couple.
Come to find out, she had been wandering around looking for a table when the couple of 2 who was sitting at a table for 4 offered up the additional seats. Oddly enough, they were also from MA and lived only a few towns away from us. They were Diamond cruisers and gave us some great tips as they had sailed on Oasis previously. Of course, they ended up being those people that we seemed to run into everywhere.
The roast beef sandwiches definitely lived up to the hype; they were delicious. I actually lost count of how many of these bad boys I ate during the cruise, but believe me, it was plenty.
After lunch we were set to get our picture taking adventure underway, but first we made our way back down to the promenade, now flowing with even more fellow passengers, and waited in another line for coffee at Starbucks.
With our iced lattes in hand, we were now ready. Since we were already in the Promenade, why not start there. We made our way from bars, to entertainment venues, to the MDR, to the casino, covering all of decks 4 and 5. We then headed north toward deck 6 and the Boardwalk. This neighborhood would become our favorite place during the course of the week as we loved spending time at the outdoor spaces, including the Boardwalk Bar.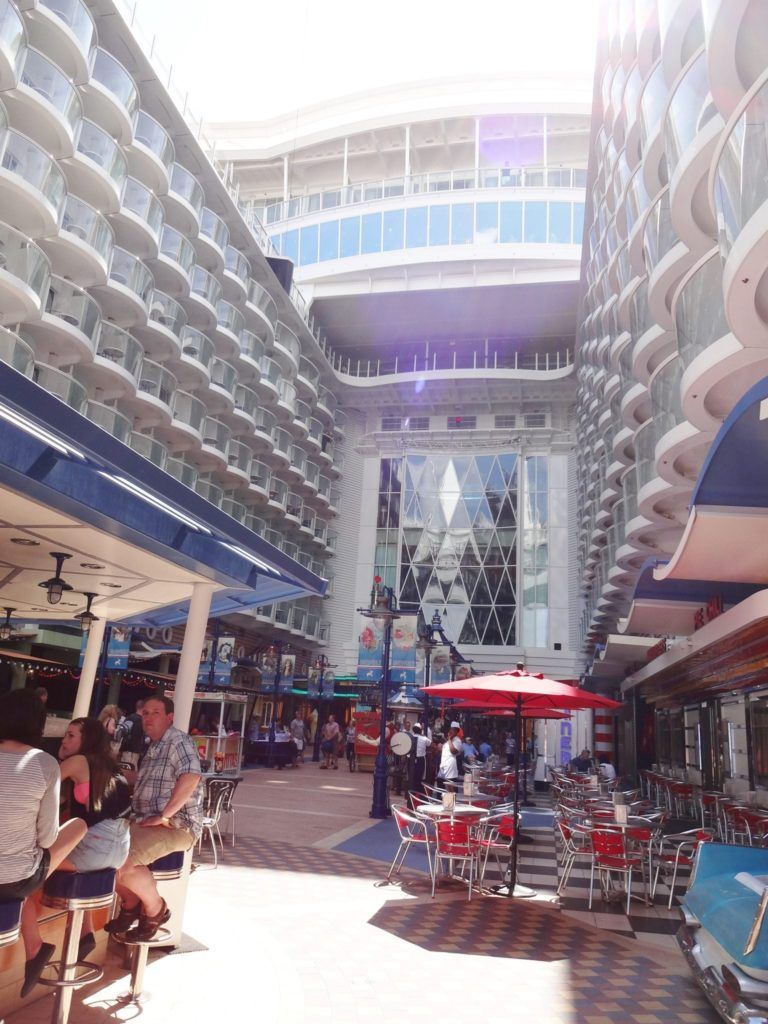 We then proceeded to make our way up to the top deck, stopping on deck 8 to grab some pictures of Central Park which we had already explored a bit during lunch time. We then made a pit-stop on deck 10 to check out our room. Since my birthday was just a few days ago, the wife had purchased a birthday package. It was a nice surprise to see the room all decorated with banners and happy birthday décor.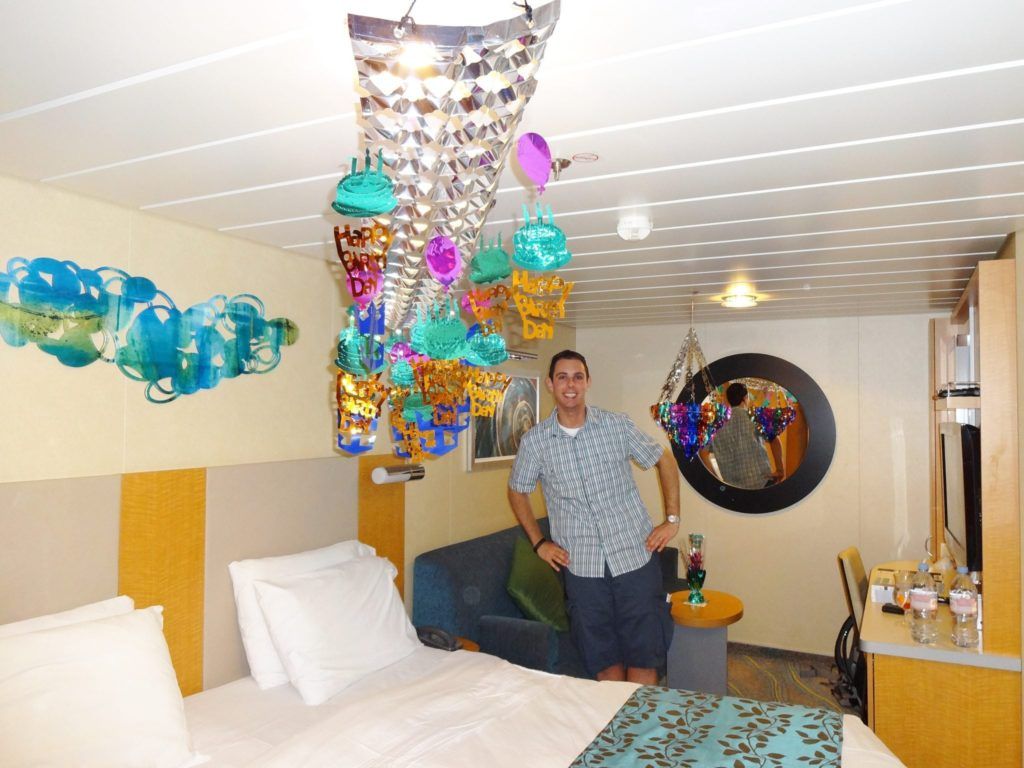 Finally, we had made it to deck 15 where we grabbed photos of the four pools, bars, mini-golf area, and sports court. Phew, almost done—onto deck 16 to check out the flowrider and zipline and take some aerial shots. By now, we had gotten plenty of pictures so we decided to take a break and head to the Boardwalk to grab some drinks.
Where did the time go? It was getting close to 4:30pm already, and you know what that means–muster drill, which for us was in the Blaze night club. Thankfully, you no longer have to bring your life vest to these drills, making it much easier and efficient.
It's Show Time
After the drill, we went back up to the Boardwalk, are you sensing a trend already? This time, we grabbed seats at the Aqua Theater for the Dreamworks Sail Away show at 5pm. Yes, we are big kids. Who doesn't like to see Shrek and Fiona? The show was definitely high energy and entertaining for kids of all ages. The show was barely thirty minutes, which was perfect as we were able to go back to our room to freshen up and do a quick costume change for dinner.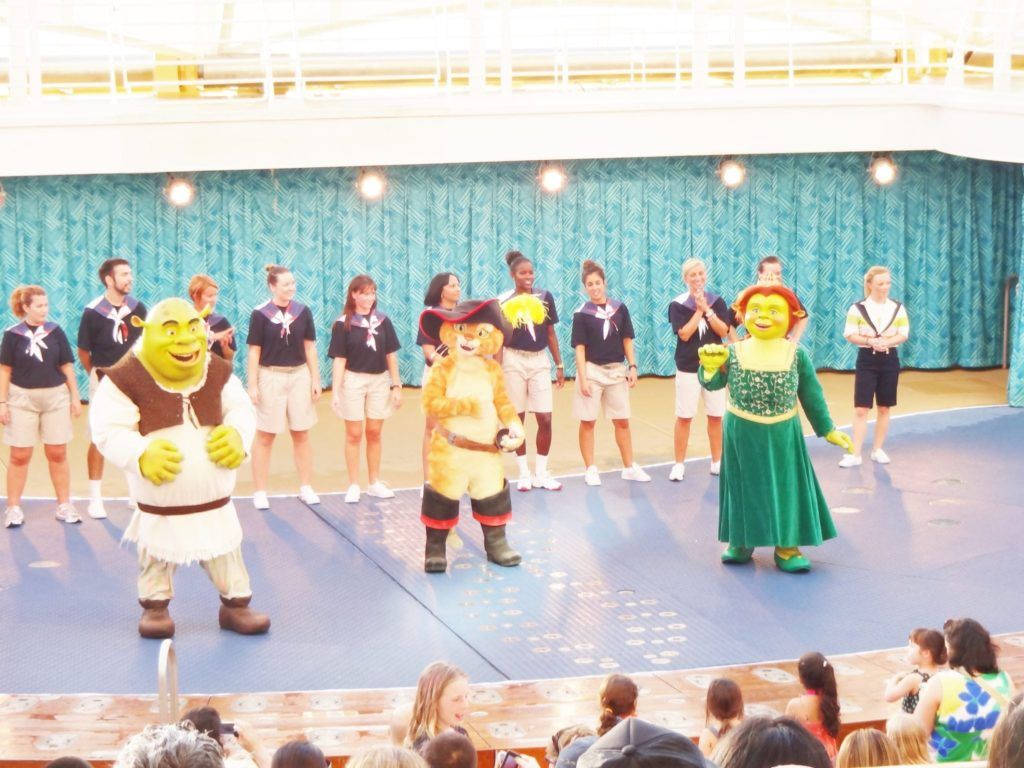 Shortly after 6 pm, we entered the Adagio dining room where we met our waiter, Osman and our assistant waiter, Martins. They would provide solid service over the course of the week. Our assistant waiter was new, so he looked a bit lost at times, but worked hard and definitely aimed to please. Our waiter Osman, from Turkey, had a very formal, somewhat rigid demeanor, and took his job as a waiter seriously. I really liked him, but the Princess was not the biggest fan. Dinner was good but a bit slow as the first night often is.
So, after my elaborate eating display, we didn't exit the MDR until a little before 8:00pm. We had pre-booked ( A MUST!) the diving show, OceanAria, for this evening which did not start until 9:00pm. We debated trying to get a drink at a different venue before the show, but wanted to make sure we could get seats so we just headed to the Boardwalk instead. It's a good thing we did because there was already a line when we arrived. We grabbed a quick drink at the bar and proceeded to wait in line as they started letting people in 45 minutes before the show.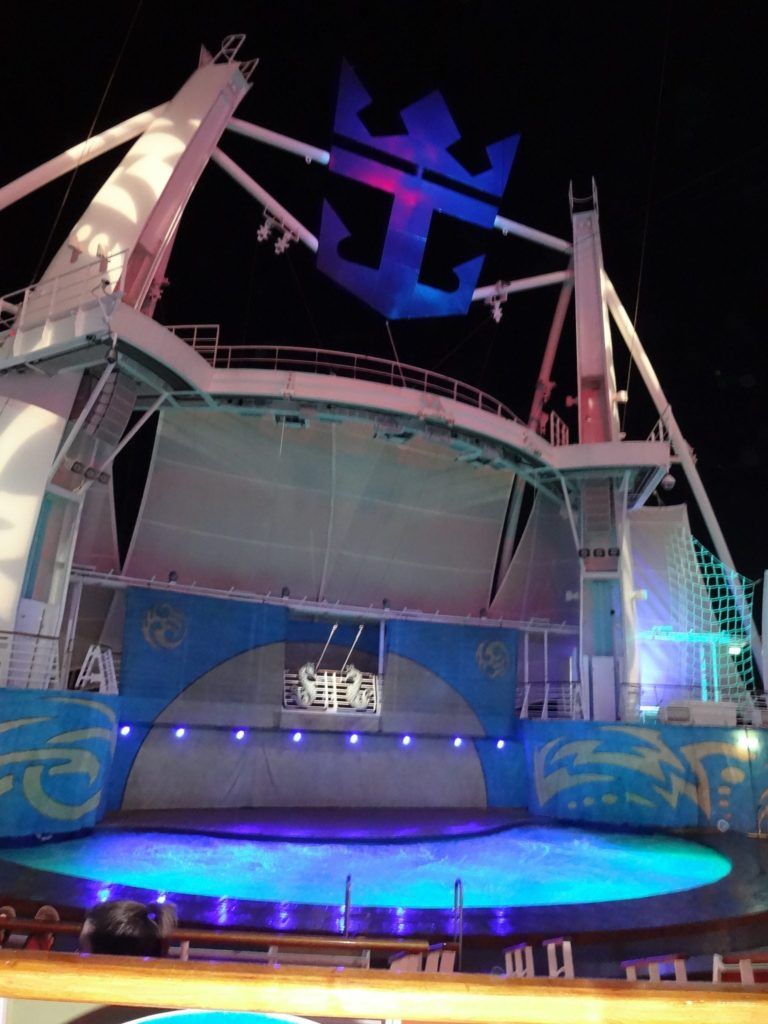 Sailing on the largest cruise ship in the world is fabulous, but it does take some pre-planning and pre-booking to have the best experience. If you do not pre-book your shows, you are forced to wait in a stand-by line with no guarantee that you will get seated.
OceanAria, an aquatic and aerial based show, tells the story of an ancient tribe who "dive, swim, and fly to the ocean's song…". The show was very entertaining, but on a ship with some of the best entertainment at sea, OceanAria was probably our third favorite show. Of course, on any other cruise, this would have been the highlight-so definitely do not pass up the chance to check it out.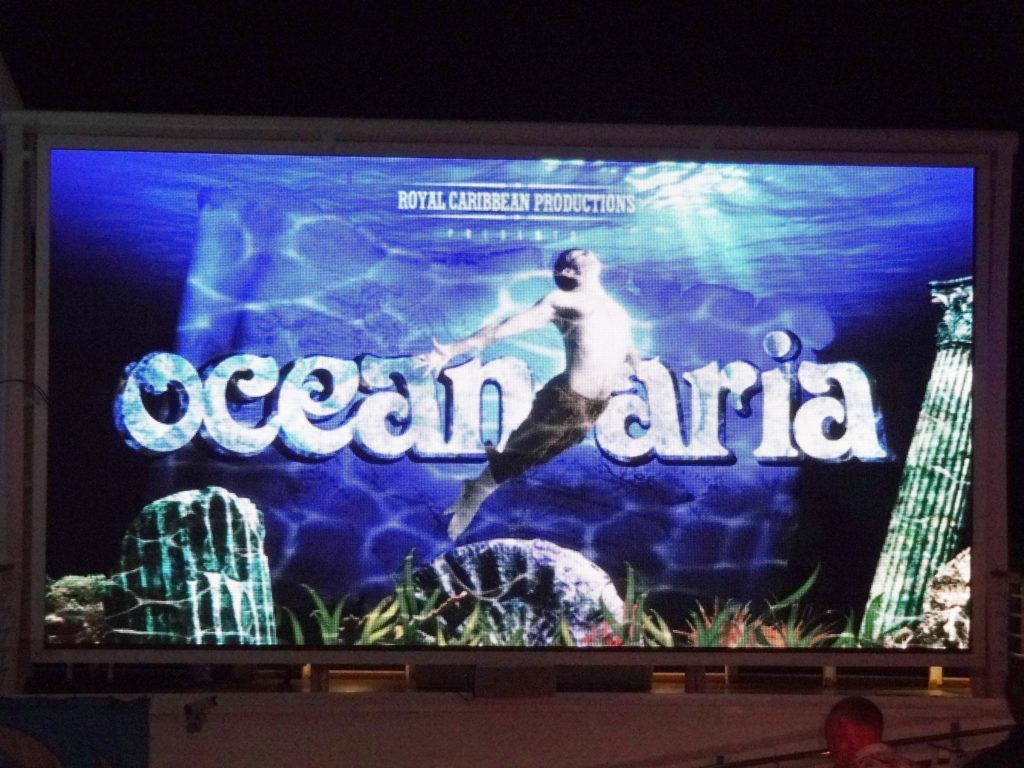 After the show, we headed down to the Promenade to begin our cruise tradition of "drinking around the ship". We were able to find two seats at the Schooner Bar to grab a drink and listen to the piano music of Liam Stewart. We relaxed here for a while until calling it an early night around 11pm.
Day 2 – At Sea
Fun in the Sun
Today was the first full sea day, and it was beautiful so we were up and ready early to ensure a good spot in the sun. We had already decided we were going to take it easy today as we had a long night ahead of us with formal night and Chicago at 10:30pm. What better way to relax then on the pool deck with a frozen cocktail in hand?
With our mission to avoid the buffet as much as possible, we made a quick stop at Starbucks to grab our daily lattes then went to the Park Café, in Central Park, for some breakfast. The Park Café definitely became one of our favorite eateries over the course of the week, as the breakfast burritos were just as delectable as the roast beef sandwiches at lunch. It's no wonder that RCI is adding these venues to a bunch of ships. With open air seating and a casual relaxed environment, it is a nice change of pace from the Windjammer.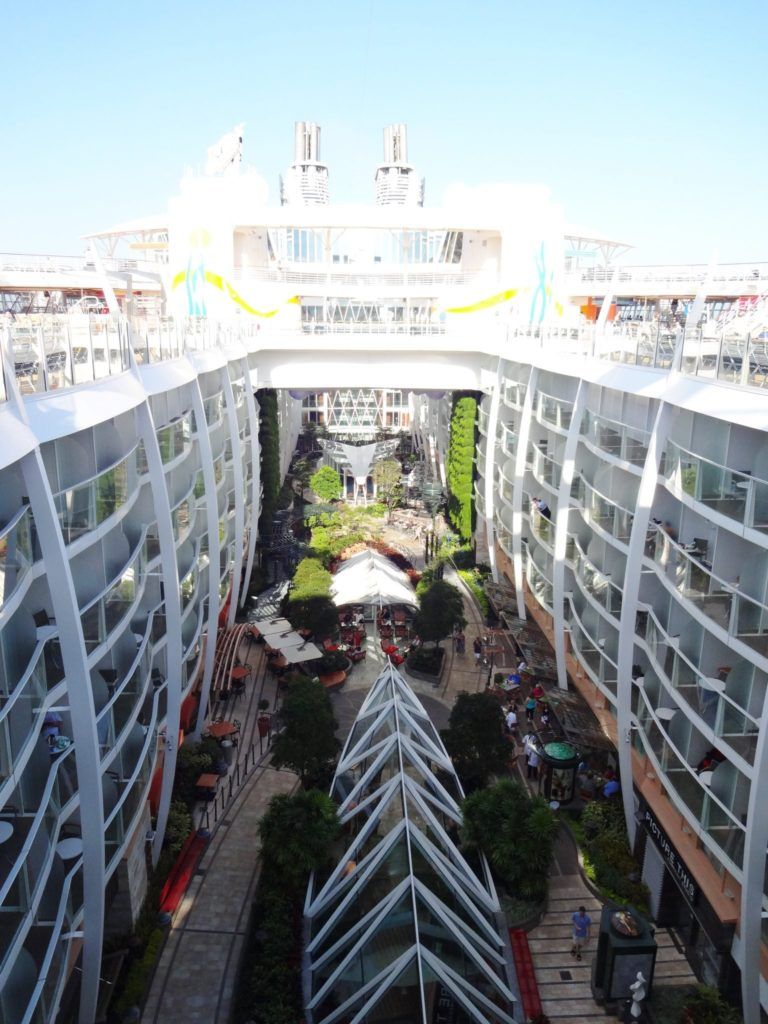 Following breakfast, we headed upstairs to grab some seats in the sun. Unfortunately, the lounge chairs nearest the pool were taken so we headed up a flight. It was relatively empty up here so we had our choice of seats, but we would soon find out why. Not sure if it was the size of the ship or just the weather combined with the course we were sailing, but at times the wind felt like a twister.
So after about 2 hours of tanning AND enduring the wind, we decided to head over to the Allure Dunes to play some mini-golf. We usually try to make it a 3 part series, so today would be the first. Given the wind, it was anyone's game! The course was fun and somewhat challenging to us amateur golfers. So who won?I LET the Princess win—I would have 2 more games to pull out the victory.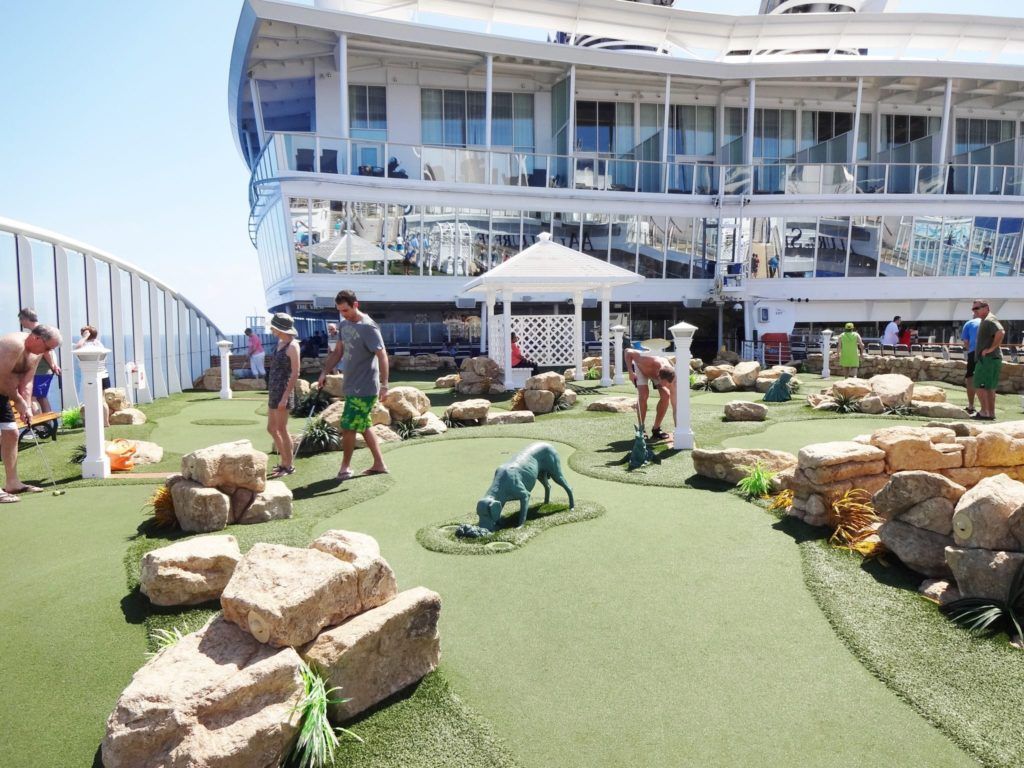 Classic Poolside Entertainment…In a Theater
After playing mini-golf, we walked around the sports deck for a bit, people watching on the flowrider, rock climbing wall, and zip line. The Princess made her way to Sorrentos for a few slices of pizza. Then we headed to the Boardwalk to enjoy the weather, grab some drinks, and await the Sexiest Man Contest. Of course, on our walk to the Aqua Theater, I snagged two hot dogs from the Boardwalk Dog House. Hey, I was not competing in this contest!
As the area started to get busy, we made sure to seek over to the Aqua Theater to ensure good seats. As always, the Sexiest Man Contest never disappoints. Between the Cruise Director Allan Brooks' liveliness, the spectacle put on by the male contests, and the banter with the female judges, the show was funny and entertaining. Of course, the more senior gentleman always seems to pullout the victory.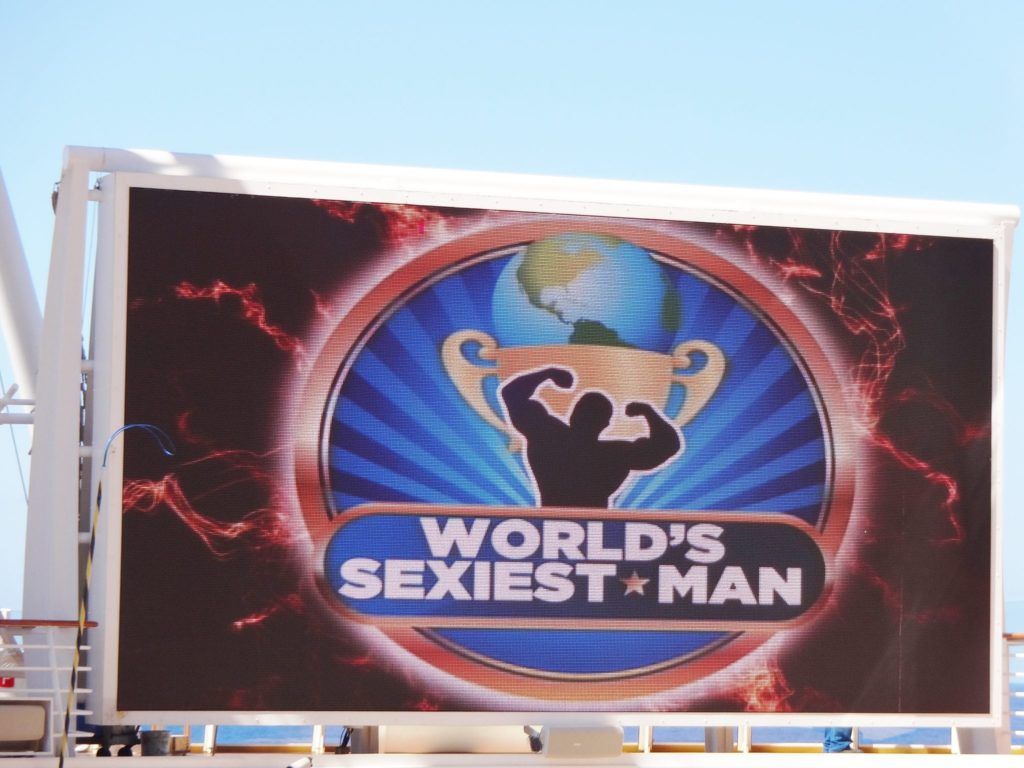 With the show over, and our drinks empty, we grabbed another round at the bar and then headed in to grab a snack. The Princess likes her sweets, so we decided to try the Cupcake Cupboard. We agreed to split a cupcake just to try it out, and good thing, as it was stale and not very tasty. At least we can say we tried it and would not be back during the remainder of our cruise.
Dress Up Time
The Princess also loves her formal nights, so it was time to venture back to the room to get ready for dinner. By about 5:15pm, we were ready to head down to take pictures. We had already done a bit of investigation and realized that new since our last cruise was an all-inclusive digital photo package that the wife insisted on purchasing.
So, you know what that means, I am going to get the most of my money and make sure we hit up as many stations as possible. On the largest cruise ship in the world, there are a lot of stations. On this first night, we were able to hit 9 stations, before I had to wrestle her away to dinner. You know, they do close those MDR doors sooner or later.
Formal night dinners are always the best. Tonight, I had the duck, and it was one of the better meals I have had on a cruise ship. Of course, nothing compares to lobster night.
Following dinner, we made our way to the Promenade for the Captain's Reception. This event is always good for a free glass of champagne, or two. Although, it just didn't seem as appealing now that we had the drink package—but I still took one!
After listening to the Captain's speech, we decided to hit up our next bar on the tour around the ship, Boleros. This lounge is located right next to the theater on the promenade and has an upbeat Latin vibe. The only problem, this is a designated smoking venue. So, needless to say, we had our one drink and moved along.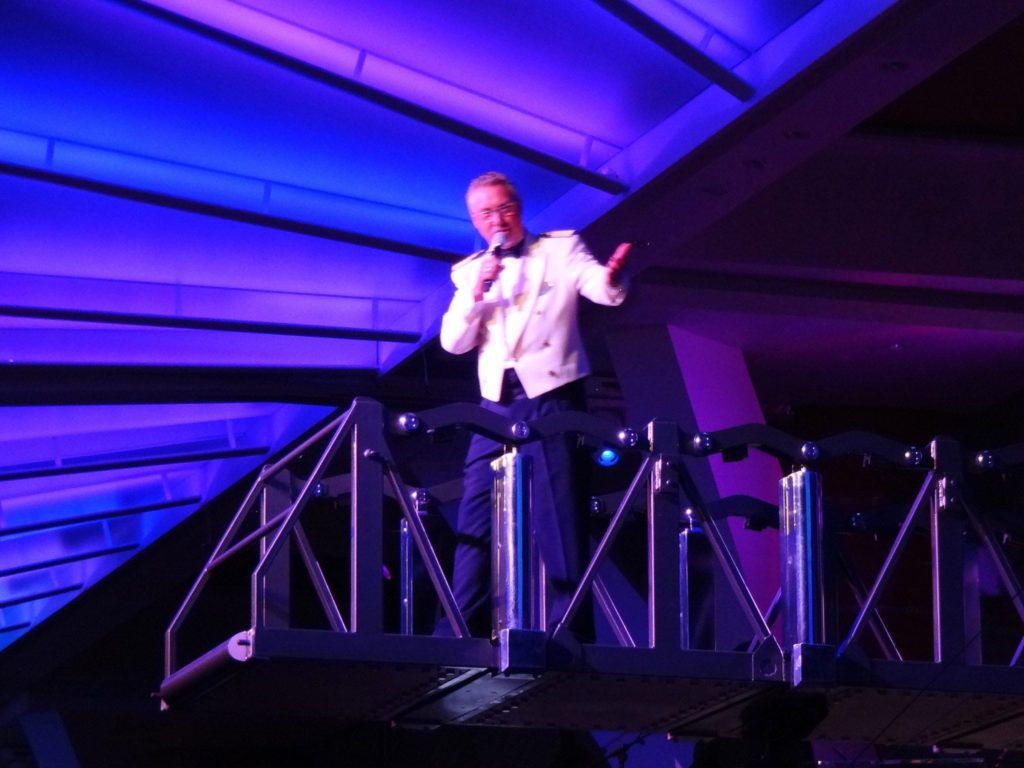 A Broadway Show At Sea
The wife decided to head back to our room for a quick shoe swap, hers not mine, before getting in line a little before 10pm for Chicago. This line was much larger than the OceanAria line the night before. The main theater is also much larger than the Aqua Theater, so we did not have a problem getting seats in the center.
Confession, I had no idea what the plot of the show was before this sailing. We have seen a few Broadway shows but never this one, nor had I seen the Academy Award winning movie. Overall, we enjoyed it. It was a fast paced, attention grabbing show, playing in its entirety without an intermission. A gentleman seated behind us commented that they were on the ship not too long ago and that this was a new cast which was better than the other cast, so lucky us.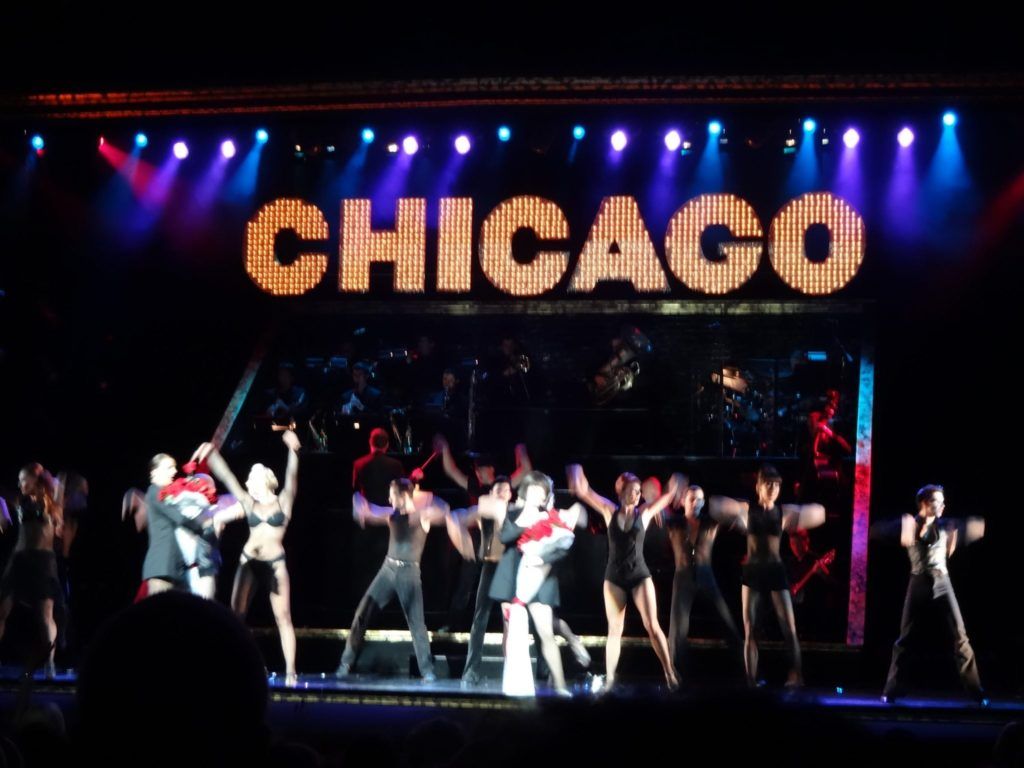 The show ended by midnight and we could have made our way to the casino, or a lounge, or to any of the amazing spaces on the ship, but we are not night owls. We had our first port of call in the morning, so we retreated back to our room for the evening. Before crashing, I put a room service request in for 8am as the ship was set to dock by 9am and we had a 11:30am excursion planned.
Day 3 – Labadee, Haiti
The Day of the Dragon
We woke up about 7 am this morning to another fabulously sunny day. The Princess hopped in the shower to begin getting ready for the day, and I decided that I would actually go for a run on the track to attempt to burn some of those extra calories that I've been eating and drinking. I was back in the room with a few minutes to spare before room service arrived, on time and warm.
After breakfast, I hopped in the shower while the Princess finished getting ready and packing the beach bag for the day. Then, it was off to the top deck to grab some "aerial photos" of Labadee. Now, this was our first time to Labadee so we weren't sure what to expect given our previous experience in Coco Cay.
At Coco Cay, Royal Caribbean's other private island, the shore is very rocky, and you have to tender back and forth to the ship. Add to that the fact that I lost my wedding ring while swimming there. Needless to say, we would be just fine never going back there again.
First impressions of Labadee were quite different. We were able to walk right off the boat, stopping for some photo-ops along the way.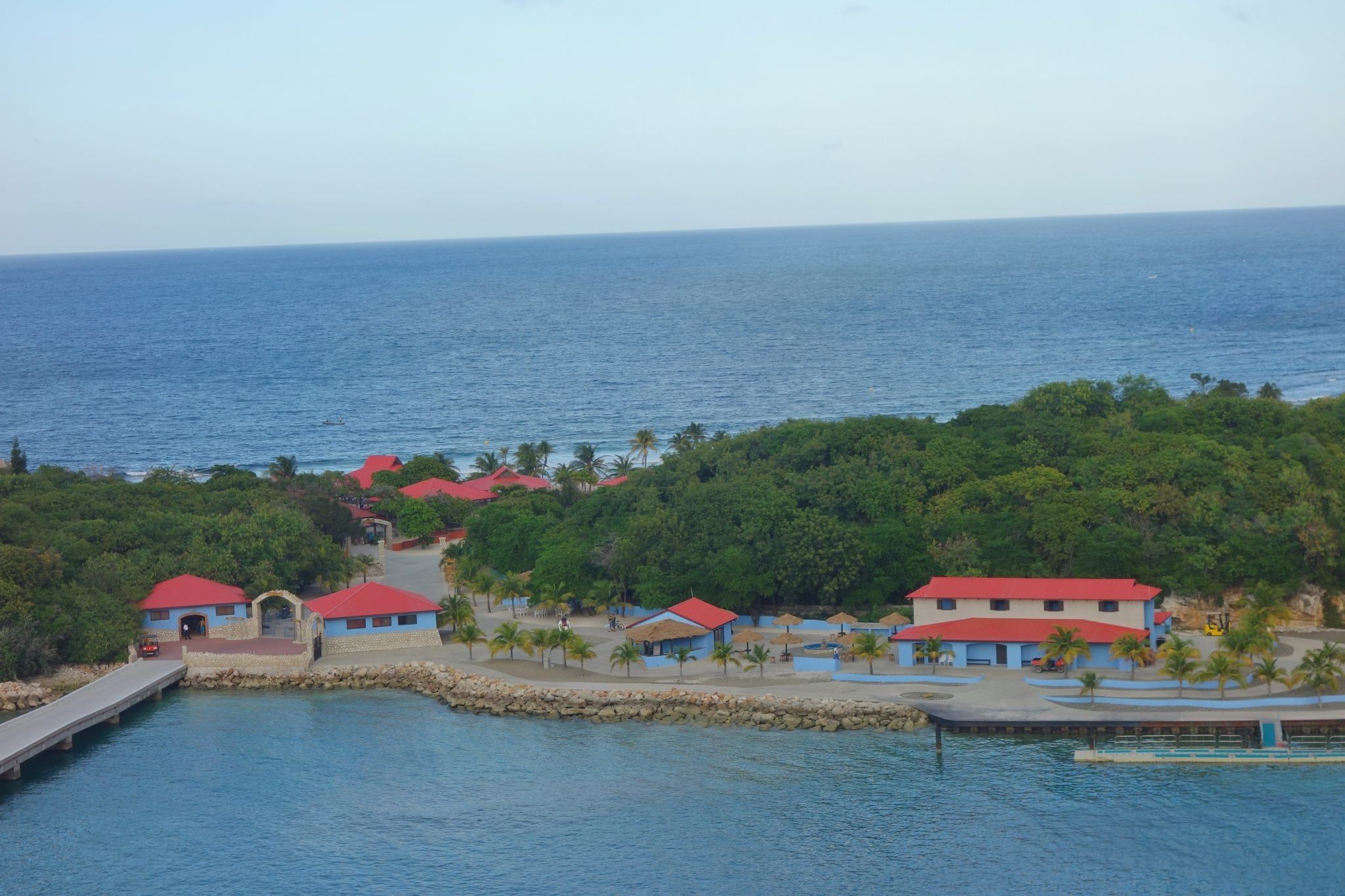 Our Own Private Island Tour
Once on the island, we decided to get acquainted with our surroundings. The area immediately off the pier is called Dragon's Plaza. Here, you can board a tram that will take you around the island if you aren't up for the hike. This is also the area where you can sign up for the Dragon's Breath flight line (We had already booked this excursion). There is also a bar, restaurant, and beach in this area.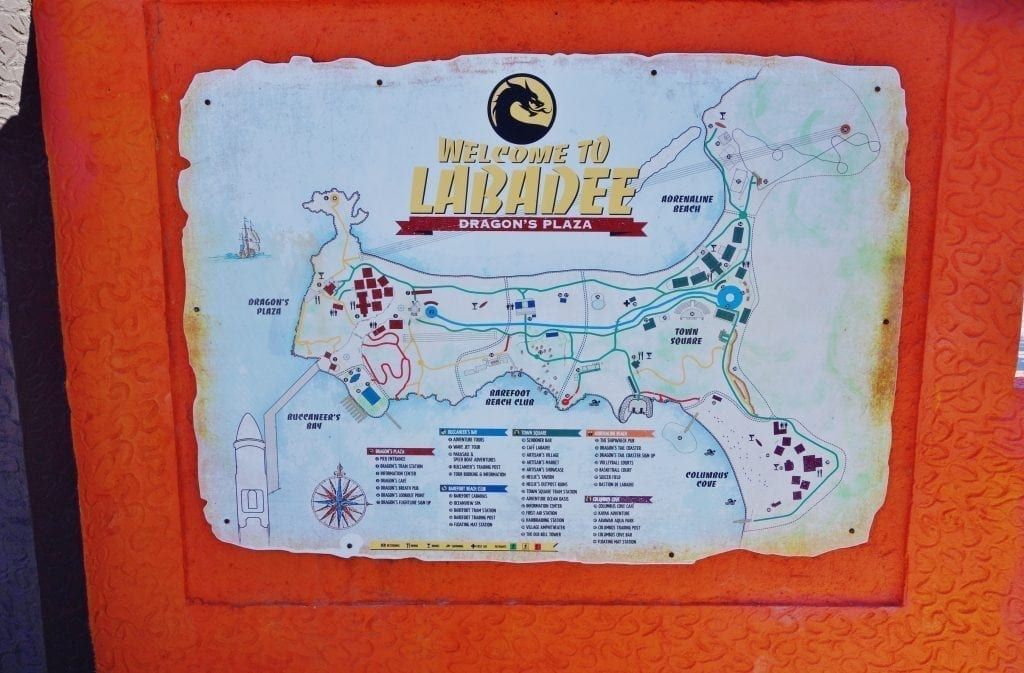 To the right of the ship is Buccaneers' Bay. Here, you can sign up for a variety of shore excursions like jet skis, parasailing, snorkeling, or boat tours of the island. There is also a free water shuttle, the Columbus Cove Express, that transports passengers from Buccaneers' Bay to Columbus Cove, which is on the complete other side of this area.
At Columbus Cove, there is Arawak Aqua park and a waterslide, Dragon's Splash, that can be purchased for additional charges. Columbus Cove has a nice sandy beach and is somewhat more secluded than the other beaches. There is also a buffet area and a bar near this beach.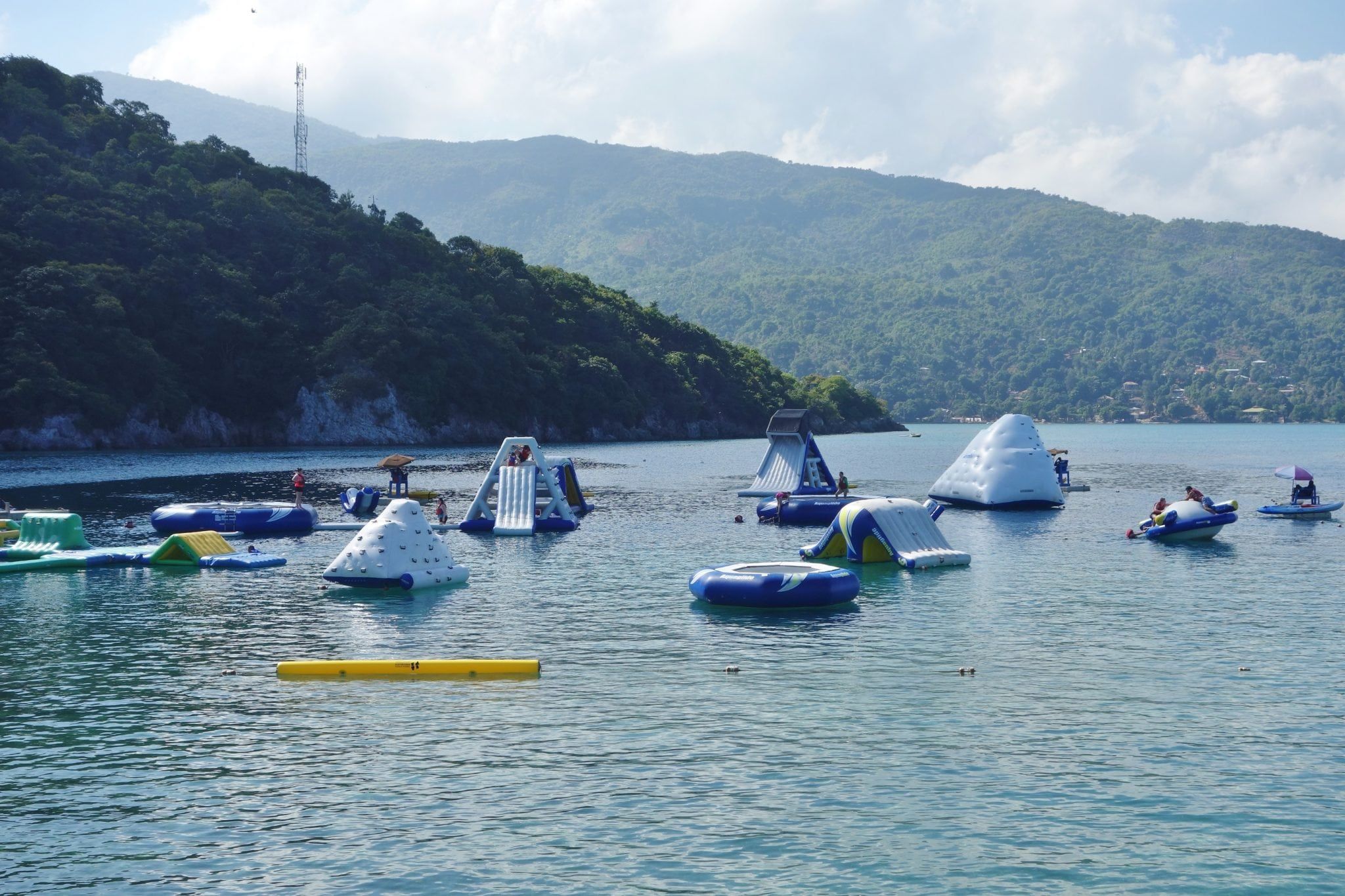 If you head back towards the town center, you will find the Town Square which houses the Artisan Marketplace. Here, there are a variety of vendors selling handmade crafts, beachwear, and Haitian rum. A bit beyond this area is the Artisan Village, an open air market with natives selling handmade goods. We did a bit of browsing in the Market, but the Princess is not much of a barterer so we avoided the Village.
Somebody…SCREAM!
By this time, we decided we should probably start to venture back for our excursion that was booked for 11:30 am. On the way back towards Dragon's Plaza, we strolled by Barefoot Beach. This is a private area for suite guests that has its own bar and dining facility, with cabana access. If you are not in a suite, but desire a cabana, you can grab one at Nellies Beach which is located right next to Barefoot Beach, though this beach is quite small.
We arrived back at the check-in for the zipline a bit early, but decided to just hang out and wait for our turn. We were pretty excited as this 2,600 long zip line is the longest over water in the world. At a height of 500 feet above sea level, it is a wonder to be seen. Only problem, it is the ONE and only attraction. See our full review of this excursion here.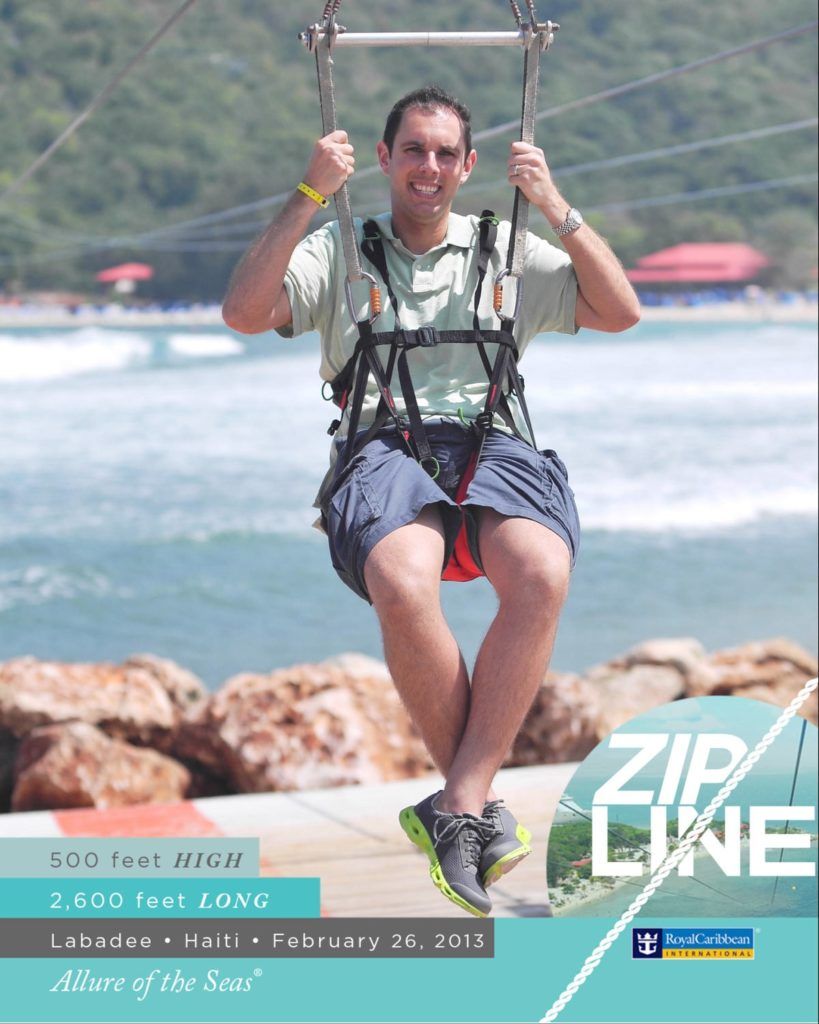 After completing our ride on the zipline, we decided to walk over to the Adrenaline Beach area. This is the very last beach at the end of the main drag, housing the island's Schooner Bar, a large dining facility, and the Dragon's Tail Coaster. The Dragon's Tail Coaster is basically an alpine slide, and even though the Princess is an adrenaline junkie, we both agreed it did not seem worth the money.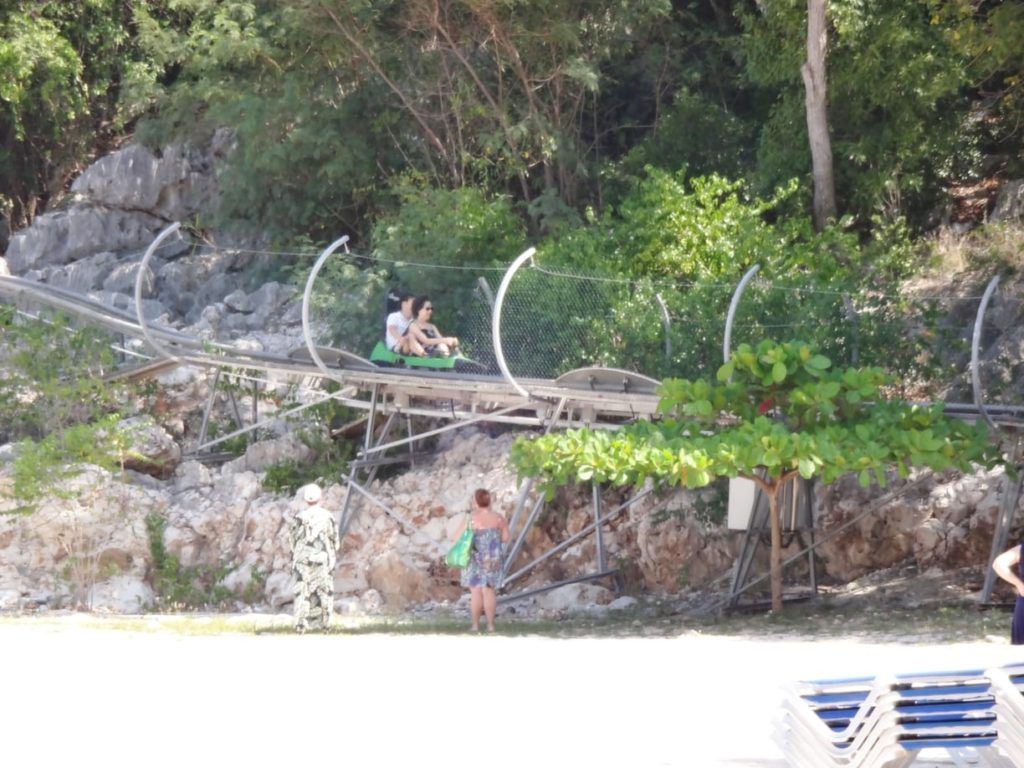 Time to Relax
Since the buffet stations are only open for a limited time during the day, we decided to make that our first stop once we got to the area. The lines were quite long, and there were a lot of empty stations, but I made sure to get my chicken drumsticks and ribs—which were quite tasty! The Princess, of course, did not find much to her liking, so her lunch consisted of some corn on the cob and cookies. Now, what better place to work off that big buffet lunch than Adrenaline Beach?
With beach sports at my disposal, I did what most cruisers would do—grabbed some lounge chairs and relaxed in the sun for the next 2 hours. Hey, I'm on vacation! Plus, I did go for a run earlier in the morning. By around 3:00pm, we had had enough of the sun so decided to head back to the ship. We DID walk back, just to pretend we were at least attempting to exercise.
Still More to See Back Onboard
Once back onboard the ship, we headed to Starbucks to get our daily caffeine. With the ship relatively quiet, we decided to check out the casino. The $6 blackjack tables had just opened, and I was able to get my preferred seat, so I sat down and played for the next hour until the wife dragged me away. We each grabbed a drink from the bar and went back to our room to get ready for dinner.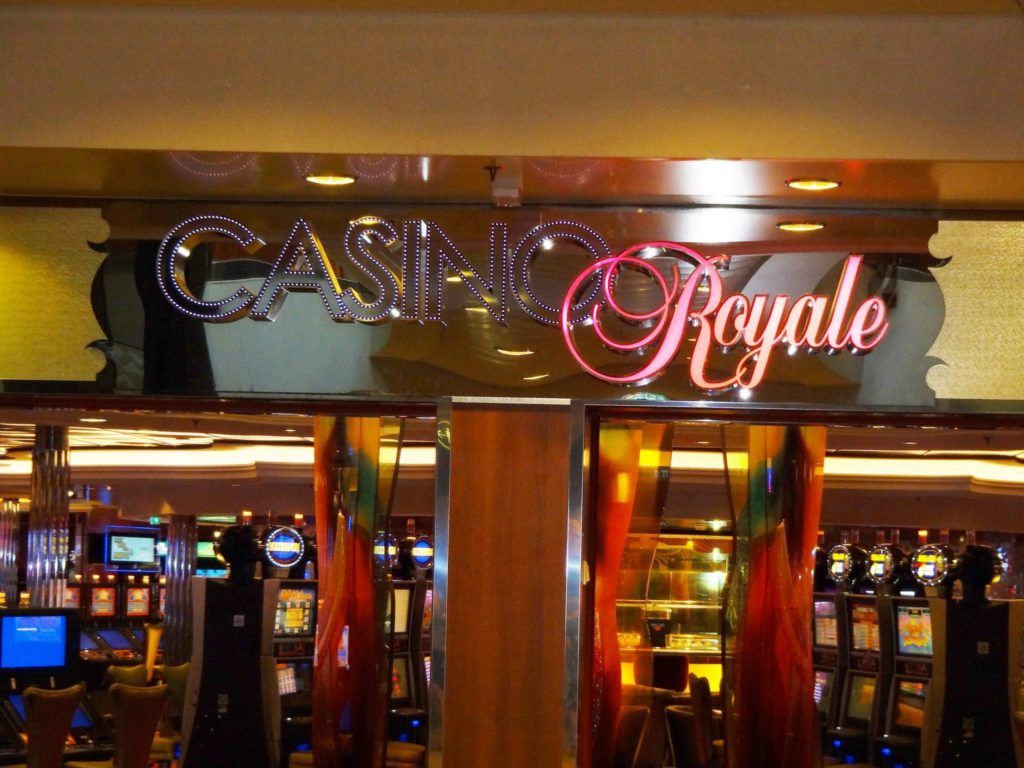 After dinner, we decided to check out On Air. When we arrived, a game show called"If You Know It, Dance It" was just beginning. The wife does not usually let me participate as she gets embarrassed easily, but we ran into the couple from lunch at the Park Café on the first day that were excited about the event and may have egged me on a bit. So, I proceed to make a fool of myself, not really hard for me to do, as I faked my away through popular dances like the Macarena, the Chicken Dance, and others. The only song I actually knew a bit of the dance was Michael Jackson's Thriller, and I seemed like the only person on stage who did. Walking off the stage, a gentleman from the back even commented that I was the only person who did any moves slightly resembling Thriller. I thanked him as I believed he was complimenting me? Our team won the contest, and I'd like to think it was mostly for my MJ moves. Now, I am the proud owner of a cruise planner document holder.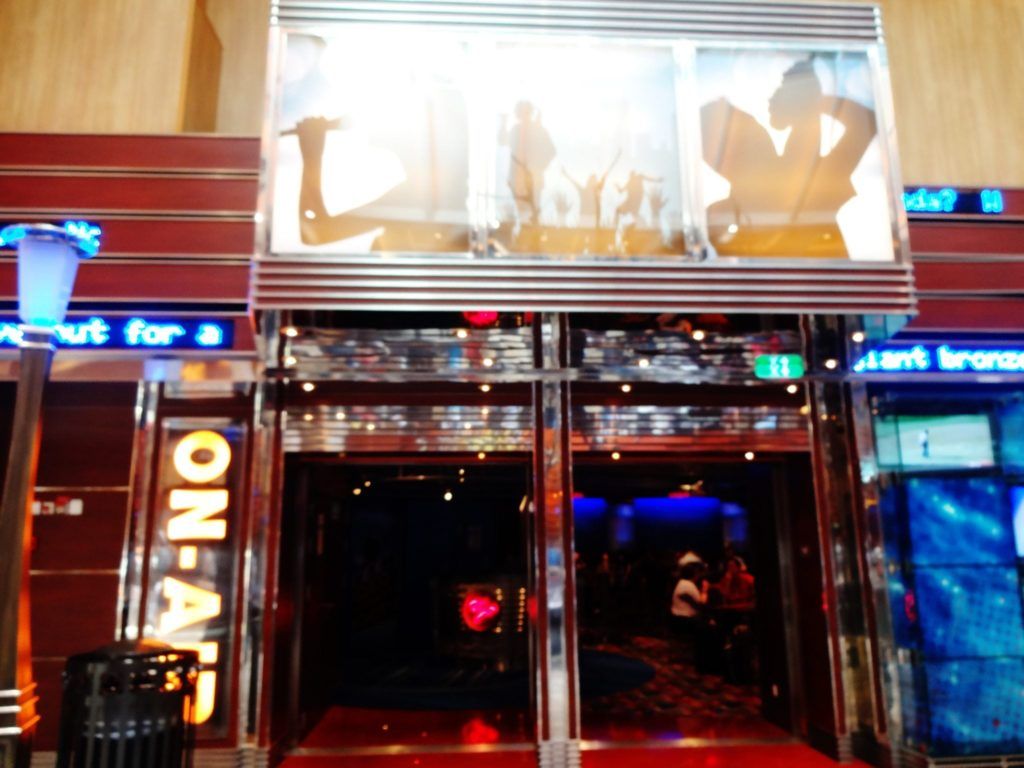 After showcasing my moves, we continued our drink around the ship at Bow and Stern Pub. We stayed for a few to listen to a song or two from James Brown, the guitar player and singer, and then headed to the Amber Theater for the Love and Marriage show.
The Love and Marriage show is always a great time. Again, this is where Allan Brooks shines as a cruise director. His quick and witty comments made the show a riot. Of course, the couples who were picked also made the show hilarious by bearing all for their fellow passengers.
Following the show, we decided to call it a night. We had a big day ahead of us tomorrow, climbing Dunn's River Falls in Jamaica.
Day 4 – Falmouth, Jamaica
Ya mon, Welcome to Jamaica
Up and ready at a decent hour this morning, we decided to give the Solarium Bistro a shot for breakfast. This venue is promoted as the healthy alternative. We are by no means health nuts, but we both liked this buffet better than the Windjammer. While healthier, the food just looked fresher and tastier. I especially liked the turkey sausage and the variety of fresh fruit.
After breakfast, we did our traditional Starbucks run, then headed to the top deck to grab some aerial photos of Jamaica. I had been to Ocho Rios before but never Falmouth, which is a newer port built by RCI.
Exiting the ship was a bit busy, but once off the boat, we were able to find our tour guide and got in line for our excursion, which would take us to Mystic Mountain and Dunn's River Falls. Most of the major attractions in Jamaica are in Ocho Rios which is about an hour bus ride from the port in Falmouth.
Our excursion stopped at Mystic Mountain first, where we got to star in our own version of Cool Runnings by riding a Jamaican bobsled.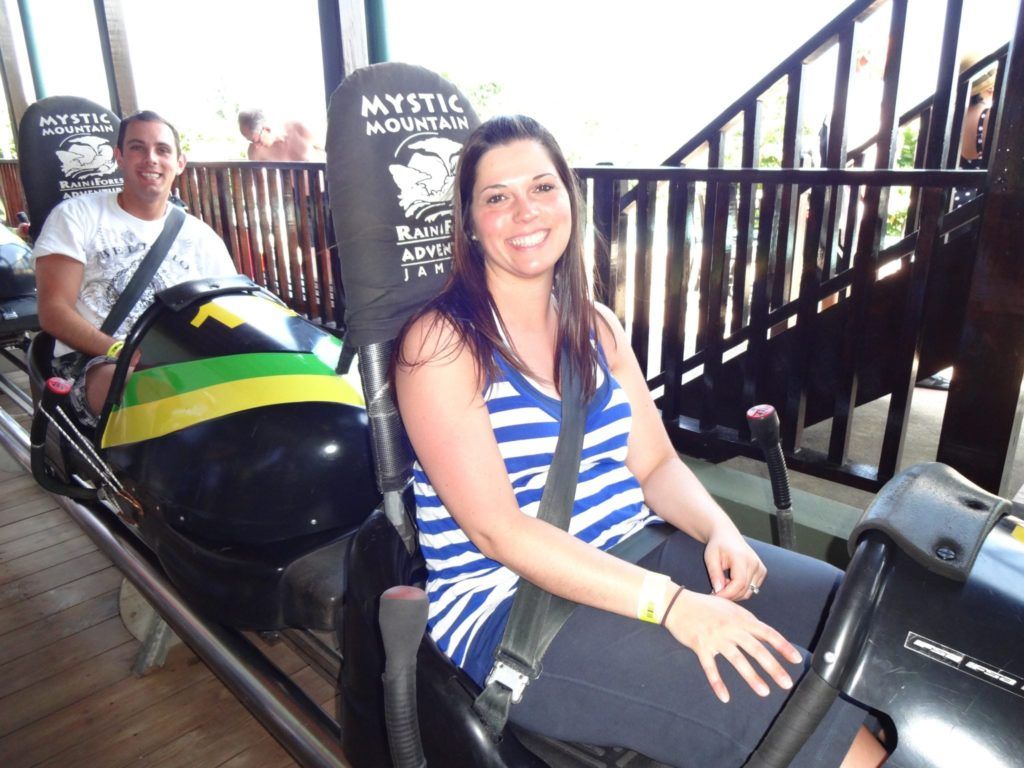 Then, we headed for Dunn's River Falls, where we got to climb the waterfall. It was definitely an exhilarating experience that we BOTH survived, barely. You can read more about our experiences in our full shore excursion review here.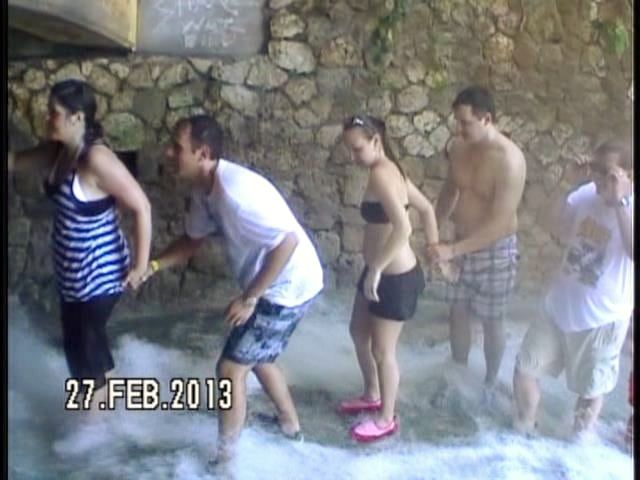 Dinner and Some Laughs
The excursion ended by about 3pm, and we were back on the boat which was surprisingly busy, especially on the pool deck. We stopped in for a quick bite at the Park Café after working up an appetite climbing Dunn's River Falls.
The Princess, claiming she was half dead, found a few lounge chairs on the starboard side of the ship, near the sports deck area. It was a little area with only a few chairs and it was mostly vacant. Here, we just relaxed for a while before heading back to our room to get ready for dinner.
Dinner came and went with another solid meal and consistent service, though seemed much quicker than the first few nights. We had made reservations prior to the cruise for the comedy show at 9:30pm tonight. Knowing that the venue was small, we wanted to get there early, but we still had plenty of time to kill after dinner so we decided to try out the Rising Tide Bar.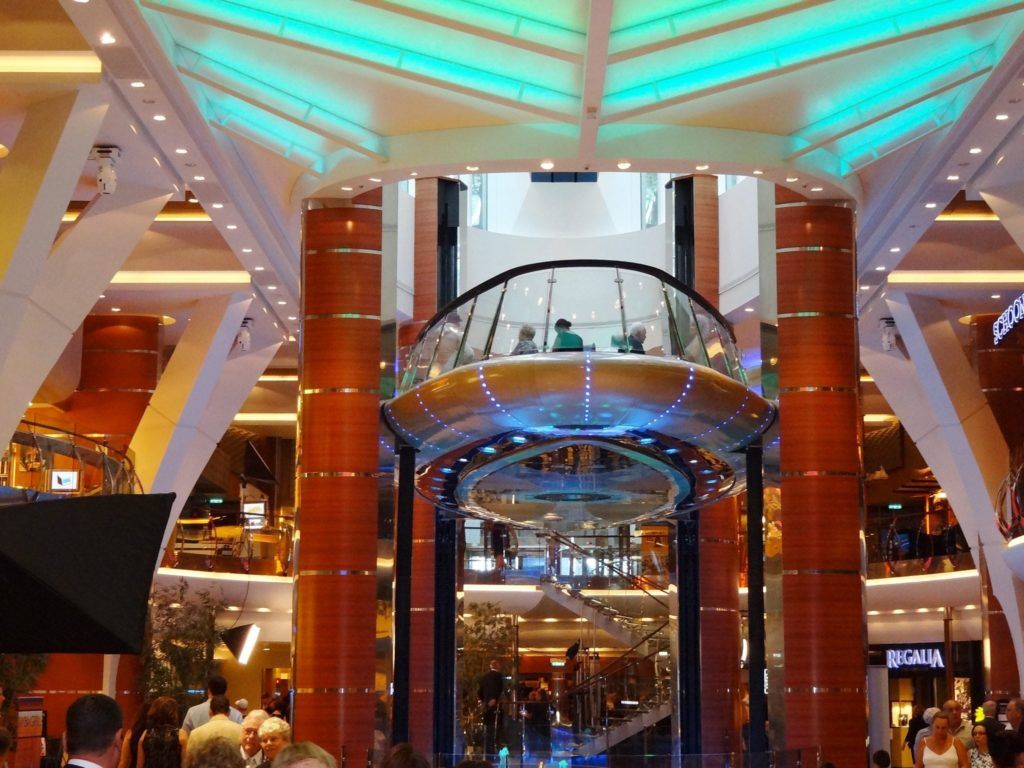 The Rising Tide Bar, located in the promenade, is shaped almost like a spaceship and rises up and down three decks, going to the middle of Central Park. We got a seat, and a drink of course, and took the trip up and down. It is a small venue and the service we received was not the best, so though it was a cool experience, this was the only time we visited here. We at least got to mark it off our drink around the ship checklist.
We decided to start to make our way down to Deck 3, thinking we could possibly spend a bit of time in the Jazz Club before heading into the Comedy Club. The Jazz Club was closed, which seemed to be the theme of the cruise, so we never actually got a chance to check it out, aside from picture-taking on the first day. However, there was already a line forming to get into the comedy show, so we just waited in line instead.
The comedy show lasted a bit longer than the typical main theater shows and featured two comedians on our sailing, Rick Corso and A.J. Jamal, opener and closer, respectively. Before the show, we got bar service, though it was offered during the duration of the show. Both comedians were funny, but not over the top or obnoxious. It was a full house, and the comedians both seemed well received by the crowd. This was definitely one of the better comedy shows I have seen on a cruise ship. It is dubbed an adult-only show and while there was a little bit of swearing and some adult oriented humor, I would say it was pretty mild. Definitely no Andrew Dice Clay-style jokes.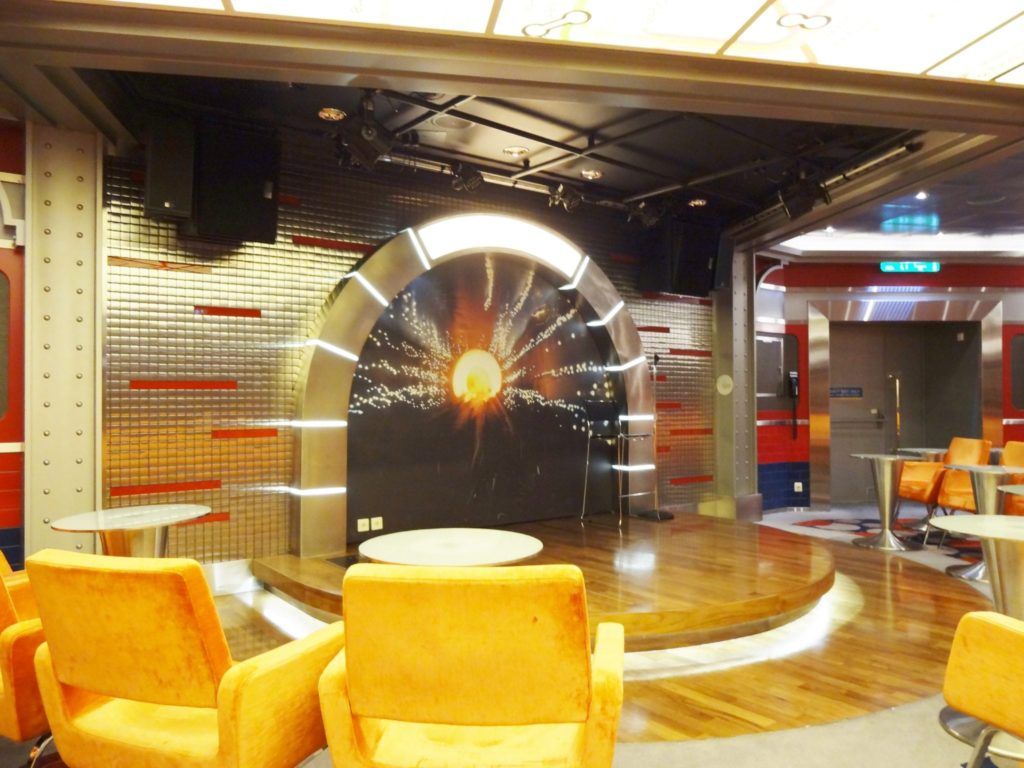 After the show, we headed to the casino for a bit, but the blackjack tables were crowded and the wife's slot machine was taken, so we squeezed into the roulette table. After losing our initial investment on our "usual" numbers, we called it a night.
Day 5 – Sea Day
Trying to Work Off All This Food
There are a lot of restaurant options on this ship, have I mentioned that already? We almost never pay for specialty dining, but one interesting exception is Johnny Rockets for breakfast. This venue, famous for Milk Shakes and Hamburgers, was complimentary and made to order for breakfast. It is only open for a few hours, so we decided to give it a try this morning. There was a small line, which moved quickly, and we were seated at an outdoor table.
Having breakfast in the Boardwalk sun is definitely something we recommend if you want to experience everything Allure has to offer. The omelets were much better than what you would get in the Windjammer. The breakfast potatoes and bacon seemed to be about the same.
After breakfast, we decided to try some of the shipboard activities. This morning, it was time for a work out. Even though I had only gone for a run one of the days, using the sports deck is another great way to incorporate a workout. See our blog post here to learn other ways you can incorporate exercise on your next cruise vacation.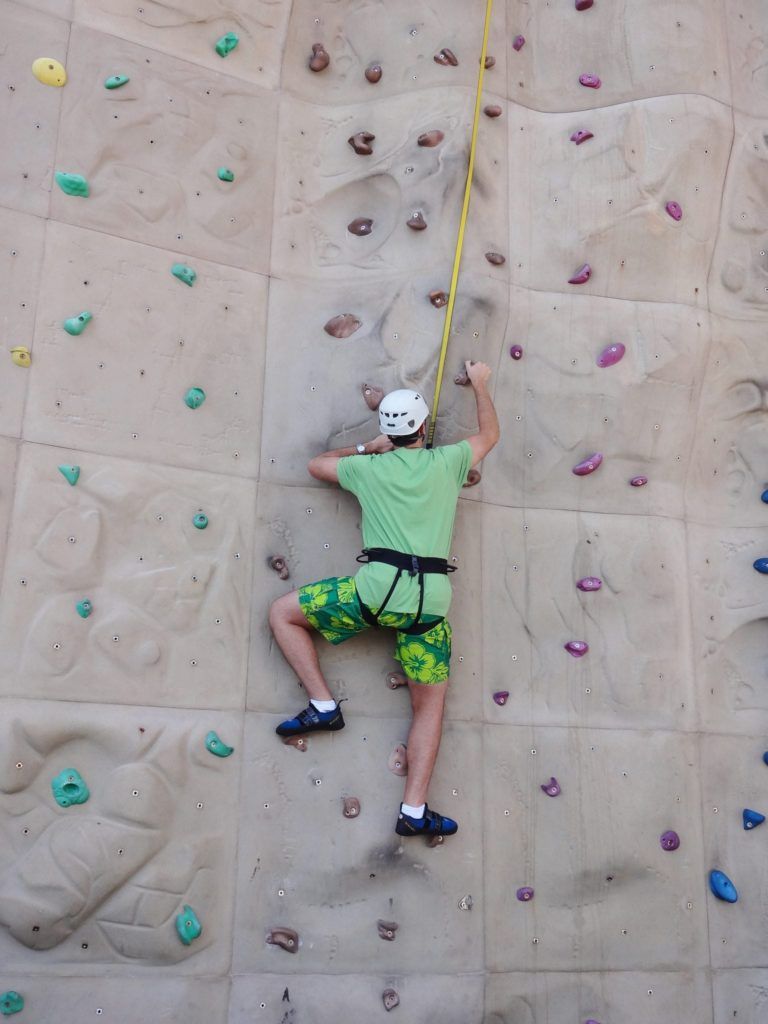 I started at the Rock Climbing wall, which was dead. The whole time I was there, there was only one other person who decided to give it a go. Different than Freedom class, the bungee system is done by a support above you, not someone stationed the ground. Not being the most physically fit guy, I found it much more difficult to navigate this wall than other RCI rock walls.
Next, we moved on to the zip line. Even though we have done zip lines of great intensity, including just a few days prior in Labadee, the wife refused to do the zip line on the Allure, stating it was too small and cheesy. Granted, it is a zip line on a cruise ship, but I was determined to do everything this ship had to offer. So I geared up, which actually took longer than the zip line itself, and smiled for a few pictures from the Princess while I completed the 80' line. Check that off the list.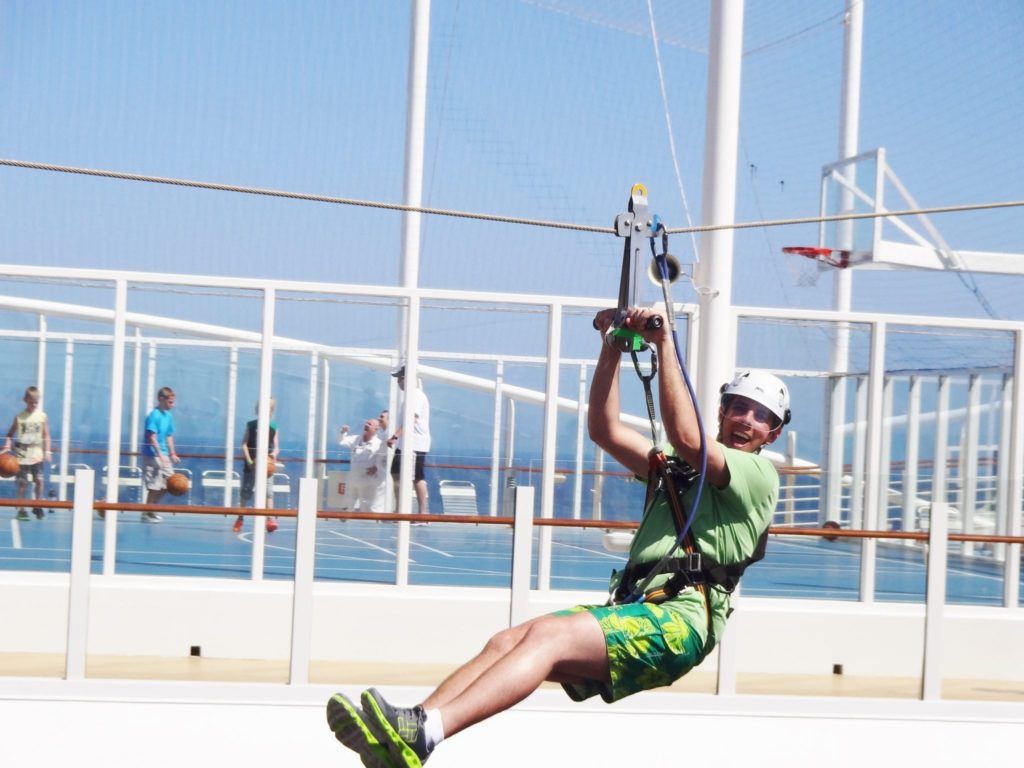 We headed to the Flowrider next, but that actually did have quite a crowd. We waited for a bit, but the wife was getting bored, so we opted for our second round of mini golf, which had much better weather conditions than our first round on day 2. The course was relatively vacant, so we took our time going through it. Of course, now that skill was the main factor, not the wind, I took the win! It was all tied up in our mini golf series.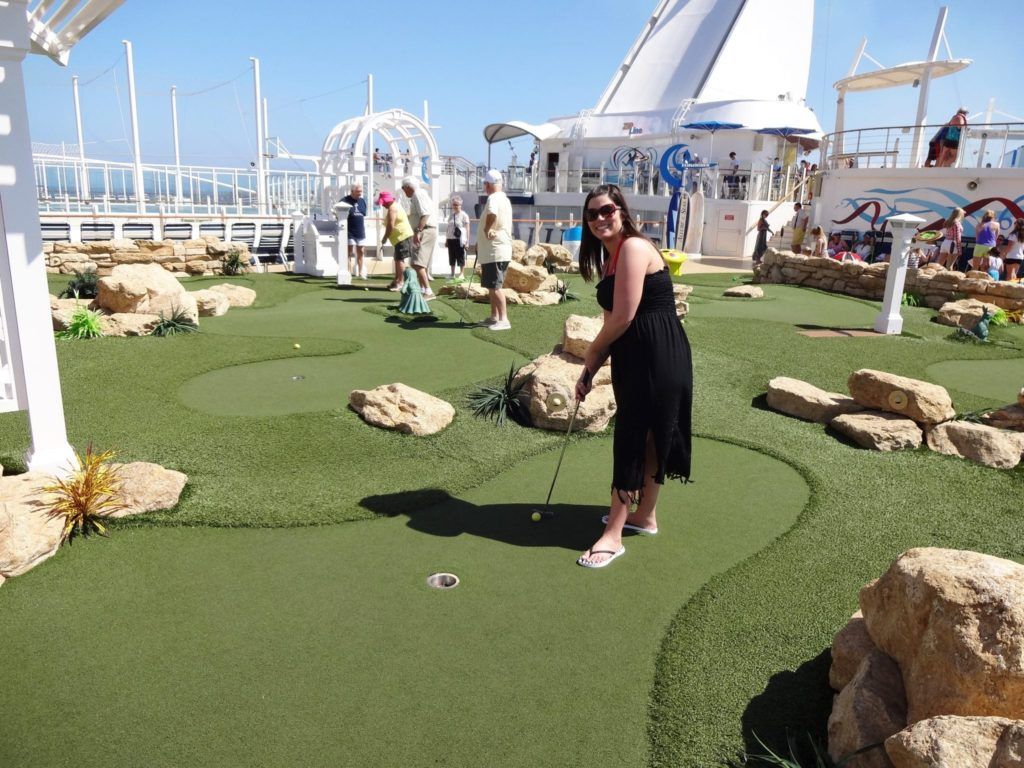 A Less Strenuous Afternoon
After completing this sports deck fun, we decided to grab some lounge chairs and catch some rays for about an hour or so until the belly flop contest at 1pm. We showed up about 10 minutes prior to the big splash down at the Aqua Theater and were surprised that it wasn't very crowded. Either way, I grabbed a Long Island Iced Tea for me and the wife's new favorite Electric Lemonade from the Boardwalk Bar and got ready for the "splash of the titans".
After witnessing a belly flop contest in the Aqua Theater, I am not sure I can go back to the old days of squeezing next to a small pool trying to catch a glimpse of the activities. With a drink in hand, stadium-style seating, and large screens overhead, this is the only way to watch the highlight of a sea day.
A fellow New Englander ended up taking the trophy. As always, the belly flop contestants, coupled with Allan Brooks' humor, provided another great source of entertainment.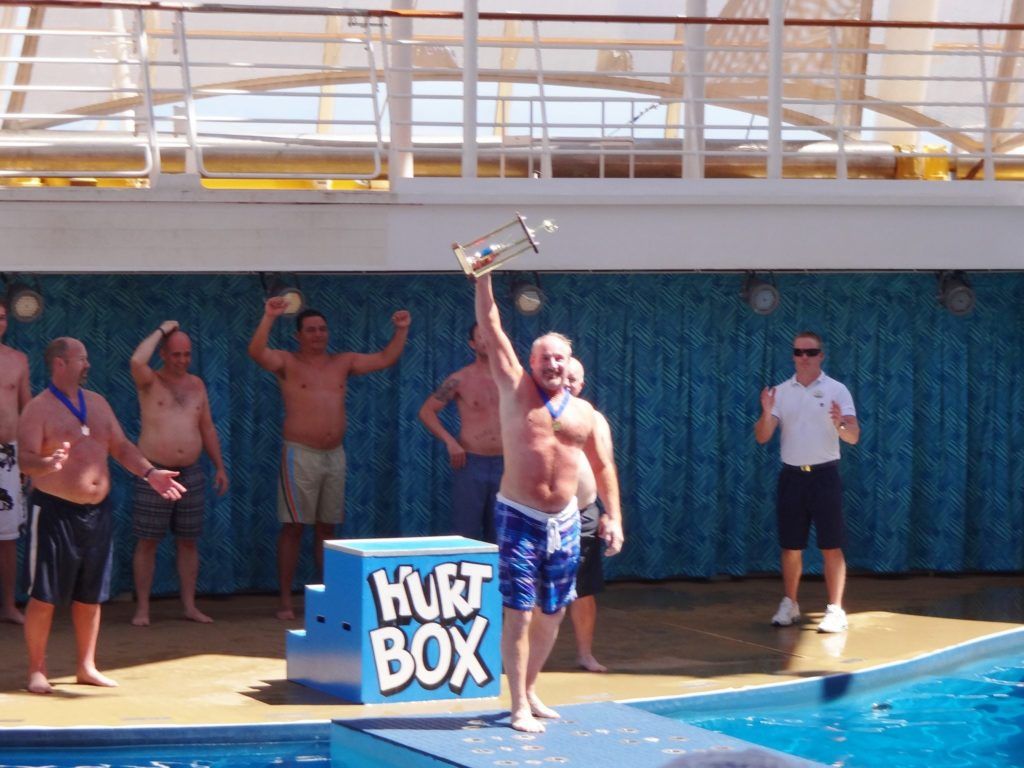 After watching all that athletic prowess, we were a bit hungry. I continued my hot dog feat at the Boardwalk Dog House, sampling 2 more of the hot dogs, and the Princess grabbed a cup of ice cream from the Ice Cream Parlor. Yes, it was a small fee, but she loves her ice cream.
After enjoying our snack, we walked around deck 16 and grabbed some lounge chairs above the main pool. Again, it was a bit windy, but definitely not as bad as the first full sea day. We were not in direct sun light as the wife did not want us to be too red for our formal pictures later in the evening. We relaxed until about 3:30pm when the wife decided to go down to our room to start getting ready for dinner.
With some time to spare, I decided to try to combat the effects of the hot dogs and went for a short 2 mile jog around the track. I then headed back to the room to begin getting ready for formal night as well.
Pictures start at 5:30pm, but we headed down early as sometimes the stations are open early. We were not alone. As we made our way to the Promenade, we found a larger than average crowd dressed in their formal attire. There were noticeably more people than the first formal night, which is typical, and lines were already forming near someone of the more popular backdrops. We got in line at the first station and proceeded from one station to the next for the next hour, though only hitting 8 backdrops tonight.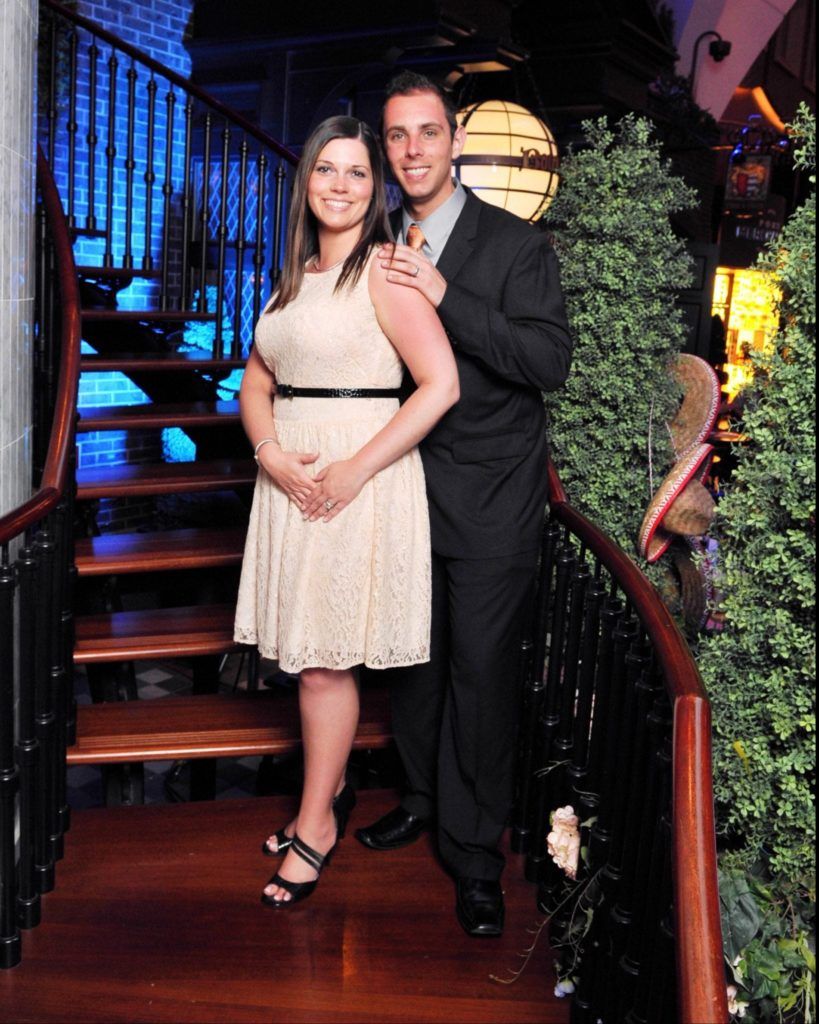 I finally had to pull the wife away before 630pm as I did not want to miss out on my lobster tails, two of them actually. A rather weak performance if I do say so myself.
One of the only shows not available to pre-book before the cruise was the Headliner act, Paul Boland. We had decided to watch this show tonight, as the previous night we were at the comedy show. The show started at 8:30pm, and it was a little more crowded than we expected. I have to admit that this show was not that great, borderline cheesy.
I should have known we would be in for a treat when the act started with a video that had to be 20 years old, with celebrities like Bob Barker and Wayne Newton commenting on the talents of Mr. Boland. The show just had a bad Vegas vibe. He did some basic impressions, mediocrely, including Rocky and Arnold Schwarzenegger. His best routine was Kermit the Frog and the Rainbow Connection, where he had a bunch of kids on stage who asked funny questions and basically stole the show.
Trying to recover from the worst entertainment we experienced thus far on Allure of the Seas, we headed to the wife's favorite bar on the ship, the Champagne Bar. Neither of us are champagne fans, but there is a variety of martinis and other cocktails on the menu. We relaxed here for a while until calling it a night.
Day 6 – Cozumel, Mexico
Lazy , Cloudy Port Day
We had no formal plans at today's port of call, Cozumel. We have sailed here a few times in the past, snorkeling and visiting Playa Mia Beach Park, so felt like we needed to take a break from shore excursions today. Our blah feeling for Cozumel was not helped by the weather on this particular day. It was overcast, windy, and a rather cool 77 degrees. After experiencing some warmer and sunnier weather in the previous ports, it really felt much colder.
So with no particular plans today, we slept in a while. Once ready, we grabbed our regular morning Starbucks—yes, even though we have a drink package, Starbucks is NOT included, and you would never know it by the line that was there at all times of the day! After our caffeine fix, we headed to the Park Café for some quick breakfast bites.
After breakfast, we exited the ship. The Mariner of the Seas, once the largest cruise ship in the world, was docked right next to us. With the 2 ships side by side, it was really amazing to see the size difference. Sailing on the Mariner before, I guess size really does matter.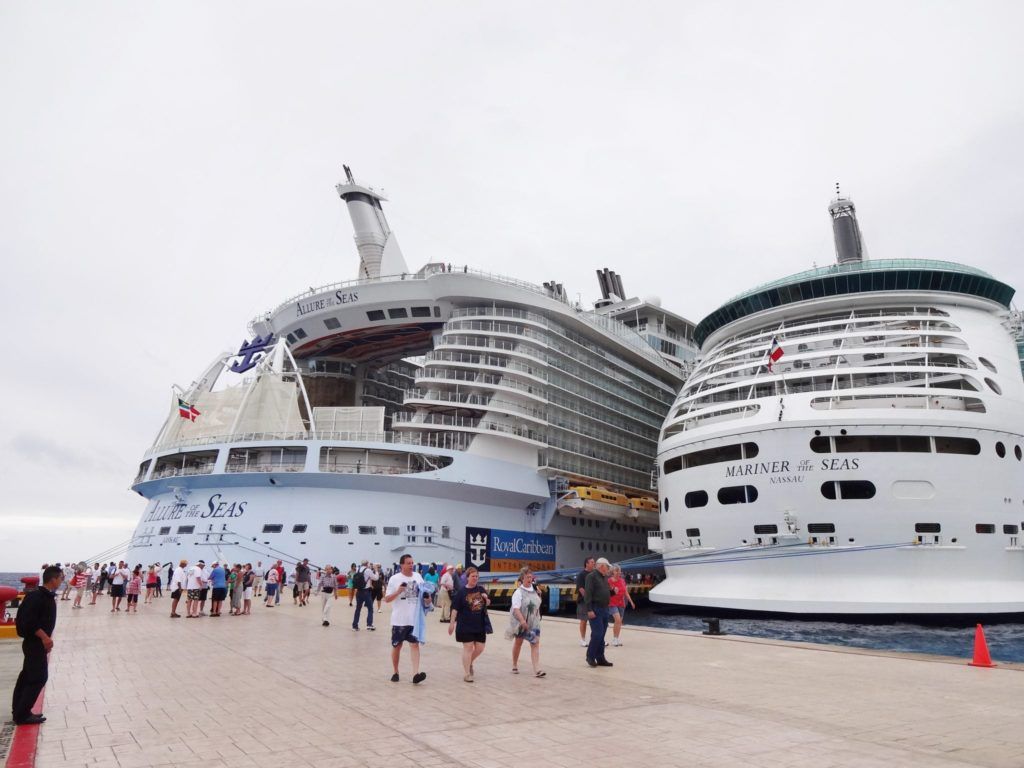 Given the weather today, a beach break did not seem like a good option, so we chose to just walk around the pier area and browse in the shops for a bit. After all, doesn't everyone need "handmade" Cozumel margarita glasses that are probably made in China?
We Have the Ship All to Ourselves
With a light sprinkle in the air, we decided to head back to the ship around 1pm to find that she was basically a ghost town. We strolled around taking a few additional photos then decided on a rather a la carte lunch. I first grabbed a roast beef sandwich at Park Café then headed down to the Boardwalk to try my 5th hot dog of the cruise. I grabbed us a seat in the Boardwalk while the Princess ran downstairs to grab herself a few slices of pizza at Sorrento's.
Even though the weather was not the greatest, after that lunch of champions, I decided to go for a quick swim. We headed back to the room so I could don my bathing suit, and I then completed my first ever quadruple swim–successfully swimming in all four outdoor pools on the Allure in one swift session. I would have done the Solarium pool too, but the wife had enough of my antics.
After my swimming feat, I got changed, and we sat down at the Schooner Bar to grab a drink and reminiscence about our trip as we were closing in on the last sea day. It really was an amazing ship and we were having the best cruise ever. After about an hour or so, we headed back to the room to get changed up for dinner.
We arrived at dinner to find our nightly cocktails waiting for us. Junior, our bartender, was getting good. Dinner and service were good as always, but we were starting to feel the "cruise weight". So, after dinner we stopped in for a quick casual portrait then headed back to the room for the Princess to change into a more comfortable outfit.
Getting Down with More Entertainment
For tonight's entertainment, we had pre-booked Blue Planet at 9:00pm. By the time we arrived, there was already a crowd of people entering. This made the seating really difficult, and we ended up with some rather poor seats close to the stage, but far off to the right. It is a shame as the Blue Planet show is really a great spectacle. It is probably one of our favorite shows on a cruise ship-I seem to be saying that a lot on this trip! It is a mix of singing, dancing, acrobatics, and visual effects and scenes that are really the closest thing I have seen to a Vegas-style show on a cruise.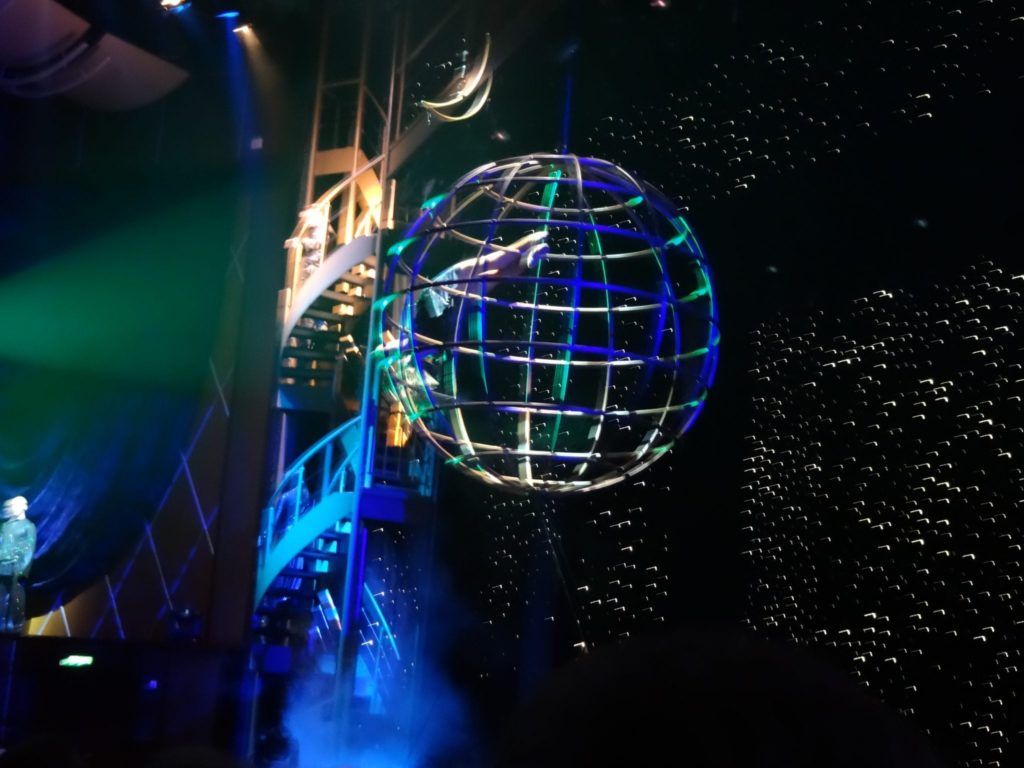 Right after the show, we did not have far to go as the Promenade had been transformed into a night club in preparation for the 70s Disco Inferno Party which was starting at 10:15pm. If you have been on ANY RCI ship, you know the disco party. From the Cruise Director dressed in a full white leisure suit to an appearance by the ship's own Village People, it is sure to be a great time.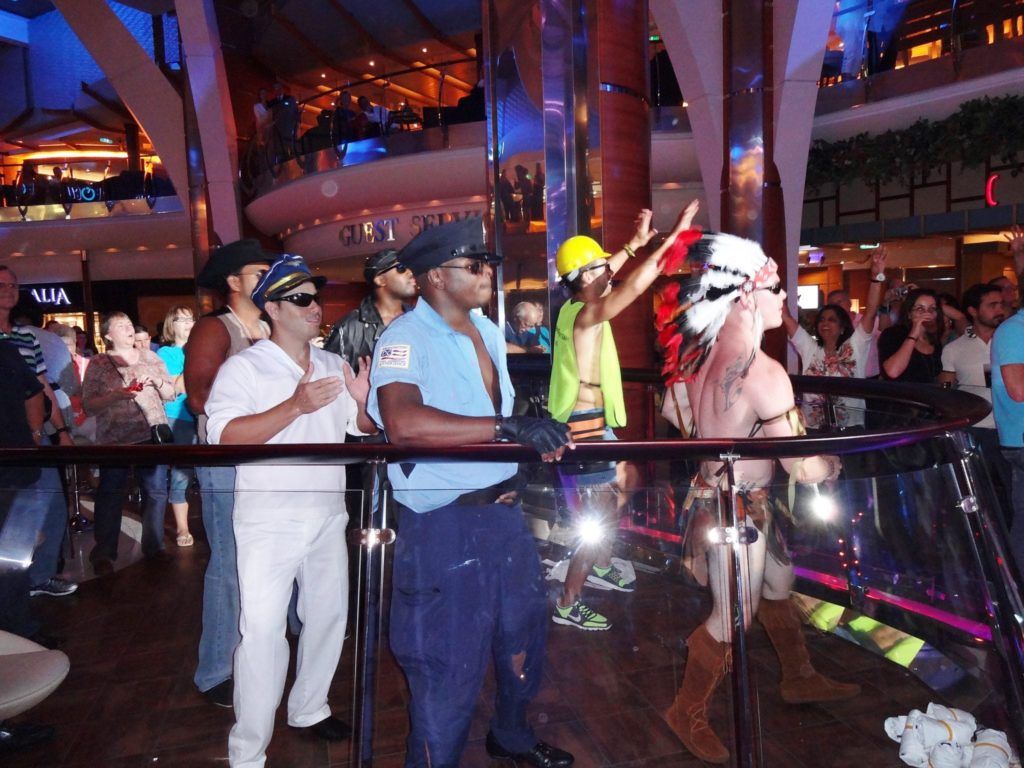 After the party, we grabbed a quick drink in the Bow and Stern and were then whisked away to the On Air club for karaoke. By the time the superstar competition ended, it was rounding in on 1:00 am and was definitely time to call it a night.
Day 7 – Sea Day
Maybe We Need a Costume Change
The last sea day-always a bit depressing! It did not help that the overcast and cool weather from the previous day continued. In fact, it felt even cooler, windier, and definitely not a lay out in the sun kind of day. The drawback of having an inside cabin is relying on the Cruise Compass for a weather report. That being noted, we dressed in bathing suits and were prepared to make the most of the last day onboard as we knew we would soon be back in the winter weather of New England.
We headed to the Promenade to grab our daily dose of Starbucks then proceeded to the Boardwalk to grab some breakfast at the Boardwalk Donuts. While at the Boardwalk, the big kids in us decided to take a ride on the carousel. Hey, we needed to say we experienced everything on this ship.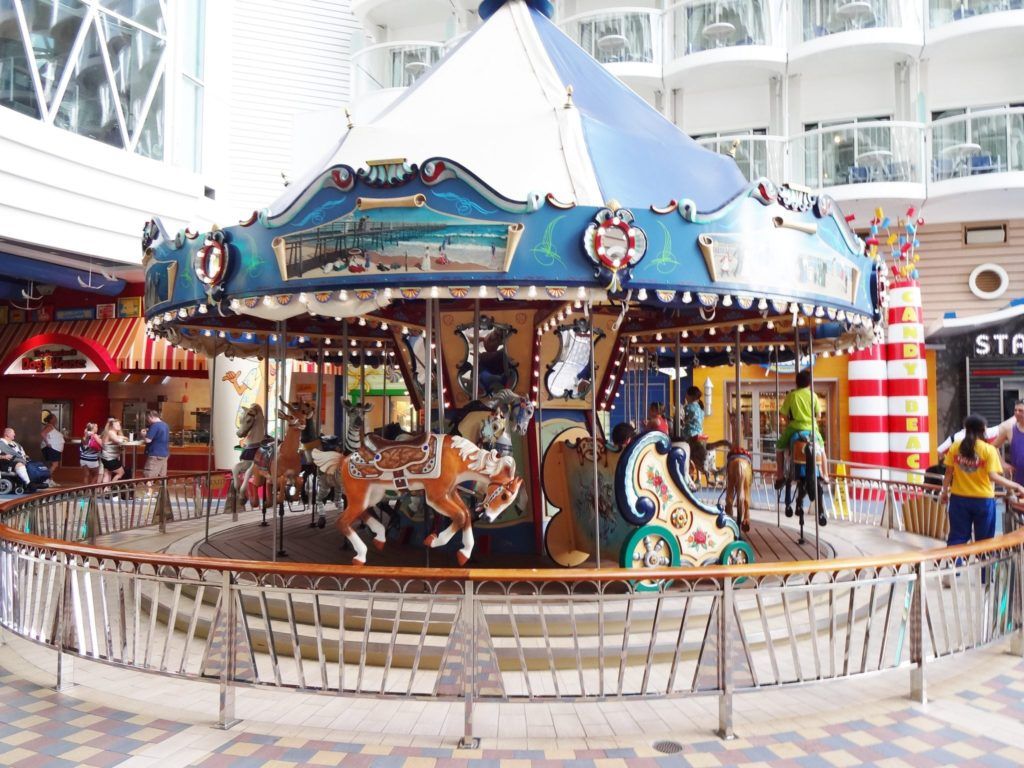 By this time, we realized it was rather cold and needed to change into warmer clothing, so we headed back up to our room. After changing into warmer clothing, we headed to guest relations to square off on a few items, and the Princess insisted on taking a picture with the Godmother of the ship, Princess Fiona. What could be better than 2 Princesses in the same picture?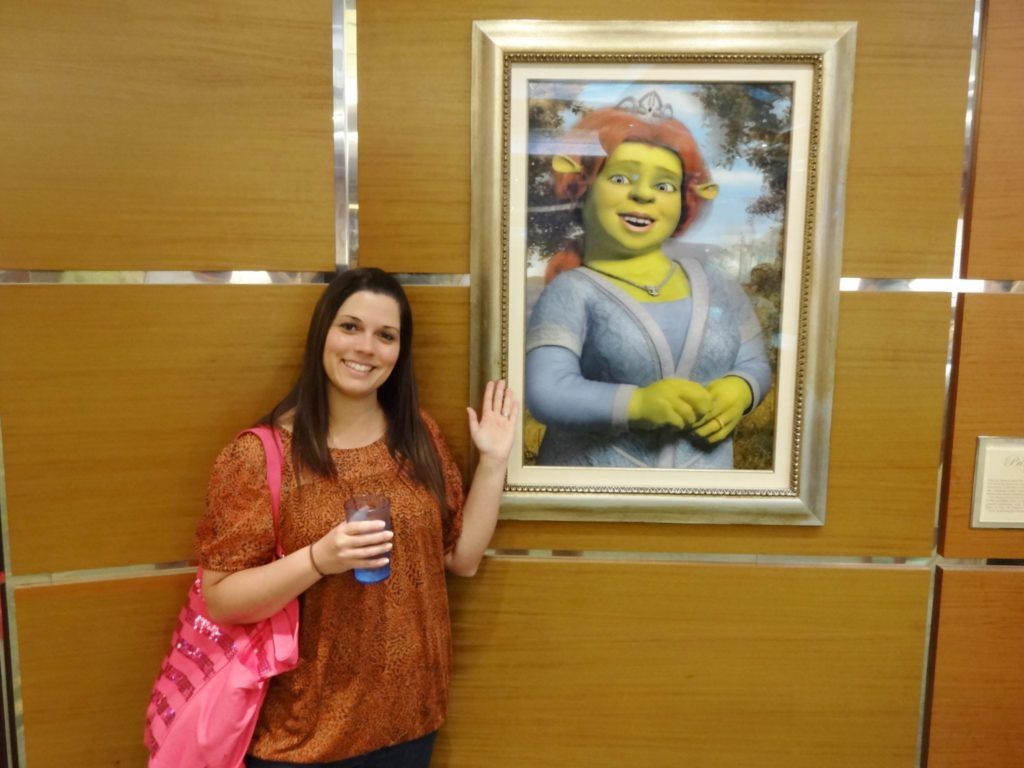 Okay, Now it Feels a Bit Crowded
We then headed to the photo gallery to sort through our masses of pictures. 200 pictures in total, now that's impressive! I guess the unlimited digital photo package was worth it after all.
We then ventured to the casino. I have to say this was the only time it really felt like there were 5000+ passengers onboard. On this last Sea Day, EVERYONE on the ship was indoors. The casino was packed—you would've thought they were giving away money. In any case, the wife played her slot machine for a bit, losing her money seemingly more quickly than usual. It always seems like the slots get "tighter" by the end of the cruise.
Now that we were dressed a bit more appropriately, we made our way back to the Boardwalk to the Aqua Theater for the final show called "Let You, Entertain Me" which featured the Dreamworks characters from the movie Madagascar. The show started at 12:30pm and lasted about a half hour. The finale included everyone in the audience joining in on a sing and dance along. Of course, I took this opportunity to make a fool of myself, and the Princess took the opportunity to document my immaturity.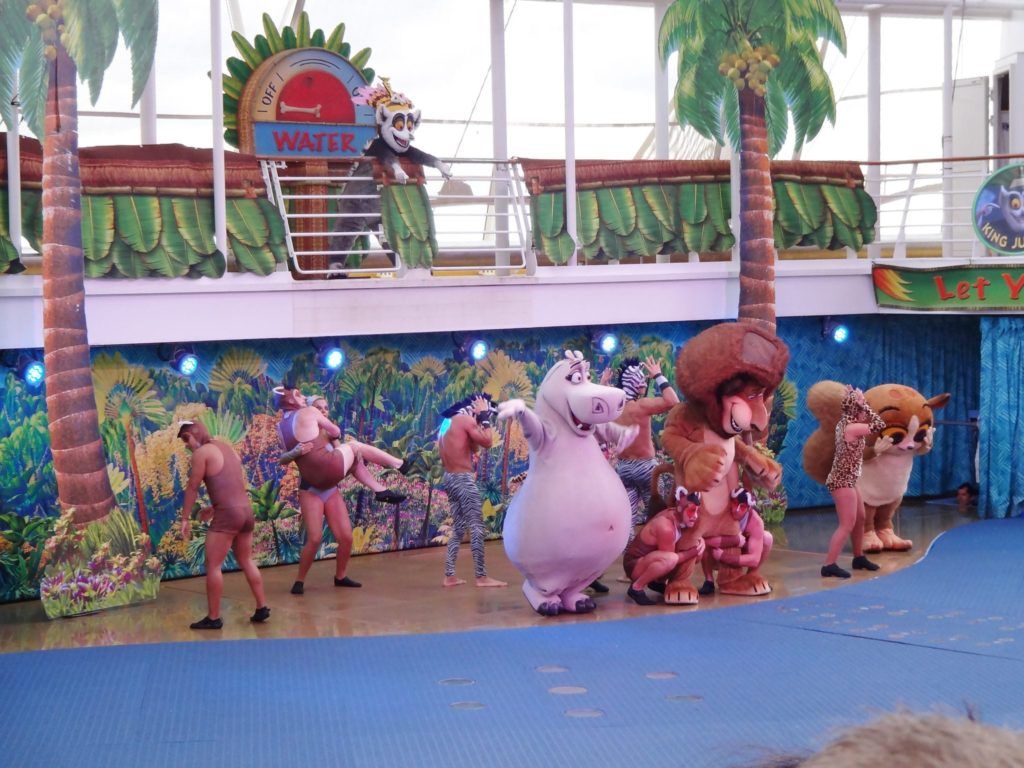 Exiting the Aqua Theater, a final trip to the Dog House was in order-if only we had one of these at our house. I rounded off the week trying the 2 remaining dogs on the menu. My personal favorite was the Smokehouse, though all 7 varieties were quite tasty. We then headed to the Promenade where the Princess had a few bites from Sorrento's.
Drinking Around the Ship
After lunch, we grabbed a cocktail and sat down to recap our week as we had some time to kill. We had gotten tickets earlier in the week to today's Ice Games show at 3:30pm. Good thing. We were initially worried that we would be wasting our last sea day in a show, but now we were grateful to have something to do as the weather did not want to cooperate.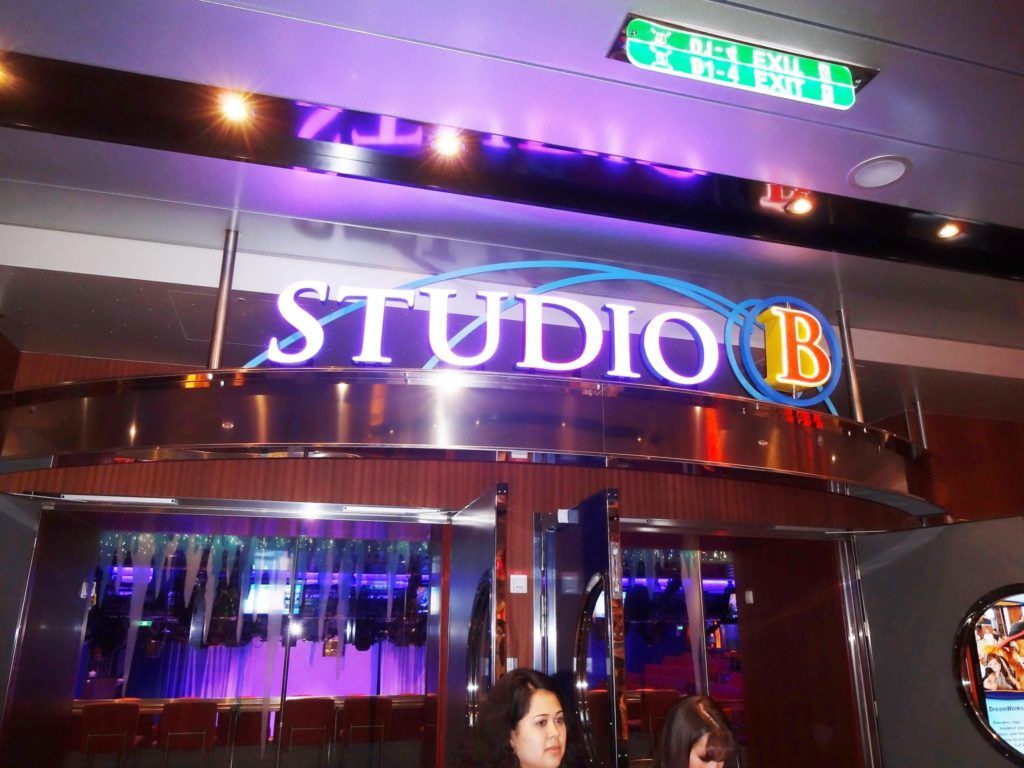 Slightly after 2:30pm, we made our way to Studio B, waiting in line for a few minutes before the doors opened. Upon entering, we found seats to the left of the ice rink. We usually enjoy the ice show, although this particular show was rather lackluster. It had a weird Monopoly/game board theme with no real story, or at least we didn't get the story. Don't get me wrong the performers were all very talented, just the show lacked cohesiveness.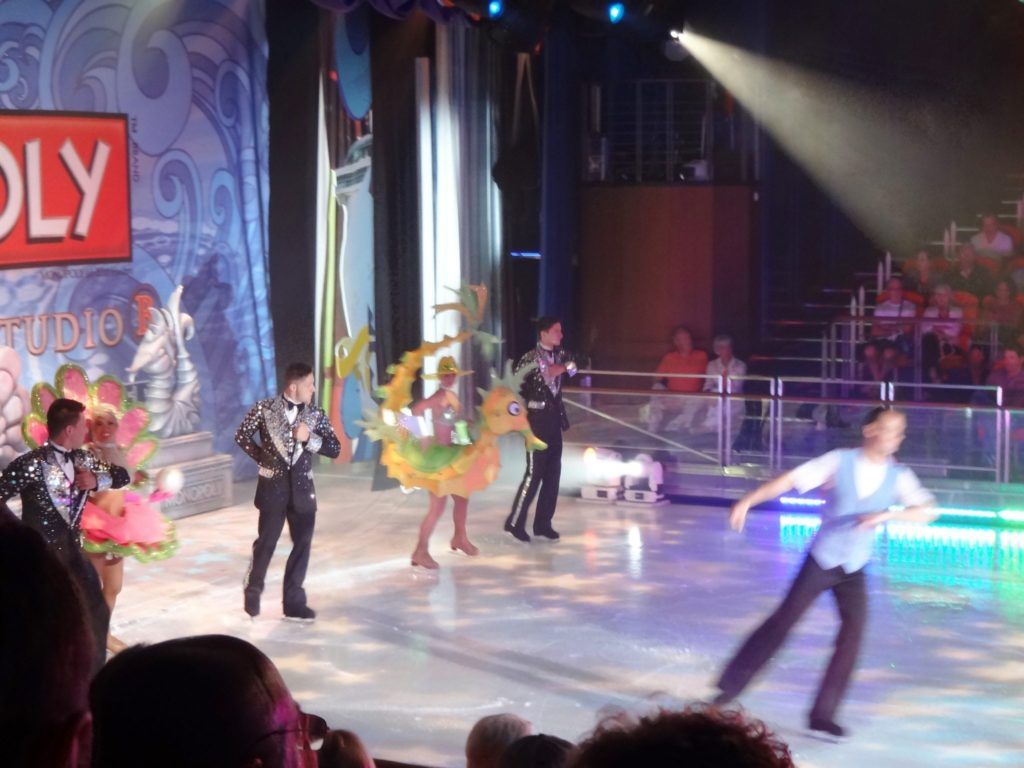 After the show, we grabbed another round of drinks then headed back to the room. It was time to pack and get ready for dinner. We squared away envelopes for additional gratuities and our WOW cards, and then down to the main dining room we went.
Most cruisers anticipate lobster night, but not the Princess. Tonight is turkey dinner night, her favorite. I opted for the steak off the classic menu with an extra order of the steak fries. If only I had discovered them earlier as they were much better than the typical buffet fries.
After dinner, we made our way to the final Move It, Move It Parade in the Promenade at 7:45pm. The cruise wouldn't be complete without one more appearance from Shrek and Fiona!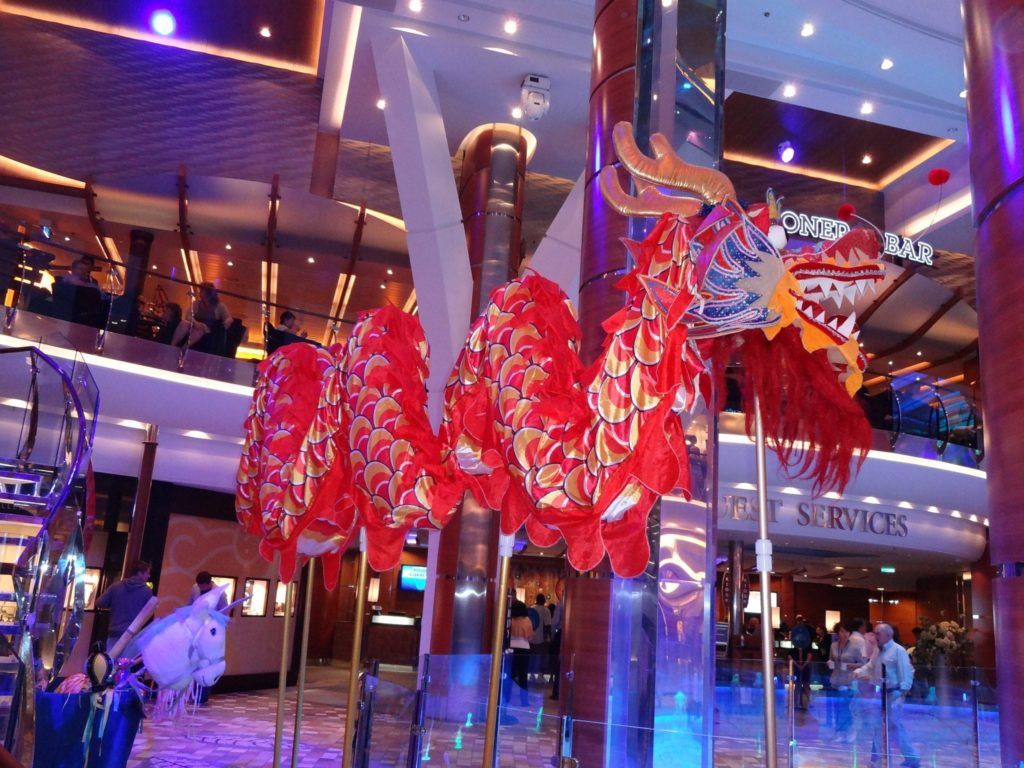 It's the last night, and we still had more venues to hit on our drink around the ship, so on to Dazzles. Apparently, we picked the wrong time to go here. The venue is a really nice 2-level live music lounge but was actually holding some kind of family going away party with a bunch of parents dancing and singing with their kids.
Not having any of our own children, we drank quickly and moved on to Vintages–a glass of wine for each of us, white for the wife, some red for me.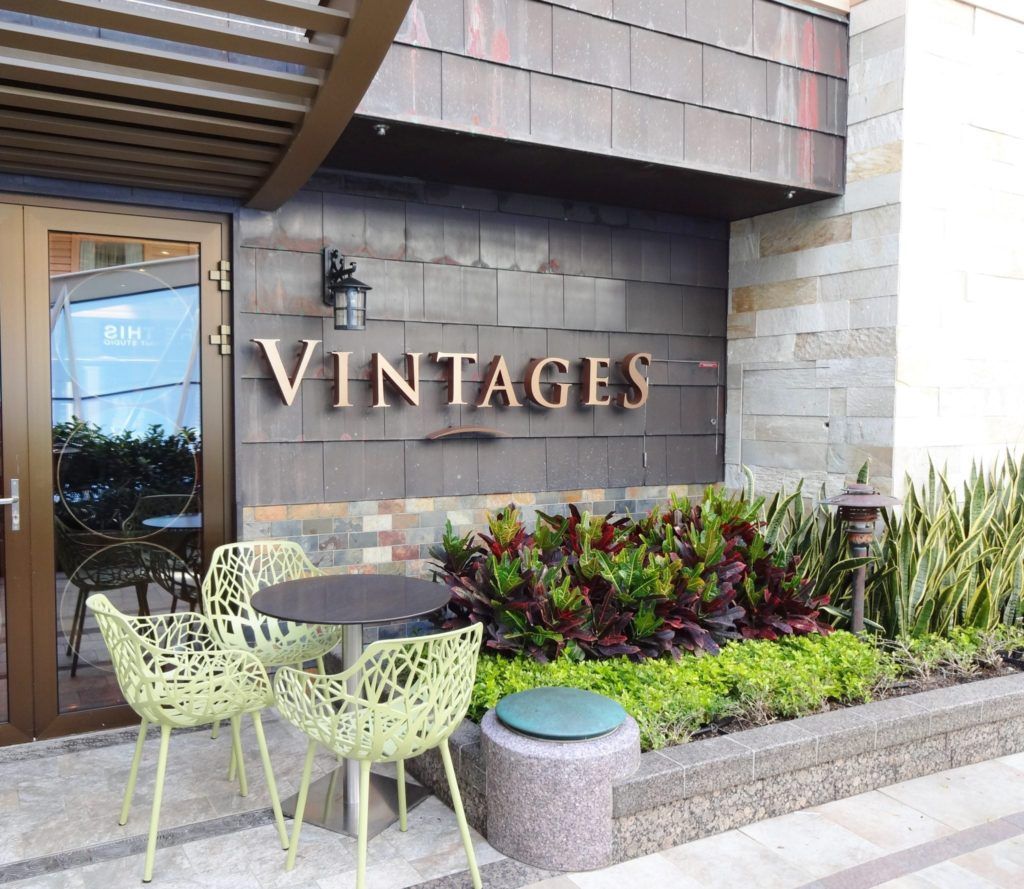 By this time, we were able to stop at the photo gallery to pick up our photo DVD and dropped it back off in the room. We had opted to walk our bags off the this the next morning so did not have to worry about placing them outside the door, though the Princess has already done most of the packing anyway.
Now, it was off to On Air for the karaoke finals. A few more drinks, a few songs, and a good time had by all. There were definitely some notable singers on our ship. One young gentleman was a dead vocal ringer for Michael Jackson. Over the course of the karaoke sessions, we heard him sing a variety of the King of Pop's hits. There was also a younger woman with a country-twang singing hits from Carrie Underwood. Everyone gave it their best shot, but country won out in the end.
The competition ended after midnight, and while I would like to say that we proceed to Club Blaze to pull an all-nighter and dance the night away, quite frankly neither one of us are into the nightclub scene and we were both tired. It was a fond farewell to the Allure of the Seas and off to bed we went.
Day 8 – Disembarkation
If you are carrying your bags off the ship, you can get off the ship quite early, usually around 7:30am. We usually like to get off as soon as possible so we can get to the airport and take an earlier flight–time to go home, do some laundry, and slowly adjust to the real world, especially since Allure returns on a Sunday and that dreaded Monday morning return to work was right around the corner.
Unfortunately, this time around we got stuck with a 2:00pm flight home. The cruise line tells you not to book anything that departs before 12-12:30pm, but we have definitely booked 11-11:30 am flights without issue. Though this time around, there was a flight back home that left at 10:40am, so we were tempted to chance it but decided not to—just our luck, the ship would be late getting back into port!
We were up early to get ready, grab our last Starbucks at sea, and walked off the ship, quite literally, by 8am. Through customs and into a taxi, we arrived at the airport with plenty of time to get on that 10:40am flight, too bad we didn't book it. We did inquire about switching, but there was no room on the flight.
So, we were stuck with our 2:00pm flight and were too early to check our bags, as Southwest only lets you check bags 4 hours prior to departure. Sitting in the Fort Lauderdale Airport with little to do is not much fun, especially with limited shops and dining options in our terminal. And worst of all, no Starbucks!
Eventually, after reviewing photos, checking email and social media, and making a few phone calls back home, we got on our direct flight home to Providence. Our experience on Allure of the Seas, the largest cruise ship in the world, was over, but we surely made plenty of Eat, Sleep, Cruise memories. Now, when's our next cruise???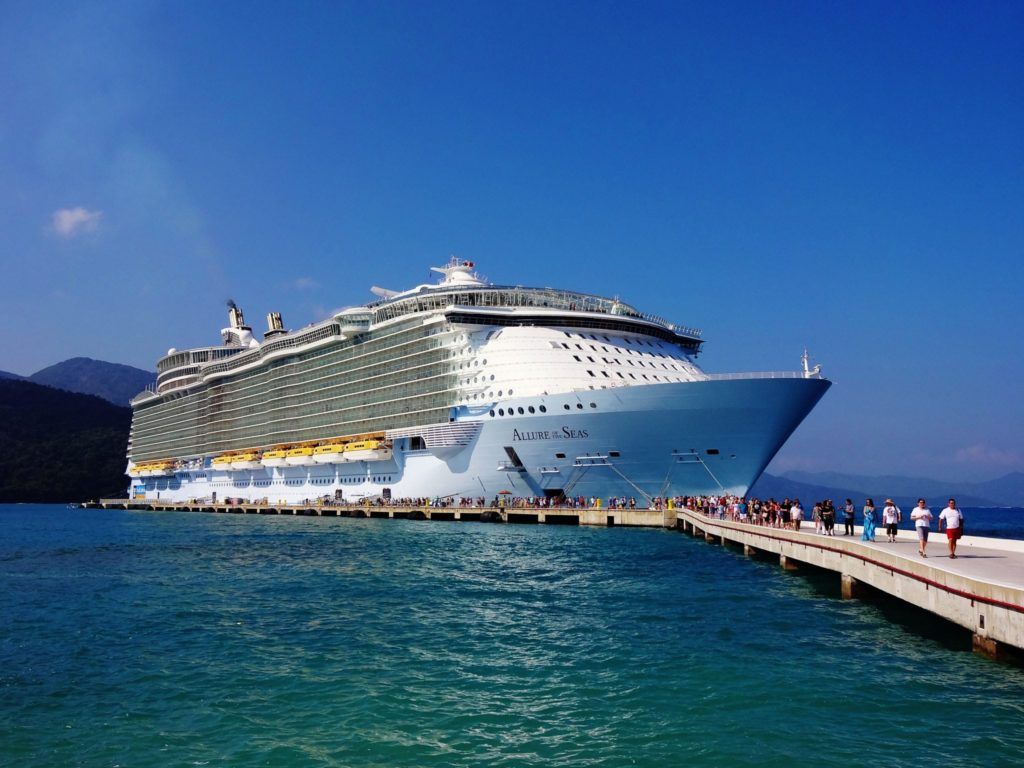 Comments
Have you sailed on Allure of the Seas? We would love to know your thoughts on this largest cruise ship in the world. Drop us an anchor below to tell us about your experiences on Allure of the Seas.