Royal Caribbean has recently begun updating ships in its fleet as part of the Royal Amplified project. The Princess and I cruised on Mariner of the Seas when the ship debuted last summer and loved the updates. So, how could we pass up a chance to sail on the most recently updated ship, Navigator of the Seas? The answer is- we couldn't. We have just returned from three days of fun and sun and are happy to provide our feedback on the newly amplified ship in our latest Navigator of the Seas Ship Scorecard Review.


Navigator of the Seas Ship Scorecard Review
Embarkation/Disembarkation
Met Expectations
This was our second time departing from Royal Caribbean's new Terminal A in Miami, FL. Similar to our first experience, getting checked in and through security was a breeze, taking no more than 10 minutes. Getting on and off the ship at our ports of call was also seamless, as security was efficient in processing passengers. We did self-checkout on disembarkation day which was scheduled for 7 am. Besides starting a bit behind schedule, this was the longest and most disorganized Royal Caribbean disembarkation that we have had in a long time. It took about an hour to snake our way around Deck 4. Luckily, Customs was a breeze, and our Uber request took only a few minutes.
Pool Deck
Exceeded Expectations
As part of Navigator of the Seas' amplification, the ship received a completely new Caribbean-inspired main pool area. This central outdoor space was well designed and executed. It is appropriately themed with just enough color and accents to give the area character but not be over the top. There are two pools and a small children's Splash Pad. There is also ample seating including your typical loungers, some hammocks, daybeds, and shaded casitas. For adults, the Solarium has remained largely unchanged, offering a pool and bar reserved for those 16+. There was always plenty of chairs, bar service, and sun to be had on this new resort style pool deck during this weekend getaway.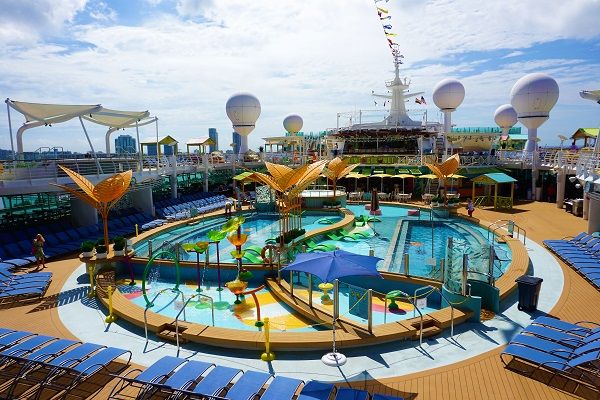 Sports Deck
Met Expectations
The Voyager-class offers several of the same sports areas found on Royal Caribbean's larger ships like a basketball court, rock climbing wall, and Flowrider. Navigator of the Seas also received two brand new, first at sea waterslides, including the headfirst mat slide Riptide and the Blaster aqua coaster.The waterslides and Flowrider were open everyday for a good amount of time, which allowed us to test out the new additions without much of a wait. There is also the newly spruced up Navigator Dunes mini golf course on Deck 13 for another family fun alternative.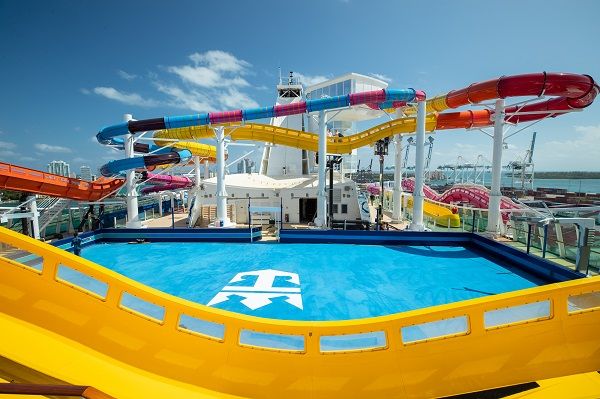 Daily Activities
Met Expectations
This three-day weekend cruise included embarkation day in Miami and two ports of call in the Bahamas. Given most individuals got off the ship to explore in the ports of call, there were still a decent amount of daytime activities, including different themed trivia, movies on the pool deck, open skating in Studio B, and other cruise pastimes like the Belly-Flop Contest, shopping and port talks, and sponsored events from the Spa and Art Gallery. However, if you decide to stay on the ship, you will probably want to enjoy the outdoor spaces and sunshine like we did.
Service
Met Expectations
For the most part, service on Navigator of the Seas was friendly and prompt. Service is one area that can vary considerably from one venue to the next, but we would say the service was consistent during our trip. We did notice several officers visible on the ship, and a restaurant manager always came by to check-in on us during meals. Our excellent waiter Jamie at Jamie's Italian (this was just a coincidence) was a standout staff member. Overall, service was better than some of our recent mega-ship experiences with the brand.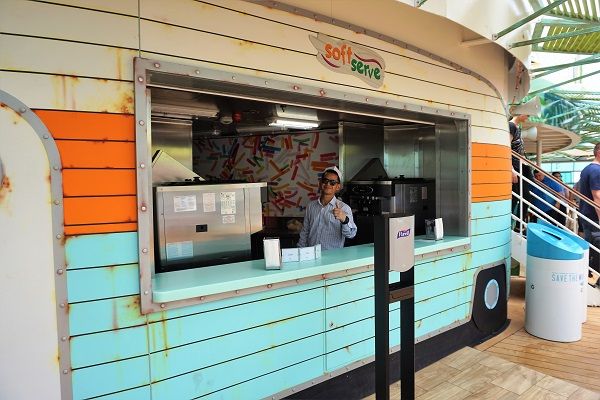 Main Dining Room
Not Applicable – We did not dine in the main dining room as we were testing out the Unlimited Dining Package on this cruise.


Specialty Dining
Exceeded Expectations
For this trip, we purchased the Unlimited Dining Package. We made good use of this program testing out virtually all of the up-charge restaurants, minus Izumi. Overall, the restaurants delivered with a solid mix of food and service. The wings at Playmakers remain my choice for best wings at sea. Our dinner at Jamie's Italian was outstanding with great food and service. Chops Grille seared up one of the best steaks that I have had on a Royal Caribbean ship in a long time. Our dinner at Hooked Seafood was our least favorite of the trip with some good dishes and some not so good dishes. Even the Johnny Rockets Express had some fresh burgers, fries, and chicken fingers that were a welcomed snack. We would say the dining package was a good investment for this trip, especially since we got 30% off pre-cruise!
Casual Eats
Met Expectations
During the amplification, Navigator of the Seas received a rendition of El Loco Fresh on the pool deck. This casual quick serve restaurant was only open for lunch on this cruise. With offerings like tacos, burritos, and quesadillas, our meal was tasty. The nachos with the custom salsa bar was also an ingenious addition. Typical favorites like pizza, small sandwiches, and pastries were always available at Café Promenade. During peak times, like all aboard, there were long lines of fellow hungry passengers at these venues. While the Windjammer did receive a face lift, the food was pretty typical. Our breakfast was average at best, and we did not dine here for lunch or dinner. For a short cruise, the diversity of casual eats was adequate.
Nighttime Activities
Met Expectations
They really do try to cram as much as possible into these short cruises. In fact, we sometimes felt overwhelmed as there was no way we could fit everything into each evening. While there was certainly a large quantity of activities, the quality was hit or miss. Some of the musical acts felt dated. We missed the traditional piano player in the Schooner Bar, as the "improv comedy and music" was a bit of a let down. Hugo, the cruise director, had high energy and a quirky personality that certainly kept the crowds entertained. Events like the Crazy Quest and 80's Party are always cruiser favorites. Of course, there was also karoake, game shows, and Bingo to keep everyone entertained.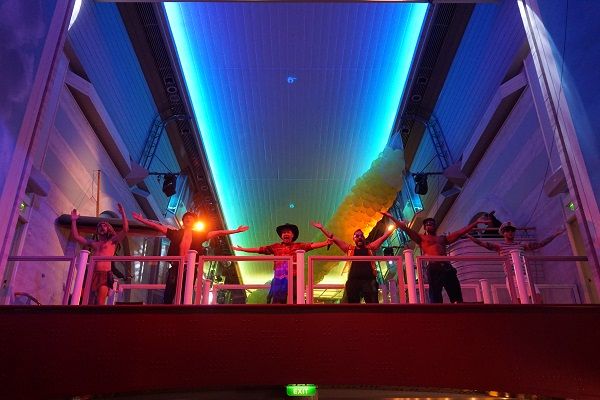 Main Theater Entertainment
Did Not Meet Expectations
If there was one area where the ship fell short, it would be the main theater entertainment. The ship's iSkate production in Studio B was entertaining but did not live up to the quality you find on the Oasis-class ships. The Welcome Aboard show and late night comedy featured the same comedian, who neither of us found all that funny. The signature production Showgirl was rather bland and felt like your stereotypical cruise ship entertainment. Lastly, the headliner on night 3 was a comedic juggler. His act was high energy and mildly amusing, but it would be our pick for best show if we had to choose.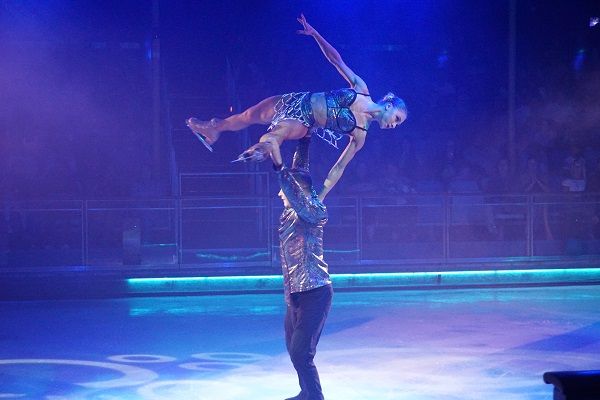 Bars and Lounges
Met Expectations
We really enjoyed the spruced up vibe of the new outdoor Lime and Coconut bar. The addition of Playmakers Sports Bar and Arcade and the Bamboo Room injected new energy into the Royal Promenade. As for the rest of the typical Royal Caribbean bar lineup, it was hit or miss. While we are fans of the Schooner Bar and Boleros menus, our drinks were not well prepared at either venue. The R Bar is a spot that we actually miss on the newer ships, but this rendition was tired and in need of an update. However, the English pub delivered a wide beer selection and a solid acoustic guitar performer as always.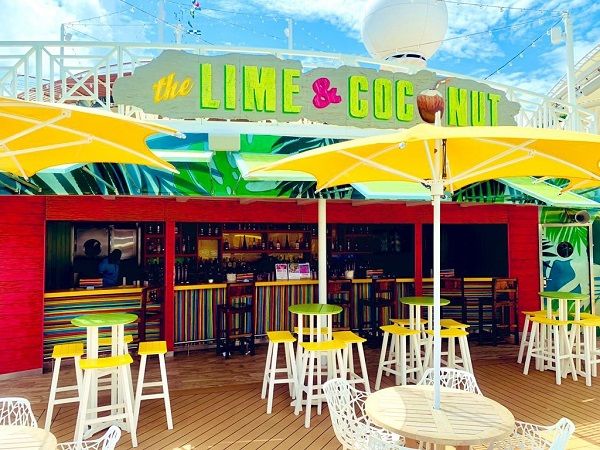 Stateroom
Met Expectations
Using our credit card reward points, we booked one of the last balcony staterooms available. The spacious balcony stateroom, 9372, felt larger and roomier than our similar cabin on Mariner of the Seas last year. Actually, compared with our recent experiences in balcony rooms, it appeared more spacious than some of the newest and largest cruise ships. During the update, the room received some cosmetic touch-ups, including some new furniture, carpet, and accessories, though the bathroom remained a bit dated. There was also plenty of storage between the dresser drawers and closet. For the price, the room was perfect for this three night getaway.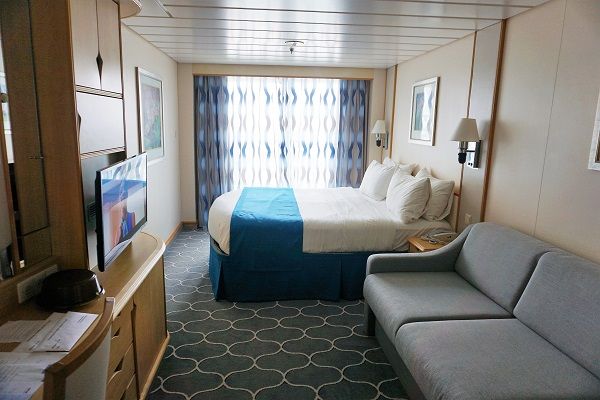 Crowd Control
Met Expectations
Like most mega-ships, you will certainly run into other cruisers during the trip. For the most part though, the crowds were never an issue. The bars had short waits and the shows were never busy. Arriving 20 minutes early, we had our prime pick of seats in the venue. In addition, we were even able to find seats in the Promenade to watch popular events like the 70's disco party and ideal loungers on the pool deck. The restaurants were a bit busy at peak times but that is to be expected. The one instance where we definitely felt the crowds was disembarkation, waiting in line an hour to get off the ship.
Overall Navigator of the Seas Ship Scorecard
Highly Recommend
This is our fourth short Bahamas cruise, and hands down our favorite!
When comparing ships that offer these quick weekend getaways, Navigator of the Seas might be the best new option. The mix of family friendly amenities, diverse dining, and new features make the ship appealing to all types of cruisers. Loyal cruisers will appreciate the familiar venues and Royal touches. New additions like Playmakers Sports Bar and Grill, the Bamboo Room, and El Loco Fresh have breathed new life into this 17 year-old ship. Along with these new venues, several existing public spaces have been refurbished, such as the Royal Promenade and the staterooms. Not to mention, there is also the newly revamped pool deck and the Lime and Coconut bar which might be our favorite upgrades on the ship.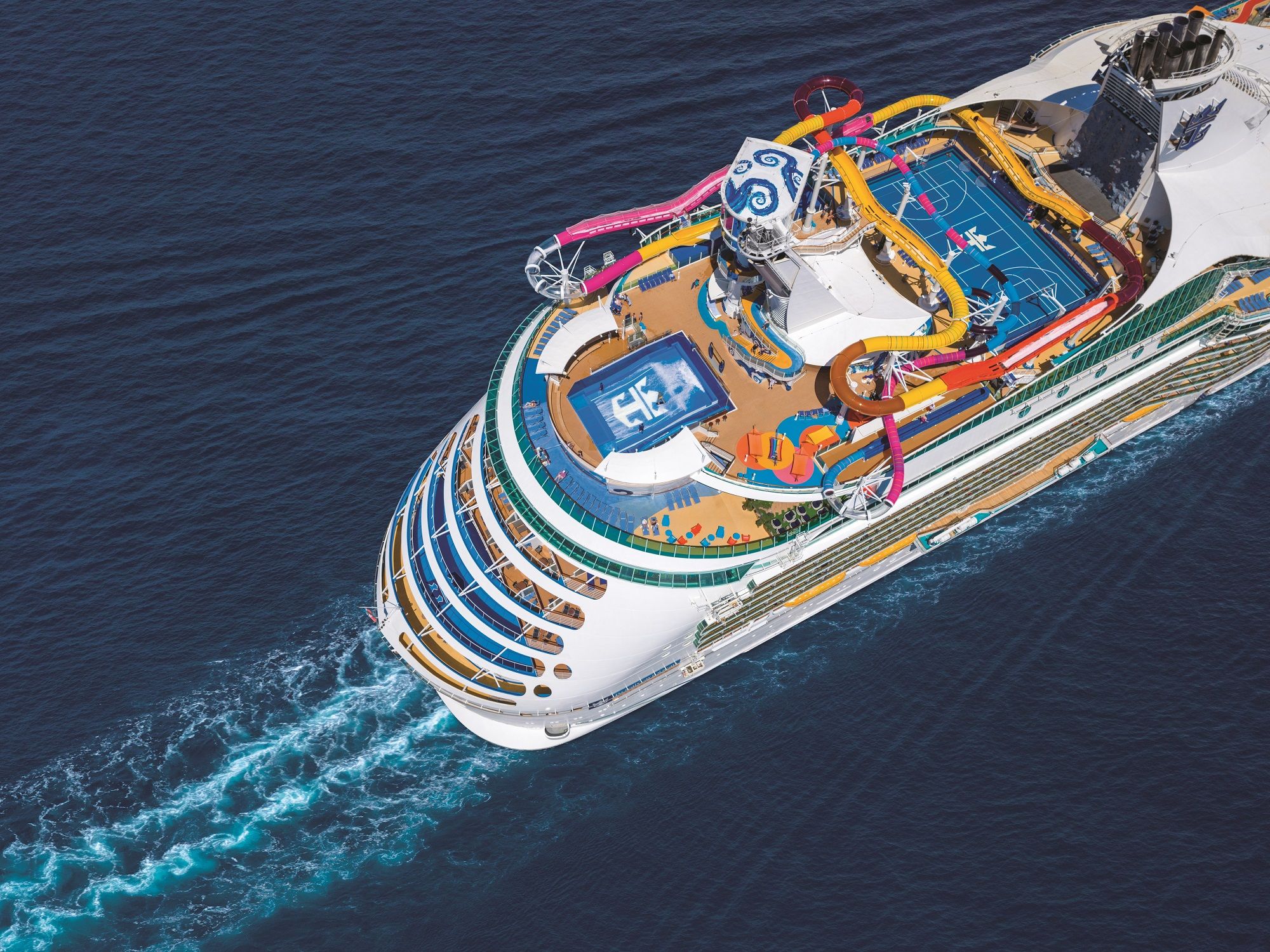 For individuals who have never cruised on Royal Caribbean, the ship's simple layout and diverse options offer cruisers more choices than you might find on other ships that regularly sail short cruises in the Bahamas. During our trip, we encountered several groups, families, and reunions that all seemed to be loving the ship.
The new additions to Navigator of the Seas are worthy attractions themselves, but the other big draw is that the ship will be regularly stopping at the private island of Perfect Day CocoCay. Between the ship itself and the newly upgraded island, there is so much to do, see, and eat that we just could not fit everything into our schedule! So, I guess that means we will have to book ANOTHER trip on this newly amplified ship ASAP.
Comments
Have you sailed on the updated Navigator of the Seas yet? What's your favorite new addition to this vessel? Drop us an anchor below with your review of this recently amplified ship!